In keeping with the sunshine and honeymoon theme for today (have you seen this morning's post about Mauritius yet?), we have a second feature to whet your weekend appetite, courtesy of Brilliant Studios.  Brilliant Studios is based in Turks & Caicos, and was established by Andy Mann twenty years ago – it represents a team of talented photographers hand picked from around the world who now call The Caribbean their home.
A colleague of mine who I worked with on the Oxfam Photoshoot last year, Chanelle Segerius Bruce, is a member of Brilliant Studios, having not long relocated to live in Turks & Caicos.   Chanelle recently collaborated with Caribbean based creative designer and stylist Stacie Steensland to produce a set of images that they hoped would show brides that they can have a very personalised day, even if they choose to have a destination wedding.  I'm delighted to be sharing these images with you today and hope you love them as much as I do.
I adore the fresh, contemporary and incredibly elegant nature of these photographs – I love too that Chanelle and Stacie chose to collaborate with a mix of international suppliers, including the UK's Luella's Boudoir for the beautiful dresses, and stationery company Artcadia whose beautiful designs we are very familiar with.
Are you considering a Caribbean based destination wedding? Did you know that you can get married in the beautiful location of Turks & Caicos?  Let us inspire you….
Photography Copyright (c) 2013, Chanelle Segerius-Bruce  at Brilliant Studios
Stylist Stacie Steensland shares how the look and feel of this photoshoot came together… 
'When most people think of the Caribbean they automatically picture vivid turquoise seas and brightly coloured tropical foliage.  We wanted to showcase a softer side of Caribbean chic; a classic, pretty pastel wedding with loads of island style. The Coco in our "Coco Caribe Romantic" wedding is two parts coconut, to one wide brimmed hat nod to Coco Chanel!' 
'Luckily, here in the Turks and Caicos on the island of Providenciales, we have the perfect venue to find Caribbean charm without sacrificing sophistication:  Point Grace.  It's no wonder six consecutive World Travel Awards for "Caribbean's Leading Boutique Hotel" shine at the reception desk. 
A vintage Rolls Royce greets guests who stay in poolside gingerbread fretwork cottages with canopied four poster beds and clawfoot bathtubs on dark hardwood floors.  Two words; incredibly romantic!'
'We wanted our bride to look poised but not overly polished.  A simple pinned updo by Geraldine Burtschi and light lovely make-up by Ann Clift Northcote of Beauty and The Beach** (details from Ann).
Our three gorgeous gowns were shipped over especially for the shoot by Luella's Boudoir.  (Details from Rachel)  Our groom wore a slate grey suit, crisp white dress shirt, and turquoise necktie provided by Mr Tux.'
'Our ceremony was set at one of the signatures Point Grace is famous for, the Thalasso Spa.  A narrow winding path leads to this seemingly secret place tailor made for rest and relaxation. A pretty stone courtyard engulfed by lush foliage made the perfect platform for a small group gathering.  It's view of the sea framed by a pair of palms and twin whitewashed wood cottages is beyond words, thus the perfect spot for our intimate wedding ceremony.
A vintage lace canopy and billowing in the breeze white gauze curtains sheltered our bride and groom while saying their vows. Lace, with all its' delicate detail, was a large inspiration and thus lace ties also graced the white wood folding chairs and ran along every tablescape. White fan corals, hard corals, and pale seashells made cameos as reminders of the beautiful beach that lay just beyond the fountain grass.
A Caribbean crooner serenaded our newlyweds at the bright white grand piano. The retro Rolls Royce provided the picture perfect getaway car, a handmade kite written with "Just Married" streaming the start of the motorcade.' 

The dresses you see in this shoot were on loan and are available to purchase from UK bridal boutique Luella's Boudoir – each of them perfect for a relaxed romantic style wedding either abroad or in the UK. 
 The top and skirt seen here are by Barcelona based designer Otaduy and are described as a silk satin v-neck camisole style top with soft blush tulle skirt with a wide ivory satin waist band. The style of the skirt is Caterina and is available in blush or ivory and their are a selection of silk tops available to match. The cost of the skirt is £950, and the top is £450 – contact Rachel at Luella's Boudoir for further details. 
'Papergoods were provided by one of our favourite UK based stationery companies, Artcadia…'
'Floral budgets with destination weddings may often take a bride and grooms breath away and not in a good way.  Our blooms were made up of predominantly baby's breath and white bougainvillaea, beautiful expansive flower options that are easy on the eyes as well as the pocketbook.
Environmental Arts created our Baby's Breath bouquet, boutonniere, and did a glorious job of filling our antique silver goblets, teapots, cups and even a dresser drawer, spilling over with bright green moss, ivory roses, velvety foliage, and fragrant white flowers.'
The strapless dress below, with floral detail, is by New Zealand designer Kelsey Genna and is described as a strapless chiffon floaty dress with floral appliqués. The style is called 'spring bouquet', and costs £1900.  Contact Rachel at Luella's Boudoir for further details.
 
The lace dress is also by Barcelona based designer Otaduy and is made from a unique cotton style cream lace. It is a column style dress with floaty cap sleeves. The style is called Valentina, and the cost is £1600 – again, contact Rachel at Luella's Boudoir for details.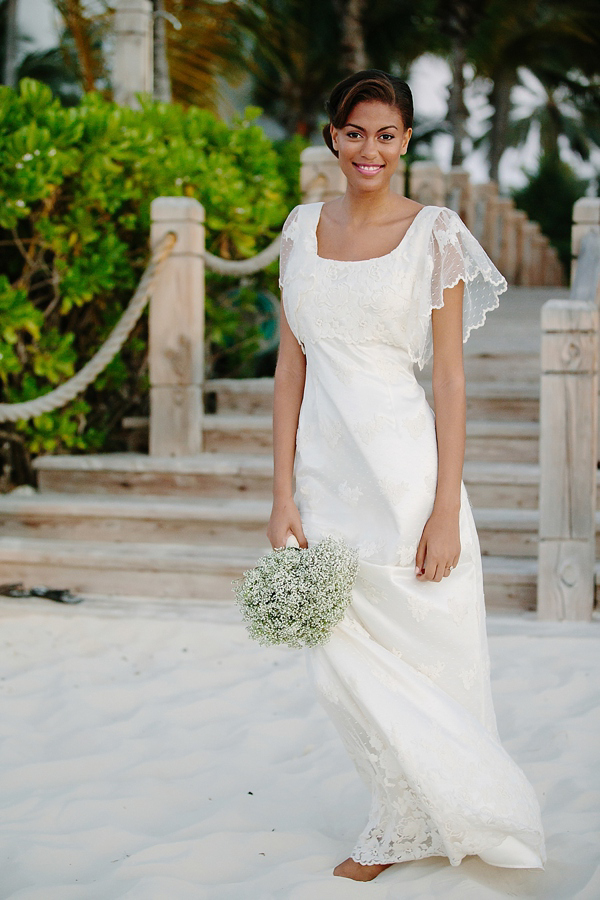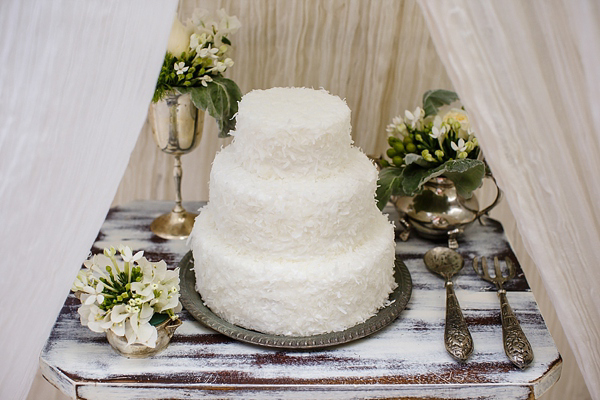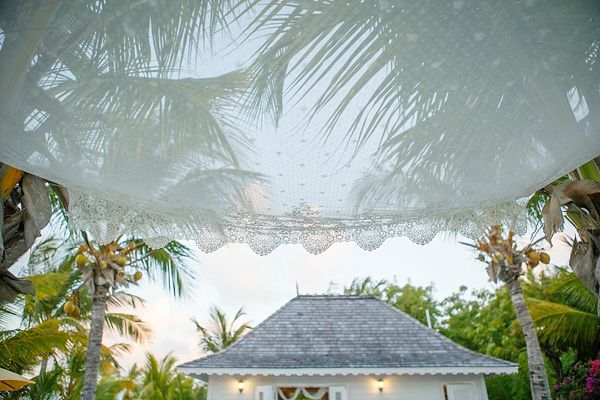 'The champagne bar was lined with gold labelled pink champagne bottles, flutes  filled with bubbly and splashed with a red raspberry.  Our "coconut  milk and cookies" station featured a wide variety of sweet tooth specialties;
The gorgeous, angelic fluffy white three tier coconut cake was created by Diane Guess of Cakes to Di For.  To balance all of these delicate, pretty pastel feminine details, we featured more masculine touches with the bright green Rum Mojitos and Cigar Rolling station.'
I really hope that these images have inspired those of you planning or keen to plan a destination wedding that you can still personalise your day and have a beautifully styled occasion.  And especially so if you are choosing to marry in Turks & Caicos or the Caribbean!
If you are looking for a destination wedding photographer in the Caribbean, we highly recommend you contact Brilliant Studios.
Huge thanks to the full creative team listed below for sharing these images.
Have a lovely Saturday all,
Annabel
Credits
Styling: Stacie Steensland
Photography: Chanelle Segerius-Bruce at Brilliant Studios
Production & concept: Stacie Steensland & Chanelle Segerius-Bruce  at Brilliant Studios
Bridal gowns: Luella's Boudoir (Wimbledon, England)
Venue: Point Grace
Flowers: Environmental Arts
Cake: Diane Guess – Cakes To Di For (email [email protected])
Paper goods: Artcadia
Grooms Attire: Mr Tux +1 649 941 8660
Hair: Geraldine at Maximes Salon Phone: +1-649-946-5093 
Make-up: Ann at Beauty and The Beach
Cigar rollers: Cuban Crafters
Chairs: Got U Covered (white folding and clear lucite chairs)
Bride model: Vielka Salvador
Groom model: Thorn Capron
Follow Love My Dress on Google+
** For those of you interested, here are the makeup products that were used by Ann of Beauty and The Beach on the model; Iman Cosmetics Makeup Base in Sand 5 and Luxury Radiance Liquid Makeup, Mac Powder, Mac Pink Swoon for the cheeks, Covergirl Blast Flipstick Lipcolour in 805, and Mac's Pro Longwear Concealer.