Afternoon lovely!  We've already treated you to two posts today, this fabulous balloon filled morning treat and our lunchtime feature taking a look into what's on bridal wear designer Charlotte Balbier's Christmas wish list. Before the day is out we're keen to share this lovely autumn wedding with you, featuring bride Rachel, a lecturer in medieval history and her husband Kieran, a Solicitor.  The couple chose to tie the matrimonial knot on 14th September this year at St Wilfrid's Catholic Church in York, followed by a reception at The Merchant Taylors Hall, also in York.
I love Rachel's bespoke dress design (all those pretty pastel buttons and that colouful fluffy petticoat!) by The Couture Company – who also  happen to be running a 21% discount on all dress orders up until 21st December – find out more here!
"Although we now live in Bristol, we both lived in York for many years and have a strong sentimental attachment to the city.  We also both enjoy the glamour and timeless quality of a vintage aesthetic – probably helped by our watching of tv shows like Mad Men and Boardwalk Empire!  We wanted a soft, romantic colour palette but not to have a day that looked too heavily coordinated. Our travel theme was inspired by our passion for going to new places."
Photography Copyright © 2013, Claire Morris Photography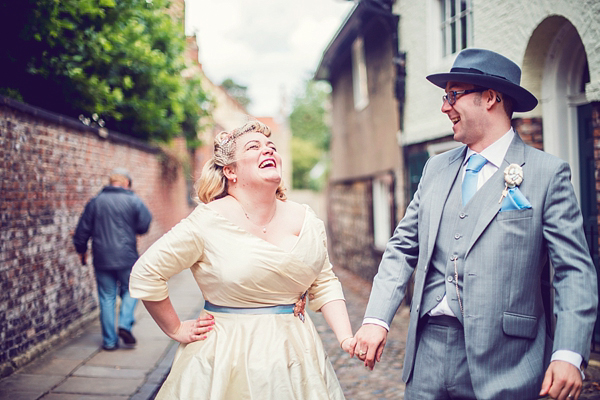 "Kieran and his friend Greg held a joint birthday party, to which Greg invited me.  Through the party, Kieran and I became friends straight away, but we were both seeing other people, so romance didn't bloom until a year later. 
That was back in 2007. Since then we have lived in several cities, both together and apart, (including a year when Rachel worked in Paris), but finally we both settled in Bristol, and Kieran popped the question on the Isle of Skye in April 2012. He proposed on a hillside with a view so spectacular that it took him quite a long time to get my attention."
"In February I left my husband-to-be, Kieran, in a snug coffee shop and popped around the corner to visit The Couture Company.  Less than an hour later I came back to find him, flushed with success, a receipt for my order in my hand. Kieran blinked, surprised, but that reflected both my general approach to wedding planning and Jo's professionalism and imagination.
The idea of wedding dress shopping was something I had always found challenging. I love clothes and am very feminine in my fashion tastes, so you would think wedding dress shopping would be right up my street! But I had many friends who had told me how difficult, even humiliating, dress shopping could be. As someone who is short, round, and very busty, I hated the idea of being clamped into an off-the-peg sample dress four sizes too small.  I looked at dresses aimed at curvier brides and saw that most of them were ugly, and seemed to be about hiding your body, not celebrating it. I knew any dress I bought in a bridal store would have to be massively modified to fit me. So instead of dealing with all that I started thinking about having a dress made-to-measure."
"I did a lot of research online, and The Couture Company was a place I felt very excited about just from its website. There were fun, flirty dresses, darkly romantic dresses, cool and elegant dresses.  And they were modelled by women of different sizes. I decided I wanted to see the dresses in person, and so in November we went to the first Eclectic Wedding Extravaganza (EWE).  There I got to see The Couture Company dresses in action, and they were as beautiful as I'd hoped! And as a bonus, I won 20% off a commission as part of a EWE related competition. That made up my mind.
I spent the next couple of months happily honing my Pinterest boards until I had a pretty good idea in my head of what I wanted. I knew I wanted a 50s style dress with sleeves, a full skirt and petticoats, and I wanted soft vintage shades. I took my trusty iPad along to meet Jo, and she suggested I try on the Steph dress. I loved the way it swished, and the shape of it was very flattering. From there we discussed sleeve length, petticoats (lots please!) and colours. I knew I didn't want a white dress, but I wanted something a little bridal."
"Jo brought out some lovely cream dupion silk and I was sold by its warmth and texture. I chose coloured silk for my belt and to trim my petticoats. And then Jo had the great idea of coloured buttons running down the back of my dress – just the kind of cute detail I like!
It was a very smooth, simple process, because I already had a good idea of what I wanted, and Jo was very easily able to translate that into a design. I also ordered a corset, to give me a good silhouette and so I wouldn't have to worry about bra straps peeking out"

"Over the next few months, things continued to go very smoothly. I watched The Couture Company's Facebook page, and one day I saw a dress with a flash of brightly-coloured petticoats underneath it. "That's what I want," I emailed Jo, and she was very happy to tweak my order to make me pale blue petticoats.
I loved going to fittings as I could see my dress slowly unfolding. It's a leap of faith to order a dress from scratch, but having seen so many of Jo's designs in person and online, I was very confident in The Couture Company's ability to deliver.  I also liked knowing I was supporting British industry, not buying a dress made in a factory in the Far East where workers may be paid a pittance."
"When it came to my final fitting, there were no tears. I've never cried because I've looked at myself, and I didn't feel the need to cry this time, either! I've heard of brides saying they didn't recognise themselves when they tried on their dresses. But I looked in the mirror and saw me. Me in a wonderful icecream-toned dress with petticoats that swirled in just the way I imagined.
I was so happy, because I had a dress that was about me, not about how anyone else thought I should look."
"Our wedding day was wonderful, and my dress was a big part of that. It may have taken three bridesmaids half-an-hour to lace up my corset, when Jo had done it in five minutes by herself, but we got there in the end!  Two hours later I was walking down the aisle, and Kieran's face lit up. As I reached him at the altar he said I looked beautiful, and I believed him.
Now my dress is zipped up in a bag in our spare room. People still talk about how much they loved my dress. I hope I'll wear it again some day. But whatever I do with it now, I'm very grateful to Jo and the rest of her team for making me a dress that reflected my tastes and values. That's a wonderful sort of gift."
"Kieran wore a bespoke pinstripe suit from A Suit That Fits.  Often grooms get the short end of the stick when it comes to wedding fashion, but Kieran really wanted to splash out on a beautiful new suit. The service at A Suit That Fits was great, and the suit was surprisingly affordable given it was made-to-measure!"
"My bridesmaids wore a rose print wrap dress by Gabrielle Parker.  This had a pretty vintage feel, and the wrap style was accommodating for differently-shaped bodies (and particularly for one of my bridesmaids who was breastfeeding!)."
"Our photographer was Claire Morris Photography.  Claire was phenomenal! I did a lot of searching online to find a photographer whose style matched up with our taste. I came up with a short list – but Claire was the only photographer we ended up meeting in person, because we both liked her and her work so much! On the day she and her assistant/second photographer Helen were tireless and good humored, and we both felt very at ease with them. They were also unobtrusive, and got lots of fantastic candid shots of our family and friends."
"Instead of fresh flowers, we got blooms made from maps by The Story House. This saved us money, matched our travel them, and also means we have mementos to keep forever!"
"Melanie from Le Keux Vintage Salon gave us wonderful retro hair and make up. My hairstyle stayed perfectly intact all day and night!"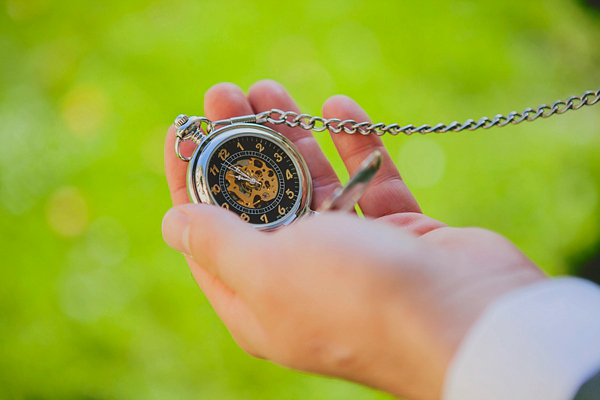 "My father gave me away to Purcell's Trumpet Tune on the organ – quite a conventional choice. More entertainingly, our organist agreed to play the Game of Thrones theme as our recessional. We had kept that a surprise, and hearing that boom out on a church organ made many of our guests laugh!
Our vows were the conventional vows used by the Catholic Church"
"Our first reading was from the Song of Songs 2:8-10, 14, 16a; 8:6-7a – it is one of the most passionate pieces of ancient literature and people are often surprised that such sensual, romantic words are found in the Bible!
Yet alongside this playful celebration of pleasure is a serious pledge of eternal devotion.  Our second reading was from the first Letter of Saint Paul to the Corinthians 12:31–13:8a, which is a popular one at weddings and for good reason; it celebrates love as a solemn, enduring, life-enhancing force."
"Our table centrepieces were very simple – tea lights in jars we'd decoupaged and pillar candles on mirrored plates. The tables were named after places we've visited together, and I sourced vintage postcards from the different locations to serve as table numbers. Place cards were hand stamped luggage labels, and our seating plan was a world map. We had a box of vintage postcards to serve as a guest book."
"Poppy Caterers are the in-house supplier at the Merchant Taylors Hall, and they were incredibly accommodating and creative. Everyone loved the menu – we had cold sharing platters to start, as we thought that would create a sociable atmosphere, followed by venison (or aubergine charlotte) and then a trio of desserts.
We thought cute cupcakes would fit our day better than a traditional three tier cake. After some searching, I found Swirly Sweet in York. Lorraine had some wonderful vintage-inspired designs that looked absolutely perfect! She also made us a small top-tier cake for slicing at the reception."
"We hired Dr Jazz – a Dixieland Jazz band. We wanted upbeat, fun music for the reception that people could either dance to, or enjoy as ambient noise as they socialised."
"We both find the idea of a first dance incredibly awkward. And so we did dance together – but only once our excitable friends had already hit the dance floor!"
Words of Wedded Wisdom…
"All Will Be Well. Really. It's easy to get bogged down in minor details (or sometimes major details!), but remember that whatever happens,  you will end the day as a married couple. That is the cake. Everything else is icing. Delicious, beautiful icing, of course; but the real substance is the marriage. Things can go wrong with the icing, but that doesn't have to ruin your cake -this is, I guess, where I'm going with this tortured analogy.
The other day, after we did the washing up, Kieran caught hold of me and we slow danced our way around the kitchen. For us that was a very everyday sort of moment, but it's also the sort of moment that reminds me why we got married. Because in the rhythm of the everyday, we still find opportunities to dance, and laugh, and talk. It's a good thing. Don't forget to enjoy those every day good things in the run up to the wedding; they're what remind you why you're having the wedding!"
"Lots of people have asked me how we're finding married life. The short answer is that it's pretty much the same as life was before we got married, except now we have more household goods. The long answer is more complicated: little has changed, day to day, and yet… and yet. Things have shifted, in ways that aren't really tangible. We stood up in front of a church full of people we love and made promises with them as our witnesses.
We took part in a sacred and solemn sacrament that meant we have vowed to be with each other until death. That is a great thing that we have done, and it does make a difference. If it didn't, we wouldn't have spent all the money and effort of having a wedding ceremony and reception. That, to me, is why having the wedding – not just nipping out to get hitched in a lunch break – was worth it."
"I loved every minute of our wedding day, but the ceremony in particular had enormous spiritual and emotional resonance for me. It went absolutely perfectly, and so as we stepped outside as man and wife, I was buoyed up by joy. The confetti petals rained down and I smiled at my handsome husband, and felt whatever else happened that day, we'd done this part right.
There were minor niggles on the day – we accidentally left two guests off the seating plan, for example, and our caterers had to quickly squeeze in a couple more place settings! – but really, the whole day went incredibly smoothly and gave us and our guests exactly the relaxed, fun, friendly day we'd been hoping for."
Ah what a lovely set of photographs – many thanks indeed to photographer Claire Morris.  And congratulations to you both Rachel and Kieran!
Readers, if you loved reading about Rachel's search for her perfect dress, you might like to read these two discussion posts
-  The Curvaceous Brides Guide to Finding The Perfect Wedding Dress
-  British Craftsmanship and Your Wedding
We'd love to see you thoughts below ladies, how are your own dress shopping experiences coming on?  Just a little reminder that Rachel's dress designers The Couture Company are currently running a big promotion where you can save 21% on the cost of a bespoke wedding dress up until 21st December.  Be quick and don't miss out! Find out more here.
Much love,
Annabel
Photographer – Claire Morris Photography
Venue – The Merchant Taylors Hall, York
Brides Dress – Bespoke design via The Couture Company
Veil/Headpiece – custom headpiece by The Couture Company
Brides Shoes – Vivienne Westwood Lady Dragon blue shoes + cream flats from Debenhams
Groom – bespoke suit via A Suit That Fits + world map cufflinks from Beauty Spot on Etsy
Bridesmaids – Rose printed wrap dresses by Gabrielle Parker
Paper flower bouquet – The Story House
Cupcakes – Swirly Sweet
Entertainment – Dr Jazz
Rings – Jewellery Quarter in Birmingham
Catering – Poppy Caterers
Stationery – DIY the bride & her brother
Hair & Makeup Artist – Le Keux Vintage Salon
Follow Love My Dress® on Google+