Hey you have you had time, in between sneaking little online Christmas shopping trips, to view our previous two features today? This beautifully photographed urban chic wedding in Glasgow city centre, and this look into what's on the Christmas wish list from the girls over at Belle & Bunty? 
In this final feature for today,  Ruth and Joe tied the knot on Saturday 1st December 2012, so just celebrated their very first wedding anniversary this weekend!  The couple's wedding took place at Halsted House Farm in Leicestershire…
"Joe and I love the pre-Christmas period – all of the excitement, the food, the decorations, so we knew we wanted a winter wedding, which tipped its hat to the festivities. The problem was that we also wanted a barn, warm enough to house our guests in potential sub-zero temperatures! Halsted House Farm was pretty much the first venue we visited and it beat all of those that followed, mostly because of its rustic charm. 
We loved the cobbled farmyard, the fairy lights-festooned beams in the barns and the venue's flexibility, in that they let us decorate it how we liked. It's also a turkey farm, which was perfect for the season!"
Photography Copyright (c) 2013, Nick Ray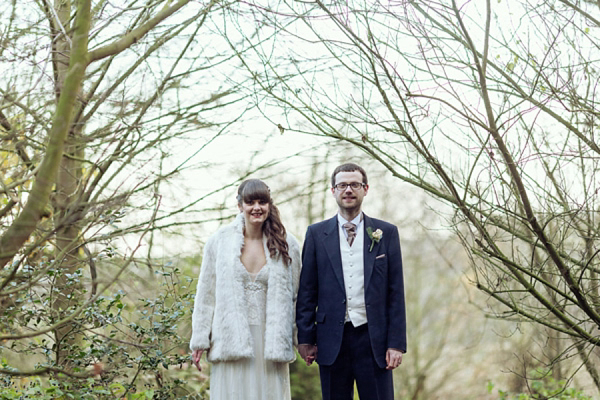 "Joe and I met at a mutual friend's birthday party at a scuzzy indie club in Birmingham in November 2007. At the time I lived in Birmingham and Joe in Leicester, but nine months later I relocated to the East Midlands to move in with him. Three years later, he proposed on the Isle of Wight, at Bestival 2011. 
I'd always coveted a ring of my nan's, which I believe was her grandmother's from the mid 19th century, and she had promised me she would leave it to me. It transpired that when Joe asked my dad's permission, he also spoke to my mum about the ring and plotted to get it resized with her and my nan. So when he pulled out the ring in the middle of a forest at Bestival, having hidden it away for the weekend, I couldn't stop laughing. It was such a massive surprise, but so in keeping with the way we'd first began.  Having the ring was a lovely, sentimental bonus – my nan also passed away a month later, but I'm glad I got to show her the ring on my finger.  We knew we didn't want an overly long engagement, so we got planning and set the date for just over a year later on Saturday 1 December 2012."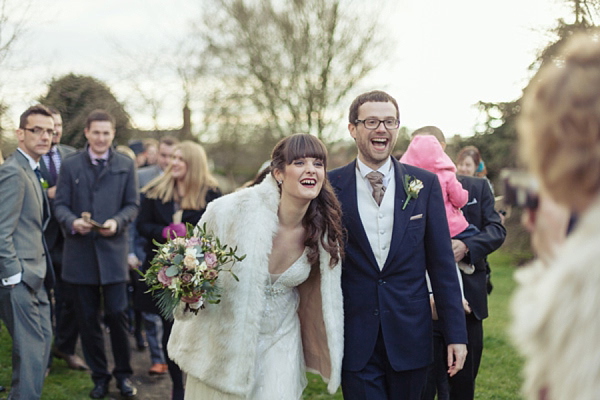 "Joe and I both love the pre-Christmas period and because of that knew we wanted to make reference to it, especially as the date hit the start of Advent. But perhaps more than that, we both wanted to create a day that instantly reminded people of us, rather than having anything too themed. So we set about engineering our wedding by shoehorning little things we loved into the day. Other bits were made with the help of friends and family, so a part of them and their relationships with us also went into the wedding. 
Much of that meant it looked quite 'crafty', or 'vintage', but that wasn't the aim – it was all about  reflecting our style and most of all, staying within budget!"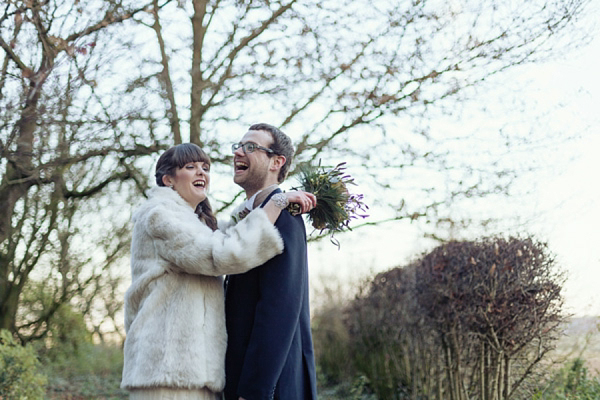 "We both like rummaging around second hand and vintage furniture and clothes shops, so the fact we were making something ourselves that probably would look a little rough around the edges suited us. I'm also quite creative and knew that, with Joe, the ideas that were evolving could be made into reality.
Music is also our biggest shared passion, so we wanted this to run deep into the day, from the church, through to our favourite music albums featuring as the table names. Some of our best nights have been in pubs with jukeboxes, so we hired one for evening entertainment."
"The vast majority of items Joe and I used to style the venue were handmade.  We made 80 metres of bunting from bunting tape and old Christmas cards which friends, family and work colleagues had donated. We also roped in Joe's parents to help us weave eight large wicker hearts, which were decorated with battery operated fairy lights and ribbon, and placed along each wall of the Opera House, where the wedding breakfast and evening do was.  Other handmade items included the table plan, made with an old suitcase, and we made the table centres from kilner jars, cutting out and sticking on hessian diamonds and lace hearts.  These were filled with pine cones and had branches sprouting out of the top, decorated with more battery fairy lights.
We also hunted for some cheap Christmas tree decorations and Joe's mum sewed us lots of tiny white hearts to hang off the branches. As well as this, my mum, Joe's mum and I decorated more than 60 little old jars with ribbon, lace and twine, to create lanterns for dotting all over both rooms. When all of it was lit up, the fairy lights and candles made it look so cosy and wintry, with a hint of Christmas."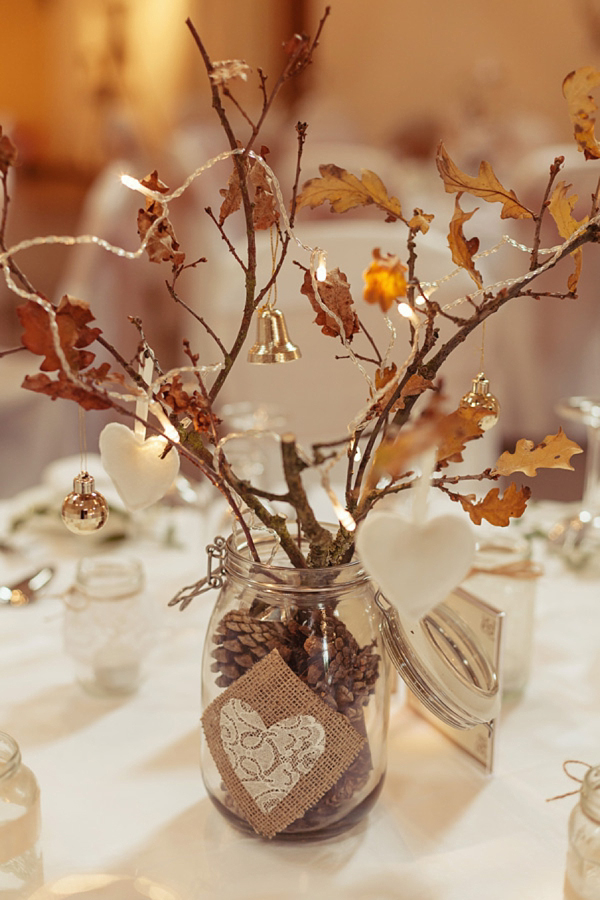 "My dress was Jenny Packham's Parma Opal design, bought from Noble and Wright in Pecklton, Leicestershire.  Initially, I'd set my heart set on a bespoke-made, tea length, 1950s/60s dress. But as I'm tall, I really struggled to visualise the finished article, as none of the samples sat right on me. I planned a dress hunting mission with one of my bridesmaids – mostly to test the water – but it included an appointment at Noble and Wright Atelier, which I knew stocked some amazing designers. Hannah tried me in lots of different styles, to let me see how I felt in different looks and check that what I thought I wanted was really what I did want.
Her hunch about opening other avenues worked, as when it came to Jenny Packham's Parma Opal, I was completely taken aback. Its long, floating and heavily beaded feel was so dramatically different from my expectations, but it was the first dress I'd actually got excited about wearing and styling my accessories around.  Thinking back, I was always going to love it, as it was completely original and suited both my height and love of beading, 1930s glamour down to the ground."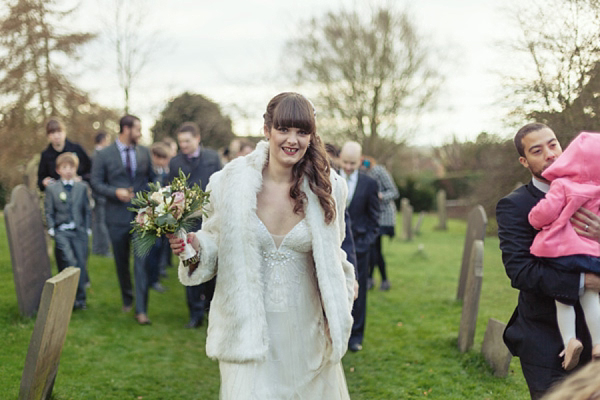 "I couldn't imagine I'd have felt the way I did on the wedding day with it on. In the last three years I've lost four stone through training for long distance runs and I felt so glamorous for once! It was great to really feel like I was wearing a dress that reflected my personality and was something I'd never seen on anyone else.
I borrowed three of the fur coats from my now sister-in-law. She'd also had a winter wedding a few years ago and called on her bridesmaids to see if they still had the Monsoon coats they'd worn then. The only problem was that I needed another one, but by a stroke of luck I spotted the exact coat in the exact size on eBay and got a bit of a bargain!"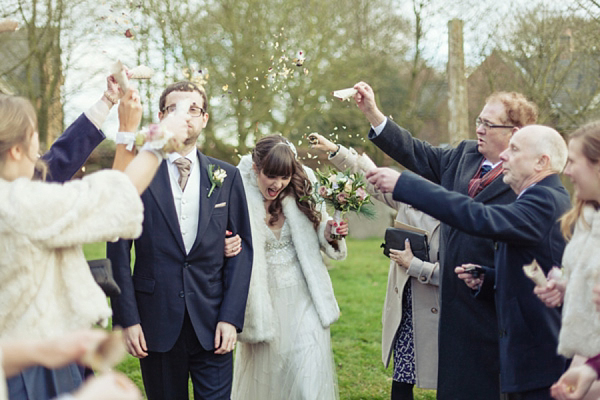 "We had really specific ideas about what we wanted for guests to eat and drink: mince pies and mulled wine at the reception, to warm everyone up, and our own choices of wine and beer at the wedding breakfast. They were also really flexible on choices of entertainment, and were quite happy to let our ideas roam, in the form of a jukebox and silent Christmas films, projected onto the barn wall by the dance floor. At the time, we were well aware that other venues might not have been so accommodating as Halsted House Farm."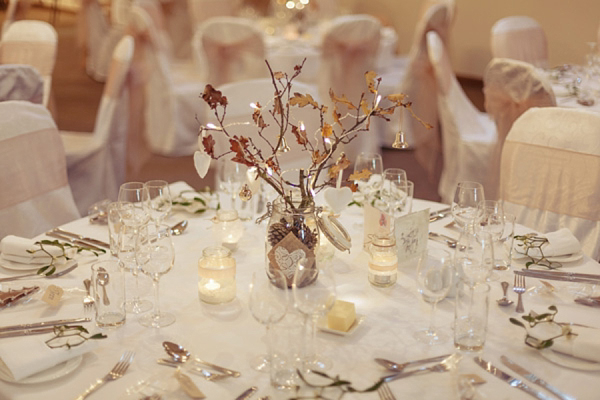 "Having seen so many beaded head pieces in our local Leicester vintage shops, I knew I wanted something similar, with a 1920s, swirling, flapper feel. I spotted the Annalise Rhinestone Headband on Rock 'N Rose, which matched the dress perfectly and was well within budget.
I didn't wear a veil as I knew that the way I wanted my hair, combined with the detailing on the dress and its cape, meant it would probably look a little busy."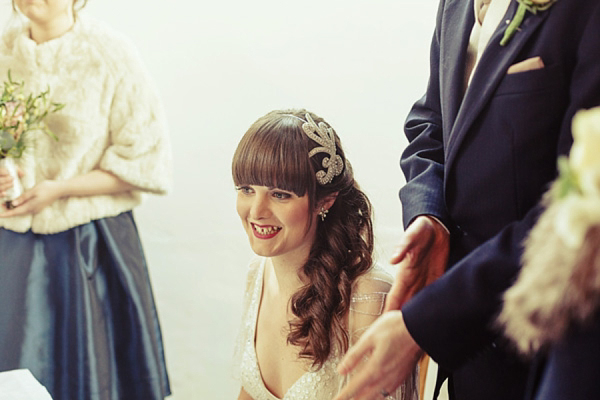 "We went for a vintage VW Campervan for our wedding car, which took the bridesmaids and my mum to the church, then me and my dad. I loved the look of it in the photos, which was a big reason why we went for it in the first place."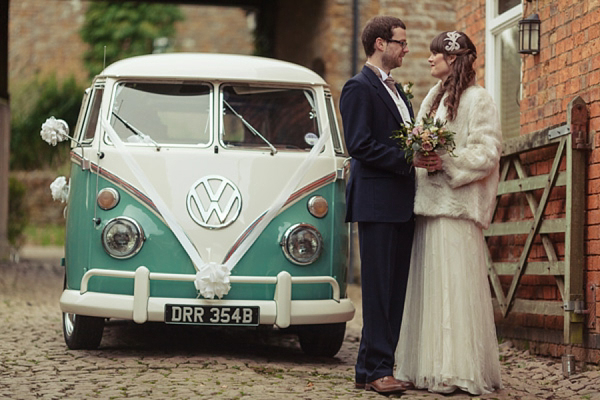 "Joe and I first met Nick Ray at the Designer Vintage Bridal Show, in Birmingham in October 2011. He was really approachable and down to earth, and was originally a press photographer by trade, which stood out for me as I was a journalist before moving into PR. There is something about the training and the background of press photographers that, I think, makes them able to spot details and moments.  The engagement shots proved we'd picked the right guy, as they just looked really natural – not at all cheesy and above all, genuine.
On the day we knew we didn't want anything too intrusive, with very few set pieces, so Nick's reportage style was great for us. Looking back through them, we relived moments we'd missed in the whirlwind – people's expressions, including our own, were priceless! That said, he'd got all the big moments we wanted captured on camera too, as well as a few group shots and the little details of our venue to remind us.   I'd recommend Nick to any couple in a heartbeat!"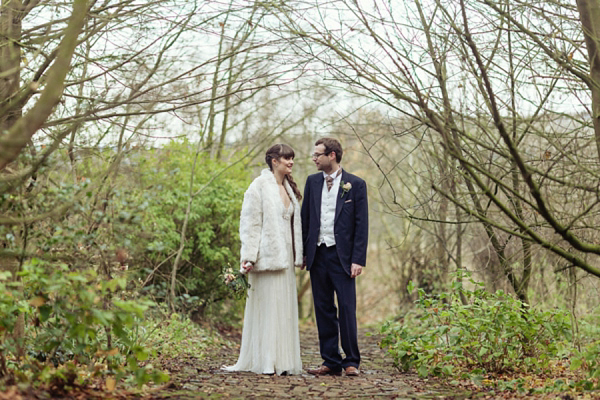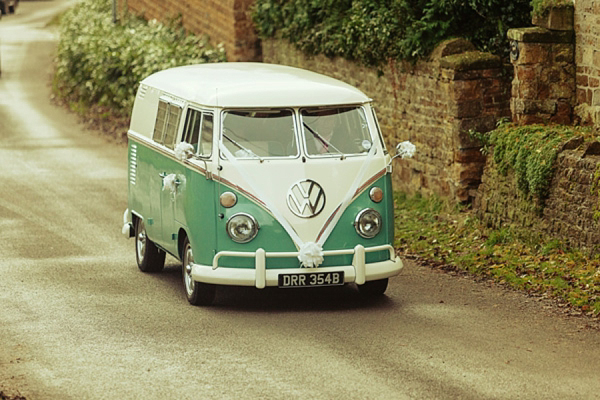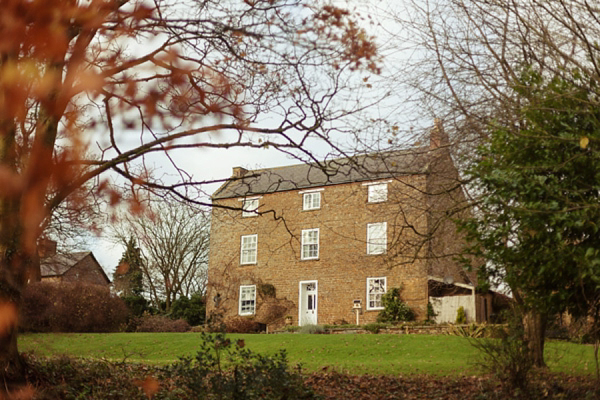 "I opted to do my own make up on the day, partly because I wanted to be able to touch it up later, if needed, but also because I've always wanted an excuse to get the full works from Mac! I went for a lesson, which helped me learn how to put it on so it looked fairly professional and would last.
I won't lie and say it was easy on the day, especially trying to apply liquid liner between false eyelashes with a shaky hand, but it was part of the getting ready and I liked having control of the specific way I wanted to look."
Helena Sinclair took on the mammoth task of putting up my four bridesmaids hair, blow drying my mum's and styling my own. A couple of the girls had pictures of the way they wanted to look, while the others only had a very sketchy idea, but they all loved their hair and that's credit to how Helena interpreted everything.  I've always loved waterfall plaits and spent ages looking at styles, eventually deciding to leave my hair down on one side so my dress wouldn't be too obscured."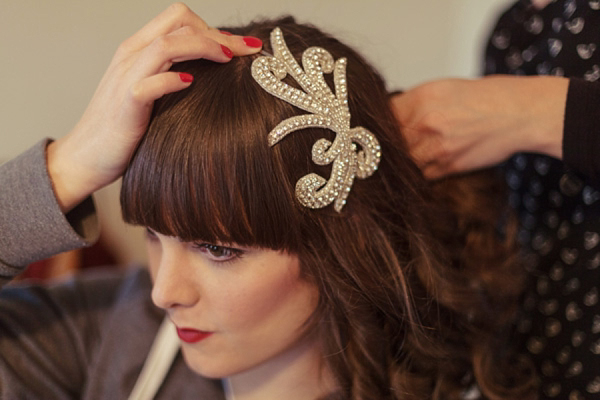 "My earrings were vintage clip-ons, borrowed from my mum's jewellery box she inherited from my nan.  I also spent a while looking for a beaded purse to carry my essentials on the day. In the end I went for a vintage bag, bought from Green Canyon Road, on Etsy."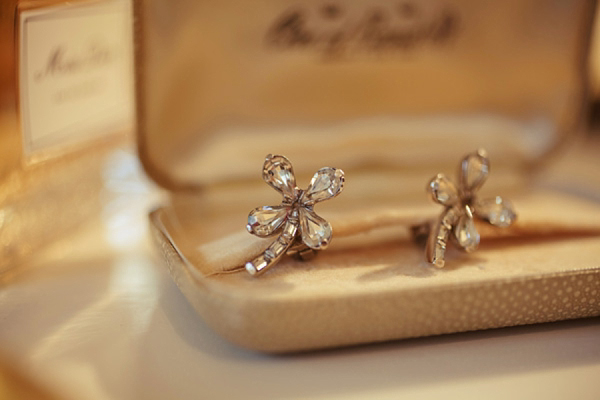 "I must have ordered around 20 pairs of shoes online, in a bid to get a vintage-look, peep-toed pair with a comfortable 2-3 inch heel height.  In the end I literally could find no better than Rachel Simpson's Flo – they lasted me until 1am dancing and I wear them now with my skinny jeans."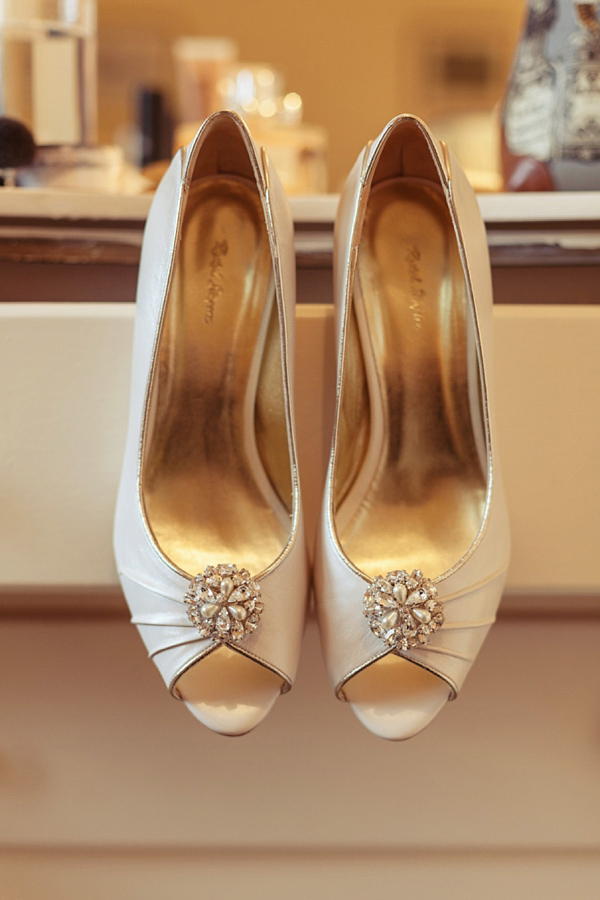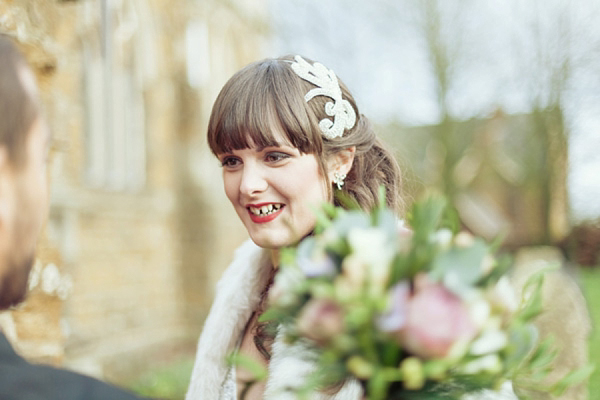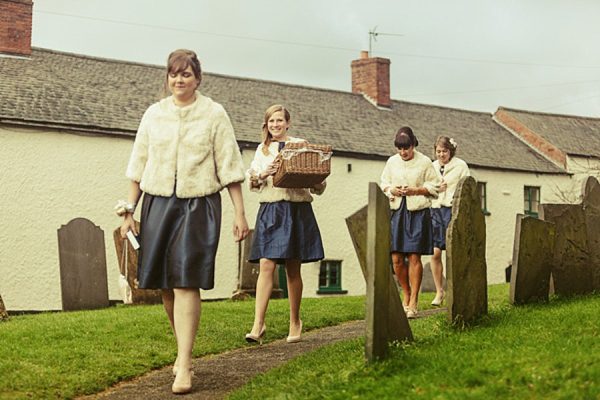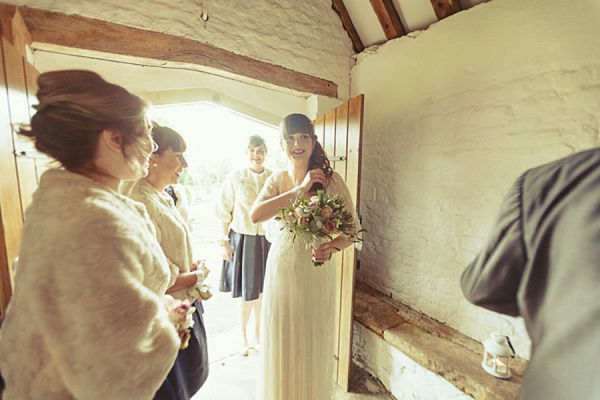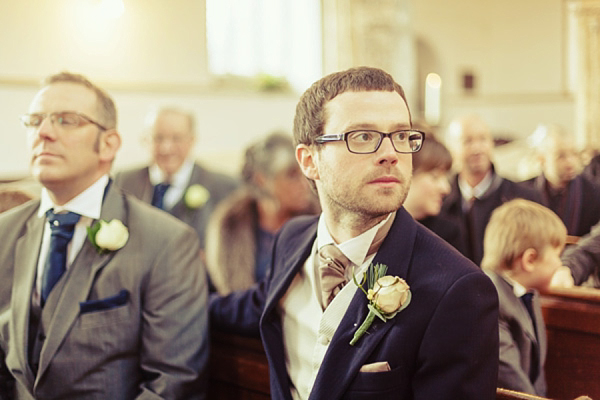 "We spent AGES looking for rings! Three trips to Birmingham's Jewellery Quarter later, Joe settled on an off-centred, jewel cut wedding ring from Dripgold Ltd (no website).  The filigree wedding ring I'd been searching high and low for, I eventually spotted in a little jewellers in Leicester which stocks vintage and more unusual designs."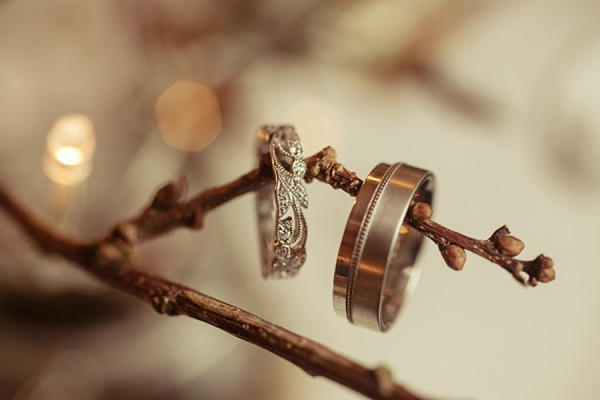 My dad, Ron, gave me away.  I walked down the aisle to Wagner's Bridal Chorus, as I think it's so synonymous with a church wedding.
As we were married in a church, we had the normal vows, where I opted to include the 'obey' line  – not because I'm an anti-feminist, but I just like the tradition of it all. Joe and I have both said that if the Church vows still included 'worship', as they used to for the male side, he would have said that too. 
My sister and chief bridesmaid, Lydia, read 1 Corinthians 13. I'd asked her to read it as although it's quite an obvious choice, it's my personal favourite Biblical reading for weddings. I think it sums up perfectly the kind of attitude you should have for each other if you want to have a long, loving, happy marriage.
My oldest friend, Helen, read Edward Monkton's A Lovely Love Story, which she'd handpicked for us.  I was doing very well at keeping my eyes dry throughout the service until she read this:
'Now the Dinosaur and the Lovely Other Dinosaur are old.
Look at them.
Together they stand on the hill telling each other stories and feeling the warmth of the sun on their backs.
And that, my friends, is how it is with love.
Let us all be Dinosaurs and Lovely Other Dinosaurs together.
For the sun is warm.
And the world is a beautiful place.'"
"It's so hard to pick a favourite moment!  We loved the exchange of rings and being announced as 'husband and wife'. We both struggled to get each other's rings on, which made it quite comical, but it made everyone laugh which has got to be a bonus.  The point everyone joined the dance floor for our first dance was also a clear highlight. We'd engineered the jukebox to select Fatboy Slim's 'Praise You' immediately after, and the reaction that got was priceless."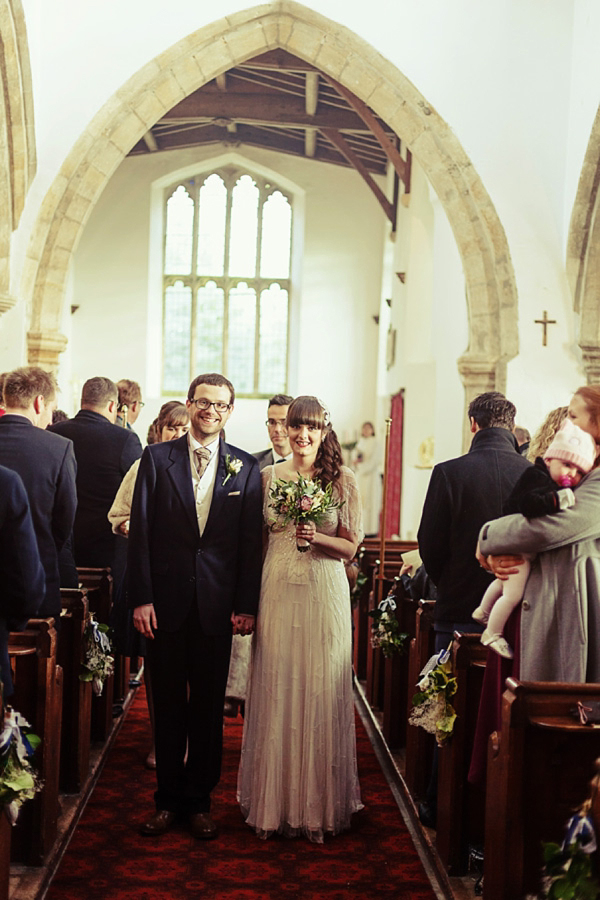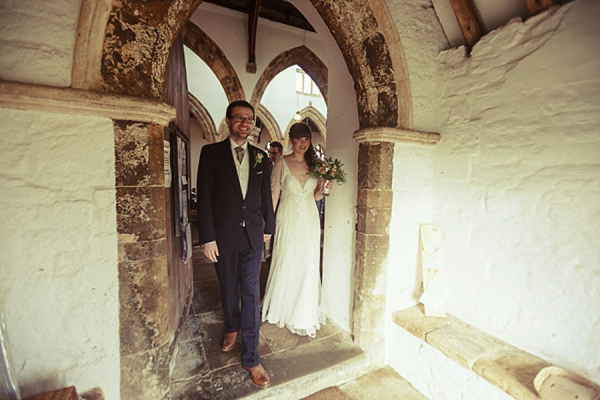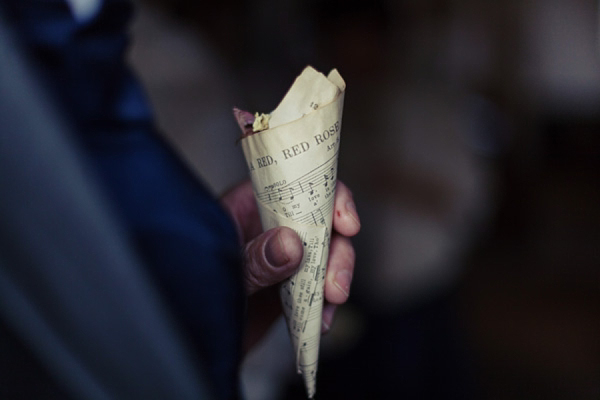 "Knighton Flowers is just around the corner from us. I pass by most days and covet their creative blooms, so they were the obvious choice. I roughly specified the flesh/taupe roses, cream roses and seasonal foliage and flowers in the bouquet, but gave them a free reign for it, as I knew they'd do a fantastic job. Having mistletoe in the bunch was a great touch of theirs and went with the place settings we'd created in the barn"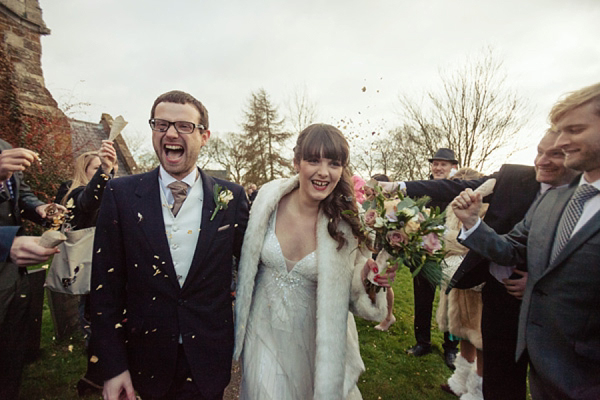 "We opted to hand-make all of our stationery, to allow us to have what we wanted without it costing the earth.  We didn't want everything to look the same and had ideas about weaving music and elements of the bunting through different pieces of stationery. We also got a lot of help from parents and bridesmaids to put it all together – without their help I think the experience would've been far more arduous!
We picked the 11 albums that meant the most to us as a couple and printed the front and back covers of their album art, popping them into calendar CD cases. The menus were printed and stuck on the inside of those. We used those same album covers for the table plan – I found and downloaded similar text to the fonts on each and Photoshopped peoples names into the artwork. These were printed and hung onto lines across a second-hand old suitcase we bought from a charity shop."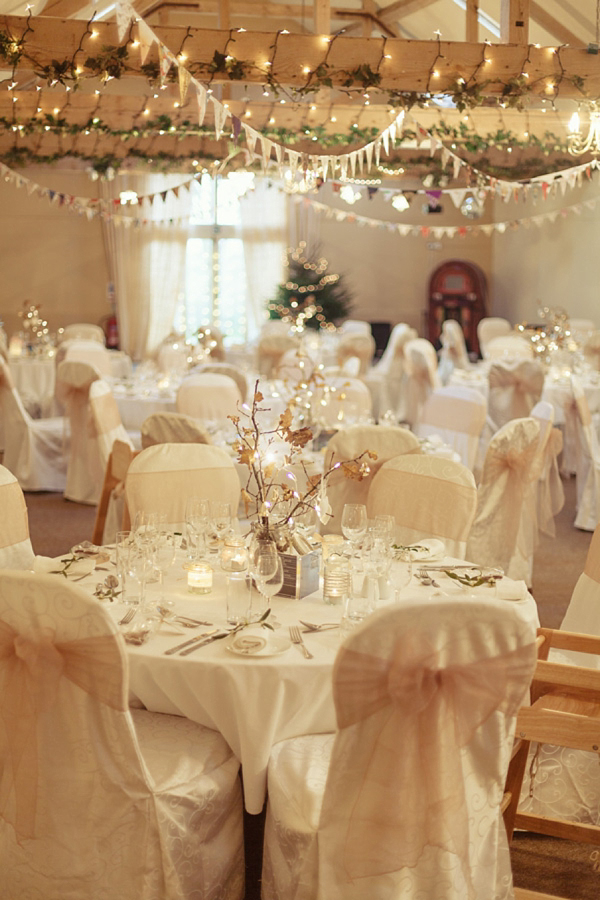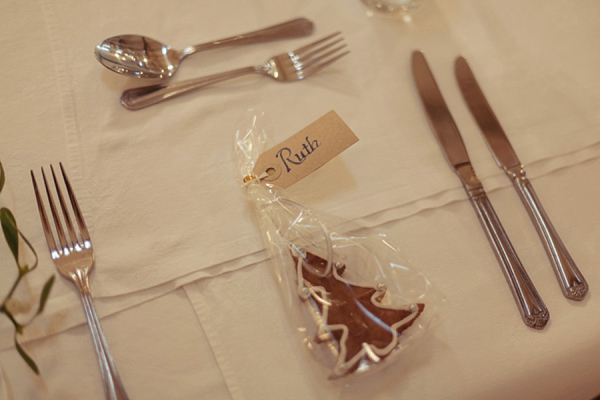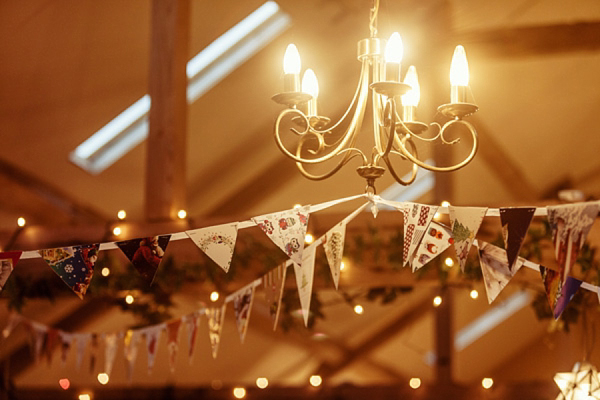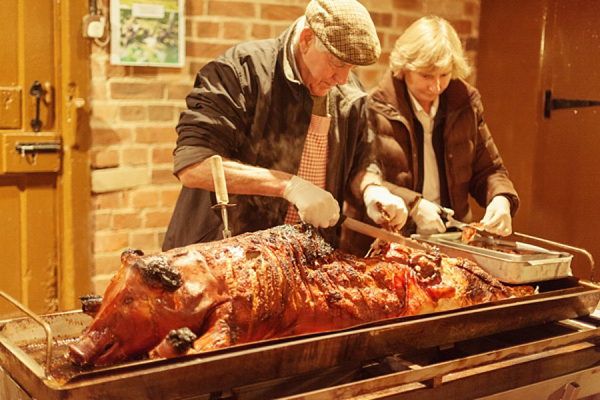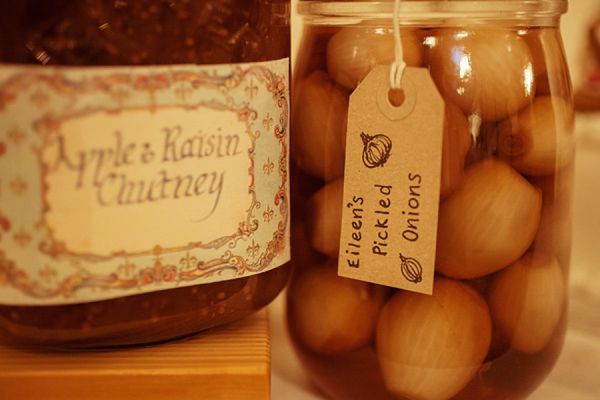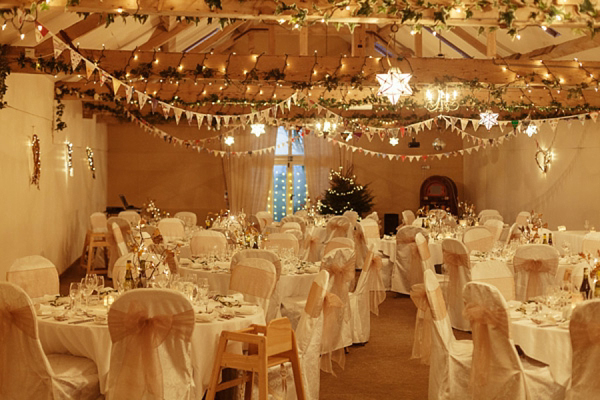 "I bought the navy, knee-length dresses from Coast quite early on, after capturing the general consensus from the bridesmaids and Joe. I loved the colour and thought it would blend with the shoes and flowers, plus the cinched waist flattered all of the girls, so it seemed a bit of a no-brainer. What's more, we all liked the shorter style and knew it'd be wearable on other occasions.My bridesmaids were kind enough to buy their own shoes, which they sourced from various shops ranging from Dorothy Perkins, to Dune and M&S.
I didn't want everything too matchy-matchy, but said a rough 'nude' palette was ideal for the overall colour we'd weave through the wedding party. They all have their own styles and heel height preferences, so it worked well.
The bridesmaids wore ivory organza bows, custom-made from MaryMadeAccessories, on Etsy and different necklaces I picked for them each, to fit with their styles – one preferred bows, another flowers for example. One I bought from an Etsy shop, another from Next and the final two from Accessorize.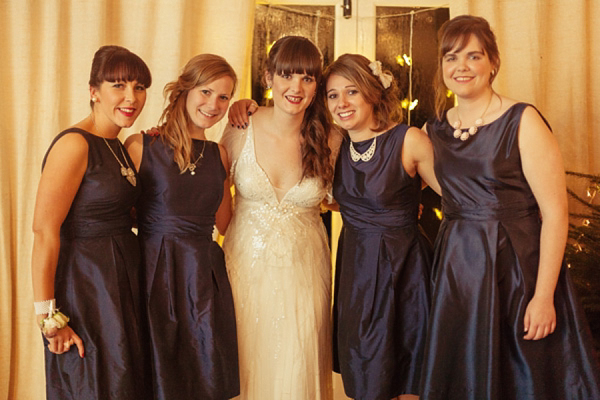 "We danced to 'The 2 Bears 'Church', it's just a completely joyous, loved up electronica-reggae fusion, which we first heard together and has reminded us of each other ever since. Joe and I debated for a while about whether our choice was too 'niche', but in the end we couldn't think of anything that suited us better. We shouldn't have worried, it got everyone dancing and people have been asking us what the name of it was ever since."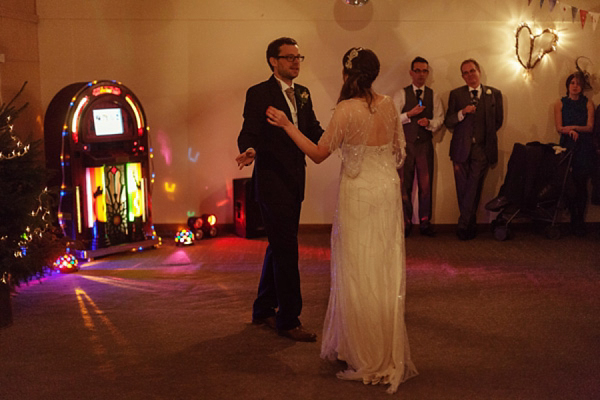 "From the outset, Joe and I wanted entertainment that was a bit out of the ordinary, combining music we loved with a really relaxed, almost house party-esque feel. The more we searched for the perfect band, the more we went off the idea and quickly decided a jukebox was for us. That was mainly because some of our best nights have been at pubs with them, or at house parties where people are choosing the music they want to dance to.
We spent hours selecting a thousand tracks to upload onto the jukebox that we hired from jukebox45s.com, but we also wanted our guests to feel invested in the idea and encouraged to go up and select what they wanted. To achieve that, we added a request on the invitation RSVPs for people to select three tracks that 'moved their feet'. It definitely worked and made for an awesome party – seeing everyone dance with Christmas masks on to LCD Soundsystem's 'All My Friends' was just a perfect way to end the night.
We also decided to screen our favourite Christmas films silently on the wall by the dancefloor. It made for a really nice atmosphere and people loved seeing their favourite moments from Elf, The Snowman and It's a Wonderful Life pop up on screen."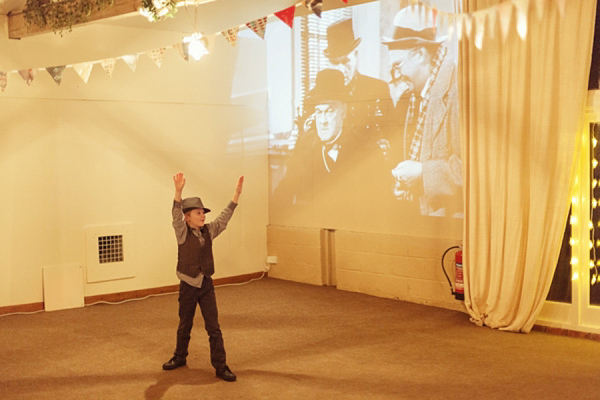 Words of Wedded Wisdom…
"Above all, I'd say make sure you make it your own. It doesn't matter what magazines, wedding fairs, designers, shop owners and even family and friends will sometimes say you should have  – you have to go with your own instinct, or your instincts as a couple. Also, we learnt quite quickly that it was so important to be assertive – even pushy and cheeky sometimes! It was when we realised we were the ones parting with money that gave us the confidence to say 'no', or negotiate if we thought we would get a better deal.
My brother, Jonathan, who was also an usher, played guitar and sang during the signing of the registry. He learnt James Yuill's 'This Sweet Love' – one of the songs we were debating over for our first dance, until we asked him if he could play it. He'd also written his own song for us. I still can't quite believe how beautiful his playing was and how he held it together – there wasn't a dry eye in the house!
I visited Love My Dress lots throughout the wedding planning process. At the start, it was to get inspiration for small boutiques and designers that might stock the dress I was after. Then it was to get little craft ideas.  The best thing, I think, is seeing the real weddings and how other people stamp their own identity onto their wedding. There were a number of ideas on these that I spotted and adapted for our own day."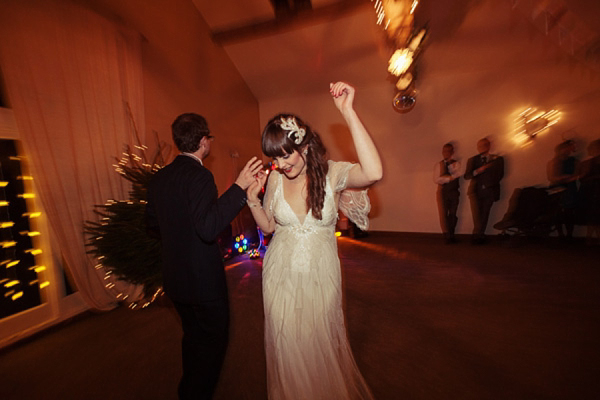 Happy anniversary Ruth and Joe!  I hope you got to celebrate in style and are enjoying this years run up to Christmas 🙂
You can see lots more winter and Christmas weddings if you like!
With much love,
Annabel

Photographer – Nick Ray
Venue – Halsted House Farm in Leicestershire
Brides Dress – Jenny Packham Parma Opal, bought from Noble and Wright
Veil/Headpiece – Annalise Rhinestone Headband on Rock 'N Rose
Brides' shoes – Rachel Simpson
Grooms Suit – The Wedding Hire Company + Ben Sherman Brogues
Bridesmaids – Coast
Flowers – Knighton Flowers
Rings – Dripgold Ltd (no website) + Petersons Jewellers
Stationery – Truly Scrumptious Weddings
Hair Stylist – Helena Sinclair
Jukebox Hire – jukebox45s.com