Morning everyone, we have just two weddings left to share this year, and this is the first.  We hope you love it, we certainly do, and especially so as the bride used some of our favourite designers and suppliers in planning her wedding.
Tracey, a personal trainer, and Paul an insurance broker in the City, tied the knot on 3rd October at St. Mary' Church at Cowley Manor in the Cotswolds, followed by a reception at Cowley Manor itself, chosen because of it's location in a beautiful art of England.  I adore Tracey's Belle & Bunty dress and her nod to the 1930's with that divine headpiece – a design by the amazing Lila.
"I'm totally in love with the Art Deco era, particularly the 1930's – my Lila headpiece was 1930's inspired and my dress was a vintage design of the same period. We only wanted a 'nod' to that period and didn't want to get bogged down in the detail of a 'themed' wedding.  We wanted to keep things classic – purple is also my favourite colour so we tried to weave this throughout the day."
Photography Copyright (c) 2013, Especially Amy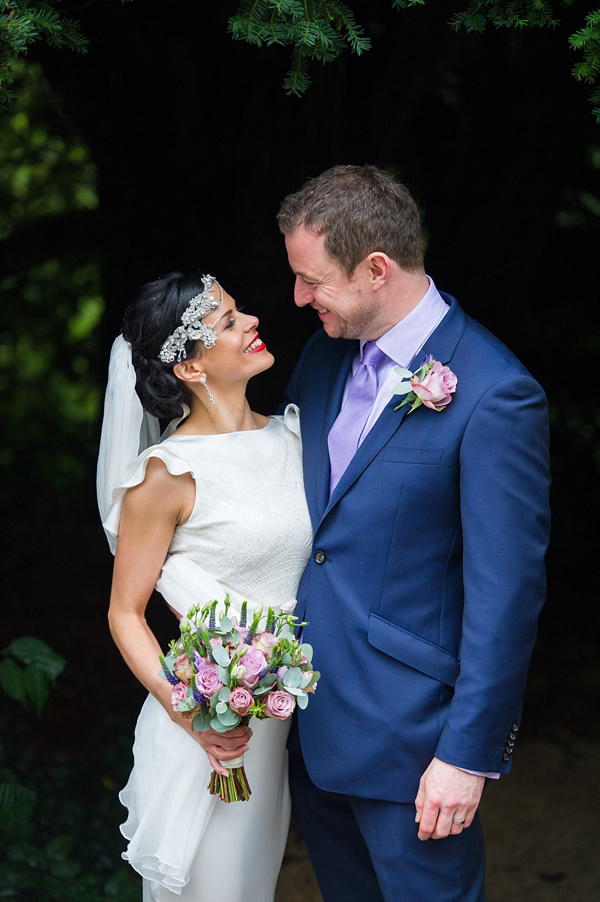 "Paul and I met through the gym six years ago.  We were friends for four years with mutual friends in common, and then finally got together in 2011, (much to the delight of said mutual friends - they could see it before we could!).  I had too much wine to drink one night and eventually blurted out how I felt, and much to my surprise Paul felt the same!  We got engaged in October 2012 on my birthday, after a trip to the opera in Paris. Just under a year from our engagement, we were married.
Cowley Manor is an amazing venue and an oasis of calm, beauty and stylish design. It is also equi-distant from where Paul's family live (The Wirral) and where mine are (St Albans & London)."
"My dress was by Belle & Bunty.  I jut love their shop, it' so quaint and the service delivered by Alice and Hannah so personal – I love that. I discovered Belle and Bunty via a vintage wedding fair in London at the Bloomsbury Town hall. I fell in love with their vintage inspired style and the quality of the silk fabric.  When I tried my dress on, it was beautifully cut and I loved its individuality. I think I was the first person to wear 'The Pearly' dress from Belle & Bunty collection.
My silk veil was also from Belle & Bunty. I wanted a lightweight almost invisible veil so as not to distract from the dress or intricate head piece."
"Our florist was Floriture, and Jules was amazing.  I love the colour purple and shades of mauve so we went for memory lane roses and hydrangeas and various autumn inspired flowers and foliage."
"In terms of decor, we used vintage brown luggage tags on each table place with printed 'P&T' hand stamped and tied with vintage string myself. We also had vintage inspired coasters on each table place for guests to write 'advice for the bride & groom' which produced touching and funny comments! They were from notonthehighstreet.com.
We hired giant 1.8m high illuminated letters 'T&P' in the lobby of Cowley manor to put our stamp on the venue which everyone loved. They were from Vowed & Amazed."
"My shoes were by Rachel simpson -  vintage inspired T-bar shoes which complimented the whole look and 1930's period."
"We got our cake from Xavier at Contemporary Cake Designs.  We didn't want it to look too formal,  and the tiered cupcake idea seems to be everywhere, so we went with different tasting sponges - Victoria on 1 tier, coconut and Malibu on another and lemon on the 3rd. We didn't want 'formal' icing so we went for an informally iced cake decorated with autumnal flowers."
"My headpiece was  handmade and vintage inspired, with crystals and pearls hand stitched to fabric  by the amazing Lila.  She really is a talented lady and so charming."
"The earrings were from a vintage second hand stall and my v-shaped jewelled and pearl delicate back necklace from Kelly Spence."
"The brilliant Amy Murrell of Especially Amy was our photographer. Amy is a seriously deft photographer. Oozing warmth and extremely professional she makes even the most camera shy person look amazing in front of her lens. We were very lucky to have found her. Our wedding photos are simply stunning.
Our video is still being edited by Will Cummock of Cine Reportage, filmed in super 8 and 16mm and then put onto a digital format, so it will have that authentic style from eras past."
Tracey – we look forward to sharing your film in due course!
"My hair and make-up artist was Emily Mickelburgh.  Emily is great and she has worked on period dramas for TV doing hair and make up. We went for strong red lips, typical of that era and strong brows, but it still had a contemporary feel."
"My Mum gave me away to the sound of 'In Re Don Giovanni' by Michael Nyman and we had the organist play 'All you need is Love' by The Beatles as we left the church, which was a wink to the fact that Paul's family is from The Wirral . It's also a timeless wonderful song!
The only thing I remember is the wonderful look on Paul's face as I walked down the aisle. My heart was thumping so hard I could hardly hear the music but it was a magical moment."
"Our ceremony reading was  'What is love?' by St Augustine.  It is my favourite piece of prose on Love, powerful and passionate!  We also read out different children's versions of what they think love is aged from 4-8yrs old which added humour to the service, but was touching at the same time."
"Our table plans, table names, place cards and Orders of Service were in a gatsby font and all in keeping with the colour theme.  They were all made by  Vintage Designs."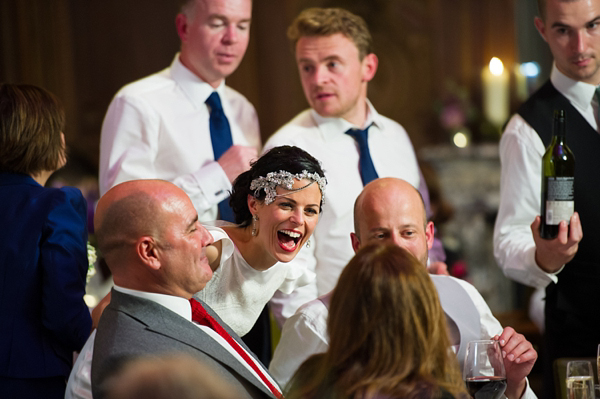 Words of Wedded Wisdom…
"Do your research! Spend money on your memories! Don't listen to anyone else as it's your day and it's about you and your husband, but remember to take a moment together to enjoy it as it whizzes by in a flash!"
Oh what an absolutely charming day.  Tracey, you have the most beautiful and radiant smile, you really do! Huge congratulations to you and Paul for such a beautiful wedding, and thank you once again to photographer Amy Murrell for allowing us to share her work on Love My Dress today.
See more related inspiration here: Belle & Bunty brides, Autumn weddings, purple and Lila Designs.
Check back in later today lovelies for our very final wedding of 2013.
With much love,
Annabel
Photographer – Especially Amy
Venue + Catering – Cowley Manor
Wedding Dress & Veil – Belle & Bunty
Veil/Headpiece – Lila
Brides Shoes – Rachel simpson
Bride's accessories – v-shaped back necklace from Kelly Spence
Grooms Suit - TM Lewin single + Loake tan leather brogues
Bridesmaids –Belle & Bunty dresses +  Rachel simpson shoes
Flowergirl dresses – John Lewis + handmade jewelled clip with pearls by Lila
Page boy suit – Monsoon
Flowers - Floriture
Cake – Contemporary Cake Designs
Entertainment – Jazz band 'Midnight Blue' through Function Central +  DJ Bonehead Productions
Rings – Diamond Merchant
Stationery – Vintage Designs.
Make-up & Hair - Emily Mickelburgh
Giant Light Up Letters – Vowed & Amazed
 Follow Love My Dress® on Google+