Hello again lovelies! How is Wednesday treating you so far?  We couldn't let this afternoon slip by without sharing one of our wonderful real wedding features – a wedding that bears all the hallmarks of a Love My Dress bride – stylish vintage/era references in a beautiful, joyous, modern day wedding setting.
Gemma, a studio manager for designer Marios Schwab married her business manager husband Kevin on 26th October last year with a ceremony at St Marys Church, Barnsley (Gemma's home town) followed by a drinks and canape reception at The Civic Gallery space in Barnsley (booked for a very special surprise reason which will become clear), then an afternoon and evening reception at Oakwell Hall Barn in Birstall, Batley.
Gemma asked us to dedicate this blog feature to her Dad, Ian, who sadly passed away after her wedding – and we are honoured to do so; "without my dad, my life is just not the same.  I am so thankful we had such special moments together on my wedding day, he made me so proud."
Photography Copyright (c) 2014, S6 Photography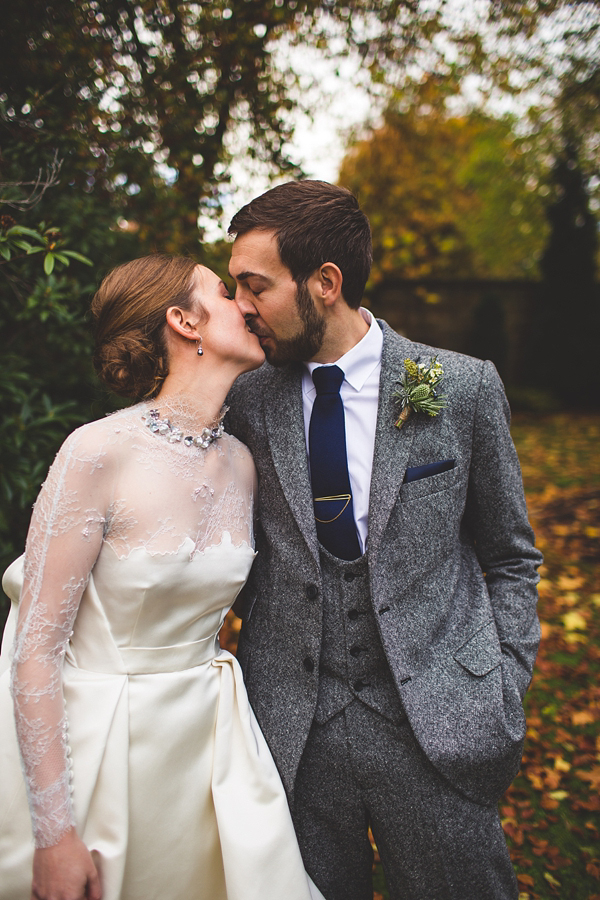 "Our wedding day was a true reflection of everything we love as a couple and our personal style.  Lots of homemade elements, vintage pieces for the venue dressing, and very personal touches along the way.  The mustard colour was my choice and was to reflect the beautiful autumnal setting of our wedding at the end of October as well as being a classic colour from our favourite eras of the 1950's and 60's design."
"We met when I was flat hunting in London with my university class mates who were undertaking internships in the city for a year before finishing our degrees, we had no money for hotels so a friend of a friend of a friend offered to put us up in their shared house for a few nights while we looked for a flat – Kevin was one of the housemates in the shared house.  We met up as a group a month or two later when we had made the move to London and hit it off over a few drinks and pizza."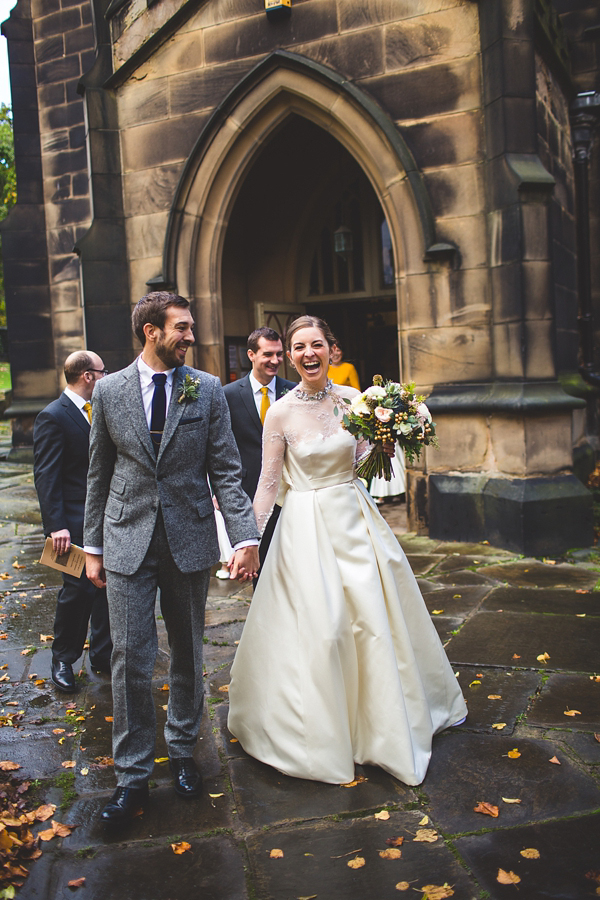 "Kevin asked me to marry him on an incredible trip to the Isle of Skye in July 2012.  We took the sleeper train to Inverness and then hired a car for our trip exploring the Isle of Skye and the Applecross Peninsula.  After an incredible few days Kev decided we would have a picnic on a beach one evening and watch the sun set – unfortunately the Scottish rain came and nearly knocked his confidence completely – we braved the rain and made our way to Talisker Bay Beach with its stunning scenery and resident sheep to enjoy an amazing, locally prepared lobster and seafood picnic with only us on the beach.  No sunset with the weather but a very romantic proposal."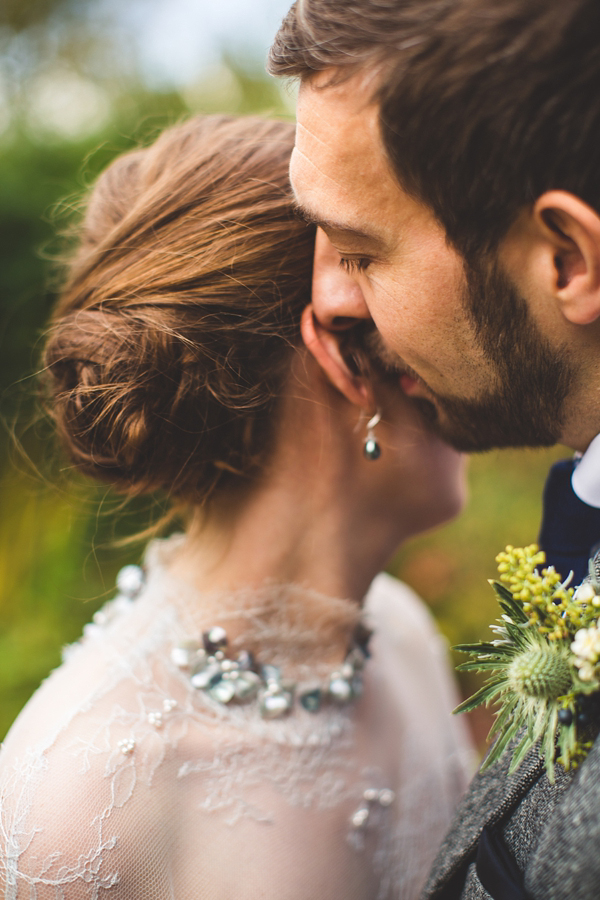 "My wedding dress was designed by my boss Marios Schwab and created by my team of pattern cutters, seamstresses and hand embroiderers.  I am so lucky to have a true made to measure, one off wedding dress made with love by my colleagues.  Marios chose to draw upon my love of the house of Balenciaga particularly the 1950's and 60's sculptural silhouettes combined with the Marios Schwab signature cut that really enhances the body.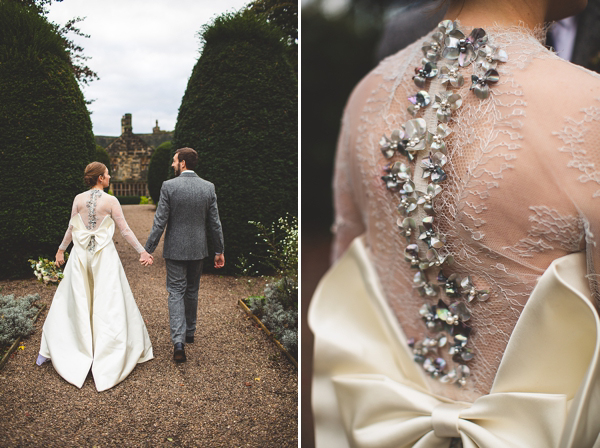 "I love everything about my dress from the incredible hand embroidery in pearls and crystals and treated sequins that looked like mother of pearl around the neckline and down my spine to the large bow on the back – I am a sucker for a big bow."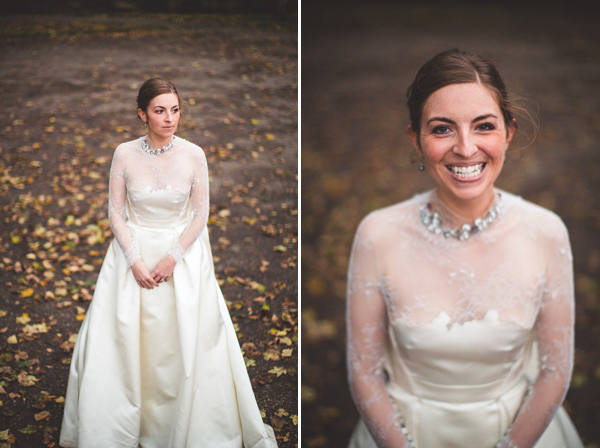 Gemma wore a very simple veil which she made, with a colleague, from silk tulle, and beautiful ivory silk shoes by Freya Rose with large bow detail to complement her dress.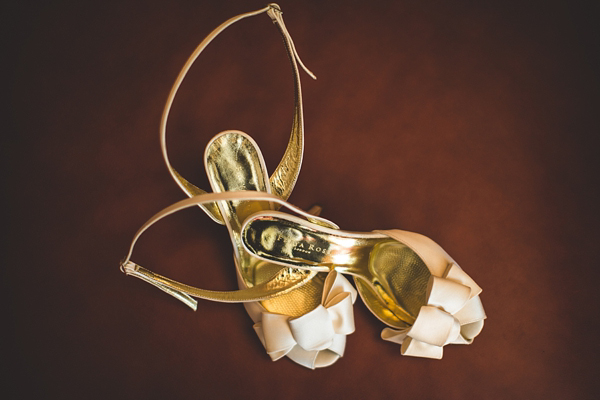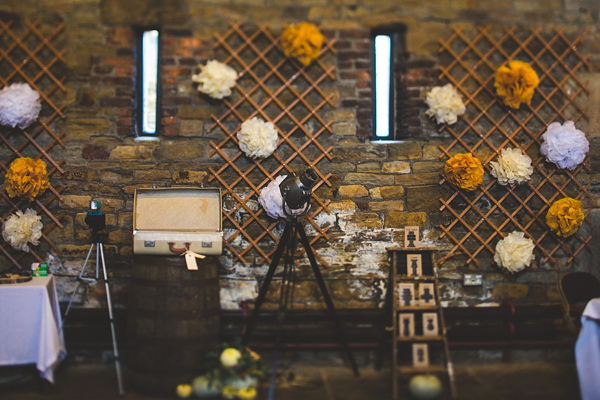 "Anna from Swallows and Damsons in Sheffield, were perfect in every way imaginable.  I had lots of elements that were meaningful to me and also to us as a couple and Anna included them all in such incredible arrangements.  From the white Thistles (my late Grandma was Scottish) to the Oak leaves (we planted an Oak Tree in our favourite beauty spot to commemorate our engagement) and the reception was being held at 'Oakwell Hall'."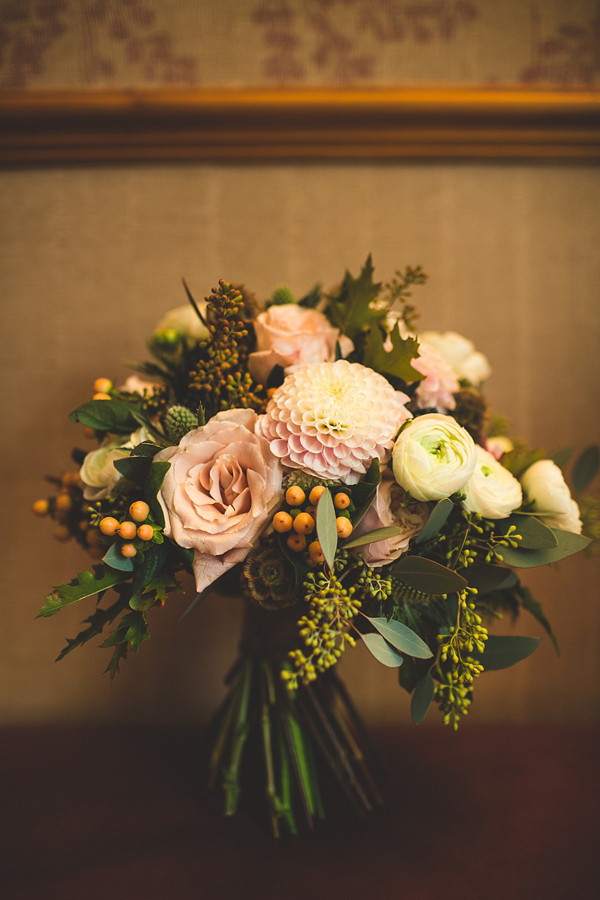 "The pumpkin arrangements I had researched for the aisle and the flower girls were just incredible and Anna was so open to trying out all the ideas I had but brought them all together with her amazing eye and attention to detail. "
The bridesmaids wore made to measure dresses designed by Gemma herself, created from 1960's mustard curtains and stitched within the Marios Schwab studio.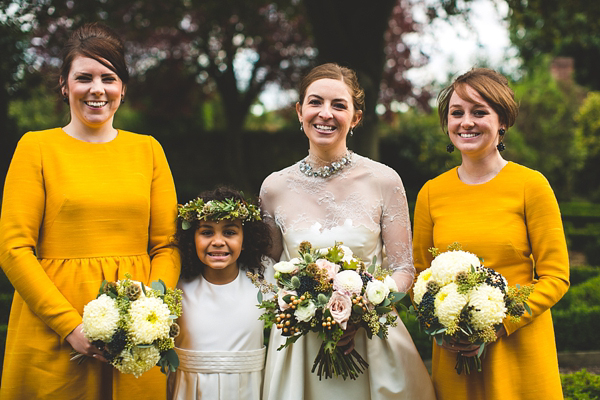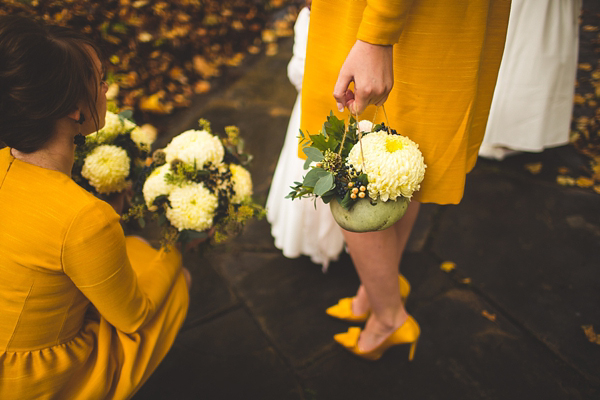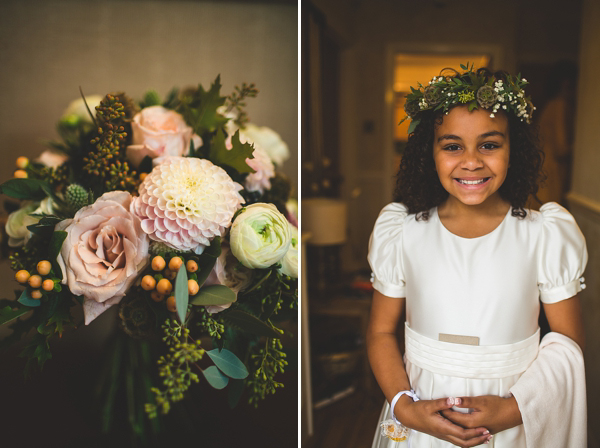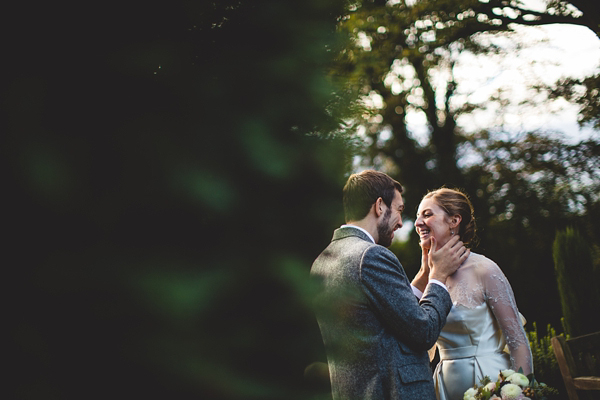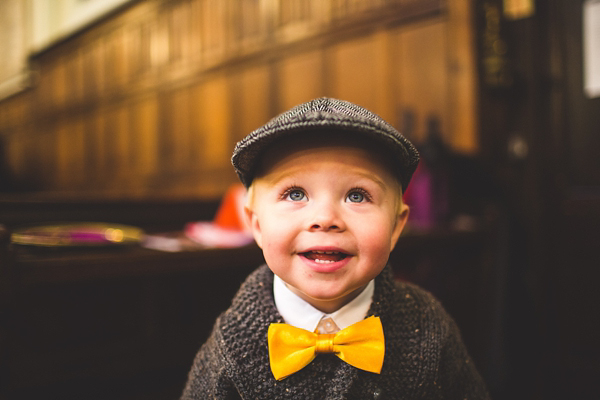 "We decided to tailor our favours, one type for the boys, one for the girls. For the boys we chose two things both a favourite of Kevin's, a small porkpie from his favourite Barnsley butcher and a shot of Talisker Whiskey not only his favourite again but we also got engaged in Talisker Bay on the Island of Skye. For the girls - as Oakwell Hall is the start of the Bronte way, we chose a number of Bronte books with a special message inside each one, included was my favourite book of all times Wuthering Heights."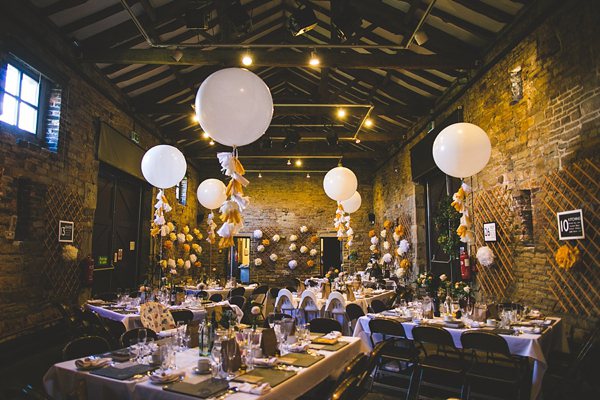 "Within Oakwell Hall Barn, we hired vintage film lights, loaned beautiful old whiskey barrels for our cake and suitcase for presents as I was becoming a 'Cooper.'  For seating plan and table names, which were maiden names from both our families, we presented old letter press, scrabble and playing card letters for the table names, the seating plan was presented on old step ladders and then we created bus blinds for each table with everyones names printed as the destinations to tie in our transport and London influence.
We strung up homemade pom-poms, kindly made by my bridesmaids, and had large 3ft balloons with decorative streamer tassels to lead everyone's eyes upwards to the beautiful beams on the barn roof.  All these elements really showed of our eclectic taste perfectly and the venue was unmistakably ours."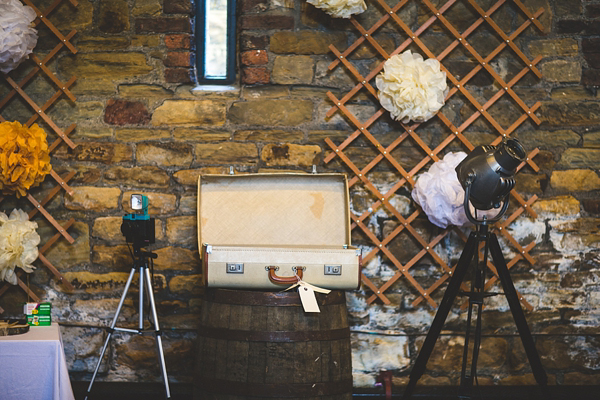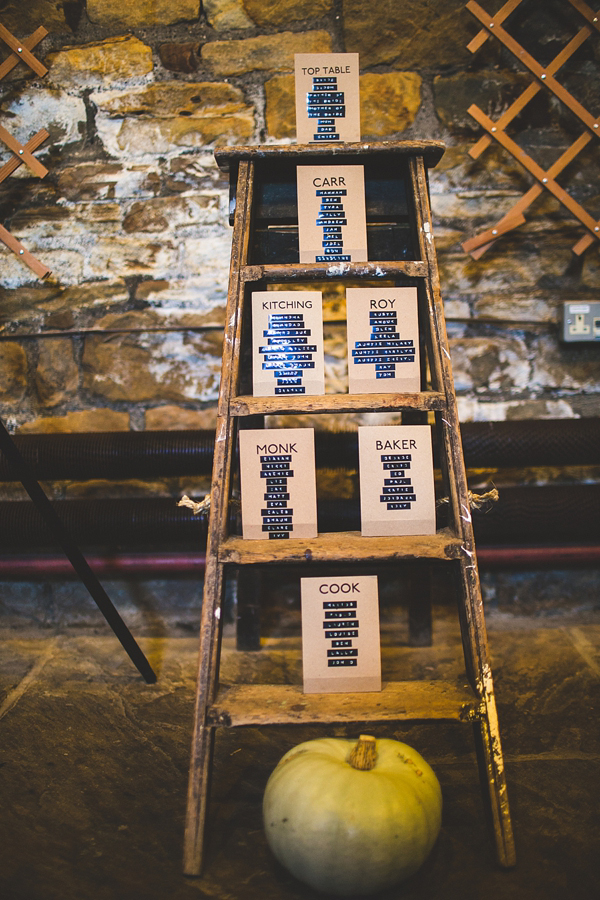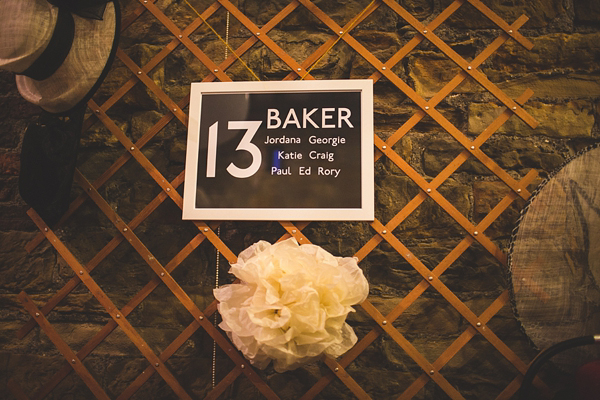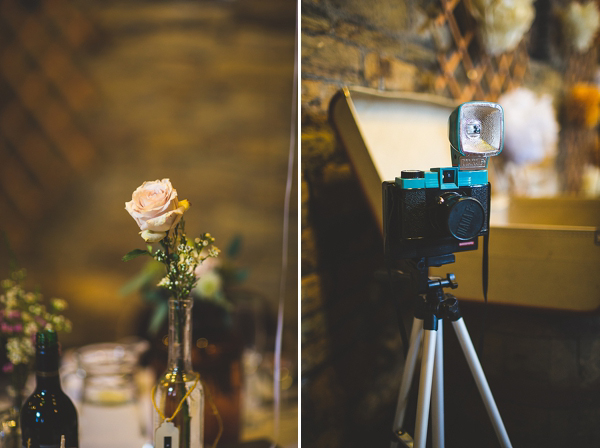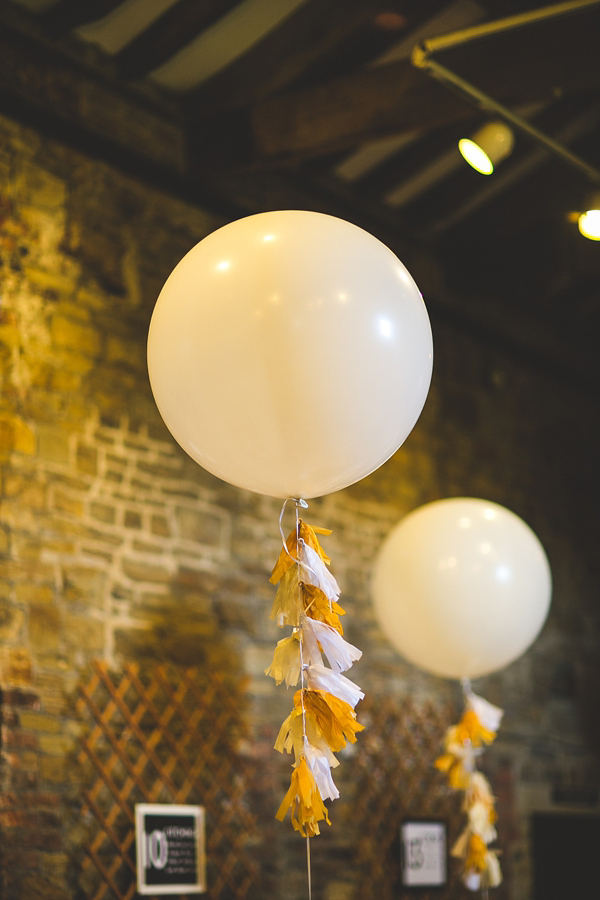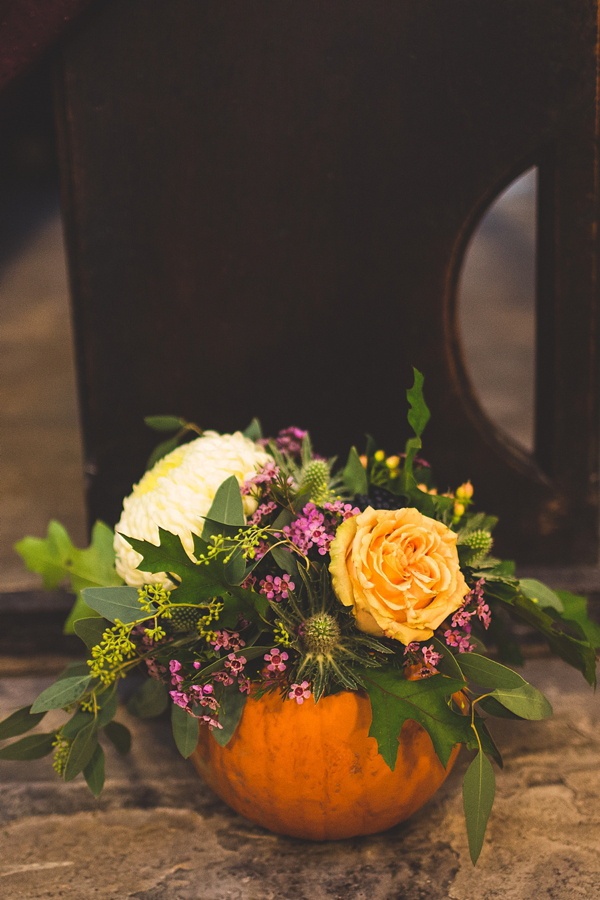 "From the moment we had our first Skype call with Jon Dennis of S6 Photography, we knew he was the person we wanted to capture our wedding day.  Jon totally understood what we wanted from our wedding photographs and couldn't have made everyone feel more at ease on the day meaning we have so many beautiful images of our family and friends and moments within the day. 
Jon has always gone above and beyond with everything we discussed or help we asked for."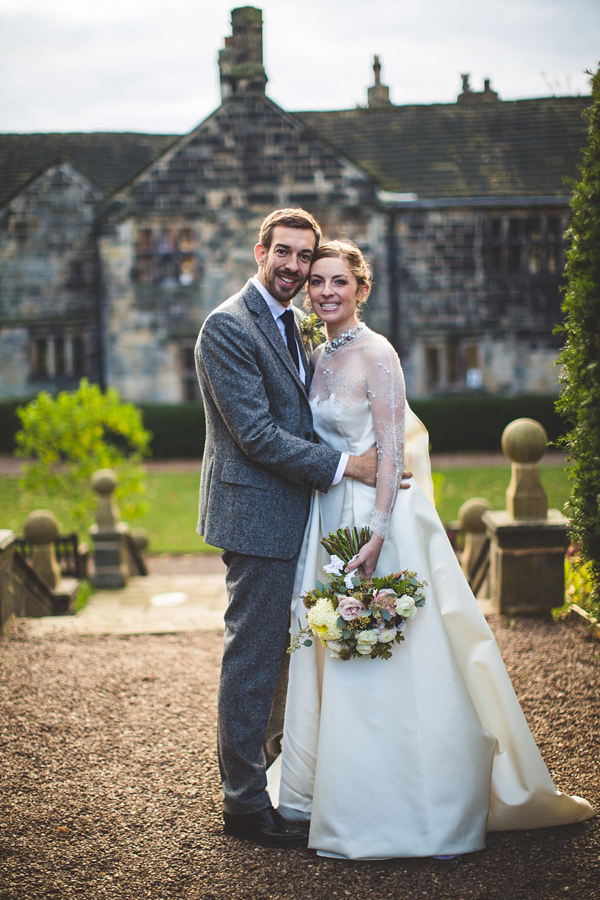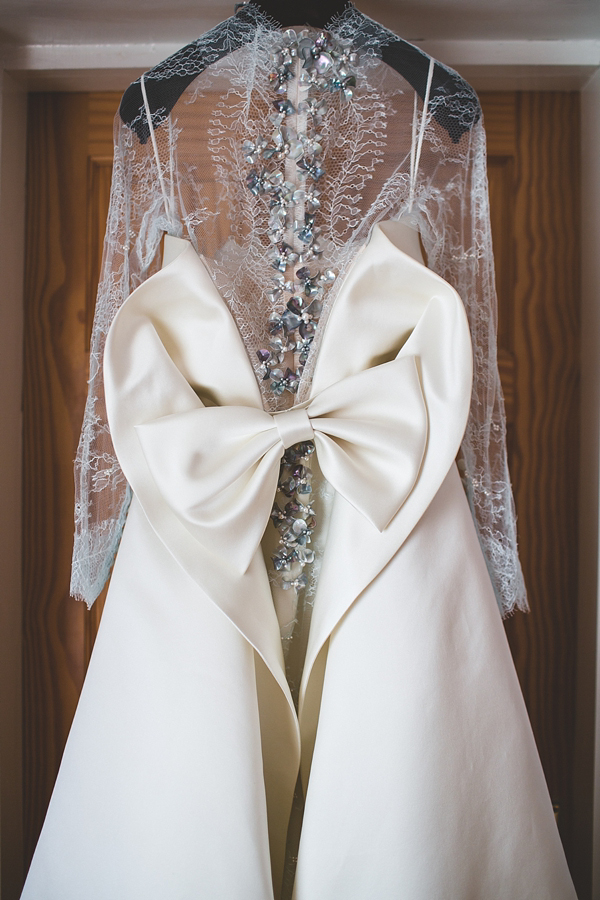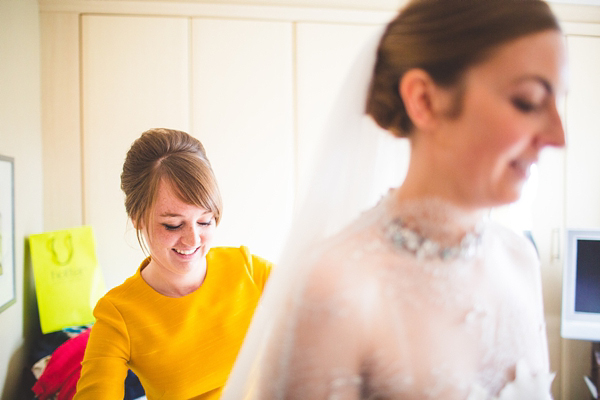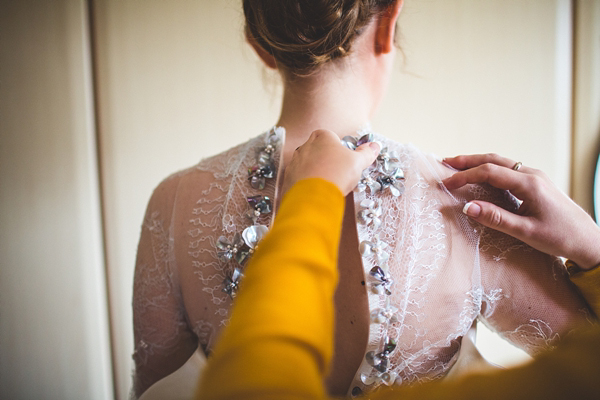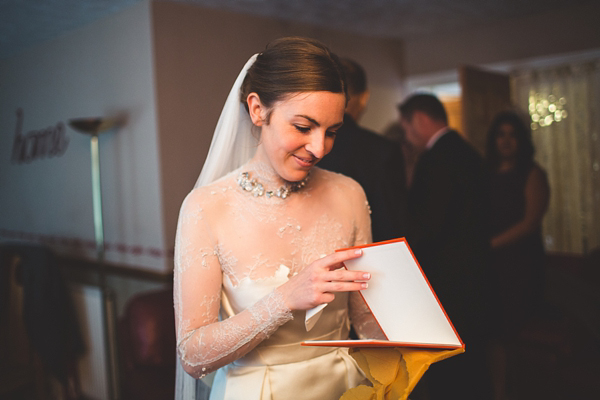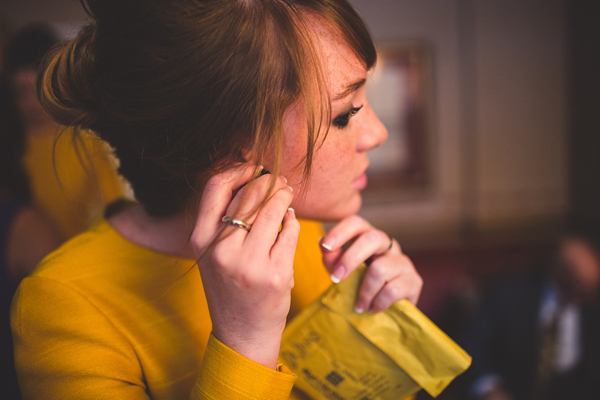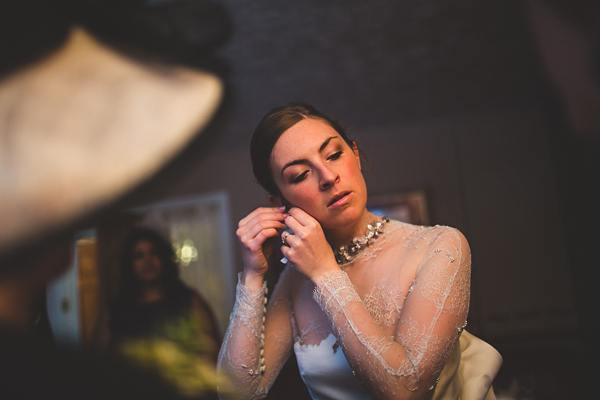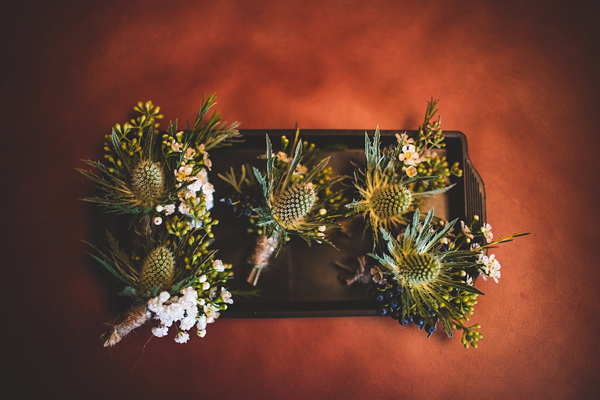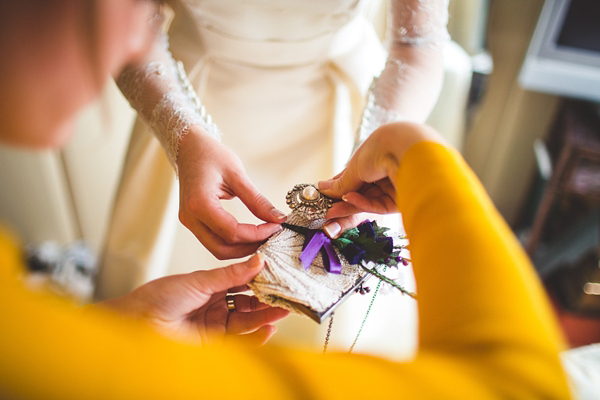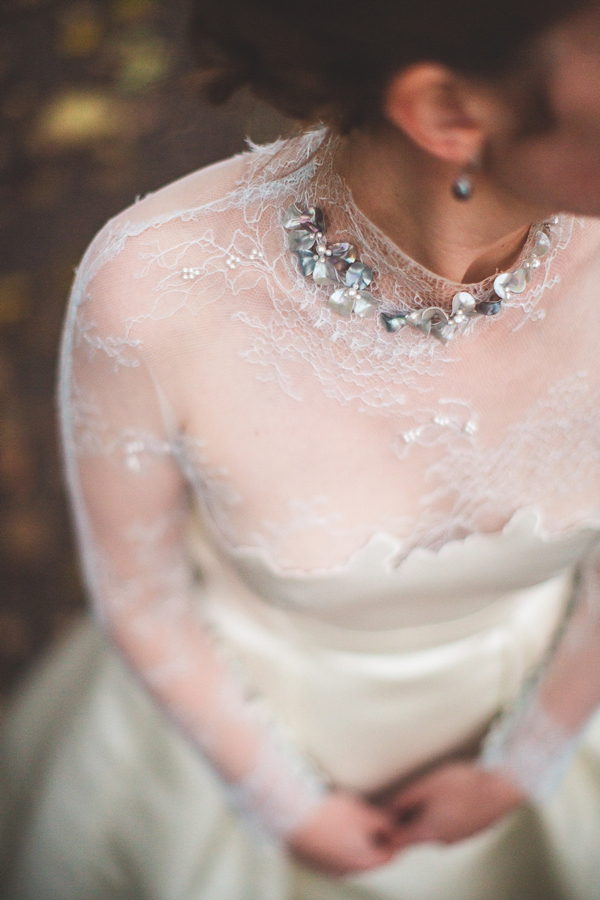 "Kevin's car was his own classic Speedster, my car was a surprise wedding gift from Kevin – my dream car a baby blue VW Beetle.  Bridesmaids travelled in a VW Camper van from Timeless Classic and guests were escorted to the reception venue by vintage vintage London Routemaster bus hired from Keighley Bus Museum."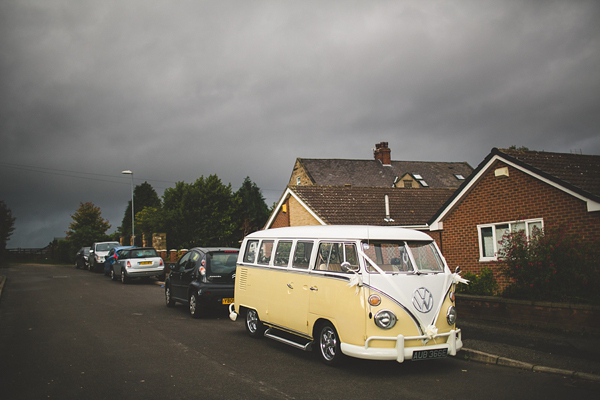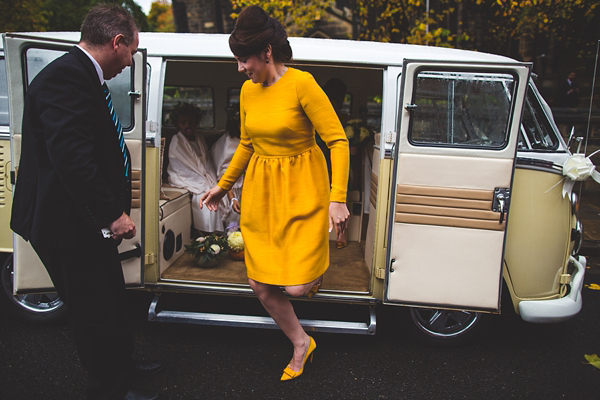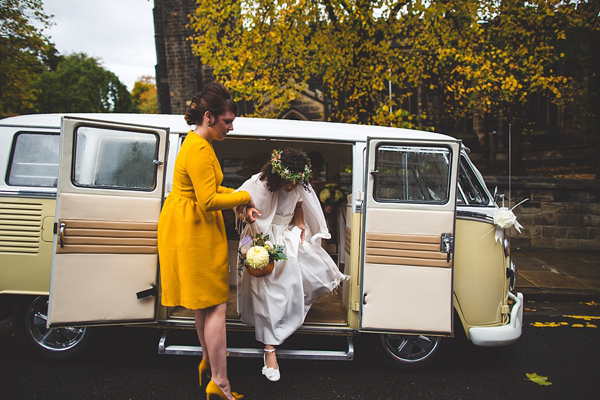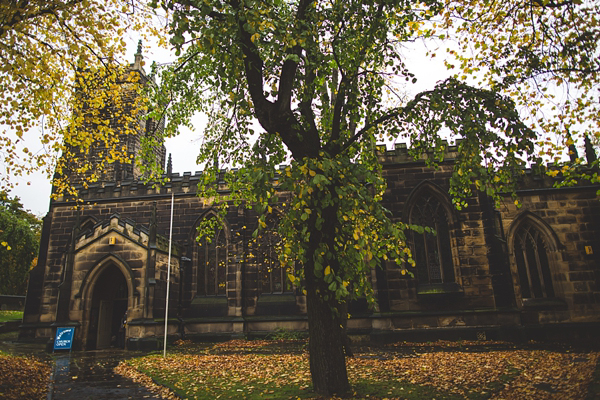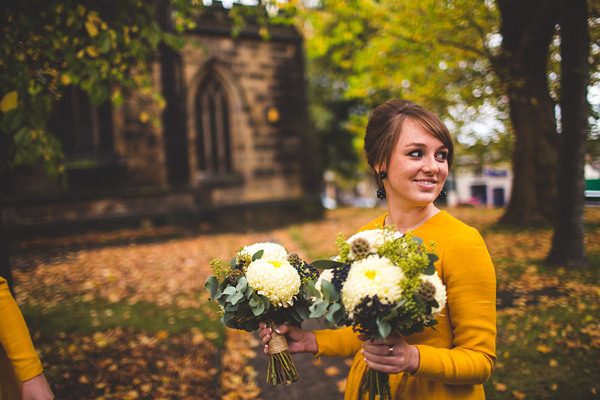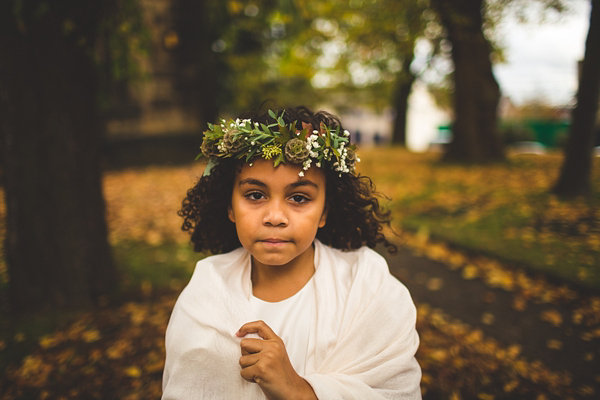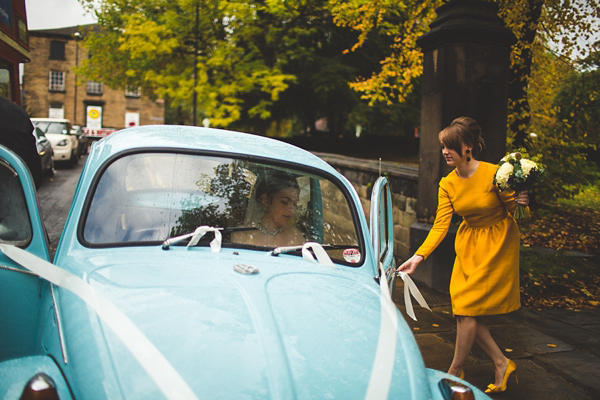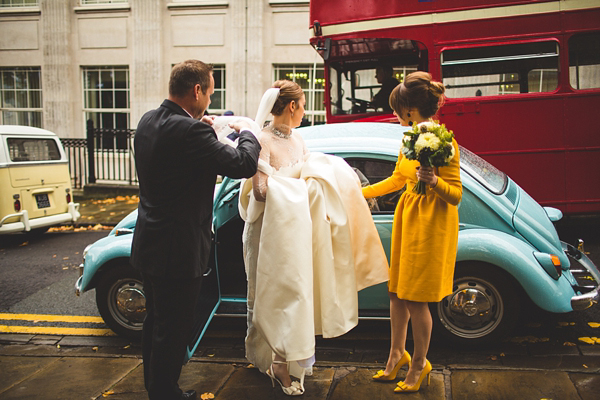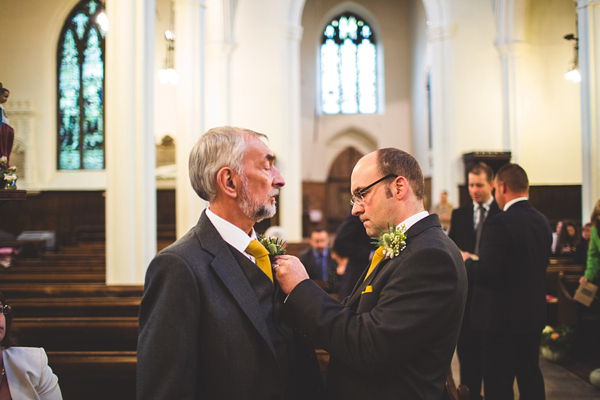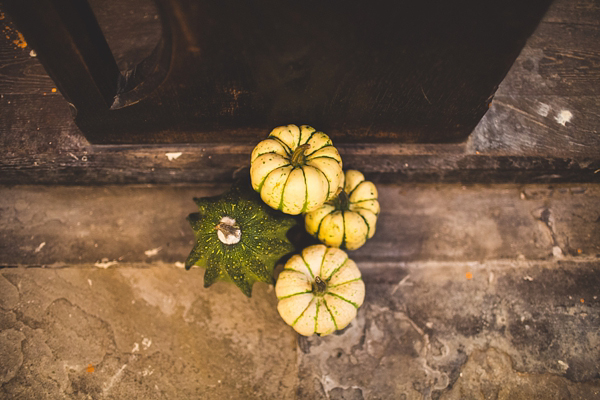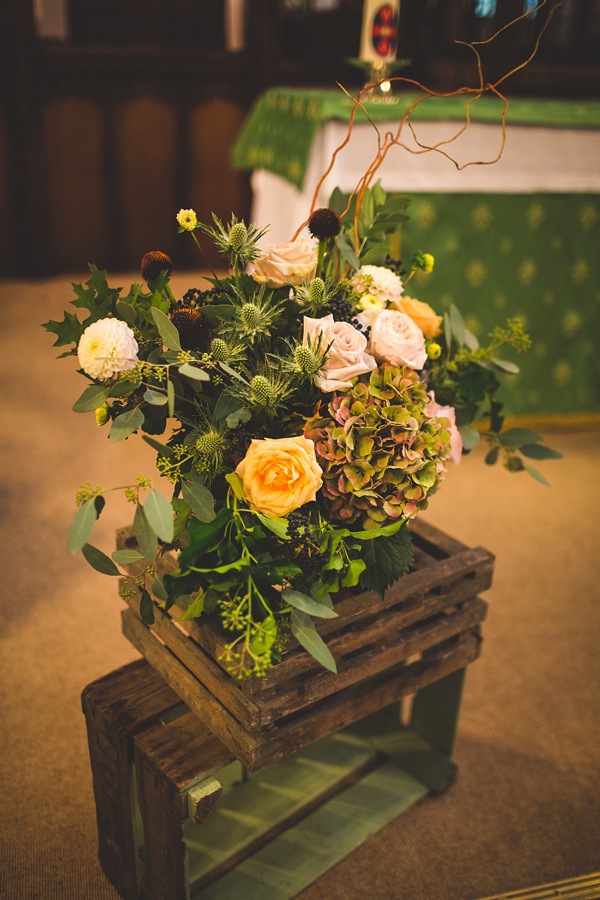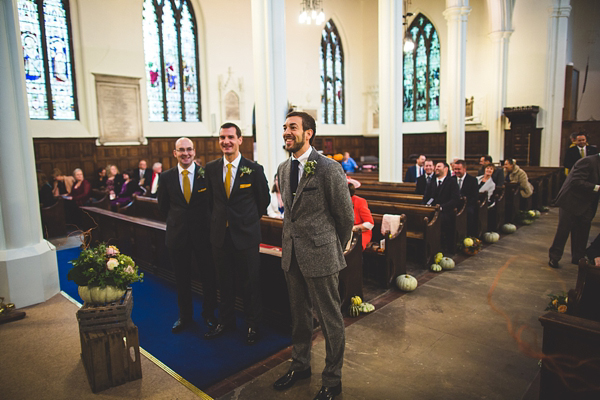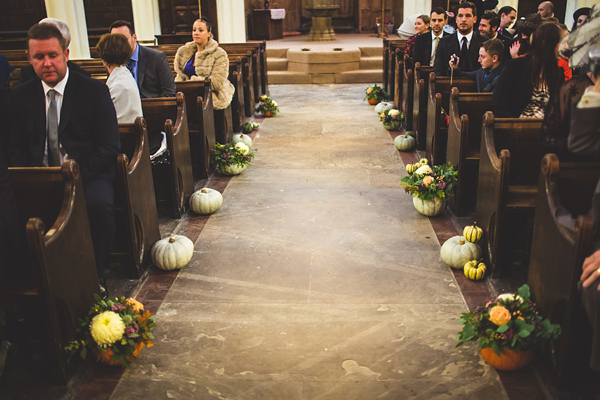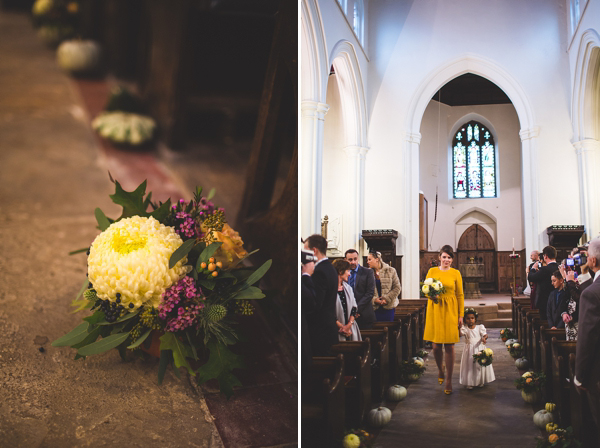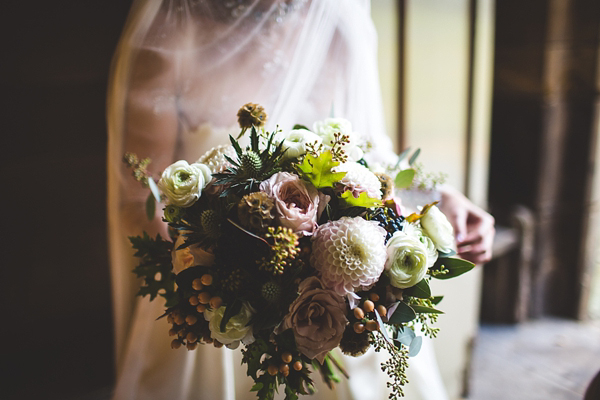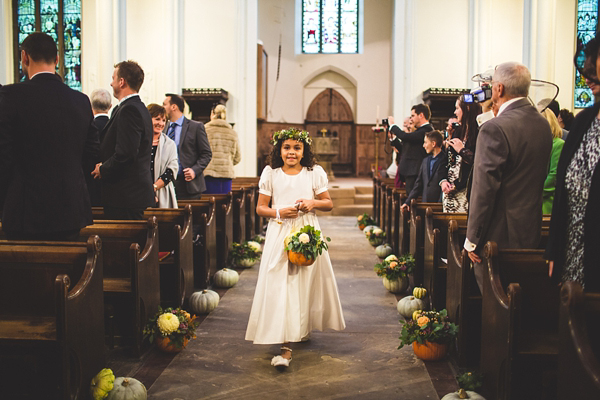 "My late father, Ian, walked me down the aisle and it happened to be the last full day we spent together before he sadly passed away.  Pachabel Canon in D Major was playing when my Dad gave me away, but as we left the church as husband and wife, we had Sigur Ros 'Hoppípolla' which is a track that means such a lot to us as a couple and is a very uplifting yet emotive track for such an occasion."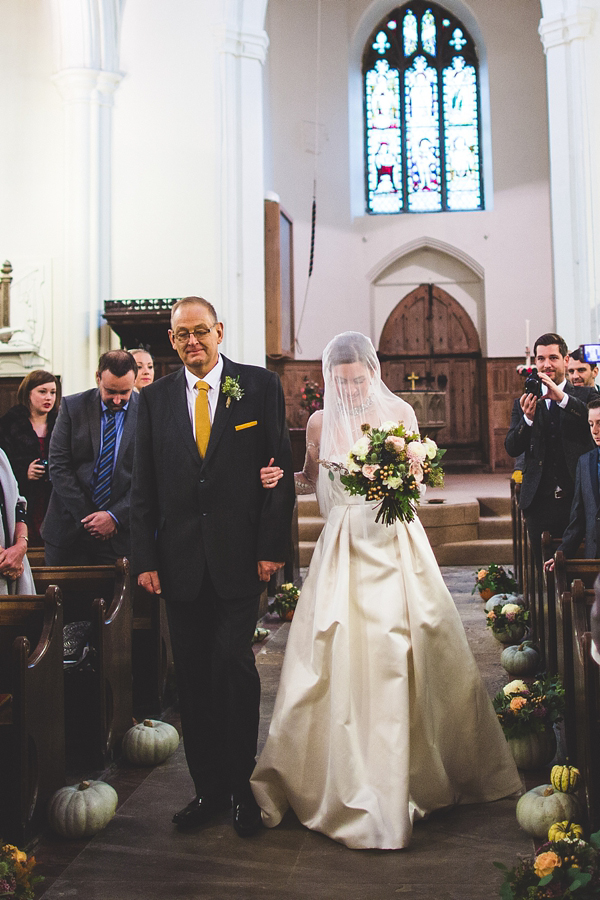 "During the church service my Godmother read Song of Solomon, Chapter 2, V10-13 and Chapter 8, V6-7; 'My beloved speaks and says to me;
'Arise, my love, my fair one, and come away; for now the winter is past, the rain is over and gone. The flowers appear on the earth; the time of singing has come, and the voice of the turtle-dove is heard in our land. The fig tree puts forth its figs, and the vines are in blossom; they give forth fragrance. Arise, my love, my fair one, and come away.  Set me as a seal upon your heart, as a seal upon your arm; for love is strong as death, passion fierce as the grave. Its flashes are flashes of fire, a raging flame. Many waters cannot quench love, neither can floods drown it. If one offered for love all the wealth of one's house, it would be utterly scorned.'"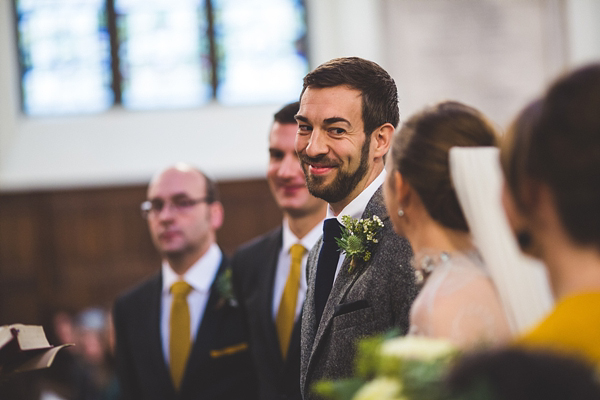 "My Godfather read an exert from Captain Corelli's Mandolin by Louis de Bernières;
'Love is a temporary madness, it erupts like volcanoes and then subsides. And when it subsides you have to make a decision. You have to work out whether your roots have so entwined together that it is inconceivable that you should ever part. Because this is what love is.
Love is not breathless, it is not excitement, it is not the promulgation of promises of eternal passion. . . . That is just 'being in love' which any fool can do. Love itself is what is left over when being in love has burned away, and this is both an art and a fortunate accident.
May your roots grow towards each other underground, and when all the pretty blossoms fall from your branches, you find out that you are one tree, and not two.'"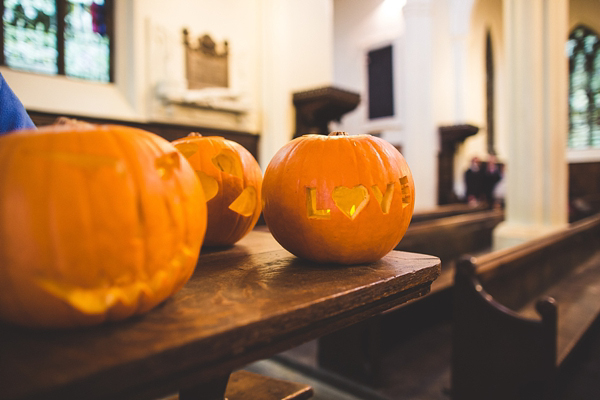 "We felt both readings really summed up what our relationship joining us as husband and wife meant to us, we have been together for seven and a half years so our wedding was more a celebration of the strength of our relationship rather than the start of it."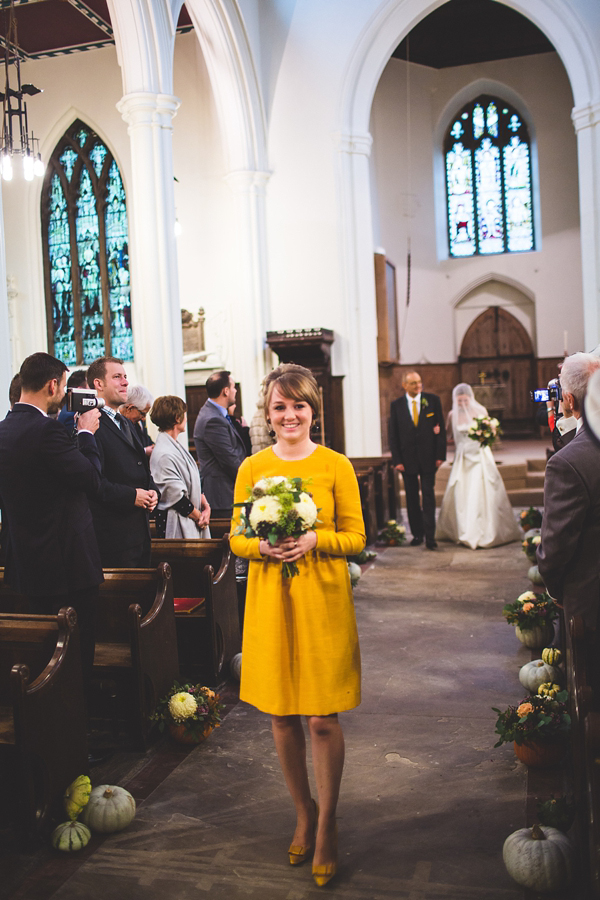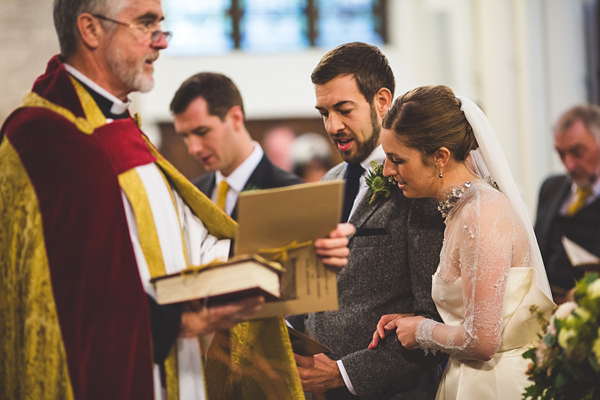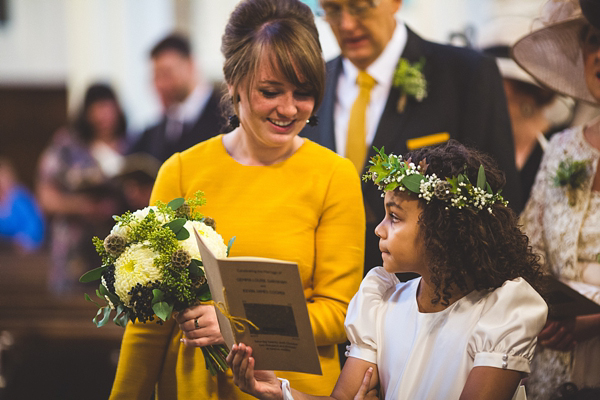 "Our platinum rings were produced by designer Husam El Odeh.  I work with Husam on jewellery commissions for Marios Schwab.  Husam created two very simple but beautiful rings for us that we love to wear."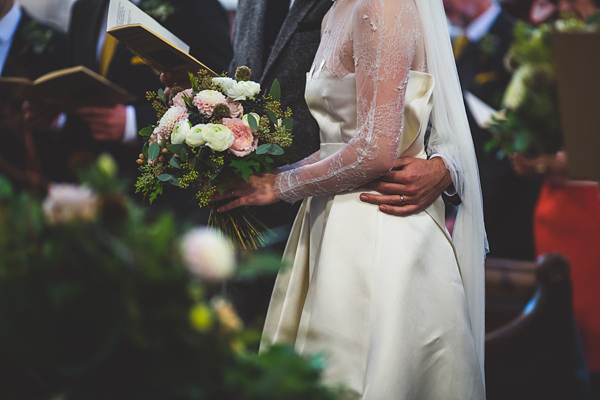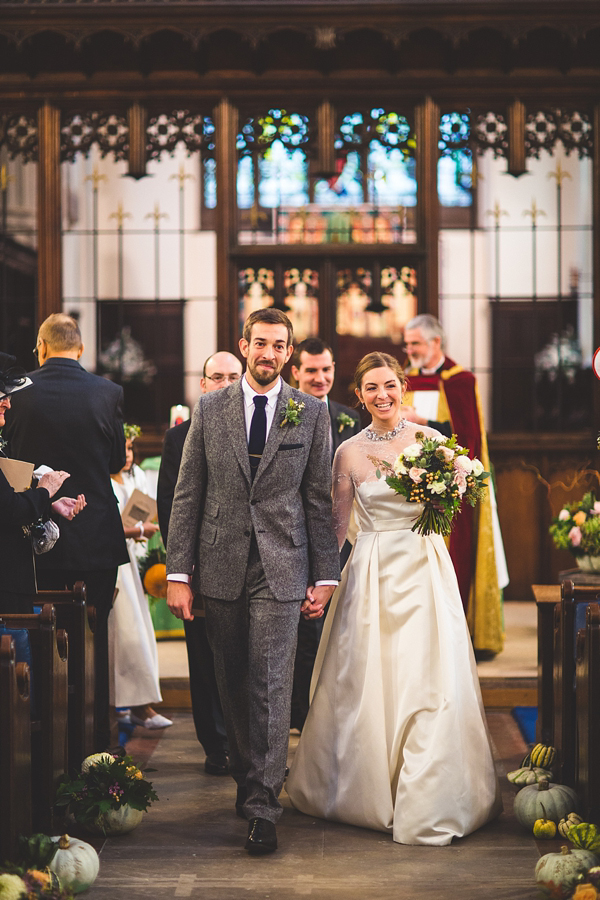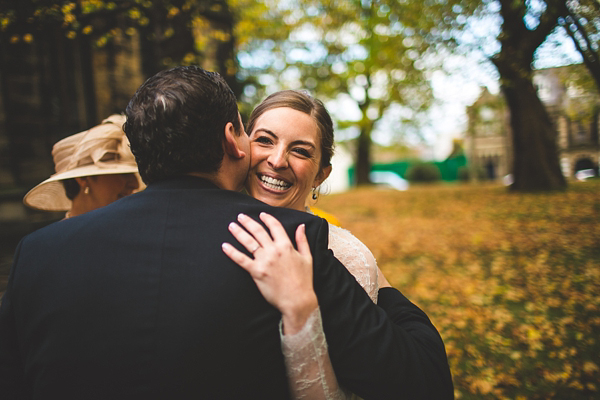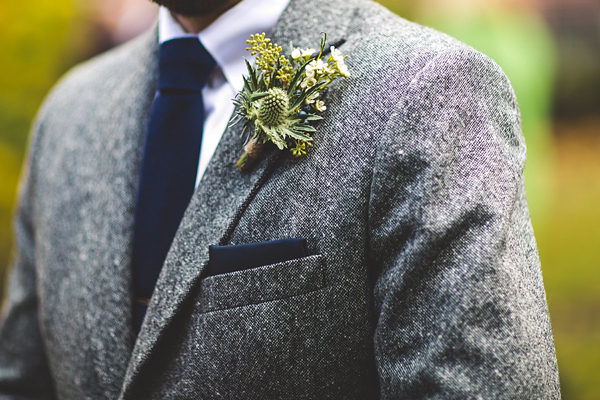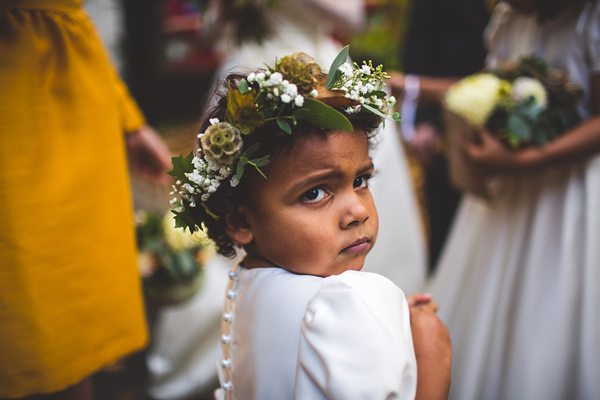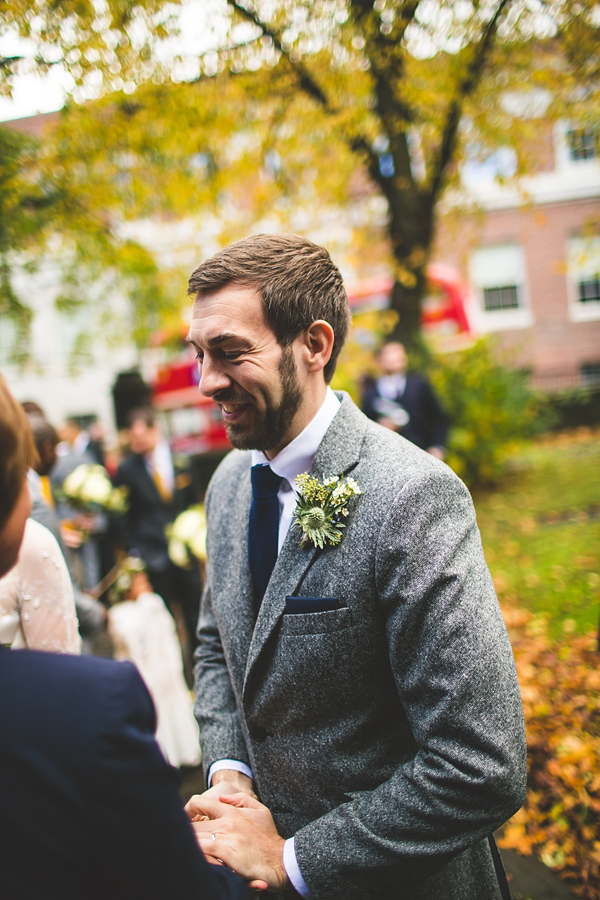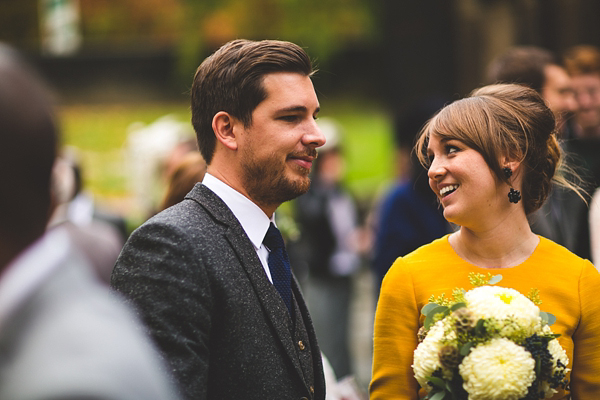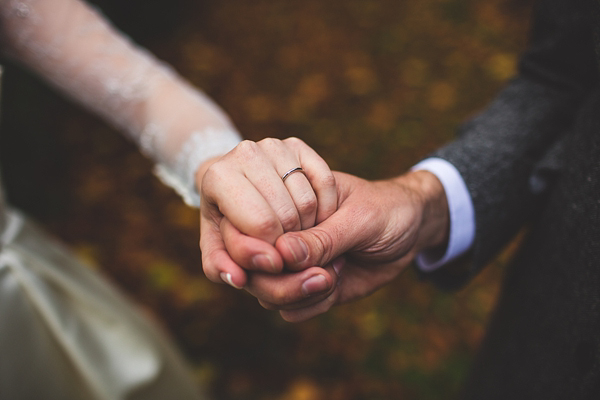 "Within The Civic Gallery, the staff assisted me with curating a small exhibition room dedicated solely to Kevin's photographs.  He is a keen photographer but a very shy and modest person who never shows his beautiful images to anyone so I asked the gallery team at the Civic if it was possible to incorporate one or two images within the space – they incredibly came back and said I could have a whole side room which they would present and frame the images if I had them printed and gave titles to them.  It was a surprise for our wedding day and Kevin and our guests were totally blown away by it.  I cannot thank the Civic team enough for their hard work with this."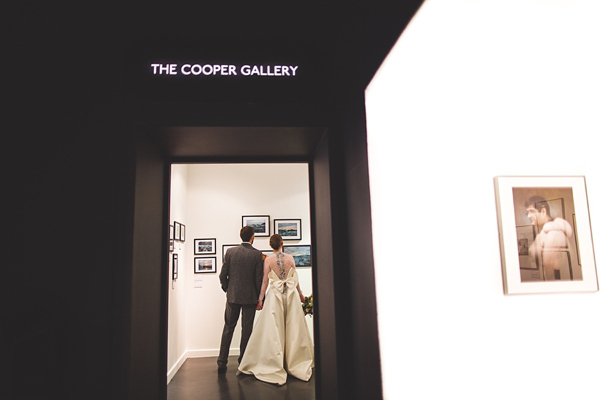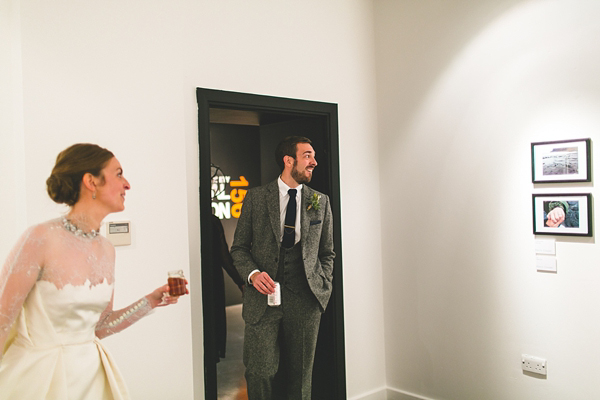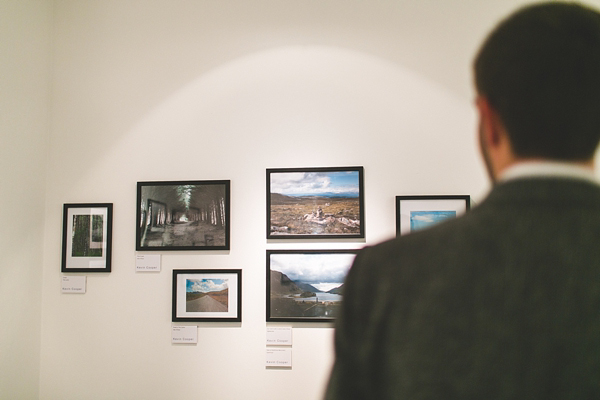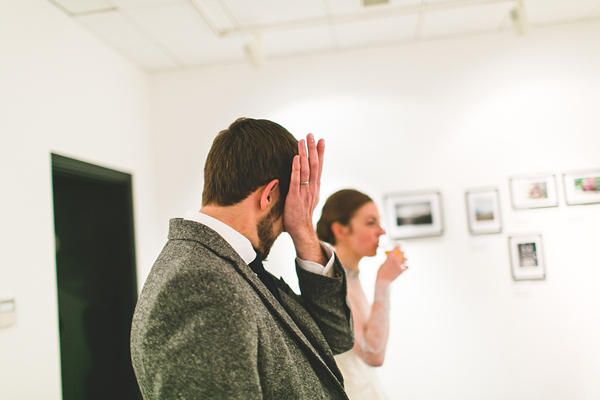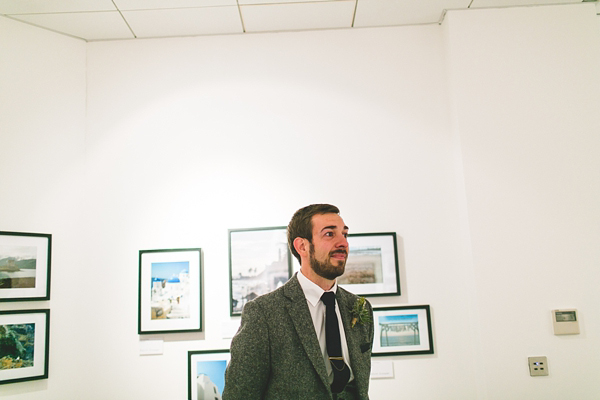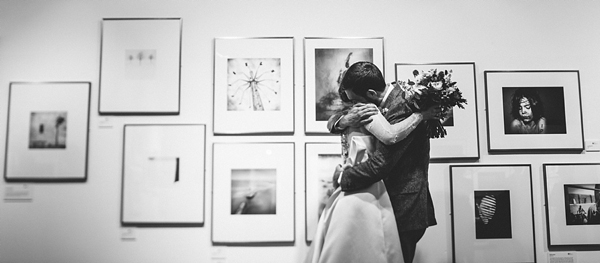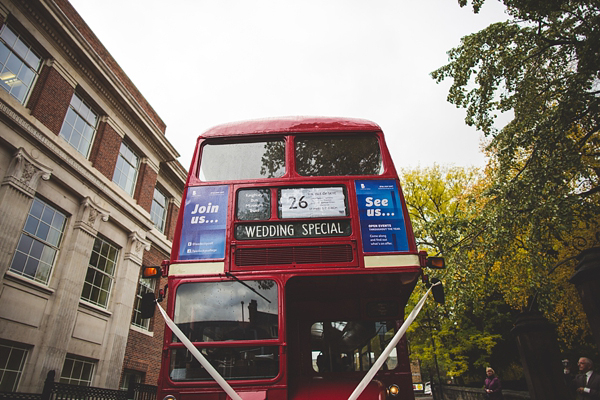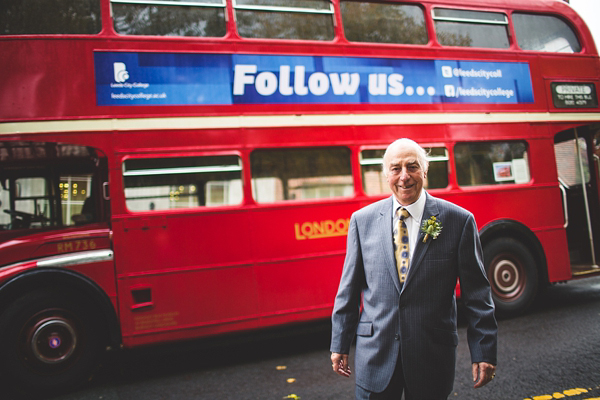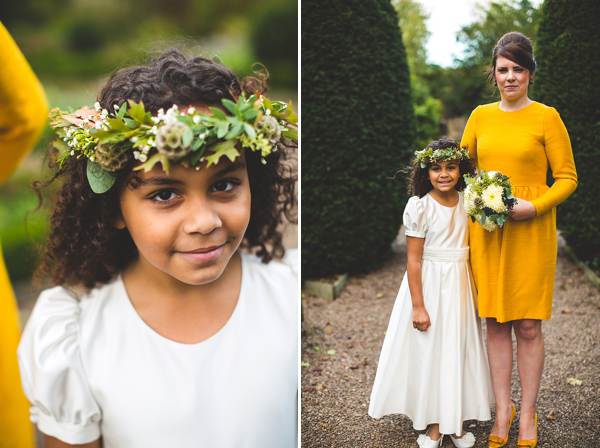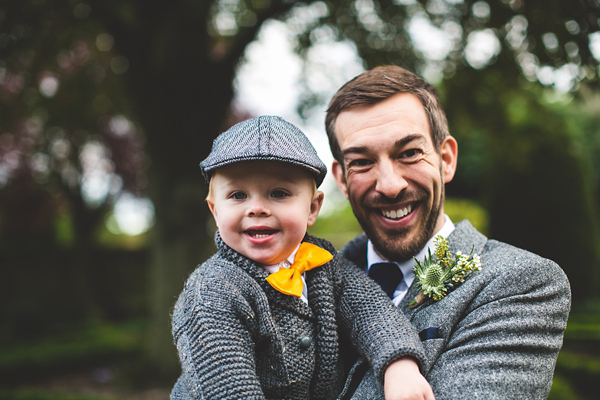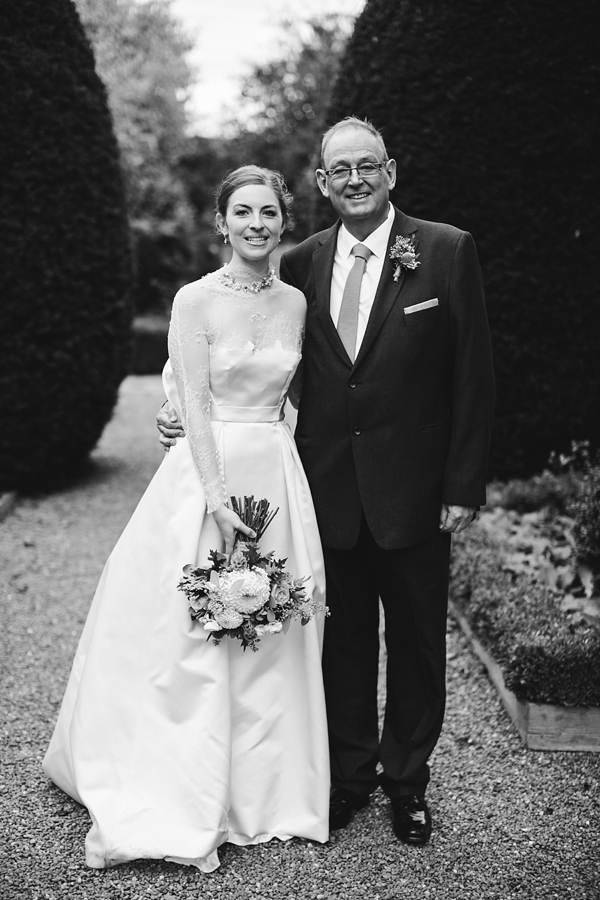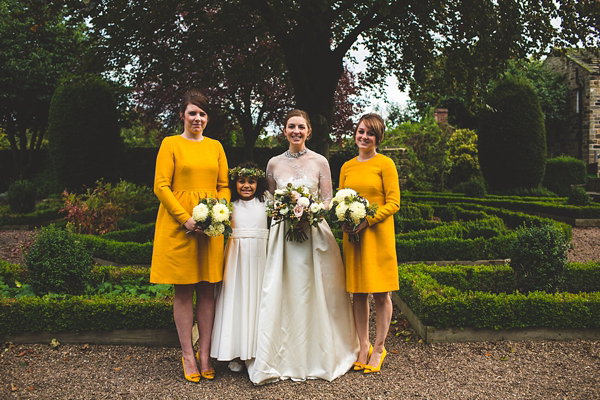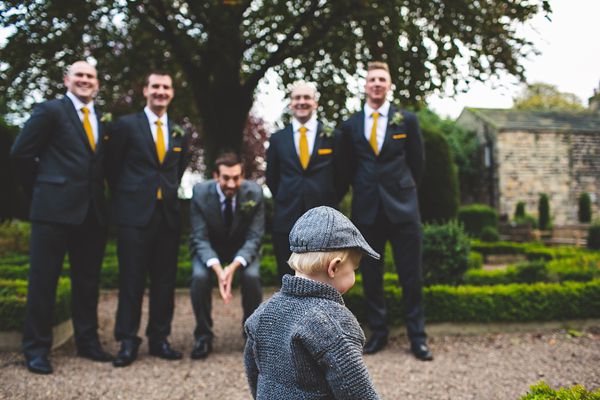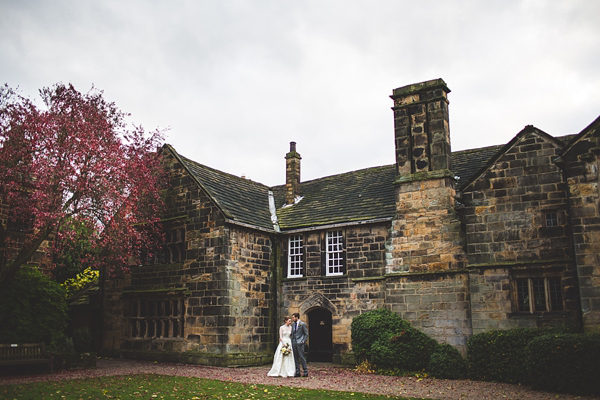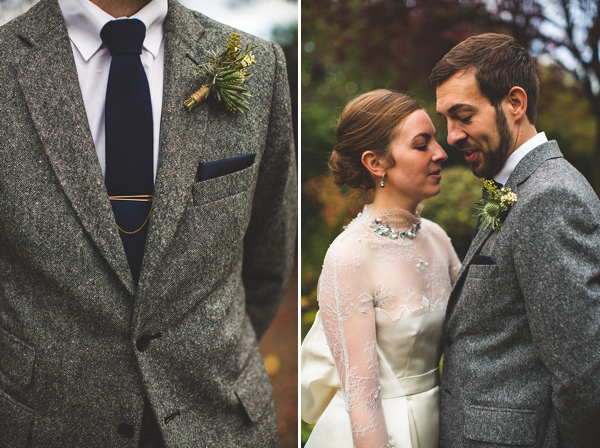 "I think we both agreed that amongst many special moments through the haze of the day we loved our drive from The Civic in my baby blue beetle together over to Oakwell Hall.  The drive was about 25 minutes, it gave us the perfect opportunity to stop for breath and reflect on the wedding ceremony and just be alone together and enjoy the moments so far.  We also over took our guests on the route master bus and other friends driving up the motorway which was lots of fun to see everyone waving and having such a fun time on their travels."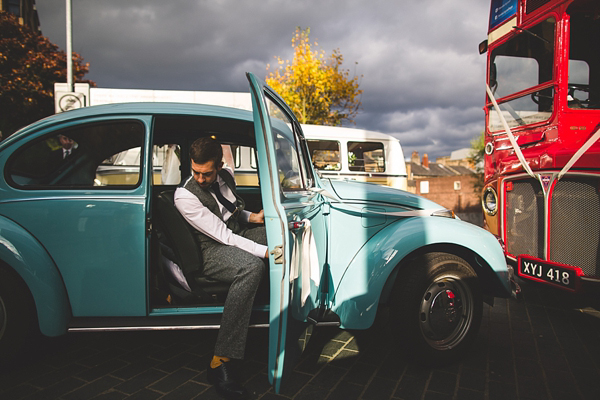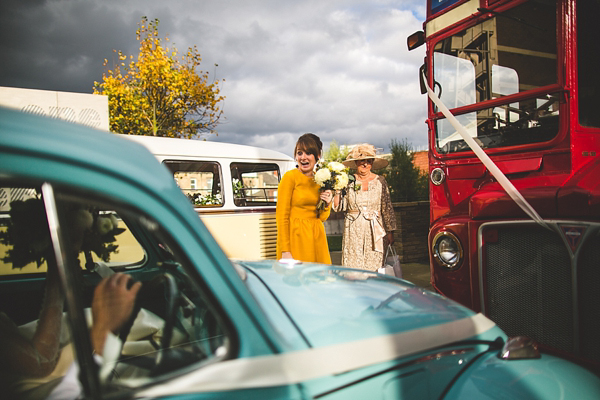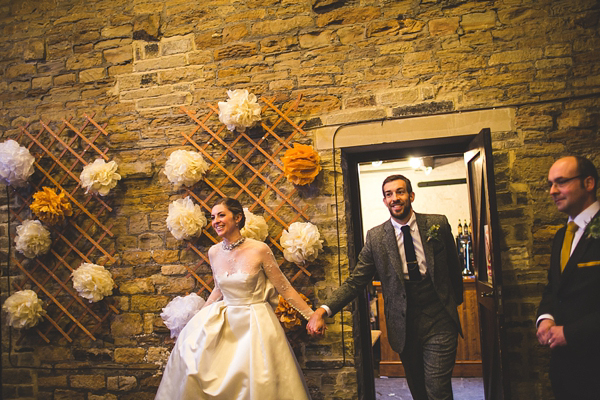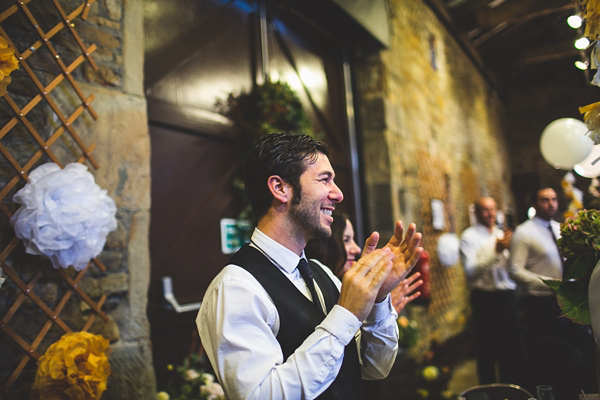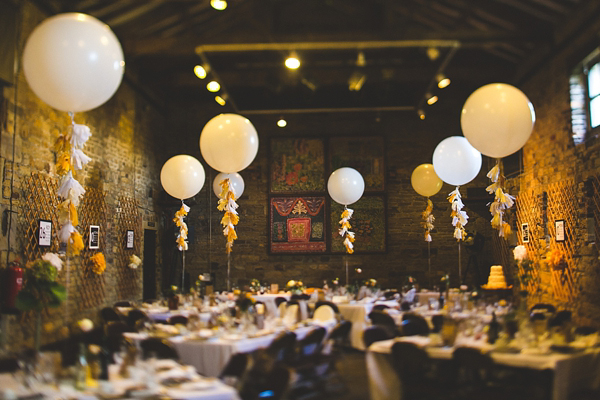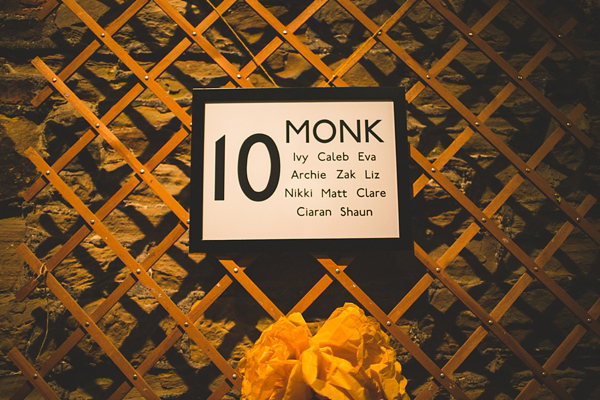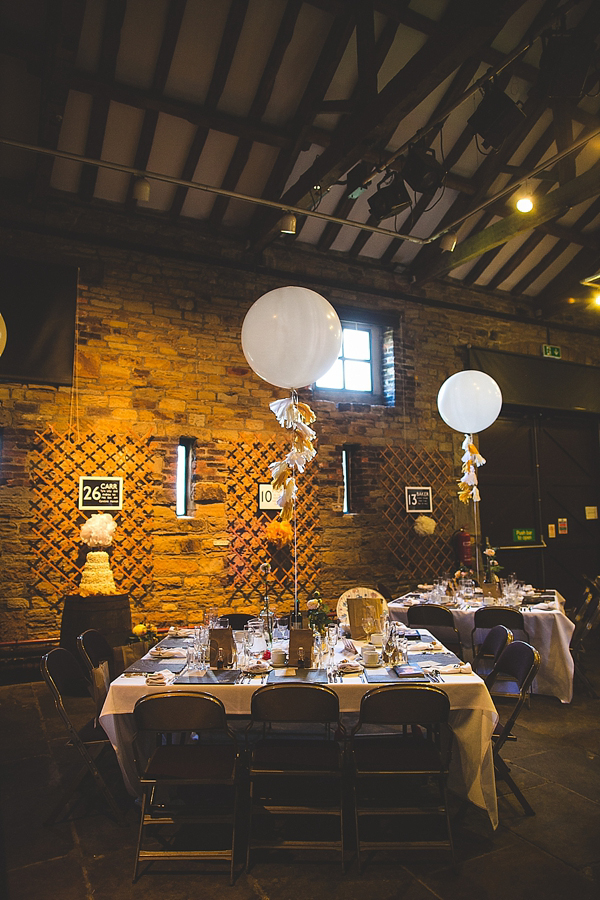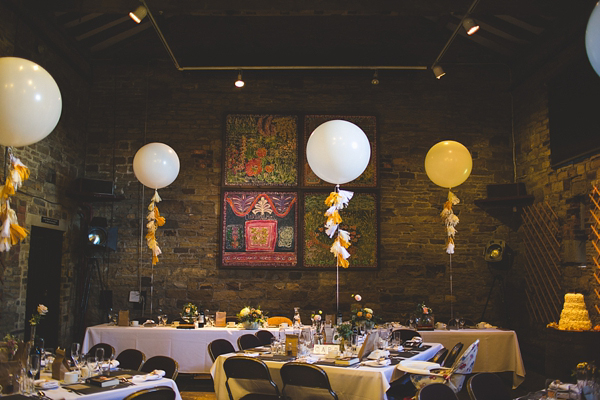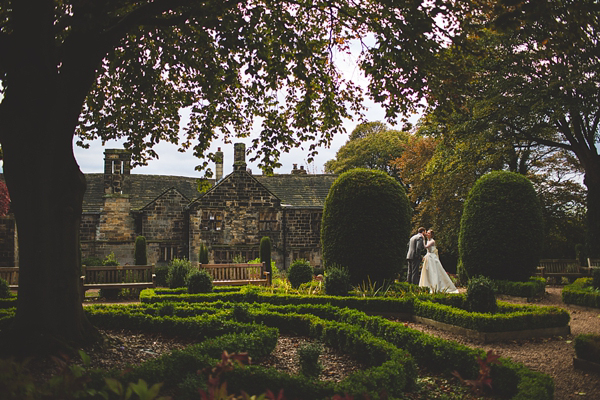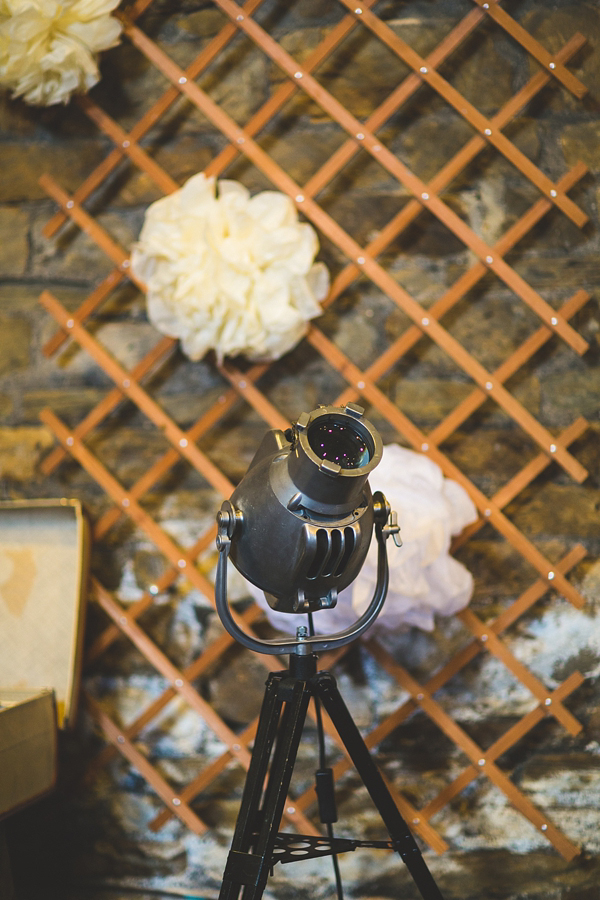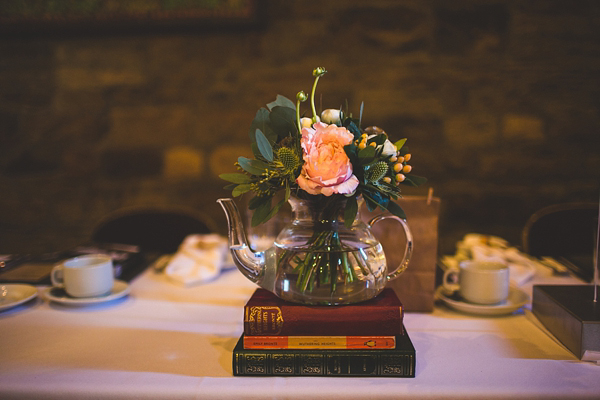 "The cake was a very personal part of our day where we wanted to involve our families who, due to us living in London and planning a wedding in Yorkshire, weren't able to be as involved as I am sure they would have liked.
The top tier was baked by myself, second tier by my mother-in-law, third tier my mum and bottom tier my Grandma.  It meant we had both the Cooper and the Garnham family recipes which are very different styles of fruit cake all a part of the day.  The cake was then decorated by Kevin, myself, my Grandma, Mum and Aunties.  Topped with the beautiful old letter press blocks Kevin had bought me for a Christmas gift during our years together."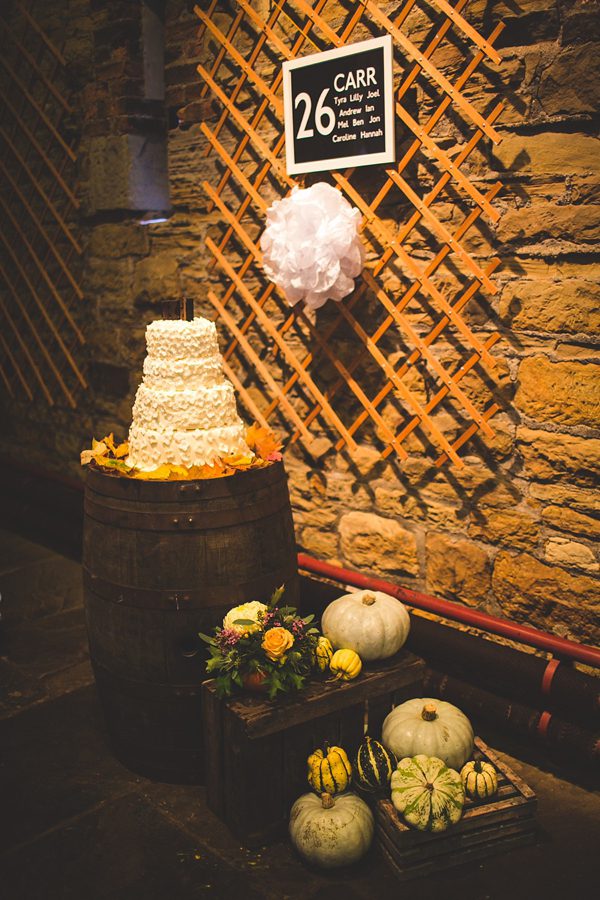 The couple designed all their wedding stationery, table plans and menus together, sourcing fonts, papers and envelopes for printing.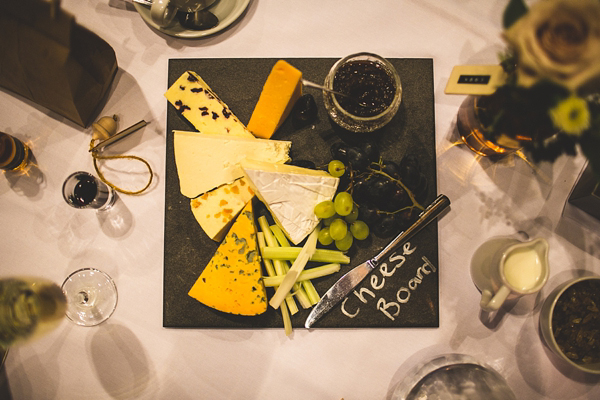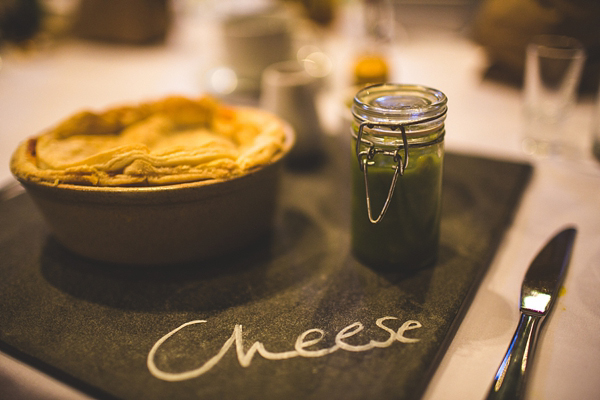 "The Civic Gallery's catering team created amazing mini fish and chips and scampi and chips canapés for our private exhibition viewing accompanied by real ales and autumnal mulled cider.  David at Chef Solutions in Sheffield prepared our perfect menu of spiced autumnal pumpkin and squash soup, home made pie, mash and peas and then for the evening to reflect our life in London, Brick Lane bagels filled with salt beef, mustard and pickles and smoked salmon and cream cheese as well as lots of delicious deserts from our list of favourites.
Yummy Yorkshire's stunning Ice cream trailer served guests ice creams we selected for desert as well as our personally created flavour 'Tiramisu' from our love of Italy."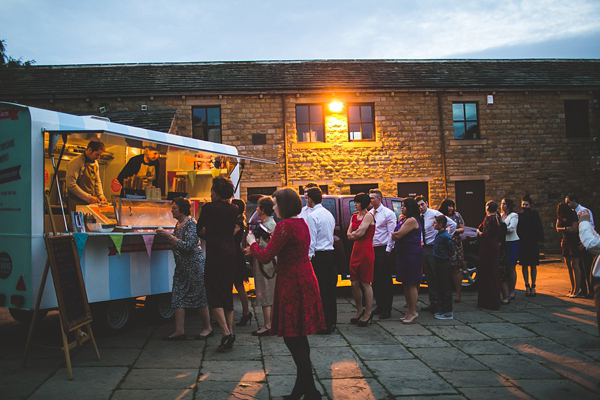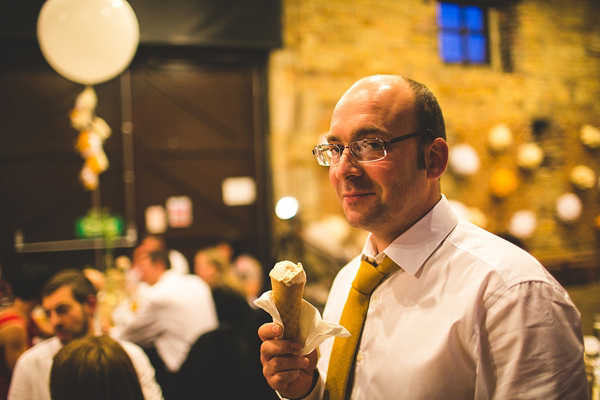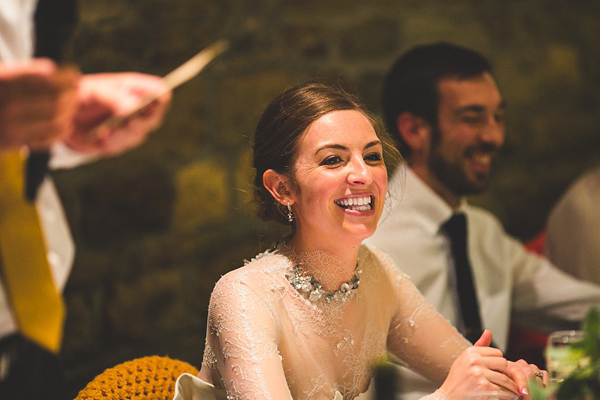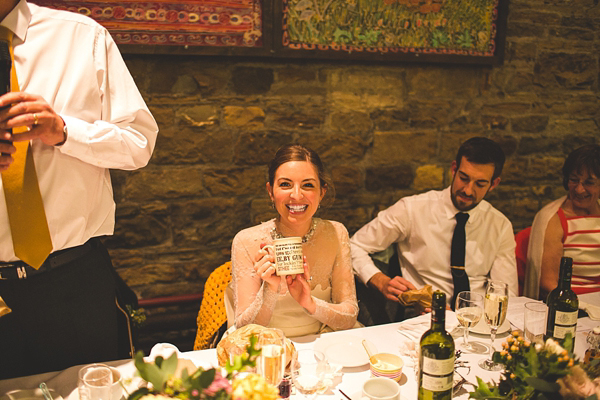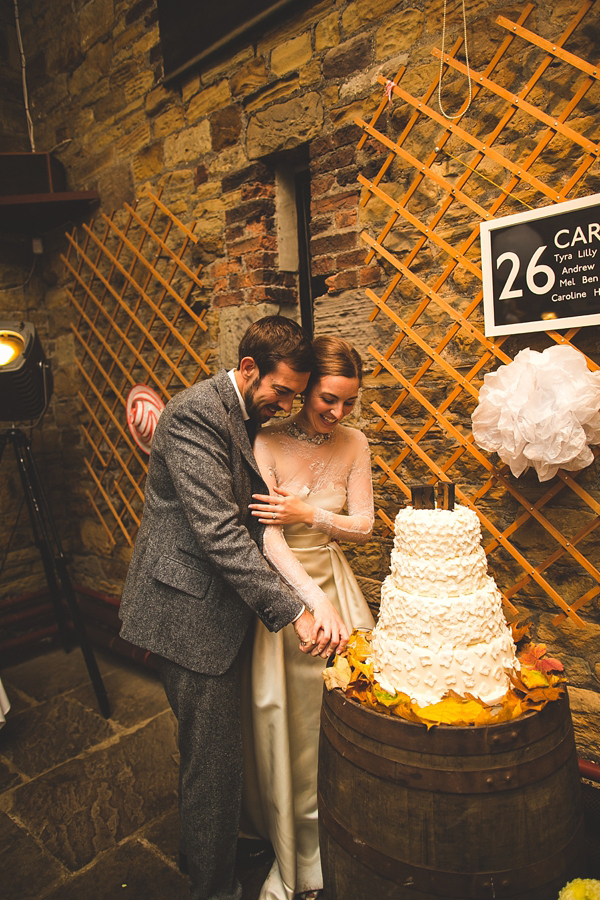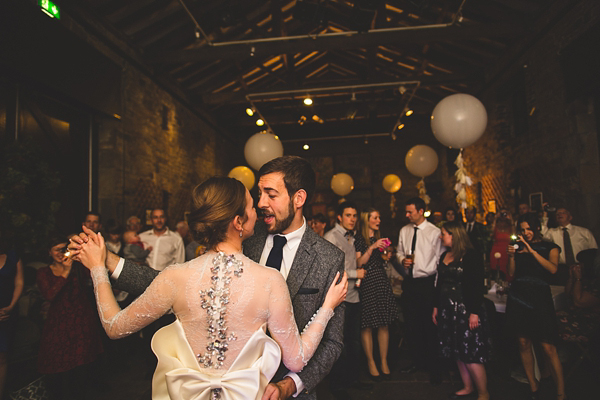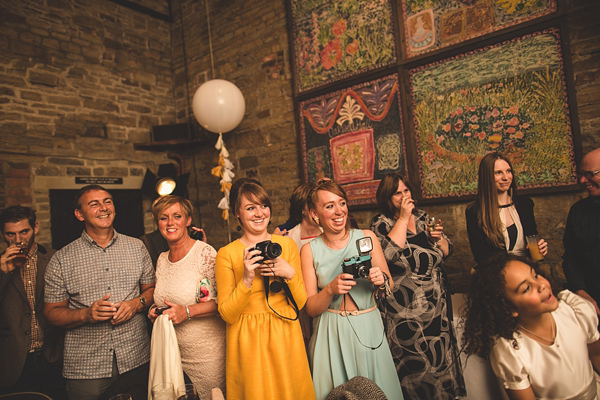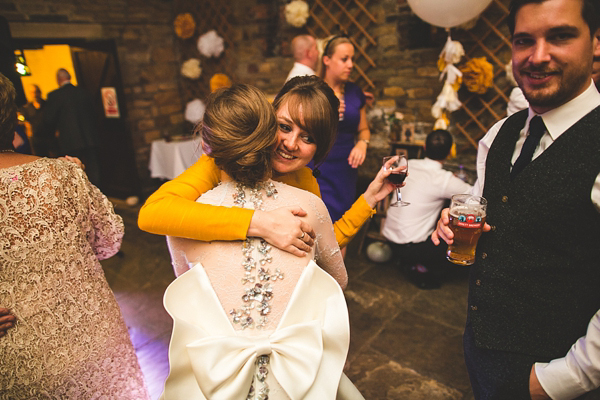 Words of Wedded Wisdom…
"Try and enjoy every moment in the build up of the wedding, we had a stressful year and maybe took on too many projects for the wedding because we wanted to control everything that we left such little time to enjoy the process – we both work very long hours and I don't think we were realistic enough about what time we had available and what was achievable.  On the day – so many people said it to me but it's true- make time to just be together so you can digest everything that has happened/is happening."
"Most of the day is such a blur to me so it is nice we had the time together to talk about the events.  I also spent a lot of time just going to sit with my Dad and catch up with him and these moments – without realising they would be some of our last in happy circumstances – mean the absolute world to me as I feel like within the craziness I still had quality time with him and my other closest relatives which I imagine could easily be overlooked with so many guests in attendance to speak with."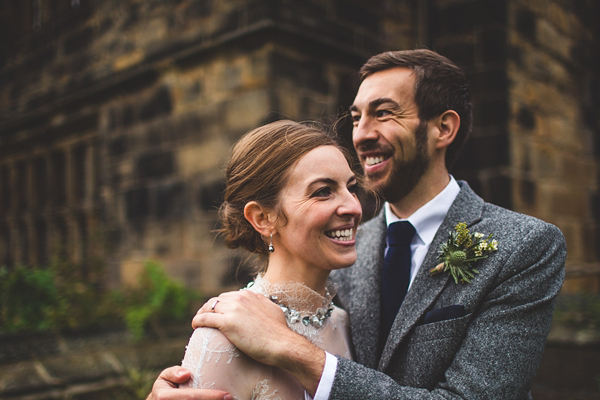 "Our day was everything we hoped it would be and more but I think we made life difficult for ourselves by being so adamant we would be in control of every single aspect from me managing the production of my wedding dress through to writing personal notes for every single guest to designing the stationary – I am not saying we would change anything but I think we underestimated how much time, management and energy was needed to pull so many aspects together from such a distance and to meet our budget."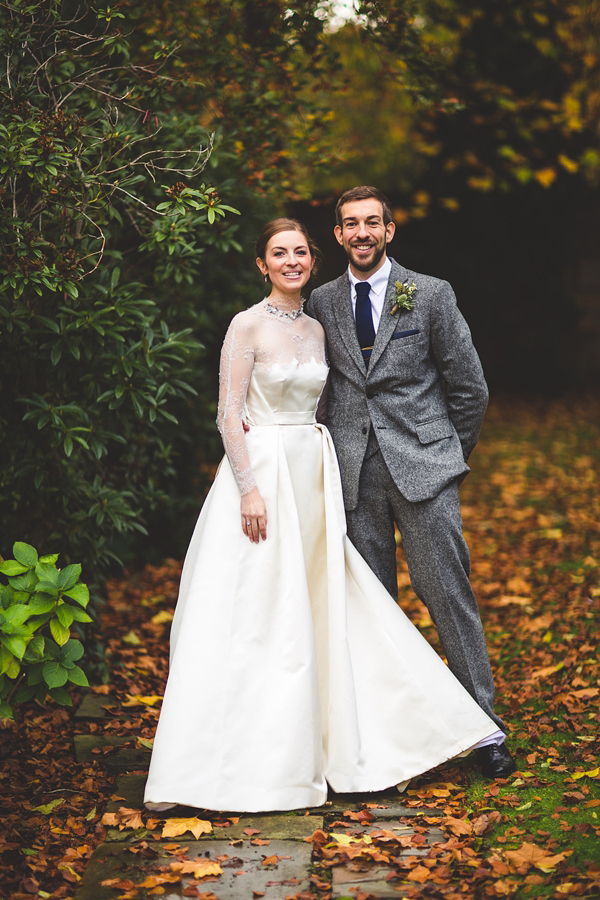 What a gorgeous gorgeous day, so incredibly inspirational and moving. Immense thanks to Gemma and Kevin for sharing their precious memories with us today and, as usual, great thanks to Jon Dennis of S6 Photography – more from whom you can see on Love My Dress here.
I'd love for Gemma to be able to visit this feature and see some appreciation for sharing her beautiful day, what do you love most about this wedding and are there any ideas you've been tempted to perhaps try out for your own wedding?
Love Annabel

Photographer – S6 Photography
Venue – Oakwell Hall Barn
Wedding Dress – Marios Schwab
Veil/Headpiece – silk tulle veil made by the bride & her colleague
Brides Shoes – Freya Rose
Bride's accessories – earrings gift from the bride's parents
Groom's Attire – tailor made by a friend
Bridesmaids – Marios Schwab (designed by the bride) + Zara silk shoes in mustard colour
Flowergirl Dresses  – BHS
Page boy outfits – H&M + Flat Cap from GAP + cardigan hand knitted by the brides Grandma
Florist - Swallows and Damsons
Cake – made by various family members
Transport – Timeless Classic + Keighley Bus Museum
Entertainment – The Greg Bish Blueprint Ban
Rings – Husam El Odeh
Catering – Civic Gallery's catering team + Chef Solutions + Yummy Yorkshire
Stationery – made by the bride and groom
Hair Stylist – Stella's hair salon in Barnsley
Follow Love My Dress on Google+