Someone not unfamiliar with blogging for Love My Dress is Nina Neon – the lady behind our Confessions of a Disabled Bride series.  I've been longing to share this, the final post in Nina's honest, often heart-warming and truly inspirational set of blog posts, ever since I attended her breathtakingly beautiful wedding last September, at One Great George Street in London. So it's with a great sense of pride and pleasure that I'm sharing Nina's wedding story with you all today.
Nina, who is studying for a PhD in English Literature, married Bob, a Laboratory Manager on 7th September last year at One Great George Street in London.
"Our main inspiration was children's literature. We took inspiration from Victorian children's stories like The Secret Garden, from the magic and darkness in classic fairy-tales and from the wonky humour and colourfulness of more modern children's literature like Roald Dahl or Astrid Lindgren. And of course we chose our favourite authors that bring out our inner geeks, Neil Gaiman and JK Rowling.  It also really meant a lot to us that we were getting married in a country and at a time where marriage is finally open to everyone.
Photography Copyright (c) 2014, Lillian & Leonard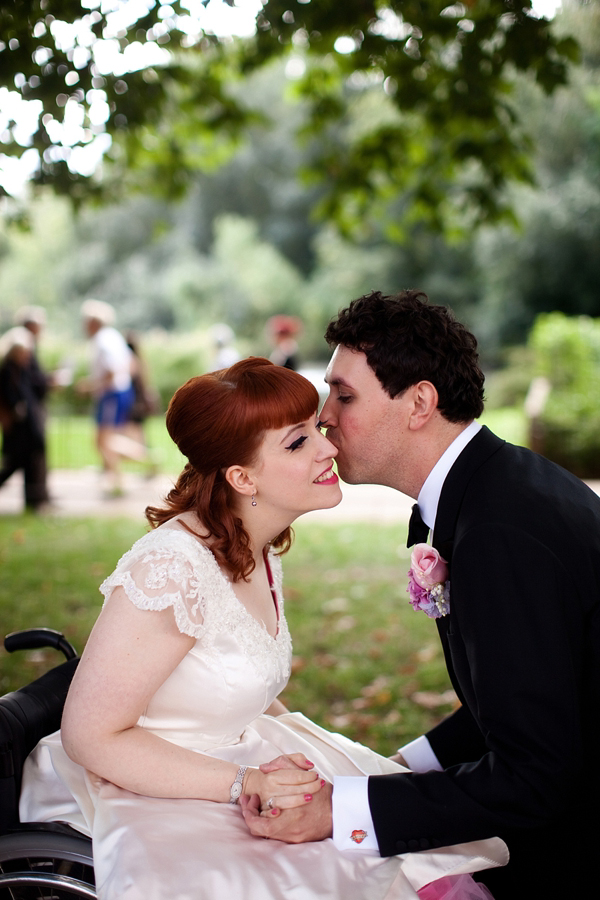 "We met at a music festival, and then were together for about eighteen months before Bob proposed on my birthday in September 2012, kneeling down in our living room. We got married almost exactly a year after the proposal. You can read about our story in detail on a previous blogpost I did for Love My Dress!  Bob originally meant to propose to me during the Harry Potter Studio Tour in Watford, where we also met JK Rowling.  She congratulated us on our engagement and made us promise not to spend our honeymoon reading Harry Potter books to each other (we didn't!).
I wrote in my first two blog posts for Love my Dress (here and here) about our venue search. For us, One Great George Street had both that magical fairy-tale atmosphere we were looking for, and state-of-the-art comfort and accessibility."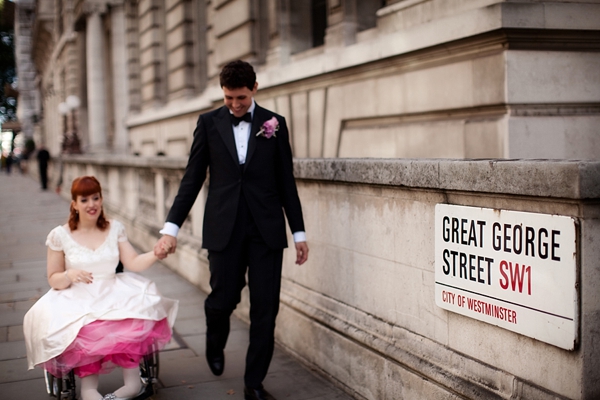 "Our floral designers were By Appointment Only Design.  I read about them on Love My Dress, and knew they would be perfect to recreate that magical secret garden atmosphere we wanted for the wedding.  We  wanted to include beautiful editions of children's literature classics in our centre pieces, so they created individual stands out of wooden logs to showcase the books amidst the gorgeous floral arrangements which included moss, berries and a sprawling, abundant, wild mix of flowers."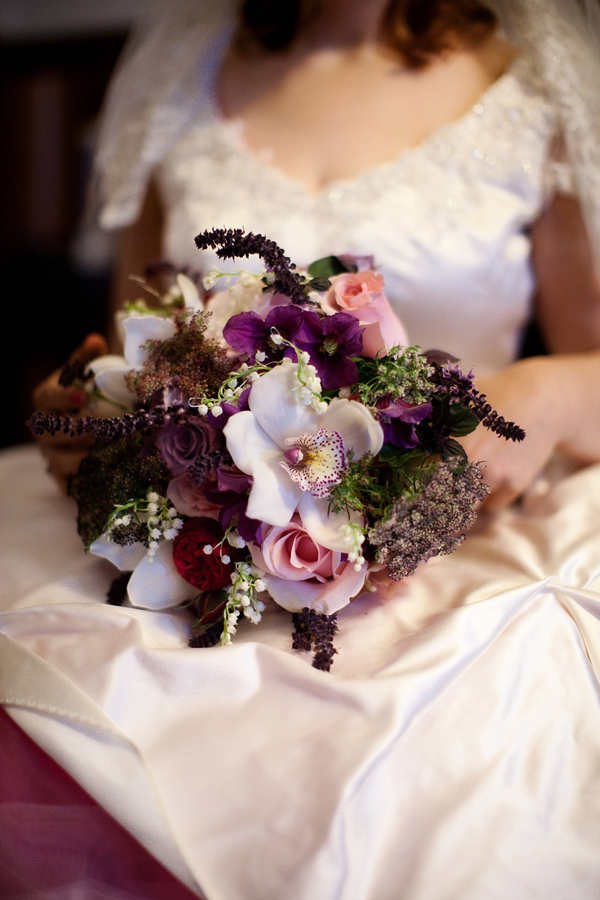 "We are both huge foodies with a sweet tooth, so we wanted cakes that, first and foremost, were amazingly delicious and not style over substance. We have been eating the delicacies of both of our suppliers for years! Our wedding cake by Bea's of Bloomsbury had four different flavoured layers, so there was something for everyone. As our flower girls are gluten and dairy intolerant, and we really wanted them to be able to have cake, Kooky Bakes created special gluten-free dairy-free cupcakes.
Bob really likes the classic cake toppers, whereas I find them a bit outdated, so we went for a compromise: we had a little version of us, but sitting on a cake tier, rather than on top of the cake. This way we were also able to sidestep the question whether to portray me with any mobility aids, because had it just been a lady standing there, that would not have felt like me at all. The topper was custom-made by Becky Athawes who did a cake topper of a spooky resemblance for a wedding of friends of ours. On the actual top of our cake, we had a mini book of Antoine de Saint-Exupéry's 'Le petit prince' to tie in with our children's literature theme."
"Our wedding photographers were Cara and Nye of Lillian & Leonard.  I first saw their work on Love My Dress and loved the natural style and their cute back story.  Cara and Nye a husband-and-wife-team, named their company after Nye's grandparents! It was also great to have two photographers who could capture different moments.
Cara stayed with me during my preparations, whereas Nye spent that time with Bob and his groomsmen. Not only did they take spectacular pictures, but Nye was also really wonderful about calming Bob's nerves before the ceremony and he showed Bob how to attach his flowers to his lapel!"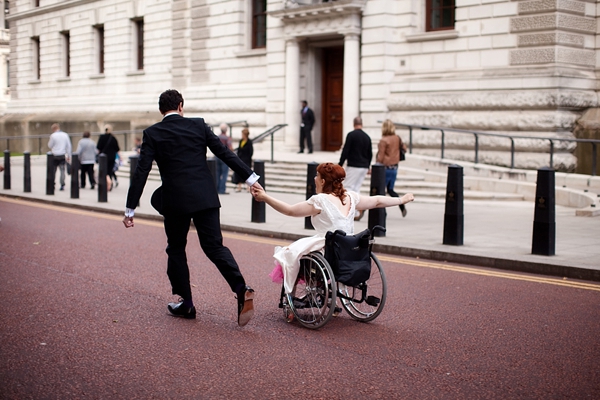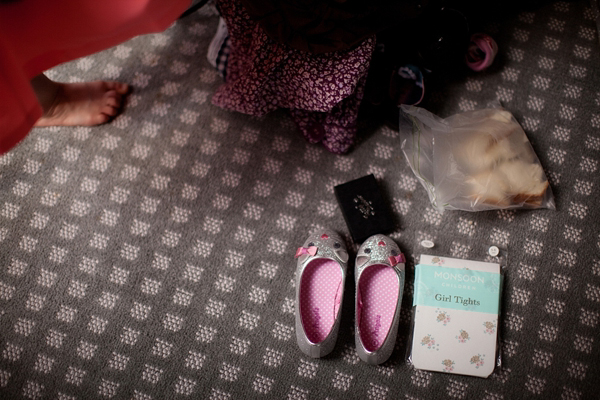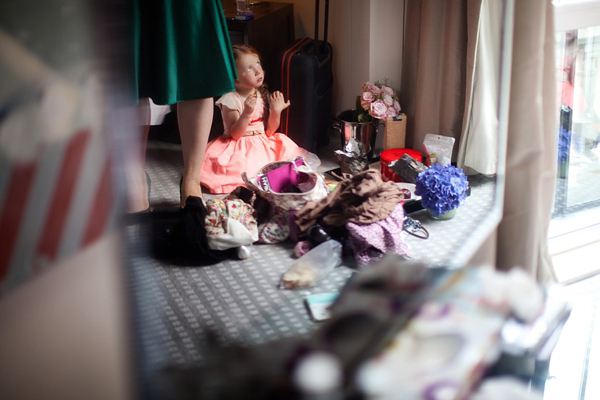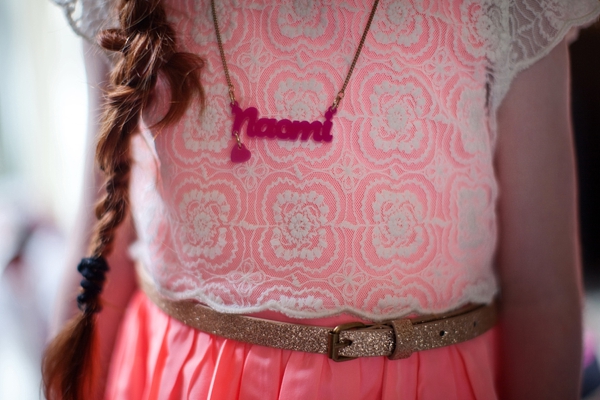 "Bob's nieces Hannah (4) and Naomi (6) were our flower girls.  They wore dresses from Next in a similiar shade of bright pink as my dress. They also wore really cute cat ballerinas from Accessorize and our florist made them gorgeous little flower baskets."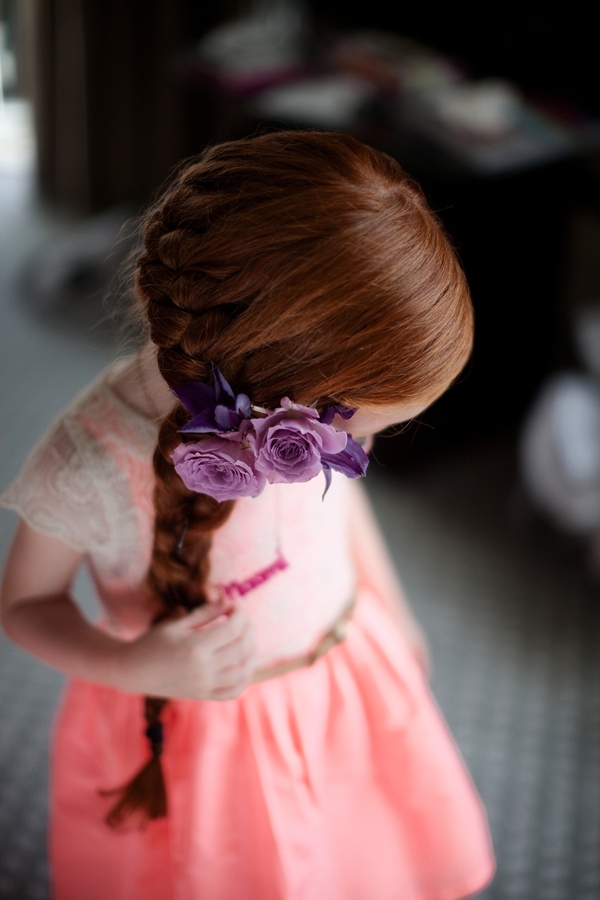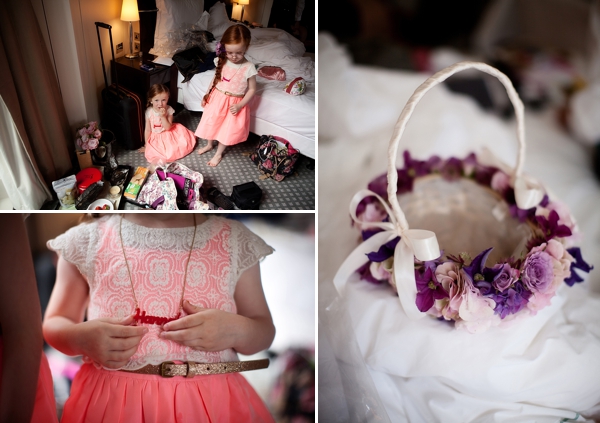 "My make-up artist was Juan Lopez Alvarez from Seventa Image.  The make-up artist I had booked originally broke his hand and his foot 3 days before the wedding, which left me in a panic –  stupidly I checked my phone at 3am and saw his message, so I spent the rest of the night messaging and emailing people. Luckily I know a lot of people in photography, performance or fashion, so that by 10am, I had a myriad of suggestions and Juan even offered me a spontaneous trial."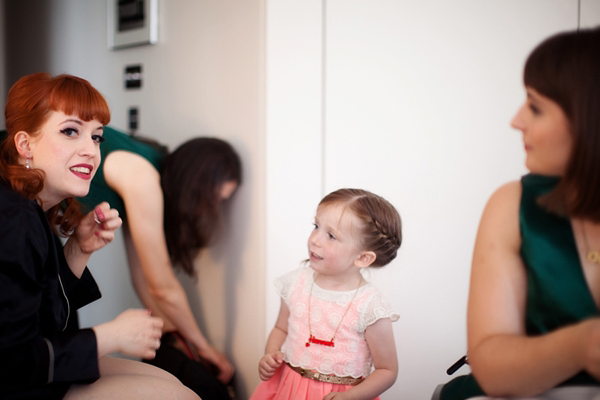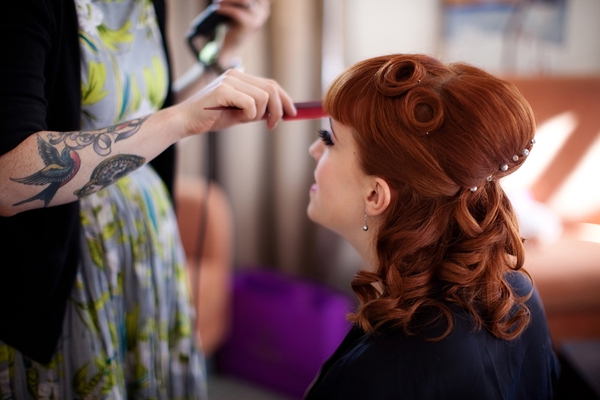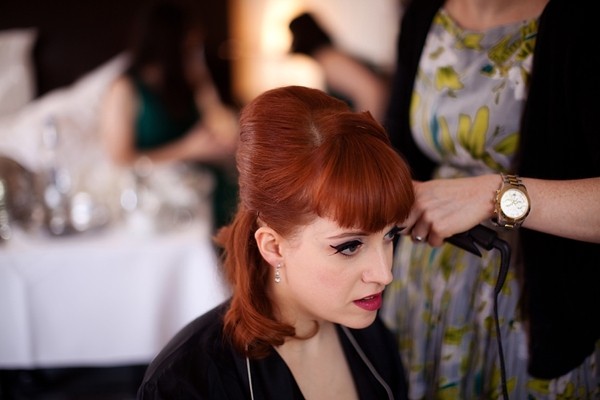 "I had a bespoke design dress created by Lucia Silver and her team at The State of Grace.  The first wedding dress I ever saw and really, really liked was Gwen Stefani's – the ombre pink at the bottom seemed so joyful and fresh, and it was perfectly balanced with the more traditional top of her dress. So I knew from the get-go that this would be my main inspiration."
"For the pink lining in my dress, I went for the brightest, punchiest pink my dressmaker could find, and then we added layers of tulle in varying shades of pink to create an ombre effect. I loved how my dress had a crazy, funky bottom with an almost slightly punk feel to it, whereas the top part was fit for a princess: the subtle oyster sheen of the fabric, the intricate details of the lace and the sparkly appliqués.  I also took inspiration from dress shapes I knew were flattering on me – emphasizing my curves and nipping in my waist."
"My shoes were sparkly ballerinas from Nine West . I normally have a really hard time finding shoes due to the shape of my feet, and mostly wear orthopaedic boots. I had a few sleepless nights, worrying that I would not find shoes to go with my dress, and I think I actually worried more about the shoes than the dress. Luckily my mum had the idea to sew nude socks into a pair of ballerinas, so that they would actually cling to my feet, even though they have a different shape. I almost cried out of relief when I realised I would be able to wear sparkly, girly shoes."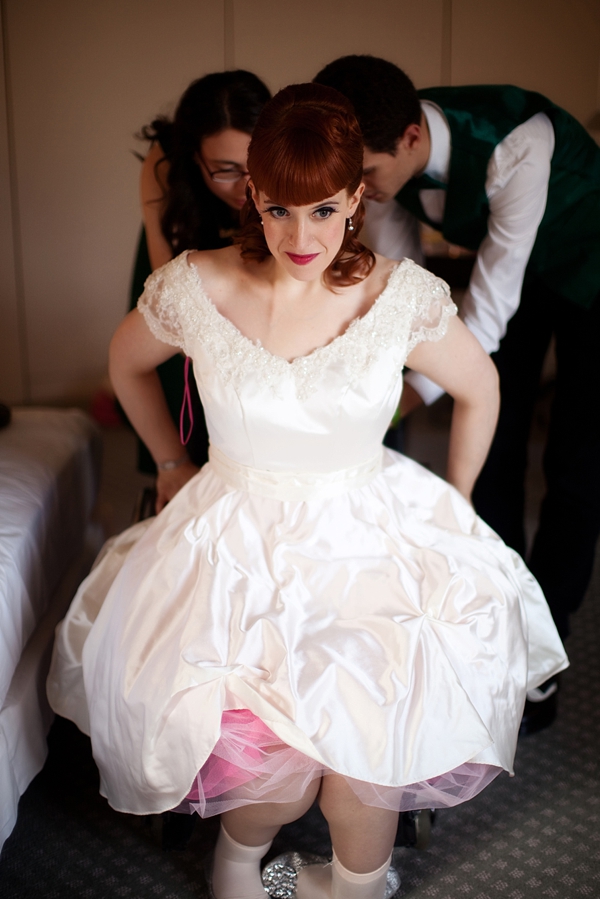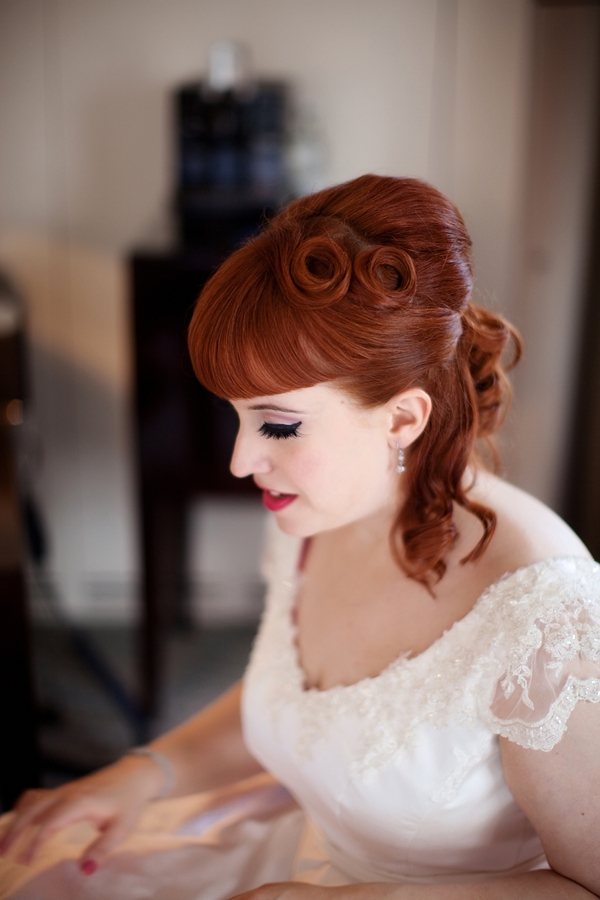 Nina's bridesmaids wore Dessy dresses purchased from Les Trois Soeurs – a boutique in Canary Wharf.  Her one male bridesmaid wore a suit from Zara and a waistcoat from My Tuxedo.
"My bridesmaids all wore their own style shoes, though my male bridesmaid, Roy, wore really cool, fancy Dr Martens brogues!"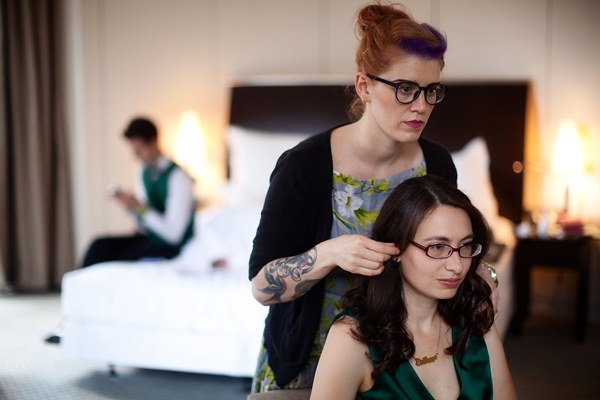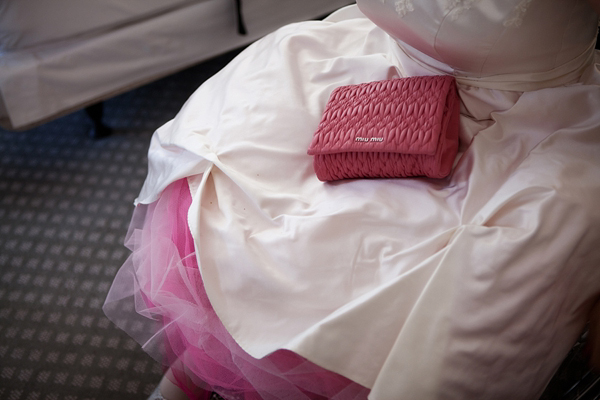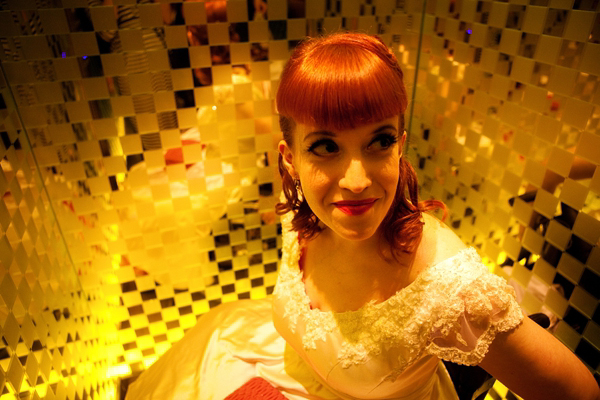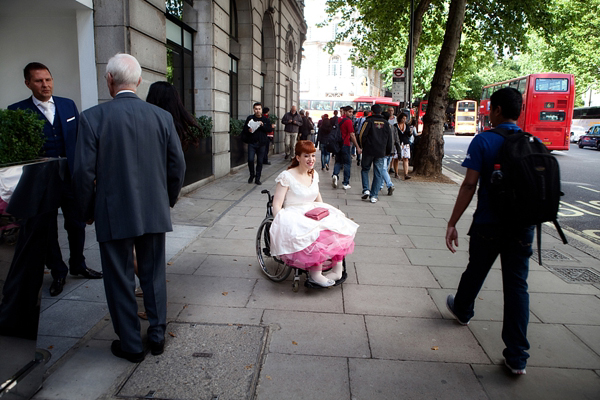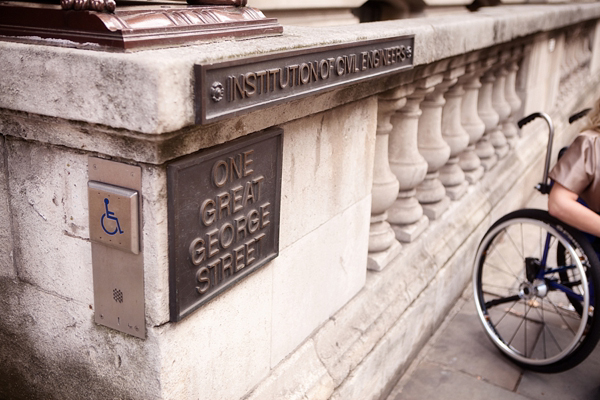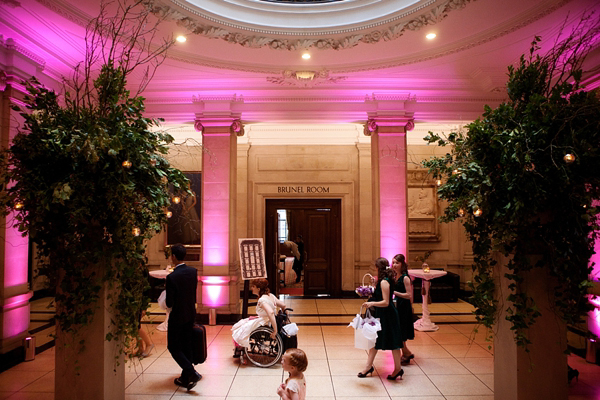 "For the ceremony, my earrings were my 'something borrowed' from my mum.  They contain diamonds out of my late grandma's jewellery and diamonds out of my late grandpa's cufflinks. As they are really delicate, I swapped them for bigger pink-and-pearl earrings by Vivienne Westwood for the party, which went really well with the fun, slightly punk feel of my dress.
My watch was my 'something old' – a delicate, beaded wind-up watch that belonged to my grandma from my dad's side. I only realised my grandma had inherited this watch about a month before the wedding, and then immediately had my heart set on wearing it. It was really important to me to wear something in memory of both of my grandmothers, as both were fantastic women who had a huge influence on me. However, the watch was too small for my wrist, so my mum took it to a jeweller in Switzerland to be altered. At first the shop said it might be tricky to do, especially within 3 weeks' time, but when they heard the story behind it, they managed to do it within a week, and actually did it for free!"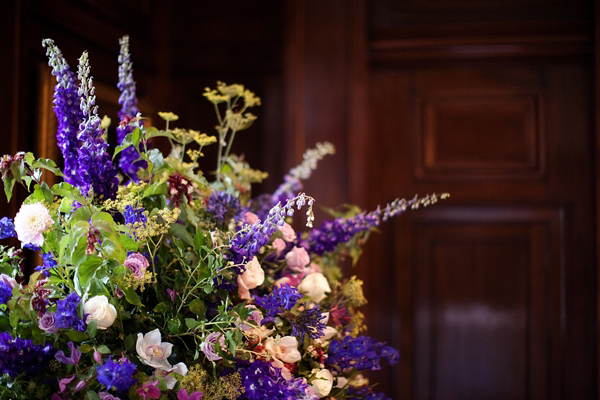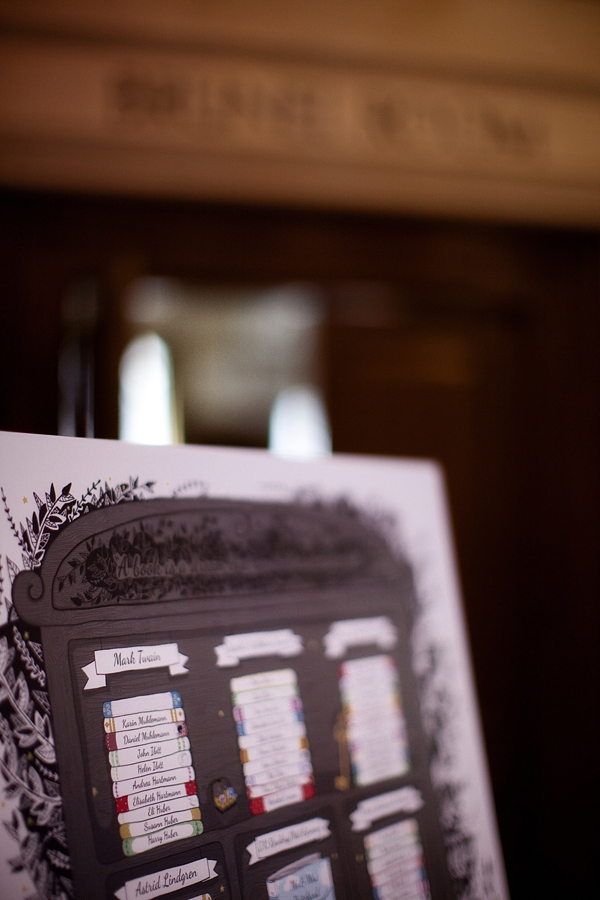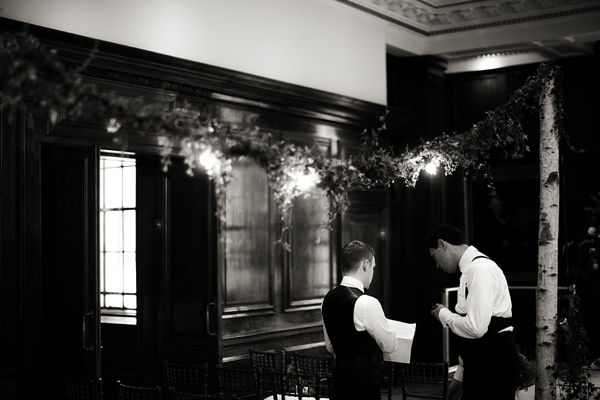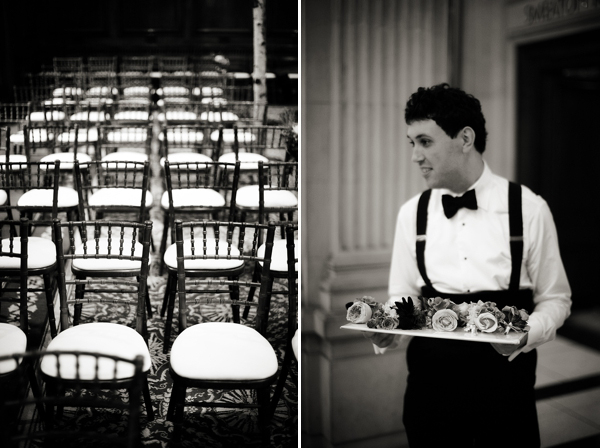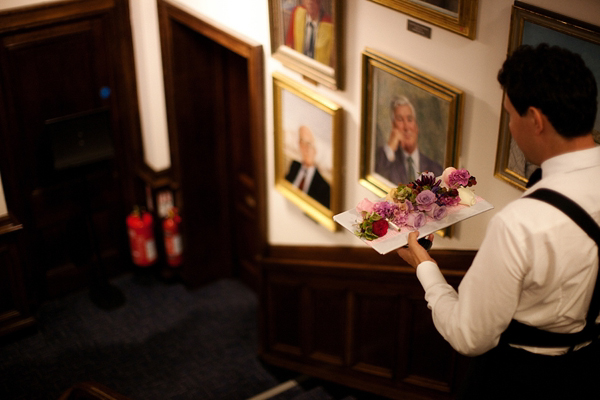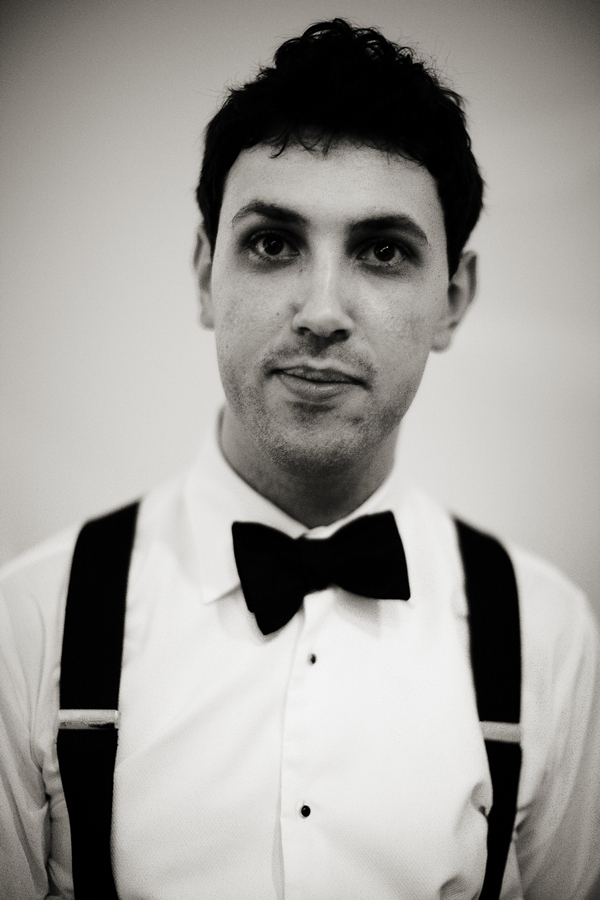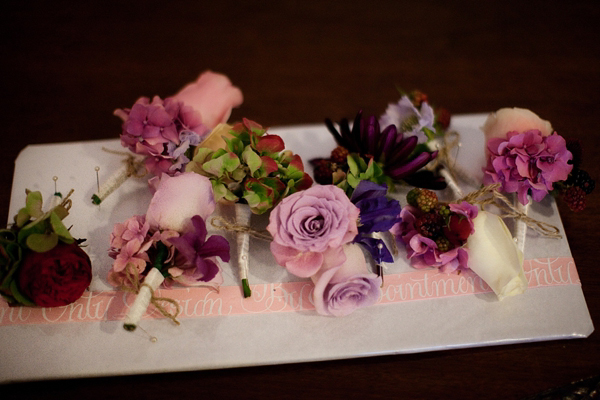 "Bob wanted to go with something classic, so he opted for London's oldest tailor Ede and Ravenscroft and even learned how to hand-tie a bow tie, a skill he still occasionally puts to use. He looked so handsome in his tuxedo, just like James Bond!
Bob's shoes were from Church's and he wore a beautiful Swiss watch from Omega as a wedding present gift from my Mum.  I gave him a heart-shaped pair of Tatty Devine cufflinks that said 'Groom'."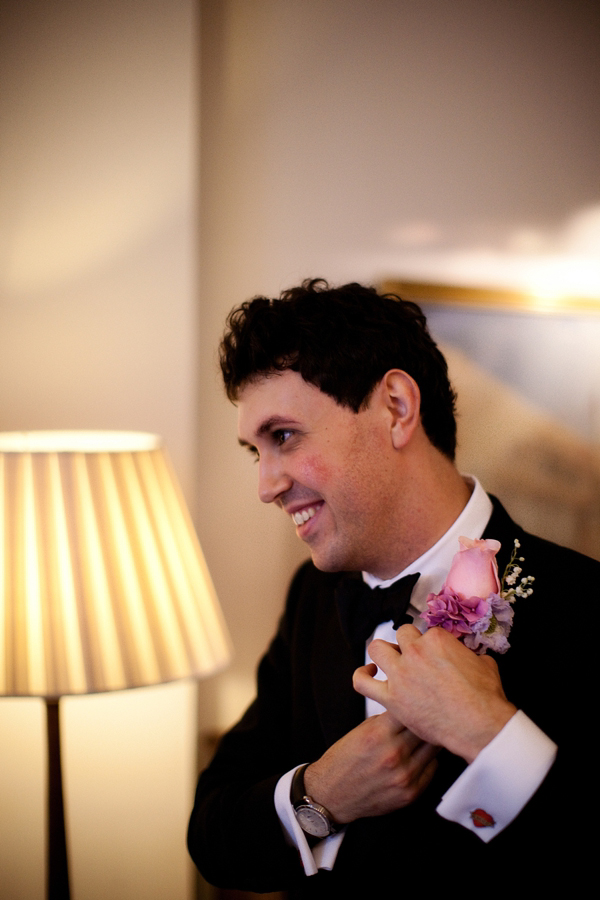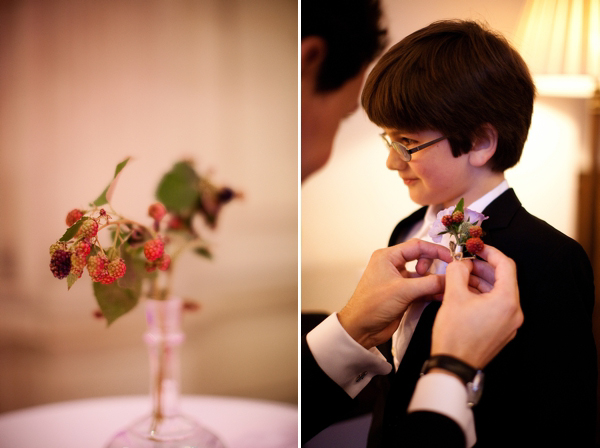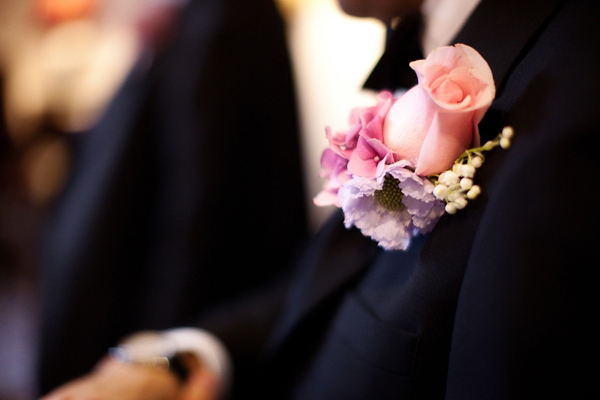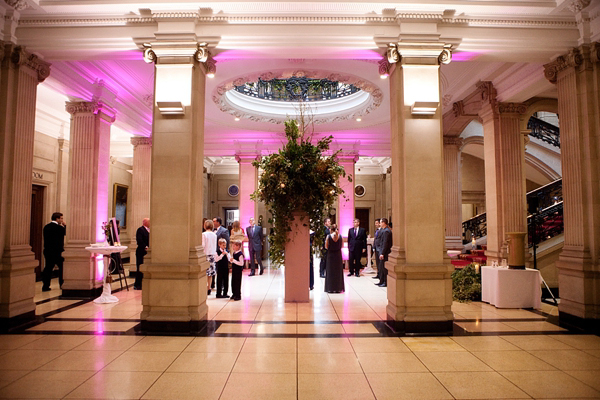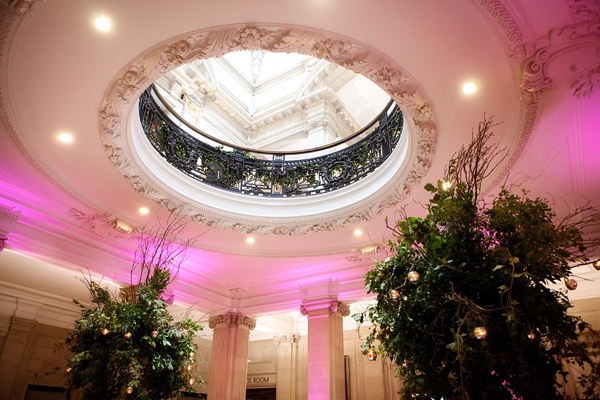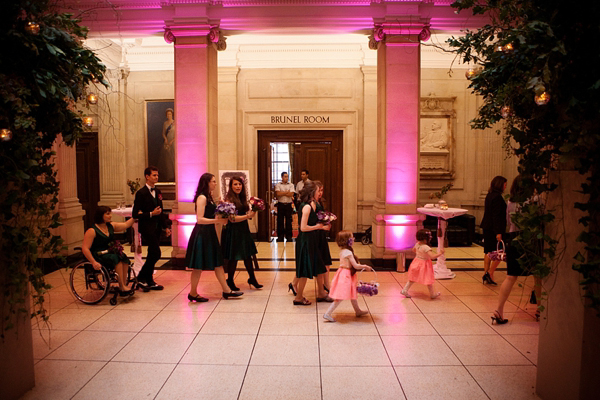 "We booked a wonderful string quartet through The Wedding Music Company, who performed during the ceremony and the drinks straight after. All the music for our ceremony was from Mozart Operas. My grandma used to be an opera singer, and as child, I wanted to be an opera singer too and kept staging little productions of The Magic Flute together with my brother. After the ceremony, we walked out to 'Kiss The Girl' from 'The Little Mermaid', to go with our theme."
The styling and decor at Nina and Bob's wedding was out of this world, largely thanks to the incredibly talented design team over at By Appointment Only Design.
"Our friend Frank read an Extract from St Euxespery's Le Petit Prince.  We wanted a reading that went with our Children's Literature theme, and I always loved this book, because of the way it manages to express human emotions in such a simple but imaginative way. I read it to Bob one night before bed, and he instantly loved it too."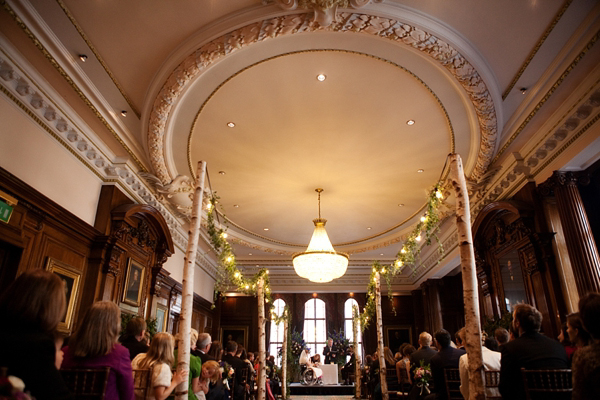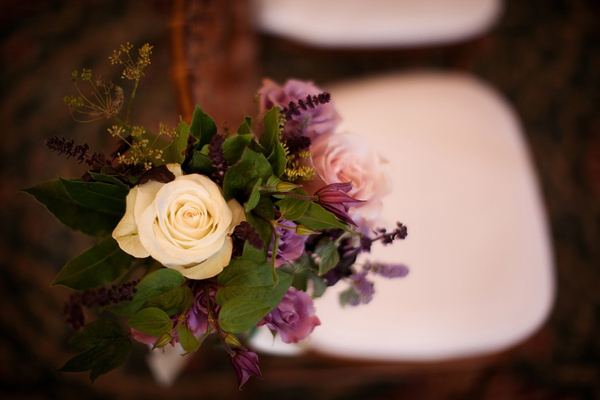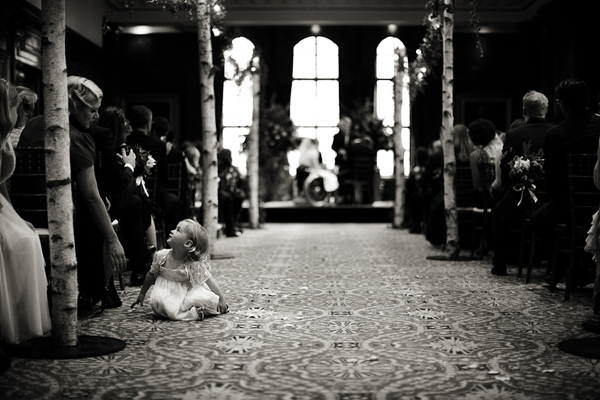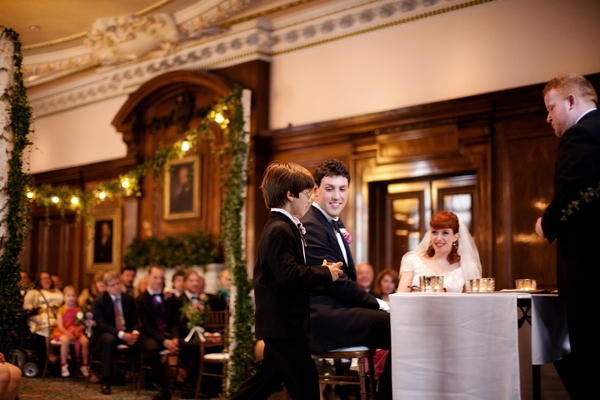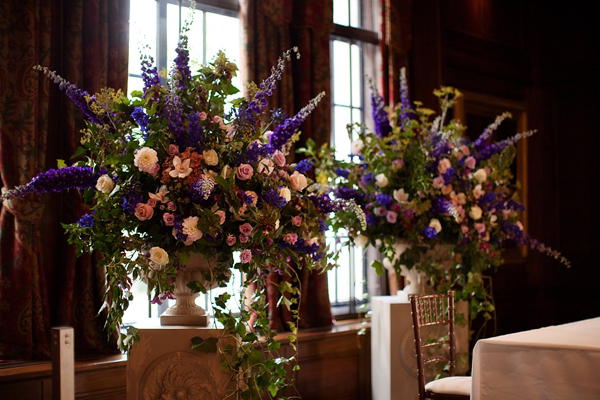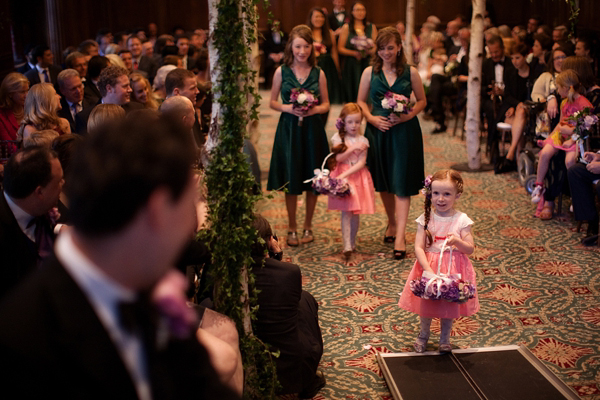 "I wore pink Chanel nail varnish with a Rimmel topcoat of blue, gold and purple glitter – this was my 'something blue'."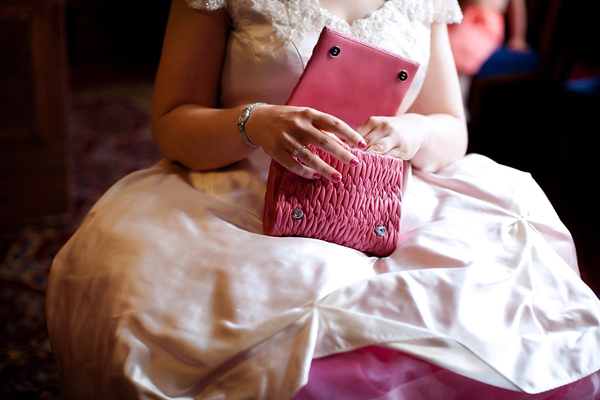 "A good friend of ours recommended Chris Ness, an Edinburgh-based jeweller. Chris offers private workshops for couples so they can watch him – and assist – making the rings, and exactly choose what they want. We spent a fantastic and very romantic weekend in Edinburgh doing this, and our rings turned out perfectly. Chris also has a very cute dog!
We also had a little treasure chest made by Works of Glass on Etsy with an engraving that said 'and they lived happily ever after', plus our wedding date. My godson Constantinos (7), not only acted as a ring bearer, but also held onto the rings during the ceremony, and acted as a best man.  It was a lot of responsibility but he handled it all brilliantly!"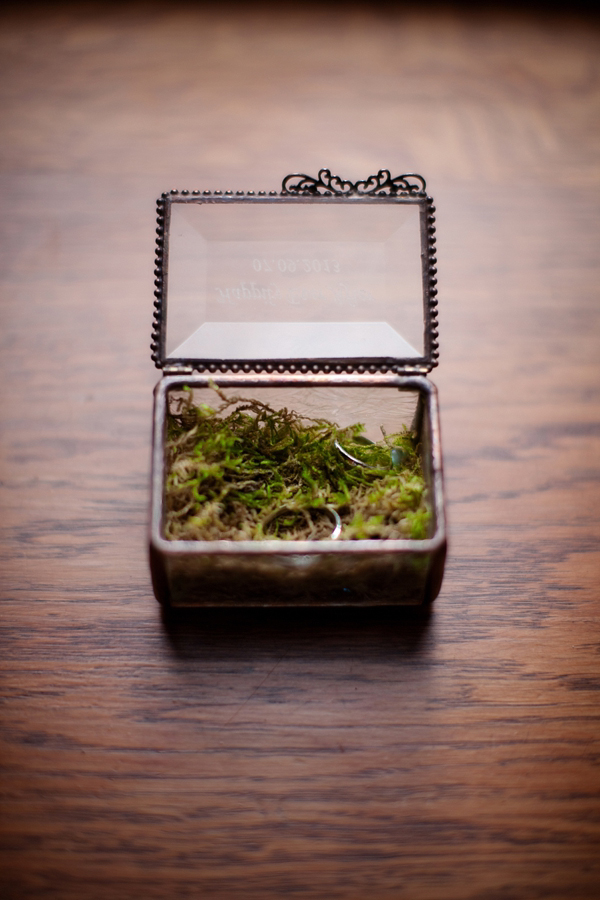 Bob says "the whole atmosphere was electric, all the anticipation, excitement and love was filling the room. I was up there on my own (as six best men with me would have been a bit crowded, and I didn't want to choose just one), but I kept looking around and kept making eye-contact with guests, so I had special little moments with several people. And when the music changed with the lights, my heart skipped a beat as Nina entered the room and came down the aisle with her Dad. It was the most magical feeling seeing her in her dress, she looked so beautiful, and I felt so lucky and happy to become her husband."
Nina says "I was really scared about coming down the aisle and having everyones eyes on me, so I held tight onto my dad's hand. But when I finally entered the ceremony room I felt so much love and warmth from everyone and I suddenly felt really safe and relaxed. And then I saw Bob's smile, which is my favourite sight in the whole world, and I realised how much I missed him in those 24 hours before our wedding – it felt like a lifetime."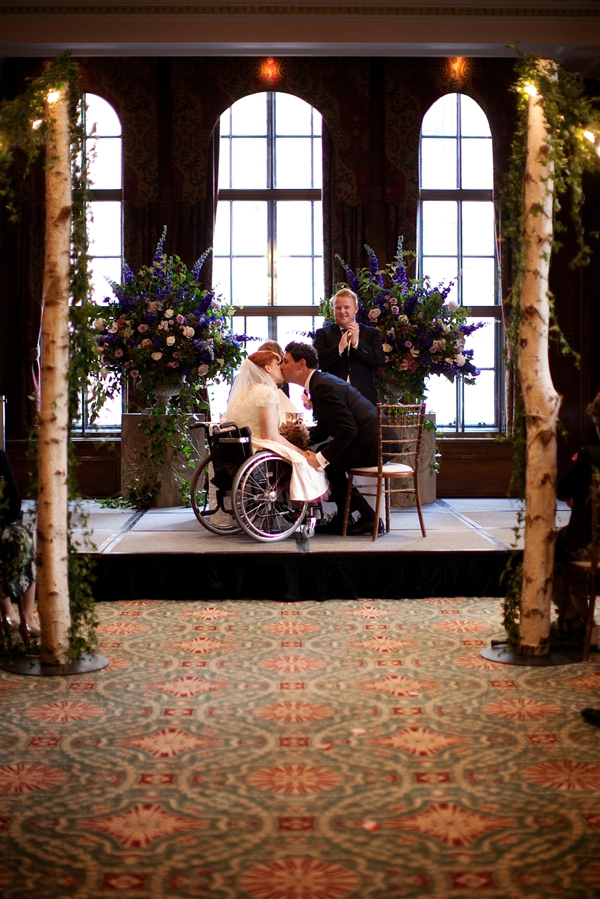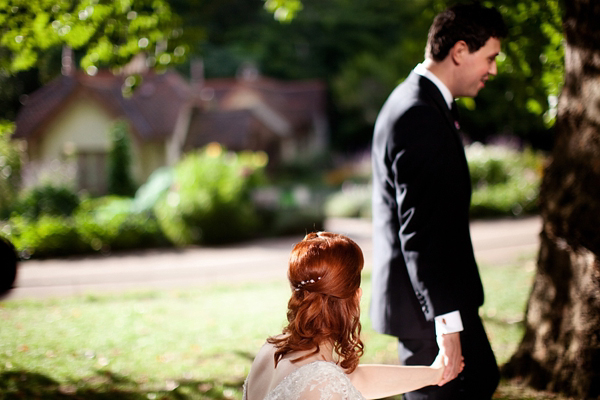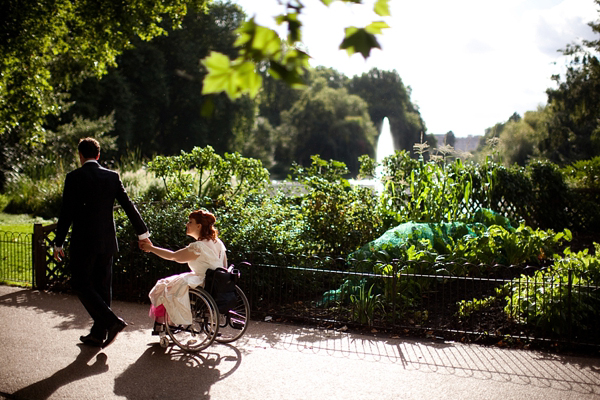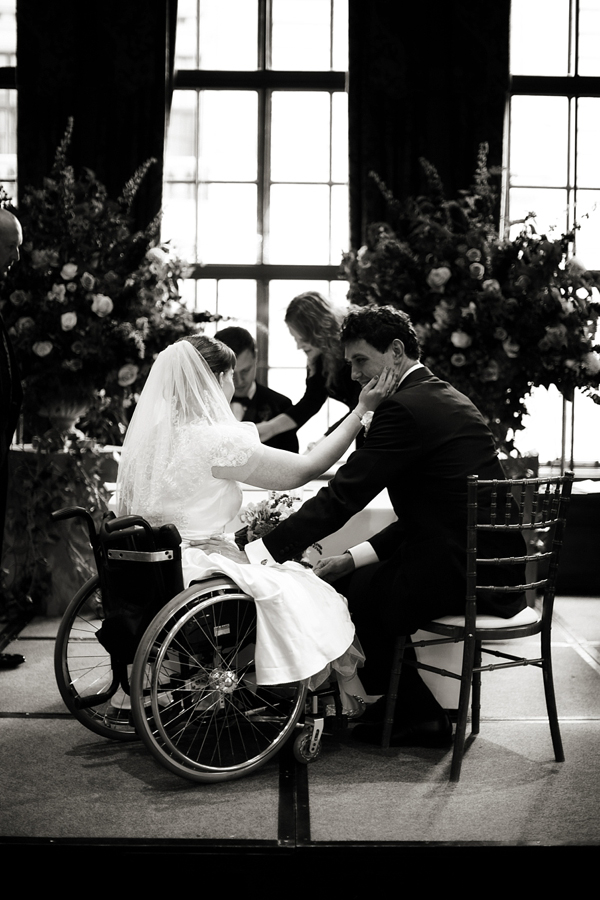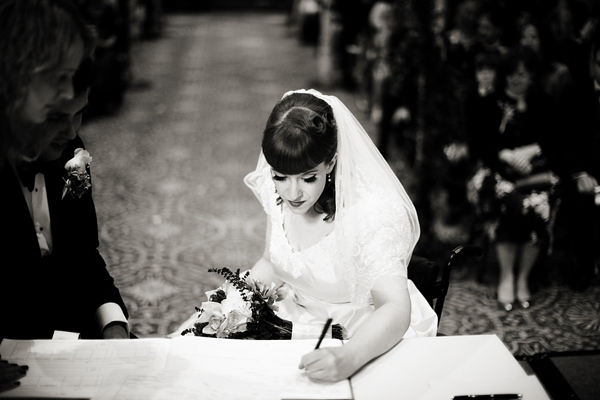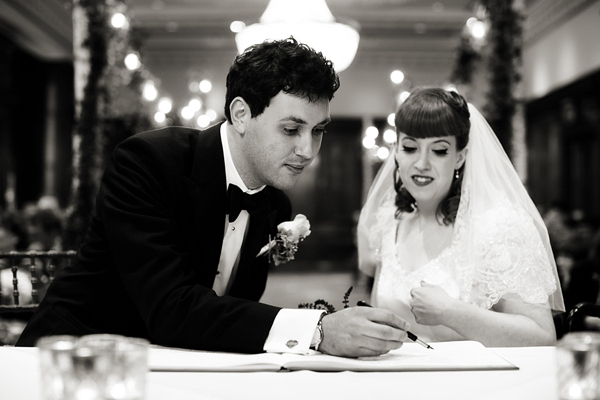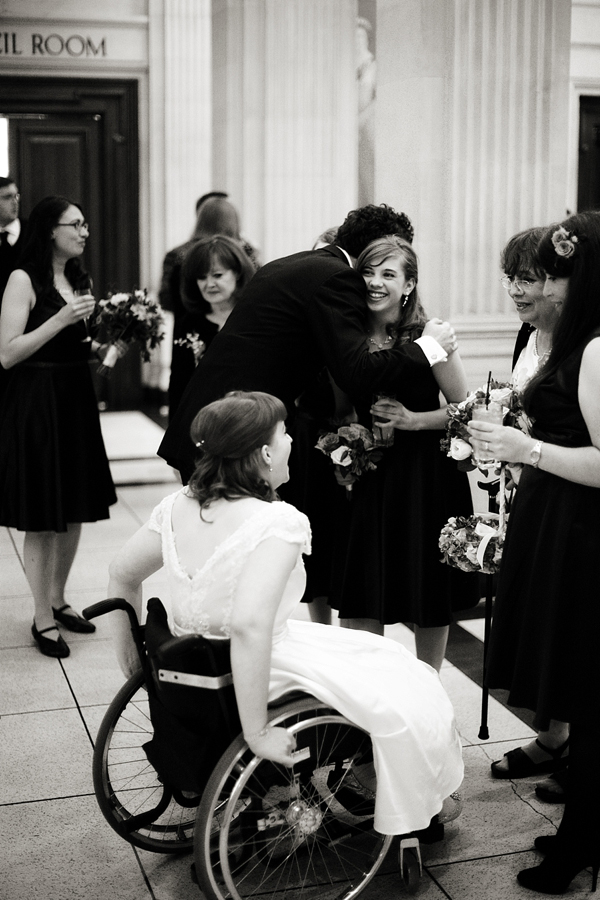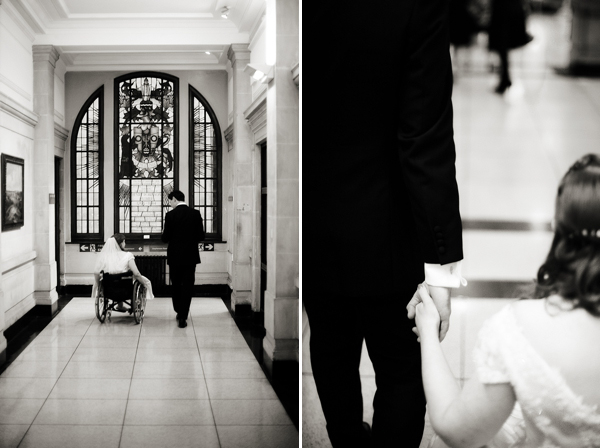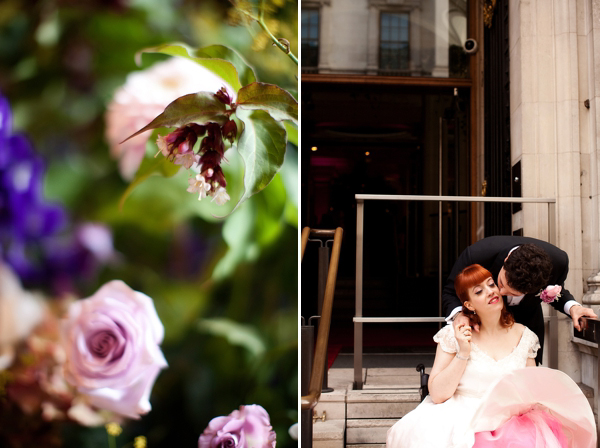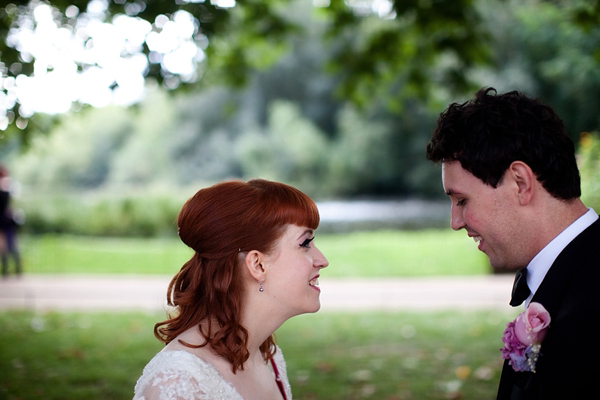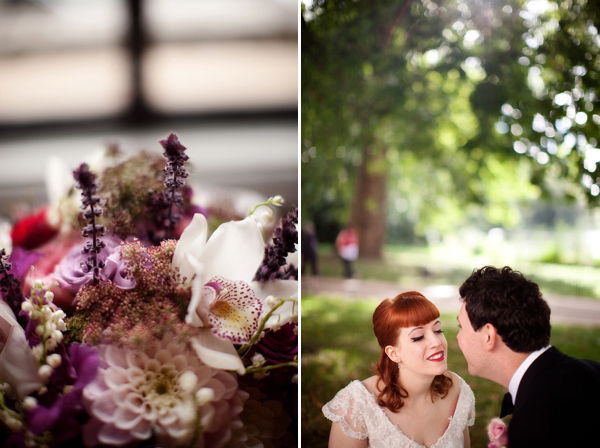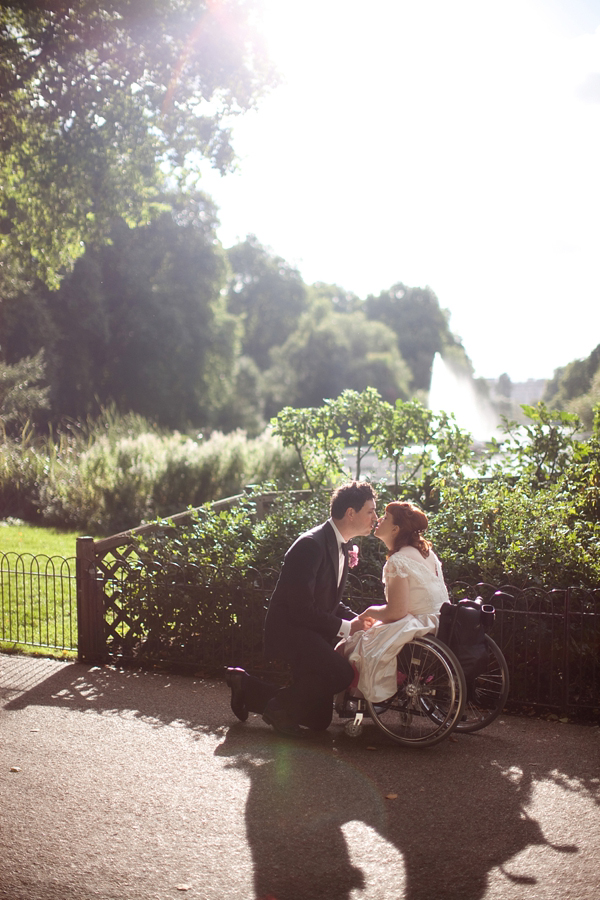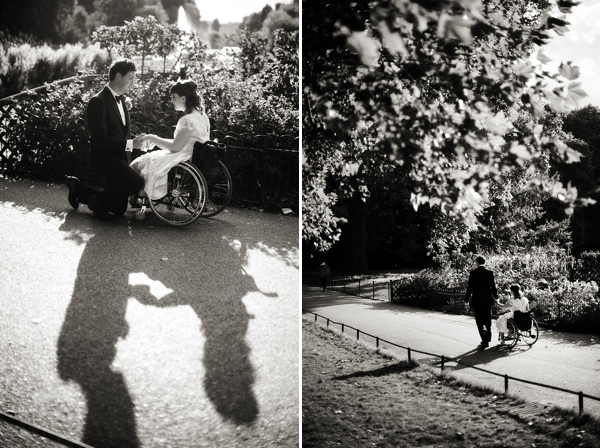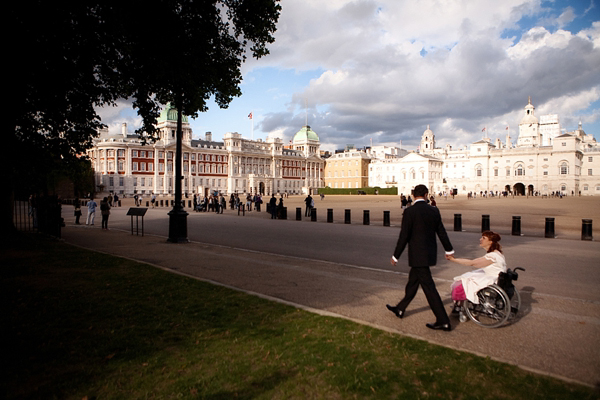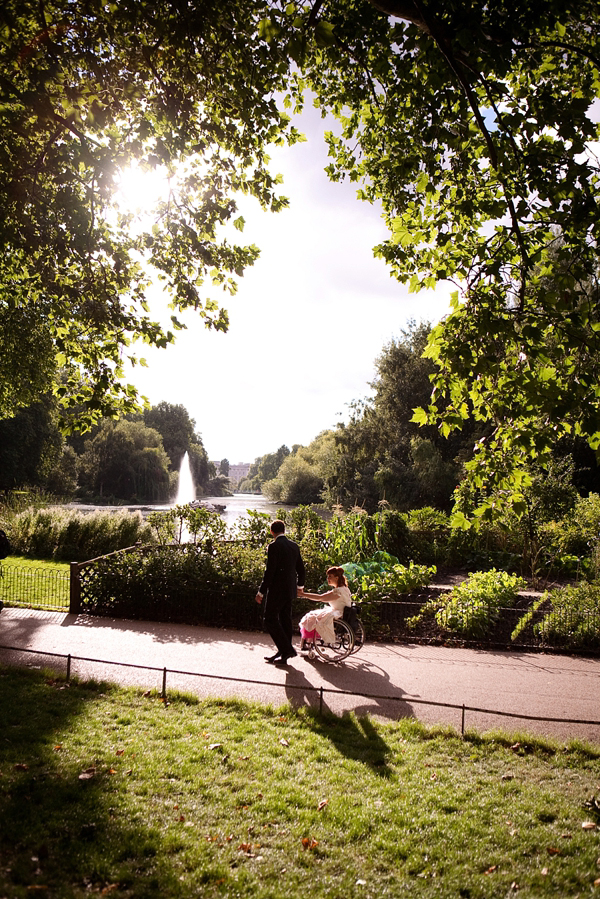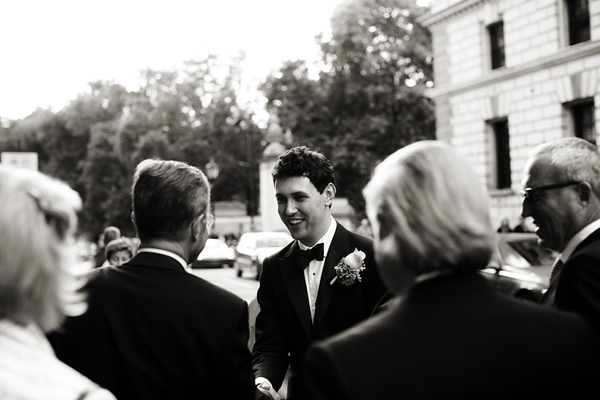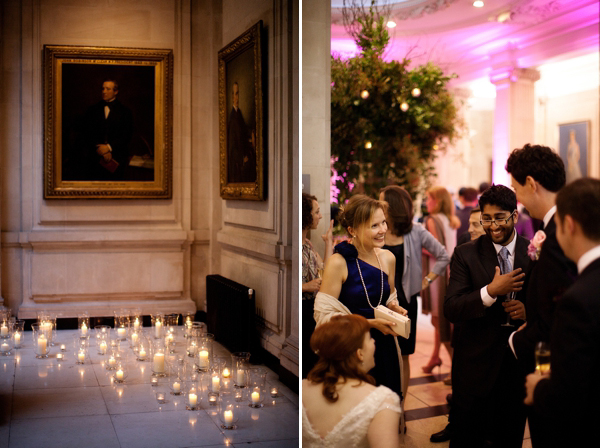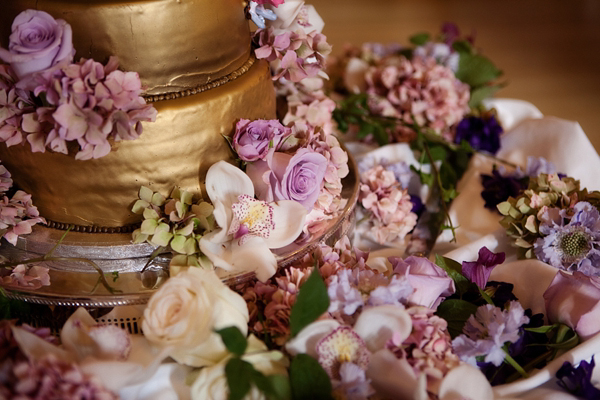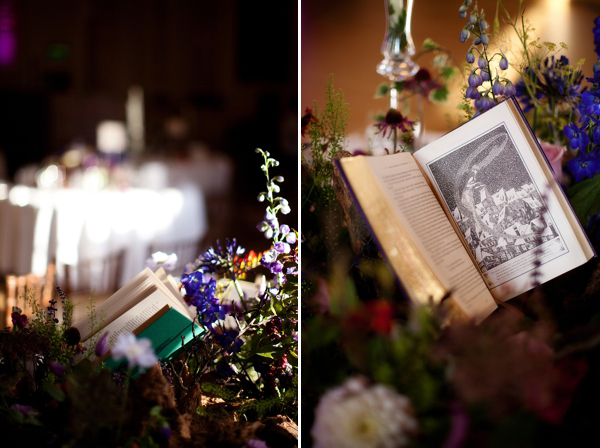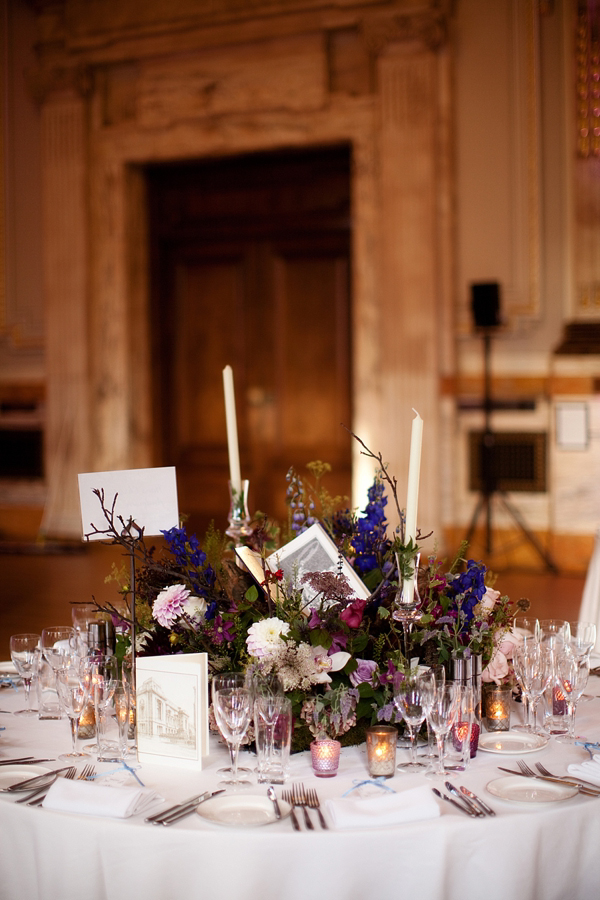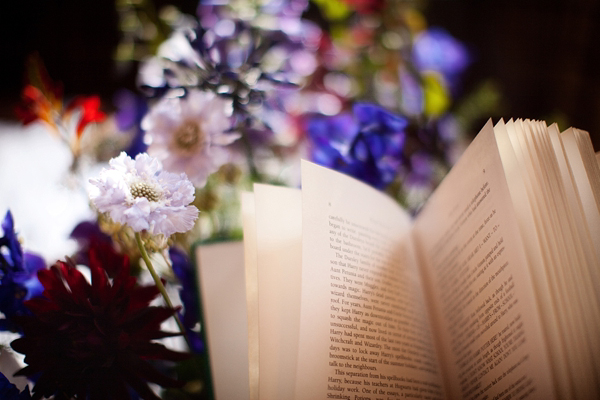 "Our friend Viktorija Semjonova is an illustrator and also has an Etsy Store called 'and smile'. She did custom designs for our invitations, our table plan and place cards. She was absolutely wonderful and managed to perfectly capture all our ideas and to transform them into beautiful little artworks.
We really wanted our stationery to reflect the children's literature theme, so the table plan was a drawing of a book shelf, with different compartments for each table, and a stack of books that had the guests' names as titles."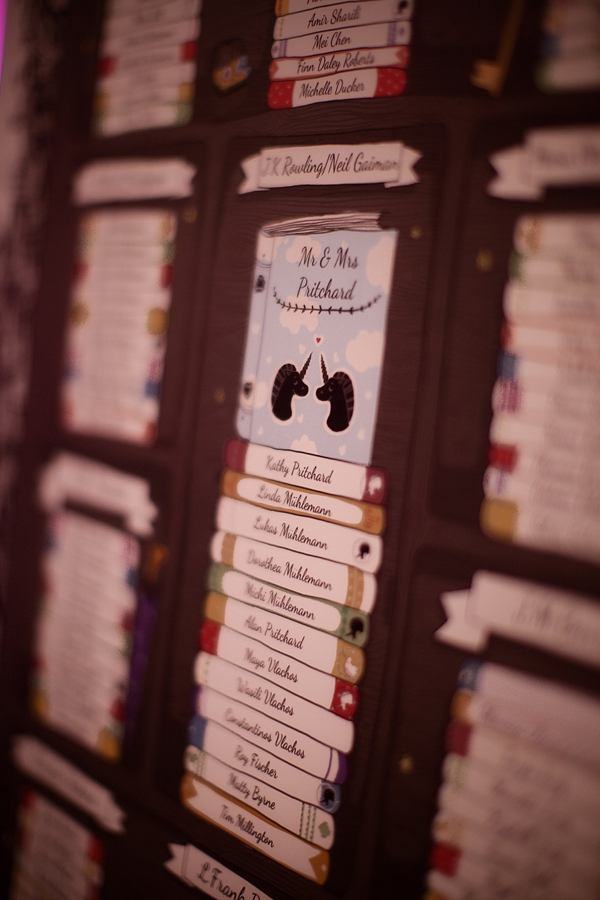 "The place cards doubled up as favours: they were bookmarks, and each table and author got a different symbol and different coloured ribbon – The Grimm table had an apple on their bookmark, JK Rowling had an Owl, Secret Garden had a key etc.  Bob and I spent a day watching Buffy the Vampire Slayer and tying ribbons to the bookmarks. Additionally, we rented a golden post box and a pile of postcards with classic children's book covers printed on them that we used instead of a guestbook."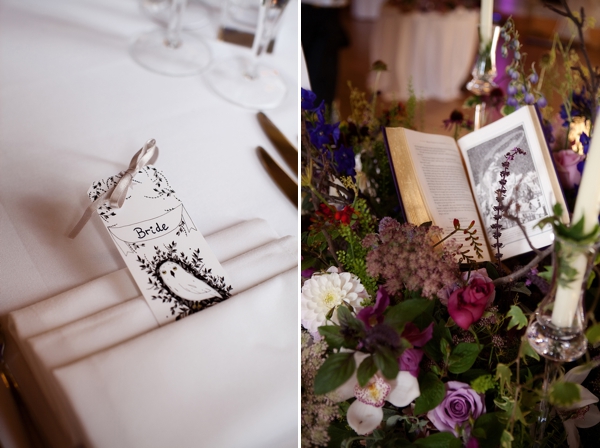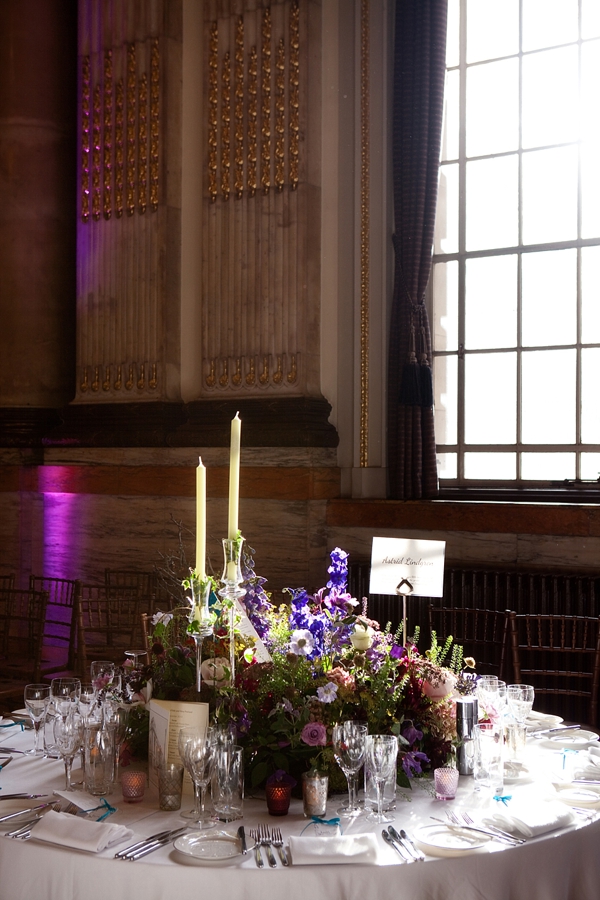 "We always wanted to have children included at our wedding, to make it feel like a real multi-generational celebration, so booked nannies through Event Childcare and set up a children's area complete with toys, games and Disney films, where the children could go to play whenever they wished to do so. It was wonderful for us to see my cousin's children, who speak only Swiss German, play with Bob's nieces and nephews, and how easily children formed friendships during the day."
I want to add a note about the efforts Nina and Bob made to cater for the children at their wedding and how wonderful Event Childcare were.  We attended this wedding as a family and I was taken aback at how thoughtfully the children had been considered.  Event Childcare were out of this world, providing little goodie bags, toys, painting, crafting, DIY – all supervised by trained child carers, it was just amazing! I couldn't recommend this company any higher and the staff were wonderfully down to earth too.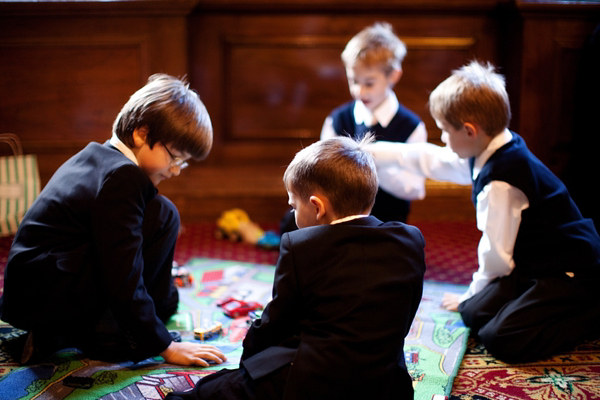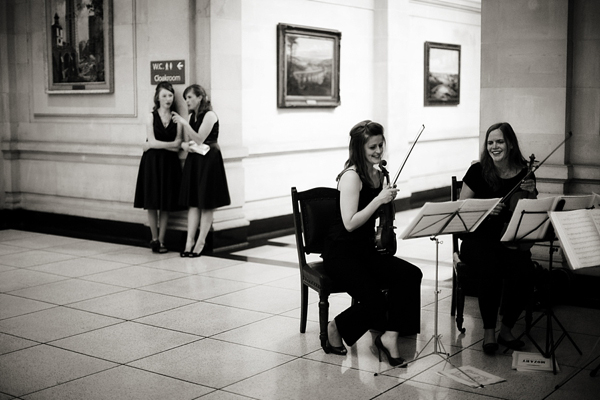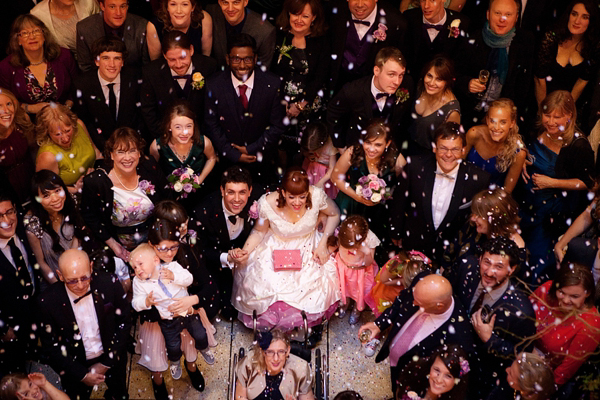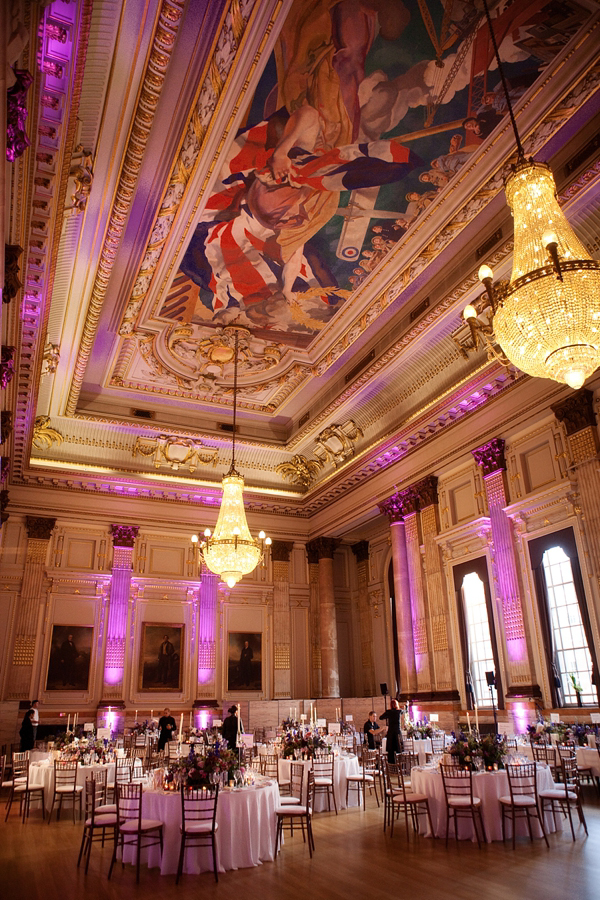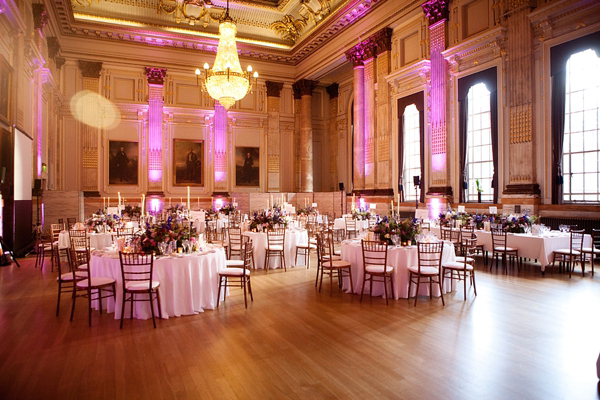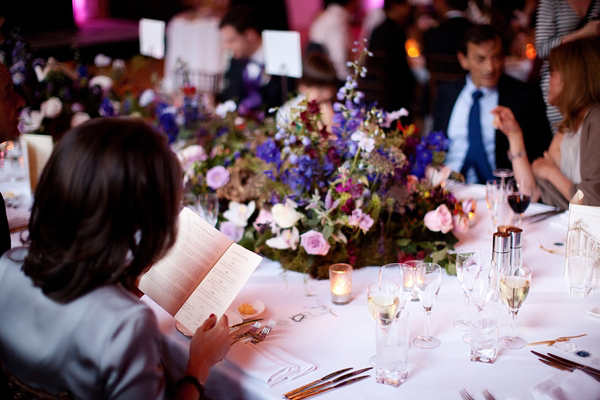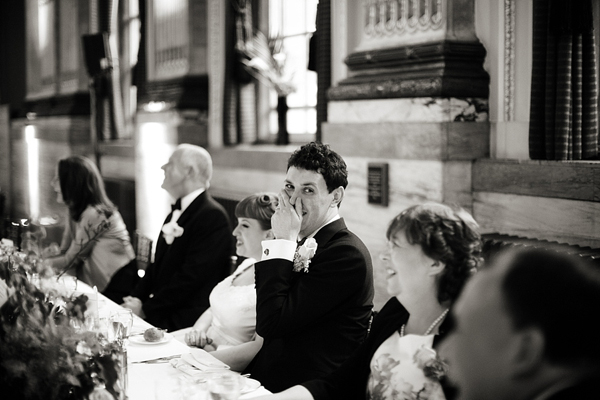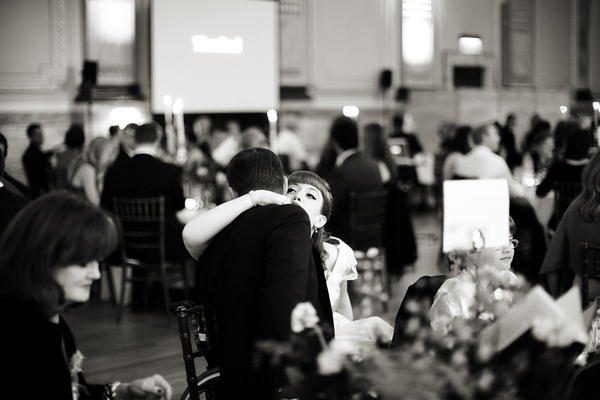 "For our first dance, we chose 'House' by Patrick Wolf, a musician we both love and have seen live together often. The song came out shortly before we moved in together, and it reminds us of assembling furniture and setting up 'house' and a home together. We took dancing lessons to create routine, which was a lot of fun and created a welcome distraction from all the administrative tasks that are involved in wedding planning."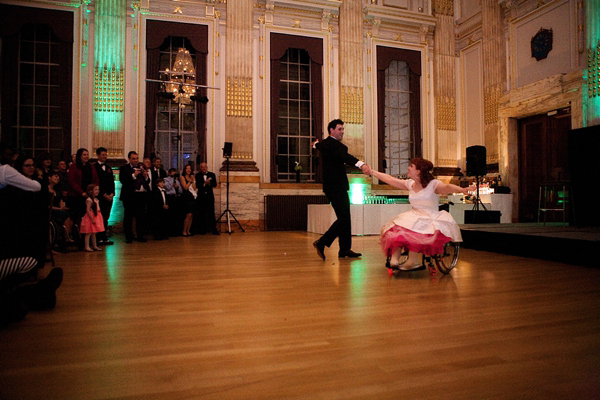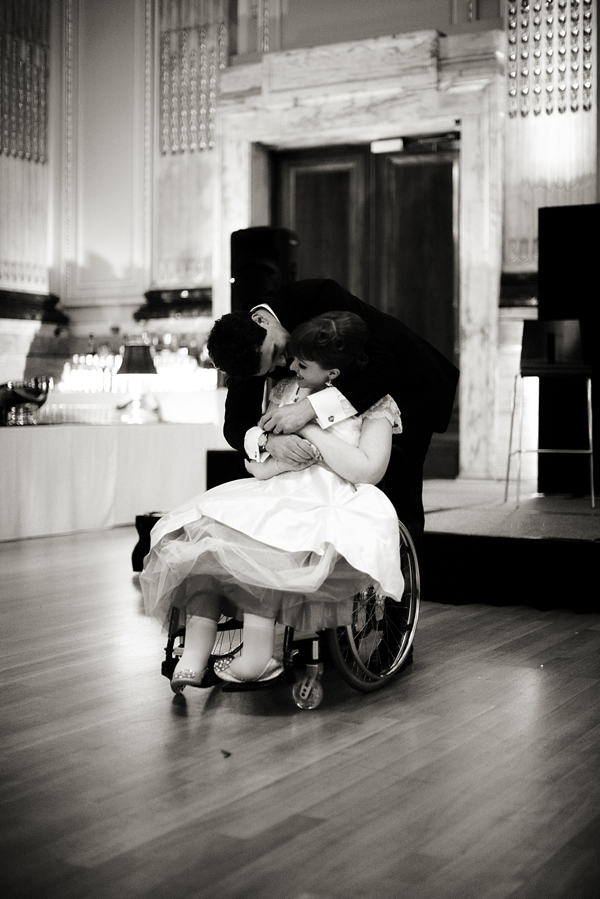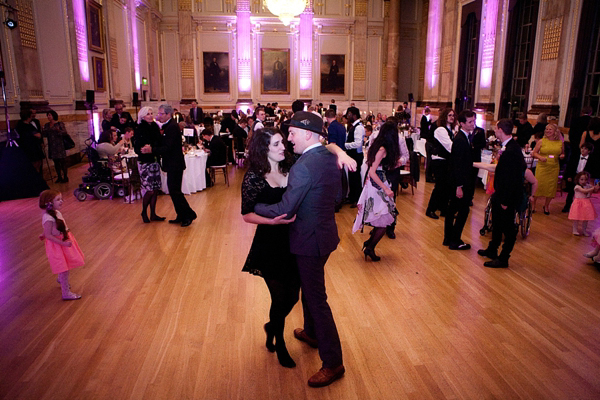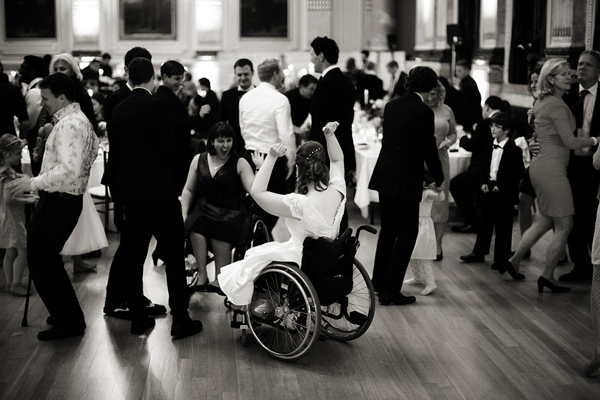 "When I first moved to London, I became very involved with the cabaret scene. Also, Bob and I are huge fans of the TV Show Rupaul's Drag Race, so we knew there would have to be cabaret and drag queens. The performers, Miss Annabel Sings, Geri Love and The LipSinkers were people we have enjoyed watching for years or recommendations from friends from the cabaret scene. We really wanted entertainment that reflects who we are and what we enjoy – and what could be more enjoyable than drag queens, glitter and amazing live singing? I also really enjoyed throwing my bouquet for the single men to catch while Miss Annabel Sings sang Gimme Gimme Gimme (a man after midnight)!"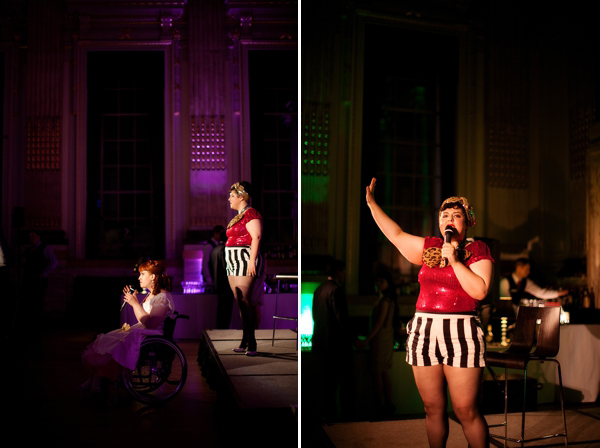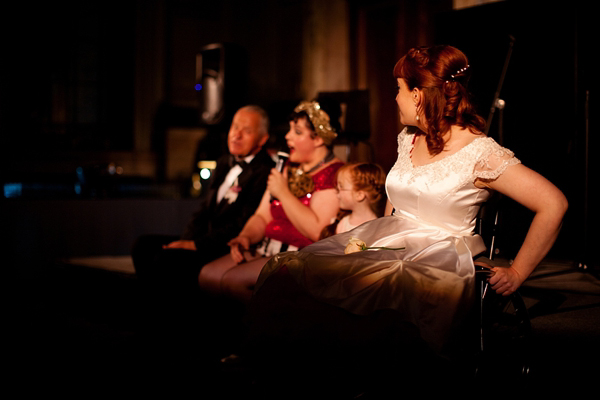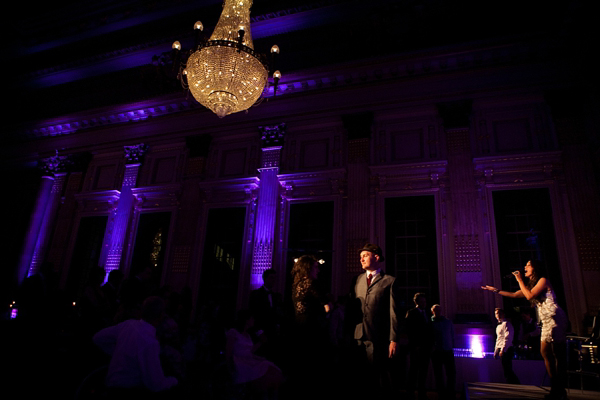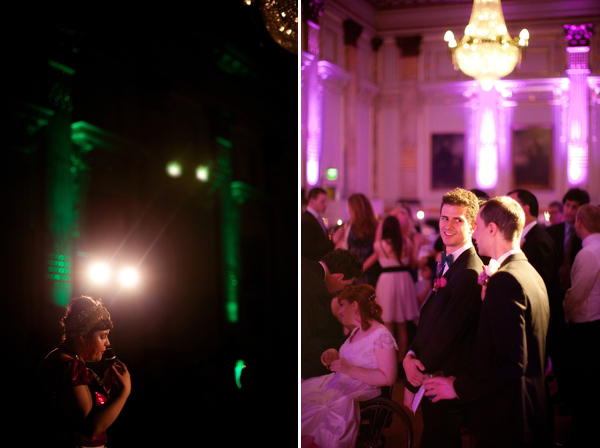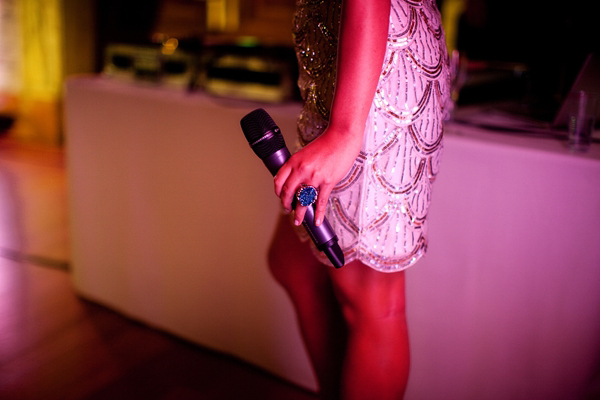 Words of Wedded Wisdom…
"We both had fairly equal shares in the wedding planning.  As most of my bridesmaids and family live abroad, there was no other way for us to do it, but it also meant a lot to us to plan our wedding together and to make decisions together that shape the day – though in hindsight it was stressful at times, but it was a very joyful, bonding experience that we will cherish forever and would recommend to every couple – this day is for both, not just for the bride!
Two close friends of ours offered to film the day as a wedding present – a great way for us to save money, and not having to find another supplier! Many of our suppliers (stationary, entertainment, DJ etc) were either friends or friends of friends, which made the wedding feel really personal and very 'us', and also kept down costs.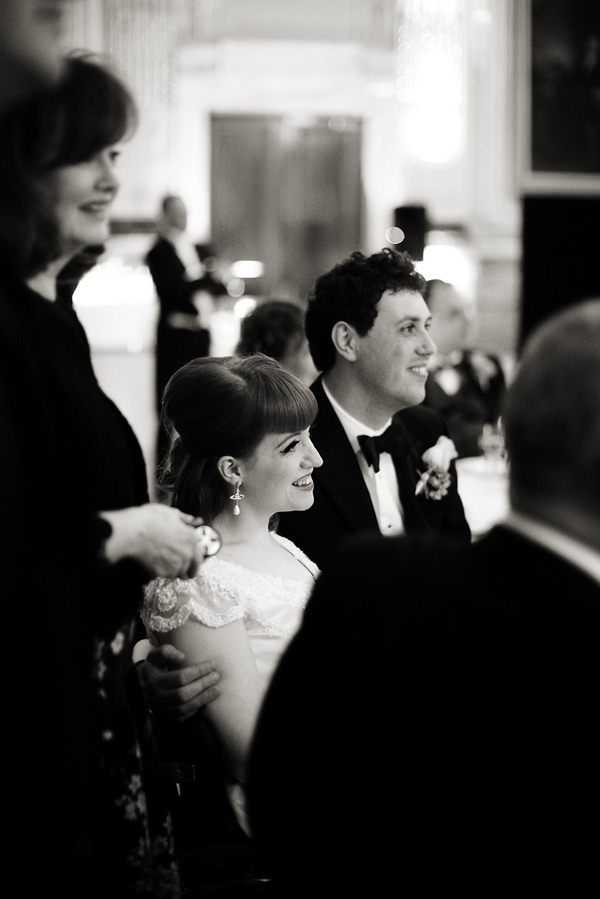 "I have chronicled many of the steps it took to organise a wheelchair accessible wedding on Love My Dress through my Confessions of a Disabled Bride series. On the day itself, I luckily had my bridesmaid Christina, who made sure that there was enough space everywhere to move around in a wheelchair and that all the ramps were set up. We also made sure the groomsmen and bridesmaids were informed where the disabled bathrooms and lifts were."
"During the ceremony and when Bob and I entered the wedding breakfast, we asked guests to stay seated instead of standing up. There weren't any disabling, restricting features to our wedding day, which was very important to both of us.  We would not have done anything differently in hindsight – there will always be little mishaps, but they are all part of making your day what it is!   There were several little crises during the day, despite our careful planning, but our wonderful bridesmaids and groomsmen handled them brilliantly!"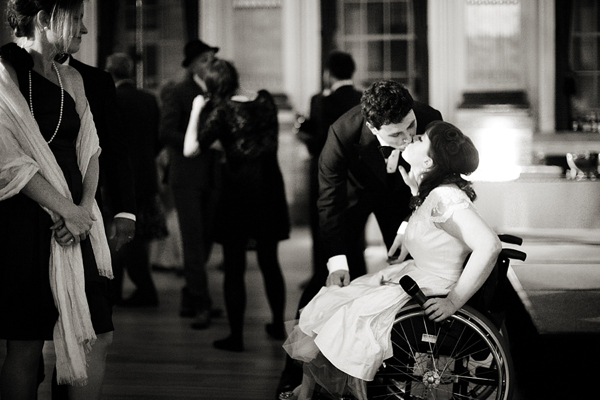 It's difficult to know where to start to express my love of this wedding and how much I've been inspired by Nina and her Confessions of a Disabled Bride.  My heart bursts with happiness for this wonderful couple and I am so honoured to have been able to provide a platform for Nina to share her experiences, and in so doing, inspire countless others in the process.
Nina and Bob, huge congratulations to you both.  And love and respect to your wonderful wedding photographers Lillian & Leonard for documenting your day so beautifully.
Readers, we would truly love to see your appreciation for this wedding today.   Have a lovely Monday all of you.
Love Annabel
Photographer – Lillian & Leonard
Venue + Catering – One Great George Street
Brides Dress + Veil – The State of Grace
Brides Shoes – Nine West
Brides Hair Accessories – Sparkly pins from Etsy (various suppliers)
Groom's Attire – Grooms Suit – Ede and Ravenscroft
Bridesmaids – Dessy via Les Trois Soeurs + Zara suit + My Tuxedo waistcost for male bridesmaid
Flowergirls – Next + Accessorize
Florist – By Appointment Only Design 
Cake – Bea's of Bloomsbury + cupcakes by Kooky Bakes
Cake Topper – Becky Athawes
Entertainment – Miss Annabel Sings, Geri Love and The LipSinkers
String Quartet – booked via The Wedding Music Company
Rings – Chris Ness with a moss ring cushion inside an engraved treasure chest by Works of Glass on Etsy
Stationery – and smile on Etsy
Hair Stylist – Anita by Pimps and Pinups 
Make-up Artist – Juan Lopez Alvarez from from Seventa Image
Additional Services – Event Childcare
Groomsmen – their own suits + bow ties from DQT on Amazon
Transport – City of London Black Taxis