Well hooray for lunch time, and there being an opportunity to revisit Love My Dress for some inspiration. Hopefully you'll have had a moment to appreciate our early morning real wedding feature of Nina and Bob, so incredibly beautiful it is too.  This lunch time, I'm really keen to share details of one of my favourite independent dress designers with you, who will appeal to all you brides who love soft, floaty, boho and vintage inspired wedding dress design.
London based Dana Bolton has long been a designer I've enjoyed supporting. I was lucky enough to have a dress designed by Dana for me to wear at this event, and I was thrilled to be able to feature Dana's exquisite dress designs in my book, Style Me Vintage Weddings.
Photography Copyright (c) 2013, Kirsten Mavric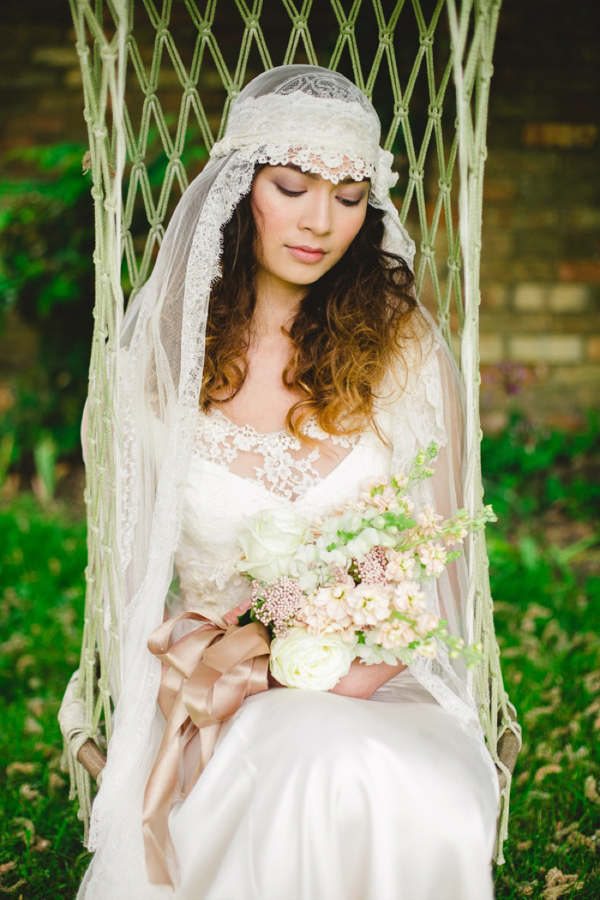 I interviewed Dana recently and she shared an insight into what inspires and drives her and that elegant signature style of hers.
'I work mostly bespoke listening to what my brides see as their perfect dress. However I do have a style that is very much my own, very bohemian and vintage inspired, light and floaty.  I also love to work with French lace, beautiful to the touch as well as the eye. In fact the texture, feel and movement of a dress are elements that I factor into my designs.'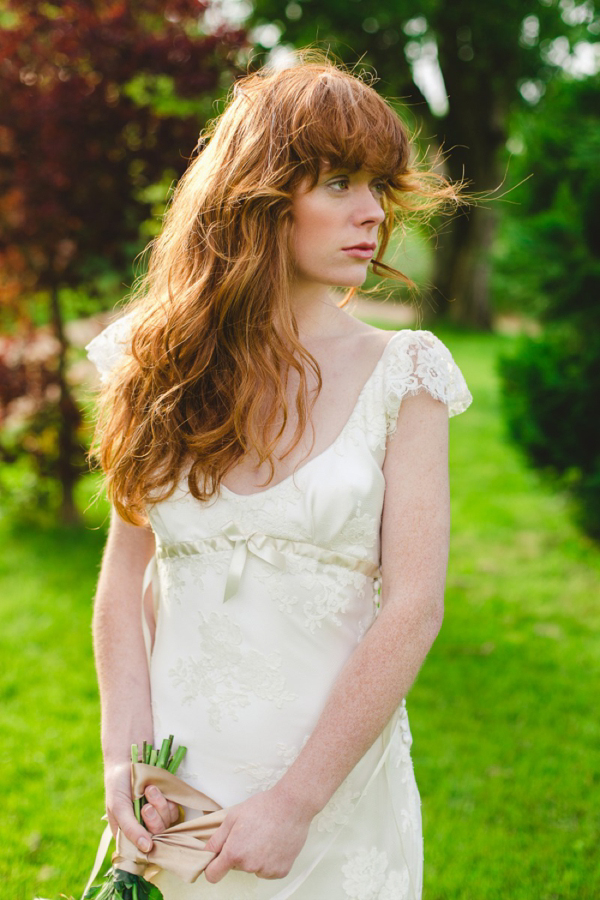 'My dresses appeal to the romantic bride perhaps having her wedding outdoors in woodland or a garden. This is definitely a trend that is growing in popularity in the UK. The designs translate perfectly to a more urbane setting too. If you browse through my real brides page, you will see some of the eclectic mix of dresses I have made.'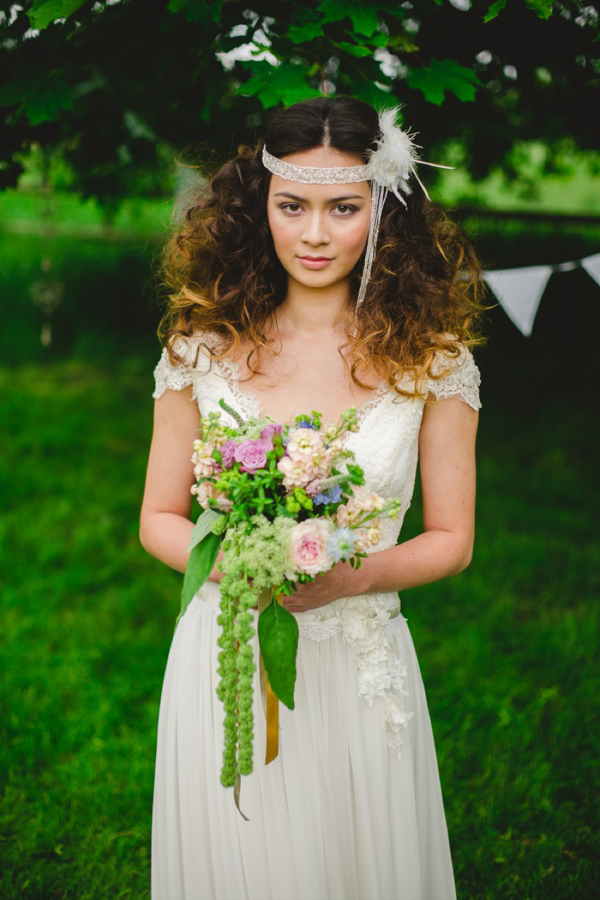 The dresses shown here, so beautifully shot by Kirsten Mavric, are all available to try on in Dana's Muswell Hill, North London studio.
'I personally make each dress myself working in a way that offers my brides choice and flexibility for their dress design. Styles in my collection are often a starting point for a new design just tweaking the shape and details to suit individuals.'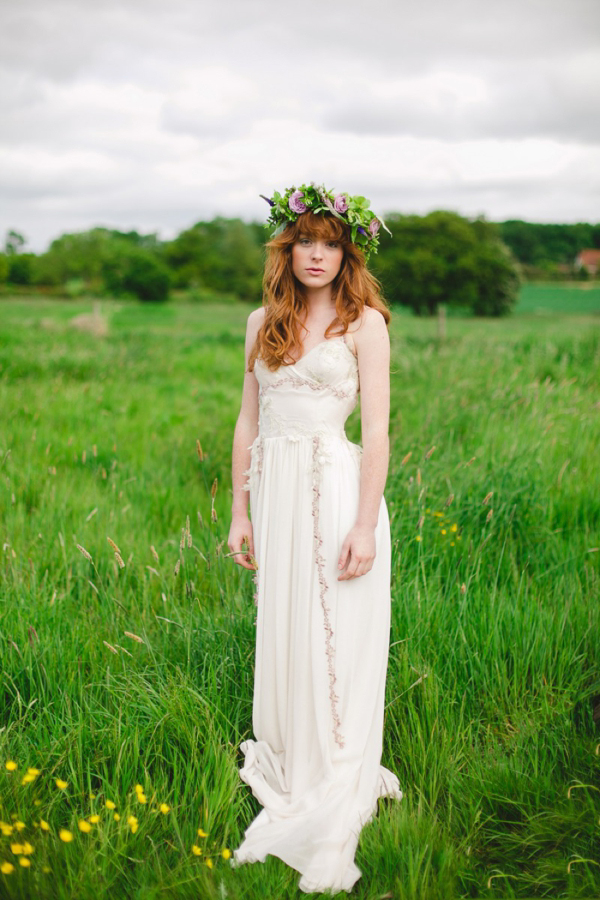 'My dress design fees are on average, between £2000.00-£3000.00 for bespoke. Some dresses a little less and occasionally a little more. Typically most of my brides are in London and surrounding areas, however many of my clients have travelled pretty long distances to see me and have a dress designed – as far as Scotland, Yorkshire ,Wales – even overseas.  I try to keep the number of fittings to a minimum so this helps the bride who does need to travel further to see me, plan a little better.'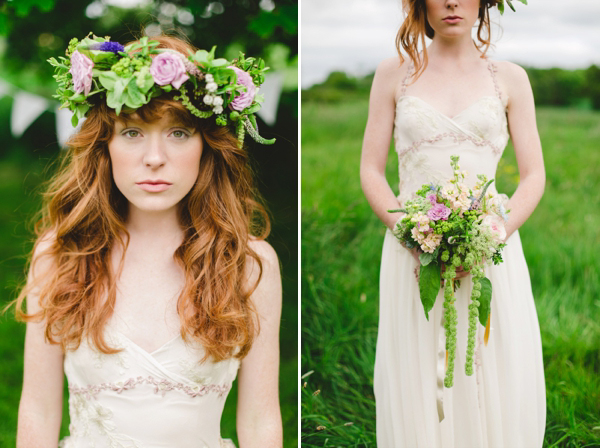 'My lead time, that is the time it takes to produce the finished design after the deposit has been paid is between 6 months and one year, ideally, though I can design gowns in a smaller timeframe than this for a premium.  I have had a few last minute brides who for various reasons need to have a dress made in a ridiculously short time. Last summer I was able to design and produce a dress for a very petite client of mine who was struggling to find a gown elsewhere, in just 3 weeks! It's not something I would always be able to do, but it has been and can be done.'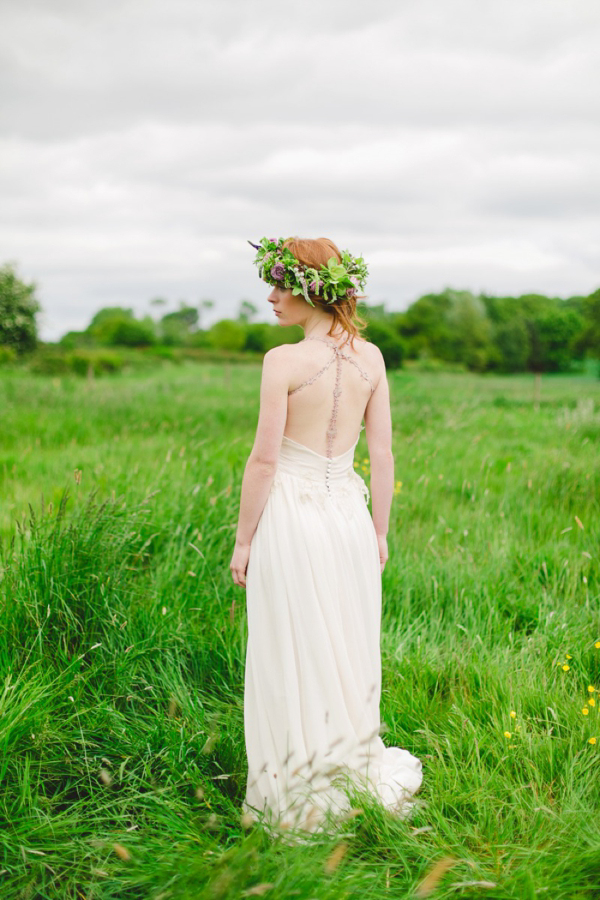 I think one of the reasons I was so drawn to Dana Bolton from the start was because of how her passion for what she does seems to radiate from every pore, through every email and every exchange I have with her.  This is a lady who lives, eats, and breaths beautiful bridal wear design and absolutely loves what she does.
'I really love what I do with a passion – it's such an incredible privilege to be able to make a living from something that inspires. I see what I do, or at least the way I do it, as a craft. It was, once, a choice of becoming a designer or an illustrator. I still keep up my art work, just, and did entertain the idea of becoming a greeting card designer at one point. I even got as far as having a couple of water colour designs published!'
'My dress design business has grown slowly and very organically, working in a way that worked for me, then expanding when the time was right.'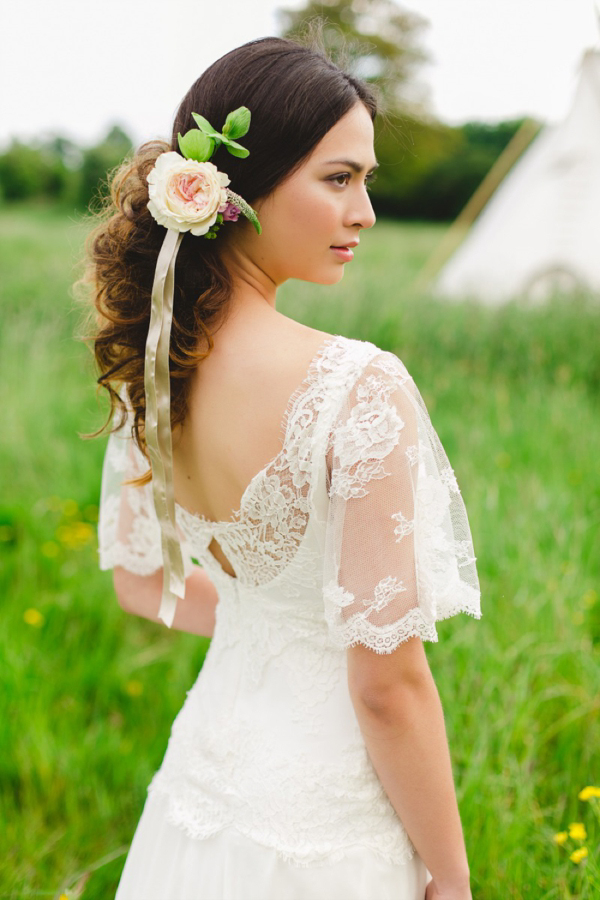 As well as expanding her collection of wedding dresses, Dana is also currently working on her first silk tulle veil collection, which she hopes to launch later this year. In the meantime, sample and bespoke veils are available.
I adore the era inspiration Dana has taken for her veil designs, this elegant Juliet cap style veil is the perfect accessory for a Love My Dress bride, I feel!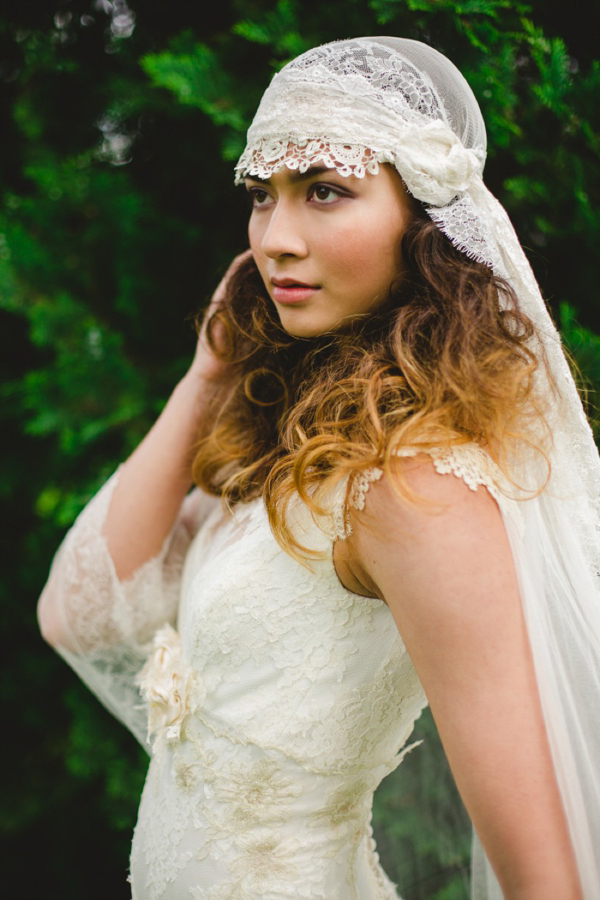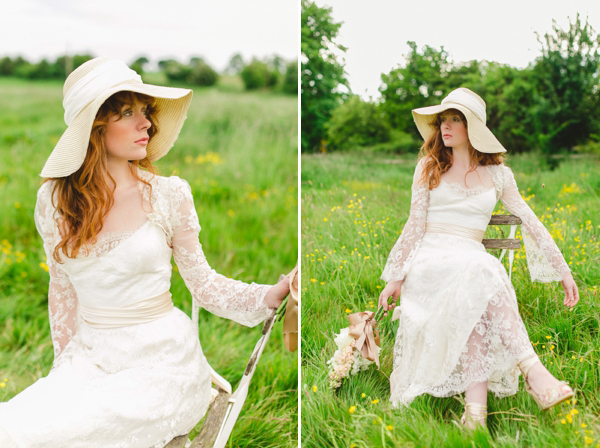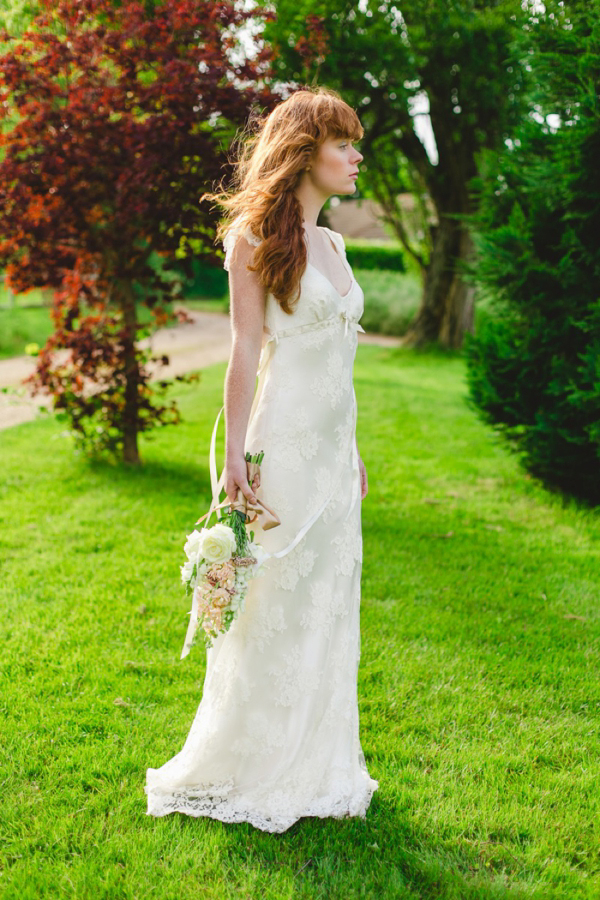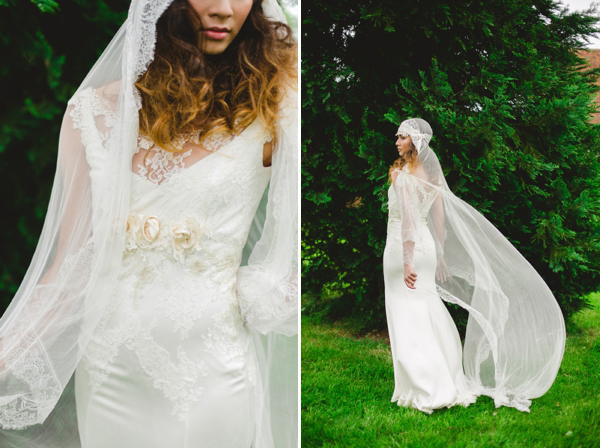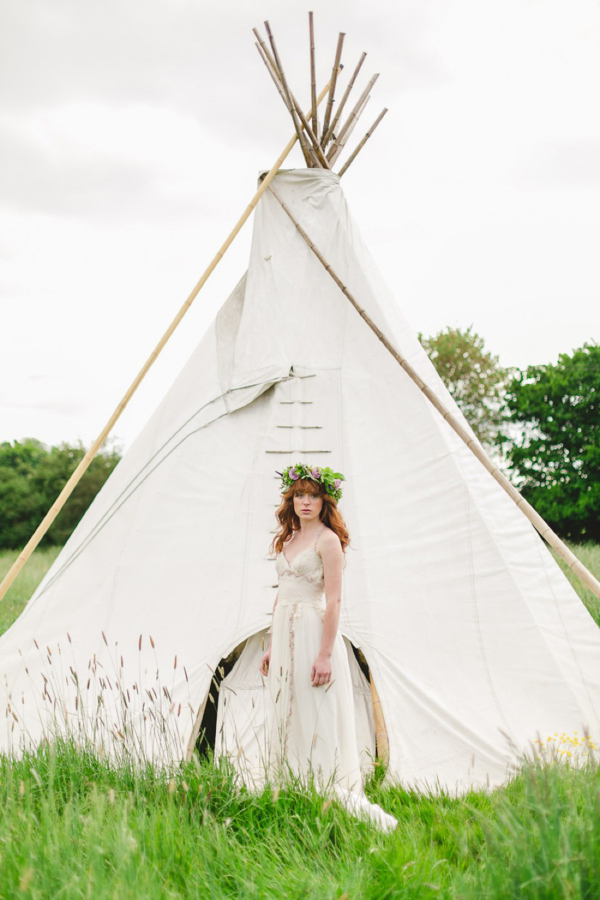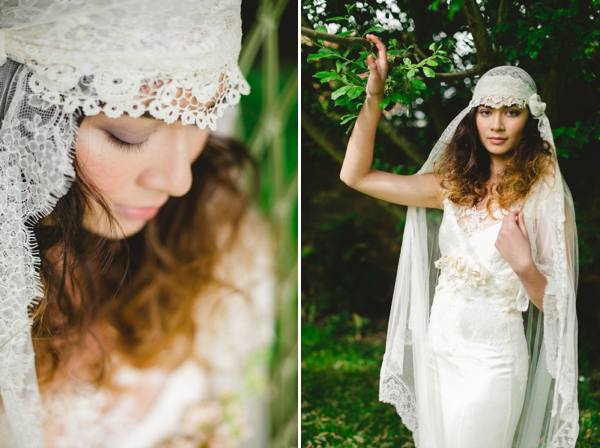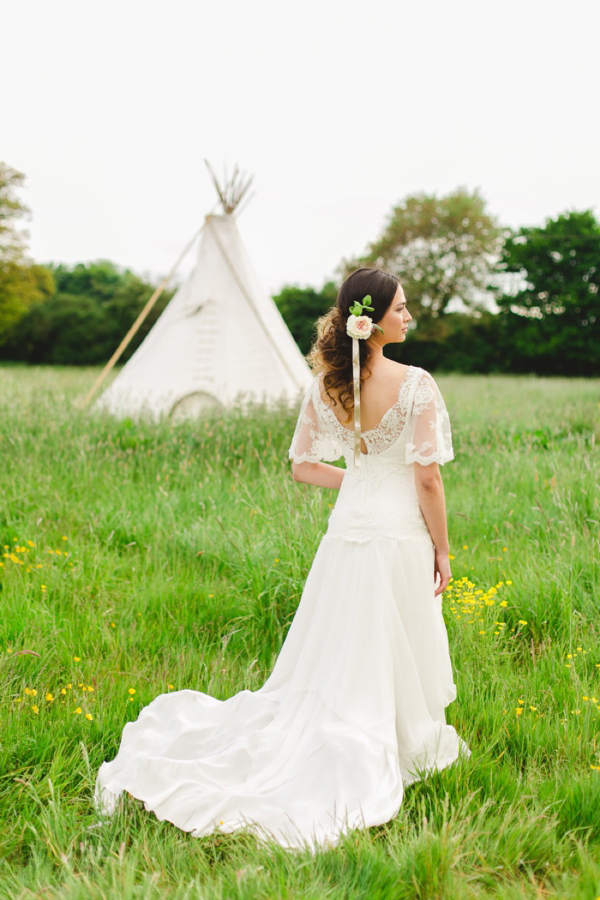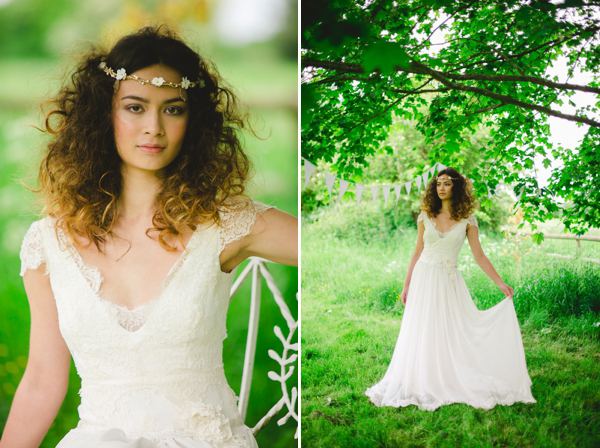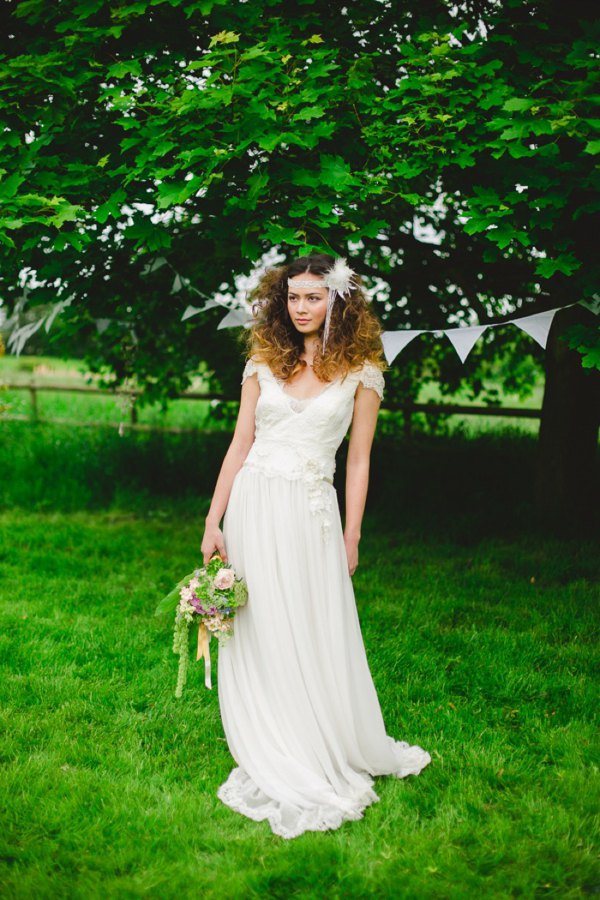 The images below are from this fabulous 'bright lights, big city' wedding that we featured on Love My Dress shortly before Christmas.
"I wore the 'Claudette' dress by designer Dana Bolton. It was the only dress I wanted to try on and the only dress I did try on. I think Dana was slightly taken aback when I visited her studio, tried on the sample version (which fitted perfectly – it was fate) and said I wanted it – through splutters, she asked if I was sure I didn't want to try any other dresses on first – or look around bridal shops. No, no, no, I assured her. I think I was quite low-maintenance in that respect!"
"I knew I wanted a simple, elegant 1930s-style dress (Kate Moss was my bride inspiration – start high!). Years of clubbing in customised silk BHS nighties as a teenger (I know) told me that silky materials cut on the bias gave me a waist and hips I don't normally possess. I did a google search using a description of my ideal dress.  One of the first results to come back was Dana Bolton.  I spotted 'Claudette' straight away and knew I wanted that dress."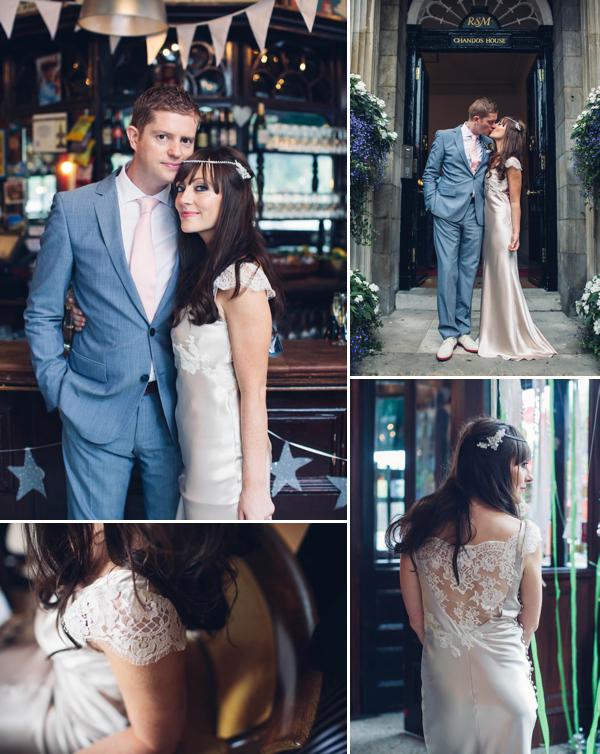 Photographer Copyright (c) 2013, Caro Hutchings
Full feature here
And the images below are from a wedding photographed by Assassynation.  I'm a little bit in love with that black lace bodice, what an incredibly elegant dress!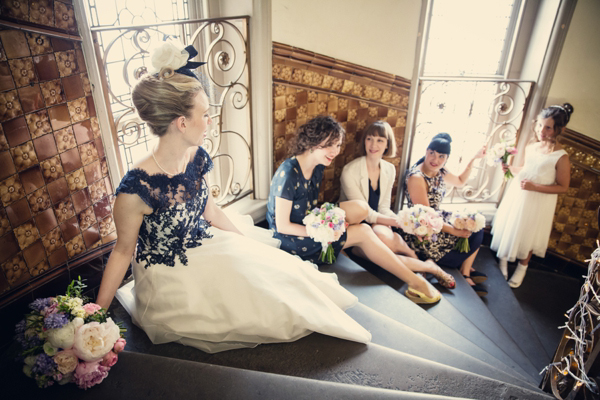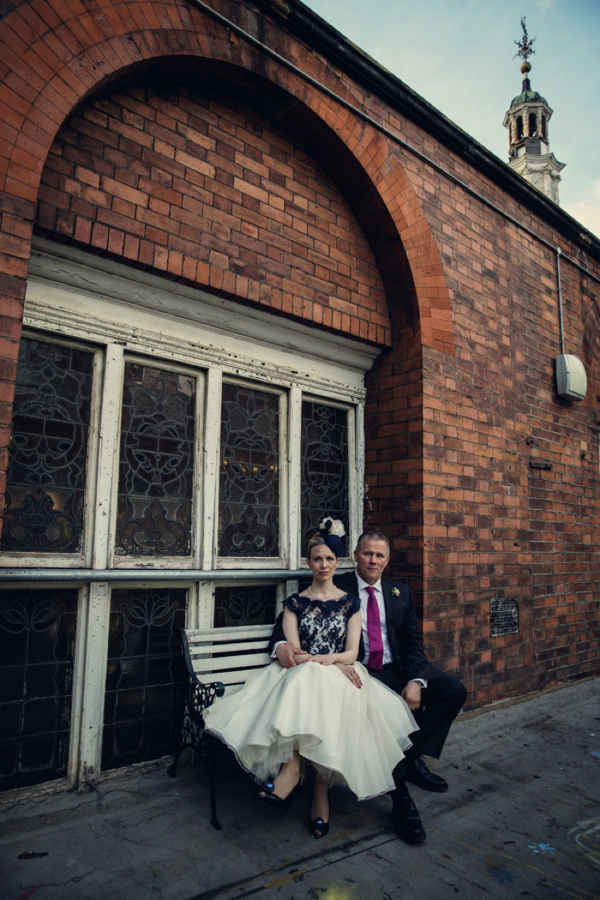 Photography Copyright © 2013, Assassynation
Ladies, if you love what you see, you can find out more about Dana Bolton and her bespoke wedding dress design service via her website at www.dressmakingdesign.co.uk.  You can also find Dana on Facebook and Twitter.
Love Annabel
Credits for main photoshoot images
Photography – Kirsten Mavric
Bridal wear + Veils – Dana Bolton
Headpiedces – Donna Crain
Floral Design – Bluesky Flowers
Follow Love My Dress on Google+