Morning everyone, here's a wedding we truly hope you're going to love.  Colette, who is the designer and owner of Timothy Sue Wallpaper married Andrew, a designer and architect, who also supports Colette with her business, on 28th September last year – which, may I say, is a great day to choose to be married as it also happens to be my birthday!
Apart from photographer Brittany Esther's wonderful use of natural light and her eye for a great shot, these photographs bowled me over completely for the way they portrayed Colette's incredible original Edwardian vintage crochet wedding dress – original Edwardian vintage! That's over 100 years old! I just love that this beautiful dress has been worn and given a new lease of life on such a beautiful and love-filled day. I'm also deeply smitten with the dramatic Big Sur, Californian backdrop and those huge redwood trees who played as guests at this beautiful woodland celebration.
"Andrew and I were married in Big Sur, California.  It's a dramatic stretch of the California coastline about 3 hrs south of San Francisco. It has mountains, redwood trees, and the Pacific Ocean all rolled into one.  I fell in love with Big Sur many years ago, and when I met Andrew I started bringing him with me.  We've had many special weekends down there, with friends and alone, so it seemed a fitting place to get married."
Photography Copyright (c) 2014, Brittany Esther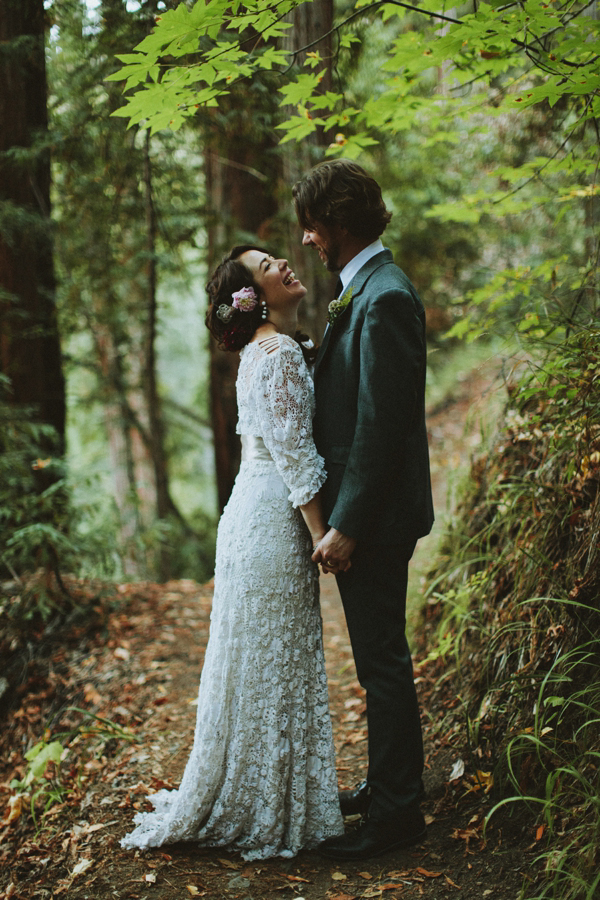 "To be honest, we required very little styling on the day – I had many big plans and ideas, but in the end everything seemed to compete with the venue.  It's pretty hard to top a grove of redwood trees! So the only items we brought in were the necessities, drinking glasses for the reception, flowers for tables, a runner for the aisle, place cards for guests, etc.  I love colour and pattern, and I love old things with a story.  I didn't want anything to be perfectly matched and I didn't want to be limited to a few colours. 
I shopped at thrift and vintage stores, and found things from my own house.  Also, it was a group effort from friends and family who helped compile the items we needed, so that naturally created an eclectic mix of things."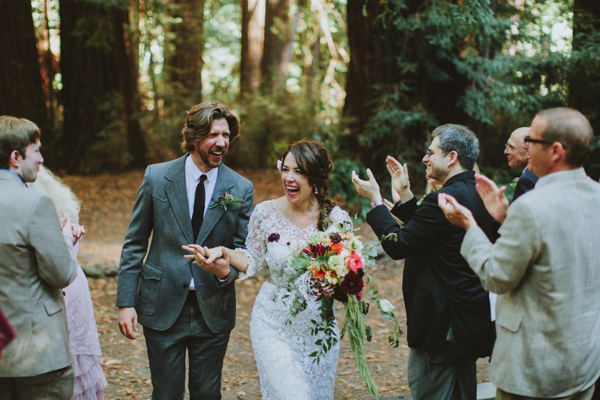 "We were introduced by a dear friend, who we consequently asked to marry us.  Our relationship has always felt very easy and natural, so I think we both knew early on that it meant something.  We became engaged in August of 2012, so we were engaged a little over a year."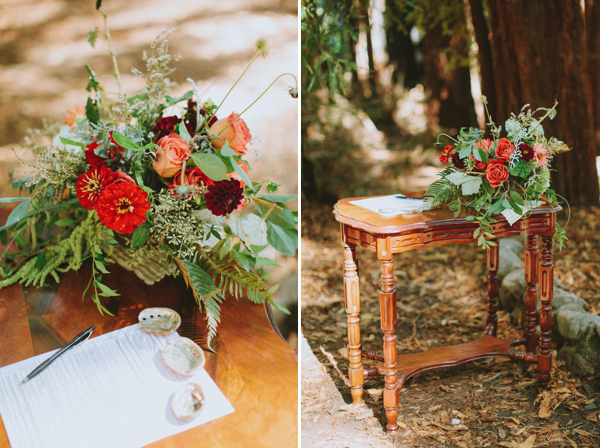 "Our wedding was small and so we decided not to have a bridal party.  We really wanted to keep things very small, because I get overwhelmed with huge groups of people.  So we could only invite immediate family and our oldest friends.  But it was still hard and bittersweet for not to be able to invite all of the friends we love."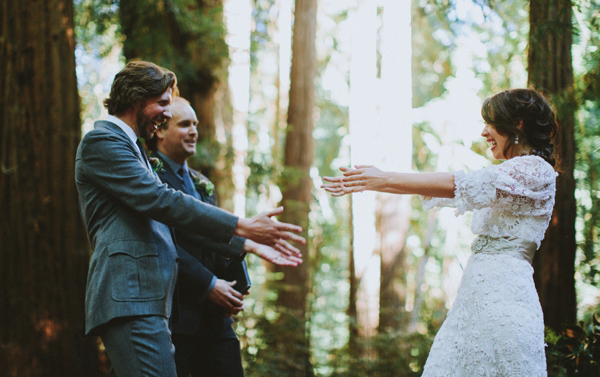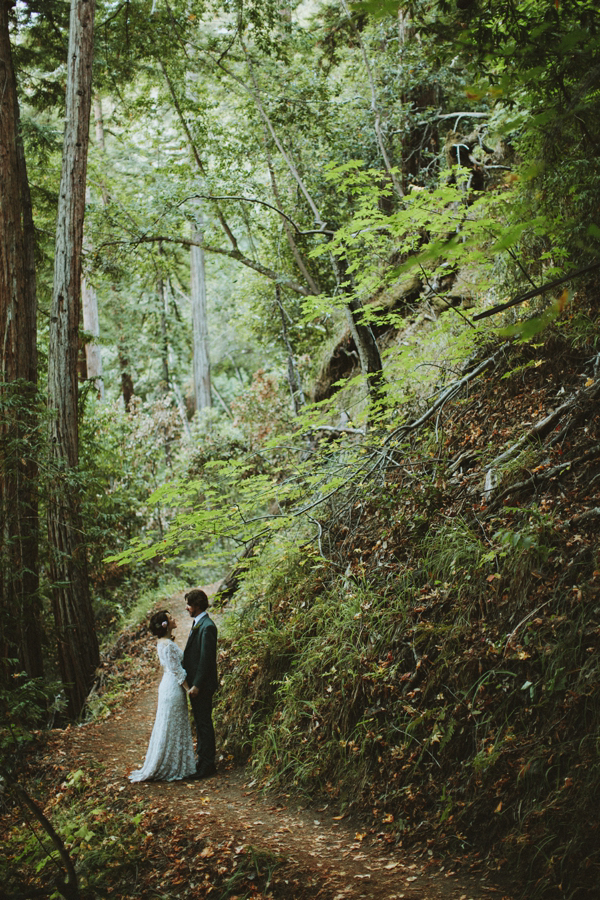 "My dress is a vintage Irish Crochet dress from the early 1900's.  I purchased it from Shadows Bridal Boutique in San Anselmo California.  They carry new dresses mostly, but the owner Sylvia and her mother collect Victorian and Edwardian era dresses.  They have a beautiful collection and are lovely to work with.
I usually wear a lot of bright colours and patterns,  but I knew I wanted to wear white for my wedding.  I was drawn to Irish Crochet because texturally it creates the look of a pattern.  I also thought the Edwardian style would fit the outdoor venue, because that was a time when people did wear dresses and bring their fine china to rough it 'outdoors'!  I love the workmanship of the dress, and I love thinking about who made it and who wore it before me."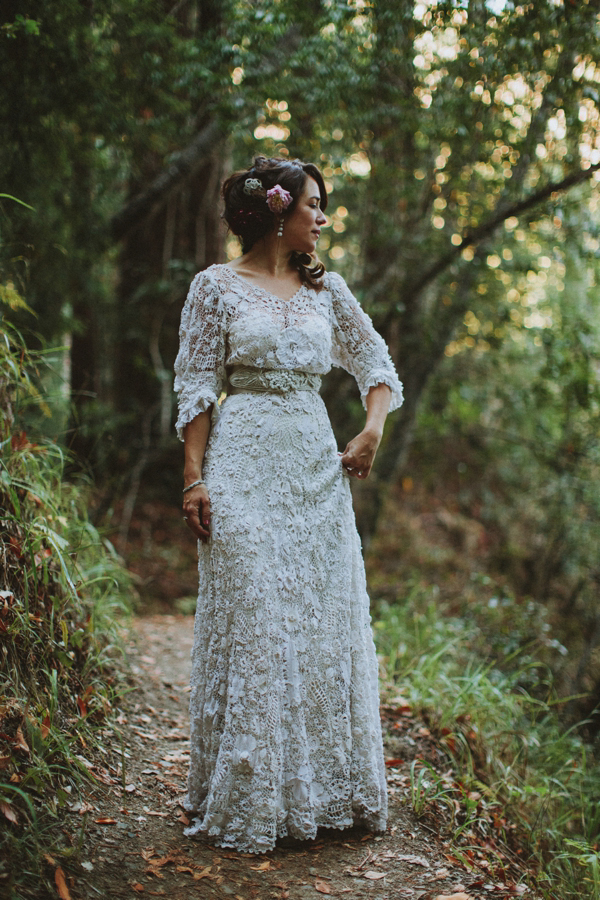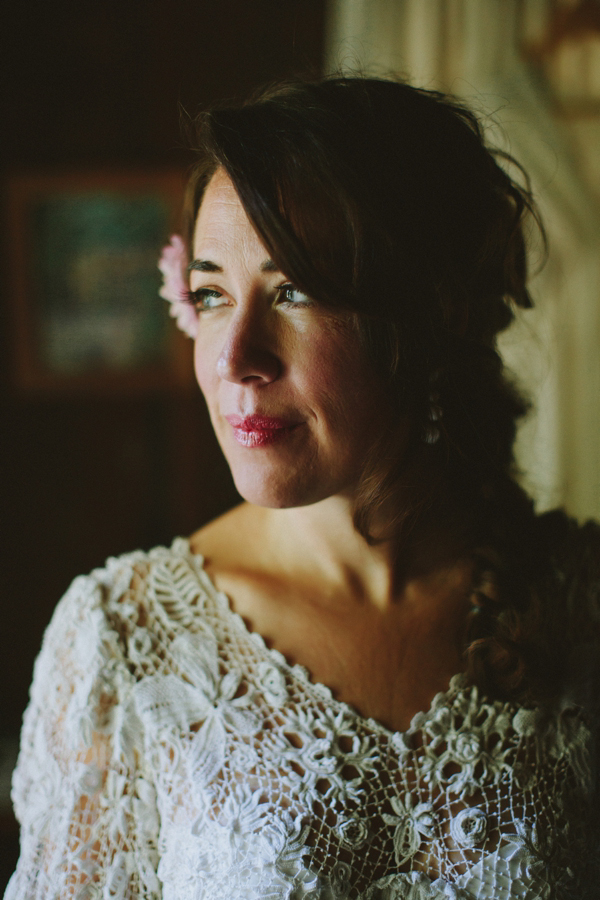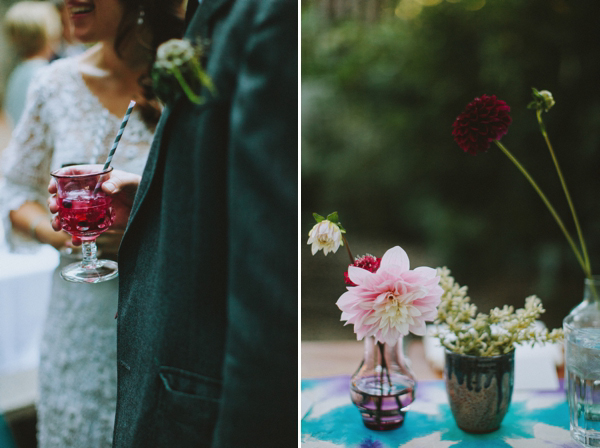 "I wanted the flowers to look very natural, as if they were picked nearby.  A friend of mine has an amazing business where she grows flowers sustainably in a leased lot in Oakland, CA.  In addition to supplying beautiful flowers for events and local businesses, she is helping to beautify an area of Oakland that is run down and a bit unloved.  I let her lead the way, using flowers that were blooming in September, (which turned out to be a lot of dahlias), and asked for multiple colours with a focus on jewel tones that seemed to suit the fall.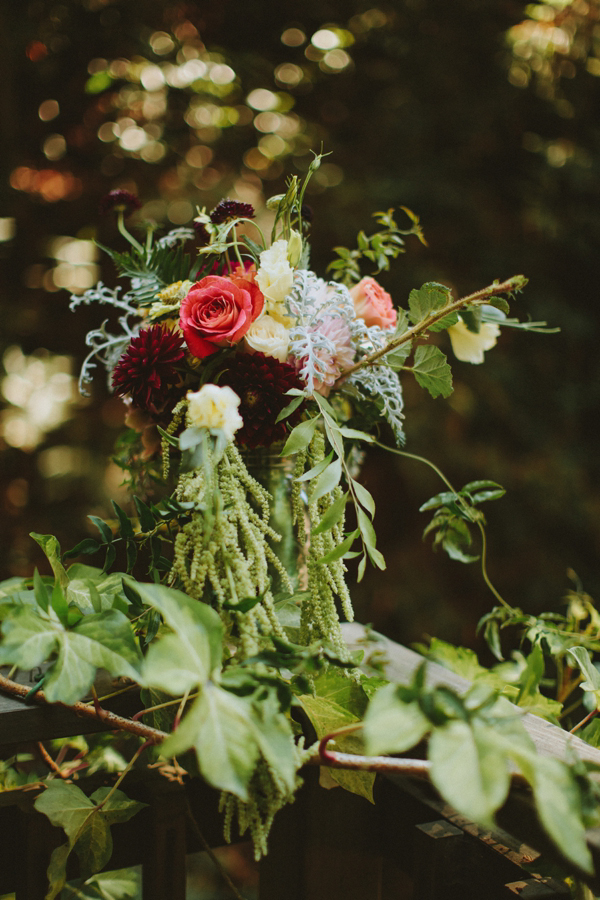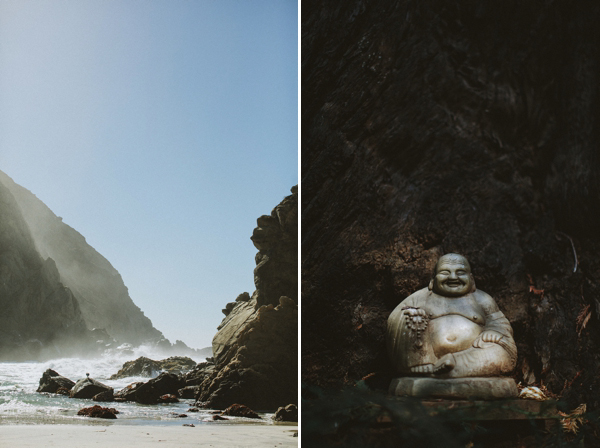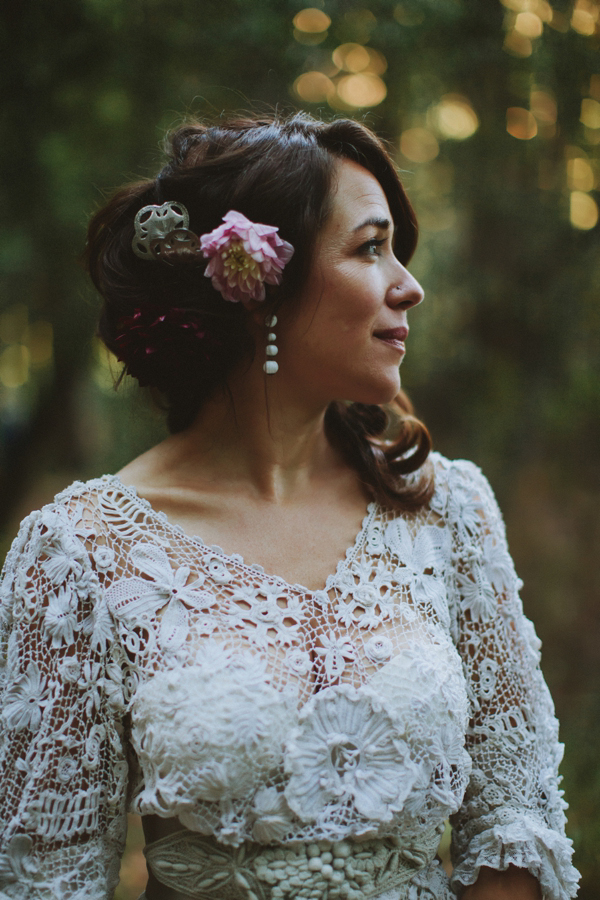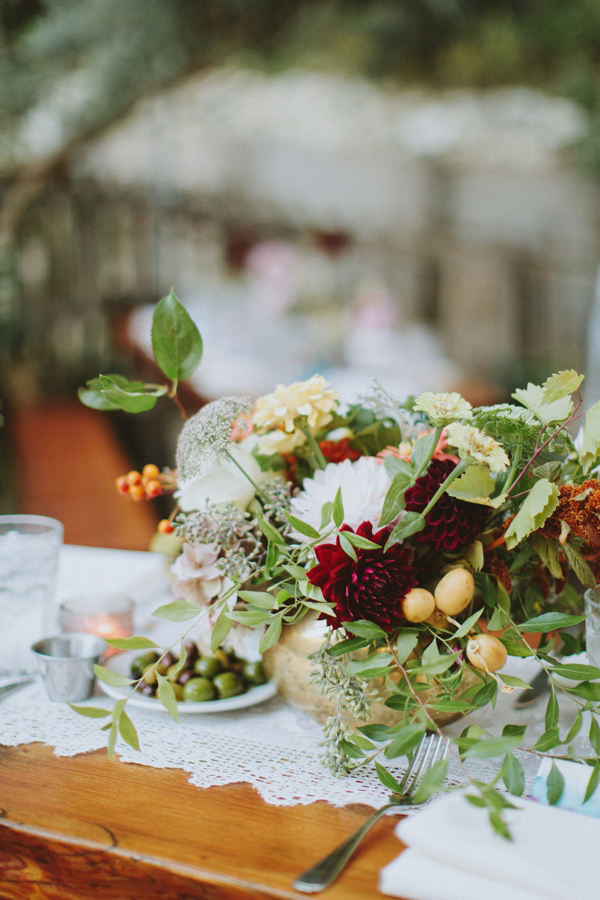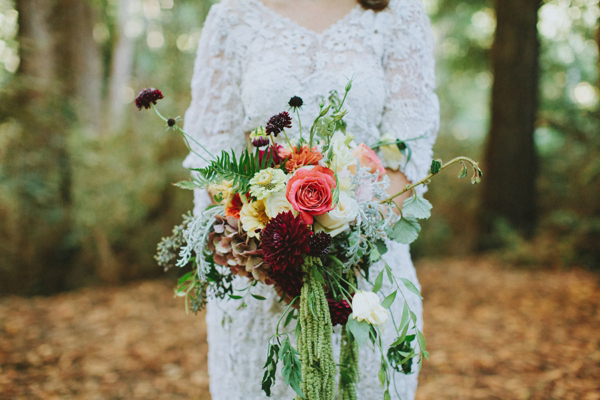 "I found our photographer, Brittany Esther, quite early on.  I saw some of her photographs on a blog and they instantly connected with me….but she lives in Canada.  I wrote to her anyway, mainly because I just wanted her to know how beautiful her images were.  That led to a long Skype call, a new friendship, and pretty soon arrangements were made.  She loves to travel and was up for the job, and I was thrilled.  I love how she is able to capture the in between moments in such an artful way."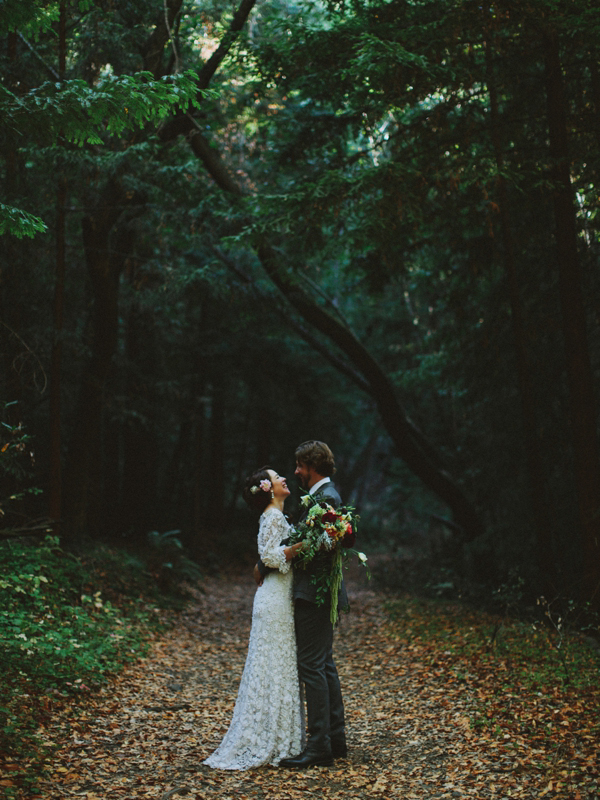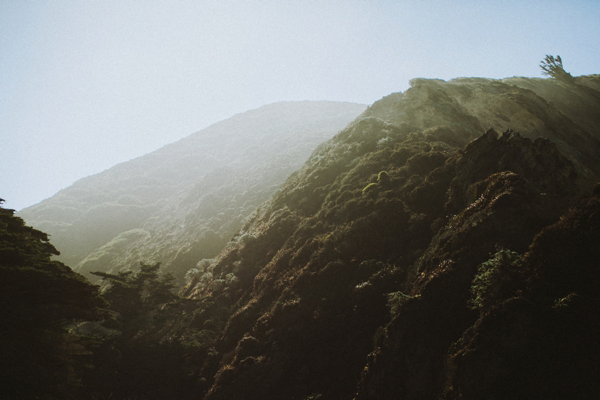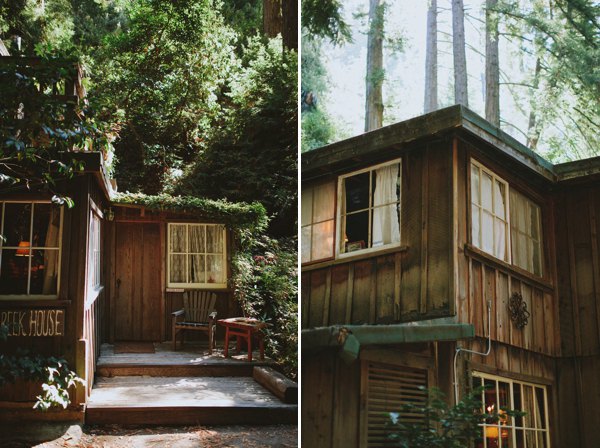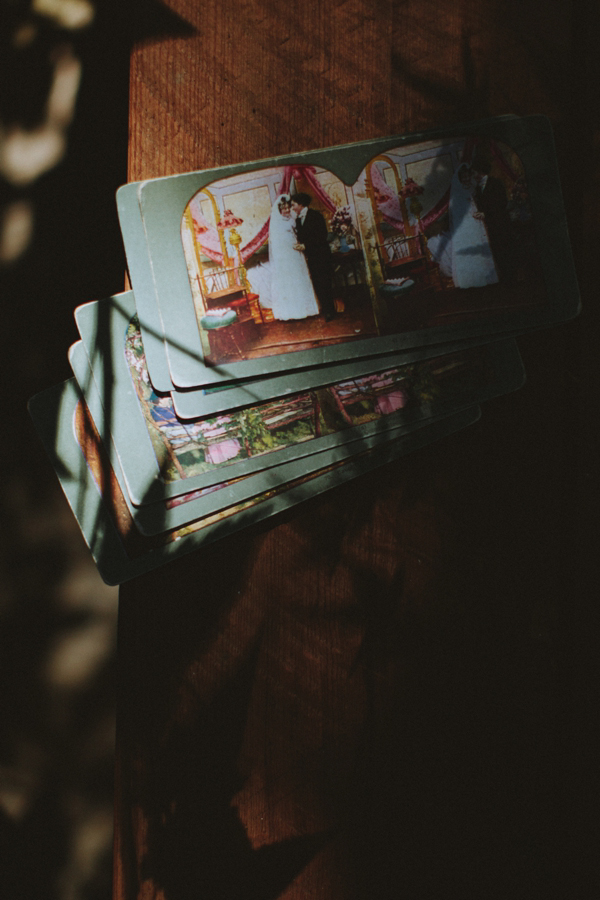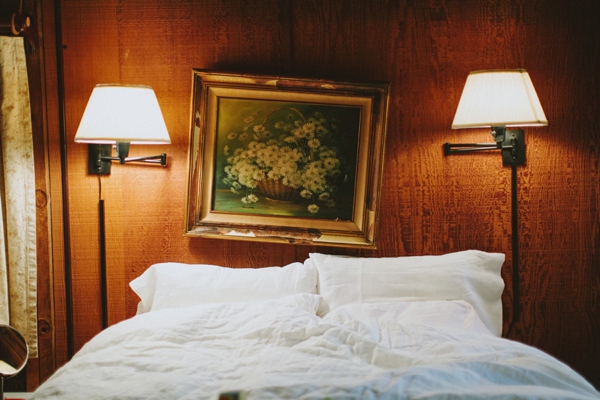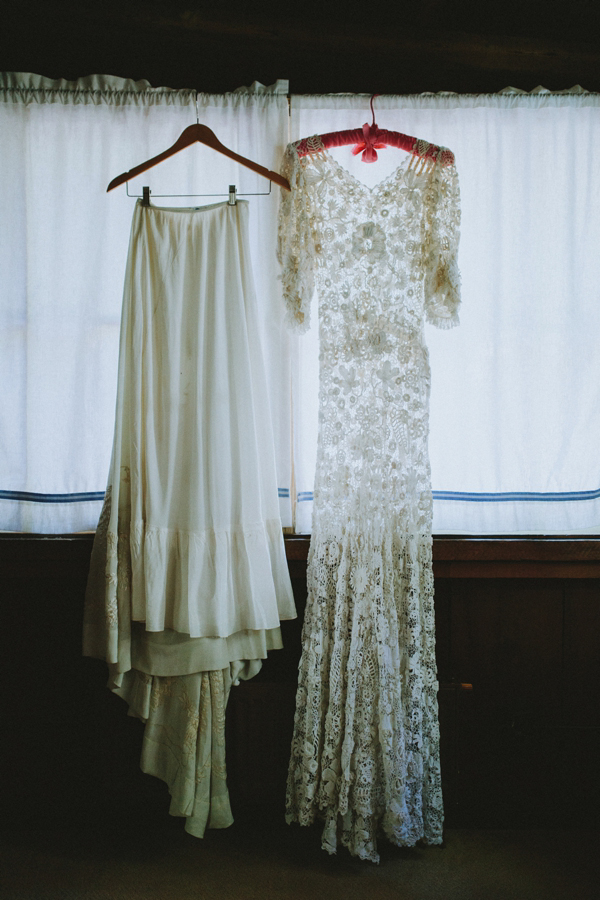 "I hiked a quarter mile into the ceremony site, and so I just wore casual boots so as not to fall over.  For the reception, I had my shoes custom made at Al's Attire in San Francisco.   I had a pair of 40's heels that I loved but were falling apart, and so I had them replicate my worn out shoes.  They even sewed our wedding date on the label."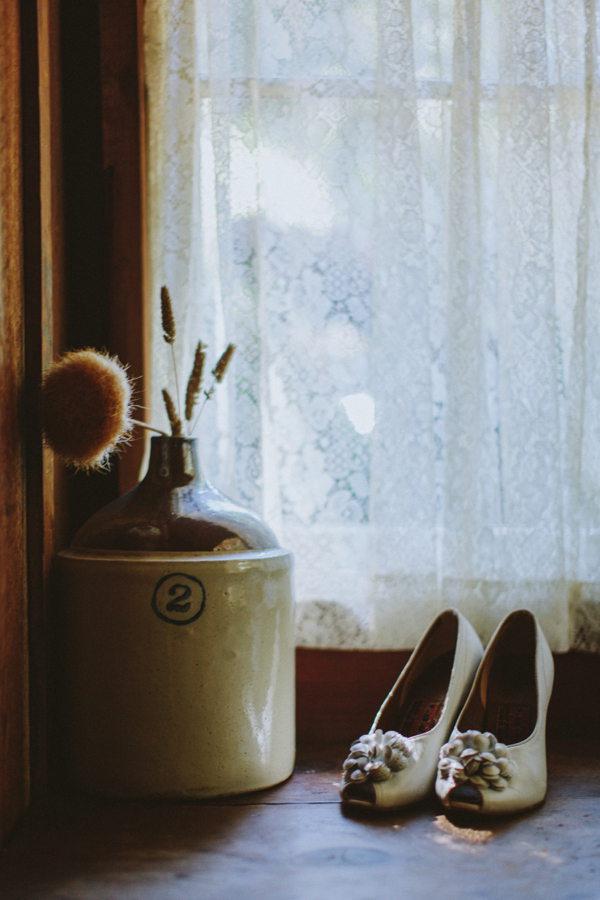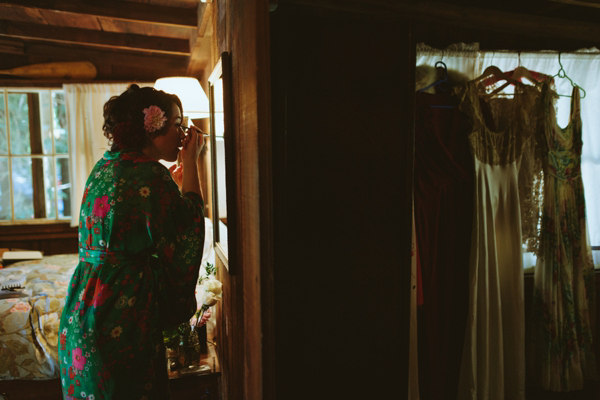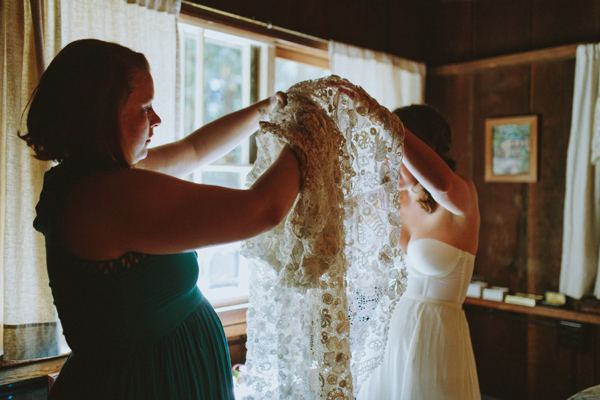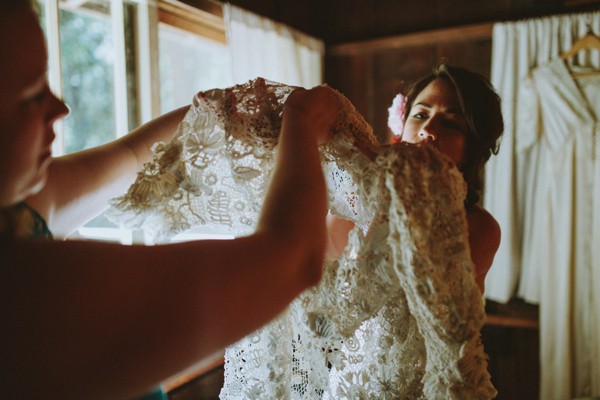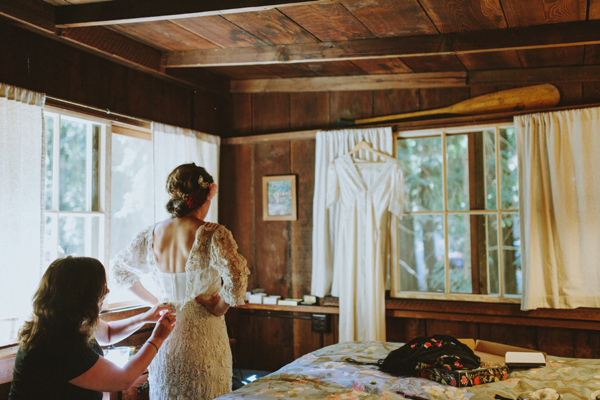 "All of the jewellery I wore, were things I had – I honestly don't even remember what I ended up wearing!  I did have a beautiful silk slip from the late 1800's  with a train and hand embroidered wisteria blossoms around the bottom edge.  It was very difficult to find the right undergarments for the dress because they would be visible through the crochet.  I was so happy when I found this slip. The colour worked, it fit perfectly, and it was so beautiful.  I found it at Torso in San Francisco."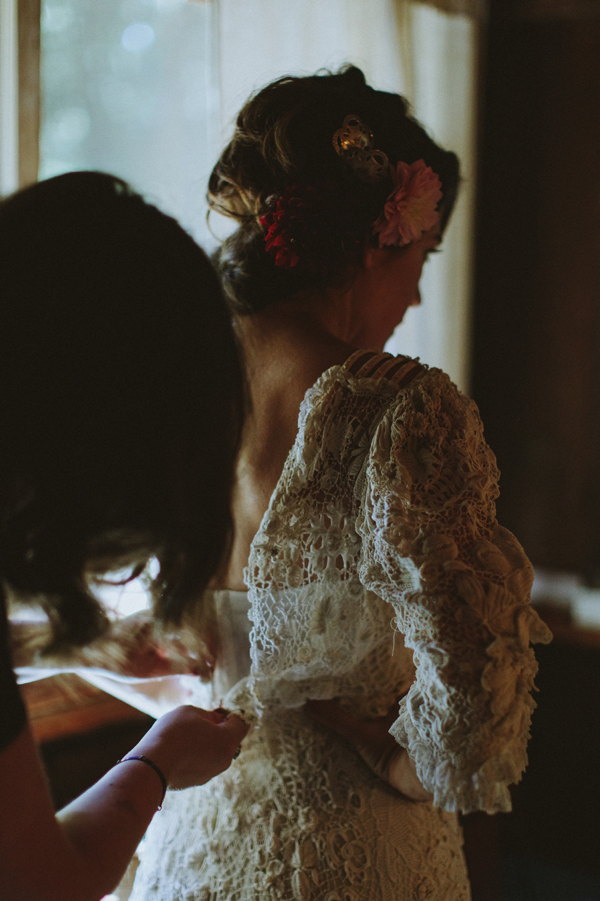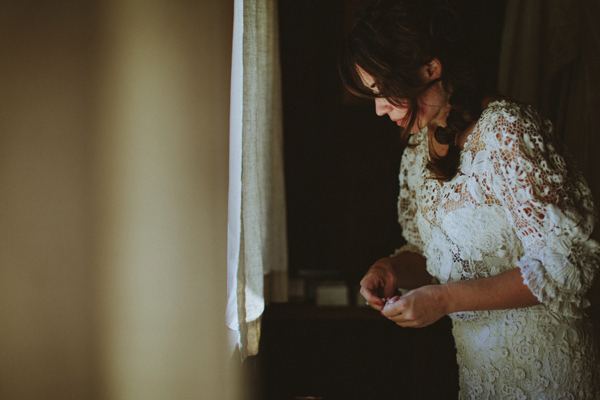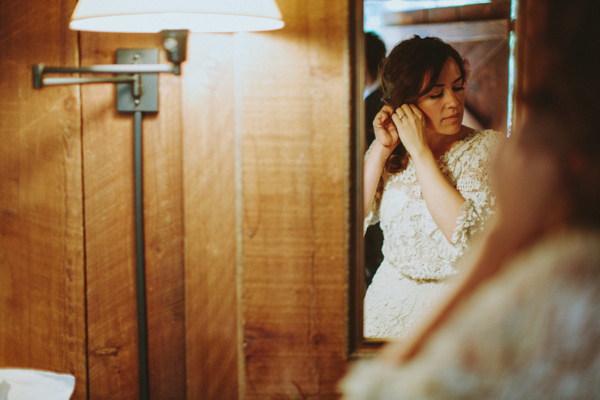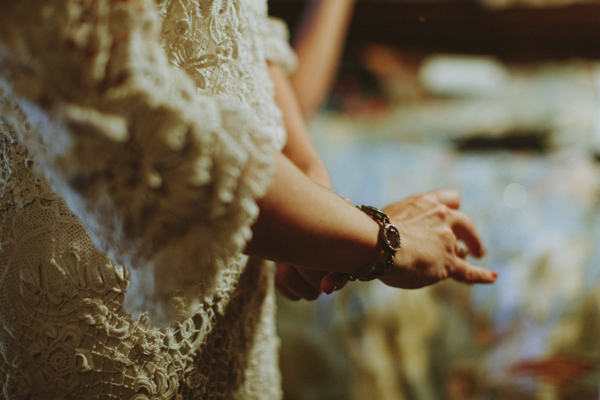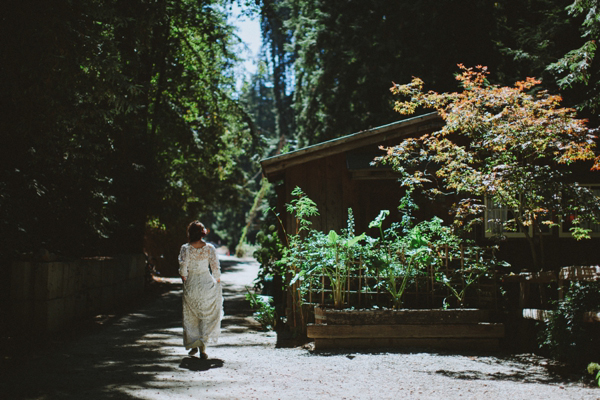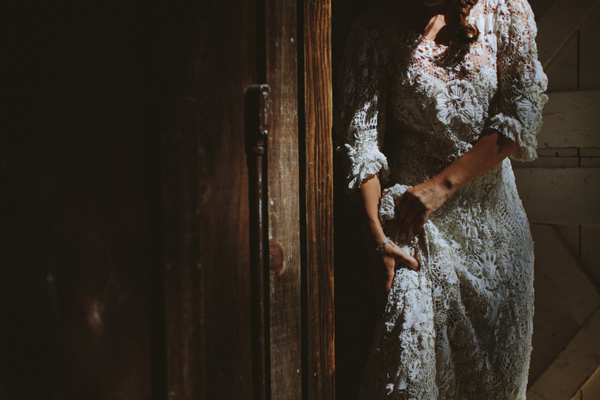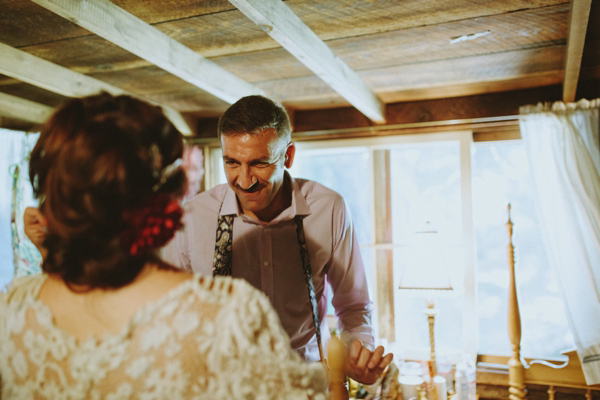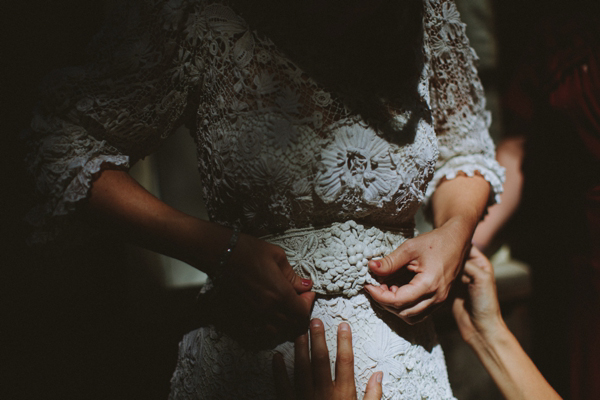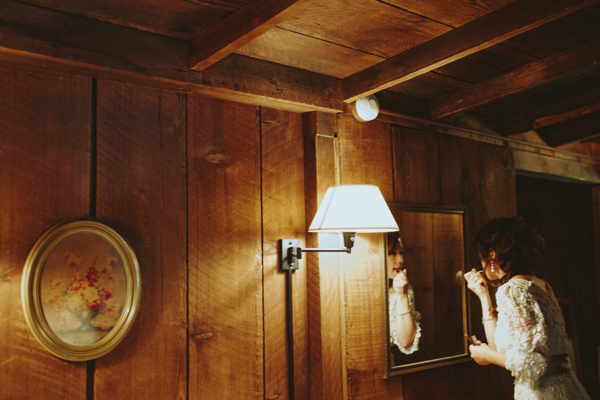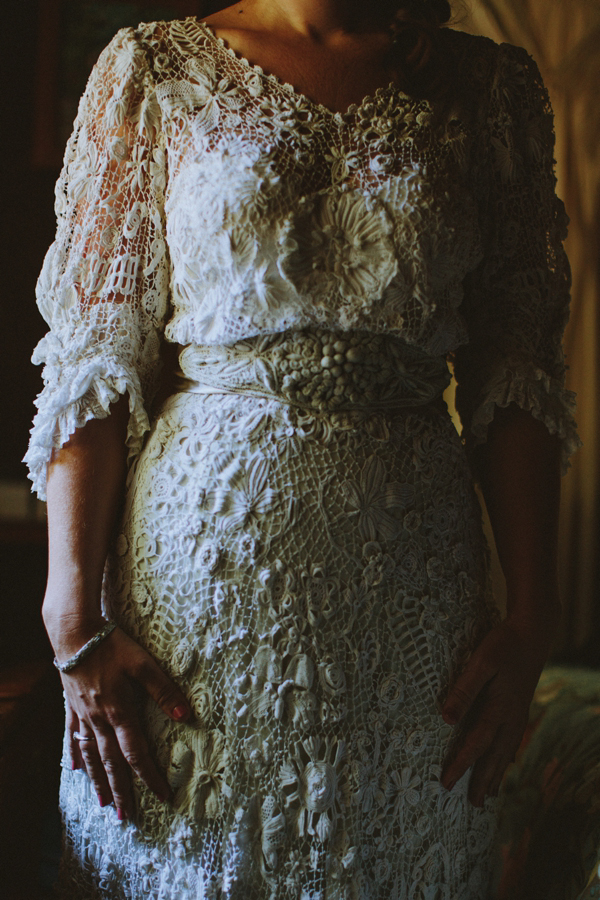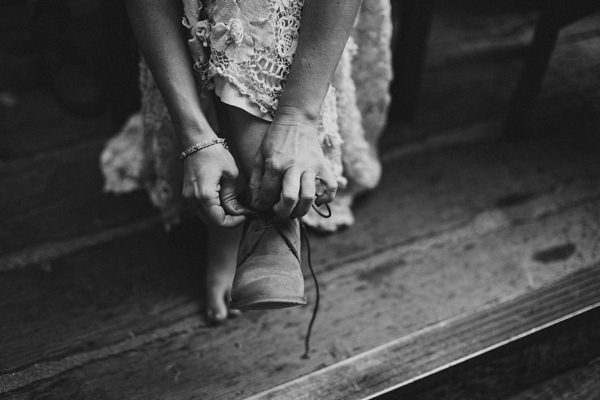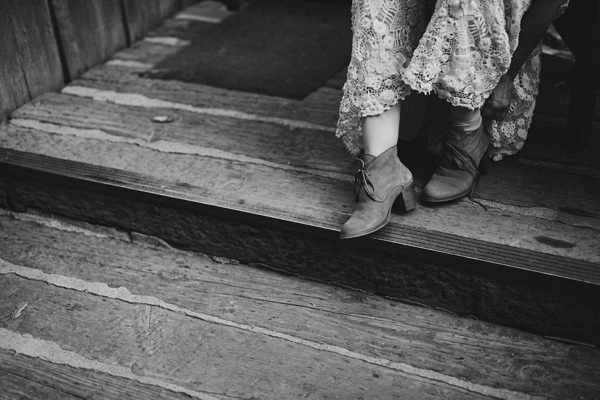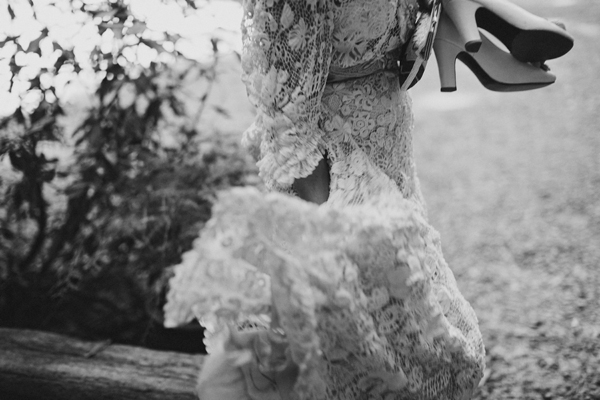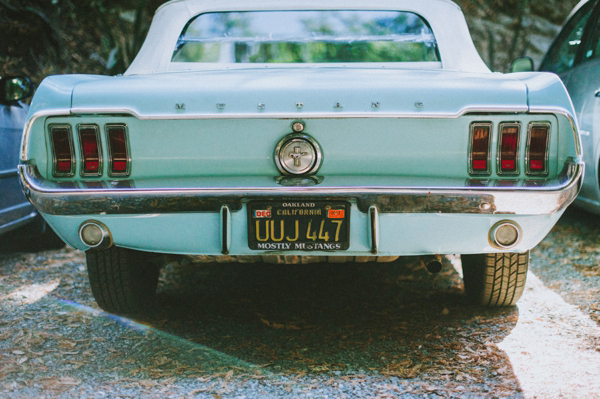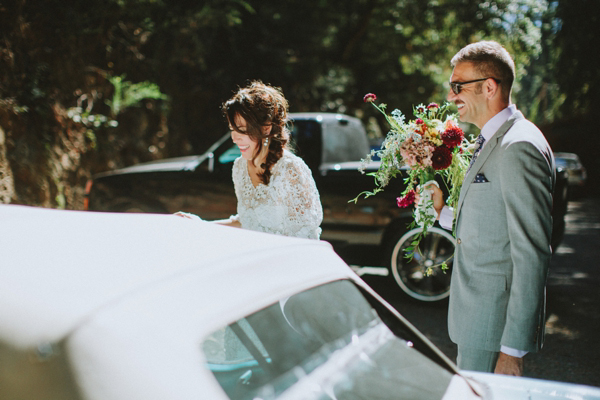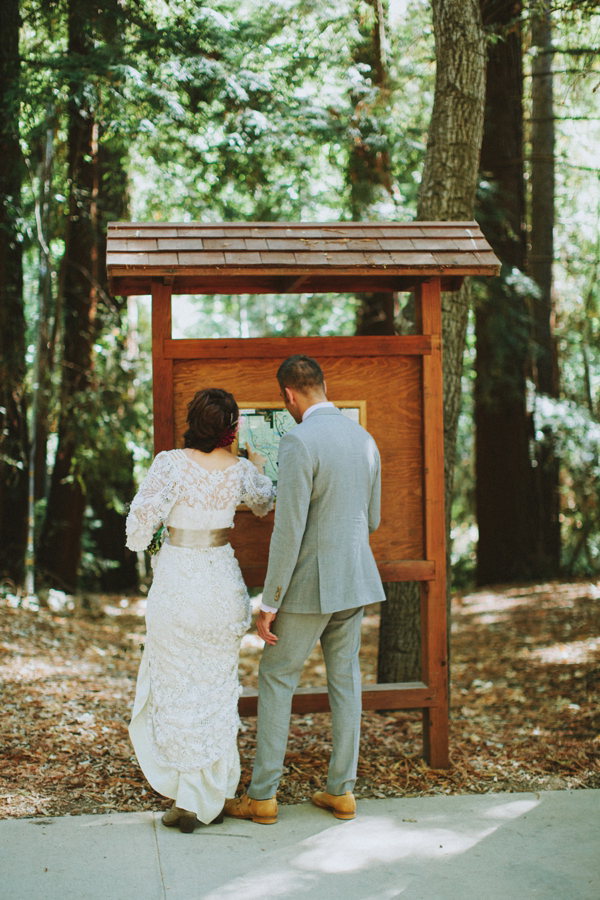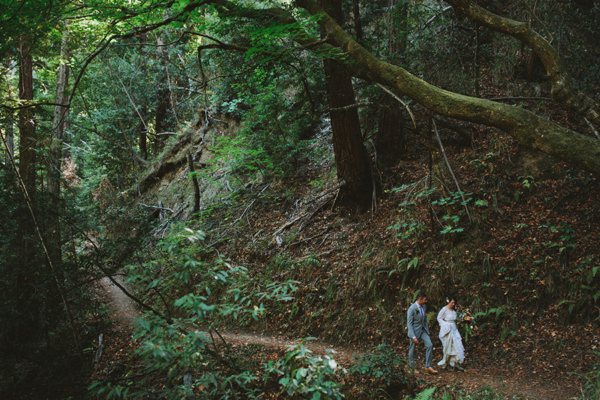 "Andrew found his 1970's Pendelton Wool Suit for $35 at an antique store in Cottonwood, Arizona.  He had the pants taken in at the bottom so they had a more modern look, and he replaced the lining of the jacket with a patterned fabric to add a bit of flair."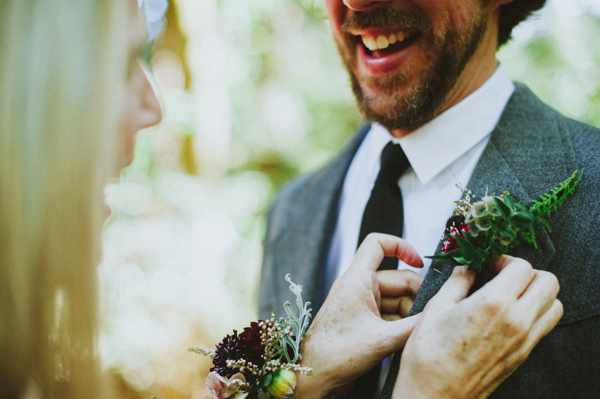 "Andrew's shirt and tie were from Paul Smith, and his shoes were from Allen Edmunds."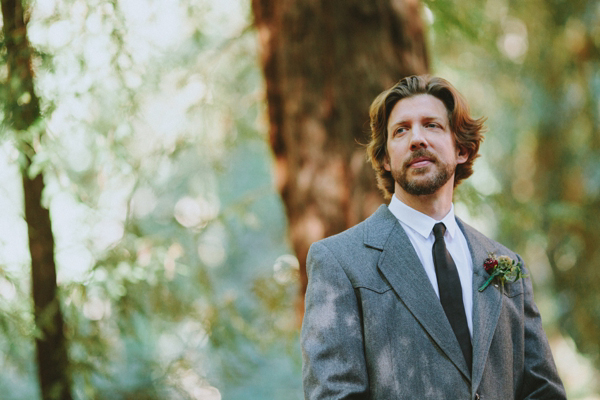 "For the wedding ceremony, and a small drink reception we held at the ceremony site, we hired a great New Orleans style jazz band called Toot Sweet.  They were so fun to work with, we probably should have kept them for the reception!   As I neared the ceremony site from my hike in, I began to hear them, and it put a huge smile on my face. 
Since my father has passed away, I asked one of my oldest and dearest friends, Mark ,to walk me down the aisle.  We are very close, and he has also lost his father, so I knew he would understand my feelings.  Plus he is a comedian, and so he really calmed my nerves and was a great support before the ceremony."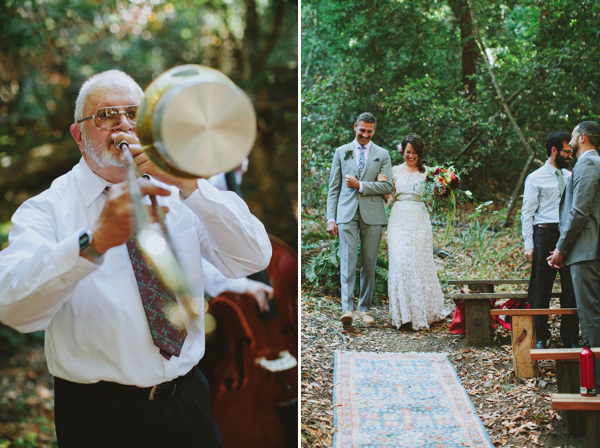 "I was a clarinetist in my past life, so I knew I wanted to feature that instrument at our wedding.  I chose La Vie En Rose, because I think it has a nice slow march feel to it.  I feel so glad we had live musicians for the song.  It made all the difference."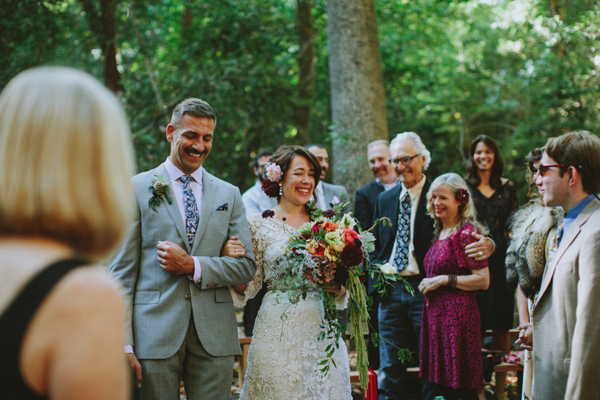 "We chose a mix of traditional and untraditional vows.  We did write some of our vows,  each choosing about 8 sentences reflecting our promises to each other.  We each wrote our own, so they were not the same, but we shared them with each other beforehand and talked about what marriage meant to us.  After we read these vows, our friend who performed the ceremony, continued with the more traditional part of the ceremony (to have and to old, in sickness and in health, etc.)  We liked being able to personalise some elements and still include a sense of tradition and ceremony.
We also had two readings during the ceremony.  We wanted a spiritual element, but nothing that was overly religious.  One friend read in his own words, what marriage means in his faith and culture.  Another friend did a reading by Woodie Guthrie.  We chose this because of his music, and his connection to people and nature.  Here is one part of the reading; 'Marriage is something bigger and greater than you or me and it is as durable as the sky which always remains clear and endless in spite of the clouds or planets that whirl and spin there'."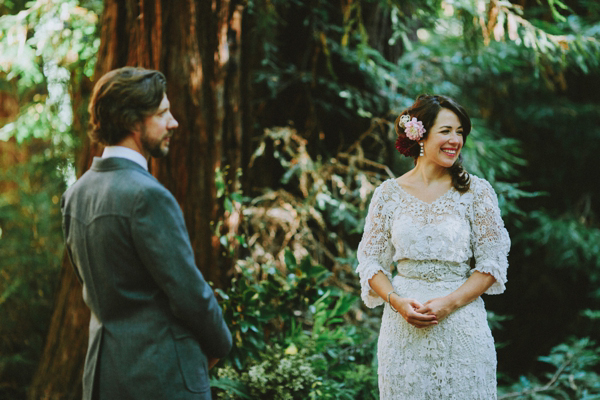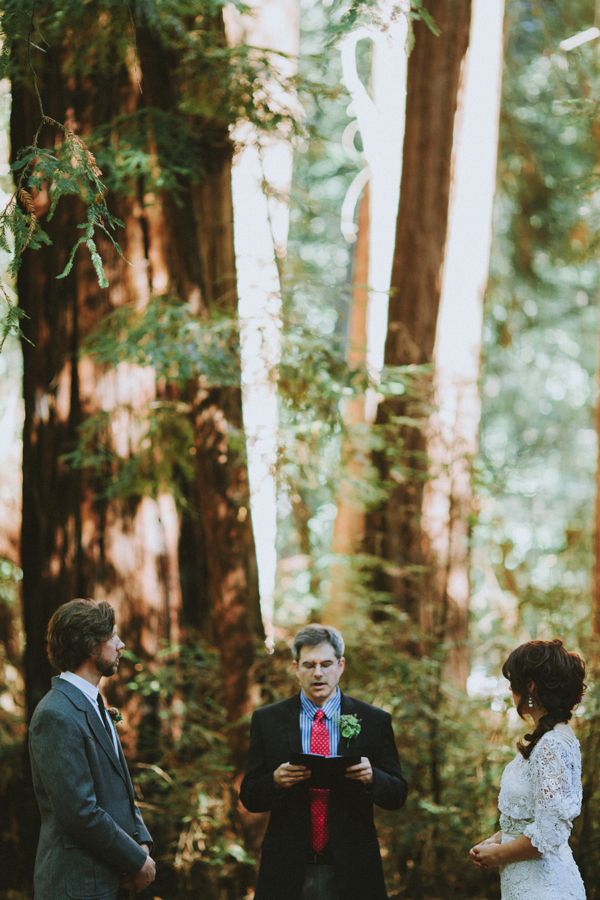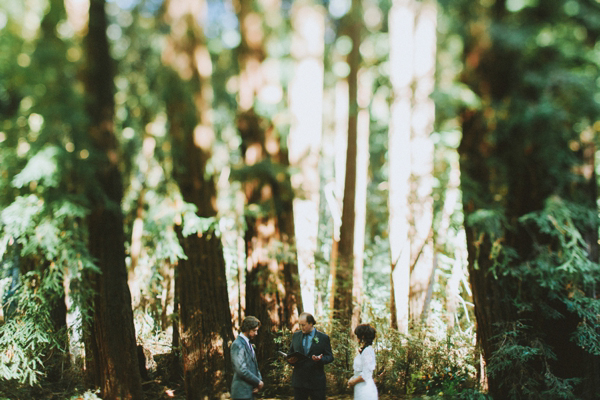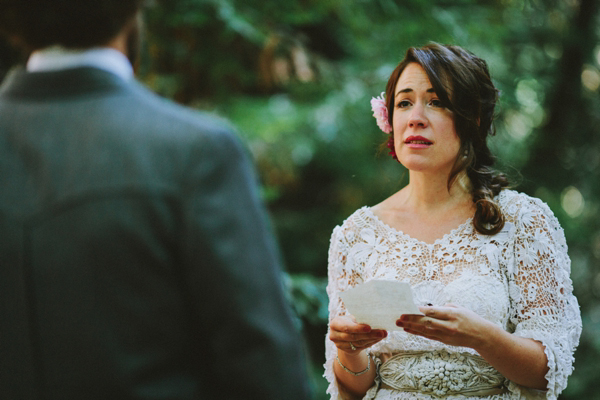 "My engagement ring belonged to Andrew's great great grandmother.  The ring is edwardian style from the late 1800's, with an acanthus leaf motif.  I was beyond shocked that he had this ring in his family, and I think he was too.  It means so much that it has been passed down to me and carries our family history.  I had my great grandmothers wedding band, which was a very similar style, and so I chose to wear that instead of buying something new.  For Andrew's ring, I chose a jeweller from our neighbourhood.  Betsy is a jewellry designer and the owner of Love & Luxe.  Andrew loves hiking and used to be an avid climber, so I wanted something that was a little rough and natural.  Betsy's designs were a great fit.  The ring is very organic with an uneven edge, and a tumbled finish."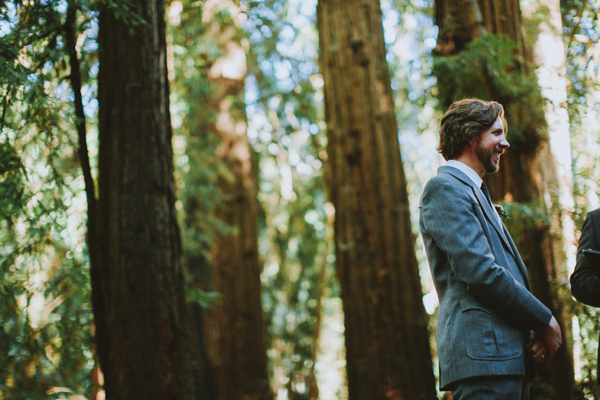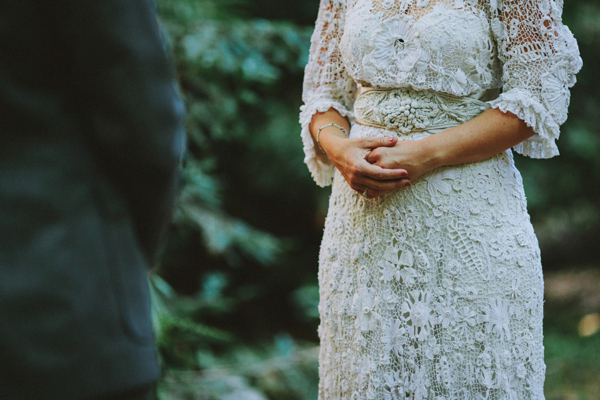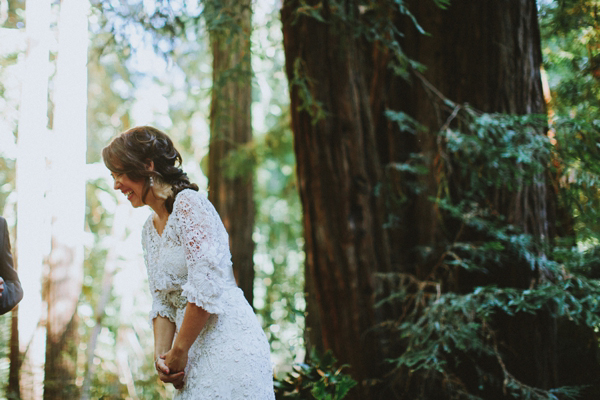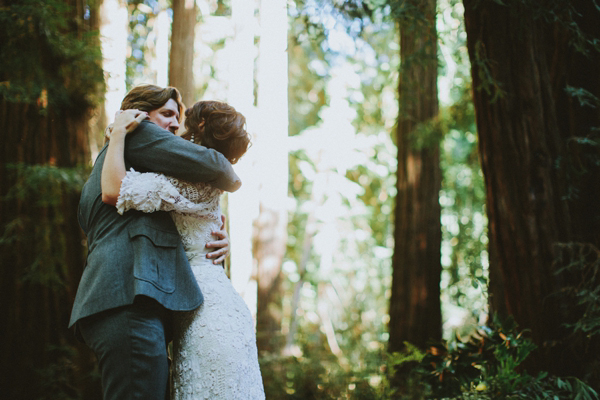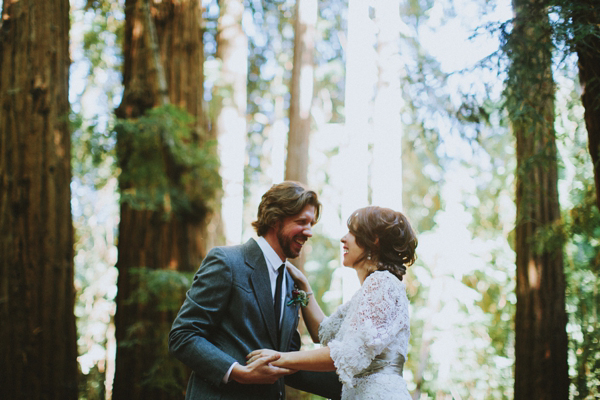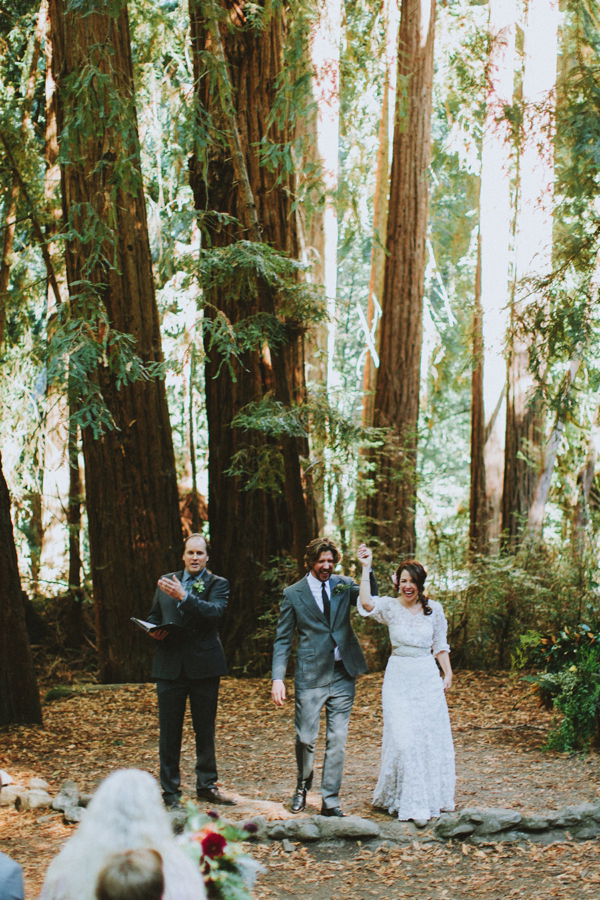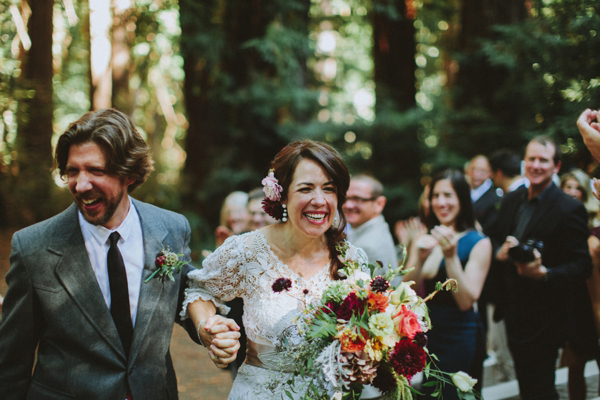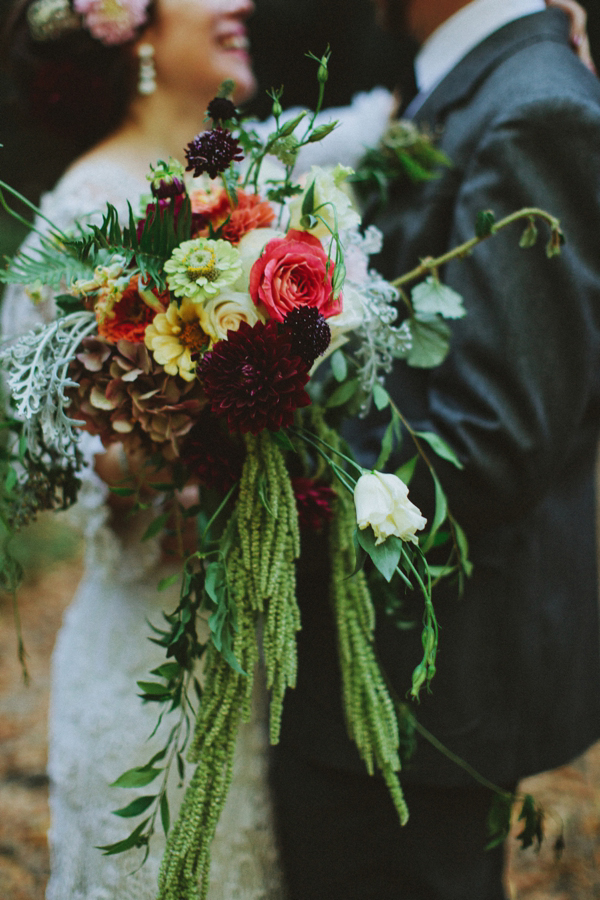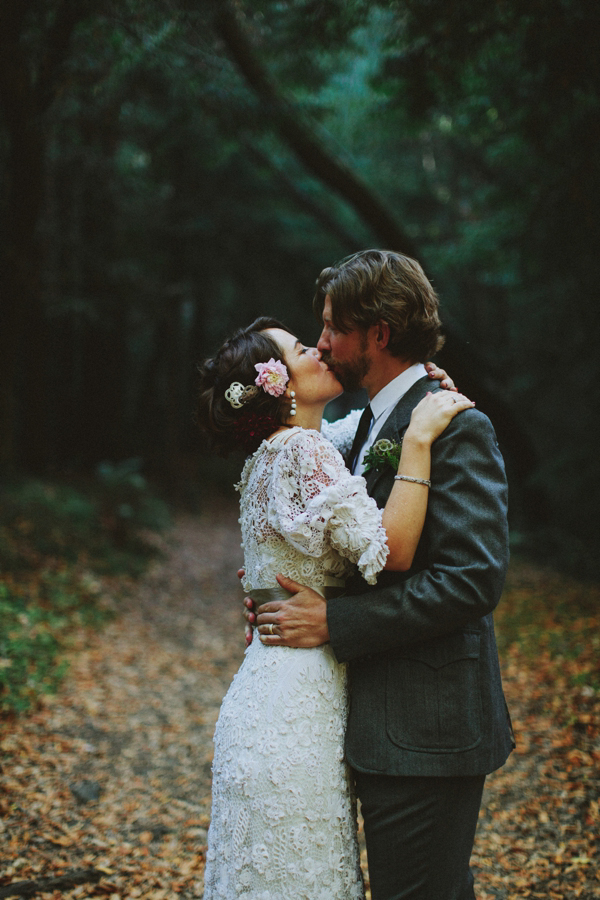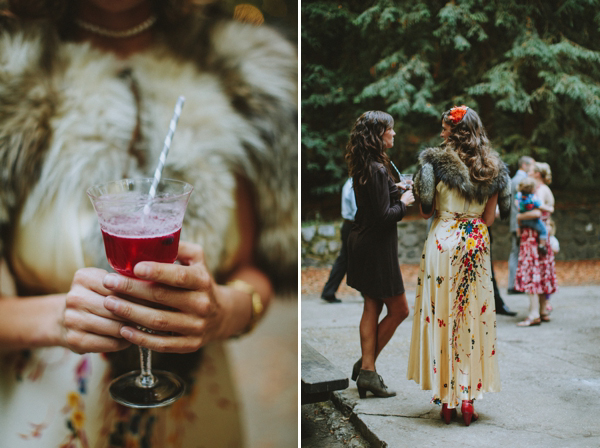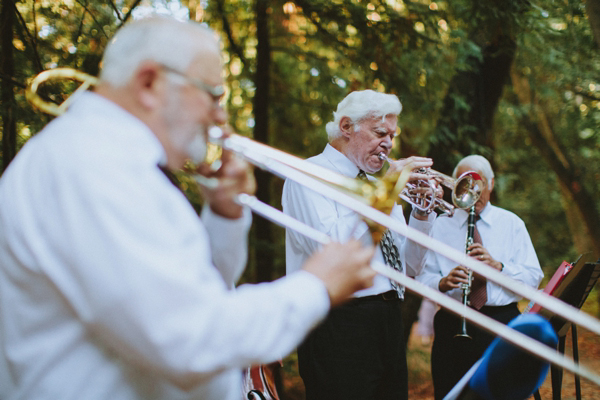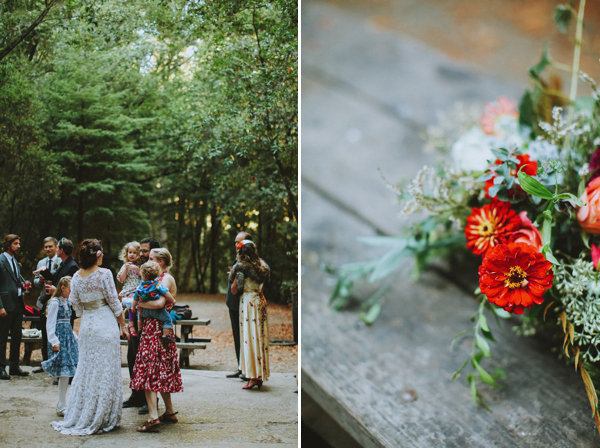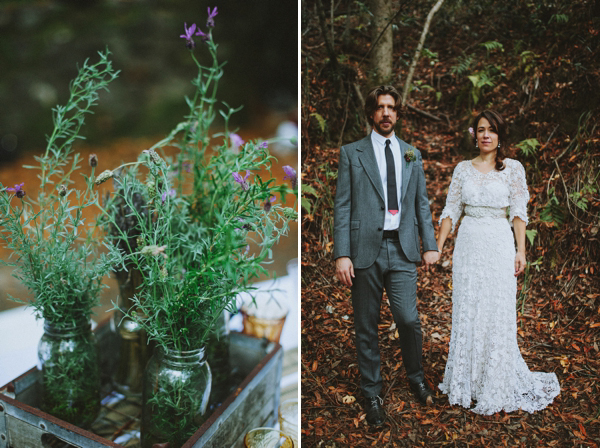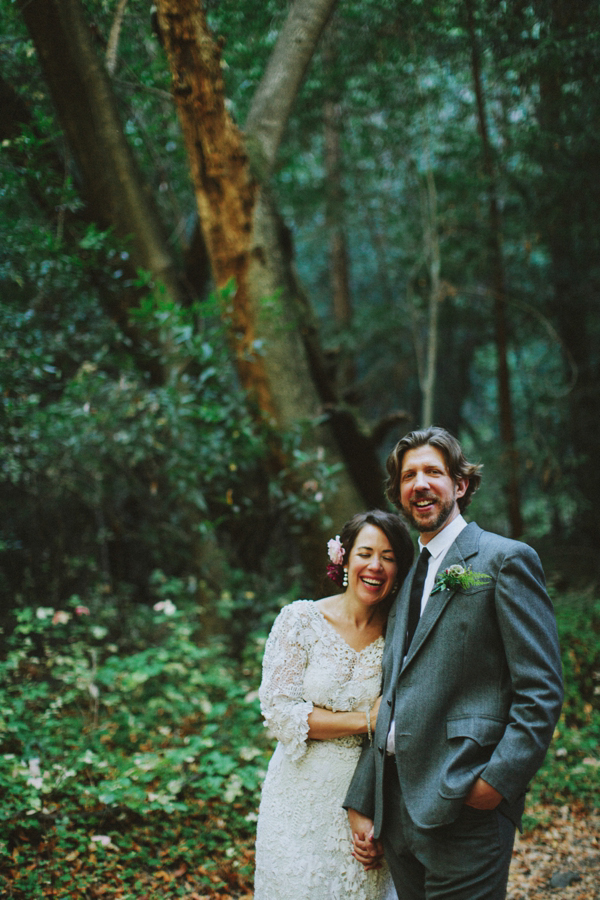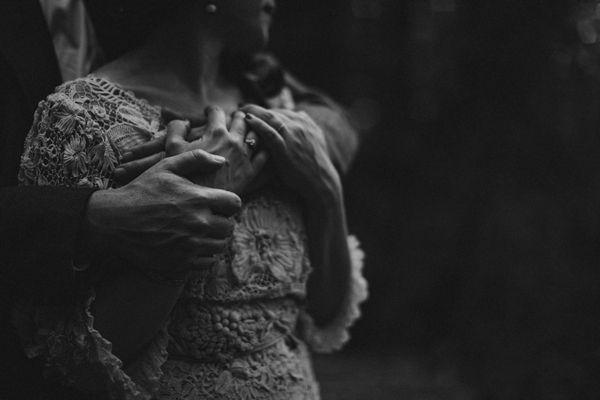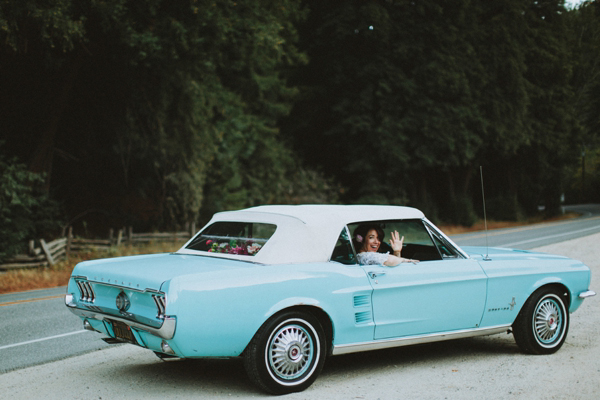 "People were mostly driving on there own because it is such a remote place.  But in honour of my father who has passed away, we drove his 1967 turquoise convertible Mustang."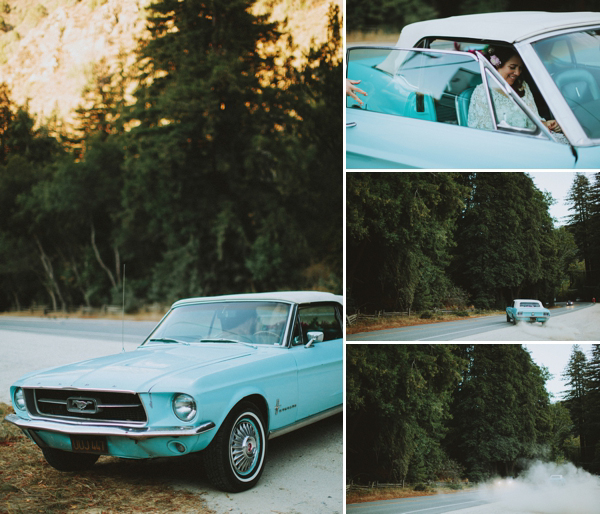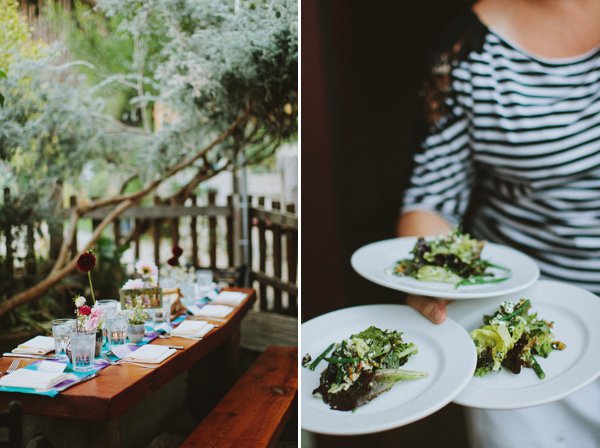 "Our reception was held at Big Sur Bakery, a small and intimate restaurant that serves the best food in town.  We shared many special meals here in the past, so we were so happy to be able to share the place with our families.
For table runners, I found some beautiful tie dyed art paper and cut and sewed them together to create the length.  I bought blank name cards and used watercolor and ink to decorate them.  We collected small vases from thrift stores and our own cabinets for the flowers.  My grandmother and father were artists, so I brought several pieces down, and the restaurant was kind enough to let us hang them in the space.  Instead of a guest book, I collected old postcards from Big Sur and self addressed them for people to send us advice or wishes.  Also, every year Andrew and I have been together, I have made a photo book of our adventures.  So we brought them for people to look through."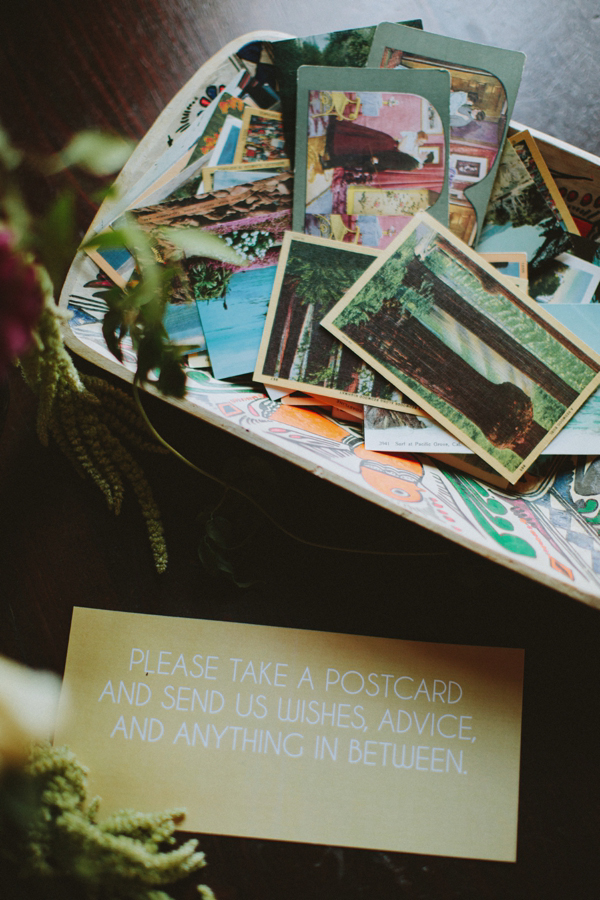 "When it came to the wedding cake we needed to find a bakery that was very near Big Sur, so we could safely get it to the reception.  After trying a small group of places, we went with Patisserie Bechler in Forest Grove, CA.  Andrew wanted a French Frasier cake, and they were able to make it.  We chose a marzipan fondant icing, which gave the cake a very simple refined look.  A friend used flowers and fruits brought by the florist to decorate the cake."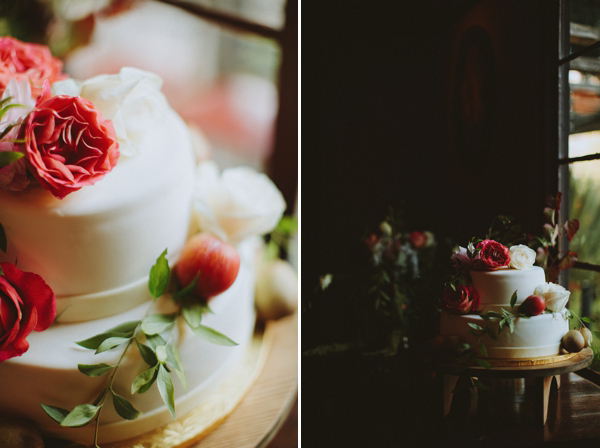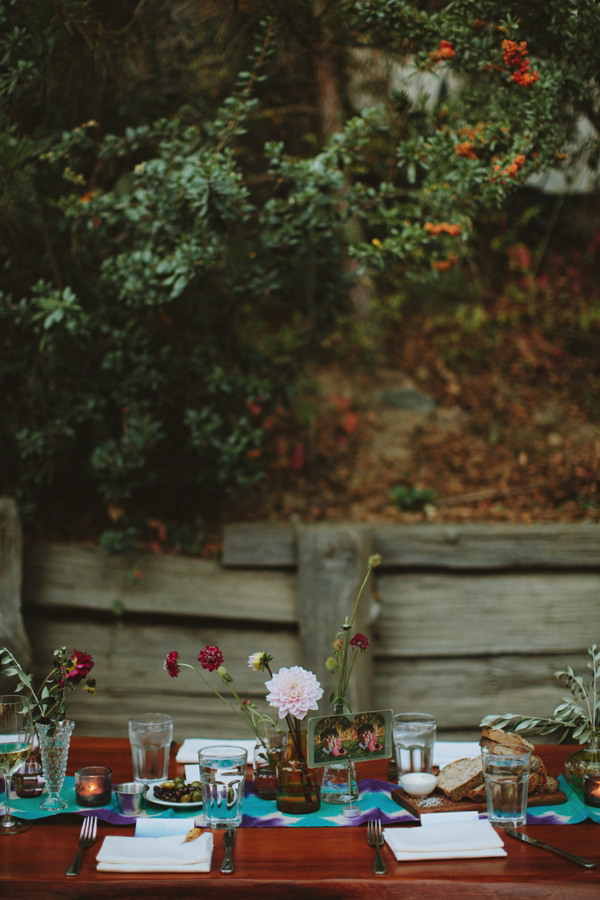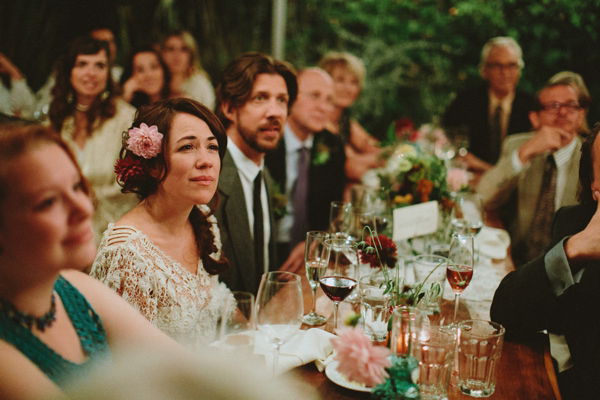 Words of Wedded Wisdom…
"After the ceremony, Andrew and I took a moment to ourselves.  We both said, "Let's do it again!"  It was so fun to just look at each other, smile, laugh, and feel so much joy.  
Also, at 3am when the party was over and we were completely exhausted, Andrew and I had to go back to the room I was sharing with my mom to get all of my belongings and move them to Andrew's cabin.  It was quite comical, me in my wedding dress, my mom in bed chatting, and us hauling bags down the stairs and into the car.  When we got to the cabin Andrew realized the key was with his mother, and he had to break in.  Clearly, we did not plan this part very well, but these are the moments we will probably always remember."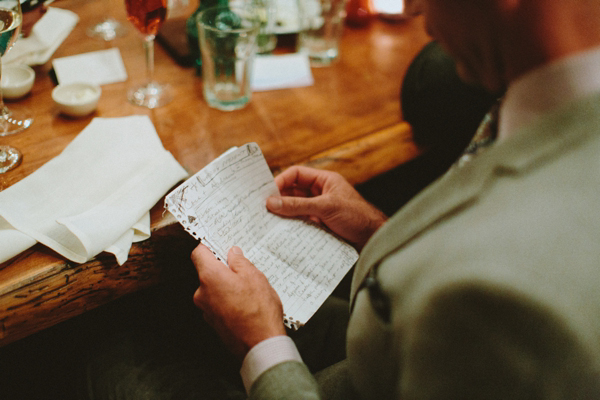 "When I was getting ready, things felt very chaotic.  It was a small space, and a lot needed to happen for myself as well as my friends and family who were helping me and needed to get ready themselves.  I wish there had been a little more peace and space in that moment.  But honestly, I wonder if that is ever possible with so much excitement and anticipation."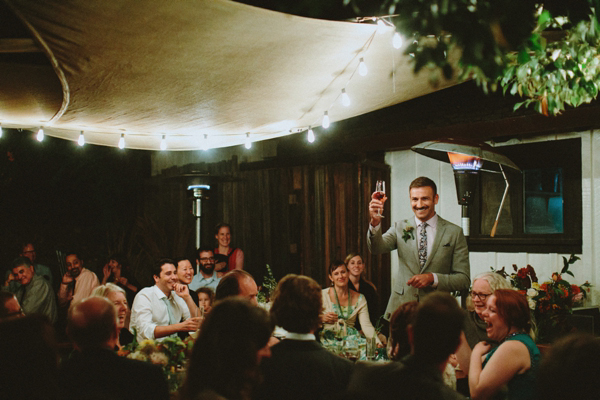 "I think everyone says this, but it is hard to understand until you experience it yourself…try not to worry about the small stuff.  I'm glad we put the effort into the decorations we chose, but it's ok if things aren't exactly perfect.  After all the work and time we put into the wedding, we never thought about what your loved ones bring to the wedding.  Being surrounded by your closest family and friends who are supporting and loving you on this day, is an indescribable feeling."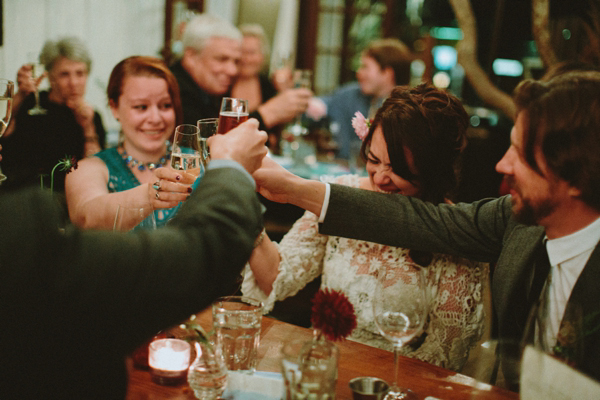 "Finally, there is an authenticity to Love My Dress that I really like.  The weddings seem very real, not overly styled.  Love My Dress isn't afraid to feature real vintage dresses, not just vintage inspired.  And the content is detailed and really tells a story."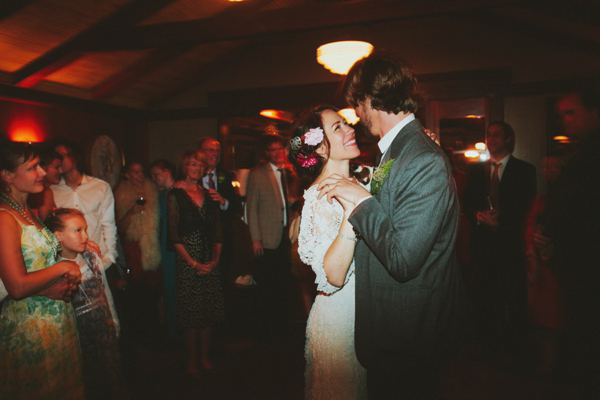 What an absolutely stunning day, the scenery, the photography, the dress, the love in evidence in it's droves! I really adore this beautiful set of imagery and would like to thank Colette and Andrew for sharing their beautiful day with us.  Our love also to photographer Brittany Esther for so kindly sharing her work.
It's wonderful to be able to look beyond the UK every once in a while to see how other Love My Dress readers around the world are celebrating.
I hope this wedding has inspired you.
Love Annabel

Photographer – Brittany Esther
Venue  –Big Sur Bakery, Carlifornia
Wedding Dress – Shadows Bridal Boutique
Veil/Headpiece – flowers in her hair
Brides' shoes – casual boots + Al's Attire
Bride's accessories – heirloom
Groom – 1970's Pendelton Wool Suit + Paul Smith shirt + Allen Edmunds shoes
Flowers – Madrona Floral
Cake – Patisserie Bechler
Transport – 1967 turquoise convertible Mustang
Entertainment – Toot Sweet
Additional Styling –
Rings – Love & Luxe
Follow Love My Dress® on Google+