Good morning lovely ones, I hope you've had a lovely weekend.  Mine was spent wandering until my legs ached around the city of Amsterdam, one of my favourite cities to explore, on a little weekend mini-break with my husband (it was his birthday last week). I just love the way that city embraces a healthy food culture, cycling and all it's wonderful little boutiques.
So we're back with another Monday of wedding blog inspiration to assist all you ladies in planning your own wedding day. Michael and Catherine tied the knot on 12th July, 2013 at Prior Park College, followed by a reception at Wick Farm, both in Bath.  I love Catherine's elegant Jenny Packham, the flowers in her hair and the whole very relaxed and informal nature of this special day.
"We didn't really have a theme, but we agreed on some elements for the wedding which were important to us. While we loved the chapel, we didn't want the day to feel too formal – we wanted to give everyone a chance to relax and have some fun. We talked about having a reception somewhere green so it felt a bit more like a summer party where people could let their hair down. We found the perfect place only 10 minutes away from the school which had a beautiful garden, and we decided on a date in July and kept our fingers and toes crossed that the weather would be nice."
Photography Copyright (c) 2013, Laura McCluskey
"Mike and I met at university eight years ago. Over some shots of Sambuca we decided to go travelling together to Tanzania, while planning the trip (and with the help of a bit more alcohol) we admitted we fancied each other and got together. We got engaged in March last year on a trip to Cuba, Mike proposed on a little roof top bar in Havana after dinner – I couldn't stop giggling as he tried to ask me which I think was a little off-putting! We got married 15 months later."
"We got married in the chapel of Mike's old school, Prior Park College in Bath, and then moved onto a barn at Wick Farm nearby for dinner and a party. The chapel is a place that means a lot to Mike and is a beautiful setting – a bit of a contrast to my inner-city secondary school!"
"I really wanted a dress that wasn't fussy which I could move around in.  I struggled a bit at first to find anything I liked – I felt like I was in fancy dress with quite a lot of the designs I tried on. When I found Ivy by Jenny Packham, it was the only one which felt like me when I wore it.  I liked the lightness and simplicity of it, but felt like the shoulder detail gave it a bit of an edge. I planned to sell it after the wedding, but I can't quite seem to let it go."
"I didn't really have bridesmaids in the formal sense. I asked my sister and three close girlfriends if they'd coordinate my hen do and help keep me company when getting ready on the day.  They did an excellent job and organised the best surprise hen party I could have asked for! They all wore their own dresses on the day, with wrist corsages, and looked very beautiful."
I love how Catherine wore these sweet little white rose buds in her hair – accessories straight from nature herself, via the couple's florist, Flowers by Passion.
"The flowers were quite important to me as we didn't have that many other decorations. I choose Flowers by Passion because they make the sort of bouquets you always dream you'll be given as a present. The flowers we got were fresh, carefully crafted and beautiful – exactly what we wanted."
"We had a dessert table made up of around 15 cakes made by different friends and family – this included Mike's dad's Pavlova, Guiness cake, Banoffee pies, coconut and lime tarts, and lemon cheesecakes. We cut a two-tiered Victoria sponge created by my 15-year-old god-daughter, which was very delicious!"
"We knew we didn't want to spend the wedding posing for photographs; instead we wanted a photographer who would capture the day as it happened.  Our photographer Laura McCluskey did this perfectly, the photos were so beautiful and really reflected the day as we remembered it!"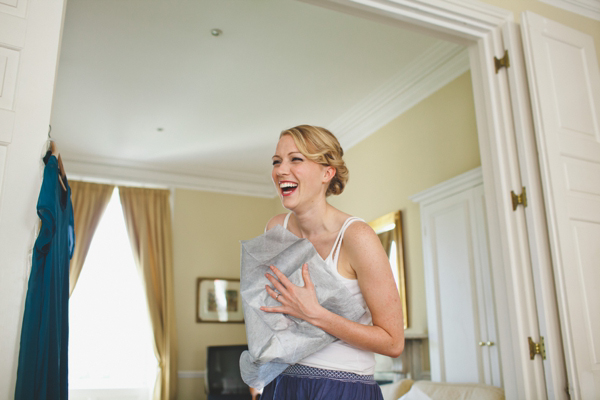 "I wanted a simple pair of peep toe shoes in a pale grey.  I couldn't find anything for ages, and then ended up finding a pair on the website Zalando which were exactly what I wanted."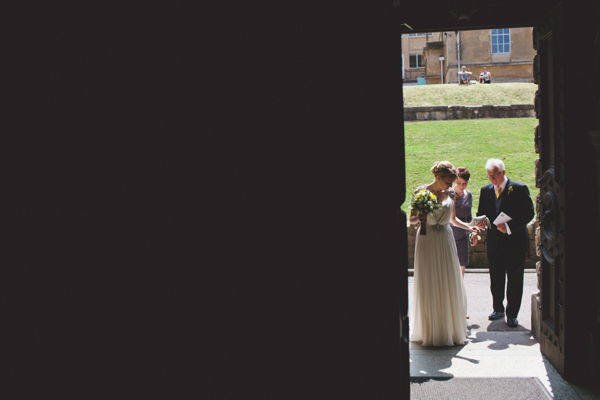 "We had initially discussed both of my parents walking me down the aisle, but it was too narrow! I really wanted both my parents to have a role in the wedding so they agreed that my Mum would give the speech and my Dad would walk down the aisle with me."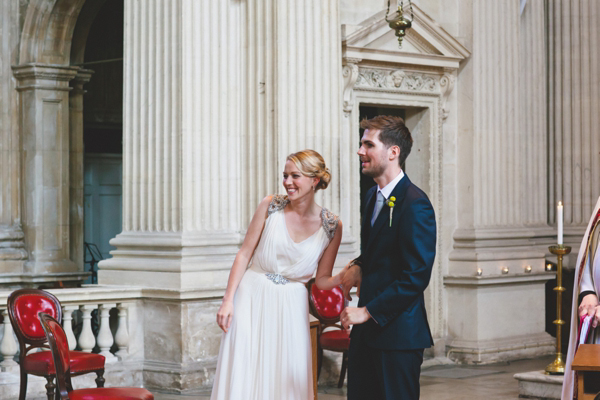 "We hired two Route Master buses via LondonBus4Hire.com to take guests from the chapel to the evening reception – it was my opportunity to bring a little bit of London (where I'm from) to proceedings.
As wedding favours, we handed out our favourite snacks on the route master buses between venues – Amaretti biscuits from me, and Walnut Whips from Mike."
"My brother is a lighting designer, and with the help of siblings, cousins and groomsmen,  set up Wick Farm on the morning of the wedding so that the venue looked amazing – particularly the dance floor and gardens at night!  We also got two of our friends to take polaroid pictures throughout the day which we put up in the venue, so everyone could immediately see images from across the wedding.  I found some wooden boxes that I painted with numbers for the tables and planted with herbs to add a little more green to the tables. We've kept them so they can form a hanging herb garden in our house. "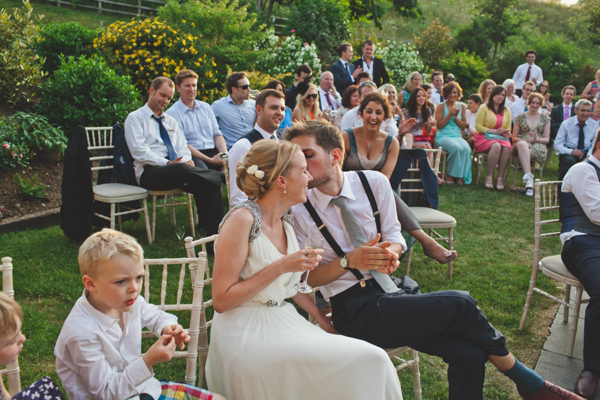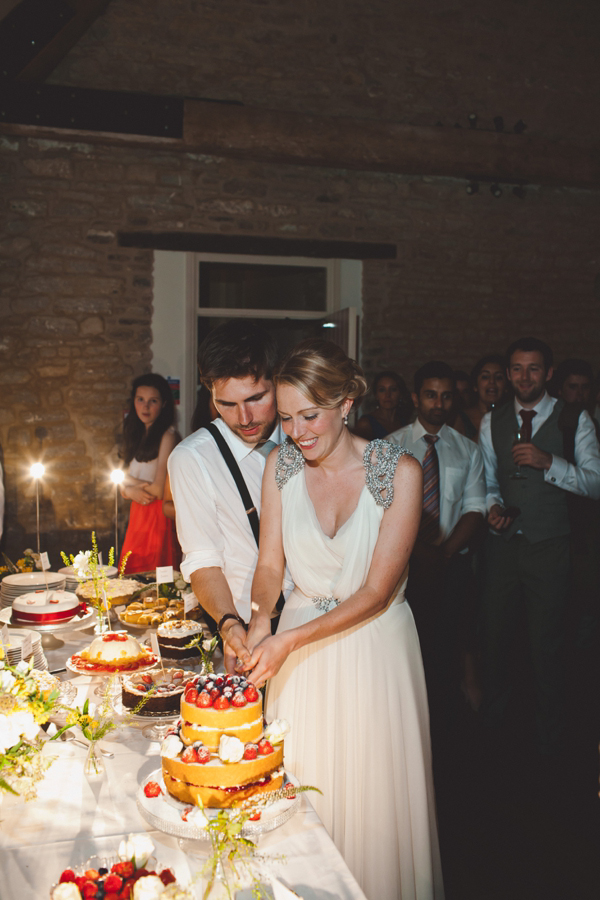 Words of Wedded Wisdom…
"The day before the wedding I handed over all wedding organisational responsibilities to one of my cousins who is super organised. She had a contact list for all of the suppliers and a running order for the day. I'd really recommend doing this as it meant we could totally relax and enjoy ourselves, as she was the first contact point for any problems or questions. She was absolutely amazing – I will be in her debt for a long time!
We ended up having a heat wave over the week of the wedding, and by the end of the meal everyone was quite hot so my Mum made an impromptu suggestion to have the speeches outside. It was a brilliant idea; there was a cool breeze with this beautiful light as the sun had started to drop. The speeches from our parents, Mike and his best man made me laugh and cry in equal measure! It was a lovely moment in the day when everyone was totally relaxed – exactly what we had hoped for."
"In terms of what I'd do differently – I wouldn't have worried so much about the smaller details when planning. I didn't notice how many pew ends we had on the day or what the water jugs looked like and I doubt our guests did either! I also wouldn't leave writing my speech until two days before the wedding – it needed a lot more thought and time than I realised – things which aren't readily available right before a wedding!"
What a perfect wedding for a Monday morning and to assist in easing you back into your working week. Jenny Packham fans, this is one to add to the vast archive of real weddings we have featuring all kinds of gowns from this designer who is a firm favourite with out readers.  Will you be wearing a Jenny Packham gown?
Thank you so much Michael and Catherine for sharing your lovely wedding with us and thanks also to Laura McCluskey for once again sharing her beautiful wedding photography -  you can see more from Laura on Love My Dress here.
Have a good morning all,
Love Annabel
Photographer – Laura McCluskey
Venue – Prior Park College + Wick Farm, Bath
Bride's Dress – Ivy by Jenny Packham, purchased at Bridal Path
Brides' shoes – Zalando
Bride's accessories – pearl earrings (borrowed) + an opal ring
Grooms Suit – Anthony Formal Wear
Florist – Flowers by Passion
Cake – Friends
Cars/Transport – LondonBus4Hire.com
Entertainment – Ffourtissimo + The Pinkertons + Fittygomash
Rings – Family heirlooms
Catering Company – Strawberry Fields Catering + Ice Cream Events
Hair Stylist – Abi at Melanie Giles
Make-up Artist – Belle Hermon (email [email protected])
Follow Love My Dress® on Google+