Lunch time lovelies! Time for us to tell you about a brand new collection of vintage inspired wedding headpieces and accessories that we think you will want to know about.
Multi award-winning label, Glitzy Secrets, is renowned for beautiful and affordable vintage-style wedding accessories. Inspired by iconic eras including the Roaring Twenties and 1940s Old Hollywood, you may have spotted their designs on Strictly Come Dancing or the global sensation, Downton Abbey.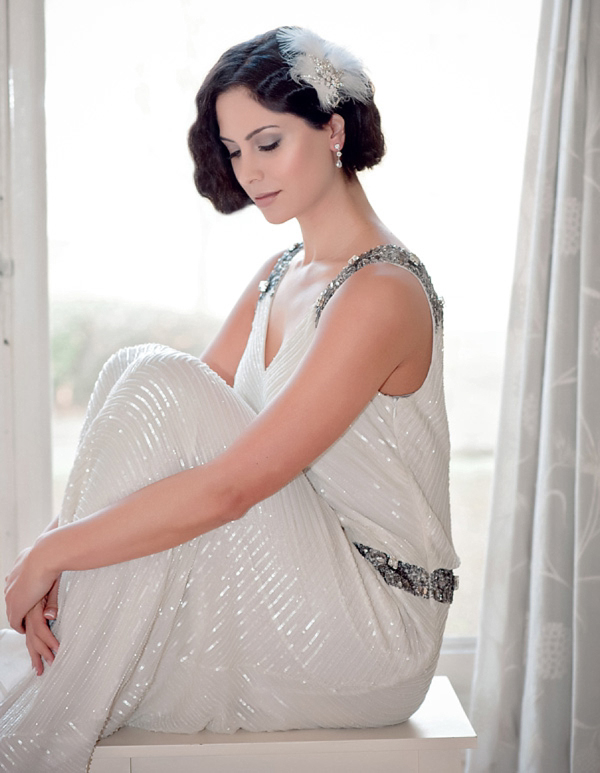 Today Glitzy Secrets launch their Twenties Heirloom; a celebration of Gatsby glamour, the 22 piece collection features Art Deco style earrings and hair pins to statement headpieces and tiaras with geometric detailing, sparkling Austrian crystals, pearl clusters and marabou feathers to beautifully capture the opulence of the era.
Discover delights including the Gatsby Beauty Tiara (£86), a versatile piece that can be worn headband style or low on the forehead in true 20s fashion, to the flapper-girl worthy Charleston Beauty Headpiece (£58) with its sparkling bejewelled adornment set against the softest marabou feathers.
Managing Director, Victoria, tells Love My Dress about Glitzy Secrets latest collection:
'As a huge fan of the fabulous 1920s, I'm particularly excited about our Twenties Heirloom Collection and I'd go as far to say it's possibly my favourite to date. I'm a huge believer in fate and to me this is a 'meant to be' collection. The reason? Well, I'll never forget showing my 88 year-young glamorous Grandmother samples of the collection last year and hearing her say 'I could just imagine Lady Mary wearing these''
'Never in my wildest dreams did I think that, come October, we'd actually watch Lady Mary and Dame Nellie Melba wearing our Vintage Wreath Tiara and Deco Extravagance Tiara in the latest series of Downton Abbey. I think I'll have to show my Grandmother a preview of every collection in future!'
Victoria tells us ore about the shoot itself;
'I adore geometric Deco detail, Gatsby glamour and the overall the opulence of the 1920s however I appreciate some brides find the era too dramatic for their wedding day. When it came to the photo shoot for the collection, rather than opting for a traditional Art Deco setting with decadent gilt hues, glossy black lacquered surfaces etc, I wanted to show that it's possible to achieve a fresh, feminine style still reflective of the beauty of the iconic decade.'
'Deborah of Lola Bridal, who is a stockist of our collection, introduced us to a designer I've been a fan of for quite some time and I couldn't have wished for a more perfect gown to complement our designs than Eliza Jane Howell's decadent Daisy. Together with Claire of Claire Graham Photography, we agreed on a simple setting with lots of light to add a touch of contemporary style. Hairstylist Carla from Masterpiece took our gorgeous model's long locks to a wavy faux bob and Make-Up Artist, Louise Bonci, achieved a fresh look with soft smoky eyes, nude lips and natural blush.'
'The overall look and style is exactly as I hoped; timeless Gatsby glamour with a fresh, contemporary edge. I hope brides-to-be adore our Twenties Heirloom Collection as much as I do!'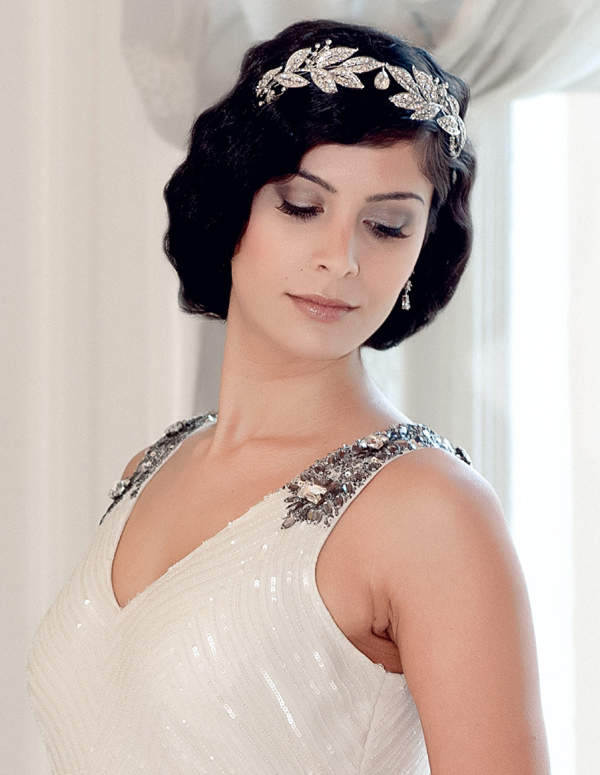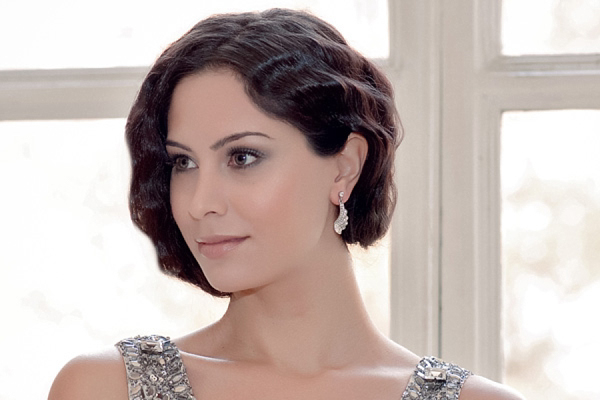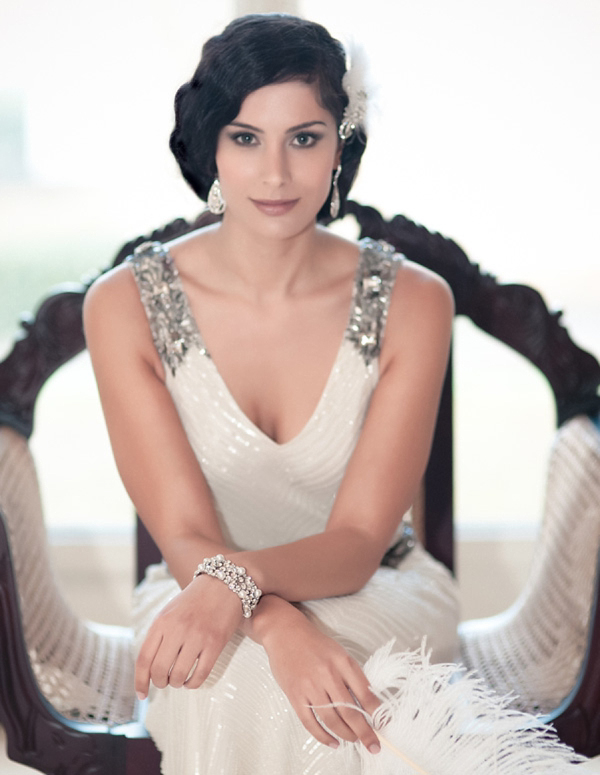 A gorgeous set of images and simply beautiful and more importantly afforable headpieces to help you complete a truly elegant, vintage inspired look on your wedding day, lovely readers.
Please do let us know if you decide to treat yourself to something beautiful from Glitzy Secrets' new Twenties Heirloom collection – we'd really love to hear from you.
Love Annabel
Jewellery & Hair Accessories: Glitzy Secrets
Photography: Claire Graham Photography
Hair Stylist:  Carla at Masterpiece by Carla Ramsey
Make Up Artist: Louise Bonci
Model: Hollie Simmons
Gown: Eliza Jan Howell 
Follow Love My Dress on Google+