Good afternoon all, we've such a lovely wedding to share with you this afternoon, one that drew on a variety of inspirational sources when it came to styling, including wild woodland, the notion of a vintage house party and the Japanese kimono.  Laura and Darren tied the knot on 3rd November last year, at Butley Priory, near Woodbridge, Suffolk.
"Butley Priory really set the tone for the wedding – it just seemed the perfect place to have an amazing vintage style house party. The medieval architecture was wonderfully whimsical with vaulted ceilings and there were lots of vintage objects around the house, including some lovely Art Deco polar bear book ends, vintage suitcases and a dinner gong, which inspired the 1920s/1930s theme.  We only needed to add a few extra things, including a gramophone with a wonderful brass horn, and old cigar boxes, to create a 1930's feel. We were inspired by 'Brideshead Revisited' and even more so by 'Dancing on the Edge' which aired as we started planning. The beautiful weddings on Love my Dress helped inspire us too – it showed us what was possible."
Photography Copyright (c) 2014, Ellie Gillard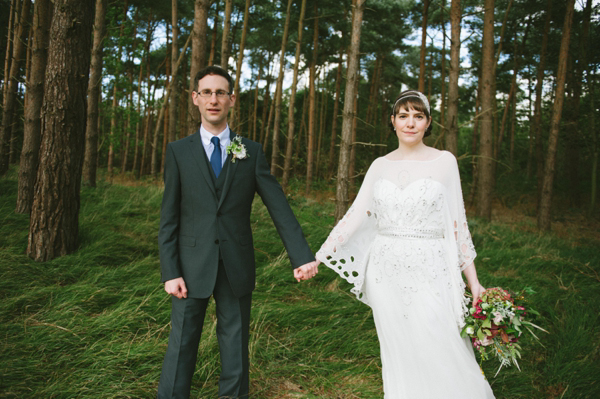 "I love Autumn which is one of the reasons that we decided to get married in November, but I didn't want a harvest festival style look so I took inspiration from the wild look of the woods around Butley. I can remember asking our lovely florist Emma Mills to make my bouquet look as wild as possible! In the end the theme became wild wood meets vintage house party."
"As I was planning our wedding, I visited A Most Curious Wedding Fair in London and met Pina of Curious Me, who creates wonderfully whimsical wedding stationery. She radiated happiness and this really came across in the designs that we saw so we commissioned her to create our invitations, information cards, menus, name cards and cake flags. I think Darren indulged me a bit with the stationery but as an art curator I was really keen to work through the creative process with an illustrator and create something unique to us."

"I wore Marlena by Anoushka G, first tried on in the lovely Boa Boutique, but ultimately purchased from Morgan Davies in Hitchin which was closer to my parents and had the perfect head band to go with it.  Morgan Davies also recommended the seamstress Irene Isaacs (01462 451 276), who was lovely and devised an ingenious way of bustling the train which created a very 1910s Poiret-style silhouette so I feel as if I got two dresses for the price of one. 
Irene used to be the wardrobe mistress for Sadler's Wells and I loved talking to her about historical dress and her time in the theatre. In fact, going to see Irene was one of the best parts of the wedding dress search. I would highly recommend her."
"It was a very long search for my dress  – I looked at least 50 designs and felt completely overwhelmed.  and I can remember saying at one point that I was aiming for something alternative that I could see Kate Bush or Florence Welch wearing.  I hung onto that image through the search and the dress had just the whimsical, vintage look I was craving.  When I decided on the dress I fluttered around the shop feeling like a Japanese butterfly!"
"I loved that my dress had personality! It was brilliantly different. I knew that the cookie-cutter bride strapless meringue wasn't for me. I did try some on just in case but I didn't feel that they said anything about me. I used to live in Japan so I loved that the dress had a touch of the kimono about it with wonderful sleeves and even a small obi-like bow at the back."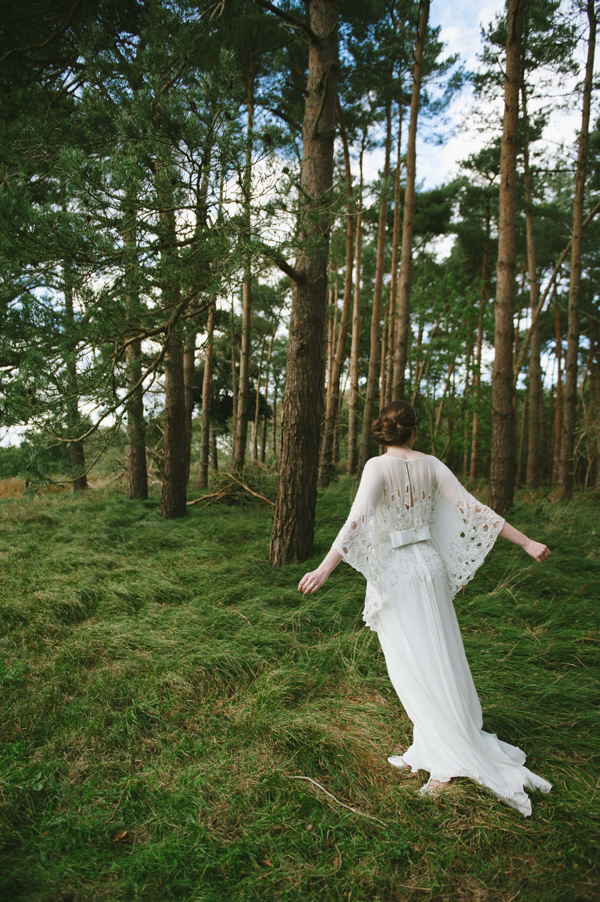 "I really didn't want the traditional Autumn colours of orange and yellow and had Keats' poem 'Ode to Autumn' in my head which conjured up ripe blackberries and hedge rows bursting with berries and lovely greens. Emma followed this brief brilliantly, weaving the completely non woodland pink tipped hydrangeas I had fallen for with wilder looking flora.  I loved the flower arrangements she created on the tables, over the fireplaces and around the rooms. She even chose the exact shade of roses that I seen in a garden on my way to work and wanted to ask her to add in but couldn't find a way to explain the colour to her."
"The other decorations I am very grateful to my parents for making.  My dad undertook several woodwork projects including making cake stands, a vintage style post box and wedding signs. My mum is extremely creative and skilled – far more so than me – and she was able to make things I just wouldn't have been able to. We both love Liberty and its history so its seemed the perfect place to find a fabric to create the decorations.
Following the wild wood theme we chose Branch Flower B which is based on an Icelandic wood with wild branches. Using the fabric my mother then made the ribbons for all the napkins, birds with hearts for the chairs in the ceremony room, tops for the jam jars and covered the board for table plan (with names added on paper Autumn leaves found by my bridesmaid Emily in New York)."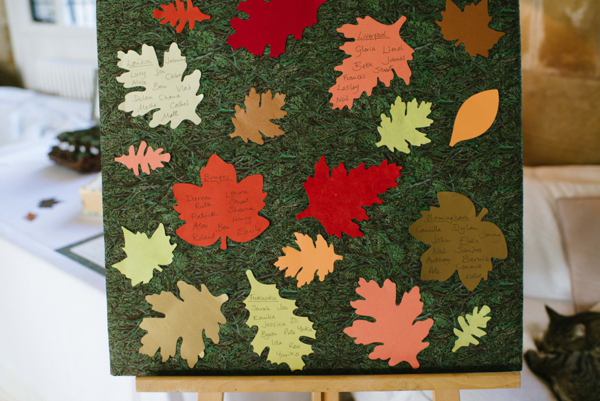 "Perhaps being a curator I loved the idea of little worlds on display and used bell jars coupled with different sized glass jars for the table flower arrangements.
My mum added to this by creating a Victorian gentleman's cabinet of curiosity in an alcove with collections of shells and butterflies, fir cones and feathers in jars and even a birds nest– I'm not sure if any other weddings have created one of these but it was definitely a talking point!" 
"My two bridesmaids (Alex my sister and my good friend Emily) wore green dresses found by Emily who was sent them as a sample (she is a journalist who has fashion contacts through work). They were made by a company called 20th Century Foxy who design vintage style clothes. It was very hard having bridesmaids in two different countries as my sister lives in Toronto.
She didn't try on the dress until two days before the wedding but thank fully she and Emily have similar figures so it all worked out.  Rather than a bouquet, which we thought might get abandoned after the ceremony, the bridesmaids wore flowers in their hair."
"Our florist, Emma Mills was a joy to work with. My mum and I met her at A Most Curious Wedding Fair held at the Truman Brewery just off Brick Lane – I would highly recommend this fair to Love my Dress readers as it was full of wonderful artisans full of passion for what they do***. We just knew from talking to her that she could create the wild wood look I wanted. She then came to my house and had to brave meeting all my immediate family (my sister happened to be over from Canada so she was there as well as my parents!).
At that consultation she liked the idea of using bell jars to hold the table arrangements and came up with the wonderful idea of using the other storage jars we'd bought to hold Autumn nuts and fir cones to create little woodland worlds instead with a single Christmas rose in one and a succulent in the other. It was just what the curator in me was striving for but didn't know it! The day she came to Butley Priory was one of my favourite days of wedding planning. She was so excited about the house and she could completely understand why we had fallen for it. It was lovely showing her the rooms and all the quirky architecture. I think we were both bouncing round the house!"
*** Readers, you can read about my visit to one of the last A Most Curious Wedding Fair events here.
"For me, a photographer to capture the day was really important and it was the second thing we organised once we had booked the venue. I found Ellie Gillard through looking at lots of weddings on Love My Dress. We loved her vintage-like style and her ability to capture the little moments that make up a great wedding.  We really didn't want anything formal or traditional and Ellie was brilliant at becoming part of the wedding – Darren's dad still talks about the fact that she danced along with him to get great shots!"
"Everyone commented on how lovely she was and so diligent (especially when it came to the sparkler shots outside as she actually doesn't like to be near sparklers and it was pretty cold by then). As part of her package she includes a 'love shoot' which we would highly recommend as it gives you the chance to get used to being photographed. Darren was rather dubious about being overly romantic in public but we had a really fun afternoon in Highgate woods and Ellie put him totally at ease.
My abiding memory is of Ellie being swallowed up by a prickly bush in order to get a good shot – I think we knew then that we had the right photographer as she was prepared to go the extra mile (or put up with significant physical discomfort) to take a great photo! We actually used five of the engagement photos as our table markers – they fitted so well with the wild wood theme although we didn't know that when we chose to go to Highgate for the shoot back in April."

"I found my hairdresser Alison Jenner who suggested Amy the make up artist of Betsys Emporium. If my geography were better I wouldn't have found such a wonderful hair and makeup team! I honestly thought East Anglia must be near the East Midlands – by the time I had booked the hair trial and discovered my mistake I knew I didn't want anyone else! Planning a wedding in a part of England I didn't know made it hard to find a hairdresser.  Being a Sunday ruled out the local hairdressers and all the ones I found online didn't seem to do the vintage style that I wanted to go with the dress. After following a link on Love my Dress to a milliner who recommended Alison on their website I found someone who seemed to create the look I was after.  Alison and Amy were so lovely – one of my favourite memories of the day is getting ready with their help, the sun streaming in through the window and feeling so happy I could burst.
They certainly made me look and feel like a wonderfully polished version of myself. I was a bit worried about my make-up staying put but Amy sent me a lovely email a week before the wedding saying that she would make sure it stayed all day – she was true to her word and it even survived my tears of joy that sprung up as I walked down the aisle."
"The dress had such a wonderful look of its own that a veil just wasn't right. Instead I opted for beautiful headband by Nieve which gave me a hint of Art Deco to match the 1930s style of the dress. The beading matched the beautiful beads on the dress so well. I bought the head band from Morgan Davies in Hitchin."
"So to how we met each other!  Darren and I actually met a long time ago at University back in 1999. We don't remember our first meeting – Darren was a friend's housemate and there must have been a brief first hello exchanged when Laura came round to see Bernice (and most likely watch ER and eat Ben and Jerry's) but neither of us can recall it!  However, we became good friends as undergrads and despite a romantic few kisses at the grad ball it didn't occur to us to be anything more as I was due to go to teach in Japan.  We lost touch but knew of each other through mutual friends and met about six years later at a series of three parties, spread over a couple of years, held by our friend Sandra. It was very different meeting as fully fledged adults and there was definitely some chemistry as we barely talked to anyone else at each party!
In 2009 I plucked up the courage to text Darren and ask him out for dinner, cleverly disguised as a meal for two friends rather than a date. I travelled to London from Birmingham, under the guise of going to do PhD research in the National Art Library, but 'missed' my train back and we have been together ever since. "
"After a lot of shuttling between London and Liverpool (where I had moved to the same month that we got together) and a three month career break to go travelling together, Darren proposed in June 2012 in Bruges.  The town was so beautiful that Darren could hardly get me to stop taking photographs so that he could propose.
Afterwards we went to celebrate with Belgian beer! With me in Liverpool and Darren in London we thought we would be having a very long engagement but amazingly I found a job just outside London only a couple of months after getting engaged and moved down in time for an engagement party on 3 November. Then we decided to look for venues and by coincidence ended up getting married on 3 November exactly a year later."
"My earrings were small, pear-shaped, drop diamante, ones my mother bought me to wear as my sister's bridesmaid. I thought I was going to need long Art Deco-style earrings but after my hair trial the ones I already had matched the look Alison, the hairdresser, created and had an understated elegance.
I met a friend after the hair trial and we actually went to try on the more dramatic ones I had been eyeing up before deciding that they wouldn't fit with the silhouette of the hairstyle."
"Some of my favourite parts of the day included skipping up the hill in the sunshine to sit on a bench and look down at the house first thing in the morning all by myself as it gave me the chance to sit still for a moment and soak up the joy and excitement of the day. Getting ready with all the women in the bridal party and our Japanese friends who were putting on kimonos was wonderful too.  Rays of sun were spilling through the windows and I had a compilation of daft wedding music going that I had always wanted to play on my wedding day."
"In order to have bespoke invitations we sent save the dates via Paperless Post which were cheaper and greener than paper versions (and we found a great design too). We loved the illustration Pina drew for us of Butley Priory and that she encouraged us to add quirky bits to the design to reflect our personalities including a guinea pig dancing to a gramophone.  She boxed everything up so beautifully-it was so exciting to take the lid off and see the lovely printed stationery."
"My father gave me away. Giving him a hug when he first saw me in the dress was a lovely moment. Luckily he had a cotton handkerchief ready when I shed some tears walking down the aisle.
I walked down the aisle to 'La Valse d'Amélie' from the Amelie soundtrack. It was perfect, a little bit magical and fairy-like. I have loved the film for years and actually fell for the music before even seeing the film. Darren thinks I resemble Amelie a bit too so it seemed just right!"
"Darren knows me well and knew I would want to be involved in choosing my engagement ring so when he proposed he didn't have a ring already but wanted to let me choose one. I felt very strongly that I didn't want a new ring as there are already so many wonderful jewels out there that have been used to create lovely pieces of jewellery that it felt wrong to be mining more. We found a beautiful Edwardian diamond cluster ring at Berganza in Hatton Gardens despite me saying for weeks that I didn't want diamonds!
The ring was sitting a bit by itself in the window and I only asked to try it on a whim with some sapphire rings that were much more in keeping with the art deco idea I had in my head. We were only meant to be trying rings on that day so it took us a bit by surprise (so much so that when we went to the café next door for a think about it that we both forgot to pay, though I have since been in to pay the £2.50 debt!). It is beautiful and I love to think about what its previous owners got up to and  now I'm taking it off to do new things. It also gave me the idea of having a vintage-style dress."
"When it came to the wedding rings we both knew we wanted them to be old and quite by coincidence our families separately offered us rings belonging to our great-grandmothers. My mother asked if I would like to have my Scottish grandmother's ring which was a beautiful wide gold band. It didn't work with my engagement ring but I thought it looked very masculine and would be perfect for Darren. Coincidently, about the same time Darren's father offered him his paternal great-grandmother's ring which he had been wearing but was keen to pass on. As it was a narrow band we asked if he would mind if I wore it rather than Darren.  To our delight both families loved the idea of each giving us a ring and we loved the idea that it signified the coming together of two families.
We couldn't have bought rings with more meaning. The Scottish great-grandmother's ring was still in its original box.  One the day my engagement ring was my something old and my mother lent me my Scottish great  grandmother's engagement ring as my something borrowed."
"We both wrote our own vows, as we wanted to make it really personal. Although it was challenging, we both really enjoyed reading them to each other on the day, and they felt very meaningful. We added a promise to be silly as much as possible to both our vows and it reminds us to enjoy being us and doing daft things that make us smile.  We chose Christina Rossetti's 'The First Day'. We heard this for the first time in the car even before we were engaged, and it just summed up how we felt about our initial meeting – we can't remember it but really wish we could. If only we had known that it would turn out to be one of the most significant events in our lives.  We also chose Wendy Cope's 'The Orange', as Wendy Cope is also one of my favourite poets, and the poem perfectly captures how the ordinary can become extraordinary when transformed by love.
For me the ceremony was always the heart of the celebrations and walking down the aisle I was so happy that I couldn't hold back the tears. The sun streamed in and Darren looked so handsome in his suit (which he'd kept a secret!).  Darren says that the ceremony was a very special moment for us both, as it was very personal and we both enjoyed making the commitment to each other. Other than that there were so many great parts to the day, but for me dancing to the evening band composed of all my friends and relatives was magical!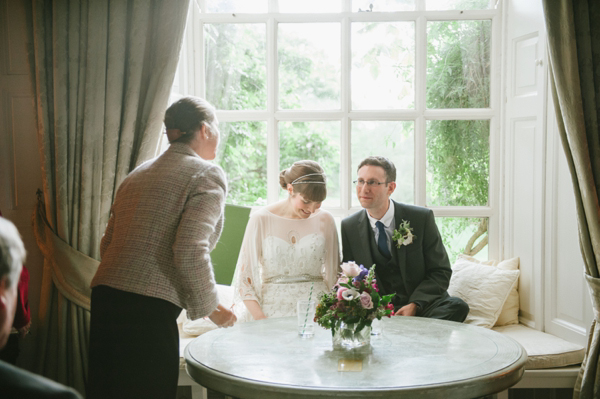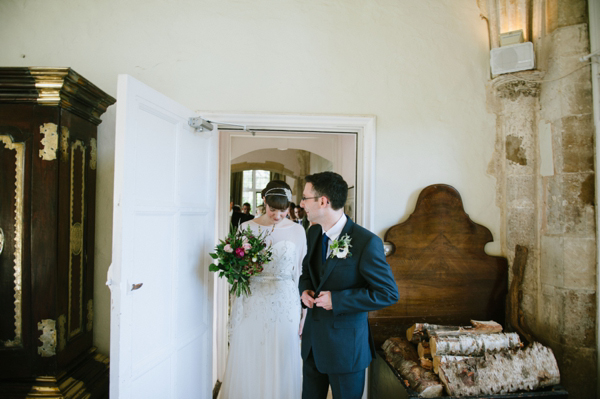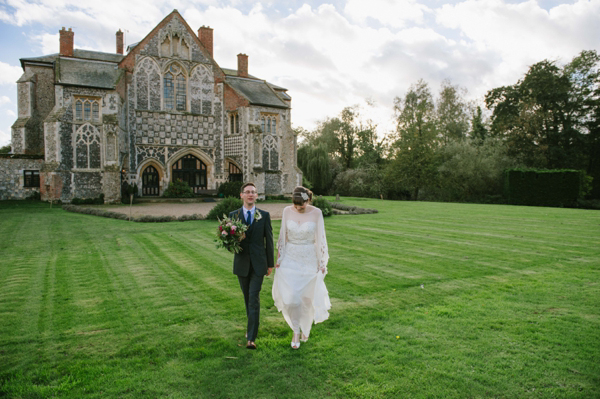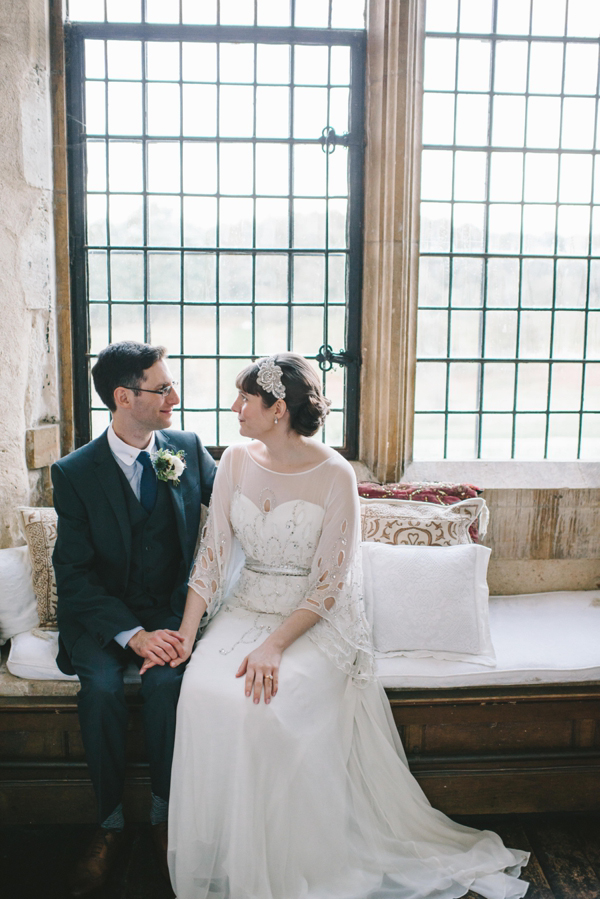 "Creating the décor felt very much like curating an exhibition. The venue was a brilliant springboard and we needed very few vintage props other than a gramophone, photographs of our grandparents, some old cigar boxes and a wonderful old style post box that my dad made from a flat pack kit and painted.  We used vintage cups and saucers for the evening cocktail which was winter Pimms and vintage side plates for the cakes. I had a huge amount of fun buying the crockery (I would definitely advice couples to trawl car boot sales as I discovered its the cheapest way to find vintage crockery) and probably ended up with crockery fever!
I also persuaded Darren to let me hire champagne saucers. I am so glad I did as they really added the right detail – the modern champagne flutes which the caterers would normally provide would have looked anachronistic with all the other vintage touches. I love seeing the glasses in the photos!"
"I used to work for the Walker Art Gallery in Liverpool and every time someone bought a scone they got a little jar of jam with it. The café were just going to recycle them but I asked if they could collect them for me (at this point I didn't know when the wedding would be but thought they could be used for favours and if Darren didn't like the idea I thought we could just recycle them). When we talked about favours Darren was keen to have a go at making something and my grandfather was known for making marmalade so it seemed like a perfect plan to use the jars.
We were complete marmalade novices but we had a lot of fun making it and creating a two person marmalade factory. Darren's brother redesigned the original Tiptree label as 'Laura and Darren's wedding breakfast marmalade', my mum spent hours cutting out circles of a wild wood Liberty fabric (called Branch Flower B) for the tops, and a groups of friends joined us to put the creations together.  Adding to the woodland theme we also gave our guests little chocolate owls from Bettys in Yorkshire. I love Bettys and even admitted in my speech (it only seemed right that the bride made a speech too!) that if I was a shop I'd be Bettys!"
"Our Japanese friends created little bags with a small tea ceremony cake, a green tea bag and a tea ceremony napkin which they gave to our guests. It was a lovely way to add a bit of Japan to the wedding and so generous of them."
"Early on we decided that a wedding cake was not an essential and as I love eating cake we thought we would ask our talented baker friends to make a variety of cakes. We felt this would be much more special and would mean I could sample more than one cake! Our friends and relatives were brilliant and we had so many that we ate cake for breakfast for a good few days after the wedding! The woodland theme took over the dessert table and my dad made wonderful log cake stands. My mum commissioned a friend's daughter to make sponge and marzipan conkers and some chocolate cupcakes based on ones I had seen on a wedding shoot with little meringue mushrooms. A chocolate owl from Bettys finished off the look and presided over the table."

"Unbeknown to us my mum made plans of her own and ordered us a cheese wedding cake which was a big hit with our guests. Darren loves his cheese so he really enjoyed sampling all the British cheeses. My sister and I were avid collectors of Sylvanian family animals when we were small and my mum bought a Sylvanian family bride and groom to put on top which was perfect. They are now on our Christmas tree although they had smelly feet for a few days after the wedding!"
"Darren is very interested in music, so this was always going to be an important part of the evening. We had a friend's klezmer (Eastern European/Jewish folk dance) band come over from Amsterdam to do a set in the early evening to kick off the party stage. This involved lots of hurling ourselves round the room and the bride and groom being lifted up and bounced around on chairs!"
"I loved being lifted up on the chair with Darren during the klezmer set (I was screaming with laughter!) and the fact that my cheeks ached with smiling and my feet ached with dancing. Once the music started I couldn't seem to stop. It was amazing to look round and see everyone dancing and having a wonderful time too."
"During the evening buffet we had DJ78 – an absolutely wonderful man who comes along with 2 vintage wind up gramophones and DJs shellac records. He played an amazing set from the 20s through to the 50s. Finally, some of Darren and Laura's musical friends (including most of Darren's old band) got together to form a 'scratch' wedding band to finish off the evening. Darren got up to join them on guitar for a few tracks. Dancing to a setlist of some of our favourite tracks performed live by a dream team of awesome musicians was a truly wonderful experience.
We weren't originally going to have a first dance, but DJ78 emailed us a few tracks, and we both really loved Fats Waller's 'When Somebody Thinks You're Wonderful'. We decided to play it by ear on the day, and both decided to go for it!"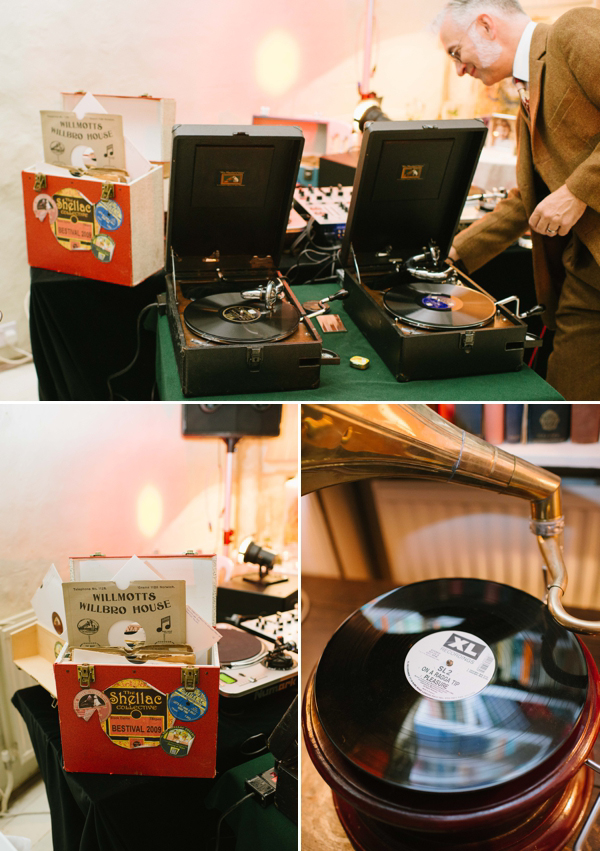 Words of Wedded Wisdom…
"I wish I hadn't worried so much over finding the wedding dress. I didn't have the feeling of 'this is the one' that so many brides seem to have. It seems that my gut instinct, which I use so much in my job, completely deserted me on the wedding dress hunt and I felt rather overwhelmed. Right up until going to the seamstress (who was lovely and brilliant) I was still wobbling over the dress but I did know that it was the best dress for that venue and the one that felt the most me.
I read a blog post in the last few weeks by a bride which reassured me when she said that she didn't get the 'it's the one' feeling either but knew it was the right dress for the occasion and that as soon as the wedding day came she knew no other dress would have been right. I completely agree with her and loved wearing my dress on the day. So if there are any other brides despairing over their wedding dress hunt please don't worry and you don't have to have 'the it's the one' feeling to get it right."
"Darren and I found having date nights were a great way of finding some non-wedding time to be together. We took it in turns to plan surprise evenings which was fun!  I also found going to vintage/ alternative wedding fairs really enjoyable and full of inspiration. I would really recommend brides to take friends with them and enjoy seeing what amazing suppliers are out there. I found our stationery supplier and florist at one and got lots of free goodies at another.
A sense of family and the past was really important to us and I asked our parents to give us photographs of our grandparents on their wedding days. Darren's maternal grandparents photograph is wonderfully Fred and Ginger and added an extra bit of vintage glamour! I found vintage-style frames at TK Maxx and a second hand shop and arranged them on the piano. Many of our guests told us they were really moved that we wanted to include the people who were important to us but no longer here. Part way through the evening someone moved one of the engagement photographs of us onto the piano – it was lovely to discover us surrounded by our grandparents the next day."
What a beautiful day, so personal to the couple, so carefully considered
Readers, you can see more from photographer Ellie Gillard on Love My Dress here.
Love Annabel
Photographer – Ellie Gillard
Venue – Butley Priory, Suffolk
Brides Dress – Marlena by Anoushka G, via Morgan Davies (seamstress Irene Isaacs, 01462 451 276)
Headpiece – Nieve
Brides' shoes – Perfume by Pink bought from Elegant Steps
Grooms Suit – Marks & Spencer + Reiss shirt
Bridesmaids Dresses – 20th Century Foxy
Florist – Emma Mills
Entertainment – DJ78
Rings – Berganza (engagement ring) + family heirloom rings
Catering – Events Couture
Stationery – Curious Me
Hair Stylist – Alison Jenner
Makeup Artist – Amy 
Follow Love My Dress® on Google+