Good morning darling reader, we're running a limited service for this week with just one post yesterday (our first wedding for 2014), a post today and a post tomorrow, before we return back to our normal schedule on Monday. I shared a little preview of this beautiful little wedding on our Facebook page last night. (Are you following us on Facebook? 139,000 others are!).
These photographs were sent in by Kitchener Photography, who furnished us with some absolutely breathtaking wedding photographs in 2013. This time, the images are of Lindsay, the lady behind Glasgow based stationery business, 'A Little Thing Called Love' and consultant and John, a Merchant Navy pilot, who tied the knot on 2nd November, 2013 at Crear in Kilberry, Argyll and Bute, Scotland.
I really love the 'officer and a gentlemen' nature of this wedding, John looks like he has literally swept Lindsay off her feet – the photographs are full of love and joy and the whole day has been so perfectly documented by Kitchener Photography.
Lindsay and John met on a blind date back in November 2009, when Love My Dress was born!
"Our mutual friend Alison thought we would be a good match. She was right! We instantly clicked and soon discovered that we both shared the same passion for travel and adventure. In October 2011, we packed up our lives and headed off on a one way ticket to Mumbai. We didn't have a plan but found ourselves in December 2012, over a year later, in Antarctica where John proposed."
Photography Copyright (c) 2014, Kitchener Photography

"We came home just after to celebrate with our friends and family, and to start planning our day. We married on 2nd November in the magical converted barn that is Crear, on the west coast of Scotland.
We didn't have any fixed ideas about our wedding day, but we did know how we wanted the day to feel. We wanted the day to be filled with personal touches and handmade things, and we wanted the wedding to have a sense of rustic charm about it, to be relaxed and filled with lots of colours that we both love."
All the very pretty floral inspired stationery was created by Lindsay herself, who is the lady behind A Little Thing Called Love.
Now here's a thing – Lindsay's dress designer was Rowan Joy, whose own wedding we'll be featuring on Love My Dress on Monday. Rowan Joy is one of Scotland's most fabulous independent wedding dress designers. I finally got to meet Rowan when I attended the Glasgow Wedding Collective fair to sell signed copies of my book – which is where Lindsay also met Rowan.
"I instantly fell in love with Rowan's 'Ava' dress. After trying it on in the mens toilets and using the lift mirror I burst into tears of joy! I loved the dress but more than that, I loved the fact I could use a local designer to make my dress. I had been so very disappointed with the experience of the big bridal stores and was so pleased I could work with Rowan to create my perfect dress."
Something to bear in mind for all brides when it comes to making the decision over whether you'd like to purchase from a well known brand in an established bridal boutique, or 'go bespoke' with an independent designer.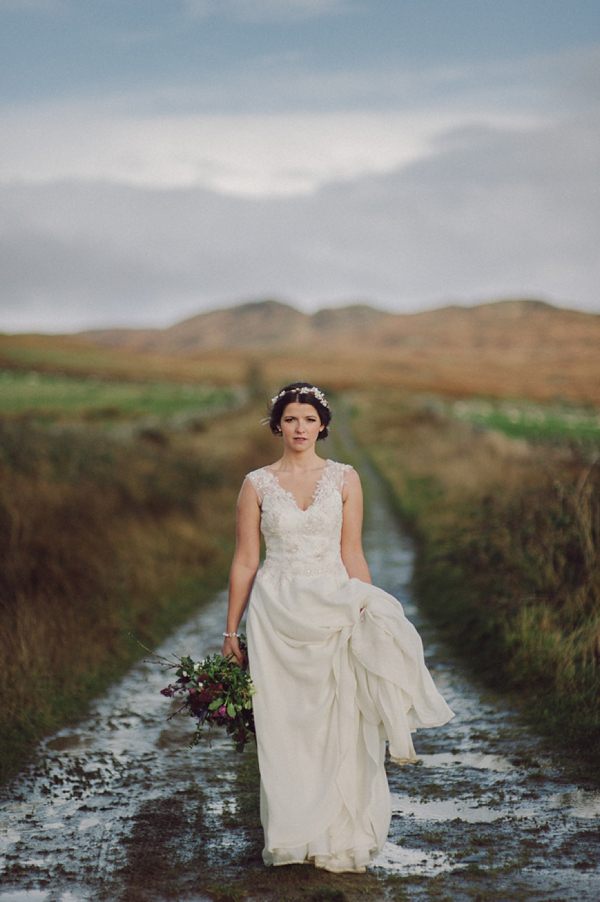 "Our ceremony felt like such a special moment – it was everything we had hoped and it felt so good to say our vows in front of our nearest and dearest."
Linday's elegant floral crown was from Serenity Crystal on Etsy.
The quite beautiful florals were designed by Tracey at Crear Flowers.
Goodness me and swoon! Quite frankly breathtaking florals by Tracey at Crear Flowers and those plum coloured shoes were a sale purchase from a Love My Dress fave – Hobbs.
"We made quite a lot to personalise and decorate our venue – hand painted signs, lace curtains, fabric garlands, blackboards, paper pom poms, bunting, fabric lettering and lots of other wee things – oh and John made an incredible mojito stall from reclaimed pallets."
"John proposed with a gorgeous ring he had bought in Chile which had a stunning green/grey local stone. When we got home we found my gorgeous engagement ring in Porters & Son in Glasgow. I love 1920's inspired jewellery so quickly picked out my ring with its emerald cut diamonds. Both our wedding bands were from Amazon – you can pick up amazing bargains! Mine is white gold and John's is titanium."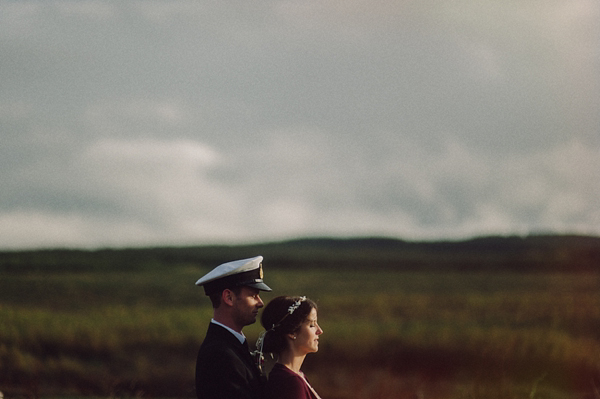 "My maid of honour, Cara, made the most incredible two-tier carrot cake. It looked and tasted insanely good!"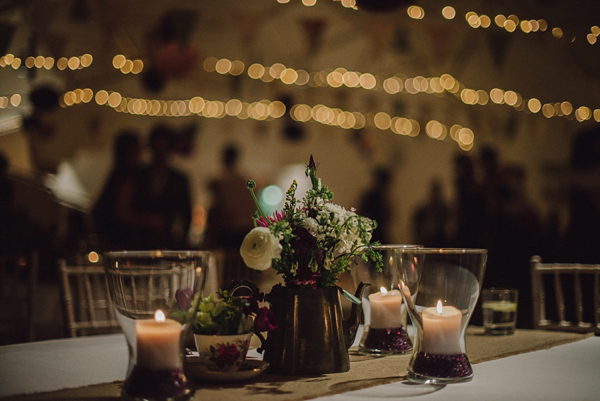 "Dylan and John of Kitchener Photography took our photographs – my sister actually found Joanna and Dylan on a wedding blog and sent me the link. I was blown away by their pictures. It was actually before we had picked a venue or date when we met for coffee in Edinburgh and knew we wanted to book them straight away. We could have spoken about travelling all day and knew they were the type of people we would feel at ease with on our wedding day. We adore every single image they have captured, from both the engagement shoot and the wedding, they are so very talented and a joy to be around. We couldn't recommend them highly enough.
Our friend, Barry Best, captured our video for us. He and his wife run Worldly Nomads, a travel blog. He captures stunning travel videos, so when he offered to do our wedding we jumped at the chance."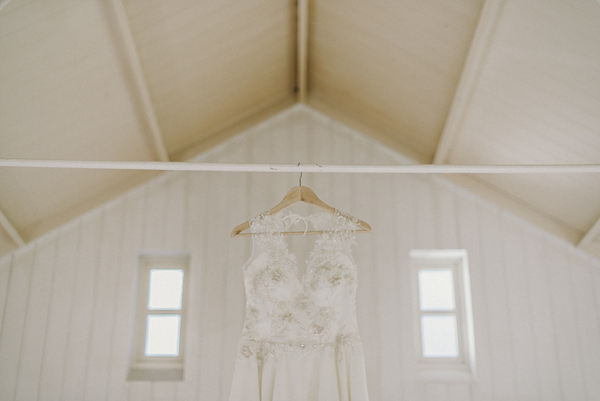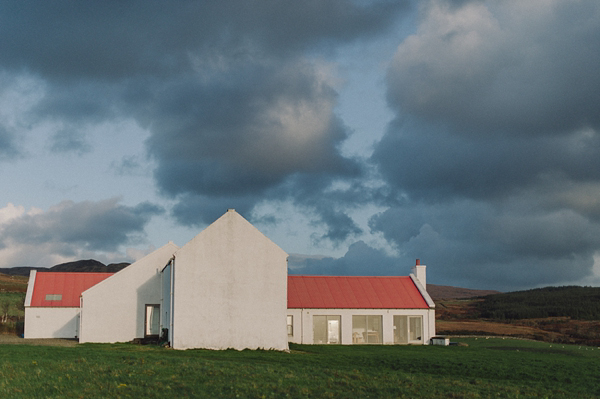 Lindsay chose not to hire a professional hair stylist or makeup artist and the girls styled themselves, however, Lindsay's good friend Jennifer is, by all accounts, an amazing hair stylist!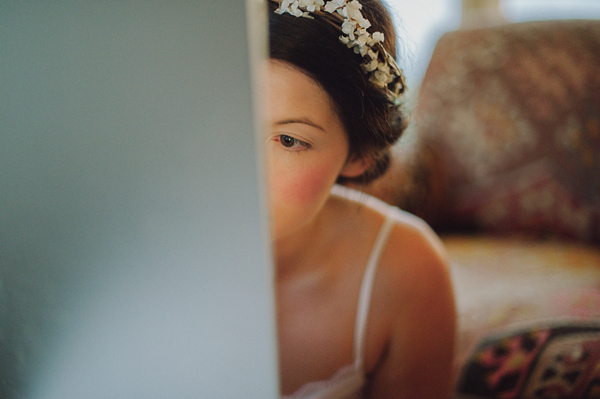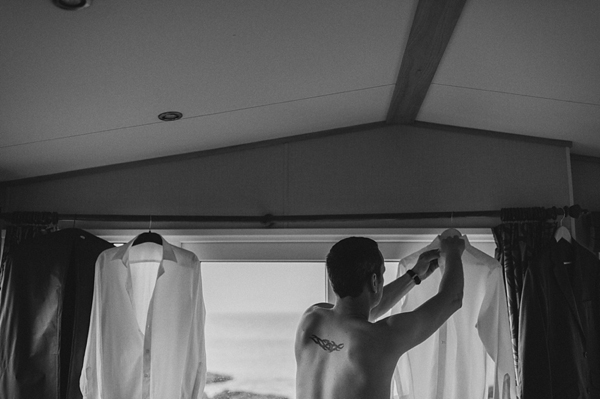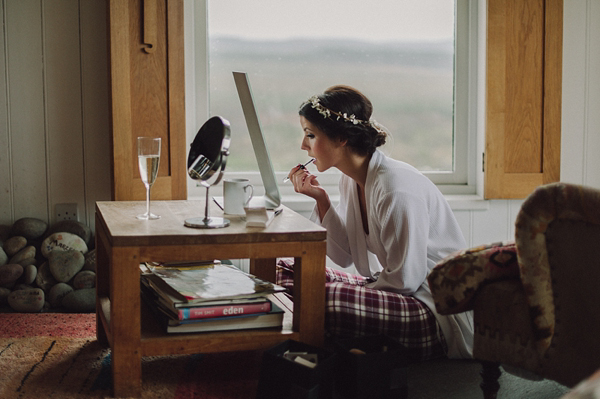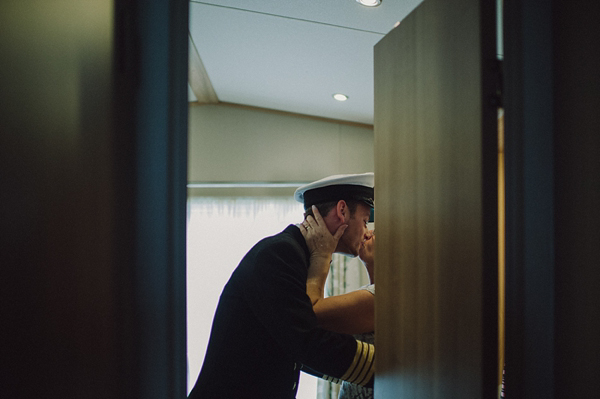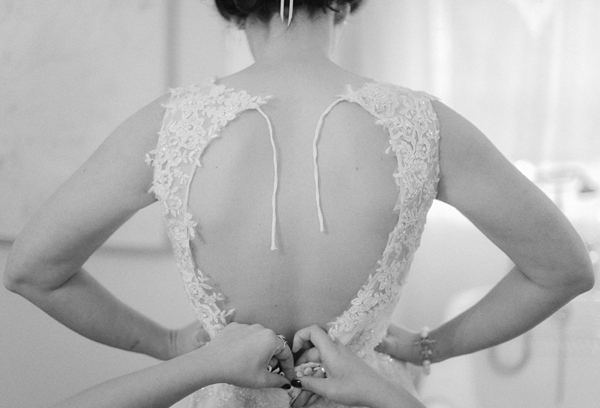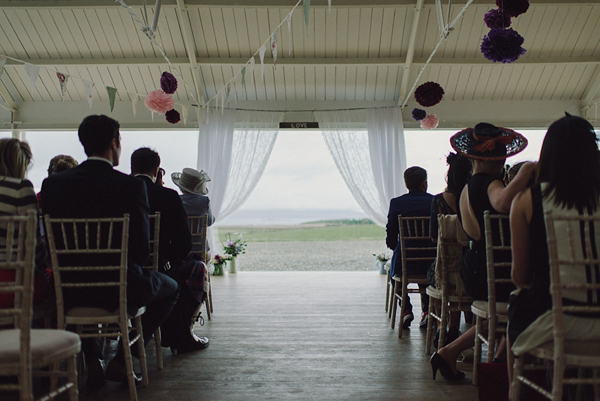 "My amazing dad, Paddy, walked me down the aisle. Just before we walked in was one of the hardest moments to contain my emotion."
"With the exception of some compulsory statements, we wrote all of our own ceremony. This was quite important to John and I as we wanted it to be as personal as possible. Our vows to each other were both the same:-
'I promise to always cherish your friendship and love. And, I will try to always bring laughter to our lives and make you happy. Your enthusiasm for life and adventure makes me feel excited about our future together. I promise to be true to you in good times and in bad, when life seems easy and when it seems hard. Whatever may come I will always be there for you.'"
"We also included a group vow for all of our friends and family to say 'we will'. Their vow was;
'Everyone gathered here today, before you stand two people who love you very much. Do you promise to encourage and inspire their dreams? To accept them not only as individuals, but as a couple? To be their friends and their support, today and everyday to follow?'"
We wanted our readings to be fun, and sometimes a little bit naughty! We chose three in all; our friend, Laura Best, read 'Love Me When I Am Old' by Bee Rawlinson, John's nephew, Jeremy Weddle, read 'You've got a friend in me' by Randy Newman and our friend, Iain Tindall, read 'You're Not Perfect' by Bob Marley."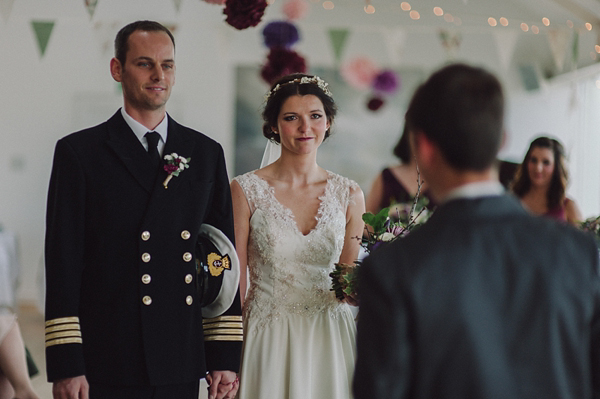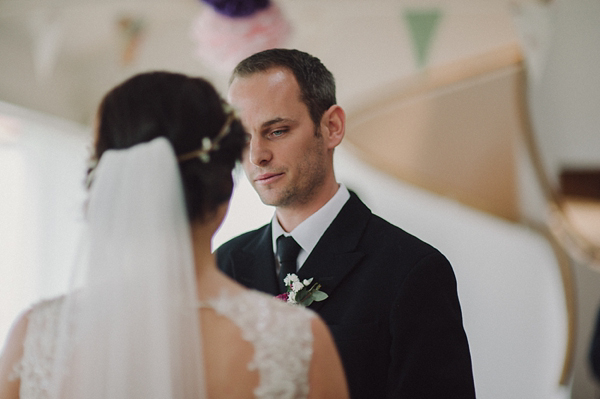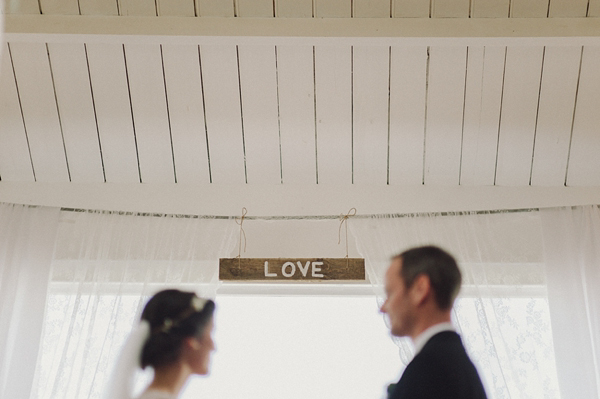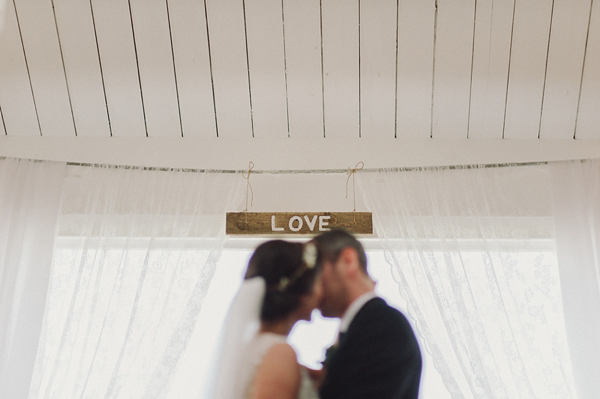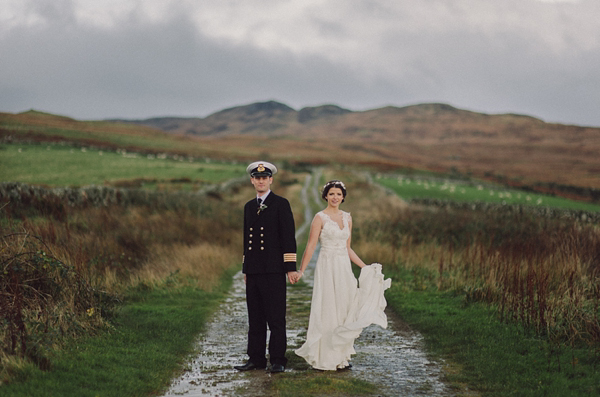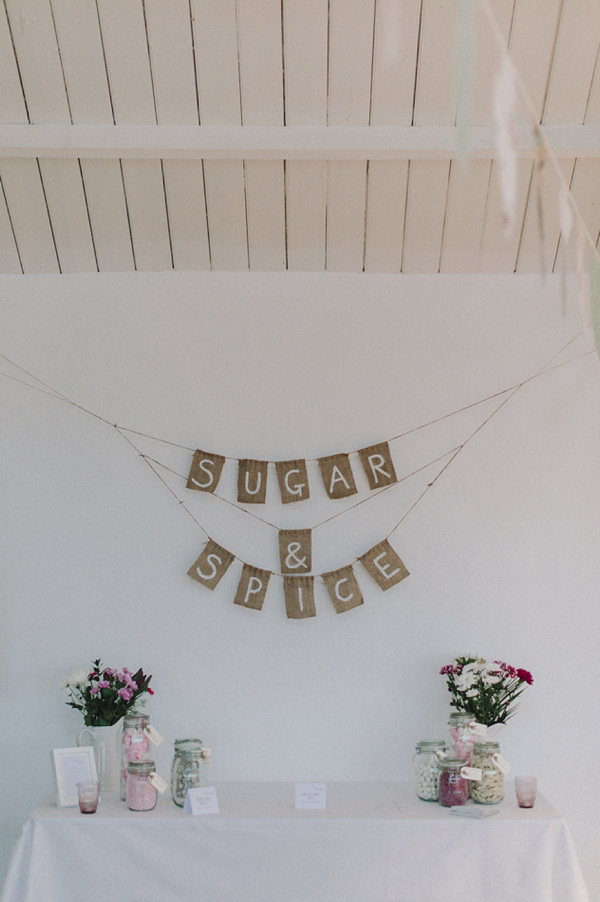 "My mum, nephew and I spent a fun-filled afternoon making raspberry jam for our favours. We also had some miniature Jura whisky from our friend Sally with her Whyte and MacKay contacts!"
"The speeches were incredible and such an emotional part of the day. Just being with everyone we love so much in one room was amazing and we loved letting our hair down and partying the night away!"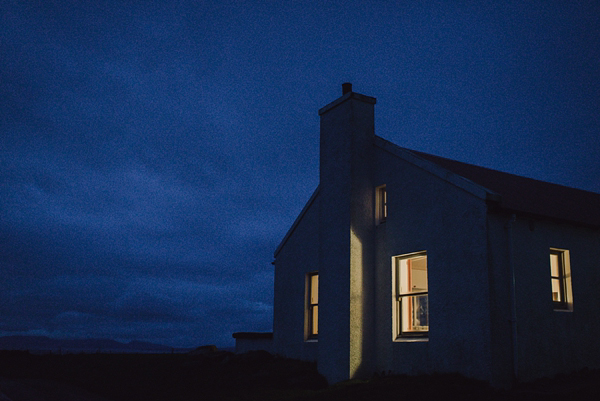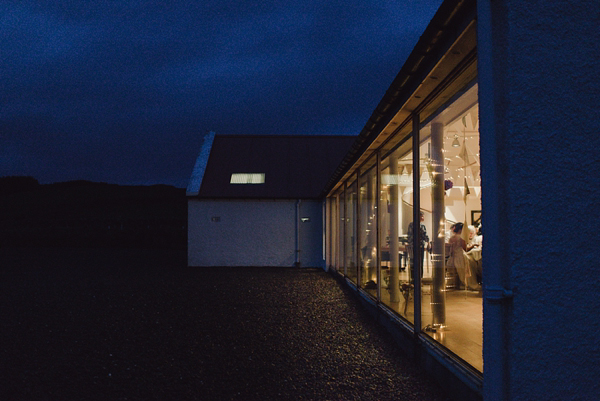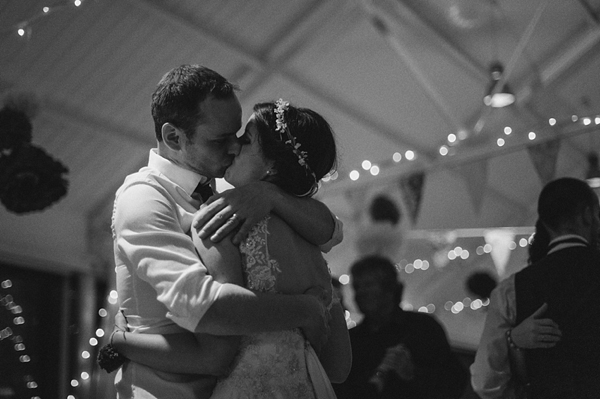 Lindsay, John and their guests danced the night away with help from The Little Red Wedding Band, who they say were incredible.

"The Little Red Wedding Band band learned our first dance which was brilliant. It was 'Toothpaste Kisses' by The Maccabees, it was a song John and I used to sing to each other in the first few months of dating and instantly gives me a knot in my stomach.
Words of Wedded Wisdom…
"We also planned Highland Games and a barbeque the next day, and the time we had to hang out again with all our loved ones was amazing. Memories we will cherish forever.
Our photographers captured our bride and groom photos in less that 30 mins and this allowed us to really enjoy the time with our friends and family. I would recommend to any bride and groom to pick a photographer that can do the same and make sure you have the most amount of time possible to enjoy your day and take it all in. Also, don't feel pressured to buy a dress by the commercial impersonal bridal stores – find a local designer and work together to create your perfect dress.
I don't think we would change a thing! "
A truly beautiful wedding day with so much love and sentiment flowing from these images and that gorgeous little film – and plenty of pinnable images for your Pinterest boards, beautiful ladies! I really hope you've loved looking at these photographs today and that they have inspired you. A huge big Happy New Year and thanks to Kitchener Photography and of course, our love and congratulations to you both Lindsay and John – we feel very lucky to be able to share your wedding on Love My Dress.
Readers, you can see more weddings in the amazing wedding venue Crear hear, and you can connect with the bride through her website at alittlethingcalledlove.co.uk or through Instagram, Facebook and Twitter.
That just leaves me to say have a lovely day all.
With love as always,
Annabel
Photographer – Kitchener Photography
Venue – Crear in Kilberry, Argyll and Bute, Scotland
Brides Dress – Ava by Rowan Joy
Floral Crown – Serenity Crystal on Etsy
Bride's Shoes – Hobbs
Earrings – Amazon (bargain buy at £1.99)
Grooms Suit – Merchant Navy Uniform
Bridesmaids – Mic Dress on Etsy + Marks & Spencer Shoes + H&M Hair Accessories
Florist – Tracey at Crear Flowers
Cake – The Maid of Honour
Entertainment – The Little Red Wedding Band
Rings – Porters & Son in Glasgow
Catering – Crear Kitchen
Stationery – A Little Thing Called Love (the bride)