We're squeezing in a late afternoon post for your delectation this afternoon, and this is one for all you Temperley lovers.  Claire and Gavin's wedding took place on 6 July last year at Oatlands Park Hotel in Weybridge.  The couple had a simple and elegant wedding celebration and Claire stole the show in her Temperley London – I love the back detail of this deress.
These photographs were submitted by Catherine Frawley of Lily and Frank.
"Very early on Gavin and I agreed on what we felt were the most important elements to us both, so that became the framework for all the planning, rather than us choosing a particular theme to work along with. The first elements I sought and found were my dress and venue – shortly afterwards, I picked out the bridesmaid dresses and a blue colour scheme emerged."
Photographer Copyright (c) 2014, Lily and Frank
"Our story started about six months before we actually met.  Gavin was on holiday in New Zealand at his cousin's wedding.  He went to Sydney Australia for a few days to meet up with a friend of his who was living over there at the time.  On a night out he got chatting to a group of lads in a bar as it turned out one of these guys was my cousin.   They worked out that Gavin knew my Dad, and when Gavin returned to the UK and next saw my Dad he mentioned that he had bumped into my cousin in Australia.
Move forward six months I went to a local pub one Sunday afternoon with my Dad, Gavin was also there by chance.  Dad introduced us with the words 'this is the guy who met your cousin James in Sydney' we got chatting and really hit it off. "

"We got in contact again after that however it took a few months before we actually started dating.  We got engaged after being together for about a year when we were in Verona Italy.  Gavin popped the question by Lake Garda which genuinely was a total surprise.  We were engaged for just under a year and a half before our wedding day.
My dress was by Temperley London.  It was the first and only dress I tried on – simple and elegant."
"I wanted to get married in my local Church so the venue had to be located within a reasonable distance, less than one hour drive.  We wanted to ensure that our guests were able to stay at the venue and enjoy the celebrations well into the night.  I also wanted to have nice outside space and as luck would have it we had the most beautiful day and we were all able to enjoy the best of the summer."
"Our photographer was Catherine from Lily and Frank.  Whilst putting our plans in place I spoke to many friends about their experiences and if they had any recommendations.  There was a consistent theme, many were not 100% happy with their wedding photographs and on reflection they wish they had taken more time making their selection, spent a bit more money or both.  Your pictures are the lasting physical memory of the day and something you can always look back on and share with family and friends in the future.
Not only have we got beautiful pictures to look back on, Catherine captured the true spirit of the day all the love, fun and laughter, she has taken photographs which tell the full story of our wedding day.  The first time I saw the pictures I was instantly transported back to all those happy memories."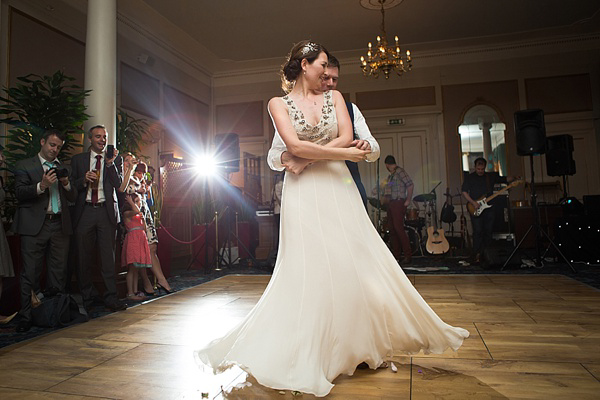 "We both have Irish roots and with that came a sizeable guest list with lots of family and friends and having a great band was a top priority as we wanted to ensure that our guests had a fun time and that there would be plenty of dancing. We hired The Craicheads to entertain our guests."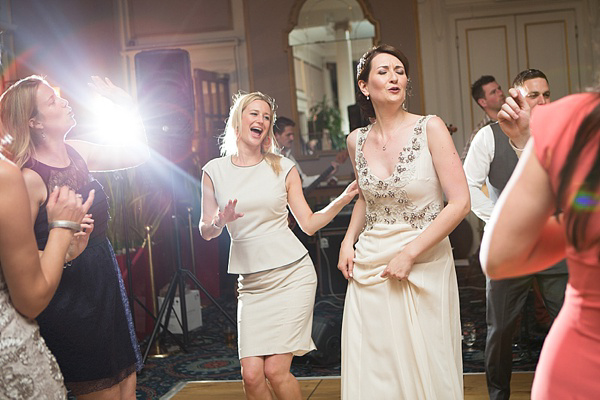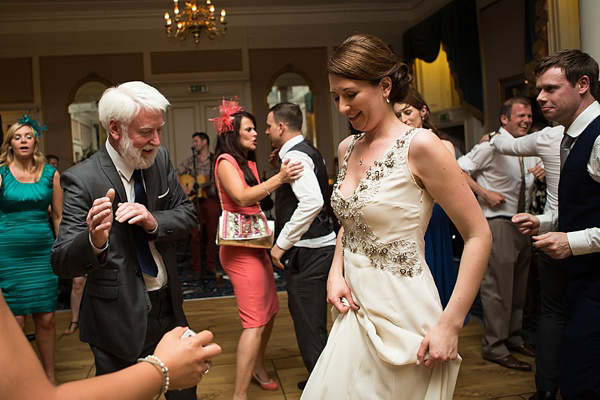 Words of Wedded Wisdom…
"There is so much information and inspiration out there, it can become somewhat overwhelming, think about what are the most important things to you and focus on them.  Adopt this approach with how you split your budget.  If you want to create special details and add your own personal touch to your day be realistic and give yourself plenty of time.  However much time you think something will take to design/create/make – double it!  When people offer their help, accept it – I was very lucky that my wonderful bridesmaids did a number of little jobs for me, without which I would have struggled to get everything done.
Make sure you enjoy the process and remember the reason you are doing this is to make a commitment to your partner and celebrate this commitment.  Your family and friends will be there to celebrate and to share this experience with you so soak up the love and have fun, it really will be the best day of your life."
Simple, elegant and classy. Huge thanks to Catherine Fawley of Lily and Frank for sharing these photographs.
I adore Temperley designs – if you would like to see more brides wearing Temperley gowns, head this way.
Love Annabel
Photographer – Lily and Frank
Venue – Oatlands Park Hotel in Weybridge
Brides Dress – Temperley London
Veil/Headpiece Monsoon + Side Tiara by Halo & Co, via Liberty in Love
Brides Shoes – Stuart Weitzman for Russell & Bromley
Bride's accessories – Earrings by Victoria Fergusson + vintage brooch + Tomassa necklace
Grooms Suit – Reiss + Gieves & Hawkes tie
Bridesmaids – Monsoon
Florist – Blakes Florist
Cake – Marks & Spencer
Entertainment – The Craicheads
Favours – charitable donation to Macmillan Cancer Support
Follow Love My Dress® on Google+