Good morning beautiful, did you see our late afternoon feature yesterday? Pop over and have a look if you are any kind of Temperley fan.  I'm so happy to be sharing the wedding of primary school teacher Jude and her beau Ricky with you this morning, it's such a joy filled and pretty day, one of those features guaranteed to lift your spirits. The couple tied the knot on 26 July last year at Brook Farm in Cuffley – and I love the laid back, bohemian, care free nature of their wedding.  
Jude and Ricky met at a festival and really wanted to bring a summer festival vibe in to their wedding day, and I do believe they exceeded in the most elegant fashion.
"We wanted a laid back, ease feel to our wedding, as we both have that attitude to life, but for family, friends and the love which unites us all to be at the centre of it. No toastmasters allowed! We met at a festival, love being at festivals with friends so wanted a day which had all of these elements combined.  We even talked seriously about inviting buskers we met to play sets for a while, but got talked out of that idea!"
Photography Copyright (c) 2014, Tom Ravenshear
"We met back in 2009 when we were both on holiday – Ricky on a stag do with the boys and me on a girly break with my friends.  It was my last holiday before I was due to move to China 3 weeks later.  Amidst a crowd of 30,000 people, boy met girl. We exchanged a few words over the festival volume of Oasis fans.  Oasis eventually came on.  Electric. We danced, we smiled, we kissed. And life changed forever.   From that moment on, despite us both knowing we would live thousands of miles apart, we were smitten.  Someone wise once said 'it doesn't take a whole day to recognise sunshine'. It was very clear right from the very beginning that we had found our soul mate. 
Rick proposed on top of a mountain whilst we were skiing. He put the camera on timer before he dropped down on one knee, so we have a stunner of a photo of the moment!"
"We hired Brook Farm in Cuffley for our reception, though we were married first in St Mary Magdalene's Church in Enfield.  We searched and searched for a setting for our festival inspired wedding – it had to be flexible and laid-back with room to wander and space for the children to run around.  When we found Brook Farm we knew it was right. It is secluded, big enough to feel like you're at a little festival and the lake has ducks and pheasants wandering around. It's a blank canvas (literally, it has grass and trees,a lake and nothing else!), and that gave us the freedom to be creative and to really enjoy the space. We all crossed our fingers for sun and dry weather!
We also hired Speciale Weddings to help us plan and style our day. Zowie and Aimee were so committed to helping us make our crazy ideas happen. I was training to be a teacher at the time, Ricky was working so hard to help pay for the wedding, we would have been in disorganised chaos without them!"
"My dress was by designer xxx and I purchased it from Frou Frou Bridal Boutique in Kent.  I loved the laid back understatement of the flowy material. I REALLY wanted something I could sit on the grass in and just chill. Some women in the dress shops gulped when I'd say that. This dress was comfy and I felt sexy in it. Some might say 'Practically Perfect' (which was the name of the dress!).  The staff at Frou Frou are absolute diamonds!
I wore a beautiful Victorian embroidered halo headband that I purchased from Elizabeth Perry on Etsy."
Jude's bridesmaids each wore their own floral dresses – such a great idea – means each bride is comfortable with what she's wearing, and in my books, you can never have enough floral print at any wedding.
"When it came to styling the reception, we used bits from car boot sales, home (friend's included!) and our lovely friends Brett and Vicki provided all of the vintage crockery.  We strung up photo frames from the trees, festoon string lights and hammocks where people chilled out.  Ricky made a bar from scrap wood and rope lights and we hired in beer pumps with the help of my savvy brother.
We attempted to grow our own flowers in my allotment. They were coming on quite nicely after four months of nurturing from thousands of seeds. Then wild rabbits snuck in and demolished them in a single night!  So, life goes on. Adele, my bridesmaid and I headed to new covent Garden flower market at 3am two days before the wedding and bought buckets of gorgeous English flowers. It was then a good job the mums were handy with the flower arrangements for the farm, the church, button holes and seven bouquets! We saved a fortune!"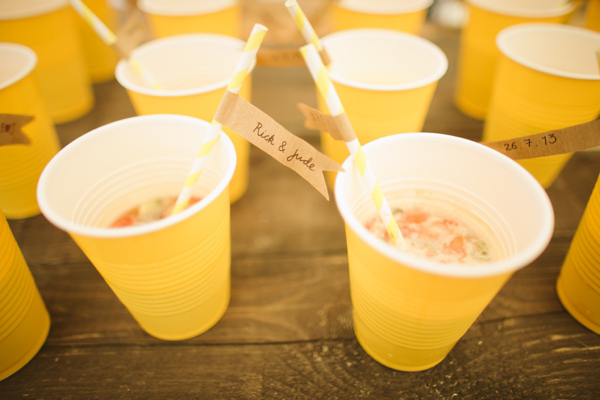 "We couldn't recommend Tom Ravenshear highly enough as a wedding photographer (or to share cooked breakfast with). He utterly loves his job and cherishes the moments he witnesses and captures. He made things very easy for us before the wedding and on the day he just 'fit in', photographing our must have photos then just doing his thing he does best. Our photographs caught the love and fun which we experienced on our wedding day and the bits we were too excited/nervous at the time to remember!
We were so pleased we asked Tom to photograph our wedding. Expect a phone call for family photos in the future Tom!"
"The little Austin was taken out of retirement for two days only! Grandad drove me to the church and then to the farm which was a dream of mine when I was a little girl".
I love this back shot of Jude entering the church, what a beautiful veil!
"My veil was orrowed from my twinny who wore it when she wed. Long and lace and gorgeous!
My dad walked me down the aisle to the sound of 'You've Got The Love' – sung by Tamsyn Noble in church.  Our ceremony readings included 1 Corinthians 13 read by my bro and Colossians 3:12-17 read by Rick's sis.
The church we had our ceremony in is my parent's church, and the same church my twin sister got married in only 5 weeks before us!"
"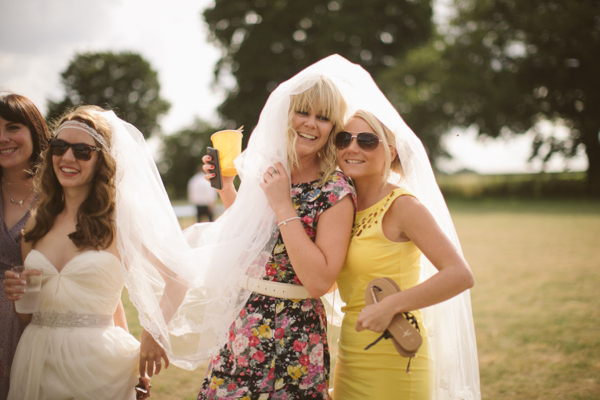 "My lovely mum made our beautiful cake. Ricky and I had this silly conversation about Lego and wedding cakes years ago.  We had a tier of carrot cake, a tier of lemon sponge and a tier of fruit. It was yum!
Our charming caterers Shaws Butchers provided a very tasty hog roast – they also stayed and cooked us an evening barbecue."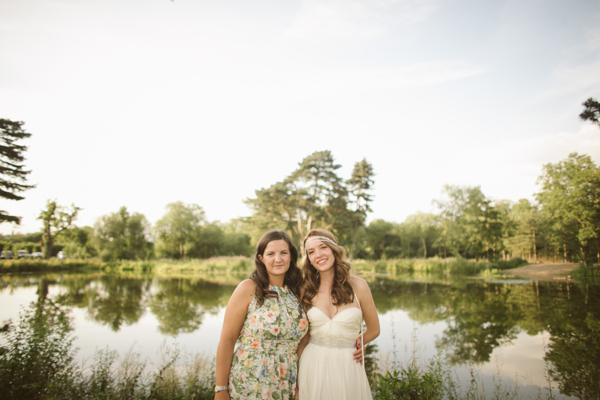 "Ricky says his favourite moment was turning around and seeing me walk down the aisle and the speeches, as well as our first and last dance!  My personal favourite moment was sitting on my husband's shoulders, surrounded by our friends at our very own festival. Holding tight onto my dad's arm and looking at all those loving faces as I walked into the church – magical."
Words of Wedded Wisdom…
"Do what feels right, despite tradition or pressure. Most people only do this once! Make time just before the wedding day to meet with your husband to be and have dinner, away from wedding talk. keep at the forefront of everything: if it rains, if the generators break down, if your auntie can't make it, it all doesn't matter. The bits that matter will happen (saying I do!) and they'll be the memories you treasure.
We emailed invites through paperless post, which saved the trees and our pennies too! It also gave our guests chance to instantly reply and the date went straight into their calendar on their phones. Magic."
I have to say, we would both have liked to be a little bit more organised and put less stress on our families."
Such a lovely, lovely day. A great big thank you to Jude and Ricky for sharing their smiles and joy – thank you so much guys. And an even bigger thanks to photographer Tom Ravenshear who are are HUGE (understatement) fans of here at Love My Dress.  You can see more of Tom's amazing wedding photography on the blog here.
If you love this, here are some other pages on Love My Dress that may inspire you; festival weddings, farm weddings, Summer weddings and bohemian weddings.
Have a beautiful day all, and if you have a moment, do share some love for Jude and Ricky's lovely wedding day.
Love Annabel
Photographer – Tom Ravenshear
Wedding Planner/Stylist – Speciale Weddings
Venue – Brook Farm, Cuffley
Brides Dress – Sarah Seven via Frou Frou Bridal Boutique, Kent
Veil – borrowed/something old
Shoes – Rachel Simpson 'iris' in champagne
Hair Accessory – Elizabeth Perry on Etsy
Accessories – Earrings/bracelet both borrowed + garter made by mum
Bridesmaids Dresses – their own, in varying floral print + New Look shoes + ASOS hairbands
Flowergirl Dresses – Debenhams
Grooms Suit – Moss Bros for groom and best man
Flowers – The bride/groom + family
Cake – The bride's mum
Transport – Vintage Austin Healey
Entertainment – Living sounds
Favours – personalised love hearts + packets of seeds
Rings – 77diamonds
Caterers – Shaws Butchers
Hair and make-up Artist – Neil Corneilius
Follow Love My Dress® on Google+