Good morning lovely ones! Here to ease you in to a cold, wet, rainy, windy and possibly snowy Wednesday January morning with the wedding of Jane and Max, who tied the knot on 27th July last year at Walcot Hall in Lydbury North, Shropshire.  Photographer Claudia Rose Carter was there to document this wedding in images – I love Claudia's atmospheric style – her work really captures the essence of this wedding, that was full of stylish detail and a touch of rock n roll.
"Max and I met shortly after I moved from Brussels to London. Being new to London, I decided to try online dating, for the simple reason that it would give me a social life! Never did I expect my future husband to be the second person I would meet thanks to match.com! Four years later, on the anniversary of our first kiss, Max proposed to me in Hyde Park.
We decided to have a two year engagement as it has always been what I wanted to do. I love the romance of being an engaged couple so I wanted to prolong it and savour that time for as long as possible but still without losing sight of actually getting married eventually!"
Photography Copyright (c) 2013, Claudia Rose Carter
"Our wedding included glowing mood balls which lit the garden, cherry blossom trees with fairy lights and silverbirch logs from my dad's garden! Each table was themed after a Belgian beer, which was served for our guests to try (I am from Belgium). We used teapots as flower vases and even made some J&M letters with decoupage! Two years was a long time to plan a wedding – it felt at times like too much time to plan! 
To be honest, I had no idea just how difficult it would be to pull off to many details as I went along adding new ideas on a weekly basis. We were just so lucky that it became a huge collaborative effort and that people enjoyed being a part of the whole operation (or at least they seemed to enjoy helping!). At a certain point when setting up the day before, I really felt like I was leading a military operation!"
"We chose Walcot Hall as our venue because the owners and the event organisers are the most relaxed people we have ever met. Additionally, of course, the venue is perfect, the grounds are amazing to explore and the views are breath-taking.  We also wanted somewhere we could bring in our own choice of suppliers, and to supply our own alcohol without hideous fees. It was also a venue with on-site accommodation for nearly all our guests and we could stay there the whole weekend to maximise our time with friends and family."
"I enjoyed every moment of planning our wedding weekend. Having the luxury of so much time allowed our imaginations to run wild and we could pool the creative resources of our friends and family too. So often I would see an idea on a wedding blog and tell Max I wanted to buy something and he would stop me and with a determined attitude he would find a way to make or build what I wanted. The bushel boxes of flowers were built by Max and we painstakingly stencilled them together. He also built our incredible giant table plan and I brought the Belgian beer bottles over during many trips for work.
Max's mum grew wild flowers for us, his sisters sewed bunting and wrote the place names, family friends lent us the mismatched crockery, my mum made two of the bridesmaids dresses after the ones I had ordered turned out to be too short for my sister and best friend! So many people put so much hard work and effort into bringing to life all of my ideas and dreams. Best of all was my sister's tireless work to paint the tips of 100 pine cones, bake and decorate hundreds of cake pops and to hand make the most amazing Totoro card box from my favourite Japanese animé film, 'My Neighbour Totoro'. I cried so many times with happiness when I saw the all the hard work and love everyone was willing to give for Max and I. We will always be grateful and never forget that."
"My dress was the Abilene Rose gown by Maggie Sottero that I purchased from Silhouettes Bridal Gowns in Richmond in Surrey.  I already wanted roses to feature heavily as our wedding flowers and when I found this dress with the rose detail it was so unusual. I also wanted a dress with straps and it was on budget and looked stunning, it was perfect! My mum and sister were so emotional when I put it on that I knew I'd found the one.
My necklace was so special. It was my something borrowed, blue and old all in one. The blue opal pendant was a family heirloom passed down to my mother from my Grandmother who is sadly no longer alive. However, it was on a gold chain and I always wanted to wear pearls at my wedding. So my mum took it to a jeweller and had it put onto a set of pearls which my grandfather bought my mother for her 21st birthday. It was an honour to wear such beautiful jewellery with such family significance."     
"My skull diamanté tiara was the very first wedding item I bought. I knew I had to wear it no matter what dress style I chose. I found it in a pop-up boutique in Selfridges when they had a British designer theme. It's made by Butler and Wilson. I am determined to find another occasion to wear it again one day!"   
"Two of my bridesmaids dresses were from EBay, and two were perfectly crafted in record, last minute time by my mum and her whole sewing school of friends who saved the day – thank you ladies!
We adored our groomsmens' outfits! Not all of them were quite so in love with pink trousers – but they were great sports and I think they look fabulous!"
"Our suppliers were phenomenal and the way they just understood exactly what we wanted made it all so easy and it was just a pleasure to work with such relaxed yet thoroughly professional people. In particular, Julia from Walcot Hall was fantastic, fielding my endless questions.  Our caterers, AtoZest, were wonderful with all our extra requests, such as filling our personalised bottles of pink and green cocktails (our family were also great helping us collect 120 coke bottles!)."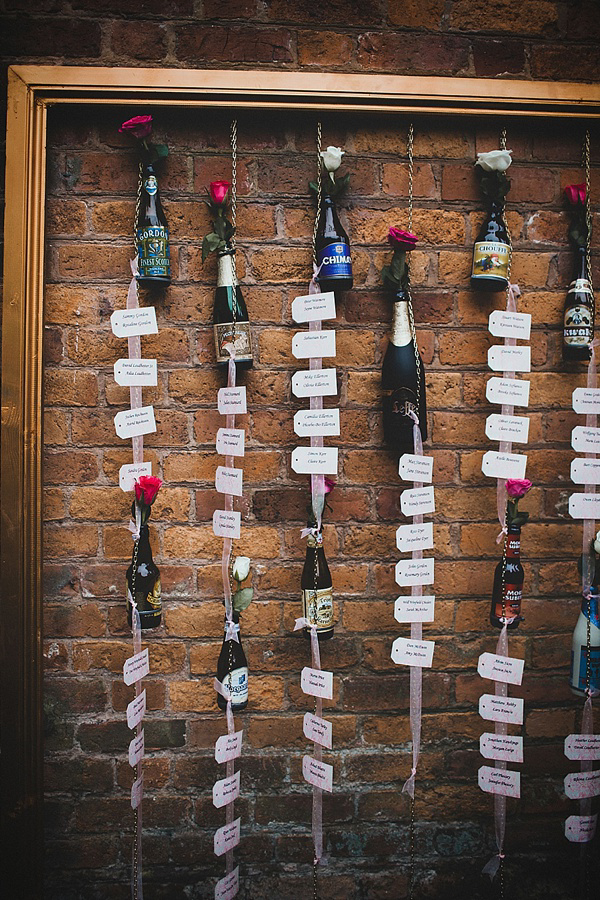 "Walcot Hall just provided the most magical and perfect setting for our wedding. With the lake, the arboretum, teepees, yurts and gypsy caravans, there was so much to explore and that made it feel like more than just another wedding.  It also meant that the evening before we could host a 'get to know everyone' barbeque so that on the wedding day our guests all knew someone and could really start the party! We even had a pre-wedding campfire and toasted marshmallows in the woods – I overuse the word, but it really was magical."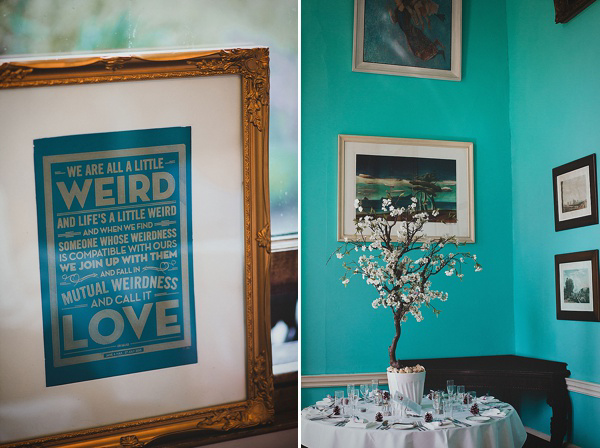 "Our flowers were by Caroline Ede – a local florist who uses only English flowers. I used her as I loved her wild and natural style. I wanted the flowers to look wild to reflect the quirky venue and the beautiful surrounding nature. They worked perfectly."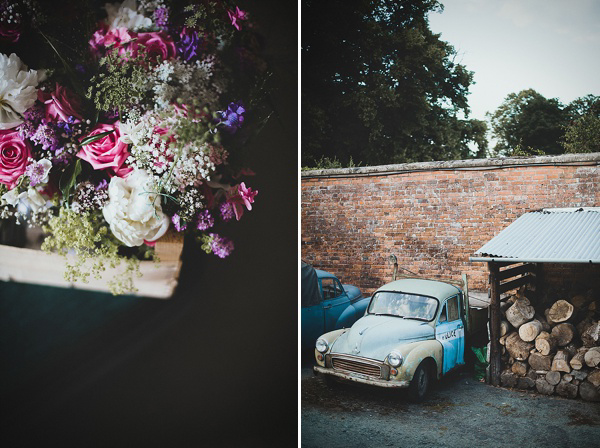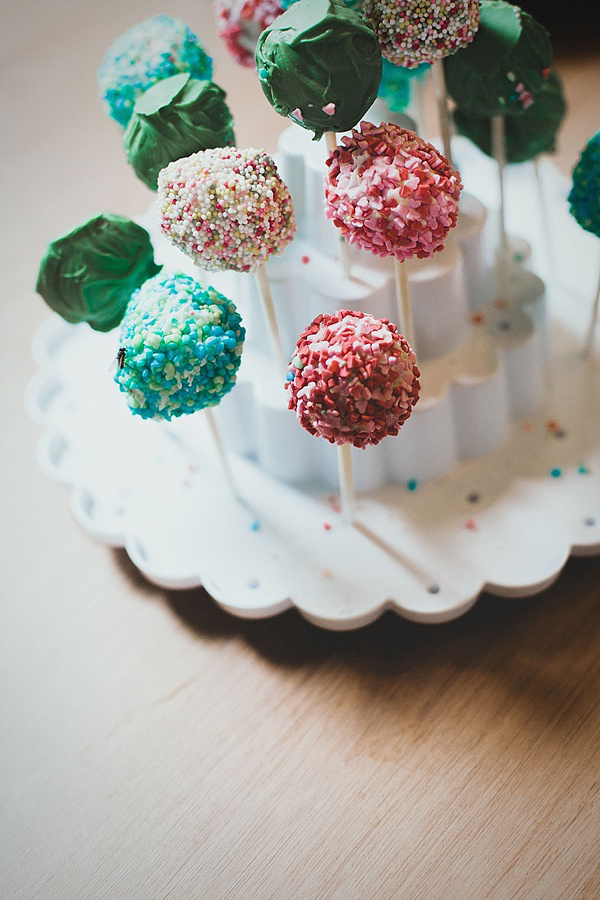 "My favourite moment was when we returned from our official photographs, and it had just started to lightly rain. The rain made everyone huddle together under the porch at the top of the steps of the walled garden where the singer from our band was meant to be playing an acoustic set. He set up under the opposite porch and played across the space to us all huddled under umbrellas and singing our hearts out in the rain. It was like a mini festival atmosphere and I absolutely loved it!
There is almost nothing I would change about the whole weekend, except I would have hired a different videographer who might have turned up!"

"Claudia Rose Carter is a genius behind the camera. She makes it seem so effortless that before you have seen her work you could not imagine that her pictures would come out so amazingly. But having had an engagement shoot with her and being astonished at how incredible she made us look when we were very nervous and uncomfortable, I knew that when we were really happy on the day, she could do no wrong – and I was right. We couldn't be happier.
Claudia was the best decision of the entire wedding as not only did she capture everything better than I could have imagined but she also became like another bridesmaid to me and was a true friend throughout the wedding; and the unexpected big hit with the guests was James the Oystermeister, who came all the way from London to entertain us."
Claudia is also a lovely person to be around and it is my advice to any bride to be sure you get along well with your photographer, as you will spend a lot of time together! And for us, that meant we gained a very welcome extra friend at our wedding."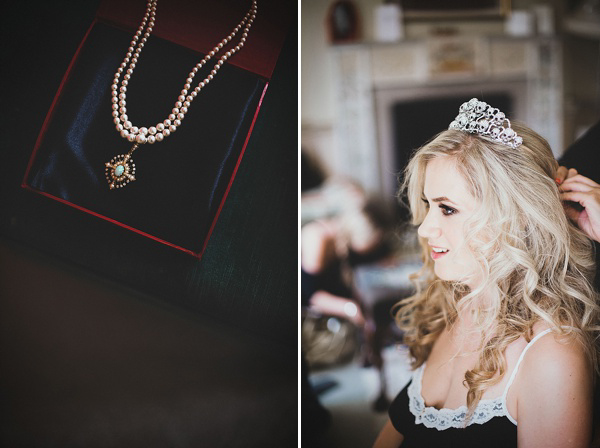 "Max had planned a half hour 'build up' of music whilst people waited. It was a great idea to build the mood and the excitement! I  wasn't quite ready though when the music ended and in the silence my friend's little boy suddenly said "Uh Oh…" which cut the tension and I heard everyone laugh. I walked down the aisle to the Israel Kamakawiwo'ole ukulele version of 'Somewhere Over the Rainbow'. It was so emotional, so to balance it out with something fun we walked out to 'Back in Black' by ACDC!"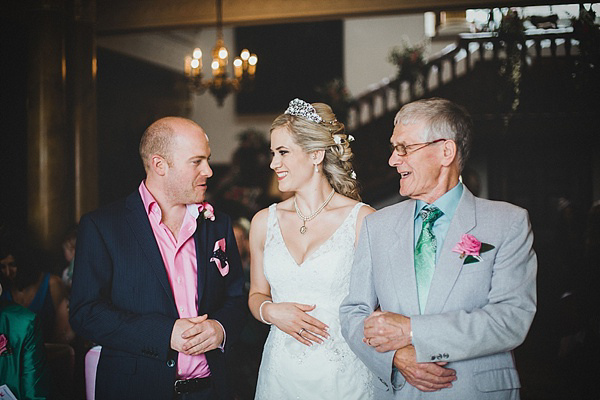 "We wrote our own vows which made it especially hard for me not to ruin the make-up I had paid to have done so nicely! It really made it so much more special though and I completely recommend everyone to do it. A civil ceremony isn't long so it is good to personalise it in every way you can."
"We have the most wonderful friend, our usher Dave, who would have been my best man had we had 2 best men! He was a tireless 'magic maker' all weekend but the most special contribution was that Dave wrote 2 readings for us. One was a poem which was read by Max's sister. The other was his own adaptation of the prologue to Romeo and Juliet in which he described us as not 'star-crossed', but star-kissed lovers! It was so funny and touching.
We both heard it for the first time in the ceremony, having had only my sister check it before sending it for approval. It was so wonderful to have just one thing that I didn't know about or hadn't planned for two years. We also had Max's other sister read Shakespeare's Sonnet 116, because it is so simple and beautiful."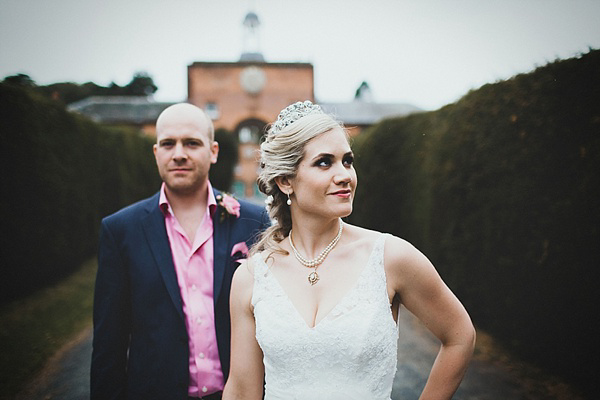 "All stationery was designed by Max and I! This was probably one of the most painstaking creative processes of the whole wedding! We are both perfectionists without any professional software! But we were delighted with the results, eventually!
I grabbed the idea for our favours from a wedding blog – my sister also printed skulls and tied 3 colours of ribbon around every box of jelly beans!"
"My mum created our phenomenal cake with the help and advice of a local cake maker."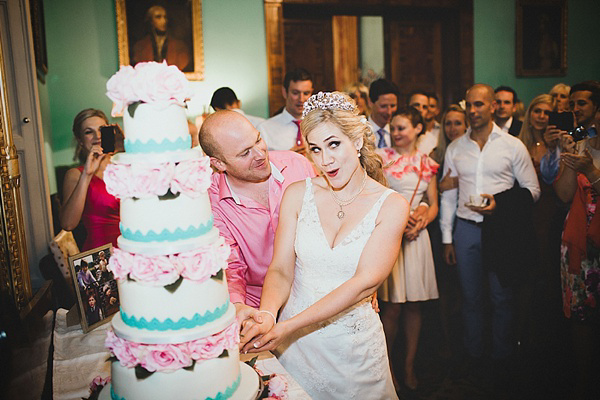 Words of Wedded Wisdom…
"On the one hand, you can never over plan! Be meticulous and BRIEF everyone!  Ensure multiple people know the full plan, timings and have everyone and every suppliers' phone numbers. But even then, things can go wrong like our videographers going to the wrong venue despite us giving them the address and postcode.
So in spite of all your planning, you must make a pact with one another that the moment the madness begins on the day or the weekend, from that point on if anything doesn't go to plan, it doesn't matter, it won't spoil anything and you have to vow to roll with it and let nothing and no-one stop it being the best day of your life. On the day, just let go!"
What a fun day, and what an informative post too! I love how Jane has so generously shared her experience – a lesson in there with those of you with a long engagement and plenty of time to plan, not to get too drawn in to things.
Huge thanks to photographer Claudia Rose Carter for once again sharing her beautiful photography with Love My Dress.
Anyone else wearing a Maggie Sottero  gown like Jane?  We'd love to hear from  you.
Love Annabel


Photographer – Claudia Rose Carter
Venue – Walcot Hall in Lydbury North, Shropshire
Brides Dress – Abilene Rose by Maggie Sottero from Silhouettes Bridal Gowns in Richmond, Surrey
Headpiece – Butler and Wilson
Brides' shoes – Rachel Simpson
Bride's accessories – Heirloom
Grooms Suit – Jacket from 'James of Montpellier' (Cheltenham Tailor) + Hugo Boss trousers + Paul Smith shoes
Bridesmaids – EBay + The Brides Mum
Flowergirl Dresses – Debenhams
Groomsmen – Reiss Jackets, Tommy Hilfiger Trousers, H&M Shoes
Flowers – Caroline Ede
Cake – The bride's Mum
Entertainment – The Daisy Cutters
Rings – Tiffanys
Catering – AtoZest
Stationery – The bride + groom
Make-up Artist – Jodie Hazlewood
Hair Stylist – Helena Sinclair
Ice Cream Van – Polly's Parlour vintage VW ice cream van
Roses for chairs + cherry blossom tree table centres + glowing mood balls – Chillie Breezes
Follow Love My Dress® on Google