Our afternoon post today features newlyweds Lorraine and Paul, who tied the knot on 31st August last year at Woods Cottage on the Tournerbury Estate at Hayling Island.  It really was the perfect backdrop for this pretty summer wedding.  There's so much about this day that makes me feel happy – not least Lorraine's huge, lovely, beaming smile – I also love the home made and DIY touches too; Lorraine styled all her own flowers, made all her own stationery and even created each of her bridesmaids dresses (no mean feat!). That's a whole heap of inspiration right there for all you brides on a very tight budget or who may fancy rolling up your sleeves and geting your DIY creative on!
"Luckily, Paul and I have the same taste in that we both love anything a little old fashioned and vintage inspired.  And so came lots and lots blog-reading; it became part of my daily news. Love My Dress was recommended by Philippa from our photographers Cotton Candy Weddings – it very quickly became my favourite until it was the only blog I read!"
Photography Copyright (c) 2014, Cotton Candy Weddings
"Paul and have known each other since the heady days of Salesian School, when we were young and innocent (!) teens of 13 years old. Little did he know but I had always had a thing for him, with his boyishly good looks, jet-black curly hair and stunning blue eyes. We had a strong friendship and laughter had a lot to do with it.   Anyway, we grew up and lost touch, as people do – until about five years ago when Facebook brought us back together. The rest, as they say, is history!
Not only have we found our true loves, but its built on a solid and true friendship. We couldn't ask for anything more."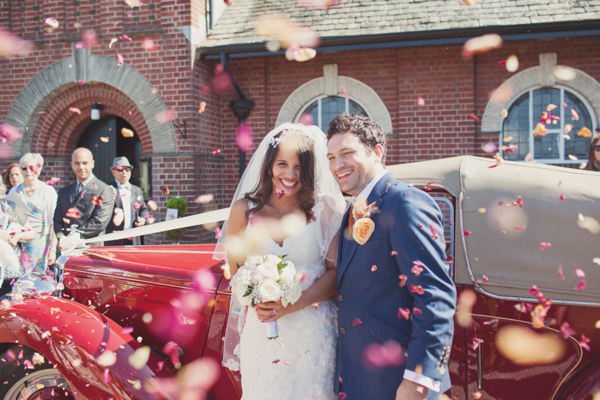 "Paul and I went on holiday in March 2012 with some family members. It was at this time that we all fell in love with Tournebury Woods Cottage, a property surrounded with 50 acre of private woodland sitting on an estuary, with its own beach in the back garden.  Stunning scenery, beautiful weather (apparently Hayling has its own micro-climate!) and totally isolated – a really special place. 
When Paul proposed, we couldn't think of anywhere better to have our wedding so got straight on the phone to Chris (cottage owner) and booked it!  Boy, were we right, our guests LOVED it."
"I had two Maid-of-Honours, Pamela and Paolina (both childhood friends) and one bridesmaid Mel (Paul's niece), all very beautiful and very different to each other.  I wanted them to have a dress that they all felt pretty in and to me that meant a classic shape, circa 1950s. I just couldn't find anything on the high street that grabbed me, so I made them based on a dress pattern that I had made for myself a few years ago. 
It was a bit nerve-wracking, as I hadn't made for anyone but myself before.  Because I was making them, I gave them all a choice on dress straps and they all chose something different – which I loved."
"I had a completely different colour in mind – grey – so when I went to buy the material I brought Paolina with me and she found this colour (Mocha I believe it is called) so I changed my mind on the spot.  I didn't have a colour scheme, hate matchy matchy things, just wanted it all to coordinate.  Because I made the dresses I was quite picky about them and had a panic when I finished them that they weren't good enough.  Then they made a special trip to mine bless them, and tried them on and we all got a bit emotional so, panic over.  I will never ever work with satin again though as it catches on everything. Not. Ever.
I asked my maids to choose their own shoes, whatever they were comfortable in, that went well with their dress."
"My dress was Diana dress by Enzoani, which I purchased from Surrey Brides in Weybridge.  I explained to Deborah from Surrey Brides that I wanted a fitted lace dress and something I could dance in.  As soon as I tried on 'Diana', I couldn't think about any other dress.  The lace, the straps, the belt, the buttons – they were all divine.  When it came to my veil, I wanted a lace edged veil with blusher for the church and Deborah found one that perfectly complimented the lace on the dress.
Anyone who has seen Gillian Million in Teddington knows why any bride would choose a hairpiece from here.  Gillian was fantastic; she gave me a headpiece that I never would have chosen but the instant it was put on my head I didn't want to take it off! I loved, loved, loved it.  I also bought a bracelet which Gillian made to match the headpiece.  My necklace was a birthday present from Paul, given to me the day after we got engaged in Rome.  Earrings were part of my 'something borrowed' from my sister-in-law, Faye. 

"I decided to do my own flowers as I didn't want to fork out loads for flowers, even though I knew I wanted them.  Mum is pretty good at flower arranging and she convinced me that I could do this, so we had a practice run and created bouquets and set up a table how we would want this to look.  From this we worked out how many flowers we needed and placed our order.  We headed to Western International Flower Market on the Thursday pre-wedding and drove back to Hayling high on flower-fumes. 
I made the bouquets the same day (sooo relaxing!) and did the jars and flowers the day before.  The marquee smelt fabulous.  Main flowers used were avalanche roses, gypsophilia and stocks."
"We made all of the save the dates (the paper bunting with space for messages), invites, order of service and place cards etc ourselves.  Mum made all the table runners, I made all the bunting and we bought pompoms from Deco Pompoms, stunning creatures but a devil to fluff – totally worth it though."
"Our photographers were the very beautiful and talented Gemma and Philippa from Cotton Candy Weddings. It is hard to put into words how special our wedding photos are to us. We feel like we really lucked out coming across them; our hearts were almost set on another photographer but once we met with Philippa we both changed our minds instantly. With the girls you get the complete package – not only is their portfolio breathtakingly beautiful, but from beginning to end, they were a professional and solid supplier for our wedding.
One thing that can get a bit frustrating when you are planning your wedding, is that most suppliers lose sight of how important this day is to you. To them it's a business, but to you it's the most important event you will put on. This is the complete opposite with Cotton Candy. They absolutely LOVE what they do and it seeps out of every encounter you have with them. They also love weddings and are right there with you on the excitement train that you are travelling on.
We chose to have an engagement shoot before the wedding and I would recommend this to anyone that is thinking about it. We didn't really have any special photos of just us together and Gemma managed to capture us exactly how we are. That's another thing about these girls… the shots they produce are so natural you almost feel like you are taking a secret peak into someone's life."
"I had organised a friend Darren to drive us to the church in his BMW.  Had all the little quips – 'hope you have your cap' and 'don't think I'm going to tip you'. Little did I know that Paul had colluded to hire me an amazing vintage wedding car (1946 Alvis Sport Tourer from Chris's Wedding Cars) as a surprise.  Darren even turned up in the morning and I had no idea until I heard it and then saw it from the window.  Gorgeous car."


"My shoes were from good ol' Debenhams.  Loved my shoes! They are a little ruined from all the beach walking but I plan to frame them and make an art feature of them to put up in our house."
"I did my own hair as had so many problems with it over the years and I knew what I wanted.  At one point my maids and me were all in different rooms of the cottage doing our hair, speaking to each other through the doors.  As soon as it went quiet you knew people were handling hot tongs!  My close friend Nadine not only came from Dubai for the wedding but she also did my make-up for free.  Nadine works for MAC so I was totally relaxed even though we didn't really do a trial run, as I knew I would love how she did it."
"Paul had a made-to-measure suit from Room Ten.  Expensive but worth it.  The quality was incredible and the lovely little details, like the paisley lining and the date embroidered inside made it so special.  And at least he can wear this more than I can wear my dress! 
Paul's shoes were from M&S, tiepin was his grandfather's and the tie, oh the tie took us AGES to find as we wanted one that perfectly complimented his bronze paisley lining.  TK Maxx saved the day in the end. I also gave Paul an engraved brass pocket watch the morning of the wedding."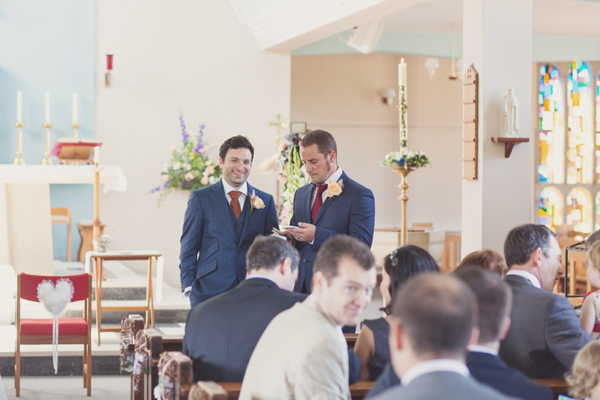 "We had a full Catholic mass and had two bible readings, a reading from the first letter to the Corinthians (a very popular choice! "Love is always patient and kind: it is never jealous; Love is never boastful or conceited; it is never rude or selfish") and Wherever you go, the Song of Ruth.  
Wherever you Go, the Song of Ruth has a melody that goes with it, and I sang this for Paolina's wedding so it already had special memories.  I got her back though and got her to sing at mine accompanied on the guitar by my friend, Dwain ☺
"We set up a sweets table instead of giving wedding favours.  My friend Karen hires beautiful jars for weddings so we hired them from her, which made our sweets table look classy and so beautiful.  So if you are organising a wedding in the Surrey area and want to hire her jars, her company is Sweet Jar of Mine.
We opted for homemade cakes.  Paolina is an awesome baker, so she baked all of our cupcakes and cake pops and my mum made the top cake.  The rest of the dessert table were made from some of lovely guests!
We knew we wanted to have a BBQ and found Uptons of Bassett in Southampton.  Simon from Uptons was absolutely brilliant and catered (pardon the pun) for our every need.  And because they started as a butcher originally means the meat was heavenly." 

"It's sO hard to pick just one part! But probably seeing Paul's face as I appeared next to him ☺ A close second would be him getting all teary during his speech, something NO ONE, least of all me, expected. Bless him.
"I used to sing in a ladies choir and my fellow alto became a good friend.  Caris sings in a function band, EDP, and I had booked for them to play at a friend's wedding that I had organised so we knew they were good as we danced all night.  They did not disappoint and were fab on the night, extending Love Shack to allow for the impromptu dance-off from the boys and even letting me to sing with them for one song.
I wanted to surprise Paul on the night and asked the band if they would be up for it.  So I went on the mike under the pretence of introducing the band, and thanked everyone for coming before breaking out into the most romantic, mushy song I could think of. Shoop Shoop Song. Because yes, it was totally in his kiss." 

Words of Wedded Wisdom…
"Include as many people as you can.  Our friends and family were wonderful in getting totally involved, from everyone being on jar collection mission, cake baking, the delicious Mauritian pickle made by my auntie, and to the buttonholes made by a friend who couldn't be there.  In the run up there were a few friends that were planning their wedding also, and meeting up and sharing tips and bits for the weddings made it that much more fun, it was great to see stuff recycled!  Make as much as you can yourself. Not only does it save you money but it's SO satisfying to see everything you've created.   I enjoyed the preparation almost as much as the day as the best man, ushers and maids all came to help set up, a really special time (although I'm sure they are still harbouring plans to pay me back for all the pompom fluffing!).  They all ROCK. 
Stay as calm as possible; everyone is going to have their own opinions about how the day should go, try to let it wash over your head and focus on what you both want and smile through their comments!  The best thing I could have done was go for a walk the morning of the wedding.  I was late for starting to get ready but I didn't care – it totally cleared my head. Fresh air can do wonders.  And so can Champagne for breakfast."     

"I'd come into work, turn on my PC, check my emails and then sneakily delve into blog-world.  Love My Dress became my firm favourite to read and it's the only one I still read! It's a blog that makes you feel like you are talking to your best friend about weddings, not pretentious at all, and I think that's what I liked most about it – it's warm and personable.  Thank you for inspiring us to make the wedding extra special – your site is AWESOME!"
So pretty and even lovlier for Lorraines glorious smile!  A big thank you to Lorraine, Paul and their photographers Cotton Candy Weddings.
You can see more summer time, DIY weddings and brides wearing Enzoani here.
Love Annabel
Photographer – Cotton Candy Weddings
Venue – Tournebury Woods Cottage
Wedding Dress – Diana by Enzoani via Surrey Brides in Weybridge
Brides' shoes – Debenhams
Bride's accessories – Gillian Million
Groom's Attire – Room Ten
Bridesmaids – Made by the bride
Page Boys – Poshtotz
Flowers – The bride + her mum using flowers from Western International Flower Market
Cake – Made by friends and family
Transport – Chris's Wedding Cars
Entertainment – EDP
Pom Poms – Deco Pompoms
Rings – SWAG
Catering – Uptons of Bassett
Stationery – Made by the bride
Sweet Jar hire – Sweet Jar of Mine
Follow Love My Dress® on Google+