Good afternoon all, have you seen this morning's wedding feature yet?  Louise, a brand manager for a luxury cosmetics firm, and Ian, who is partner at an accountancy firm, tied the knot on 23rd November last year at Fawsley Hall in Northamptonshire.  This wedding oozes country house charm and I believe that Louise looks the epitome of bridal elegance in her Esme dress, by Jenny Packham.
I don't think there was ever a conscious decision to style the day a certain way.  I guess once we'd chosen the venue, which dictated the date, 23rd November (the only date they had left in 2013), then other things followed because of the season and time of year.  For example, had we got married in London, I think my dress choice would have been very different. 
I had no set idea of how I wanted our wedding day to be, I think it was really nice to just let each piece of the jigsaw find it's place along the way.  It's certainly less stressful to keep it all a bit more relaxed.  If you start with a blank canvas, its all a bit daunting but as soon as the venue is booked, you have something to work with."
Photography Copyright (c) 2012, Marianne Taylor
"I was introduced to Ian in 2009, by one of my best friends Richard who is also an old friend of Ian's.  Richard maintains he thought it through – I think we stumbled across each other when Rich double booked drinks with both of us 'by mistake'.  Either way, Rich ended up being our best man.  We got engaged in September 2012 on a weekend away at the beautiful Barnsley House in The Cotswolds.
After initially rejecting our venue through internet research (their website at the time wasn't the best designed), we struggled to find somewhere that was large enough to accommodate 120 of us an on exclusive use basis.  We finally visited Fawley in January 2013 and knew it was the right venue.  It was an independent hotel with the right mix of great food and wine, and lack of stuffy atmosphere."
"My dress was Esme by Jenny Packham.  I'd travelled to White Mischief boutique on a recommendation from a friend. You'd think that living in London, I had ample choice when it came to wedding dress shopping, however, after one particularly frustrating conversation with a designer shop in London who told me a 'special large size (ie, all those over a size 8) would have to be ordered in specifically for me to try on , I lost heart, so followed my friend's recommendation.
The consultant at White Mischief was exactly the antidote I needed.  I had no idea what I wanted or what was the appropriate for an 'older' bride.  She let me try on a few of my choices – none of which felt quite right, before asking me to try on her preferred choice.  It was Esme by Jenny Packham.  I instantly loved it.  It's such a cliche, but once I'd put the dress on, I knew I didn't want to try on or wear any other.  It was all about the professionalism and experience I had a White Mischief.  Working in retail, I'm a pain in the butt to shop with if I don't get good service – but their service wasn't just good, it was great."
"I found Steph Turpin from Fairynuff Flowers via our photographer Marianne Taylor's website.  Steph agreed to have a chat one evening when I'd finished work.  I ended up being really late, but Steph was still happy to chat and the same evening, Steph sent over an amazing Pinterest board.  Once I'd spoken with Steph, there was never any doubt I had found a brilliant florist."
"Steph met us at Fawsley Hall a few weeks before our wedding – I showed her around the rooms we were using, showed her a picture of my dress and told her I liked roses!  That was as much as a brief as she got and I left everything else in her very capable hands.  The flowers not only looked beautiful but smelt amazing.  I could not have been happier.
"My shoes were bespoke from Emmy Shoes.  Again, it was all about superb service with people who really know what they are doing.  They even put a blue stone at the bottom of my shoes to represent my something blue.
Dress shopping was always going to be hard for me to get excited about, I'm a jeans and sweater person.  When it came to my shoes however, I couldn't wait."
"I loved my shoes – they were really comfortable and when I can finally decide on the colour, I will have them dyed to wear all over again.  I will definitely purchase again from Emmy – her shoes are like little works of art."
"The older bridesmaids had dresses from Coast and the younger girls had dresses from Monsoon.  We knew both stores would be a one-stop stop as they re both perfect for bridesmaids dresses.
The older bridesmaids wore shoes from New Look that were just £17.  My younger niece is a girl after my own heart – she loves jeans and trainers.  In order to persuade her to wear a dress, I let her wear trainers.  She found a pair of sparkly Converse at Office."
"Through my work, I had worked with designers from Sibling & Co.  They designed all our wedding stationery as  a wedding gift.  Everything was stunning – Sibling created an Art Deco theme to go with my dress and added beautiful soft metallics in gold, bronze and silver on to a soft cream card."
"The venue really didn't need a lot of styling and decor – we added a few bits and pieces, like a little table of photographs of our parents and grandparents weddings that was a big hit.  We also had lots of incredible smelling Diptyque candles in Rose and Menthe Verte. 
These have been a favourite of mine since I worked at Space NK.  The right fragrance can really add atmosphere to a venue.  And of course, lots and lots of Steph Turpin of Fairynuff Flowers beautiful flowers were also used to style the venue."
"Our photographer was Marianne Taylor.  The photographers were something we were both worried about.  We both genuinely dislike having our photo taken and the thought of lining up all day to have formal photos taken was enough to put us of getting married at all! But we  knew we'd want something to remember our day by and even more importantly, we knew our friends and family would want something too."
"I found Marianne after a brief internet search.  There were no lined up formal photographs to have to deal with – perfect!  I kept meaning to book a pre-wedding photo-shoot with  Marianne, but managed to keep putting that off too! However, I just knew that Marianne was going to be the right choice.  I won't spoil all her secrets in case you book Marianne, but Marianne's attention to detail and the lovely things she did pre-wedding left me in no doubt that she was the right choice."

"All our communication with Marianne prior to the wedding had been via email, but it was a decision I was so confident with, that I even found our florist and videographer via her list of recommendations.  Finding Marianne was meant to be and her photographers are beautiful.
Despite a few family reservations about not having formal line-ups, we managed to make everyone a personalised thank you card with their photograph taken by Marianne and her assistant Susanne.  It sounds a little strange, but one of the best things I can say about Marianne was that I was simply not aware she saws there on the day – and yet, she didn't miss a thing."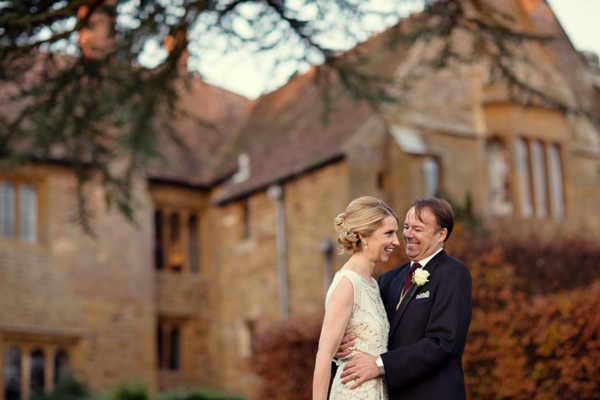 "My make-up was done by my friend Louise Shepherd.  There was never any question that she would do this for me.  I met Louise when we both worked for Space NK many years ago – we've subsequently worked together at Jo Malone and Jo Loves.  We decided that although we know each other so well, it would be best to have a make-up trial.  However, when I went to see Lou for the trial, we spent so long gossiping and drinking tea that we only had about 10 minutes for the trial before Lou had to pick up her girls from school. I think you just have to surround yourself on your wedding day with people you know or trust.  It takes out all the stress and helps you have fun."
"My hair and that of my mum's and a few friends was done by Honey Honey Burtonshaw.  I met Honey during a meeting at work – we ended up chatting about wedding hair and I knew I'd found the person to do my hair. Not only is Honey a brilliant hairdressers, she is a blessing to have around on the day.  Honey is so much fun but she's also very calm and organised and ended up heaping me get dressed when everyone else disappeared to get ready.
I bought some very simple hair pins from Fenwick on Bond Street.  There's a theme here! Fenwicks is another store I always receive great service in.  The only other jewellery I wore on the day were Jenny Packham earrings and my Grandma's wedding and engagement ring.."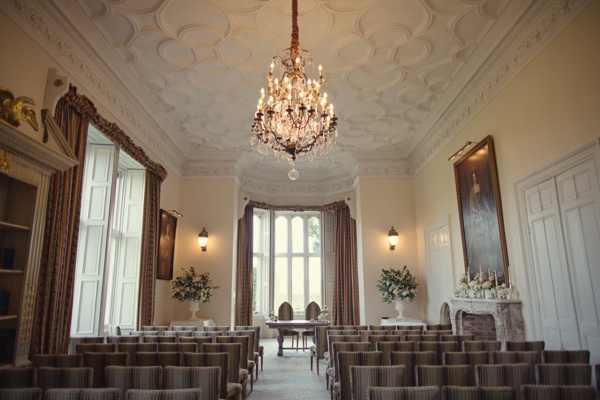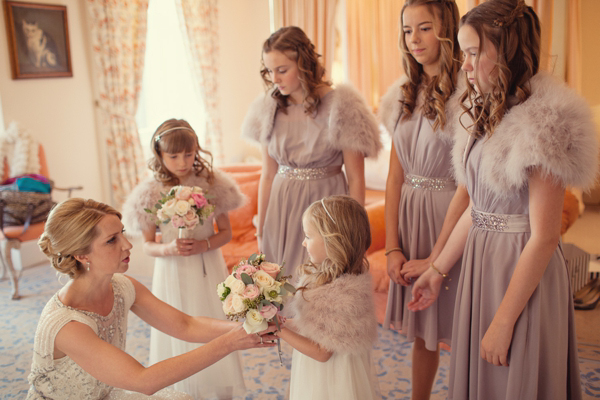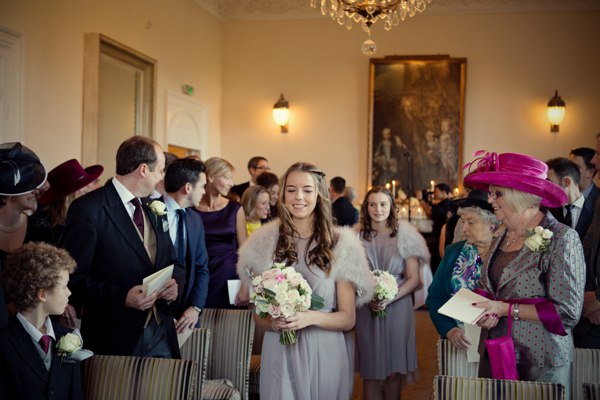 "My father walked me down the aisle, to the sound of Eva Cassidy's 'Songbird'.  Seeing Ian for the first time at the ceremony was brilliant and probably my favourite part of the day.  We both had silly grins on our faces from then until the end of the day.
During the ceremony, we had three readings.  Ian's oldest daughter Jenny read an extract from The Velveteen Rabbit.  My friend Louise (also my make-up artist) read from one of my favourite books, Captain Corelli's Mondolin, by Louis De Bernieres, and my friend Robin who travelled from New York for the wedding read a piece from Sex And The City."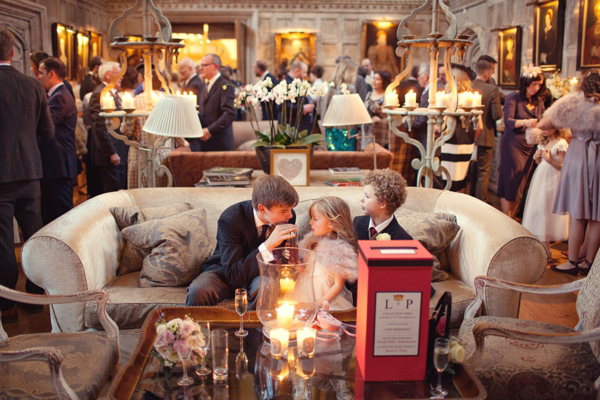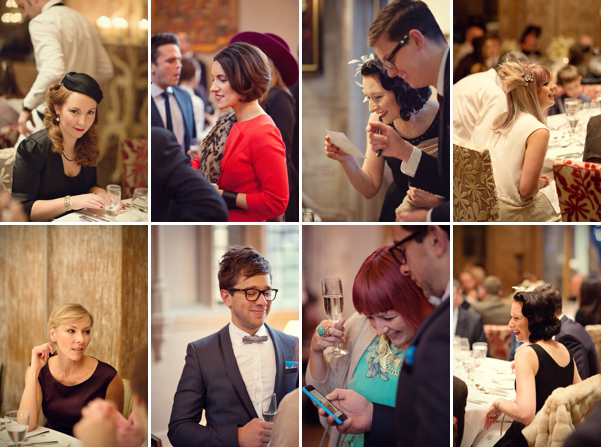 "Our cake was made by a friend of a friend.  I couldn't get that excited about the cake.  I'm not a big fan of fruit cake – Ian however loves it and in Yorkshire, where he's from, fruit cake is traditionally eaten with Wensleydale cheese, so we decided not to bother with the big iced cake and to make sure we had a delicious fruit cake that we could serve with Wensleydale instead.
The cake was a huge success – I couldn't imagine how it was going to look, but Elizabeth made the most stunning looking cake with fruit and nuts decorating the top of each layer.  It fitted the venue perfectly and was much prettier and more appetising than so many of true rock hard white iced cakes I'd seen. It was perfect."
"I love Etta James' 'At Last' – and it was the perfect track for our first dance.  The best part of the wedding preparation was dance lessons with Jess Brichto ftp://www.startthedance.co.uk/about.html. IT was so much fun and a great way to release any pre-wedding stress.  Jess is a great teacher."
"I met Steve Laverack at an open day at our venue, Fawsley Hall.  Steve is such a lovely guy – he ended up being our Master of Ceremony as well as our DJ.Ian and I had seen a ukelele band called TWUNT play at Carfest just before we were engaged, and loved them.  They are a group of friends who meet at a pub in Tunbridge Wells to play ukeleles and have a sing-song.
As soon as we started talking about wedding bands, I knew I wanted them to play at our wedding.  We somehow managed to get hold of them and persuade them that playing at a wedding on a cold November night miles away from Tunbridge Wells would be a fun thing to do.  They were brilliant!"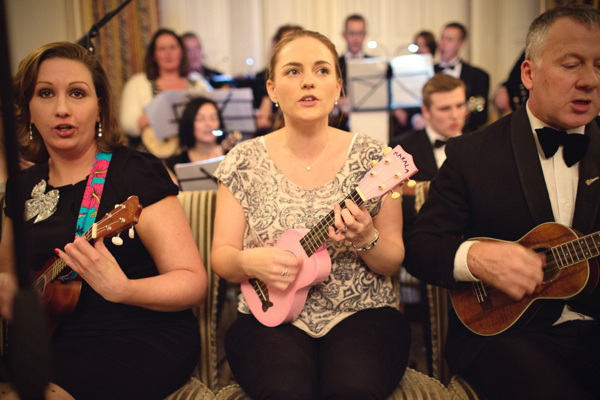 Words of Wedded Wisdom…
"The one thing I would perhaps do differently would be to hire a wedding planner.  It was a catch-22 – we were too busy to look for a plainer but a planner would have helped us free up time before the wedding.  You live and learn!
We were were both so busy that we didn't really spend hours researching for our wedding. This lead to quick instinctive decisions being made.  I think you know if a company, supplier or internet site is right for you.   I had however originally dismissed our venue because I didn't like their website!  IT took Ian a while to persuade me to visit and even longer for me to admit I was wrong.   Actually, this may be the first time I was wrong… tee hee!"
"We put Pontefract cakes, Alka Seltzer and Ginger Beer, my favourite 'cure all' in a simple white paper bag and put one of these in everyone's room.  Ready for the morning after the night before!
Finally, and this doesn't just apply to our wedding, but I never waste time or money anywhere that doesn't value good service.  Companies should never underestimate the value of good service.  If they do – walk away.  I met such amazing people doing things they loved in the run up to our wedding – they were all brilliant! By fluke or design, I don't think I could have worked with better people who all played their part in making our day so wonderful.  Knowing that you have brilliant people doing their jobs well, means that on the day – you have nothing to do but have fun, relax and enjoy."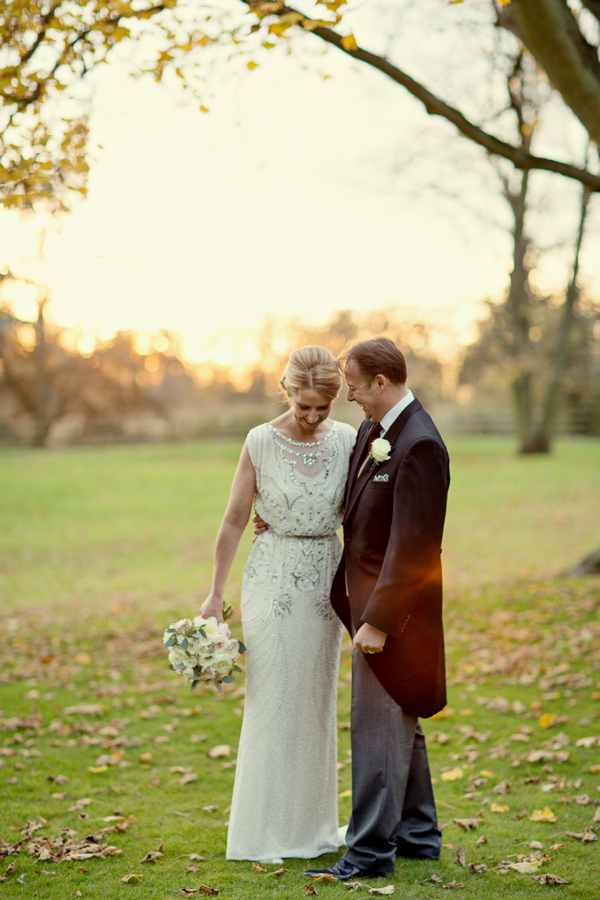 Elegance all-round.  A big thank you to Louise, Ian and their photographer Marianne Taylor for sharing these beautiful photographs.
There is simply nothing more elegant than seeing a bride in a beautiful dress that fits her well and flatters her in all the right parts – Louise, you looked glorious on your wedding day.
Readers, have you found your perfect dress yet?
Love Annabel
Photographer – Marianne Taylor
Venue – Fawsley Hall in Northamptonshire
Wedding Dress – Esma by Jenny Packham via White Mischief
Veil/Headpiece – hair pins from Fenwick on Bond Street
Brides' shoes – Emmy Shoes
Grooms suit – Hired via Moss Bros
Bridesmaids – Coast + Monsoon
Flowers – Fairynuff Flowers
Cake – Friend
Entertainment – TWUNT
Stationery – Sibling & Co
Hair Stylist – Honey Burtonshaw
Make-up Artist – Louise Shepherd
Follow Love My Dress® on Google+