I'm so delighted to be sharing this particular wedding right now.  Clare and Liam are former competition winners on Love My Dress® (they won their full wedding photography package with photographer Tracey Hosey) and it's just so lovely to be able to see this come full-circle and share their wedding day happiness with you all!  Clare, who is training to be a midwife and Liam, a physics teacher, tied the knot on 23rd August last year at The Courtyard at Harewood House in Leeds.  Their wedding was created on a low budget (which will be inspiration for many of you I know) and was full of lovely, personal DIY touches. Enjoy all!
"I was primarily inspired by sticking to a sensible budget so I knew I wanted to make use of the items at close hand rather than hiring or buying anything. Liam's parents sell antiques so I decided to use glass medicine and poison bottles and old marmalade pots etc. as vases which my father in-law found for me. I also wanted to use all of my great grannies tea sets which I have loved my whole life but which rarely experience tea time!  And I know it's a bit of a cliché but I had to have a tea party – I just had to! We decided on a woodland theme – for no other reason than we wanted to. It was so fun collecting everything and decorating the venue was my idea of heaven!"

Photography Copyright (c) 2014, Tracey Hosey Photography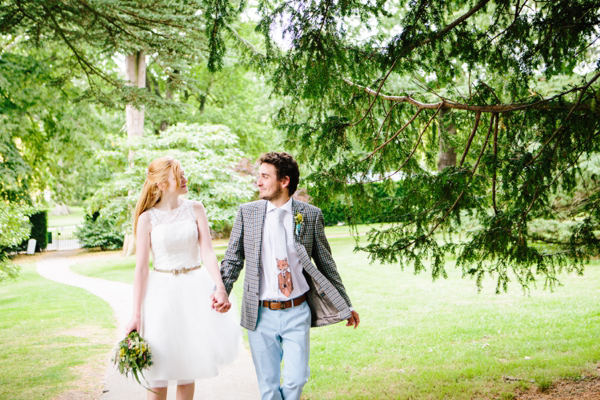 "Liam and I met in 2007, at age 18 at university. We were in the same college at university and even in the same halls and we actually lived on the same floor! In fact next door to each other, but separated by a kitchen. I'm going to say it still counts!
The first time we officially met was downstairs in 'Gallery' during an event in fresher's week (which is a club in York where we lived at the time, although I'm sure it goes by a different name these days). He had his freshers t-shirt pulled over his head – I thought he was very strange and that his Leeds accent was hilarious. He thought I sounded Liverpudlian (I'm from Durham!)."
We knew each other as friends of friends for about eighteen months before becoming a couple. We had a mutual best friend (my bridesmaid Rosie) and we just ended up spending loads of time together. I knew he was the one when I went to Milan with my friend Francesca for a few days and I cried on the train on the way to the airport because I missed him already! Luckily for Fran the train was so busy we weren't sitting together at that point!
We were engaged on my 21st birthday. Liam chose to propose in his student bedroom, a tiny, freezing cold attic room. A testament to how much he loved that place! He hid the ring in amongst my birthday gifts!"
"We originally planned to get married in York where we both went to university and where our daughter was born. As I am an indecisive person, finding the perfect location was never going to be straight forward – then again I don't think it is for any bride and groom! We finally settled on Harewood House for it's close proximity to an airport for overseas guests, the ability to have the wedding and the reception in one place, and because it was close enough to us for planning purposes.
Paying the deposit was a relief, as it meant I had to stick to the decision! We did consider going completely DIY but it was going to be too much for us in the short space of time we were planning in, and it was actually nice being able to rely on our venue as they cater for lots of weddings and know what they're doing!"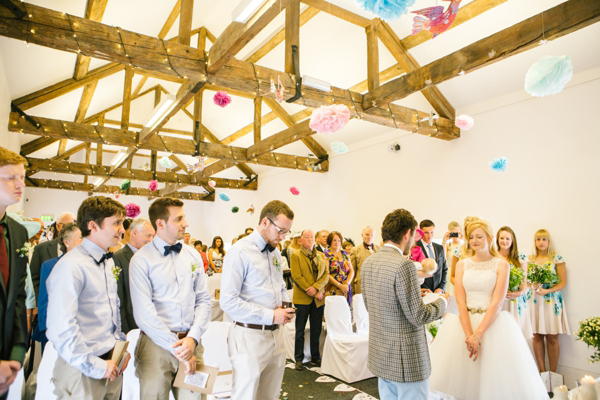 "Our florist was Sophia at Ivy Florist in Pudsey.  I wanted to use a local florist and when I met Sophia I clicked with her so it was an easy decision. Sophia had a lot of time for me during the process of planning my wedding flowers and she works very instinctually – when I saw my bouquet on my wedding day…I just thought 'wow, Sophia has read my mind!'.
Sophia created the bouquets and button holes and also supplied a huge box of daisies which I used to fill glass bottles and jars to decorate the tables for our reception. I wanted to use a lot of daisies, they are my all time favourite flower."
"My dress was the Pearly Queen from Kitty and Dulcie. This company suited my tastes and my budget perfectly! I found them via Love My Dress.  I fell head over heels for this dress and knew I wouldn't be happy in any other! To me it was bridal enough but also fun and relaxed for our informal wedding.
I created the idea for my own hair vine/piece and Lou of Loulou Puchalka made it for me. Her studio and shop are in the Corn Exchange in Leeds. She is so talented, when I picked up my hair piece I was thrilled, it was the item I enjoyed wearing most on my wedding day."

"To style and decorate the venue we used a beautiful big wooden post box belonging to my in laws for our wedding cards. I used lots of blue and green poison and medicine bottles and I also used glass bottles containing flowers or candles with place names of all our important places, local places and places familiar to/special to our guests. For example my family is from Glasgow so I used lots of Patterson's of Glasgow bottles. I also used ceramic ginger beer bottles and other old ceramic pots.Liam's parents sell antiques so we were able to collect a lot of the decorations easily. I used ceramic candle table numbers for BHLDN and I stamped lots of hearts from pretty papers for the tables.
We had twinkling fairy lights and lots of candles. We were meant to have a big projection of old wedding photos and family photos, but I forgot the memory stick on the day. That was the only disappointing thing about the day – and the only thing I would go back and change if I could. I spent days on that slide show!"
"I couldn't resist a Fiona Cairns wedding cake, as I am a big cake fan! I also love the range they make for Waitrose so I already knew their creations were delicious. As the bakery is based in Leicester my best friend Rosie collected it for me on her way up the M1. I opted for a vanilla sponge cake with sugar flowers and matching cupcakes. Half the cupcakes were plain, and I decorated those with sweet little cotton swan decorations from BHLDN. It was surprisingly well priced and it was a very delicate and beautiful cake. They were arranged on cake stands belonging to my great grannies. I also spray painted little gold horses as little whimsical decorations.
We also had a delicious macaroon tower from Miss Macaroon as a gift from my Aunt. Macaroons are Liam's favourite! The company are able to pantone colour match the macaroons, which was a fun process – and they tasted exquisite. Miss Macaroon is actually a social enterprise based in Birmingham which provides training programmes and jobs for young care leavers and young ex-offenders."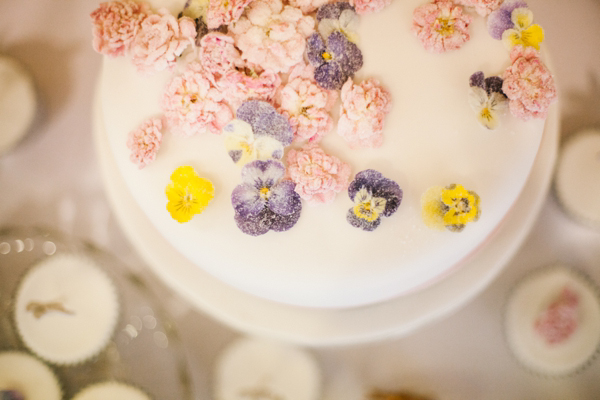 "I picked the bridesmaids dresses on a whim – of course – and they were from Coast. I think they are a classic style but I just loved the bright colours. It was 20% off for students when I went to look at them for a second time, so that sealed the deal. The girls chose their own shoes, all from Dorothy Perkins."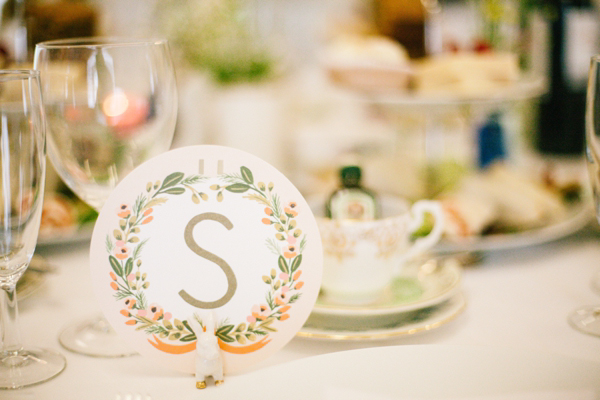 "We were so lucky to win our photographer through a competition on Love My Dress. As we planned our wedding in seven months and with a small budget I had settled on going without a professional photographer, which was a point of tension between Liam and me and was a huge compromise for me in particular. As I was checking out Love My Dress almost every day at this point I came across a competition to win a Tracey Hosey Photography package for your wedding day. I decided to enter and was so lucky to win."
"Tracey and her assistant Marta were fabulous on our wedding day, and looking back I would definitely put a wedding photographer top of my wedding wish list were I planning now. Having Tracey there was so fun and somehow just made the day even more special. Not to mention that we will cherish the photographs for the rest of our lives.
I would recommend that brides and grooms to be don't overlook this element of wedding planning if it is something that means a lot to you, like it did to me."
I kept my jewellery simple, as I knew I was likely to have one of my babies grabbing at whatever I wore at some point.  In the end I made a last minute decision, and wore earrings of my Nan's that I borrowed a while ago, and my silver Links charm bracelet. I also wore a little gold bow waist belt which I've had for years.  I believe it actually belongs to my sister Jenny!"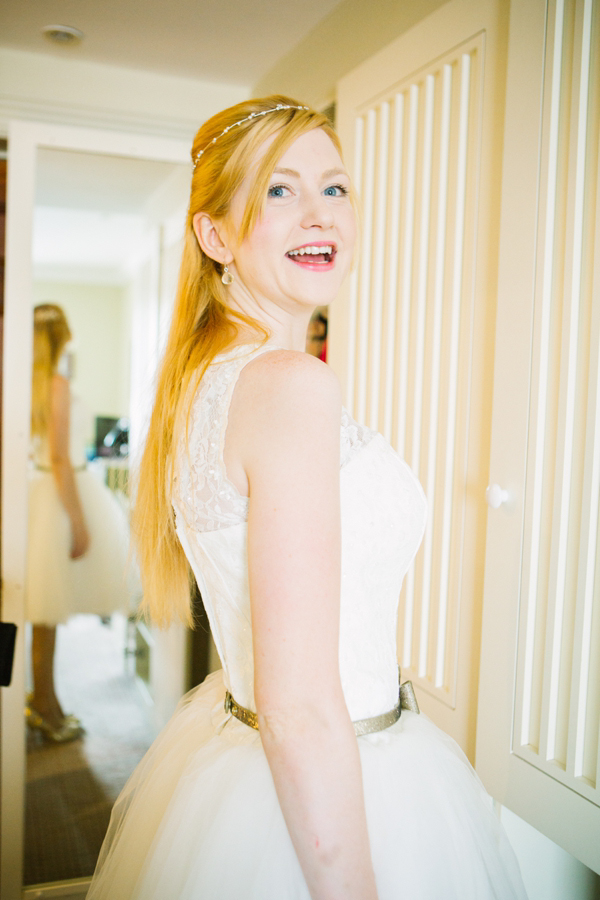 "My aunt booked my hair appointment for me at Rudding Park Spa, which is at the hotel we stayed in the night before the wedding. I planned to do my own hair but I enjoyed the experience. I did my own make up and didn't wear much, looking back I would definitely have my makeup done by a professional as I was so busy and nervous that I didn't do the best job to be honest!"
"My flower girls, Immy and Bella wore pretty dresses and shoes from Debenhams, which I picked with the help of my new mother in law and Liam's Grandma.  My eleven month old son wore a very sweet outfit from Mamas and Papas. It had an adorable little tweed jacket with elbow patches, a white shirt and a little linen tie which fastened with Velcro. Very practical for a little one."
"Liam wore a tweed suit jacket and pale blue trousers. He wasn't too bothered about wearing a matching suit as he wears them for work. His outfit was bought from Hackett at the York designer outlet. I believe his outfit cost more than mine in the end!I found Liam his foxy tie in the Corn Exchange in Leeds, it is by Scatter Brain Tees. It was the perfect choice (if I do say so myself!).
The three groomsmen shared the title of best man and they were absolutely wonderful, giving speeches, directing everyone and supporting Liam throughout. They wore blue shirts and beige trousers from Marks and Spencer and blue bowties from Topman."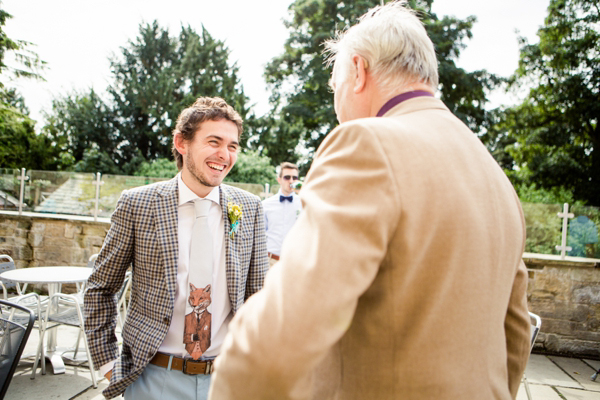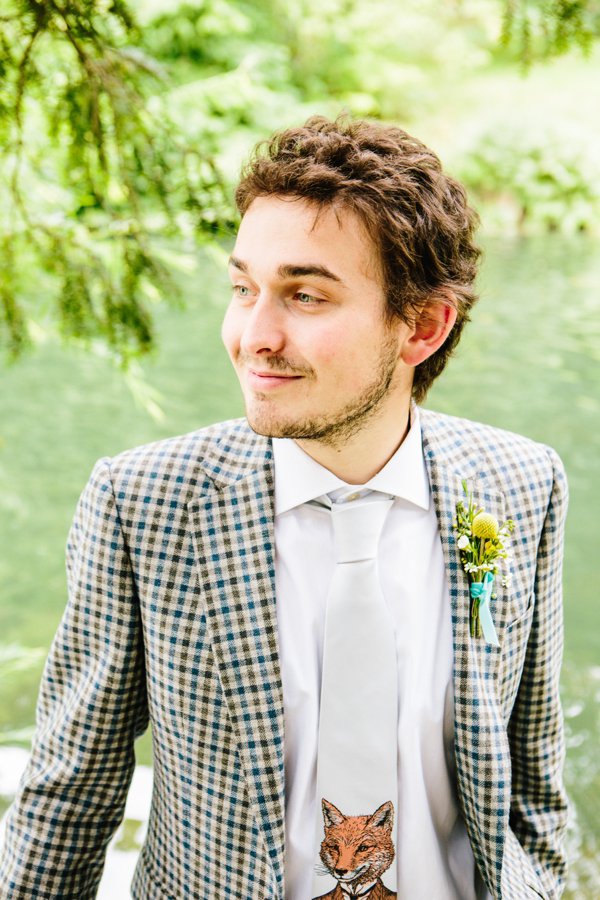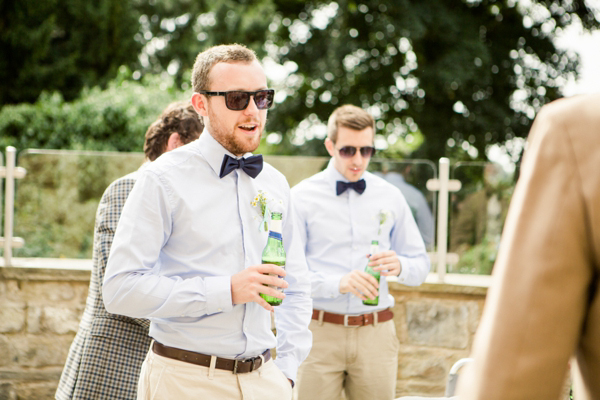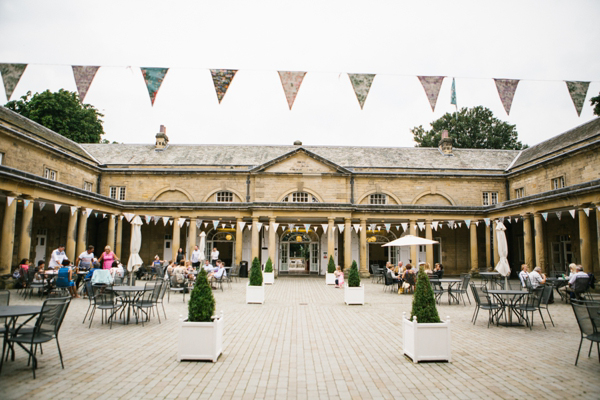 "A family friend, Angela, who is an illustrator, created wedding booklets for each guest, name cards and a seating plan for us, to a woodland theme with owls, toadstools, foxes and rabbits, alongside tiny daisies to match our flowers. Her illustrations are incredible. She is so talented and it was amazing of her to spend so much time creating something so beautiful for our wedding day. She even attached rose petal confetti with tiny poetry hearts in glassine envelopes to the back of each booklet for guests to toss.  Angela works on commission and can be contacted on [email protected]."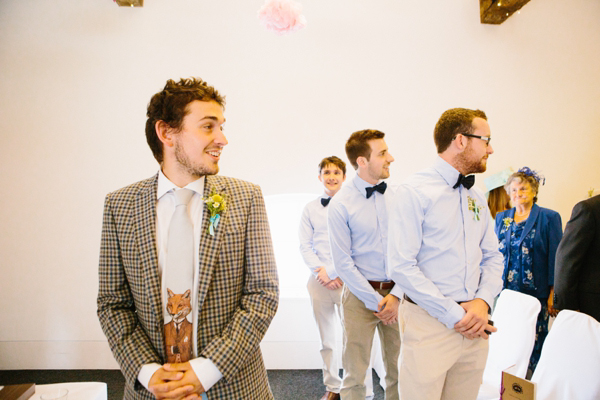 "I walked down the aisle with my lovely dad. He lives in France and has been ill over the past few years, so it was even more special than it would have been under normal circumstances. We walked down the aisle to Gilbert O'Sullivan's 'Matrimony'. It was a favourite in my home when I was growing up and will always remind me of my childhood. The song itself is a comedy about a civil wedding, and I hoped it would sort of ease any tension about the fact we weren't having a religious ceremony."
"Liam and I agreed to write personalised vows to each other, which for me was the nicest part of having a civil wedding ceremony. Liam is very creative, and I knew his vows would be funny, so I took my lead from this and went with a comedy theme also. I loved this element of our wedding day and so many people said they really loved this too."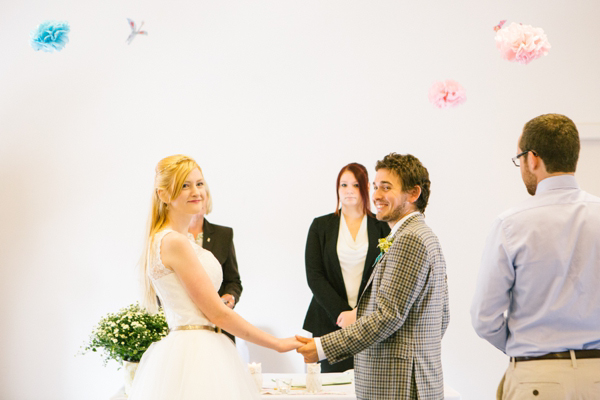 "Our friends Hannah and Sam read an extract from 'Still Life With Woodpecker' by Tom Robbins.
They are a married couple who really believe in love and marriage so they were a perfect choice for the reading. They were both involved in performing arts when we were at university, Sam as an actor and Hannah as a dancer, and Sam in particular is pretty theatrical so I knew they'd do us proud."
'When two people meet and fall in love, there's a sudden rush of magic. Magic is just naturally present then. We tend to feed on that gratuitous magic without striving to make any more. One day we wake up and find that the magic is gone. We hustle to get it back, but by then it's usually too late, we've used it up. What we have to do is work like hell at making additional magic right from the start.
It's hard work, but if we can remember to do it, we greatly improve our chances of making love stay.'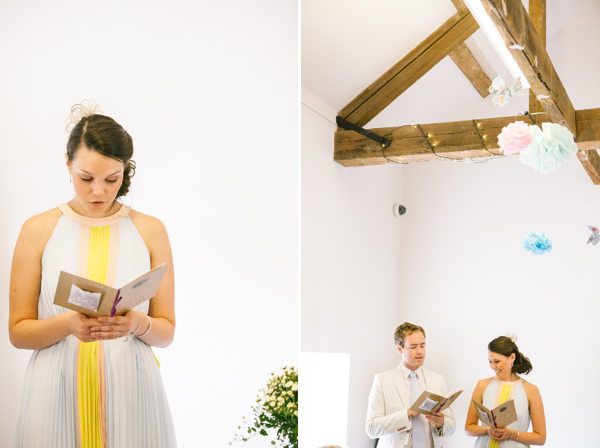 'Who knows how to make love stay?
1. Tell love you want a memento of it and obtain a lock of its hair. Burn the hair in a pound store incense burner with yin/yang symbols on three sides. Face southwest. Talk fast over the burning hair in a convincingly exotic language. Remove the ashes of the burnt hair and use them to paint a mustache on your face. Find love. Tell it you are someone new. It will stay.
2. Wake love up in the middle of the night. Tell it the world is on fire. Dash to the bedroom window and pee out of it. Casually return to bed and assure love that everything is going to be all right. Fall asleep. Love will be there in the morning'."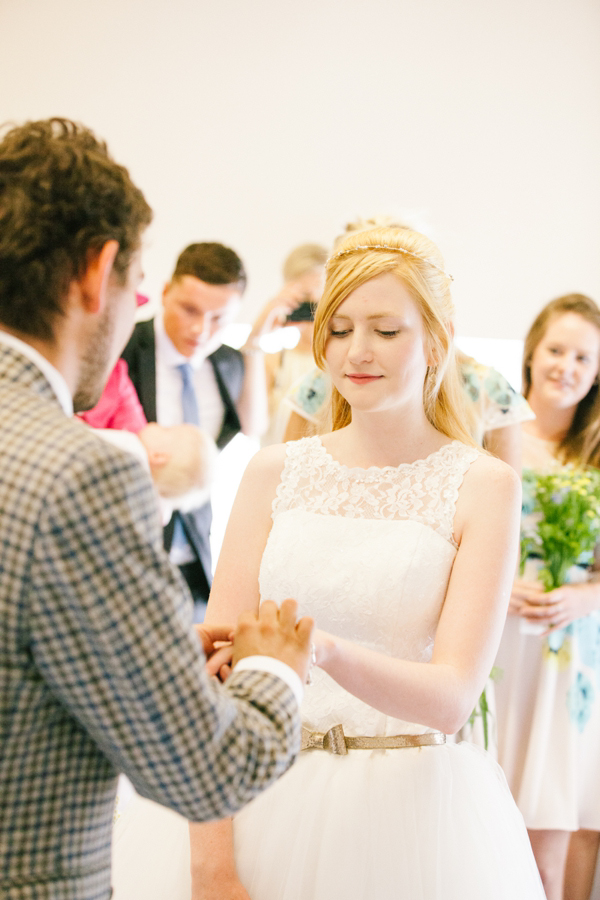 "My wedding ring is an antique sapphire bought at Elsecar Heritage Centre, which is in Barnsley. Our son was born there and Liam's dad is from Barnsley so I was really pleased Liam chose to buy my ring there as I love sentimental things like this.Liam has a simple cobalt band, he is a physics teacher so he has to wear something hard wearing as he's always coming home having burnt his tie or some such accident so his ring is bound to be in danger at some point! At first he wasn't sure about wearing a wedding ring but he's come to love wearing it – and it would be strange seeing him without it now."
"For favours, the men had tiny felt foxes, purchased at the Harewood House gift shop! The girls had little ceramic rabbit magnets with gold paws holding a monogram with the initial of their first name. The rabbits were from BHLDN and the monograms from the Rifle Paper Co. (monograms purchased at the Salts Mill Bookshop, Saltaire). We also had lots of sweeties in jars for everyone to help themselves, and mini bottles of Babycham and jagermeister at each place setting, which was Liam's preference.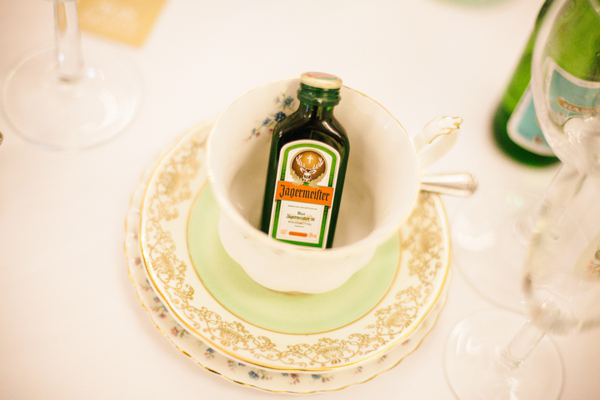 "There were eight child guests so I made personalised party bags for each child. I spent a lot of time making and adding to the little bags – it was really fun!"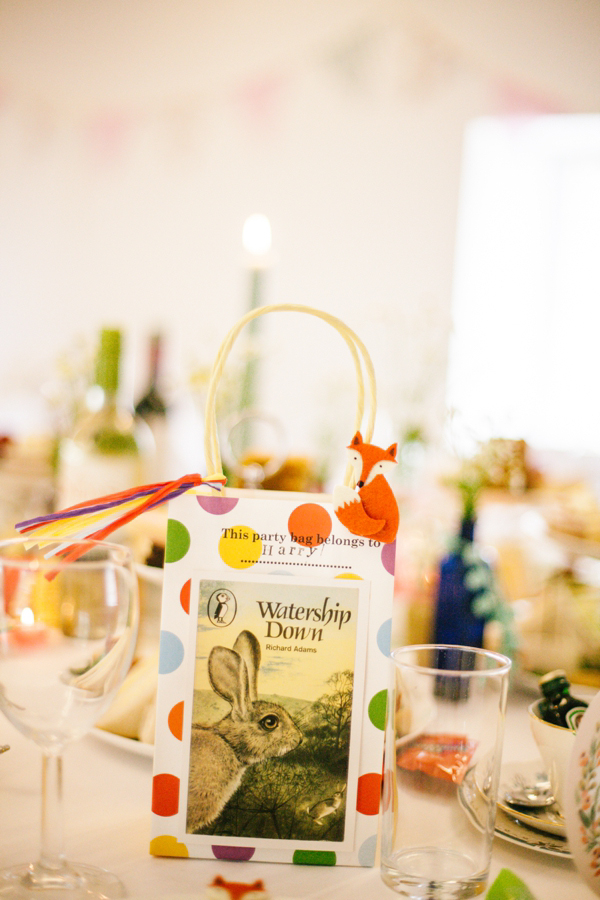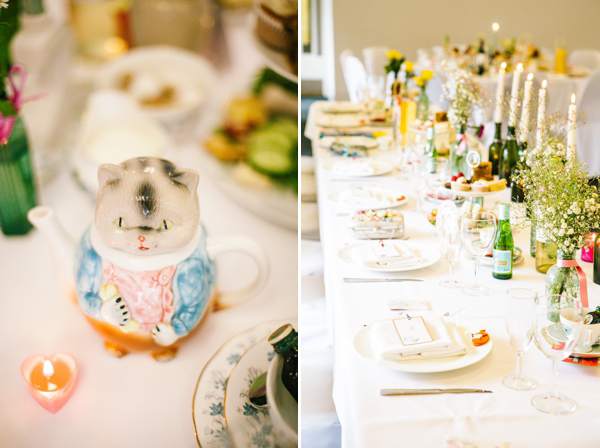 "We used the in house catering team at Harewood House, Boutique Catering, who cater for a number of venues around Leeds. Natalie, from Boutique Catering, had so much time for me running up to the wedding and met up with me lots of times to arrange everything. She and her team are excellent at what they do."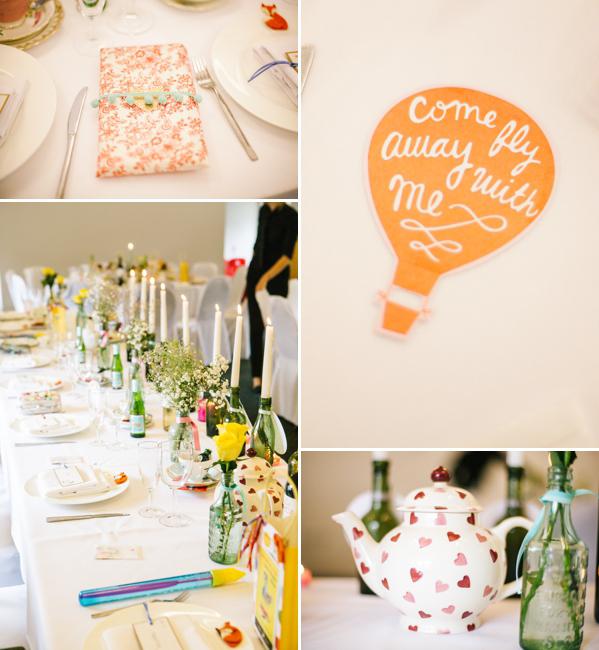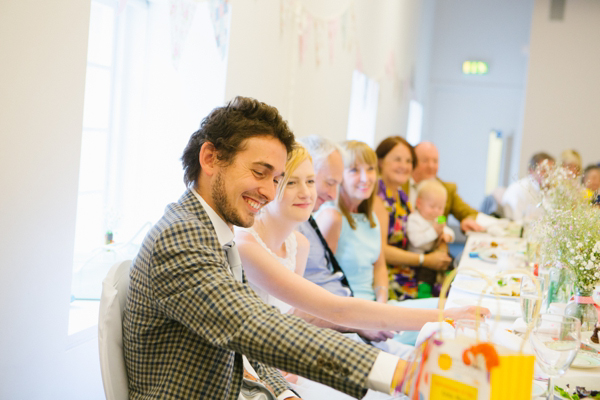 "There aren't any photographs, but we had tea towels as wedding invitations from The Original Wedding Tea Towel. It's just an amazing keepsake and again, I couldn't resist them! I chose one of their classic designs, the Up and Away, and they were good enough to add our two babies on to the design and alter the design to my specific requirements. We chose to have them printed in bright pink. Karen from wedding tea towels was very accommodating, I would recommend this company if you are looking for fabulously memorable wedding invitations."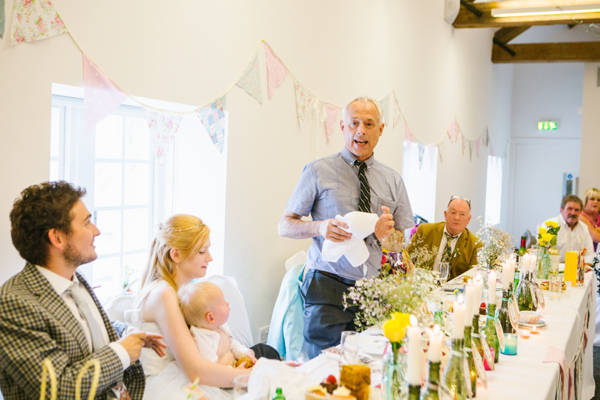 Words of Wedded Wisdom…
"I'm not ashamed to say I LOVED planning our wedding and I'd do it again in a heartbeat (with the same groom of course!). The creative side was just my cup of tea, allowing for a justified DIY frenzy. I felt it was a way to relax and I loved spending time with my husband focusing on something about us – a very welcome change from our hectic day to day life!"
"I would definitely have hired a musical performer or a band of some sort – it was something which was overlooked but I do feel it would have been a lovely addition to the day. And I would have given myself more time for decorating the venue too – it was so rushed in the end but with everyone helping it was fun.
I actually miss planning our wedding now it's all over so I would say to your readers – enjoy your planning and the run up to your wedding. For me it's a time full of anticipation, it's so exciting – and it's all worth it as it's in preparation for the day you will affirm and celebrate your relationship with your favourite person in the world."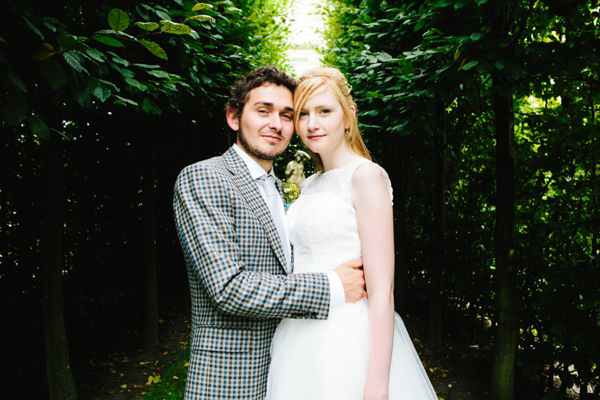 How super lovely this is, huge congratulations to you Clare and Liam, I am completely delighted for you that you got to win the services of the lovely Tracey Hosey to photograph your wedding, what a charming day it was too – I hope that your first year of marriage has been a wonderful one so far.
I would also like to thank Tracey Hosey for working with Love My Dress in providing this wonderful opportunity for one of our readers – thanks from our heart Tracey! We hope that other readers see how lovely these photographs are and book you to shoot their wedding too.
Ladies, if you are on a tight budget for your wedding, you can see more nuptials like Claire and Liams via our budget wedding and DIY weddings pages.
Love Annabel

Photographer – Tracey Hosey Photography
Venue – The Courtyard at Harewood House in Leeds
Wedding Dress – Pearly Queen by Kitty and Dulcie
Veil/Headpiece – Loulou Puchalka
Brides' shoes – Schuh
Bride's accessories – Links of London
Groom's Attire – Hackett + fox tie by Scatter Brain Tees
Bridesmaids – Coast + shoes from Dorothy Perkins
Flowergirls – Debenhams
Page Boys – Mamas and Papas
Flowers – Ivy Florist
Cake – Fiona Cairns wedding cake, topper by BHLDN + Miss Macaroon
Favours – BHLDN + Rifle Paper Co. + Salts Mill Bookshop
Rings – Antique via Elsecar Heritage Centre
Catering – Boutique Catering
Stationery – Angela (illustrator) via email [email protected]
Hair Stylist – Rudding Park Spa
Original wedding invitations – The Original Wedding Tea Towel
Follow Love My Dress® on Google+