Good morning everyone, I hope that you have a good day ahead of you – here's something to help you on your way, a very pretty village hall wedding full of lovely homemade, DIY touches, beautiful blooms in soft pastel pink and romantic style wedding inspiration.  Nicole, a freelance make-up artist working in TV and film married her beau Kris, an oil and gas recruitment manager on 23rd August last year at Three Sisters Bake in Quarriers Village, outside Bridge of Weir, Scotland.
"We had always said that if we were to get married that we would want it to be as relaxed as possible – just like a party filled with love and laughter. I'm very indecisive, so the thought of planning the wedding was quite daunting. I started to buy a load of wedding magazines but I still wasn't getting too excited.  I knew what I didn't like, but I then also liked so many different styles that I was just getting frustrated with the experience – all the images I would look at were just so beautiful and I thought there was no way our wedding could actually look like one of those in the magazines. 
I was inspired by anything romantic and soft really, and crafty too – I really wanted to make a lot towards our wedding day."
Photography Copyright (c) 2013, Craig & Eva Sanders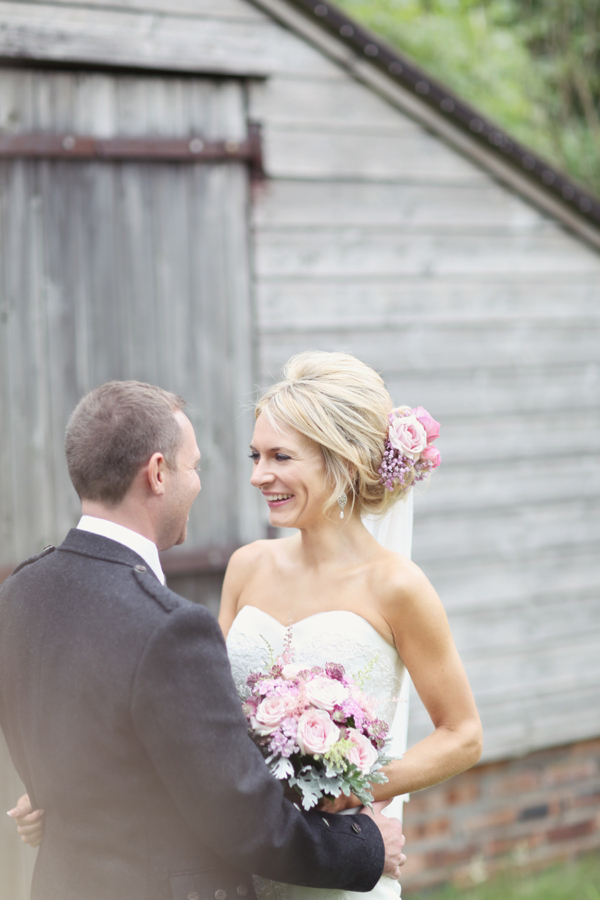 "Kris and I met on a night out in Glasgow in May 2007, whilst watching a mutual friend's band play. And Although I kept telling everyone that I really wasn't looking for a boyfriend, I knew deep down that I  had found someone really special. We went on holiday to Ibiza in 2011 and just fell in love with the beautiful Balearic Island. We then decided to go back the following summer of 2012 and it was during this trip that Kris proposed on our 2nd night at the top of the Dalt Villa in old Ibiza Town. It was a real surprise and through lots of happy tears, I said yes!
Two months after getting engaged, we went along to a vintage inspired wedding fair run by the Glasgow Wedding Collective  – it was just for something to do really. We hadn't even thought about when we wanted to get married yet. We ended up loving everything at the show and we were starting to get really excited about all the different things we could do."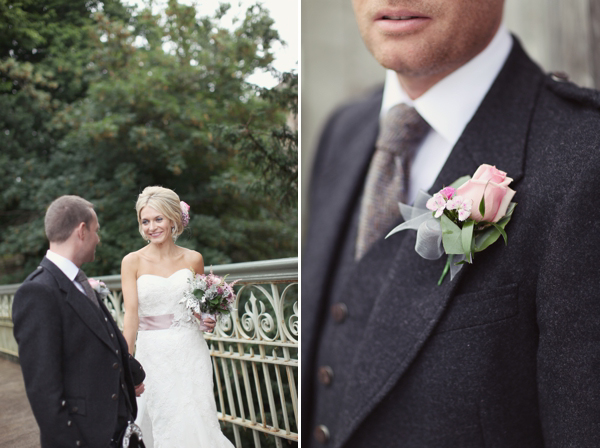 "Three Sisters Bake had a stall with all their gorgeous wedding cakes displayed. We picked up a leaflet and found out more about the girls (3 real sisters) and the boutique cafe they run. It also said that they could host wedding receptions in the old village hall above the cafe. Instantly I started getting that excited butterflies feeling in my tummy! We always knew that a church wedding wasn't for us, but also didn't want a hotel wedding either, so we decided to take a drive out the following weekend and go and see the hall.
Immediately we knew it would be perfect for the type of wedding we wanted, it just felt like 'us'. A month or so later, we decided to book it and get married on the same date we got engaged the previous year. That would leave us 8 months to plan the wedding!"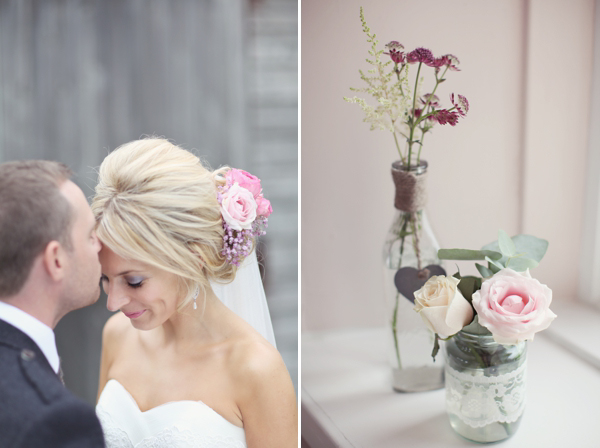 "Neither one of our families are really religious so the perfect choice for us was to have a Humanist ceremony. I've got to stress to anyone having this type of ceremony, you need to really research the celebrants and meet up with them before going ahead with the one you want. We had a very special connection with our Humanist celebrant Victoria Dixon. Instantly we knew she was the perfect person to marry us!   She made us feel so relaxed during the run up to the wedding. Nothing was too much bother for her. She also gave us tips and ideas about writing our own vows. We worked really closely with Victoria to make our ceremony just perfect and very personal to us, involving little anecdotal stories with our friends.  
Victoria made the whole ceremony feel so 'comfy'. We felt like a friend was marrying us – and the best part was, she then came back later on at night to properly party with us."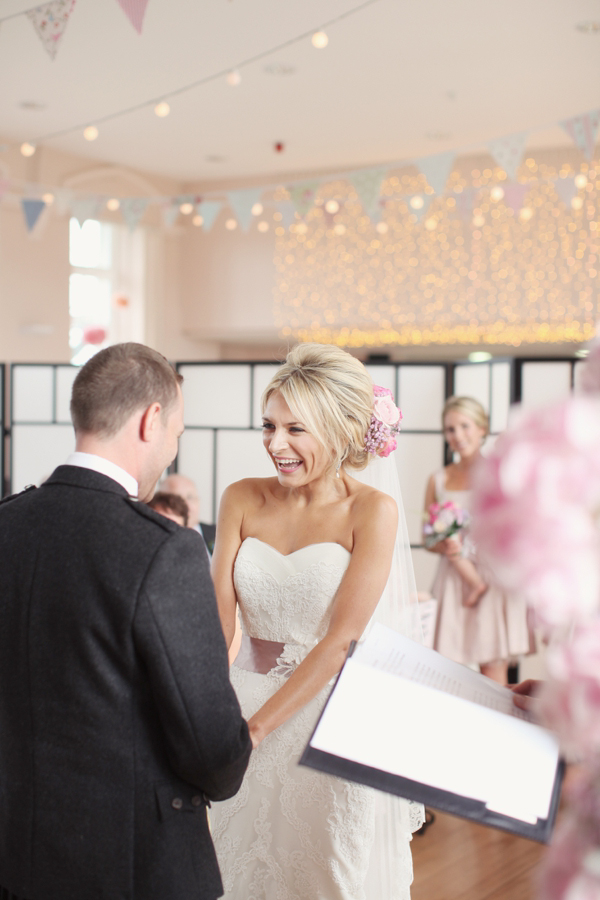 "We wanted to write our own vows but we were pretty scared and nervous about doing so. We knew what we wanted to say to one another but weren't sure how to put it all into words. Again Victoria our Humanist helped us. A great thing she got us to do was to think of three things we love the most about each other, and send it independently to her so that when she was reading them out during the ceremony, it would be a surprise to each other. The funny thing is we practically wrote the very same things about each other! Hopefully that's a good sign 🙂
We had two readings at the wedding, one by my Sister and one by a very close actress friend of ours.  Our friend read 'A Vow' by Wendy Cope and my sister read  'Carrie's Poem' from Sex and The City – it was actually Kris that found this poem whilst looking for ideas online, and he is NOT a fan of the show! But the words were perfect – simple, meaningful and romantic."
"The designer of  my dress was La Sposa and I bought it from the Bridal boutique, Diane Honeyman in Ayr. I also bought the ribbon sash from here, but it was from a different designer.  I only went to four different bridal shops in my hunt for the right dress. Although I was thinking very dreamy and romantically about the whole wedding, I was quite realistic about finding 'the dress'. I didn't really believe that there was only one perfect dress for me out there. As I change my mind a lot, I was scared of choosing a dress and still loving it six months later. I took only my mum with me whilst looking, much to the annoyance of my bridesmaids – I just didn't want to be swayed by any of their opinions and could trust my mum's judgement.
The first shop we went to, we had a great experience. There were tears immediately from mum, and I was so excited to be trying on all these gorgeous gowns. I knew that I wanted a lace dress and also something not too dramatic as I didn't feel this would suit the venue and the style of wedding we were planning. I think it was the 4th dress I tried on that I loved! It was lace, fishtail and had a belt around the waist. I loved how it showed off my figure and accentuated my waist, which for me was a surprise as I would never wear tight fitting dresses on other occasions.
I felt so happy and girly walking and twirling about the shop and really didn't want to take it off. However, as this was the first shop we went to, I didn't want to commit to this dress without looking a bit more."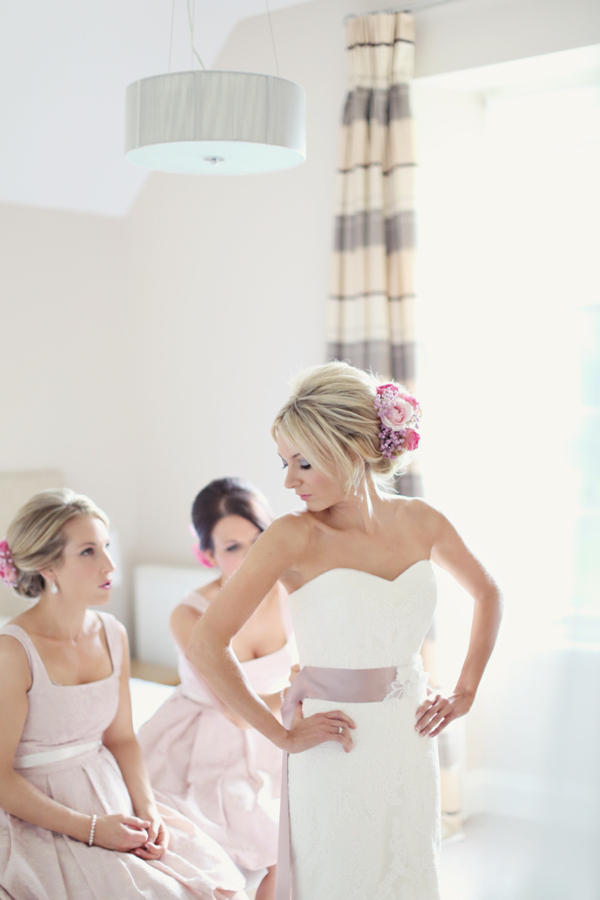 "The next two shop visits were unsuccessful – I tried on other styles just to make sure that the fishtail/mermaid style was what I did really want – and I was beginning to question if my first choice dress so far might be a bit too grand for our venue. 
The 4th shop we went to was where quite a lot of my friends had bought their dresses. Luckily it was a quiet Wednesday afternoon that I had made my appointment, so there was no pressure from the staff about how long I was taking.  Again I mostly looked at lace fishtail dresses to try on with the odd 'princess' style one added just to mix things up! I think it was maybe the 5th dress that I tried on, that I had that fluttering tummy moment.
It felt lightweight and floaty and not like a 'costume'. Definitely something I could dance in which was a very important factor for me. We added a ribbon sash around my waist which just had a little bit of lace and satin applique on it, I didn't want anything glitzy or sparkly. I couldn't stop smiling! Then mum came in and this time we were both crying."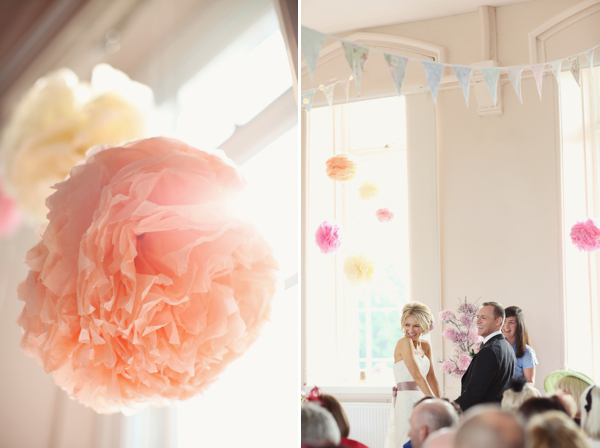 "This was the dress!! Ive got to be honest, I think because the shop assistant Liz was so attentive and friendly and just lovely, this played an important role in me choosing this particular dress from that particular shop. I was excited all the way home but even a tiny bit of me kept wondering if I had done the right thing! That's just me though – a nightmare!
When I look back at all the photos from the day, there is no way I could have worn a different dress – it was just perfect."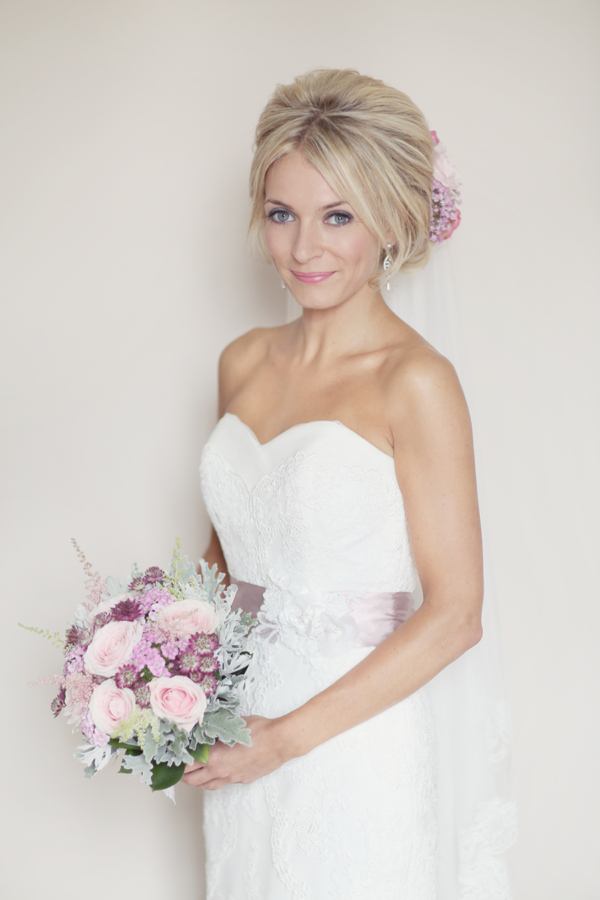 "Decorating the venue was my favourite part of the pre-wedding planning. The hall already had lots of fairy lights and bunting hanging from the ceiling so we decided to use that to inspire the rest of the décor. My mum very cleverly made lots of tissue paper pom poms in different colours and sizes which we hung in the window frames.
My sister, who lives in Canada, made some hessian bunting too which she brought with her and was still finishing the night before the wedding."
"Our day invites were from Paperchase and had a rustic feel about them. I then added a some string and a luggage tag to them to personalise them a bit more. Our evening invites were from Lucy Ledger and I designed the table plan myself by sourcing a large white decorative picture frame and lining it with floral wrapping paper and edging it with some lace."

"Our favourite décor of the entire day has to be the large light up letters that an old school friend made for us. I had seen this style of retro lighting in a magazine and I then researched where I could find them but found it extremely hard to find anywhere in Scotland that I could get some. I was telling a friend about this and he offered to try and make some for me – he made a huge K and N which we placed  on the stage in the hall. They looked better than the ones I had seen online.  The minute we switched them on, we both just wanted to cry. The hall was starting to look like the ones I'd been in awe of and I really couldnt believe how everything was coming together to just look so beautiful.
Being able to spend the night before the wedding in the hall decorating it together along with my bridesmaids and sister was really special and just added to the excitement."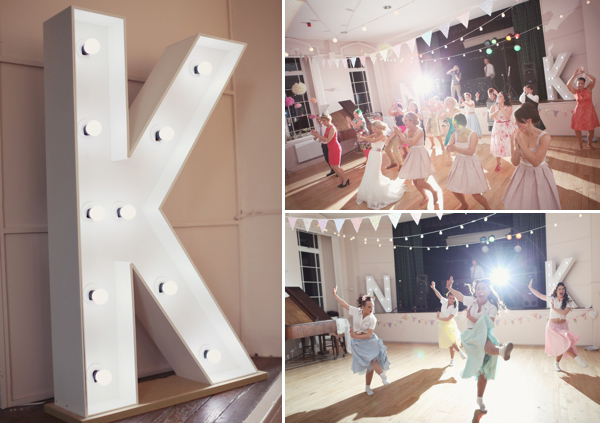 "I don't know anything about flowers really but again from looking on Pinterest and on blogs like Love My Dress, I was able to work out what I did and didn't like. Our florists Endrick Blooms were so helpful and friendly and really helped me with deciding on what to choose. I love peonies and really wanted them however, late August is not the season for them. April and Heather really worked hard to come up with so many other ideas and options for me. 
I found myself really getting involved when I had previously thought that flowers weren't too important to me. How wrong was I?"
"Again, I had to really just trust the girls and believe that they were understanding the look I was wanting. I wanted lots of soft colours and some wild flowers too but nothing too bohemian, flowers that would work well with my dress and bridesmaid dresses too. I had been collecting lots of jam jars with the help of friends, to use on the tables and also on the window sills of the hall that I decorated with various ribbons, lace and tags .
I envisioned the hall to be full of flowers and candles and twinkly lights. I can now say that the florists helped to make my dream image into a reality. They worked so hard and the flowers all took my breath away. I gave away all the filled jars of flowers to guests at the end of the night."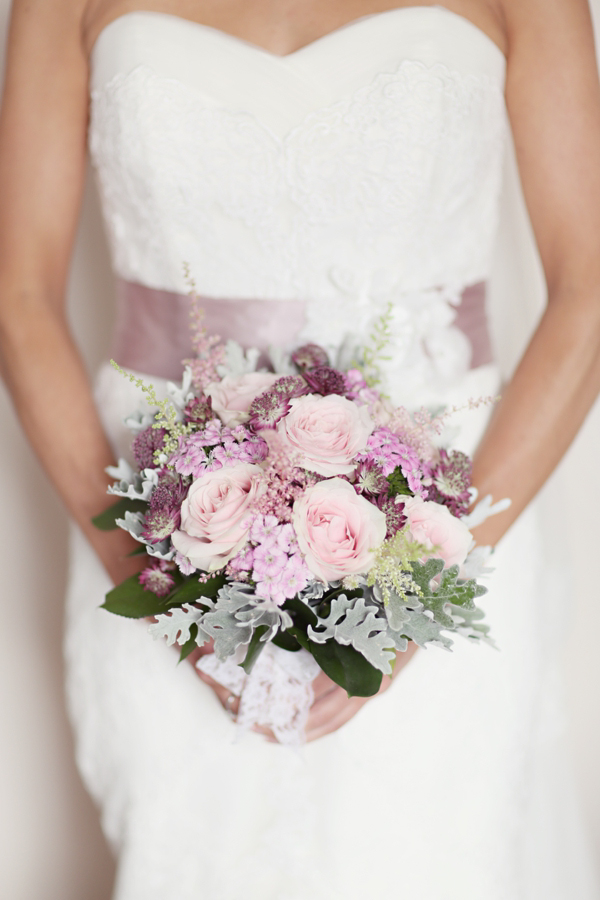 "I did buy a vintage inspired jewelled head band but wasnt totally in love with it as I didn't really want much sparkle. So on the day, my fabulous hairdresser asked our florists for some spare flowers that they had brought to decorate the hall and she then added them to my hair.  This was more me and I'm now so happy that I went with the fresh flowers."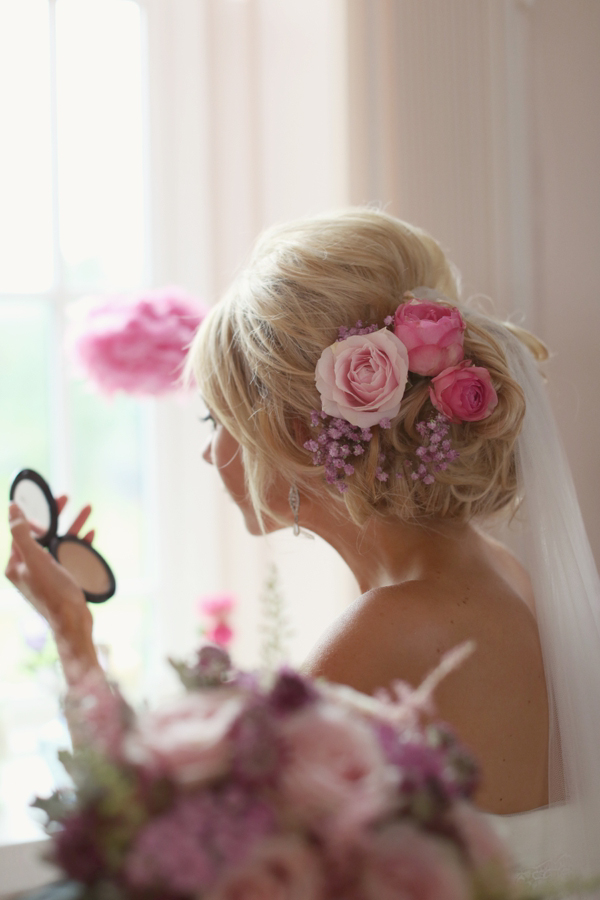 "During an unplanned trip into town, I had discovered these gorgeous pale pink dresses in River Island. There was just something about them that I loved – they were fun, girly and not fussy at all. I then sent a picture message of it to all three of my bridesmaids and we organised a day for them to then try it on.  They thankfully loved it as much as I did so without even doing any other 'bridesmaid dress shopping', so I bought them there and then.  I even bought one for me!  I then got a dressmaker friend to add some more netting to the skirts and I added an ivory ribbon sash to the waists.
I showed my florist the bridesmaids dresses and asked her to pick out some fresh flowers that would look good in the girls hair, again just sticking with the romantic, fresh, girly theme."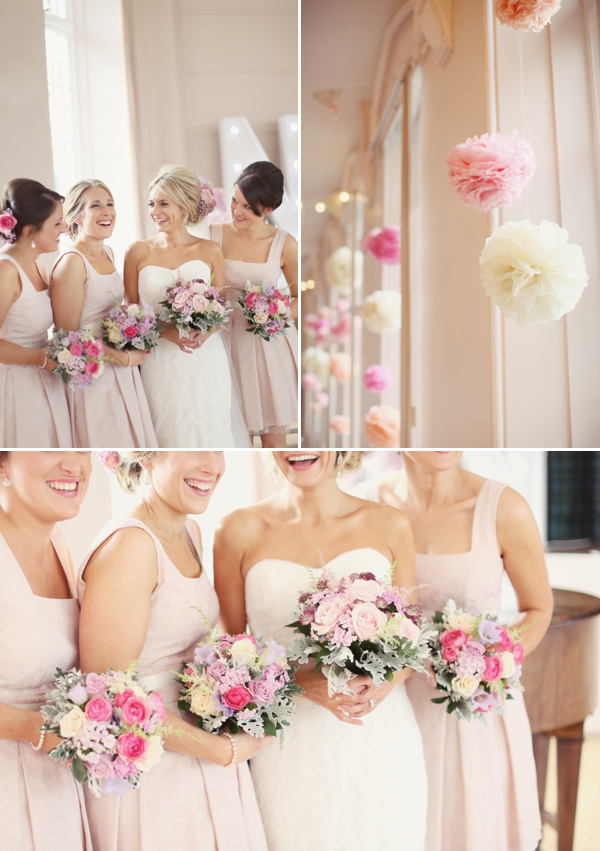 "The one thing that we agreed that price didn't matter with was booking the right photographers. It was more important to me than Kris really for us to have the most beautiful photos of our wedding day. Its the one thing that you get to look back at forever and relive all the wonderful memories. We were so lucky to find that our favourite photographers were free on our date as it was only around six months before the wedding that we booked them, their diary for the year was practically full. 
We feel so privileged that husband and wife, Craig and Eva Sanders photographed our wedding. They captured every moment perfectly, though more importantly, it felt like they were two of our friends.  They have a special talent in making you feel so relaxed and comfortable."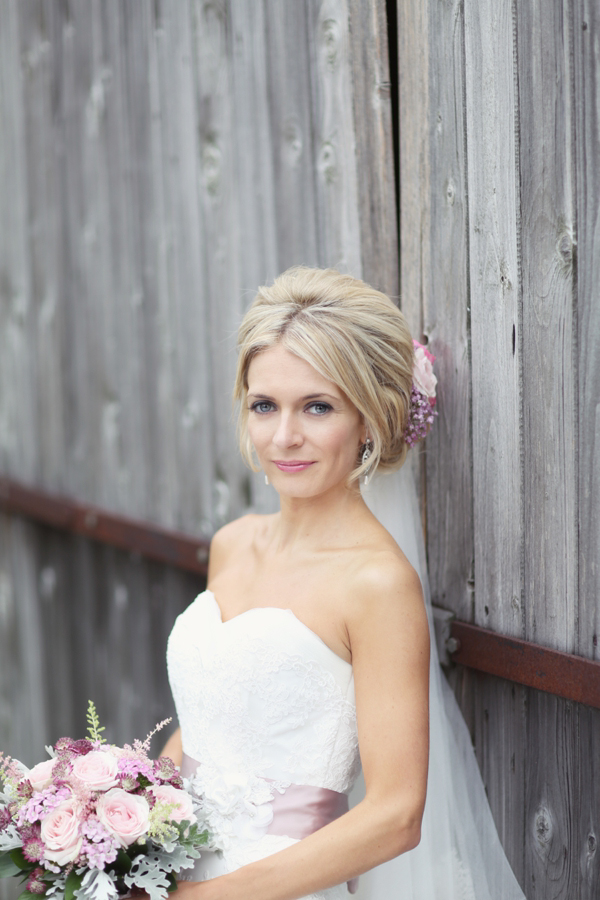 "From the beginning, we knew we didn't want to have lots of formal photos – we wanted photos that would tell the story of our day and that's exactly what we got. Whilst everyone was eating their dessert and having coffee etc, Craig and Eva whisked us away to get some lovely pictures outside in the evening sun. This was such a good decision. It meant that it gave Kris and I some time to just savour the day  and it was a great laugh too, think the champagne had definitely kicked in by then. We have photos of our evening guests arriving and first seeing us in our finery, me holding my dress up to my knees and running across the gardens to get a final picture in the sun before it disappeared – we just had so much fun with them.
We cannot recommend Craig and Eva enough – we love every single image they took, and I know we'll still be shedding happy tears when we look at our wedding photographs in years to come."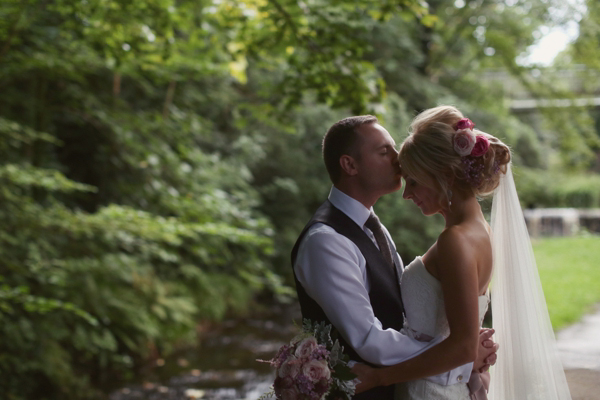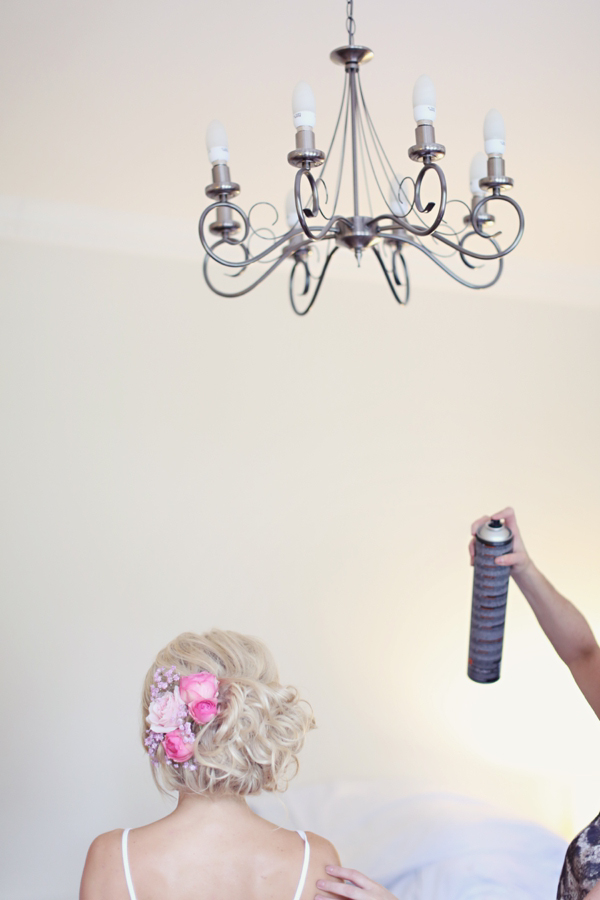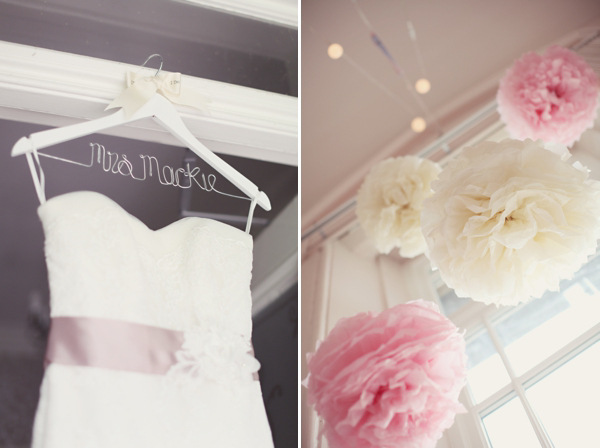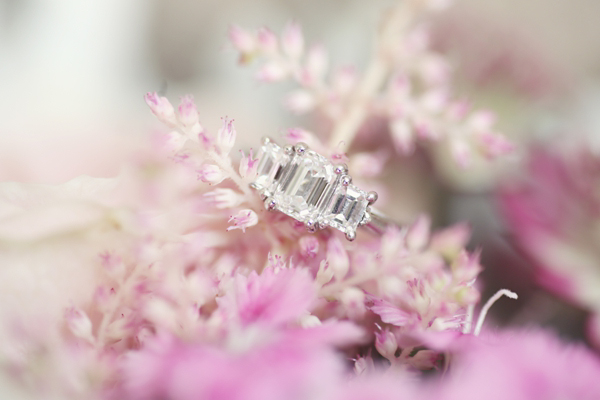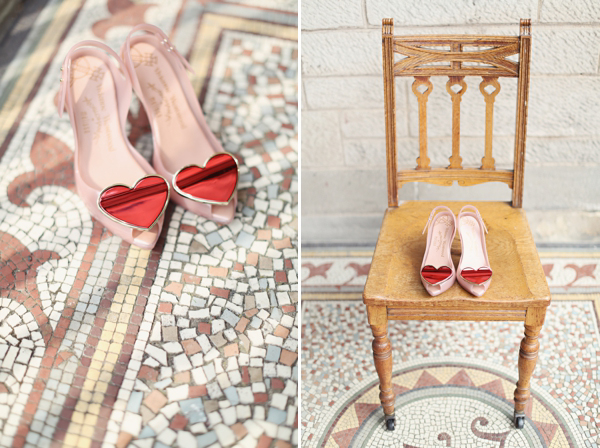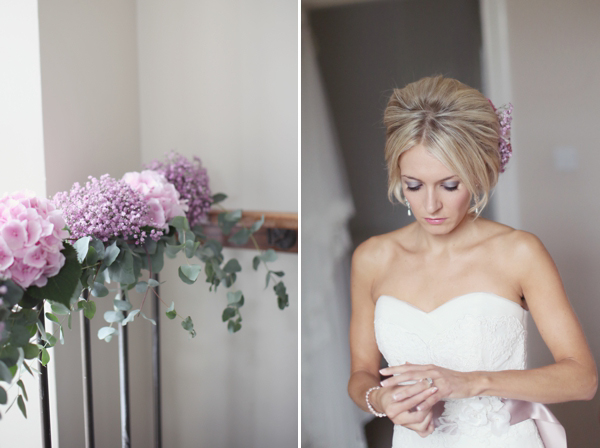 "I decided to do my own make-up but I got two of my make-up artist friends to come and do my mum, my sister and my bridesmaids make-up. I booked hairstylist Anne Marie McElroy – again through the Glasgow Wedding.  Now,my hair was the only thing that I was actually worried about, I'm such a perfectionist because of my job and I know what I like for myself and what suits me – but I really didn't want the stress of having to do it myself on the day.  I had a hair trial a month or so before the wedding but then totally changed my mind in what I wanted but didn't have another trial. I had to just trust that she knew what I was after.
I have to say that Anne Marie is so amazing and talented. She was great to have around on the morning of the wedding and she's just so friendly and warm. We had so much fun getting ready, there was no stress or panic. Just lots of girly banter. I couldnt see what she was doing with my hair but I felt completely calm and excited as I totally trusted her. When she did show me my hair, I actually started to cry. It was perfect. My bridesmaids and even Anne Marie were crying too. It was a very special moment.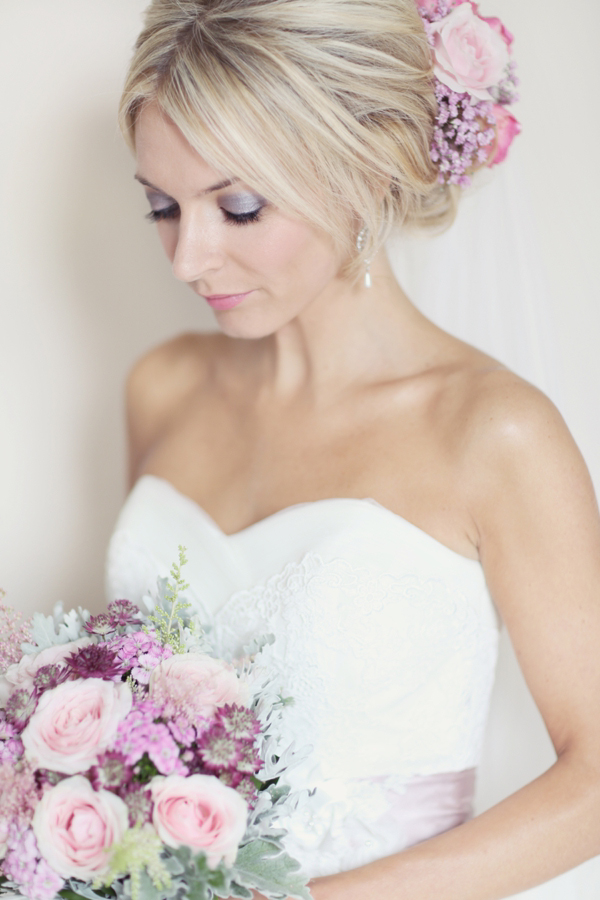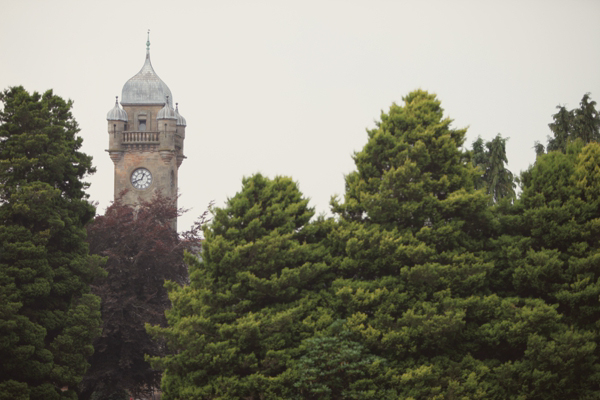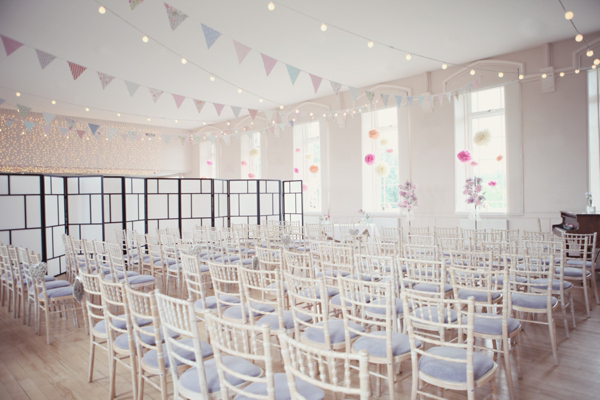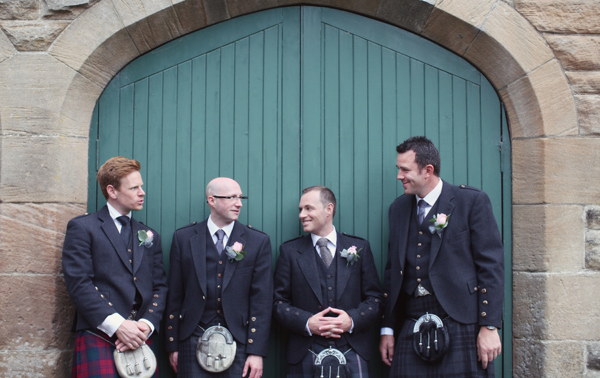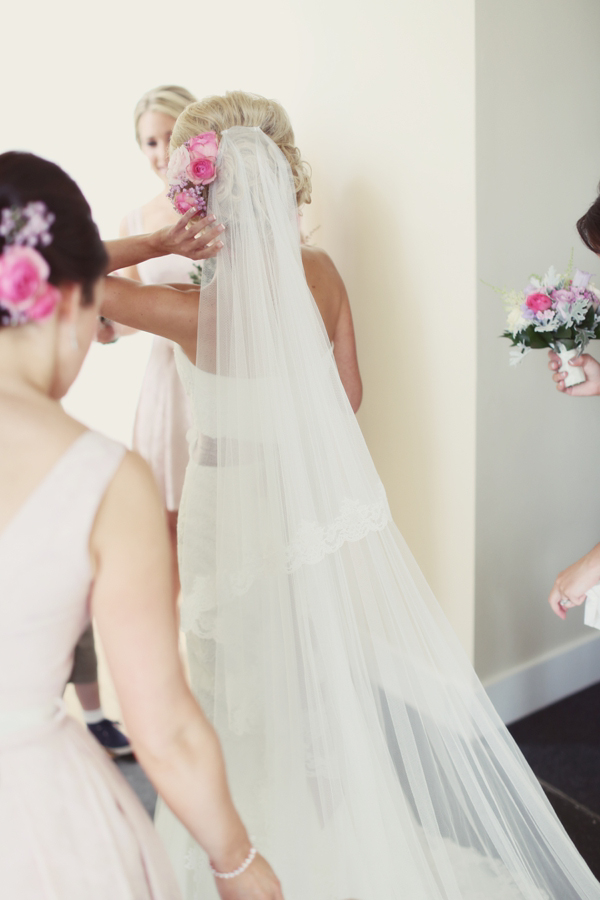 "My Dad walked me down the aisle.  Being a 'proud' Take That fan,  I really wanted to walk down the aisle to 'A Million Love Songs' – my favourite tune and luckily, Kris didn't object. Our fantastic pianist, Alex, played it perfectly although I've since been told that he had to play it quite a few times as I was obviously not on time."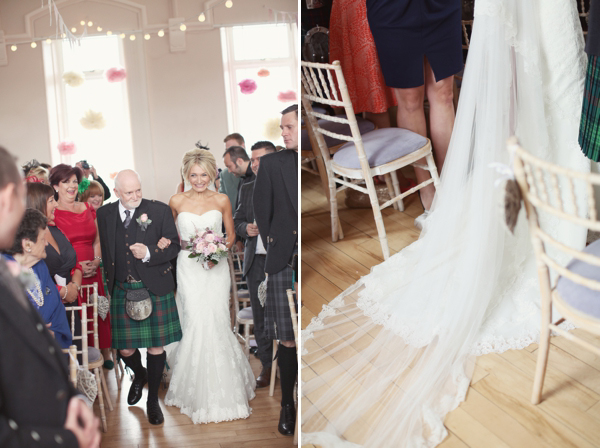 "We walked back up the aisle as Mr and Mrs to Stevie Wonder's 'Signed, Sealed, Delivered'."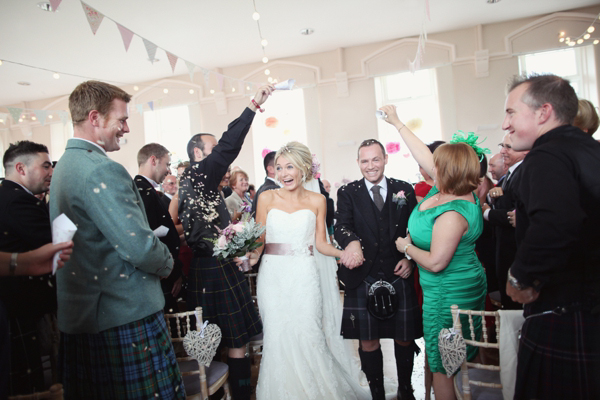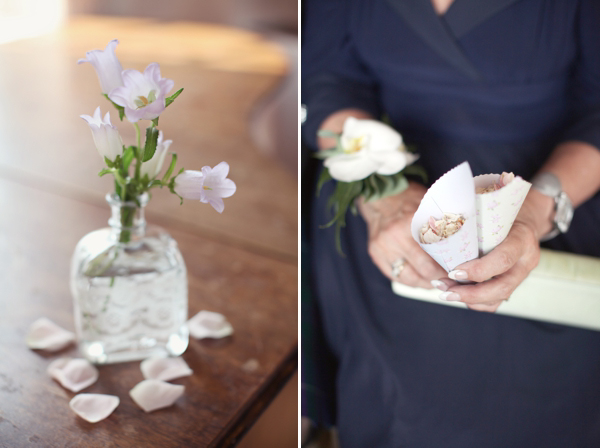 "Before the ceremony, our usher handed out little paper cones filled with dried flowers from Shropshire Petals  as confetti for everyone to throw on our way back up the aisle..a great photo opportunity."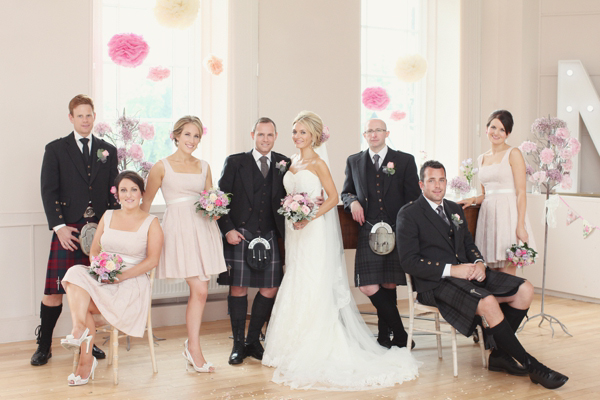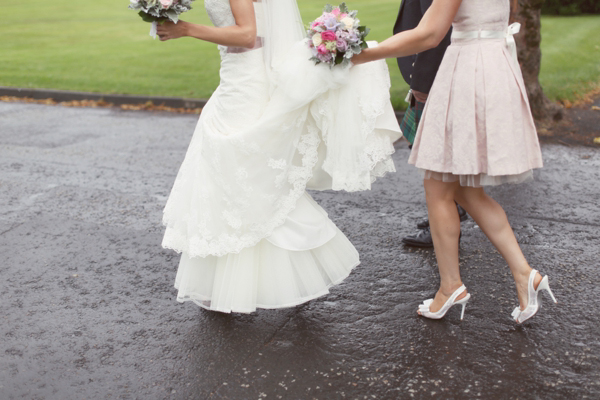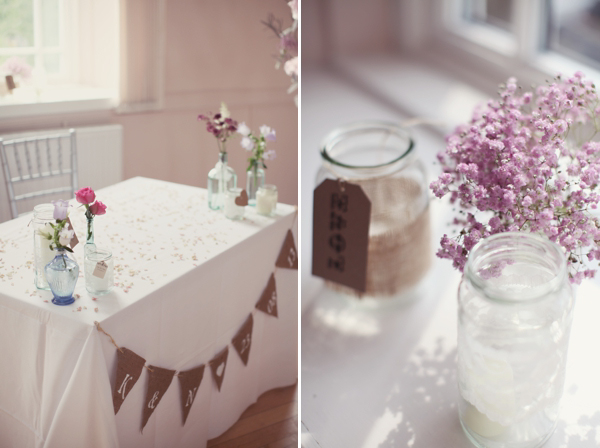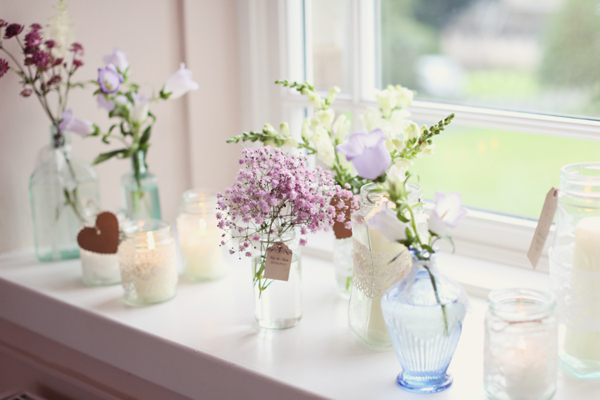 "Our wedding favours were miniature glass jam jars bought from paperchase, they went perfectly with all the different jars I had with flowers in them. We filled the little jars with old fashioned boiled sweets. I then printed small tags with the word 'LOVE' and 'MR & MRS' and tied them around the jars.
We hired vintage china teacups from Vintage Blue Crockery and I tied a tag to each cup with the name of  our guest and this was our place settings. For our table numbers, I bought some cardboard block numbers and decoupaged them with various floral patterned tissue paper."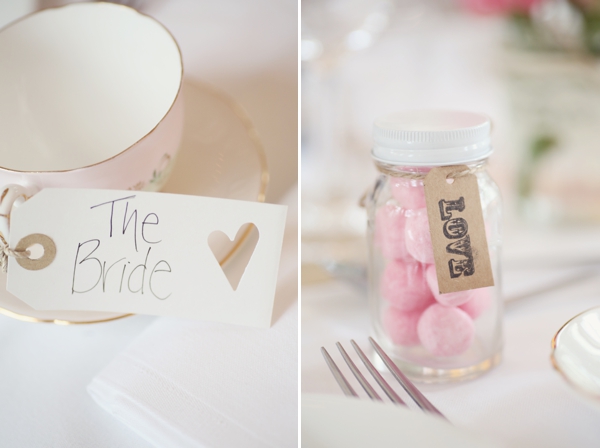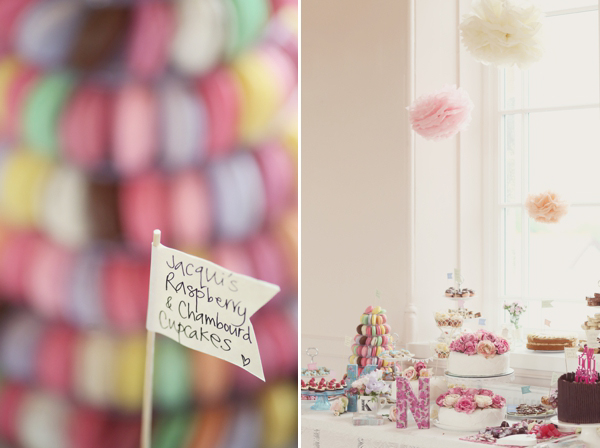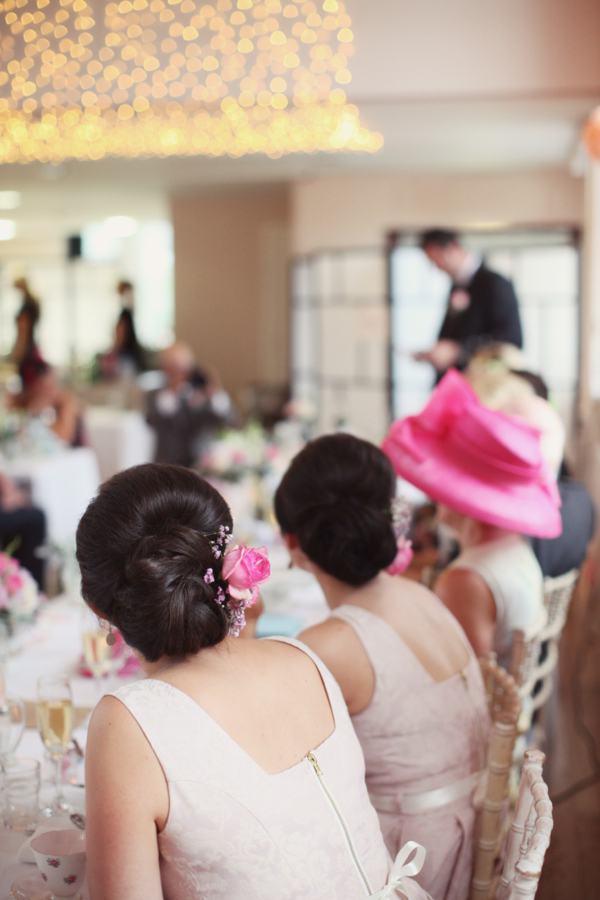 "A good friend offered to make our wedding cake as a gift for us. We had three sponges, chocolate, strawberry and vanilla. It was gorgeous and meant a lot to us that she had made it. We actually had a cake table filled with homebaking from our family and friends, everything from homemade chocolates to a tower of homemade colourful macaroons! And some of our favourite Scottish tray bakes too. It was the most colouful spread, just beautiful. This was our evening buffet for all our guests and also some cheese and biscuits too. We never stopped the dancing for the buffet, the party just carried on and everyone helped themselves when they wanted to. We even had to get so many people to take lots of cakes home with them as there was so much left over."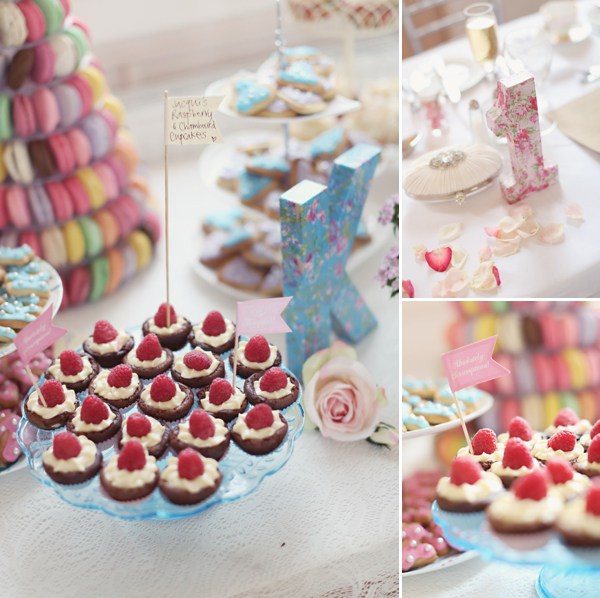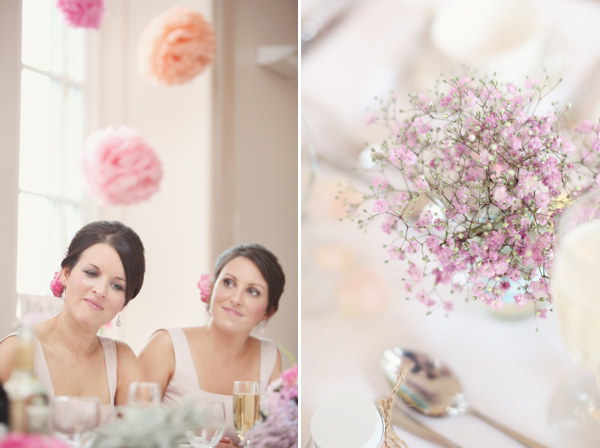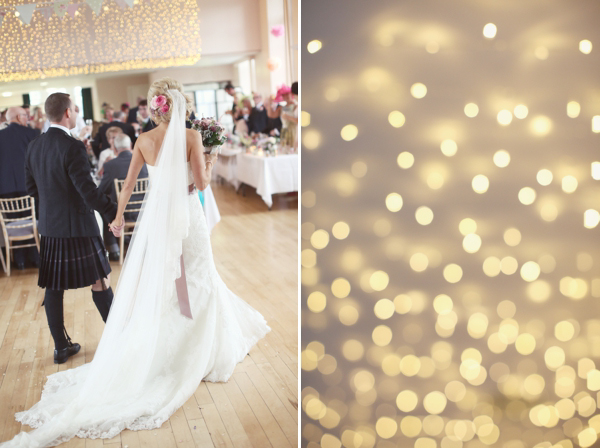 "Our friend is a DJ and actually lives in the little village where our venue is so it made perfect sense to have him DJ at our reception. We gave him a playlist of our favourite tunes which he totally stuck to and also played some Scottish country music so we could do a few Ceilidh dances too – my Dad would have disowned me if he didn't get a ceilidh dance or two!  We also booked the most talented Pianist Alex Graham to play during our ceremony, our drinks reception and during the meal. He actually put out a list of hundreds of songs that he plays on all our tables and it meant that our guests could request songs during the meal – they didn't even need to leave their seats, they just text him the song they wanted played – such a great idea, and our friends still comment about it!
"We didn't want to have a slow first dance as we are an upbeat couple and also felt like a slow song would go on forever and make the experience even more nerve-wracking. So we decided on Jackie Wilson's 'Higher & Higher'. Its always been one of our fave songs and the minute we hear it we instantly want to dance to it so we thought it was the most perfect choice.  Also, as a surprise for everyone, we booked a 1950's inspired dance troupe called The Kennedy Cupcakes to come and do a few dances and to also lead a routine that everyone could join in with. Dance is a major part of my life and I know these girls so knew they would be so much fun and also they fitted in with our whole theme too.  It really added an extra bit of fun to the night -  I can't recommend them enough."
"I cannot pick one favourite part of the day, it was all just perfect and like a fairytale, I really would give anything to go back and do it all again – well, apart from the hangovers we both had the next morning! A good sign of a great night though.  I've got to say though, walking down the aisle with my Dad in front of all our family and friends, towards my husband to be, was truly magical, a moment I will never ever forget.
Looking back, we wouldn't have changed a thing. Ive got to admit that I was one of these girls who would roll her eyes a tiny bit when people would tell us that their wedding day was the best day of their lives, and I still don't like to say that it was the ONE best day of our lives as I'm sure there are many more to come however, it was the very most special, loving, romantic, memorable, magical, beautiful day of my life and I got to marry my best friend, so its going to take some beating!"
Words of Wedded Wisdom…
"My words of wisdom to any bride to be would be to think with your heart and not your head. Do what you feel, not what you think is right. Make the day speak volumes about you both as a couple and don't get freaked out when people tell you that you need years to plan a wedding – you dont.  Enjoy the whole build up and planning period, and try to delegate if you can (I was not good at this). The day really does go so fast, so just make sure to soak it all up. And if things go wrong, just laugh it off – it's the love that you have for each other that makes the day, not the most perfect favours!
Try and stay calm and relaxed. I love that I am naturally smiling and laughing in all my photos – you just can't get that silly grin off your face the whole day – it's the best!

And book your photographer as soon as possible, the best ones are booked up months, even years in advance!"
What an absolutely beautifully romantic wedding day – just so pretty! Huge congratulations to you Nicole and Kris and many thanks indeed to your wonderful photographers Craig & Eva Sanders.
Readers, I'd love to know what you have enjoyed most about these photographs.  Check the category links below to browse many more weddings with a similar colour scheme and romantic vibe.
Love Annabel
Photographer – Craig & Eva Sanders
Venue + Catering – Three Sisters Bake
Wedding Dress – La Sposa via Diane Honeyman
Veil/Headpiece – Diane Honeyman
Brides' shoes – Vivienne Westwood
Bride's accessories – flowers in hair by Endrick Blooms + Accessorize earrings
Groom – kilt via Hector Russell in Glasgow + Harris Tweed tie
Bridesmaids – River Island dresses + Jenny Packham for Debenhams peeptoe shoes
Flowergirls – Harvey Nichols
Page Boys – John Lewis
Flowers – Endrick Blooms
Cake – friends
Entertainment – DJ friend + Alex Graham (pianist) + The Kennedy Cupcakes
Vintage China Hire – Vintage Blue Crockery
Rings – Tom Coll Jewellery in Glasgow
Stationery – Paperchase + Lucy Ledger
Hair Stylist – Anne Marie McElroy
Real petal confetti – Shropshire Petals
Humanist Celebrant – Victoria Dixon
Follow Love My Dress® on Google+