Hey there blog lovers, I've a gorgeous little afternoon treat for you, something to really make you smile. First I want to check you've had chance to read this morning's feature? It's a must read for those of you interested in bridal beauty and considering hiring a professional hair and make-up artist for your wedding – go see immediately after you've enjoyed this beautiful wedding – I insist!
Nicky, a designer maker and Joff, a GP, tied the knot on 14 September last year with a church ceremony at King Charles the Martyr in their home town of Falmouth, followed by a reception at Lady's Close Field in Restronguet.  The guests travelled by boat to the reception which overlooks a beautiful river estuary, and is a place the couple have spent much time together with the people they love.  I just adore this wedding, it is full of celebration and smiles – I get the impression every single person present on the day had an absolute riot of a time.
"We have a strong belief in a God that loves us deeply and He made all the beautiful things that grow around us that we are constantly inspired by and love so much. We wanted our wedding to be both a celebration of this love, creation around us in Cornwall and of course of our love for each other!"
Photography Copyright (c) 2014, Joseph Hall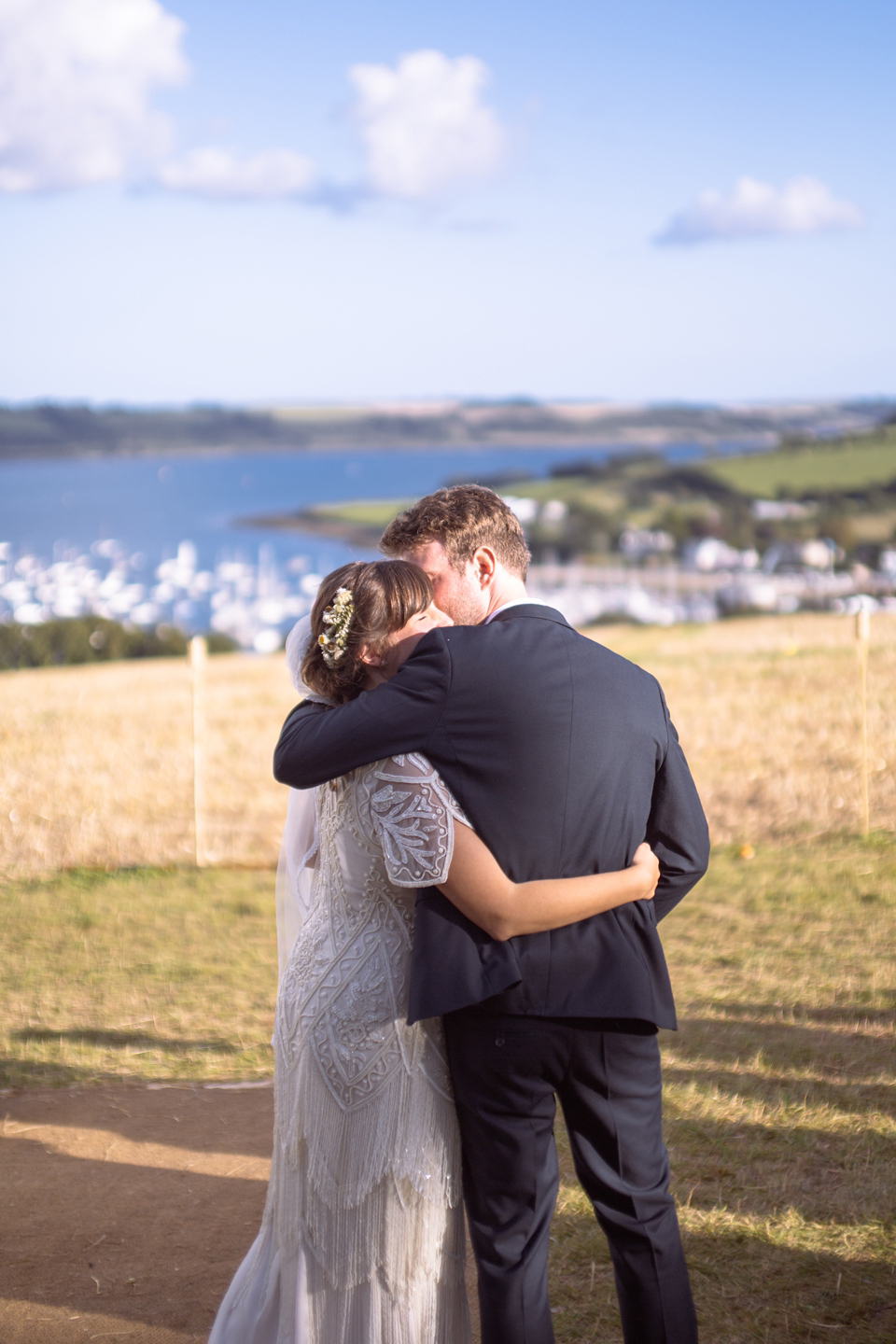 "Joff and I met when we were both 19 (10 years ago!) when we were on holiday.  We were good friends as soon as we met, but it took 8 years for us to get together! We got together in the Summer of 2011 and then got engaged on 3rd April 2013. Joff proposed on Maenporth (a beach local to us) over various fish and shellfish cooking on a beach fire we built.
After which we ran into the sea (in APRIL!!! COLD!!).  We were engaged for just over 5 months and we got married the day after my 30th!"
"We wanted to have the day by the sea and we transferred our guests to the reception by boat. We had a marquee in a beautiful field overlooking our favourite sailing spot. We used numerous flowers and plants that grow wild locally, such as ferns, hydrangeas, succulents, montbretia and sea holly.
The menu also had a very local flavour with Cornish fish and meat with canapés sprinkled with edible flowers. Our wedding cake made from cheeses produced just down the road!"
"My dress had two parts to it. The 1920's flapper style part was from the Luellas Boudoir stall at the Vintage Wedding Fair in Chiswick. I'm not sure of the actual designer or name of it as it didn't come with any tags. I had the petticoat part of my dress made by a dress designer in Truro called Anna D'Souza."
I suspect that is is a Vicky Rowe design! I will set out right away to find out for you readers!
"I borrowed my Aunts veil which she made herself for her wedding back in the 60's, and my shoes were from Rebel. I bought them online at ASOS.
My hair accessory was made by my friend and inspiration Clare Webb. Clare runs The Cornish Garden. All her flowers are organically cultivated and are totally unique – I'm a massive flower lover and when I first went to her garden I saw beautiful plants I'd never seen before."
"I wore yellow diamond earrings and a ruby ring (my maiden name was Rubie). The earrings were from Joff and the ring was from my four best girls.  Both were surprise gifts given to me for my 30th birthday the day before our wedding. Big treat! I think the Ruby ring was from Etsy and the earrings were from Finecraft Jewellery, in Hatton Garden.  I obviously also wore my engagement ring and wedding ring. My engagement ring was from Finecraft Jewellery too -  Joff and I choose it together. It's got 32 yellow diamonds in it!
My wedding ring was made by my Grandad, originally for my Grandmother. My Grandad was a dentist and made my Grandmother many bits of jewellery out of re-cycled gold fillings!'
"We walked to the church – it was only 2 minutes away – and then got a boat across the river to the reception. Joff and I were driven home by a friend who is teetotal, and everyone else got back to Falmouth on a coach that we had arranged."
"My bridesmaids wore dresses from Zara and shoes from ASOS.  The girls wore their own jewellery and we all did our own hair and makeup.  They also wore beautiful floral crowns created by our florist, Clare of The Cornish Cutting Garden."
"We got our flowers from Clare Webb of The Cutting Garden Company and from friends gardens. We made our own bouquets and church & reception arrangements."
"Joff and I don't eat much cake but LOVE cheese so instead we went for a huge cheese stack decorated in figs. All our cheese was from The Cheese Shop in Truro."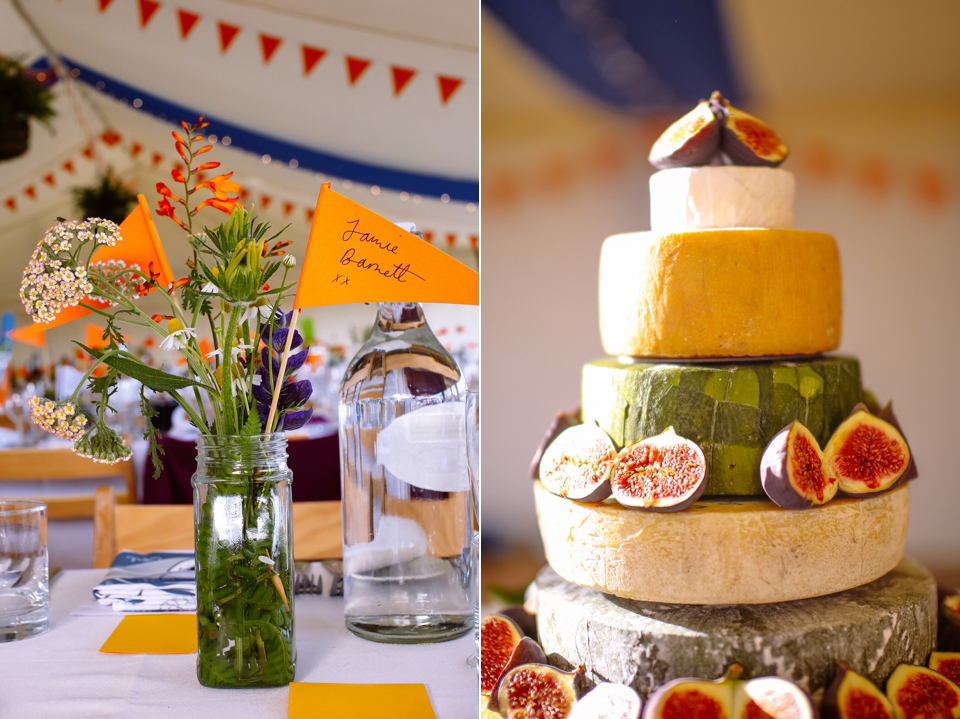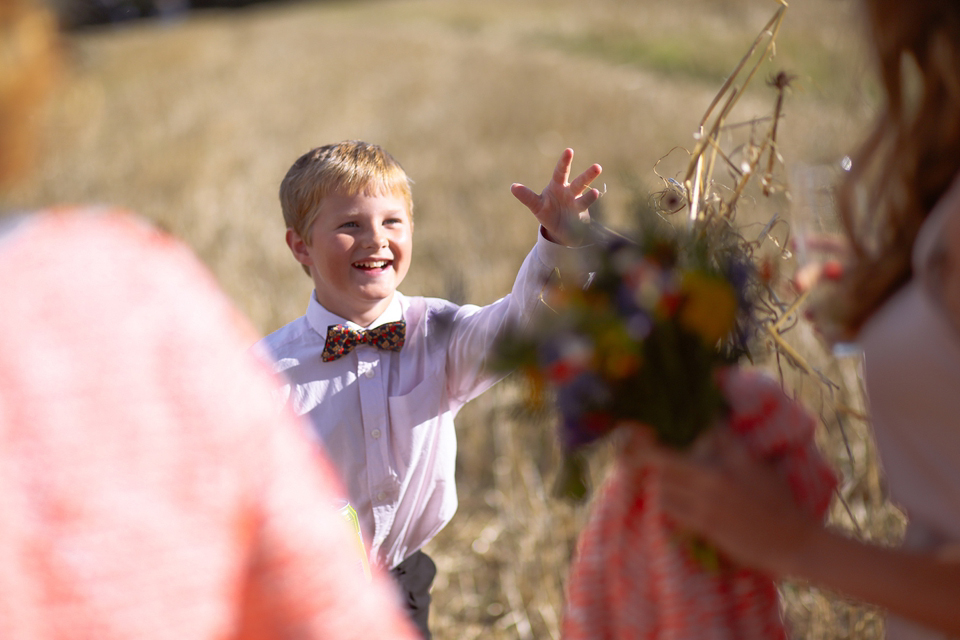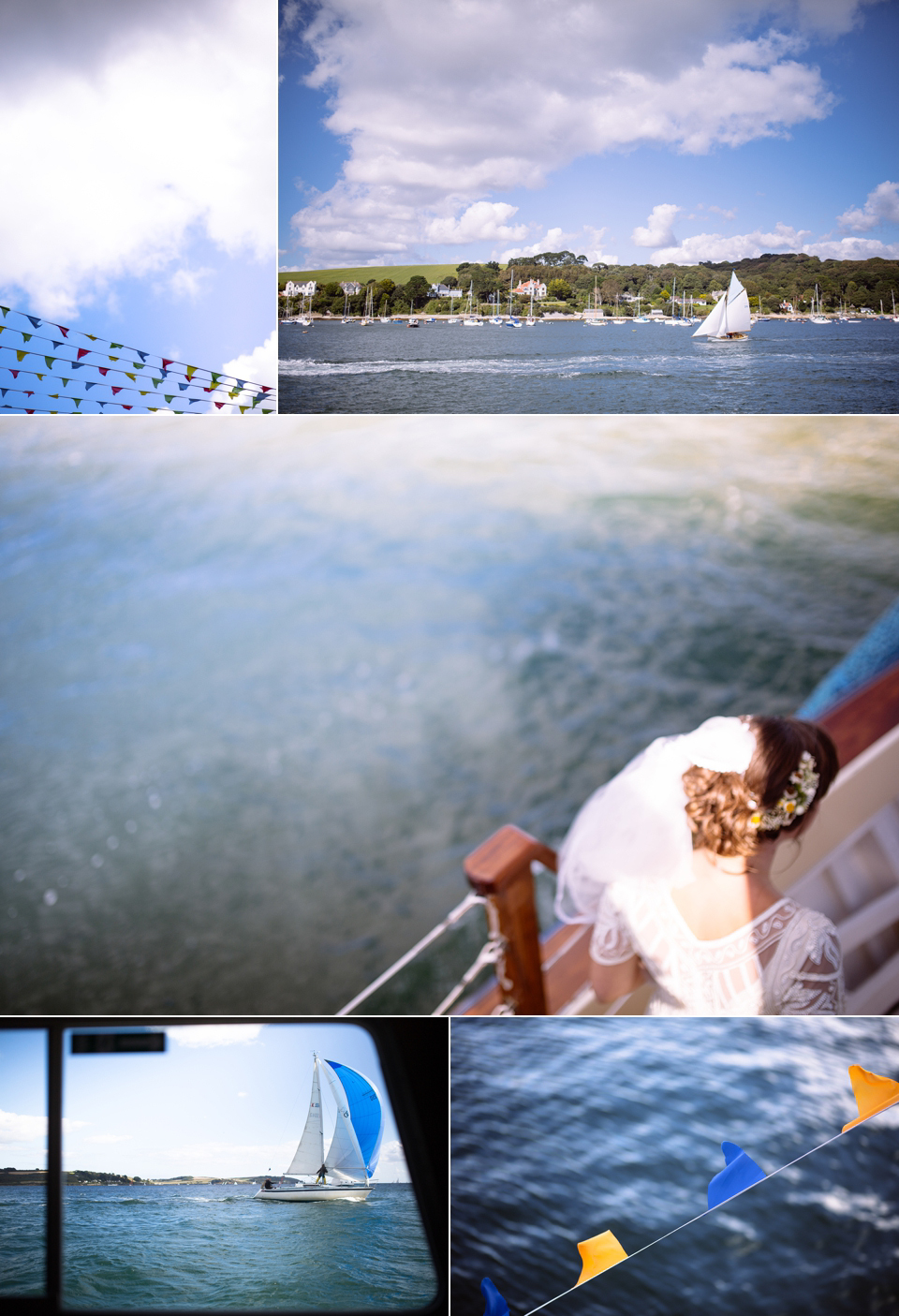 "Our photographer was Joseph Hall.  He was excellent in every way, we'd thoroughly recommend him! Thank you Joe!"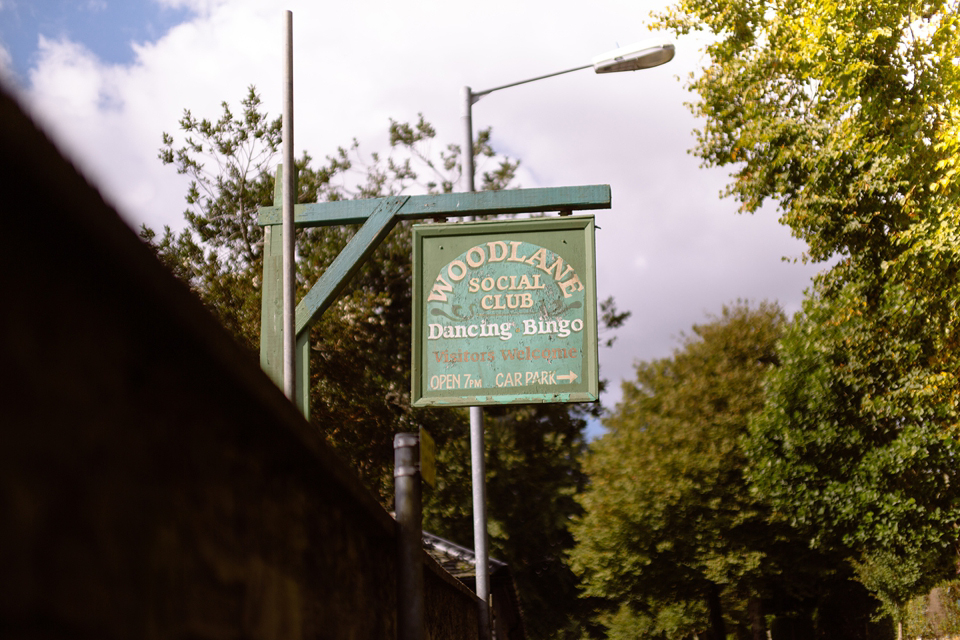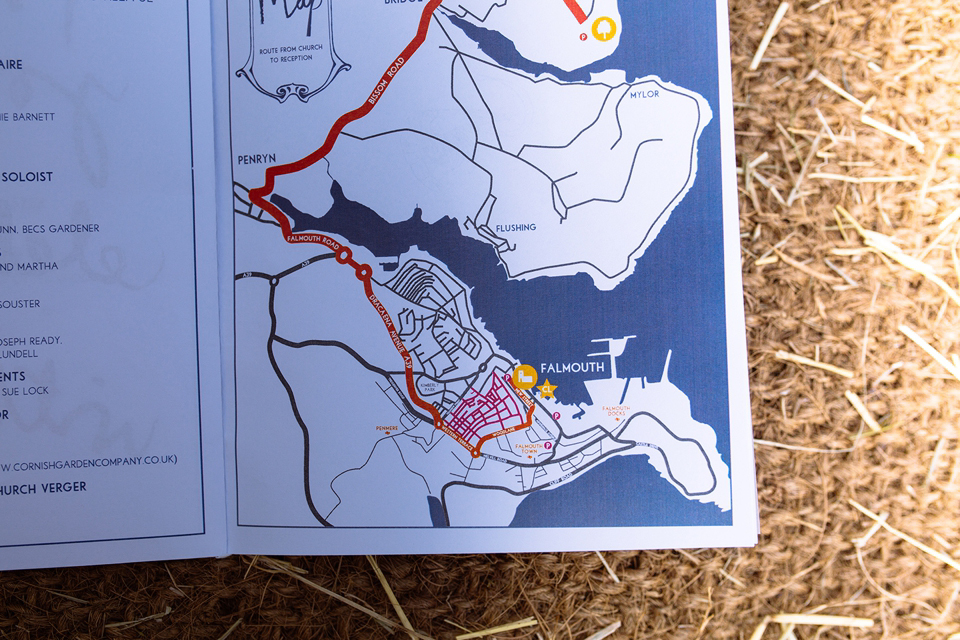 "Our organist was 14 years old and totally epic! He played the Grand Choeur Dialogue by Eugene Gigout.
We did the standard wedding vows and one of our vicar friends married us.  During our ceremony, my sister read 1 Corinthians 13, 1-7."
"We had a lovely local lady, Georgina Acland, do our catering. She was outstanding!! and will do whatever inventive things you ask for. Would highly recommend. She goes under the name of Compentent Cooks."
Words of Wedded Wisdom…
"It's a fantastic time and you won't go through it again so savour and enjoy every bit of it. Also DELEGATE DELEGATE DELEGATE!
Also, we would have loved to have our wedding filmed."
What a gorgeous, gorgeous day – I can almost feel the see breeze enveloping me now and hear the laughter! Just beautiful. Huge congratulations to you both Nicky and Joff – may the first 6 months of marriage have been kind to you. 
Thanks also to the brilliant photographer Joseph Hall for sharing his work – if you love Joseph's photography, please take a moment to visit his site at joseph-hall.com
Love Annabel
Photographer – Joseph Hall
Venue – Lady's Close Field in Restronguet, Cornwall
Wedding Dress – Luellas Boudoir
Veil/Headpiece – Heirloom
Brides' shoes – Rebel via ASOS
Groom – H&M trousers/jacket + Topman waistcoat + EBay tie + Office brogues + NotOnTheHighStreet cufflinks
Bridesmaids – Zara + shoes from ASOS
Flowergirl Dresses – Monsoon
Page boy outfits – H&M
Flowers – The Cutting Garden Company
Cheese Cake – The Cheese Shop
Entertainment – Grace Notes
Rings – Finecraft Jewellery
Catering – Compentent Cooks
Stationery – the bride & groom
Follow Love My Dress® on Google+