One of the great aspects of working with dedicated professionals in the industry I love so much, is that I get to see their artistry at work and marvel at their expertise. This was brought home to me recently with a make-over photo-shoot of 'The K-Team', a newly formed trio of talented ladies, providing first class make up, stunning hair styling and exquisite photography services.  Each of them award winners who have earned the right to be at the top of their profession.
And it shows…
The K Team comprises is Kristina Gasperas, 2013 National Wedding Industry Awards winner in the best bridal make up artist category – Kasia Fortuna, Regional Wedding Industry finalist, 2014 in the best wedding hairstylist category and Kristida, Society of Wedding & Portrait Photographers Awards (SWPP) 2014 Gold Award Winning Image. And that's just for starters.
This award winning team provide a luxury, relaxed and discrete make over and photo-shoot service, be it bridal boudoir, wedding, special Mother's day treat or anything else that one can desire. Like all great teams they work together a lot  – weddings, special occasions and styled luxury photo-shoots , and it was only a question of time before they christened themselves 'The K Team'.
Some people call it cosmic ordering, but whatever inspired route brought this team together – the wedding industry and brides like you dear reader, are the happy beneficiary.
Kristina launched her studio in December last year – it's an exciting time for this incredibly talented wedding professional – following her Wedding Industry award last year and the discovery that she is ranked number 1 on Google for many common search terms for a London based wedding make-up artist, Kristina is busy expanding her team and her studio opening marked a new era in her up and coning business.  During the launch, Kristina provided a live demonstration of a Marilyn Monroe lookalike that drew gasps from the invited guests – and the idea of a makeover case study was born.  The amazing thing was that the lady in question, Julie, seen in the film below and in these photographs today, wasn't a real model – just a normal client, like you are I. 
Kristina realised instantly that with the right talent and application,  any woman, no matter what age, can be transformed into a Hollywood star, or for that matter anything that she wants to be!
Personally, I consider it art – the skillful application of make-up and beautifully styled hair.  I've worked with very many make-up artists and hair stylists and Kristina is in my top, very few favourites (which I can count on 3 fingers).  A good makeover will make you feel confident, sexy and beautiful, inside and out.  I truly believe in the power of good styling and make-up.
Clearly, the K-Team's drive owes a lot to Kristina's vision and focused, client-centred approach to what she does, as she says;  '..I do lots of weddings throughout the year and one of the most requested things is that I make my clients look beautiful, yet true to  themselves and youthful." So now we know the secret of youth – no potions required – just go to Kristina's studio!'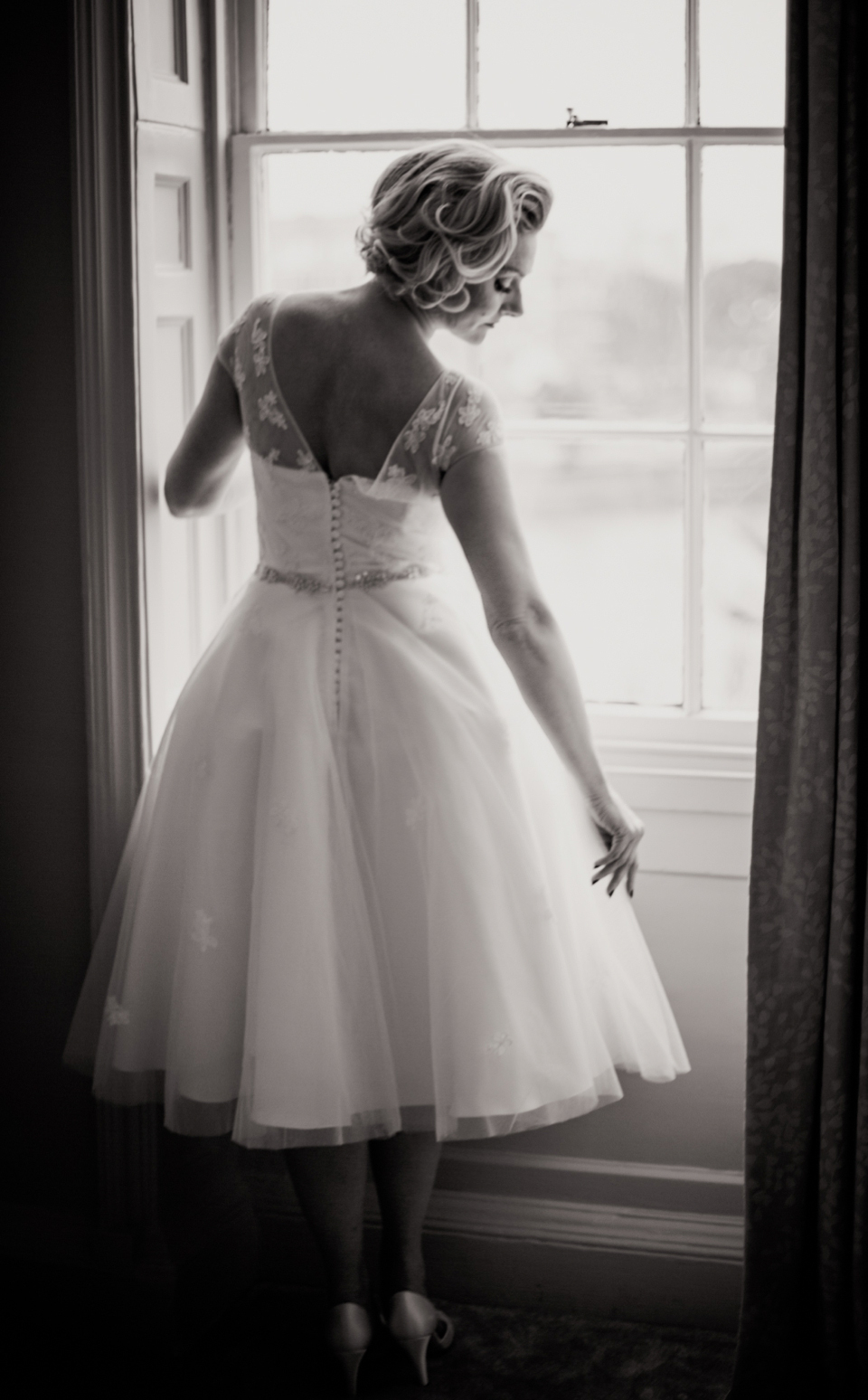 I hugely admire the way this team approach thie work; The K team pro-actively put time and effort in to perfecting and refining their skills, never believing they can't improve what they do. Just like top sports people, artists and musicians who practise the longest and are the last to leave the training ground. In this case, the fertile training ground was the Conde Nast award winning The Bingham by the river in the wedding hotspot of Richmond, Surrey. And what the K team put in – just in a low gear rehearsal – can be clearly seen in the stunning images featured on this page today.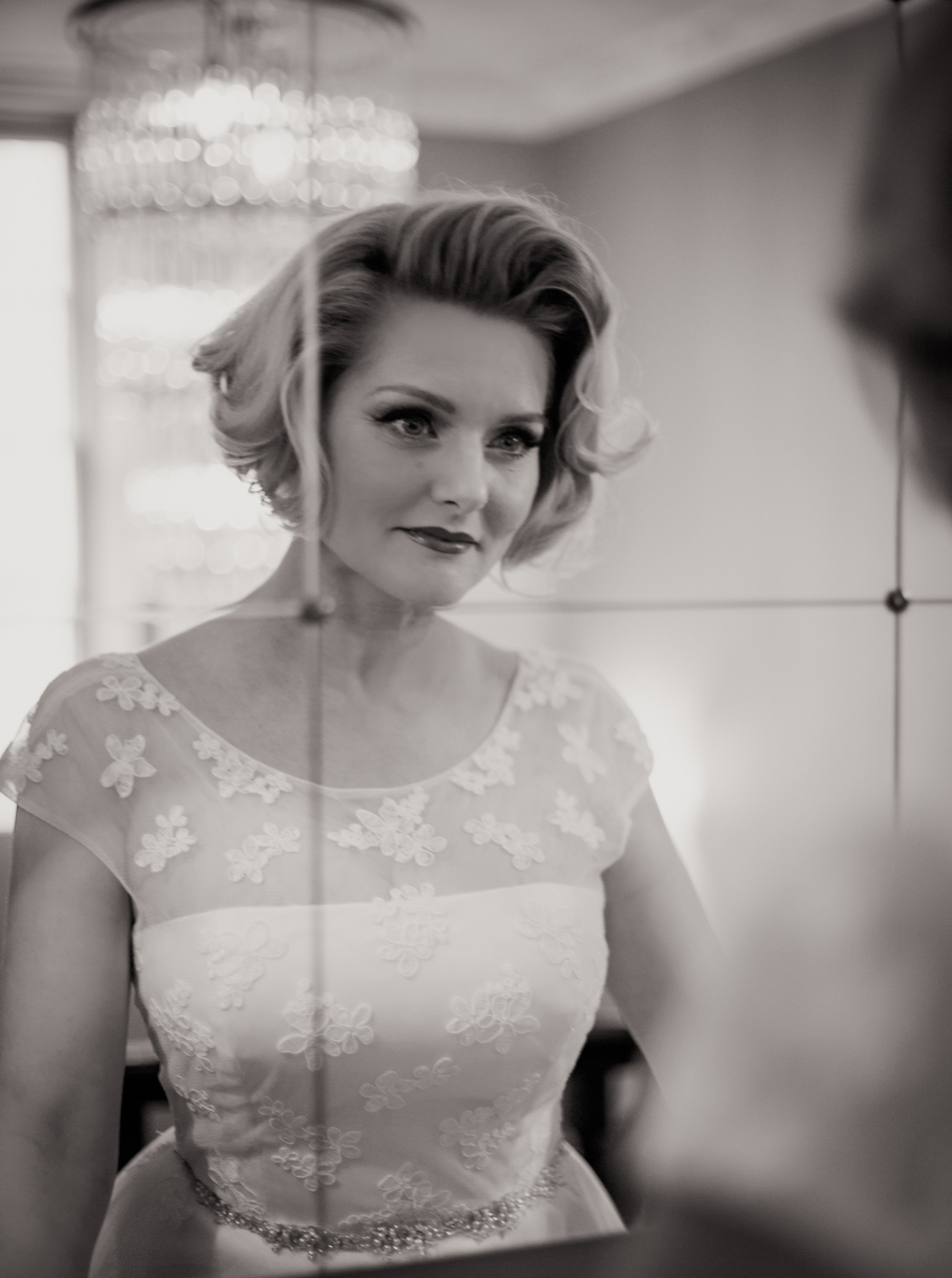 I found it fascinating – as I hope you will too, to see the before and after shots of Julie and to grab a behind the scenes look via the film above as these artists give Julie a Marilyn style make-over designed to complement her pretty tea-length dress.  The collaborative spirit behind the K Teams' make-over expertise meant they could rely on the extensive range of gowns for the photo-shoot provided by Boa Boutique – an exceptionally well stocked couture bridal boutique.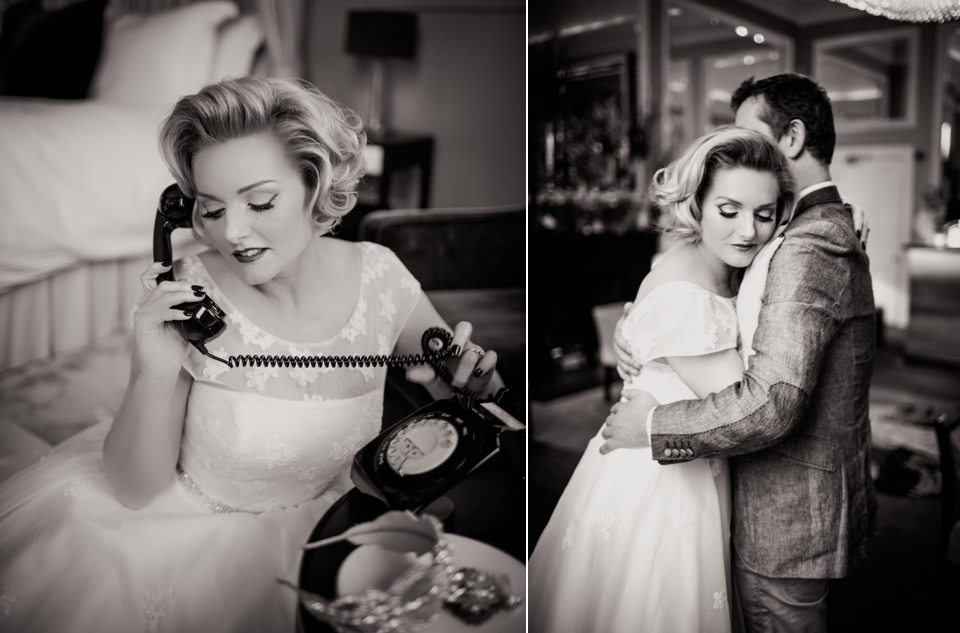 There's a quality about the K-Team approach that has a lot of sincerity and professional integrity.  Kristina and the other members of the team work with lots of lovely brides like Julie who may be 40+, who may doubt their ability to look fabulous on their wedding day and other special occasions.  Here is the proof that they can. Different skin types and different age groups require a different approach – there is no 'one size fits all' model with the K-Team – and this can only come from experience and talent.
Photographer Kristida's talent lies in discovering and capturing the most photogenic side of women. Whether she photographs weddings or portraits, she produces contemporary naturally styled images, appropriate to the personality of the clients who enjoy the experience of looking like they've stepped off the pages of a fashion magazine.
Kasia, who has styled hair in just about every conceivable high profile situation, is bursting with energy and ideas for hairstyling and you can almost sense her looking at you with a number of 'what ifs'  going on in her head, that she is inspired to create. There is no hairstyle she can't do from the perfect Hollywood wave to modern red carpet chic but always to suit the shape of someone's face and age. Not just amazing technically but is able to see what style is most flattering for the particular individual. This means it works and there is never a bad hair day on her watch. 
And Kristina has a talent for creating make up that almost invisibly becomes part of the face, as if her clients were born this way, so natural is the finished look. Her motto is that it is not the make up that should be visible but that everyone would be stunned when they suddenly see them looking so amazing without being able to pinpoint why.
The other reason  that this team can produce stunning results every time is that these ladies work on an almost telepathic level with each other. Not just from working long hours together but crucially knowing a lot about each other's expertise and dovetailing seamlessly. And just like me – they all absolutely love what they do and invest all their time and energy into doing it to the best standard possible.
As Kristina commented, 'We work so well together, knowing each other inside out,  so when it comes to making our client feel amazing, and look the best they ever did, and relax in front of the camera, we become totally in the zone, determined to produce the best possible outcome every single time. And it's all done with tons of fun and complete trust.'
Given the options available to the would-be bride, or the long overdue makeover present to self or happy partner on getting engaged – just about any occasion you can think of for indulging a glamorous intention actually – then the trust element, certainly with tasteful boudoir photo-shoots is key. I have no doubt that these professionals manage it with ease. Tempted to have a go myself in fact, but that's another story readers…
If I had to think of one reason why this concept in their hands is a winner, it would be because a complete makeover and photo-shoot is tremendously, genuinely enhancing to one's self image and confidence – at any age and for any situation. Often downplayed as if it is a purely cosmetic  or transitory embellishment – feeling good makes you capable of achieving many great things. I think we should embrace this positive aspect all the way to the nearest K Team makeover!
The K-TEAM would love to hear from all the gorgeous brides to be or women interested in having the make over of their lives  or working with these talented ladies to prepare you for feeling beautiful and confident on your wedding day.  They'll make your dreams come true – and some lucky partner's heart skip a beat (promise you).
To enquire about your own make-over, contact Kristina via her website at KristinaGasperas.com.
With love,
Annabel
Make Up – Kristina Gasperas / Hairstyling – Kasia Fortuna / Photography – Kristida / Dresses – Boa Boutique / Headpieces – Donna Crain / Venue – The Bingham
Follow Love My Dress® on Google+
This is a sponsored post