Hello hello! A little later than usual today due to some unexpected technical issues, our apologies!  Worth the wait though, I promise you.
Erin and Carl tied the knot on 13th April last year at South Causey Inn in Stanley. I really love these photographs – what a wonderful family affair – the children look fabulous, and so happy and carefree, and I love the use of Spring yellow and who would have guessed that Erin's dress was a maxi dress and top combination from high street favourite Zara?
"Our main inspiration for styling our day was DIY and crafting – we just wanted to make sure everything we did was as personal to us as possible. Our yellow and grey colour scheme came from a grey suit with a yellow tie that my husband saw and really liked!"
Photography Copyright (c) 2014, SDS Photography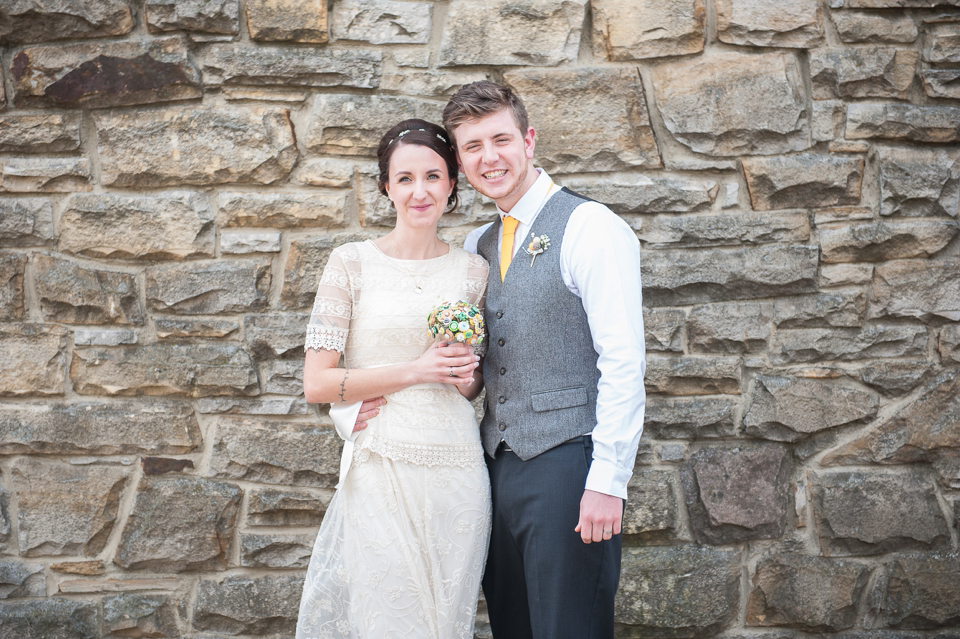 "Carl and I met at secondary school – we were best friends from about the age of 14 and did everything together.  After four years we started dating – we were 18 then and ended up being together for six years, and had had our two gorgeous children Coco 4 and Mylo 2 before getting married aged 24, after an 18 month engagement."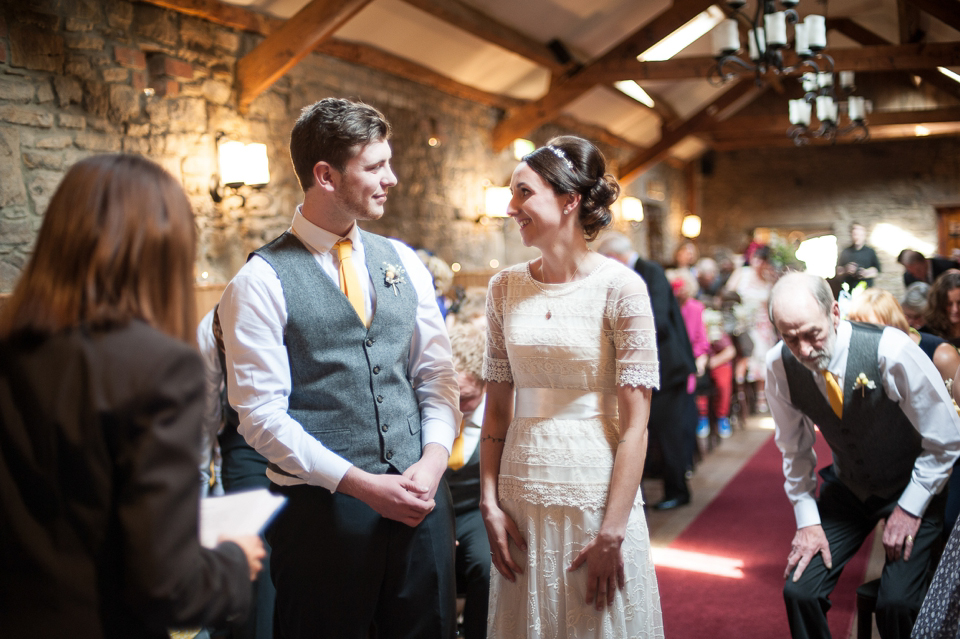 "We chose the venue for two main reasons.  Firstly we could have the whole wedding in one place, ceremony and reception, which was massively appealing, and secondly we just loved the venue. The exposed wooden beams gave it a lovely rustic feel and it is surrounded by countryside which we loved!"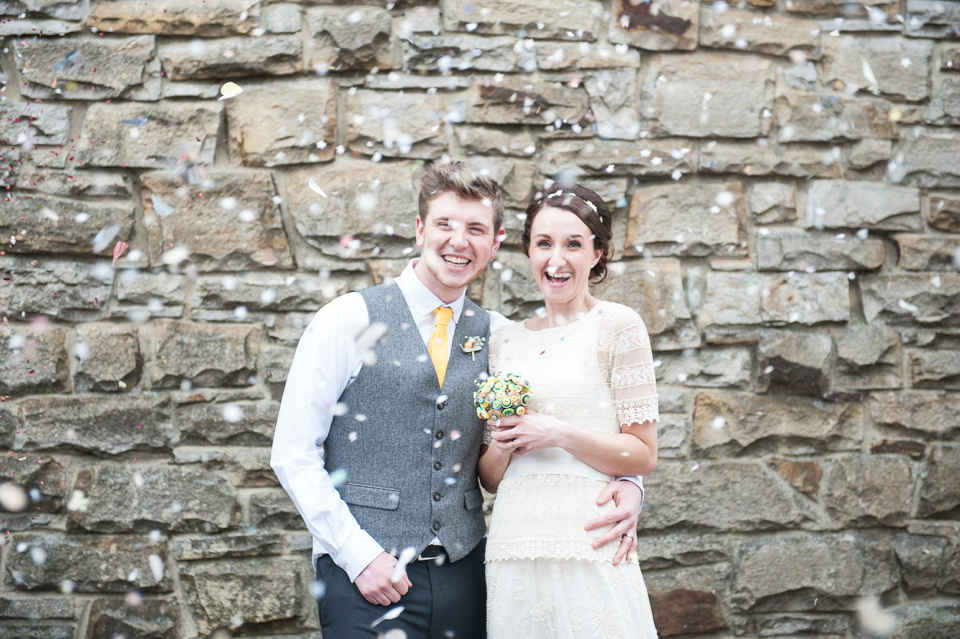 "We didn't hire a florist – we just had gypsophila which we bought from a local wholesaler. We chose gypsophila as it is pretty and delicate and beautiful enough on its own without the need for other flowers. I had a handmade button bouquet that I made myself from mine and my husband's grandmothers button collections – with new ones added in for more colour."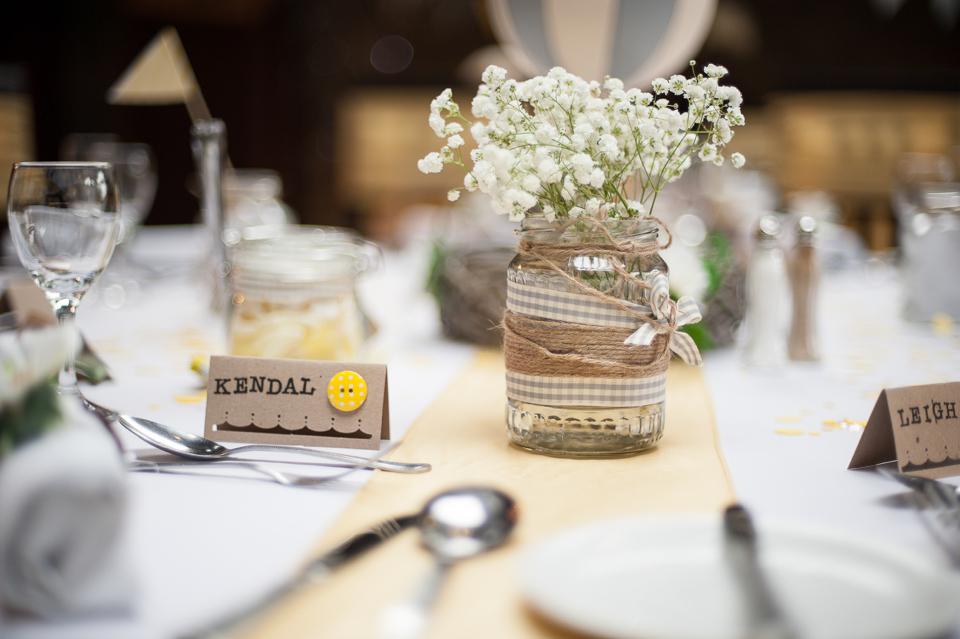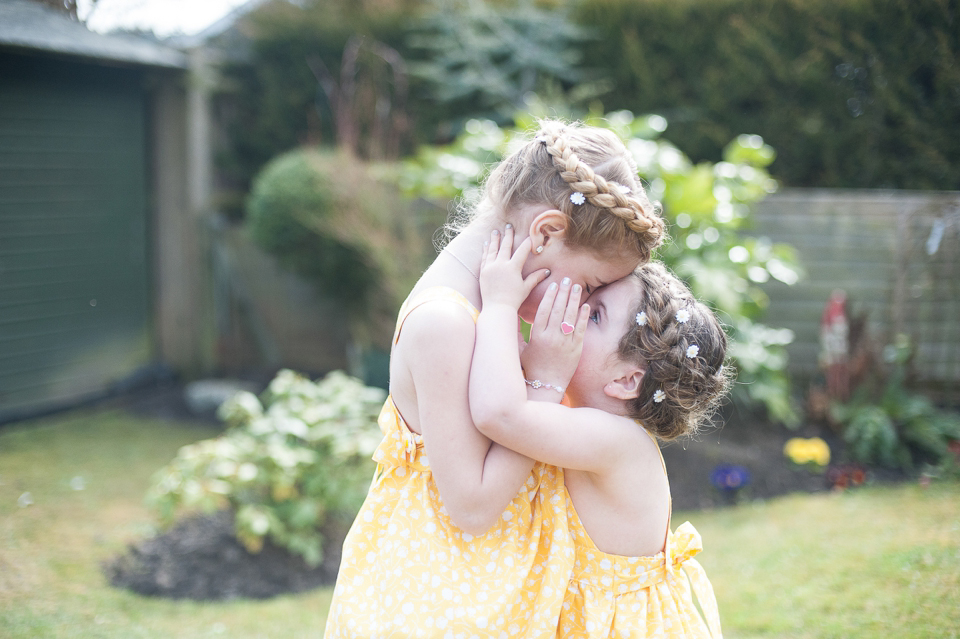 "I handmade my flowergirl dresses out of Michael Miller fabric I got from fabric.com and a pattern I bought from Etsy.
The page boy wore a waistcoat and grey skinny chinos from H&M, a  shirt from Boots, and grey desert boots from Zara Kids.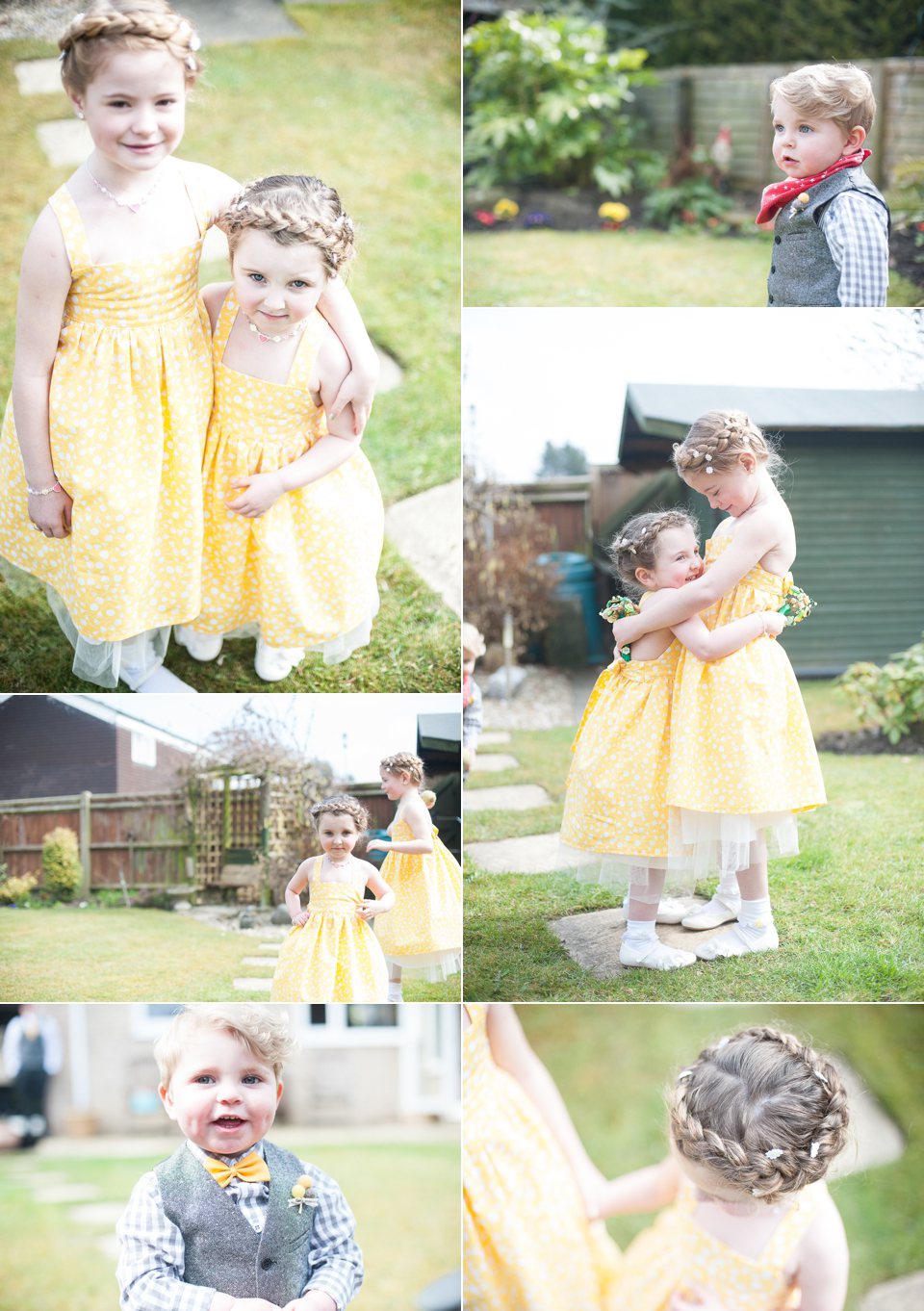 "I handmade my bridesmaids dresses out of Michael Miller fabric I got from fabic.com.  The girls also wore grey suede kitten heels from H&M."
"My dress was from Zara.  I really wanted a vintage feeling cream lace dress with sleeves, but it proved a real struggle for me to find anything I liked.  By chance, I saw a cream lace maxi dress in Zara that was just perfect, but it was strappy and low fronted.  However, I spied a cream lace top with a button down back and thought pairing the two together may well be the solution.  It was!"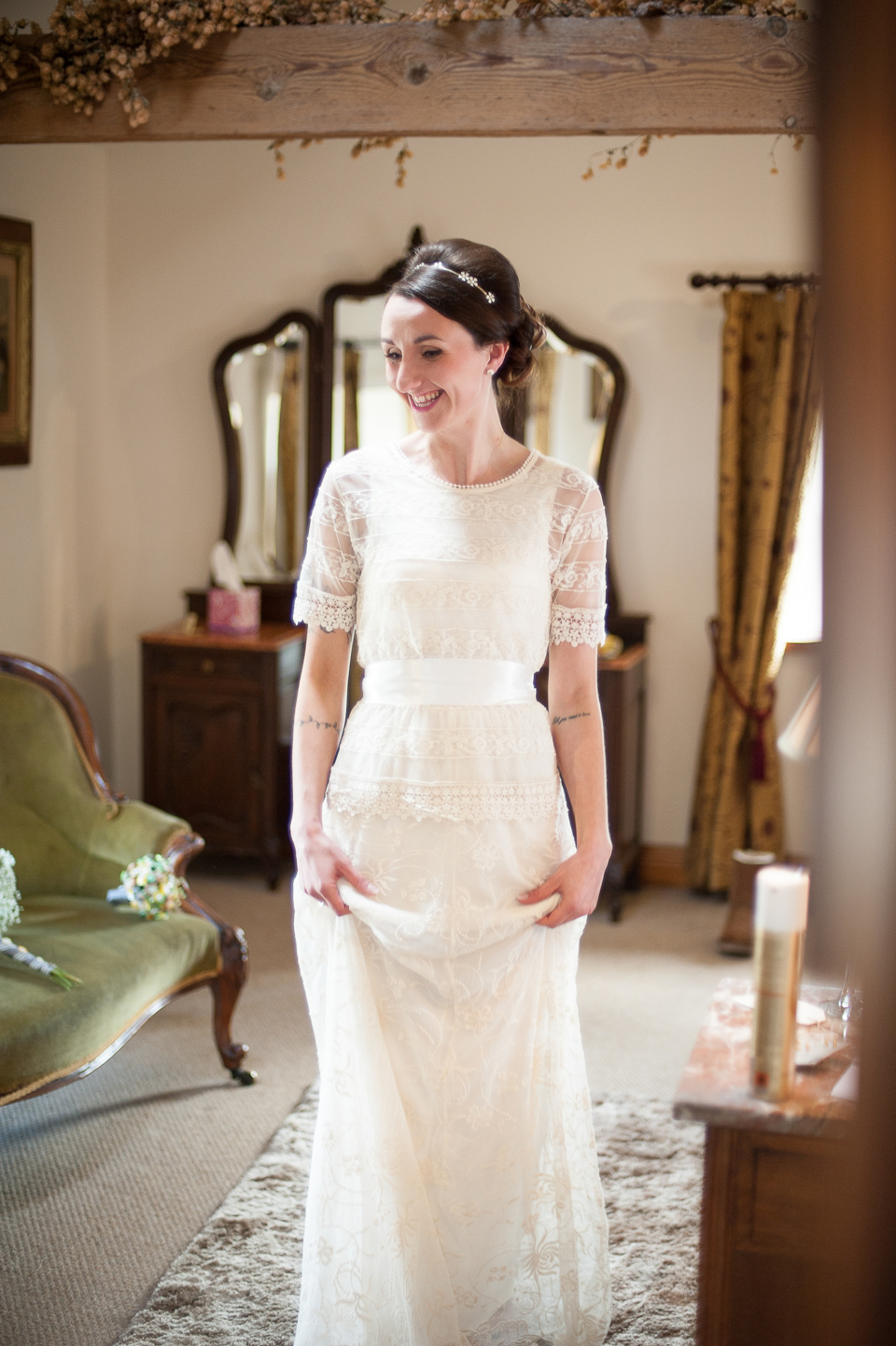 "The grooms outfit was made up of a grey tweed waistcoat from Newlook, a slim fit white shirt from Marks and Spencer, dark grey trousers from Jeff Banks and grey suede shoes form ASOS.
We got Carl's yellow tie from Ebay and he wore a handmade boutonniere made from felted balls, wooden dowel and grey checked ribbon."
"We made metres of grey and yellow bunting to hang throughout the room. We also made hot air balloons for our table centre-pieces from painted polysterene balls, wooden dowel, plant pots and string. We had wicker wreaths around the bottoms of the balloons with artificial flowers attached. We made napkin rings from artificial flowers, twine and wire.
We bought yellow flower shaped table scatter from www.hobbycraft.com we also had glass jars of gysophila on the tables and on the chairs down the aisle, which we had attached ribbon to. We also had glass jars with old black and white photos of family members in them on the tables."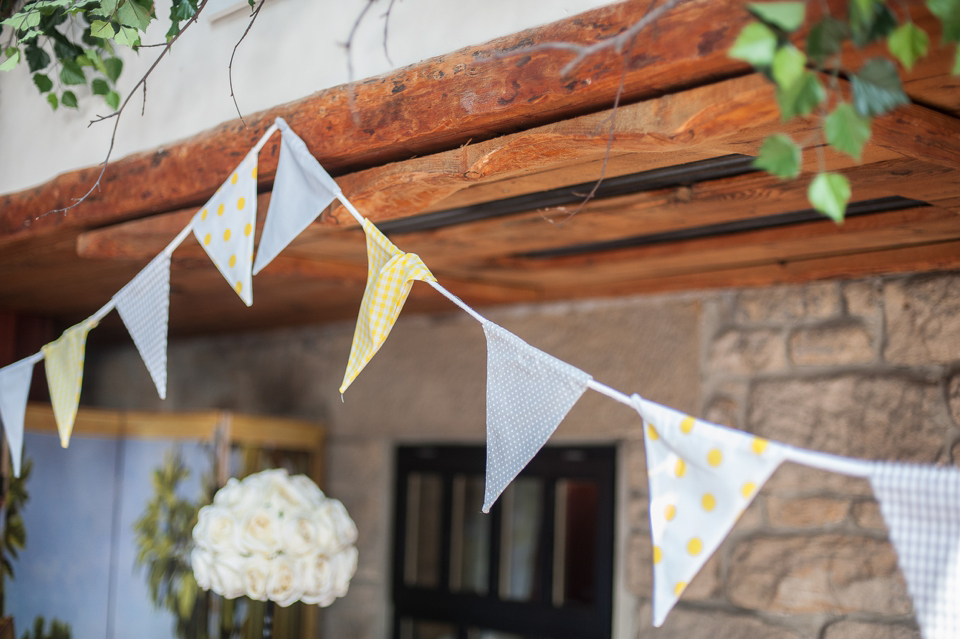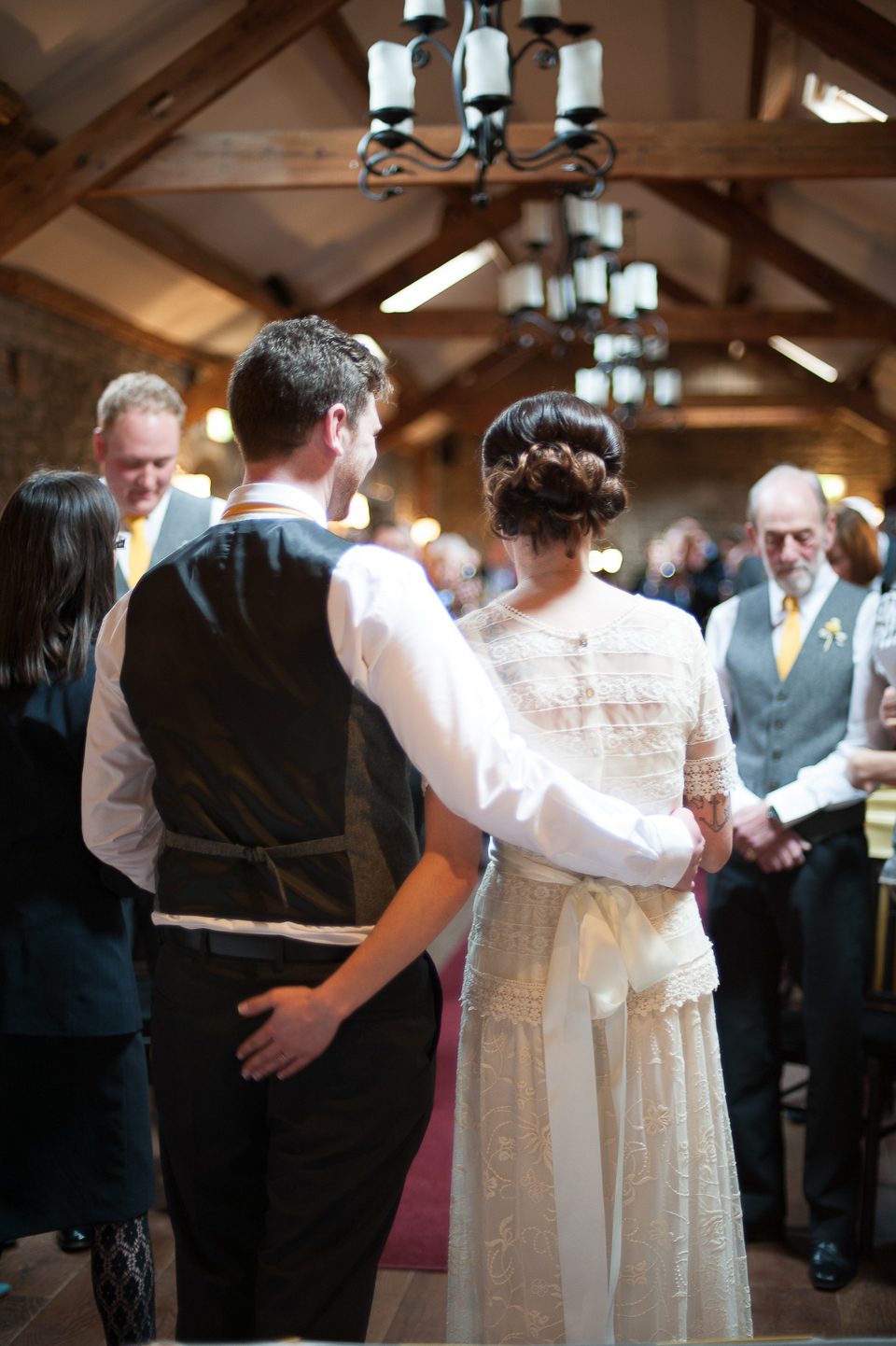 "We made confetti cones out of grey and yellow card and we used heart and star shaped punched to make confetti out of newspaper. We also had people blow bubbles instead of throw confetti when we walked down the aisle so that the confetti could be used for outside photos."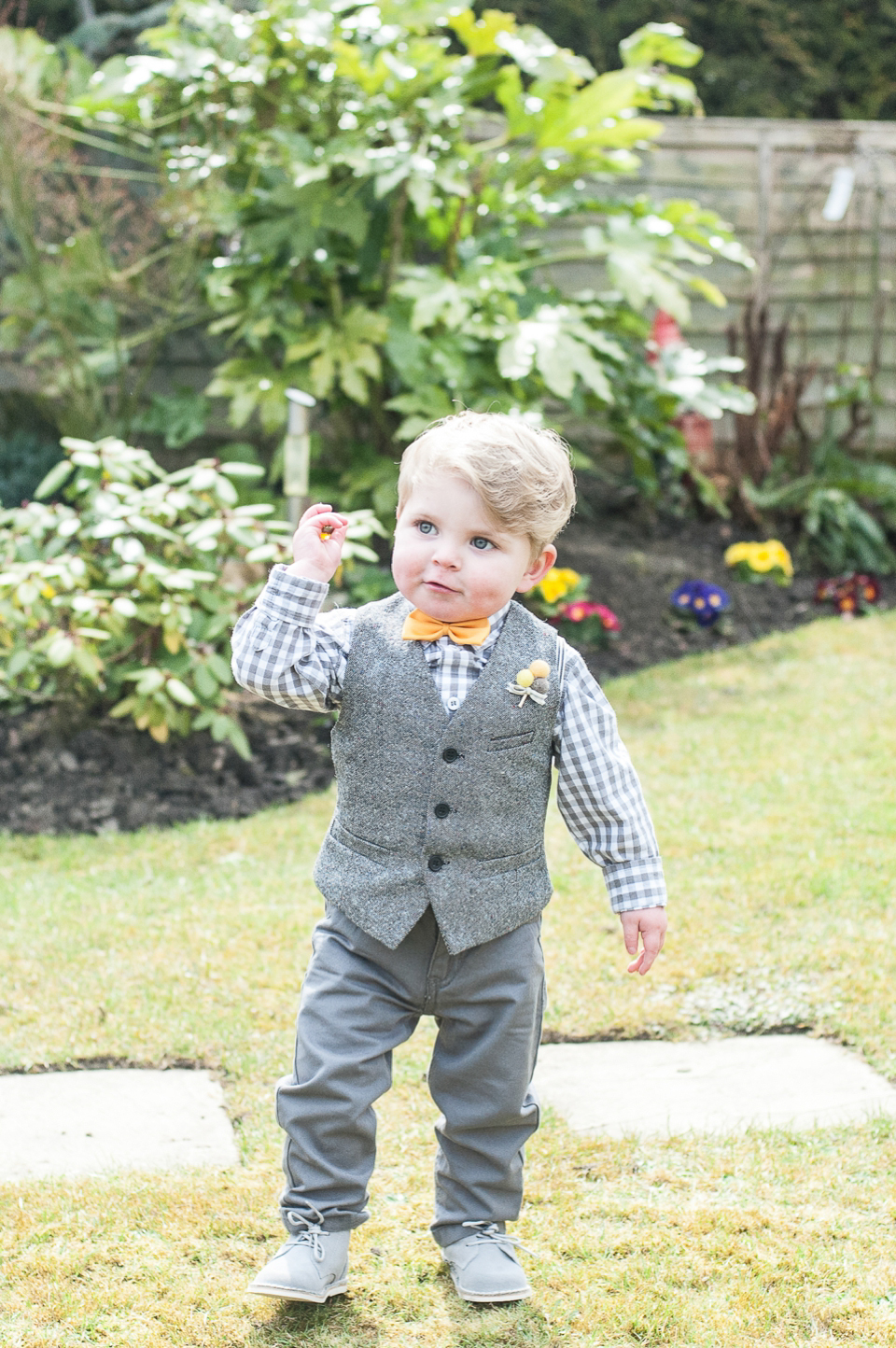 "We did all of our stationery ourselves, but a lot of the designs were free printables that we downloaded from The Wedding Chicks Blog.  The place cards we hand stamped ourselves on to brown recycled card with a hot air balloon in either gold or silver attached. We had a fingerprint guest book where my husband drew a picture of a bride and groom (him and me) being lifted up from lots of lines which when everyone had stamped their fingerprints looked like loads of balloons.
We also had a pinboard that we made from old wine bottle corks with a note saying 'please share with us your keys to a happy marriage' with a glass jar full of vintage keys, with parcel tags attached, for people to write on and pin to the board." 
"We  also had a DIY photobooth made up of vintage photo frames that people held up and we had props we had made/printed out for a fun end of the night activity. Oh I also made my flower girls handmade dolls to 'look-a-like' them with dresses made out of the same fabric as their dresses were as their gift.
We made goody bags for all of the kids and teens with lots of different things in including wedding bingo for the older ones, books, snacks, toys, and other small gifts."
"We wanted a pretty simple looking cake and went for a three tiered white iced design with some yellow and grey bunting around each layer.  Inside were rainbow coloured layers which looked amazing when it was cut! Our cake was made by Ice 'n' Easy.  We made our own hand painted cake toppers with a handmade card bunting arch to go over the top."
"We used a local photography company called SDS Photography.  They are a young team of two made up of Simon and Sarah-Jane, and they were amazing.  The photographs are everything we had wanted and more. They photographed all of the little personal details that we put so much effort in to and captured lovely natural moments without having to do many set photographs.
Simon and Sarah-Jane were so lovely and easy to talk to and understood exactly what we were after,we couldn't have asked for a better experience.  We highly recommend them."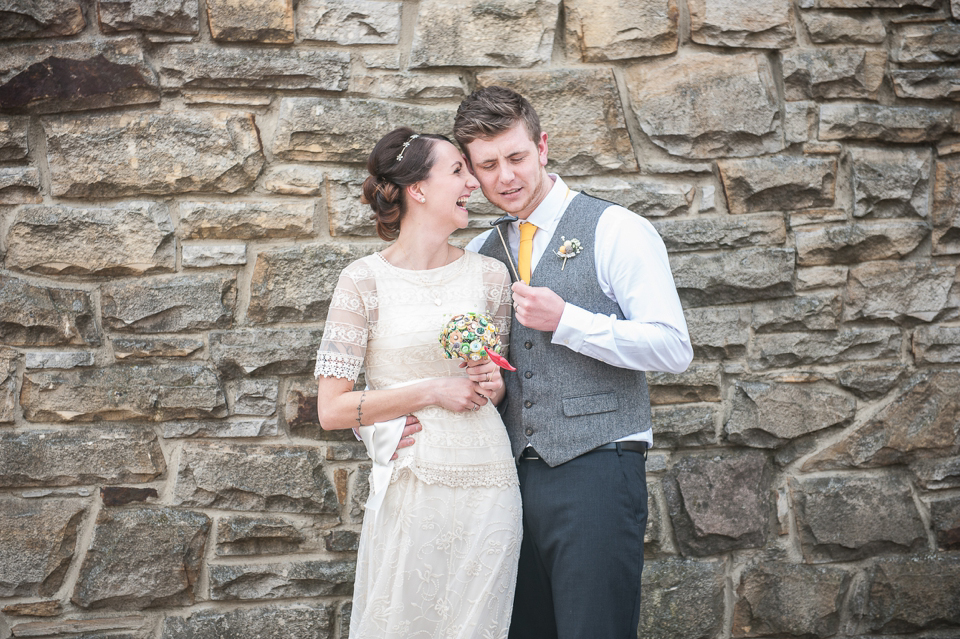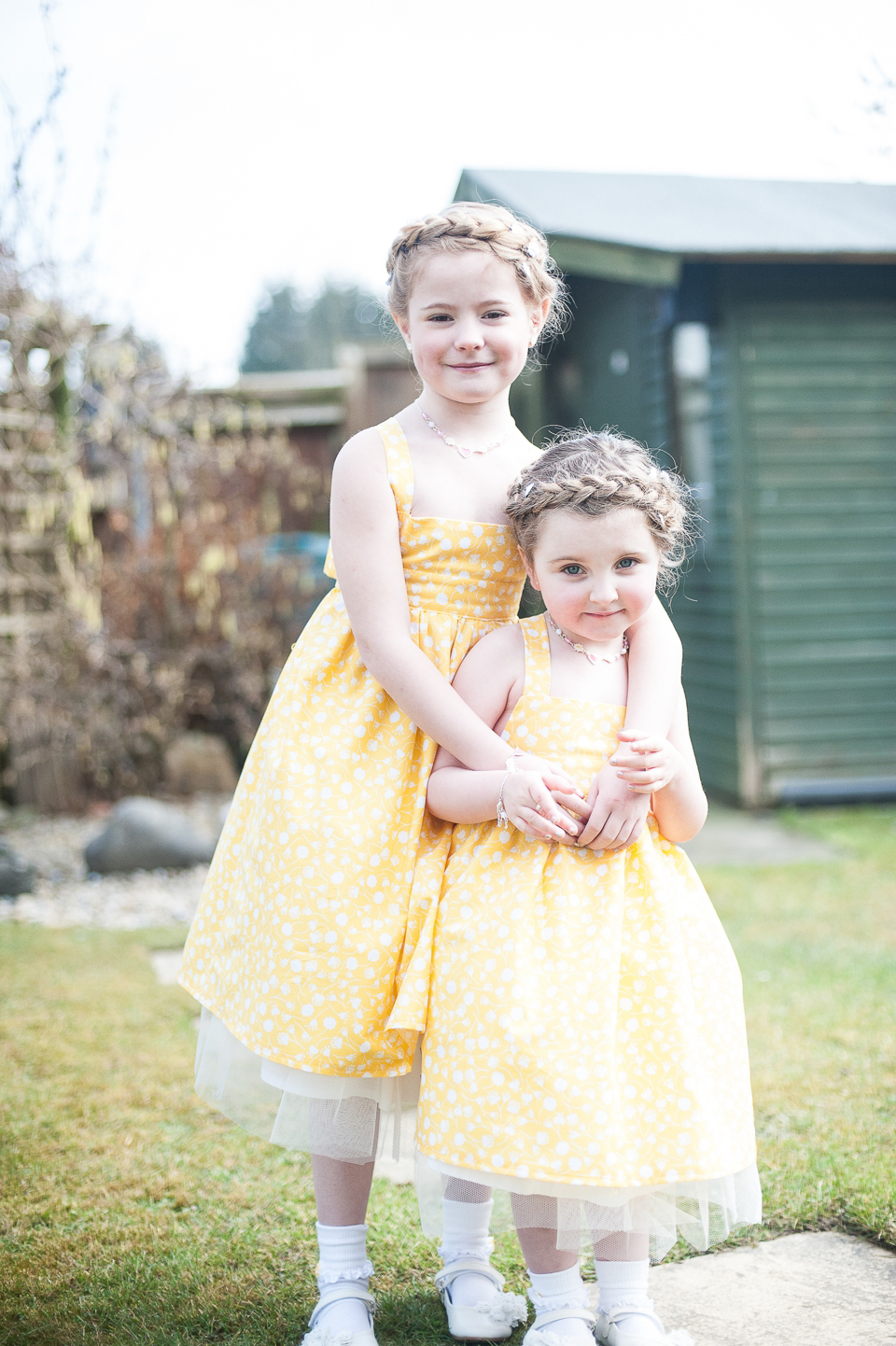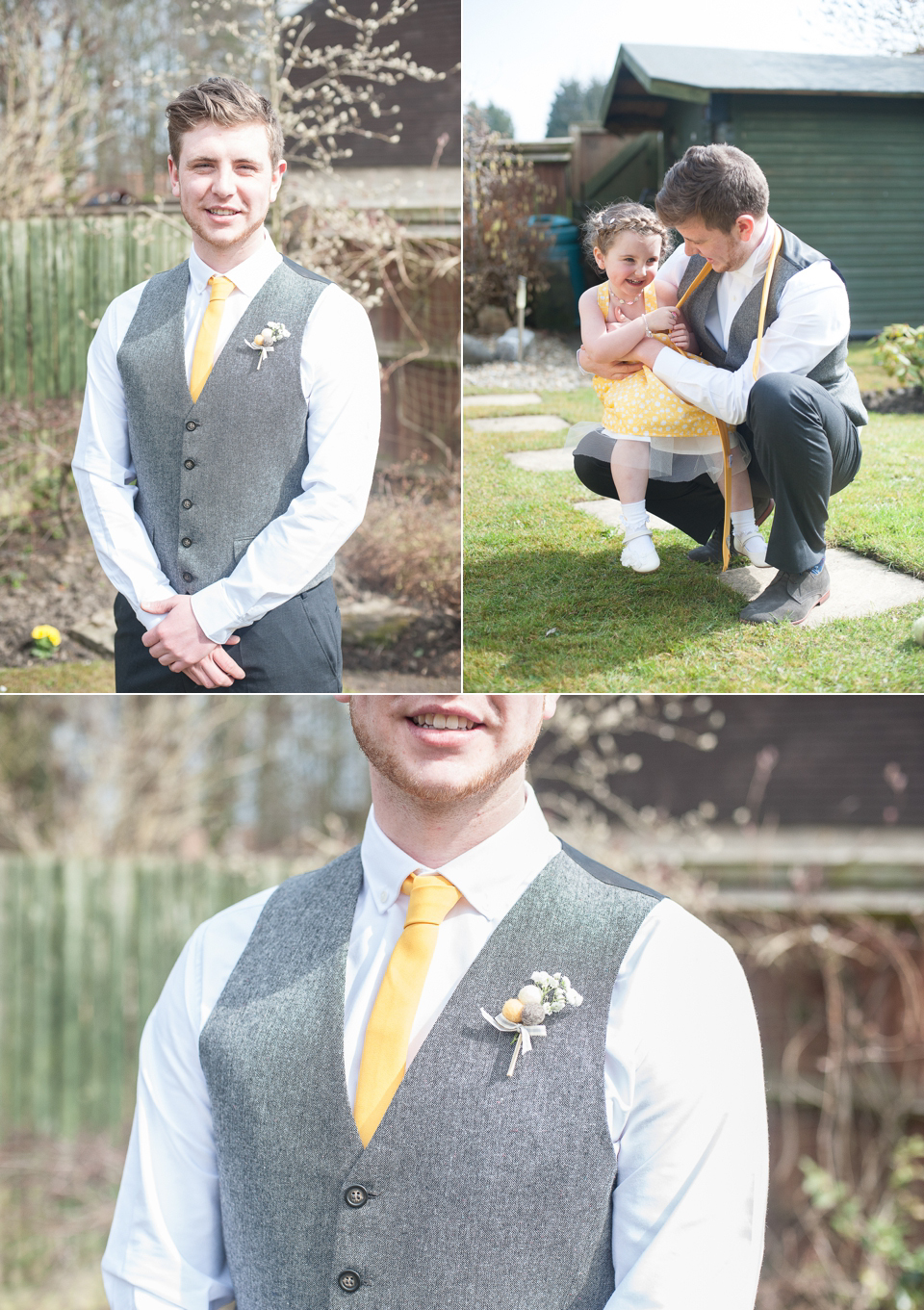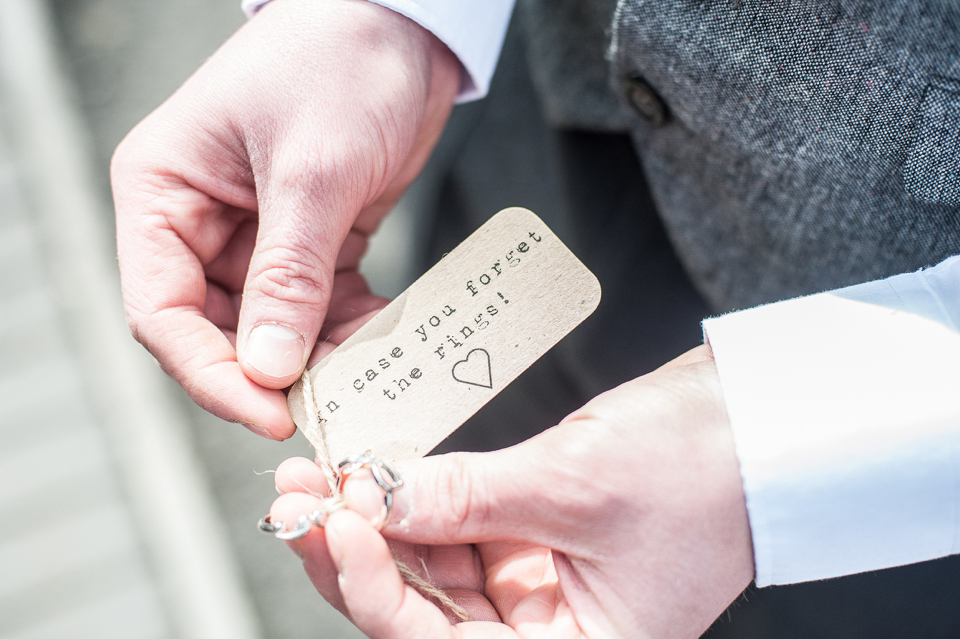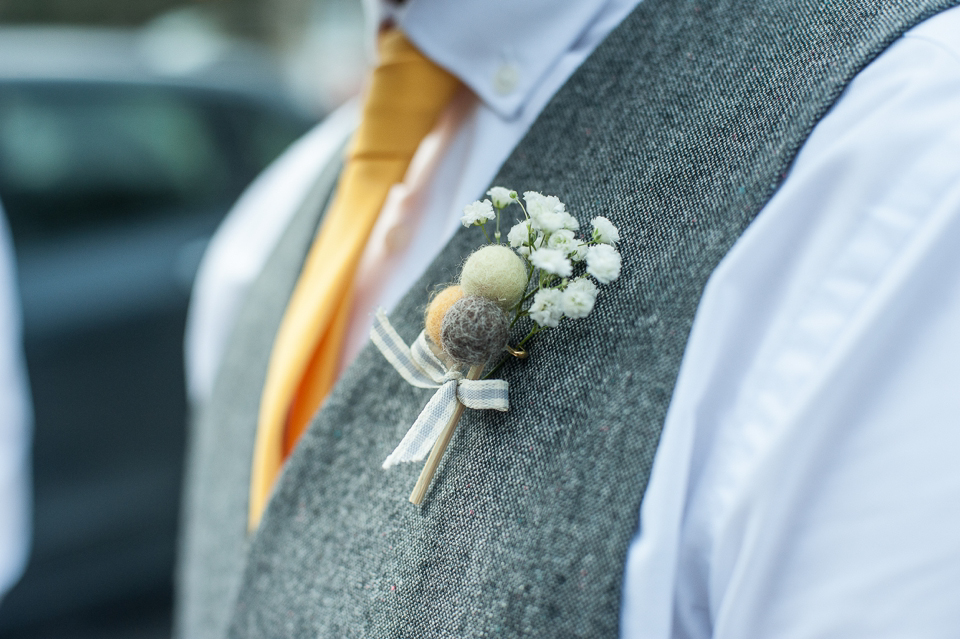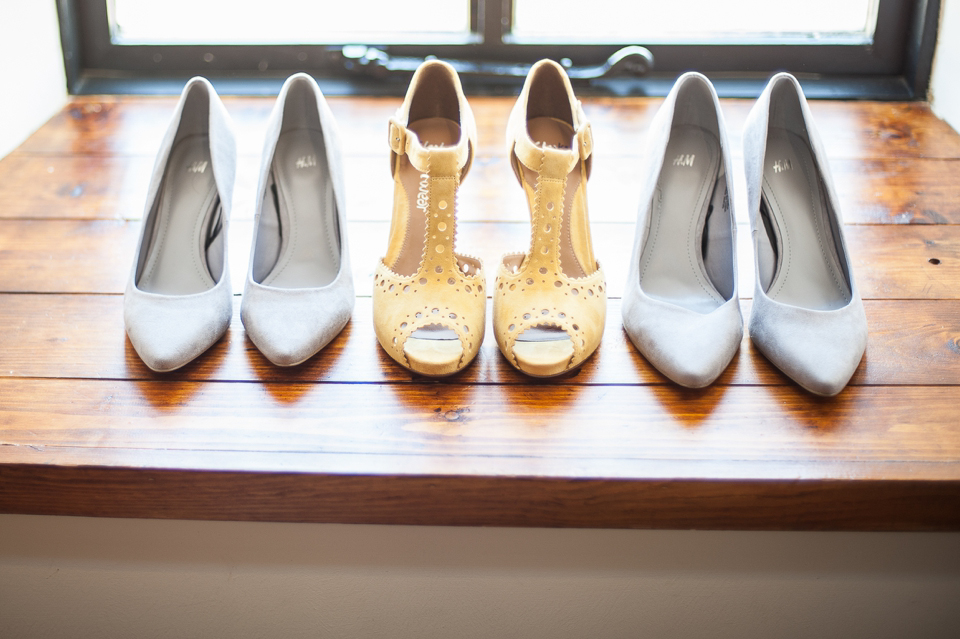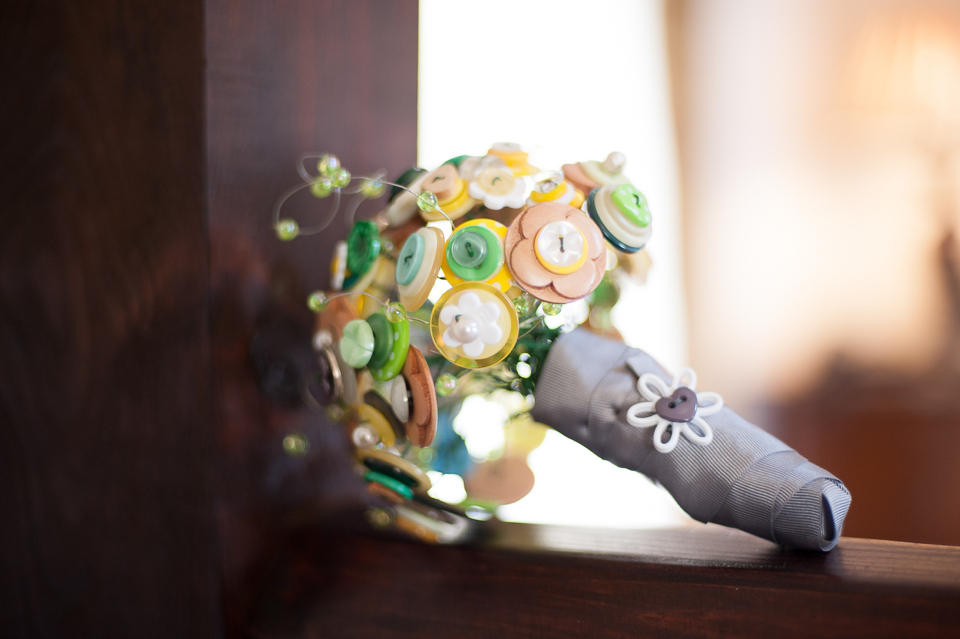 "I wore a handmade necklace made up from my late fathers wedding and grandmother's engagement rings.  They was melted down and made into a glod disk with a diamond in.  My mother had three made via Craft Workshops – one for me and both of my sisters."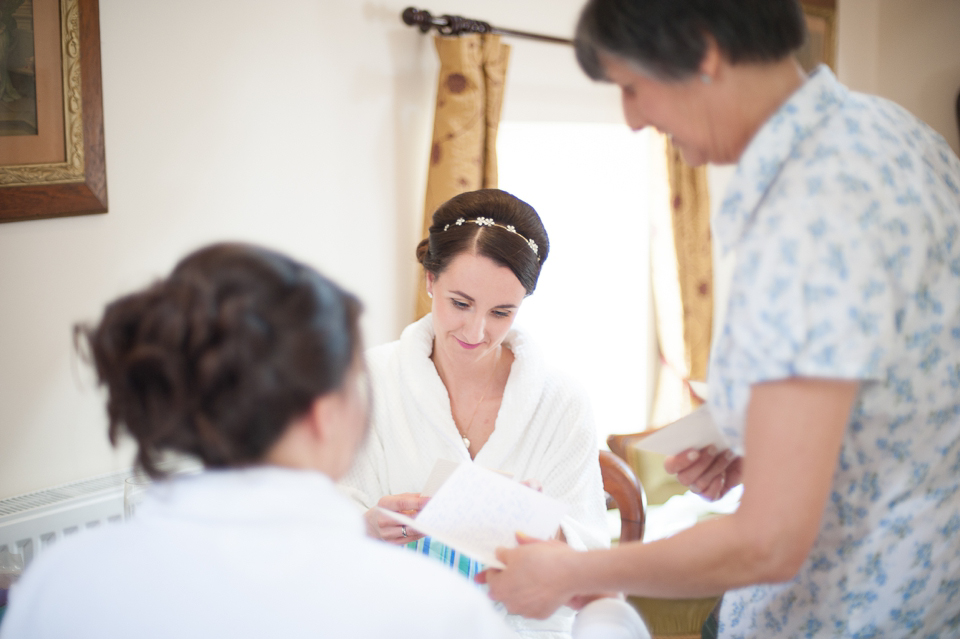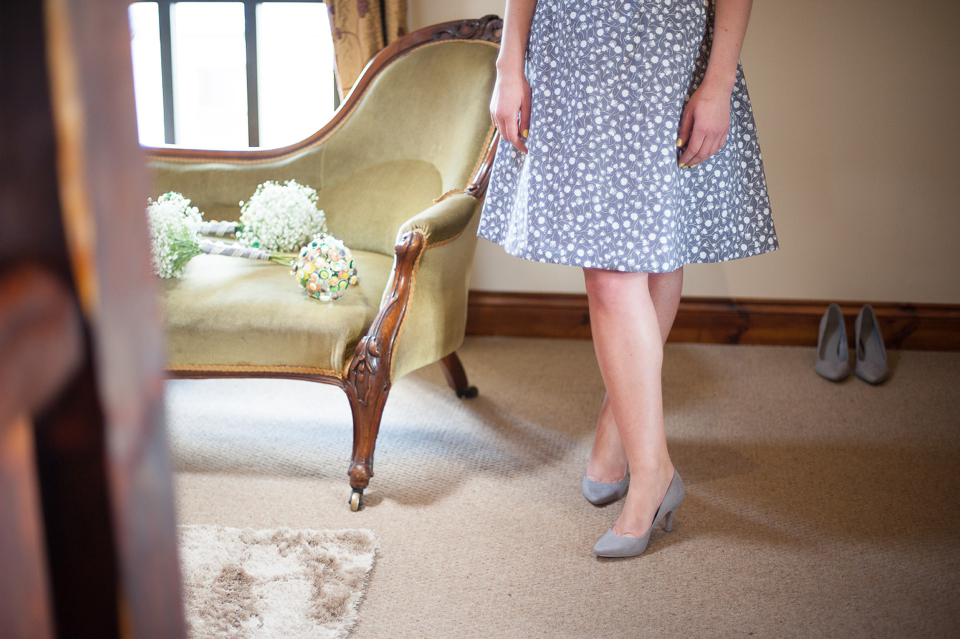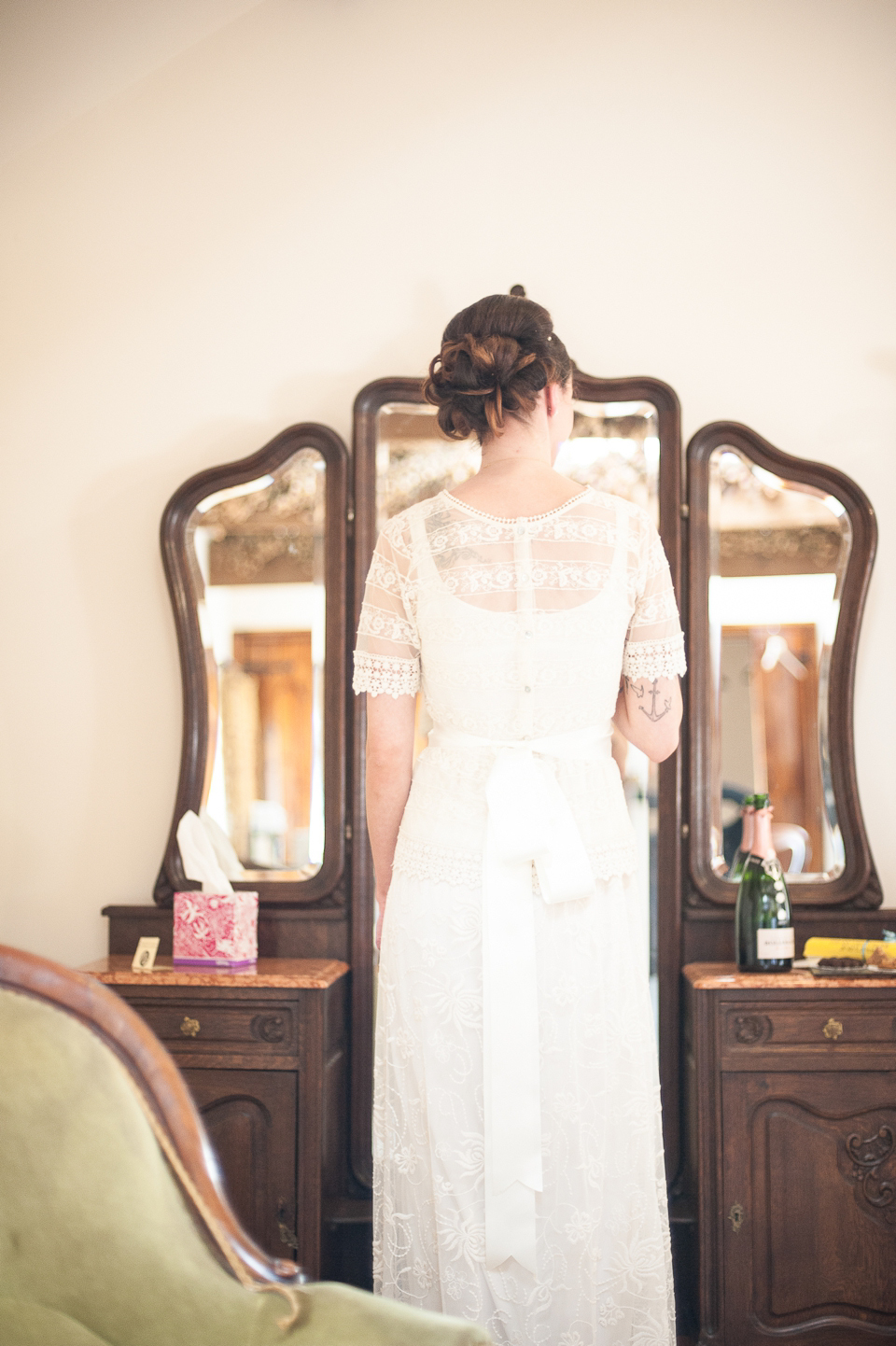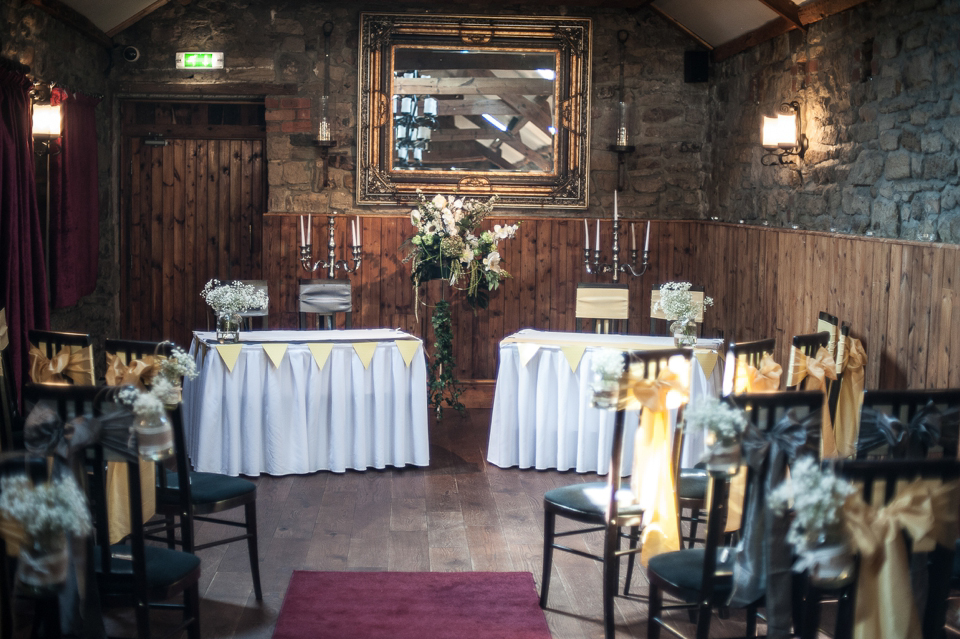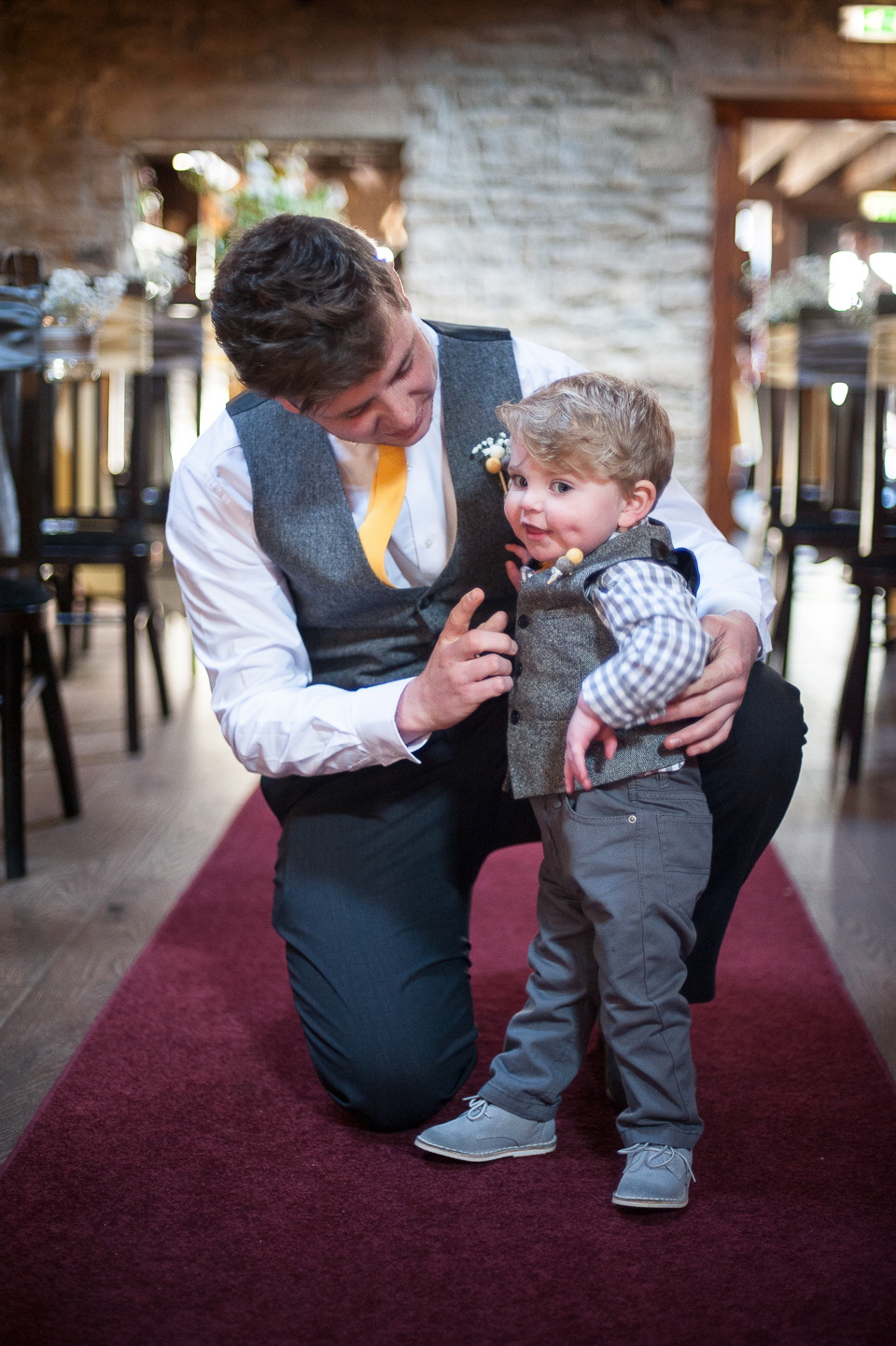 "My dad sadly passed away very suddenly in 2009 aged 60 – and only three months after the arrival of my daughter Coco, his first grandchild, so I asked my uncle Doug to give me away.  We have always been close to my aunt and uncle and he was my dad's best man when he was married and I just knew he would do an amazing job and make everyone proud.  I have always loved The Beatles – and they are also my Mum's favourite band, so I chose to walk down the aisle to and instrumental version of 'Here Comes The Sun'.
Infact, my favourite part of the day was walking down the aisle and seeing my soon to be husband looking so handsome and dashing, and seeing all of our friends and family there to celebrate with us.  It was just so overwhelming and amazing in equal measure."
"My ring was handmade to fit my unusual shaped engagement ring which is slightly wave shaped  – the ring was made at The Craft Workshops who were very helpful and did an amazing job.  My husband's ring was a stainless steel ring we purchased from Amazon. We chose stainless steel as opposed to our original choice of titanium, as my husband rock climbs and does a lot of outdoor activities and we were advised that titanium is quite dangerous, as if you have a hand injury it cannot be cut off as its such a strong metal."
"We had an amazing reading delivered by one of our oldest friends, it was 'Oh the places you'll go', by Dr Suess.  It was just so us, fun but meaningful and every time I read it I just fall in love with it all over again.  Our children love Dr Seuss too so it was also something we knew they would appreciate."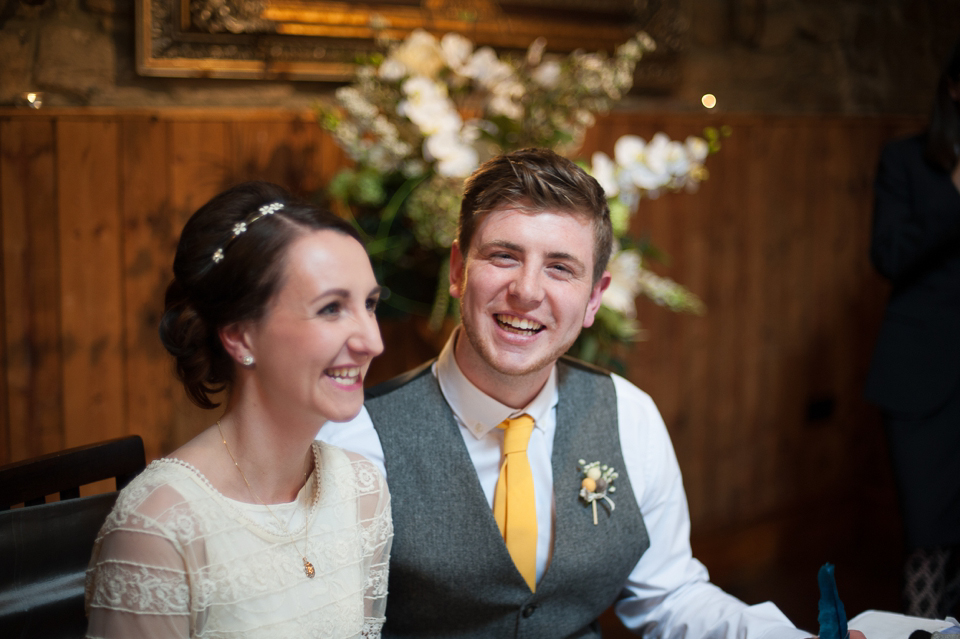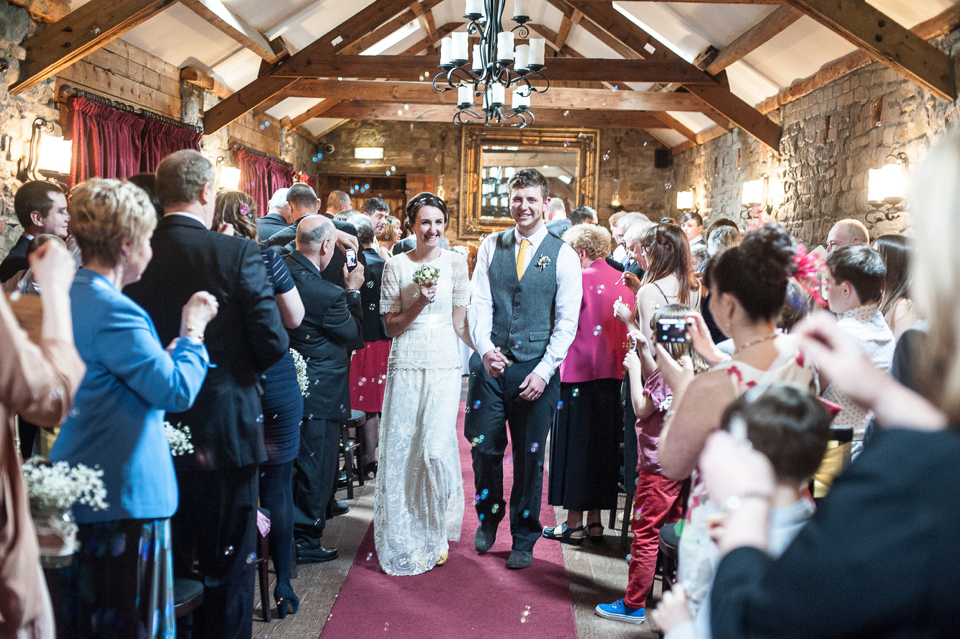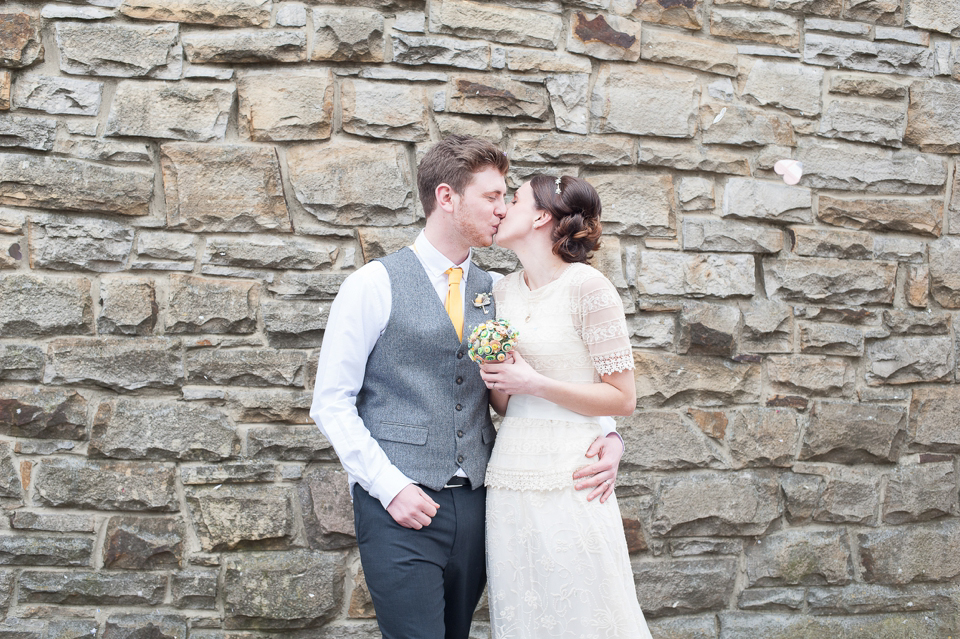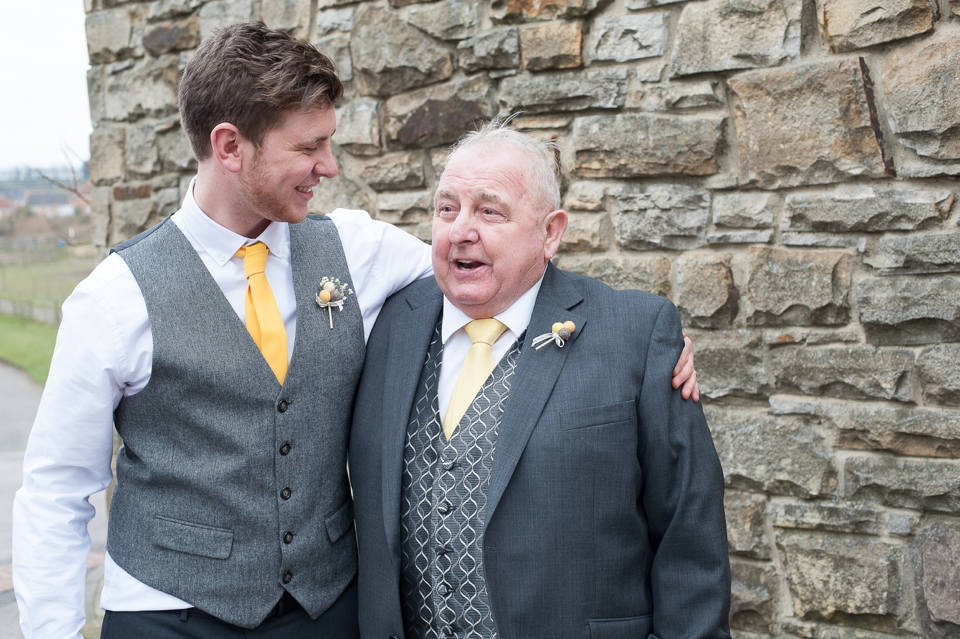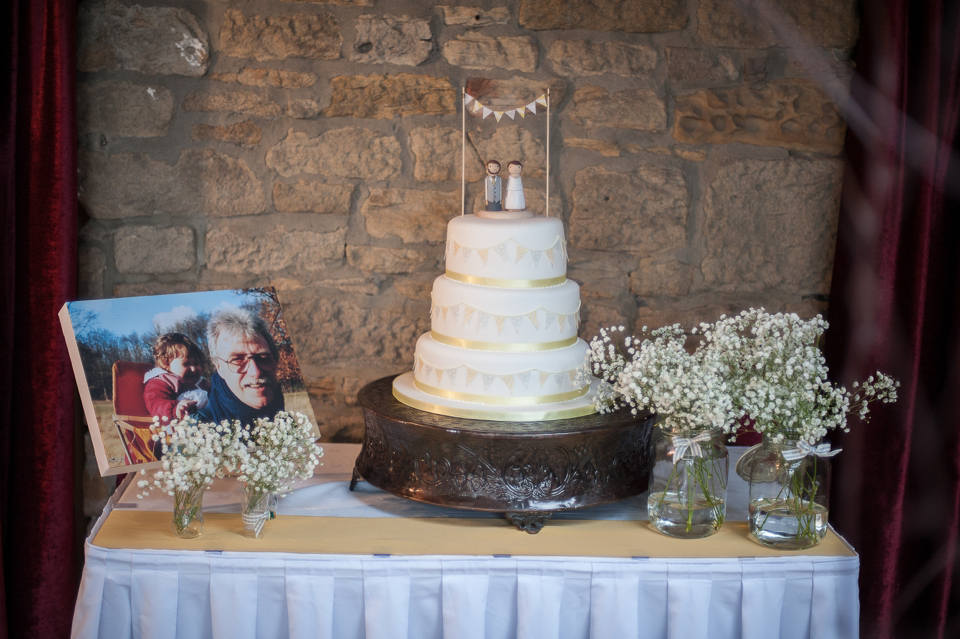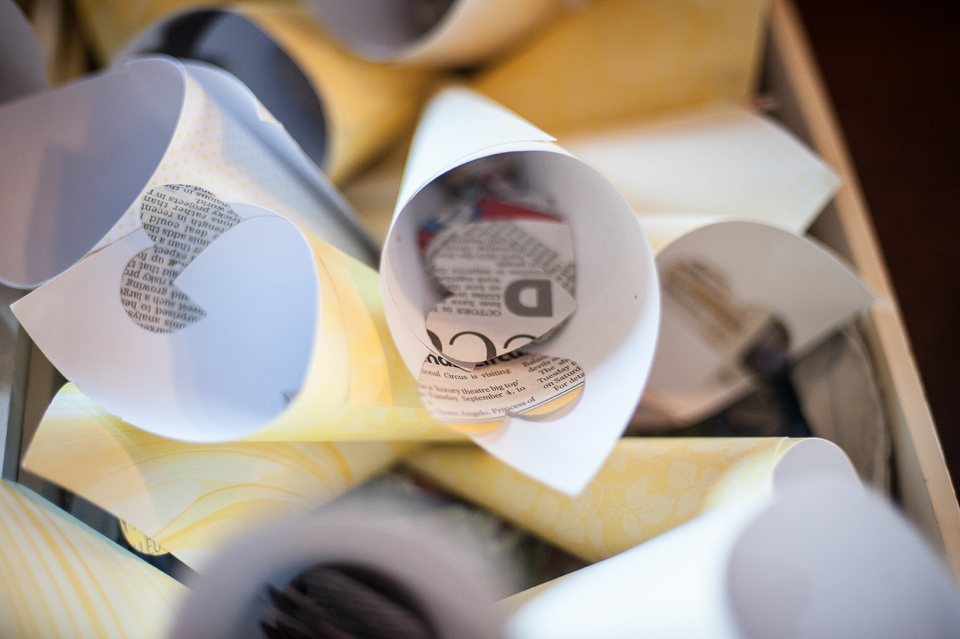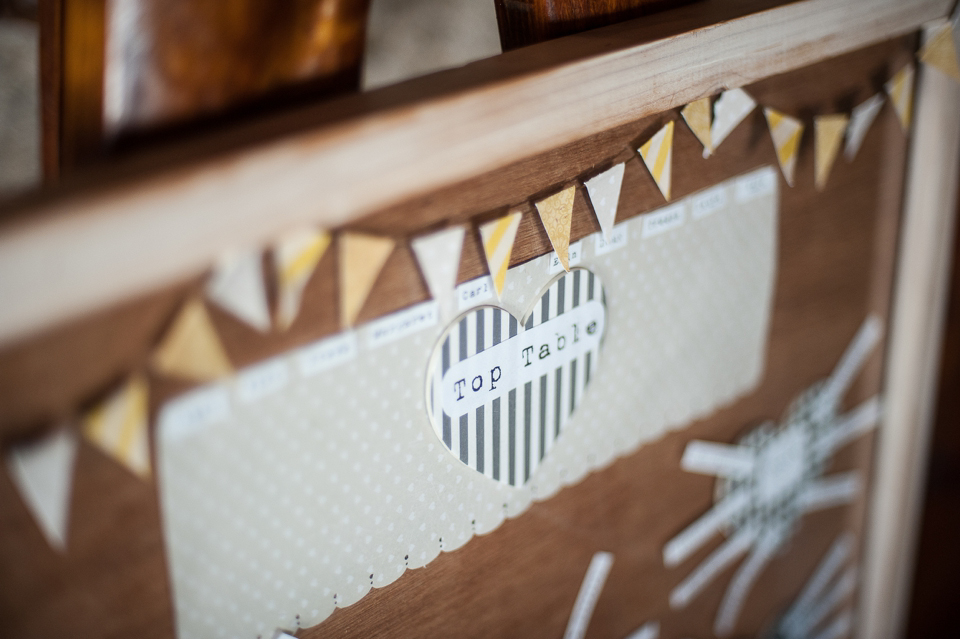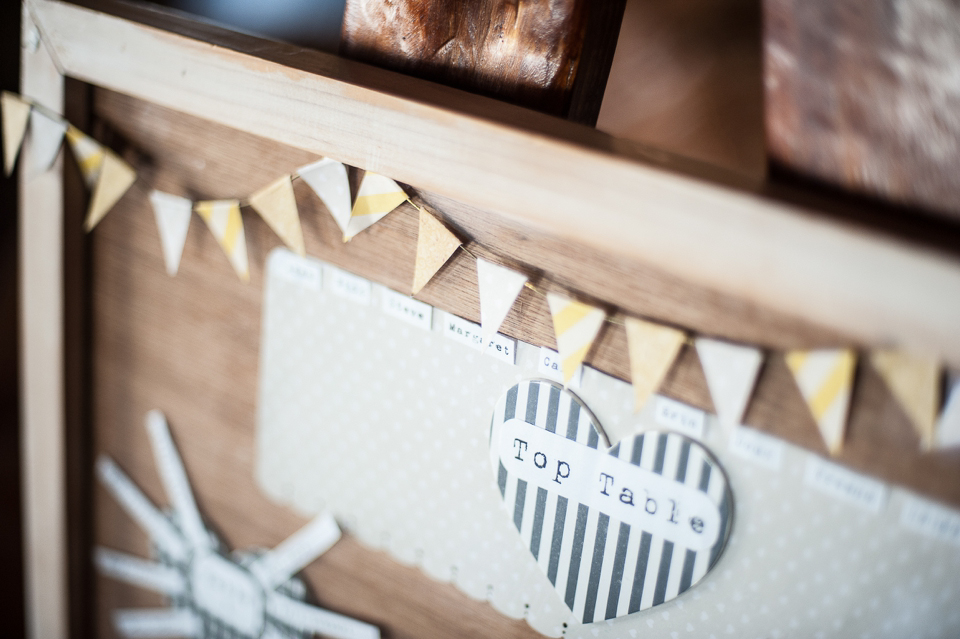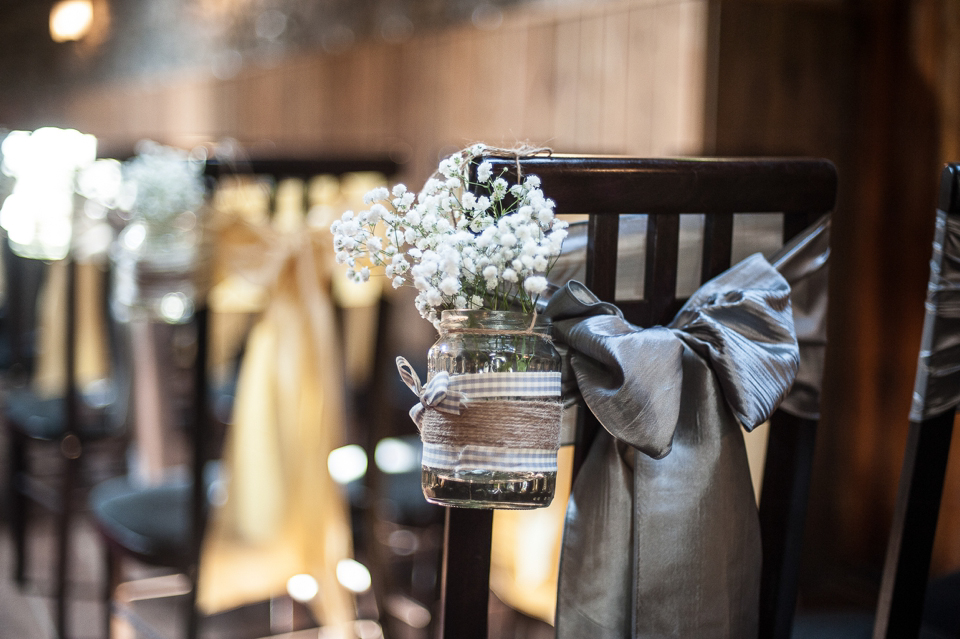 "For favours we had jars of sweets on each table with sweet bags for people to help themselves. We also invited everyone at the end of the night to take home any of the handmade items that they would like - jars with ribbons on, floral wreaths and hot air balloons we had for our table centrepieces."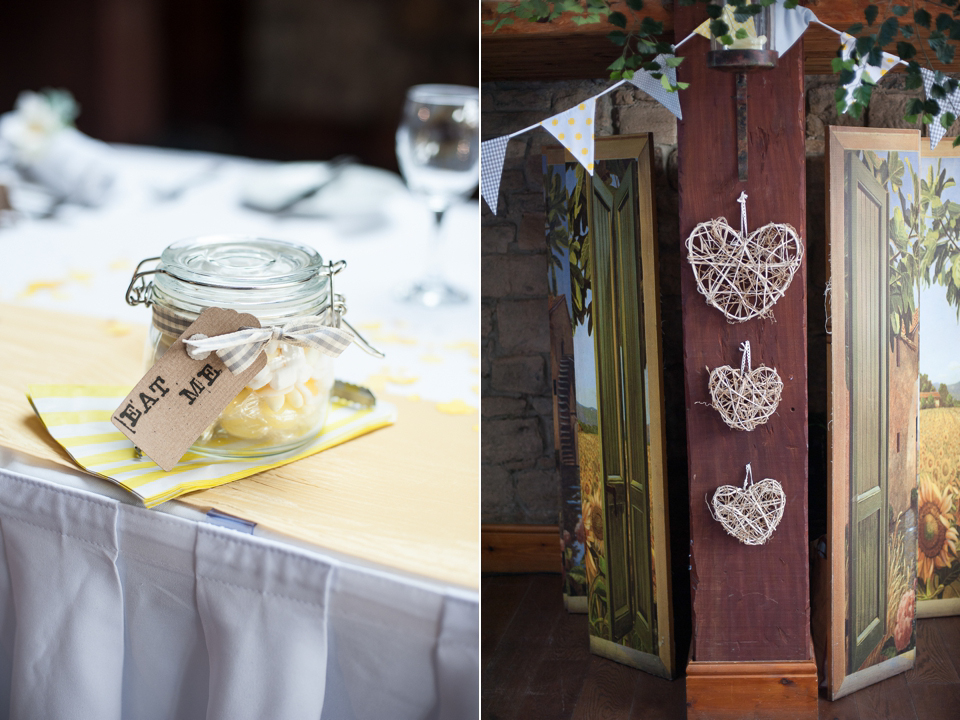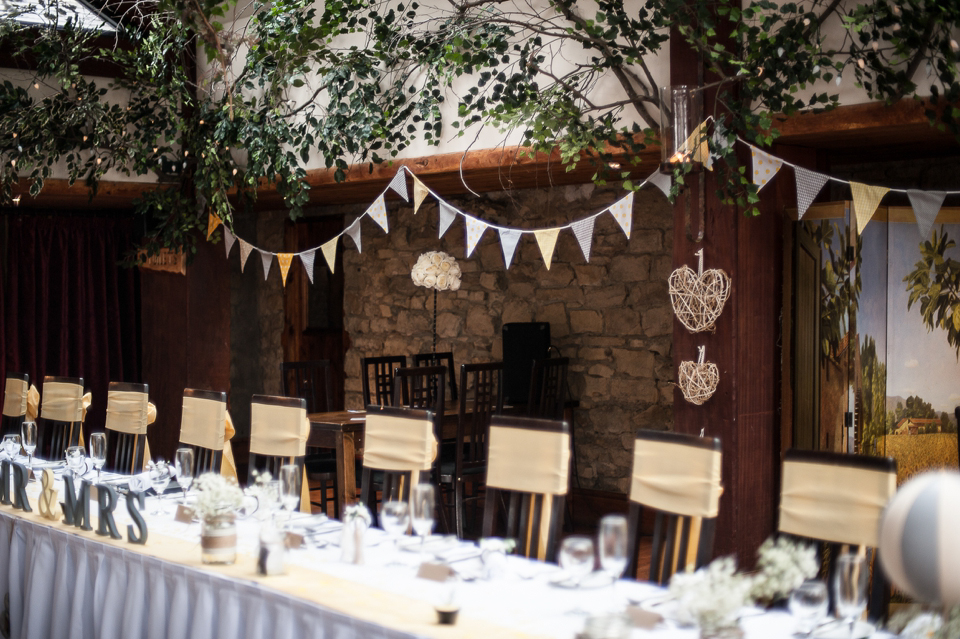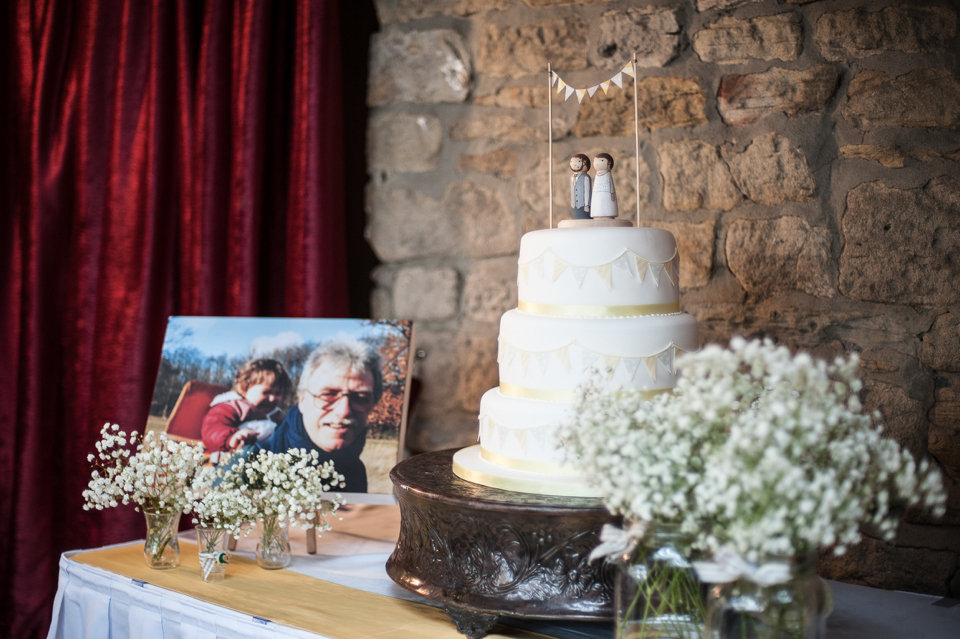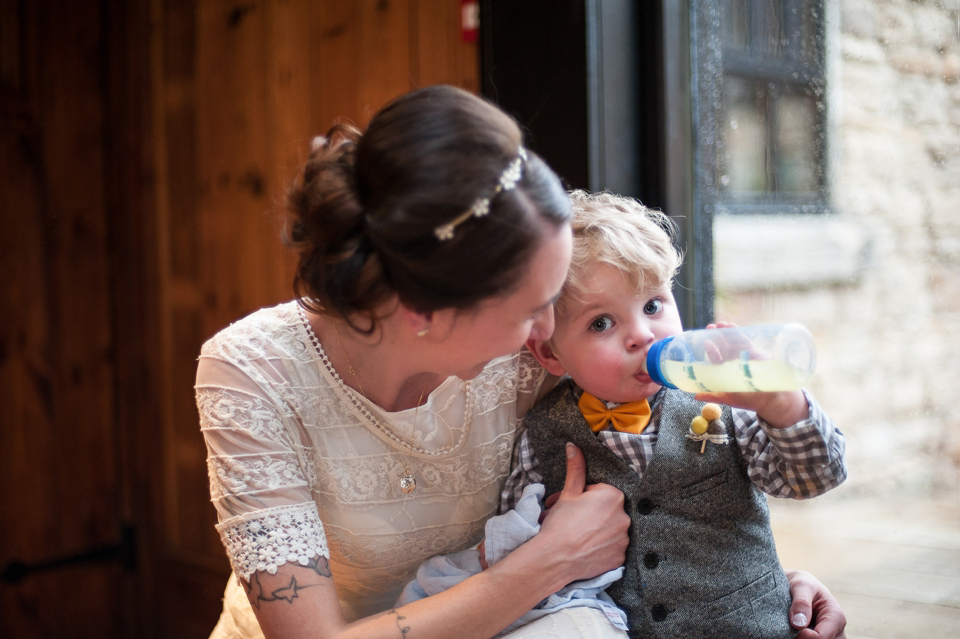 "Our first dance song was 'Linger' by The Cranberries.  We were just watching a film at some point in our relationship – I can't even remember what film or when it was, but the song came on and we both said we would love it as our first dance song."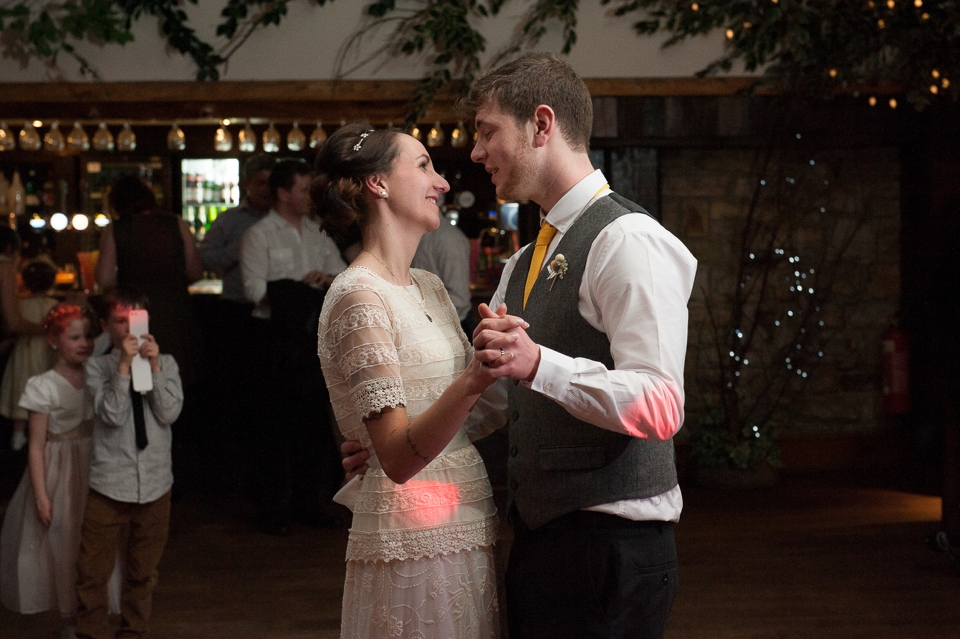 Words of Wedded Wisdom…
"Just make sure your wedding is personal to you. I think what made our day so amazing was how "us" it was.  All the handmade little details just made the day so special and meaningful and even easier to remember. The most popular compliment we got throughout the day was 'its just so you'.
I can honestly say, wholeheartedly, that there is nothing I would have done differently as our day was honestly perfect, better than I ever imagined!"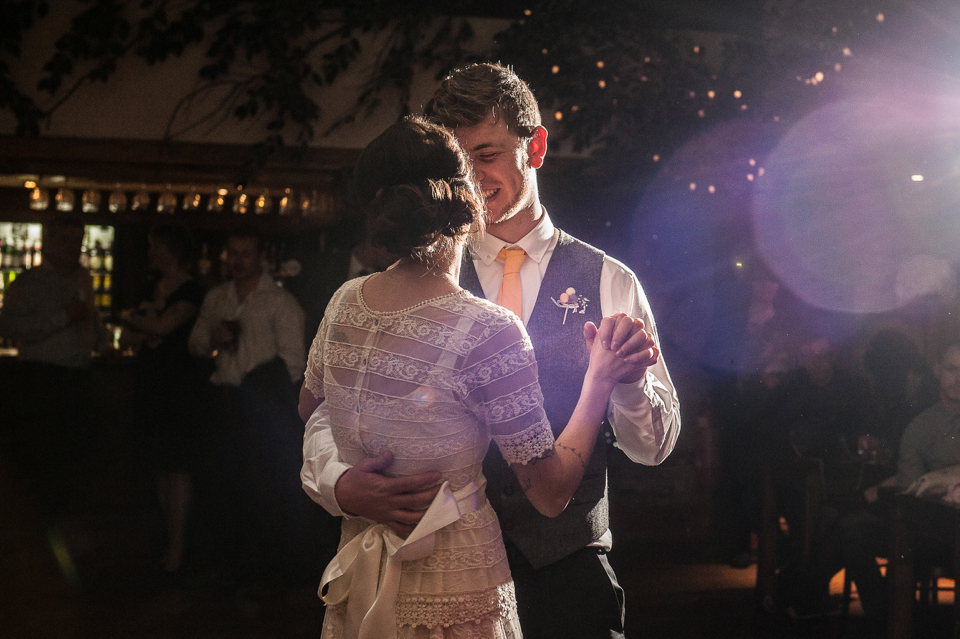 What a gorgeous, gorgeous day! I love everything about this wedding and the fact it's so family focussed – the children look like they had so much fun!
Huge thanks to the wonderful SDS Photography for sharing these gorgeous inspiring Spring wedding images.
I LOVE yellow at weddings, what about you?
Love Annabel
 
Photographer – SDS Photography
Venue + Catering – South Causey Inn in Stanley
Dress – Zara
Veil/Headpiece - Accessorize
Brides Shoes – Clarks
Groom - Newlook waistcoat + M&S shirt + Jeff Banks trousers + ASOS shoes
Bridesmaids + Flowergirl dresses – made by the bride using fabric from fabric.com
Page Boys – H&M chinos + Boots shirt + grey desert boots from Zara Kids
Button bouquet – made by the bride
Cake – Ice 'n' Easy
Rings – Craft Workshops
Stationery – Made by the bride + groom
Hair + Make-up – LA Makeovers
Follow Love My Dress® on Google+