Morning all, how are you today?  The wedding we're sharing this morning was a two-day celebration held back in January, when Katie, a Business Psychologist and Dougie, and Engineering General Manager tied the knot at the amazing Alnwick Tree House (click here to view this beautiful part of their wedding).  The couple celebrated their nuptials with a blessing and party the following day at Bamburgh Castle Pavilion in a Papakata Tipi.
These photographs were taken by Matt Ethan and I just love how they capture the wonderful vibe and atmosphere of a two day celebration full of thoughtful touches that meant something to the couple.
"I don't have a single favourite moment as such but I remember a few times looking around the room and thinking 'if you could bottle this feeling and sell it you would be a millionaire'.  It's hard to describe the love that was present at our wedding, but I will remember it forever – a lot of people after described it as 'magical'  – a word that perfectly sums it up."
Photography Copyright © 2013, Matt Ethan
"Dougie and I met three years ago via a mutual friend (who lived next door to me in Newcastle but went to School with Dougie in Scotland!).  Our romance started long distance (Dougie living in the Netherlands) with lots of hours on skype and long weekends in Holland.
I very quickly realised it was special and within six months of dating was applying for jobs in Holland, moving there exactly one year after we met! We got engaged in Tuscany in August 2013 and married within 5 months! I never wanted a long engagement and a cosy winter wedding was quite appealing!"
"For me it was all about the atmosphere and the event being a bit different – I wanted candle light, fairy lights, open fires and an outdoor feel – so the Treehouse at Alnwick, followed by our celebrations the next day at Bamburgh Castle Pavilion with a Papakata tipi were the perfect choice; cosy and romantic, quirky and individual, something that I could put a lot of attention to detail into but with a totally relaxed and informal feel. 
Bamburgh has been, by far, my favourite part of Northumberland since I was a young girl, it just has such a special character and ambiance about it and I get this warm feeling every time I visit."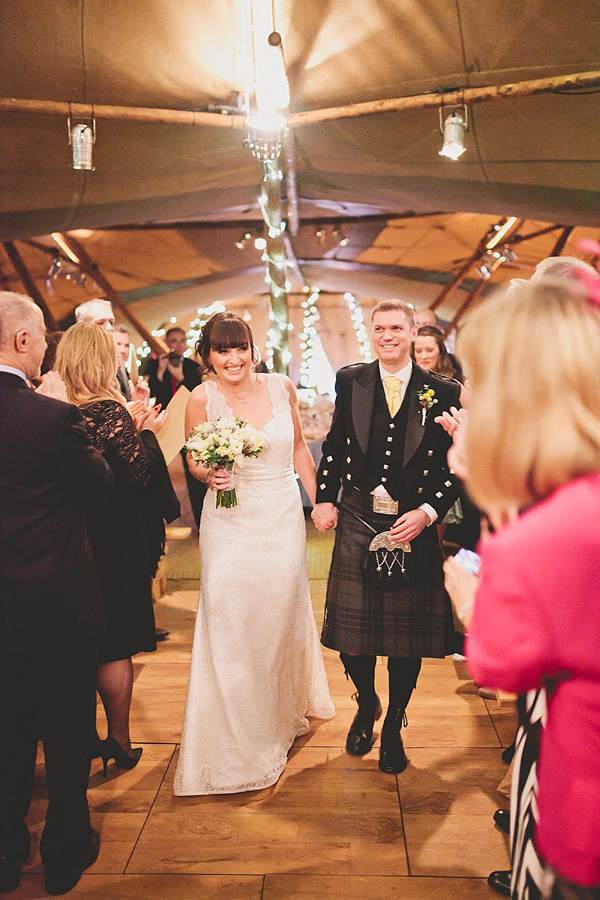 "I really wanted some Dutch theme to our wedding as this is where we now live - and how the bicycle idea came  – we had an actual bike present on the day with a basket that had flowers in it, and our stationery had a bicycle feature too – we also had a Dutch houses inspired seating plan."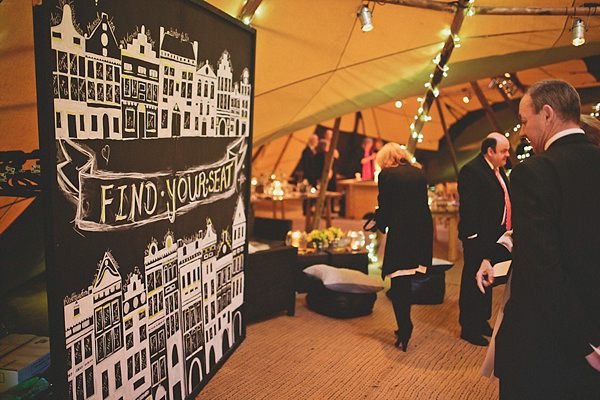 I love anything to do with events planning and interior design and so very quickly can build up a visual image of how I want something to look and feel! A few years ago my cousin got married in a Papakata tent and from that moment I just fell in love with them and knew that was exactly what I wanted for my own wedding!"
"Our Florist was Sandra Dickinson (no website) I chose Sandra as she had done the flowers for a couple of my friends wedding and she is unique and creative, she helps you create exactly what you envisage no matter how unusual, and helps you put an individual stamp on the day!
The flowers were totally incredible. To go with the vintage and informal theme I chose to have some flowers in milk churns and silver jugs and pails. The flowers I chose were yellow to go with the colour scheme and a lot of tulips as these are my favourite, and are Dutch of course!"
"Dougie's suit and my bridesmaids dresses were all from  Kathryn Trueman Bridal.  All the suppliers we used were great but the personal service and extra advice at the Kathryn Trueman Bridal boutique really stood out – they would do anything to go the extra mile for their customer.
We let the ushers and best man pick their own clothes, we wanted them to feel relaxed and it added to the informal style that people were in their own individual style. We gave them all matching button holes to make them feel part of the bridal party."
"My dress was by Stephanie Allin and I purchased it via Darcy Weddings in Morpeth, Northumberland.  It was the first dress I tried on and I just smiled from ear to ear, I always wanted something with either an interesting back or detailed straps – this dress had both! The lace and the sparkle when the dress moved felt really Christmassy and classic too which fit in perfectly with the timing of our wedding."
"One of my best friends Helen Aylott made our cake (she does this as a hobby not a business). When I lived in the UK Helen and I made a lot of wedding cakes together and so it felt only right that she would be the person to make mine! I chose a white chocolate cigarillo cake simply because I have made a lot of these before and they are always my favourite! It fit well with the rustic feel of the wedding."
"For the colour scheme I picked yellow and grey because I just love that combination.  It was a bit of a risk that it would work in winter as yellow is such a Spring colour, but I think the yellow flowers gave it a warm and fun feel to compliment the winter touches such as the reindeer skins and log fires.
I'm not keen on colours traditionally associated with winter weddings, and felt these colours gave it a modern twist."
"Our photographer was Matt Ethan – the most creative wedding photograper I have ever seen. So happy that Matt captured the atmosphere of our day rather than staged and stiff wedding shots! I would recommend him so highly to anyone getting married in the Northeast and beyond.

His warm and flexible style puts you immediately at ease and he fits around your day rather than your day being dictated by the photos. He makes getting photos taken fun and relaxing even for people like Dougie who are very camera shy!"

The first part of Katie and Dougie's wedding took place at the amazing Alnwick Tree House…
"For me the most important factor was having all my friends and family involved so the celebration ceremony on the Saturday in the treehouse at Alnwick Castle allowed us to have a really personal service where important people all played a part.  It was also important for Dougie that the official ceremony was small, intimate and relaxed as possible with no big fuss or formality."
Katie wore an emerald green dress from Coast for this part of her wedding…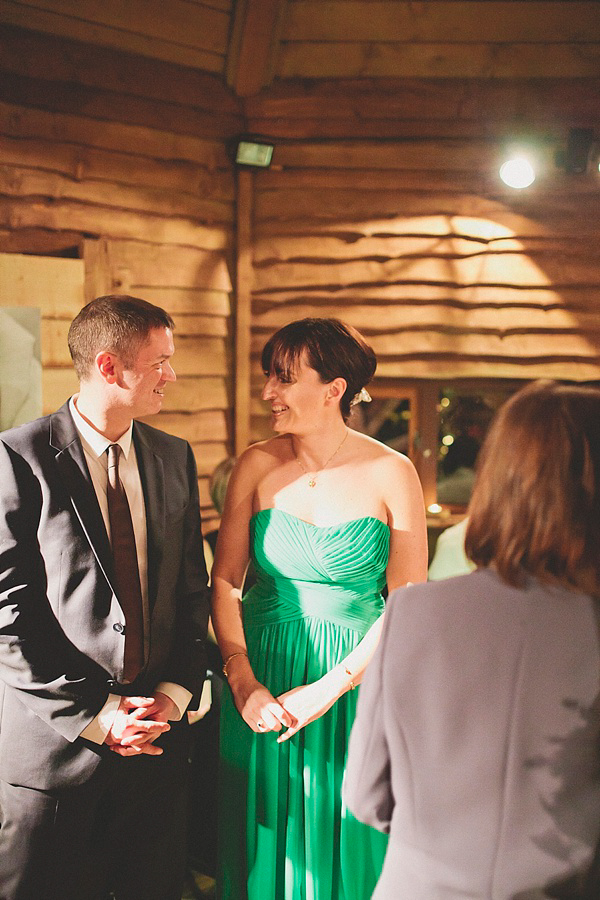 "My shoes were from Girls of Elegance – they were peep toes dyed yellow – I love quirky shoes that match in with the colour scheme!"
"We mainly picked from the vows the registrar provides for the legal ceremony on Friday at the Tree House, but we kept the giving of the rings and personal promises until Saturdays ceremony and we wrote these ourselves based on the things we love about each other that give us strength and courage for example my personal promise was all about gratitude and perspective."
"For readings, we had 'The Magic of Love' by Helen Steiner Rice – this is short and sweet and just seemed to sum up love very nicely.  We also had the lyrics to 'Make you feel my love' by Adele, which we chose this as its a beautiful love song and the lyrics seemed appropriate and meaningful for a wedding, we both love Adele.  We had two more readings too which included 'Foxtrot From a Play' by W H Auden – this reading is very quirky and it was chosen by my Uncle Ian and Aunty Anne who read it! It made everyone giggle and added to the relaxed atmosphere! It was special that they chose it.
Finally, we had 'Oh, the Places You'll Go!' by Dr. Seuss – this is a children's book that I always loved as a teenager, it is quirky and fun and light-hearted and the words seem appropriate for the new adventure that is marriage! I chose it because I wanted a long reading that a large group of my closest friends could all read together, they all picked a line each and stood up and down in the audience, it was really personal and different."
"Two of my close friends designed the stationery; Gareth Jones (a graphic designer by trade) designed our invites and Kelly Dowson did our orders of service and great menu wraps to go around the napkins. All with a bike theme! I did the place cards myself with my aunties on the Friday, we had wicker hearts (made by my aunt) and the Saturday heart shaped blackboards that pegged onto the wine glasses!"
Words of Wedded Wisdom…
"Trust yourself! I was worried that I had bitten off more than I could chew doing a totally DIY wedding on my own and from abroad and that I had too many ideas that didn't go together – there were a few sleepless nights leading up to the big day. The biggest advice I would give to any bride is to trust your imagination and instinct as it all came together exactly as I dreamed of – so if you have a vision trust it.
One thing I would change is how stressed I felt leading up to it, but I guess without stress means without passion so it was all worth it in the end! "
An absolutely wonderful celebration – congratulations to you both Katie and Dougie and huge thanks also to your photographer Matt Ethan.
Readers, if you'd like to be inspired by more magical weddings like this, you can explore these categories; yellow weddings, tipis and tents, photography by Matt, brides wearing Stephanie Allin and rustic weddings.
Have a lovely morning all, whatever you are up to,
Annabel
Photographer – Matt Ethan
Venue – Alnwick Tree House + Bamburgh Castle Pavilion with Papakata Tipis
Wedding Dress + veil/headpiece – Stephanie Allin
Green dress for treehouse ceremony – Coast
Brides Shoes – Girls of Elegance
Bride's accessories - Vintage earrings – Glitzy Secrets
Grooms Suit – Kilt from Kathryn Trueman Bridal
Bridesmaids Dresses – Kathryn Trueman Bridal + Mia Sposa Bridal + BHS shoes
Page Boy – Kathryn Trueman Bridal
Flowers – Sandra Dickinson (no website)
Cake – A friend
Entertainment – Hip Operation
Rings – Jewellers Guild + Schaap Citroen (Netherlands)
Catering Company – Curly Farmer
Stationery – A friend
Hair and make-up Artist – Amy Philipson at Rose & Bird