Good morning all.  As is custom, I've been saving one of my favourite weddings for a Monday morning for you – and this one really is lovely.  Greg, a drama teacher in New York, and Agate, a marketing co-ordinator for the Italian jewellery brand Pomellato, had the most beautiful wedding at Château de la Bourlie in Urval, France on Friday August 23 last year.
This whole day has been so breathtakingly photographed by Rik Pennington – I really hope you love and are inspired by looking through these images and reading Agate's memory of her beautiful day.
"We wanted the day of our wedding to be very personal. We wanted to avoid the cliche and routines of wedding. The theme was rustic-romantic with a New Orleans influence. We found a jazz band from Bordeaux that plays New Orleans jazz and we had Parisian meets New York inspired props for the tables.  The colours were cream, vintage pink, light green and a hint of purple."
Photography Copyright (c) 2014, Rik Pennington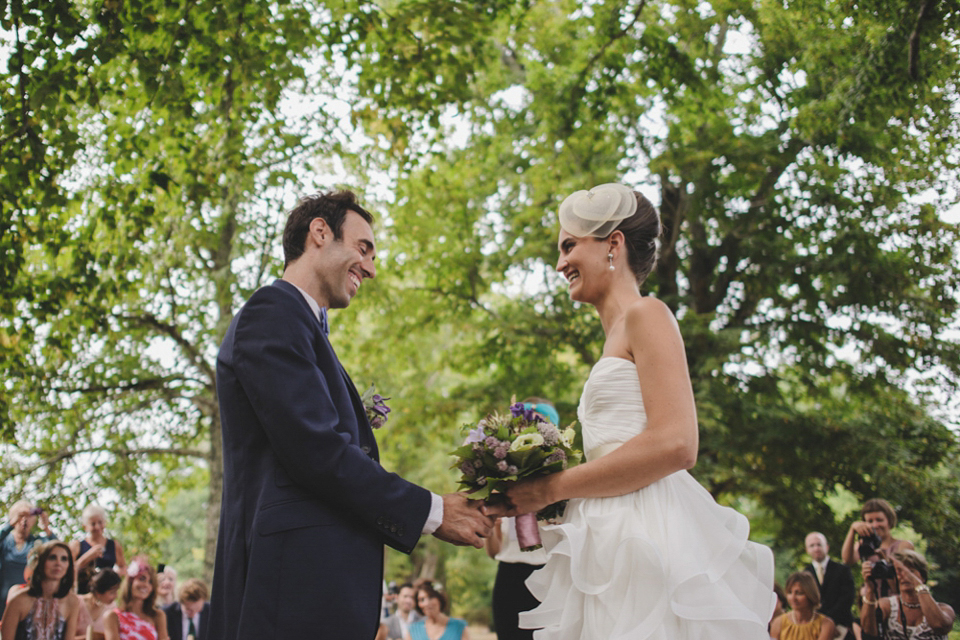 "Greg and I met in a grocery store in Queens, Woodside. We actually have a video of how we met that we projected on a big screen during our wedding.  Greg was just coming back from his trip to Sicily and was very inspired by European culture. I had just arrived in New York for a six month internship and was looking to meet people! We were both open and wanting to meet new people so when Greg heard me speak in French in his local grocery store he asked for my number and I took his.
Of course, I texted first!  After the third date, he was my boyfriend (French don't play the dating rules) and after a month I knew he would be the Father of my kids! Four years later we got engaged (a Visa emergency triggered the proposal!) and 10 days later we had our wedding at the New York City Hall with close family. The big wedding was planned in six months and took place in the south of France."   

"We didn't have a civil or religious ceremony in France, first because we were technically already married and second we are both atheists. So we could be very creative with the ceremony.

We chose Château de la Bourlie because it had a rustic charm and intimate feel. We wanted to avoid pretentious 17 century castles. We also fell in love with the beautiful gardens."
"We didn't have the time to create stationery invitations so we decided to use online invitations and used Paperless Post. They have amazing designs and so easy to use."
"My dress was by Reem Acra.  I loved the simple fitted strapless top and open back with the V shape. I loved the ivory colour that matches better with the skin tone, but foremost I fell in love with the flowing fabric.
It had the perfect volume, a great modern feel with a romantic hint. Just perfect."
"I spent a lot of money on my dress so I wanted to save on the shoes. I found a perfect simple and comfortable pair of cream pumps at Naturalizer. I didn't wear a veil but I opted for a cute hat with a beige colour to play with two tones: the ivory of my dress and shoes coupled with the beige of my hat and a beige fabric belt I made. My hat is from Sara Gabriel.  To match the colour of the hat I created a belt with some silk fabric I found at Mokuba in New York – they have a great selection and you're sure to find the exact colour you're looking for!
I wanted my hair to look like what I do everyday, but just in a better way! I am always wearing my hair up so I showed my hairdresser how I do it in the morning. I asked her to do the same but with her magic touch to make it look ten times better.  I wanted my make up to be very simple as well. It was hard to find the right lipstick colour. I finally opted for this warm vintage pink lipstick from Bobbi Brown, called sandwash pink."
"Greg wanted a slim and old school navy blue three piece suit which he found at Ted Baker. The shirt is from Ted Baker too and the little dots featured in the design were very of the 1930's era which really fit in to the whole vibe of the day and made him look very handsome!"
"My dad walked me down the aisle and the music that accompanied us was a live piano playing 'Breathe Me' by Sia.  In fact, my favourite part of the wedding was the ceremony, it was so beautiful."

"We picked our florist locally and she was amazing because she totally understood what we wanted: rustic romantic but not classic. We asked her to play with different textures of flowers so she used artichokes, thicker flowers along with light and delicate ones. We wanted for our tables three little bouquets rather than one big classic centre piece (except for the bride and groom table) and we wanted to work with 4 main colours – cream, light green, vintage pink and a hint of purple."

"We found a great band of five musiciens from Bordeaux called Jazz & Cie.  We really wanted jazz from New Orleans and they had an amazing soxophonist, banjo player, singer, piano and bass. Timo organized it all and he was wonderful."
"We fell in love with Rik Pennington's photography, his style and aesthetic. We really loved his candid shots, his way of capturing colours and his artistic choices. He is a real artist and we loved that! Also he made choices that were different and not typical wedding poses, which we really wanted to avoid, so we couldn't get better than Rik as our photographer."
"I let my bridesmaids choose their own dresses.  The flower girls had to wear a white dress with white shoes and we had our florist make hand bands with flowers in the same colours as my bouquet."
"We wrote our owns vows.  Here is an extract of my vows to Greg 'I picture my life with you as a dance that will only stop when the music ends. We'll swing go up and down, holding each other's hands and creating new steps, new moves always on the music's beat. Mon amour, I love you. I love us. Do you want to dance this life with me?', and here is an extract of Greg's vows to me 'My love, you can count on my love. You can trust it. There is not a thing I would not do for you. I once wrote you that if we were lost from one another, I would travel up and down all the roads of this world until I found the one that led me to you.  (…) Today I give you a ring as a symbol of my love, but more than that I give you my hand, my heart, my partnership. Everything now in my life is yours. You and me, side by side, for life, my love.'"

"Our readings included a short theatre piece 'Romeo and Juliette' by Shakespeare since theatre is a big part of Greg's life. It was also a fun way to start the ceremony.  We read the poem from Pablo Neruda 'Your laughter' that we chose because we used to read poems from this author to one another and this one is a great way to understand why we fell in love.  We also read a text called 'Desiderata' from Max Erhmann that we liked because it was about life and what we should hope for, look for and go for. It was inspiring for a married couple starting life side by side.

Also during the ceremony, our friend who is also an opera singer, sang 'O Mio Babbino Caro' to honour our grand and great-grand parents that could not be with us that day. This song is one of Greg's favourites that also honoured his Italian origins."   
"Our wedding favours were really important to us and we created them from scratch. They were mini honey jars with homemade honey from my grandfather. We bought the jars, we filled them up with the honey, bought a nice liberty fabric, added stickers that said it was homemade honey and we added a tag that read 'Meant to Bee' from Etsy. It was a lot of work, but worth it!"
"The catering company, Phyllis Traiteur, are from Bordeaux.  They were excellent and their presention and the quality of their food was amazing.  The staff were very organized as well."
"The first dance track was "My Baby Just Cares" by Nina Simone. My dad is a good rock & roll dancer and we danced to this song, later joined by the groom and his mom. It was fun and perfect!"
Words of Wedded Wisdom…
"Our biggest regret was that I didn't expect delays in my planning.  The ceremony was delayed because some people arrived late. My advise is to count delay in your planning, especially if you have European guests!! That way you don't get rushed. As a consequence, we didn't get the chance to enjoy the cocktail because we were taking pictures longer than we thought and when we came back the cocktail was already over!
I believe our wedding was successful because every single detail was meaningful to us and to our story. Personally, I was very happy I didn't hire a wedding planner because I truly felt like it was our wedding, the way we wanted it to be."
What a beautiful day, so much love to be felt just looking through these photographs. 
Huge congratulations to you both Greg and Agate – I feel so lucky to be able to share this wedding with our readers and know they will be hugely inspired.
And love and thanks also to photographer Rik Pennington for once again sharing his beautiful work on Love My Dress.  You can see more from Rik on Love My Dress here.
Love Annabel
Photographer – Rik Pennington
Venue  - Château de la Bourlie, Urval, France
Wedding Dress – Reem Acra
Headpiece- Sara Gabriel
Brides Shoes – Naturalizer
Groom's suit – Ted Baker
Bridesmaids – own choice
Entertainment – Jazz & Cie
Catering – Phyllis Traiteur (Bordeaux)
Stationery – Paperless Post
Follow Love My Dress® on Google+