Good morning everyone.  I thought we'd venture overseas for our fix of wedding inspiration today, because this wedding is just so incredibly beautiful. Communications Manager Kate married her beau Gareth on 30th August last year at the stunning village of Groznjan in Croatia.  Croatia is a place I've never visited but somewhere I've always thought looks breathtakingly beautiful.  These photographs taken by Petar Jurica have convinced me I need to visit one day.
"We fell in love with Croatia when we first came on holiday here in the early days of our relationship - we saw two shooting stars the first night we were there. Gareth's mum and Dad own an apartment with friends in the small fishing village of Novigrad, Istria. The town has such character and charm and ended up inspiring the whole design of our handmade wedding invites."
Photography Copyright (c) 2014, Petar Jurica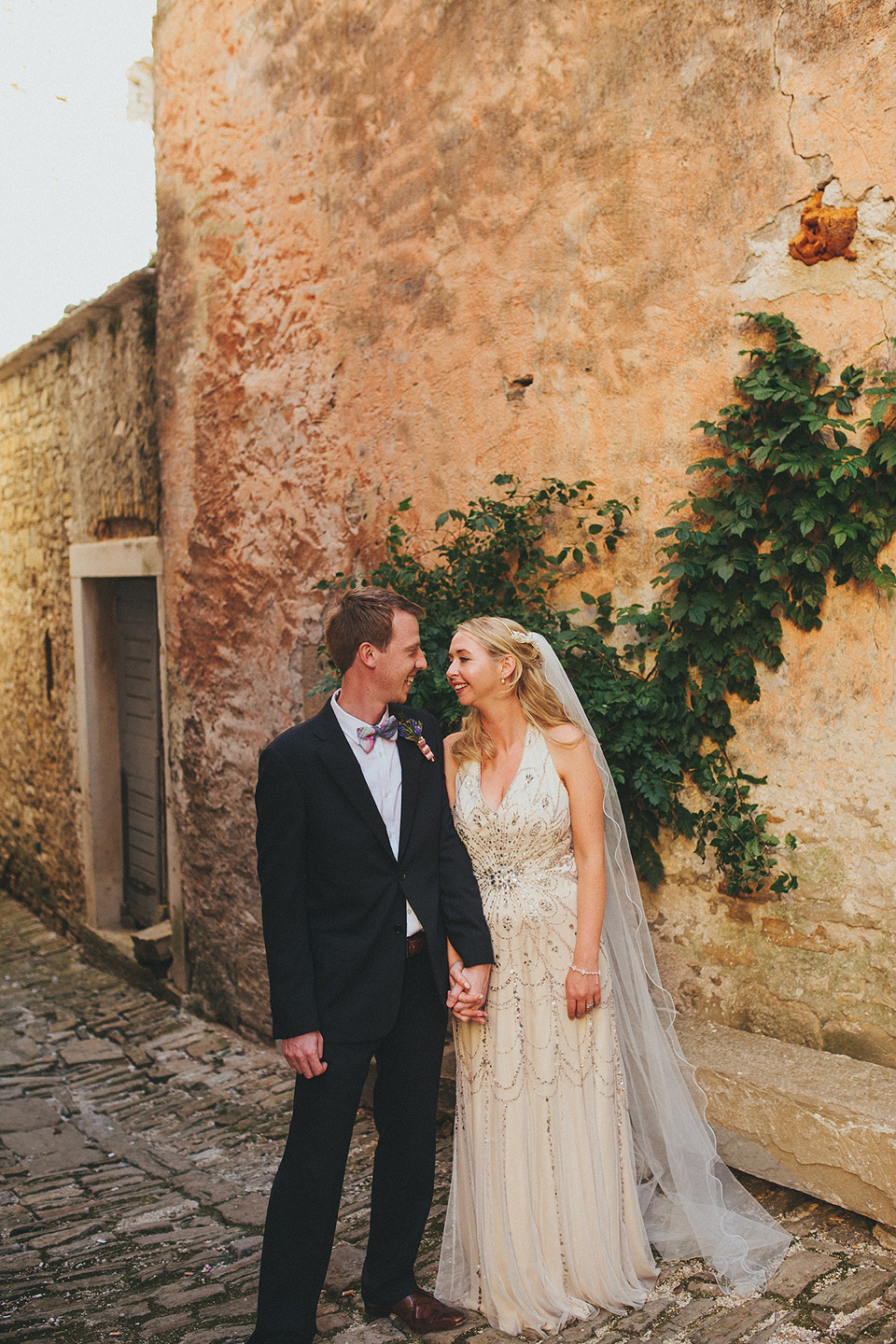 "Gareth and I met when we were 17, through friends, but fell out of touch for a few years.  I then happened to turn up at Gareth's house party at the age of 25, and we have spent everyday together since.
Gareth proposed by secretly booking me time off work - I woke up one Wednesday thinking I was heading to work, instead Gareth took me to fly owls and then surprised me with a 3 night romantic break at Quarry Walk Lodges! He proposed that night in the hot tub with champagne and candles, it was our 5 year anniversary. He'd actually been secretly planning it for months, asking both my mum and dad for my hand in marriage and slowly packing my bags without me realising a thing! We were engaged for 18 months."
"I couldn't make my mind up over wedding invites and there was less than a year to the wedding so in the end I took on the mammoth task of making our own! It was THE most draining, exhilarating and satisfying thing I have done! I love laser cut art, it's very tactile and it meant I could make a design and send it off to Cut Laser Art.  It took me two months of designing which was all inspired by a photograph of us on our first trip to Novigrad. I had to literally teach myself Illustrator on the Mac using online tutorials, all the while ordering card stock, envelopes and decorations.
Finally came the agonising task of putting it all together, it was no mean feat and I am grateful to my in-laws for opening up their home, as a mini production line, for two weeks straight as we sliced and diced, glued and stamped our way through it."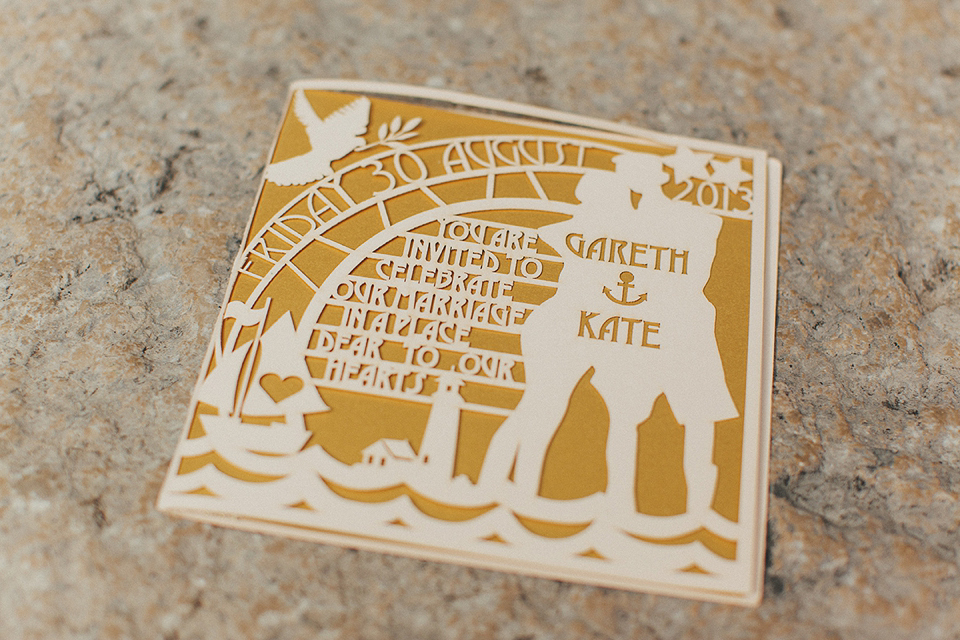 "We decided to get married in Groznjan, which is 20 minutes inland and home to musicians and artists.  This medieval hilltop village comprises cobbled streets, leafy squares and breathtaking views. You can hear musicians practising whilst you stroll the streets and browse the gorgeous art shops!  We followed the ceremony with a ring blessing at the chapel of St Cosmas and Damian built in 1554.  The chapel's traditional and uniquely hand painted interior is breathtaking, and we are grateful to Priest Zupnik for performing the blessing.
We had the ceremony meal in Bastia restaurant in Groznjan. They helped plan the menu and went above and beyond in all they could do for us. Even driving the Grooms dad, Jeff, back down to Novigrad on the wedding day in a mad dash for spare car keys when he realised the champagne for the toasts was locked inside! we never knew he was gone until the next day!
We hired Mirella Premura from VOW Weddings, we couldn't have done this without her! She really is excellent, has lots of ideas and her help was invaluable – especially when it came to organising the registrar who only spoke Croatian! We can't thank her enough."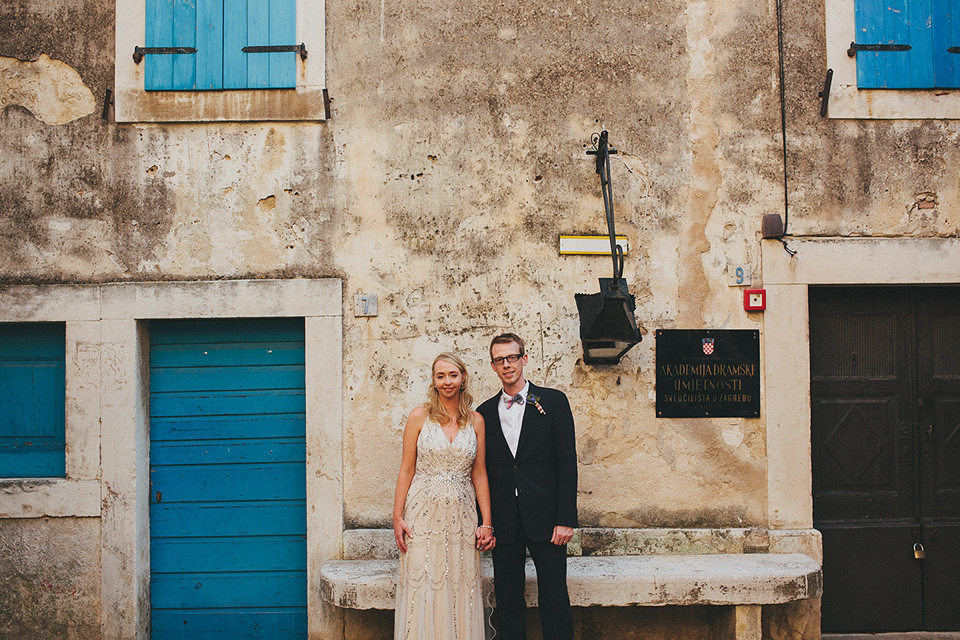 "I designed and made paddle fans which we laid out on the benches for the outdoor ceremony, which turned out to be a good idea as it was a warm day - they had the order of the day on one side and a map of Groznjan on the other.  I figured if they decided to wander the beautiful cobbled streets they would at least know how to get back to the coach later on!"
"My dress is the 'Luna' gown by Jenny Packham, bought from Aphrodite in Knutsford.  I tried it on and it was so different from any other dress I had seen. Light and silky with intricate art deco beading, glamerous yet timeless. I felt like a grown women for the first time in my life and I didn't want to take it off!
My veil was handmade by the dressmaker from Aphrodite, she made me a one tier floor length veil with pearl beads. My headpiece was handmade for me by Aphrodite too – a beautiful headpiece with pearls, and I didn't know what it looked like until I picked it up two weeks before the wedding, but it was perfect. I kept it simple and chose not to have a necklace, and purchased vintage single drop pearl earrings from Erica and Edwards.  I also had a beautiful pearl and diamante bracelet, a gift from a family member, and my mum surprised me on the day with Chanel's Gardenia perfume."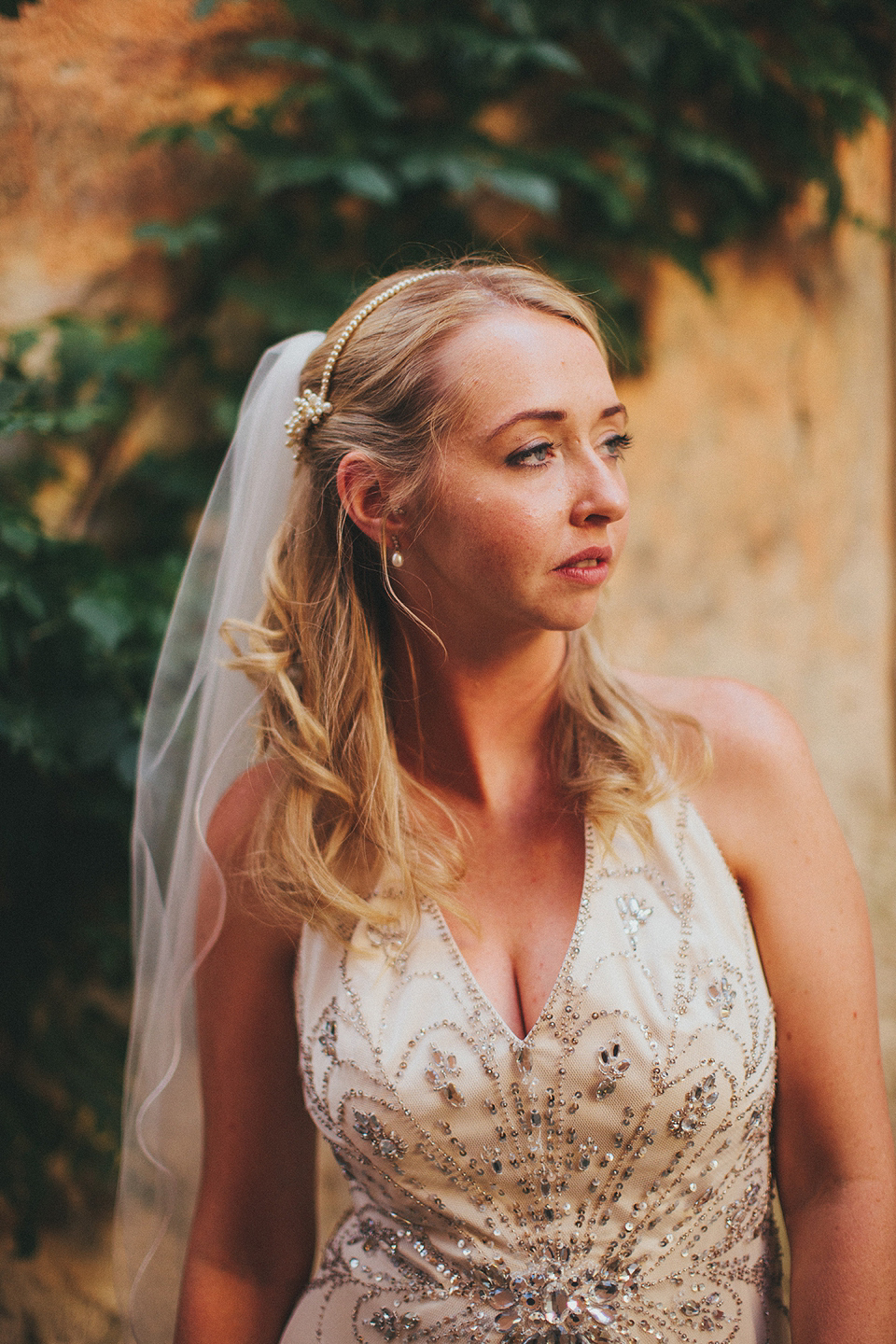 "My shoes were also by Jenny Packham – I was really pleased to find them in Debenhams for a great price, and they were in the sale! For a  boat ride, that we had later in the day, I changed into fitflops covered in champagne rhinestones! not that anybody could notice, but I was so grateful to have them when dancing the night away later on!"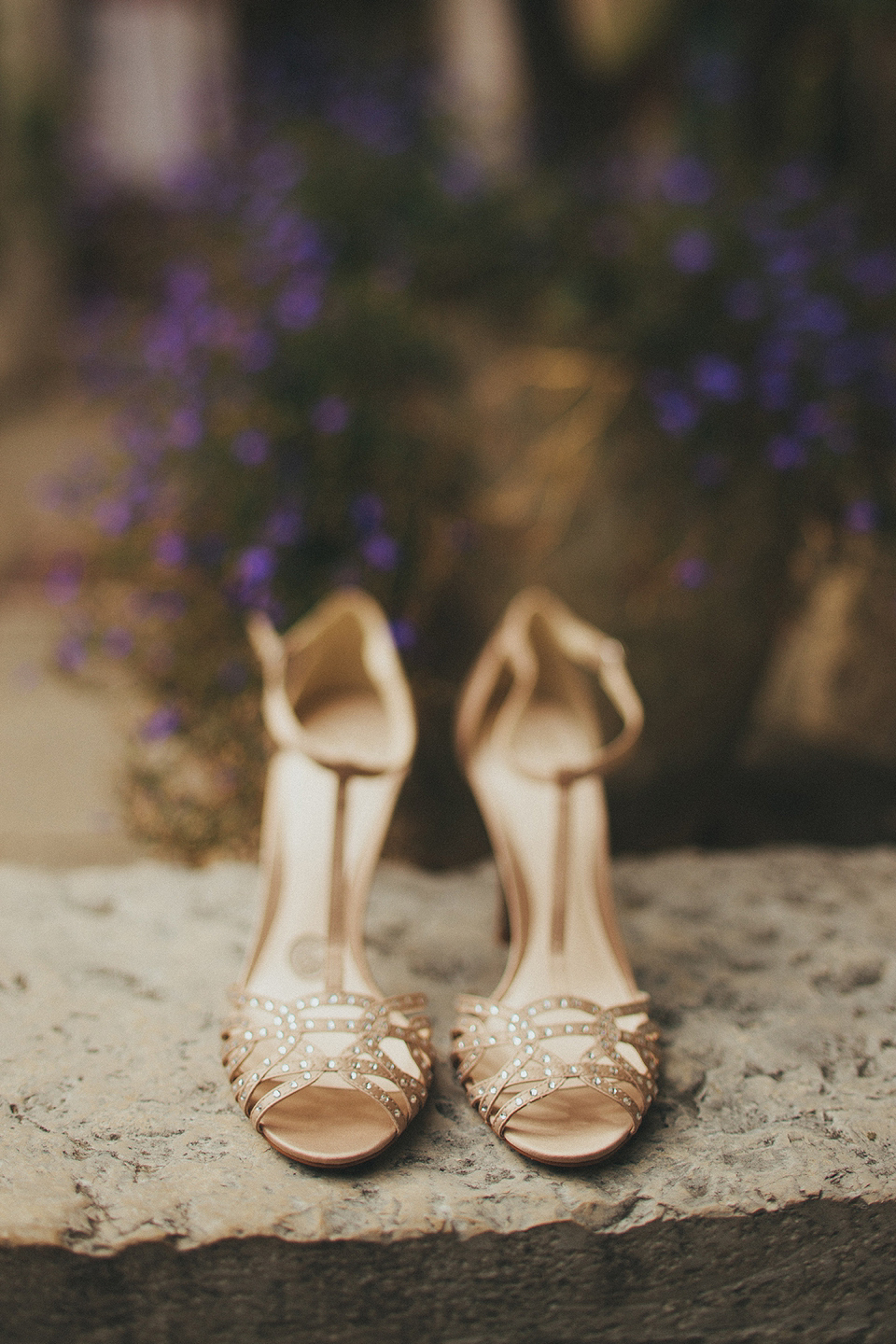 "Gaz wore a navy, classic Armani suit that he got from House of Fraser.  He found shoe designer Jeffery West and had to have a pair! We searched everywhere for a white shirt with a floral pattern on the collar and cuffs and finally found one at Ted Baker which he teamed up with a bowtie to keep that vintage feel going. He looked perfect!"
"It was difficult to decide on a 'theme' for the wedding, but when I found 'the dress' it just fell into place. It is champagne in colour so we chose dusky pinks for the bridesmaids and this inspired the golds and greys used on the invitations. The 1930's style of the dress gave a vintage touch of the Great Gatsby and Art Deco era which I love and we wanted a natural, relaxed feel to the wedding which the beautiful Croatian scenery supplied us with in abundance."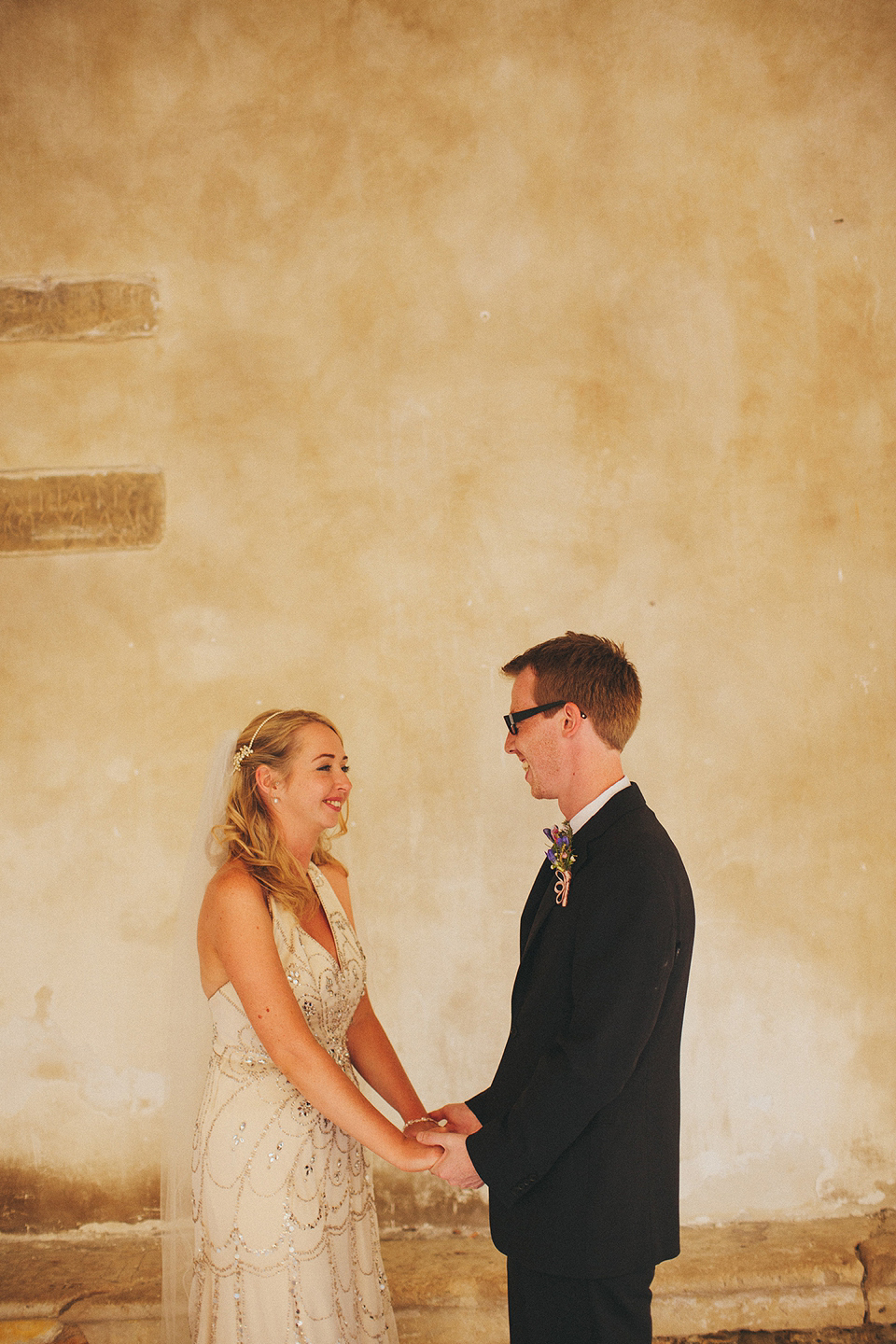 "We found a lovely flower shop in Buje near Groznjan called, Fleur Delys.  They arranged all the flowers including bouquet, buttonieres, wrist flowers for the mums and bridesmaids and table flowers. I wanted wild flowers and a natural free flowing bouquet and Vlasta created me a beautiful one with dahlias, lilys and sprigs of rosemary! (A wedding tradition in Croatia and it smelt amazing!).
A local coffee shop, Kaya Energy Bar, in Groznjan lent us two olive trees to put outside the chapel on the day for free! Some of the men in the wedding party, and Croatian passers by, helped to move their vast bulk."
"I invested in Chanel makeup and did my own.  A local Croatian lady came and did my hair on the day, I don't remember her name, she didn't speak a word of English but we got through with pictures and hand signals."
"We had the day meal in Bastia, Groznjan and for the evening reception in Novigrad, a local Croatian restaurant supplied a traditional Croatian buffet similar to these foods , and a local lady made Croatian mini cakes.
For the meal at Bastia restaurant in Groznjan I bought 50 starfish from the shops on the seafront in Novigrad and tied them with ribbon to the menu cards I had made."
"Our photographer was Petar Jurica. It was so lovely to meet Petar, we couldn't have asked for a nicer photographer. He has a quiet passion about him and immediately put me at ease. I hardly noticed him taking photos and by the end of the evening totally forgot he was there. I would describe him as a skilled ninja who takes beautiful artistic photos.
I still don't know how he managed to be in two places at once, but the photos prove it! We love each and every photo, thanks Petar!"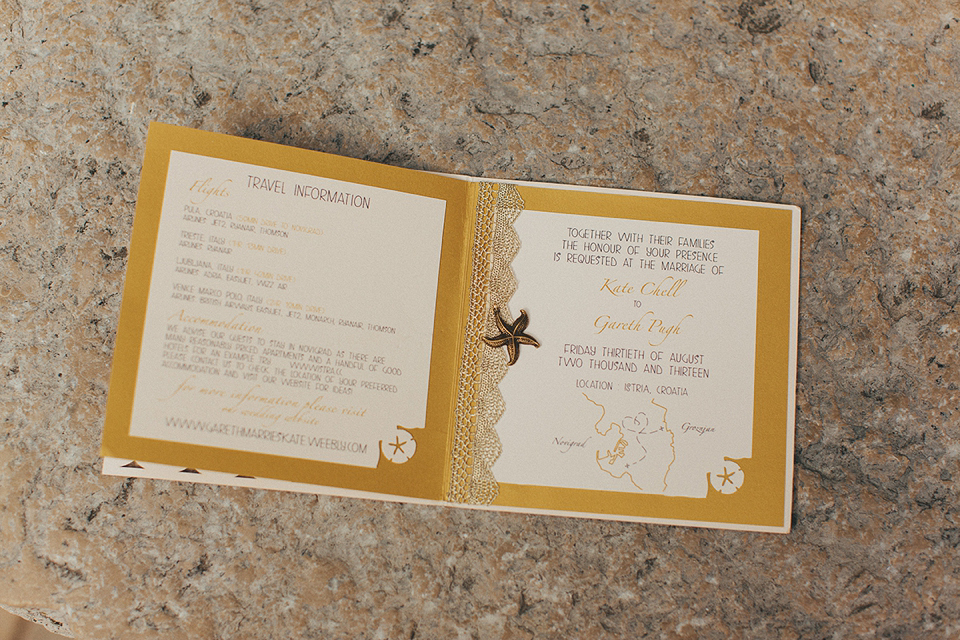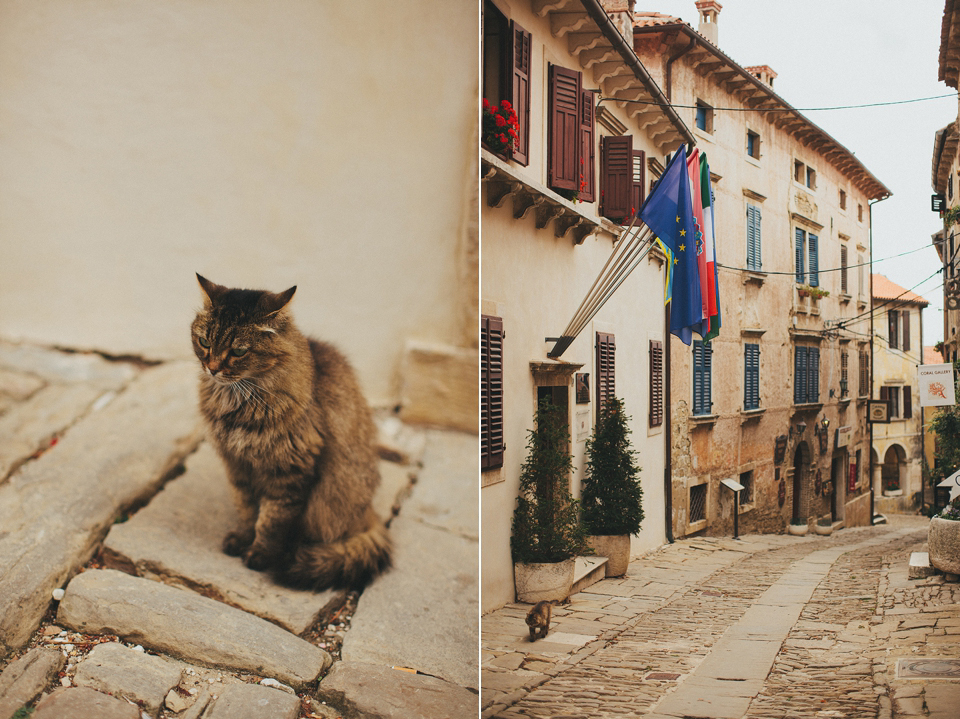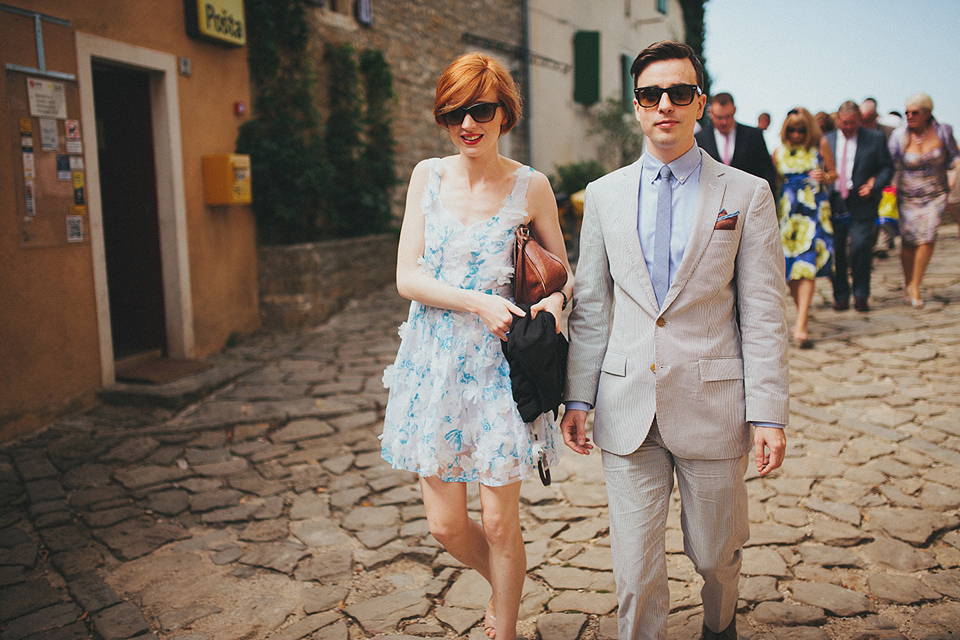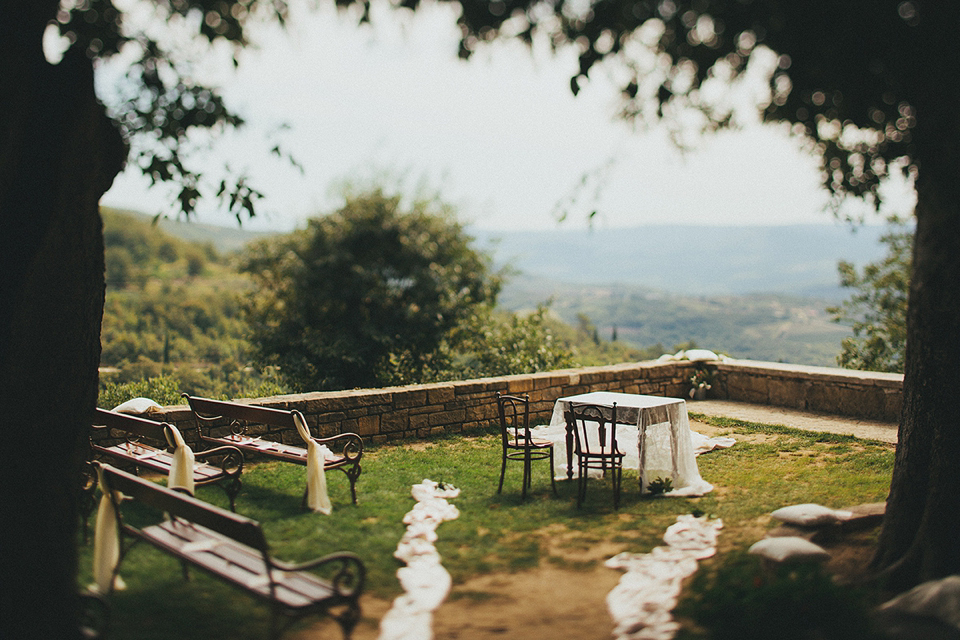 "My sister Caroline's three young children wore Monsoon, Accessorize and my sister wore Jenny Packham.  She found and bought all their clothes as she is so generous and has a perfect eye for style – this was a massive help and weight off my shoulders!"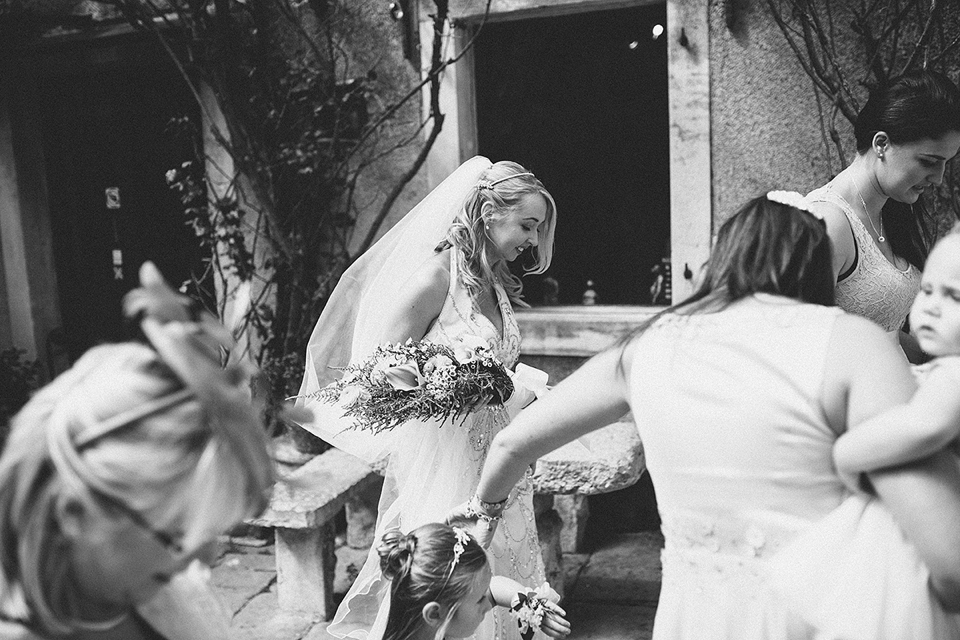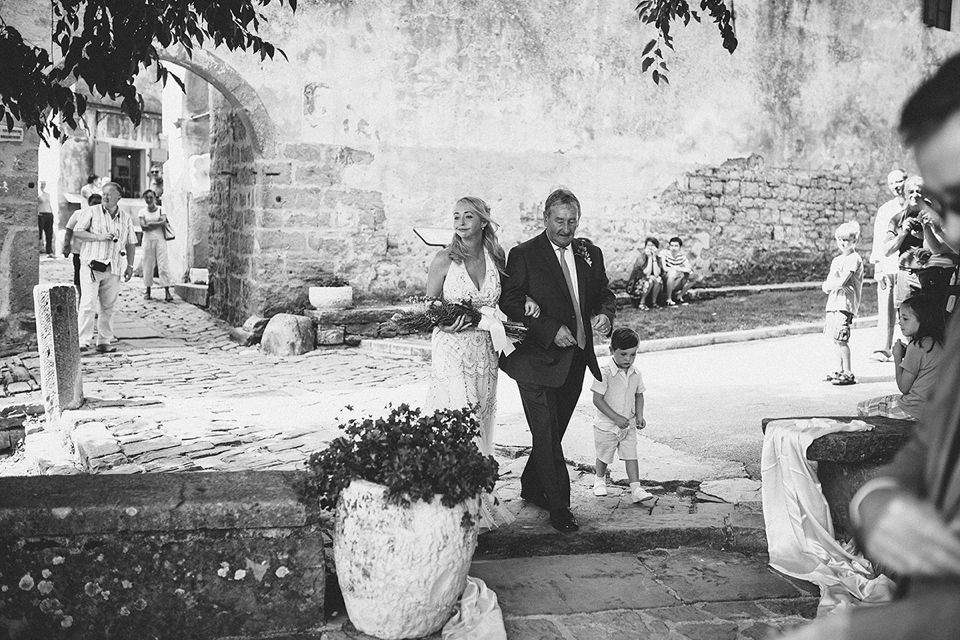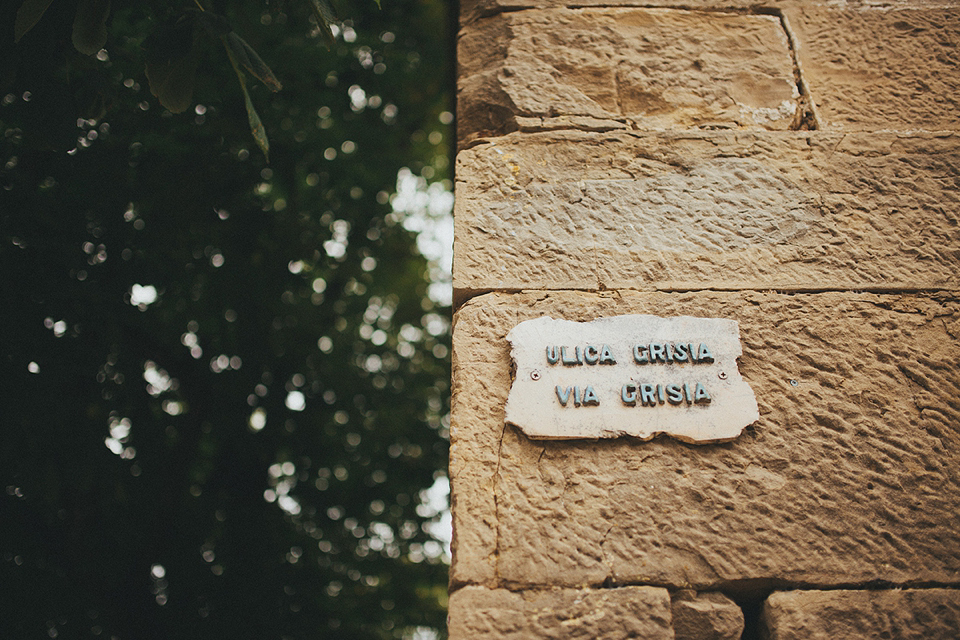 "My father, Brian, gave me away. He met me at the 15th Century Renaissance Loggia which was just round the corner from the ceremony site. My mum, Josie, and all the bridesmaids/pageboy walked me from our apartment in Groznjan to the loggia. 
We arrived at the ceremony to the sound of Christina Perri's 'A Thousand Years', played by two lovely and rather eccentric musicians, a guitarist and violinist who, to my absolute joy, learnt this song from scratch for me a couple for weeks before the wedding. I unfortunately don't have their names."
"We wrote our own vows – I always put very important things off until the last minute and finally in a moment of peace and clarity found myself sat on the edge of Groznjan looking out across the magnificent views of Croatia and just poured out my heart to Gareth. He wrote his in plenty of time and being so organised surprised me with the last line of his vows engraved inside my wedding ring. It says: 'My love, my life, today and always'.  I had his engraved with: 'I love you to the moon and stars', which references the two shooting stars the first ever night we stayed in Novigrad.  Obviously we weren't allowed to read them until we gave each other the ring on the wedding day!
During the ceremony, we had two dear friends, Karah and Tracey, do a reading at the outdoor ceremony and a good friend of Gareth's family, Steve, read in the chapel."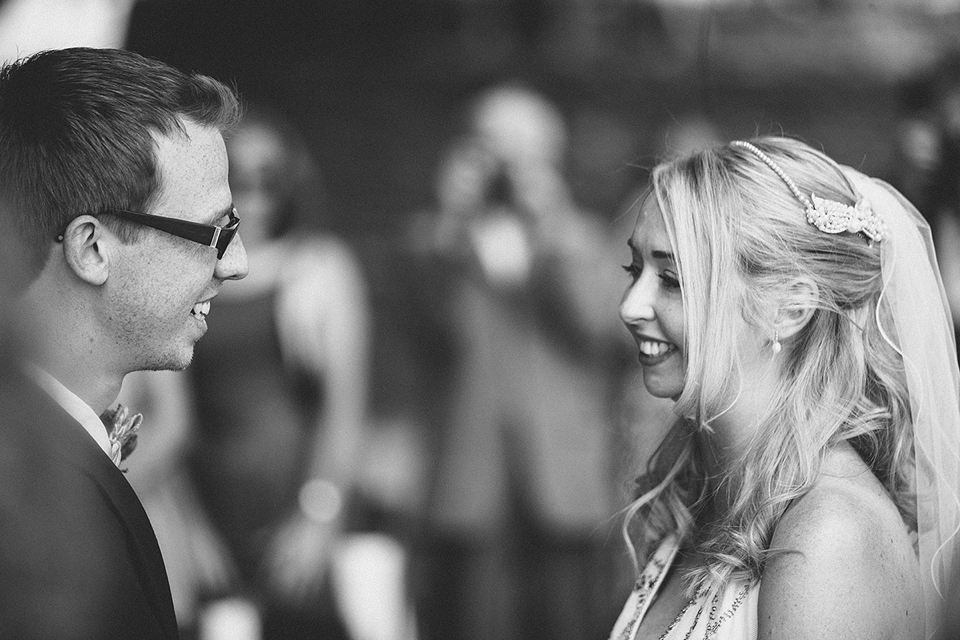 "Eric and Edwards made our rings for us – they have a great range of vintage and modern rings that are all affordable and the people there, especially Sophie, are just so lovely and down to earth. They really took the time to help design the perfect rings for us. I wanted a half eternity with the diamonds sitting low in a horse shoe setting to go with my beautiful forever diamond engagement ring. Gareth designed his own as he didn't want a plain band. He wanted a curved band with a row of small diamonds, set half eternity style and made in platinum like mine.
Our rings really complement each others and we joke about the fact he has more diamonds in his ring than I have in mine!! We also got each others rings engraved in secret. Only to be seen on the wedding day!"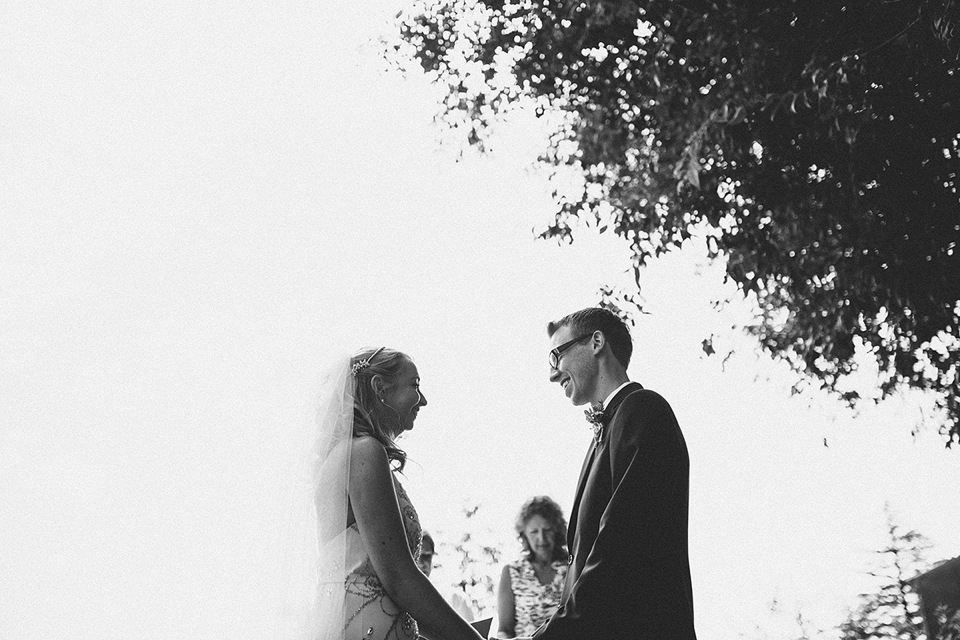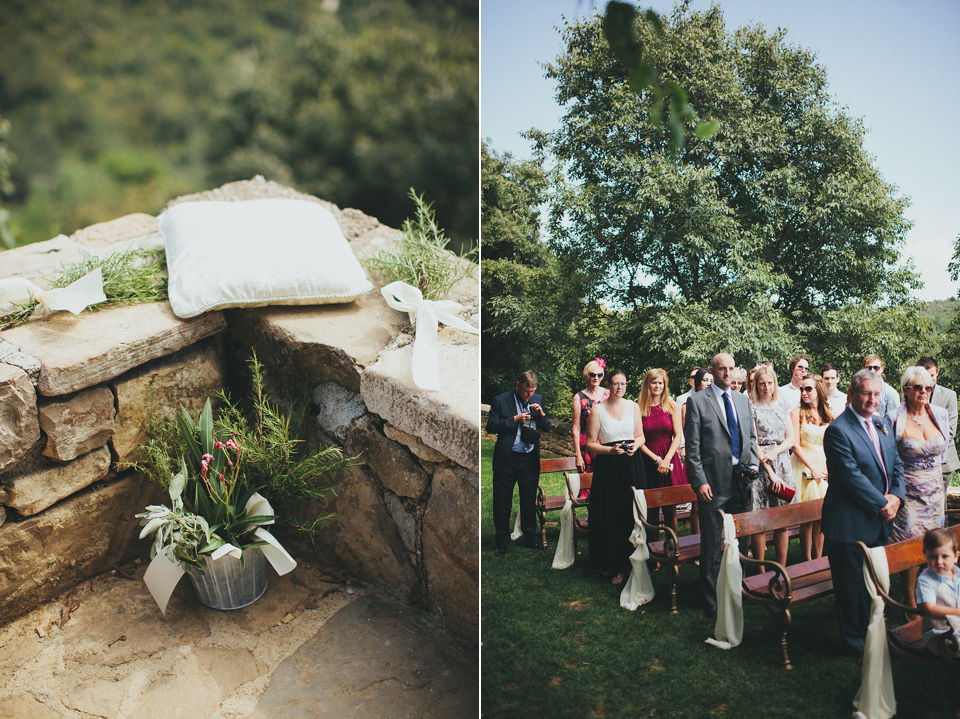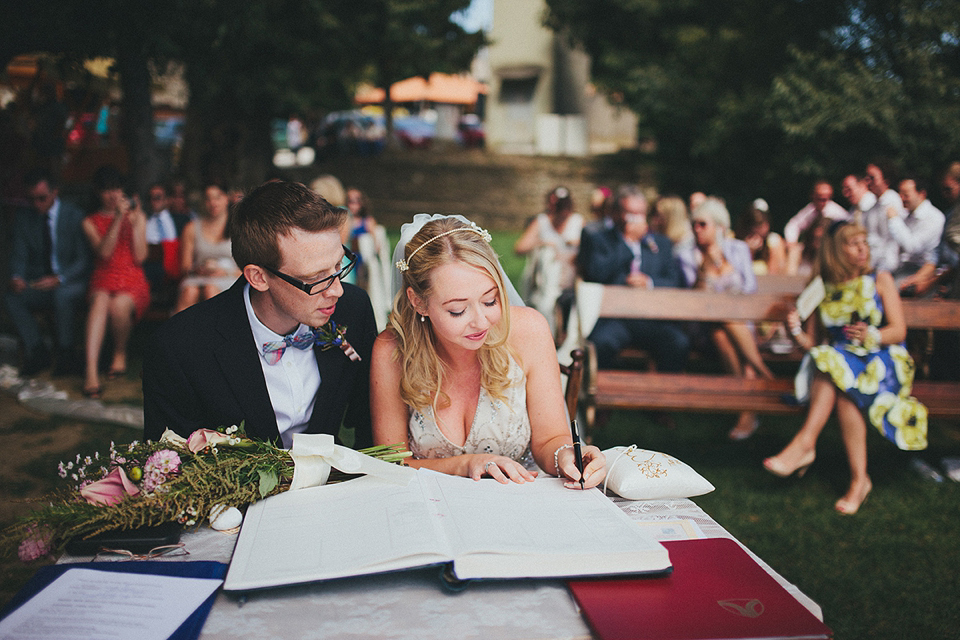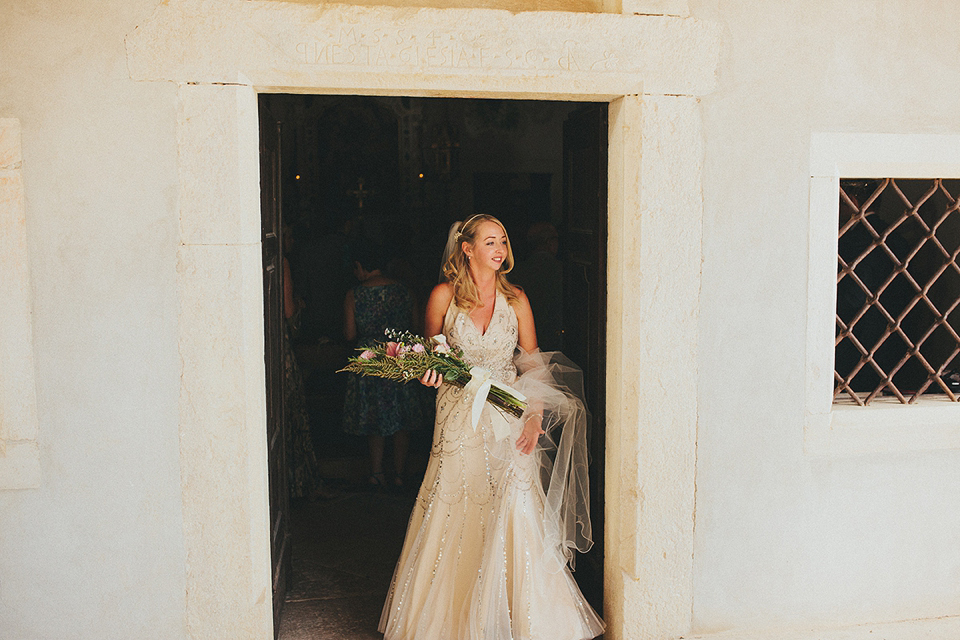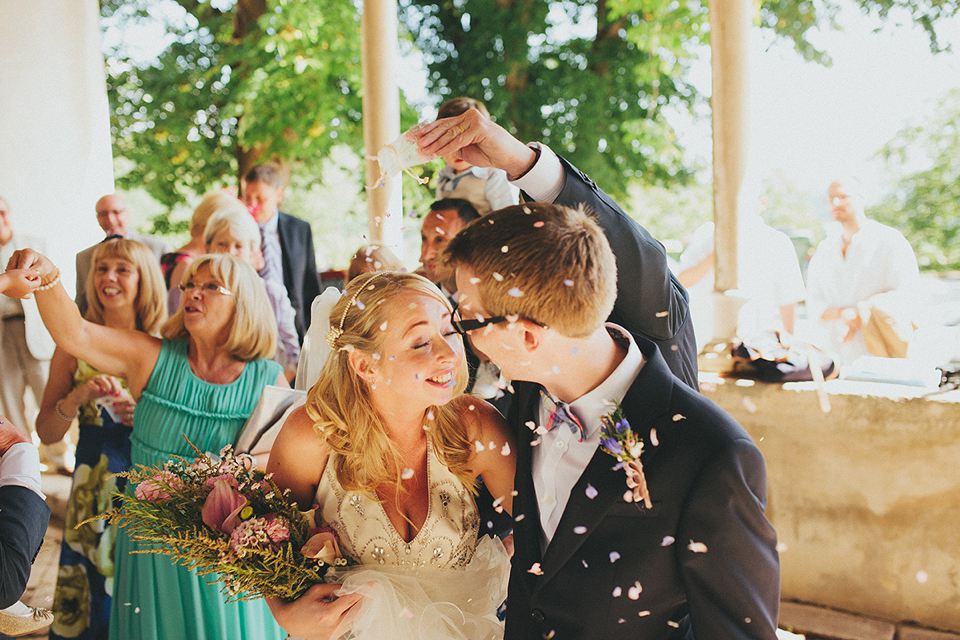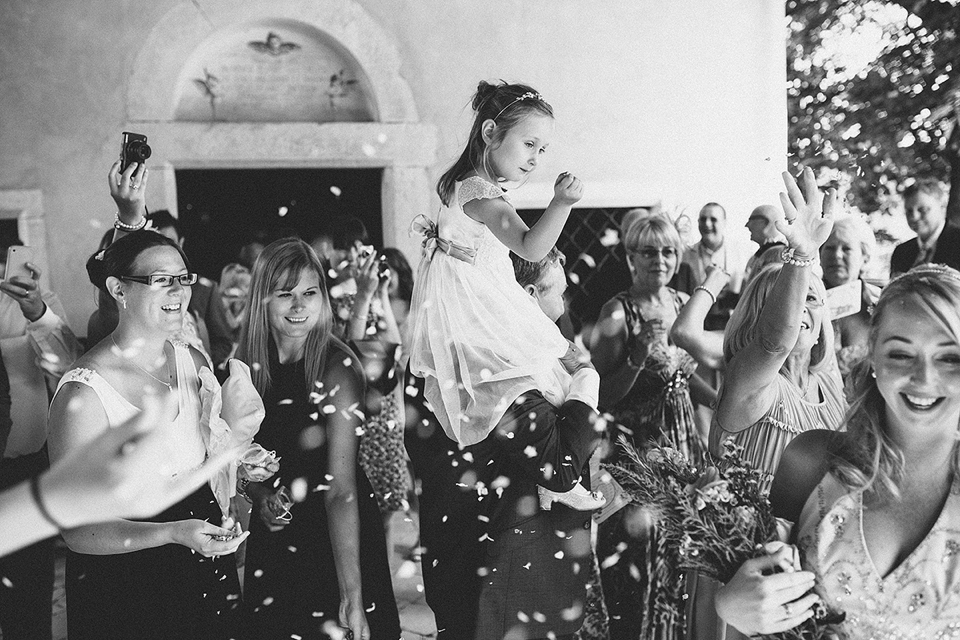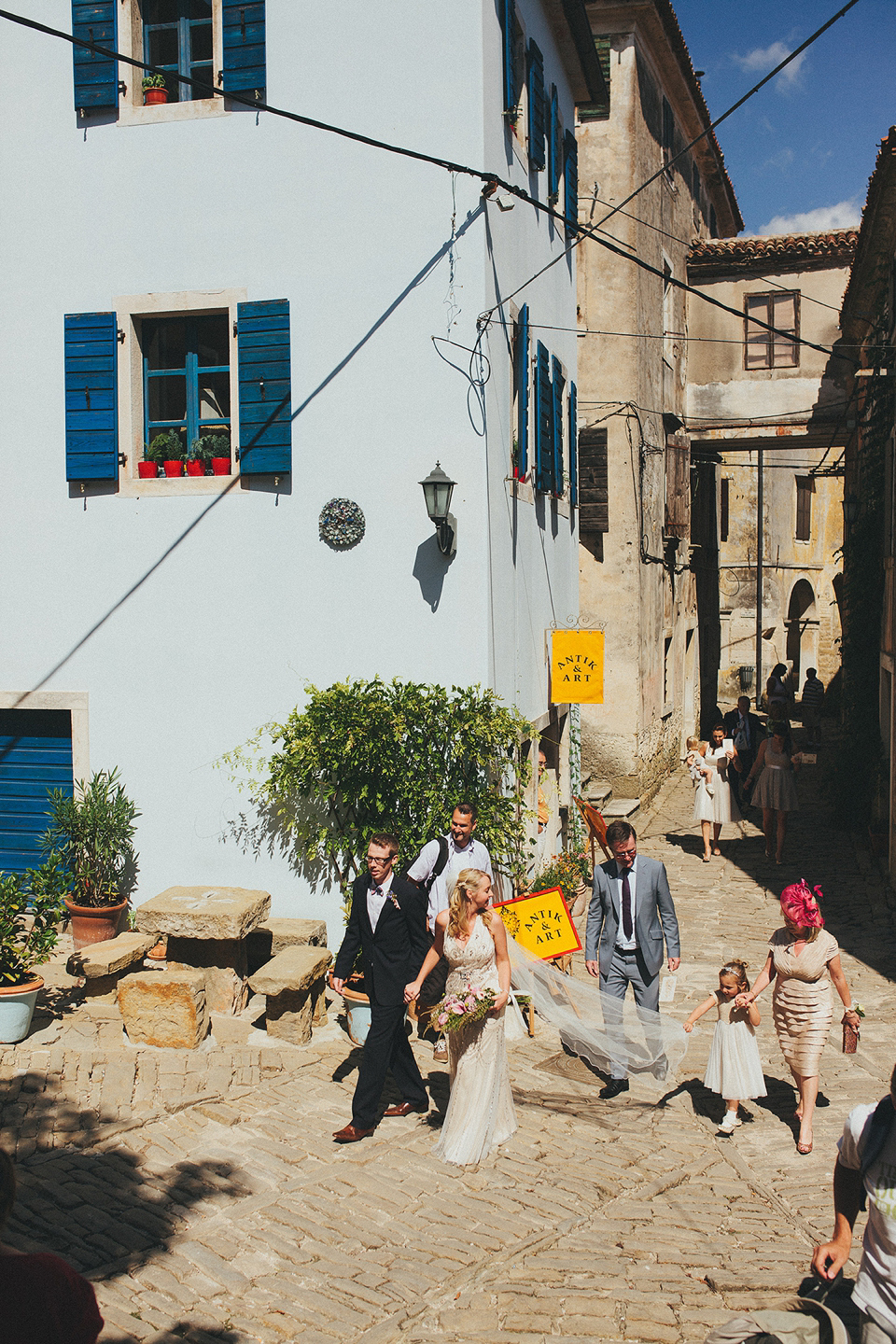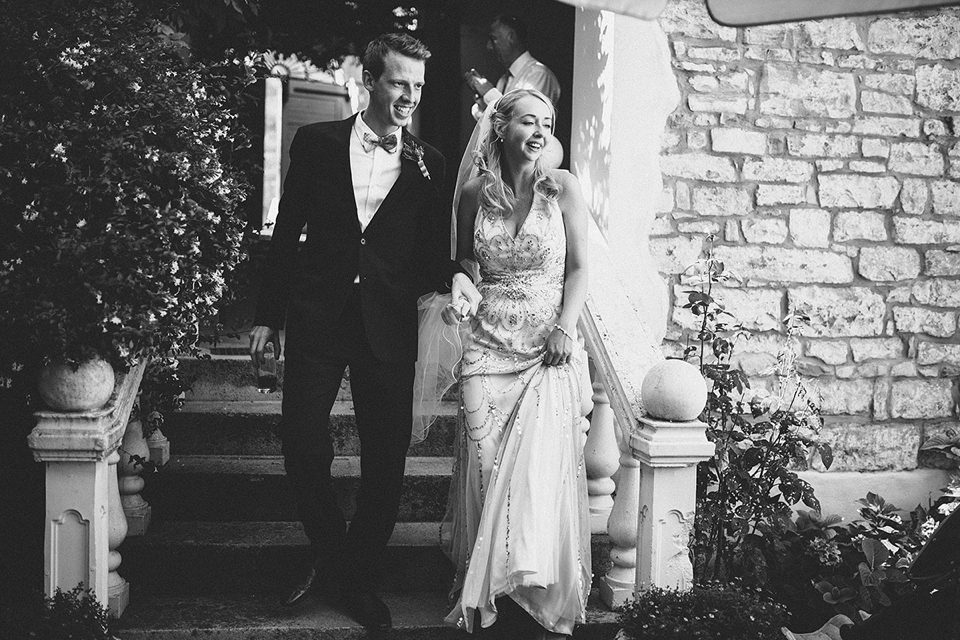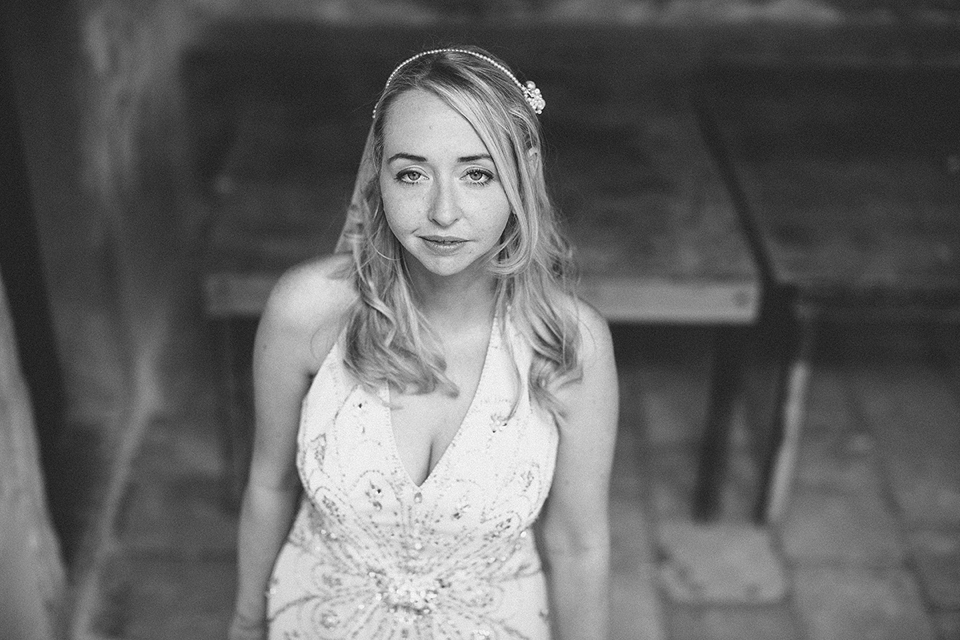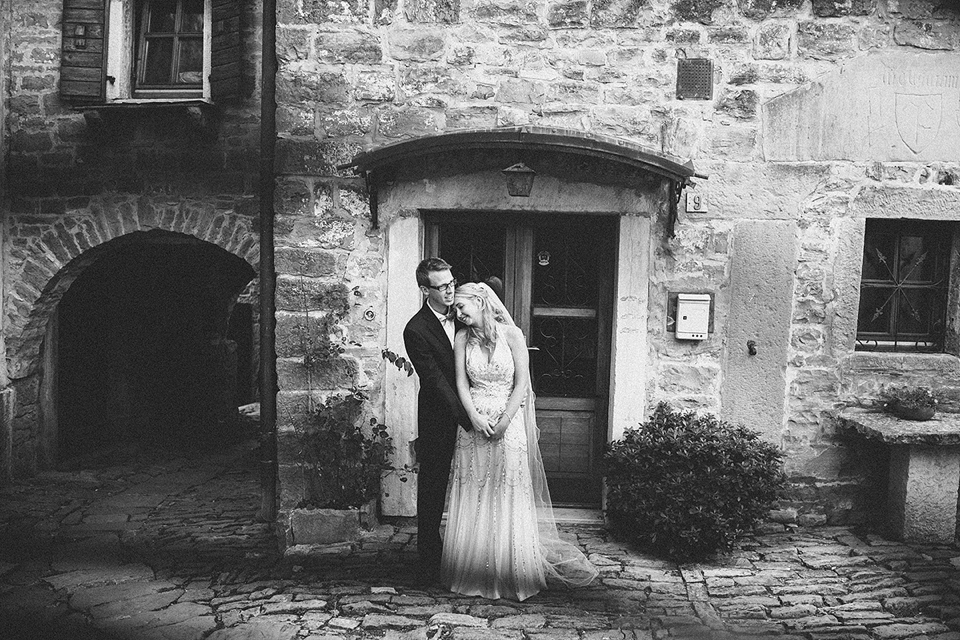 "We took our guests on a sunset boat ride back up the coast to finish the day at the beautiful cafe Vitriol on the sea front. It has the best views of the sun setting over the sea, and as Gaz's parents have been coming for over 10 yrs they are good friends with the owner, Orietta. She embraced the idea of a wedding party and we left all the decorating and organising to her. She found us an amazingly brilliant live band, Babaloo, and brought on board a great guy from a local restaurant who created us a buffet of traditional Croatian foods and a lady who made a 100 miniature Croatian cakes. We can't thank her enough for the time, effort and beauty she put into it.
The boat we found in Porec was an old fishing boat, beautifully restored and brought to life by a warm and friendly family called Victoria Tours. They couldn't do enough for us, even offering to download the hefty song-list we had to ensure we had the music we wanted on the boat – including our first dance!"
"It was a difficult when it came to wedding favours, as we had to get 50 over to Croatia.  Do we buy them there? Do we bother at all??  We didn't want something that wasn't useful and wouldn't just be a waste of money and it's hard to think of something that the men would like! In the end we bought panama hats for the men and pashmina scarfs for the women (or vice versa!) in a variety of colours and had them in baskets when we arrived at the boat. I sourced a wholesalers in China and bought in bulk and it was a remarkably cheap thing to do!  We also had foldup shoes for the women to help themselves to in Groznjan (as the cobbled streets are no mean feat in heels!).
My dad was able to take them all boxed up over with him as he travelled down in his caravan! He even bought a couple of cases of champagne on the way for drinks on the day which was a great help!"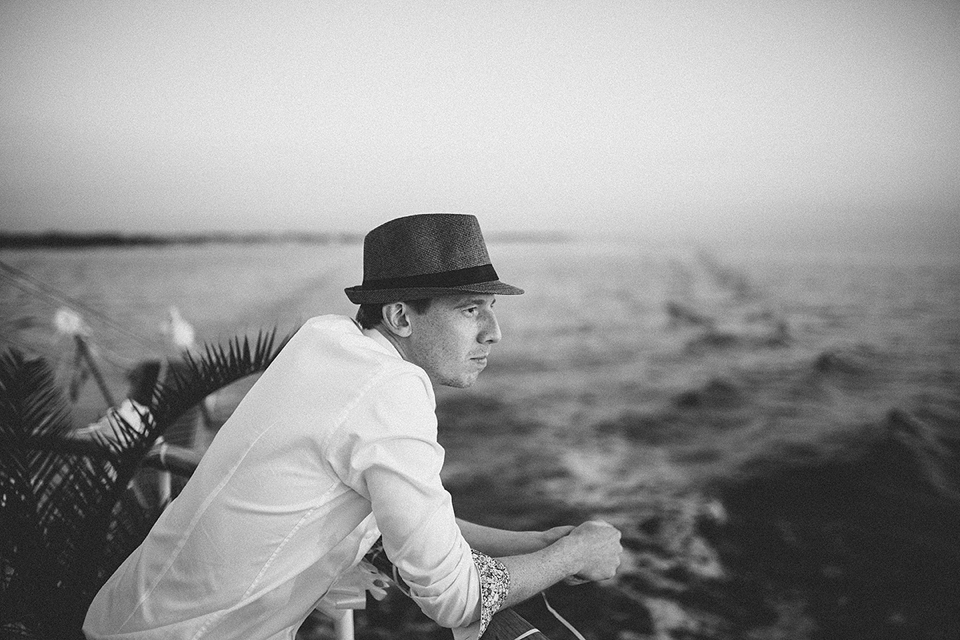 "The boat surprised us and pulled in at the lighthouse at Novigrad to drop us off – they had been told they couldn't but they did it anyway 🙂 As we were about to disembark, a family friend stopped us and said 'this has been a perfect day', and then the music to Lou Reed's 'A perfect day' came on and all the guests started singing it with personalised lyrics that Steve and Lesley had written specially for us. It was so lovely and unexpected and we will remember that moment always. Our family and friends put so much effort in and that really made the day so special for us.
We also had our first dance on the boat during sunset, to Michael Jackson's 'Speechless'. It's just a beautiful song and  MJ is a childhood hero of Gareth's."
Words of Wedded Wisdom…
"We were surprised to find ourselves pregnant and sadly went on to lose the baby 3 weeks before the big day. It was a terribly sad time and with so much still to do, emotions were running high but we learnt that no matter how well you plan your wedding day things will happen and you learn to deal with them, one thing at a time. We had massive highs and sometimes the lowest of lows but in the end it was the most magical, happiest day of our lives. Nothing mattered but marrying my best friend and being able to share that with the people we love. We are so pleased we chose beautiful Croatia. The help, support and kindness from all our family, friends and Croatian people, has blown us away, we can't thank everybody involved enough and we couldn't have done it without them. It truly is a day we will remember for a lifetime
There will be stress, you can't avoid it, but absorb everyones ideas, as what you think you had in mind generally develops and changes and you might find that what you dismiss initially is the very thing you loved most about your wedding!  It's important to take a step back and stop and think, what is it that I want? Enjoy it and it will all fall into place - just remember to breathe!
We initially dismissed the idea of going abroad as we thought people wouldn't want to travel that far afield and in reality all who came embraced the idea of holidaying together. Some people came for a couple of days, others arranged to go travelling after the wedding. My dad even bought a towing caravan and set off a month early, stopping throughout Europe until he got to Novigrad where he camped up for a month before setting off again to Italy and back home! This all added to the relaxed atmosphere we wanted to create. Who isn't happy when they are on holiday!
On a practical note, we hired a coach to take guests up to Groznjan the morning of the wedding and back down to Porec later that day so that we could all get the boat up to Novigrad. The company were excellent and we can't recommend them enough: Damir Coaches.  We also used them for taxi services for family whilst they stayed in Croatia."
What an absolutely gorgeous day! I have so loved preparing this wedding feature – Kate and Gareth, you look unblievably happy and in love – it makes my heart sing working on features like this, it really does.  Huge congratulations to you both and I hope that your soon to be first year wedding anniversary celebrations are wonderful.
So much love and thanks to photographer Petar Jurica for sharing these beautiful photographs. 
Readers, you can explore more weddings set in Croatia here on Love My Dress.
Is anyone planning a Croatian destination wedding?
Love Annabel
Photographer – Petar Jurica
Wedding Planner/Stylist – VOW Weddings
Location – Croatia
Wedding Dress – Jenny Packham, bought from Aphrodite in Knutsford
Veil – Aphrodite
Brides' shoes – Jenny Packham
Groom's Attire – Armani suit + Jeffery West shoes
Bridesmaids – Jenny Packham
The little ones - Monsoon, Accessorize
Flowers – Fleur Delys.
Cake – Bastia restaurant in Groznjan
Transport – Damir Coaches
Additional Styling –
Rings – Erica and Edwards
Stationery – Cut Laser Art
Follow Love My Dress® on Google+