Might you be thinking about a completely non-traditional, perhaps colourful wedding dress? Then I do hope this feature inspires you.  Oliver and Lucy's wedding took place on 20th April this year at Eshott Hall in Northumberland. Just look at that dress, talk about show stealer!  Lucy discovered her dress during a trip in to the Liberty store.  It's a vintage Christian Dior gown, c.1970's which she had tailored to fit her perfectly.  Her yellow and gold lace brocade jacket c. 1960 was also a vintage find at the Liberty store. With green and gold clearly being a favourite colour combination of mine, I just adore Lucy's style.
"I knew I didn't want a typical or traditional bridal gown – the practical girl in me wanted to be able to get some wear out of the dress! I did the usual thing of browsing all of the high street stores one Sunday afternoon (without luck) and had just resolved to wear one of my own dresses when I stumbled into Liberty. I saw the emerald green colour on the rail and despite it being too large for me, I tried it on. The tailor tweaked it to fit and that was that!"
Photography Copyright (c) 2014, Vanessa Adams Photography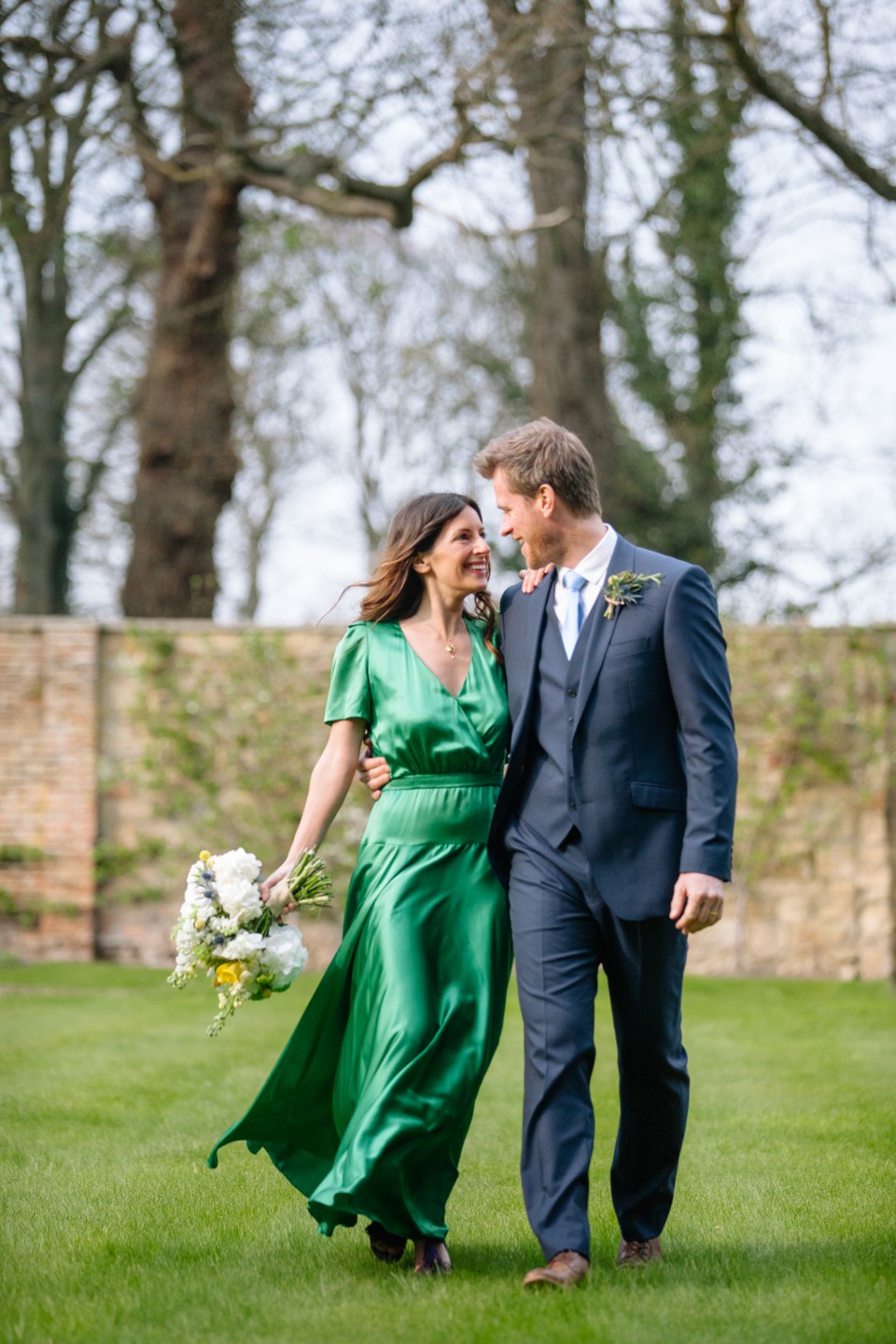 "We actually met through an old friend of mine who started working at Oliver's company three years ago – she pressed me for a good few months to go on a date with him and I eventually consented! We got together after that and pretty much three years to the day, the proposal came on March 2014.
Oliver essentially proposed the wedding, rather than the engagement and asked if we could tie in our wedding celebrations with the Easter Break we already had planned in Northumberland with my family – and he had already invited his parents to join!  That gave us just six weeks to get everything organised!"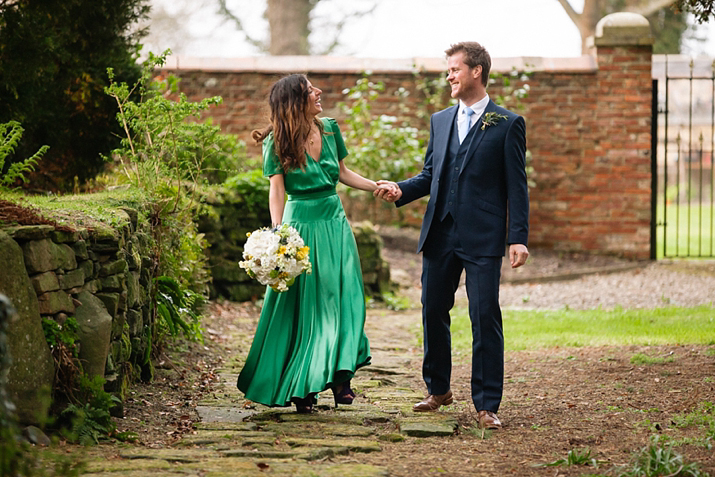 We went to Hearts of London in Hatton Garden for all of our rings. I had discovered them on Trip Advisor and was impressed by their fabulous reviews. The way it works is they book you in for an individual appointment and they spend around 40 minutes talking through your ideas. I called ahead and asked them to order in some yellow sapphires as I knew I wanted a hard wearing yellow stone (it's one of my favourite colours).
We sat down and designed my engagement ring together and then selected two gold wedding bands to match – the pressure was then on for them to make them all up in under five weeks!"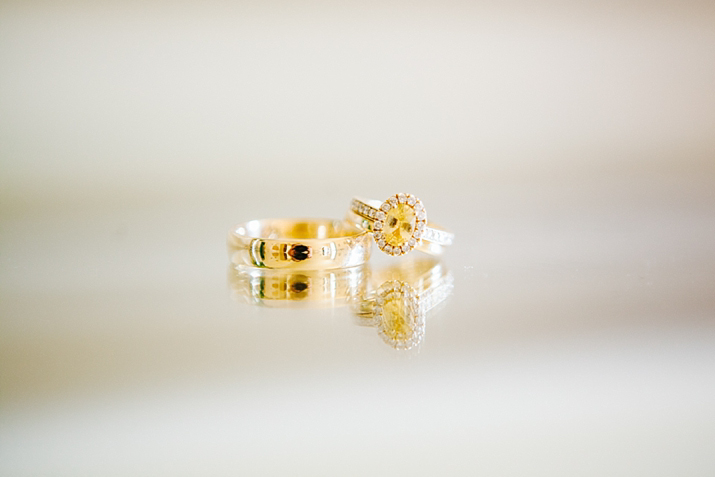 "My family is from the North East so I always wanted to get married there – plus my grandma wouldn't have been able to travel far and I wanted her to be there.  Eshott Hall is a gorgeous small hotel/stately home with oodles of stained glass, panelling, cornicing, fireplaces and picture windows, so it required no decoration.
There was no real theme to our wedding – we had never even visited the venue prior to pulling into the drive on the day. As it was Easter, it seemed fitting to have Springtime colours, so I asked my florist for greens and yellows and whites, to keep everything natural and fresh. When I chose my green dress and yellow jacket, it really cemented the theme!"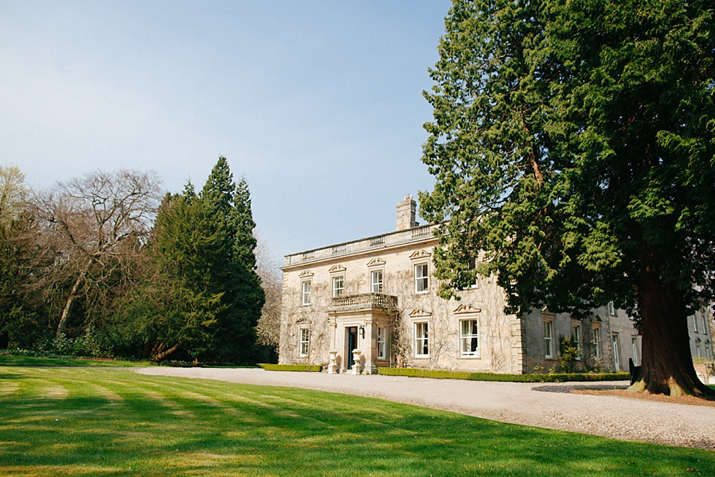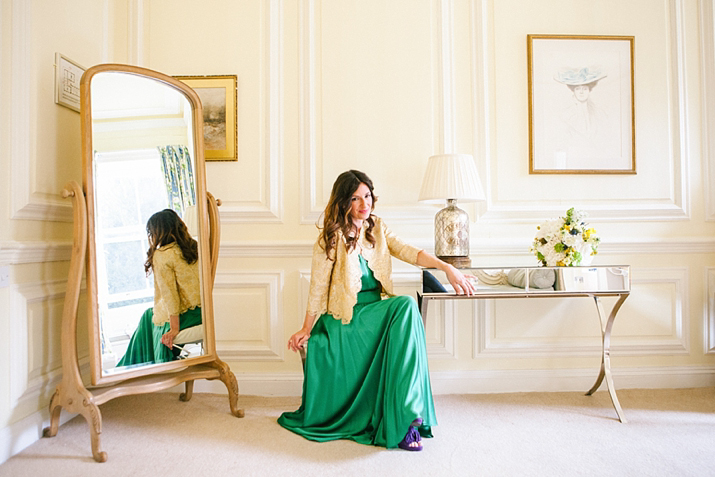 "Eshott Hall recommended a range of florists and Helen at Bels Flowers was so lovely and chatty that I selected her over the phone without seeing her work. The theme was to be spring-like flowers which should be loose, chunky and natural."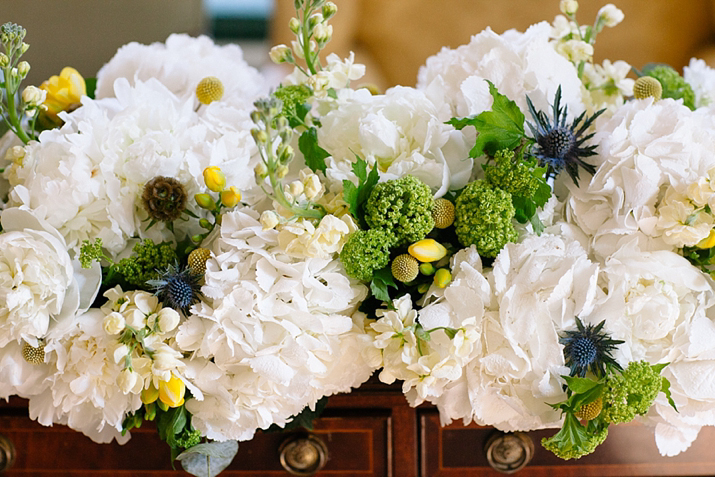 "Helen made me up a very full bouquet with some lovely white hydrangeas.  The corsages for the women were delicate with little freesias; the men's button holes had little thistles to give them a masculine edge. There was a large centre piece on the wedding table and then a selection of jam jars filled with flowers to decorate the pew ends."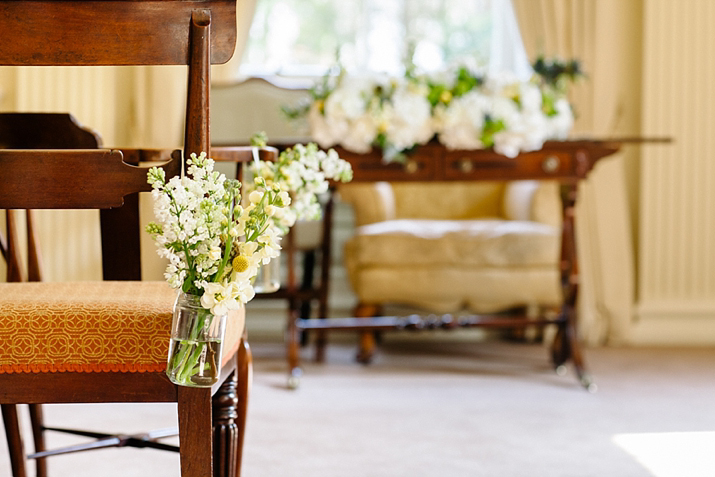 "The purple suede tassle sandals were from a Dune sale bin in around 2007! I don't wear them often, but they seemed to give me just the right height for the length of skirt and I liked the fact that they weren't really bridal."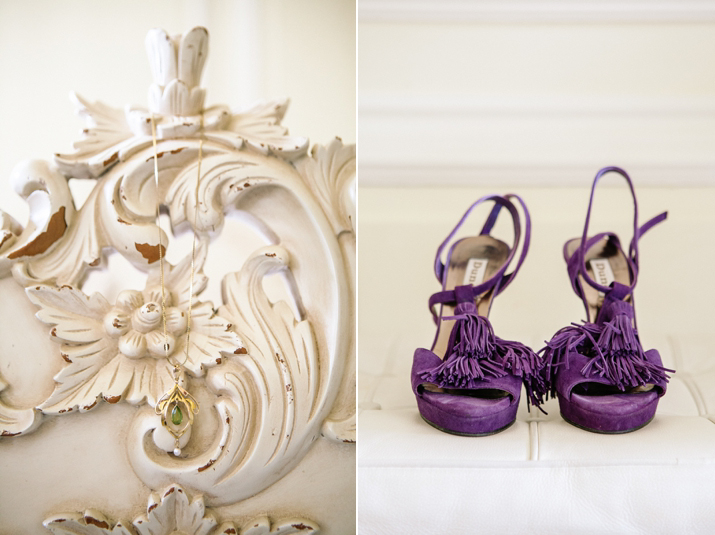 "The necklace I wore on the day is actually a family heirloom that my mommy brought with her on the day. I had apparently seen it in the past, but I had forgotten how pretty it was! During the getting ready process I couldn't decided which jewellery I should wear, then mommy presented me with the necklace and it suited the dress so well – even down to the green gemstone droplet!"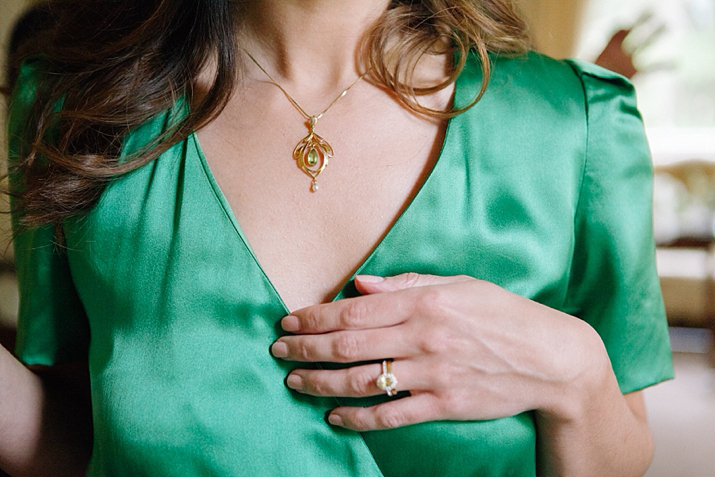 "Eshott Hall recommended we use photographer Vanessa Adams. Vanessa is so natural and easy going – as well as highly professional and energetic – she really blended in with all the family and she made our intimate party of nine people feel at ease. Vanessa captured some truly fabulous shots of our special day."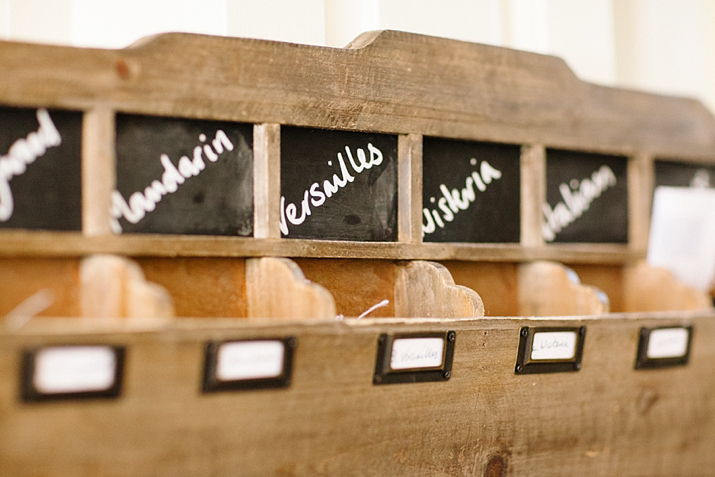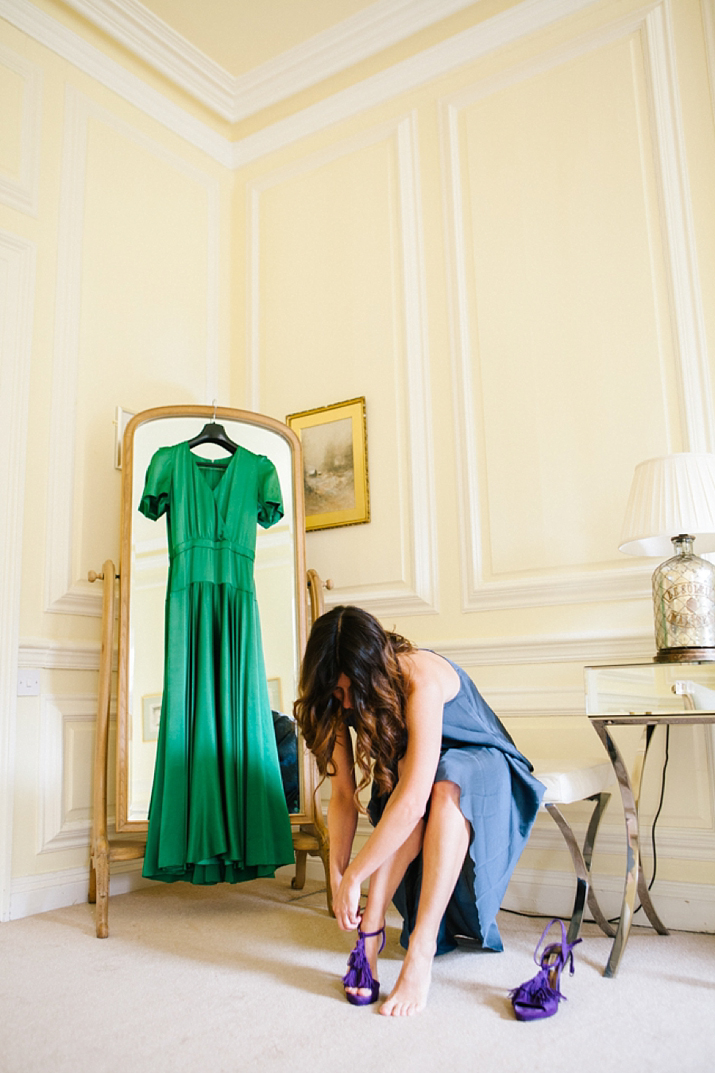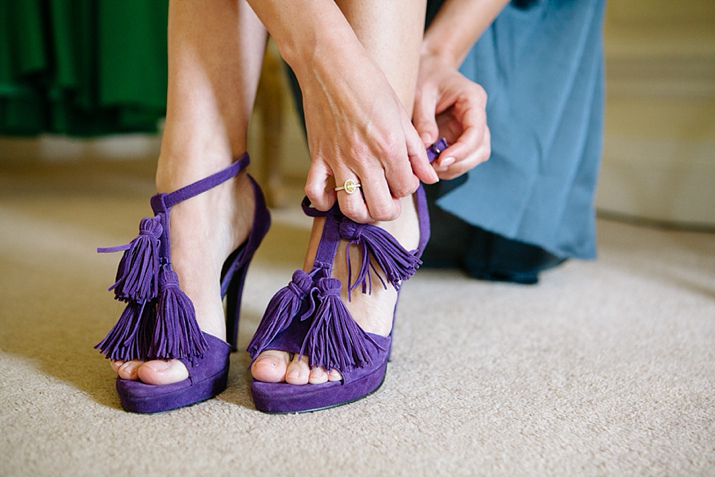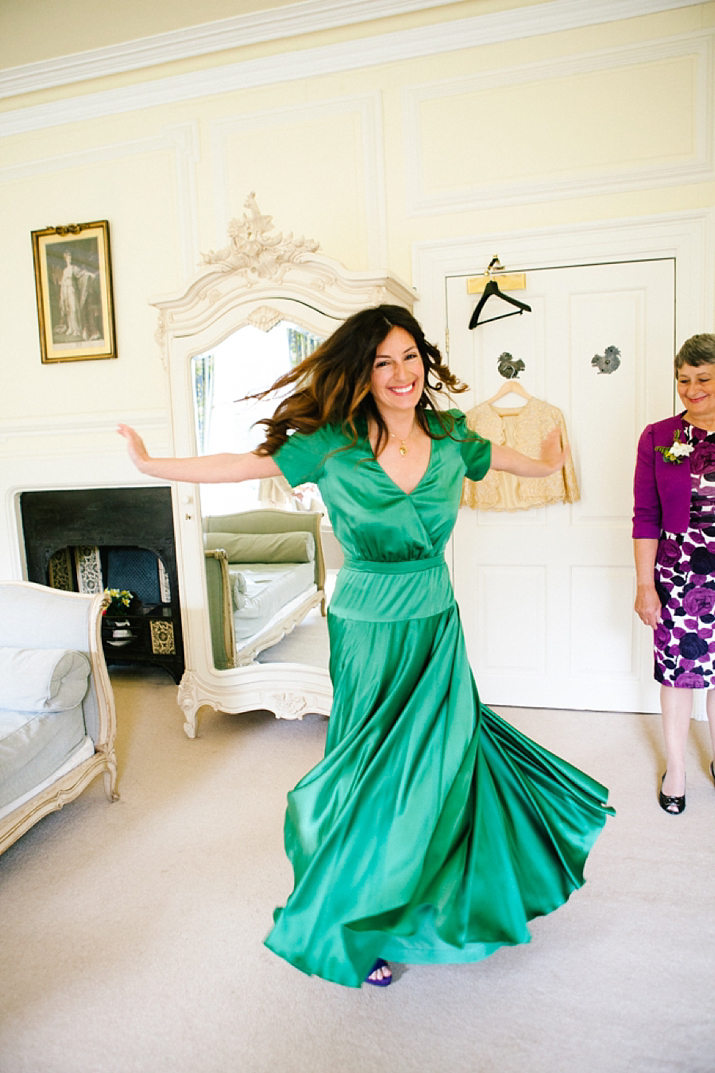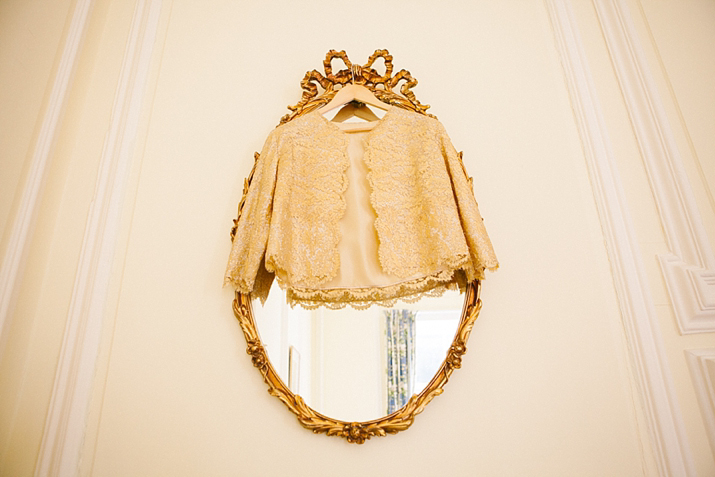 "The jacket wasn't originally going to go with the dress – I was buying it to wear with jeans and a top, but I thought the whole ensemble resembled a daffodil, which I thought very fitting!"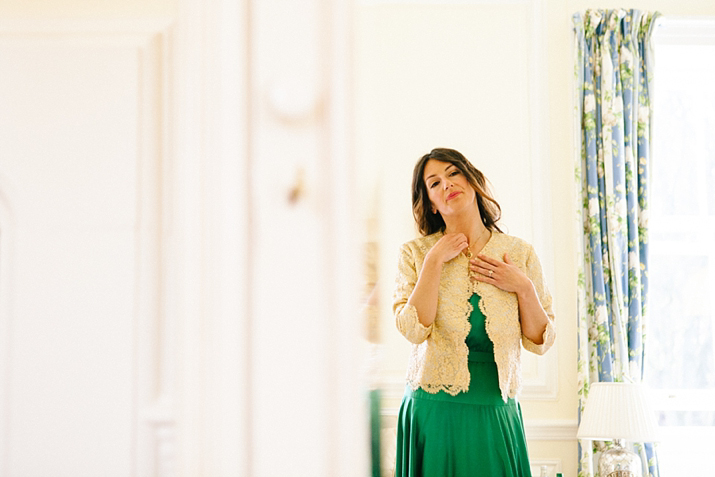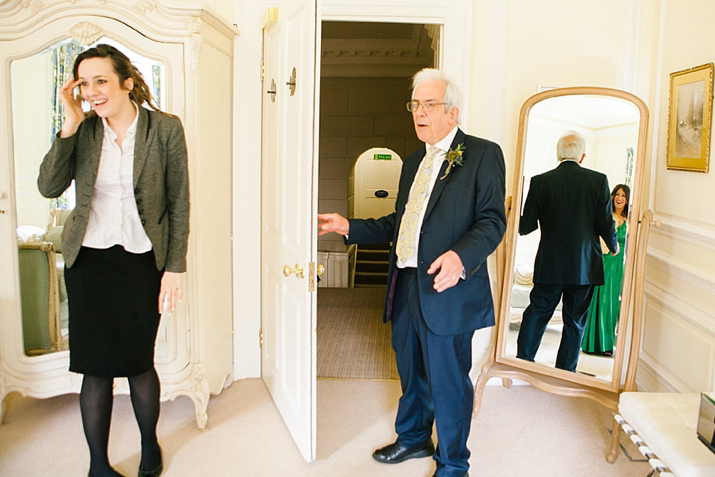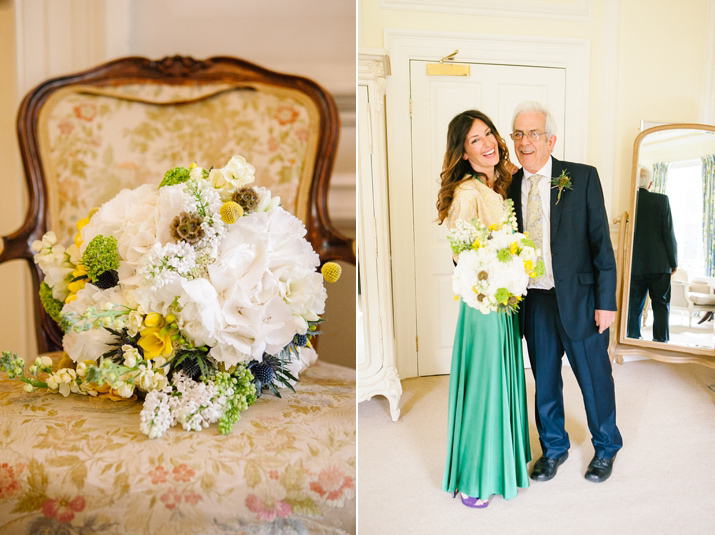 "Oliver wore a Marks & Spencer wool mix navy suit which he had bought for a friend's wedding – we accessorised with a matching waistcoat!  I bought him a new tie from Peter Jones which was blue with white polka dots and made his eyes sparkle.  I also ordered him a pair of squirrel cuff links as a nod to my Surname!"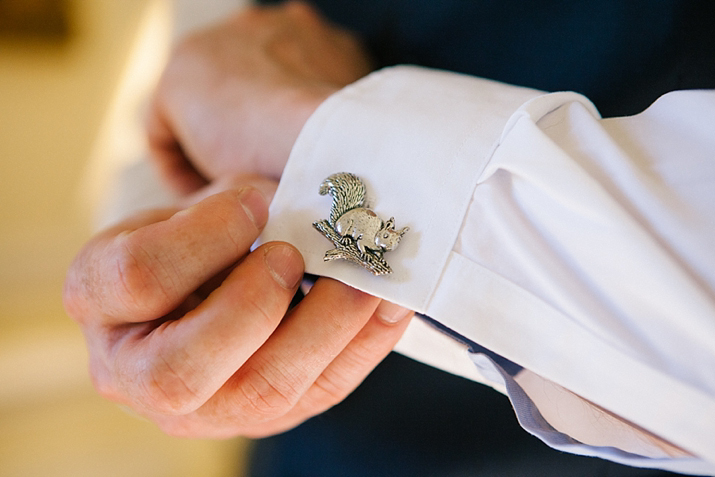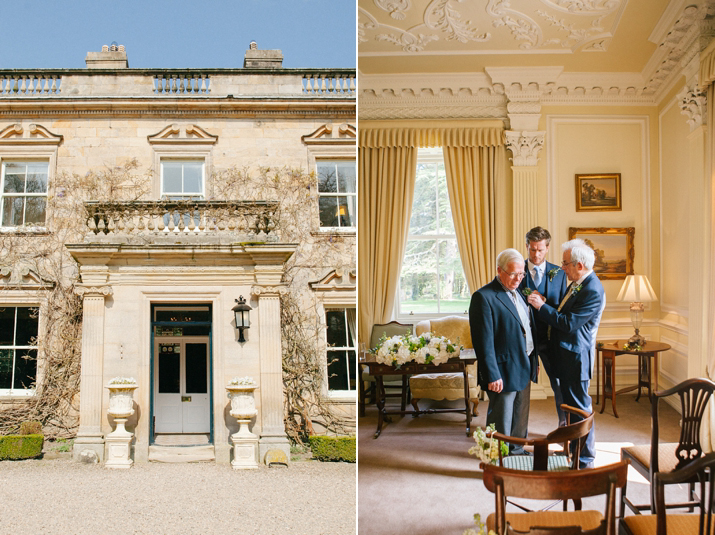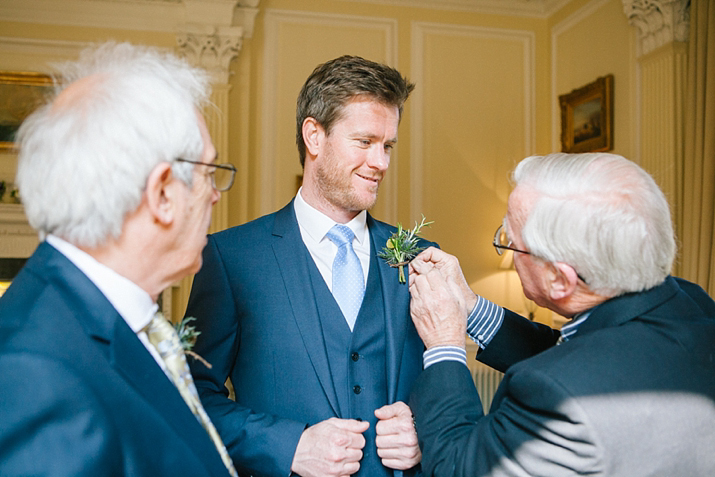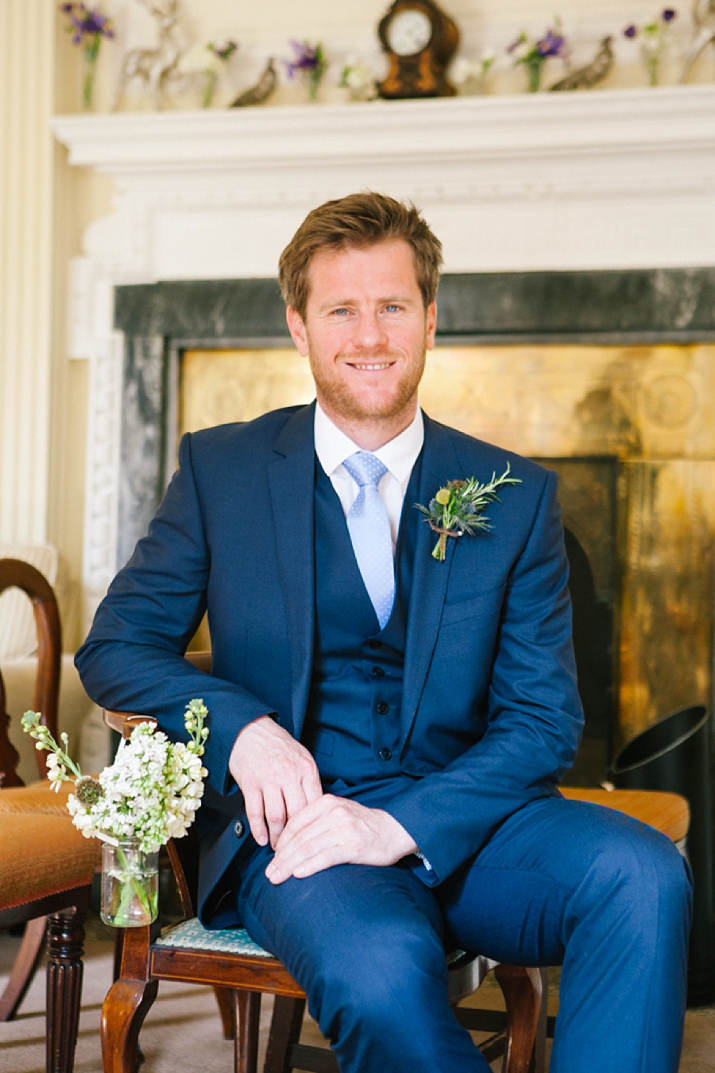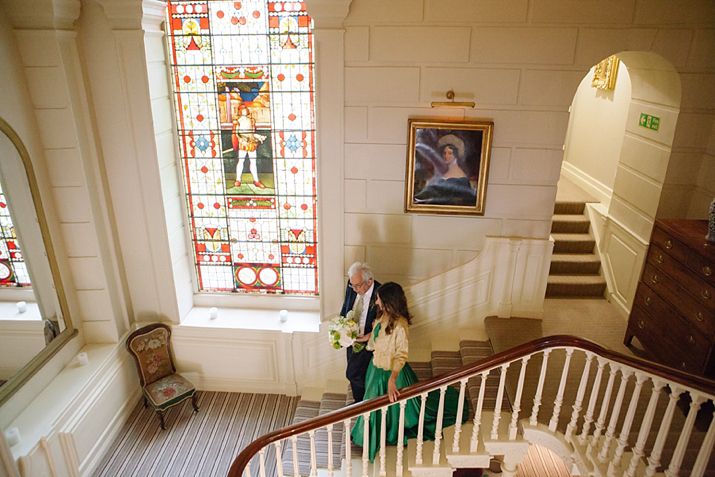 "My father walked me down the aisle to a piano piece composed and played by my brother, Ben, called 'Lift me Up'. My brother died in a car crash in 2007 and it was hugely important to me to have his beautiful music playing a key role in our special day."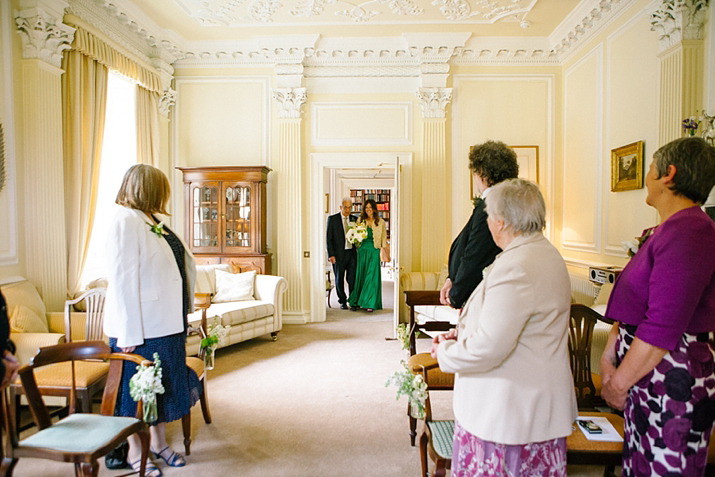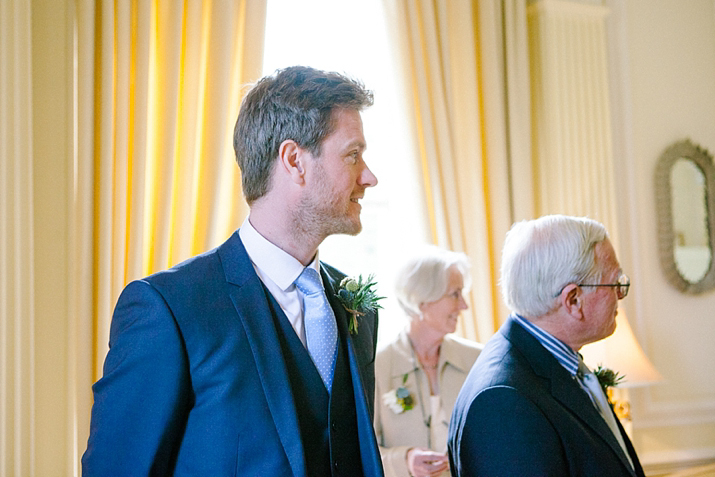 "Our registrar at Alnwick gave us a ceremony pack with lots of ideas and selections for the ceremony – we opted for nothing with flowery language and kept it nice and simple. We wrote our own promises and read them to each other – they were cobbled together from my mum's research online!"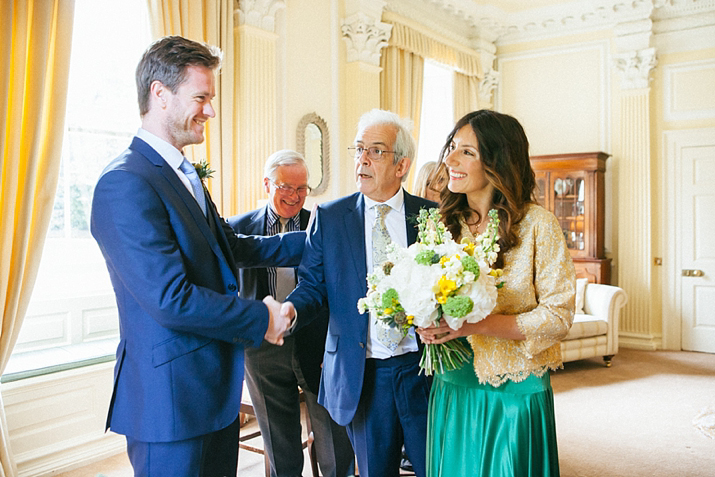 "Oliver's mum chose to read The Marriage by Khalil Gibran:
'Love one another, but make not a bond of love: Let it rather be a moving sea between the shores of your souls.
Fill each other's cup but drink not from one cup.
Give one another of your bread but eat not from the same loaf
Sing and dance together and be joyous, but let each one of you be alone,
Even as the strings of a lute are alone though they quiver with the same music.
Give your hearts, but not into each other's keeping.
For only the hand of Life can contain your hearts.
And stand together yet not too near together:For the pillars of the temple stand apart,
And the oak tree and the cypress grow not in each other's shadow.'"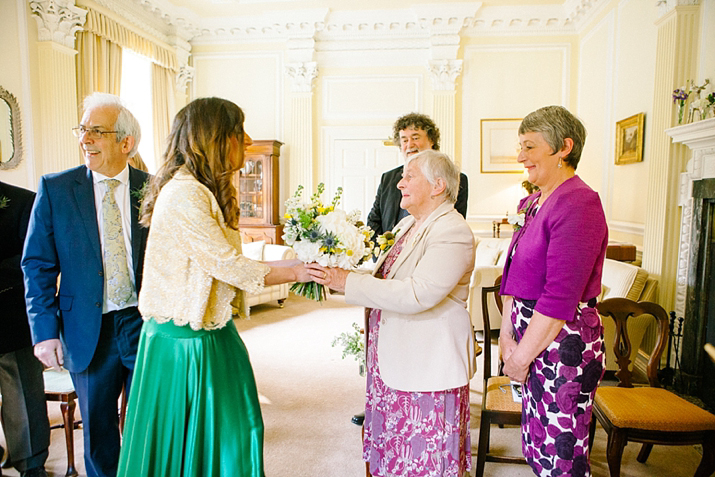 "My mommy selected a reading from the Amber Spyglass by Philip Pullman:
'I will love you forever; whatever happens. Till I die and after I die, and when I find my way out of the land of the dead, I'll drift about forever, all my atoms, till I find you again… I'll be looking for you, every moment, every single moment. And when we do find each other again, we'll cling together so tight that nothing and no one'll ever tear us apart. Every atom of me and every atom of you… We'll live in birds and flowers and dragonflies and pine trees and in clouds and in those little specks of light you see floating in sunbeams… And when they use our atoms to make new lives, they won't just be able to take one, they'll have to take two, one of you and one of me, we'll be joined so tight.'"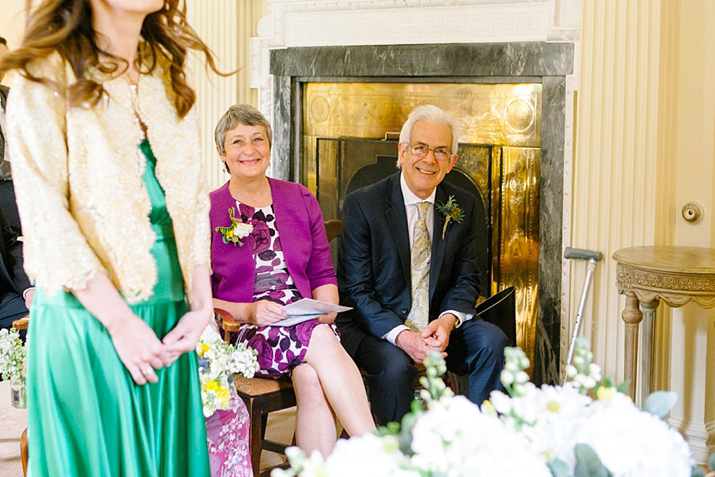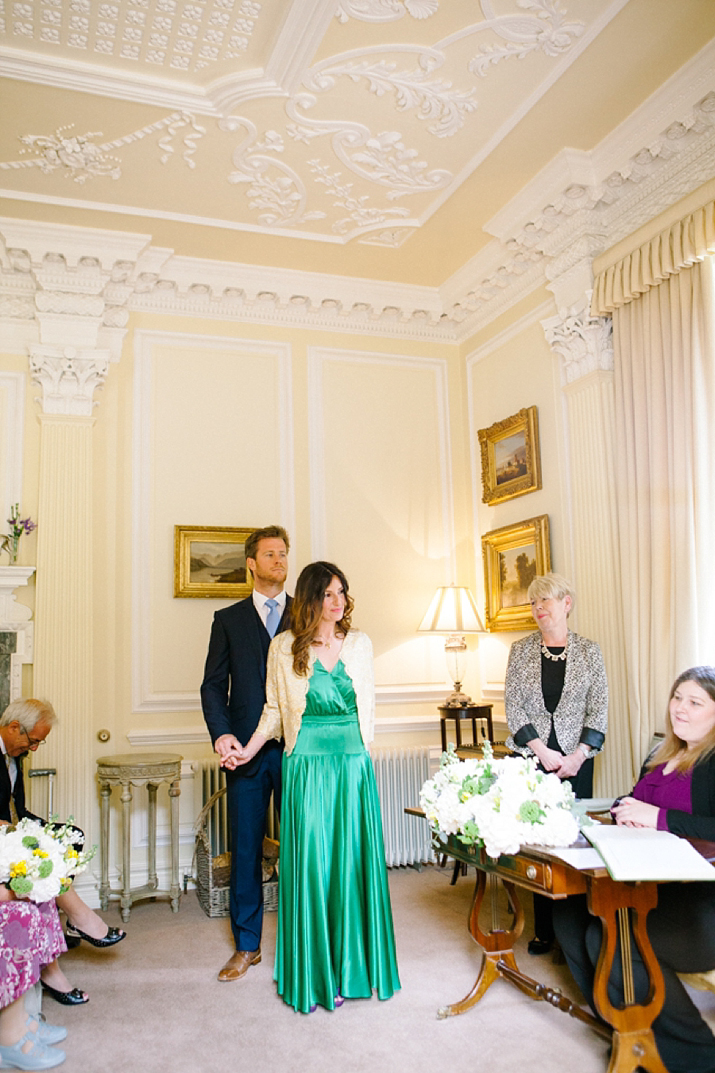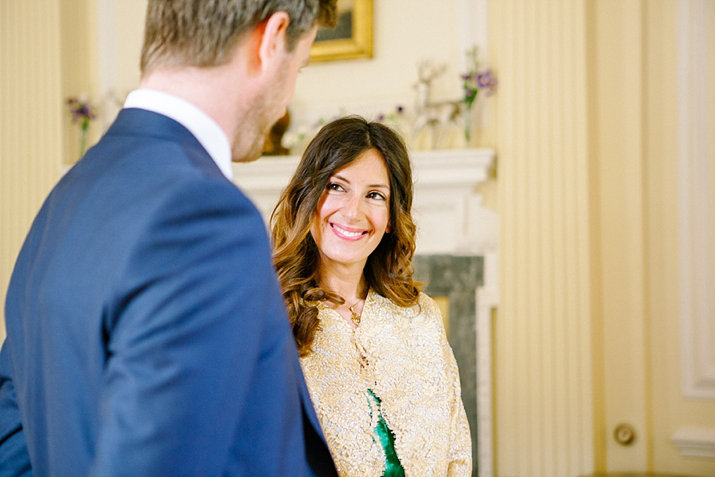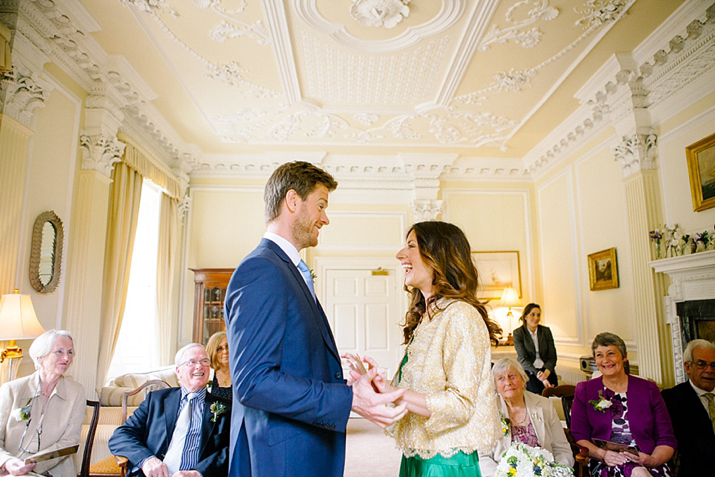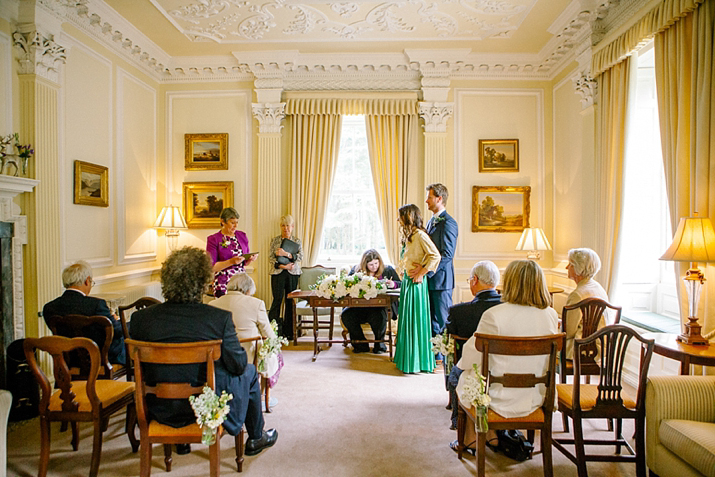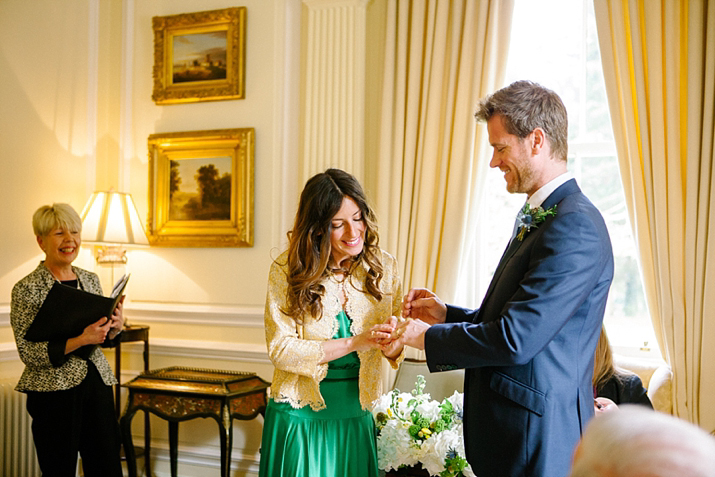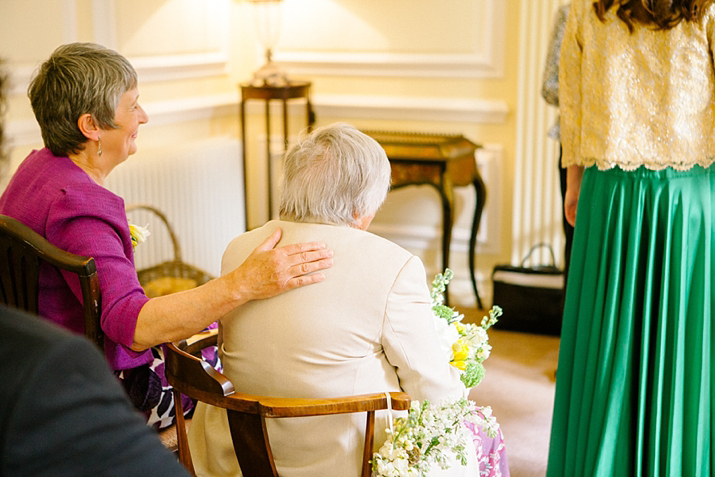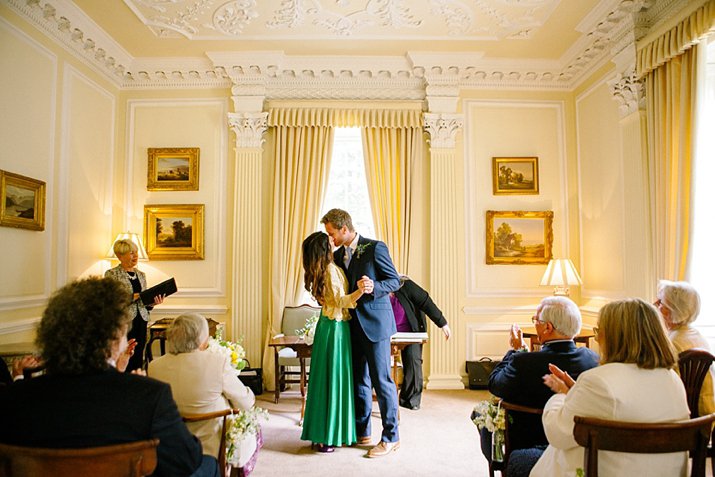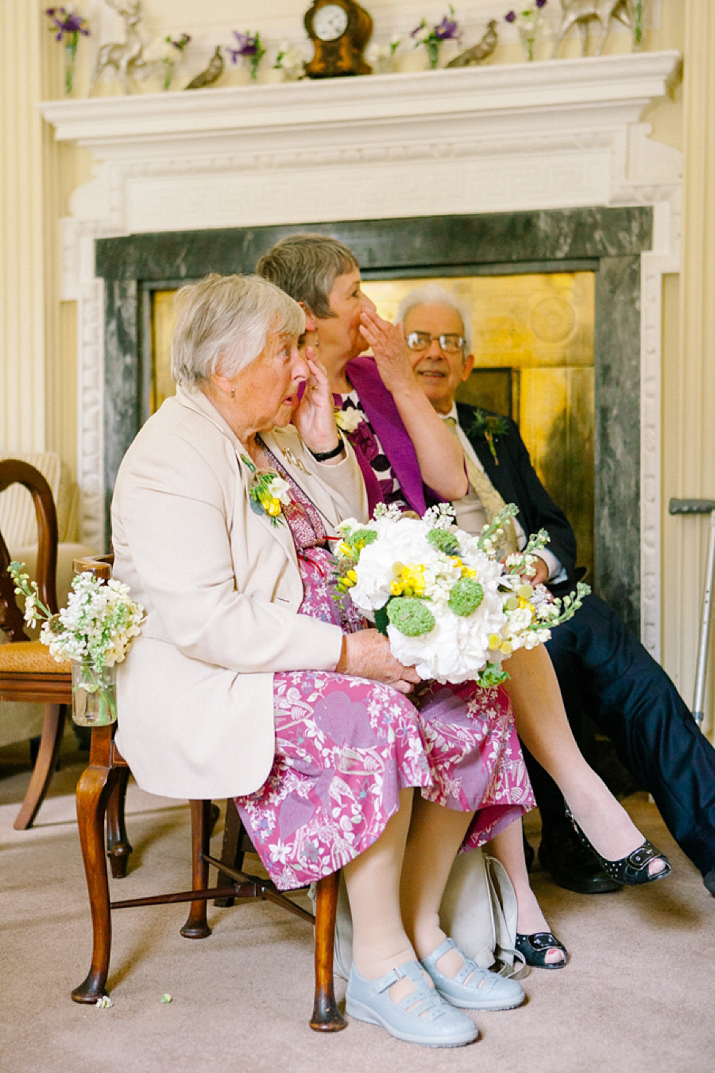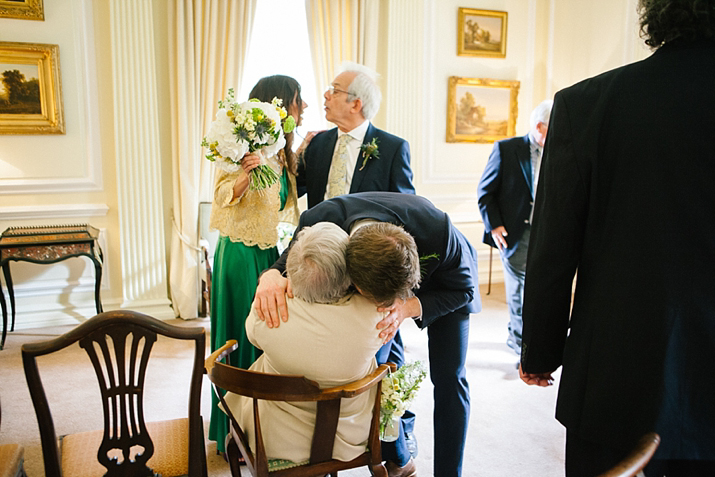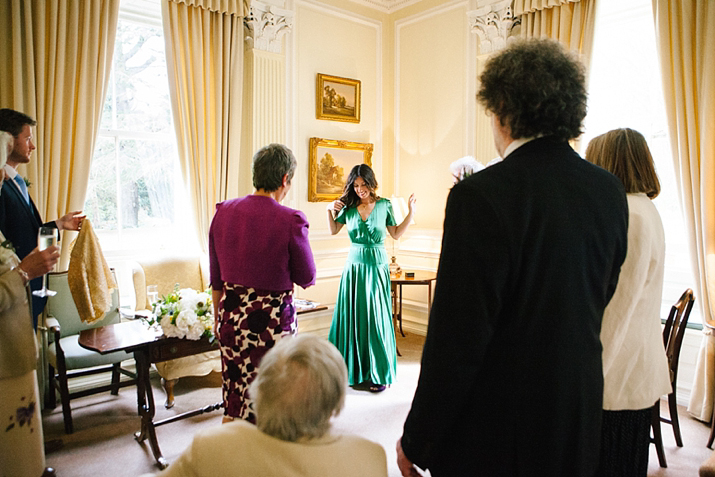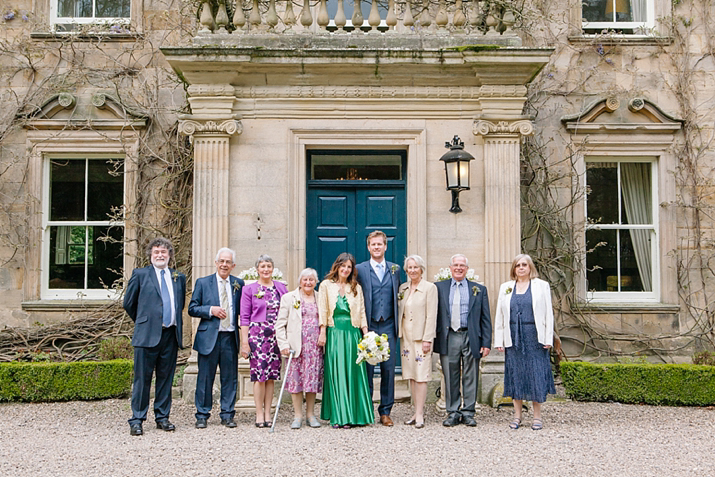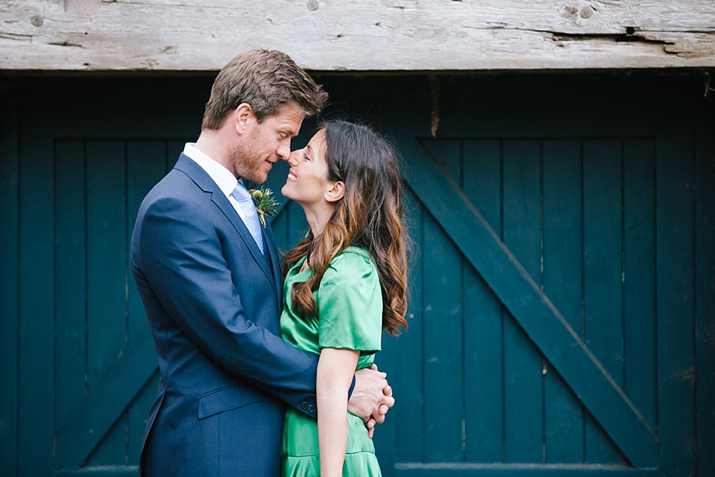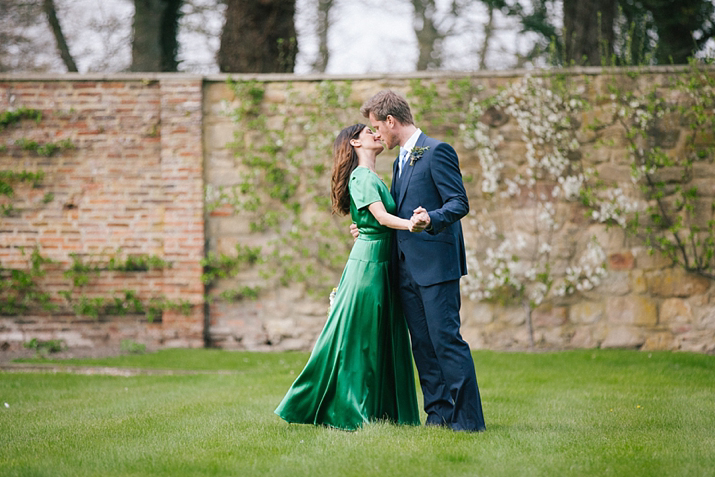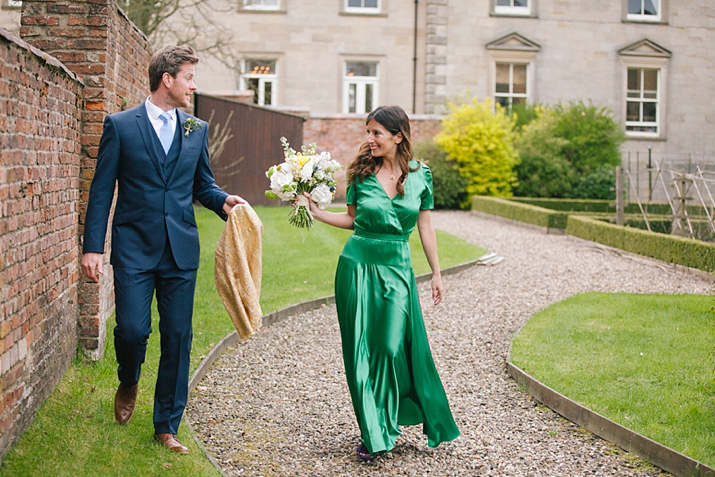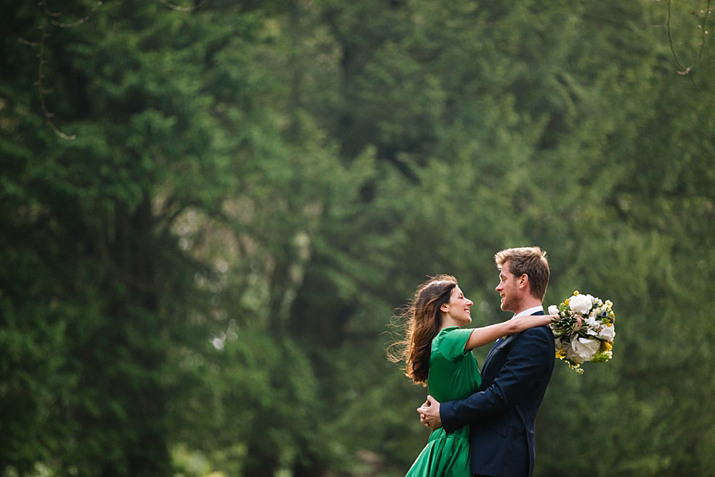 "It was really a whole wedding weekend with our close family members. It was a pleasure to show Ollie's parents the beautiful coast at Craster and allow both families time to bond before the ceremony on the Sunday – our parents had only met once before. The entire weekend was fun and relaxed and it was a real treat to all stay at Eshott Hall and wake to enjoy a breakfast in our private dining room."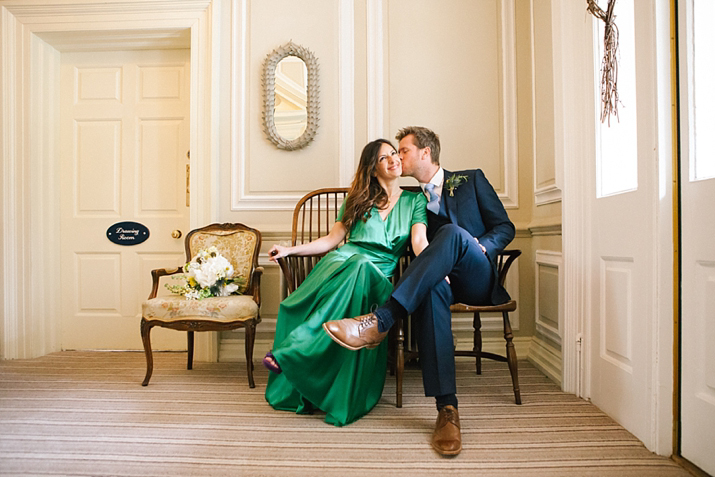 "I wouldn't have done anything differently – sometimes I think with too much time to plan, you agonise and stress and research things to death! I actually arranged and booked our wedding during one afternoon at the office! What was so lovely was that the wedding was just about Ollie and I and our promises to one another.
Also, although Oliver and I chose a small family ceremony, we are very much looking forward to celebrating with all of our family and friends at the end of the Summer; we are hosting a big party/ceilidh in Brixton on the August Bank Hol, to give people plenty of notice to attend."
Words of Wedded Wisdom…
"The more choices you have, the more decisions you have to make! Having a very small window to book and plan our wedding really focused the mind!  
My advice would be, no matter how much time you have in the run up to your wedding, give yourself four weeks max to research and get everything booked. Then you can spend the ensuing months looking forward to your day with no more late night 'wedmin' chats with the h2b, nor evenings in with your friends going glassy eyed over your table decoration chat!"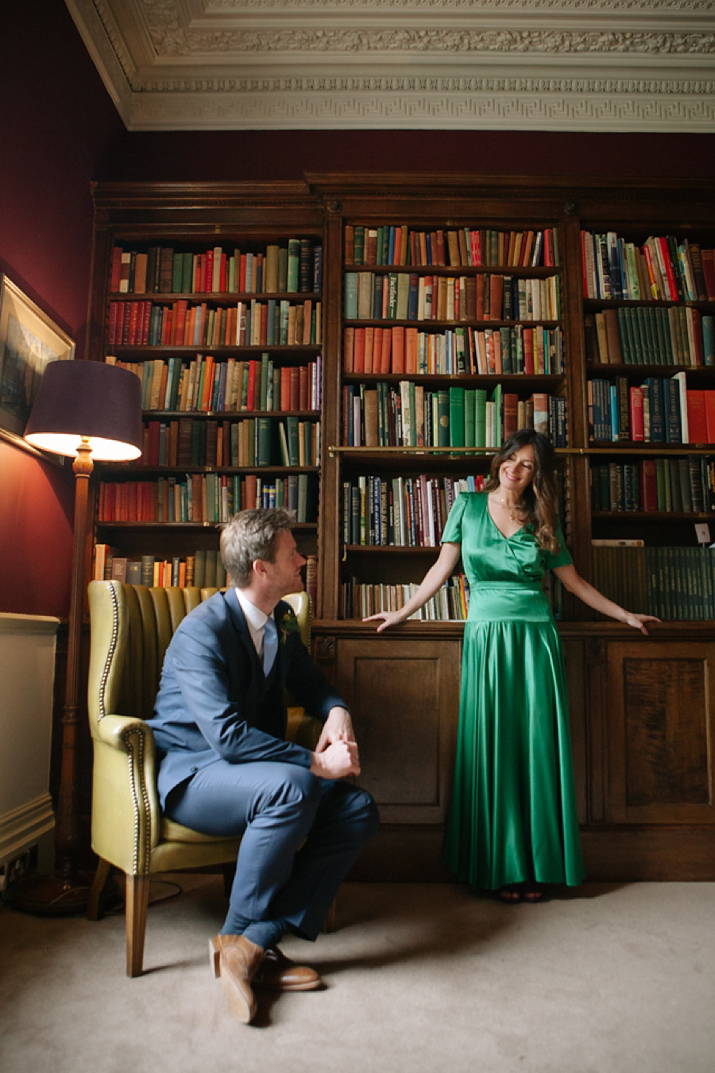 Just beautiful, I am such a lover of green and this emerald shade has been pulled off to perfection. What a find!
I'd love to know if you have plans to wear your own very non-traditional or colourful wedding dress? Pop a comment in the box below or join in the conversation on one of our social media channels (see the social media icons to the top right of this page).
Love Annabel
Photographer – Vanessa Adams Photography
Venue + Catering – Eshott Hall in Northumberland
Dress – 1970's couture Christian Dior vintage via Liberty
Jacket – 196o's vintage via Liberty
Brides' shoes – Dune (c. 2007)
Bride's accessories – heirloom necklace
Groom – Marks & Spencer + tie via  Peter Jones + squirrel cuff links
Florist – Bels Flowers
Favours – engraved silver bottle stoppers
Rings – Hearts of London in Hatton Garden
Follow Love My Dress® on Google+