There's most certainly a green theme running through today.  This morning I shared these images of bride Lucy looking resplendent in her vintage Dior emerald green gown and gold silk brocade jacket.  This afternoon, I'd like to share PR and Social Media Consultant Emma's wedding to her beau Mark which took place on 31st August last year at Hoghton Tower. It's been a while since I blogged any photography by The Lawsons so I'm delighted to be able to share these images today.
Despite the grandeur of the venue, this is such a lovely, laid back wedding – Emma looks effortlessly glamorous and I personally think she and Mark look ridiculously happy together.
This is a super lovely set of uplifting images.
Photography Copyright (c) 2014, Lawson Photography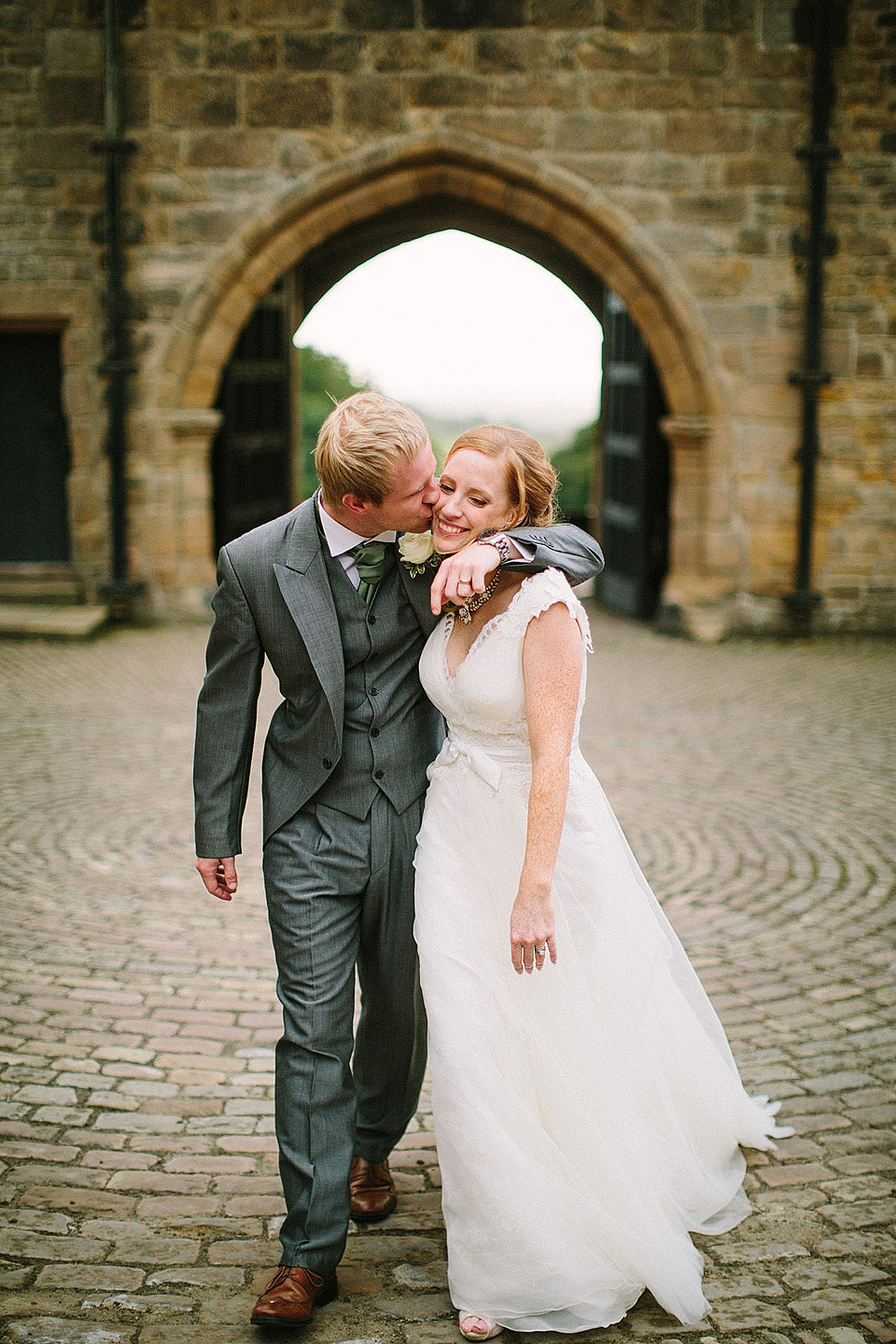 "It's not often that people can say 'it was love at first sight' but in essence that's exactly what happened with us. One May evening in 2009 we both attended the same Preston North End play-off game at Deepdale. (Back when Preston was fighting for a Premier League place of course). Mark was with some work friends, probably queueing to get a beer, and I was waiting by the fountain for a ticket. Mark is in a band and  while I'd been to a few of his gigs we hadn't spoken, but for some reason, having spotted his mop of blonde hair, felt compelled to say hello.  This sparked a unique connection, one which blossomed into true love!"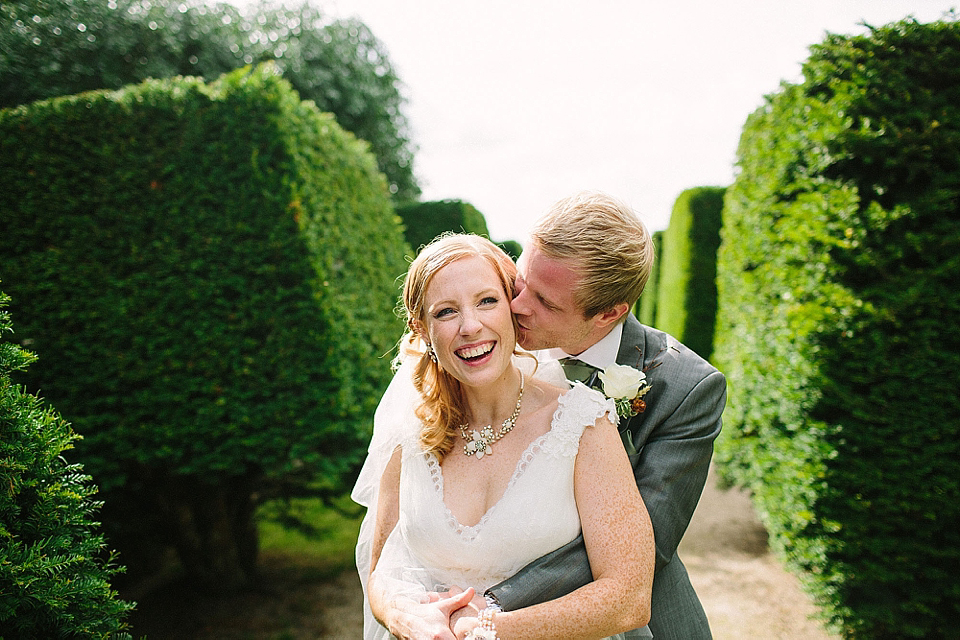 "Three years to the day since we first set eyes on each other through the crowds, Mark organised for a surprise stay at one of favourite places to visit – The Lakes. He proposed on a rowing boat on Lake Windermere and after screaming in delight for a while, I snatched the ring and said yes – luckily without falling out of the boat! We celebrated with a private dining experience at Lakeside Hotel."
"We wanted to ensure our wedding told our story and so every aspect of planning had an element of us at the heart. We knew exactly which church and venue we wanted as I used to go to primary school at St Bede's and we regularly walked our crazy red setter around the beautiful grounds of Hoghton Tower. My late granddad used to talk about the venue too as he used to frequent the surrounding drinking establishments and often sat with the De-Hoghton's.
Despite viewing other alternatives, it was Hoghton Tower that we intent upon securing as it's steeped in history and the bride and groom can use every inch of its ancient building and grounds. This gave us a lot to decorate but equally ensured our guests would have a fantastic experience."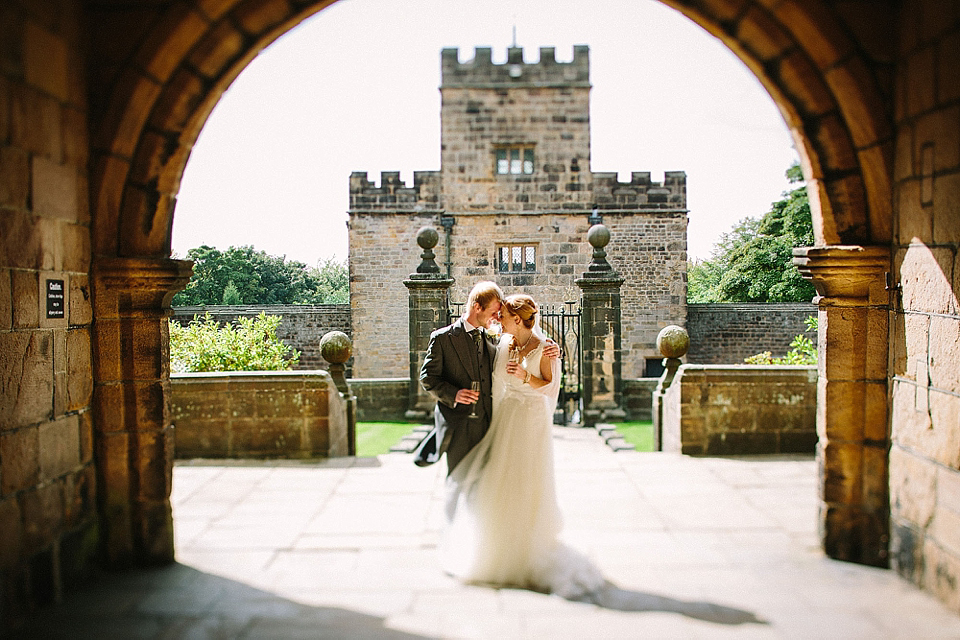 "Mark and I are both music lovers (his band even supported Bon Jovi) and we are also fans of a good red wine so our theme very quickly became a wine cork wedding. I collected thousands of corks from family and friends over the period of a year to make canvases and decorations for the big day – luckily those close to us are also huge fans of wine!"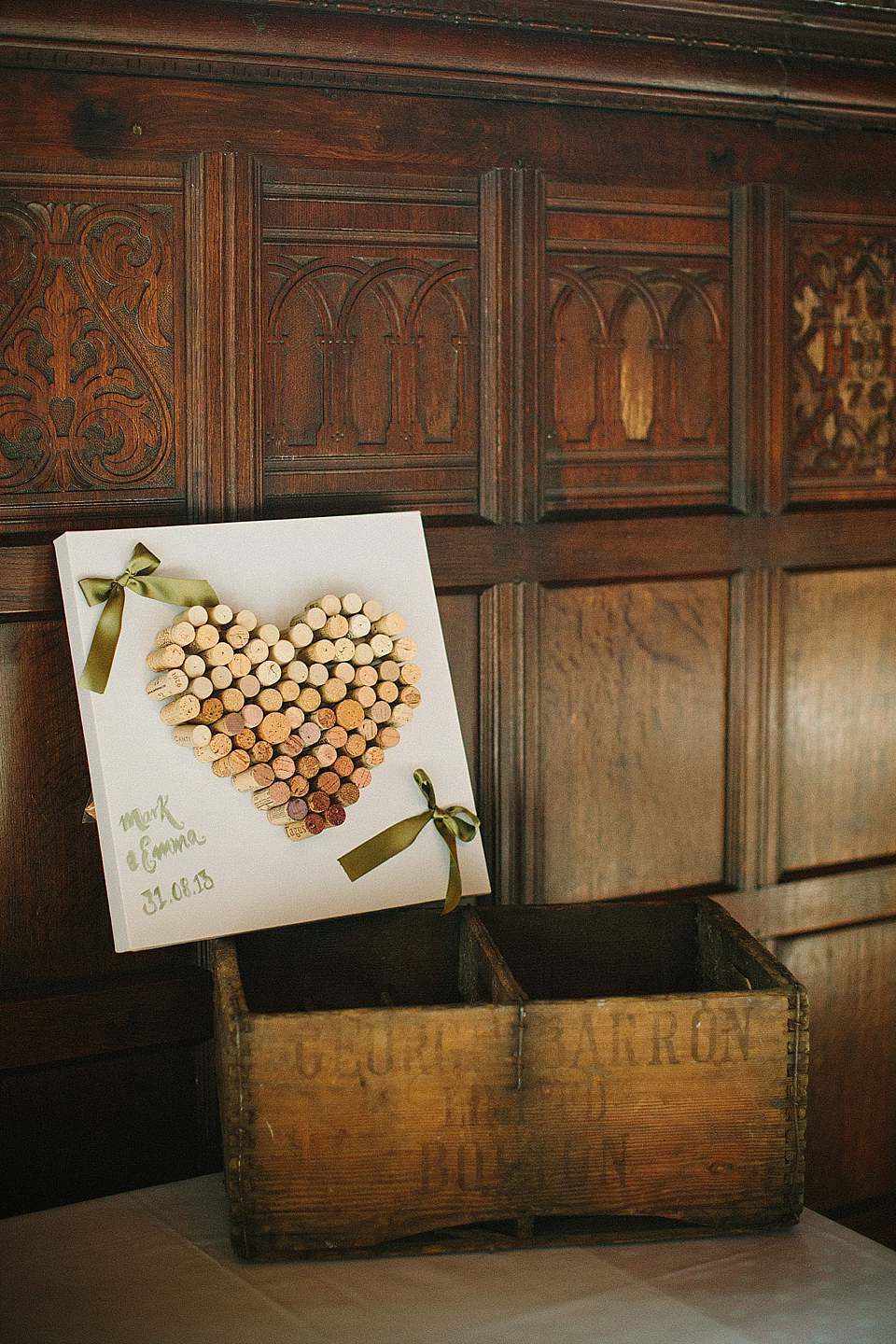 "I knew I wouldn't suit a big wedding dress which was full of diamantes and to be honest I nearly gave up looking when I spotted a warm ivory dress which looked very elegant.  It was by designer Lusan Mandongus. A quick try-on and it was a winner. It was soft fabric, contained beautiful detail and went in on the waist as opposed to the thighs so I could walk with ease.
At that point I hadn't even seen the peep-hole detail on the back. There wasn't any boning either, just beautifully mastered to create the shape and so it was extremely comfortable throughout the day."
"I'm a fan of Rachel Simpson shoes and without realising it I picked up a pair that were no longer in stock. Luckily, they fitted like a glove. I really liked the fact that they were a pastel colour as opposed to sparkly."
"We opted for a catholic wedding and I wanted the ceremony to be as traditional as possible. I tried on a Pronovias long veil which really matched the soft dress. It was sort of like the icing on the cake. My jewellery was made by the owner of a shop in my village.
The hair clip was on display in the shop and was made from ivory fabric but had a vintage feel about it too which I loved. I was also worrying about whether to pick silver or a warm gold colour and this hair clip had both metals so it would go with just about anything."
"She designed some dainty earrings and necklace to form a set. Without me noticing, my mum had visited the shop prior to the wedding and asked for a bespoke bracelet to be made too (to cover up my tattoo on my wrist – she hates that!) and she even used a pearl from her 21st birthday necklace and added to my necklace for the wedding day. It felt really special."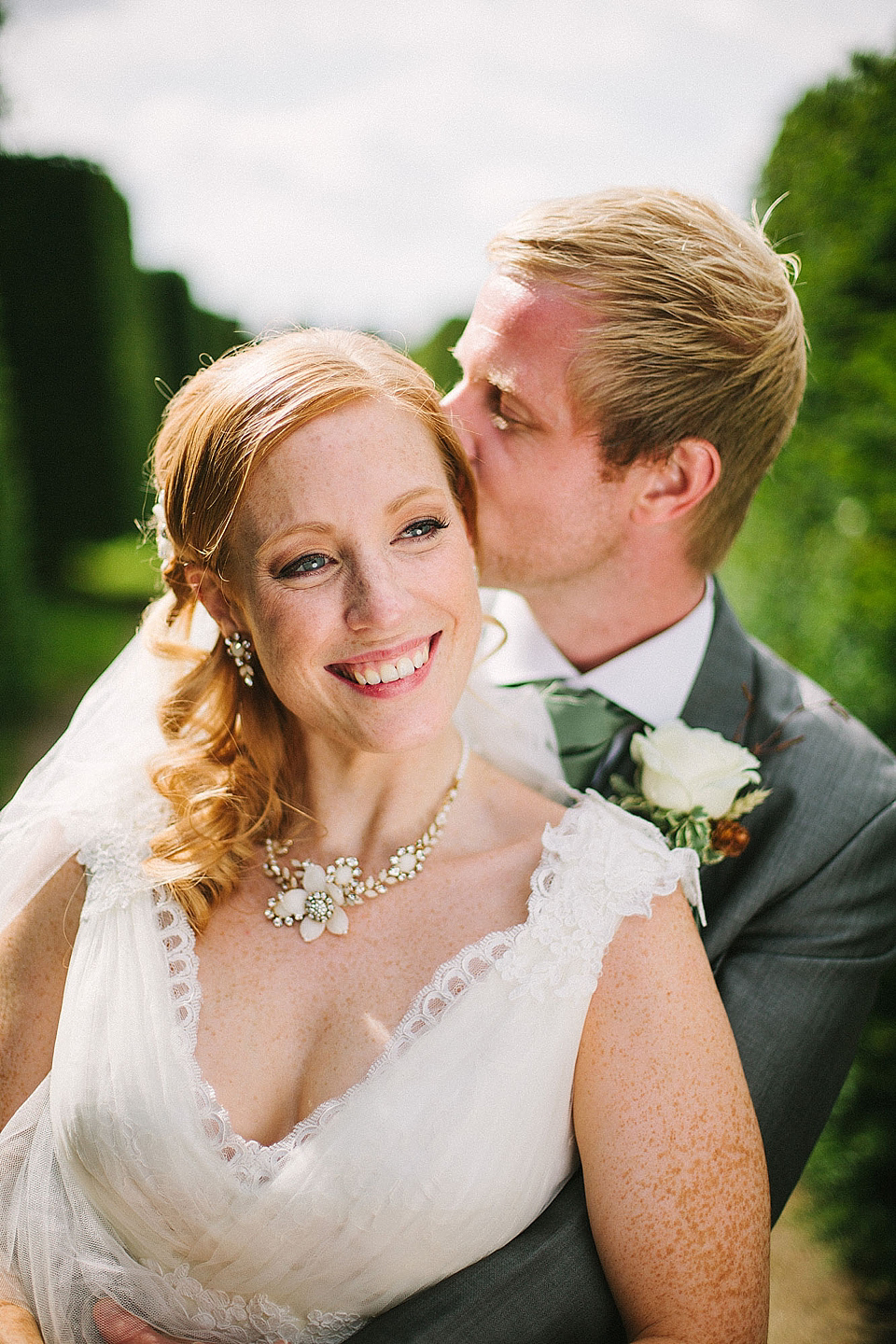 "Originally I went to a florist supplier who was renowned within the North West but I felt that she just talked at me and didn't listen to my thoughts. Luckily, I found a florist based a stone's throw from the venue so organised to meet her. She listened and brought my ideas to life. At first I think she thought I was crazy when I insisted I wanted to use wine corks and hops within the theme. However, she ordered the hops and dried them out for nearly 12 months for me! She knew the venue well and so was able to bring in some of the flowers found in the grounds of Hoghton Tower too."
"Another priority for us, was booking Tipitina's, a renowned jazz and blues band, famed for playing at Ronnie Scotts. We wanted music to be a huge part of the day and so we also enlisted the help of a local choir for the church and booked a string quartet for when our guests arrived at Hoghton Tower."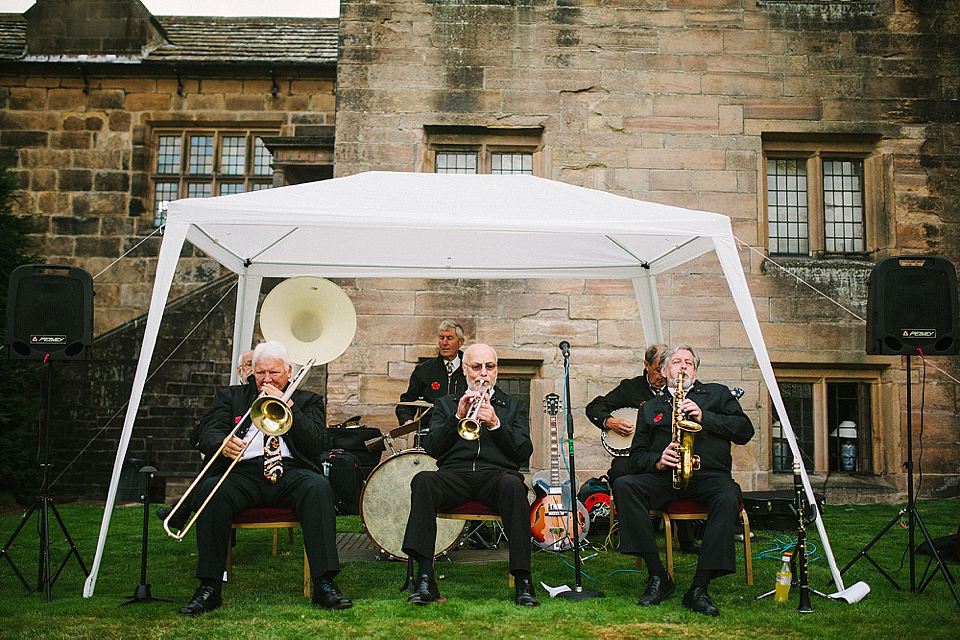 "When looking at local photographers we wanted someone who could document our day. We actually met up with a few and were really impressed but because the venue had such a long drive, it dawned on us that we would need a duo. Cue the lovely Lawsons. This hubby and wife team are just down the road but photograph across the UK (and overseas) They popped round for a cup of tea and made us feel like we had know them forever! Laura (one half of Lawson Photography) even understood my love of trees and everything green!
They were perfect in every way and even helped to organise the confetti throwing after the church ceremony."
 "I searched for an eternity for dresses to be made in the green colour that I wanted and made an album of my favourites to share with the girls so they could select which designs they wanted. I thought they would all opt for different ones which I wouldn't have minded but they all went for the same heart shaped full length gown. One of my bridesmaids managed to find a Dessy stockist in Leicester, miles away from me but within a reasonable distance for the girls to visit and have a try on.
From the initial stages I was intent on bringing in this moss green colour to my wedding as it reminds me of the outdoors and I feel it reflects the green from the Lake District where Mark and I got engaged."
"For my flowergirl – I spotted a dusky pink dress online with BHS Bridal. The only requirement was making sure my goddaughter could twirl in it as that's what a five year old girl loves to do. Luckily it had layers and layers of material and she twirled all day!"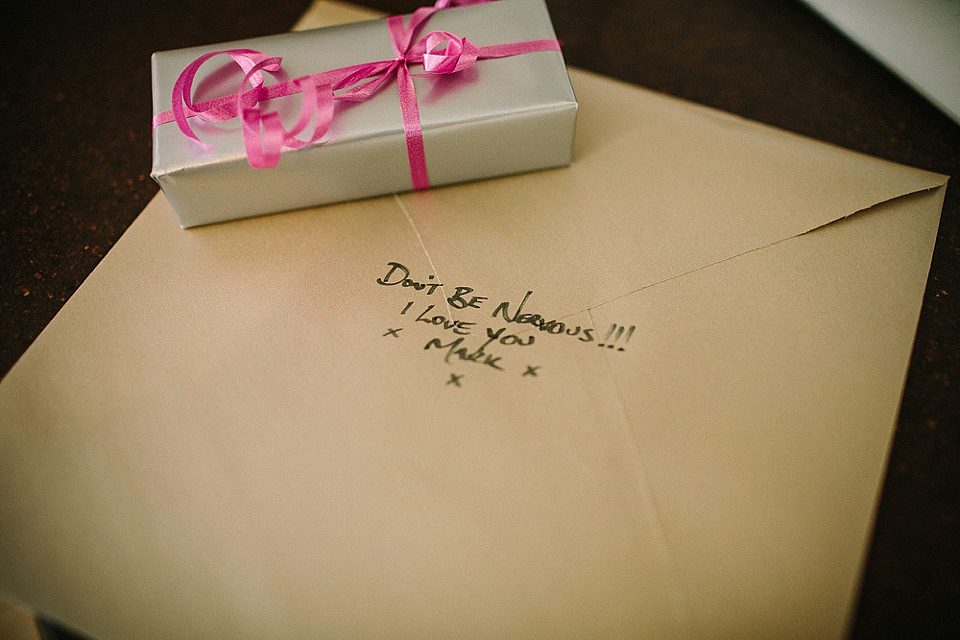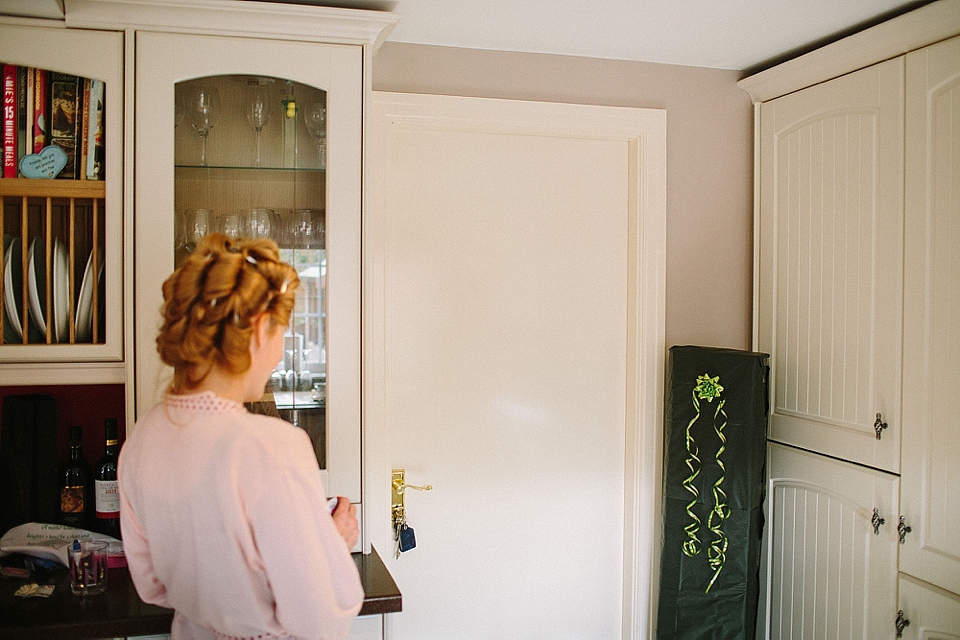 "Mark and I bought each other gifts. I had gone to the trouble of purchasing a signature Manuel Rodriguez classical guitar and case which one of his ushers delivered on the morning of the wedding. Mark bought me a piece of wood! The wood was in fact a treated railway sleeper which was engraved with our wedding date. I had been asking for one for about four years and finally got it!"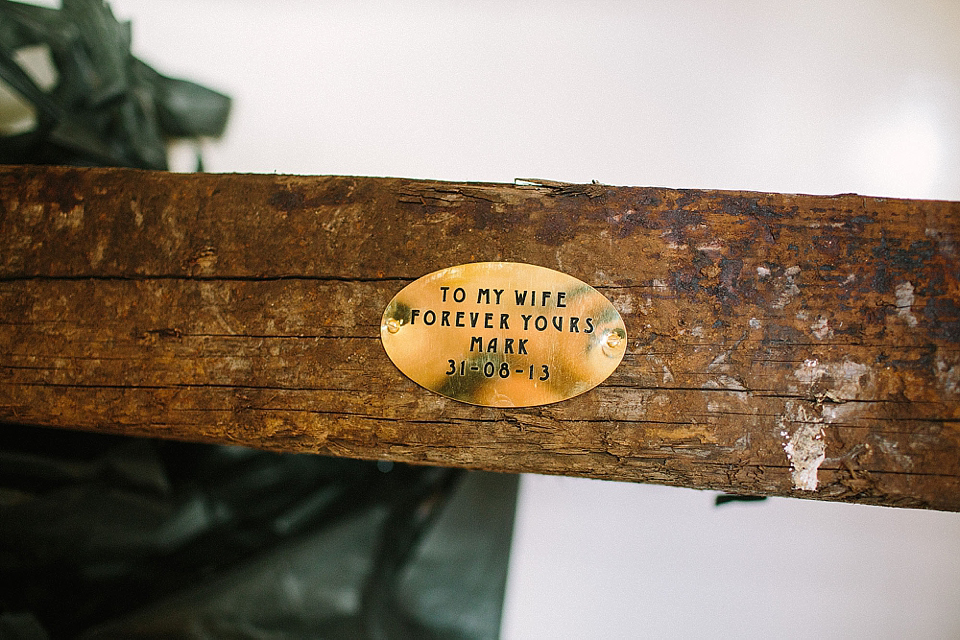 "Mark wore a lightweight grey suit from Dan Kerr Brides in Preston. I ordered a cravat from Dessy in the same pantone reference as the bridesmaid's dresses. I think he thought I was going overboard with matching up the green but a bride is always right! He teamed up the outfit with some tan leather shoes from Lotus and looked gorgeous!"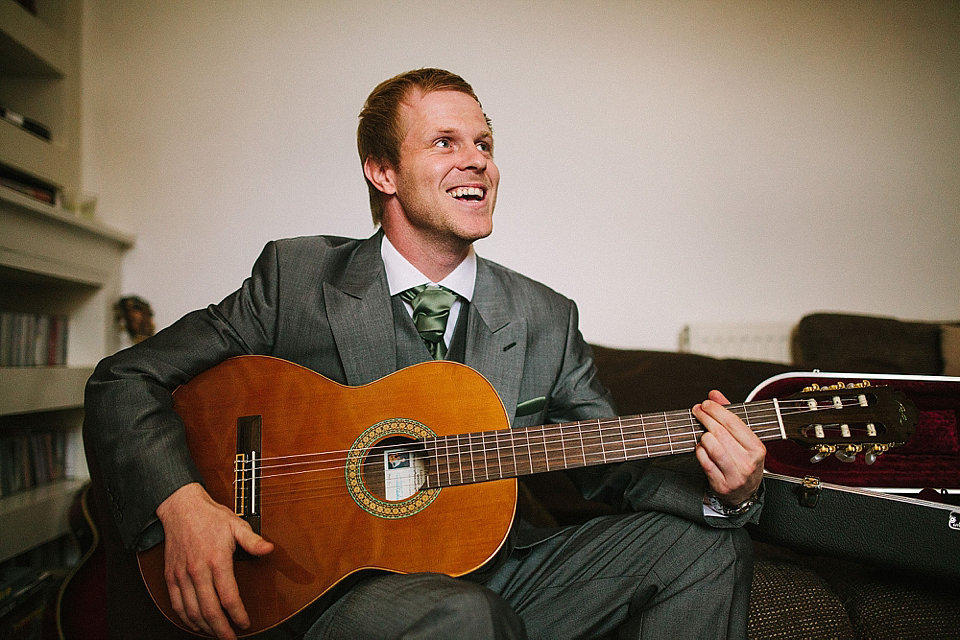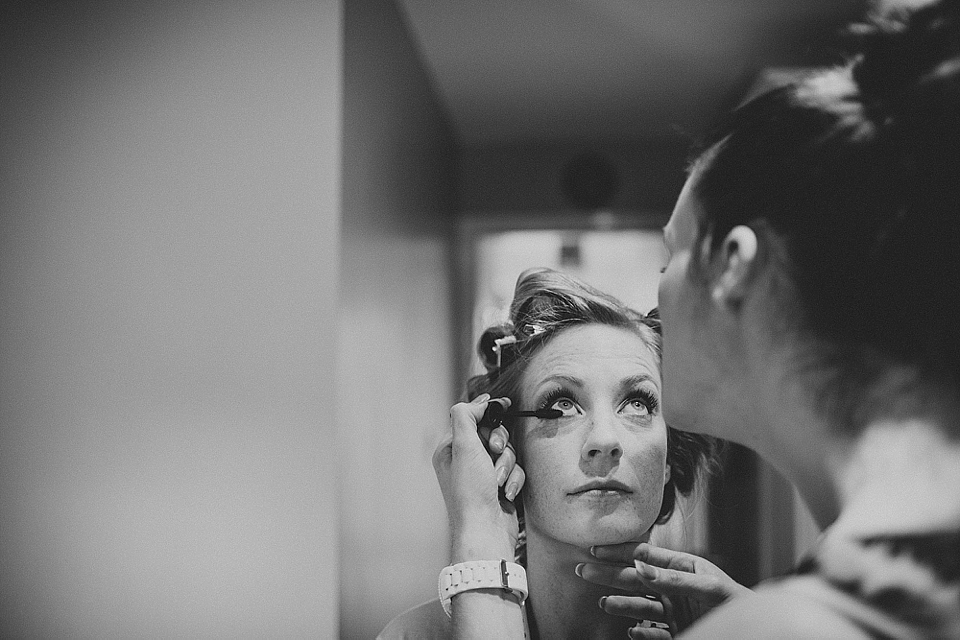 "I enlisted the help of two ladies who I had grown up with to do my hair and make-up – twin sisters Sarah and Wendy.  I must admit I was petrified as I have never had my make up done before and I had no idea how I wanted my hair. I left it quite late really as decorations and organising suppliers took up a lot of time. I had a trial with them and it put my mind at ease. They were great. I showed Sarah a picture and she recreated it within an instant.
Wendy matched make-up to my skin tone and even gave me tips on how to look great on the day, such as exfoliate my lips with a flannel so my lipstick would stay on! The girls made my bridesmaids and mum look beautiful too."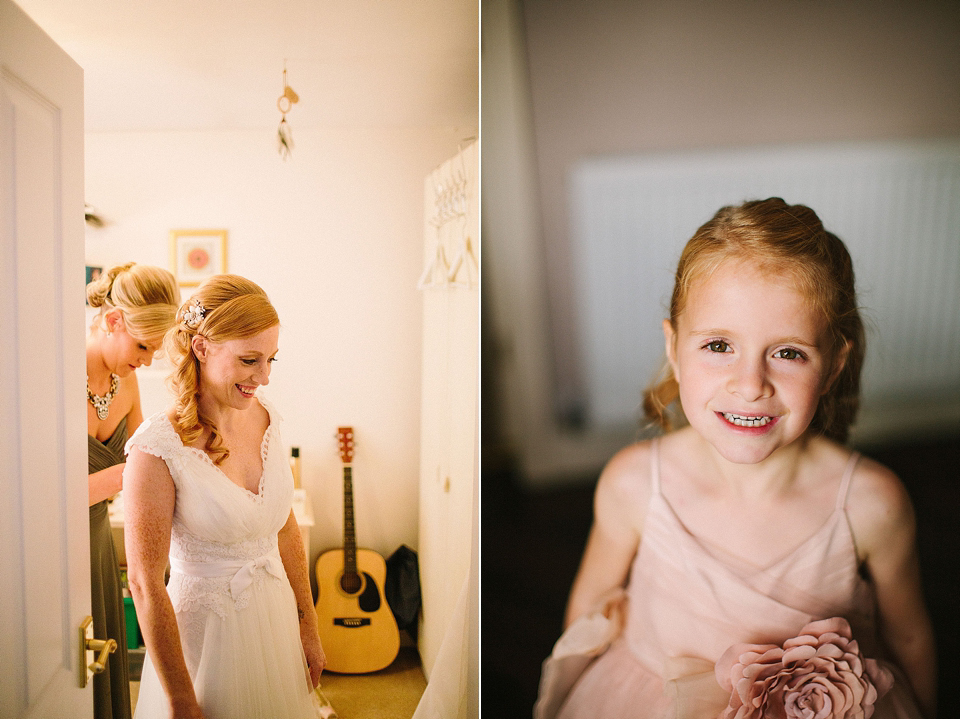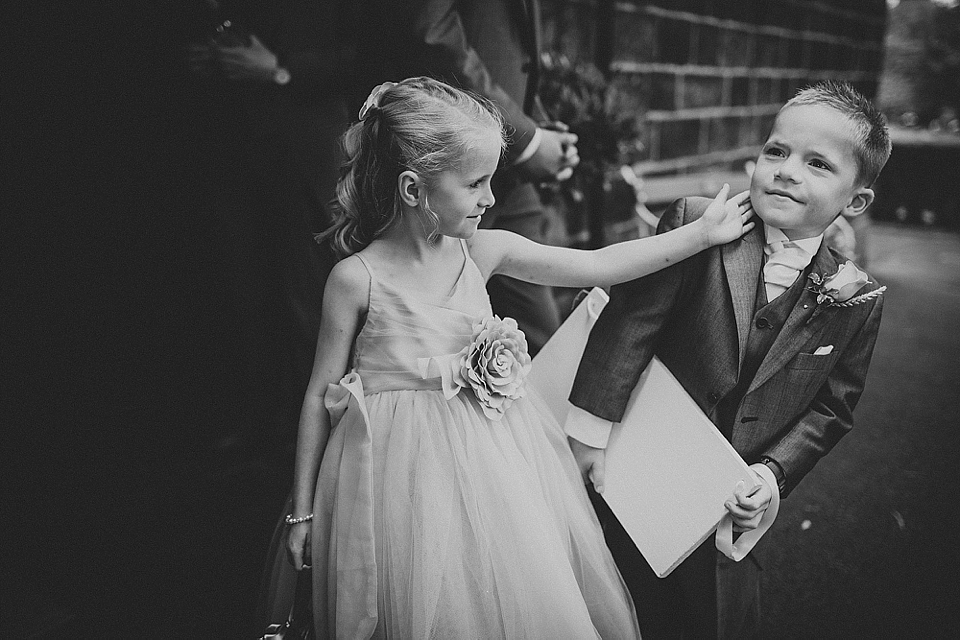 "We opted for a vintage ivory Bentley and a matching Daimler for the boys."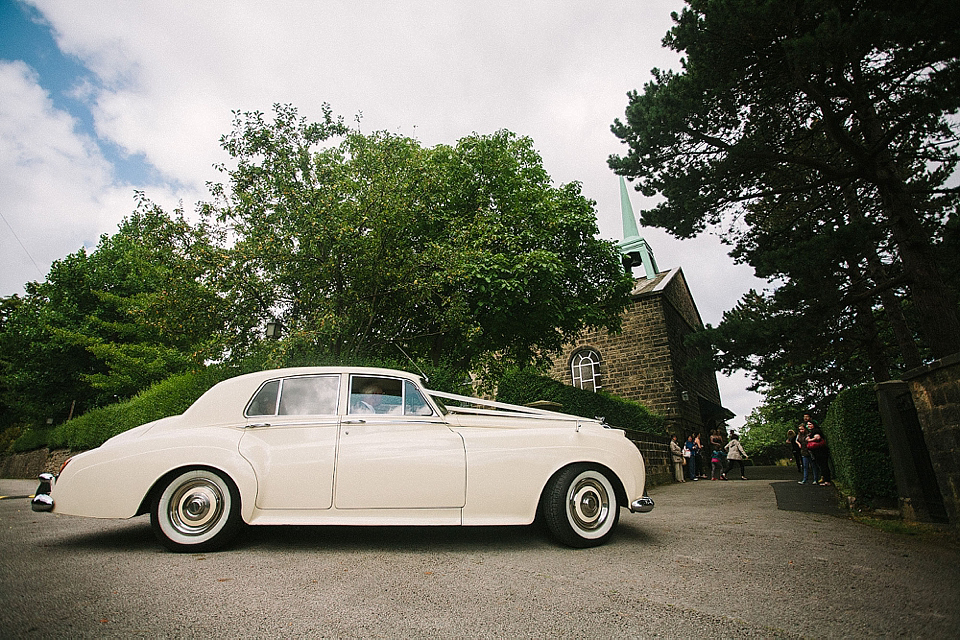 "Our page boy was my flower girl's twin brother. We decided to make sure he was included with all the groom's party so he went for the fitting with nine others and had a special 'small best man' suit from Dan Kerr Brides." 
"It was very untraditional but for various reasons my cousin, Martyn who has been a major influence in my years growing up, gave me away. He was delighted when asked and he did a wonderful job at keeping me calm before walking down the aisle! Our musical accompaniment was Ludvico Einaudi's – The Earth Prelude. It made people cry A LOT although that wasn't the intention. During the ceremony, we kept the readings and vows very traditional and in-keeping with the catholic Eucharist mass."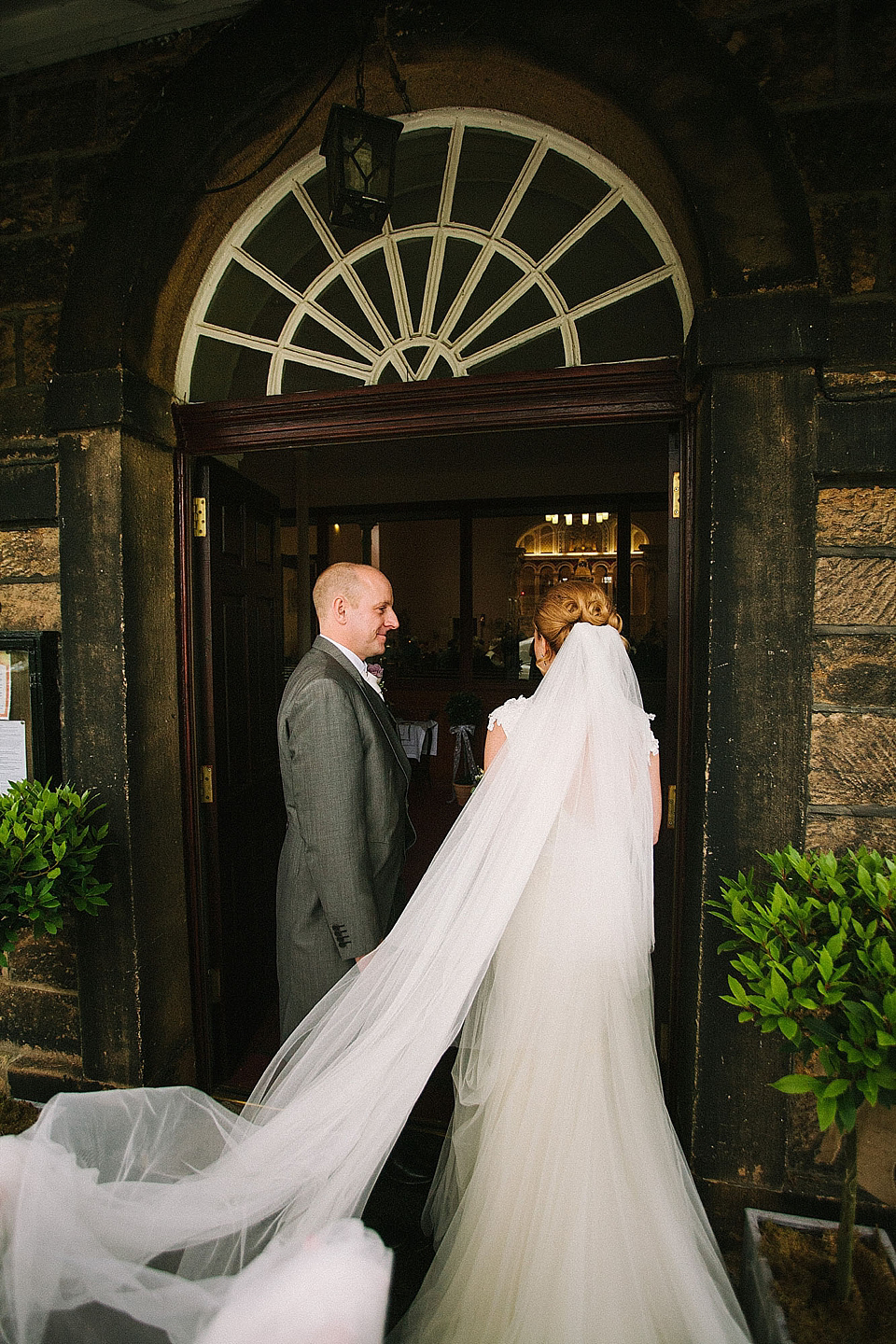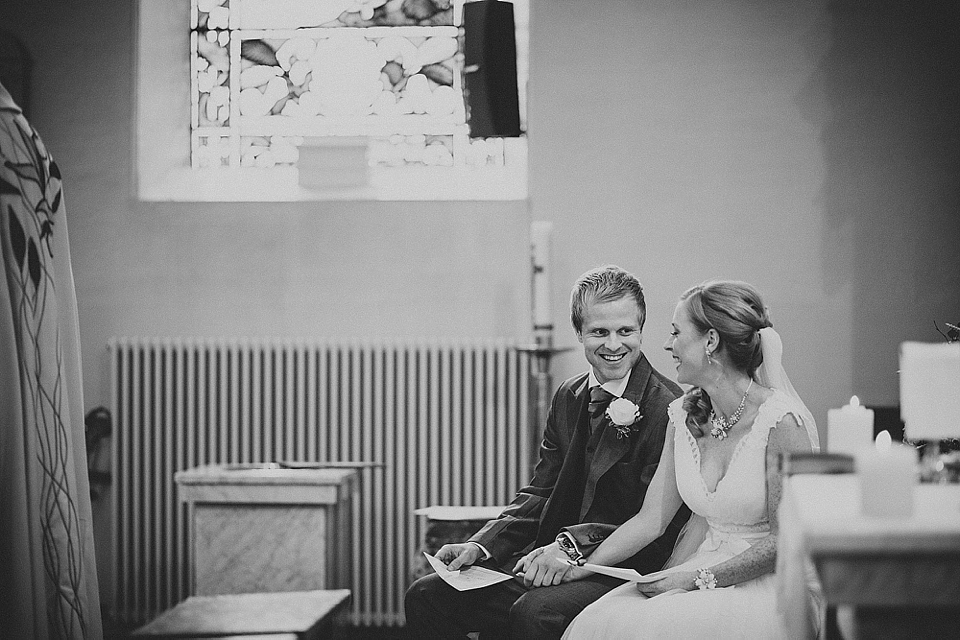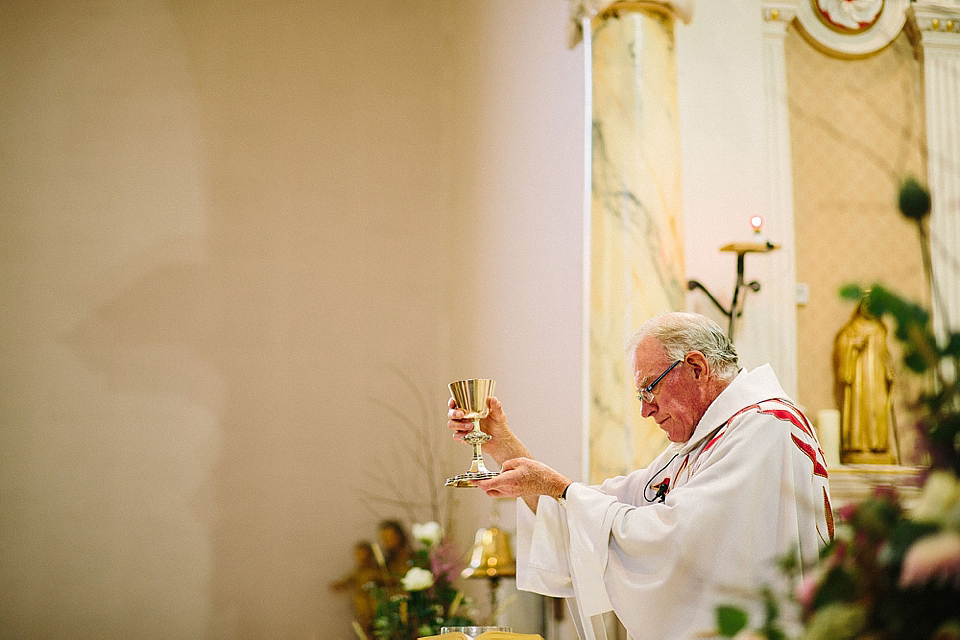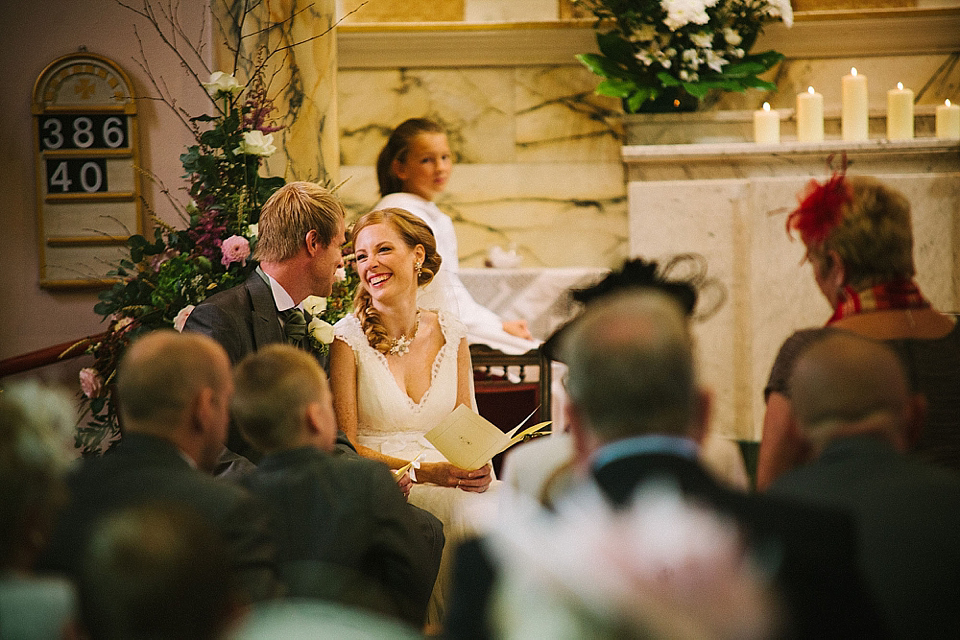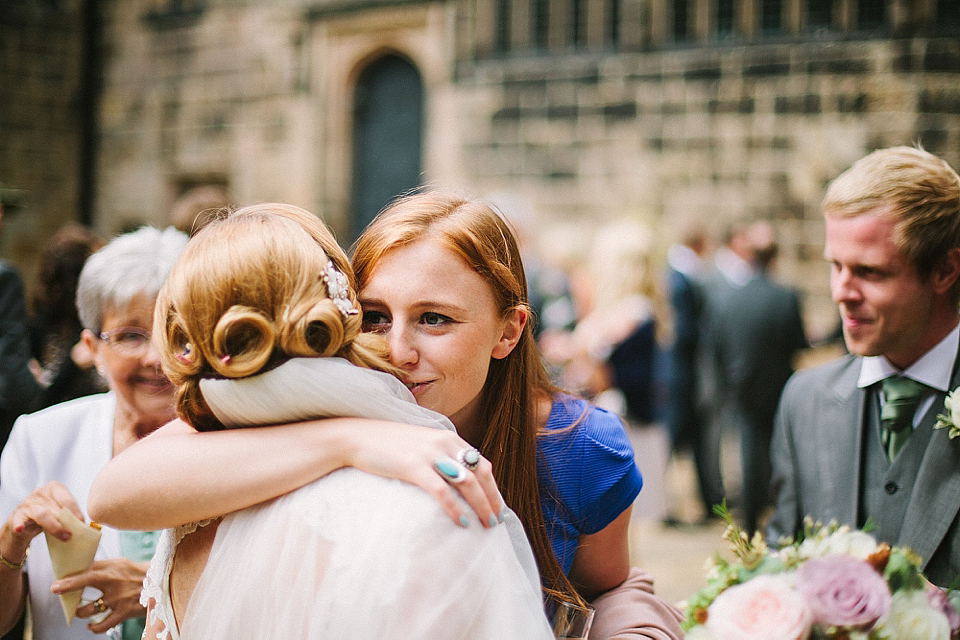 "We wanted music to be a huge part of the day and so we enlisted the help of a local choir for the church and booked a string quartet for when our guests arrived at Hoghton Tower's courtyard. We didn't want the atmosphere to disappear after such wonderful speeches at the wedding breakfast and so we asked for the Silver Bell Band to play jazz on the lawn. This went perfectly with lawn games of chess, drafts and bowls and the sun came out for us too!" 
"As an additional surprise my mum had organised for our dog, Merlot (also named after wine!) to greet us as we arrived at the reception venue, which obviously helped settle any nerves I had."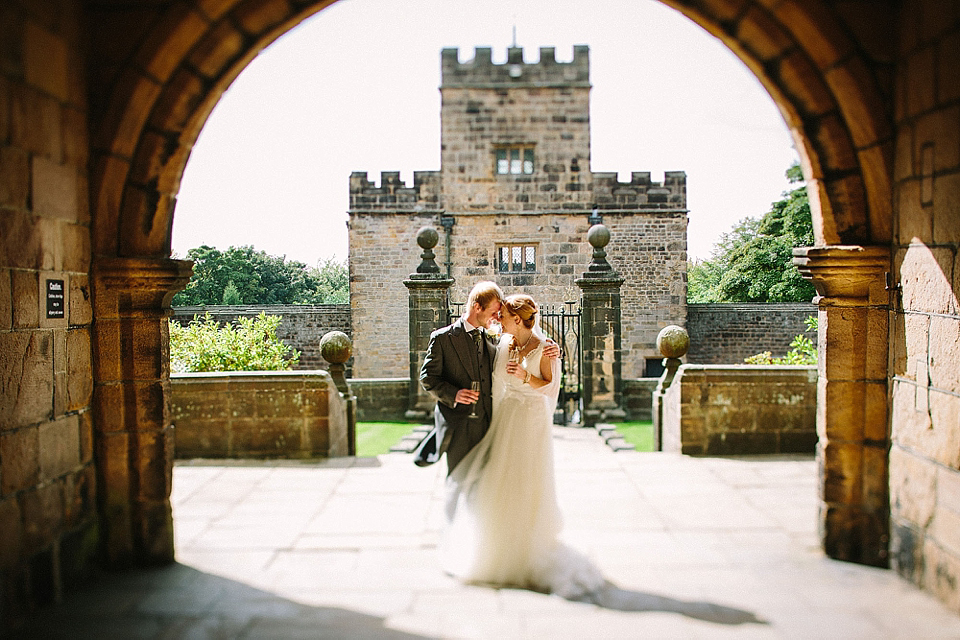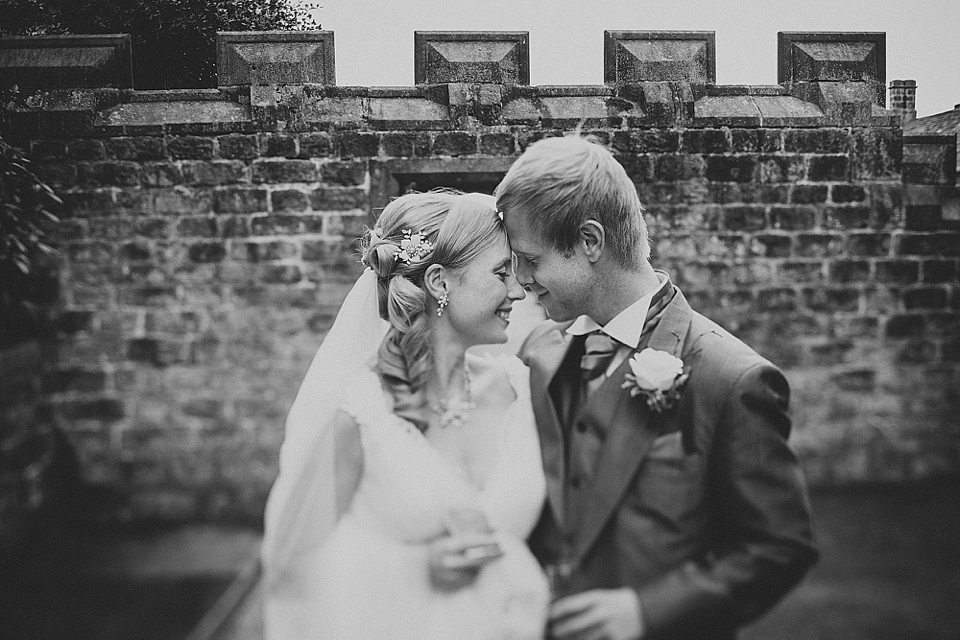 "I decorated the whole venue myself and with the help of the mums and best man we too ironed and placed every single chair cover and bow. This was a tad stressful as we only had a certain number of hours but I'd do it all again in a heartbeat. I had collected wine boxes from wine merchants and vintage stores which I placed around the venue to carry the theme through each room. I also purchased teas lights which were placed around the whole of the banqueting room which gave it a nice ambience. I made a canvas of winecorks in a heart shape and teamed this with wine bottles wrapped in hessian with a moss green bow." 
"The decoration was finished with large wine glasses filled with corks and other vintage objects and photo frames. The talk of the evening was the guest book. We had thought long and hard about how to bring in winecorks here but whatever we tried didn't seem big enough somehow and we wanted everyone to sign our guest book. We had a bit of a brainwave and after trawling around the internet, we bidded for an old white guitar and stand. This is now full of signatures and messages and we'll also be able to add this to our wall for years to come as a constant reminder of our special day."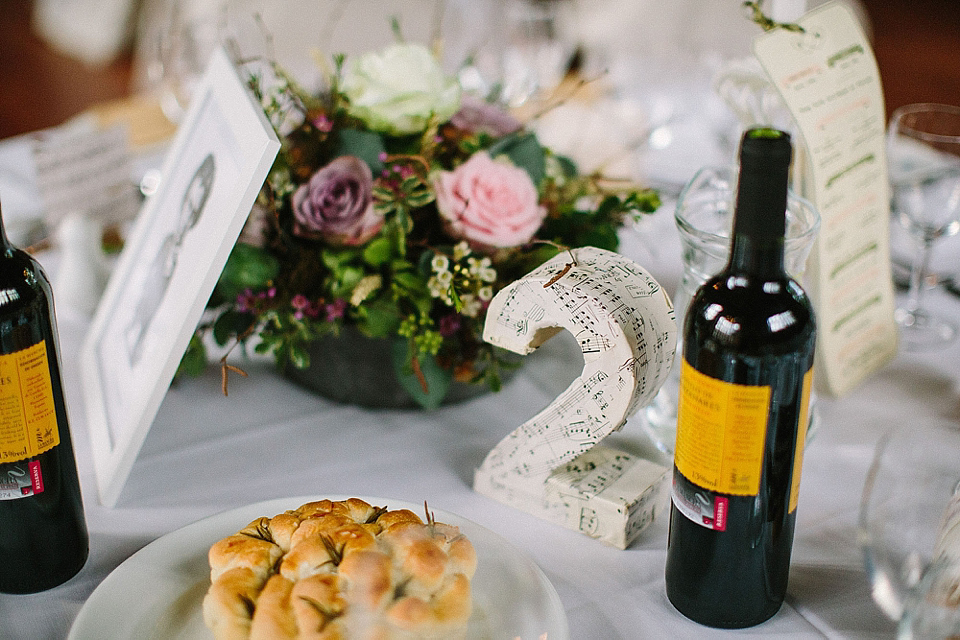 "We wanted to create something a bit different and with so many food-lovers due to be present, we had to aim high. We met with Paul Rowley of Rowleys' Catering. He had designed a tasting menu for us to try in his restaurant and we were overwhelmed with his attention to detail. We selected six locally sourced canapés to be served with fizz as guests arrived at the venue.
Due to the vastness and opulence of the banqueting hall at Hoghton Tower, we tried to keep our guests relaxed by creating a bit of a buzz at the wedding breakfast. Rowleys' Catering helped us plan a re-enactment of Hoghton Tower's historical visit of King James I and one guest from every table knighted and carved the 'sir-of-loin' for the rest of the table.
This was an instant hit and provided lots of laughter as each carver in a chef hat and apron raced to carve the feast. In the evening the caterers laid out another feast fit for a King with a hog roast, salad, potatoes and more. We cut the cheese for our evening guests too so they could enjoy."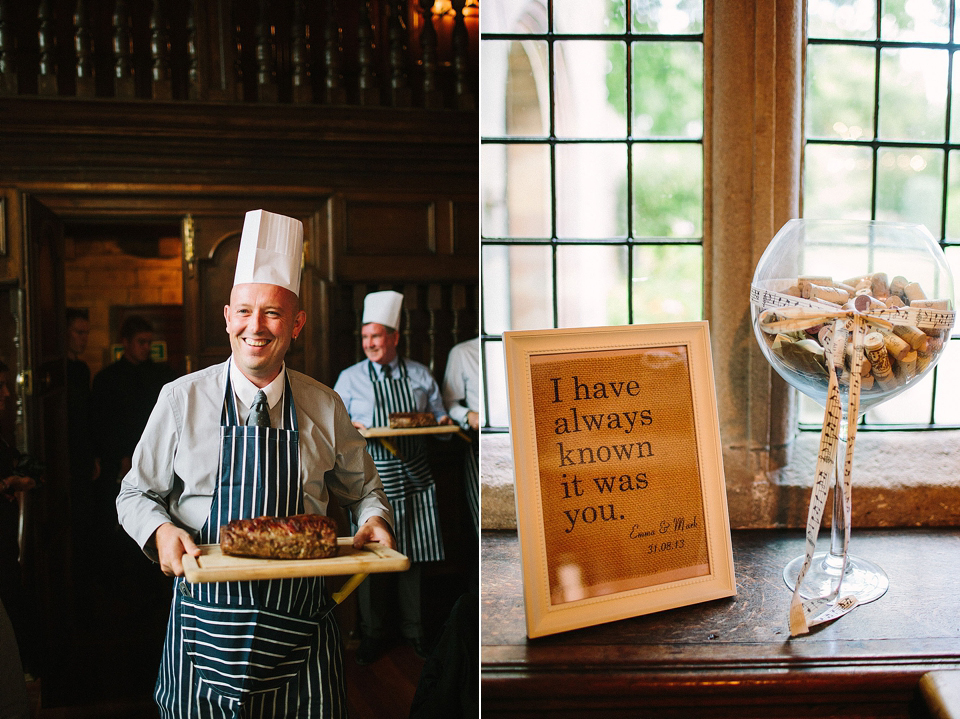 "My late granddad was extremely special to me and so instead of spending lots on favours, we made a donation to the Alzheimer's Society and placed pin badges and personalised forget-me-not seeds on each table."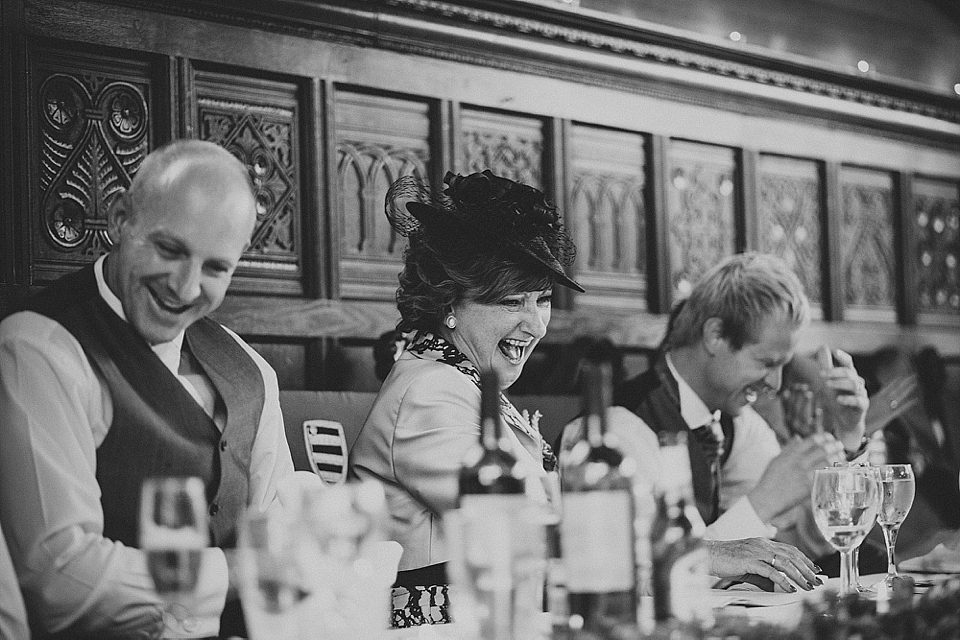 "While I've seen it used as alternative cake before, I'm not really a fan of sponge cake so decided on a three tiers of cheese. What better way to top off a wine cork wedding theme other than cheese? We chose suppliers 'Ice and Smooth Cakes' from Preston as we knew they had access to local suppliers and we wanted to ensure we supported our local contacts. The cheeses we selected were creamy Lancashire, mature cheddar and baby blue stilton from Garstang."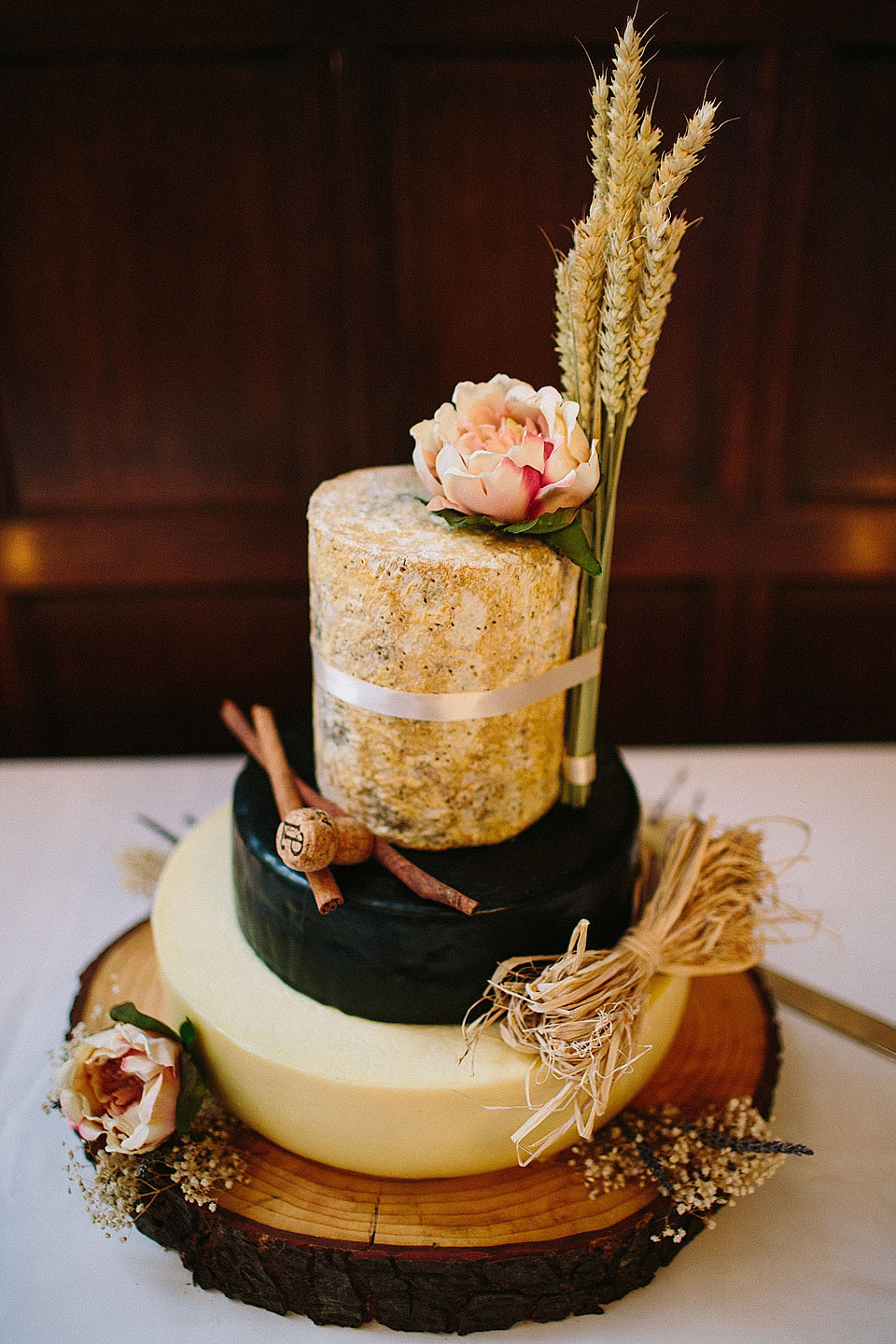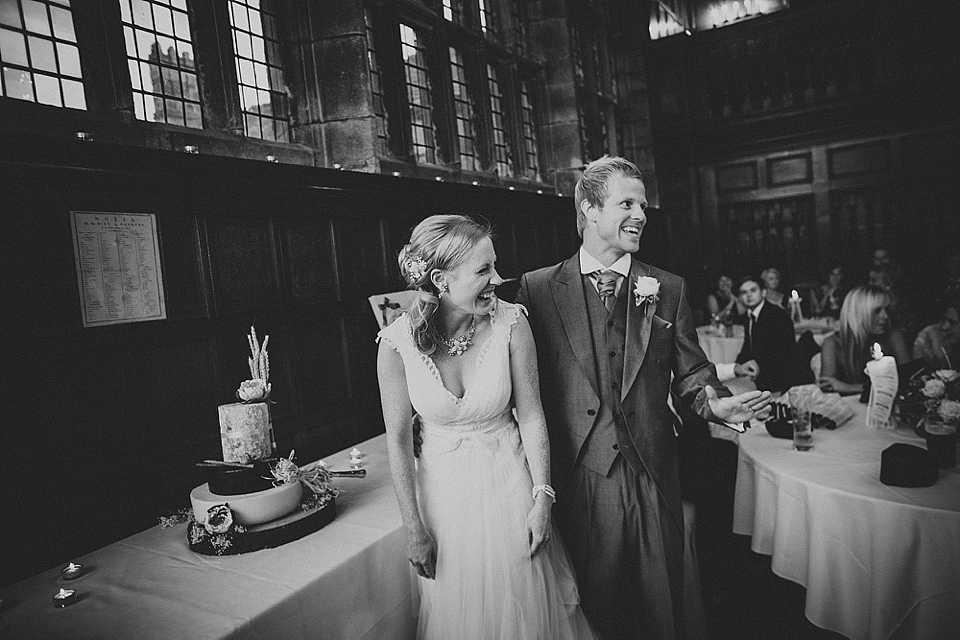 "In the year leading up to our wedding, Mark and I discussed so many beautiful and alternative tracks. We found this extremely difficult because we have so many songs that remind us of each other and a vast array of favourites. Many of them were a bit too rocky! It was only when Mark started playing a song that we both knew as he tinkled on his guitar one night that we decided it was the one – Shimmer by Shawn Mullins. I think it was played on Dawson's Creek a few times. Lead singer, Debbie Jones of Tipitina was only too happy to learn the song for us and it was so special having our very own rendition played."
"We've nattered about what might be our favourite parts of the whole day, and we both mentioned that being in the car together, as man and wife and driving up the mile long drive to our stunning venue simply has to be the best part. We were hand in hand, looked at each other and thought…wow, we've done it and all these people waiting for us at the top are here to celebrate this special day. We even asked the driver to pull in so we could fully take-in the moment. Our wedding really was perfect in every way. Think carefully about your evening guests though, we were intent upon welcoming them which we did but our day guests were relatively sozzled so make sure your evening guests are ones that would not be offended by crazy dancing."
Words of Wedded Wisdom…
"Don't worry about formality; we enjoyed a traditional wedding with an amazing atmosphere due to ensuring our wedding was just how we wanted it.  It's a bit stressful in the run-up to the wedding if you are decorating the venue yourself. We checked ourselves in to the Spa at Stanley House to enjoy some quality time together before the big day which helped us feel good inside and out.
Keep a spreadsheet of all your contacts with costings and balance due dates, we found this helped us stick to budget. It's also helpful to give your groom part a list of supplier contacts in case anything goes wrong on the day.  
Be picky about your suppliers: The experienced car driver we hired spotted that I didn't have my bouquet before I left for the church and Rowleys Catering realised we hadn't thought of guests that may want non-alcoholic drinks so brought some juices to go with the canapés."
A beautiful wedding, huge thanks to Emma and Mark for sharing their beautifully happy day, and of course, immense thanks to Lawson Photography for sharing their work today.
You can see more brides wearing Lusan Mandongus here.
Love Annabel
Photographer – Lawson Photography
Venue – Hoghton Tower Brides Dress – Grace by Lusan Mandongus
Veil/Headpiece – Pronovias Brides' shoes – Rachel Simpson
Groom's Attire – Dan Kerr Brides
Bridesmaids – Dessy Flowergirls
Page Boys – Dan Kerr Brides
Flower – BHS Bridal
Cake –Ice and Smooth Cakes
Entertainment – Tipitina's
Rings – Prestons of Bolton
Catering – Rowleys' Catering
Follow Love My Dress® on Google+