This morning's wedding is a riot of colour and details with vibrant hues.  There's mix and match stemmed blooms in glass bottles, fiesta wreaths and personalised flag bunting – the couple even had a piñata – a wonderful way to keep the children busy if ever there was one.  I'm completely head over heels with Nat's pink hued bouquet and those beautiful, bright button holes.
Nat and Chris' wedding day on the 25th of May 2013 was family-friendly and luckily for them landed on one of the first days of real sunshine that year. Their magical ceremony took place outside and they were able to head back outside for dessert after the paella wedding breakfast.  Take a minute at the end to read Nat's 'words of wedded wisdom' – they are proof that things can go wrong but it will still be the best day.
"We both love anything Spanish, the food, wine, music and people. We were determined to have a Spanish menu so we followed that with a tasteful Spanish inspired theme."
Photograph Copyright (c) 2014, Cotton Candy Weddings
"Philippa our photographer from Cotton Candy Weddings was fantastic. She understood the mood that we wanted for our wedding. On the day she was relaxed, unobtrusive, friendly and captured the day and our guests perfectly."
Nat and Chris are both keen gardeners so knew exactly how they wanted all of the flowers at the wedding to look.
"We collected vintage bottles and Lisa from Heather and Wood arranged a selection of colourful displays with typical garden stems. She understood our requirement for an understated and natural floral display. Lisa also provided the dahlia bouquets, the corsages and button holes. Chris' button hole was perfect and so unusual. We were ecstatic with what she 
Nat found her beautiful dress online and bravely ordered without seeing it physically.
"I loved the dresses on Saja Wedding the first time I saw them and although it was a risk buying a dress without trying it on I felt it was worth it. I loved the simplicity and classic feel. It's made from natural undyed silk so had an elegant and understated beauty about it. I also liked the fact that it was very art deco. Quite simply it was unlike any other dress I had seen."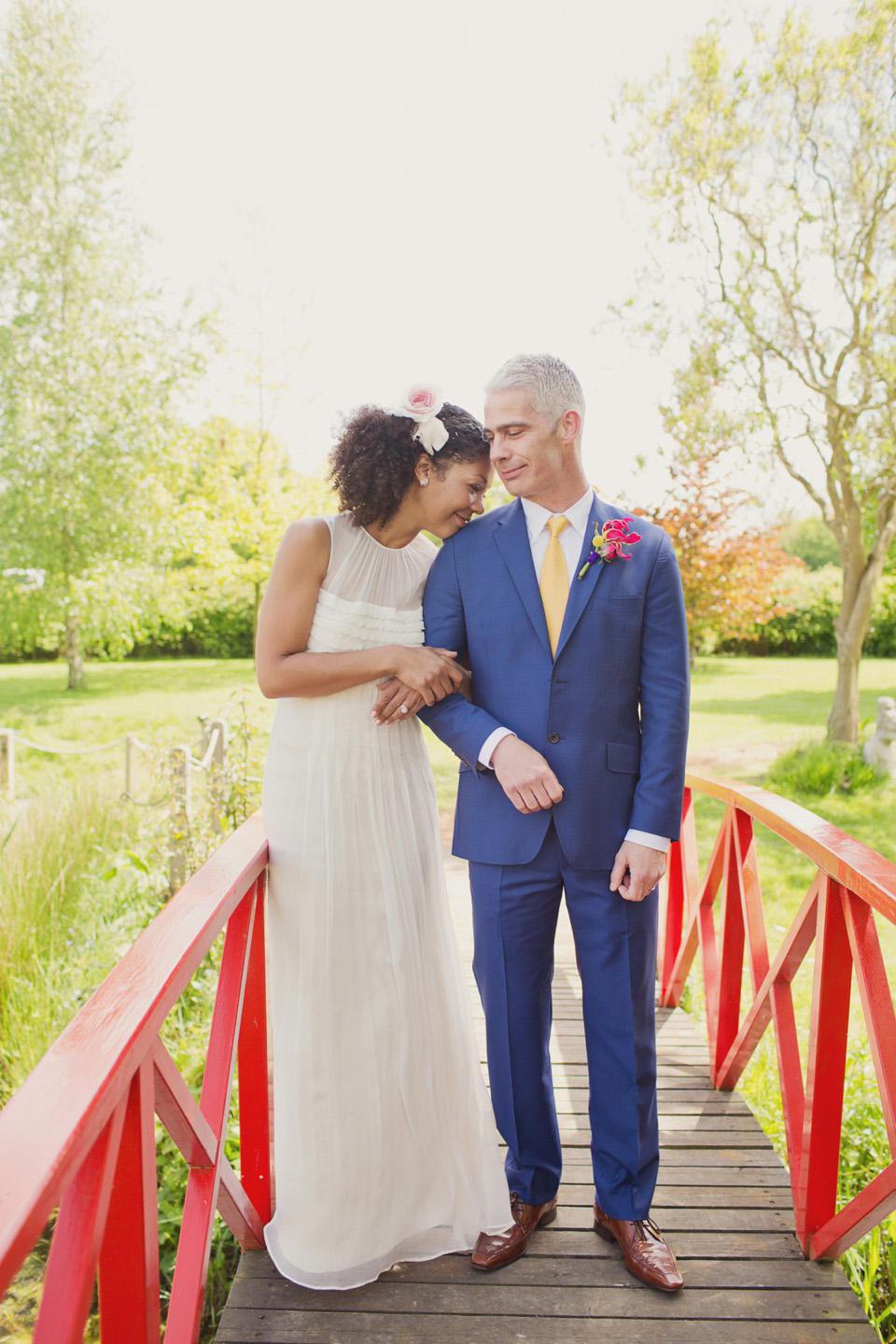 "Chris and I met on a train on our way home; after years of living unhappily minutes away from each other our paths crossed and the rest is history. We got engaged in October 2011 when Chris proposed on a weekend away in Bruges.
We chose Ratsbury Barn because we wanted a venue with outside space and a relaxed feel. Most of our close friends have children, so we wanted a venue that was safe and unstuffy and that would allow our younger guests and their parents to have a lovely relaxed day."
"Having natural afro hair and a darker complexion has its problems when you are looking for a make-up artist in deepest Kent. Cicely was extremely flexible and managed well with my very curly hair. It was important that my hair was in its natural state and many people I'd contacted were quite insistent that I have it straightened and put into rollers. That's not how Chris has ever seen me and it was important for me to look like Nat. Cicely understood this and provided a very natural look."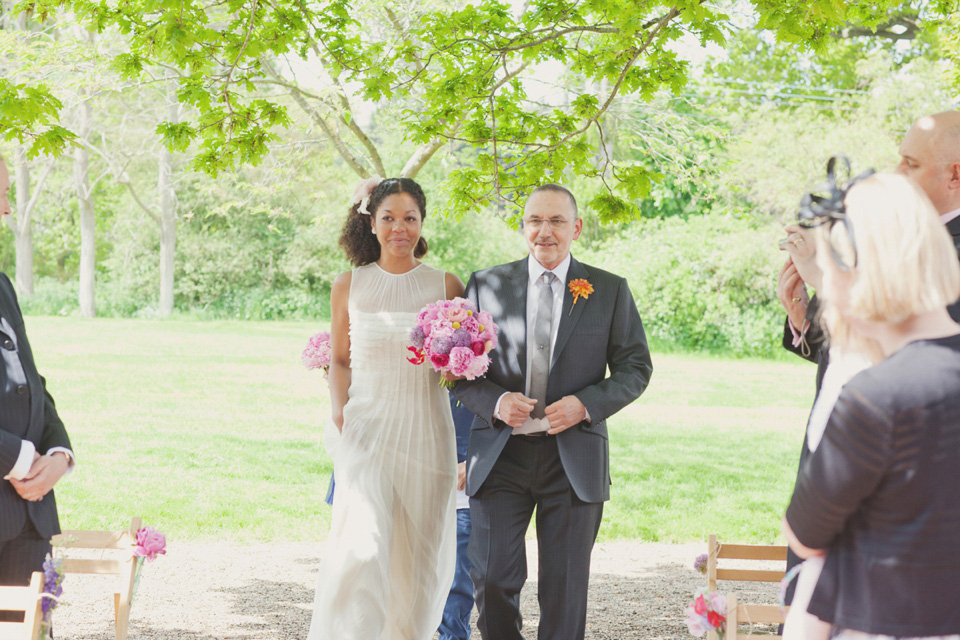 "Our son Louis was page boy. He rocked up in navy linen trousers, waist coat and desert boots. It was important to us that he was comfortable and enjoyed the day."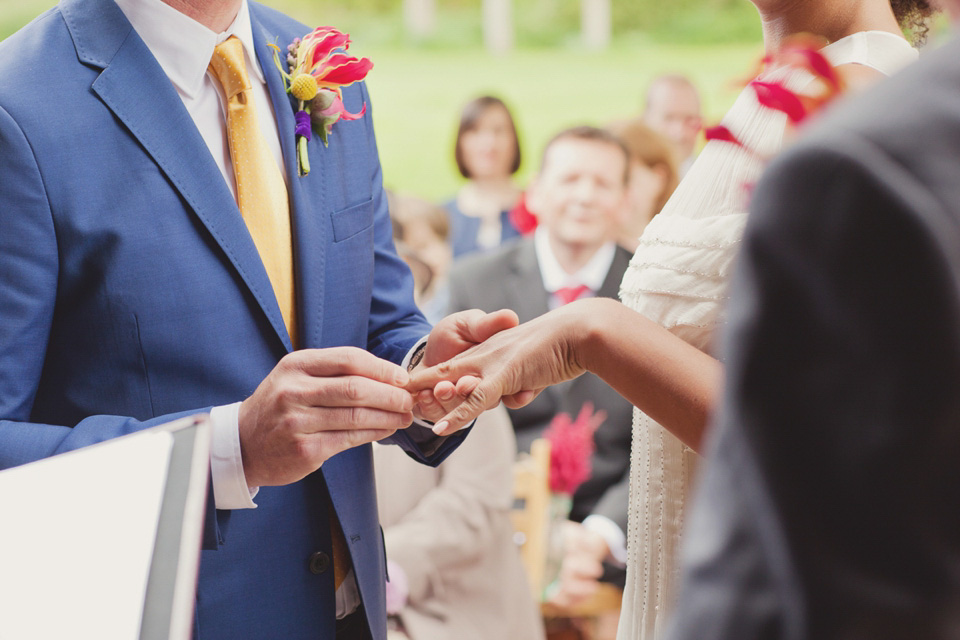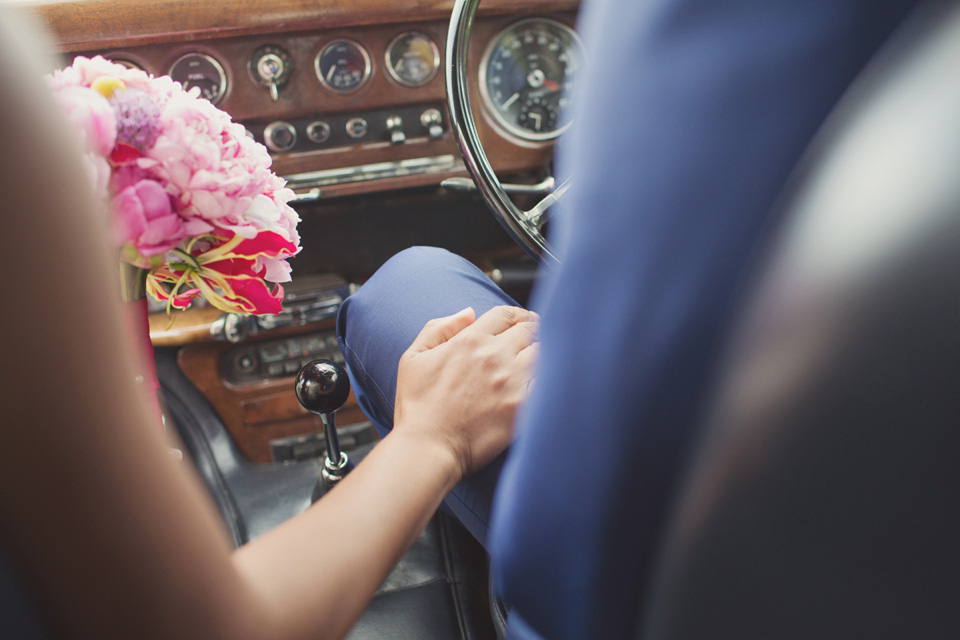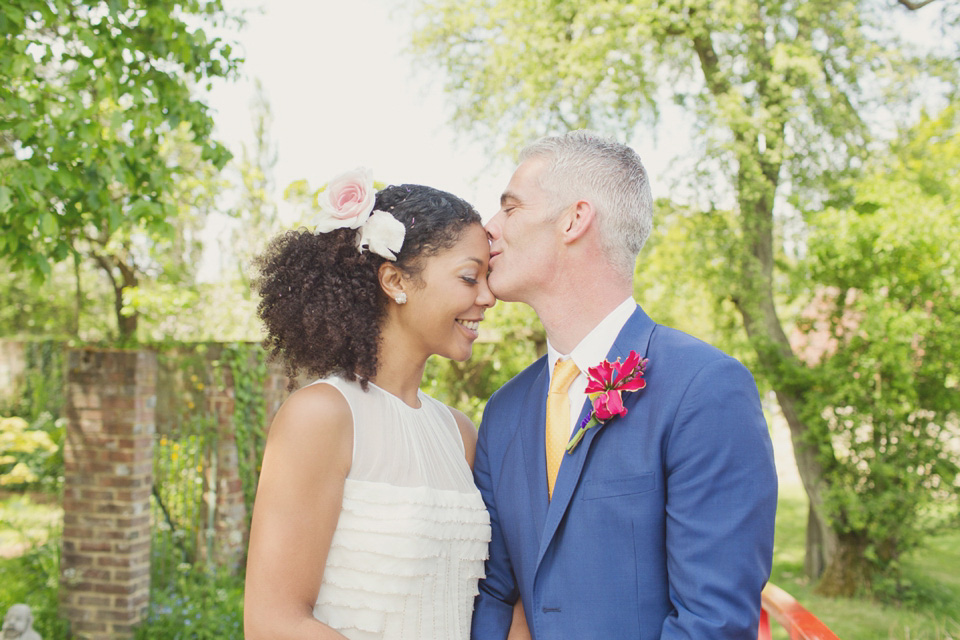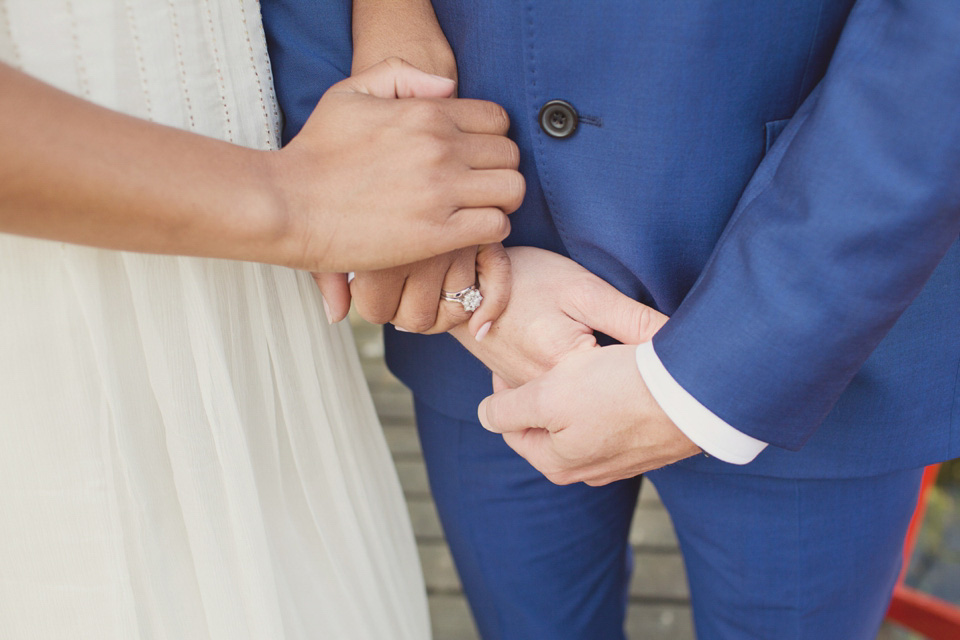 Nat's exquisite bespoke shoes are from Emmy London.
"Wow what an experience to have a pair of shoes made for you personally in kid suede and gold leather. They matched the art-deco feel of my dress, were incredibly comfortable and the experience the guys at Emmy give you when you order your shoes is fantastic. They even send you a hand drawing and material sample to keep as a memento. I've yet to dye mine but intend to dye them a fushia pink or tangerine orange so that they can be worn on many more occasions."
"We were keen to ensure the food we served was authentic to the Spain we love. Mark at El Bon Plat did not disappoint. Valencian to the core, professional and self-sufficient, we felt comfortable that things were under control. The empenadas and paella were to die for, the canapés, lunch and evening buffet were outstanding.
We had a very clear idea that we wanted a simple, two-tier fruit cake and provided Susanne with images of the cake that we would like. She understood what was required and we were delighted with the cake she provided. We painted the cake topper, to depict ourselves with our son Louis."
Nat and Chris originally planned to produce their own playlist but instead they booked a DJ as the music and atmosphere were too important to them to worry about on the day.
"DJ Jules was fantastic and understood the atmosphere we were hoping to achieve (Chris emailed him at 5am on the morning of our wedding for a floor filling request (Daft Punk – Get Lucky) and Jules obliged).The last hour of our wedding was phenomenal, song after song played in perfect order and ensuring our friends and family got up to dance to songs that have featured heavily in our own lives. Brilliant!"
"We had our first dance to 'Misty Blue' by Dorothy Moore; it's about a love that would be difficult to have. When we first met we could so easily have missed out on a happy life together if we hadn't had the courage to strive to be together. Not all love stories have a fairy-tale beginning, we're glad that ours has now become one."
Words of Wedded Wisdom
"Take the day in; sounds cliché but it goes so, so quickly! Make sure you make the right choices for you as a couple and don't get too worried about everybody elses experiences. We should have had more faith in our abilities to organise a perfect day for ourselves but we pulled the day off perfectly. Accept that things may go wrong but only the two of you will notice and sometimes it can be a plus."
What a perfect day! I love how they combined their Spanish theme with an English country wedding twist. Massive congratulations to Nat & Chris and thank you so much for allowing us to share your beautiful wedding. Big love too, to photographer Philippa from Cotton Candy Weddings, the whole wedding is captured in all its delightful glory.
If you love this wedding, you can actually see more fiesta inspired weddings here on Love My Dress®.
Love Caoimhe x
Photographer – Cotton Candy Weddings
Venue – Ratsbury Barn, Tenterden
Catering – El Bon Plat
Dress – Sajo Weddings
Shoes – Emmy London
Jewellery – Victoria Fergusson
Hair and Make-up – Cecily Make-up
Bridesmaid's Dresses – Sajo Weddings
Groom's Suit and Tie – Paul Smith + Shirt – Zara
Groom's Shoes – Jeffrey West
Page Boy – Monsoon + Clarks
Florist – Lisa from Heather and Wood
Vintage bottles – Ebay
Cake – Susanne – All Shapes and Slices
Cake Topper – Goose Grease Shop 
Rings – Hatton Garden jeweller, contact details on request
Invitations –  Vintage Baby Doll on Etsy
Transport – 'Morse' Jaguar from wedding cars
Décor – Personalised Fiesta Flags and Bunting
DJ – DJ Jules
Follow Love My Dress® on Google+