Morning lovely ones – I do hope you've had a lovely chance to relax this weekend and maybe a spot of sun too.  I'm so happy to be sharing this particular wedding this morning- I do love a bride in glasses 🙂  Teachers Lisa and Andrew tied the knot on 1st November with a ceremony at St Marys in Denham Village (where Andrew's parents were married), followed by a reception at Lillibrooke Manor at Cox Green, Maidenhead.  Their wedding was influenced by their mutual love of books – something they turned to when styling their reception venue.
"We wanted a barn or something similar for our wedding – we didn't want a big hotel/traditional venue type affair. We wanted somewhere we could decorate and make lovely ourselves. We also wanted to have a free bar and Lillibrooke allowed this. We also wanted somewhere close to where we live in Marlow.  We also just wanted the day to be as easy as possible, for us and everyone else. We wanted it to feel like a party for all the people we love and to reflect us, so we decided to make as much as we could ourselves."
Photography Copyright (c) 2014, Lisa Jane Brown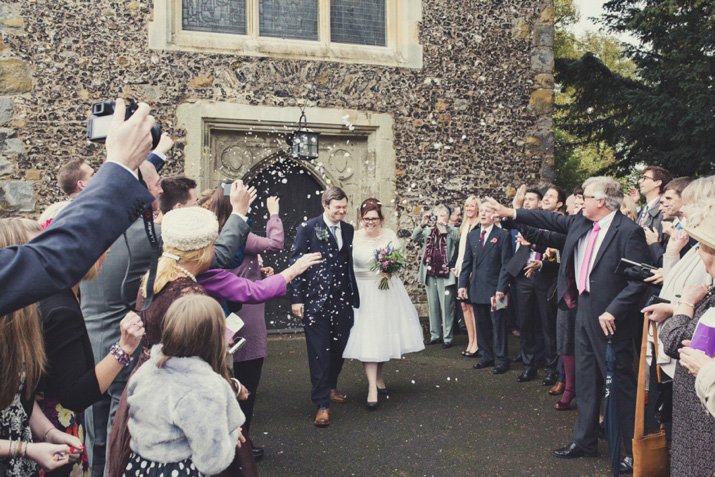 "As we are both teachers, and big readers, we wanted that to be reflected, so the flowers were placed on bundles of old books, mostly Roald Dahl and other books that are special to us – and we based the RSVP, invitations, order of service, table centres and thank you cards on old penguin classic book covers.  Andrew spent hours creating a template!  We didn't want a colour scheme either and preferred to keep the styling as relaxed and informal as possible."
"My hair and make-up artist Kylie McMichael was amazing. I had originally thought that I'd do my own hair and make-up, but realised that actually, it would be quite nice to have someone do it for me!  I had a trial session with Kylie and she just 'got' what I wanted – simple make-up (I don't wear makeup normally) with Bardot-ish eyes (as it would work with me wearing glasses) and big hair.
As much as I prefer my hair down, I knew with the weather being wet and windy I could end up looking like Diana Ross, so I thought a beehive/bouffant type look would work with dress. I loved it!  The girls at Fur Coat No Knickers, where I got my dress, helped me pick out a lovely vintage broach which they made into a hair piece using the same fabric from the dress."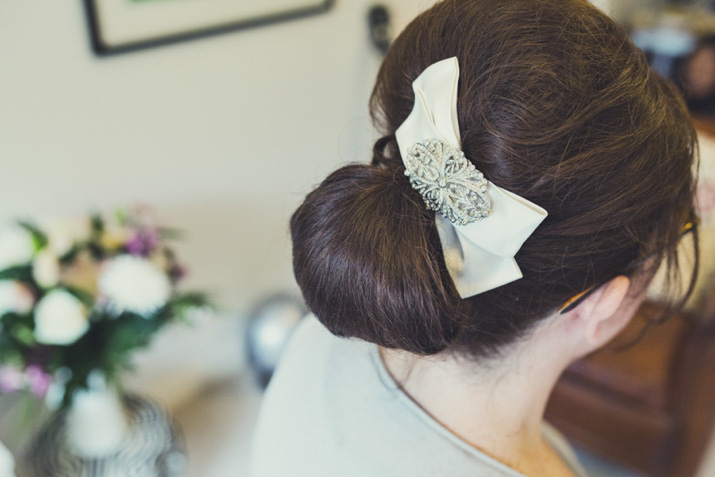 "We used my car, a Nissan Figaro, to transport us to the church – as it's lovely! My dad drove us to the church and then Andrew drove us to the reception. We hired an old red routemaster to take the guests from the church to the reception."
"As I used to live in Japan, I wanted to make some paper cranes as they are important symbolically – I aimed to make 1000 (which is the custom) but got to about 750 before my hands started to break!  We gave our cranes as favours (along with charity badges – Andrew's father passed away in 2001 and so we had Air Ambulance and British Heart Foundation pins)."
"Our photographer was Lisa Jane Brown who is amazing! We knew we didn't want a cheesy, old-fashioned wedding photographer and when I found her pictures on line, I knew it was Lisa we wanted. We met her in a cool café in Kings Cross and were both sold instantly. She was great at putting us both at ease on the day and got the look we wanted – nothing too staged – just lots of pictures of our friends and family happy and smiling."
"Both Andrew and I started teaching at the same school in September 2005 and became friends. We then became housemates in the summer of 2007 with two colleagues and then got together in the summer of 2008. Andrew proposed on New Years Eve 2012/13 under the bridge in Marlow with the new years eve fireworks going off – he'd secreted a bottle of champagne and glasses in his coat (the poach of his Barbour jacket – he was very proud of this!). He used a comedy plastic ring from a Christmas cracker.
We knew we didn't want a long engagement and ideally wanted to get married the next new years eve, but quickly realised booking a new years eve wedding isn't that easy! We were also bound by school holidays and as neither of us are summer/hot weather people, and therefore didn't want a summer wedding, the October/November half term period was perfect."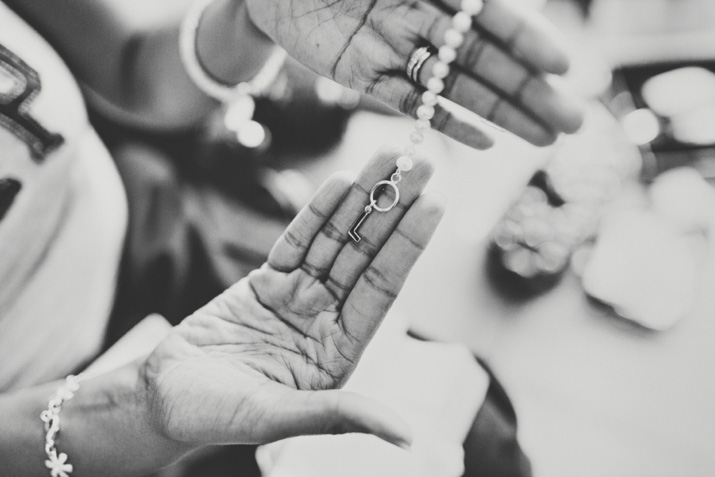 "The only part of the wedding process that freaked me out was the dress – I was never that little girl dreaming about her wedding day and although I'm a teacher and stand in front of people everyday, the thought of wearing a big white dress with everyone staring at me filled me with dread."
"I booked an appointment at a couple of bridal shops, but all I really knew is that I wanted something knee length and vintage style.  And because I wear glasses and knew I'd wear them on the day, I wanted a dress that would cope with quite strong looking frames!"
"The first wedding dress boutique I visited was awful – I ended up feeling like Miss Havisham – and the first thing the assistant said to me was 'so you'll be wearing contacts I assume?'. I was dreading my second appointment the next day and was in tears on the morning (poor Andrew was worried I was having second thoughts!). My second appointment was actually with Fur Coat No Knickers – whose dresses I had seen online.  
When I arrived at their shop, they instantly put me at ease and said 'you''ll look fab in your glasses!'.  They were great in that they didn't say 'what dresses do you like?' – which was helpful, because I didn't know!   After all, I'd never worn a wedding dress!  I needed somewhere that would say 'let us show you what we think will look great' and that's what they did."
"I chose the 'Gin and It' dress as it was the right length and had a lace top.  I'm quite booby and was adamant I didn't want cleavage on display! I also wanted sleeves. The dress felt perfect on and the girls at Fur Coat No Knickers were so good as suggesting adjustments to make it just right. I cannot recommend them highly enough.   Every time I visited them, I was in tears as it kept reminding me of having to walk down the aisle in front of everyone but they were so good as making it all fun and lovely. They also were great at fighting my corner in front of mine and Andrew's mums as I wanted to wear bright coloured shoes and ended up with sparkly blue ones!  Both mums had felt something more traditional would be better and Laura and Emma were great at saying how much they loved the idea of bright blue shoes!"
"Although I had bought a pair of blue suede shoes from Dune, they weren't exactly what I had wanted.  About two days before the wedding, Andrew and I were in the local John Lewis and he saw the ones – a muted sparkly blue – perfect, so he bought them for me."
"Our florists, The Flower Studio in Marlow were very relaxed and lovely. They understood the 'just picked look' and were happy to use the jam jars. They also made each button hole different which is what I wanted and no roses!"
"My dad, Jerry walked me down the aisle to the sound of Canon in D by Pachelbel.   My favourite moment of the whole day was seeing Andrew when I walked into the church – I was so nervous and certain I was going to cry, which I really didn't want to, and I'd made Andrew promise to pull a face to stop me from crying. He did and it worked!"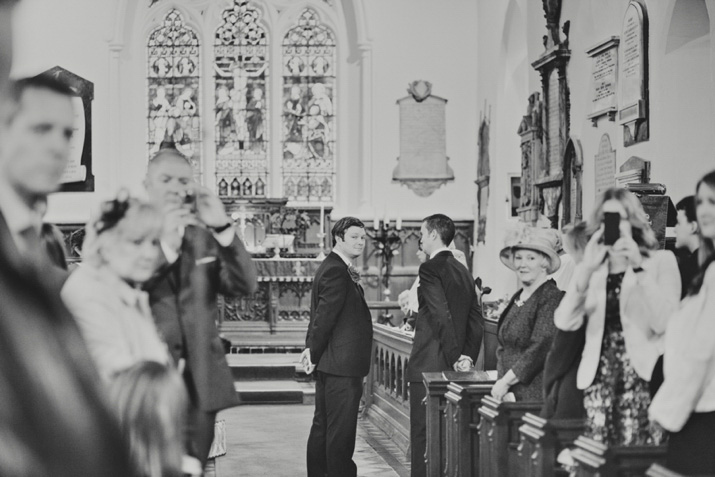 "We had a poem called 'After the Lunch' by Wendy Cope which is about being on a bridge in London and knowing you've fallen in love – Andrew first kissed me on a bridge in London and then proposed under another bridge. The other reading was by Hemingway, an excerpt from 'A Farewell to Arms', as Hemingway is a favourite of both of ours."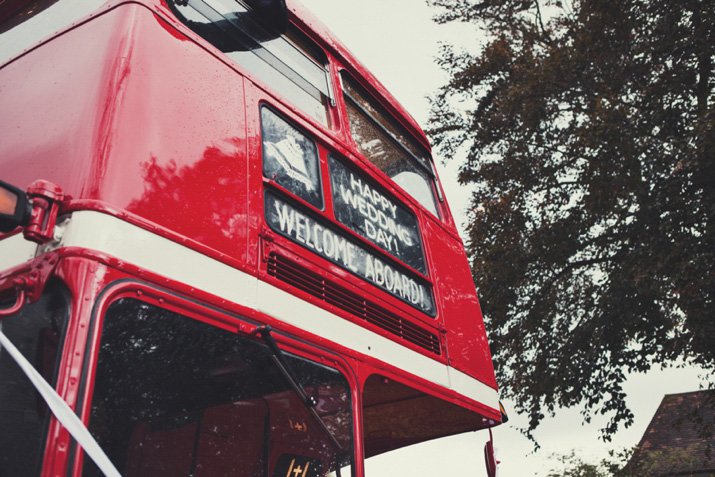 "Andrew's navy 3-piece suit was from good ol' Marks & Spencer.  The only thing he knew he wanted from the start was brown brogues and stripy socks! The rest came later. The groomsmen's ties were dark grey wool from M&S.  Andrew's was a Paul Smith with small hearts on!"
"I gave Andrew a bag of gifts to open on the morning of the wedding: stripy Paul Smith socks, stripy Paul Smith boxers, a Paul Smith pocket square and cufflinks with a picture of us on one and a picture of his father on the other."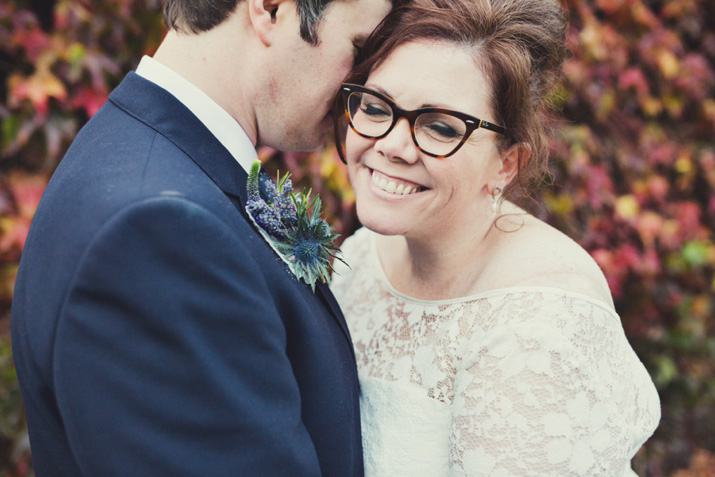 "I made the paper pom poms and we used these and the cranes to decorate the room."
"One of my little cousins who'd flown over from Ireland is really into making origami (and knows I lived in Japan), presented me with a sign of mine and Andrew's name in origami the night before the wedding, so we put this up behind our table on the day."
"The guest book was a colouring-in picture we found on notonthehighstreet.com (as we didn't want a book that would sit on a shelf and never get looked at again).  We laid the picture out with lots of pens and pencils and everyone had great fun drawing highly inappropriate images!"
"We provided origami cranes and charity badges as favours, to reflect my time living in Japan. We also had a bowl of silly badges for guest when they arrived saying things like 'I kissed the groom', 'VIP guest' and 'I love this wedding' etc."
"I had collected old jars (jam/coffee/milk bottles etc) and had planned to use these for the flowers rather than big 'designed' flower centre pieces. So I went to The Flower Studio florists, with all the jars and said I wanted flowers that looked like they had been picked from my parents' garden.  As the bridesmaid's dresses were grey, I suggested greys, blues, pinks, purples, etc – I also said I love rosemary and lavender and hydrangeas. The florist did an amazing job."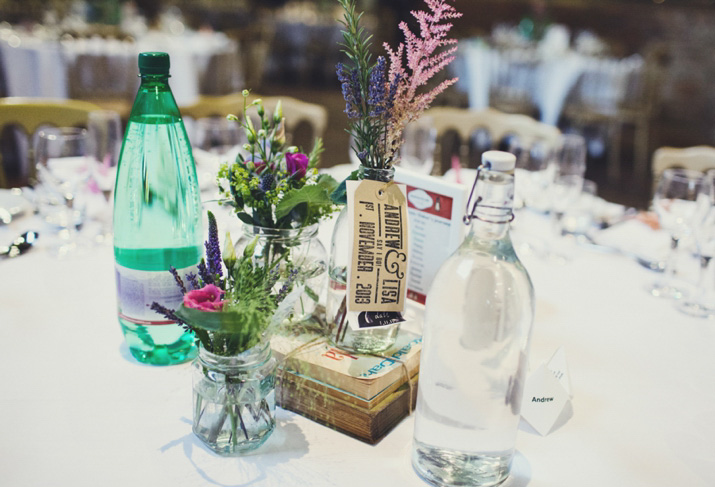 "The table centres were named after our favourite books."
"As we wanted the day to feel as personal to everyone as possible, and because we didn't want to dictate precisely where people had to sit (we allocated tables but not chairs/precise seating positions), we decided to create a 'find your face to find your place' table plan.  We found silly photos of everyone and printed them out and hung them with pegs; on the back of each photo it said the name of the table.
This went down much better than we had expected – people were all sharing their photos and it proved a great talking point."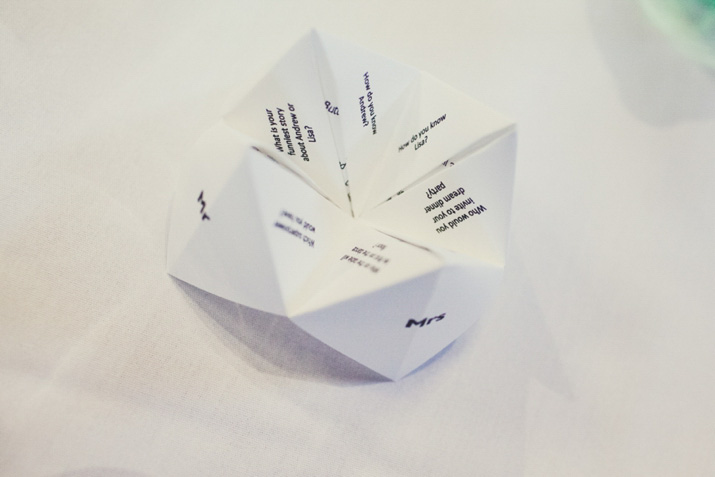 "As my parents and family are all Irish and my parents went back to Ireland to retire a few years ago, I wanted something to reflect that side of my family – and to say thank you to them all for making the trip over, so we decided on a traditional Irish band for the canapés section – I found an incredible family band called Black Velvet Band, who are based in Cornwall – we booked them just for the canapés and on reflection wished we'd had them to stay for the evening also as they were fantastic.
We kept this a surprise from everyone so it was lovely to see all my family's faces light up when the heard the music – it really helped to make it feel like a party from the minute we arrived at Lillibrooke.  Our friends love this too."
"We hired Crown Caters of Cirencester – they were outstanding. Miriam and Miranda were fantastic – they helped set up the barn on the day of the wedding and were so good with our wish for it all to be relaxed – their serving staff even got used to seeing Andrew and the other guests helping themselves behind the bar!
Neither of us wanted a traditional cake as they don't tend to get eaten.  We both love cheese so decided on a cheese cake. Andrew grew up in the Cotswolds, so we found a lovely cheese shop in Cheltenham called The Cheese Works, which happened to know our caterers. We wanted cheese and port in the evening – big hit! It also meant we had a cheese, beer and wine party a week after the wedding to try to finish everything off!"
"Our first dance was to 'Northern Sky' by Nick Drake. Andrew is a huge Nick Drake fan and we both love this song so much – it makes us both quite teary!"
"In the evening, we had Andrew's friend's band play, Mr Ben – they were superb and got everyone up and dancing – they even learned a few new songs just for us!
To keep the Irish contingent happier still, we had Irish Coffee after dinner. The reason we wanted a free bar was to keep the informal party feeling – we also wanted to use our local brewery in Marlow (Rebellion Brewery) – we had two big kegs on the bar and Andrew really enjoyed getting behind the bar and serving people!
Words of Wedded Wisdom…
"I had originally planned to do the flowers myself, all seasonal, and did a day's floristry course for brides.  In the end however, I had to concede that it wasn't really practical, especially given seasonal flowers in November don't really offer much choice!
We didn't want day and evening guests – we really only wanted to invite the people we genuinely love and not the people you feel you 'should' invite – we were incredibly lucky that both families fully understood this and supported us. This meant it was easy to not have evening only guests. This also meant we didn't have to worry about timings during the day and because we didn't want an evening buffet it meant we could go for first choice which was to have a cheese cake and use this for cheese and port after the meal.
I'm always wearing scarves, so we put a box of scarves/shawls with 'need a hug/feeling cold?' etc type tags on, in case people got cold – as it was a barn.
Don't feel you 'have to do' anything – be brave about having it exactly as you want it to be and it will turn out perfectly; your friends and family will see you both reflected in the day and will love the day even more for it. And make the preparations fun and not a chore – you don't want to look back on it as being stressful.  I was surprised constantly by how often people asked about how stressful it must be in the lead-up and it really wasn't."
What a beautiful day – testament yet again to the excellent service provided to the award winning ladies over at Fur Coat No Knickers – you can see more brides wearing gowns from the 'FCNK' team here on Love My Dress.
Many thanks indeed to photographer Lisa Jane Brown for sharing these inspiring wedding photographs.
I'd love to hear how you're getting along in your own wedding plans this morning ladies – have you found your dress yet?
Love Annabel
Photographer –  Lisa Jane Brown
Venue – Lillibrooke Manor, Maidenhead
Brides Dress + headpiece – Fur Coat No Knickers
Shoes – John Lewis
Accessories – pearl bracelet & earrings (former gift from husband)
Grooms Suit – Marks & Spencer
Bridesmaids – The White Company
Flower Girl – The White Company
Page boy – jacket + waistcoat via John Lewis; dickie bow from Top Shop
Florist – The Flower Studio
Cheese Cake – The Cheese Works
Transport – Bride's Nissan Figaro
Entertainment – Black Velvet Band + Mr Ben
Rings – Pravins
Catering – Crown Caters of Cirencester
Stationery – The bride + groom
Hair and make-up Artist – Kylie McMichael
Follow Love My Dress® on Google+