There is nothing I love more than to see a bride radiating joy and happiness on her wedding day, and these images are a shining example of the kind of images that fill my heart.  Michelle who works in events and marketing, married Sam, a Technology Research Consultant, on 17th May at Burgh House and The Old Kitchen both in Hampstead, London.
I'm in love with the fine art wedding photographs shot on film by Taylor & Porter – such beautiful and luminous imagery that is so elegantly timeless – these photographs will look as good in 10, 20, 100 years from now as they do today. It was only inevitable that this bride would happen to be wearing a gown from one of my favourite wedding industry suppliers too (that would be you, Elizabeth Avey).
"We didn't have a particular theme. We wanted lots of personal touches and for the day to be fun, relaxed and informal, so this was the driving force for how we planned it. We also wanted lots of colour and a simple vintage nod to the two venues."
Photography Copyright (c) 2014, Taylor & Porter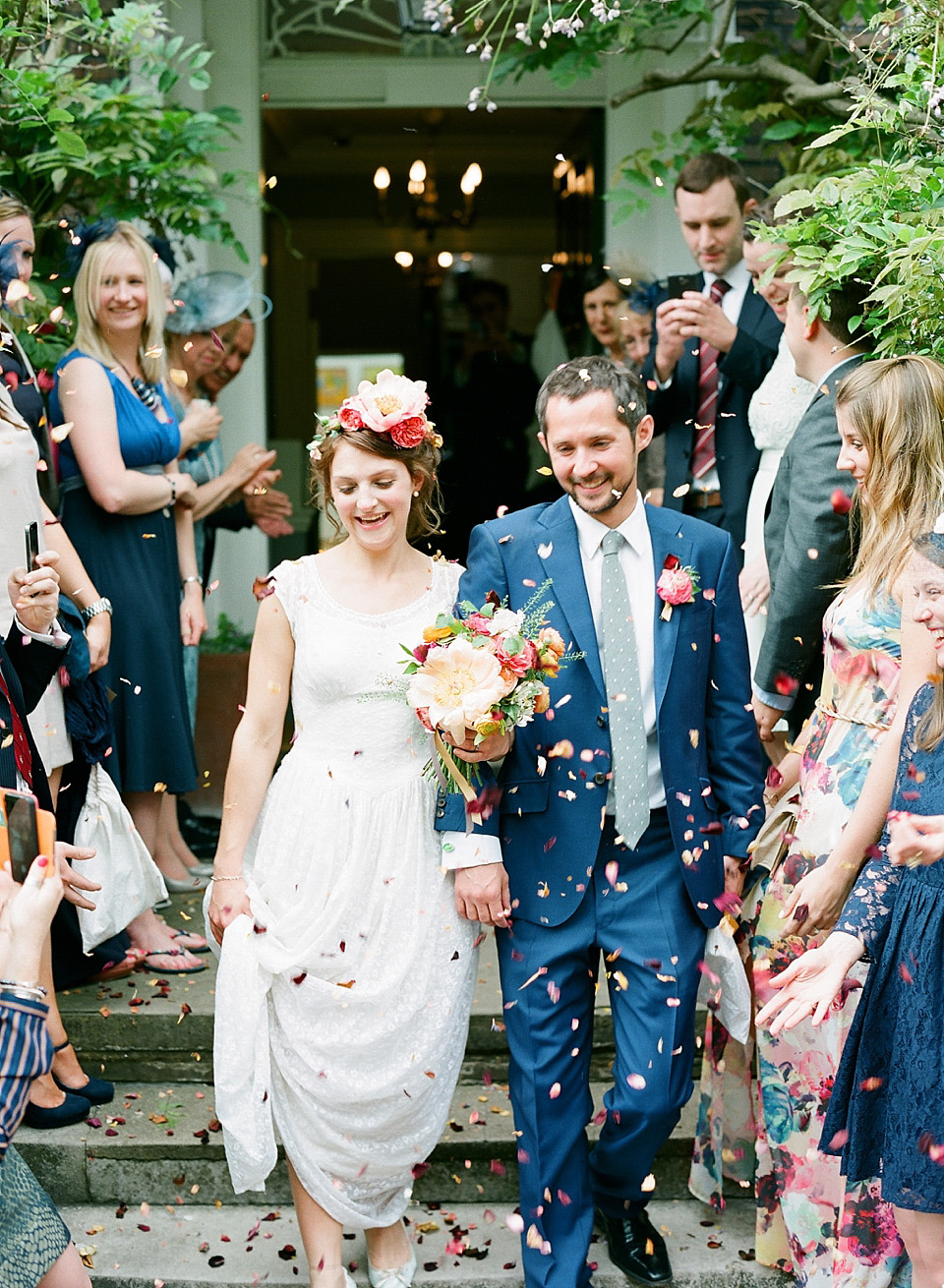 Michelle's bridesmaids dresses were from TwoBirds (and you get a beautiful full view of them a little further in to the feature.
"We had our ceremony at Burgh House and the reception at The Old Kitchen, Kenwood House; both are in Hampstead, London. We really liked the Music Room at Burgh House; it has an intimate feel and lovely wood panelling. There is a beautiful wisteria arch over the main entrance and, if you're lucky and get a sunny day, the courtyard is perfect for post-ceremony drinks.  We wanted a cosy, slightly quirky and personal venue for the reception, preferably with some outdoor space – The Old Kitchen ticked all these boxes and had amazing views of London too!"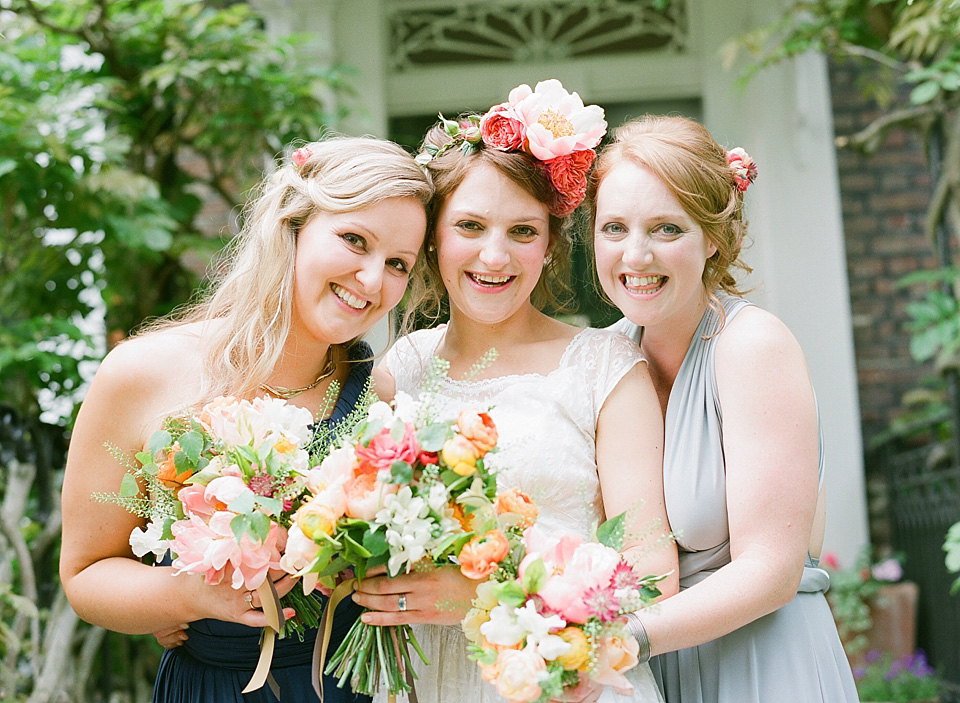 "One on my best friends 'Emsy the Designer' is a graphic designer and lives in Auckland (we were on our way to see her when Sam proposed). As a wedding present she designed all our wedding stationary: invites, menus, table cards etc.
I love flowers and 'vintagey' things and had bought an amazing print when we were visiting her in New Zealand, which was the starting point for her design. Our loose colour theme for the wedding flowers stemmed from her final design."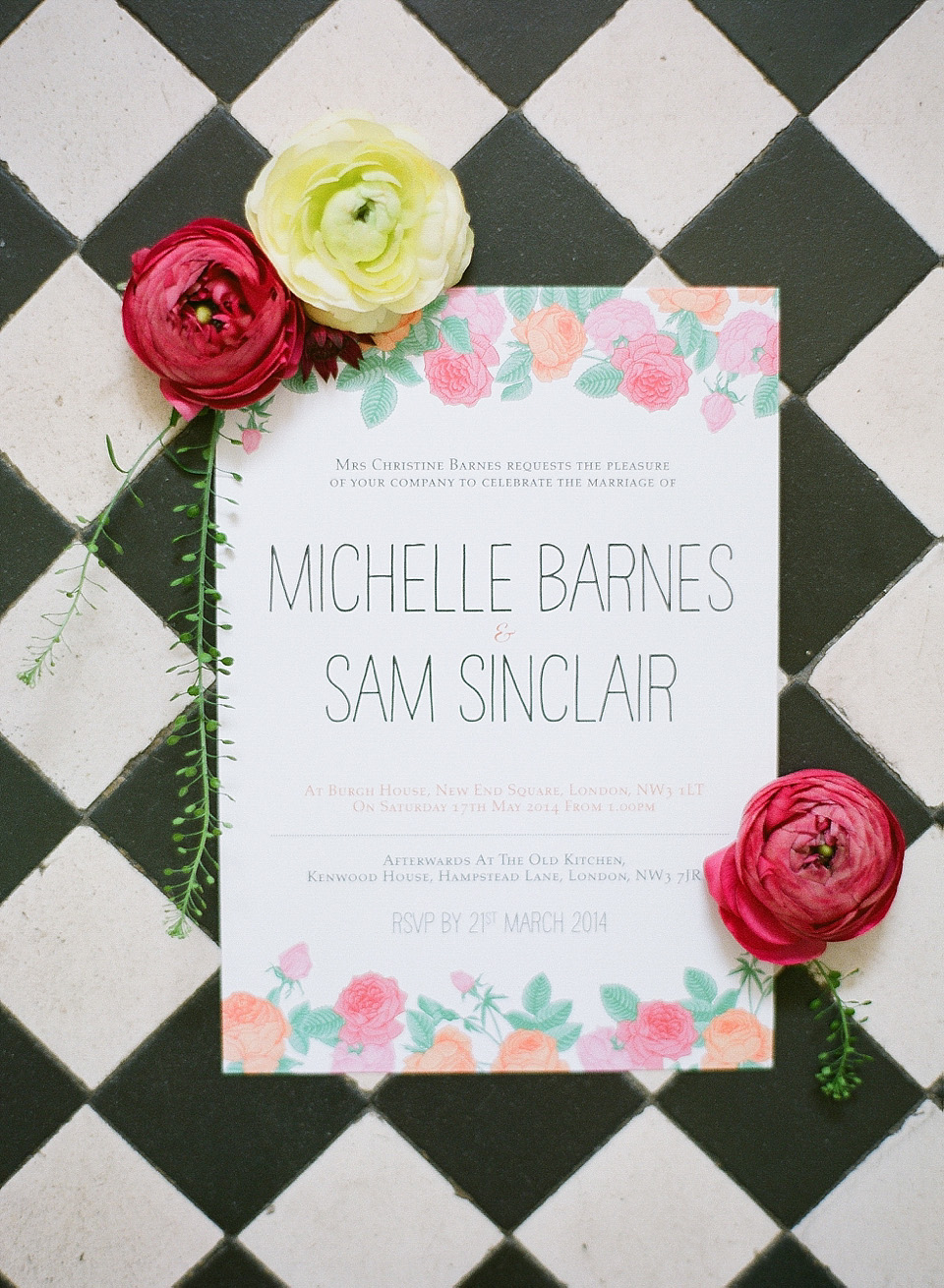 As well as a real flower crown that was created by the couple's chosen florist, That Flower Shop, Michelle also wore an original vintage wedding dress.
"I knew I wanted a vintage dress and was keen on a broderie anglaise or lace style, but had no fixed ideas about the shape/era. I got my dress from Elizabeth Avey – Elizabeth had a beautiful selection of dresses (from the Edwardian era through to the 1970s!).  I narrowed my favourites down to two dresses; one long and the other more of a prom style. With help from Belinda (my sister/bridesmaid) I decided upon the long, 1940s, tambour lace dress. It is quite a simple design but has lovely soft, floaty lace and I really liked the draping from the waist and the slight train. Most importantly I felt like 'me'."
"For us one of the most important things was finding a good photographer. I am quite camera shy and have a slight aversion to really posed, formal wedding photos. I found Taylor & Porter's details online (probably on a wedding blog). We really liked their relaxed style of photography and the fact they used real film; we felt the photos had a very romantic feel to them.
Louise and Teo have a great eye, coming up with loads of creative and fun shots. They put us completely at ease and were an absolute dream to work with. Their photos have totally captured the fun feeling of the day."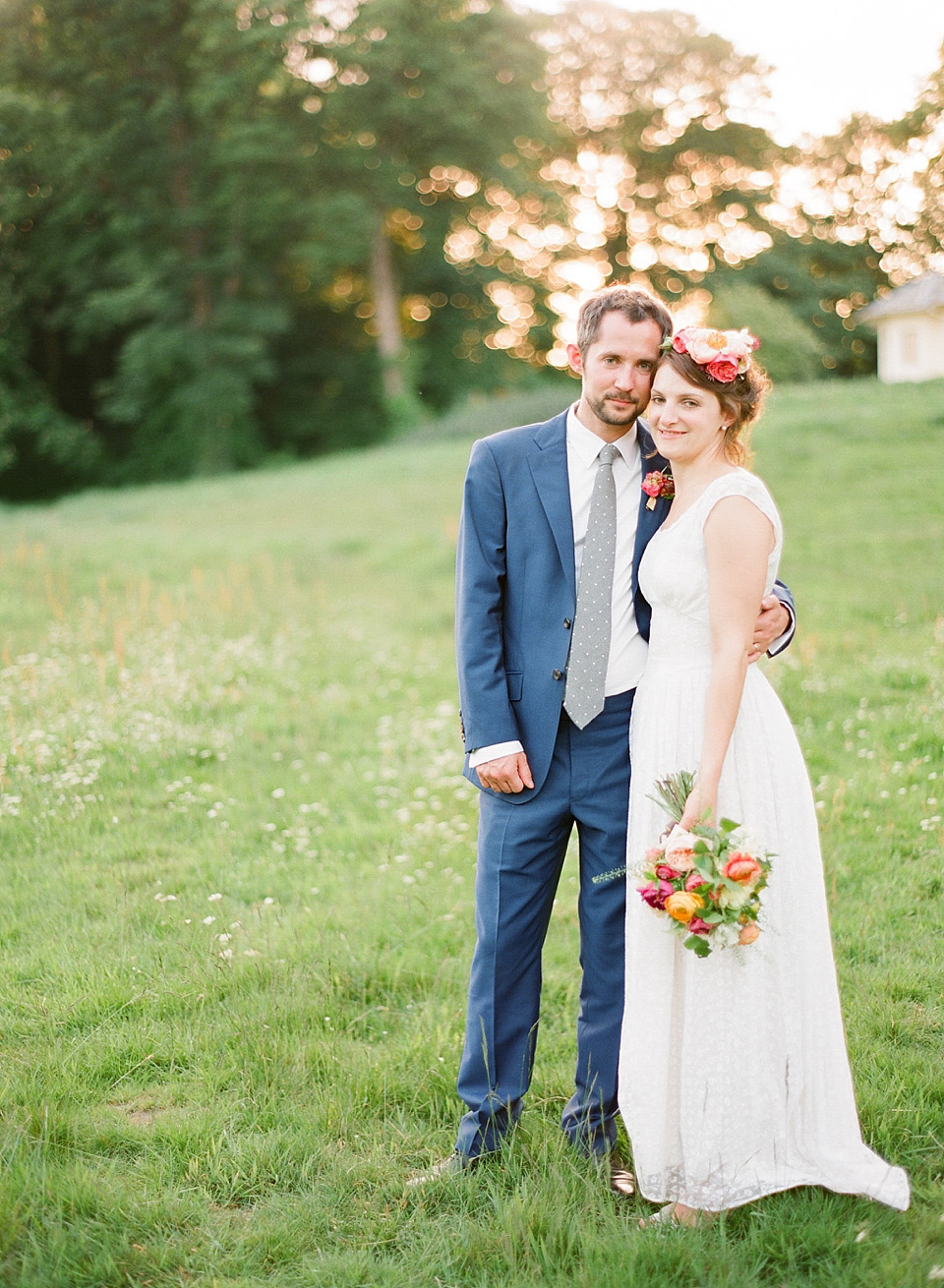 "We both went to Leeds University but at slightly different times; we met through a mutual friend whom we had both lived with. Sam proposed in Singapore, en route to New Zealand, after a particularly bad flight when our luggage was lost – thankfully he hadn't packed the ring!  We were engaged for about a year and a half before we got married."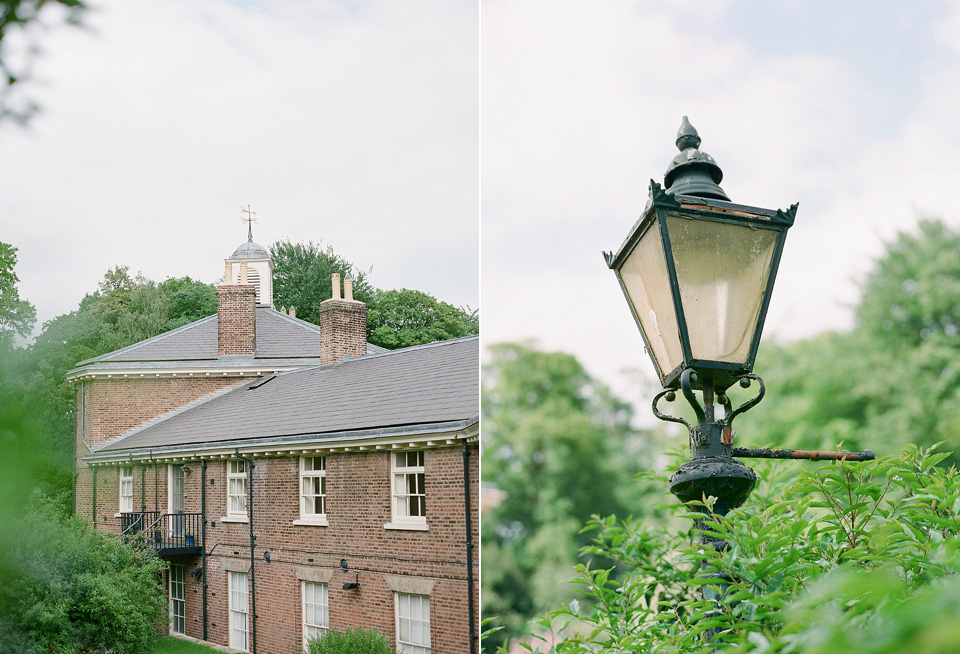 "Sofia Sjoo is my hairdresser and was my first choice to do my wedding hair; she's amazing and intuitively knows what suits me! I wanted my hair to be quite simple, nothing too 'fussy/structured'; I have naturally wavy hair and wanted it 'up'. I loved the way Sofia incorporated the flower crown into the style and it stayed put even after some full on dancing..! The bridesmaids also had small flowers which were weaved into their hair styles.
My sister recommended Zoe Arena to do my make-up; she's one of her friends. I don't wear a huge amount of make-up so the look Zoe went for was 'natural radiance'. She was a really calming presence and the make-up was just perfect (especially considering I woke up at 4.30am on the day of the wedding)!"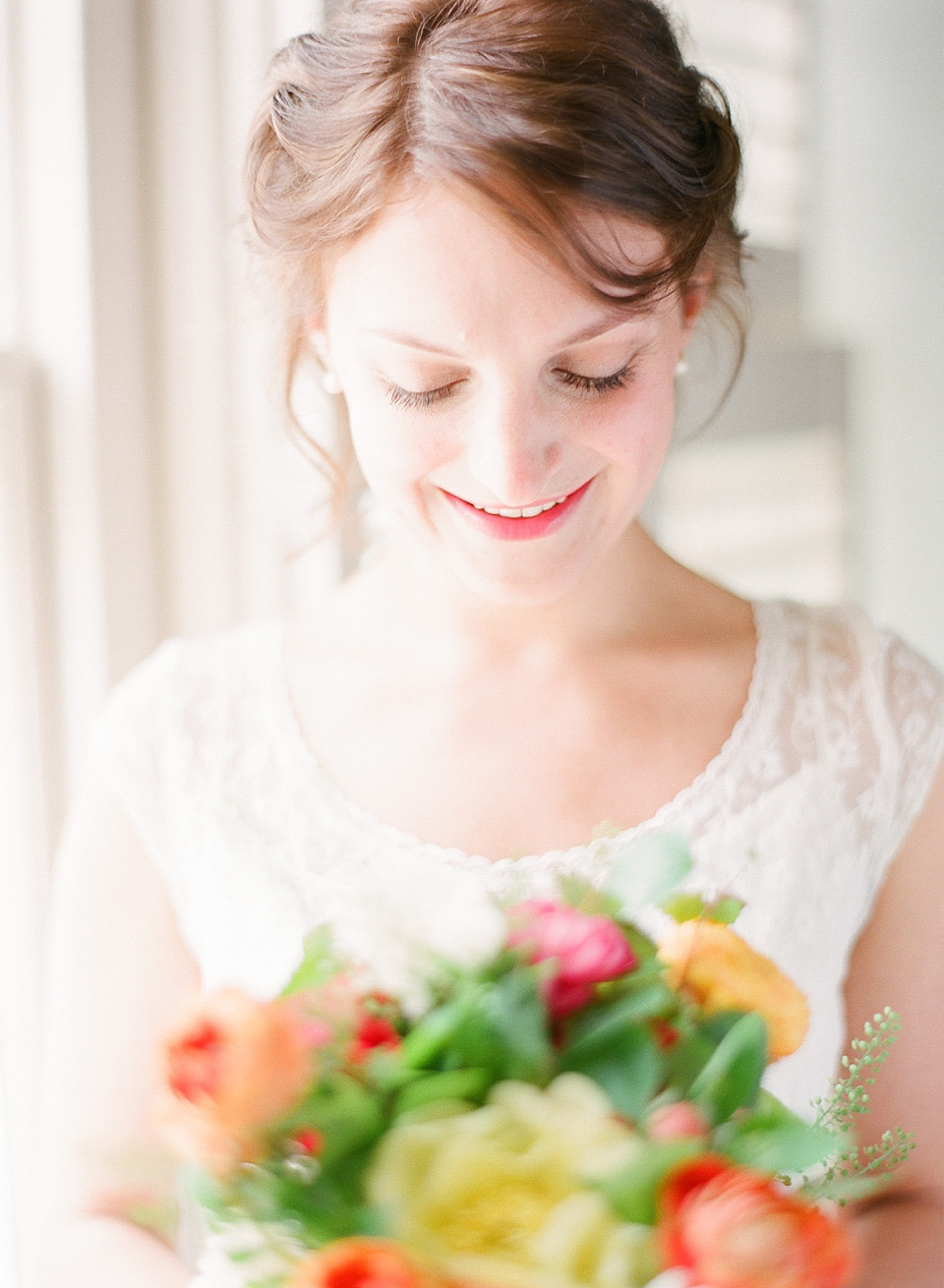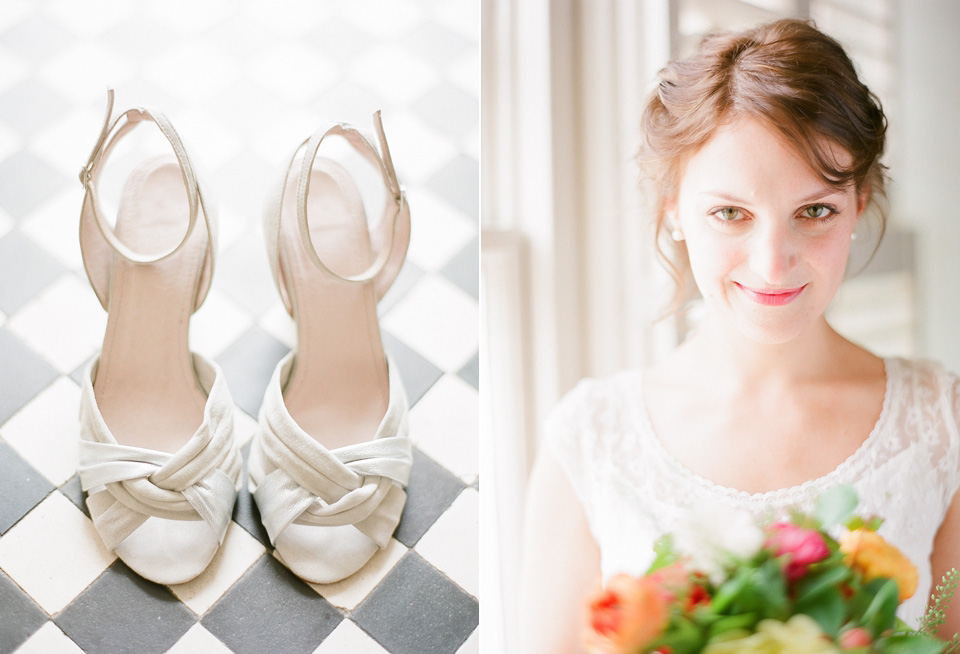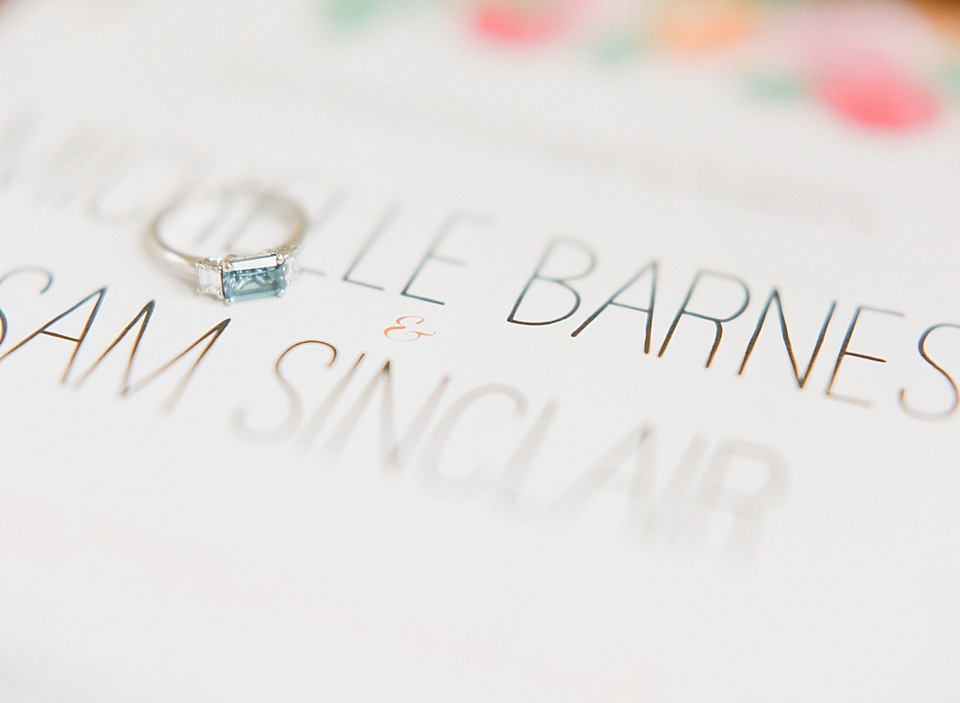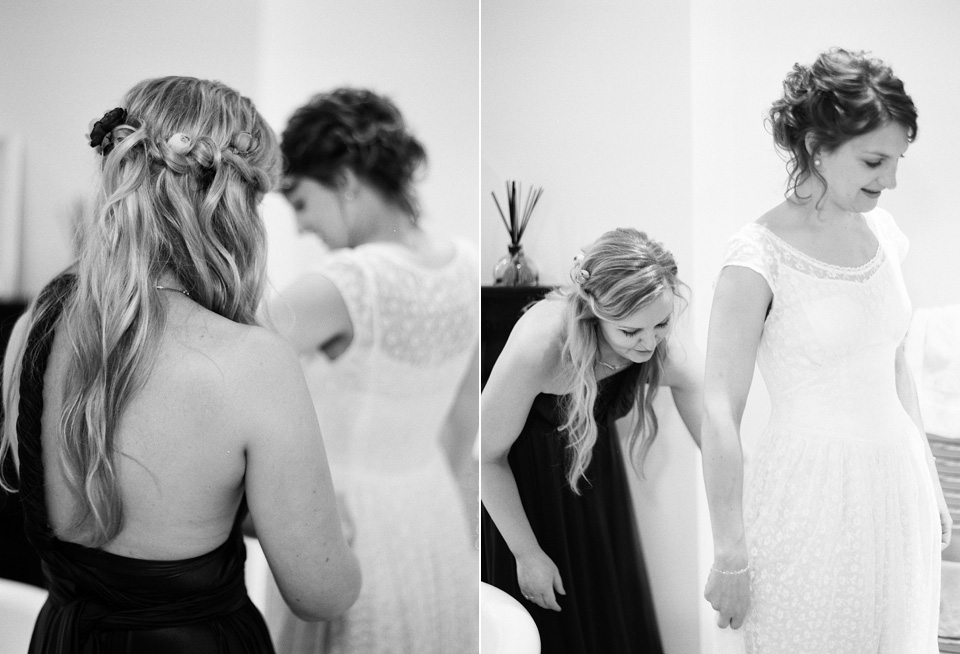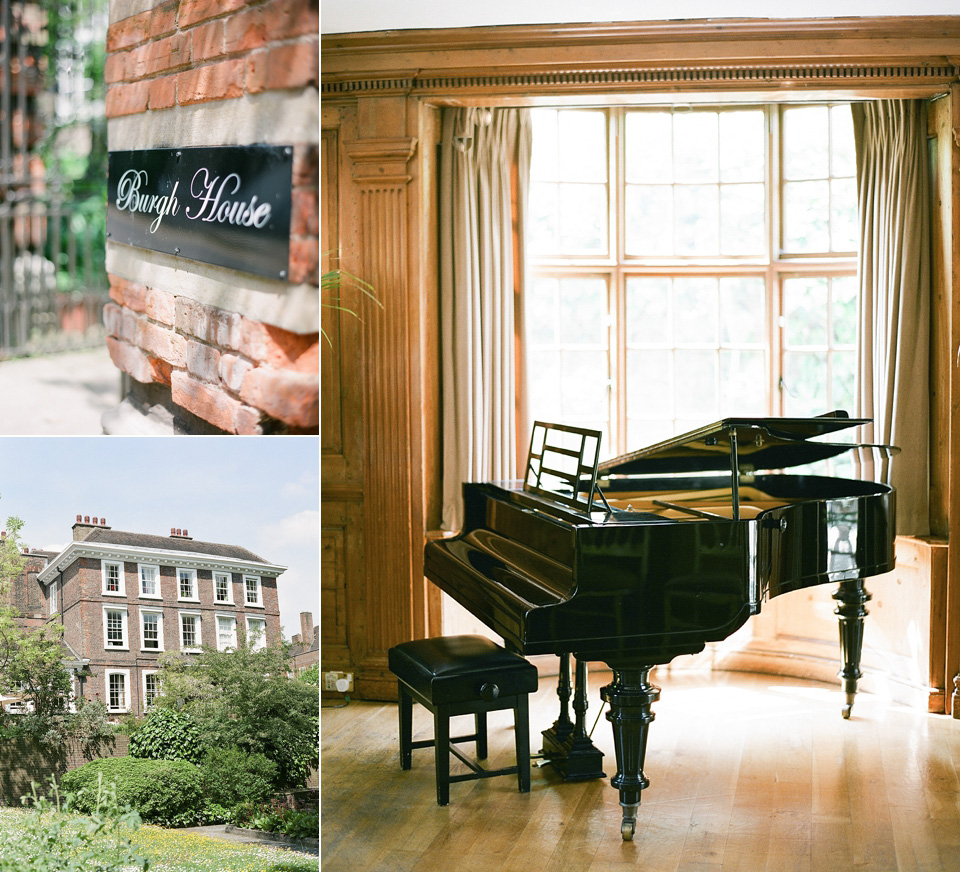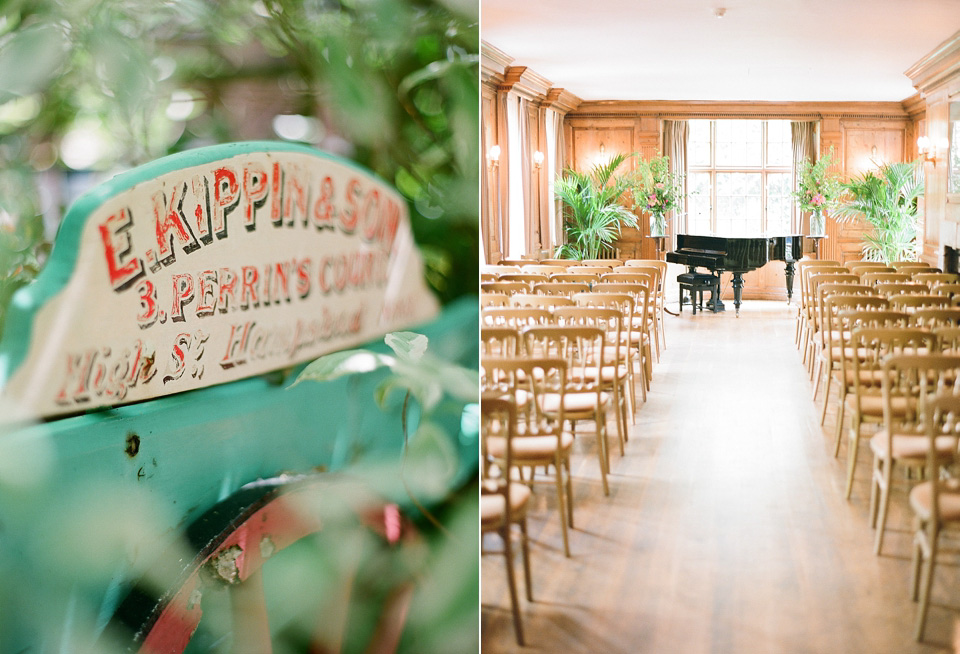 "A family friend walked me down the aisle, but I forgot to pick a song to come in to – doh!  We played 'I had a farm in Africa' from Out of Africa for when we signed the register.
We were given three vow options from the registrar. We tinkered with these to get something that felt right for us – the originals were either a bit too clinical or soppy!
Our friend Toria (who introduced us) did a reading. We just liked the simplicity and honesty of this poem – A Vow By Wendy Cope."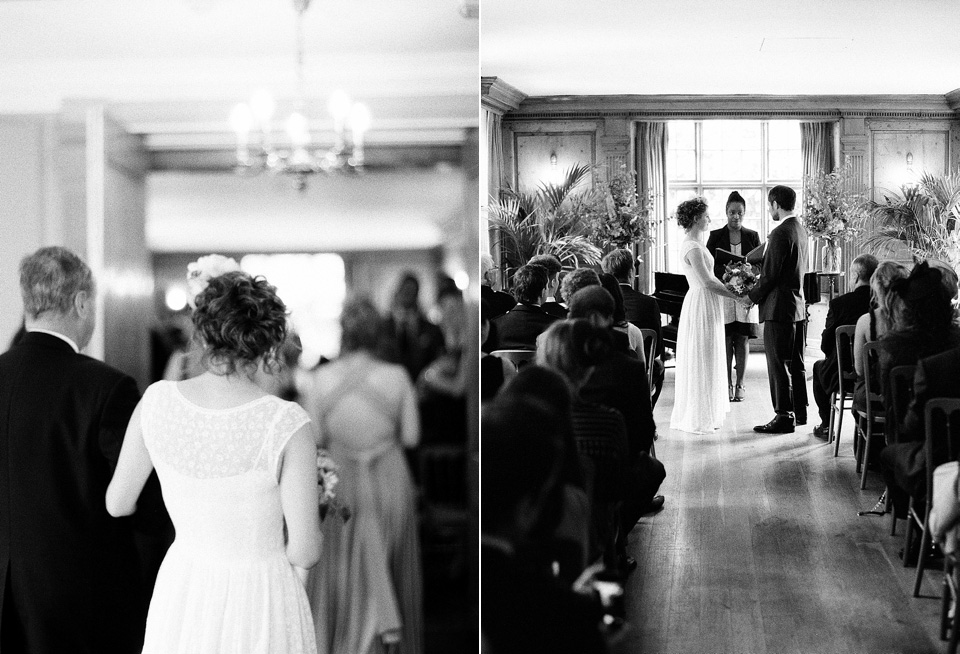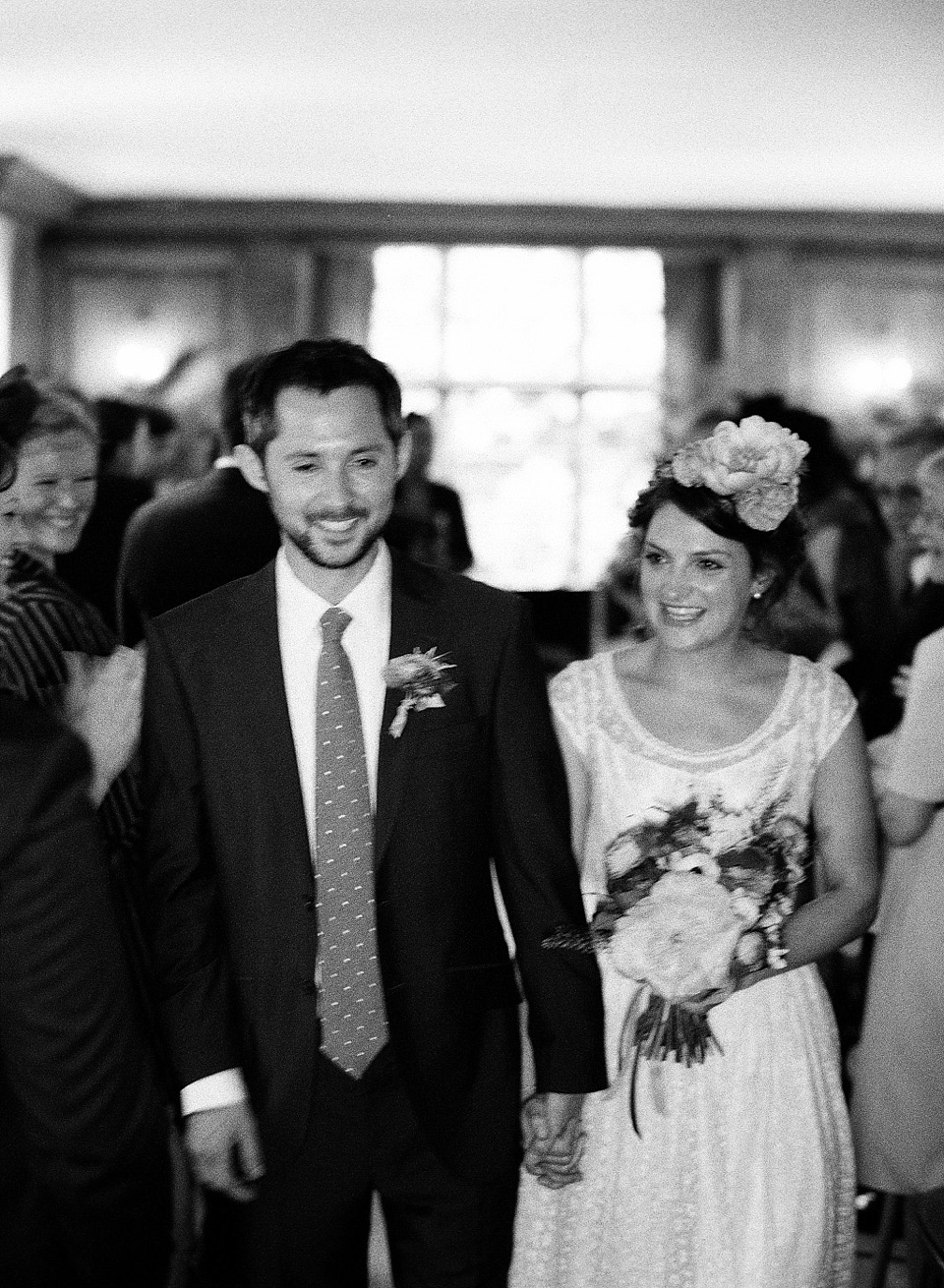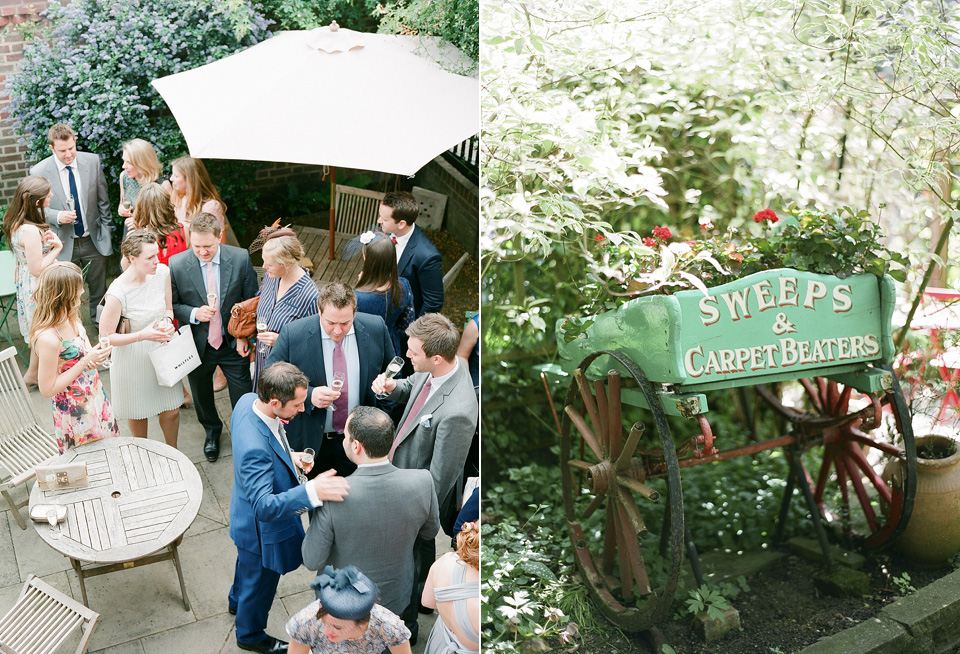 "We wanted to walk through Hampstead Heath with our guests (from Burgh House to The Old Kitchen), so my mum and I made some little fabric shoe bags for the ladies to put their heels in for the walk and inside the bags was a map of the route and a little 'eat me' goodie bag with a marshmallow for each person via Mallow & Marsh.  We also had some (rather kitsch) animal name holders for the wedding breakfast. I was born in Kenya and these were a little nod to this.  As expected, the majority of guests got quite attached to their animals and took them home with them! The name holders were from The Pound Shop.
I really loved the ceremony, speeches and the dancing but I think my favourite part of the day was walking through the heath to The Old Kitchen. The walk was something we both really wanted to do; we loved the idea of a wedding party marching through the heath on a summer's day. As the British weather is so unpredictable, I was just so happy that we were able to do this amazing walk with our friends and family."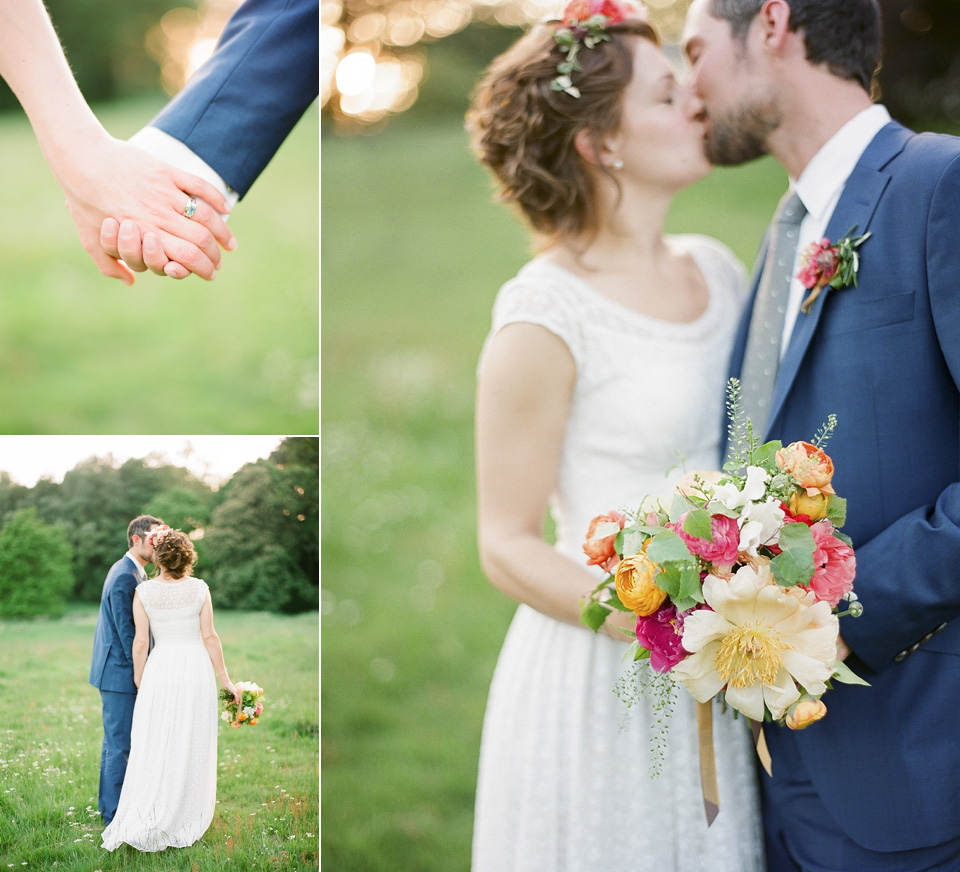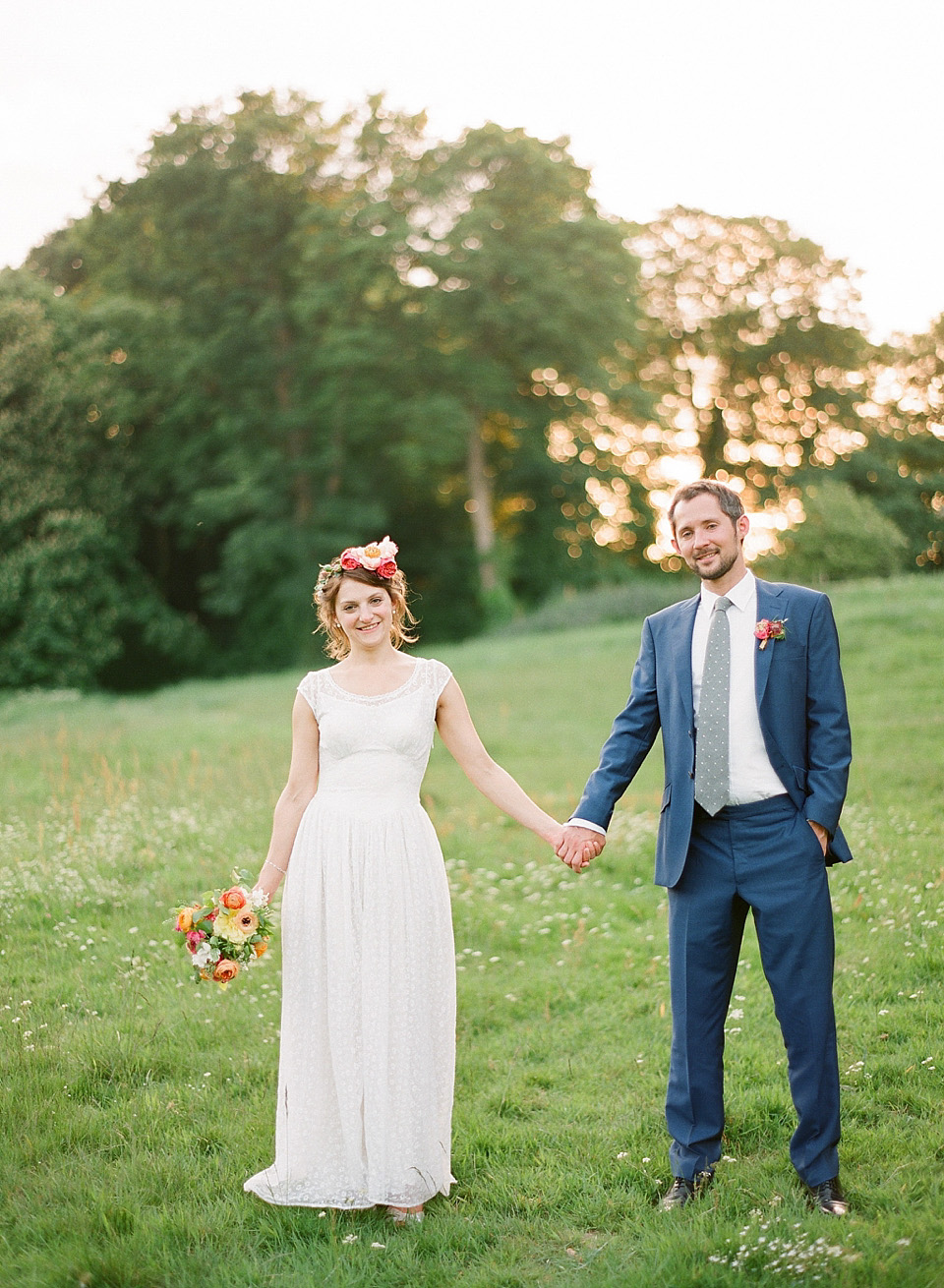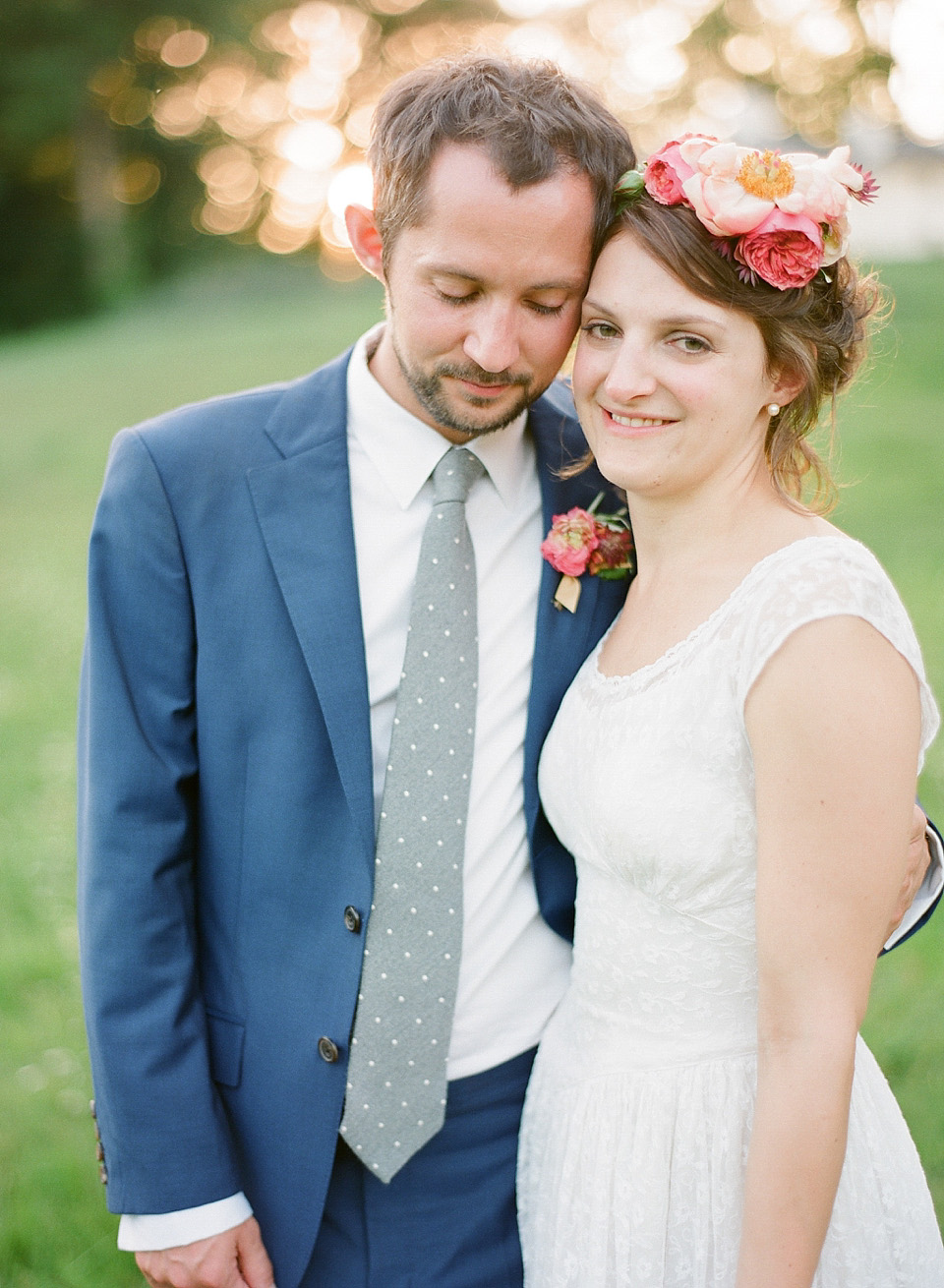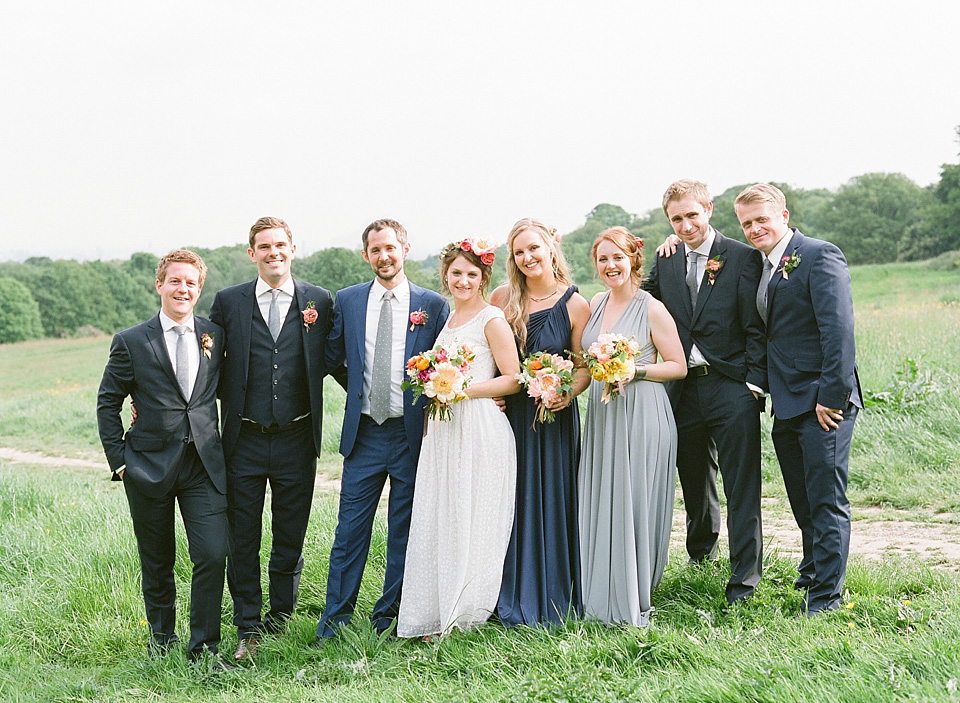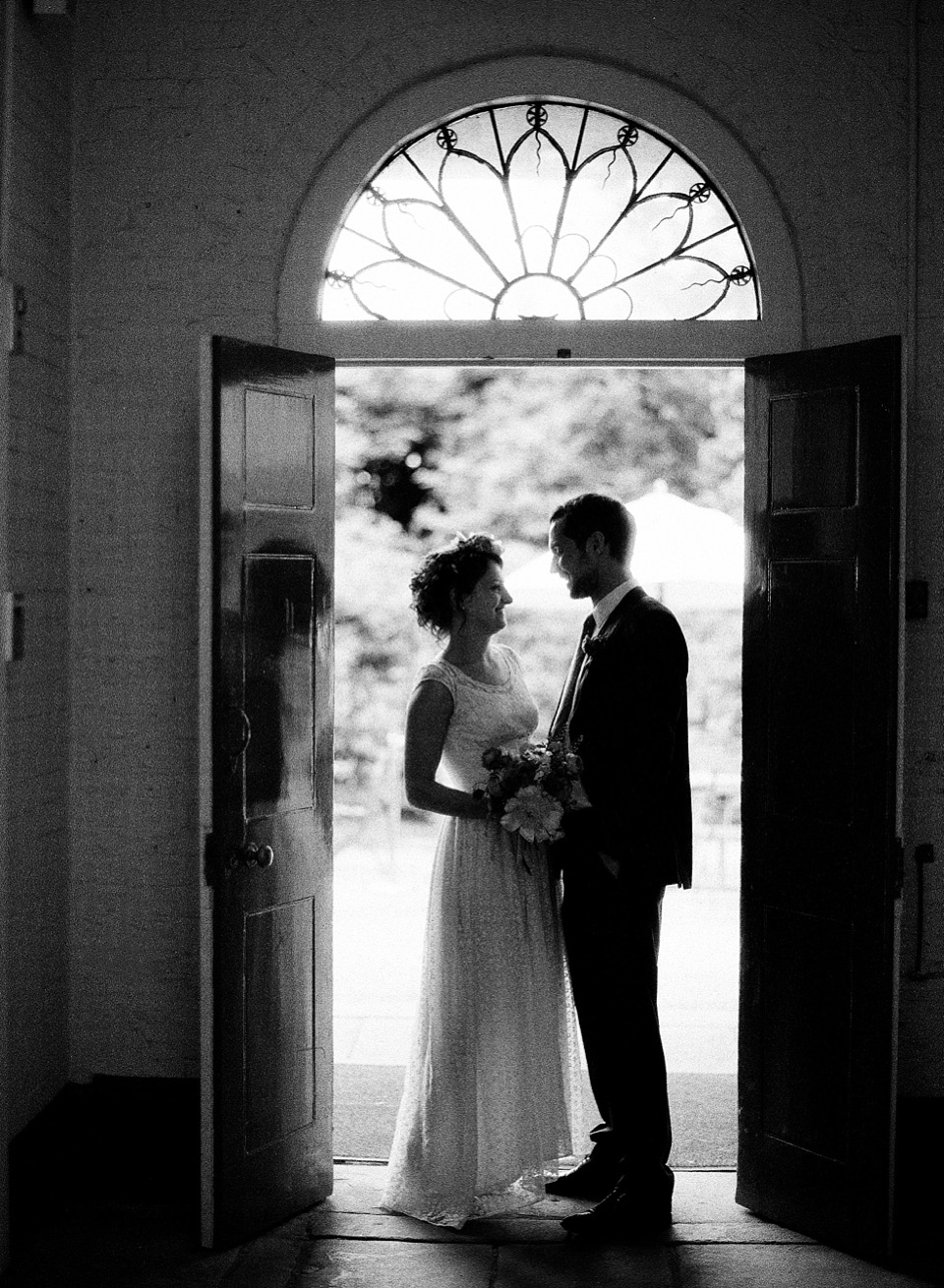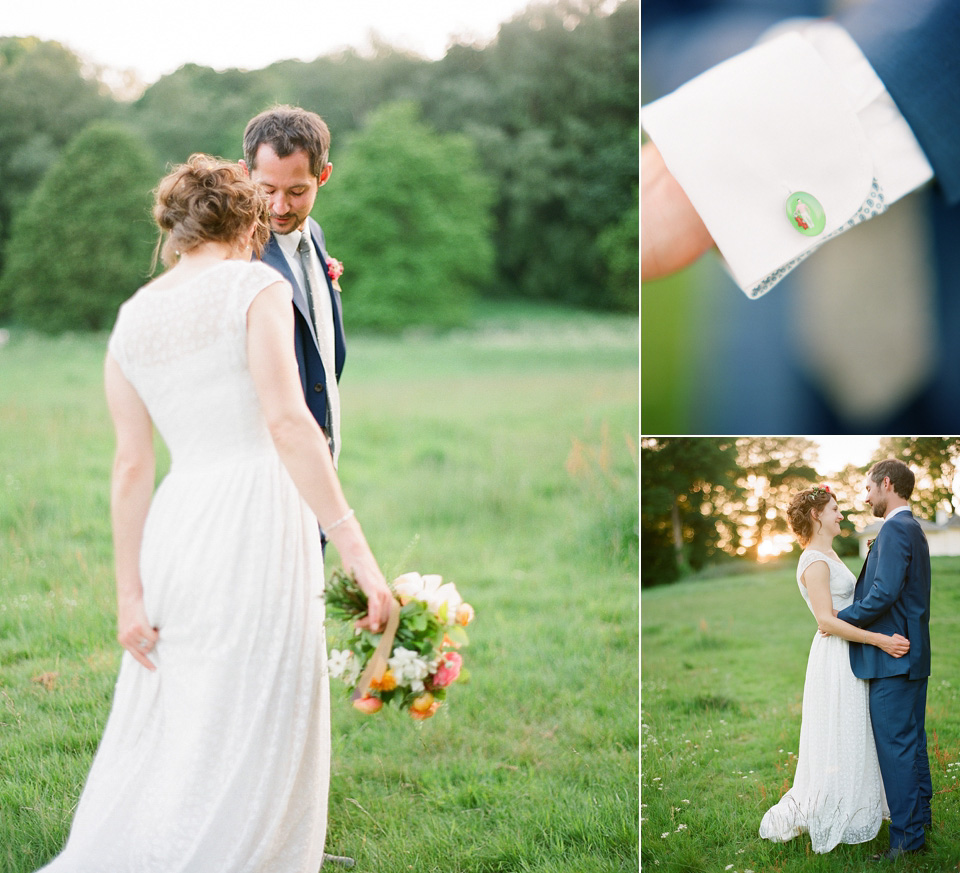 "We didn't want a set colour scheme or anything too formal, instead opting for lots of different varieties and colours. I saw a wedding online which Hattie Fox at That Flower Shop had done – the flowers were just the look we were after. Hattie uses lots of British flowers and she created Pinterest boards with lots of ideas to help us narrow down what we wanted. Hattie did the bouquets, buttonholes, flower crown and two large displays for Burgh House."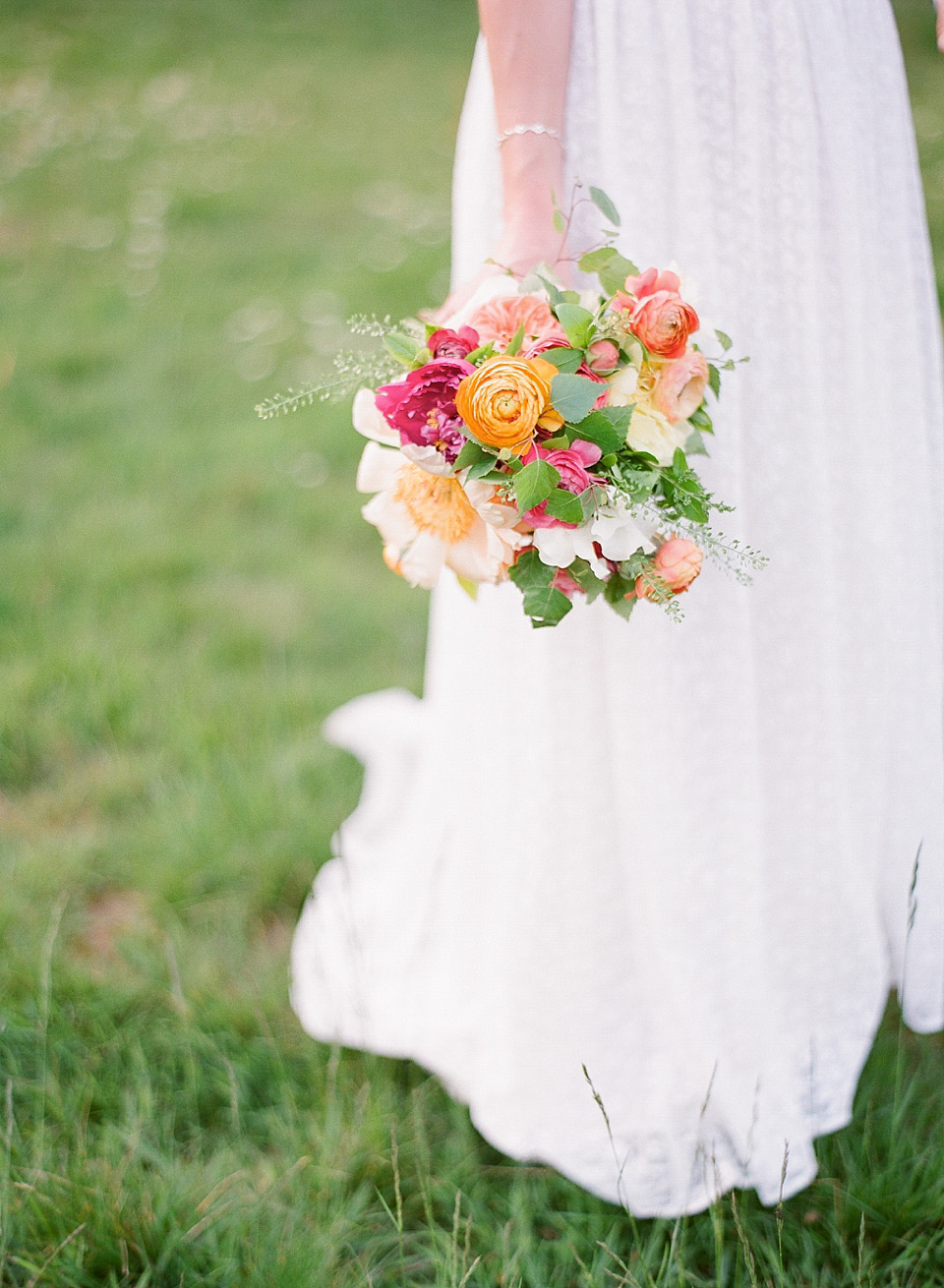 "Sam had his beady eye on a Richard James suit; we both loved the colour and thought it would work really well at a summer wedding. We wanted something he could wear again and this fitted the bill."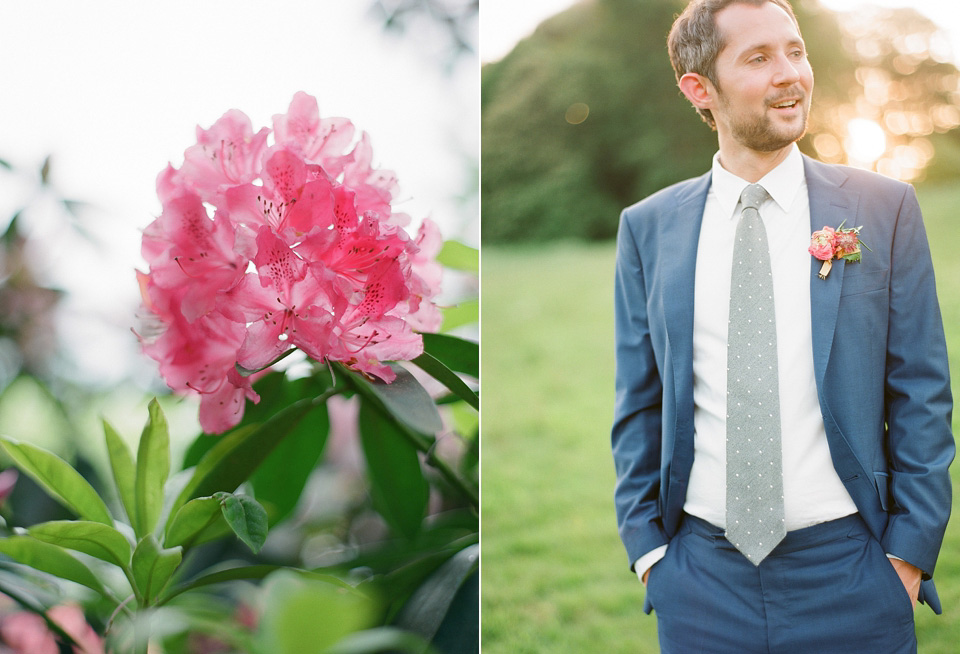 "The evening party was at Brew House; it's a café by day so we wanted to liven it up a bit. Over the May bank holiday some friends and I made paper pompoms, card diamonds (loads of demo videos on YouTube/Pinterest) and I bought a few paper honeycombs. We had theses hanging around the room, along with some heart shaped fairy lights."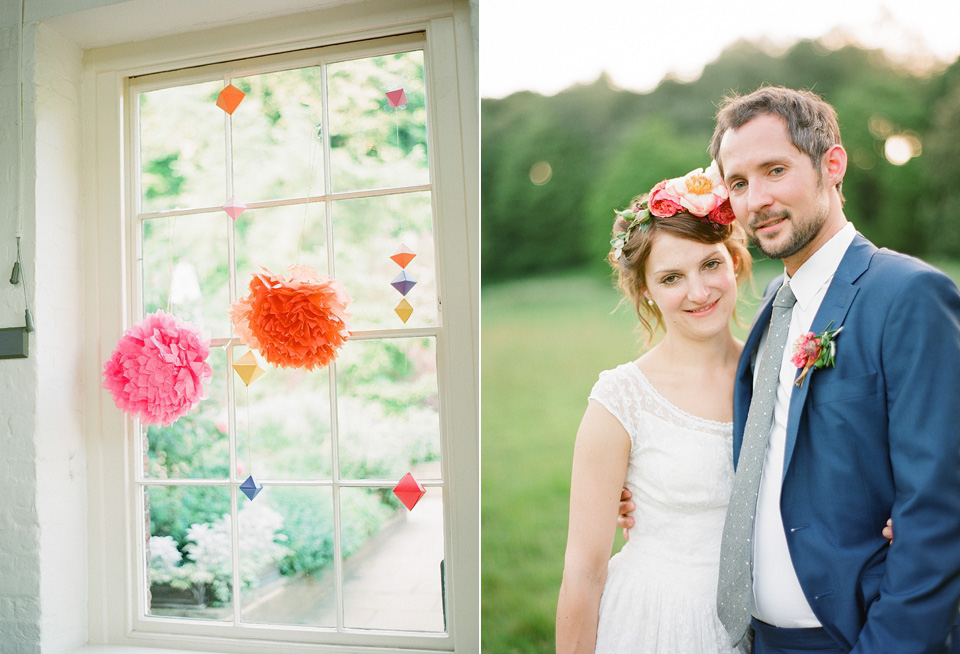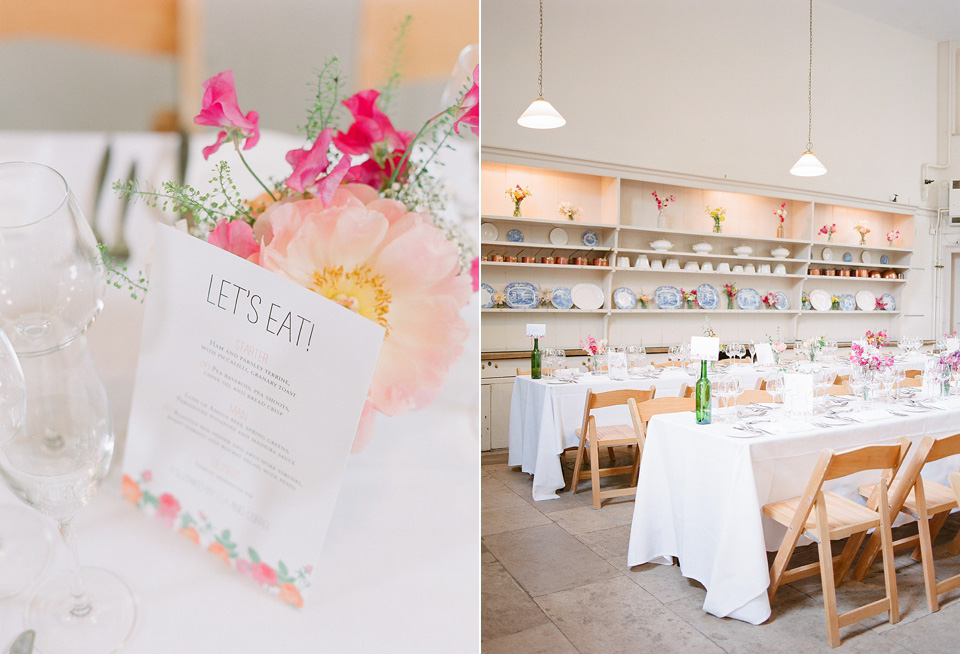 "My Mum, sister and I did the flowers for the tables/shelves in The Old Kitchen. We went to New Covent Garden Flower Market a few days before and loaded the car up with sweet peas, peonies, ranunculus, stocks etc. It was really good fun 'arranging' them and they added a lovely splash of colour to the room."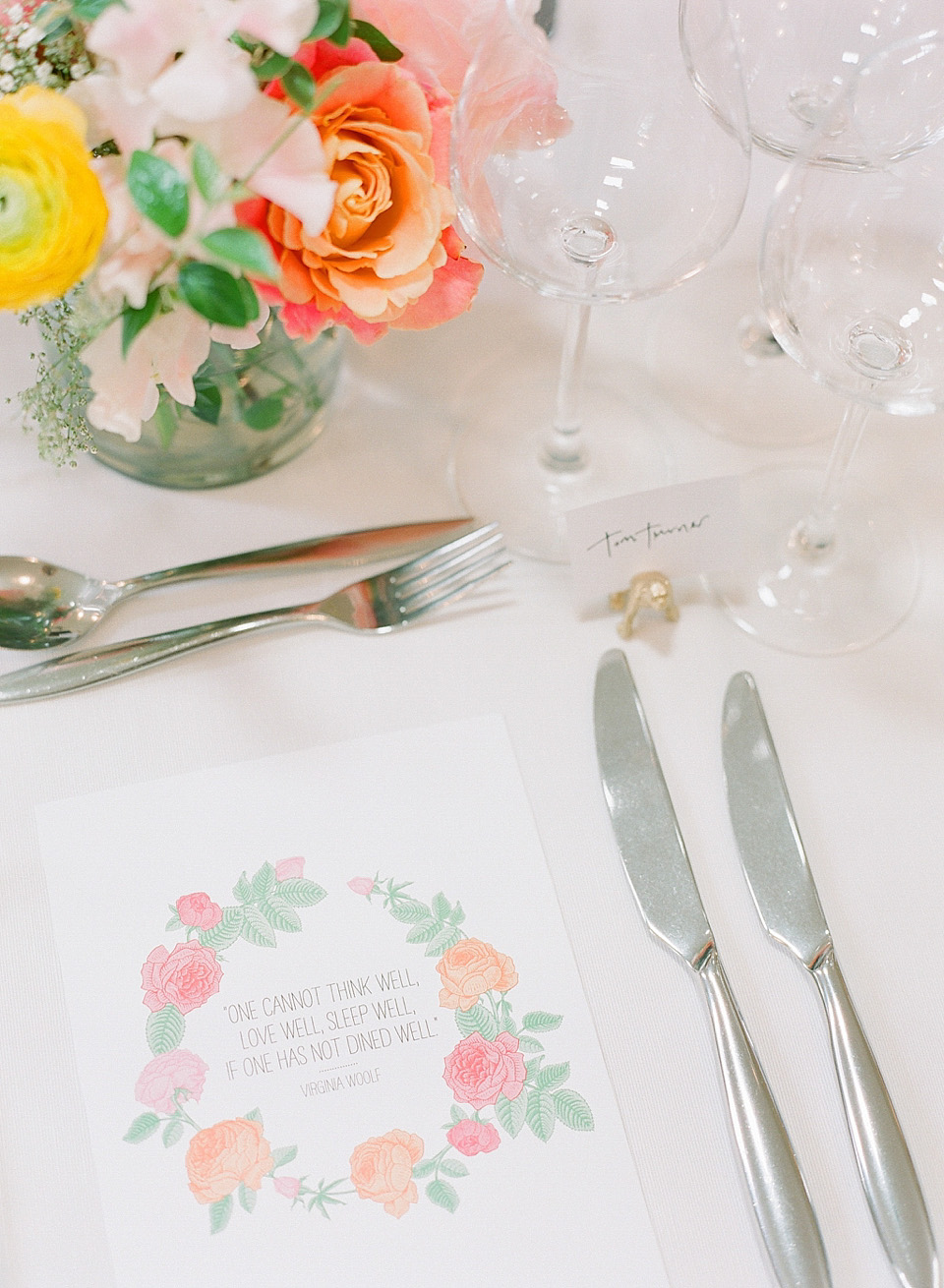 "Although we both have a sweet tooth, we love cheese (and port) even more!  We had a cheese cake with mainly British cheeses from Cheeses Online and some lovely chutney from the amazing Rubies in the Rubbles and a Cathedral loaf (metre long sourdough) from Bread Ahead. No chance of anyone getting hungry with all this!"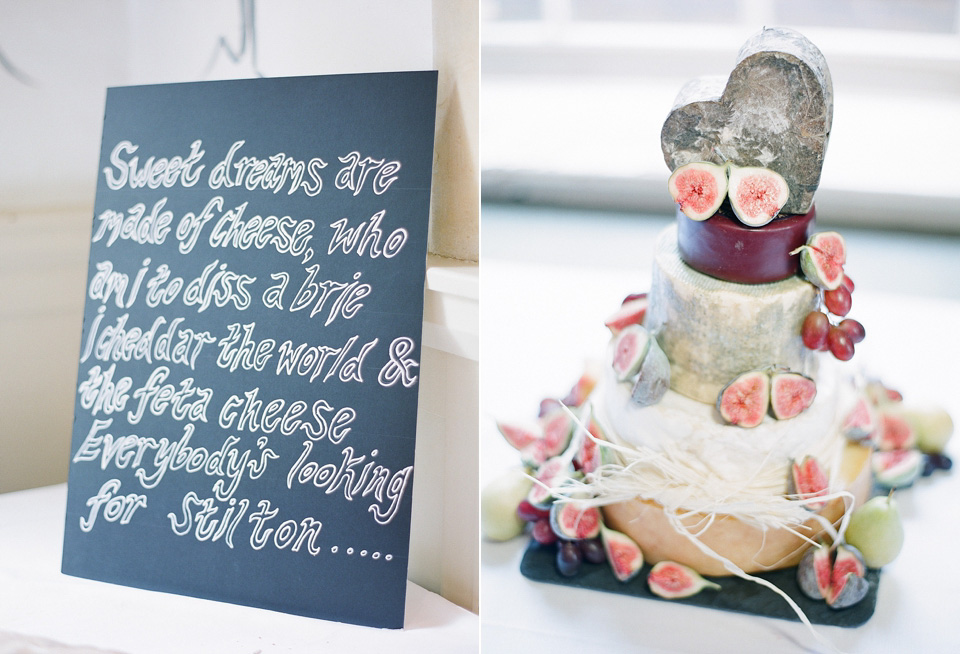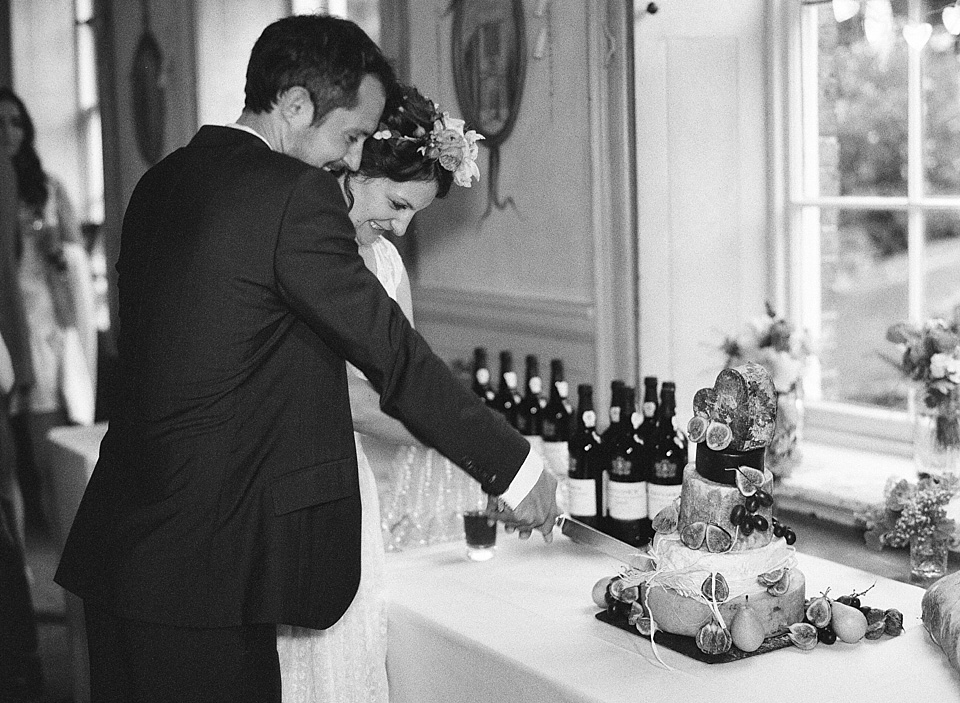 "We had a band called Box Party in the evening. We'd seen them playing last summer at a tiny beer festival in Wiltshire – it was absolutely bucketing it down but the band were amazing and had everyone up and dancing in the rain.
Our first dance was 'I always knew' by The Vaccines. Box Party learnt it especially for us and did and amazing cover."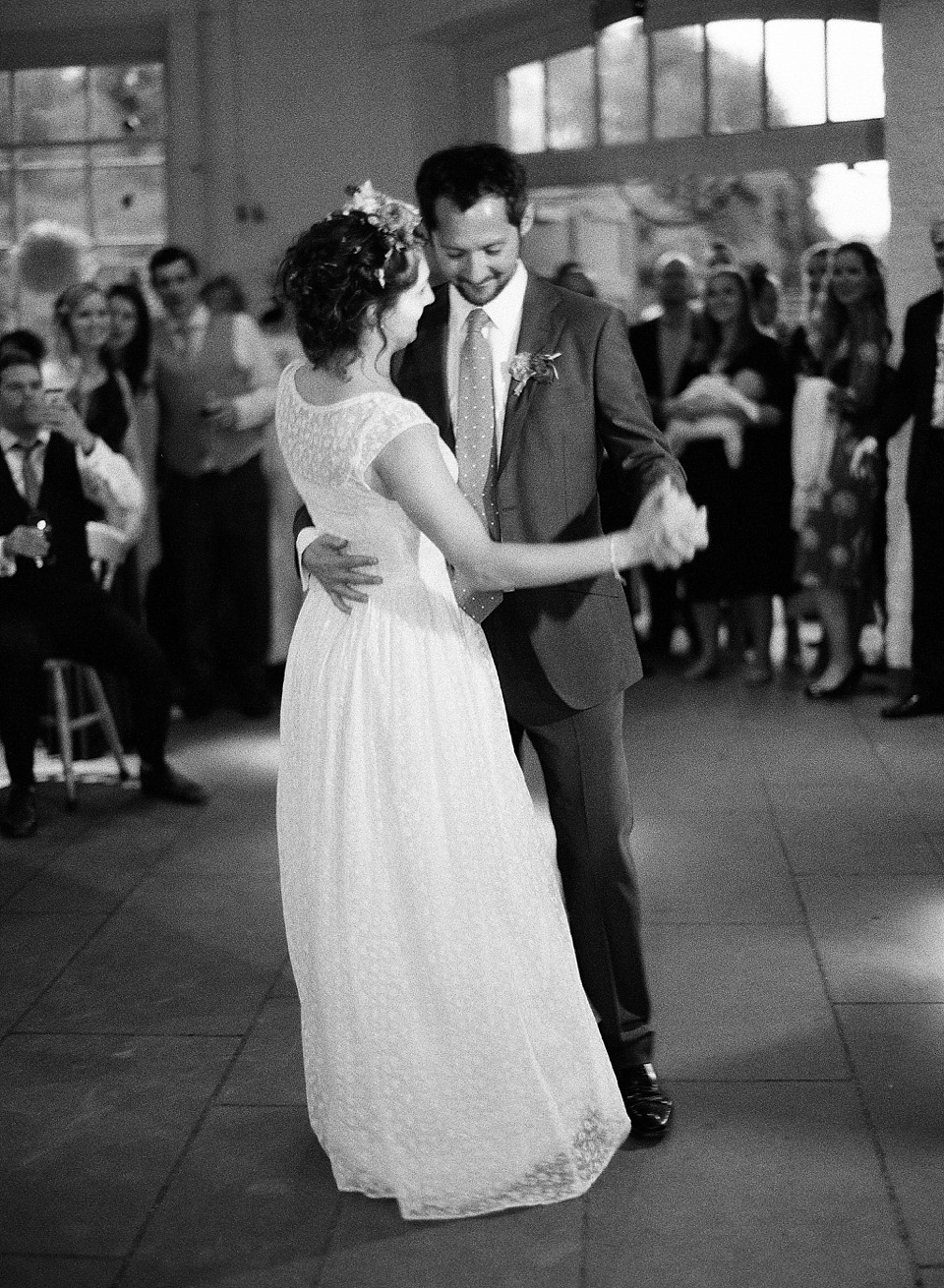 Words of Wedded Wisdom…
"A lot of my friends got married in 2013 and gave me loads s of great advice. I think the key things were to enjoy the day and not worry about the little details. I also made sure I delegated a few jobs, and even asked one friend made sure we got some of the all important cheese and port (time really does fly). I had also nominated a few friends to make sure I got a group photo with friends from school and university etc.
Make sure you work your accessories around the dress not the other way round! I ended up buying two pairs of shoes; I fell in love with the first pair and bought them before the dress. Rookie mistake – of course they didn't go with the dress. (Not all bad – I have two pretty pairs of shoes now).
In the evening we had a subsidised bar (£2 for a G&T, Dark and Stormy, Sambrook Brewery beer) and decided to donate the proceeds from the bar to charity. We chose The David Sheldrick Wildlife Trust. As part of their work, as a consequence of poaching, they run an elephant/rhino orphanage in Nairobi. I used to play there as a child so it's very close to my heart, they do incredible work for wildlife conservation!"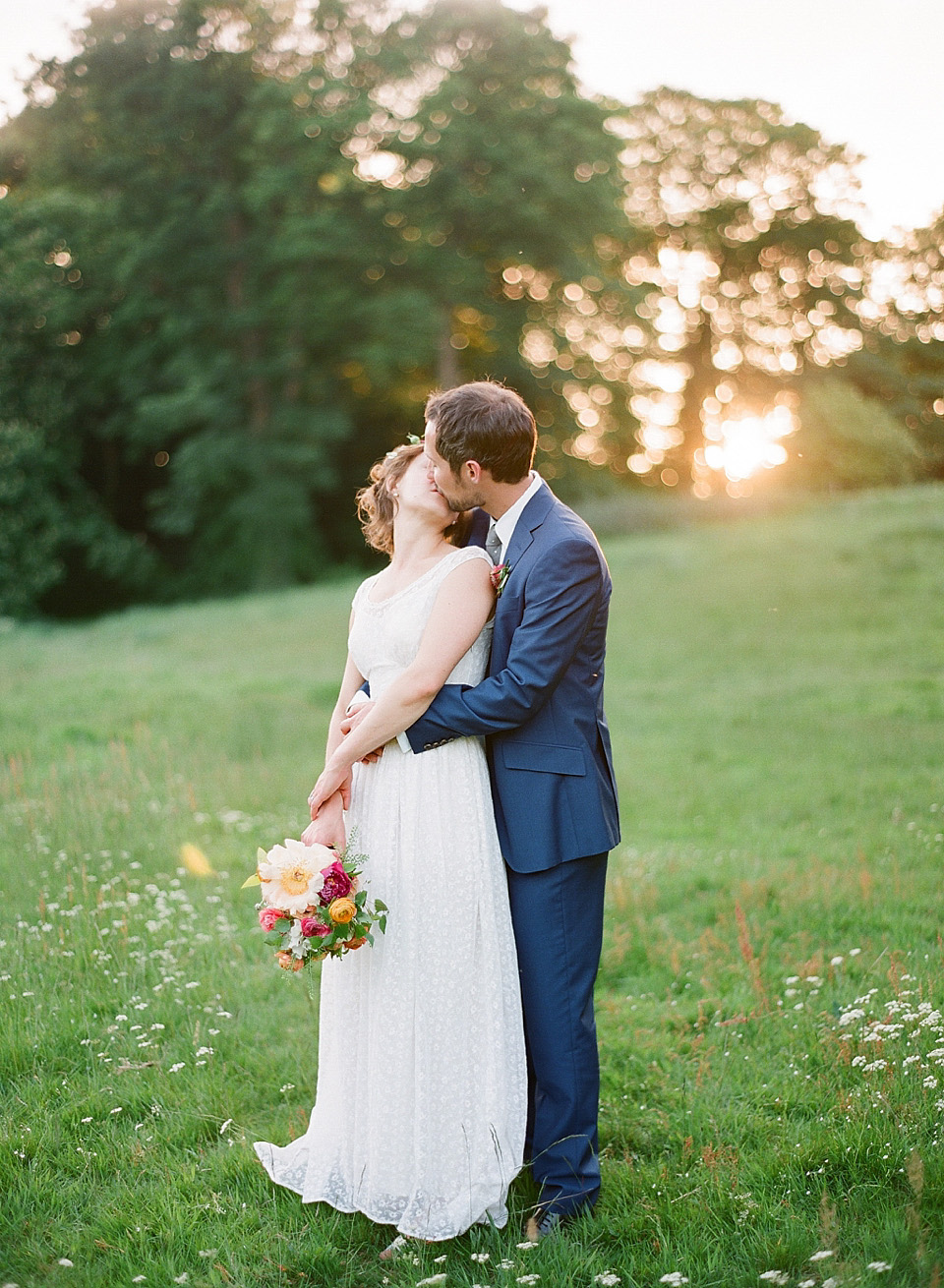 Such a beautiful day and truly the most beautiful photographs, I'm such a huge fan of film photography and really want to see more weddings shot on film on Love My Dress.
Huge thanks to Taylor & Porter for sharing their images and of course thanks and congratulations to Michelle and Sam too.  Be sure to visit the wonderful Elizabeth Avey's website too if you are even remotely interested in wearing an original vintage wedding dress.  I interviewed Elizabeth for Love My Dress here – she is one of my personal wedding industry heros!
Love Annabel xx
Photographer – Taylor & Porter
Venue – Burgh House + The Old Kitchen, Kenwood House
Wedding Dress – 1940s vintage gown via Elizabeth Avey
Floral Crown + Flowers  – That Flower Shop
Reception flowers – the bride & her family using New Covent Garden Flower Market
Brides' shoes – NW3, Hobbs
Bride's accessories – bracelet via Dinny Hall
Grooms suit – Richard James + tia via Drakes + Paul Smith cufflinks
Bridesmaids Dresses – TwoBirds
Cake – Cheeses Online
Entertainment – Box Party
Favours – Mallow & Marsh + The Pound Shop
Rings – Ruberg Jewellery
Catering Company – Company of Cooks
Stationery – Emsy the Designer
Hair Stylist – Sofia Sjoo
Make-up Artist – Zoe Arena
Follow Love My Dress on Google+