If you were to ask me what I love most about my job, what my very favourite part of being a wedding blogger is, the answer would be this: every day I am inspired and uplifted by the people I connect with through Love My Dress.  Today, I want to introduce you to one of the ladies who has inspired me the most since I started my blogging and self-employed business adventure nearly five years ago. This is a story of astounding personal achievement and proof that hope, strength and love can get us through the very darkest of times in our lives.
Last month, I received an email from a bride who wanted to submit her wedding to be considered for a feature. I have permission from the bride to share her email with you today – and I'm so pleased about that because I can't think of more suitable way of introducing this beautiful, inspirational woman to you all.  Please welcome Sophia Wyatt – Sophia would like to share her story…
'Dear Annabel, I'd like to submit our wedding photographs for your consideration. As you can see from my signature I am a freelance hair and makeup artist –  I have freelanced for almost 20 years and had the pleasure of working with over 900 Brides on their wedding day. Over the years, I have met some amazing wedding suppliers, seen almost every style and shape of dress and probably been to every wedding venue in the South of England, so as you can imagine, I had many ideas and dreams about my own wedding.  All I needed was a groom!"
Photography Copyright (c) 2014, Victoria Gemma Photography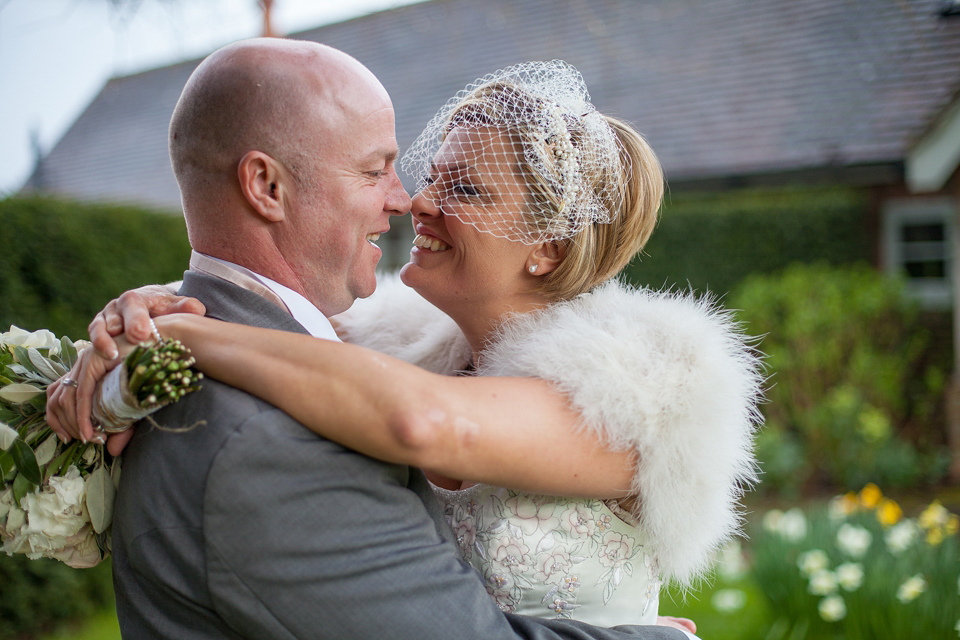 "Now to give you a brief insight into me – When I was 16 I fell ill with a rare strain of Meningitis and to save my life I had to have both my legs amputated, but this never stopped me from achieving every goal I have set myself. I can't say my choice of career was the easiest choice for a girl with false legs, but I took every knock back and nasty jibe that the beauty, fashion and media industry threw at me and I succeeded where so many of my able bodied peers gave up. Have a look at this video to understand a little more about me."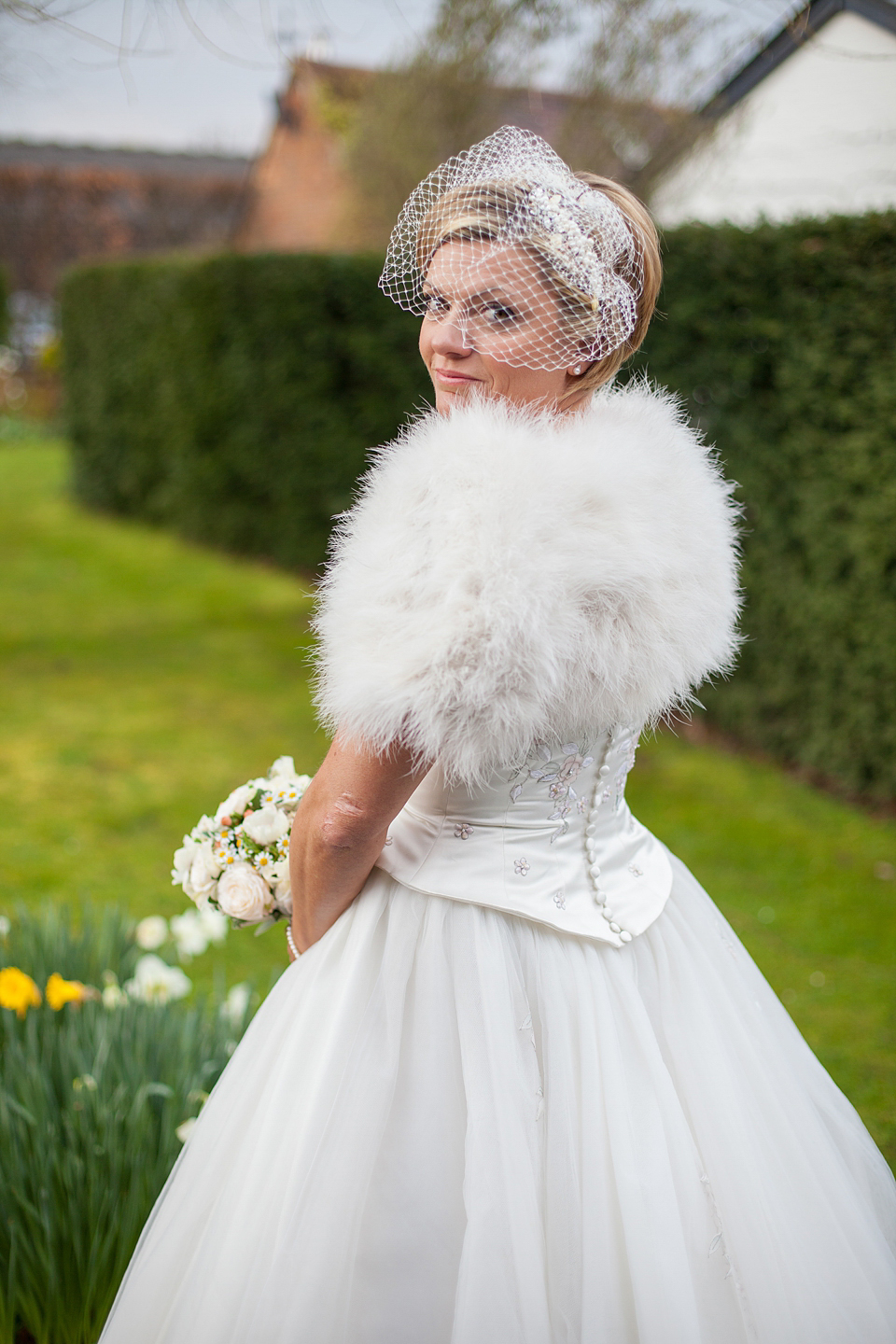 "Dan and I met in 2009 and all I can say is he was just 'Mr right' – a fireman, a gentleman and a funny man – the man I'd been waiting for.  I have always had a soft spot for a Fireman because my Granddad was a Firefighter and I was so proud of him. When Dan and I first met, I didn't tell him about my legs, not for any reason other than it just didn't matter.  He quite clearly liked me for me, and when he did find out (after treading on my foot and I didn't flinch!), it was never an issue to him. A very short time after we got together, I found out I was pregnant. It was scary as I wasn't sure Dan would stick around, but he did, and our relationship grew with my bump.
Three days before our baby girl was due to be born, she stopped moving inside me.  I told my Midwife, but she didn't seem concerned.  The next day when we went to hospital to be checked – we were told our baby had died.
Dan and I got through the toughest thing any couple could face and we did it together.  This was when I knew I'd found my soul mate. Dan was and always will be my rock. He kept me breathing when I couldn't see a reason to."
"Within weeks of losing Chloe, I formed a charity, 'Count The Kicks' to try to prevent other couples going through the tragedy of stillbirth. My charity is now one of the leading pregnancy charities in the UK and the knowledge and confidence I gained from the charity helped me in my second pregnancy in May 2011 and ensured the safe (if a bit early) arrival of our son George. Count The Kicks is now run by a team of volunteers, allowing me to concentrate on my family and the work I love, but also the 19 months of planning our dream wedding.
On 27th March 2014 at 1pm Dan and I married in the tiny church in Burpham, near Guildford where our baby Chloe is laid to rest and where our son George was Baptised, it was a very emotional ceremony as the last time many of our guests were there was at Chloe's funeral."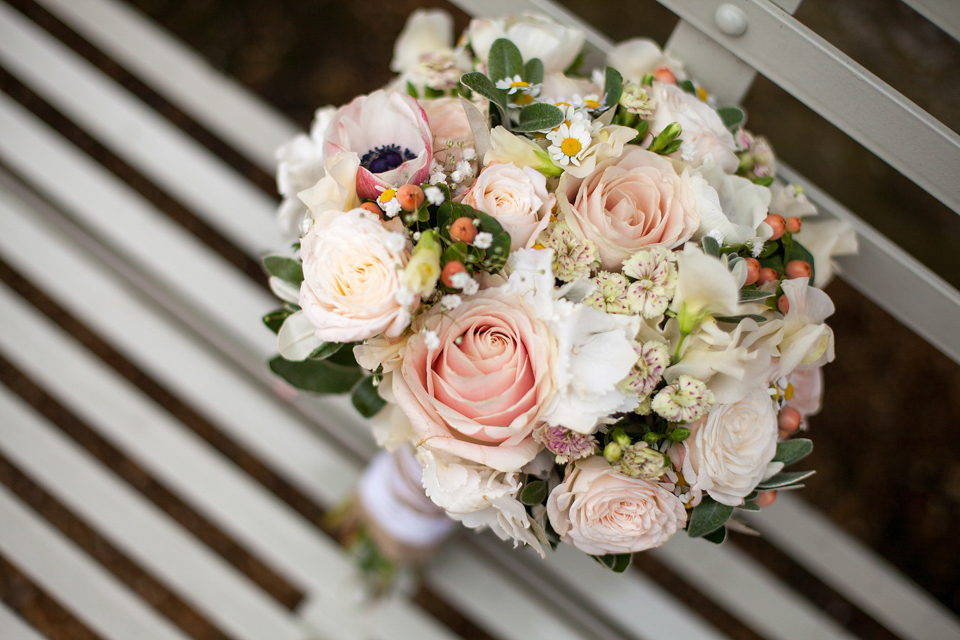 "We kept the ceremony very traditional and simple, just an organist who played three classical pieces and two  hymns, and two  short readings, one was 'The Owl and the Pussy Cat', read by Dan's 7 year old niece. It rained and when we said our vows there was a huge clap of thunder and a flash of lightening. We cried and we laughed. It was perfect.  We then went on to our reception at a local venue Gate Street Barn in Bramley, where I have been a recommended supplier for several years. I've always loved Gate Street Barn and know the team so well, I also know so many of their suppliers so I knew I could trust them with our day.
One supplier close to our hearts was our photographer Victoria Gemma .  Dan and I first met Victoria back in 2009 just three weeks before Chloe was stillborn. We booked Victoria to come to our house and take some pregnancy portrait shots, these photos are now all we have left to remember out beautiful baby before she died. Victoria then shot the most amazing photos of our son George when he was under a week old and again at his Christening. She was the first person I called when we got engaged and I knew she would be the best girl for our big day – I wasn't wrong.
I really hope you will consider sharing our wedding, not only to showcase our suppliers but also to share our story and my charity and hope that this may prevent someone from suffering the loss we have. Awareness saves little lives. 
Sophia x"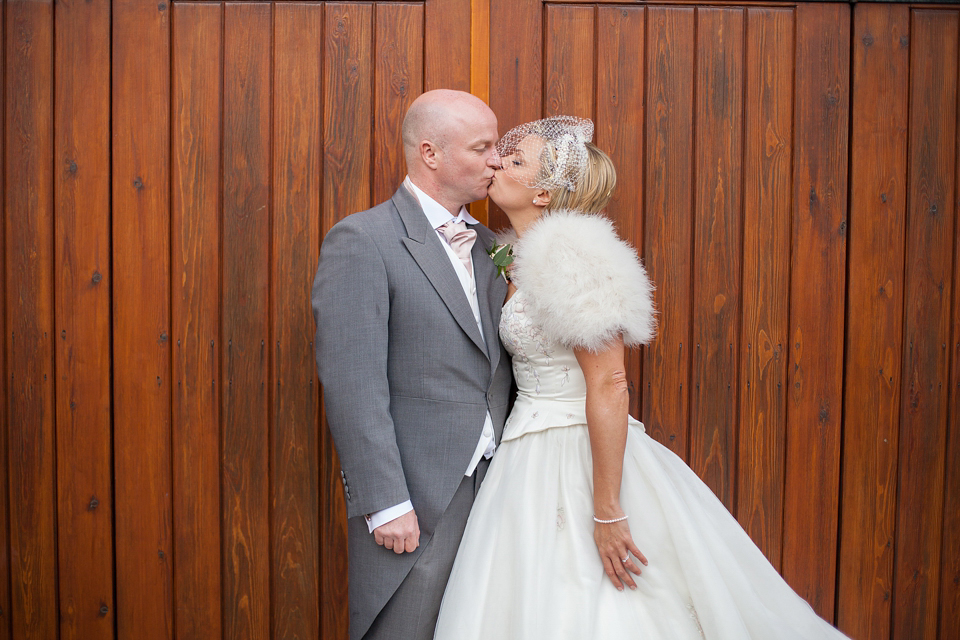 As you can imagine, I was more than a little eager to feature this beautiful wedding having been so inspired by Sophia's letter.  It was so good to connect with Sophia and discover she is a lady with a genuinely very big heart indeed.  Now you maybe understand in a slightly better context why I am so inspired by the people I connect with through Love My Dress.
Sophia and Dan's wedding took place on 27th March this year.  The day started with a getting ready session at The Brooklands Hotel & Spa in Weybridge, followed by a church ceremony at St Lukes Church in Burpham, Guildford, then a reception held at Gate Street Barn in Bramley near Guildford.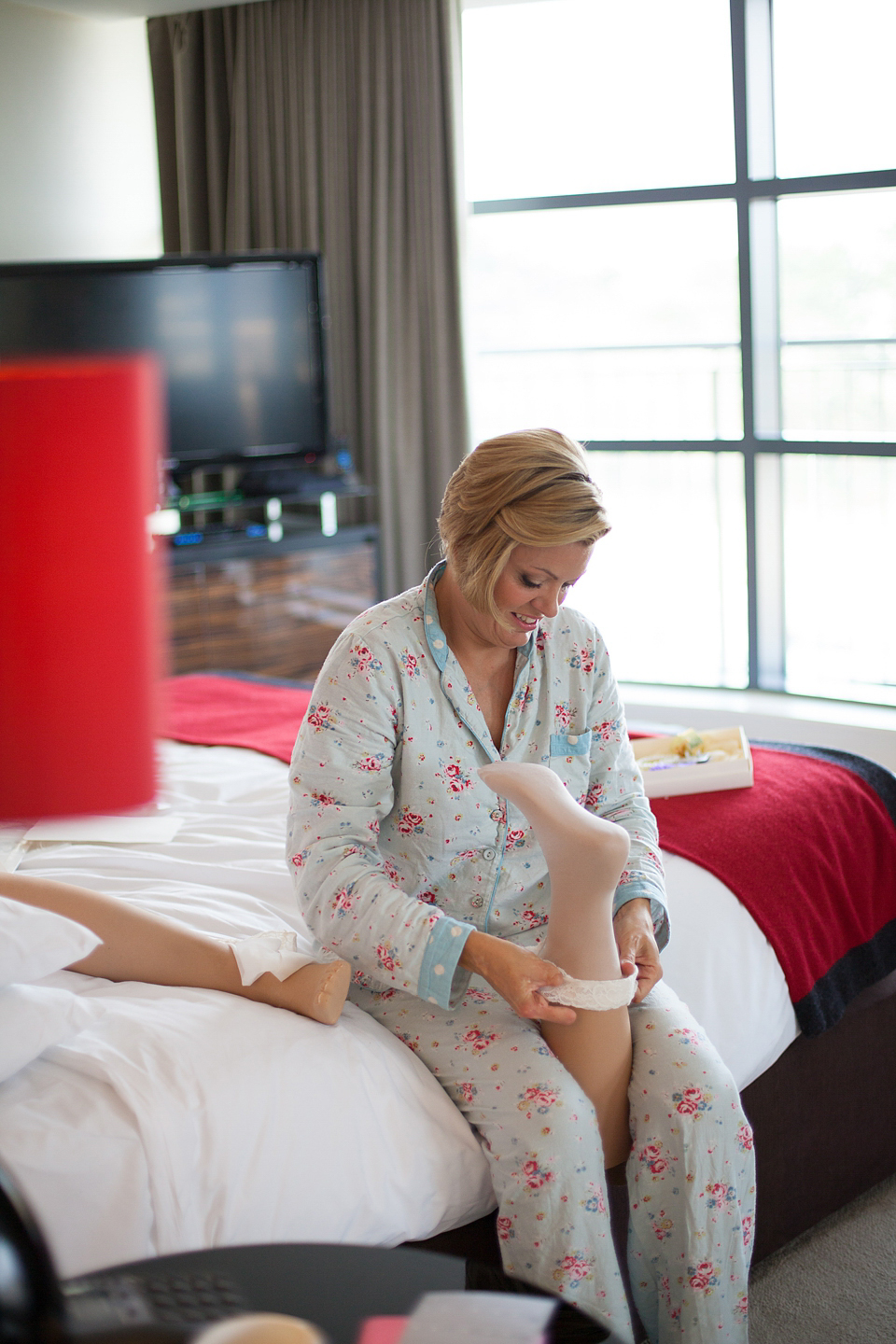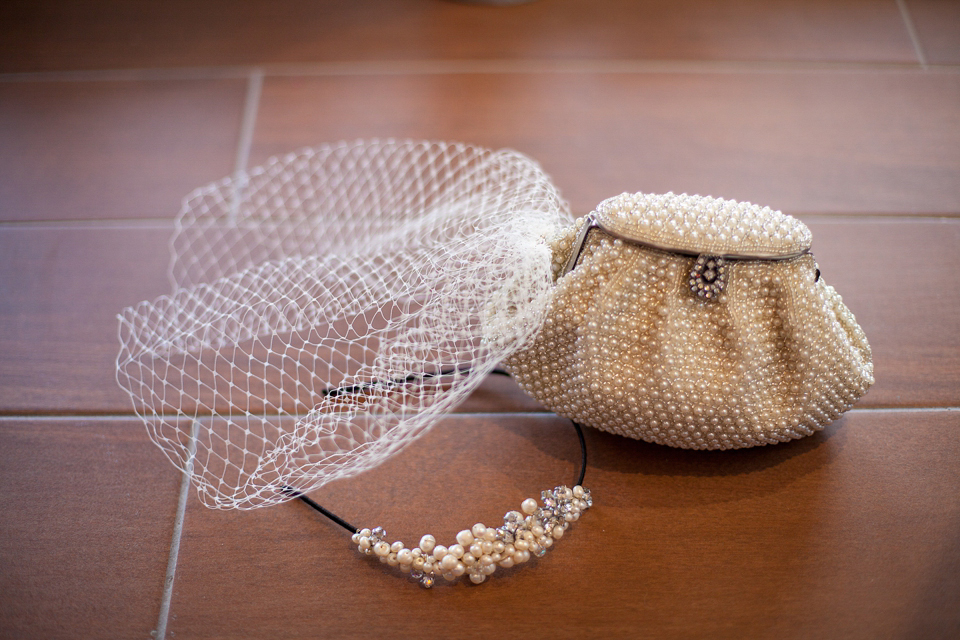 Sophia wore a birdcage veil made by Lily Bella and a side hair accessory from Pippy's Vintage.
"Dan bought me a lovely pair of simple stud diamond and pearl earrings and necklace, and my parents bought me a gorgeous pearl bracelet all from Ernest Jones where he bought my engagement ring and wedding band."
The bridesmaids all wore coral shoes from Oasis.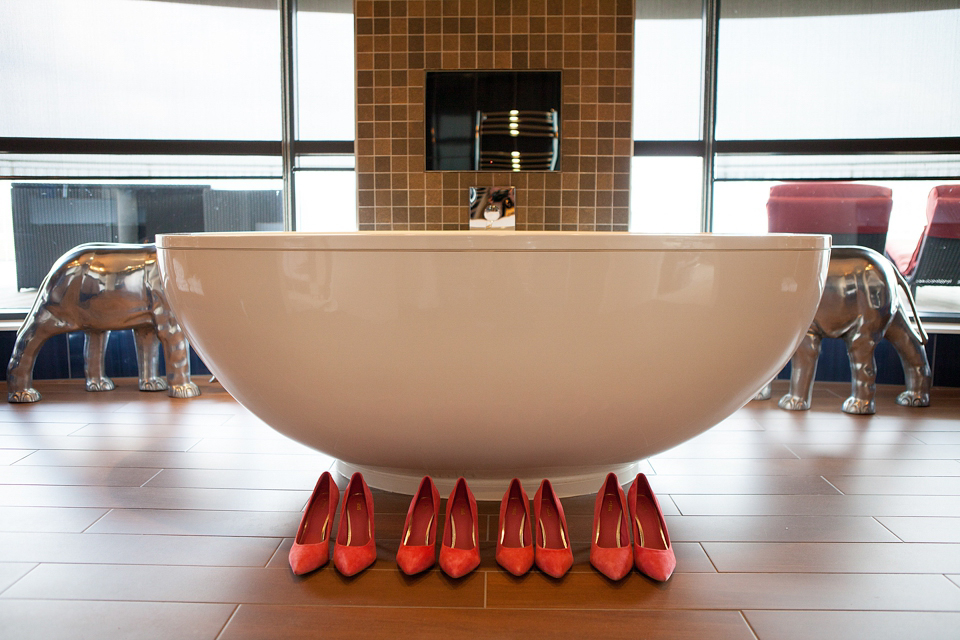 The bridesmaids' dresses were made-to-measure 50's inspired frocks from Honey Pie Boutique.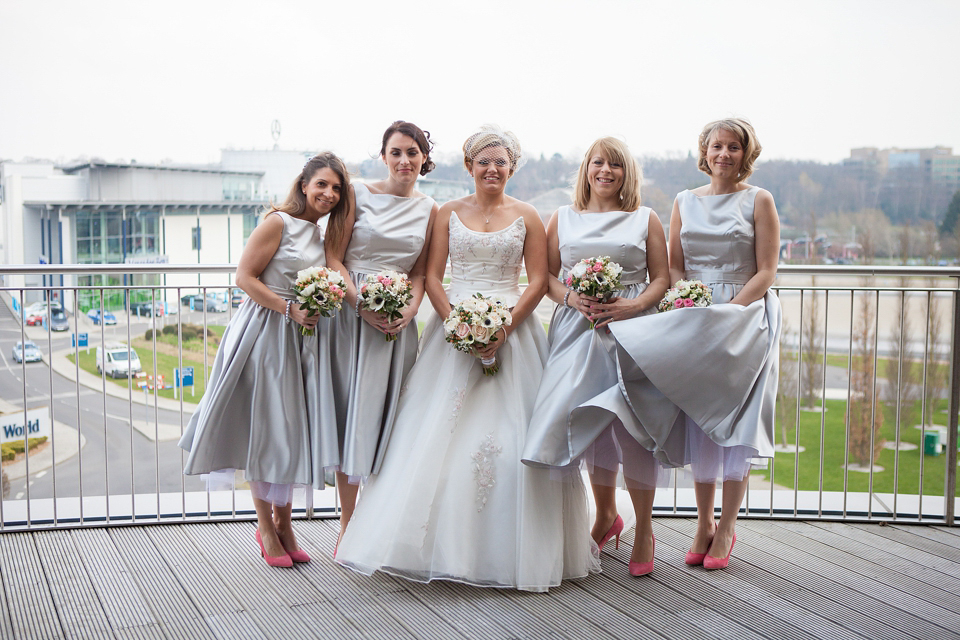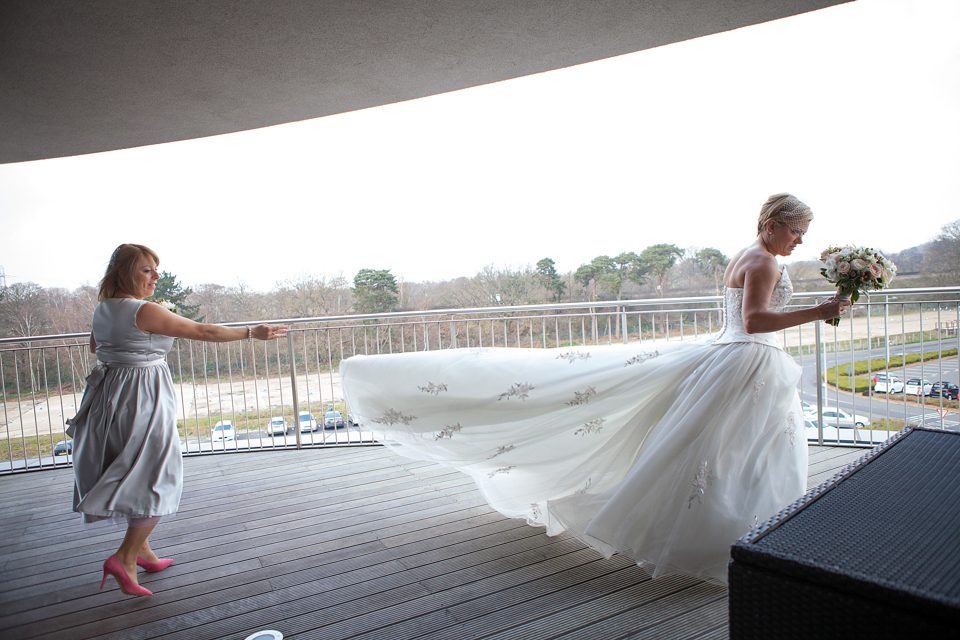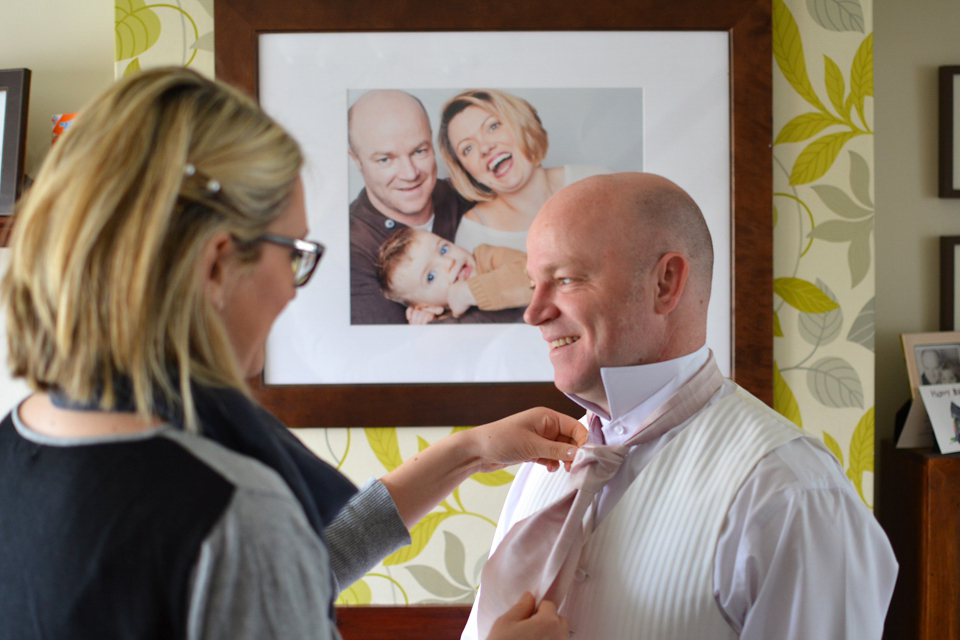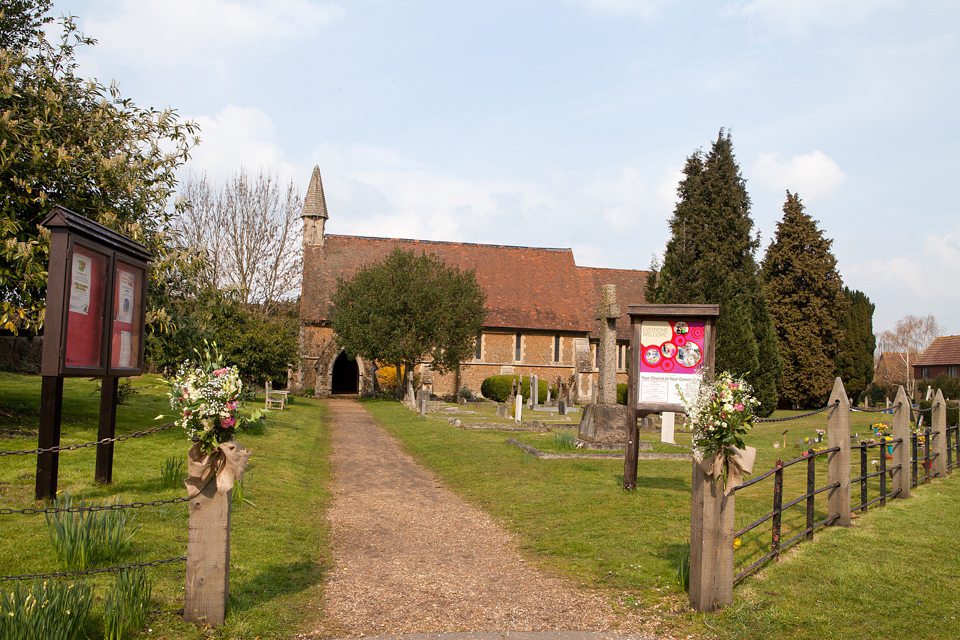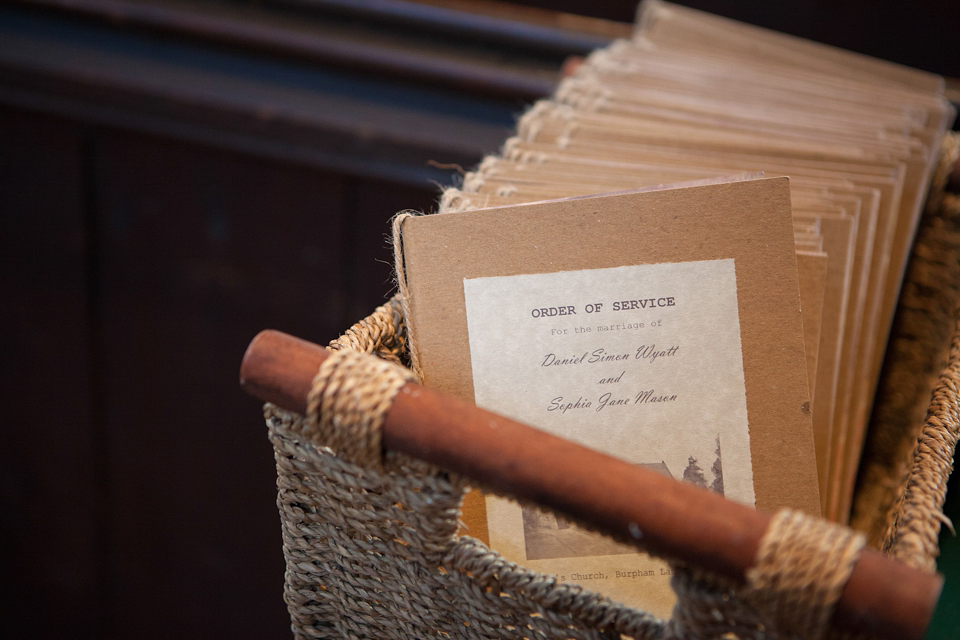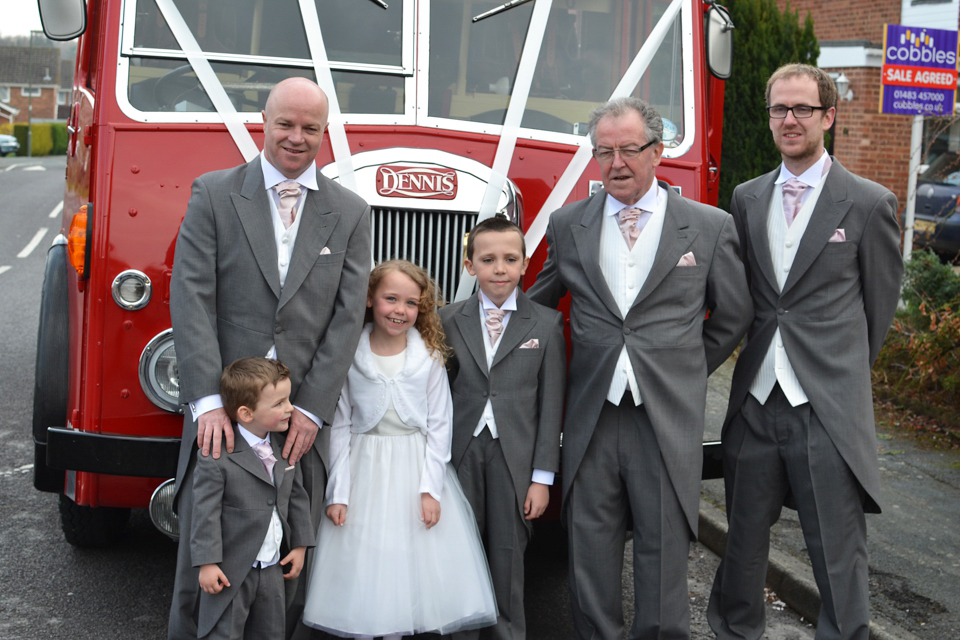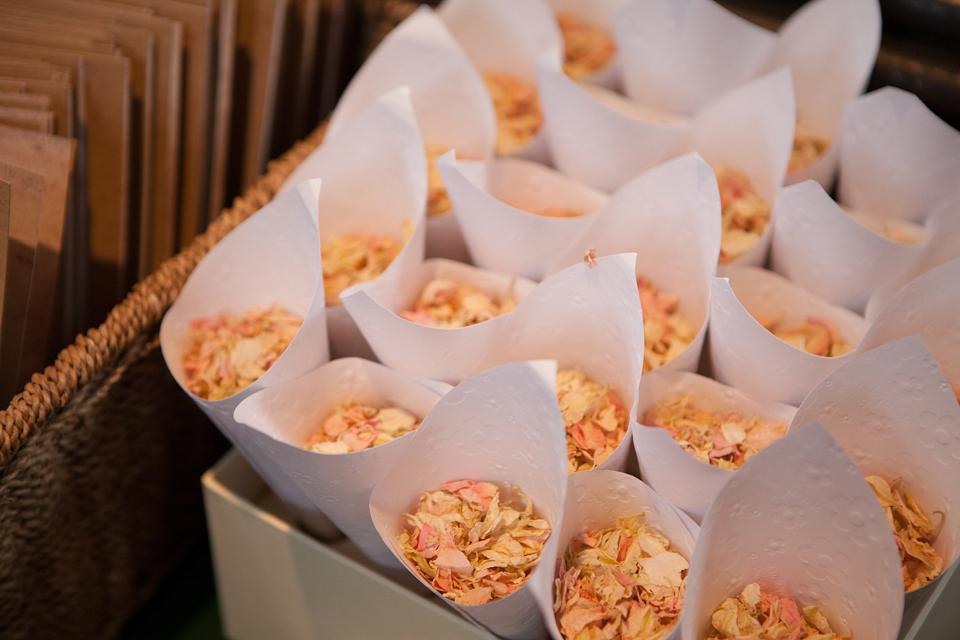 "There is quite a story behind my dress!  As I have worked in the wedding industry for so long I have seen so many dresses.  I like every dress I see but never have I once thought 'that is MY dress'. That was until about 7 years ago (possibly more) when I first met my dress at a wedding fayre. At the time, all the girls were going for Maggie Sottero Satin dresses with a sweeping gathered front. This dress just stood out, it was my dream dress, a real wedding dress, but the boutique owner said no one ever tried it on.  It was a design called 'Chicago' by designer Benjamin Roberts.
For three years, twice a year I would see her at the same fayre and every time she bought my dress. That third year she was selling end of line sample dresses, and there it was, she told me Benjamin Roberts had discontinued that design, so there was no way I could ever order it in the future, so we decided I should try it on and it fit perfectly.  Only one thing – I was single at the time!"
"About two years passed, I'd met Dan and I was pregnant with Chloe. I was also exhibiting again at the same wedding fayre, but the lady never came to set up – my dress wasn't there! I called my mum to tell her and she called the shop – They were closing down within a week and she was selling all her stock. And, she still had my dress.
My Mum said 'Right Soph, leave it with me'. The next day we went to Petersfield, bought the dress for cash and took it away – Dan hadn't even proposed and I had no idea if the dress would fit after I'd had the baby, or even if he WOULD propose.  But at least I had 'my' dress!  When Dan did eventually propose in Turkey three years and two children later, the first thing I did was go to Mum's and try on my dress.  It was a perfect fit.
I have honestly never tried another dress on and never will. It was just meant to be and I love it as much today as I did all those years ago – It was meant to be.  I love the traditional feel of the dress, but that it is so different to any other dress I've ever seen, the fact that it was discontinued means I will never go to a wedding and see another girl in the same dress."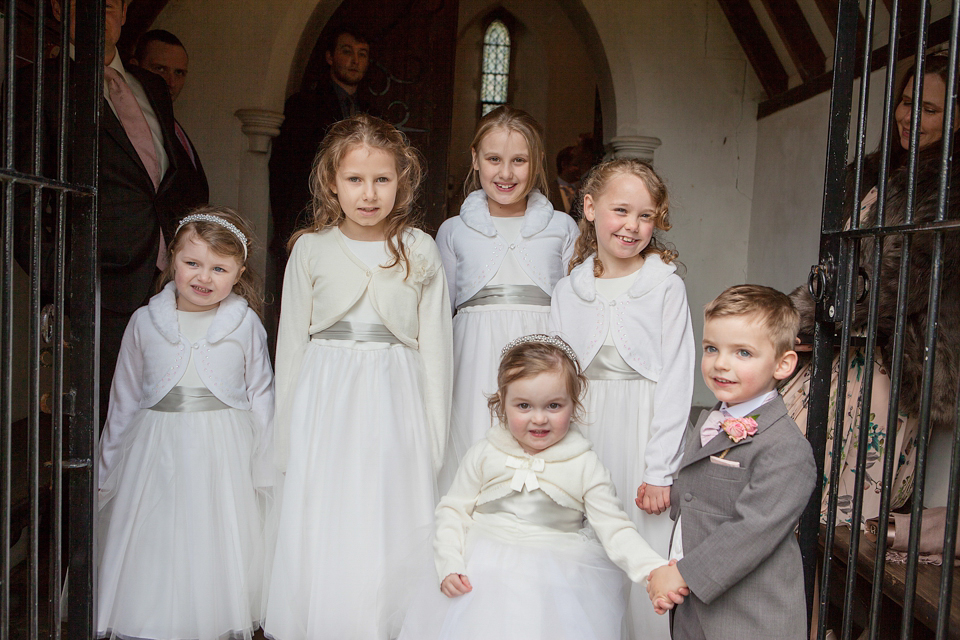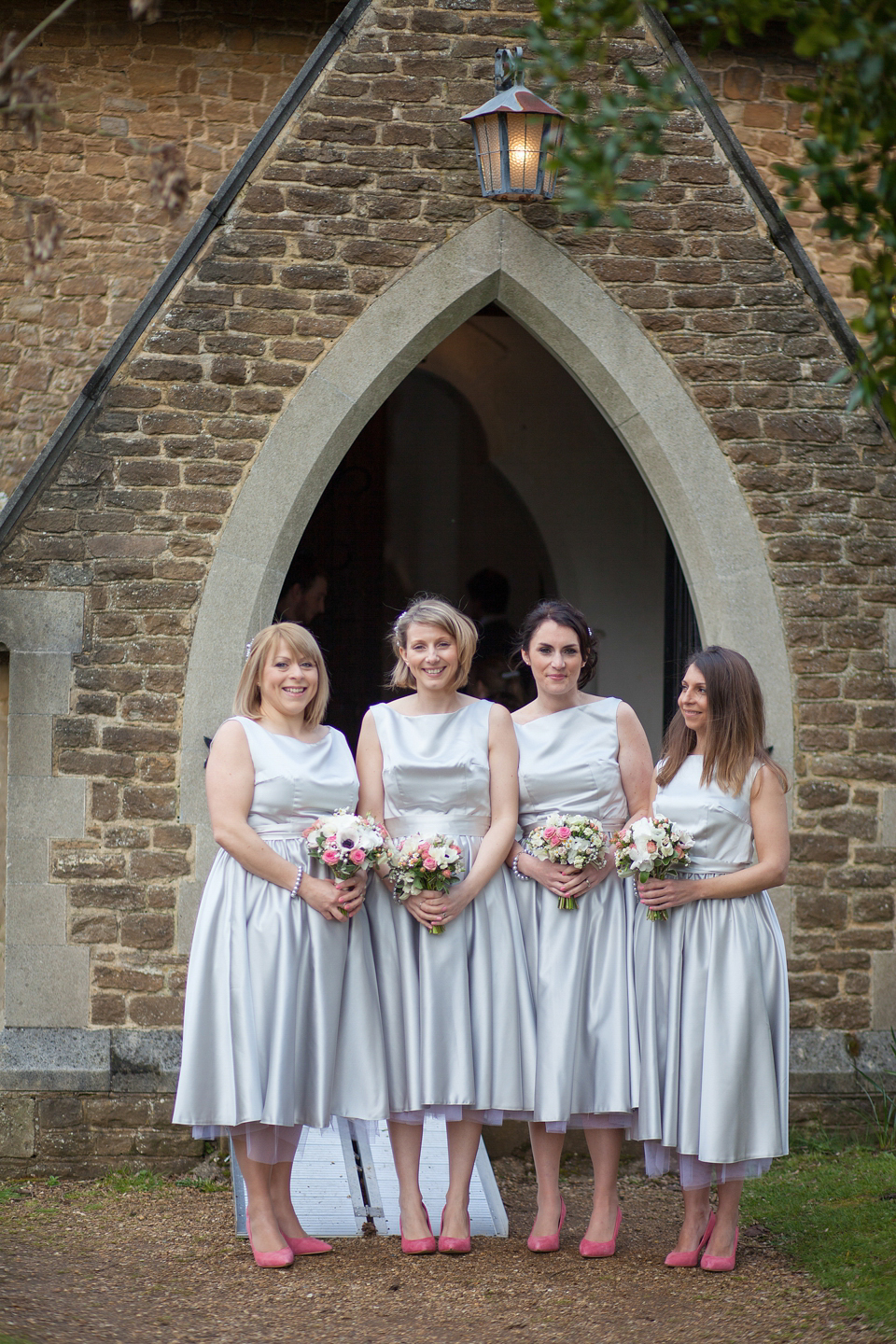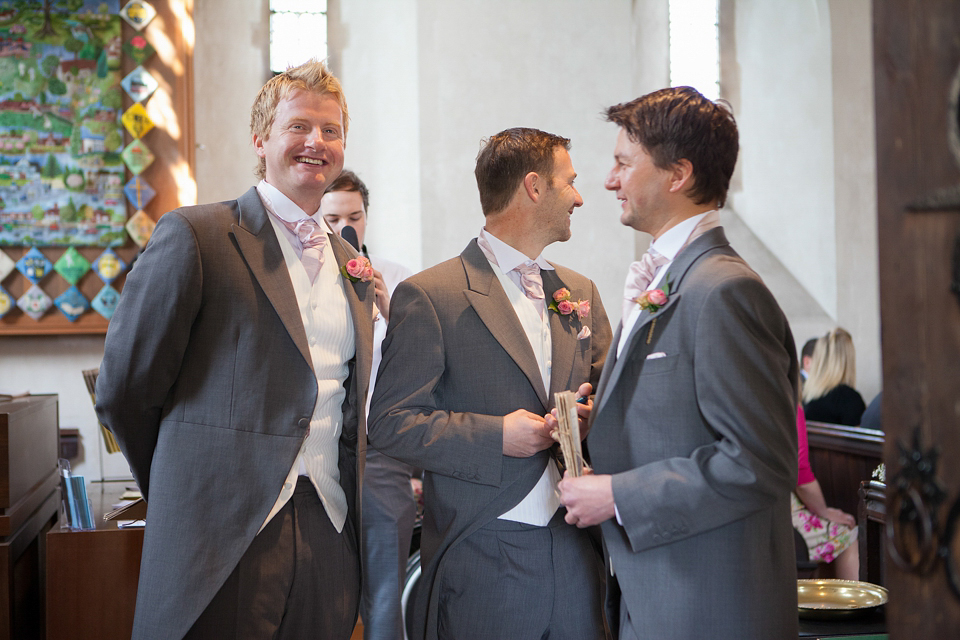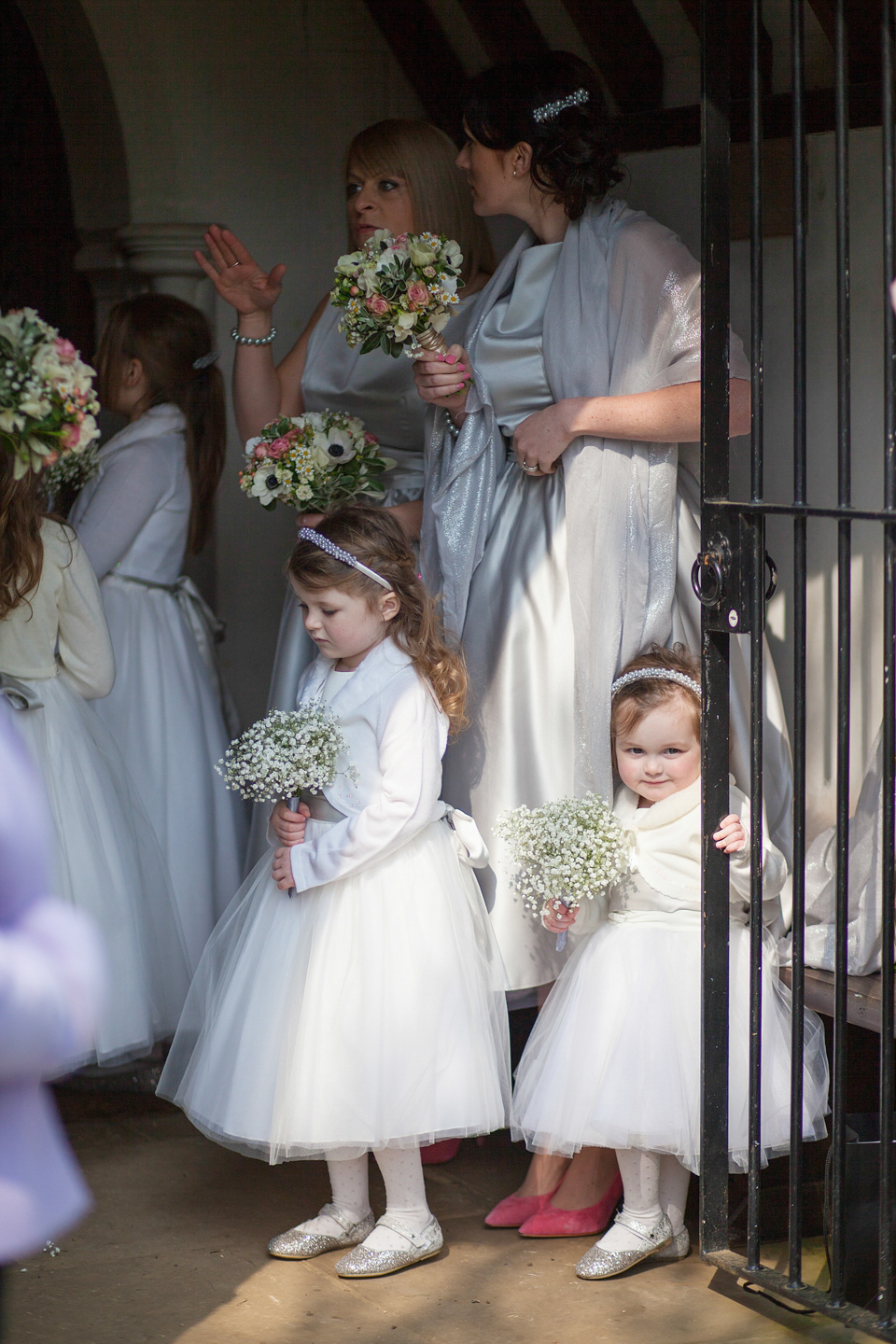 "Our day was filled with beautiful Sweet Avalanche Rose with Babies Breath – inspired by our Baby Chloe.  These were the flowers we chose for her funeral, plus my dress has a very blush pink rose featured throughout it. A vintage Rose seemed to feature throughout the wedding on our stationary, orders of service and menu cards etc.
I also love all things vintage and influences from the 1940's ended up being quite present on the day – the vintage fire engine we hired was the exact fire engine my Granddad drove stationed at Staines Fire Station in the 1940's! We also had a 1940's Rolls Royce. My Head piece included a brooch dating back to the 40's, and I also opted for tea length dresses for the bridesmaids and changed into a tea length evening dress to dance in too."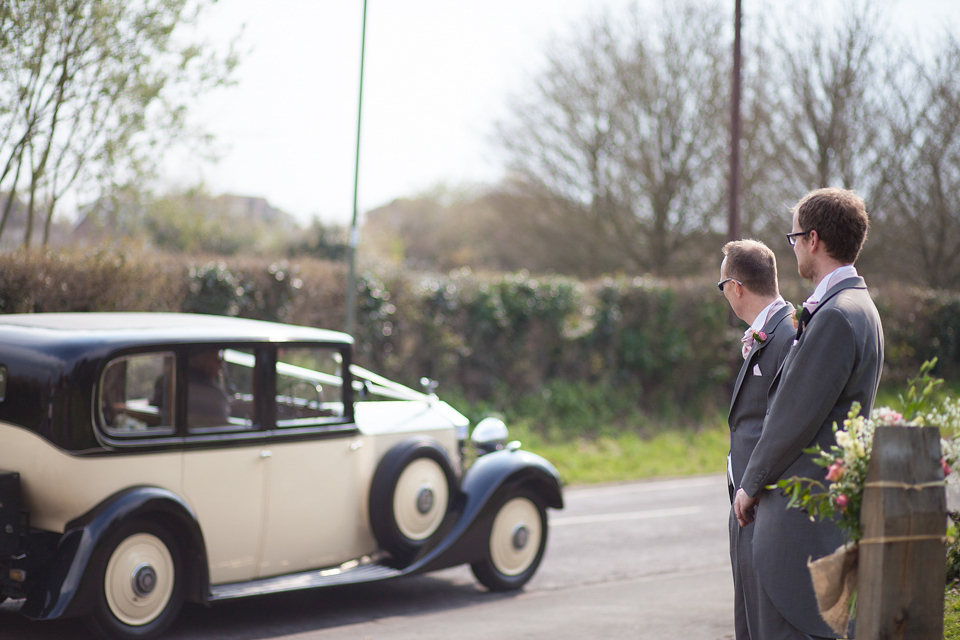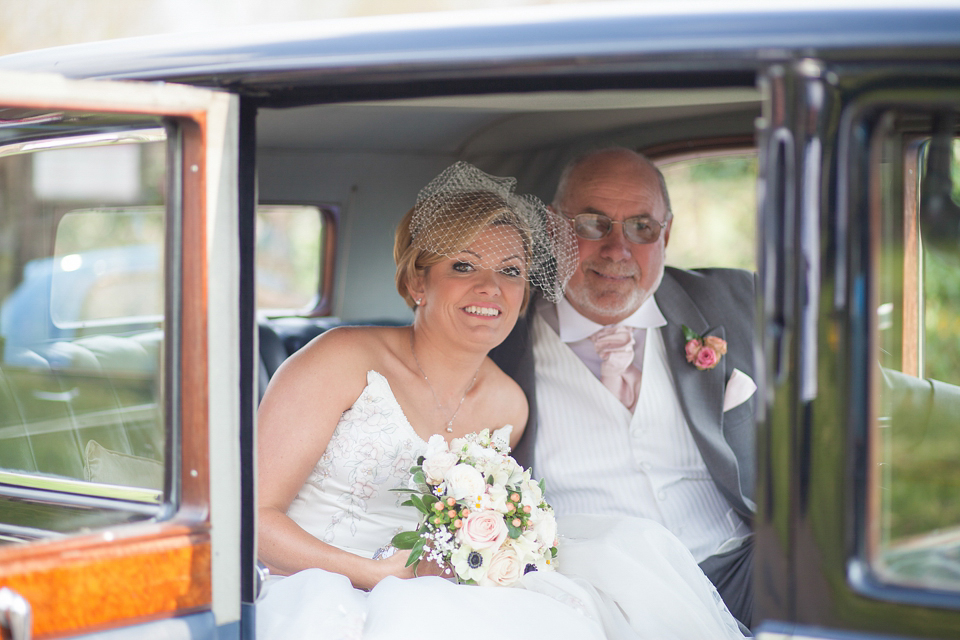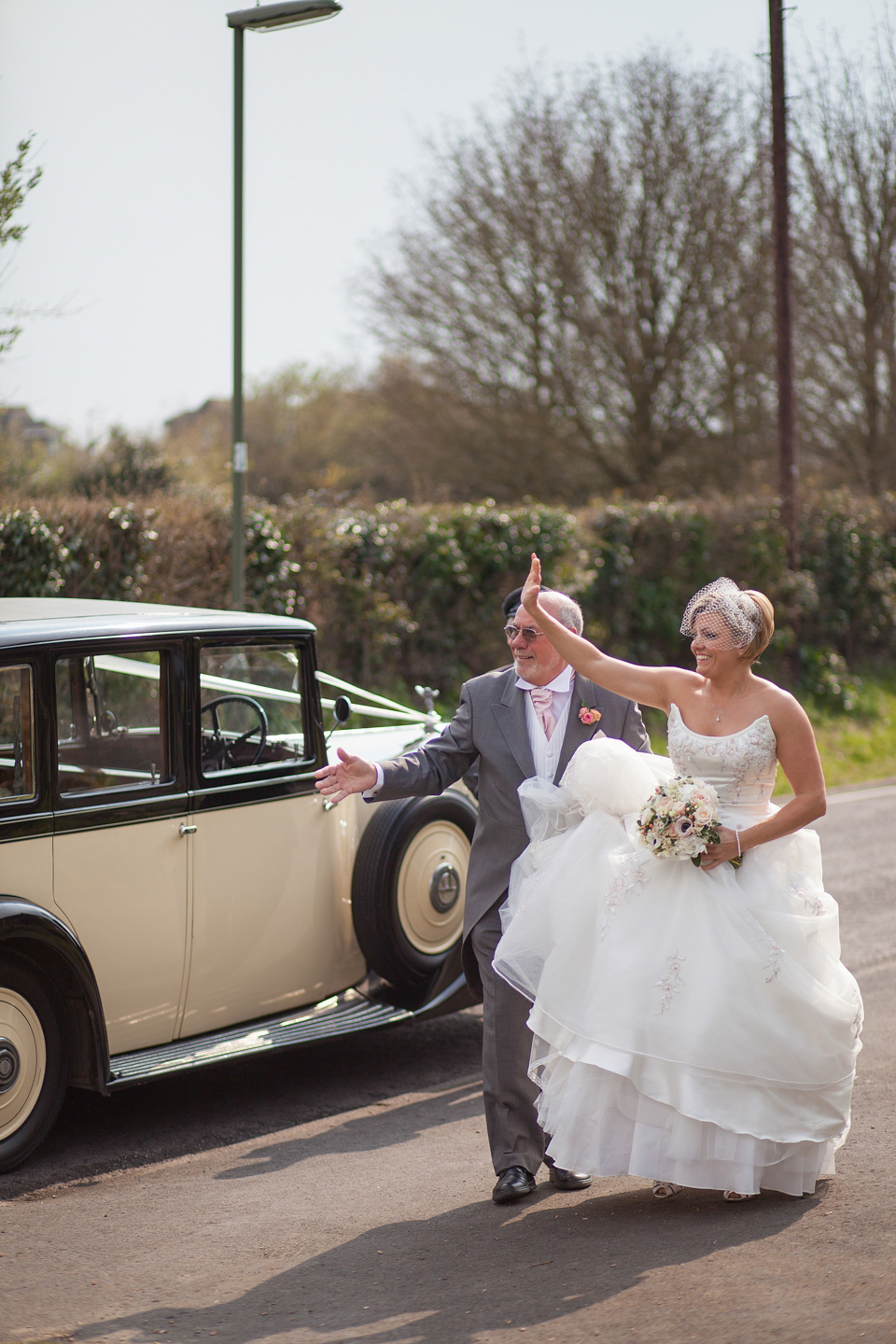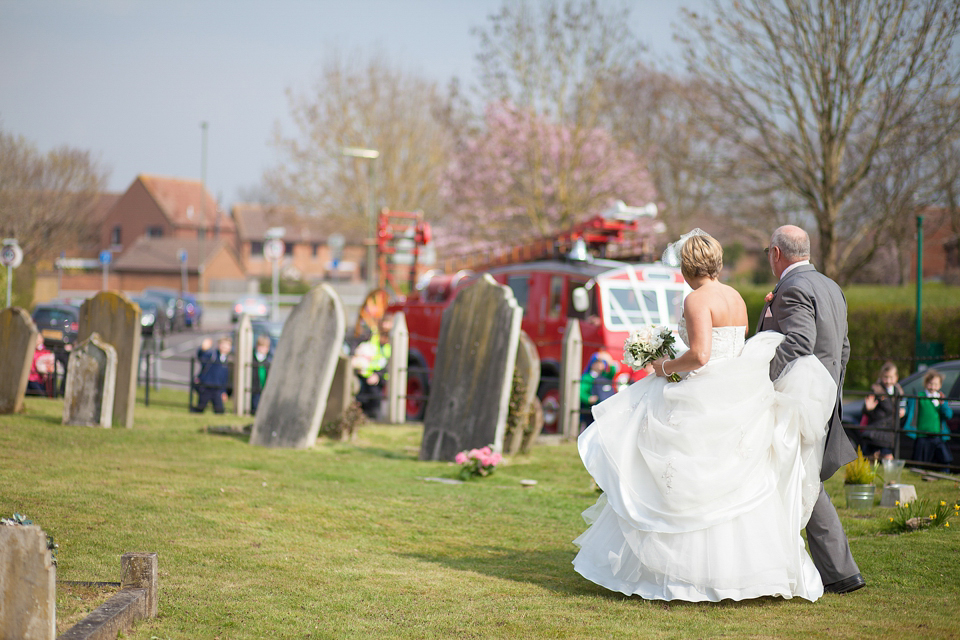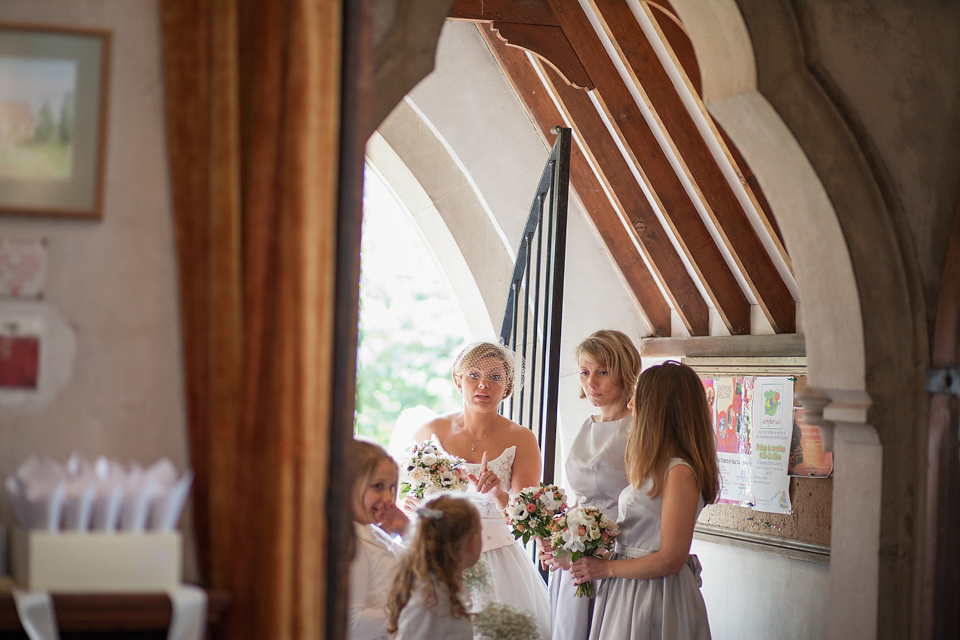 "As the last time most of our guests had been in St Lukes was for Chloe's funeral the atmosphere was quite tense.  I wanted to make sure our service was very short, happy and simple, we purposely chose to have just an organist who played three classical pieces for us, we could have chosen some very personal romantic popular songs but we knew this would cause tears and it would be tough enough for me to walk into the church with my dad, as the last time we had done this we were following Dan, who had carried Chloe's coffin in by himself. We were all prepared for tears but just as we started our vows there was a huge clap of thunder and flash of lightening!  We all laughed – it really felt like someone, somewhere, wanted us all to smile.
We asked the vicar who had buried Chloe and then baptised George if he would return from his retirement to marry us and he was thrilled to be there with us.  It really was perfect."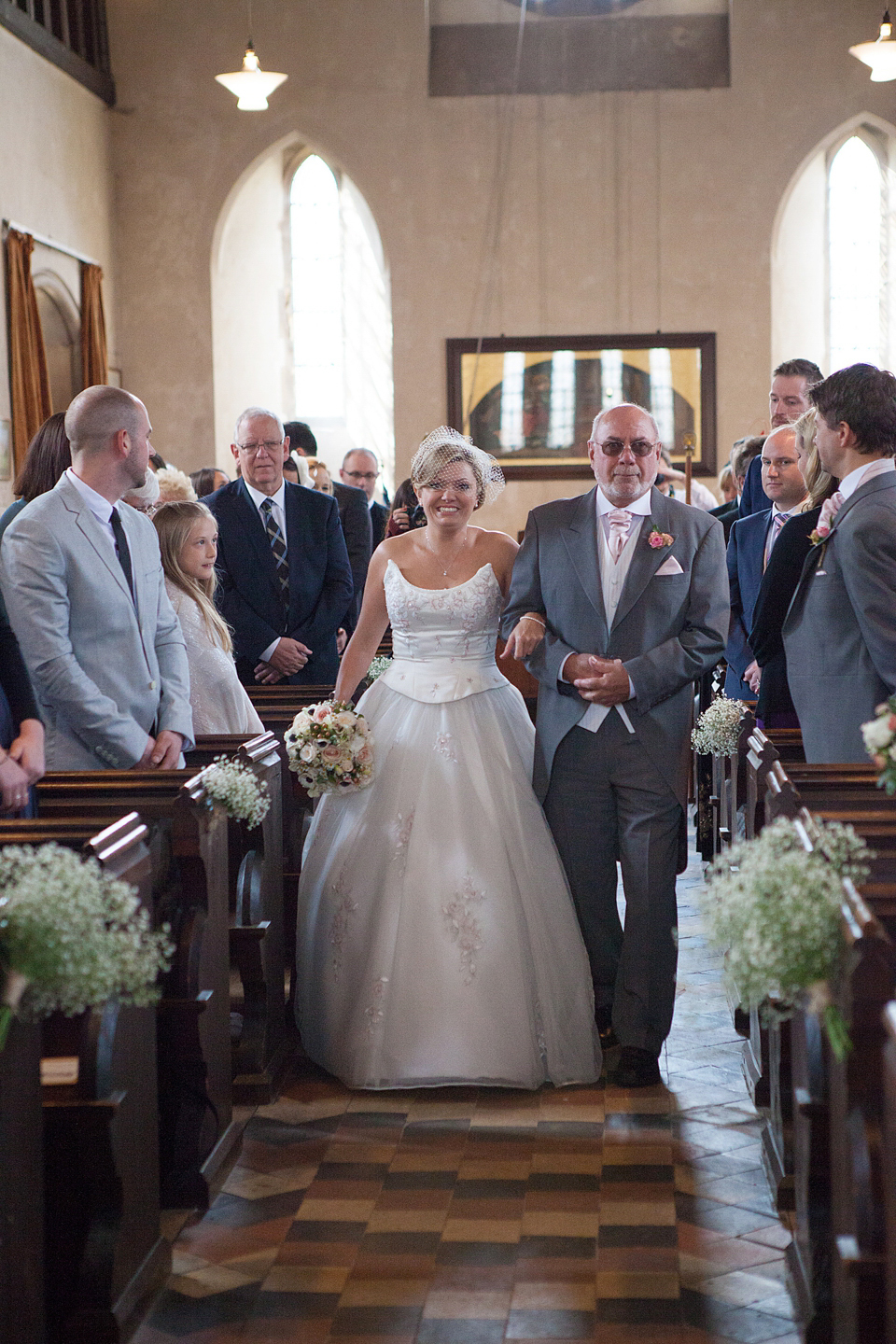 "We had two short readings – one, a religious reading read by Dan's brother's girlfriend, Holly. The other was 'The Owl and The Pussycat', recited and 'performed' perfectly by Dan's niece Scarlett who is just 7 years old."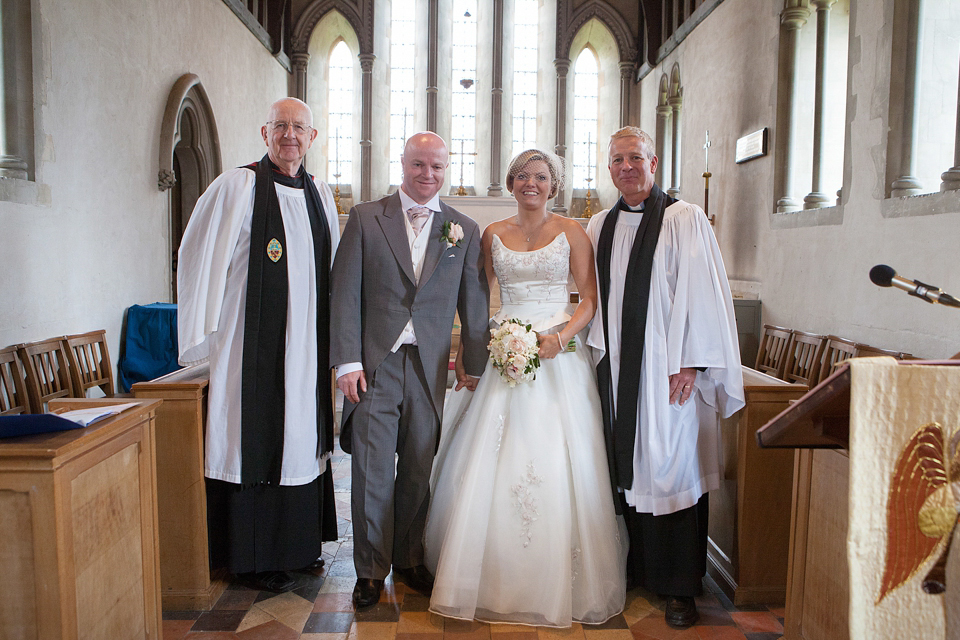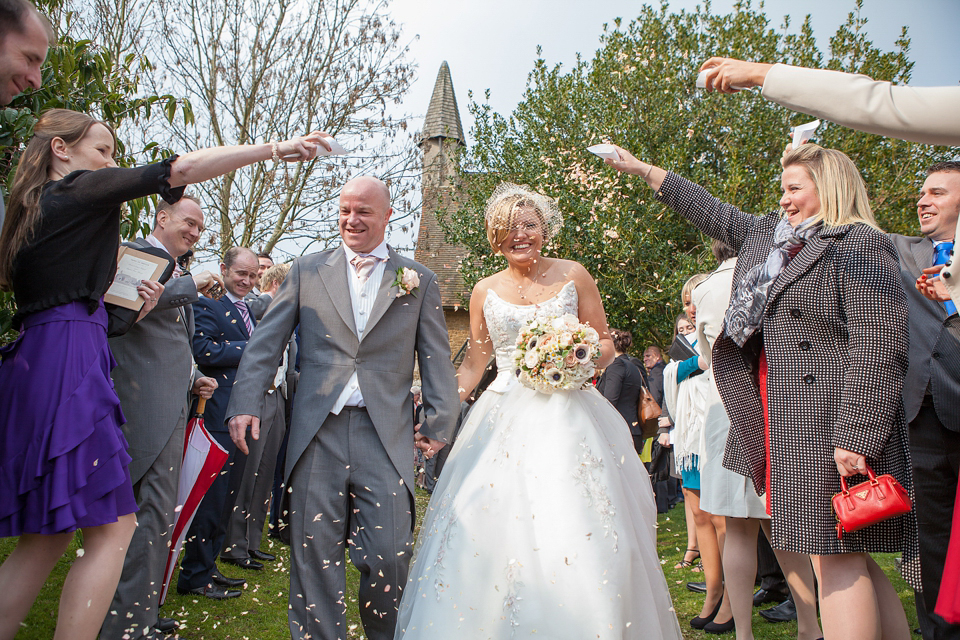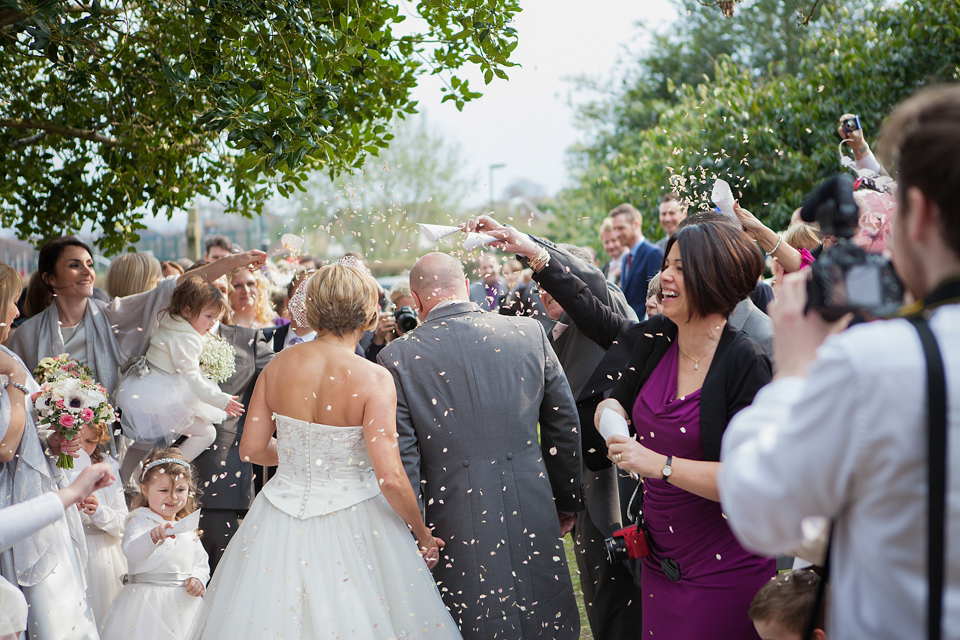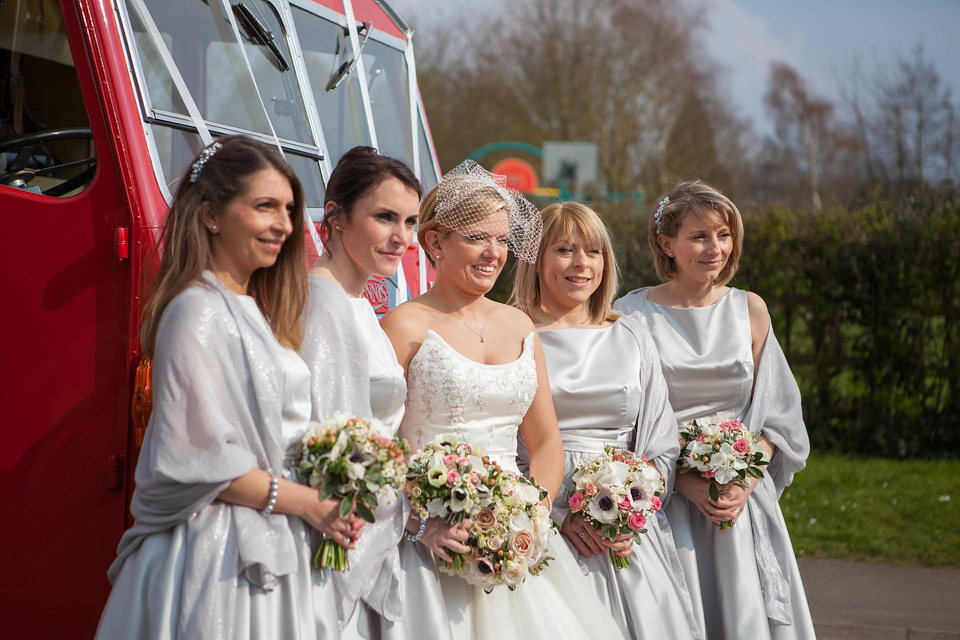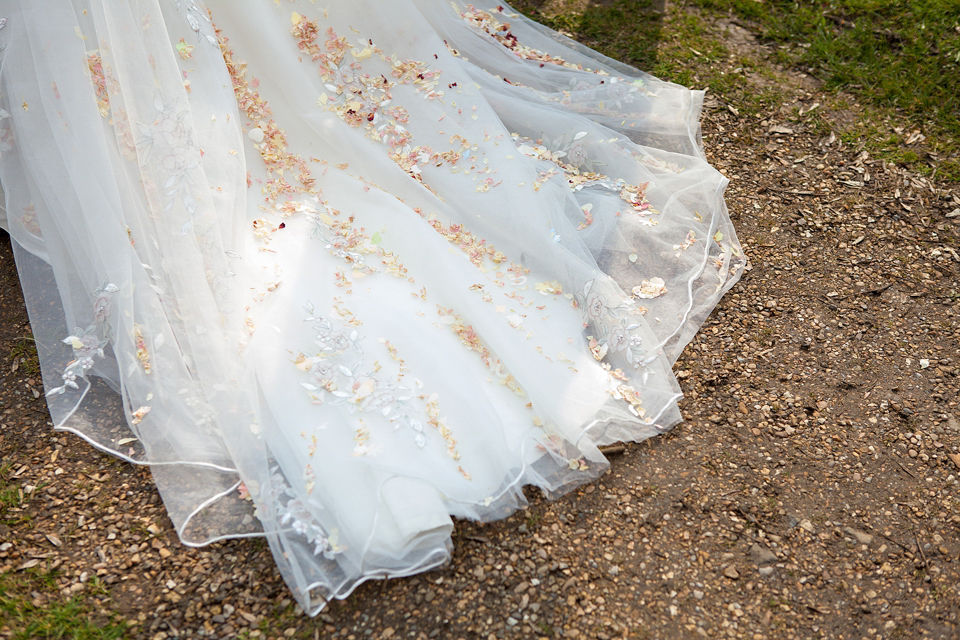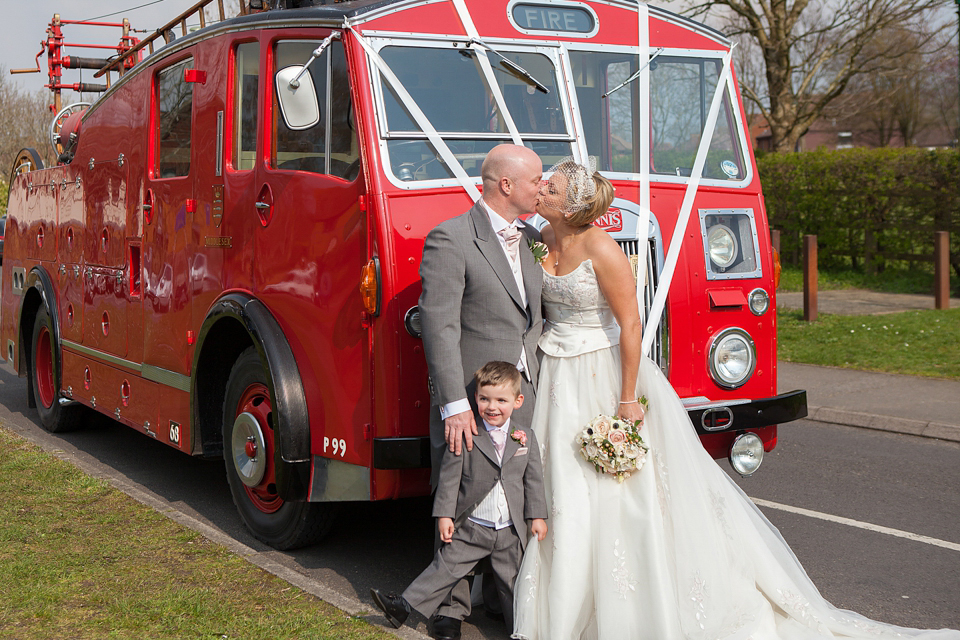 "Dan wore a grey morning suit with ivory waistcoat and blush pink cravat hired from Dapper of Dorking.
Dan and Tom, his best man,  have known each other since school and have always been close pals.  They both joined the fire service and Tom supported Dan throughout our bad days when we lost Chloe.  We knew straight away he was going to be the best man for the job.
Tom called Dan a few weeks before the wedding and told him he'd organised the transport to get them from the house to the church (via the pub!). On the morning of the wedding, while Dan was getting himself ready, they heard this loud bell ringing outside and they watched an amazing vintage fire engine pull up. It carried 6 ushers, little George and Dan to the church.
When Dad saw the Engine as we approached the church in the Rolls Royce he cried. It was the exact Fire Engine my Granddad drove in the 1940's at Staines Fire Station.  My Dad saw the number plate and recognised it straight away – he used to play on the engine when he was the same age as George.
It meant so much to us to have that with us on our day."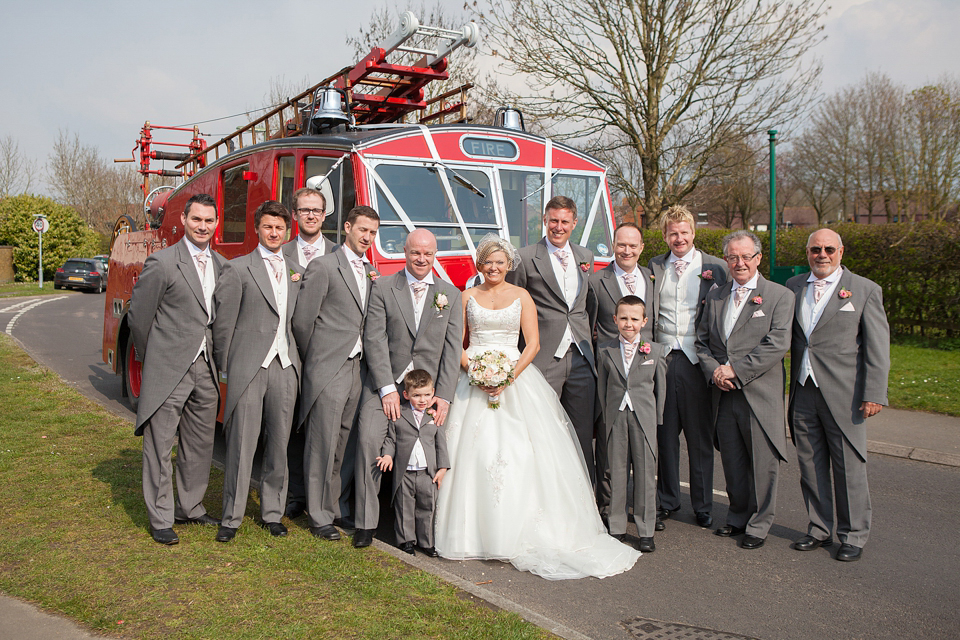 "Our florist was Charlie Coaker of Lottie Lou Flowers who can be contacted on 07557 103890.  Our flowers were one of the most important things for me.  I LOVE flowers and with the detail in my dress and our stationery featuring a vintage Rose (by Lucy Ledger), I knew we had to get it just right, not too much and not too little.  Charlie just 'got' me from the minute we met and I knew she'd do a great job – she didn't let me down!
My bouquet and Dan's buttonhole had Sweet Avalanche which was Chloe's flower. I also entrusted Charlie with my most cherished possessions – Chloe's hand and foot prints imprinted on tiny silver charms, I wanted these to be attached to my bouquet so I could hold Chloe's hand while I walked down the aisle to marry her Daddy. She did the most amazing job. I loved my bouquet and didn't want to put it down!
Charlie also added matching memorial flowers on Chloe's grave and the day after the wedding my mum took my bouquet and left it at Chloe's grave and when we got home from our honeymoon 9 days later and they still looked beautiful!"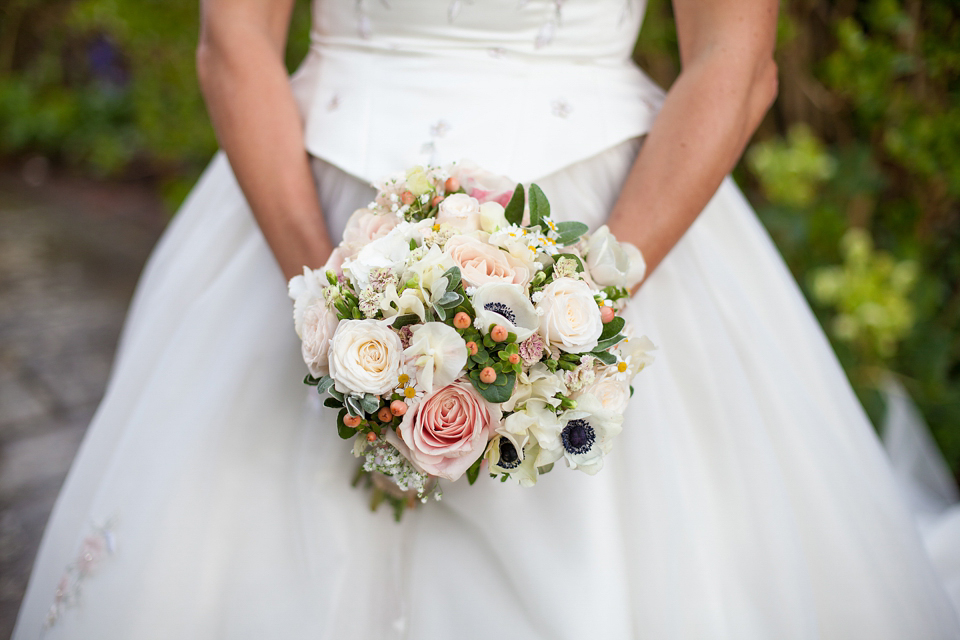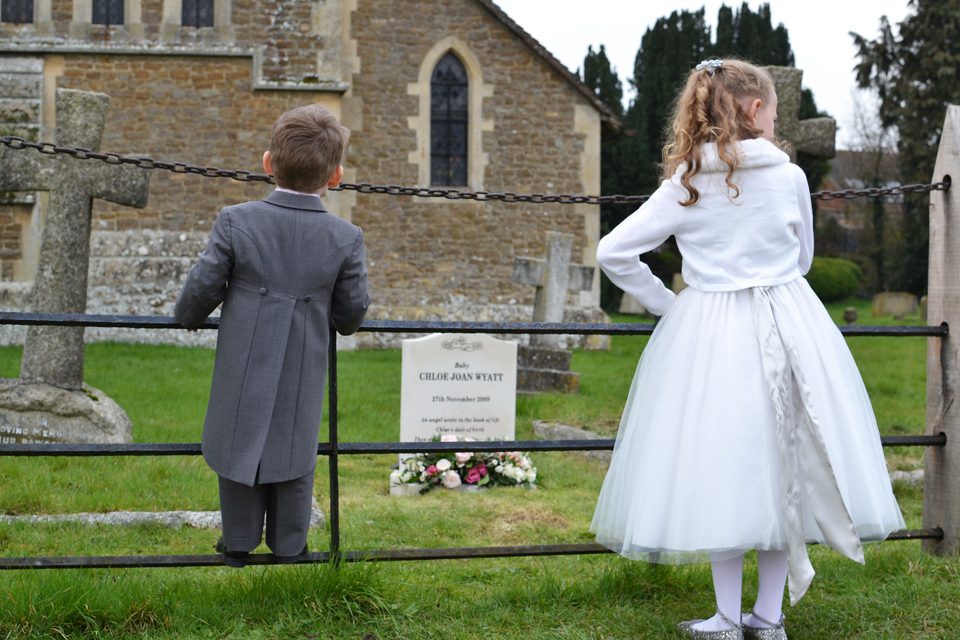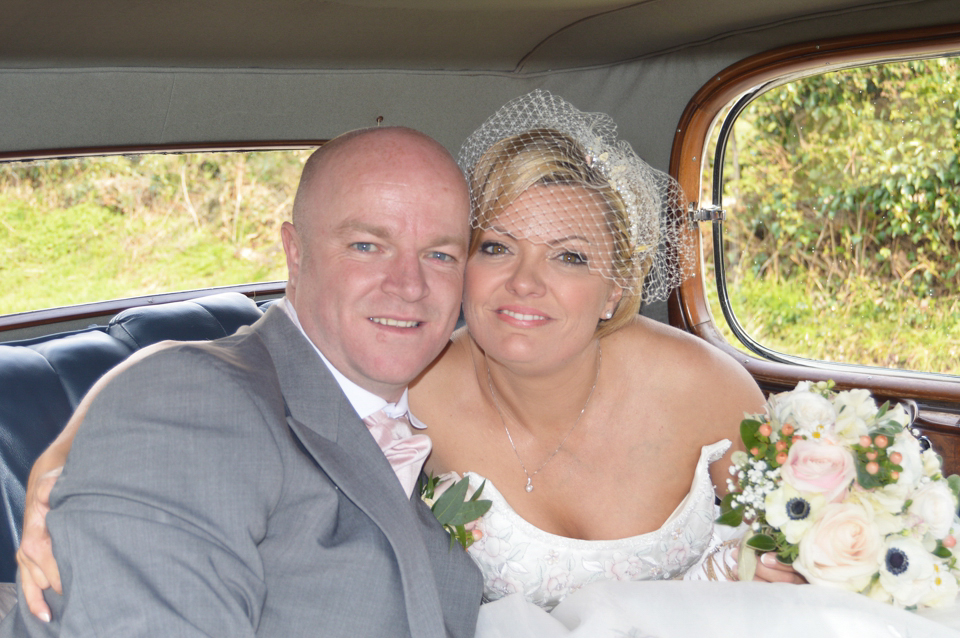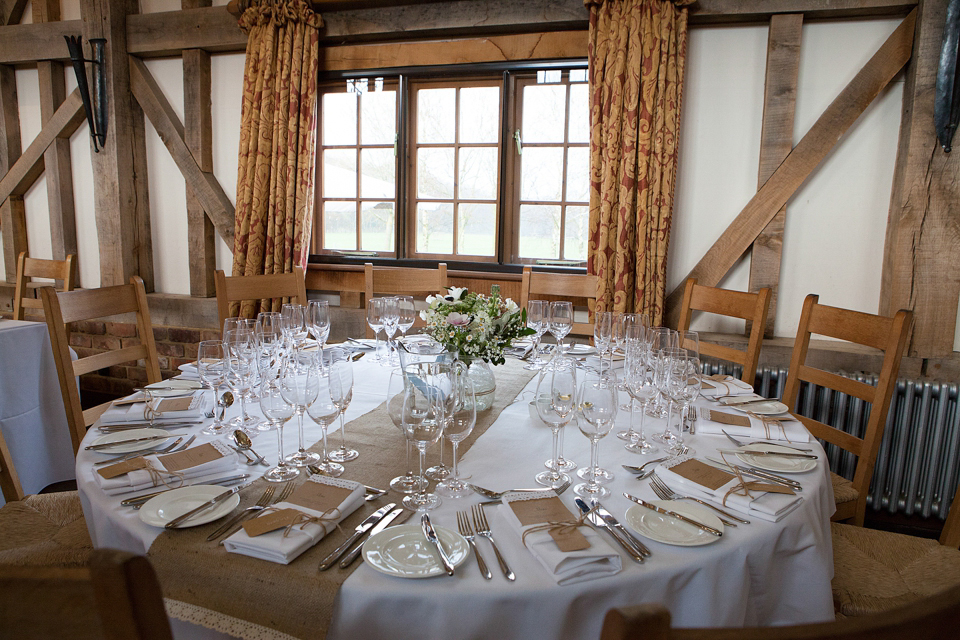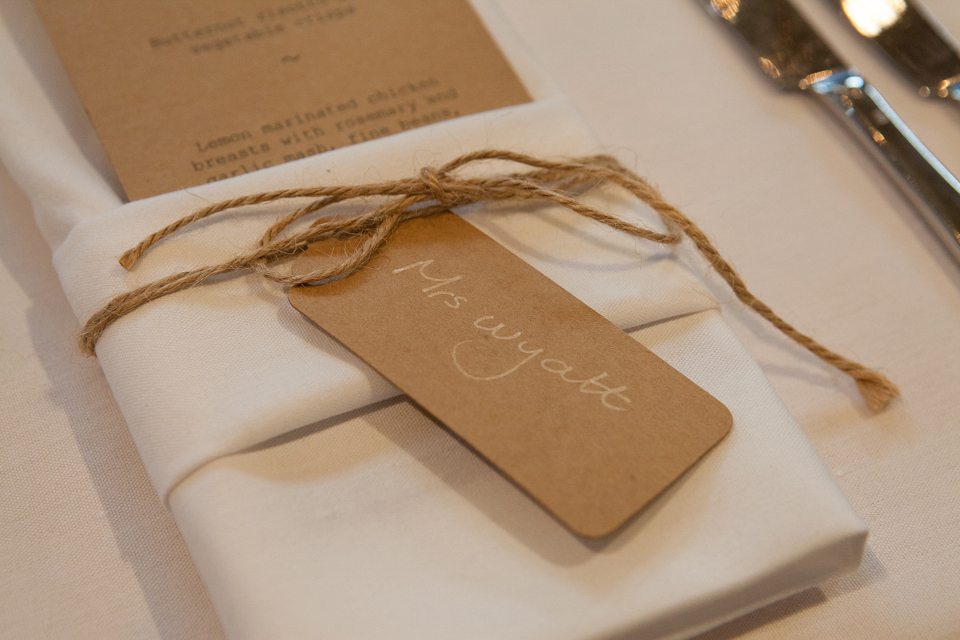 "Lucy Ledger designed our Save the dates and invites and then I made all our table plans, orders of service, table place names and menus."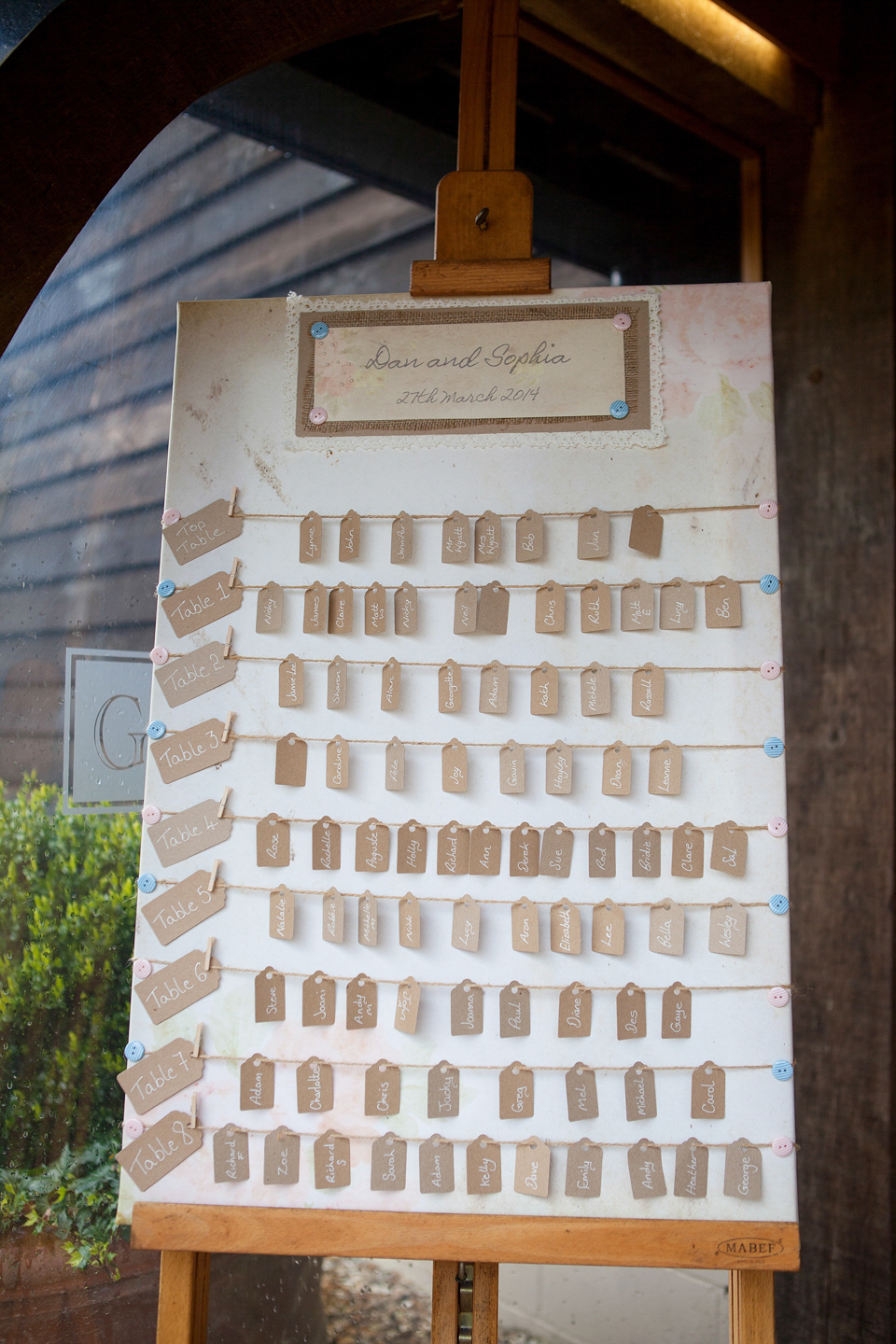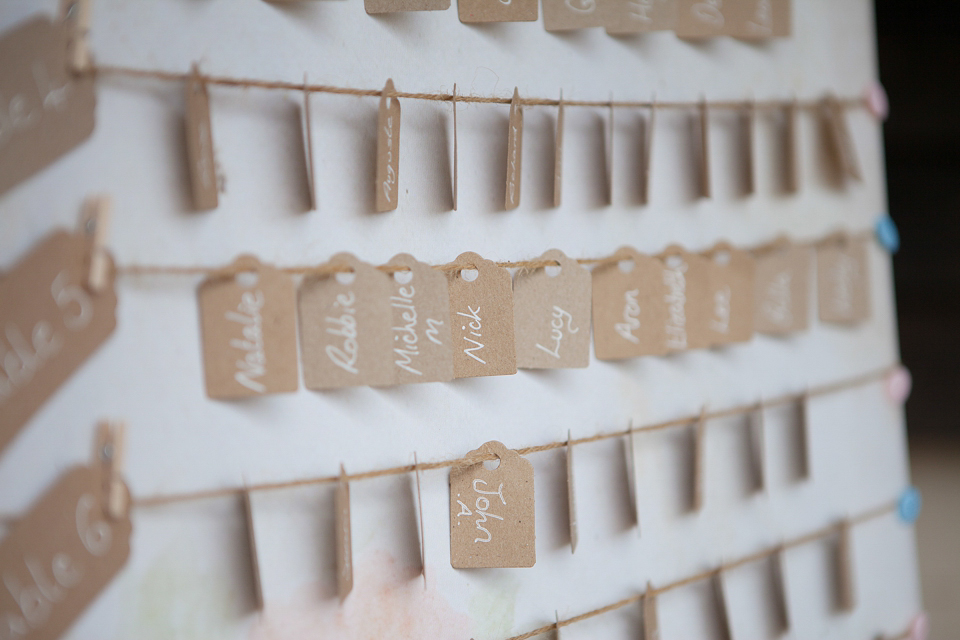 "To help decorate our venue, we used hessian and lace bunting made by my friend Jo Cole.  The vintage ladders are my dad's and the kilner jars I found whilst clearing my late great aunt's house so saved them for our wedding. I loved the idea of including my Dad's work (as a builder) as I used to love helping him at work when I was growing up.  So decorating the ladders with jars of pretty flowers seemed perfect."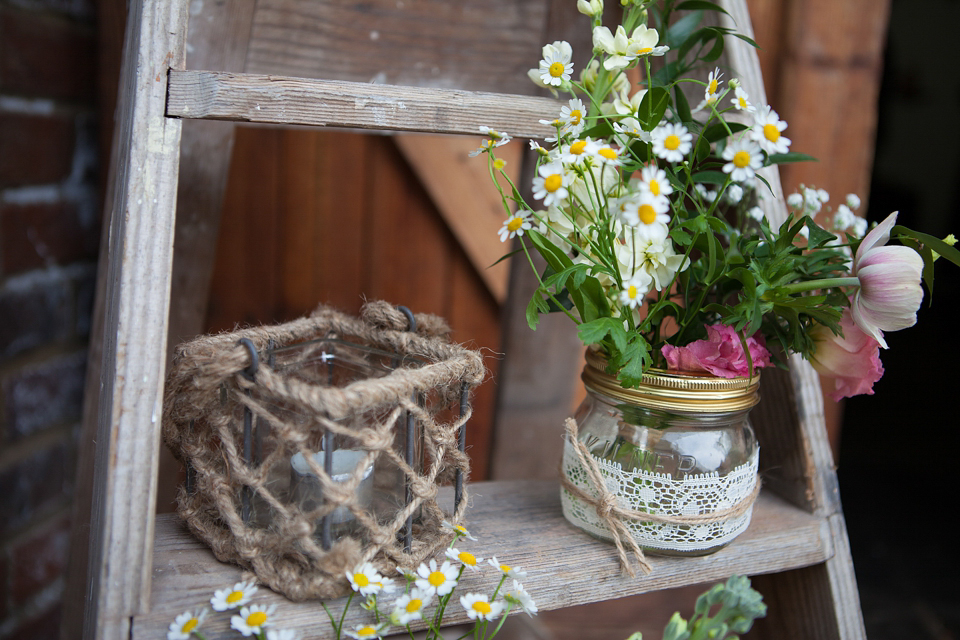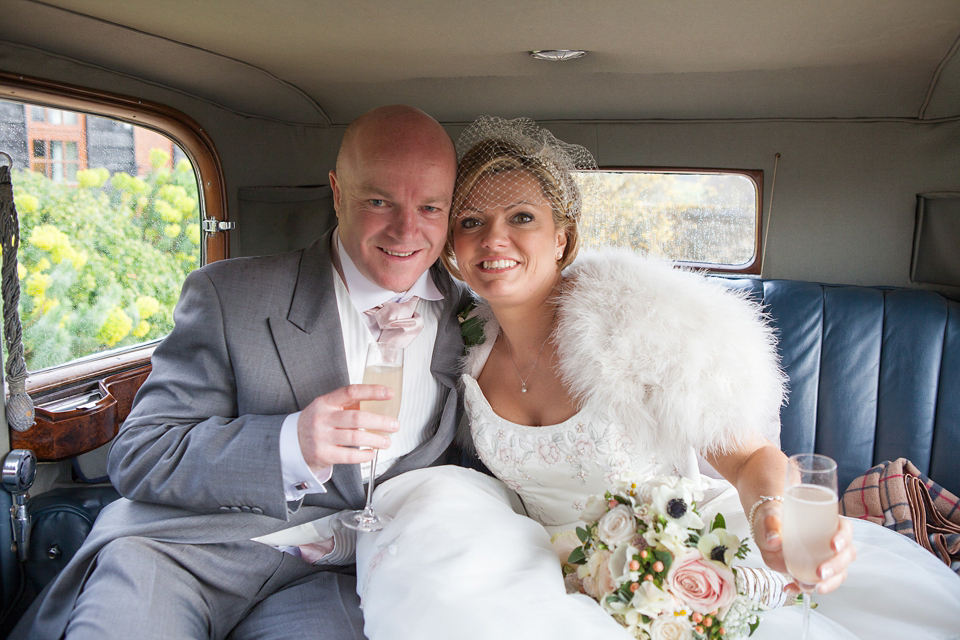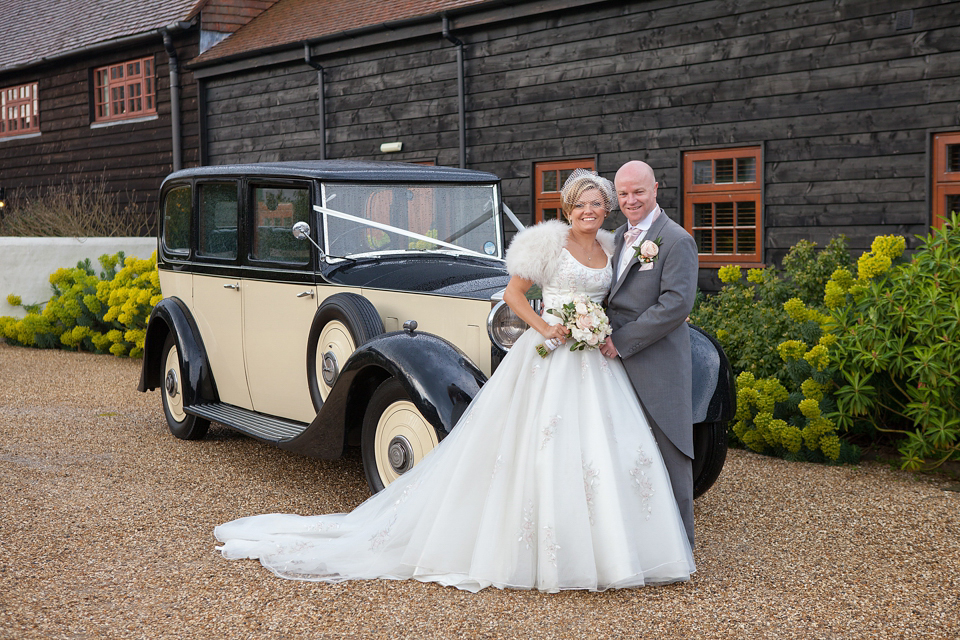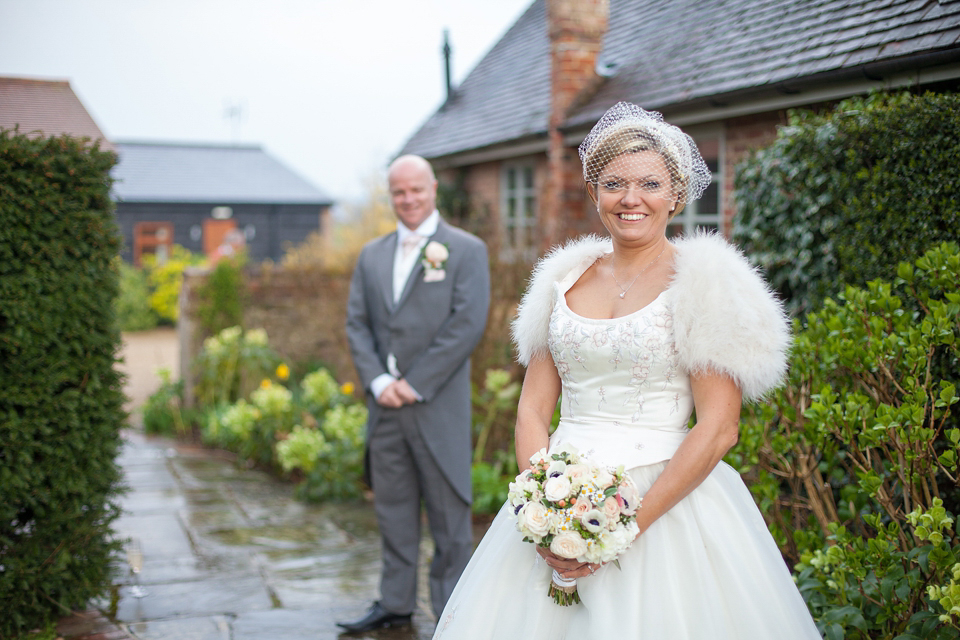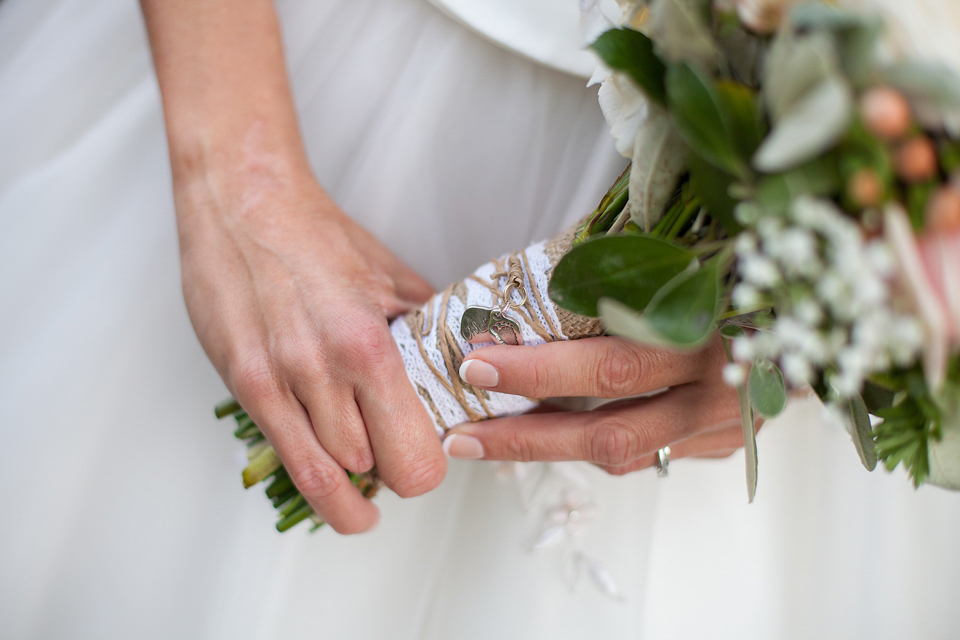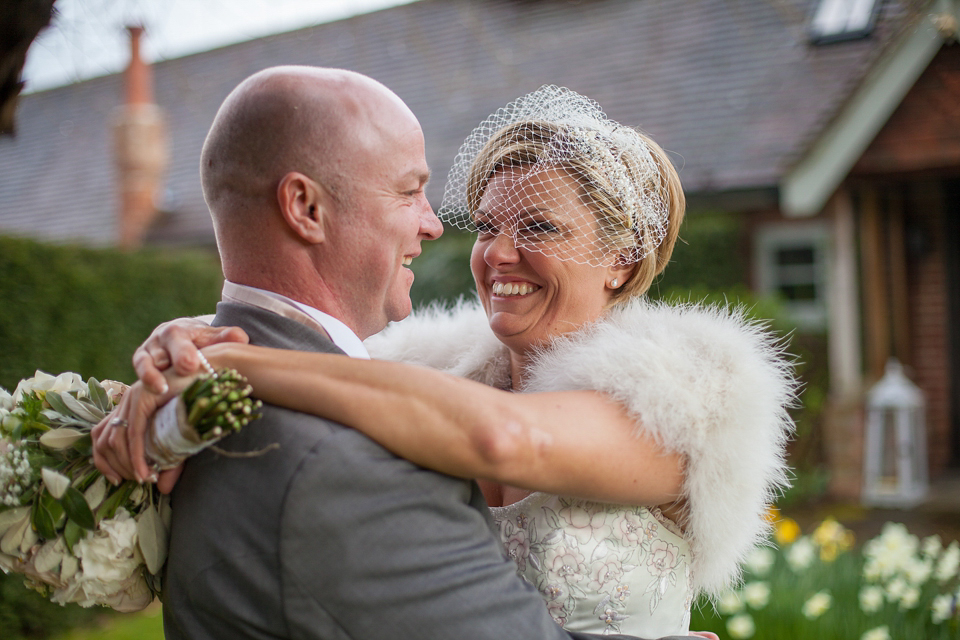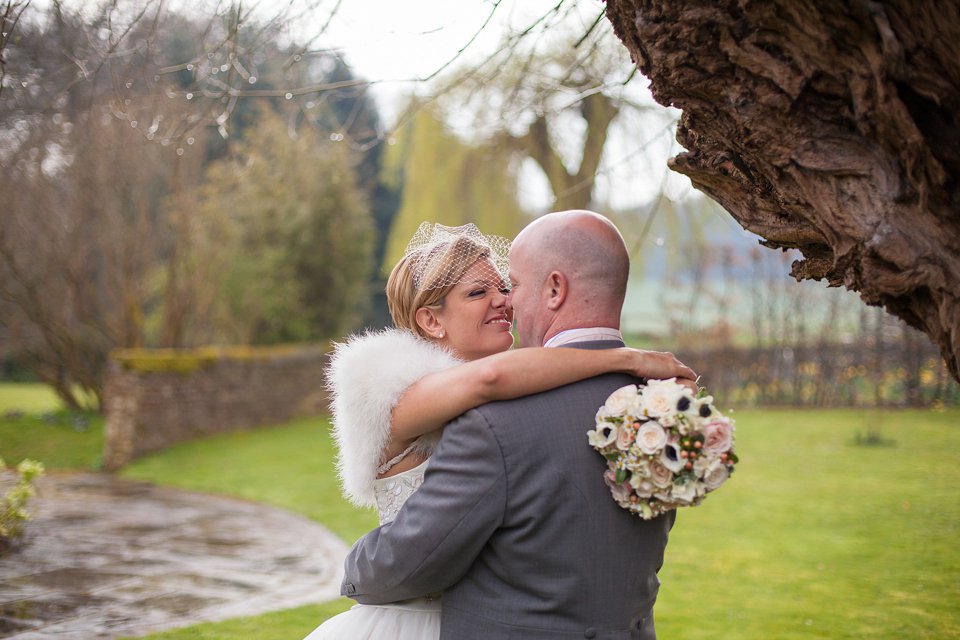 "Our photographer Victoria Gemma is one of the loveliest photographers I have worked with, she blends into the background enabling her to capture some fantastic moments, without you realising she's there, but she also makes you feel at ease and confident in her work. Whatever the weather she makes you look amazing.
Victoria is particularly good at working at speed, so kids are comfortable and you don't feel like your spending ages having photos.  She can also come to your home and take gorgeous portrait shots of you and your family; she is gifted with the ability to take amazing shots of newborns."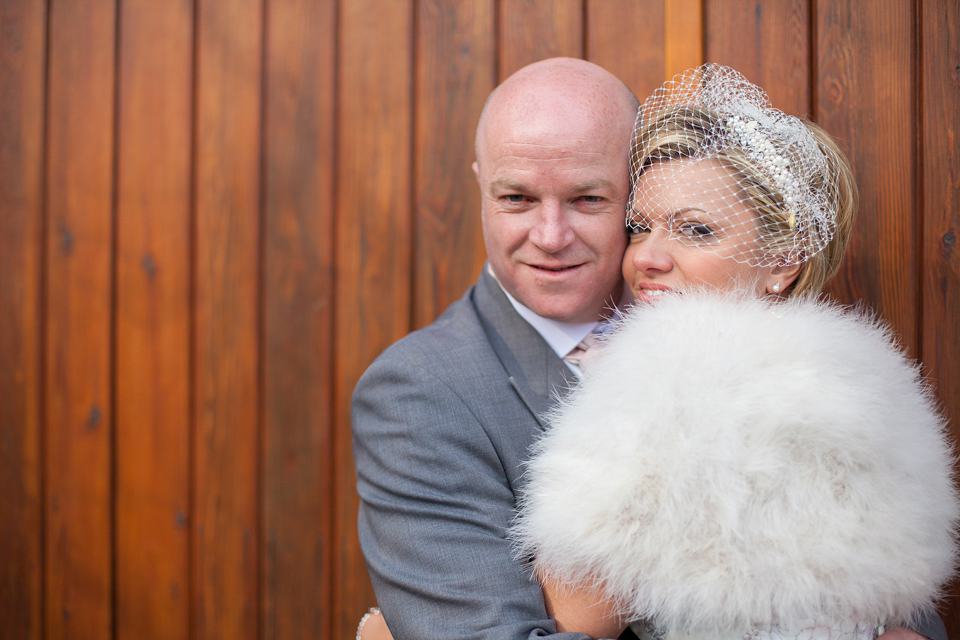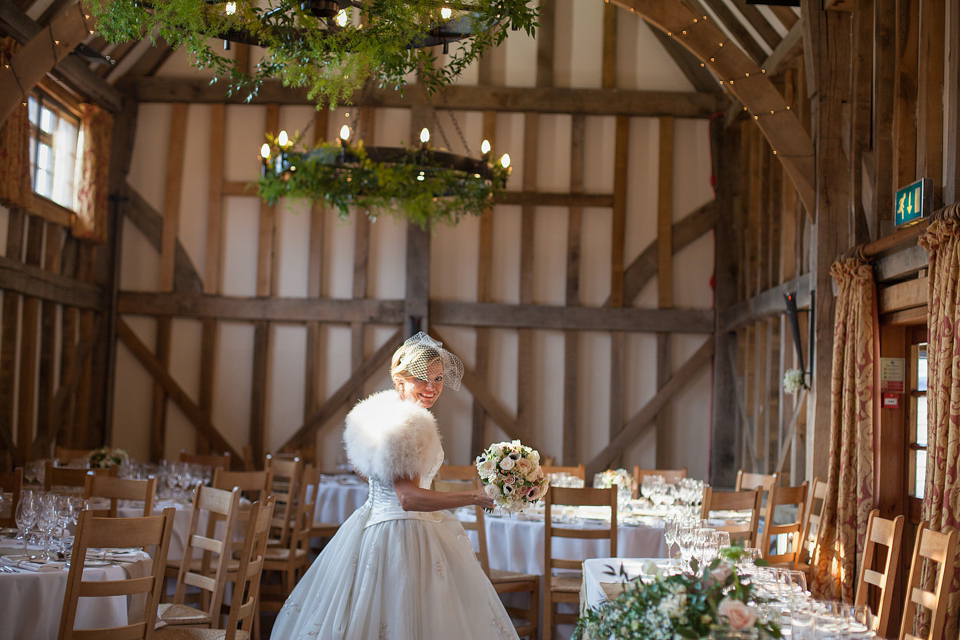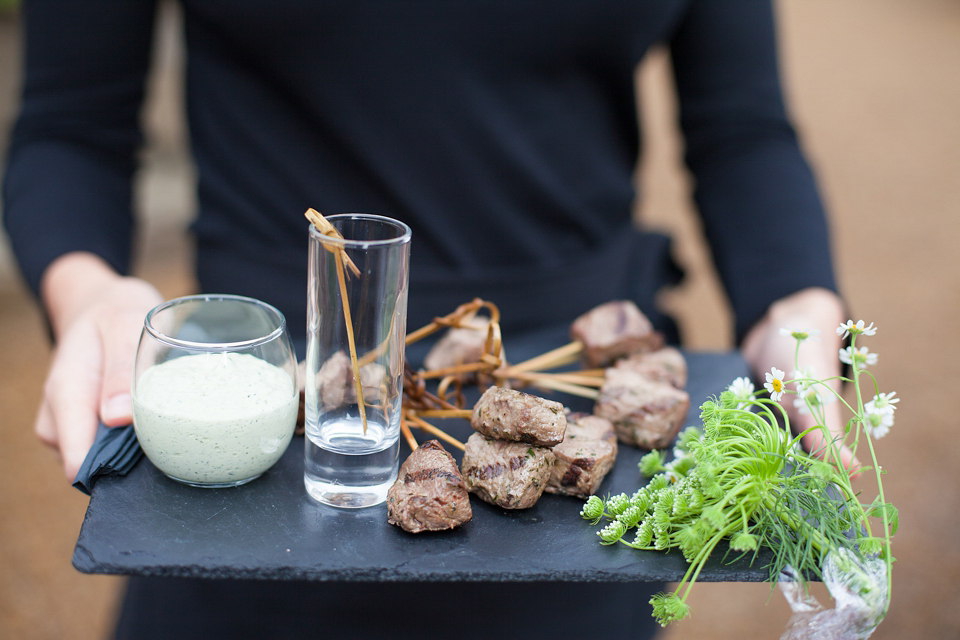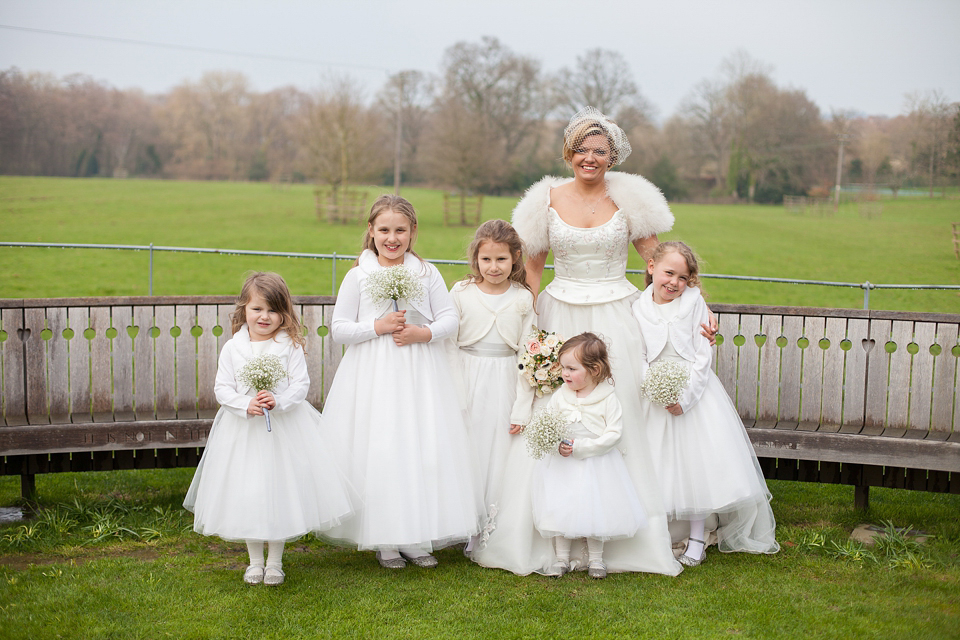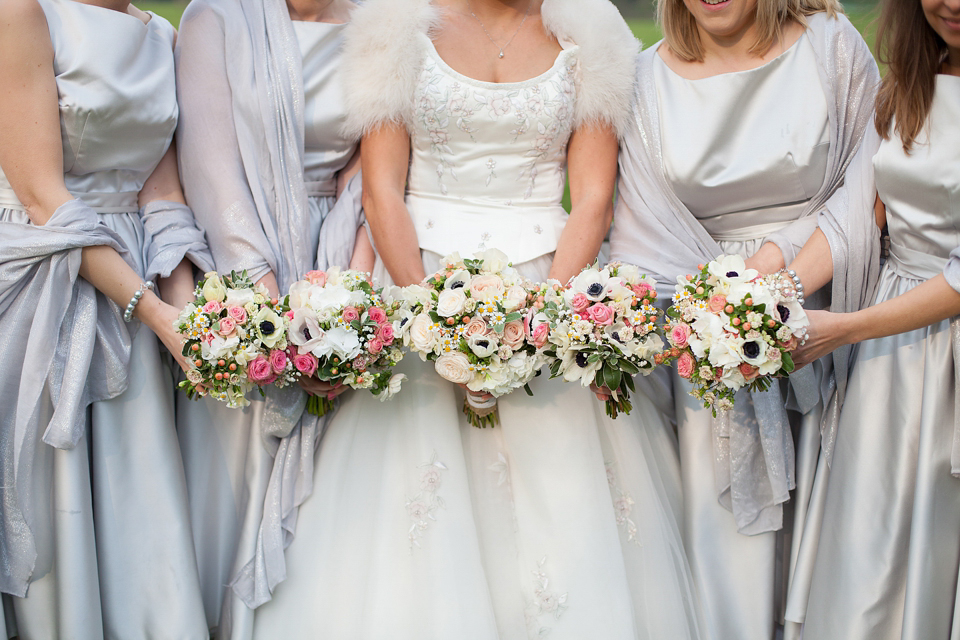 "Our caterers Kalm Kitchen were absolutely amazing I had been recommended them by my best friend and had tasted their food at their wedding, also as a fellow recommended supplier at Gate Street Barn I know the team well. From the moment we enquired until even the day after the wedding they were an absolute dream to work with. I have never seen such beautifully presented food!"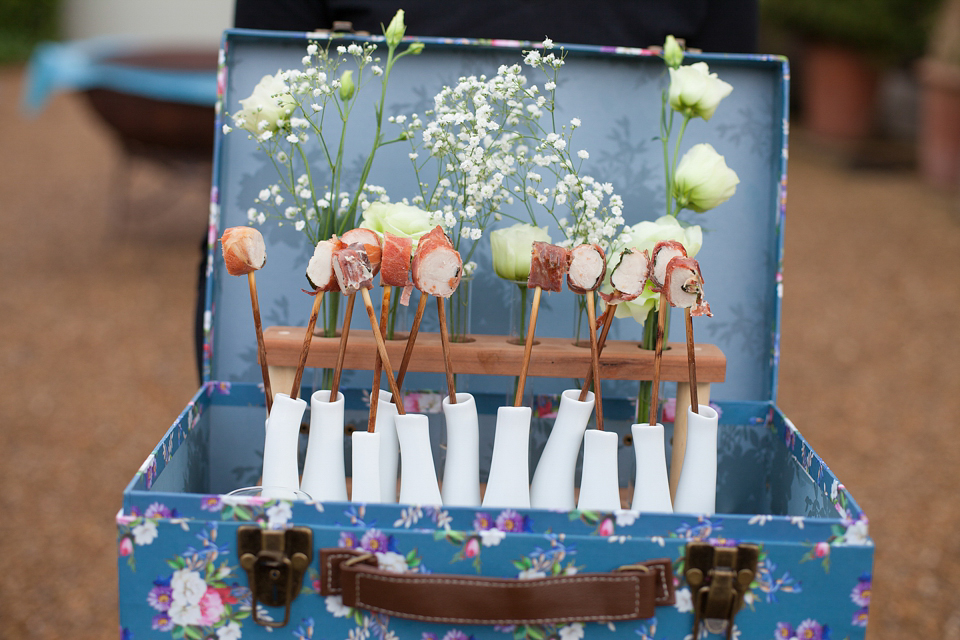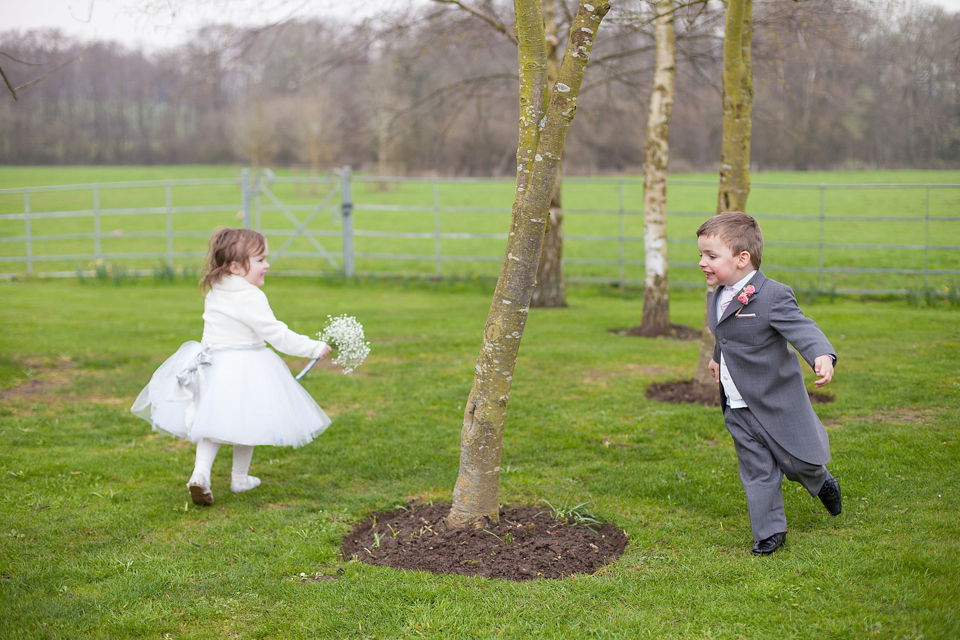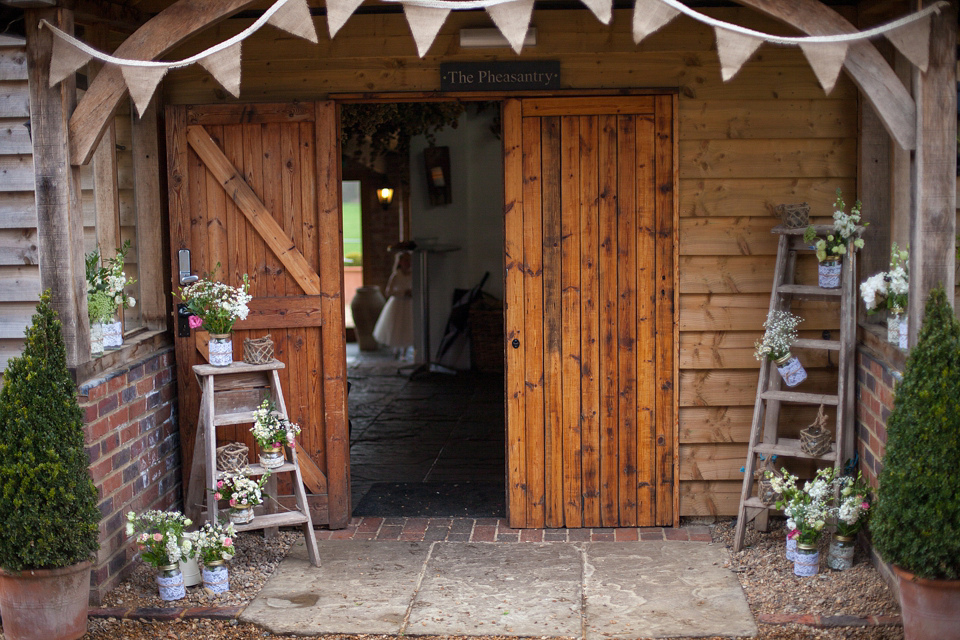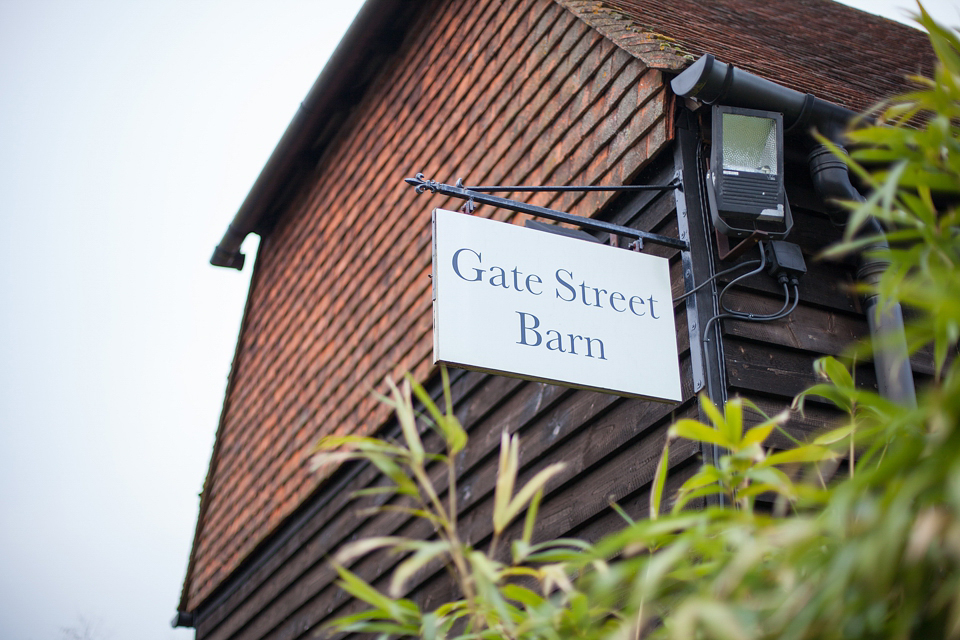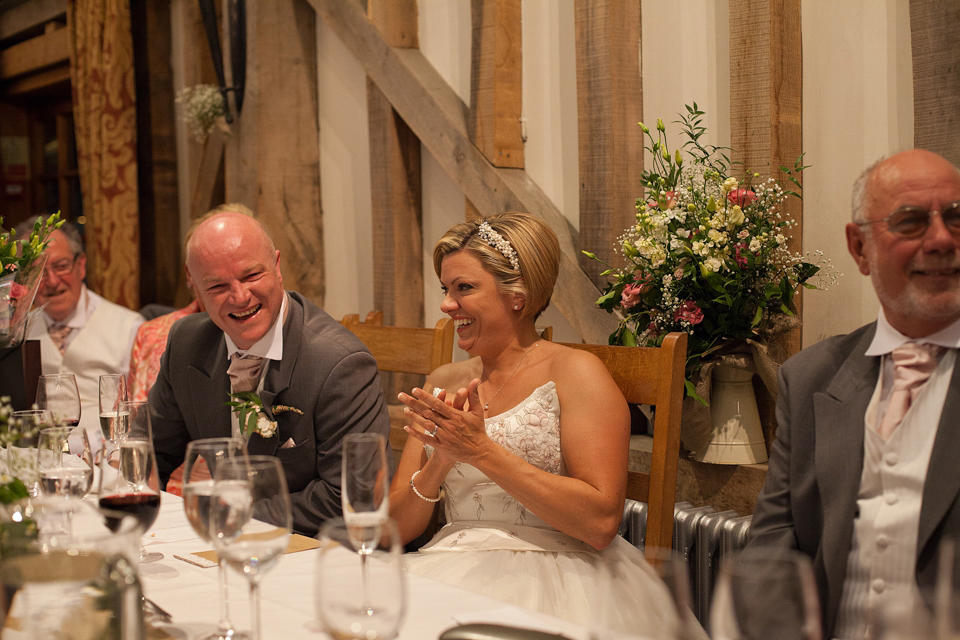 "The 19 months of Planning the day itself was my favourite part, I absolutely loved being the bride for once!  On the itself, my favourite moment was finally being called 'Dan's wife' –  and walking out of the church with him. The confetti was great fun we bought Real rose petals from Shropshire Petals."
And I just loved swooshing around in my big dress all day!"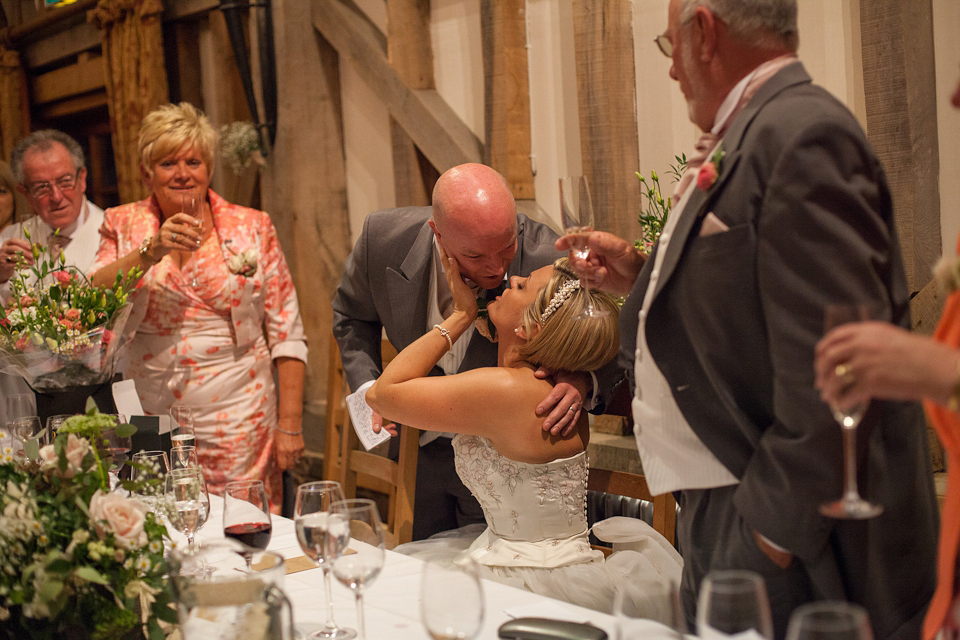 "I've never been a big cake fan and Dan was put off by the costs of having one made so we decided to opt for a sigle tier fruit cake (made by Dan's Mum) I then spent the cake budget on a gorgeous cake topper by Artlocke Design. We also had a 3 tier Chocolate and vanilla rice crispie cake as a bit of a family joke, as this was my favourite cake my mum used to make us as kids."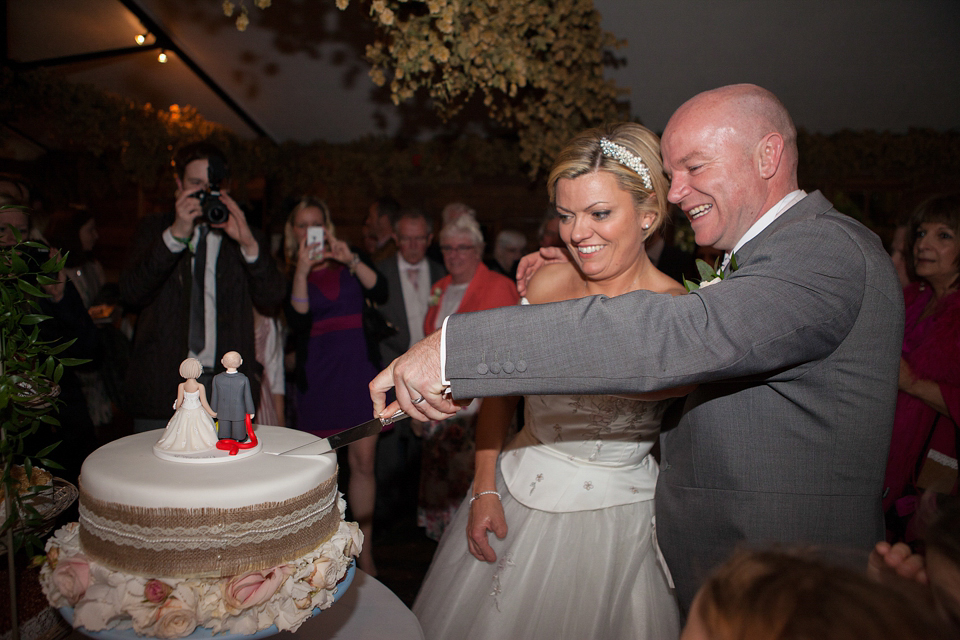 "Our first dance track was Tom Baxter's 'Better'.  Our second dance was for me and my dad and it was Stevie Wonder's 'Isn't She Lovely'.  This was no.1 when I was born and Dad always sang it to me. When Chloe died it was my Dad's gift to Dan and we played it at her funeral."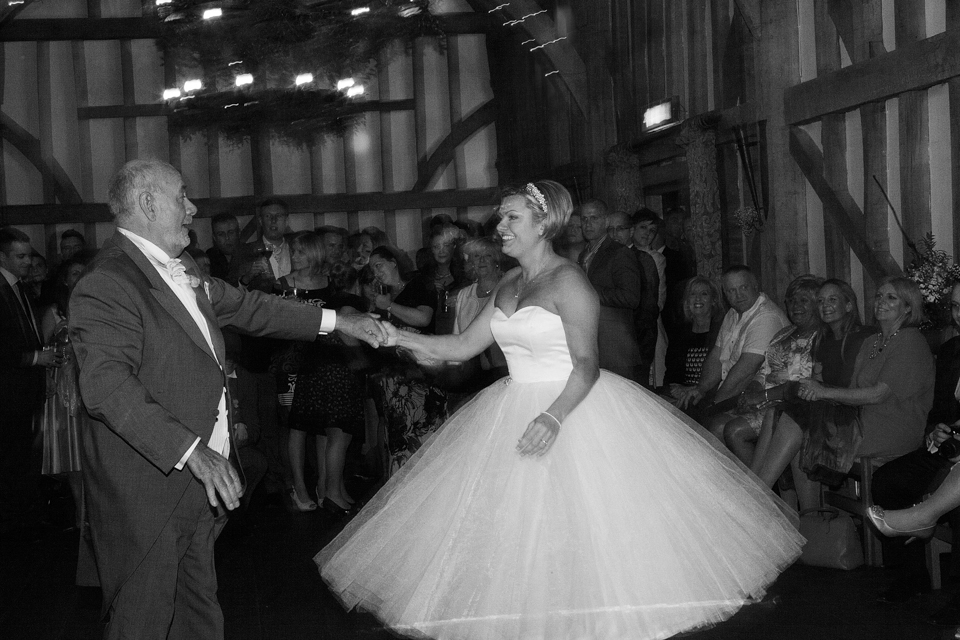 Words of Wedded Wisdom…
"Keep it simple and let the professionals do what they do. Also set aside a good budget for a photographer because the days flies by so quickly your photos are what keeps your day alive forever – I love my wedding photos.
My only bit of advice to any bride is to do all the final calls around all your suppliers, then close your spreadsheet or file and let go – let the pro's do what they do and just enjoy the day.
If anything goes wrong, you are the only person who knows what you planned, none of your guests will notice.
I spent months planning my Dad's ladders and how I wanted the jars to look, I asked a few people on the day if they liked them and none of them had even noticed them."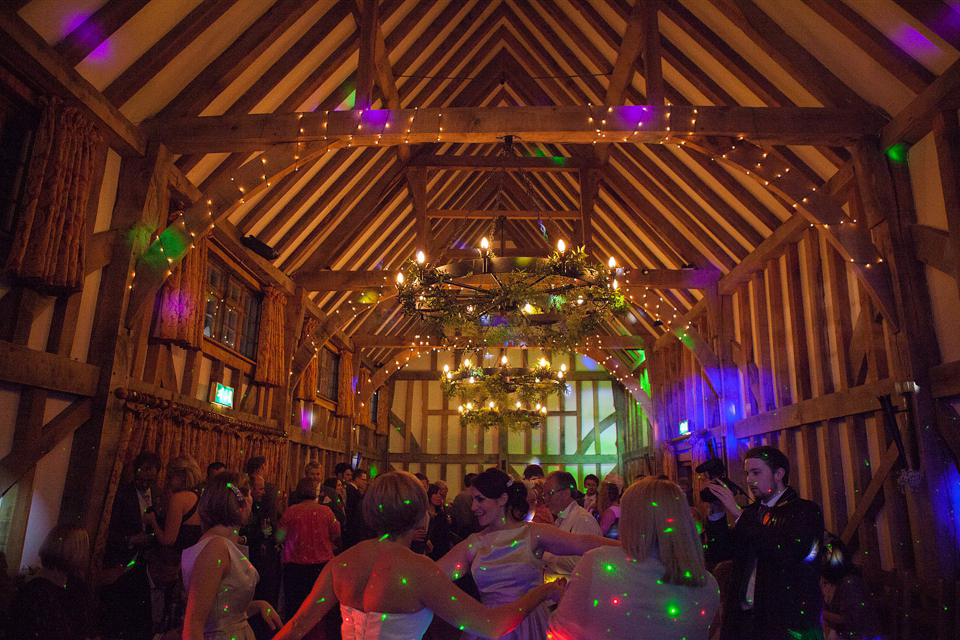 Just how wonderful is this?  I am so incredibly touched that you wrote to and connected with me Sophia – I am so in awe of your zest for life and your spirit of positivity and I am thankful that you trusted me to share your story and in so doing, inspire thousands of other women. I hope I get to meet you one day soon – lunch is my treat 🙂
What a wonderful outcome to a heartbreaking story, I am so truly honoured to be able to share Sohpia and Dan's most precious day with you all today – please show this amazing couple some love below.
For those of you who have a few spare minutes, you may wish to see this little film of the wedding day, captured by Sasha Manzanero…
I would love any of you who may be pregnant right now to visit or make a note to visit Sophia's charity, Count The Kicks.  Please spread the word about this charity on Facebook, Twitter and in conversation with your friends and families – as Sophia said earlier, awareness saves lives.  
Have a very lovely morning everyone – I hope you are feeling inspired and uplifted and ready to take on the day.
Love Annabel
Photographer – Victoria Gemma Photography
Venue – The Brooklands Hotel & Spa + St Lukes Church + Gate Street Barn
Brides Dress – Benjamin Roberts 'Chicago' Dress (now discontinued)
Brides Veil – Birdcage veil by Lily Bella
Headpiece – Pippy's Vintage
Brides's shoes – Rachel Simpson's 'Ginger' in Silver
Accessories – Crystal & Pearls
Groom's suit hire – Dapper Dorking
Bridesmaids – Honey Pie Boutique + Oasis shoes
Flowergirls – Forever Yours with alterations by Jane at A Perfect Fit'
Page Boys – Dapper in Dorking
Florist – Charlie Coaker – Lottie Lou Flowers 07557 103890
Cake – Artlocke Design
Entertainment – Magician Simon Alexander
Rings – Ernest Jones
Catering Company – Kalm Kitchen
Stationery Designer –  Lucy Ledger
Hair and make-up Artist – Sophia Wyatt (the bride)
Confetti – Shropshire Petals
Transport – Vintage Fire Engine hired via Surrey Fire & Rescue
1940's Rolls Royce – 'Emily', hired via Clover Care
Follow Love My Dress® on Google+