Hello you lovely lot!  Gorgeous, gorgeous sunshine today, I hope you get to enjoy  little of it.  If you've been reading Love My Dress® for any length of time, you'll know that at the end of every real wedding feature we include the bride's 'Words of Wedded Wisdom' – a paragraph or two that captures her best advice that she'd like to pass on to brides and other couples planning a wedding.  I love sharing Words of Wedded Wisdom – they help reveal such a fascinating insight in to the world of wedding planning from the front-line, and we regularly hear back from our readers who tell us they learned a great deal from them, or maybe even managed to avoid an unintended disaster from taking heed of them.
For a while now, I've wanted to make more of a post-wedding advice style feature based on the concept of words of wedded wisdom – a reflective piece written by recently married brides that is a slightly more extensive version of what we'd usually include at the end of our real weddings.  So today, we're launching a new regular feature called simply, 'Words of Wedded Wisdom'. What else could it be called?
I really wanted to start this series by looking back on the beautiful, bohemian wedding of Katie and Tim, that we featured back in October last year – only looking at it from a slightly different 'what went well', and 'what didn't go so well' perspective.  Katie wrote these reflections in the days immediately after her wedding so they're fresh and insightful.
Over to you lovely Katie…
(Spoiler Alert:  'None of it really matters'.)
Photography Copyright (c) 2014, Ellie Gillard
See Ellie & Tim's full wedding here on Love My Dress
WHAT I WISH I'D KNOWN ABOUT OUR WEDDING
In the run up to our wedding I remember how worked up I got about every tiny detail- when we were going to decorate the tipi and what if it rained? (cue hasty purchase of a big bright umbrella and 'wedding wellies'.)  What if our caterer cancelled? Etc etc etc. How very type A of me. For those of you stuck in that panic right now, please take some reassurance from this – it will all be fine – and if it's not fine, you really won't care and neither will anyone else.
Here are some of the things I'm glad I did and didn't do on our wedding day – none of which were planned, and yet really made the day memorable.
IN THE MORNING
What went well: Time to take it all in (and tea)
At 07.30 I head outside on my own to welcome the day with a cup of tea. It's still chilly but the sun is just beginning to warm up the air. I check out the tipi, which is already hung with my home made bunting, then make my way over to where my mum has left a basin of flowers from my parent's garden. I pull together a few of the best blooms into a couple of buttonholes. At 8am, Nadiya arrives to set up for our yoga class and I head back inside to wake up my nearly-husband with another cup of tea.
By 08.30 most of our friends and family are gathered for a group yoga class- a surprise for Tim. During our practice, my 5 year old niece squeezes my hand and mouths 'I love you'.
What didn't go so well: Not quite letting go
After the yoga class, and breakfast, I'm still trying to bring my mum and Tim's uncle up to speed on timings for the day when our lovely hair and makeup ladies arrive. I haven't even showered yet. I just need to make sure everyone knows what they are doing in the tipi.  Luckily my big brother takes charge while my mum finishes off the flowers.
What went well: Spending time
After two hours of hair and makeup (yes, really that long!) I stick my head out of the window to check on progress (curlers and all!). My brother and all the guys are trying to make sense of my plans for the tipi and I put them straight on a thing or two. The band arrive and start tuning up to our entrance music (la vie en rose) and I get butterflies. Some girlfriends stop by with fizz and we share a couple of glasses. Tim needs to come in and pick up his outfit, cue much hilarity as the girls try and set up a screen and hold up towels to hide me from view. My mum finishes the buttonholes with my bridesmaids then helps me get my dress on. My dad stops by for a hug and tells me how beautiful I look.
What didn't go so well: Er, letting go, again
I try and make sure my soon to be brother-in-law has the rings and everything he needs and help my bridesmaid fix their dresses. I can hear the increasing chatter below as more of our guests arrive- I'm running 45 minutes late for our first look, oops!
THE 'FIRST LOOK' AND BEFORE THE WEDDING
What went well: The First Look
When I see Tim for our first look, it feels like days, not hours. He takes my hand and leads me through the door to meet our guests in the garden. The band is playing and my two year old nephew is dancing with my sister in law.
What didn't go so well: Last minute panics
My schoolfriends are still stuck in heavy traffic so we hold back the service by 20 minutes. Everyone's a little confused about what the plan is but no-one seems to mind that much. We smooth it over with another drink and more music. Finally, they arrive and we can get going.
I whizz back inside for my mum to fix my veil in my hair. Tim doesn't realise and starts down the aisle with my niece – luckily he is waiting for me when I get outside.
THE CEREMONY
What went well: Letting go
As we reach the front, Tim is attacked by a wasp, and has to swat it away, swearing. Everyone laughs. My mum leads our first reading (Captain Corelli), serious and sincere. It is beautiful. Our friend Alex stands for the second reading (Pam Ayres), and the bells at the village church start to ring to celebrate another couple, almost drowning his words- more laughing.
We have our third reading, (the one- author unknown) read by my friend Laura, and I have a lump in my throat. Tim squeezes my hand and we say 'in sickness and in health'. All of a sudden, we are married.
What didn't go so well: Minor Memorable hiccups
We sing "Always look on the bright side of life", me, my husband, and my brother in law, and mix up the verses. I'm not sure anyone notices or cares. Walking back down the aisle to "King of the Swingers", I get the urge to dance and Tim is caught off guard. I trip on my veil and it falls out of my hair.
THE RECEPTION
What went well: Getting all emotional
We have plenty of time for drinks and canapés. Our lawn games are well used and everyone is getting to know each other. When we sit down for dinner, our caterer introduces each course and each is better than we could have possibly hoped (thanks again Andrew!). The tipi just looks amazing. Tim's speech makes his mum cry, and I- well, I cry all the way through mine. I am so lucky to marry such a wonderful man.
What didn't go so well: Using the same space for everything
After dinner, I realise we need to clear the tipi for the ceilidh so it's all hands to the pump to clear away tables and sweep the floor.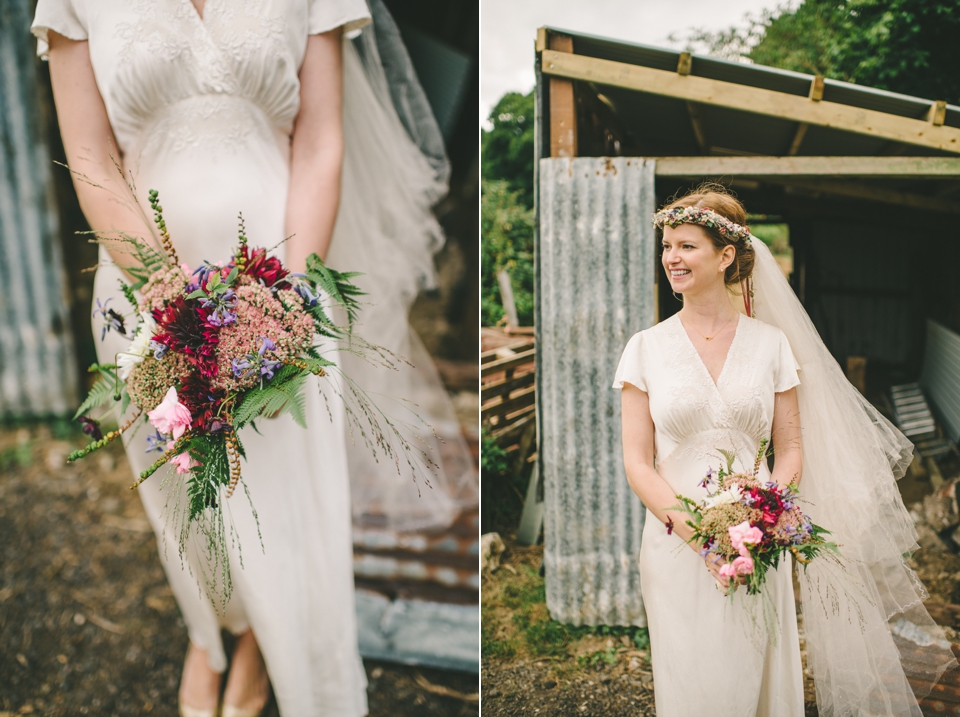 THE EVENING CELEBRATIONS
What went well: Dancing and midnight feasts
We cut the cake and the boys smoke cigars. I take a few minutes to slip into comfier shoes and touch up my makeup. Then we dance, and dance some more. We have even more guys than girls on the dancefloor, so they dance with each other. The buffet is brought out and the pork pie is out of this world. We light the fire in the tipi and those who aren't dancing huddle round gossiping. We round off the evening with sparklers.
What didn't go so well: Transport…
The taxis turn up, then go again. Tim rings the taxi company and persuades them to return.
What went well: Being the last ones standing
The laggards head into the lounge, where we are treated to an impromptu concert from two of our friends. Soon everyone is singing along to "Wonderwall" as we polish off the stilton and cake. At 3am, we slip into bed.
Katie & Tim on their honeymoon
So there you have it my loves – and the resounding message from Katie appears to be let it go and don't allow yourself to worry on the day; none of the worrying matters.
I'll be inviting our recently or may be not so recently married readers to contribute to this feature – keep an eye out on our Facebook page for further details.  In the meantime, I'd love to read your feedback on Katie's advice above. Does any of it strike a chord with you?  Might you have any particular questions you'd like to ask? Can you relate to any of what Katie says?
Big post-wedded bliss love,
Annabel x
Follow Love My Dress® on Google+