Could the sunlight have been anymore perfect than at this enchanting country garden and modern Indian influenced spring wedding, that we have for you to swoon over today? A simply beautiful celebration of love with pretty vintage touches, natural florals, henna, bunting, hessian and lace, a grand piano, the words of a velveteen rabbit and oh my, a stunning, bespoke, pale green and pink embellished silk, indian wedding dress, all captured so perfectly in these images by photographers Sarah-Jane and Matt Ethan.
Miya and Stuart were married on the 19th April 2014, a sunshine filled spring day in the unique setting of Hexham Winter Gardens, Northumberland. The day is weaved throughout with delicate and warm spring blooms and a veritable bevy of lovingly handmade details. Miya is the first to admit that they became an item with a little help from their friends and it is such a joy to see how that help continued through to the day. So many of the details are made by the couple, their family and friends and quite incredibly in just the 6 months they chose to organise it all! It's also quite wonderful to be able to share with you the real life wedding of a Love My Dress reader.
"Because I am half Indian, I knew I wanted an Indian outfit. A lot of Indian outfits are very bright and bold but with us having a spring wedding I knew I wanted spring colours."
Photography Copyright (c) 2014, Sarah-Jane and Matt Ethan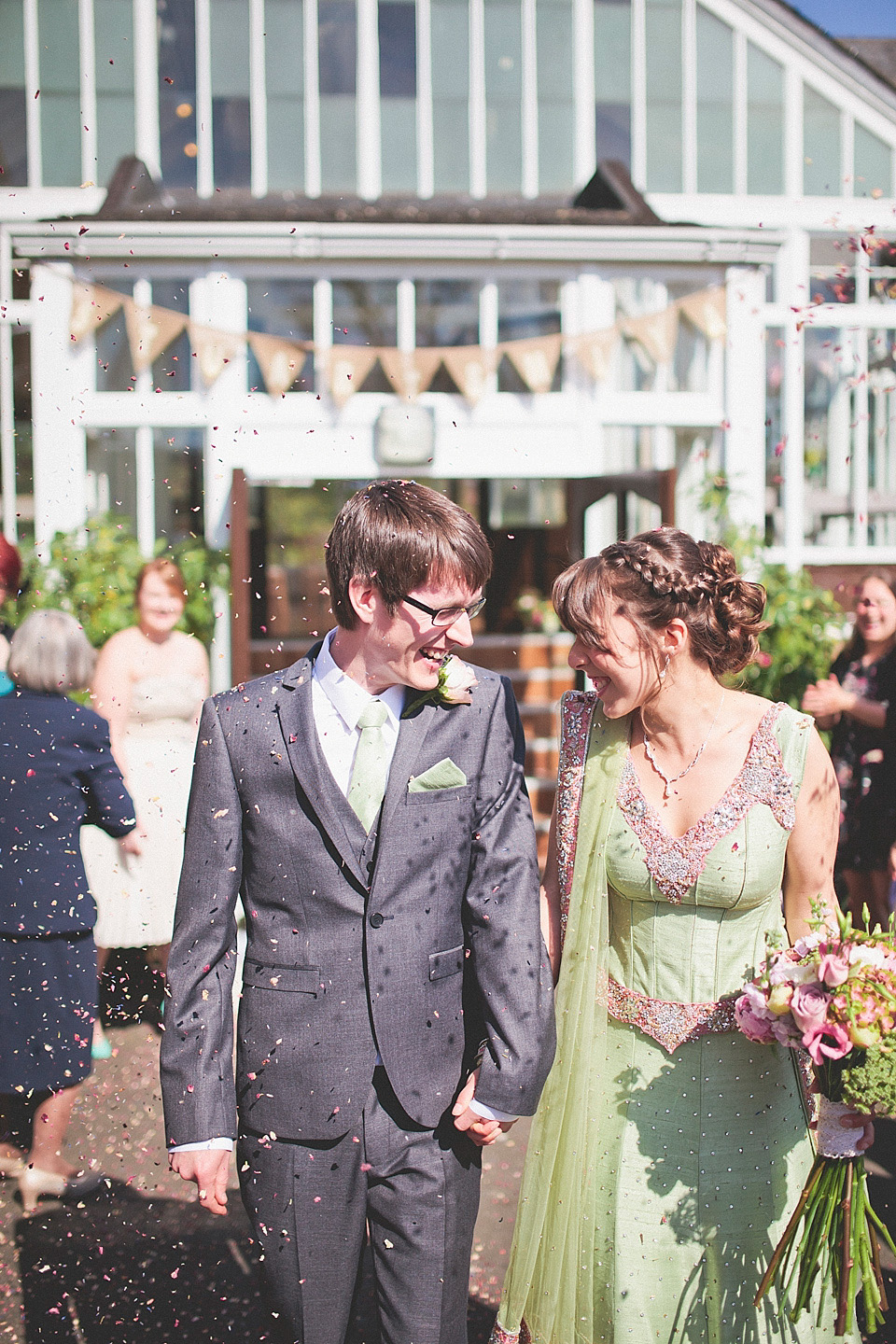 "I really wanted a natural, just picked looked for the flowers and I didn't want a colour scheme. I would have loved to do them myself but with making so many other things and having a henna party at my house for all my family the day before I knew I wouldn't really have time. I came across Libby and Joseph's wedding at the Winter Gardens on Love my Dress and was in touch with Libby from 'Love and Little things' about hiring lights and bits and bobs from her but I loved her flowers so much I cheekily asked her for her florists contact details – who turned out to be 'Camellia Grey'.
One of my friends said she thought that the flowers looked like they had been handpicked from a beautiful meadow – which was just the look I was going for. The flowers were absolutely perfect and really made the venue come alive."
Miya's hair accessories, earrings and necklace were all from a range by Debenhams and those utterly, utterly gorgeous shoes are a little piece of heaven by Rachael Simpson from Arabesque.
"I fell in love with my shoes as soon as I saw them on-line, they matched perfectly with my outfit and had a lovely vintage feel to them. I ordered size 3 but they were too big – luckily they do size 2 but they were a little too tight so I kept wearing them before the wedding to stretch them!"
Miya and Stuart chose Sarah-Jane and Matt Ethan to capture their day;
"SJ and Matt were absolutely brilliant.  We really didn't want forced, posed pictures but ones that really captured the atmosphere of the day. All the pictures of people laughing and having fun tell so much of a story, remind you about what you were giggling about and helps you capture great memories rather than just record who was there!  I hate having my pictures taken but I can't stop looking at our wedding photographs – which is definitely a first!
I love the relaxed, natural feel to the pictures and they have captured all the little things too, all things me and my family enjoyed making and I desperately didn't want to forget them and now definitely won't!"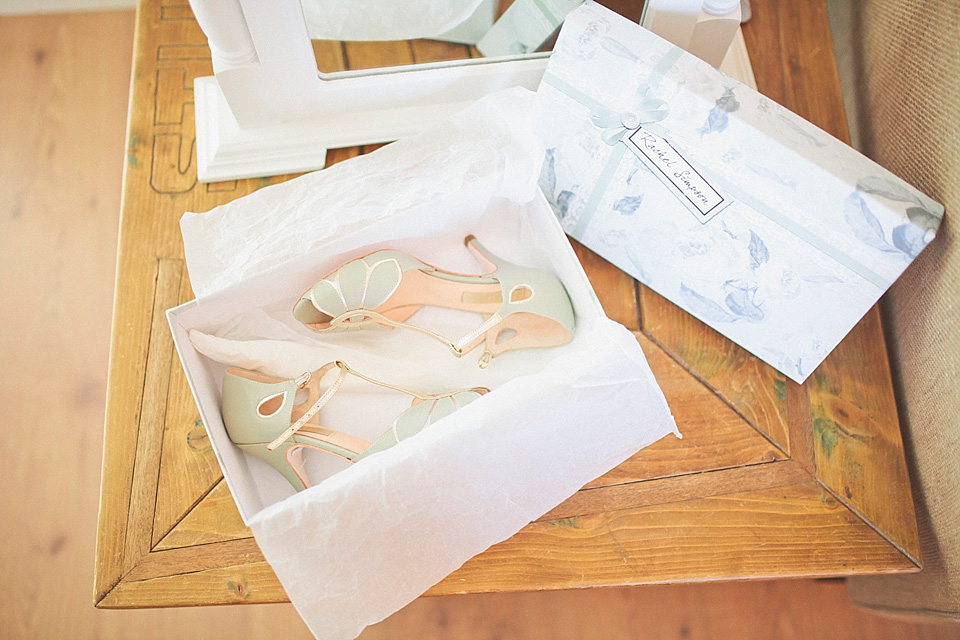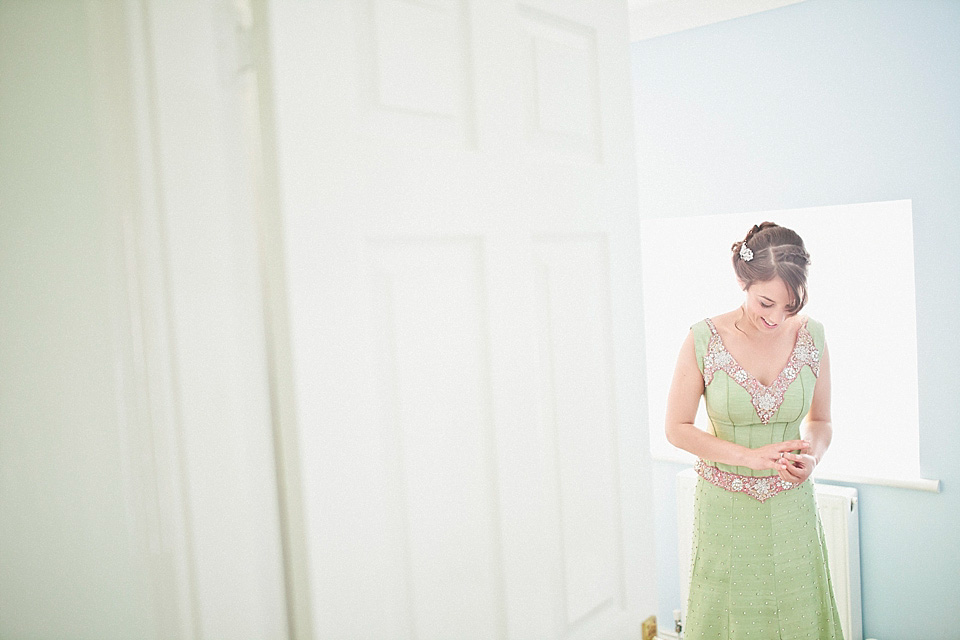 In homage to her Indian heritage, Miya wore the most beautiful pale green silk Indian inspired gown.
"It quickly became apparent that there was nothing available in the colours I wanted. I then visited the Rangoli shop in Wembly – who specialise in Indian saris and Indian occasion wear – the owner told us that the outfits were handmade in India to our requirements so I picked a basic design and altered it. I really liked the idea of having a raw silk, pale green outfit with pink detail so I added those colours and tweaked the outfit until it was perfect for me.
I love how unique my outfit was and that I had such an input into the way it looked. I actually felt like a princess on the day!"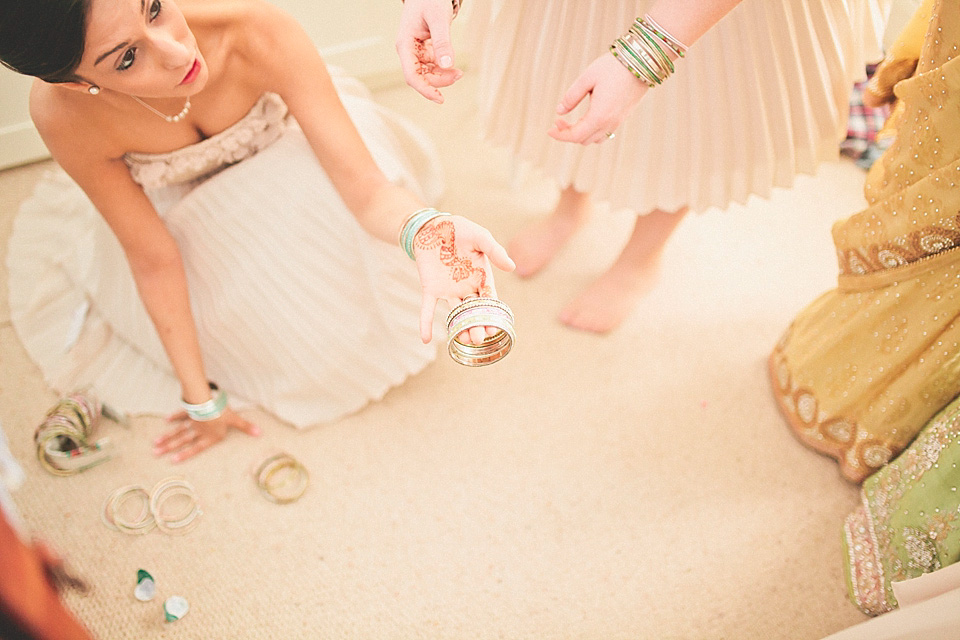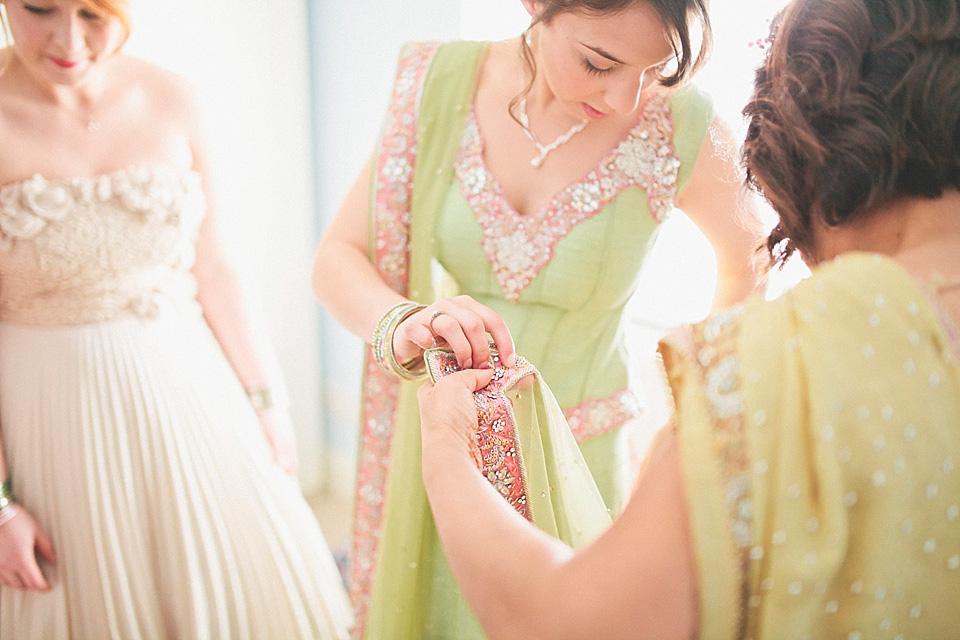 "Helen and Sarah from Transcend in Hexham did my hair and make-up. Helen was really patient with me when I had three hair trials but we all sighed a huge sigh of relief when it came together perfectly on the day, I really loved my hair. Sarah was brilliant with my make-up; I don't usually wear make-up and she kept it really light and natural."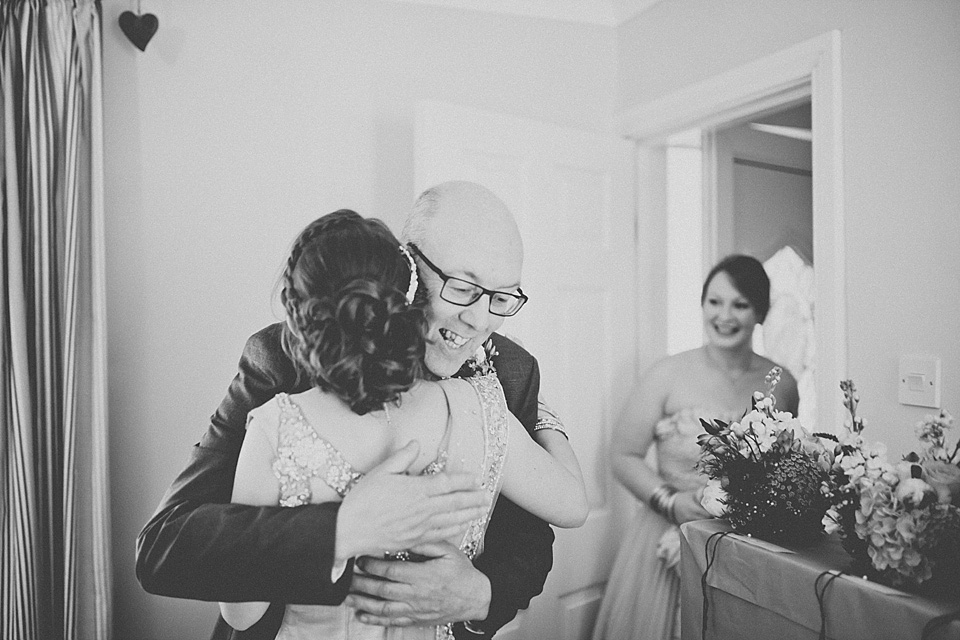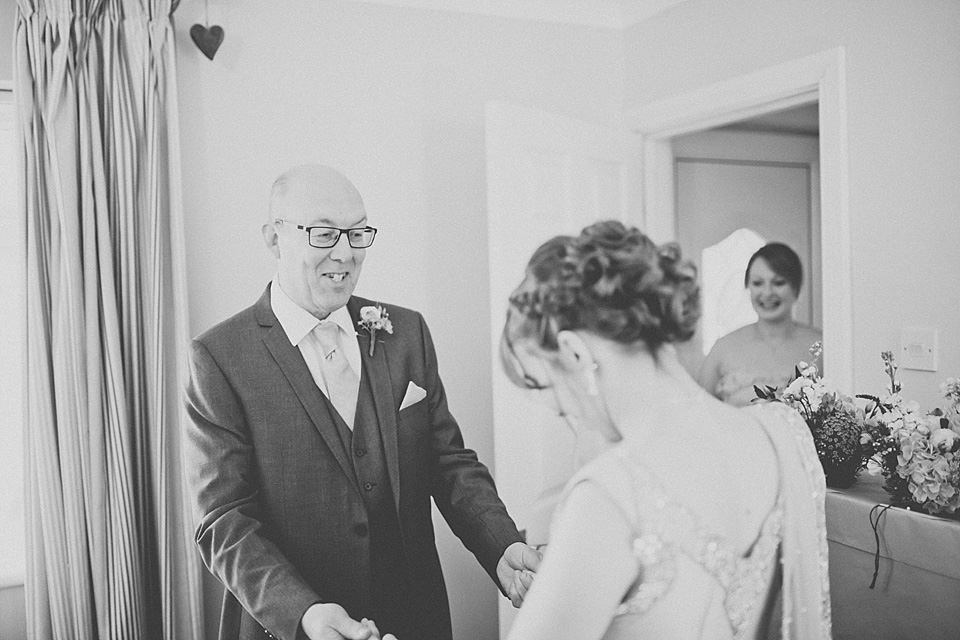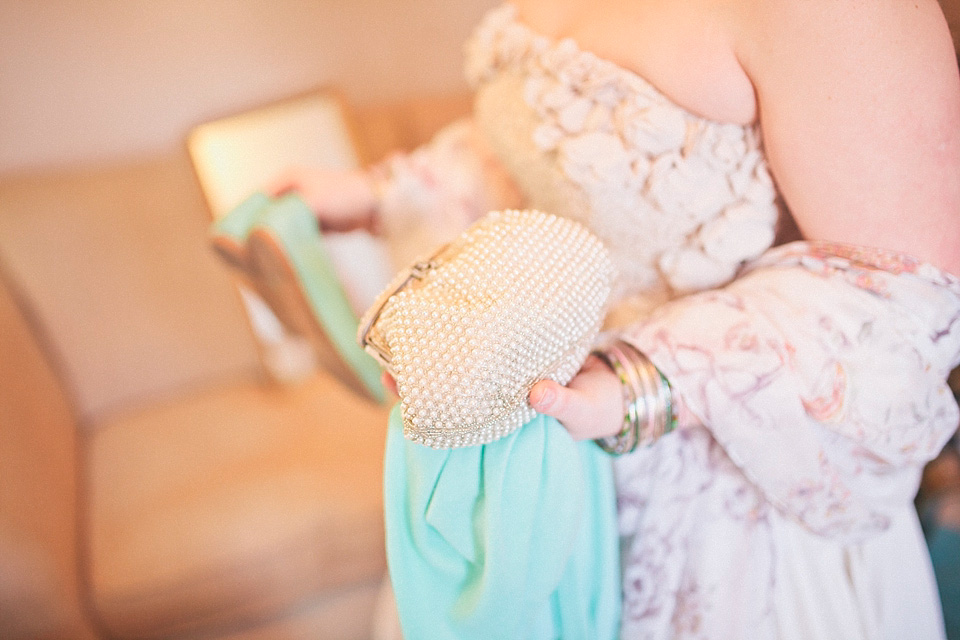 "Stuart and I actually met at Durham University about 7 years ago; we were friends for a while but were too shy to say we liked each other so our friends had to help us out! We got engaged at the end of October and were engaged for about 6 months before the wedding. We knew we didn't want a long engagement – we just wanted to be married!
We didn't look at any other wedding venues – we just fell in love with Hexham Winter Gardens because it was so light and bright. The floor had just been polished that week too and was perfect. We also hired the walled gardens at the school for a few hours and got some beautiful pictures in there"
Emma and Nadine from Camellia Grey were brilliant. They had so much time for me and completely understood the lookI was going for. I loved that they were so bright and colourful. I absolutely loved the ranunculus and when my mum and I went down to the local garden centre a few days before to get some plants for the penny farthing I was so happy that they had some ranunculus' in. The freesias were also very special to me as they reminded me of my great grandma.
I really wanted the flowers in jugs and jam jars for a relaxed, natural, country garden look, all my family had been collecting jars for us and we all sat down and decorated them together. I had also found lots of old bottles when walking the dogs and they worked brilliantly on the card table."
Miya walked down the aisle with her lovely Dad to the song 'Wherever you may go' by Charlene Soraia. "Stuart and I loved the lyrics and the peacefulness of the song."
Miya and Stuart chose two readings for their ceremony that they found after searching online for inspiration.
"Stuart's sister read the poem, 'The Key to Love' and my brother read a lovely extract from The Velveteen Rabbit. I had been looking for different readings and came across the Velveteen Rabbit and fell in love with it, it was just perfect"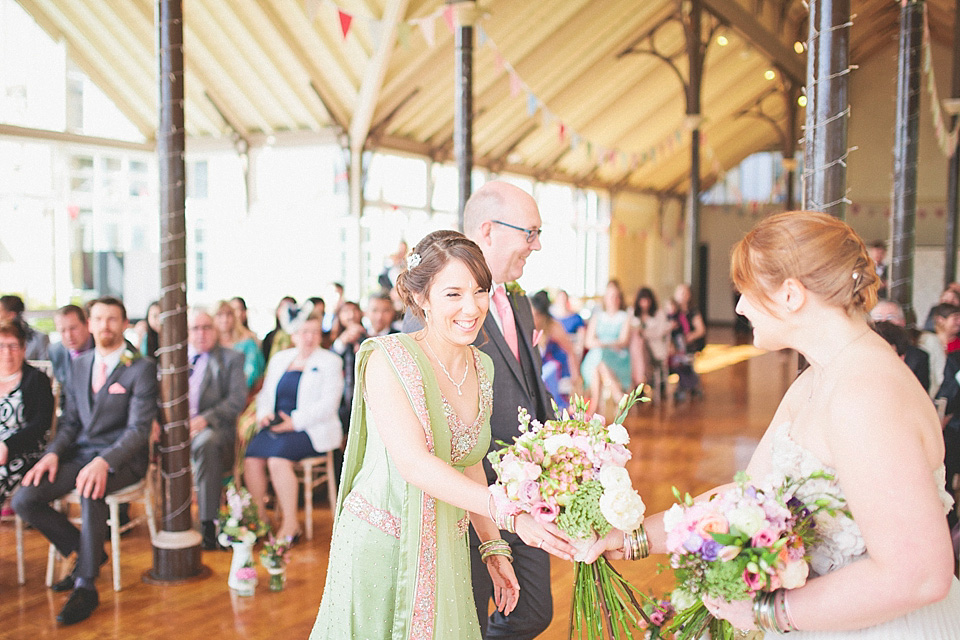 Excerpt from The Velveteen Rabbit (Margery Williams)
"What is REAL?" asked the Rabbit one day, when they were lying side by side near the nursery fender, before Nana came to tidy the room. "Does it mean having things that buzz inside you and a stick-out handle?"
"Real isn't how you are made," said the Skin Horse. "It's a thing that happens to you. When a child loves you for a long, long time, not just to play with, but Really loves you, then you become Real."
"Does it hurt?" asked the Rabbit.
"Sometimes," said the Skin Horse, for he was always truthful. "When you are Real you don't mind being hurt."
"Does it happen all at once, like being wound up," he asked, "or bit by bit?"
"It doesn't happen all at once," said the Skin Horse. "You become. It takes a long time. That's why it doesn't happen often to people who break easily, or have sharp edges, or who have to be carefully kept. Generally, by the time you are Real, most of your hair has been loved off, and your eyes drop out and you get all loose in the joints and very shabby. But these things don't matter at all, because once you are Real you can't be ugly, except to people who don't understand."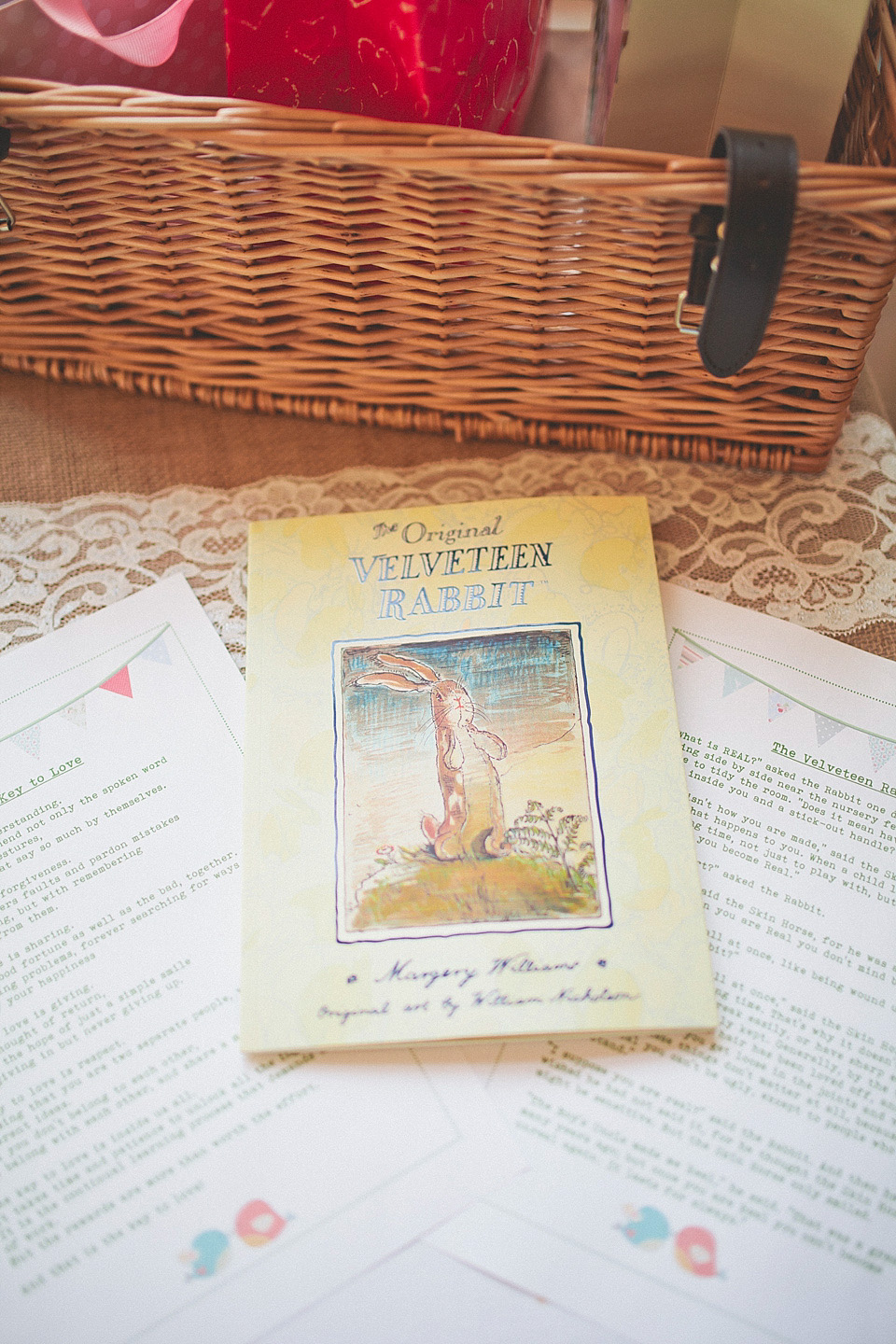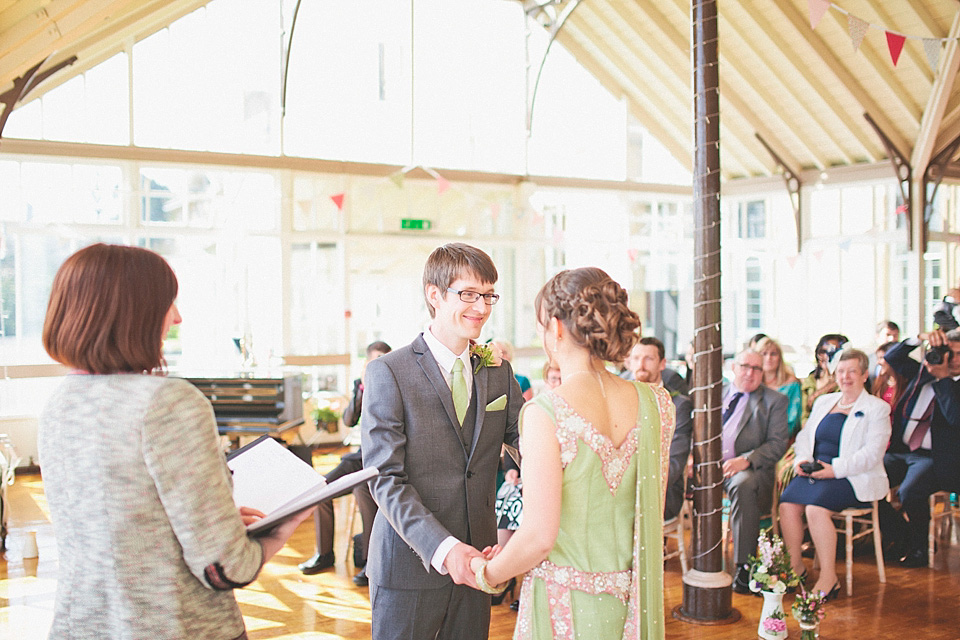 The Key To Love (Author Unknown)
The key to love is understanding…
The ability to comprehend not only the spoken word
But those unspoken gestures,
The little things that say so much by themselves.
The key to love is forgiveness…
To accept each others faults and pardon mistakes
Without forgetting, but with remembering
What you learn from them.
The key to love is sharing…
Facing your good fortune as well as the bad, together.
Both conquering problems, forever searching for ways
To intensify your happiness
The key to love is giving…
Without thought of return,
But with the hope of just a simple smile
And by giving in but never giving up.
The key to love is respect…
Realising that you are two separate people, with different ideas.
That you don't belong to each other,
You belong with each other, and share a mutual bond.
The key to love is inside us all…
It takes time and patience to unlock all the ingredients.
It is the continual learning process that demands a lot of work….
But the rewards are more than worth the effort…
And that is the key to love!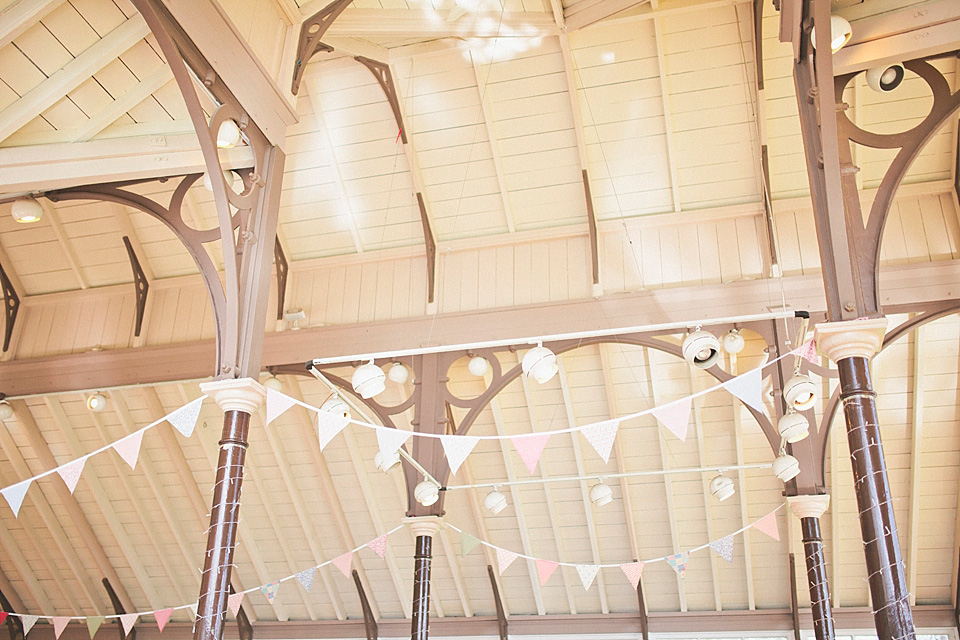 "My rings were made by Old Eldon Jewellers in Newcastle, it feels really special to know they were handmade just for me, I loved the design of the engagement ring and I wanted the wedding band to fit with it. Mark was brilliant at coming up with various designs to make them fit.
Stuart wasn't quite as bothered about his wedding band! He bought his for £10.99 from Amazon! He just wanted one that was durable. He ordered a number of different sizes to get the right one and as it is Titanium and can't be re-sized he has kept some bigger in case he puts lots of weight on!"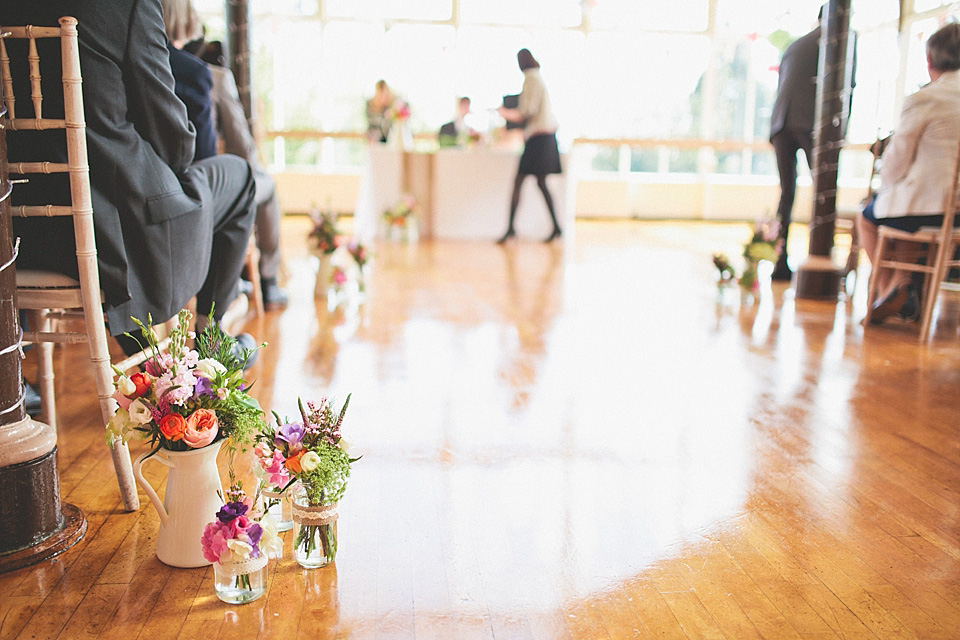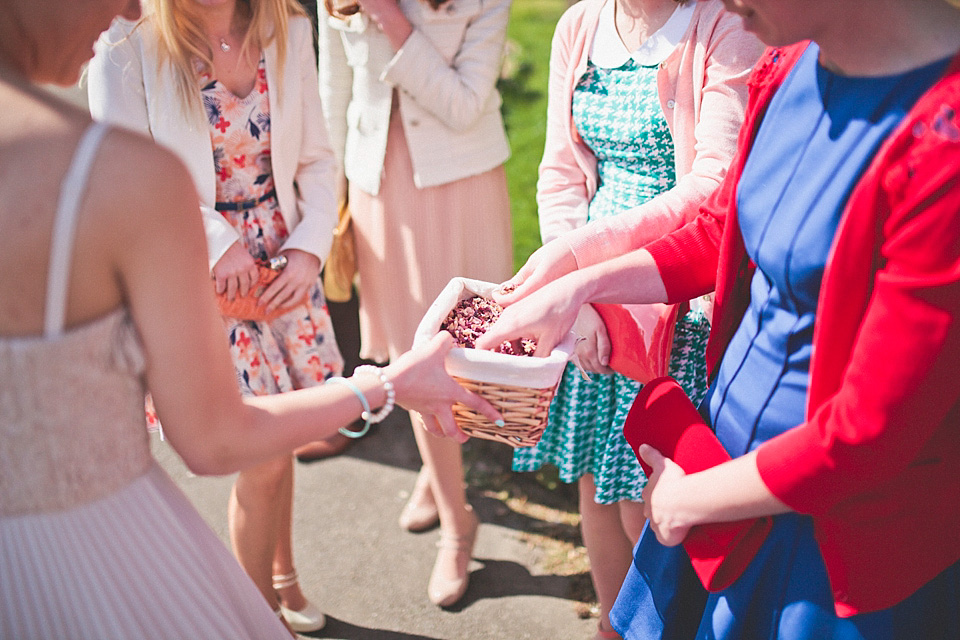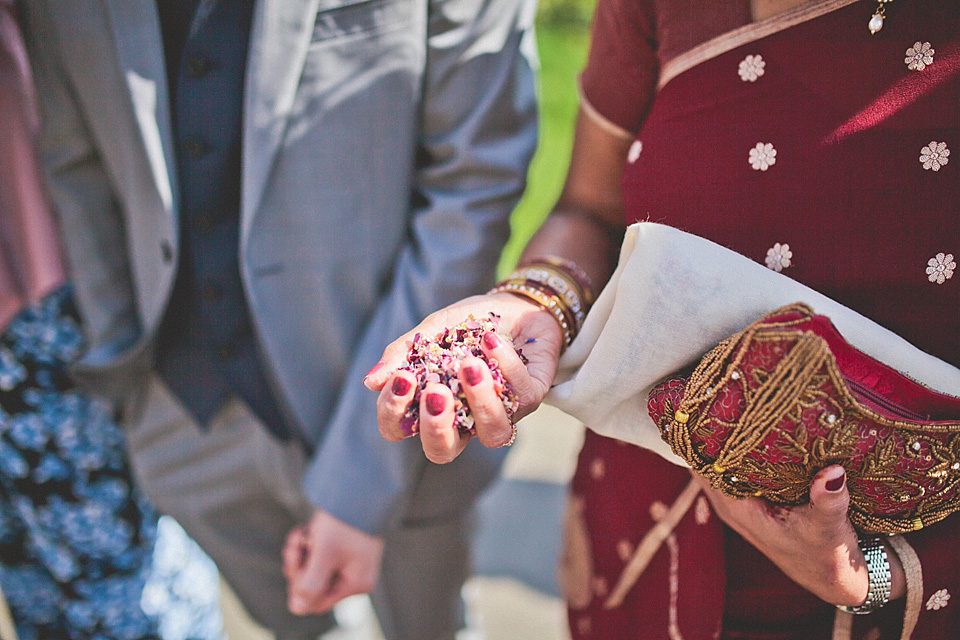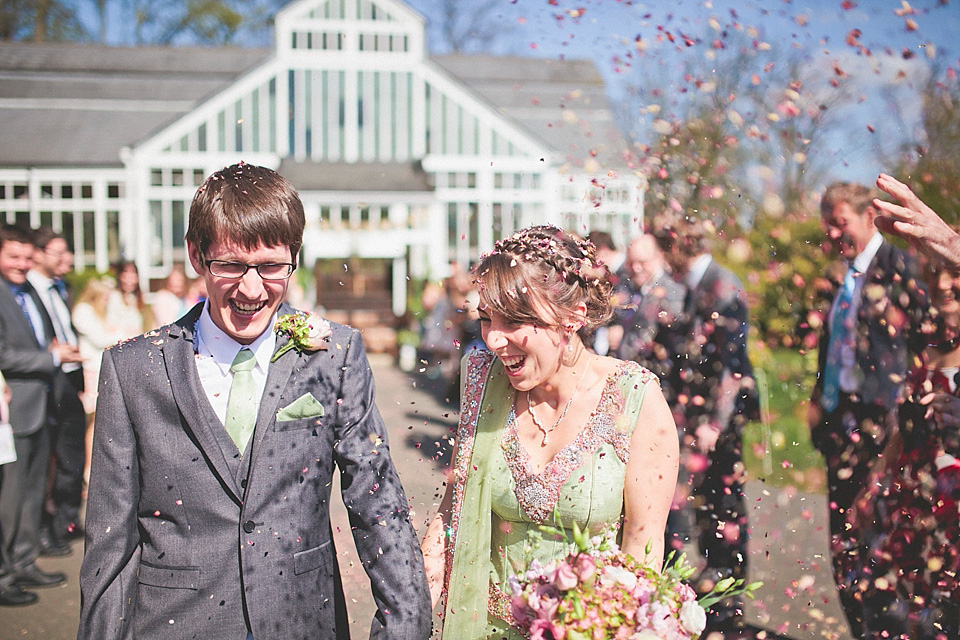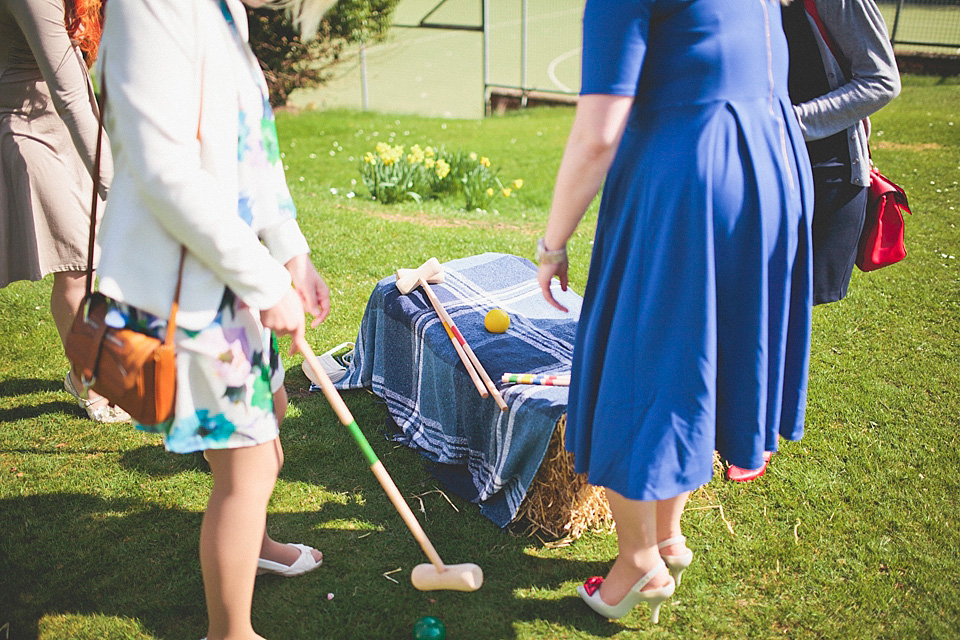 The bridesmaids prettily embellished and delicately pleated dresses were from Coast and super stylish shoes from New Look and Faith.
"I didn't want a colour scheme or for everything to have to match too much and I didn't want the bridesmaids to be forced into things they didn't like. We all chose the dresses together and then they picked whatever shoes and jewellery they wanted and do their hair however they wished too."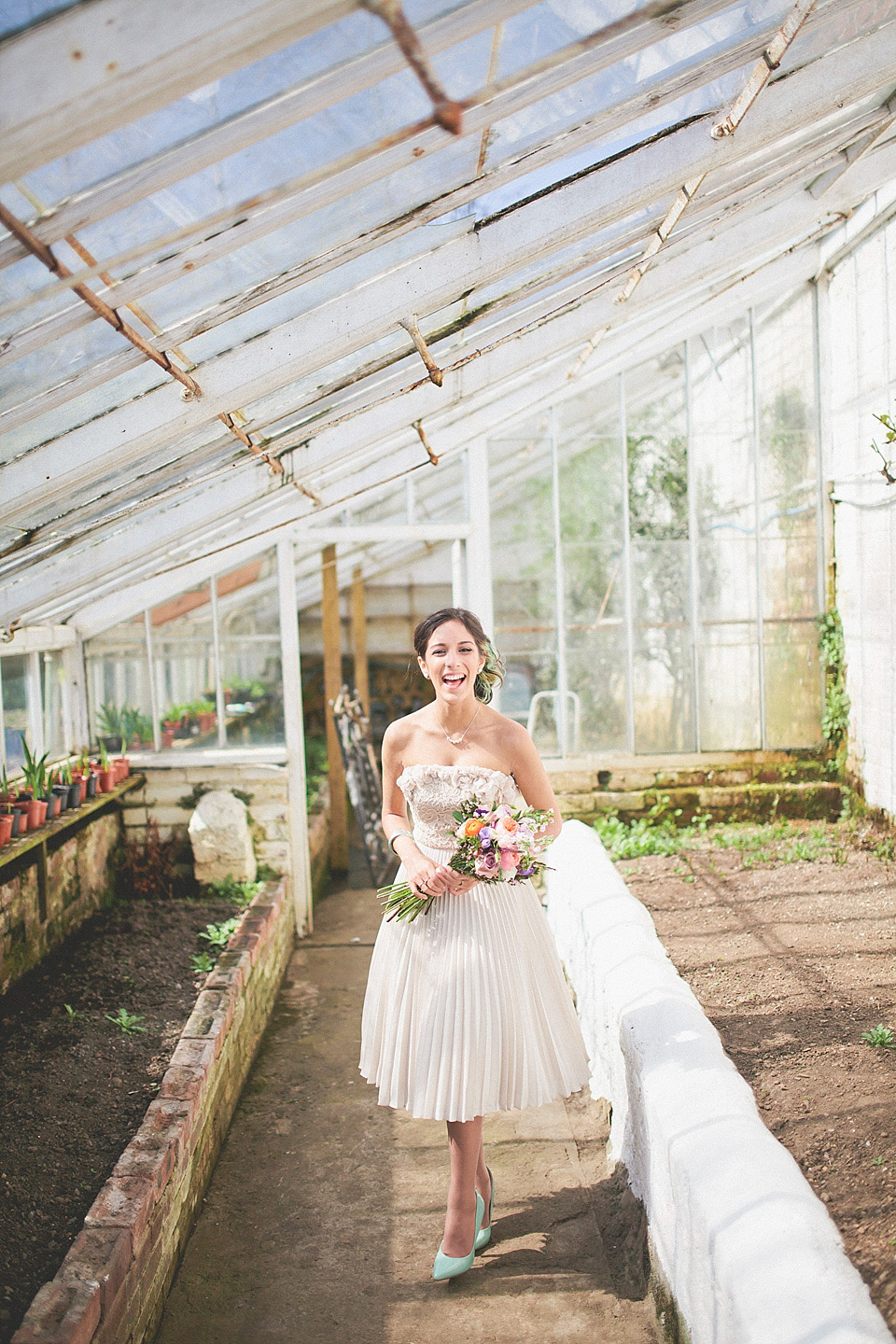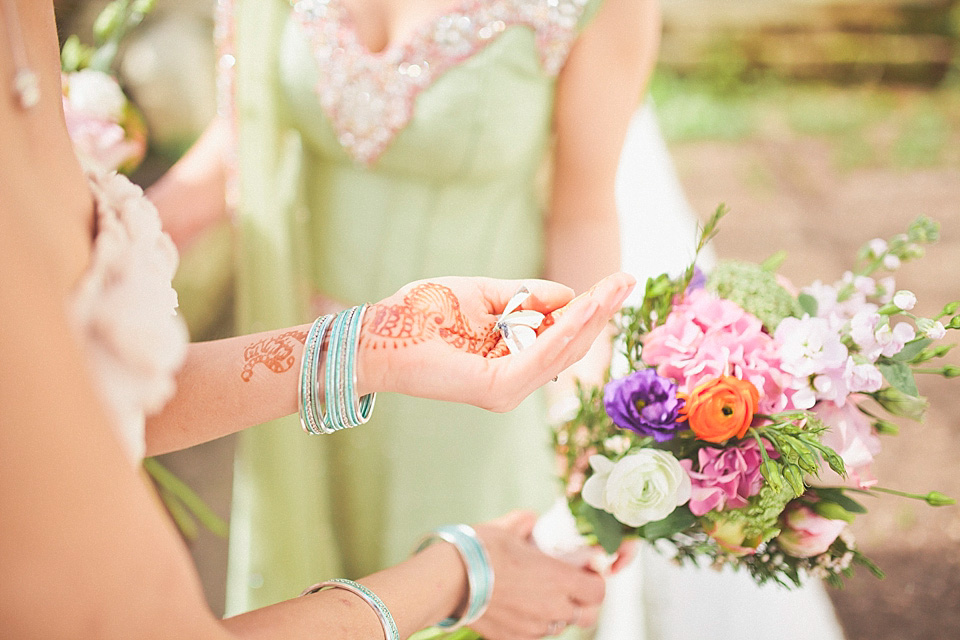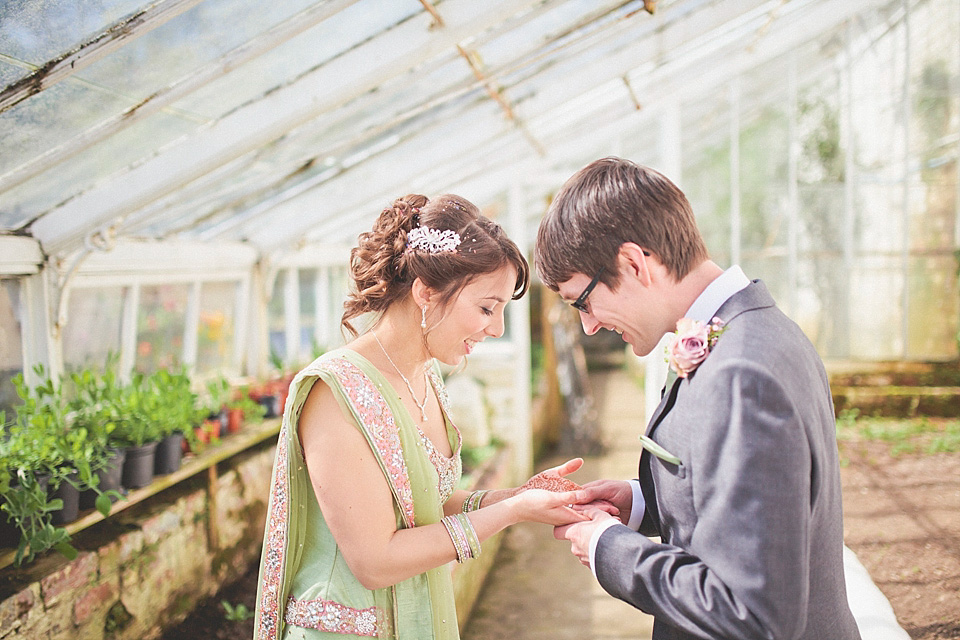 "None of the hire company suits really fitted Stuarts slim frame properly so we decided to buy his suit, the best man's and my dad's suit from Burtons as they do a 'slim fit' style that really suited and fitted him well.
My cousin, Mitika really helped guide me around Wembley when looking for my outfit.  Having got married the year before,  she explained the nightmare she and her husband had sourcing a tie that matched her outfit. She had the amazing idea of ordering extra material the same colour as my outfit to make Stuart's tie. My uncle, Mitika's dad, took us all around north London to help us find ties for the best man and my dad and in the end we decided to order extra pink material, picking out the detail from my dress, for their ties. My uncle was brilliant in making the ties and pocket squares for us. Although I didn't want a colour theme or for anything to match too much the ties were perfect."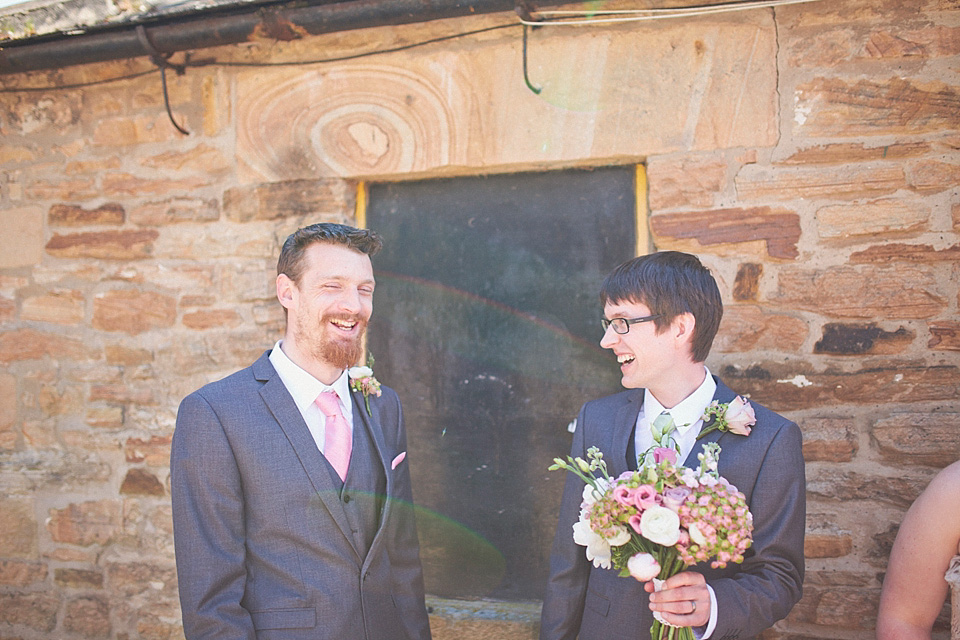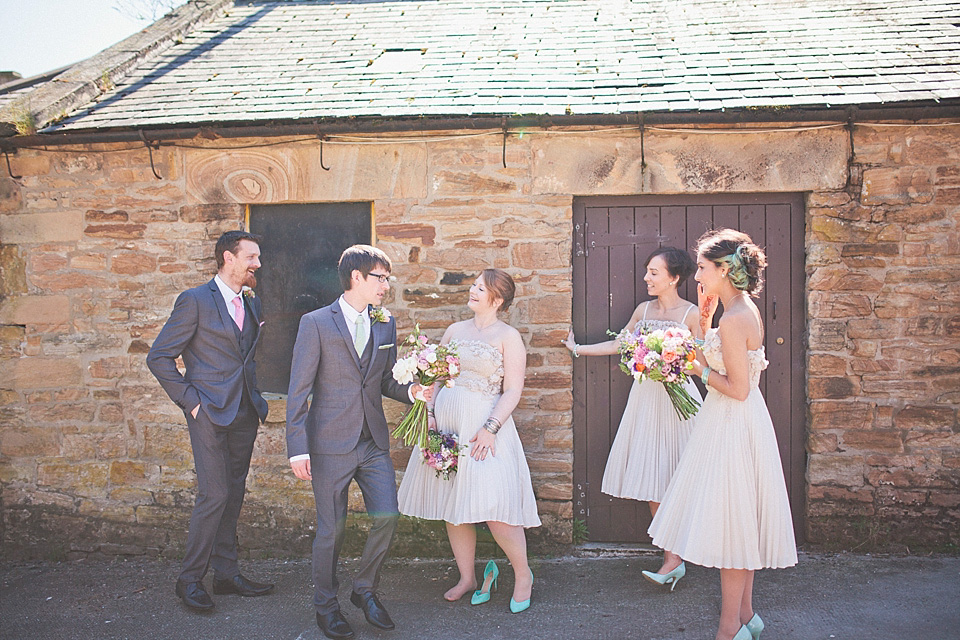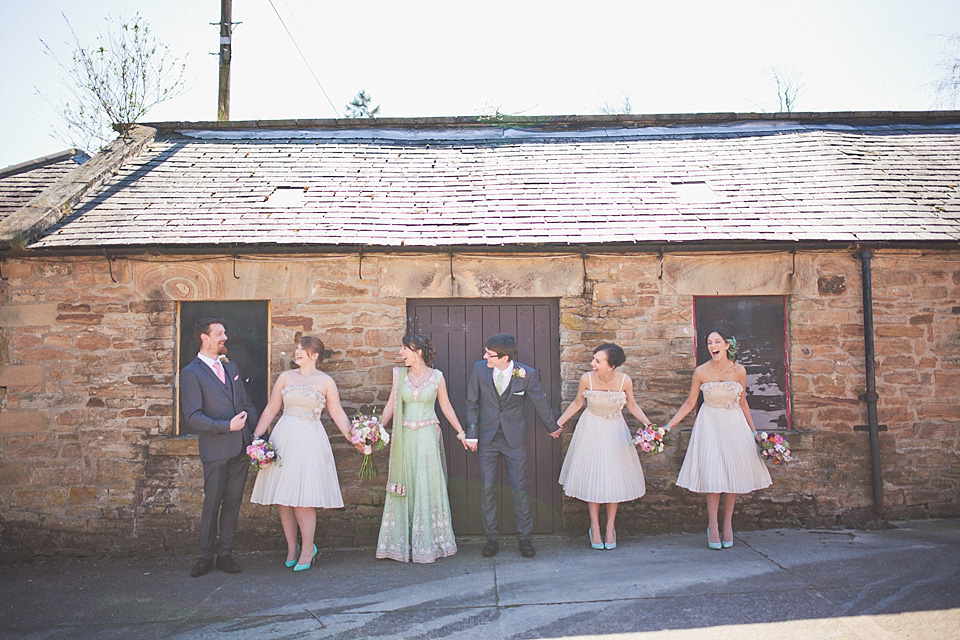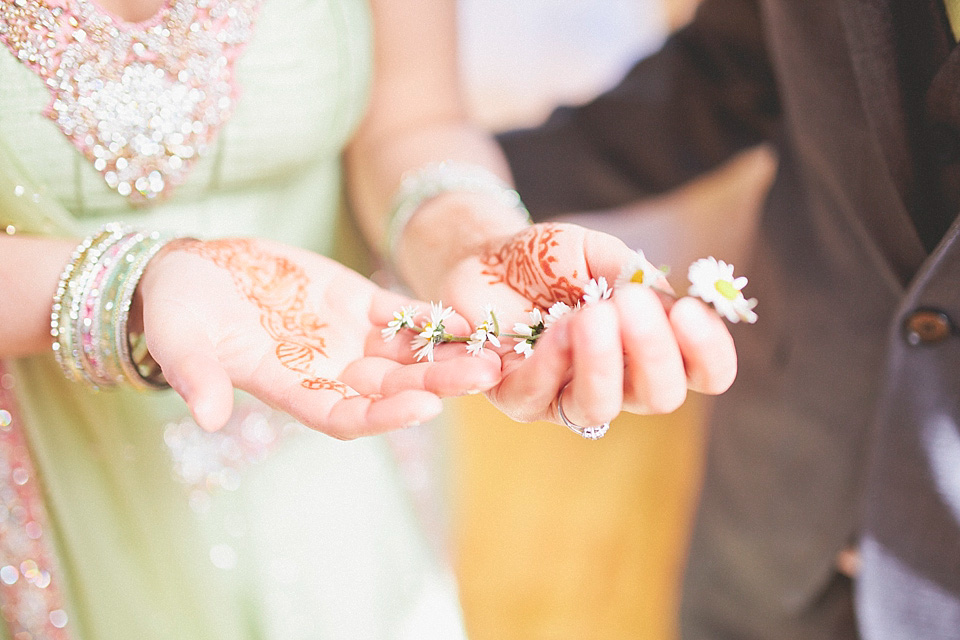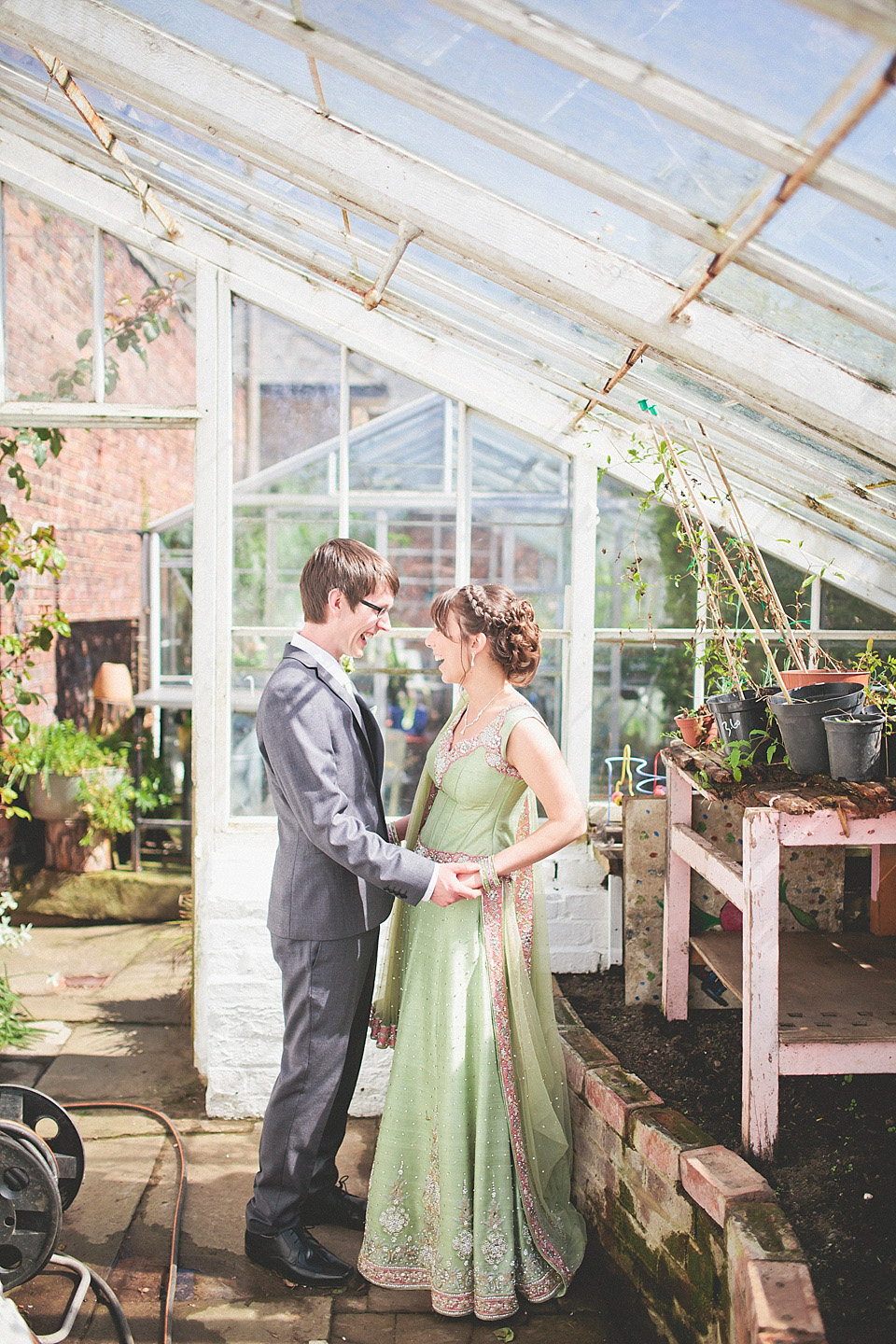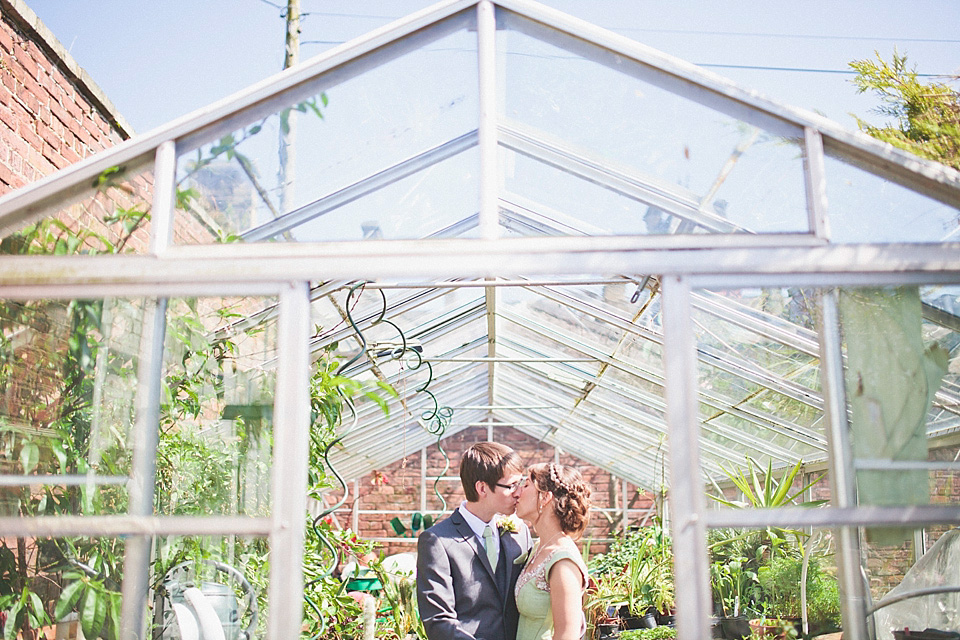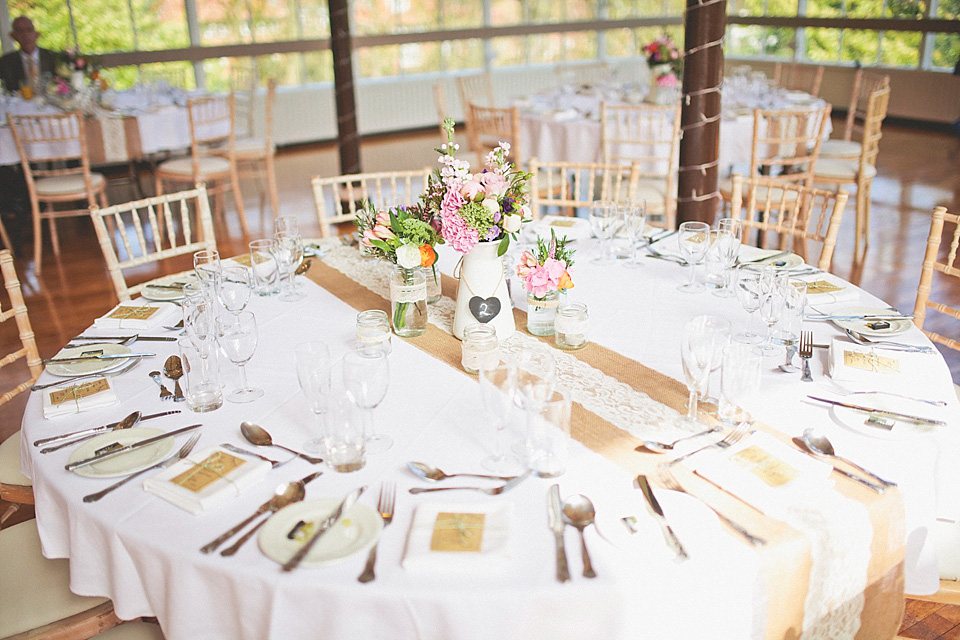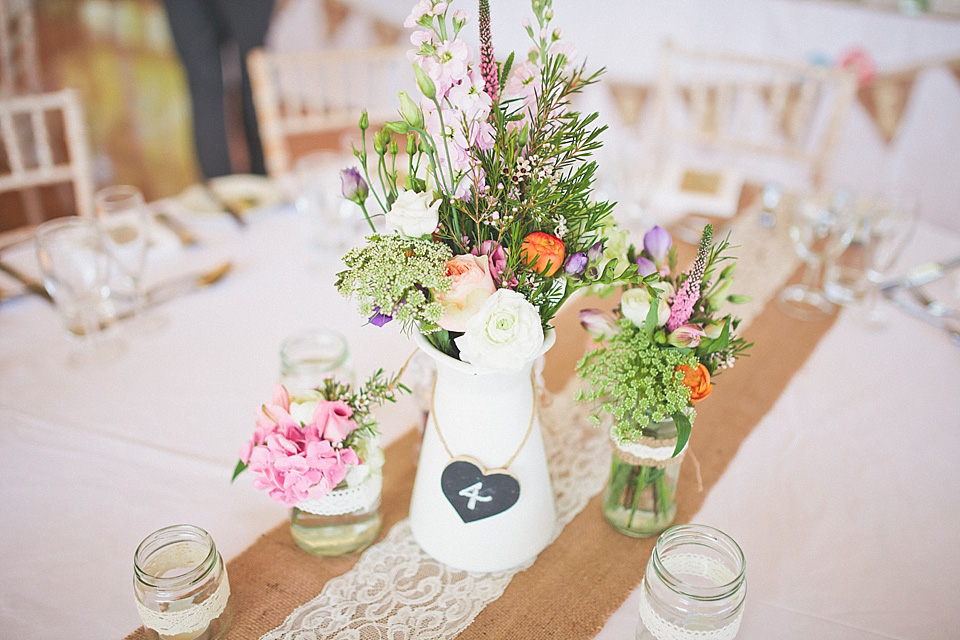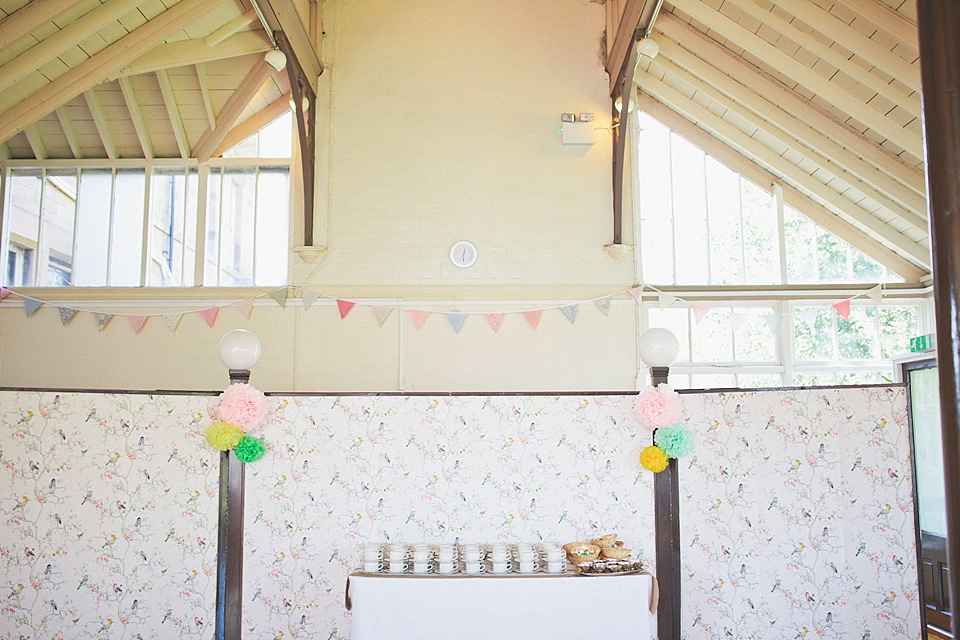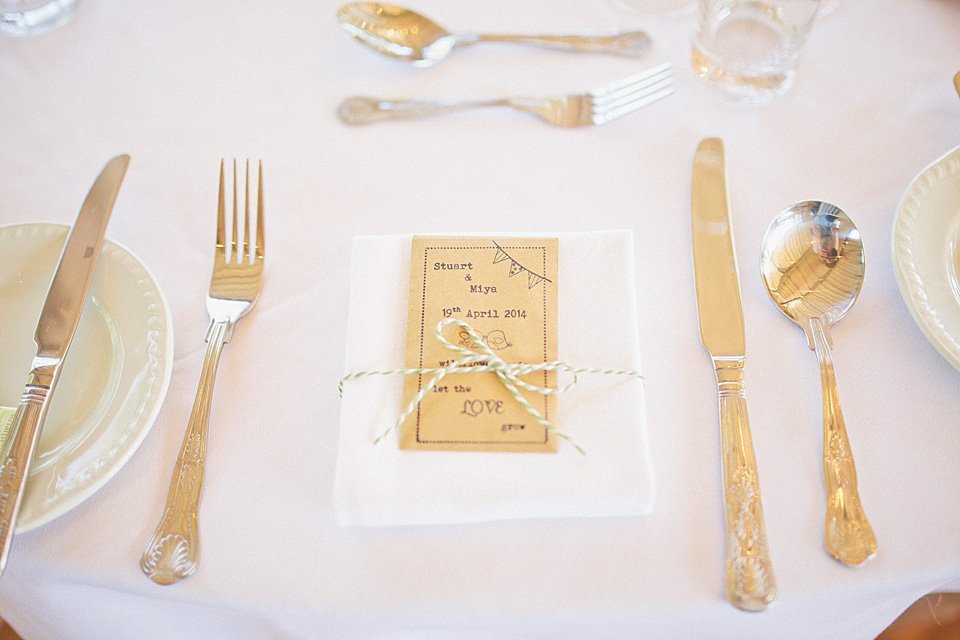 "My mum and I made the cake. My mum has always made really great and imaginative birthday cakes and I now love making them too. I knew the cake would have to be made pretty close to the wedding so I didn't want to design anything too difficult so the simple but effective bunting idea was perfect – even though we were up till 2 am on Friday morning decorating it! My brother made the bride and groom cake toppers and I painted them to match our outfits. I used a lovely cake stand my boss gave to me a few years ago and my great-grandma's knife to cut it."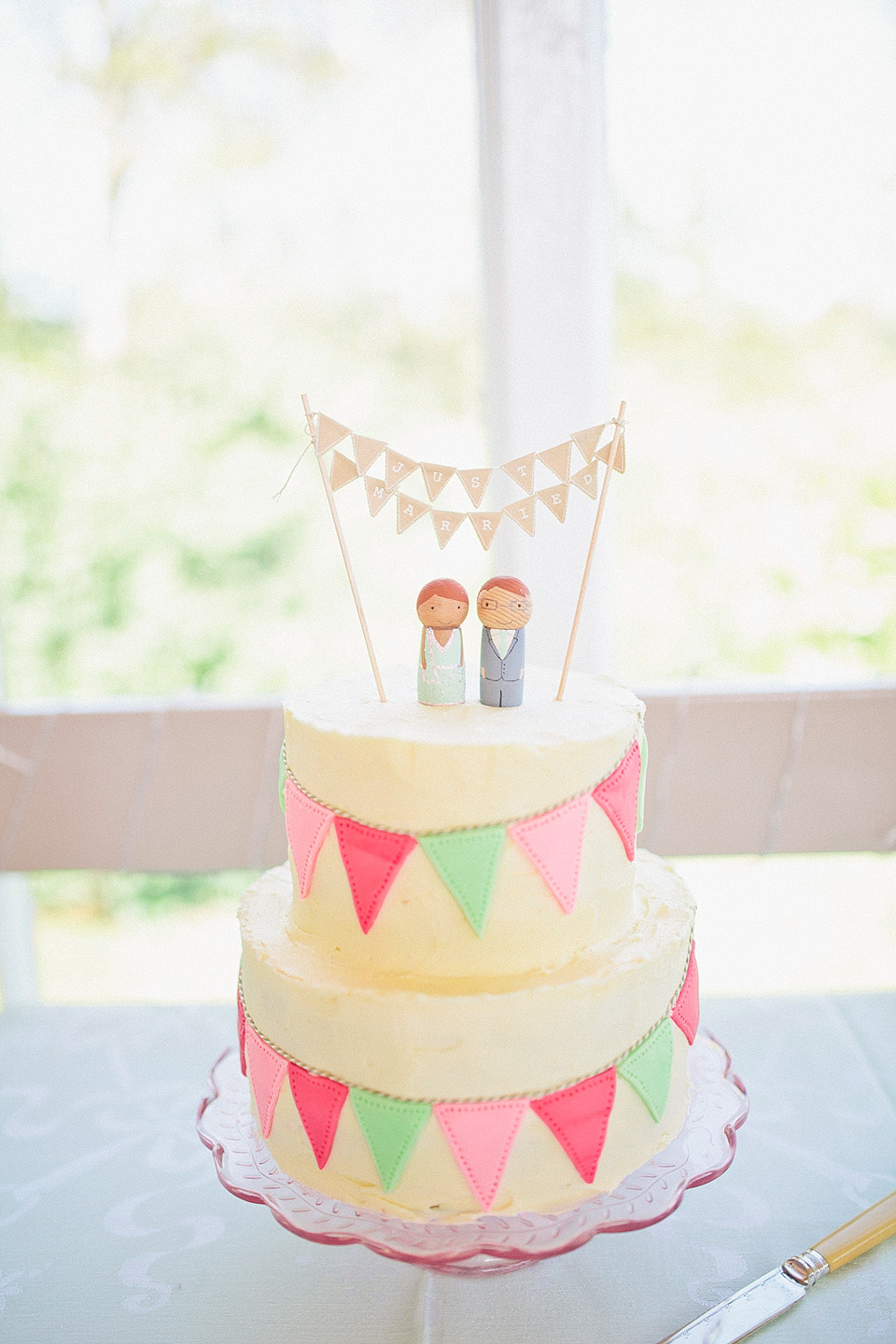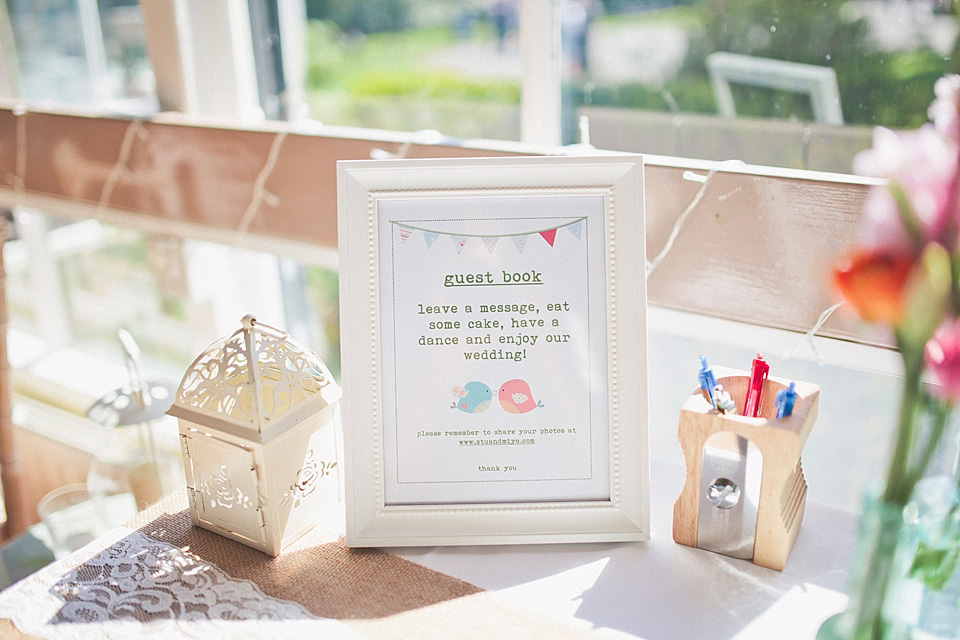 "There was a lovely grand piano in the room and although many of my cousins can play the piano they were all a bit too shy. I knew I couldn't have it there without it being used so for our first dance we asked that our band play an acoustic version of Snow Patrol's 'Chasing Cars' on the piano."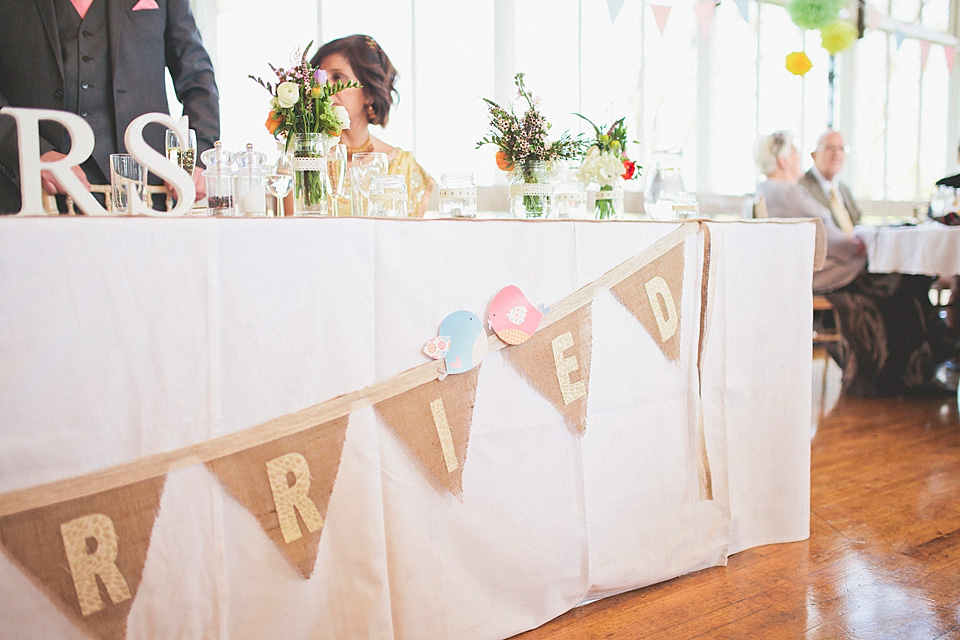 "Stuart and I designed and made all the invitations ourselves, I love making cards and I wanted to make them really personal, we saved ourselves a lot of money too. We knew we wanted lots of bunting at the wedding so decided to carry on with the bunting theme and found a couple of love birds to add to them too which were just perfect. We carried through the style on all the paper signs, like the order of the day and guest book signs.
My brother and sister were brilliant in making all the blackboard signs – the table seating, the photo-booth sign, the photo-booth speech bubble signs, the parking signs, the welcome sign and the 'pick a seat not a side' sign. I have such a fun creative family and I loved that everyone wanted to make lots of fun things for the wedding – it made it so personal and lovely."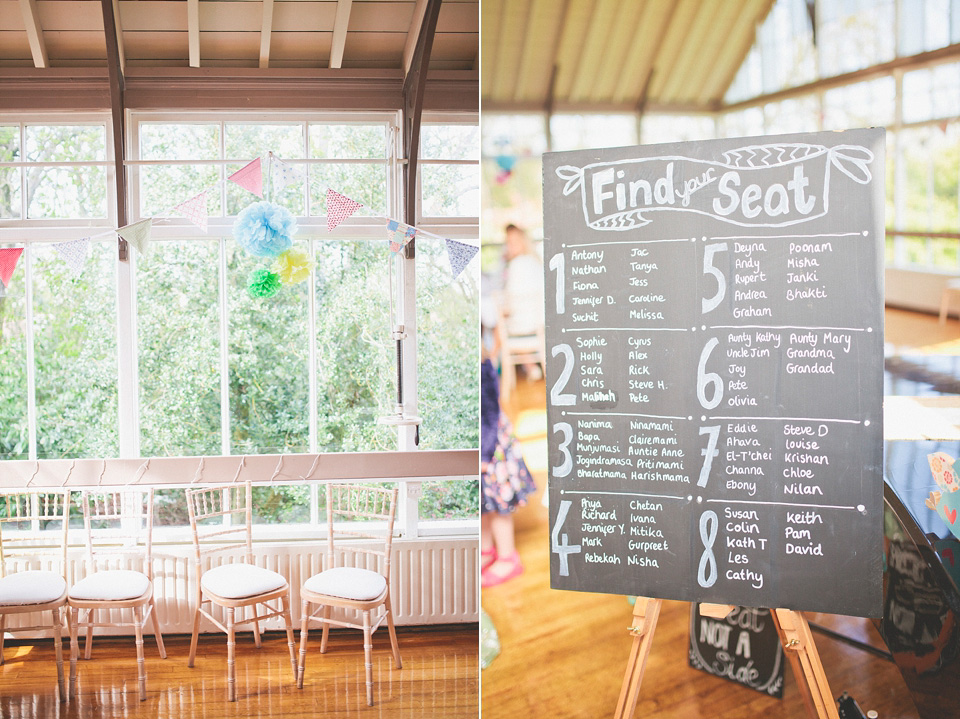 "We made our own wedding favours too! I loved the idea of wildflower seeds that would remind people year after year of the wedding. Stuart made a stamp and patiently stamped a hundred envelopes, we filled them with wildflower seeds and set up a family production line to tie them with some pretty string to the napkins!
My mum was absolutely brilliant – she made about 200 metres of bunting and all the lovely hessian and lace table runners. I absolutely loved the 'just married' bunting for the top table and the 'Stuart and Miya' bunting for the entrance that she made too."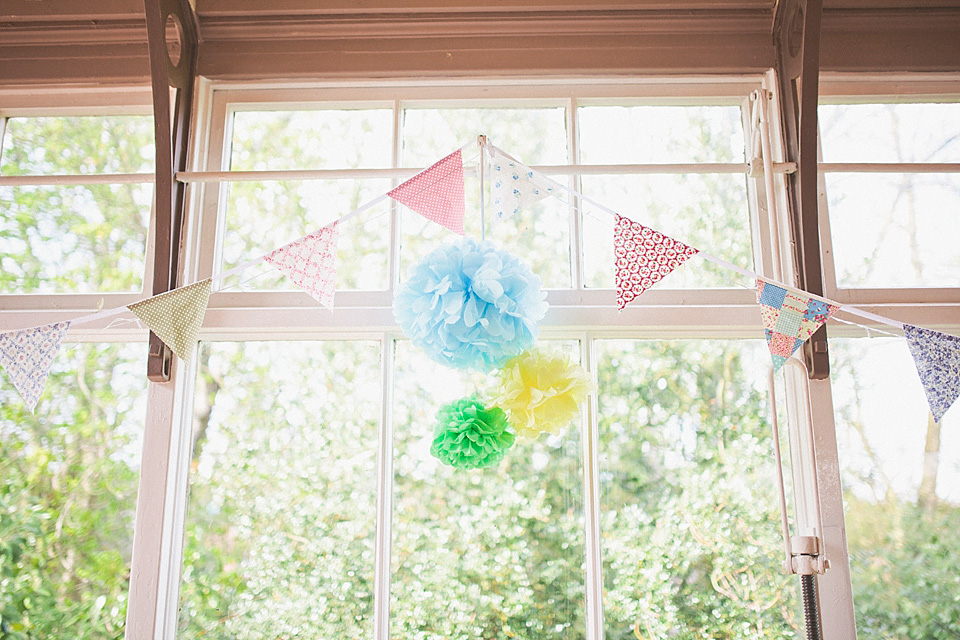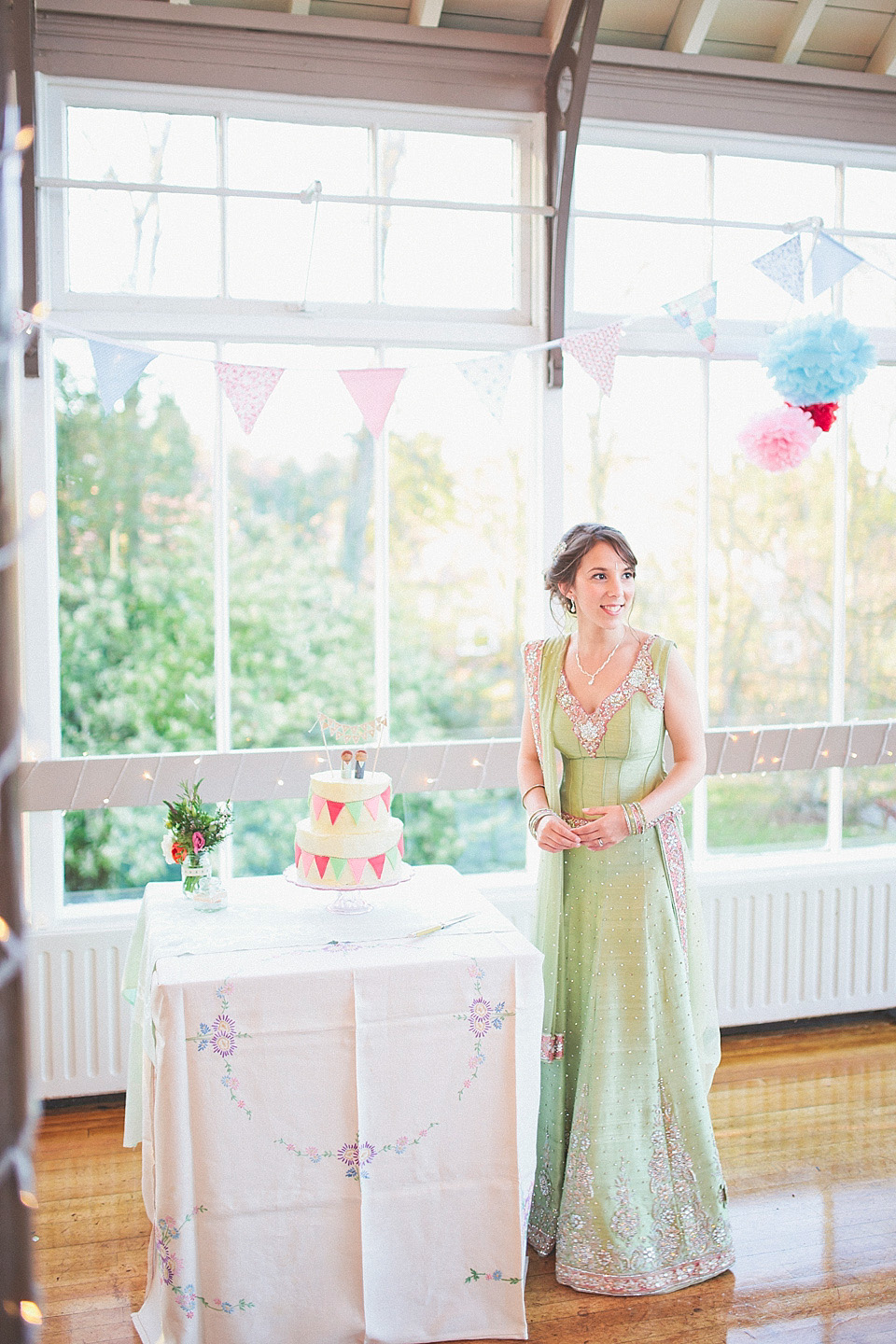 "We decided to have crepes in the evening from Monsieur Crepe, we were a bit worried about whether or not people would like them but they went down a storm! We had three savoury fillings and three sweet choices and people could have unlimited crepes, so many people commented on how tasty and unique they were. We also used local caterer Kings Catering for the wedding breakfast and the bar."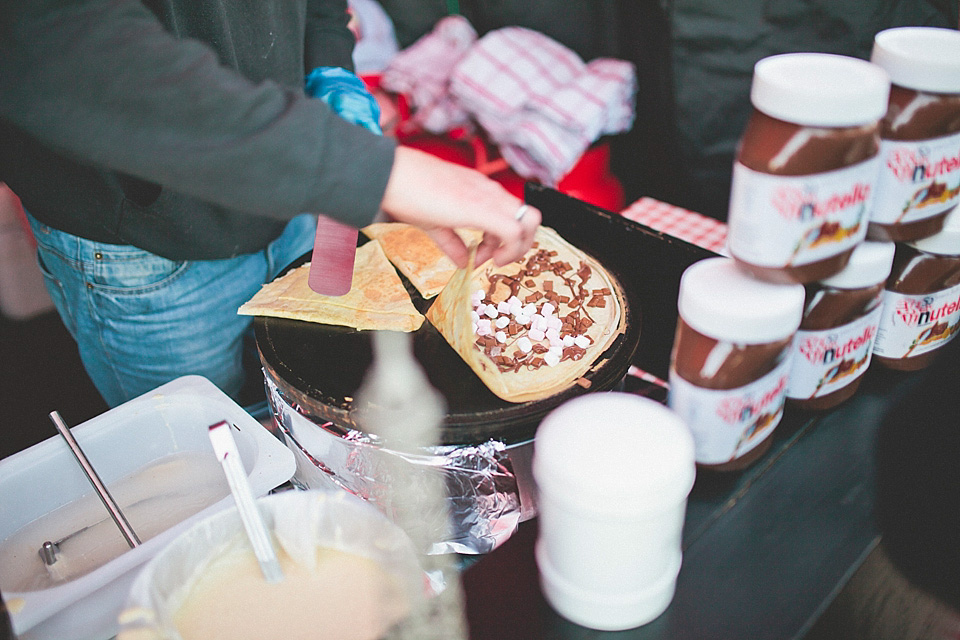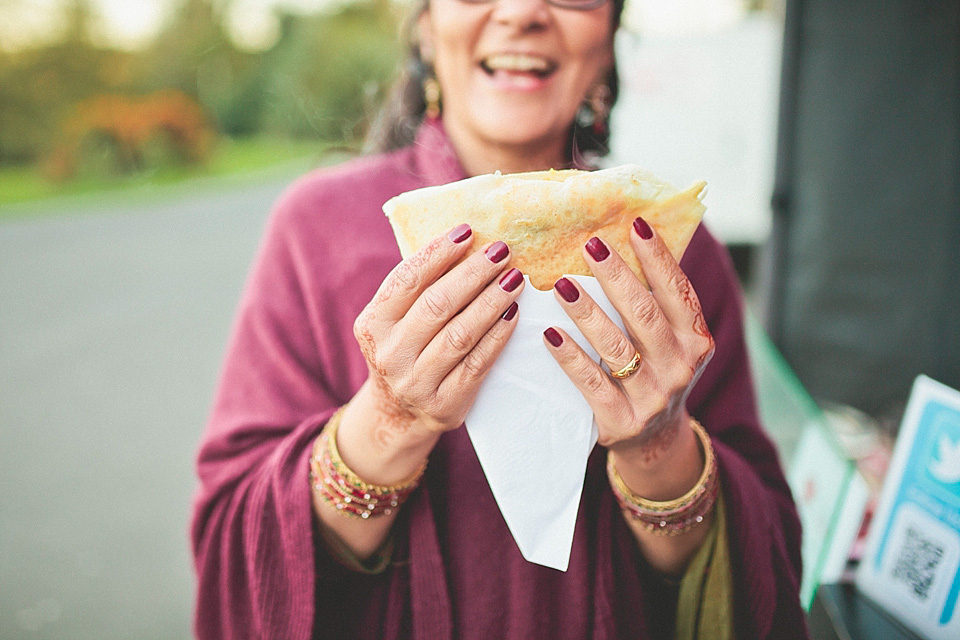 "I could not pick a favourite part of the day – it was just all so perfect. Before the wedding I had told myself that it could never be perfect and that some things wouldn't work out just how I had imagined but it really was a perfect day! We don't really like too much formality and attention so we just wanted a really relaxed day and for everyone to have fun – so many guests kept telling me how much they were enjoying the day which made me so happy! I really wouldn't change a single thing about the day."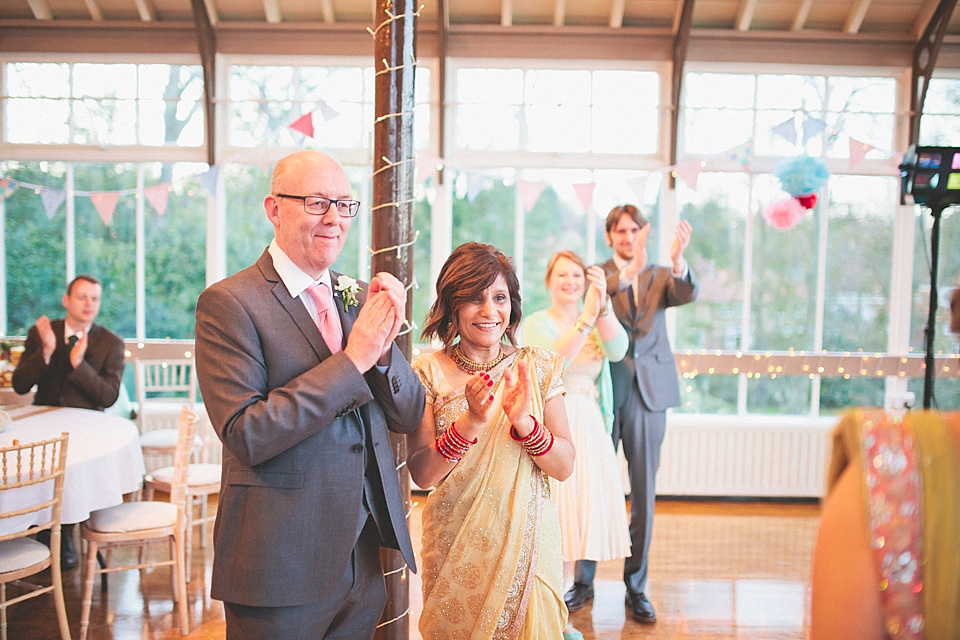 "It was a bit of a last minute decision to have a band and I'm so glad we decided to ask Grooveline to play as they really brought the evening alive."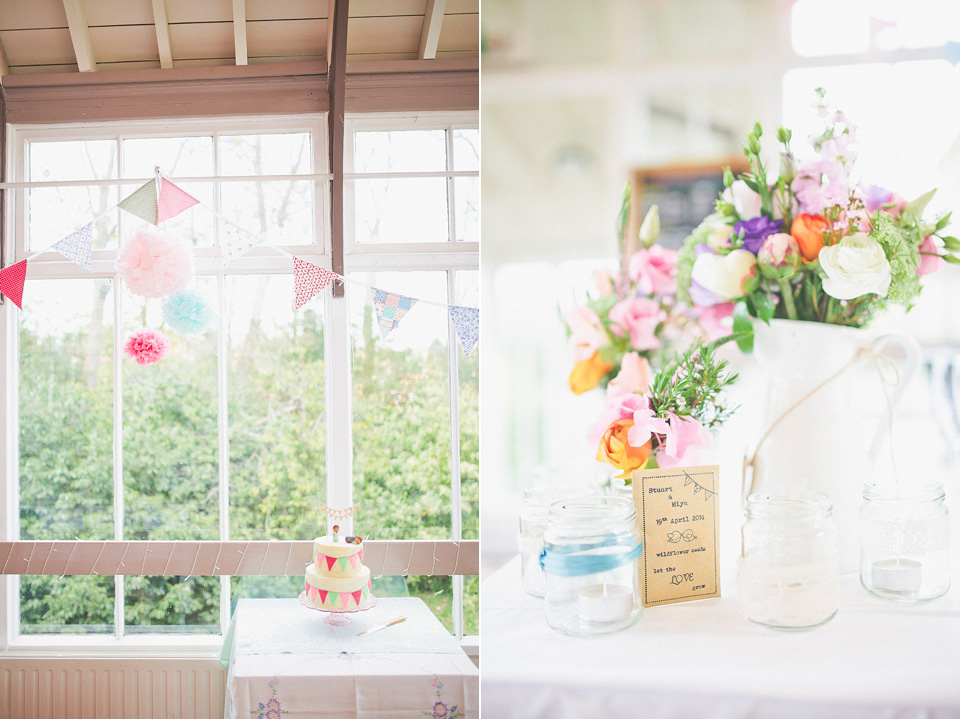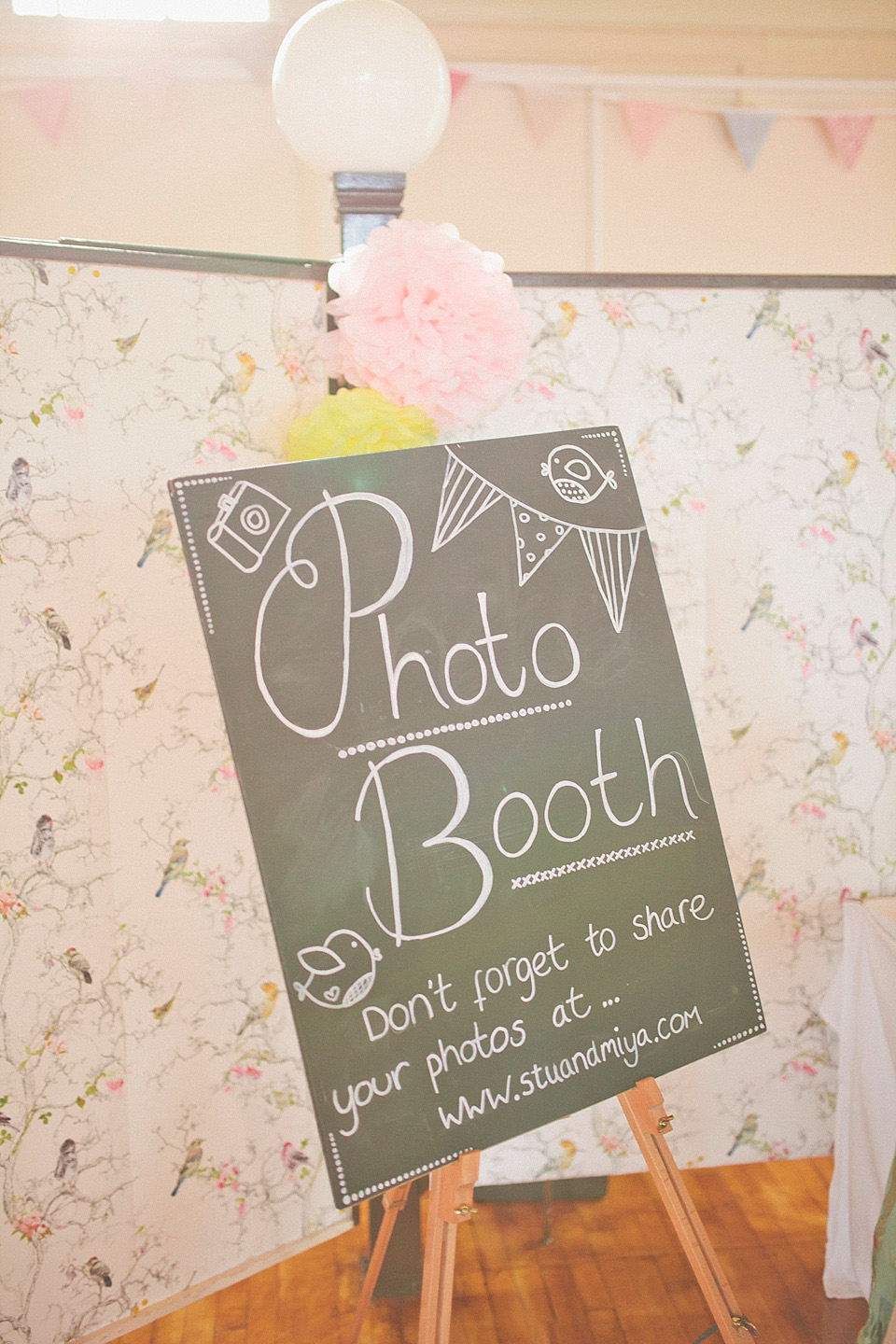 Words of Wedded Wisdom…
"I think it is important to relax and really enjoy the day – it goes by so fast! I absolutely loved making and creating things myself, so many people said I was brave doing so much myself but it's all really simple when you look at each bit in turn. I would really encourage people to give things a go! It was so lovely that all my family were involved too – I felt so proud on the day showing people all the things my family had made. If you have friends and family who want to help – let them – it makes it more enjoyable for them to feel like they played a part in the day too. Also, you end up with such a personal wedding that is unique to you both.
I would also remind people not to forget what the day is about – it is about you and your husband getting married and sharing such an important, lovely day with all your friends and family so don't worry about all the small things."
"Finally, I had looked on Love my Dress and loved all the real weddings – they are all so inspirational because you can see things people have managed to do, rather than staged photo-shoots, which encouraged me and made me feel like I could do it too!"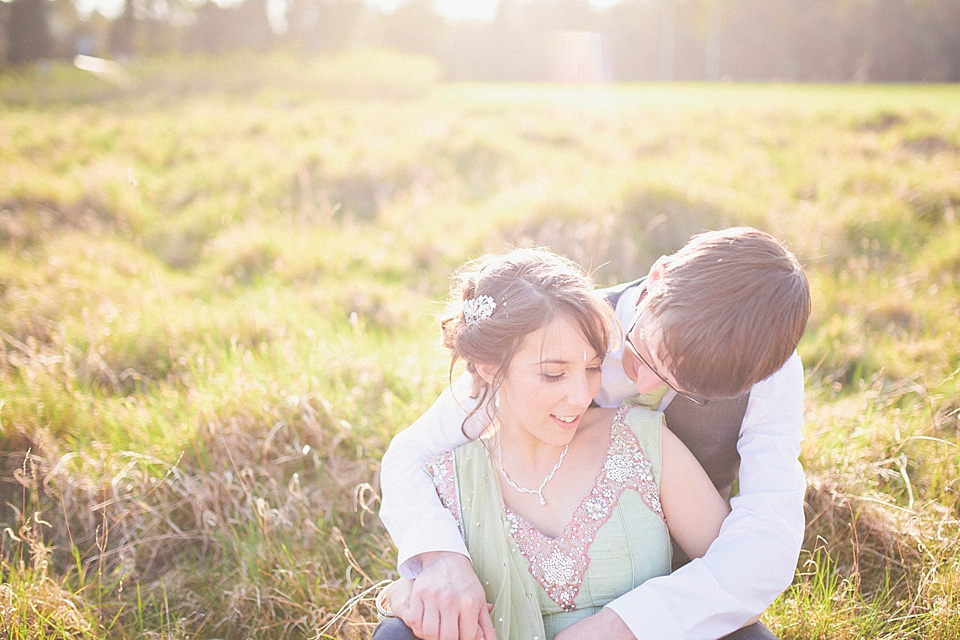 Congratulations and thank you to Miya and Stuart for telling us all about their gorgeous wedding and thank you too Sarah Jane and Matt Ethan for sharing the images with us today.
Are you planning to craft elements of your own day too? Have you seen the Love My Dress DIY Tutorials? Perhaps you have in mind a tutorial you would like us to tackle for you, do tweet us to let us know,
Lots of love
Rebecca x
Photographer – Sarah Jane Ethan and Matt Ethan
Venue – Hexham Winter Gardens
Brides Dress – Rangoli of Wembley
Brides Shoes – Rachael Simpson from Arabesque
Bride's Hair Accessories, Earrings & Necklace – Debenhams
Groom, Father of the Bride and Best man's suits – Burtons
Bridesmaids dresses – Coast + shoes from New Look + Faith
Flowers – Emma and Nadine from Camellia Grey
Wedding Cake – Made by the Bride and her Mum
Entertainment – Grooveline
Rings – Old Eldon Jewellers
Catering & Bar – Kings Catering
Bride's Hair & Makeup – Transcend of Hexham
Fairy Lights and decorative items – by Libby at Love and Little Things
Crepes – Monsieur Crepe
Follow Love My Dress on Google+