There is something about these images – the light, the texture – their artistic interpretation and way those otherwise everyday and unceremonious style moments (putting on a tie, tieing a shoe lace) have been captured to feel so special. Yes, there is something wonderful about the way The Kitcheners have recorded these moments in time and I feel especially lucky that we get to enjoy and share them with you today.
Graphic Designer Emilie married Engineer Julien on 30th May this year at Dalduff Farm in Crosshill, Scotland. Their Spring wedding day was full of rustic charm.  Located on a farm, which provided a completely blank canvass for them to style and decorate, the couple were very ably assisted by the Be Eventful team in bringing the space to life. I adore all the little touches and that modern wedding dress that so beautifully replicates the Edwardian lawn dress style of a by-gone era.  These really are very beautiful wedding photographs and I hope you enjoy them as much as I have.
"Julien and I love to travel and we wanted to highlight our experience in travel and adventure. What we like most of all are beautiful evenings, movies under the stars, barbecues in the garden, laughter and good times with friends, so the keywords in designing our wedding were travel, botany, enjoy, barbecue and bonfire! We wanted something simple, but with lots of love."
Photography Copyright (c) 2014, Kitchener Photography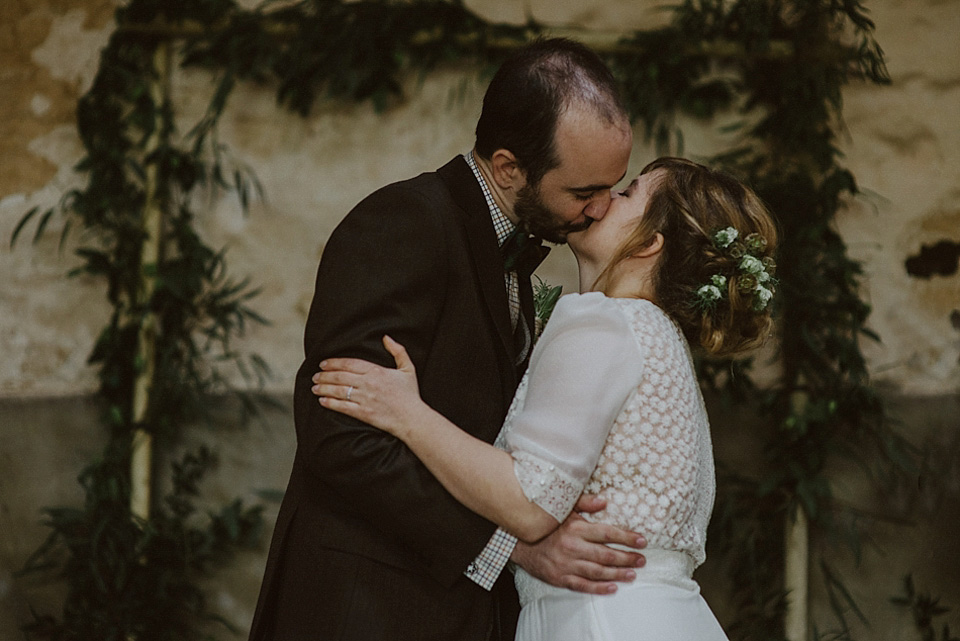 "Julien and I met eight years ago. We never really talked about marriage, except once during a trip to Scotland (we live in France). When one day, nine months before the wedding we decided to marry and remembered this conversation in Scotland and immediately chose it as the place for our wedding.  It was a challenge to arrange everything from a distance in just nine months, but at the same time very exciting too.
We wanted for our wedding to take place in an unusual place, a farm in the middle of nature. Dalduff Farm really was the perfect place for us because of the old farmhouse which was ideal for outdoor cocktail, and an interior wooden space for the meal and celebrations. In addition, the owner (James) was a pleasure to work with and allowed us to decorate the venue to our heart's content, it was fantastic! He also provided the catering and the food he offered was excellent! Dalduff was the perfect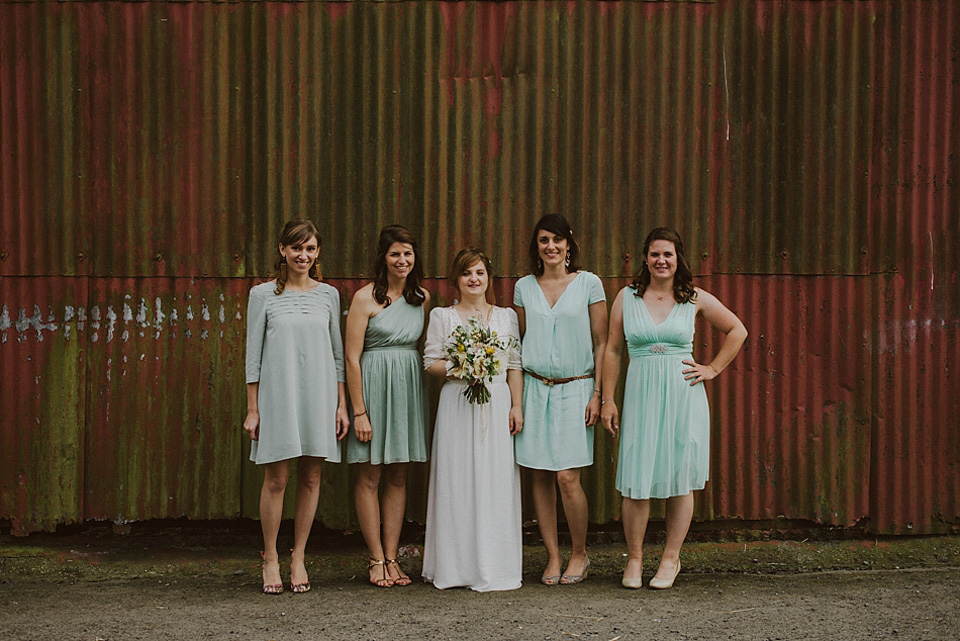 "My dress was by Laure de Sagazan, a French designer. I already loved the delicate work of Laura, but this dress was something else. I tried ten beautiful dresses and this particular gown was hanging in a corner on it's own. I asked if I could try it on but the designer warned me that it might not fit as it wasn't customised.
I tried it on anyway and it became immediately obvious – this was 'the one'!"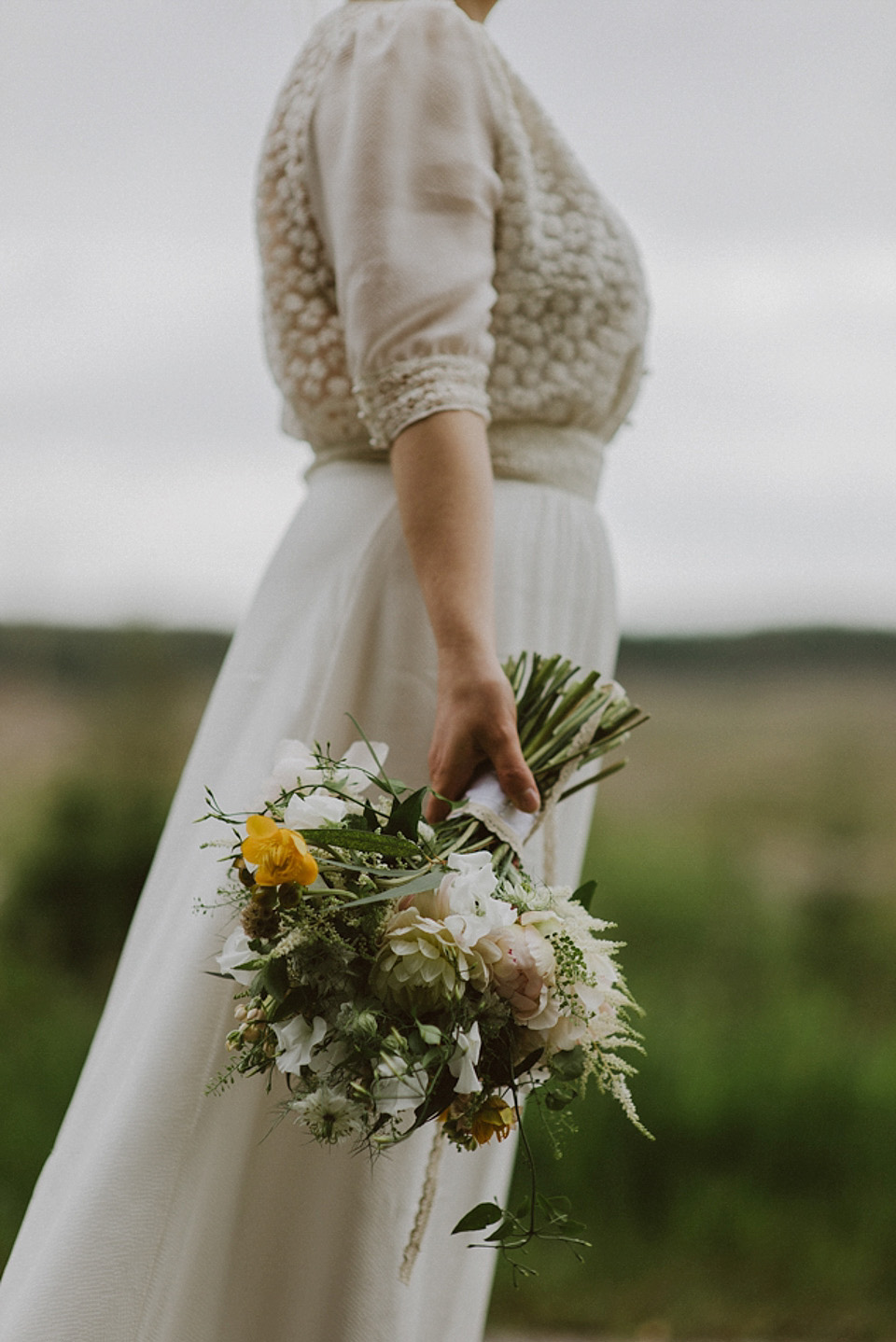 "The table plan was an old world map, each table named after a country we visited. Above each table, I made a wreath with hoops of steel brought from France, on which were placed the name of each country. The marks were small places "Polaroids" of photos I had taken in each country.
We had prepared postcards and a mailbox, tattoos, candy bar and a whiskey bar, with different types of Scotch whiskey for people to "become familiar with"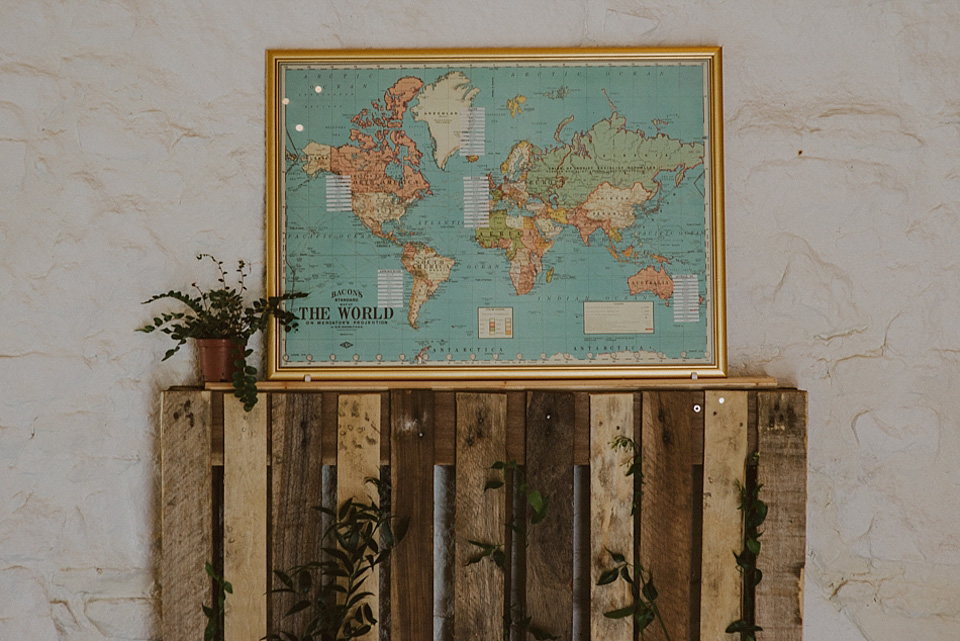 "We love the work of Three Sisters Bake, and I wanted a Naked Cake! We also had some really delicious giant meringues! We also provided cream and berries and people were able to make a DIY pavlova."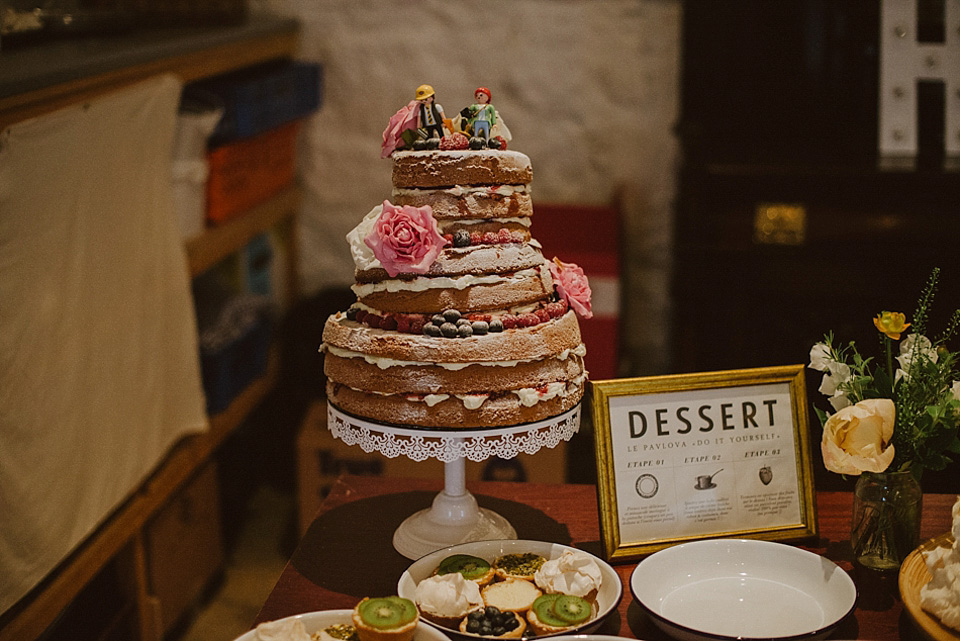 "We hired Kitchener Photography to shoot our wedding. The Kitchener's work is indescribable – they sublimate the marriage by their presence and their work – we couldn't have dreamt of better.  They knew perfectly how to capture the atmosphere of the marriage, the looks, the people, the laughter, the warmth of the fire!
We had a wonderful meeting with Joanne and Dylan who we found to be a great couple. We have so many beautiful photos that we cannot thank them enough – I simply cannot recommend them more highly."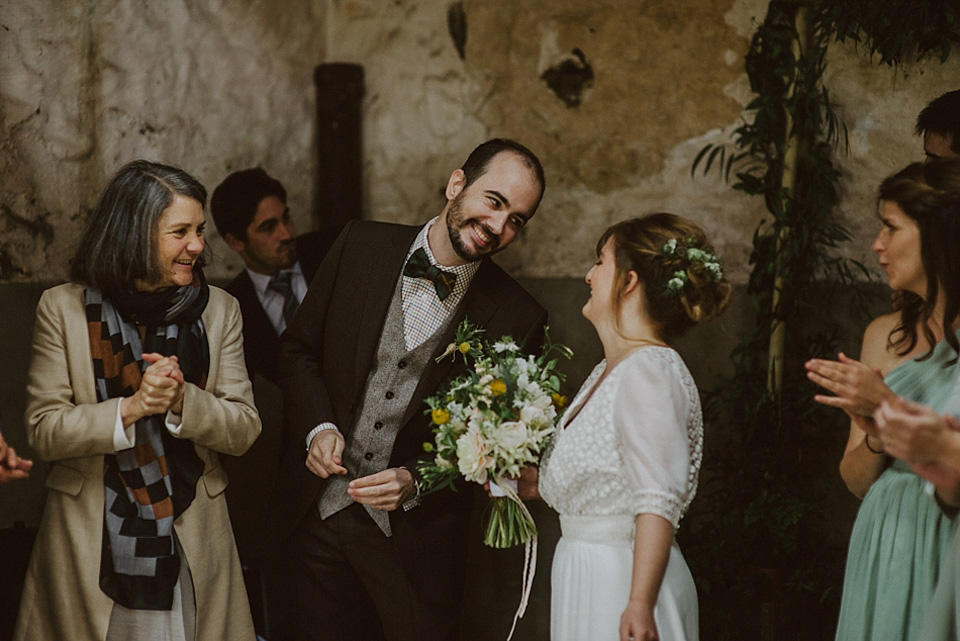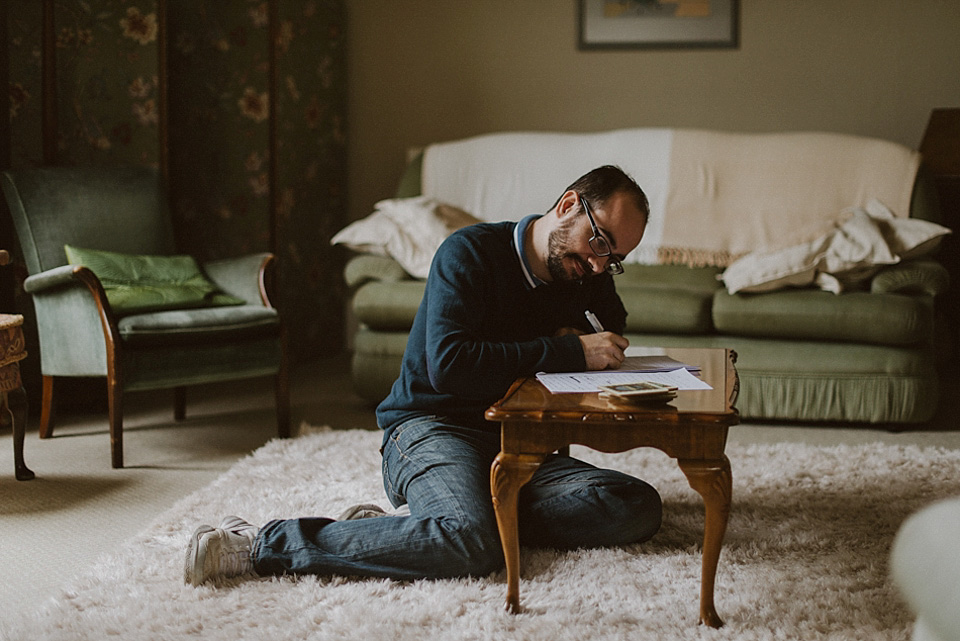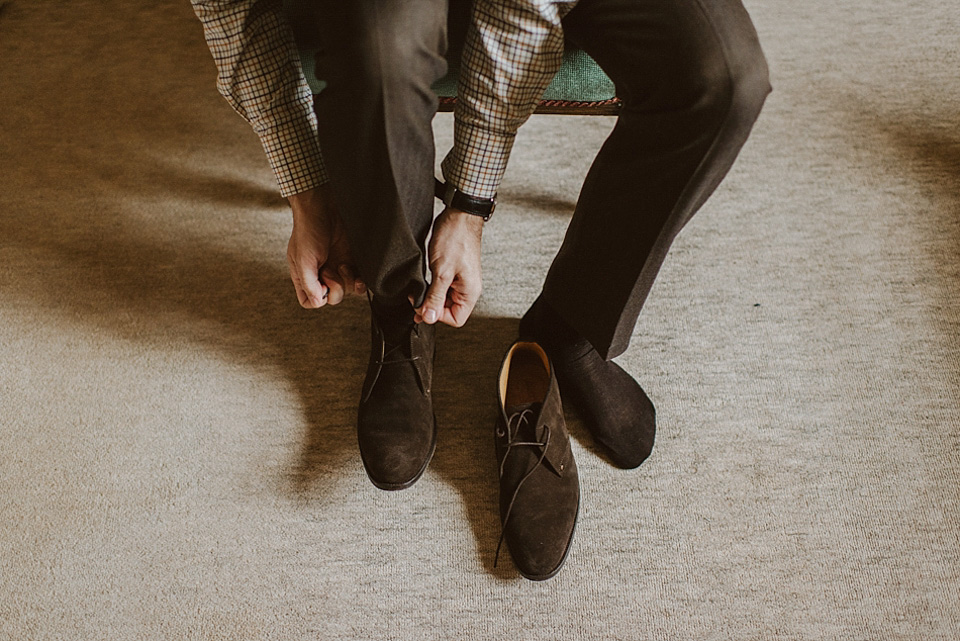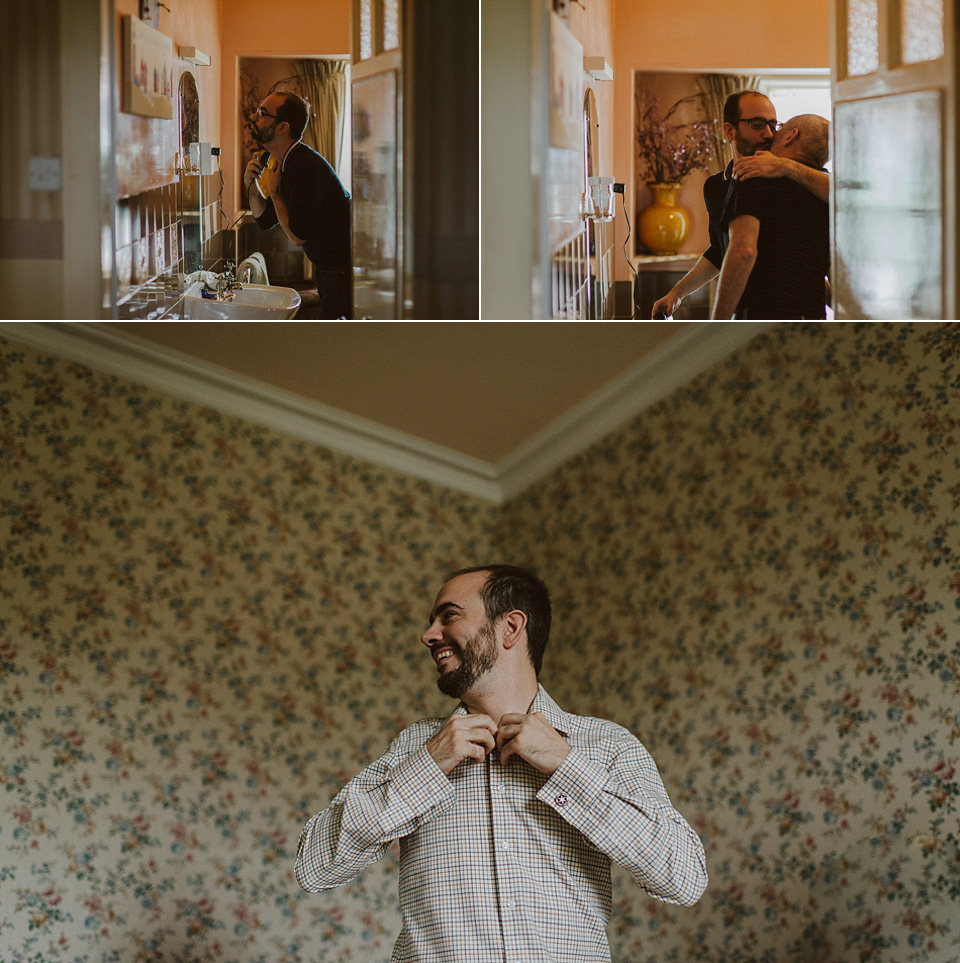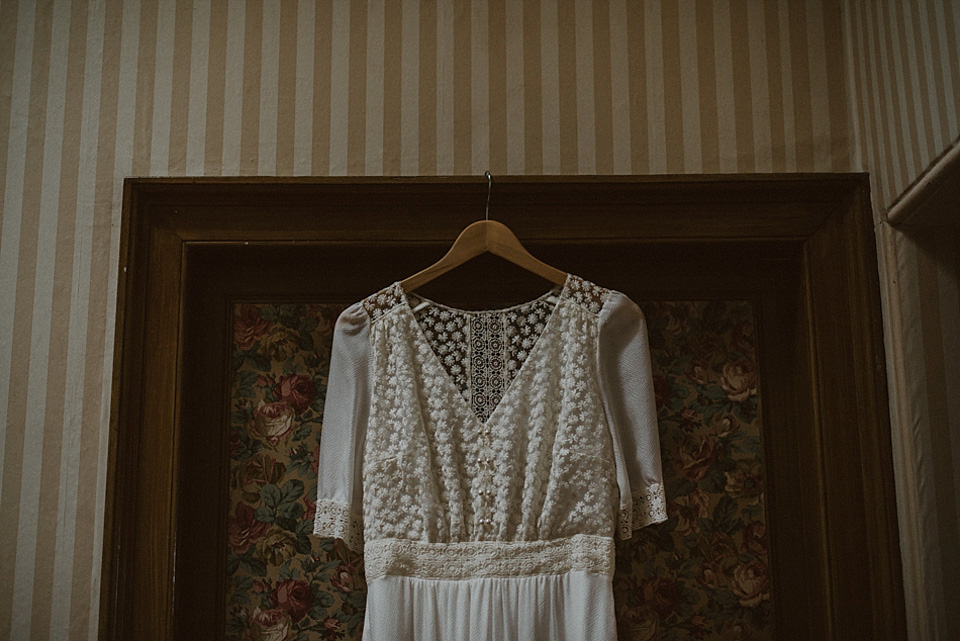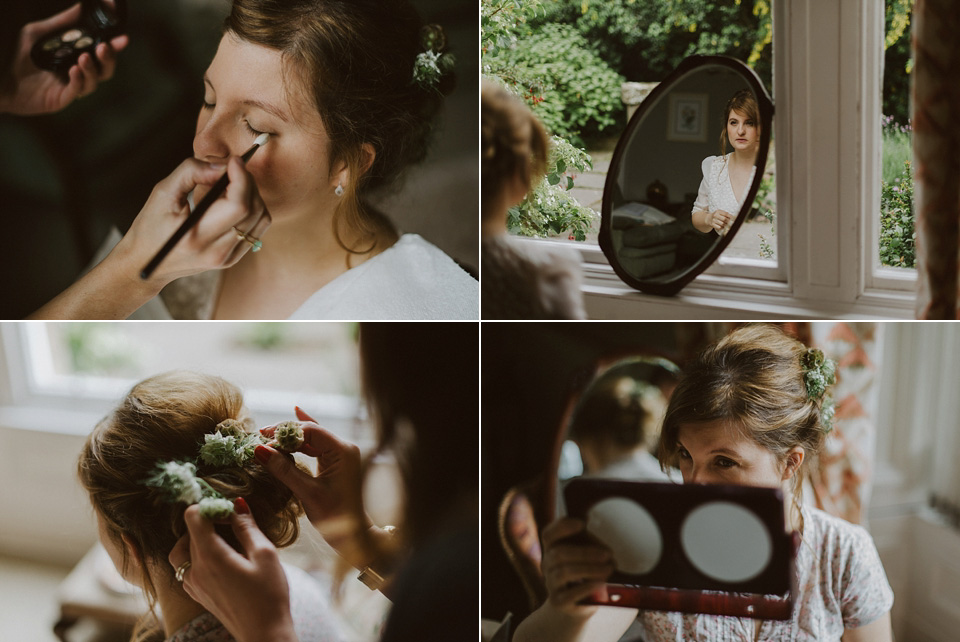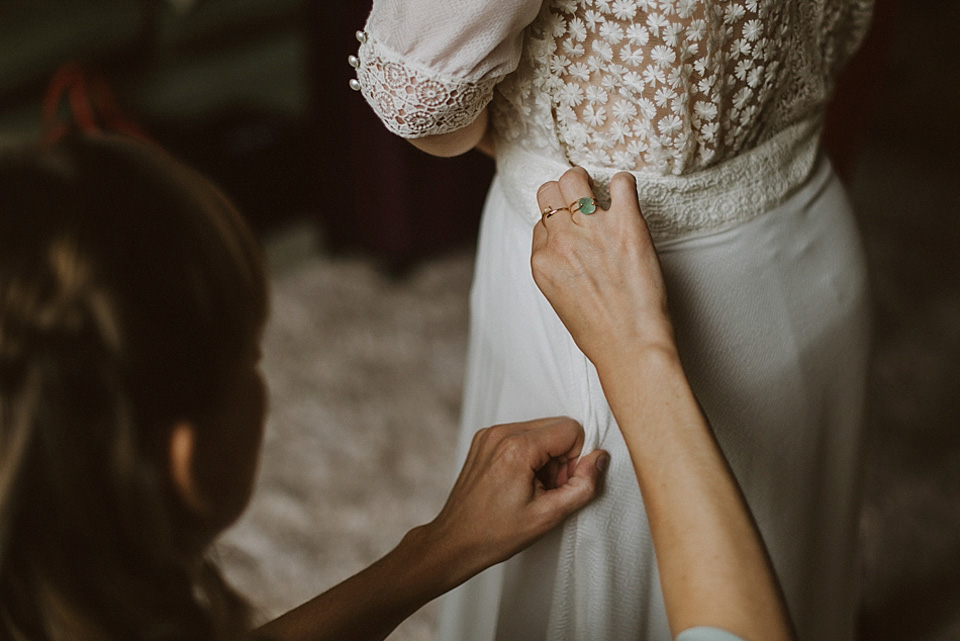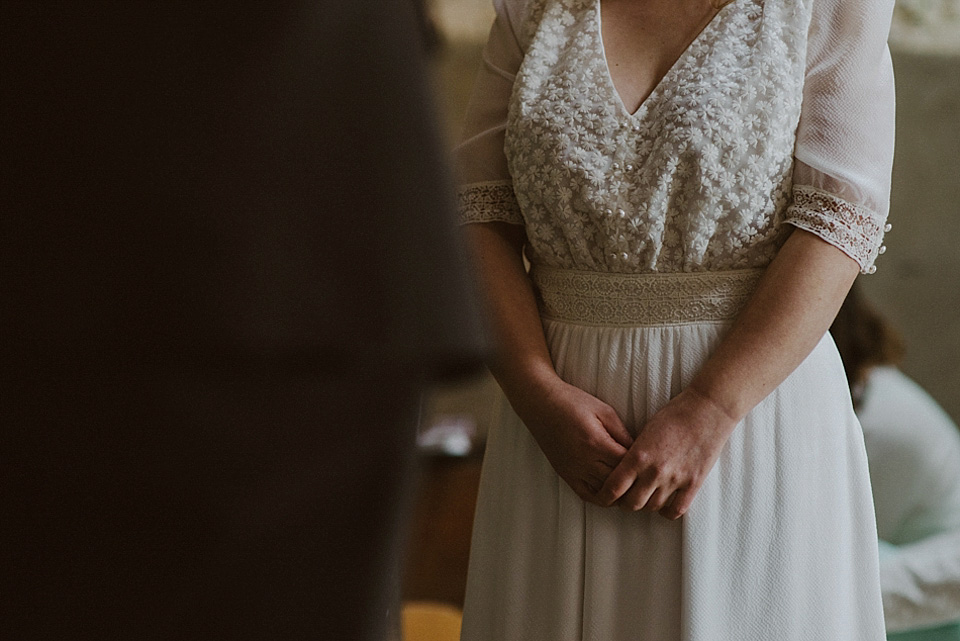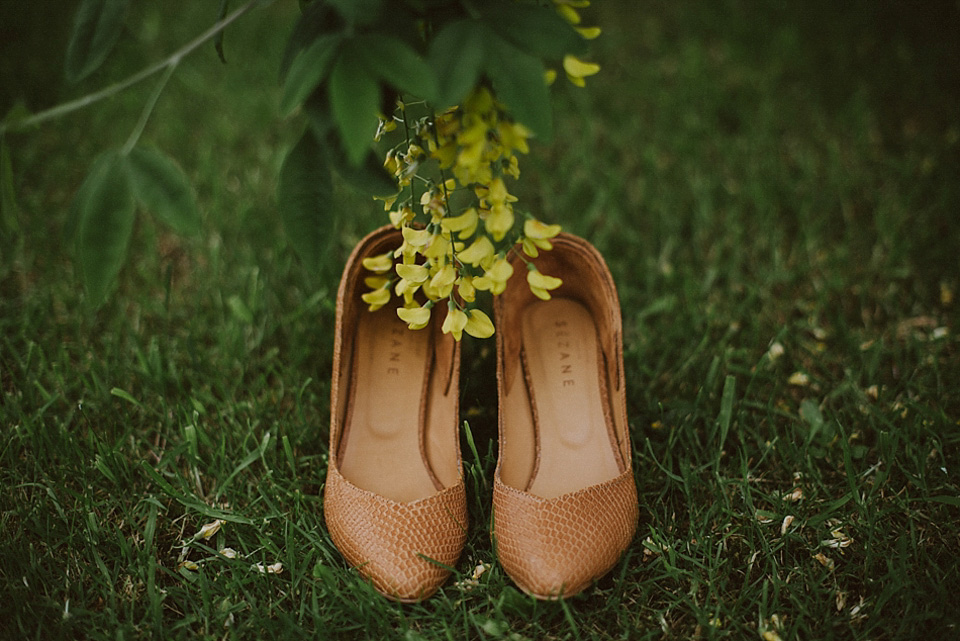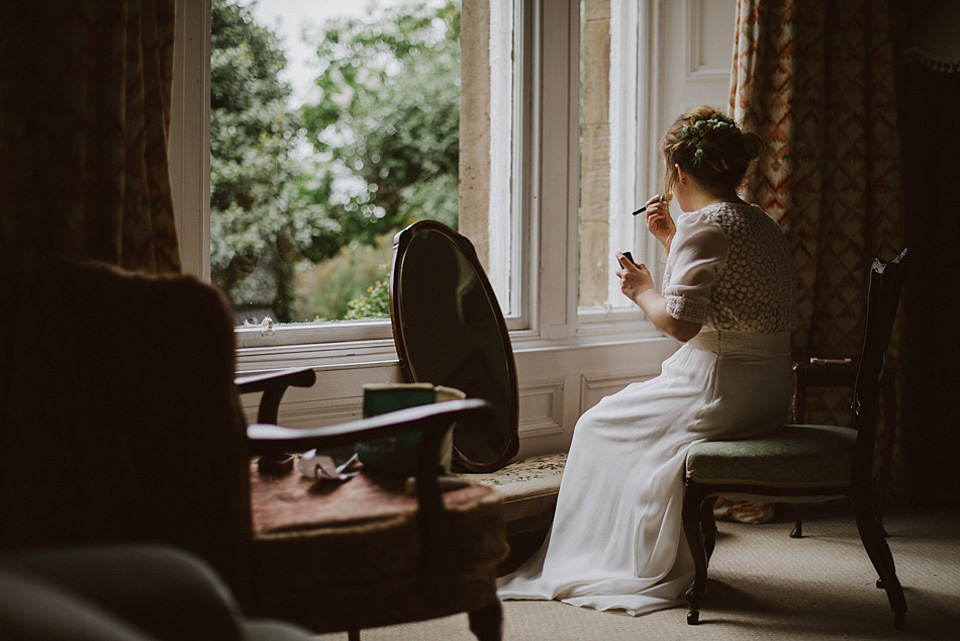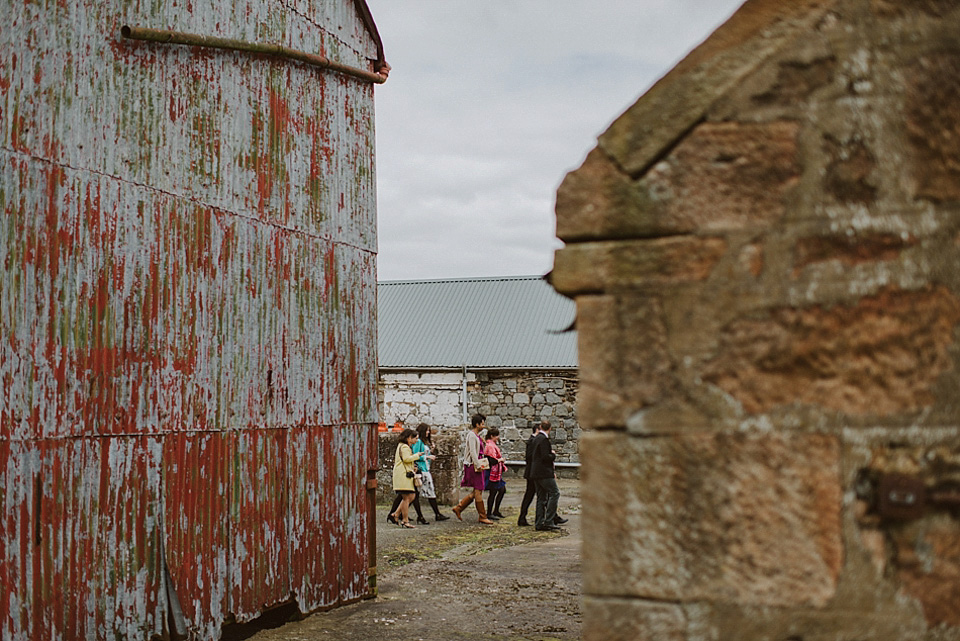 "The ceremony was originally going to take place outside in the middle of a field, near a beautiful little river but the weather was uncertain so we decided to fall back into the old farmhouse that is usually used to protect the sheep.  With hay bales, candles, bouquets, and tens of meters of ribbon, the farmhouse was completely transformed and was absolutely perfect for the ceremony."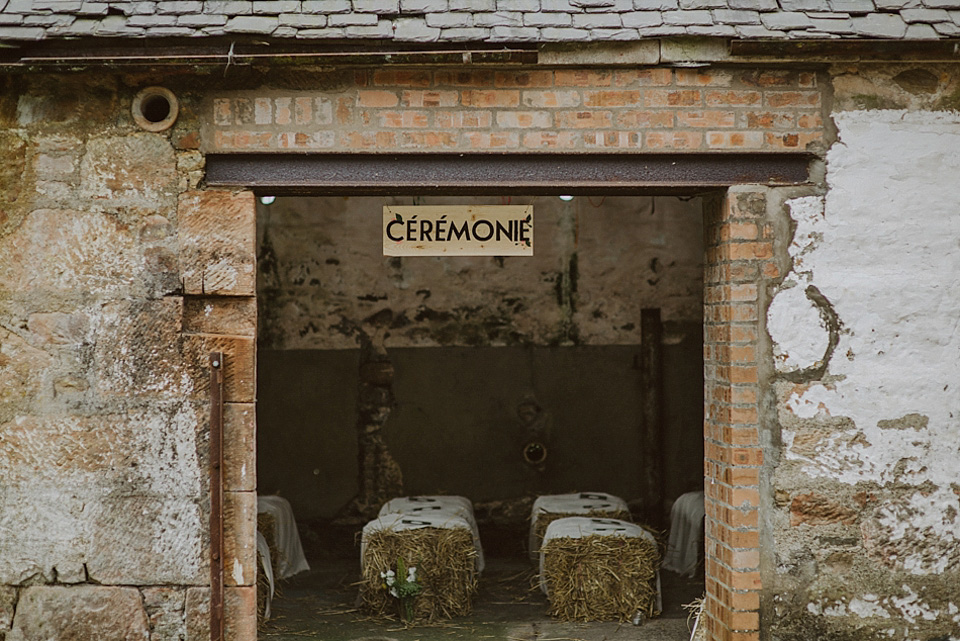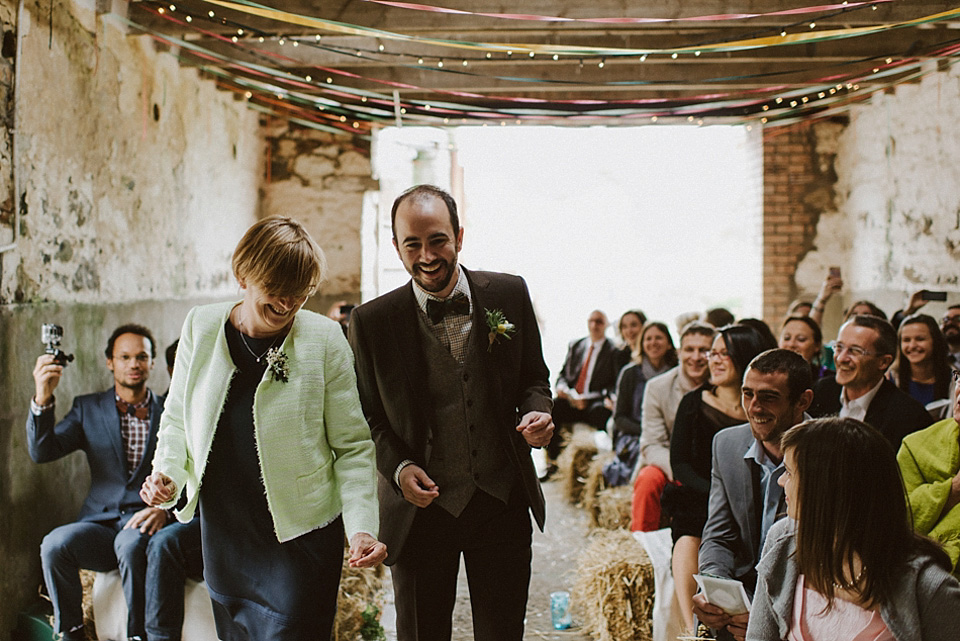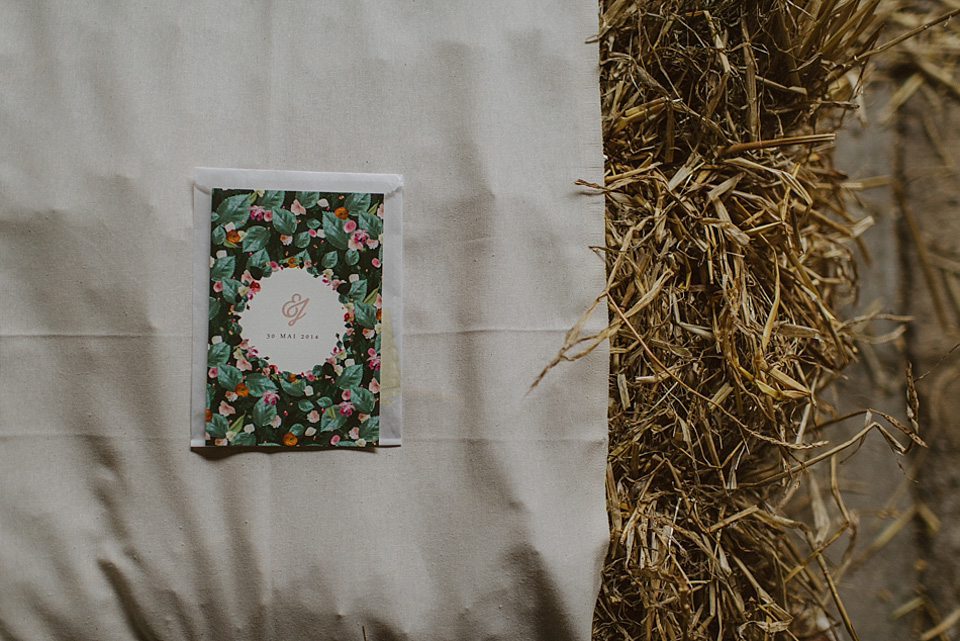 "My father gave me away to the sound of Bruno Mars' 'Marry You' (we left the ceremony to the sound of 'King and Lionheart' by Of Monsters and Men).
We were deciding between taking a secular officiant for the wedding, or a friend. Finally we decided to take a friend, and it was the best choice we could have made. Our friend knew us both so well and was able to say the most perfect words about us during the ceremony. There was a lot more emotion involved than we had expected."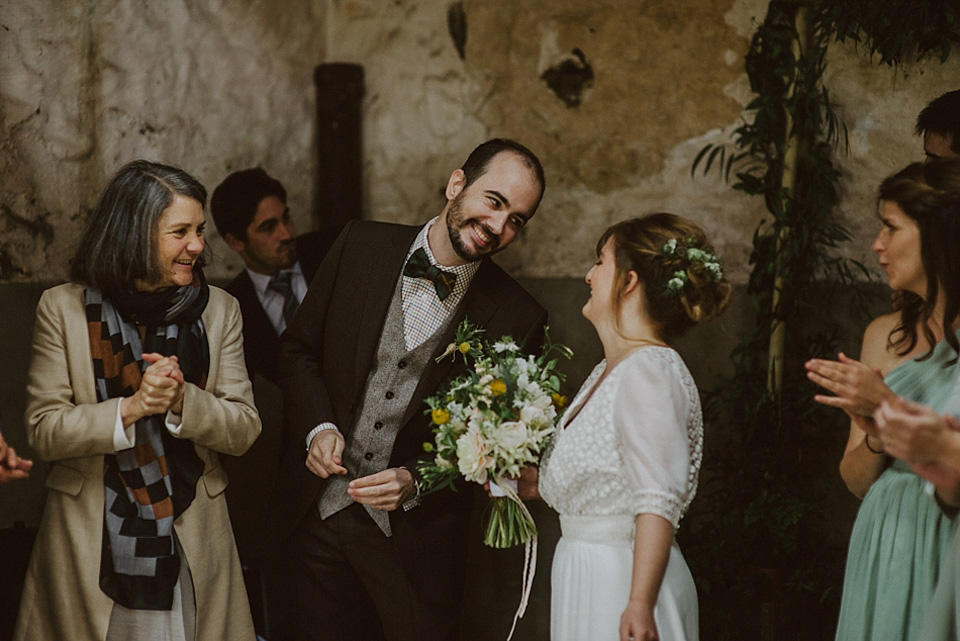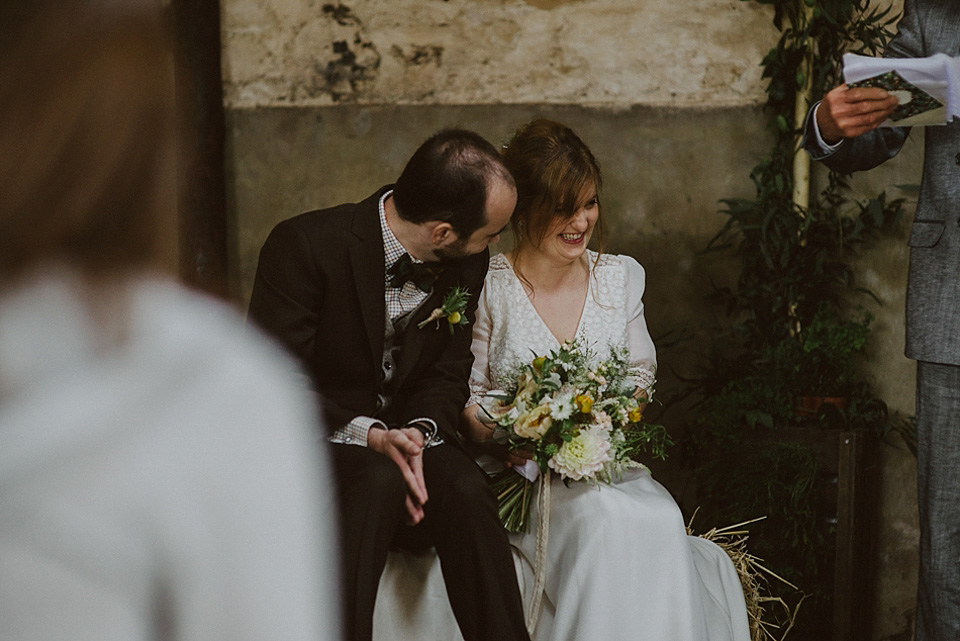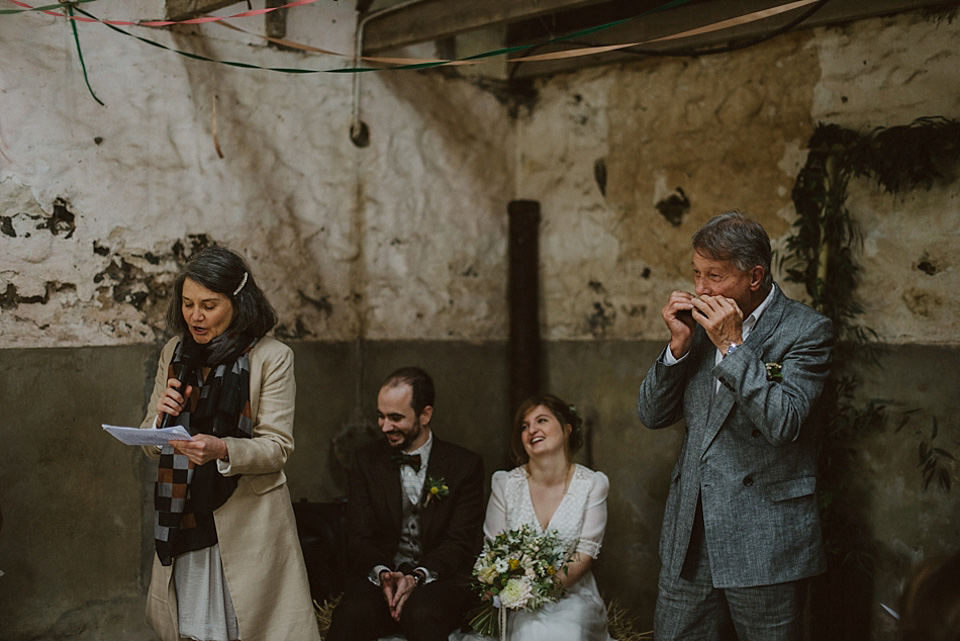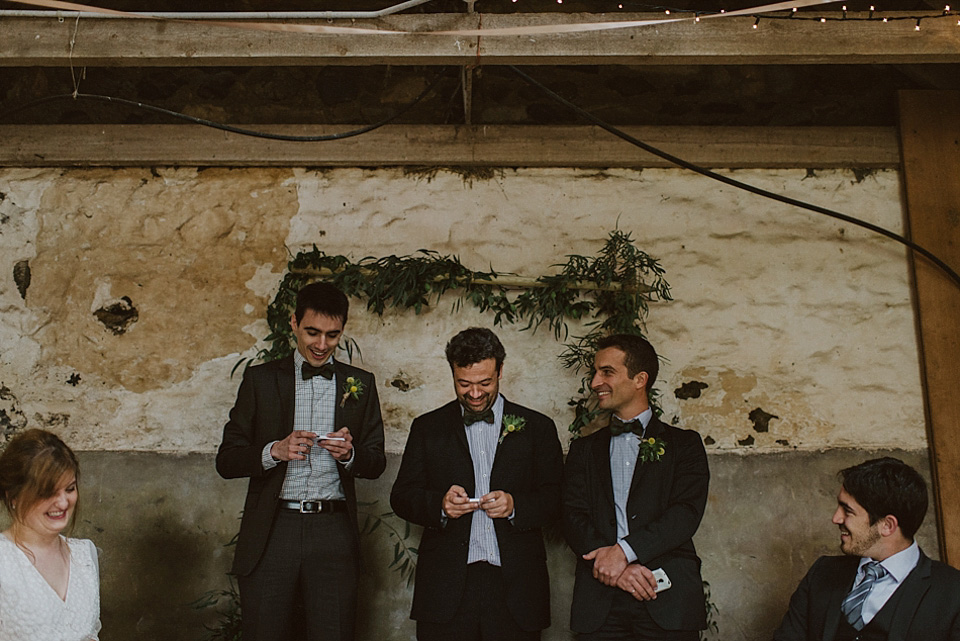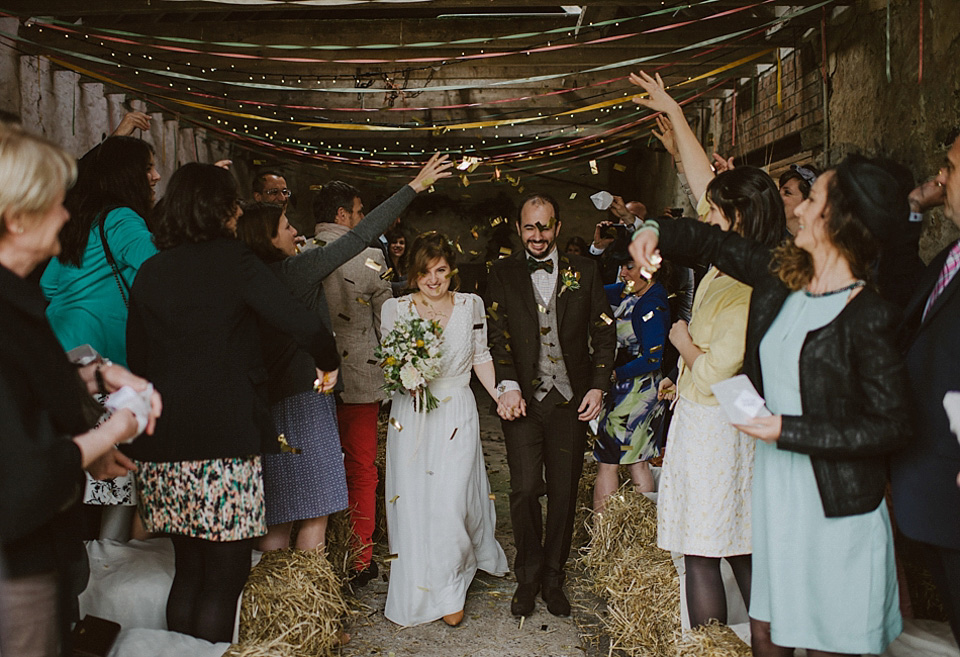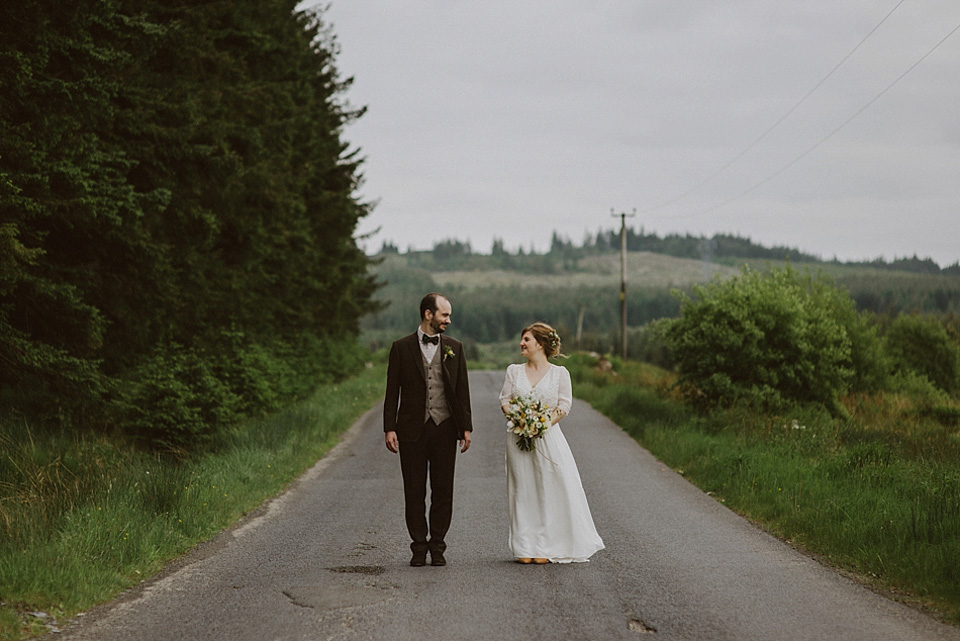 "Our Florist was Sparrow & Rose. I asked for a botanical theme, it was very important to me – many foliage and ferns etc. I made circle foliage above the tables and my husband installed fixings in the roof to enable the florist to suspend beautiful green foliage above the main table."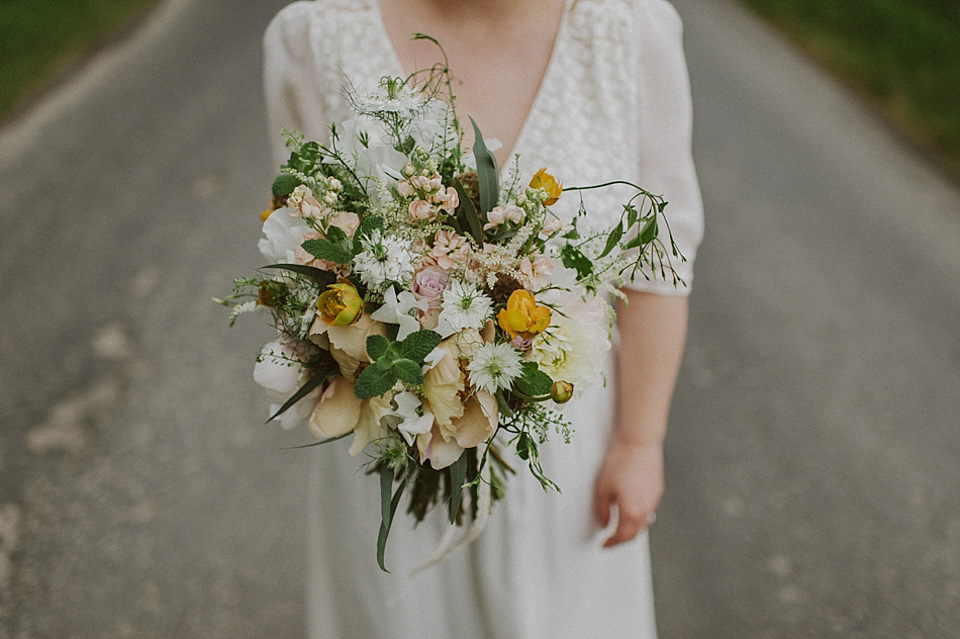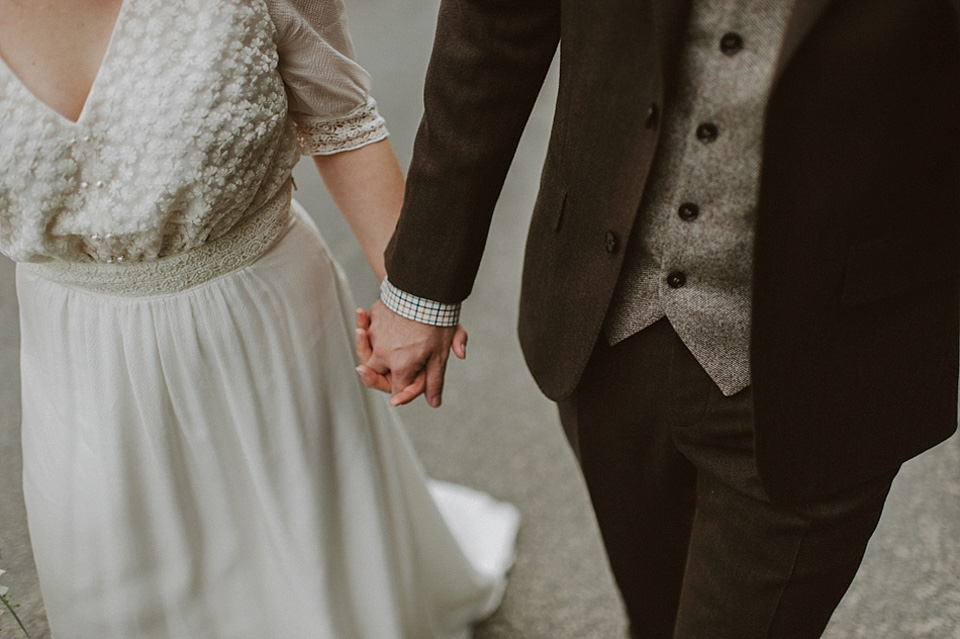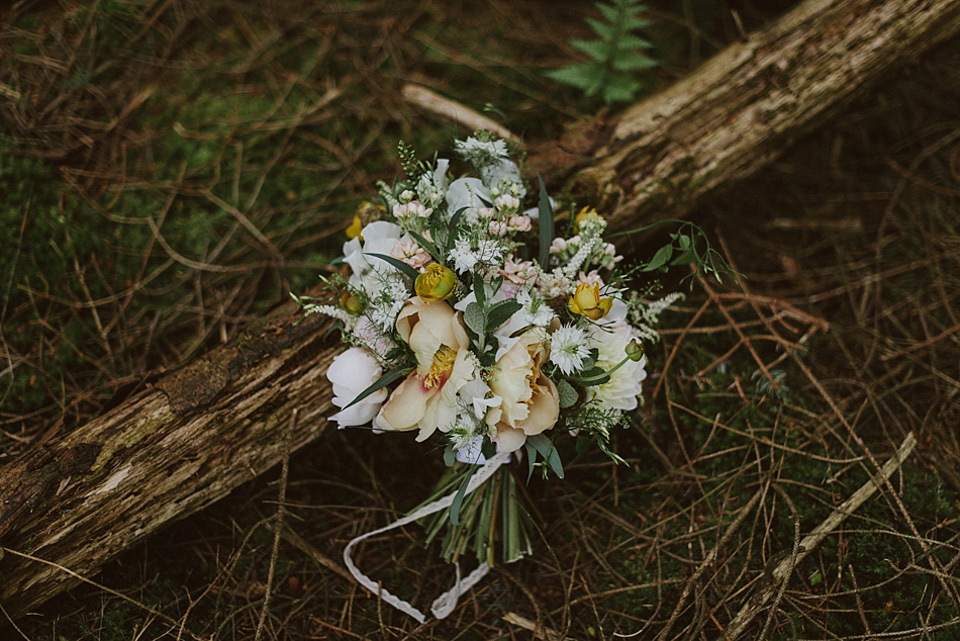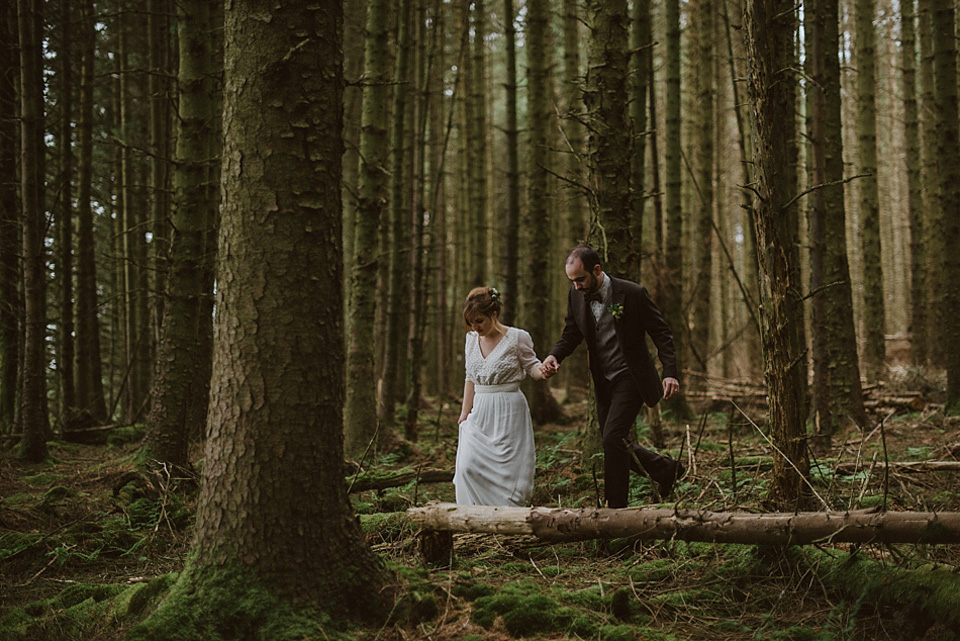 "When it came to decor the vision was all our own – Julien had the great idea to set up a large bonfire in the middle of the outer farm and this is really what gave the stamp to the evening, everyone gathered around the campfire in the evening, it was lovely.  There was also a group of violinists playing modern songs – it was just perfect.
We had the idea of organising a movie outdoors too, so we brought a large tarpaulin that we attached to the wall. We had hay bales for guests and large Scottish's plaids to snuggle in.  There was also popcorn and marshmallows to roast in the fire. The film program included Back to the Future and Star Wars: The Empire Strikes back."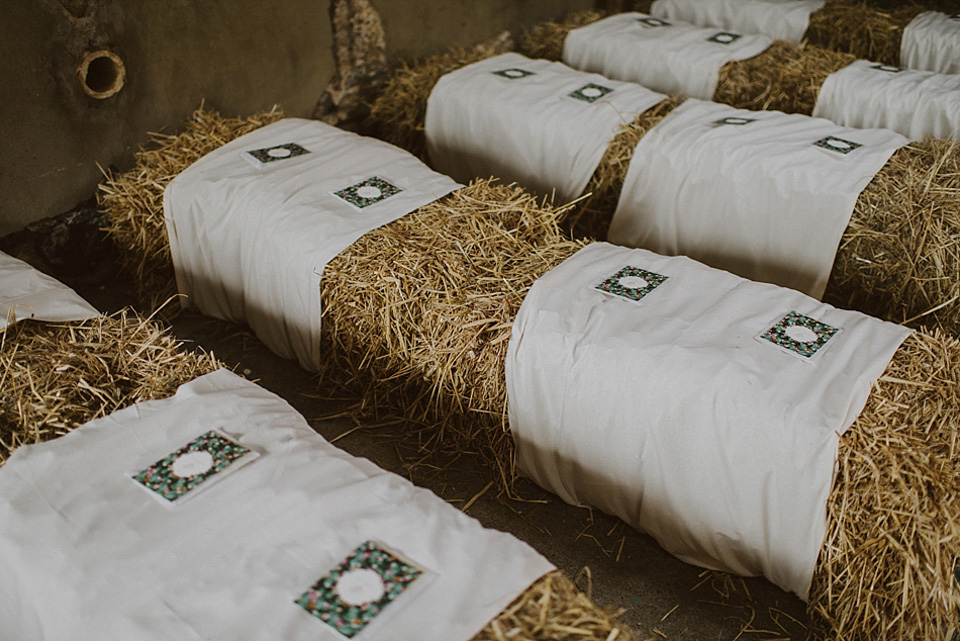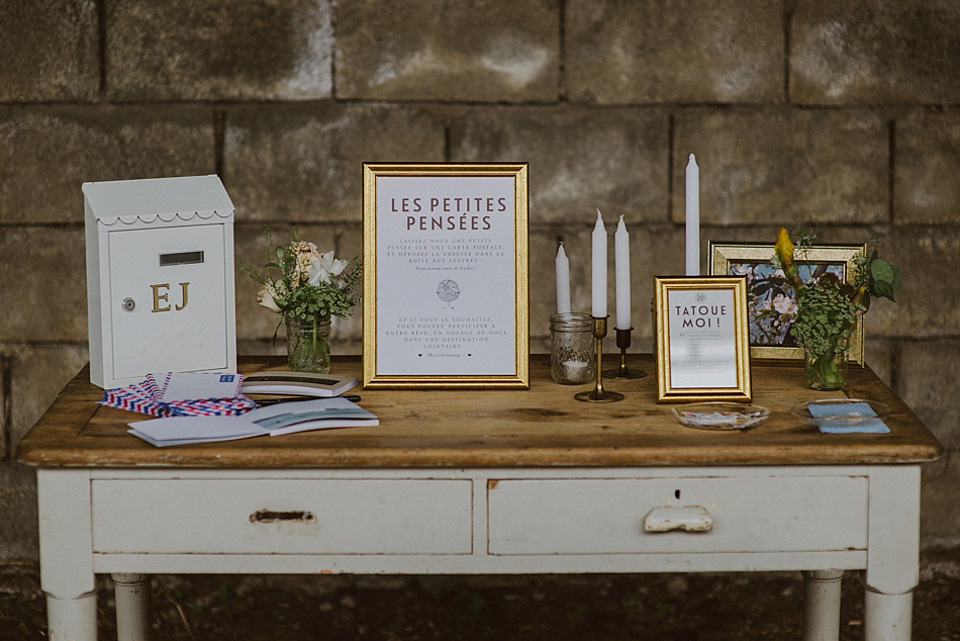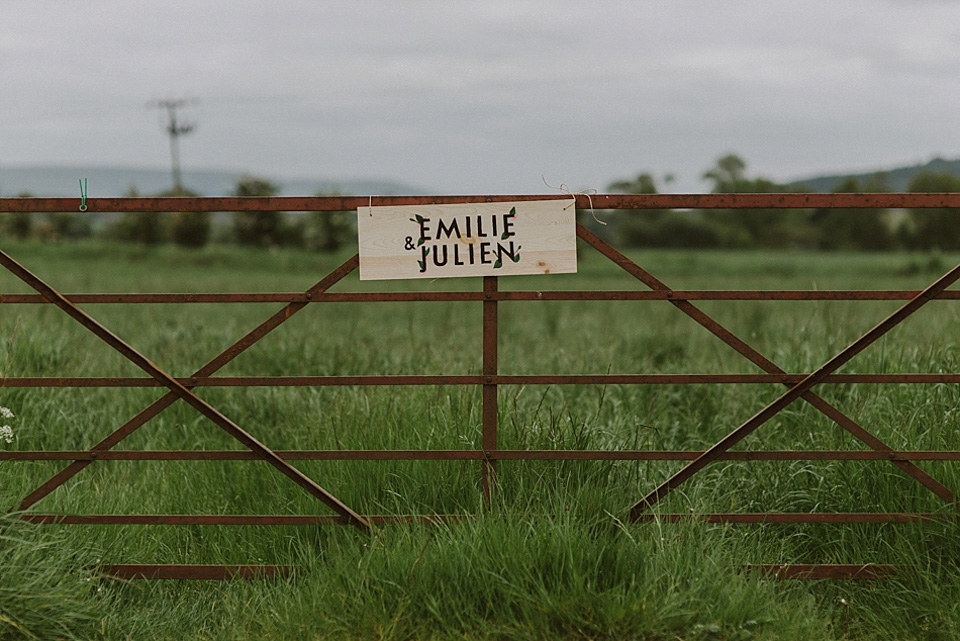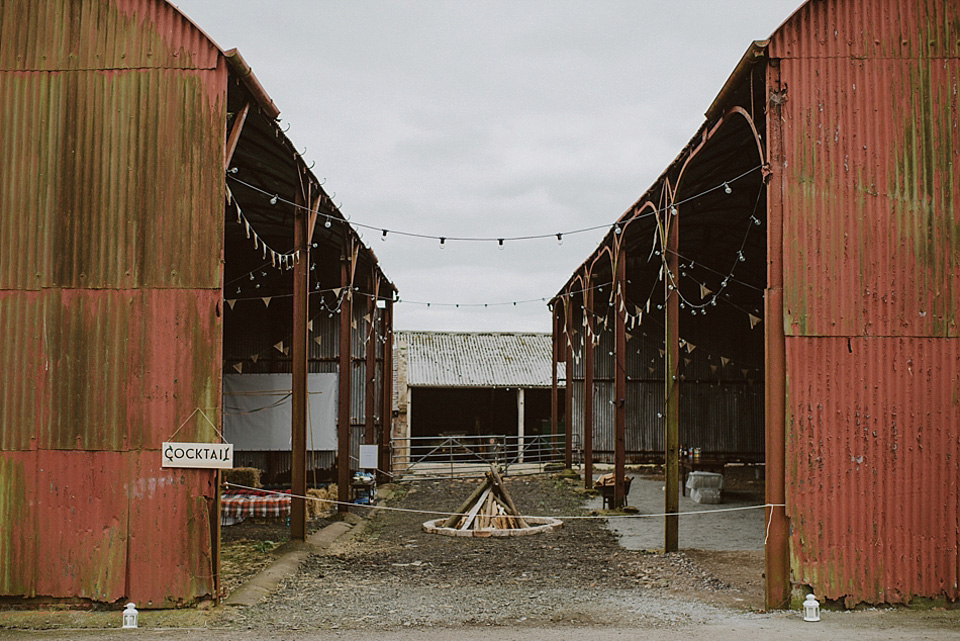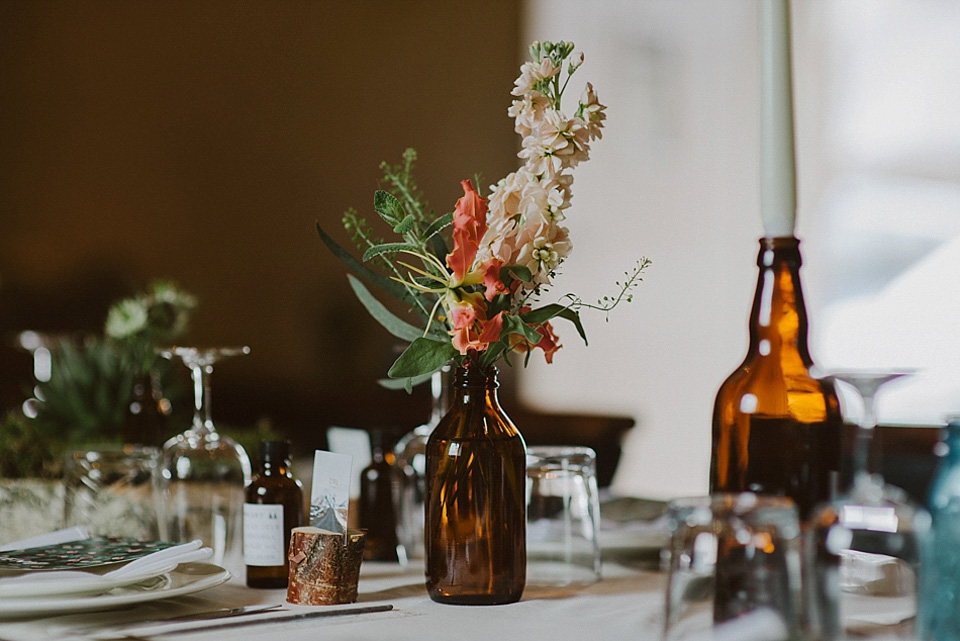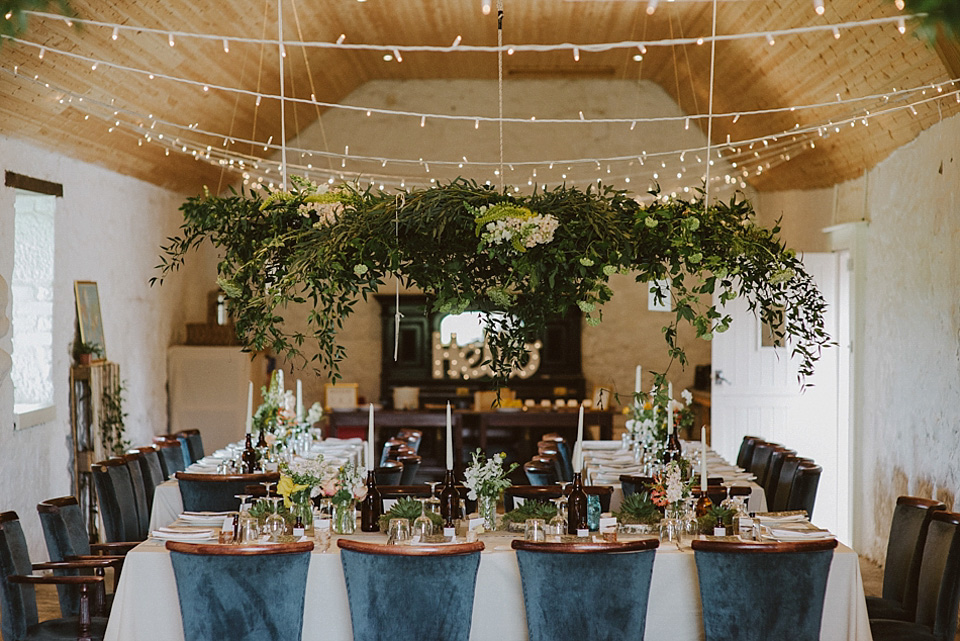 "I cut 200 flags from Ikea linen and my mother and mother-in-law sewed them together one by one.  My mother also sewed all the tablecloths from France with fabric that I also bought from Ikea.
We dug up from James' attic some cute little tables and an old sofa, which was perfect for the photo booth!
During our first trip to Scotland we had found a very nice tartan, which we took back to France to the tailor so he could make us Scottish-style bow ties!"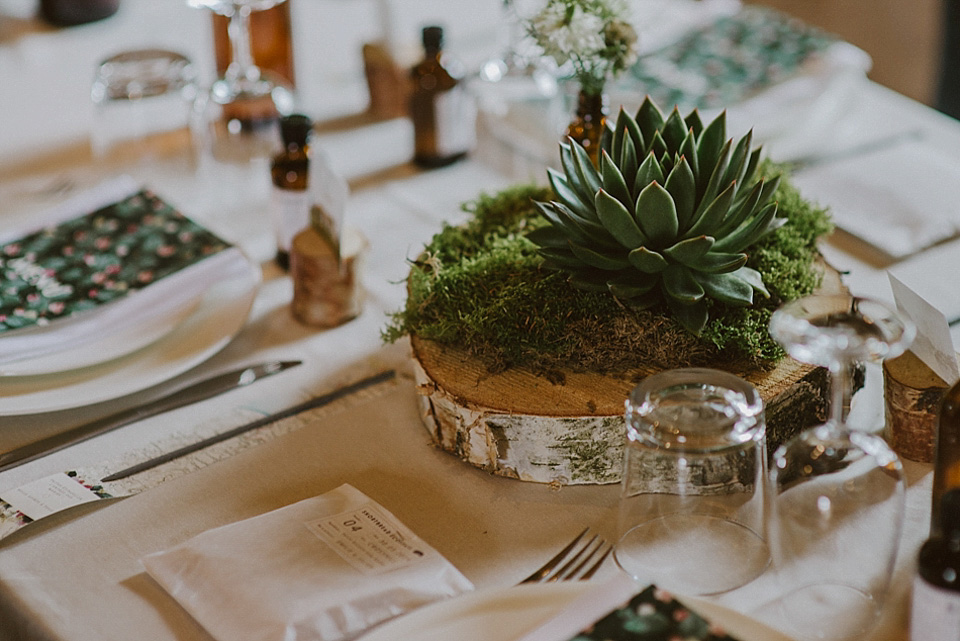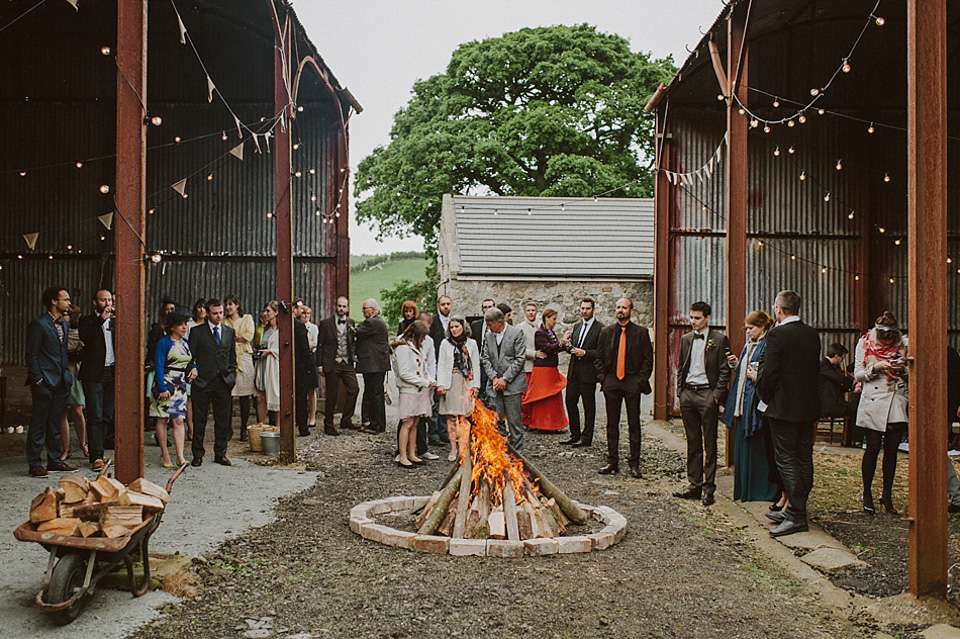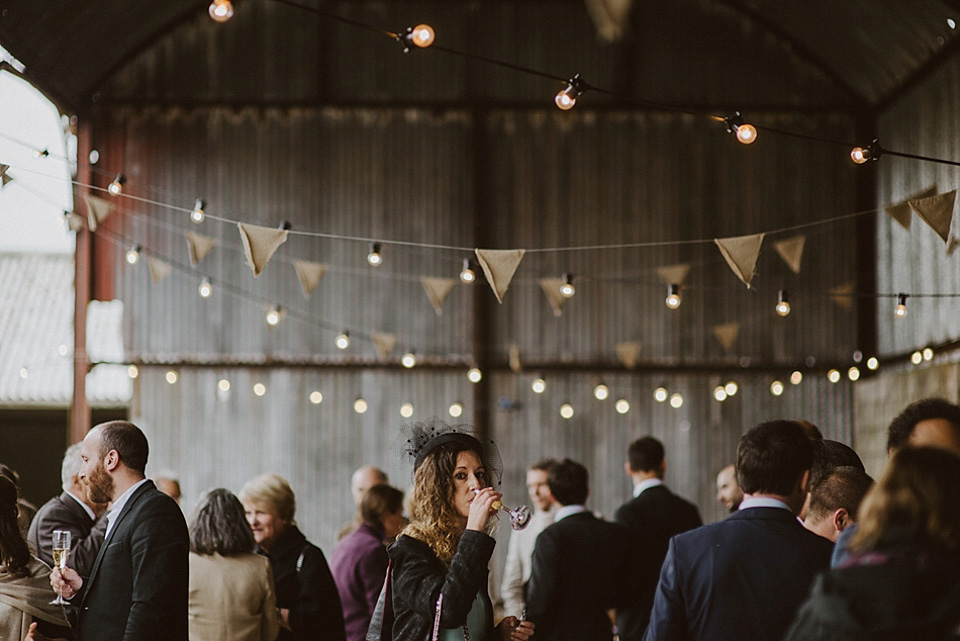 "We wanted our wedding favours to help our guests recall the day, so I ordered small amber bottles, made small labels and we filled them all with whiskey! We also made little bags of shortbread."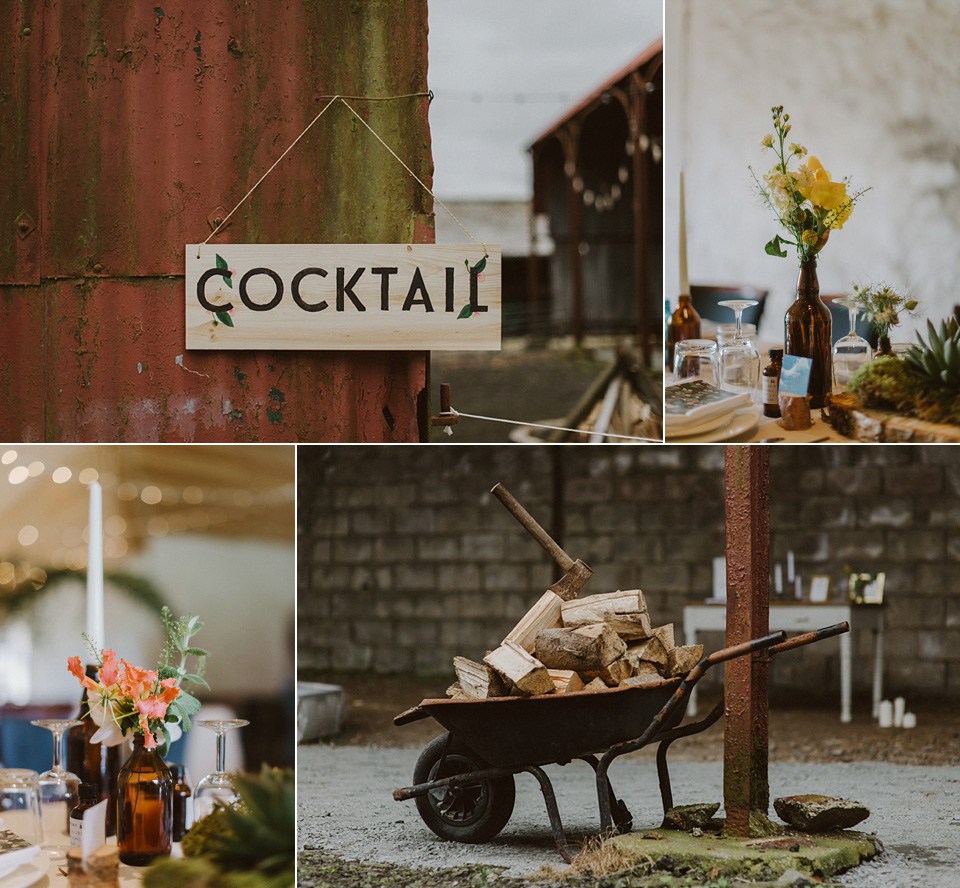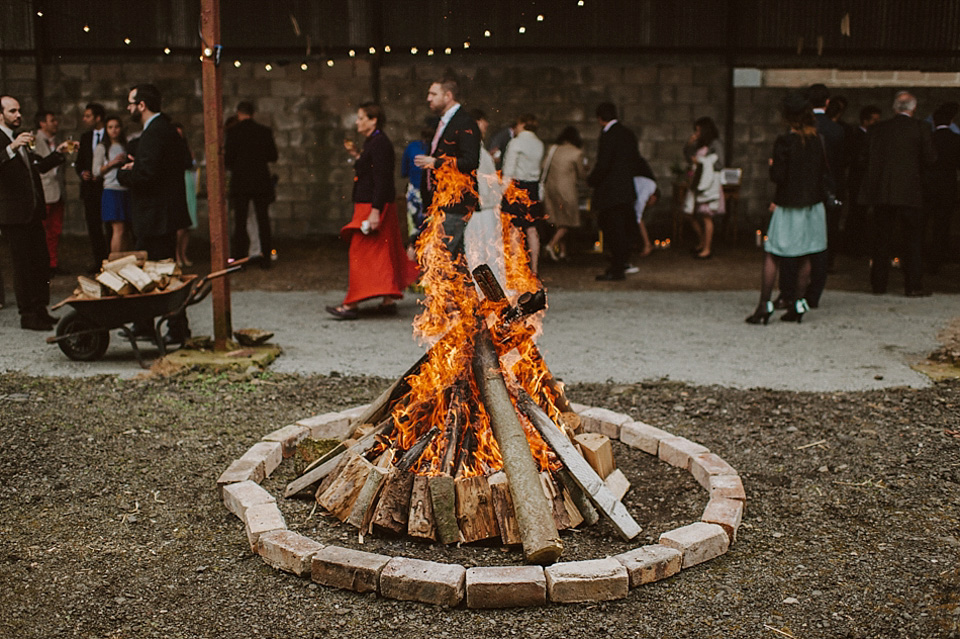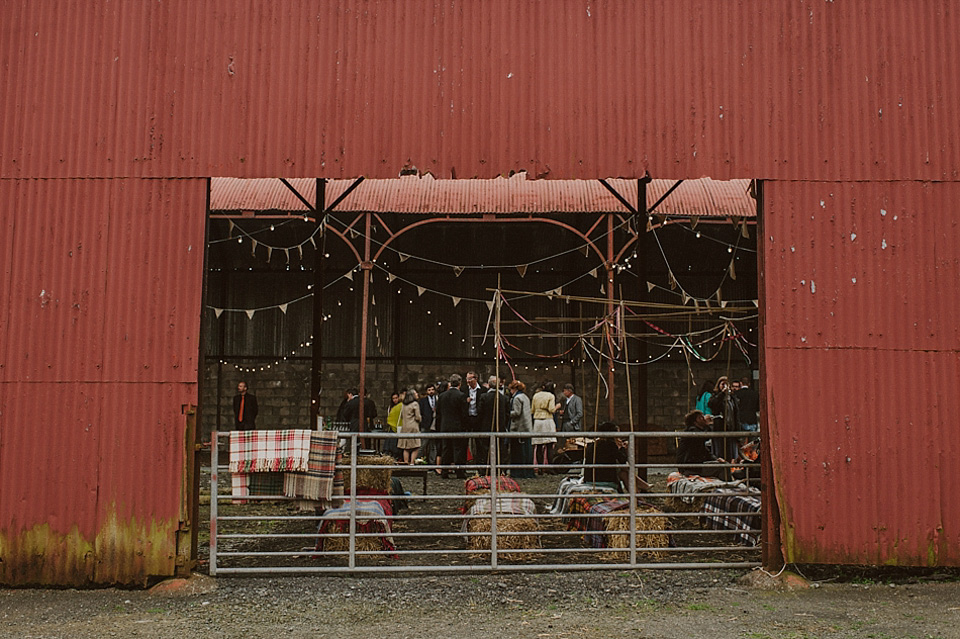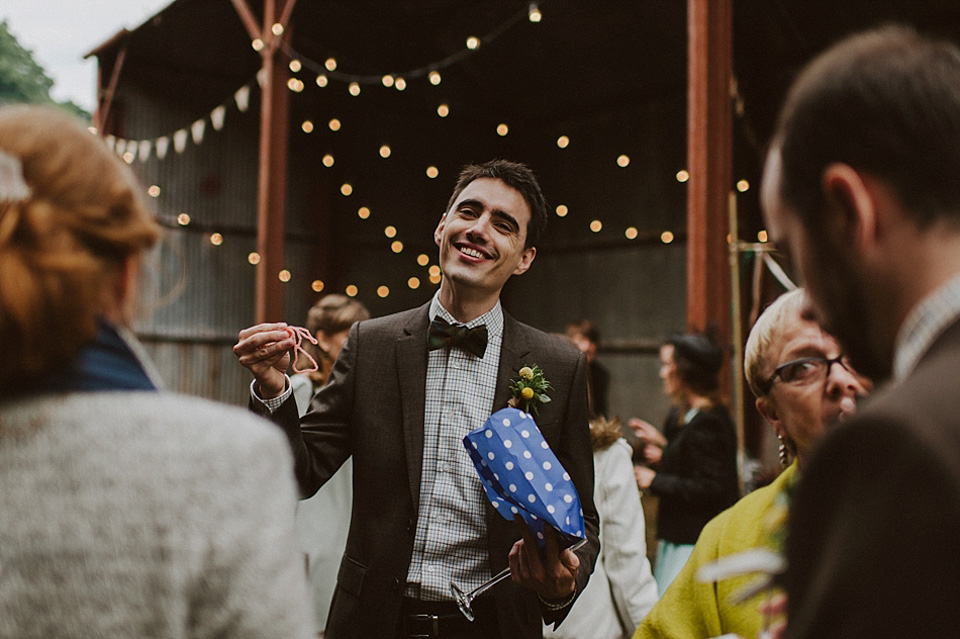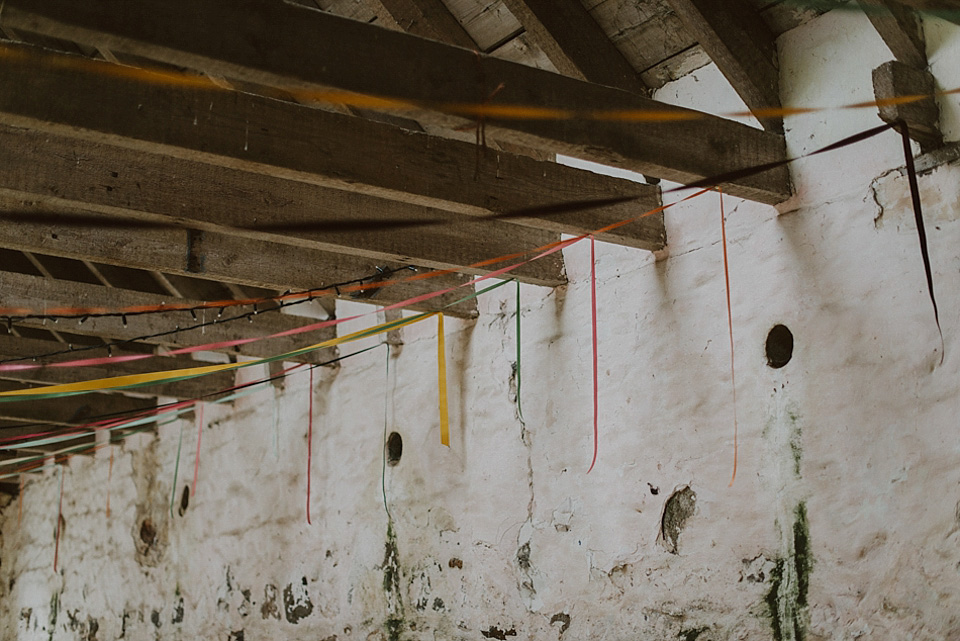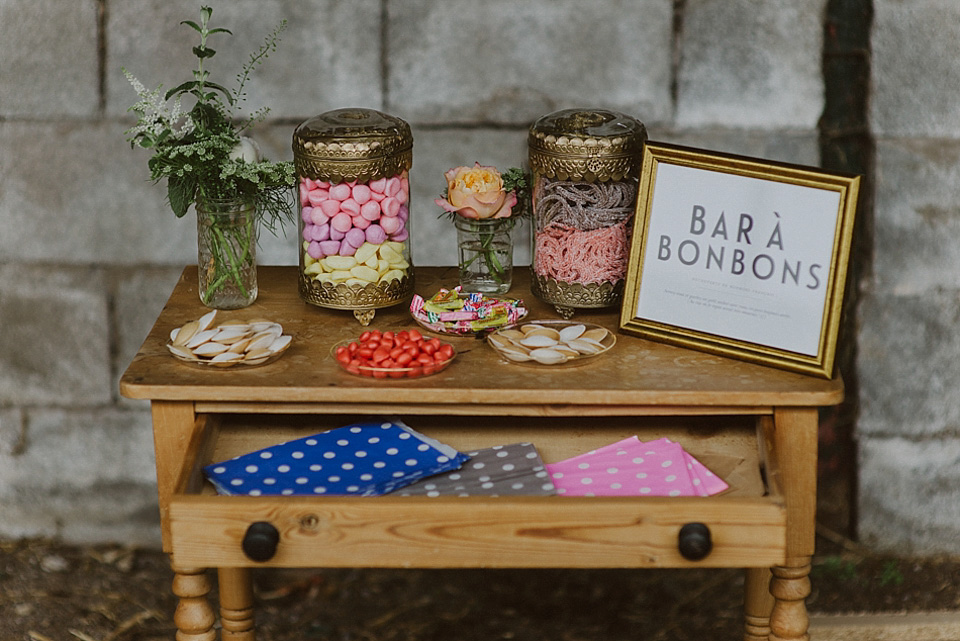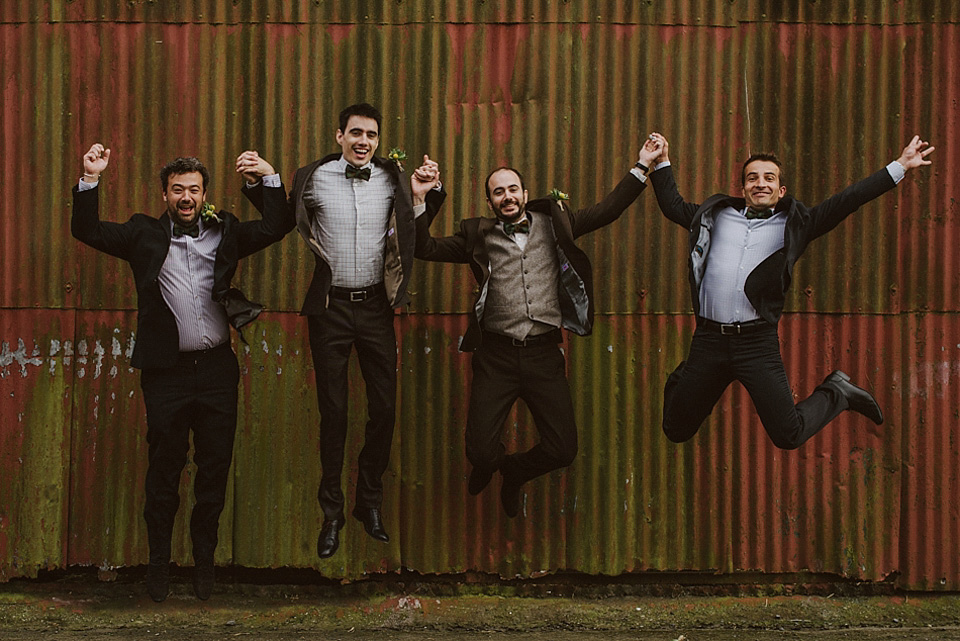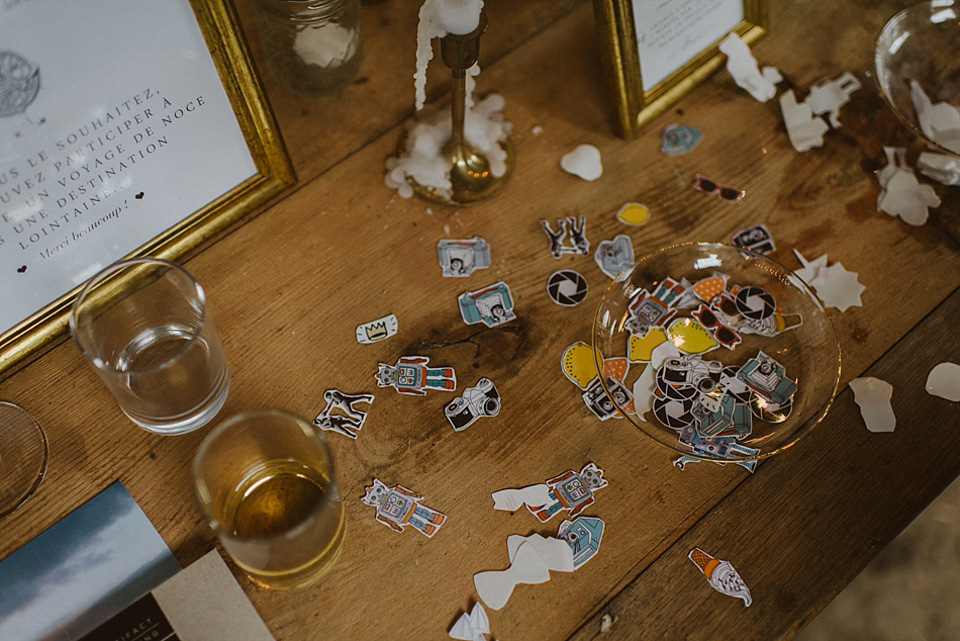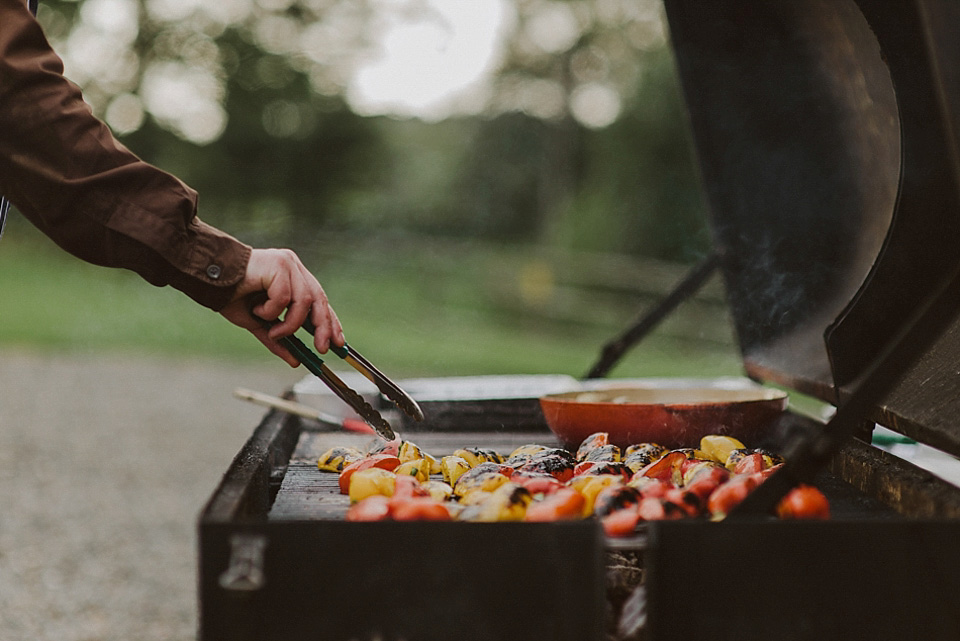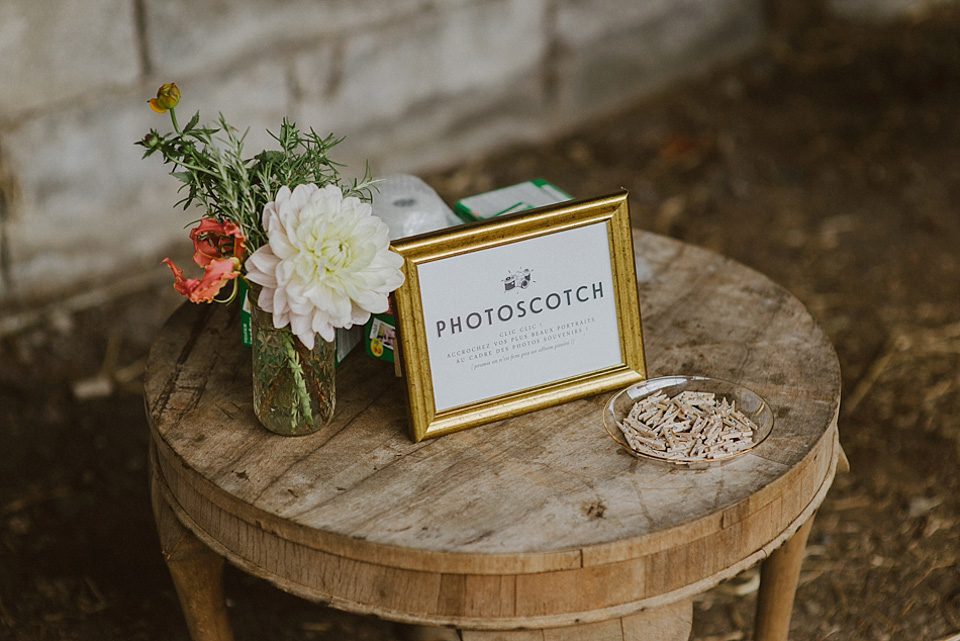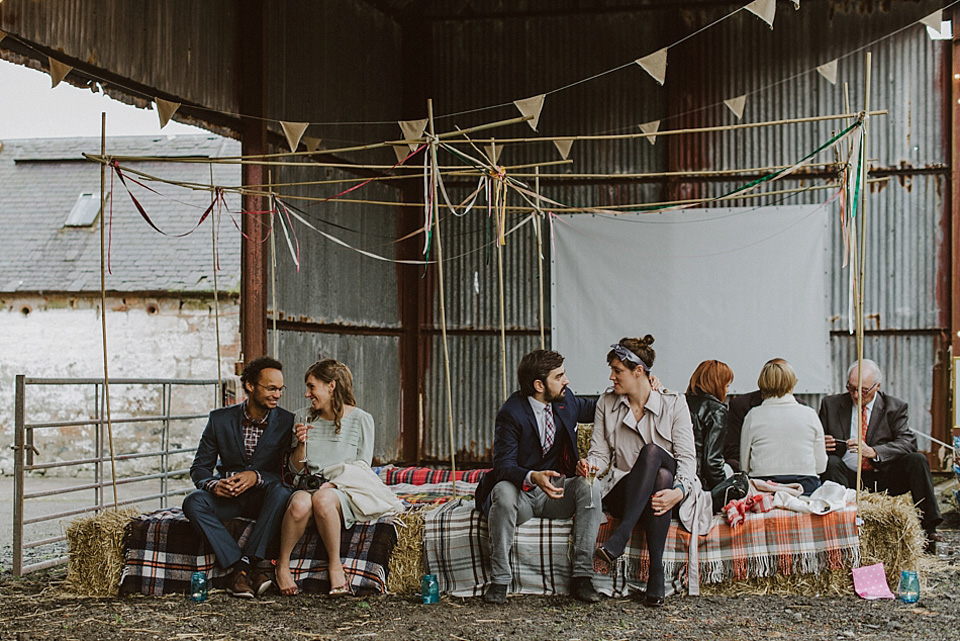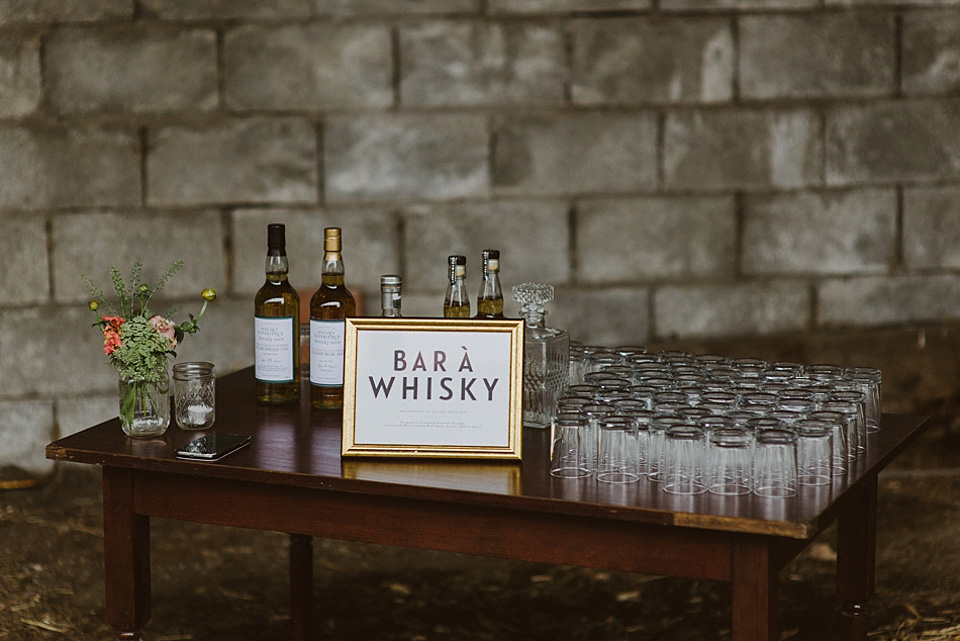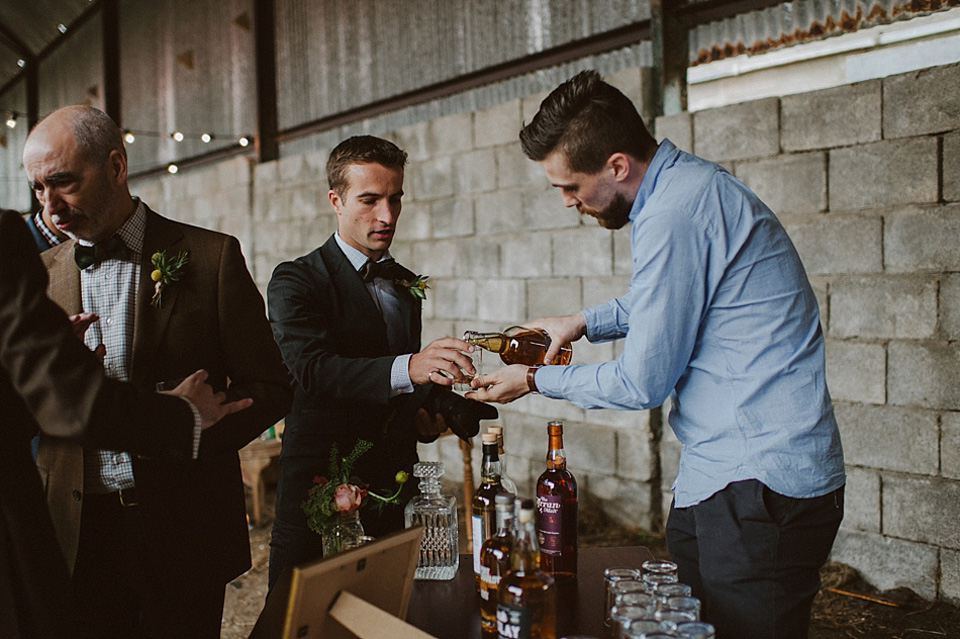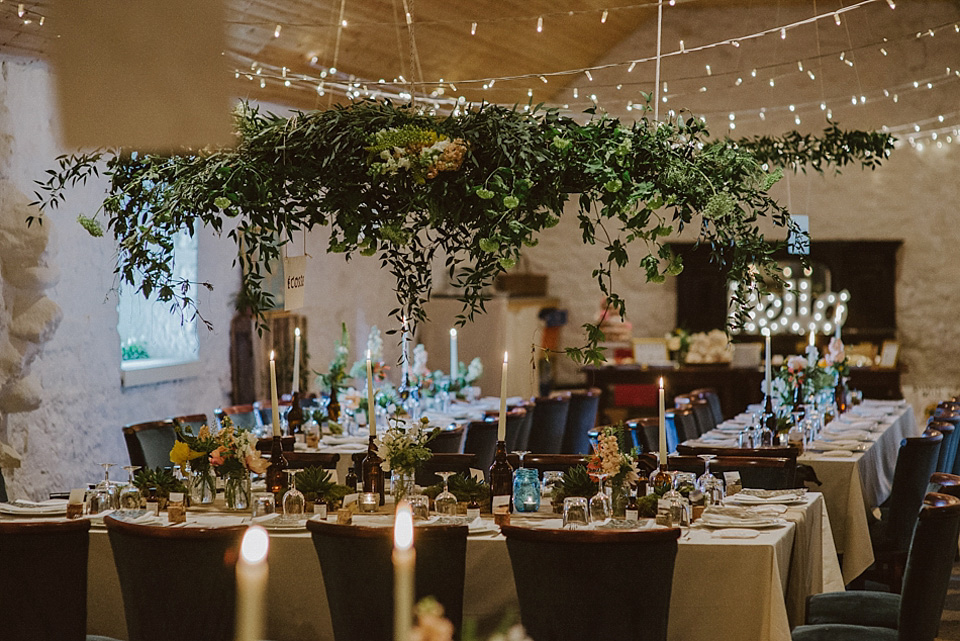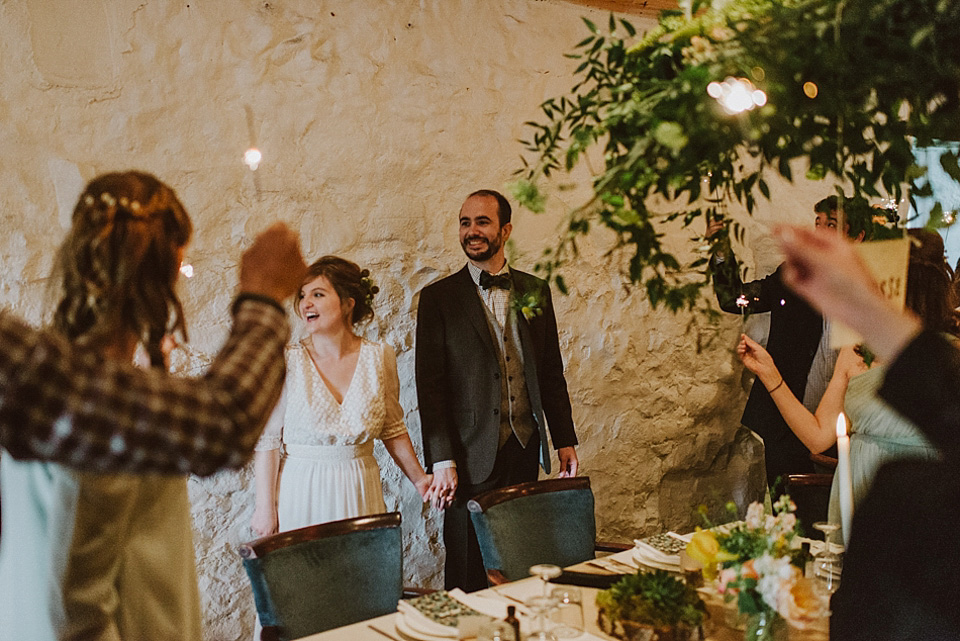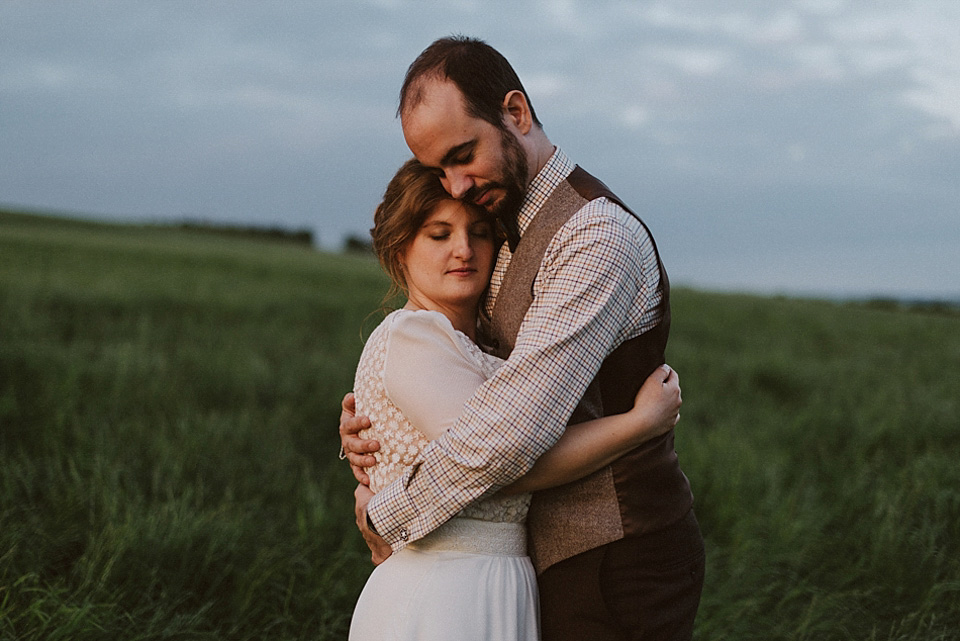 "The most challenging part of styling the day was renting all the lights (the farm was a complete blank canvas) and installing everything by ourselves.  Julian, his father and friends spent two days putting the lights together.  It was a really big but very essential job."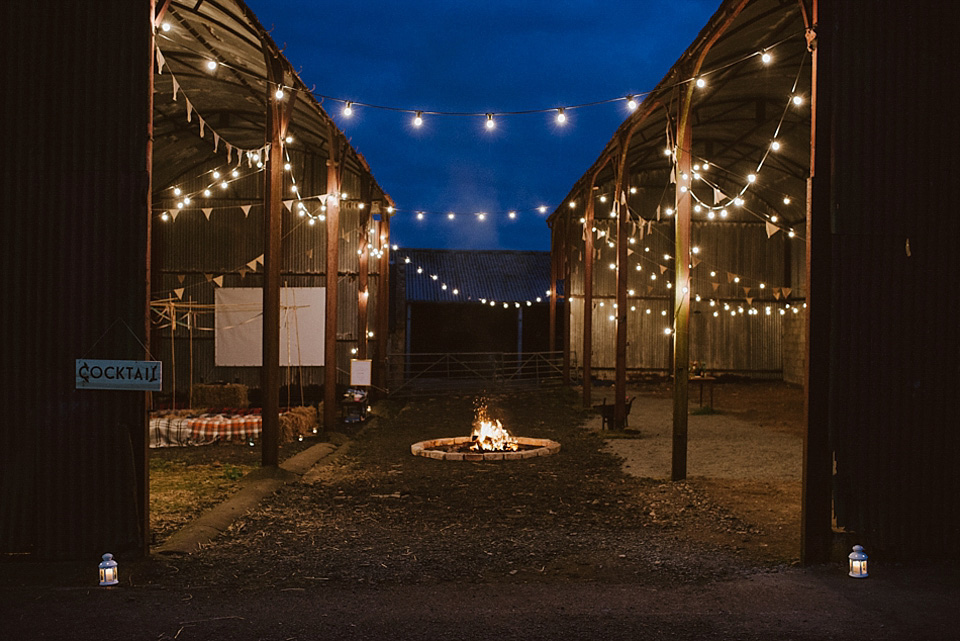 "Our favorite of the day is difficult to choose! I personally loved the preparations in the morning – everyone was in this beautiful house we rented, everyone was busy and happy – it was a lovely little nest. I also enjoyed the ceremony and we were very moved by the words read by our relatives.
Another high point were the lanterns in the sky, the sky was still blue and it was amazing watching them float away! And watching the film around the fire too – it was just so nice."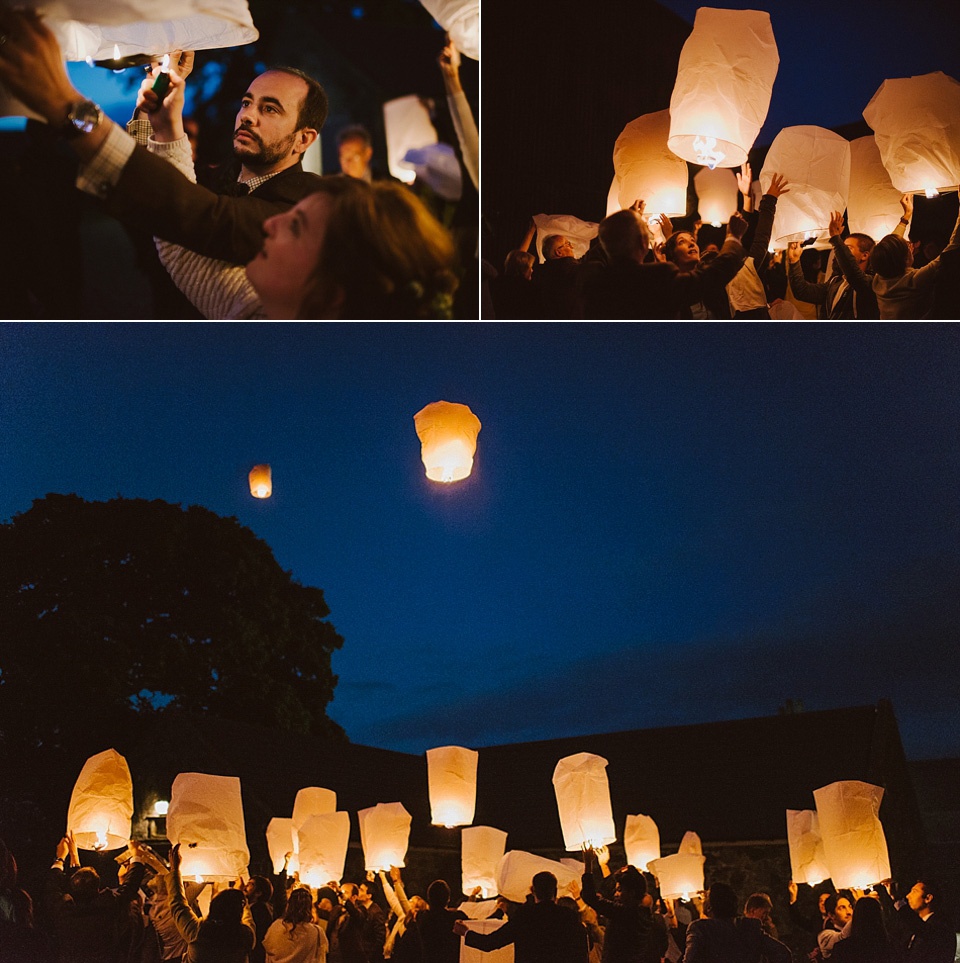 Words of Wedded Wisdom…
"Do not stress, and enjoy the moment!! It goes by so fast; you have to let go even if everything is not perfect, and just go with the moment. Be near your friends and family on the day and enjoy every person… For preparations or for choosing a theme, I think that choosing a theme that suits the couple is essential! What unites you is your passions and will be a perfect theme since it will look like you.
Also, we didn't plan enough canapés for cocktails and we had forsaken the playlist a little for the film outside – but these are just small details that really didn't matter on the day."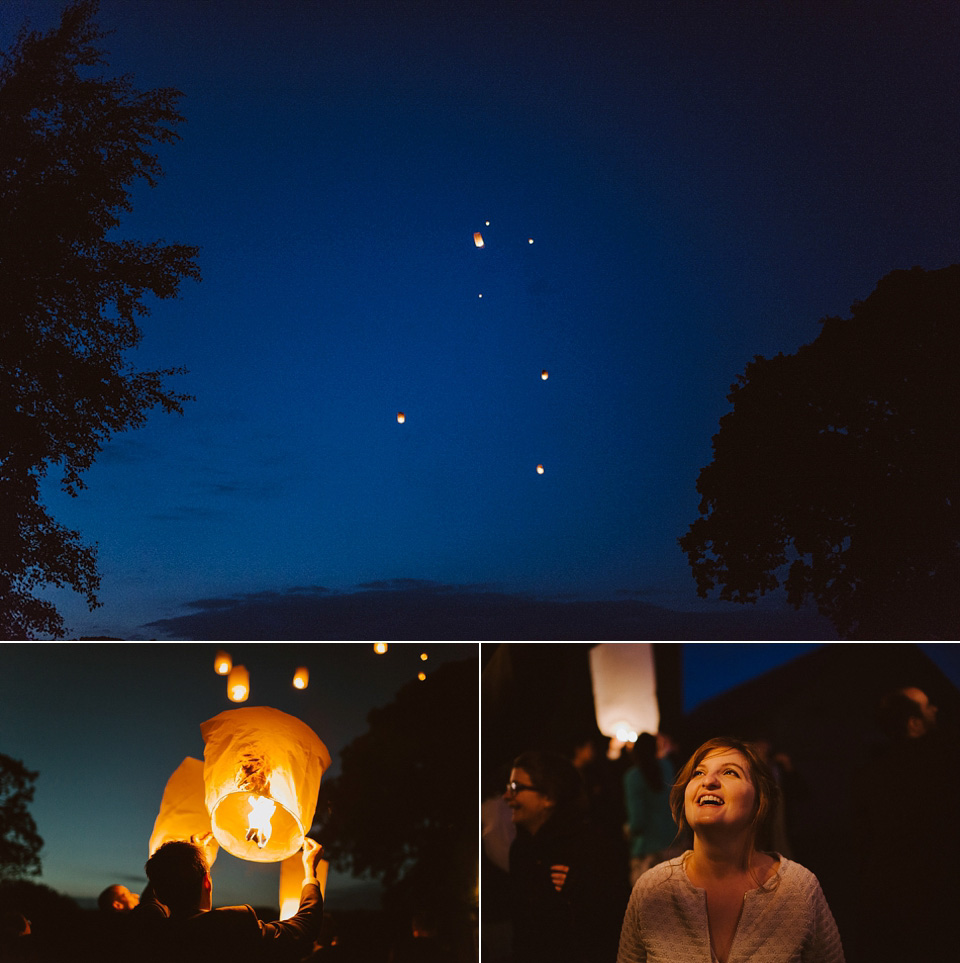 What a breathtakingly beautiful day and as expected, exquisite photography from The Kitcheners.
I adore this type of wedding – full of charm and delightful details, a beautiful reflection of the couple, their life adventures, personalities and what makes them happy.  I'd really love to hear back from those of you hoping to plan something similar – use the comments box below to share your thoughts and ideas or feedback on Emilie and Julien's wedding day.
Love Annabel xx
Photographer – Kitchener Photography
Wedding Planner/Stylist – Be Eventful
Venue + Catering – Dalduff Farm in Crosshill, Scotland
Wedding Dress – Laure de Sagazan
Bride's Shoes – Sézane
Bride's accessories –
Grooms Suit – Handson Paris
Florist – Sparrow & Rose
Cake – Three Sisters Bake
Entertainment – The Dotted Crotchets
Rings – Zeina Alliances
Stationery – The bride
Hair and make-up Artist – Jenn Mathieson–
Follow Love My Dress® on Google+