I know I've said this before but I really do love a pub wedding. (I'm also totally biased because that's what I had too!) There is a feeling that everyone can immediately relax upon walking through the doors, the atmosphere is intimate and cozy and it's the perfect environment for laid back celebrations. Natasha and Pete chose The Prince Albert pub in Camden for their reception, filling it with their favourite people, lots of gorgeous flowers and piles of delicious food. Photographed by the supremely talented Laura Babb, this wedding will is sweet, simple and full of happiness. Enjoy!
Natasha, a media planner, and Pete, a voiceover artist, were married on 16th November 2013 in a ceremony held at Burgh House, Hampstead, before piling all their guests onto a Routemaster double decker bus bound for the pub reception.
"Pete and I met about 6 years ago when we were put on the same team for a rounders match at work. We won (yay!) and at the drinks afterwards we got into a heated debate about 90's music.  In the early days of our relationship I taught Pete to play blackjack and we spent a lot of time in beer gardens playing cards. The first Christmas present he ever bought me was a snazzy deck of gold playing cards.
On 27th December, exactly 1500 days since the start of our relationship, Pete called me to the living room saying he had to show me something. There, on our coffee table and surrounded by loads of candles, were four of the gold playing cards with the words 'Will You Marry Me?' taped to them. We were engaged for just under a year."
Photography Copyright (c) 2015, Laura Babb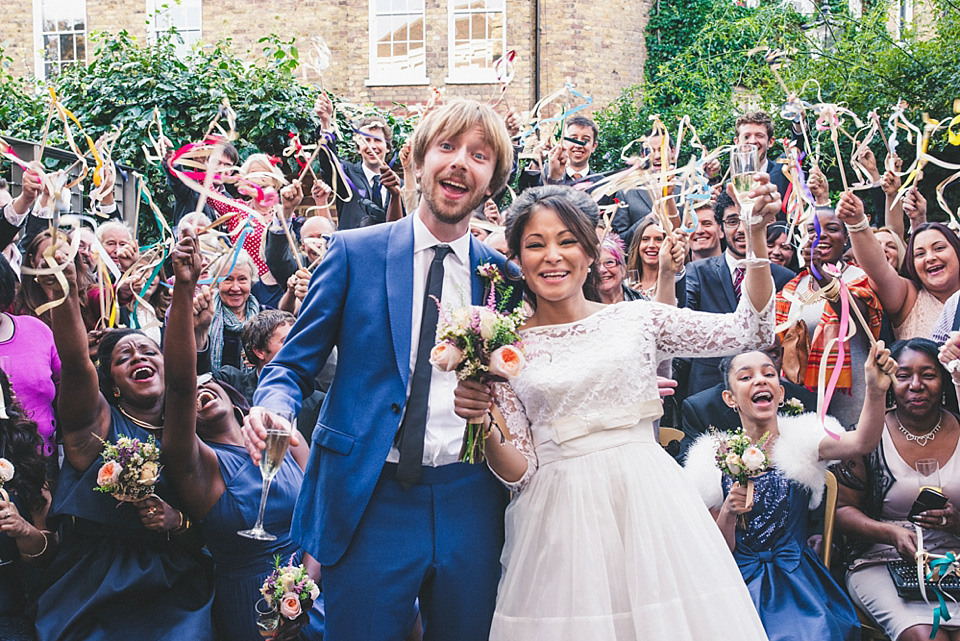 The couple's wedding photographs are really rather special. Laura Babb has a real talent for capturing group shots and for putting a lovely artistic twist on the classic 'newlywed' vignette.
"We saw some shots that Laura had taken featured on a couple of wedding blogs. We loved how everyone looked so relaxed in the pictures. Along with the traditional shots, she'd taken some unusual ones that looked amazing. When we met up with Laura and saw some more of her beautiful work, we just had a great feeling about her. The pictures we now have are everything we wanted and more. There isn't a single one that we don't cherish and honestly having her as our photographer was one of the best choices we made."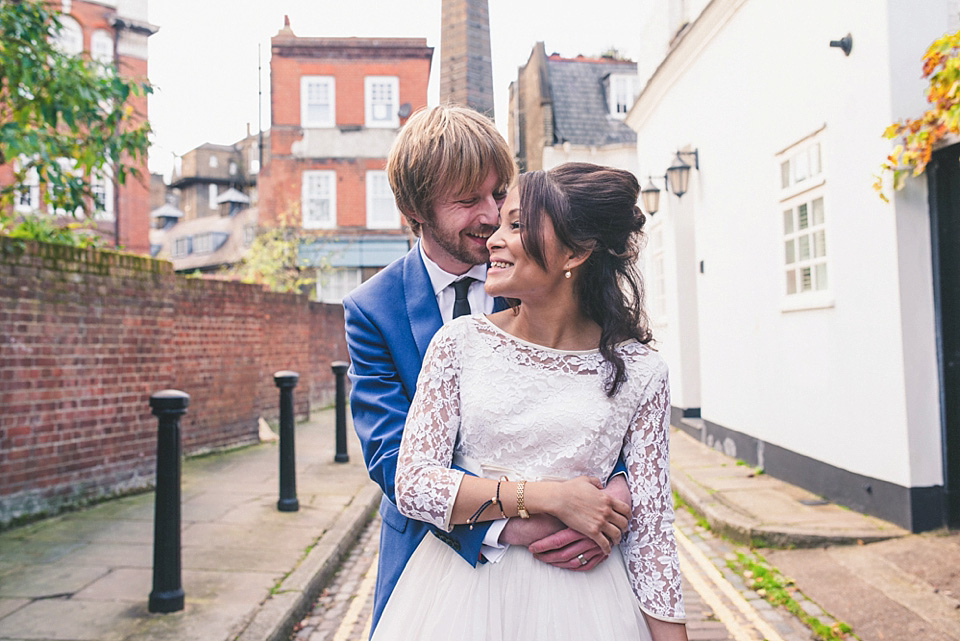 Natasha definitely had the right idea when it came to choosing her dress, it sounds like it was such a fun process for her and her maids!
"I didn't really start looking for dresses until we had found the venue, but I had a lot of fun trying on dresses just for the hell of it. I have some amazing pictures of myself in a dress that can only be described as a reject from Dynasty. It had shoulder pads and everything! 
Having found the venue and taking all I had learned from my dressing-for-laughs experience, I knew that I didn't want a full on gown or anything that I couldn't frolic in. I lined up some appointments at bridal boutiques and thought I would try on a couple of vintage ones just to rule them out. No matter how beautiful the dresses were in the traditional bridal boutiques, nothing really dinged my dong. It was then that my maids of honour and I visited Fur Coat, No Knickers. I loved every dress I tried on and suddenly my problem wasn't whether I'd find a dress, it was choosing just one."
"We didn't really have favours as such but we did make ribbon wands instead of having confetti. You can buy them online but it worked out a little cheaper to make them at home."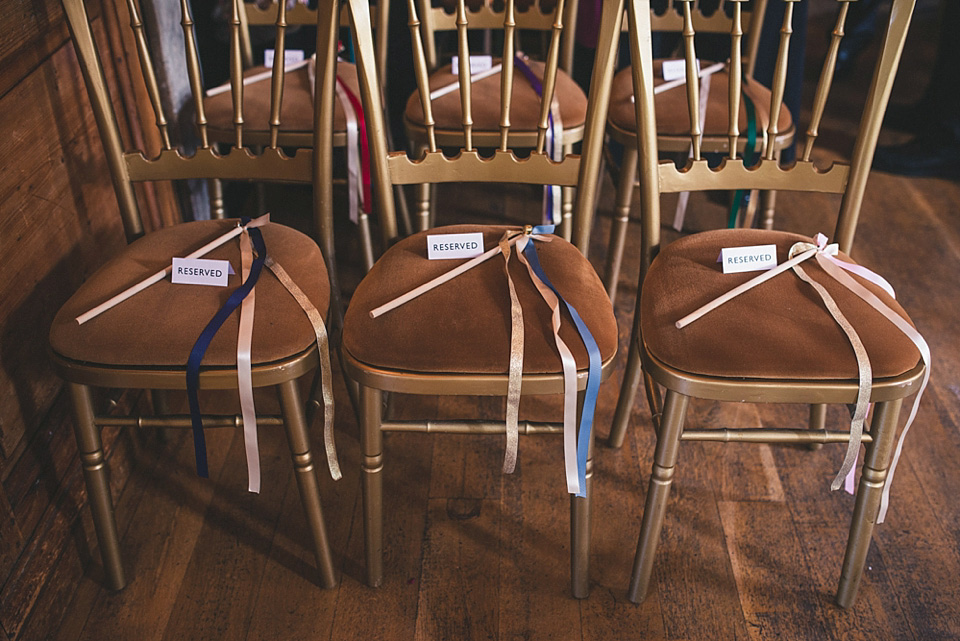 "Fur Coat, No Knickers is such a special and gorgeous place. The owners, Laura and Emma, are just so lovely, super helpful and creative. They take gorgeous vintage dresses and make them feel like they've only ever been made for you. It's almost as if the dresses choose their wearers.
The dress I eventually chose was from the 60's, made from Organza with a little lace jacket. Laura and Emma painstakingly altered it to fit my size and style. We dropped the neck line, brought in the waste and shortened the sleeves. It was a lot of work but in all honesty was such a pleasure to visit their shop and have them work their magic. It felt like I was having a dress made just for me."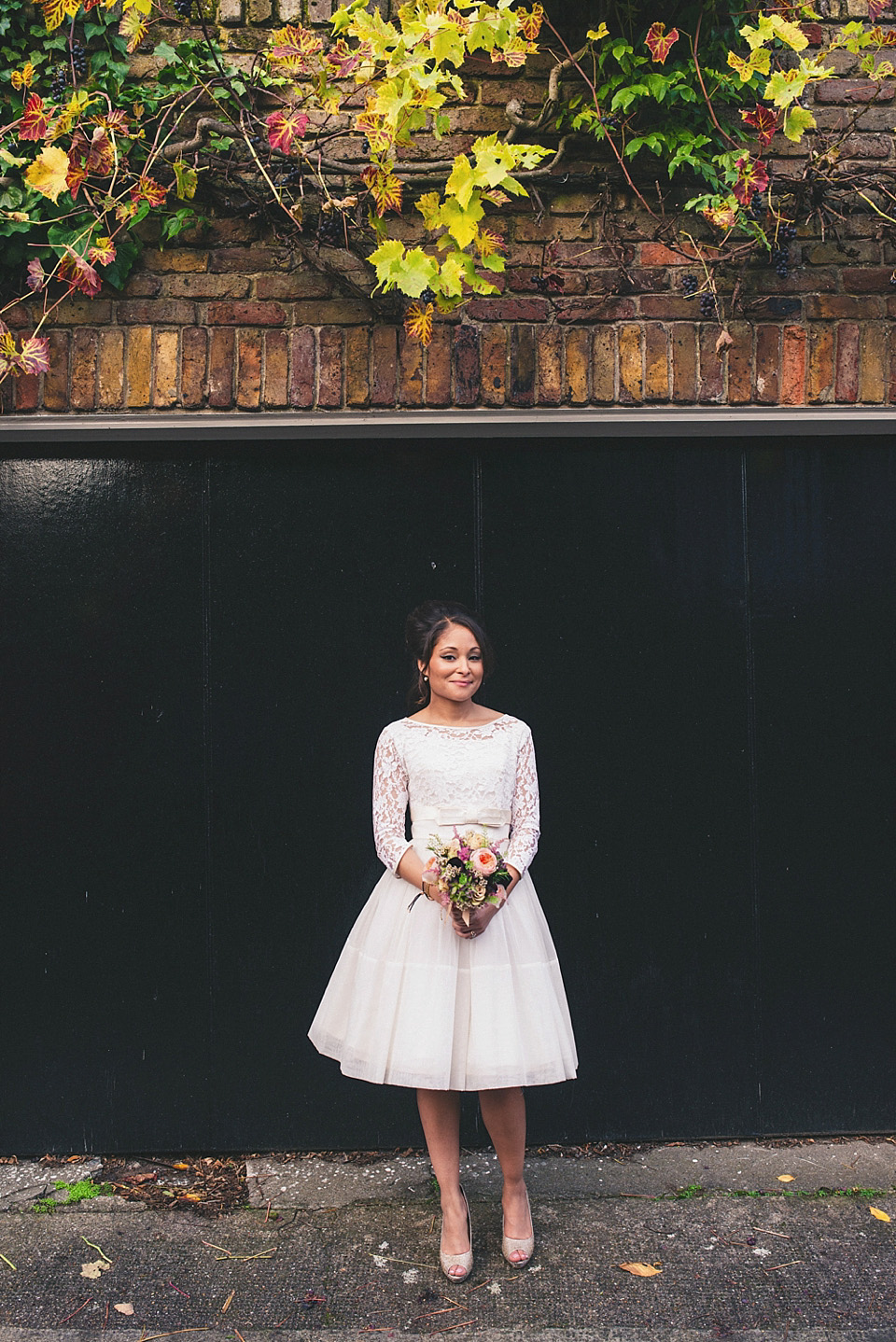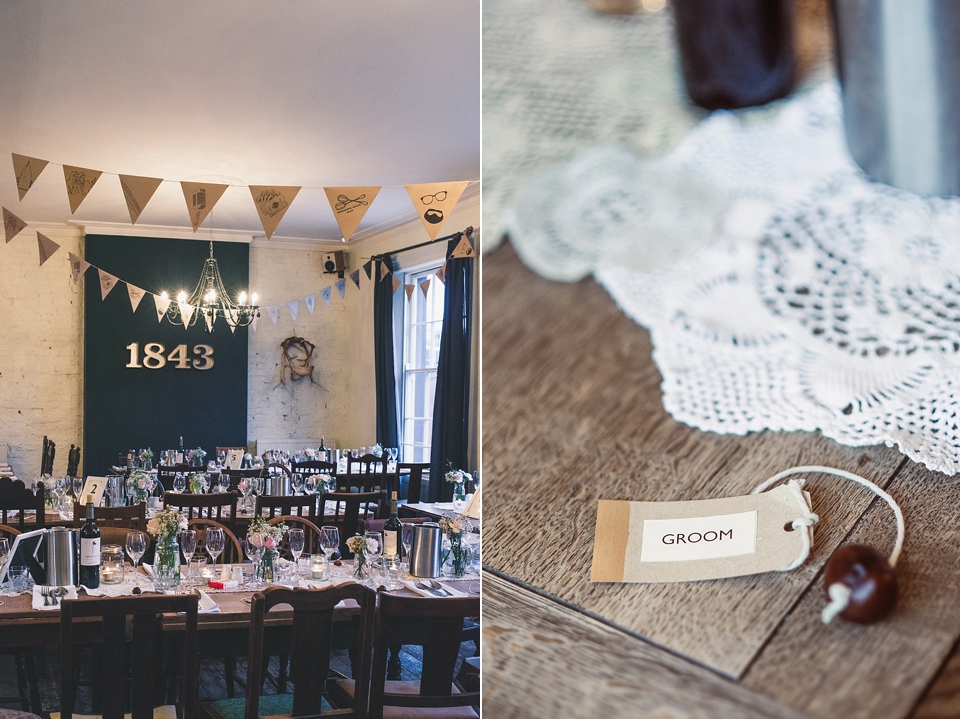 "The bouquets and button holes were made by Scarlet & Violet.  I had roses and….I don't actually know the types of flowers. All I know is that I loved them. I didn't want anything too structured and the ladies at Scarlet and Violet were really helpful."
"Pete's parents own their own design and print business, Bollington Printshop – and specialise in bespoke wedding stationary, so we had absolutely no problems getting Pete's ideas printed. Our invites were vintage-looking telegrams accompanied by booklets called "So You've Been Invited to a Wedding: Your Guide to Wedding Day Survival", which included directions, hotel suggestions and a finish-the-picture drawing that our guests completed and hung in a large frame we brought from Ebay.
They also printed out personalised bunting that we stapled to parcel string."
"I'm going to have to confess that I have no idea where my bridesmaids bought their dresses and shoes from. Yes, that's right, I didn't buy anything they wore on the day. I told them that I liked navy and that I didn't want them to match. That was it. 
The only dress I chose and brought was my little sister's. Her dress and bolero came from BHS."
The talented Nalan from Andrew Jose did an amazing job with Natasha's naturally curly hair, working it into a semi-beehive.
"Make- up wise, I kept it quite simple. I just wanted my skin to look good and have some eyeliner to tie in with the 60's nod. I met Sophie Wiggins through one of my bridesmaids and from our first trial I knew she was a safe pair of hands. She just got it and did an amazing job creating the look I wanted. She also did the make-up of the bridal party and my mum."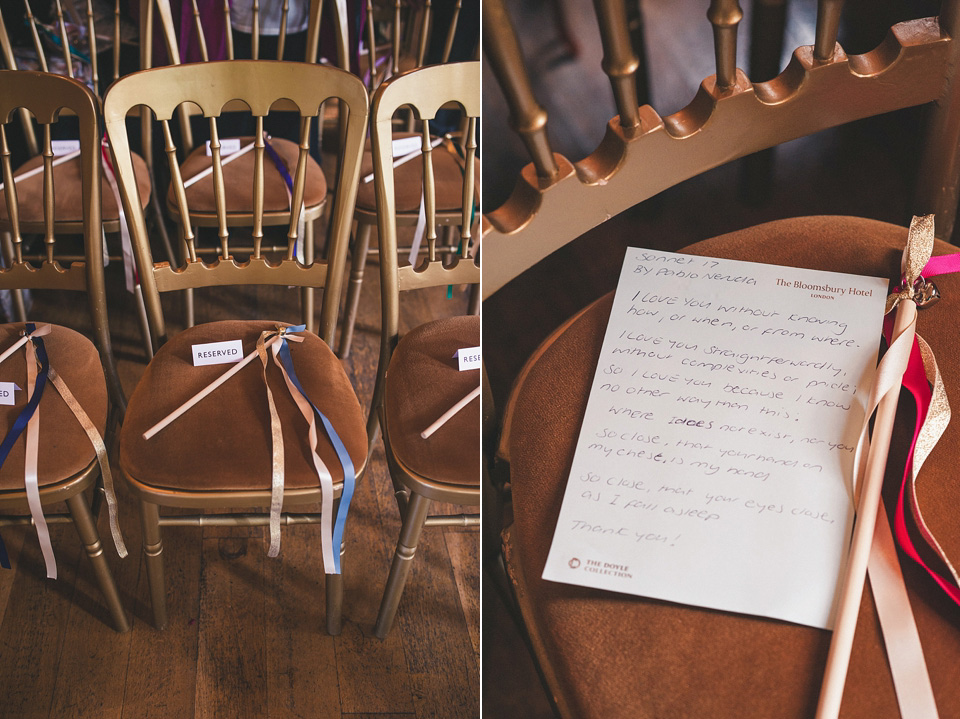 Natasha's engagement ring came from Grey's Antiques Market in London and she chose a rose gold wedding band with a slight curve to compliment it. Pete opted for a simple brushed palladium band, both purchased from Solitaire in Hatton Garden.
The bride walked down the aisle with her father to 'Something' by The Beatles, played on piano by the best man.
"We kept the ceremony short and one of my bridesmaids did a brief reading. It was an extract from Sonnet XVII by Pablo Nerunda."
'I love you without knowing how, or when, or from where.
I love you straightforwardly, without complexities or pride;
so I love you because I know no other way
than this: where I does not exist, nor you,
so close that your hand on my chest is my hand,
so close that your eyes close as I fall asleep.'" 
Natasha paired her bespoke frock with sparkly peep toes from Kirk Geiger, with flat ballet pumps to change into when it was time to boogie. Instead of a veil, she picked up a gorgeous leaf shaped vintage brooch, also from Fur Coat, No Knickers, that she wore in her hair.
"I got my fur stole from Victory Vintage in Bayswater. It kept the autumnal air at bay and I loved being snuggled up in it. I wore a simple gold bracelet borrowed from one of my bridesmaids, a small gold watch I got for my 30th and my great grandmother's cameo brooch on my fur stole."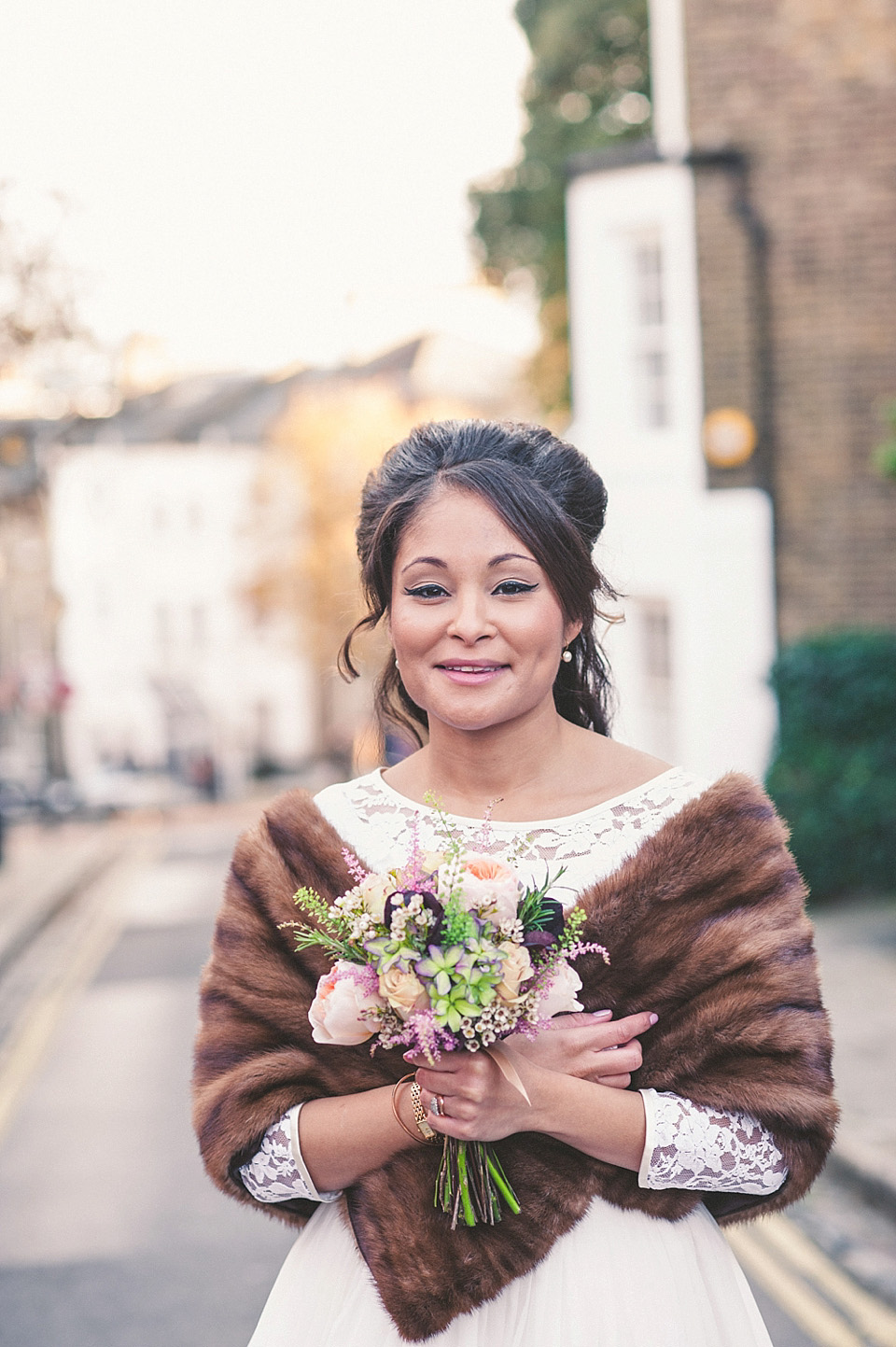 "My husband had his suit made by Adam Waite, a London-based tailor who he knew of through the voiceover world. I remember when he first came home and showed it to me I could tell how much he loved it because he just stood a little taller. In fact, he is standing beside me right now, nodding and mentioning how helpful Adam was."
"I really wanted there to be loads of flowers on the tables and around the pub, however I knew that it would cost quite a bit to achieve that. So, throughout the months leading up to the wedding, we collected all the jars we could and two days before the wedding, headed to The New Covent Garden Flower Market at the crack of dawn. We brought loads of flowers and left them to have a good drink for most of the day.
We then set about filling the jars. We had done a trial run during the summer so we knew we could handle it. Bizarrely, this was my favourite part of the planning process. Something about being up before everyone else and heading to a place that smells like fresh flowers and bacon sandwiches was fun."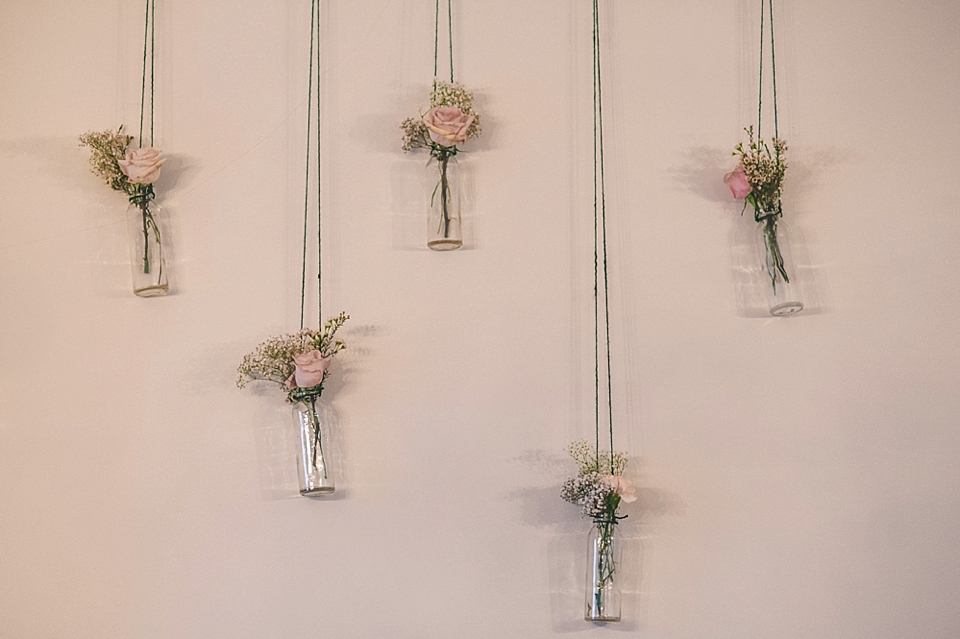 All the catering was handled by The Prince Albert. Natasha and Pete wanted everyone to feel well fed so on the menu was pie, mash and green veg. Sounds like the perfect November wedding breakfast to me!
"We trawled Ebay for doilies months before the wedding. Then my bridesmaids and I had a 'doily day' where we spent hours sewing them into table runners. One of my maids of honour even came up with a mathematical formula to make sure we had a good mixture for each table.
"We made the table plan from a wrapping-paper print of an old map of London, spray mounted on a foam board. We mounted the table layouts onto a contrasting floral wrapping-paper print. As a little nod to autumn, we used luggage tags attached to conkers for the name places and encouraged our guests to have a (responsible) conker fight. We gave all our tables various quotes about marriage, ranging from 'The man who says his wife can't take a joke, forgets that she took him', to 'A good marriage is where both people feel like they're getting the better end of the deal'."
"We opted to have a selection of cakes. My cousin made us two Jamaican rum cakes with delicious white icing. My bridesmaid's aunt made us a gorgeous Pina colada cake, we got a large lemon chiffon from Konditor and Cook and a load of original glaze Krispy Kreme doughnuts."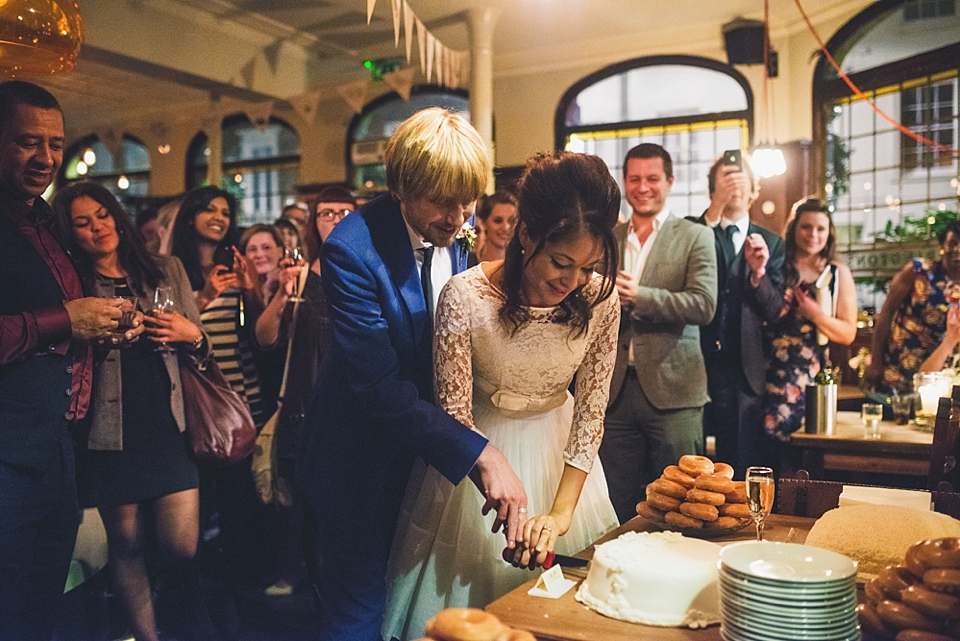 Natasha and Pete hired DJ Toney White through a friend the groom used to work with.
"To make sure everyone had a boogie at some point during the evening, we asked our guests to email us song requests and got DJ Toney to weave them into his set. As I never left the dance floor, I can confirm that this worked as I was constantly surrounded by boogie-ing guests!
Our first dance was "Mirrorball" by Elbow. Pete and I listened to a lot of Elbow when we first started seeing each other and this was pretty much the unofficial theme song to the beginnings of our relationship."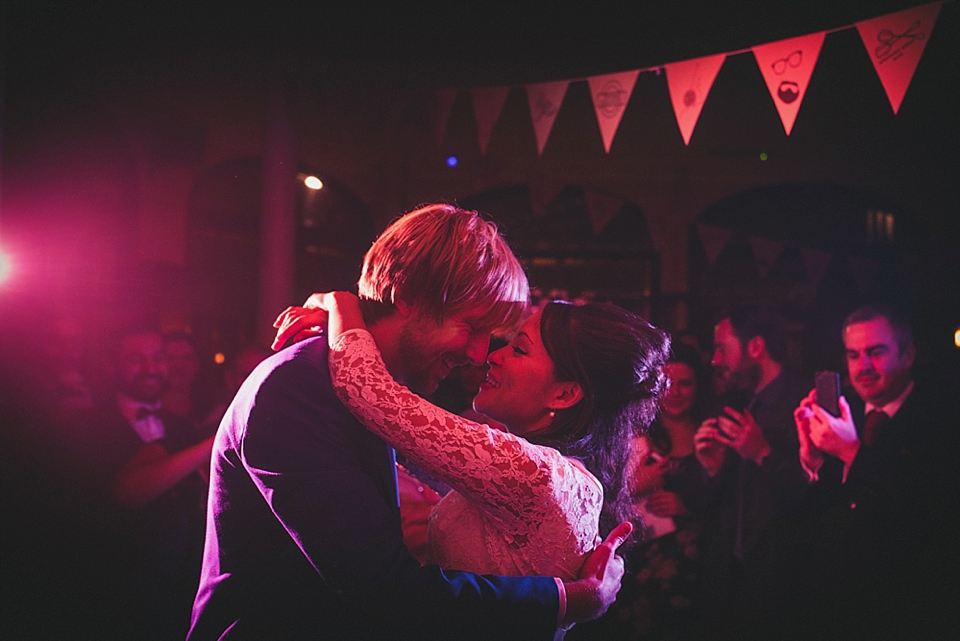 "What I really remember is just feeling happier than I ever thought possible. I guess my favourite part of the day was when Pete and I sat down for the meal. We had a table to ourselves and this was a chance for us to just sit back and take in what was going on around us."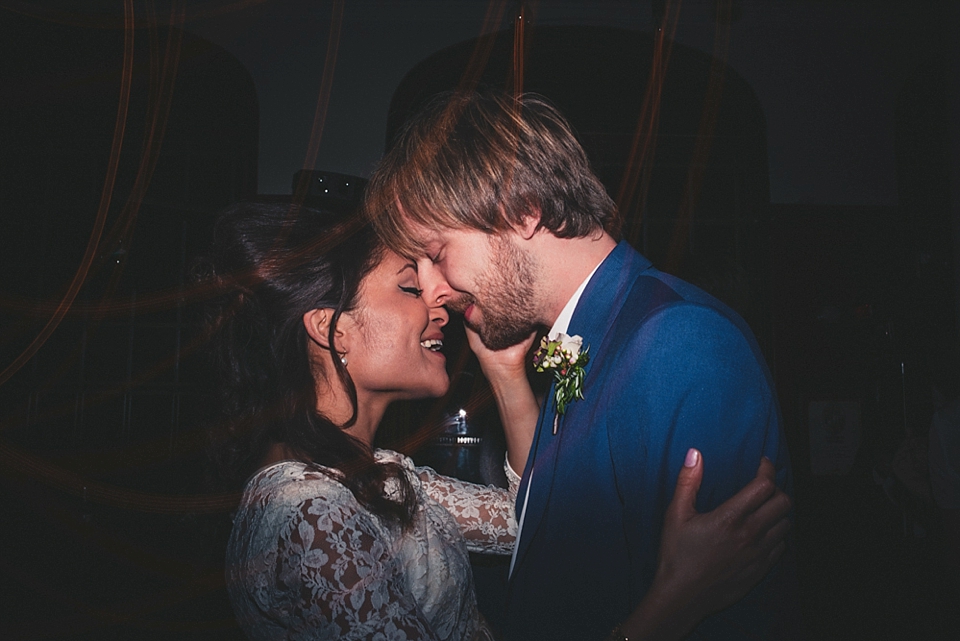 Words of Wedded Wisdom
"Just do what makes you happy and remember what's important. You don't have to max out the credit card to have a great time."
There was never a truer word spoken. Thank you to this lovely couple for letting us join them for a drink and to Laura Babb for her beautifully artistic photography.
Love Susie x
Photographer – Babb Photo
Venue – Burgh House + The Prince Albert, Hampstead
Wedding Dress – Fur Coat, No Knickers
Bride's fur Stole – Victory Vintage
Bride's shoes – Kirk Geiger
Groom's Attire – Groom's Suit – Adam Waite
Florist – Scarlet & Violet
Transport – Routemaster double decker
Entertainment – DJ Toney White
Stationery – Bollington Printshop
Makeup – Sophie Wiggins
Hair Stylist – Andrew Jose
Cake – Konditor and Cook