Morning weekend people! I've a couple of styled inspiration shoots to share with you today, so get your Pinterest fingers at the ready.  In all honesty, I really don't share too many of this kind of shoot these days – we receive so many requests to share styled shoots, that being sure I feature the right ones is a tough call.  I usually insist on a variety of dresses and styling options that very specifically match the Love My Dress® aesthetic to make a feature worth while.  This shoot showcases just a single style of dress, but it was the overall styling and attention to detail that caught my attention and I knew our readers would appreciate this too.
These photographs were taken by Sarah of Folega Photography who teamed up with a creative team including dressmaker KMR Bridal to create a fun and playful set of 50's inspired images with a modern-day, alternative style stamp all over them.  I really love all the little details, the matching bow tie and garter, the vinyl inspired stationery, the vintage makeover, the bright, beautiful flowers and there is a genuine authenticity about this shoot that I admire too – the creative team really got in that zone when researching and getting their creative juices flowing to create these pictures.
Photography Copyright (c) 2014, Folega Photography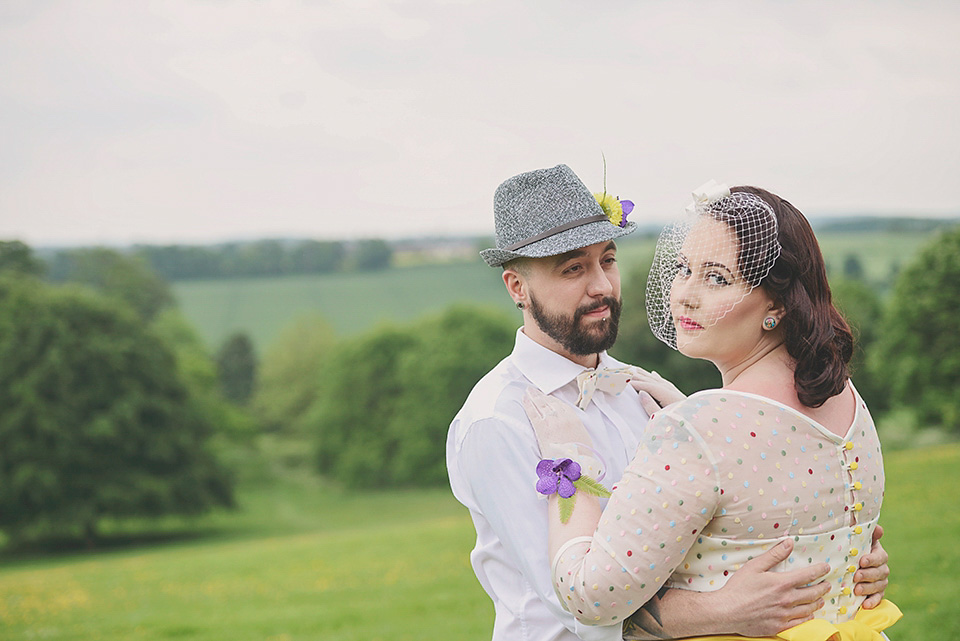 The lady responsible for the overall look, feel and cohesiveness of these photographs was Maria from Simply Something Blue.
"Since starting Simply Something Blue, I frequently find when planning that big themes or colour palettes come from a moment of inspiration or a much-loved item we own or we have at home. Anything from a handkerchief to an old photo can bring back old memories and, in this case, the inspiration really came from the absolutely fabulous Vivienne Westwood lilac shoes which I had owned for a while and by chance happened to be the bride's exact size! You know it's destiny when something like that happens.
Yellow was picked collectively almost immediately after as a fresher alternative to the red that is commonly used in 50s inspired shoots and a perfect complement to purple tones,"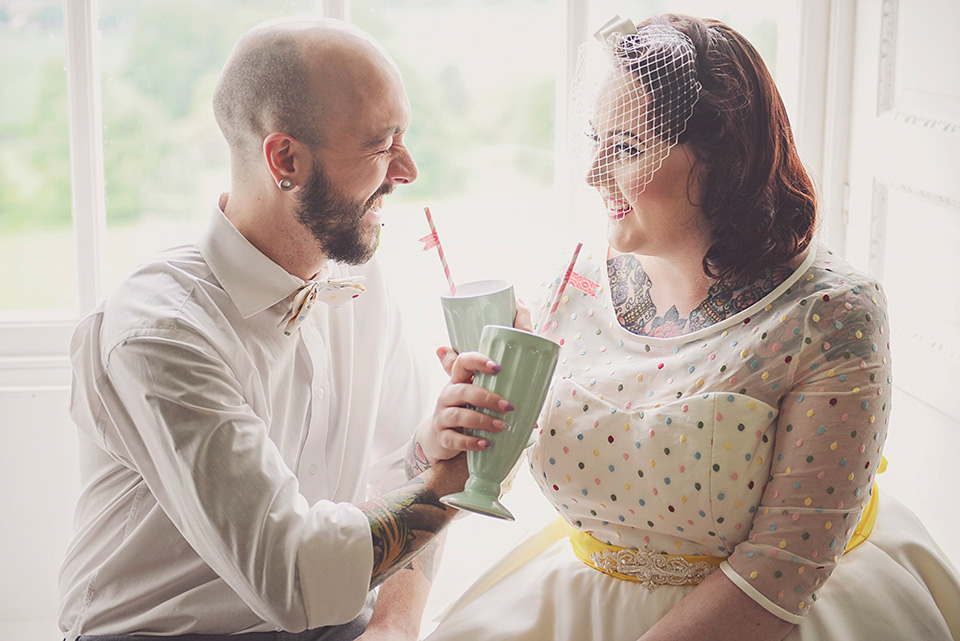 Hannah from Bonny and Clyde is the designer behind this fabulous vinyl inspired wedding stationery… 
"If you're hoping to add a touch of nostalgia to your wedding then listening to music, watching films or even reading newspapers from that era is always a great place to gather inspiration for both the wording of your invites and the overall design.  As a bespoke wedding stationery company, we are passionate about incorporating authentic typography and textures into all our personalised designs.  
Using a jukebox as the main inspiration for the shoot, we were keen to create a suite that replicated a 7-inch record, held within a card album sleeve, and we used the highest quality gloss and card stock to ensure that each invite looked as authentic as possible and a circle cutter was used to hand cut each piece to actual size.  The colour pallete of yellow and purple ran throughout the stationery but this was faded and aged here to create a more vintage effect. An album pocket allowed the package to be held in place and would easily slip inside a square envelope if it were to be posted out to guests."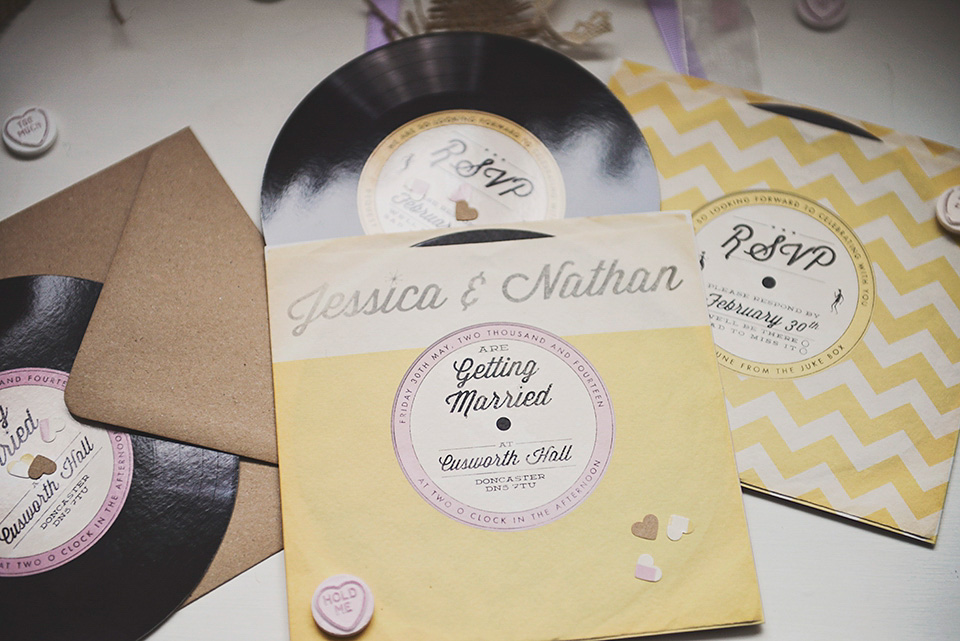 The star of the show however has to be the fabulous colourful polka dot dress.  Designer Kelly of KMR Bridal wanted to create a gown that would reflect the 50's theme with a modern twist. I love the yellow petticoat peeping teasingly from beneath the full-circle skirt and that birdcage veil completes this fun, playful but ultimately very elegant modern-day vintage look.
A matching bespoke garter was made in multi coloured spot embroidered silk organza and ivory silk tulle.
The little white gloves complete this outfit for me.  That attention to detail I was talking about.  I just love them.  Brides, if you're keen to wear a pair of little white gloves on your wedding day, there are some lovely options over at Etsy.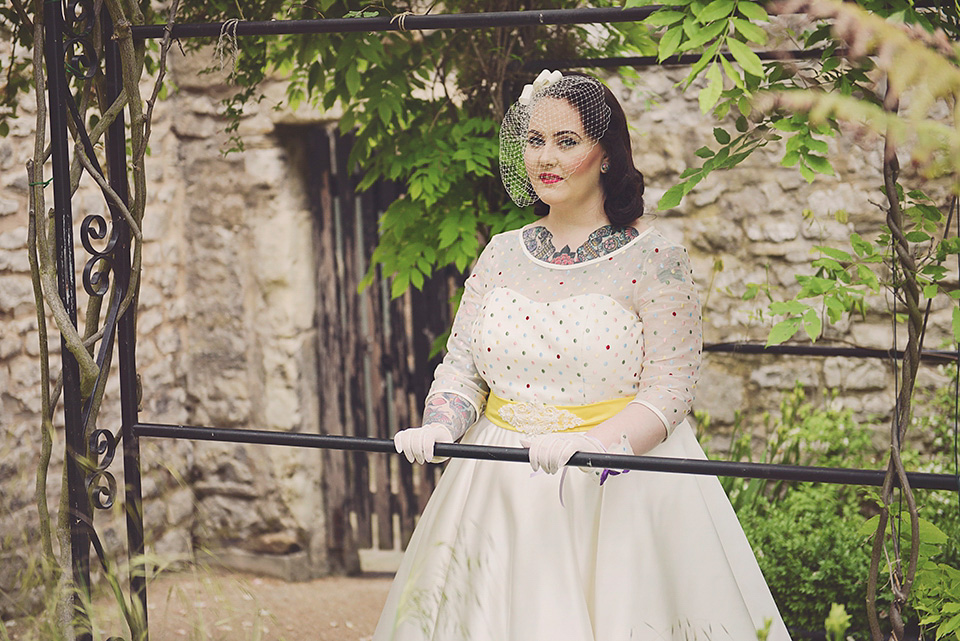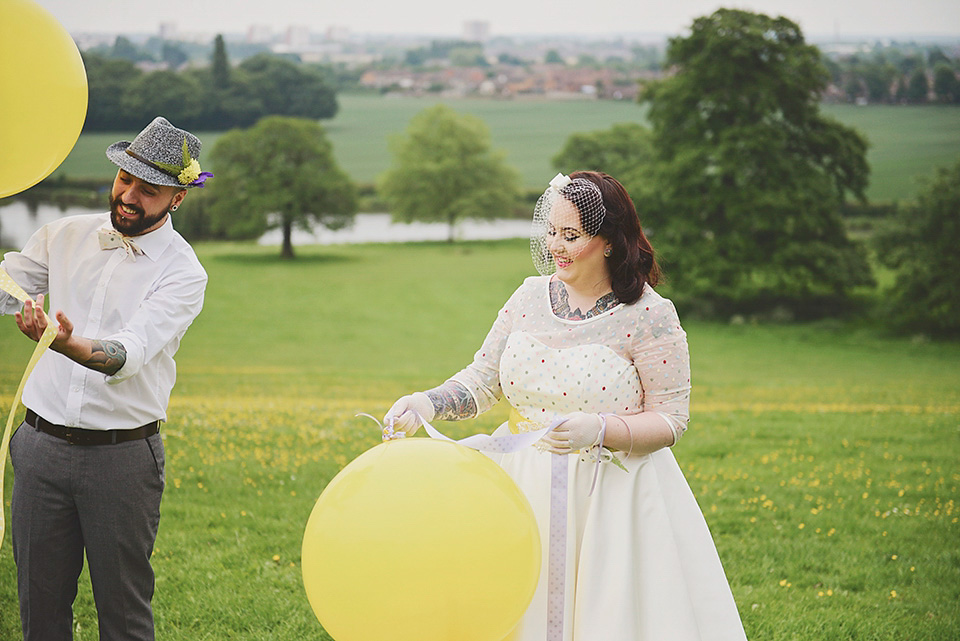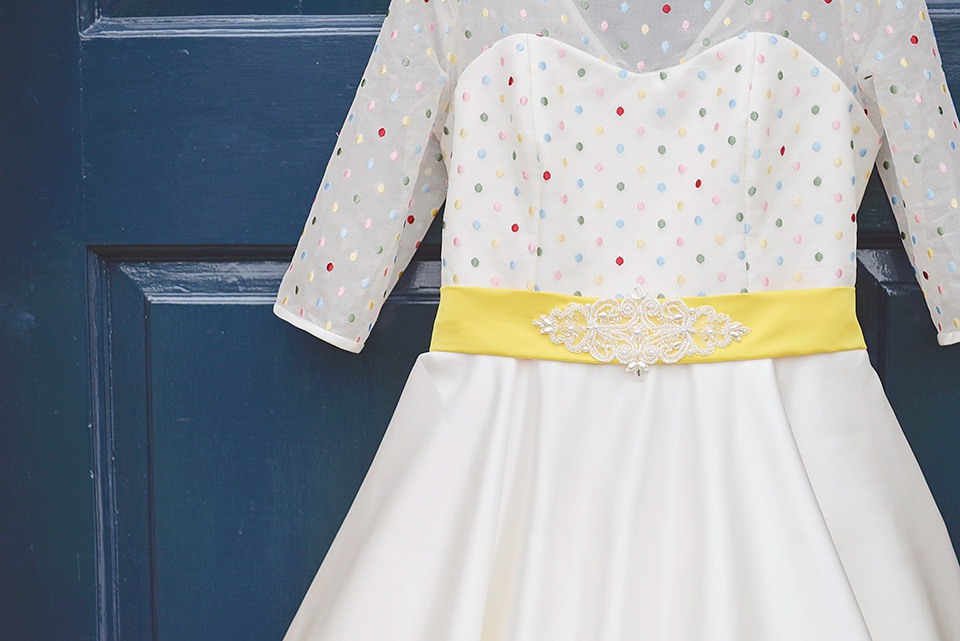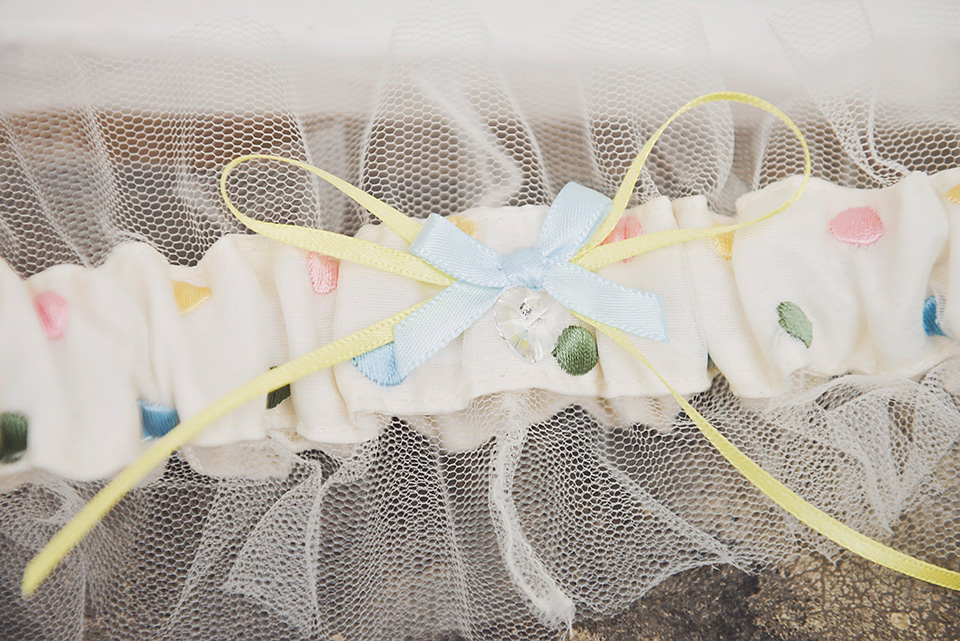 Makeup artist Sarah Gray talks us through the model's look.
"I tied together a modern version of a 50's style liquid eyeliner and defined crease with a bold brow and lip.  Knowing that a birdcage veil would be covering Jessica's face, the makeup needed to be powerful enough to still make a statement underneath.
To create the main elements of the look all products used were M.A.C. Lipstick: Impassioned, Eyeliner: Blacktrack Fluidline, Eyeshadows: Painterly, Blanc Type, Wedge & Brown Down, Blusher: Dollymix, Brows: Charcol Brown eyeshadow & Dipdown Fluidline, Red Cherry Lashes #217."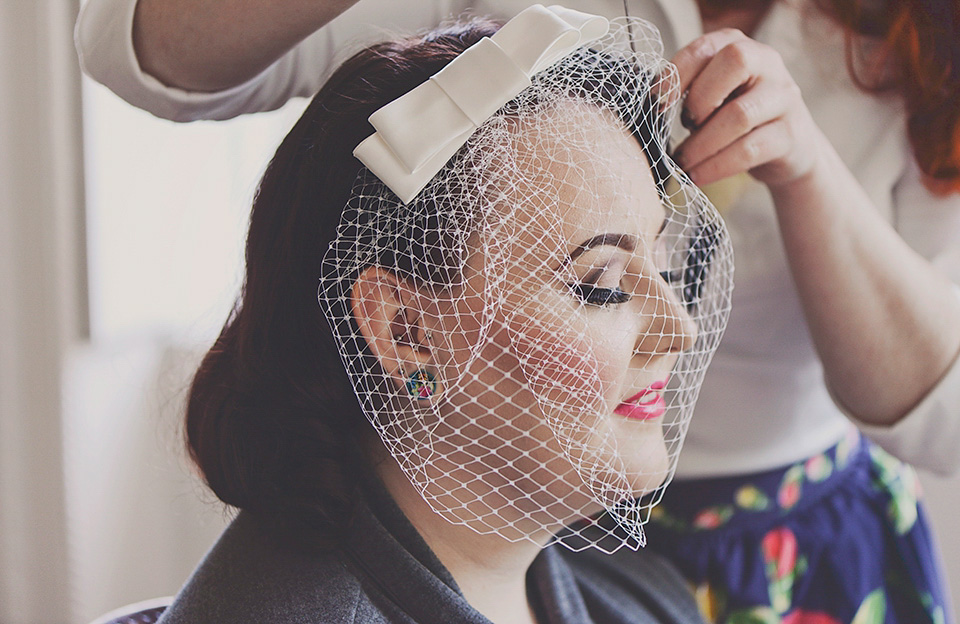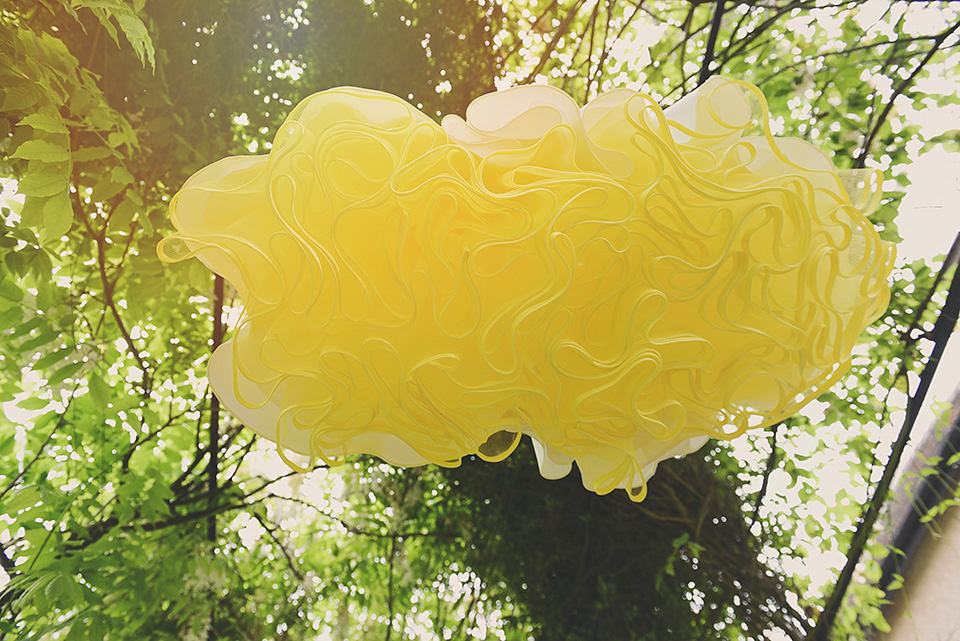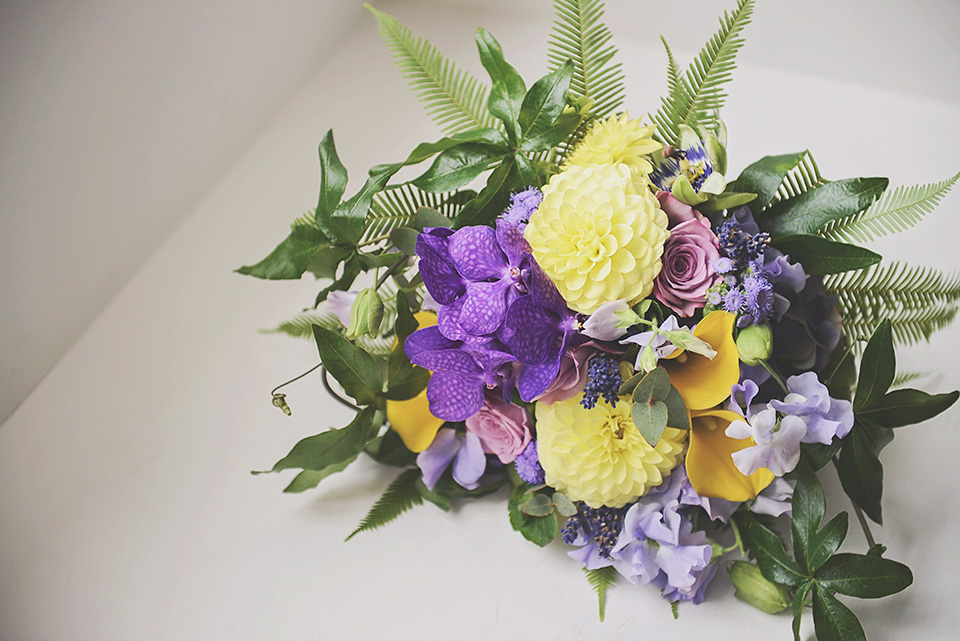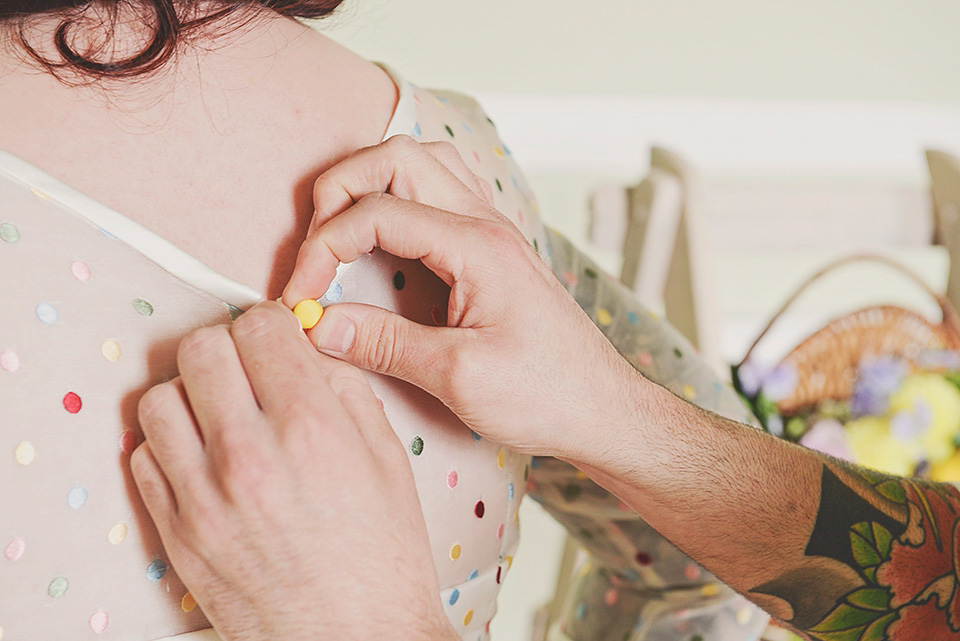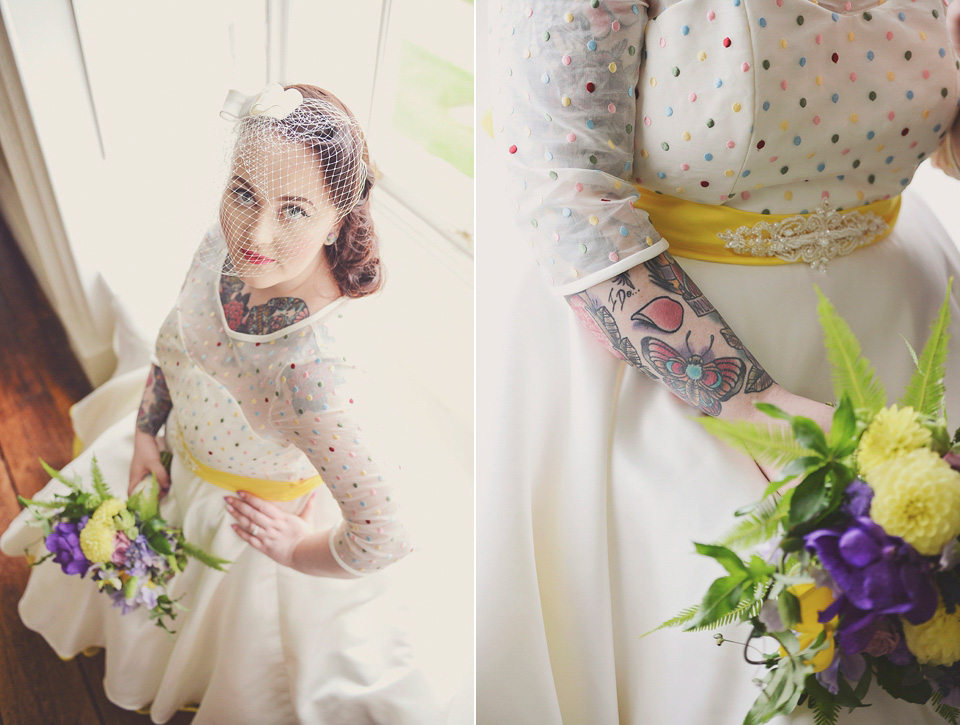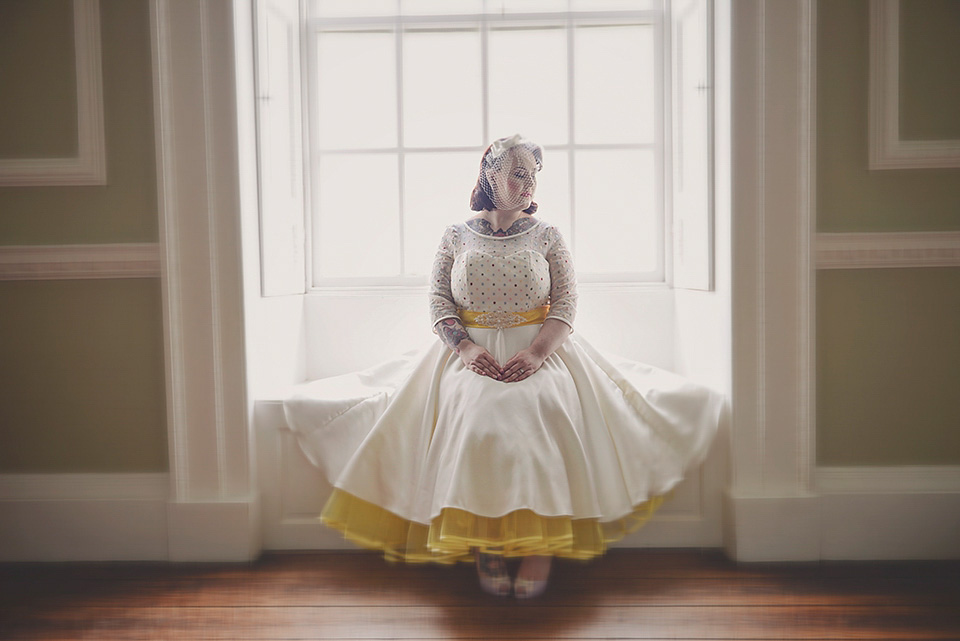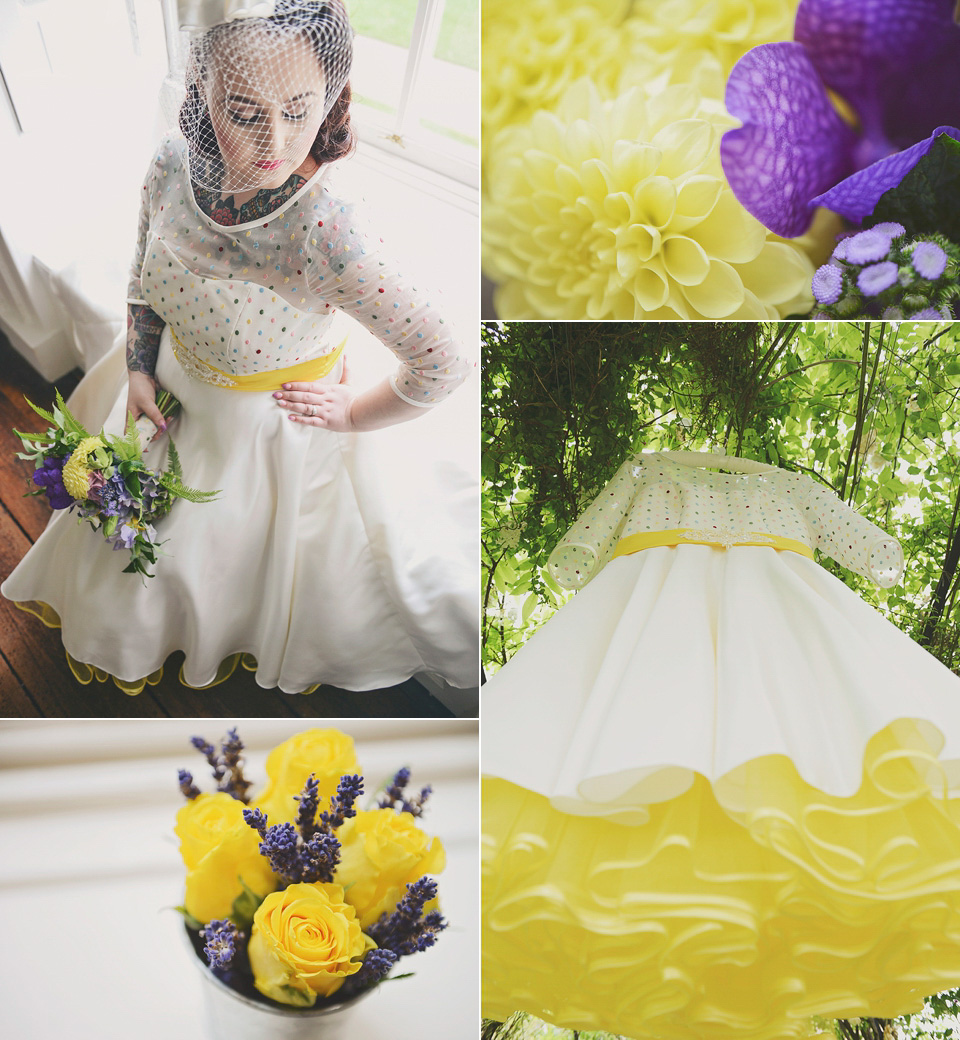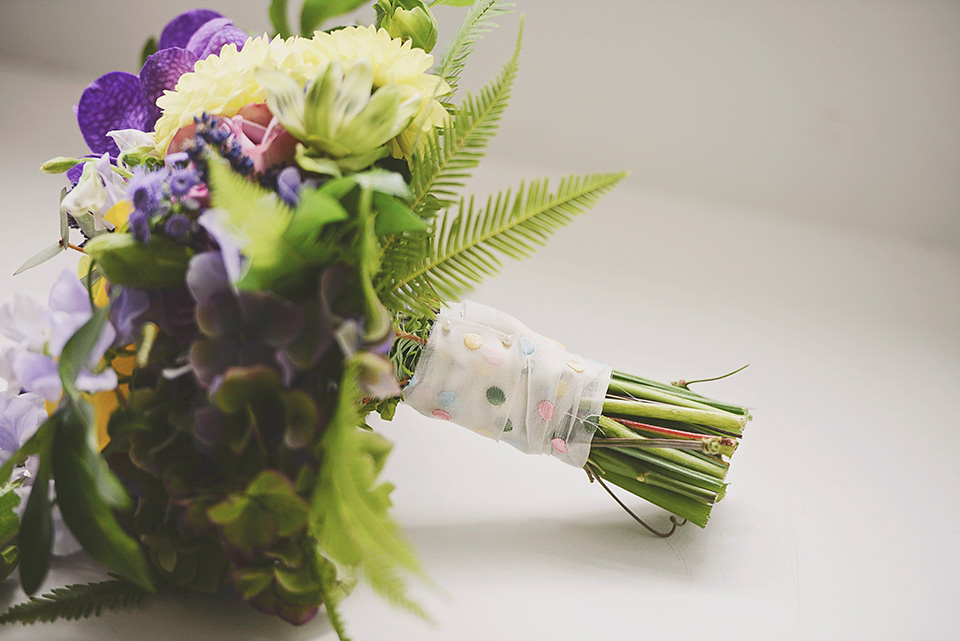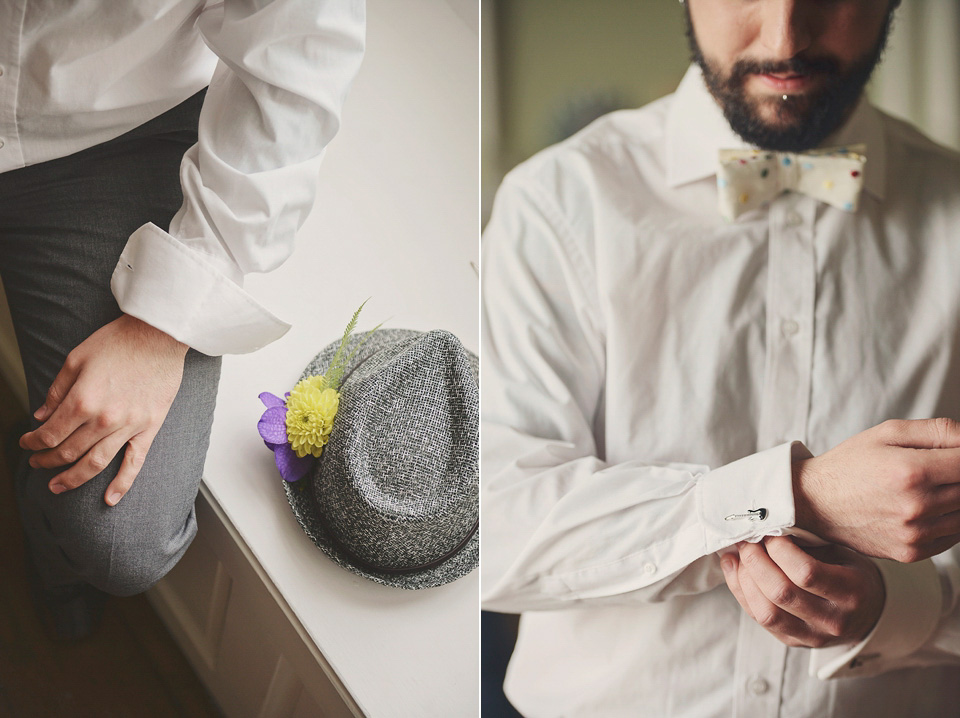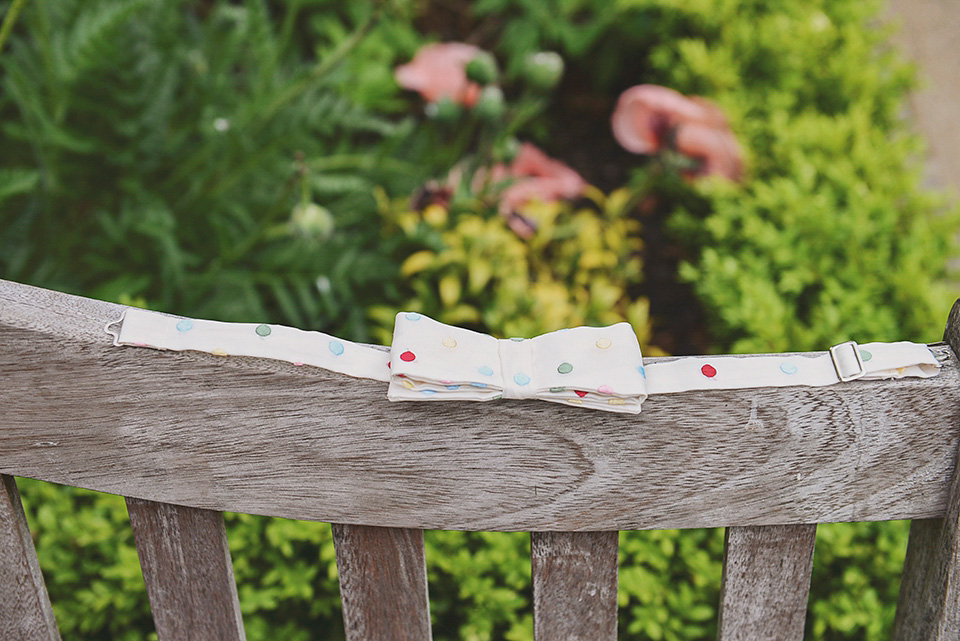 The florals in this shoot are so me – the colours and blooms used, and I really love how florist Lauretta of Paeony Floral Design managed to work them in to everything from the bouquet to the groom's hat.
"The creative team agreed on the colour scheme of lemon and lilac – colours not often used for styling modern-day weddings.  The flowers I chose to work with were Purple Vanda Orchids, Yellow Penny Lane Roses, Violet Armando Roses, Lilac Sweet peas, Yellow Dahlia, Purple Ageratum, Passion Flower Trails, Lavenders and ferns."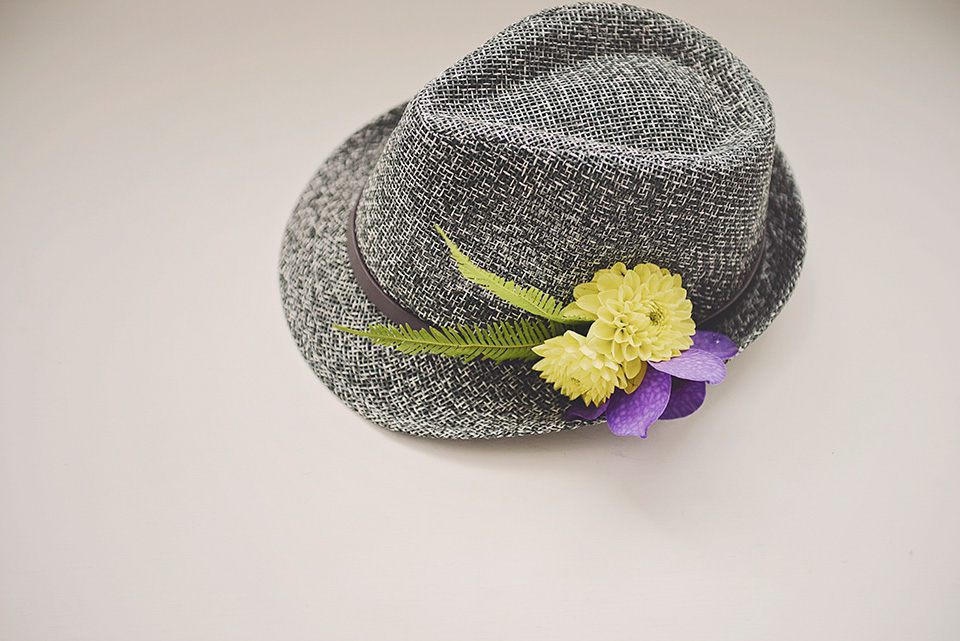 Very cute cufflinks!
Rebecca from The English Rose Cake Company said :
"As the shoot itself was colourful and fun, I wanted to make a cake that would stand up to that, so I took inspiration from the intricate floral cakes of the 1950s and incorporated the beautiful yellow and lilac colour scheme.  I mixed the sugar flowers with ruffles that cascaded down the cake like confetti to add to the fun, then finished off with royal icing pearl edging as a nod to traditional wedding cakes."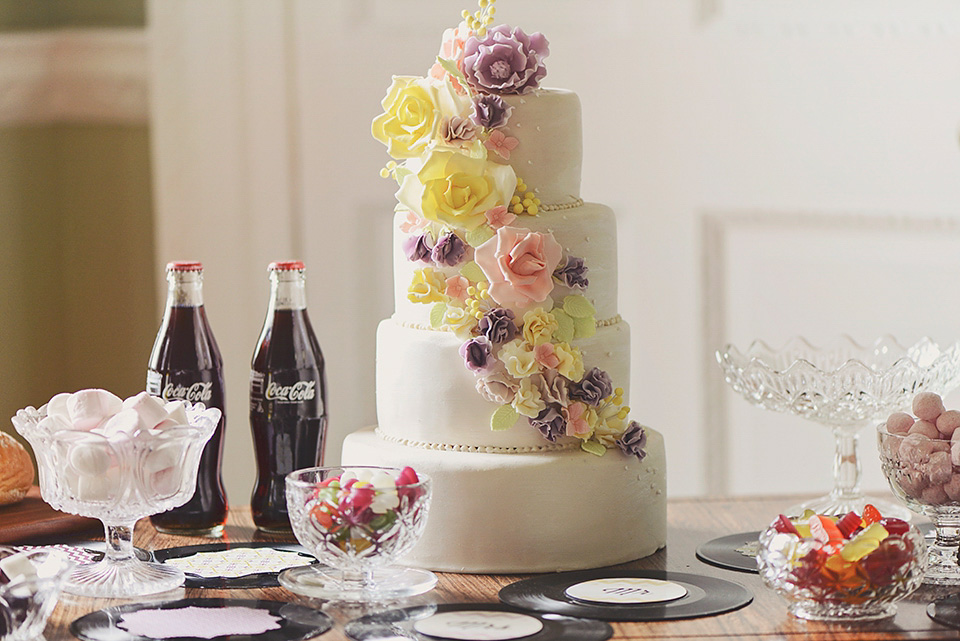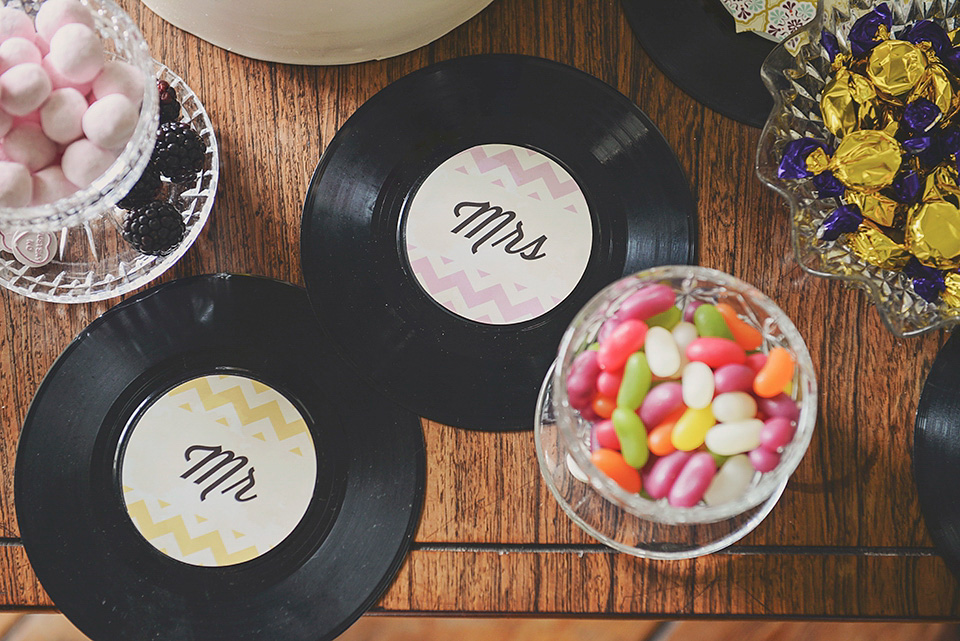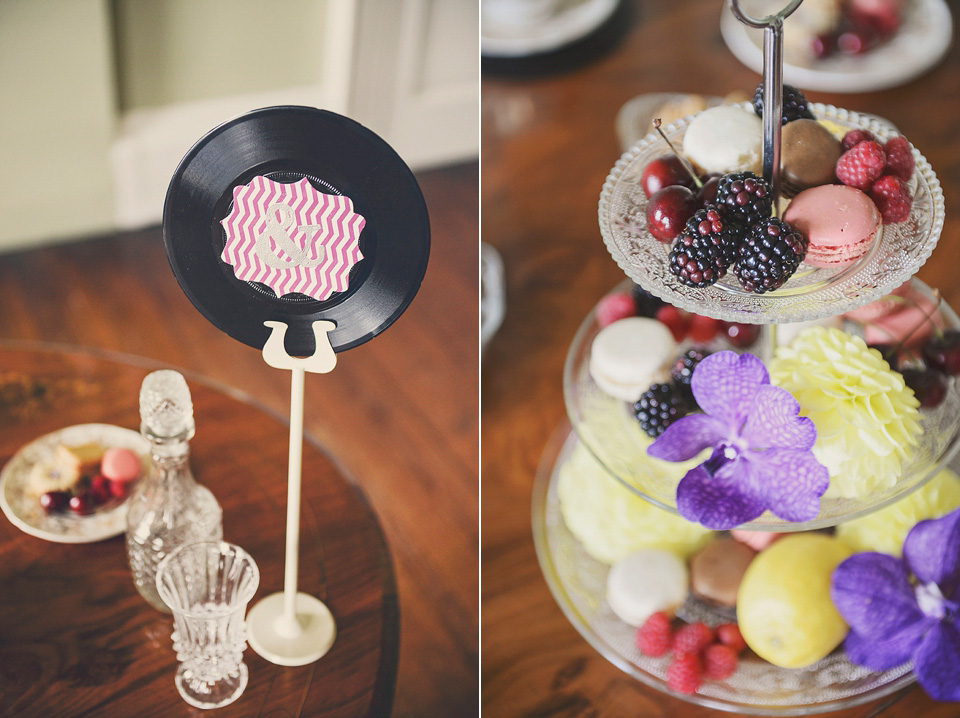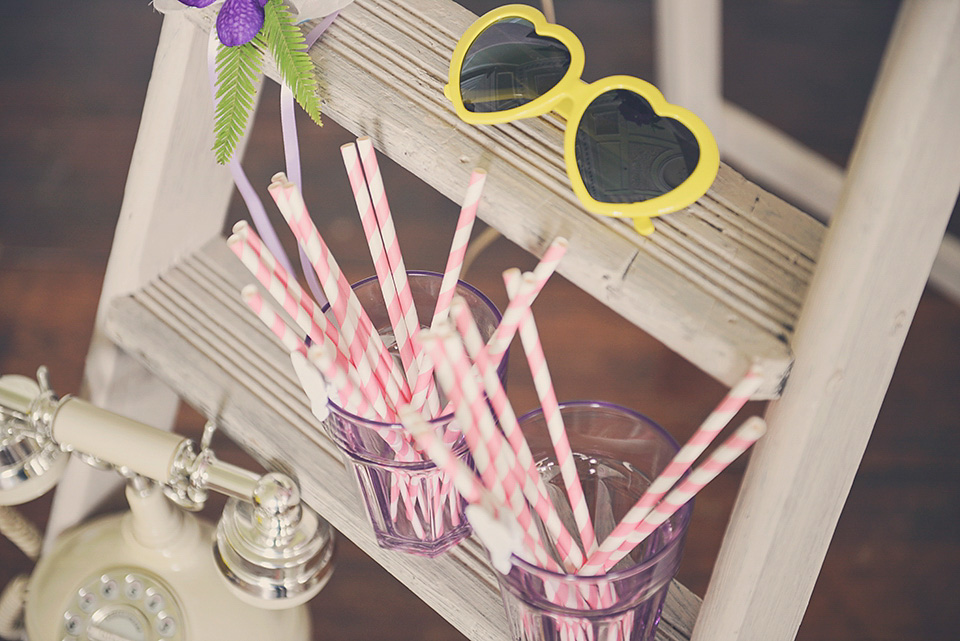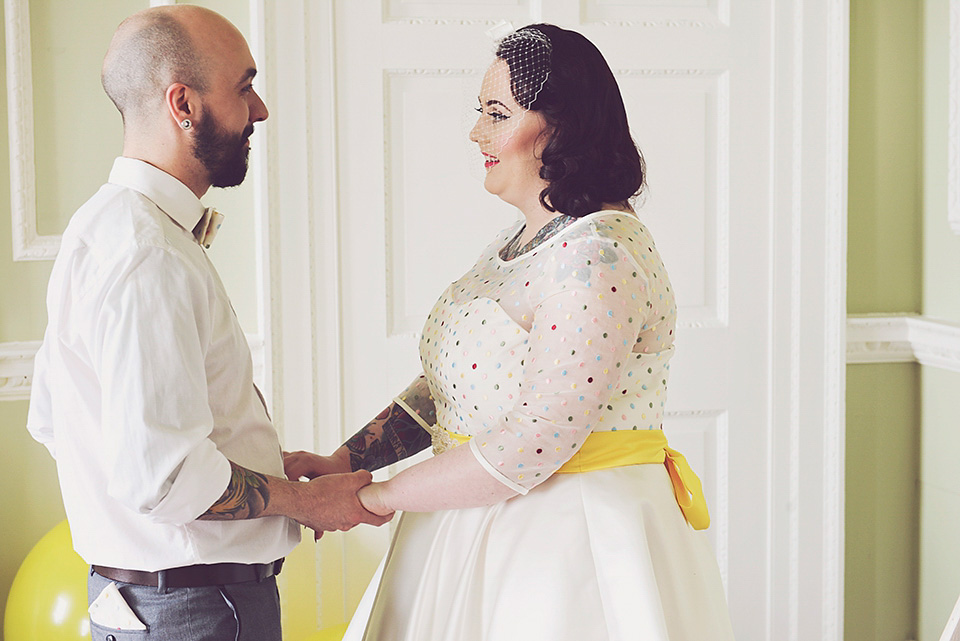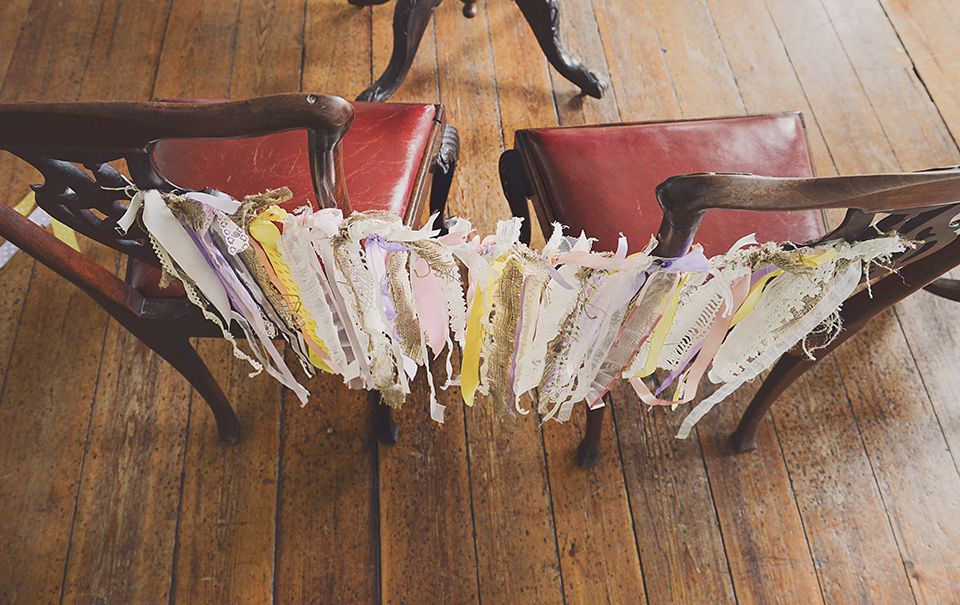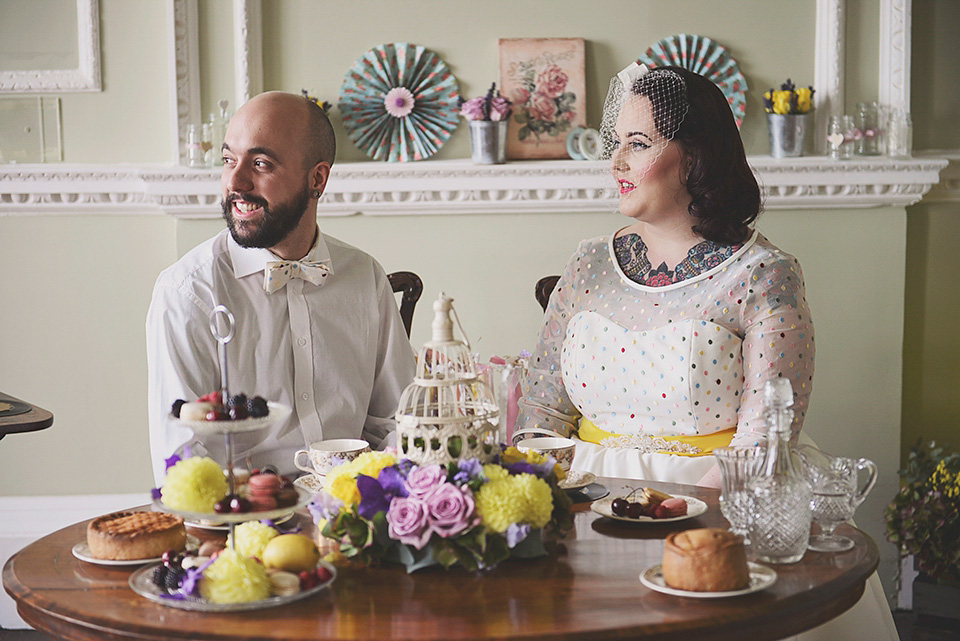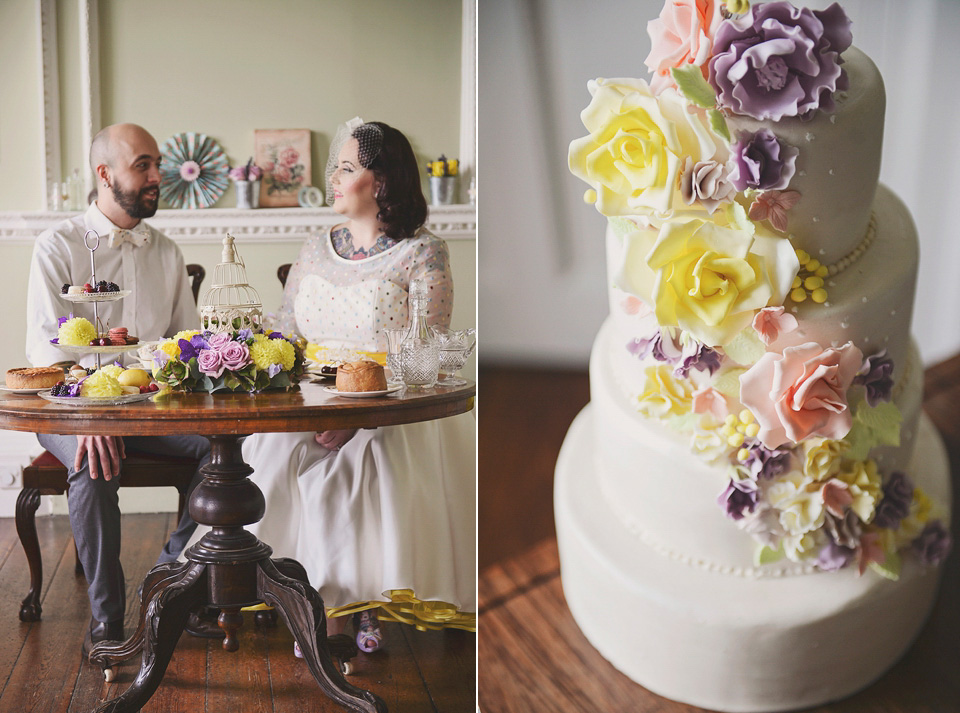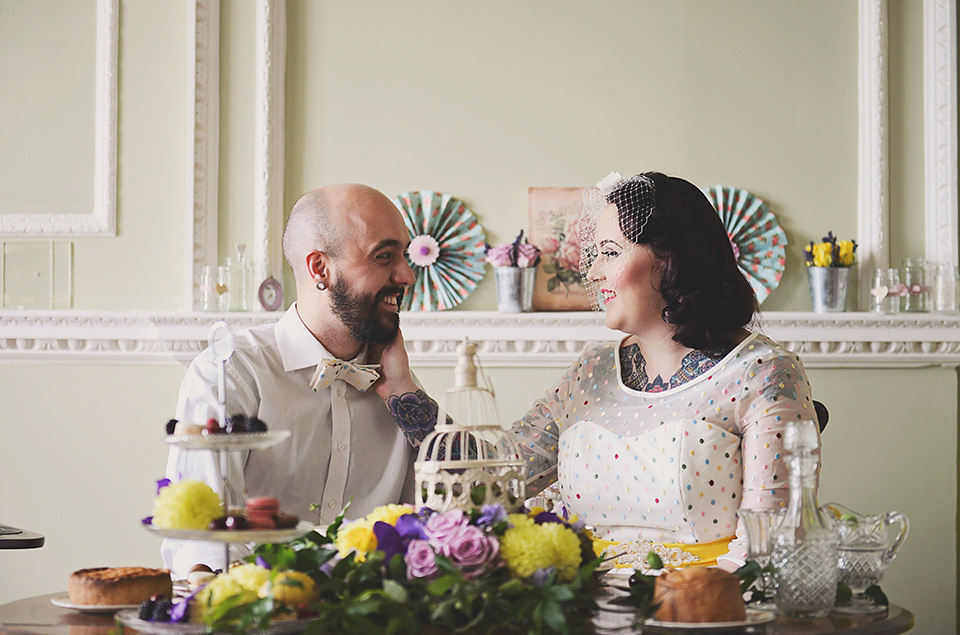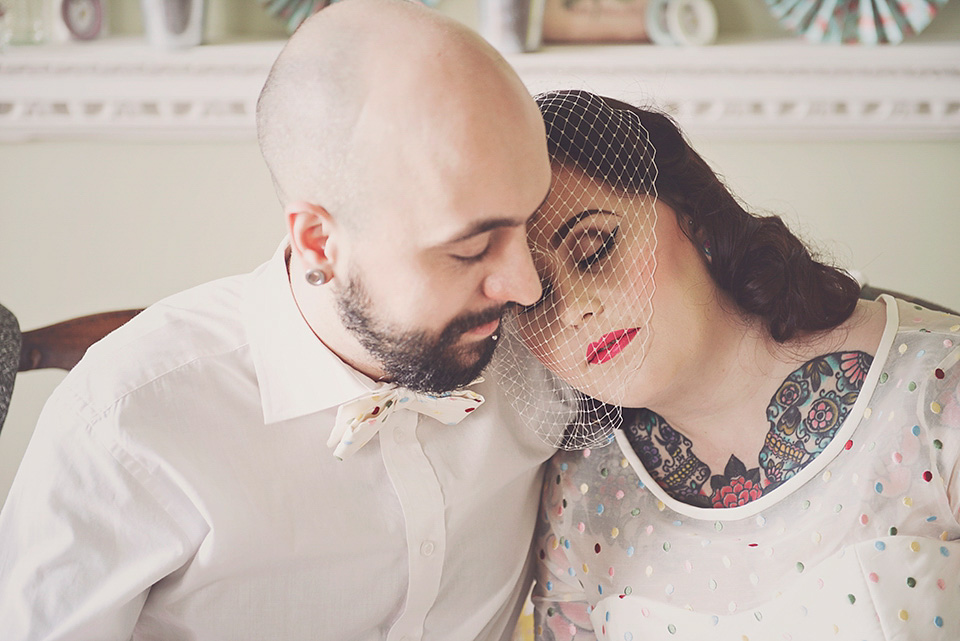 "Even after just a few conversations with the rest of the suppliers it was clear that we wanted an intimate but playful atmosphere, almost like a private tea party for two, including modern touches and vintage tea sets and biscuits (who doesn't love a custard cream?!). We loved the idea of mixing the more recent trend of sweet tables together with more traditional food items, such as pies or breads. The old mismatched glassware provided the perfect way to display these items.
We wanted this shoot to be 50s inspired with a difference. When you think of the 50s – amazing rock 'n roll parties are on everybody's mind; for this reason I worked to incorporate records in the decoration, as placemats for the tea sets and sweet bowls and props for photos. The fabulous stationary by Bonnie and Clyde Wedding Stationary and Design was also designed around records."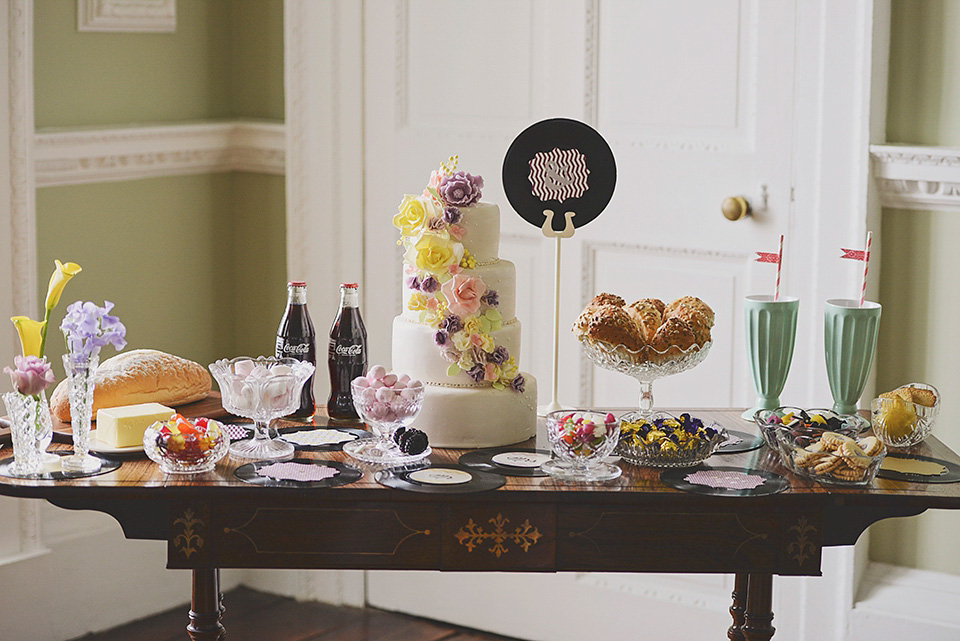 Maria from Simply Something Blue tells us a little more about the details used in this shoot…
"There were too many amazing details to talk about each of them ( heart sunglasses! Paper straws! Balloons!), but I really have to mention my other favourite quirky item: the cream phone, a lucky find at a car boot sale for only £3! One man's trash is definitely another bride's treasure!
This phone reminded me of the scene in Grease where Rizzo is singing and mocking Sandy, and once I had cleaned it I knew it had to be included somehow. It now has taken a place of pride in my house!"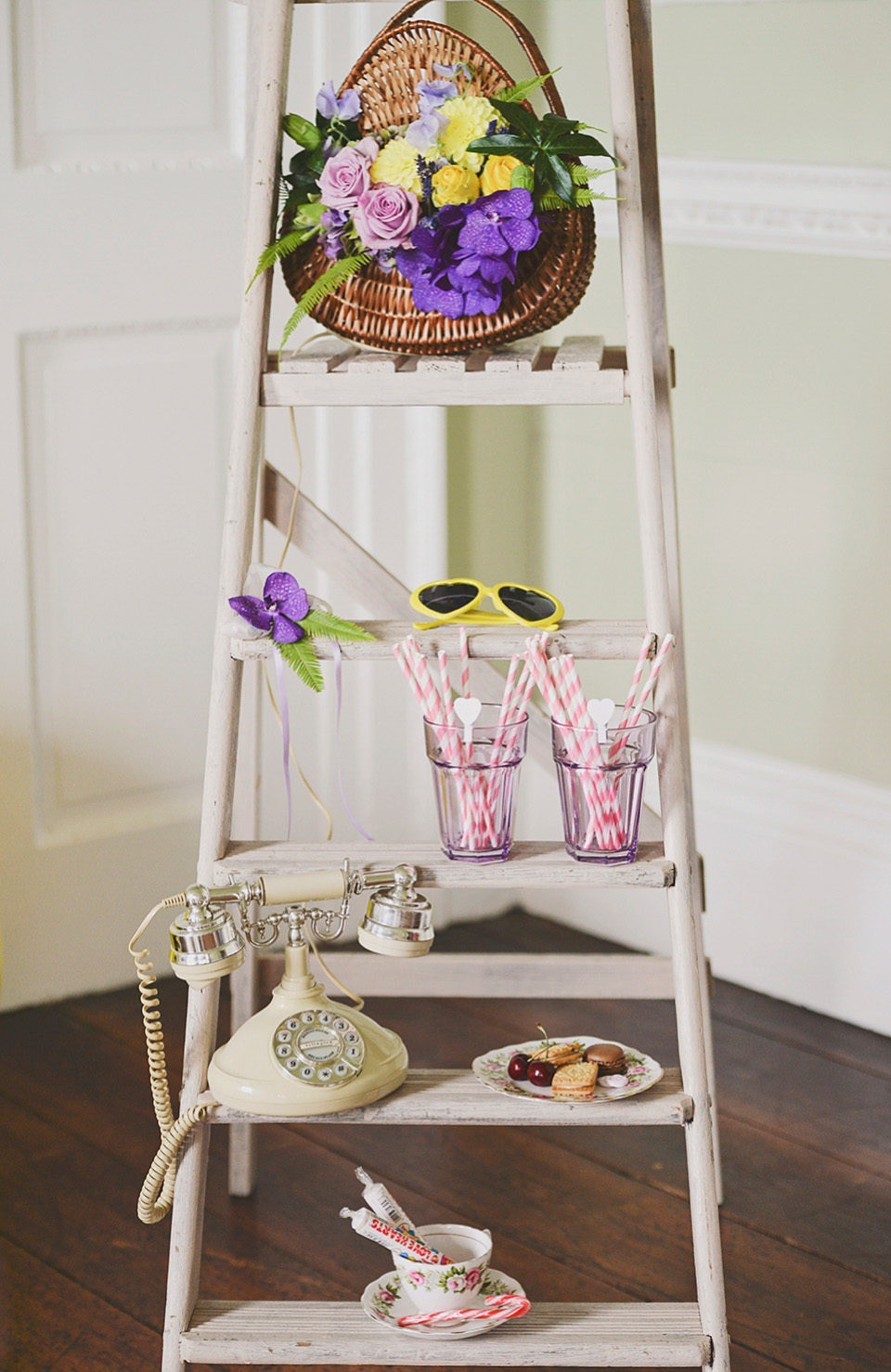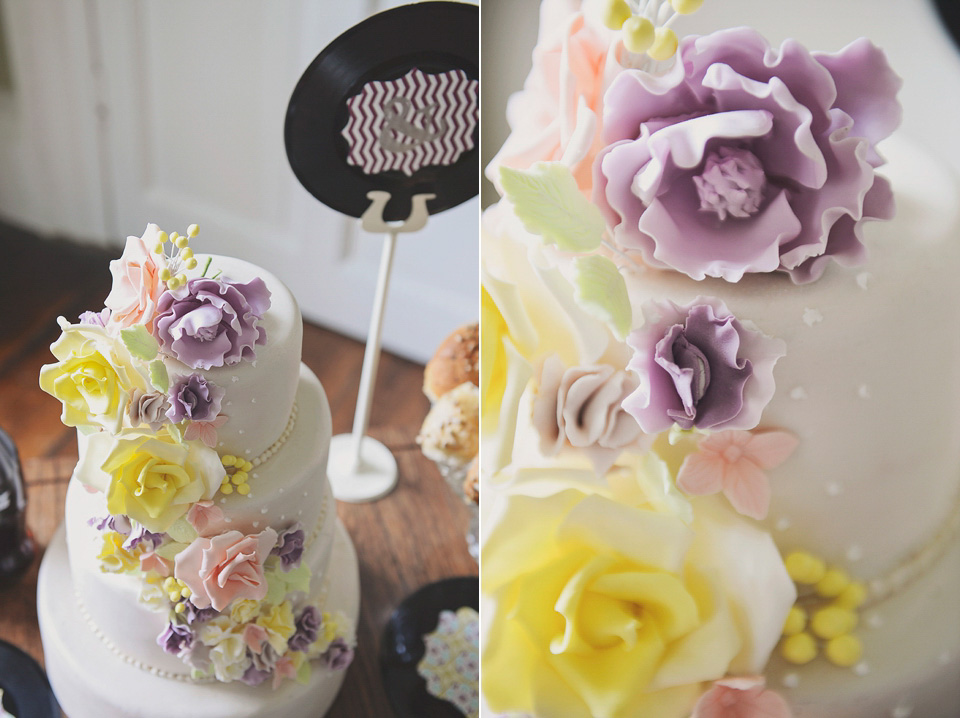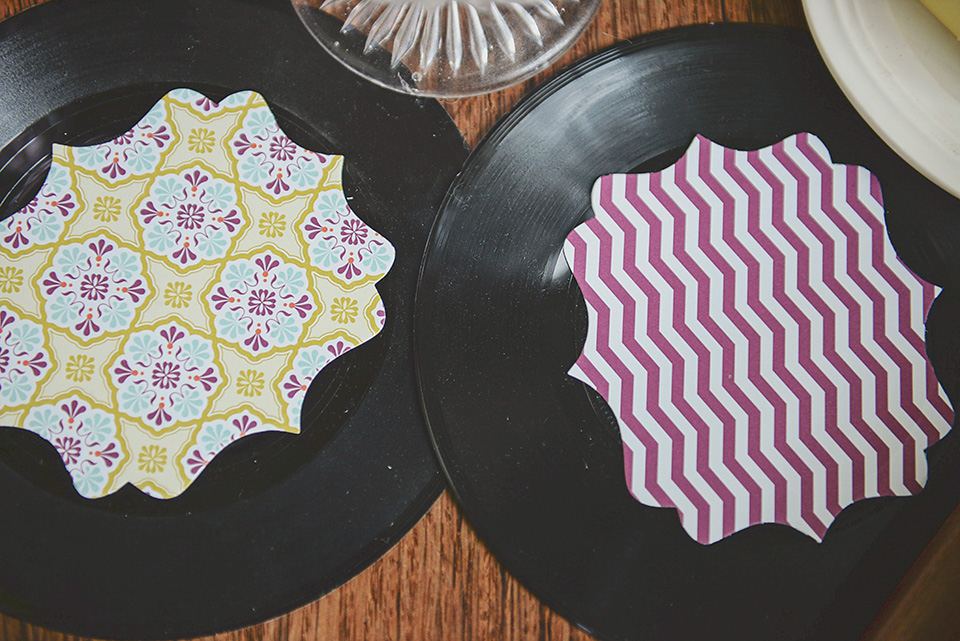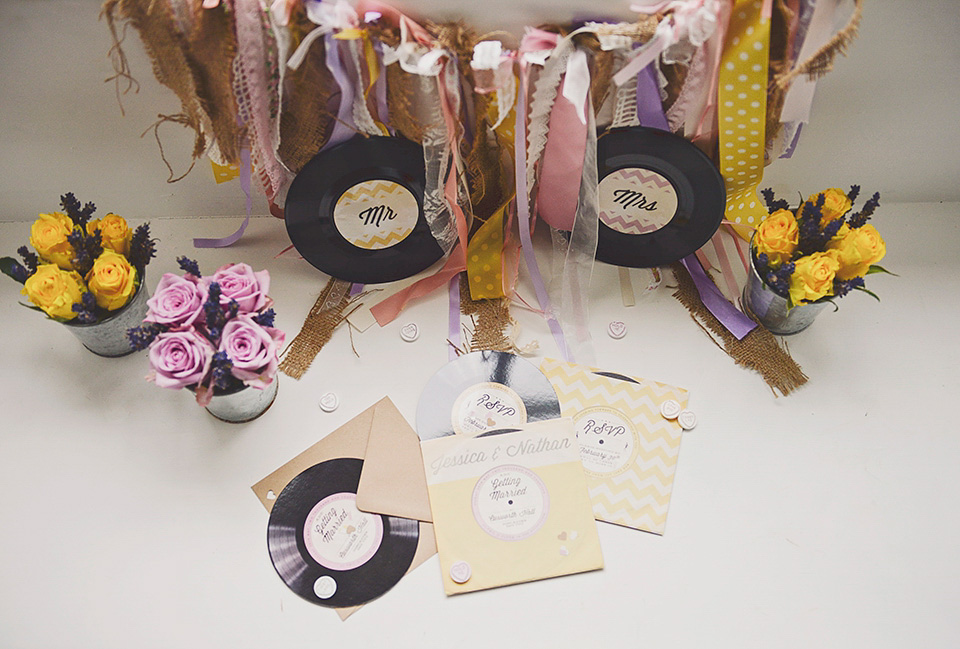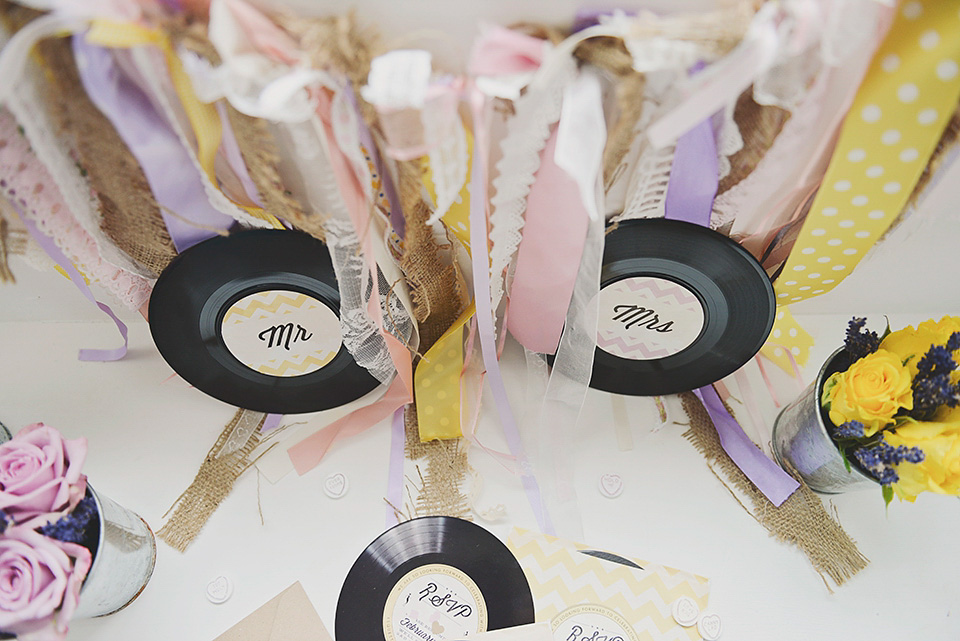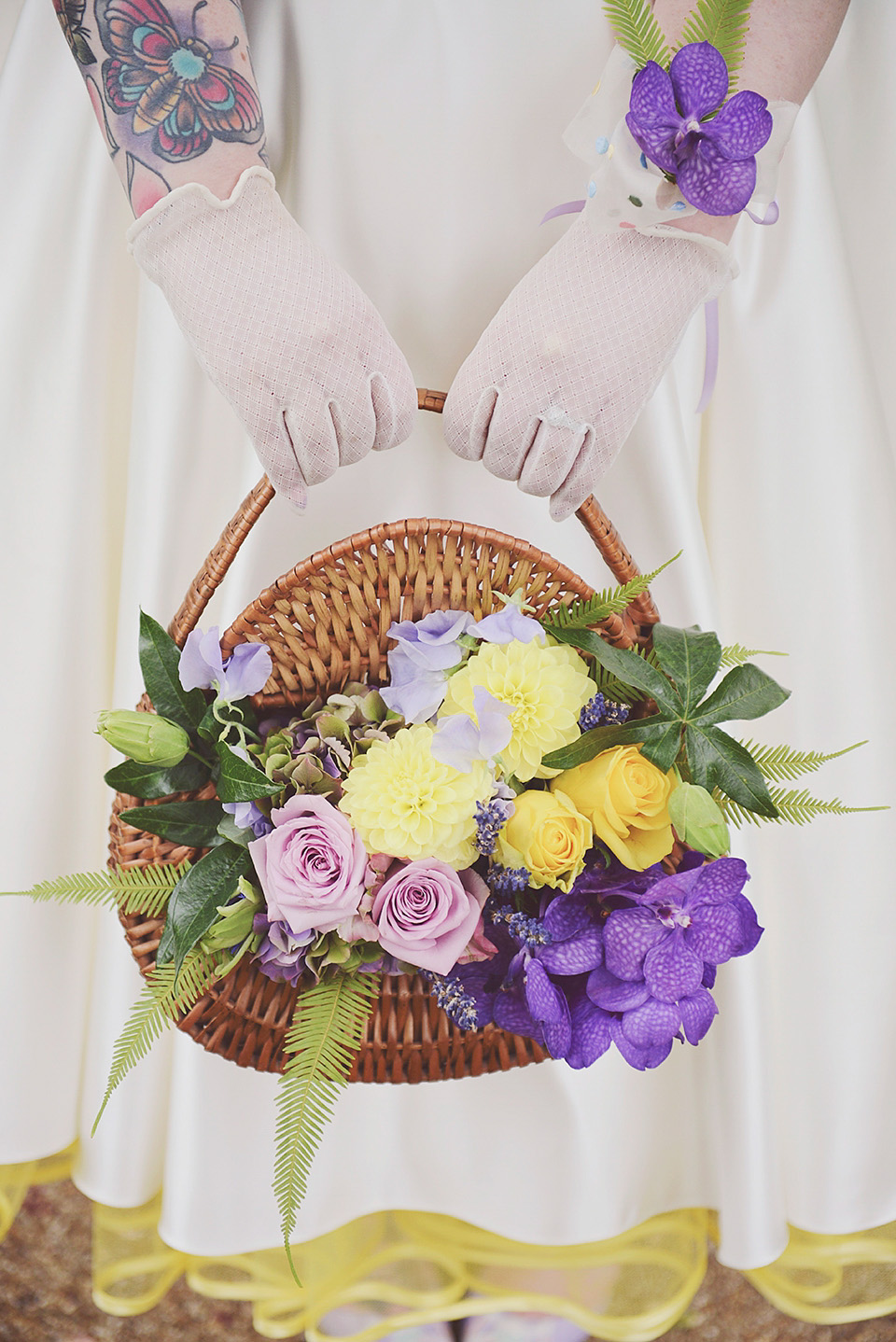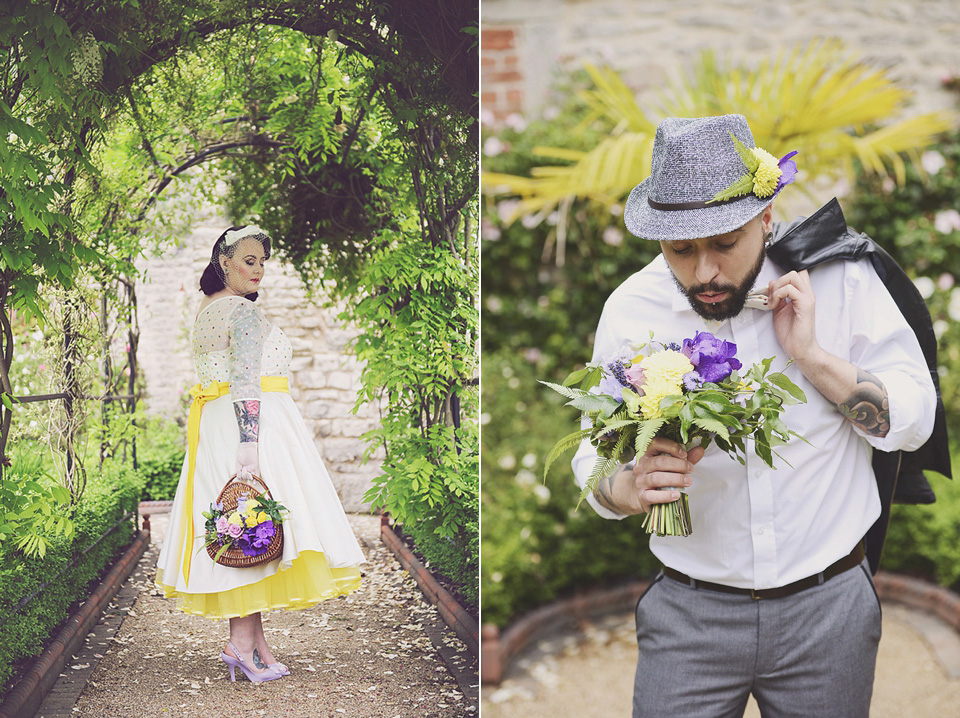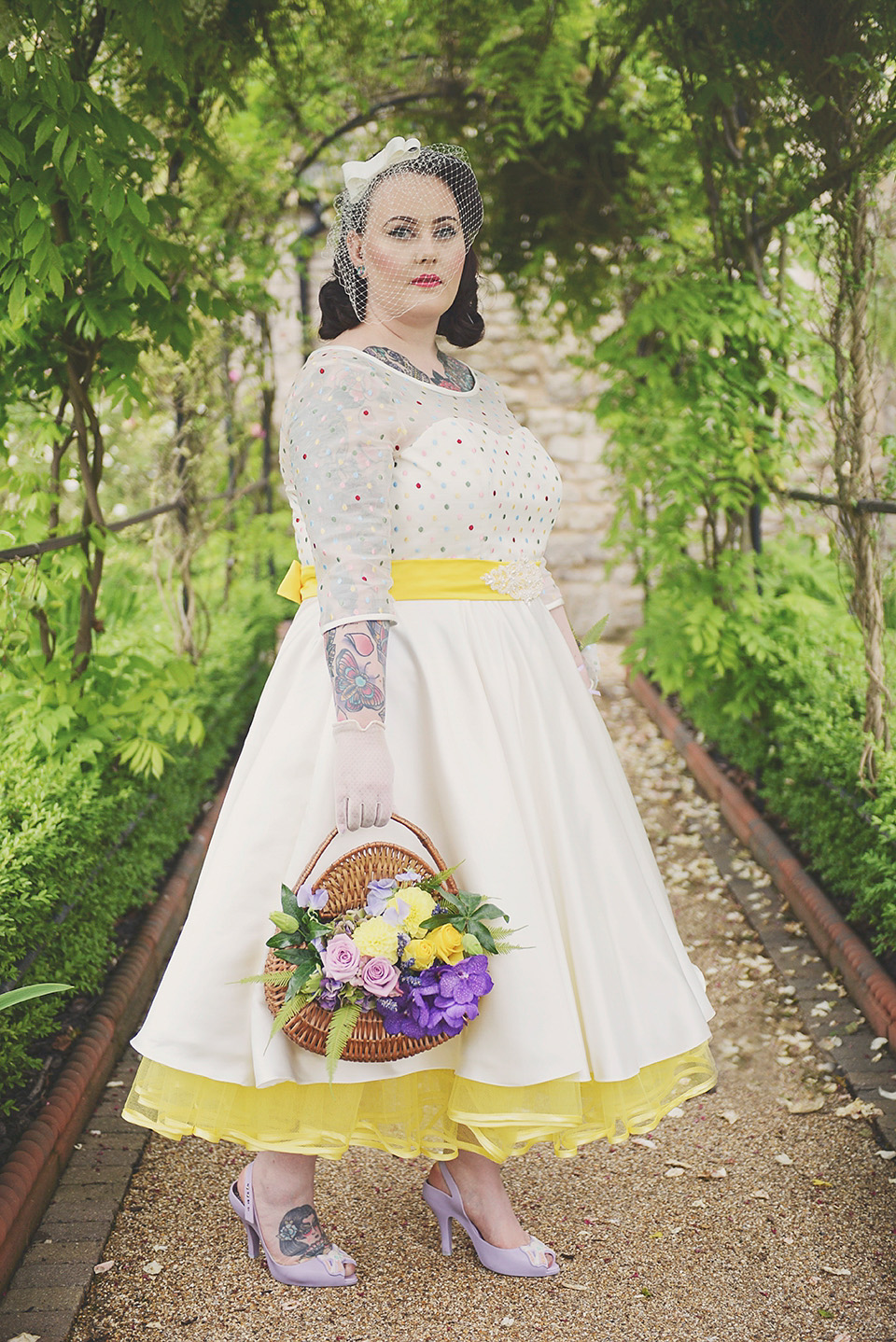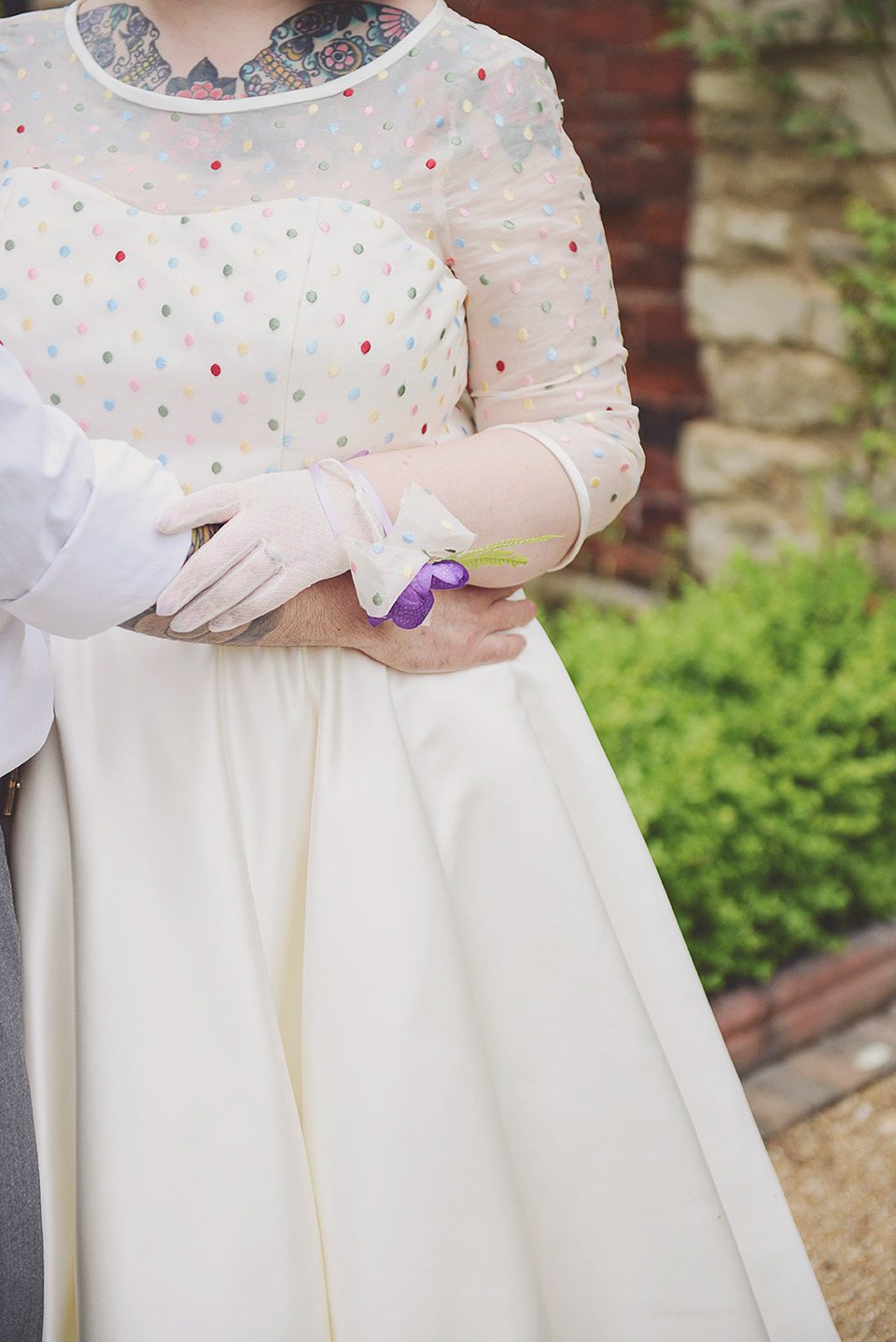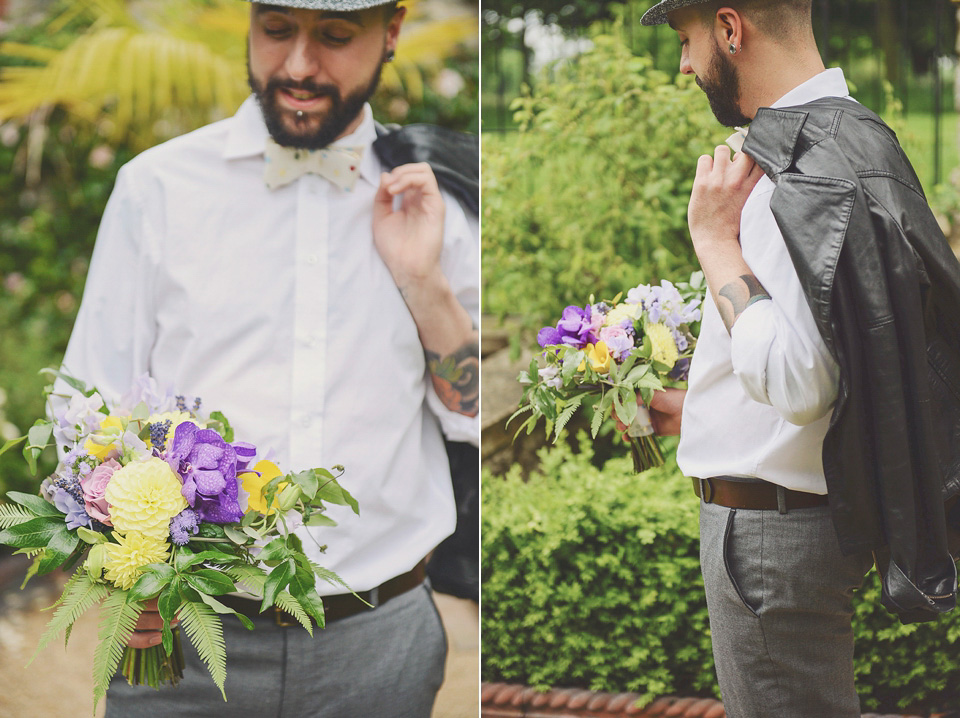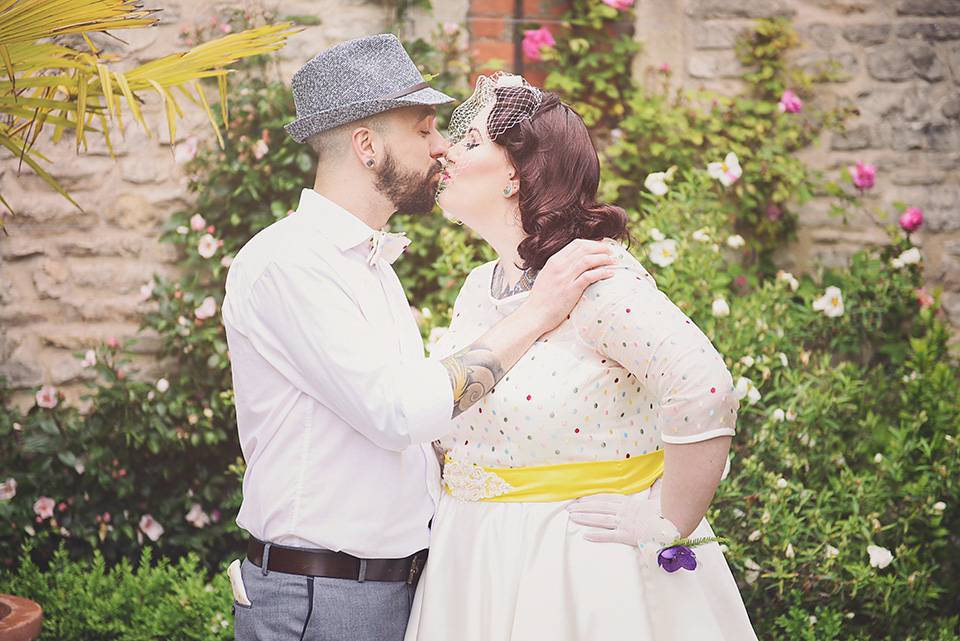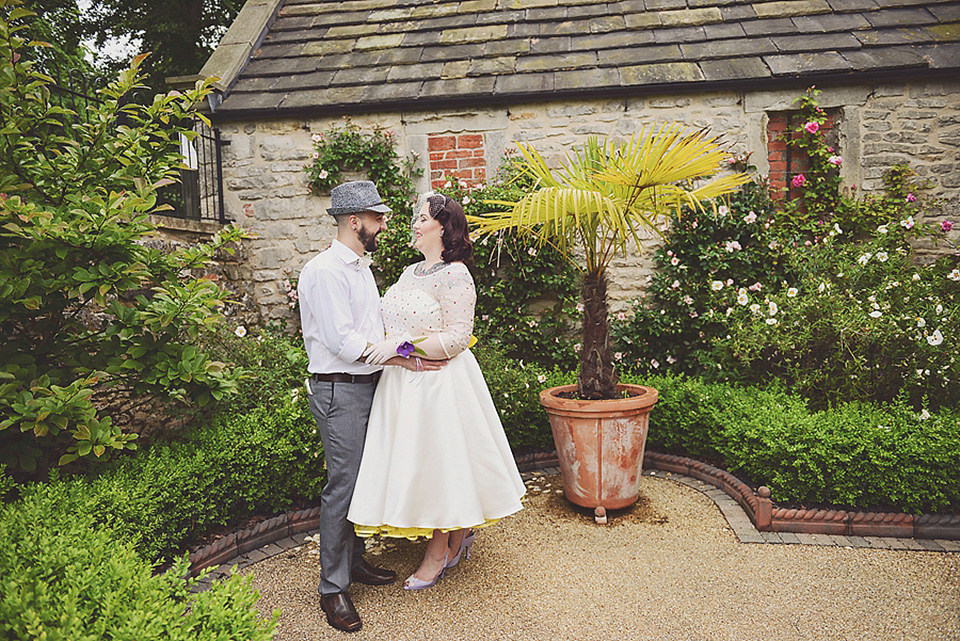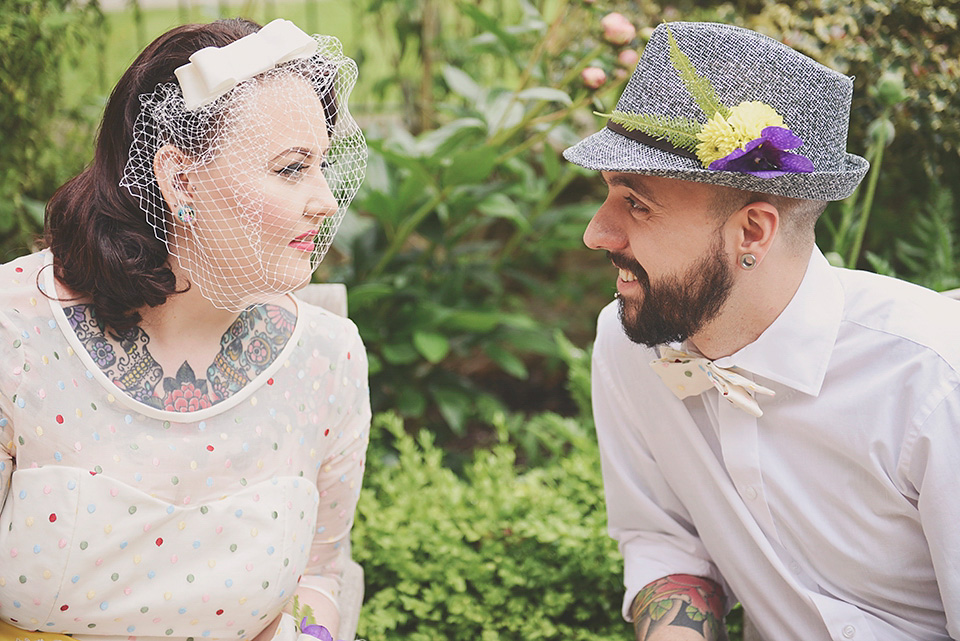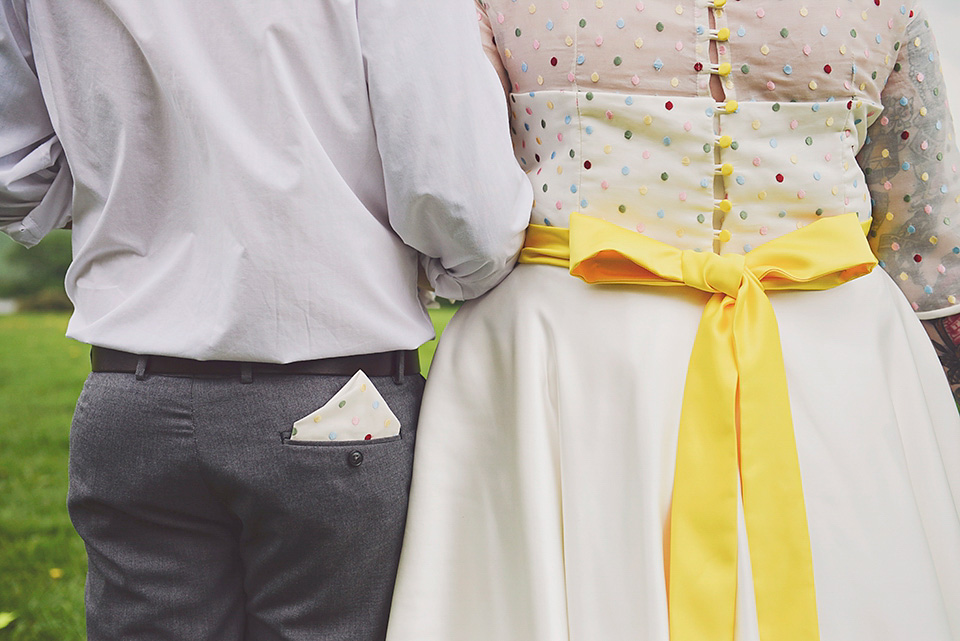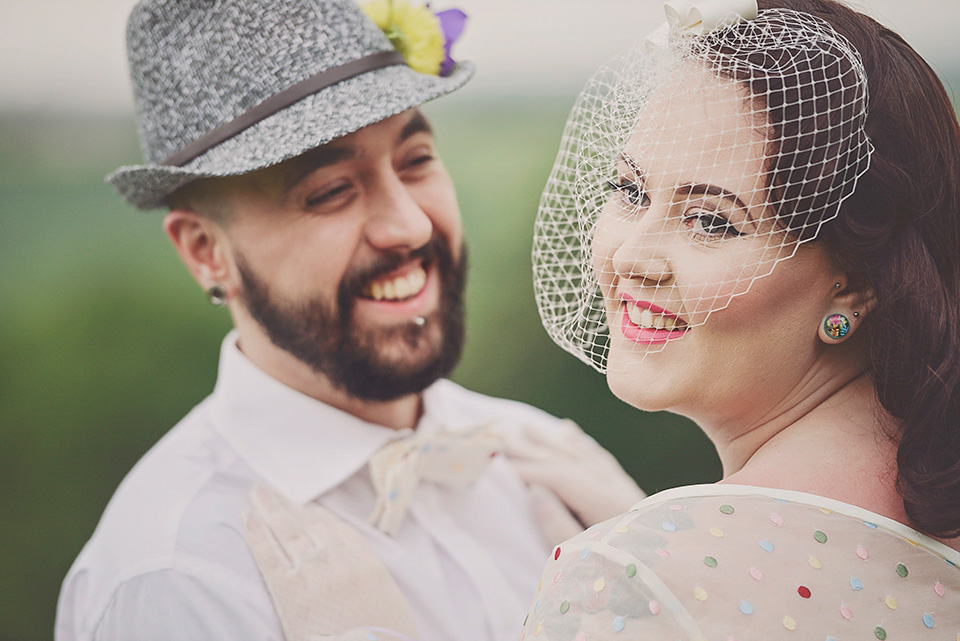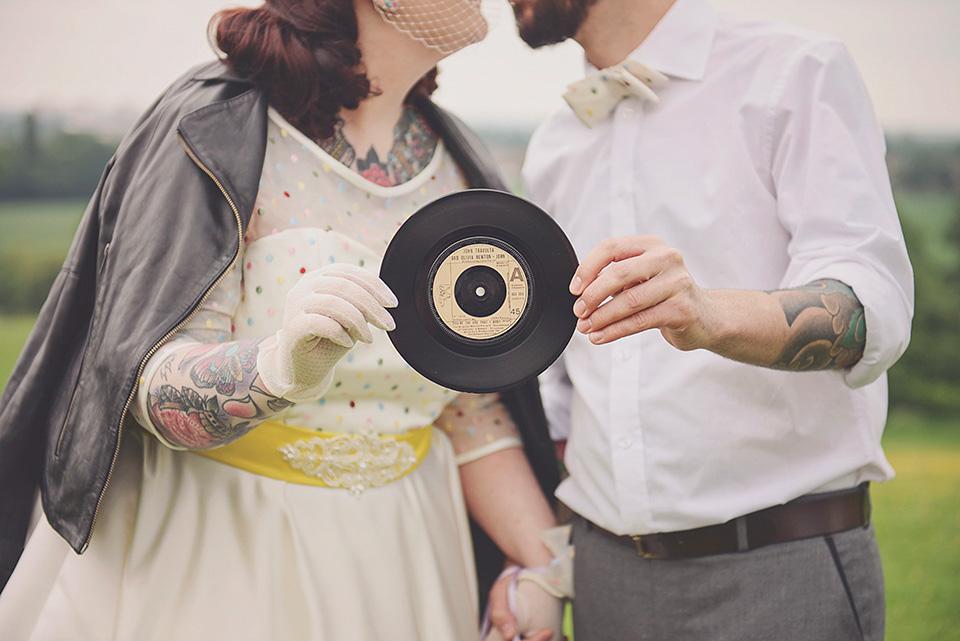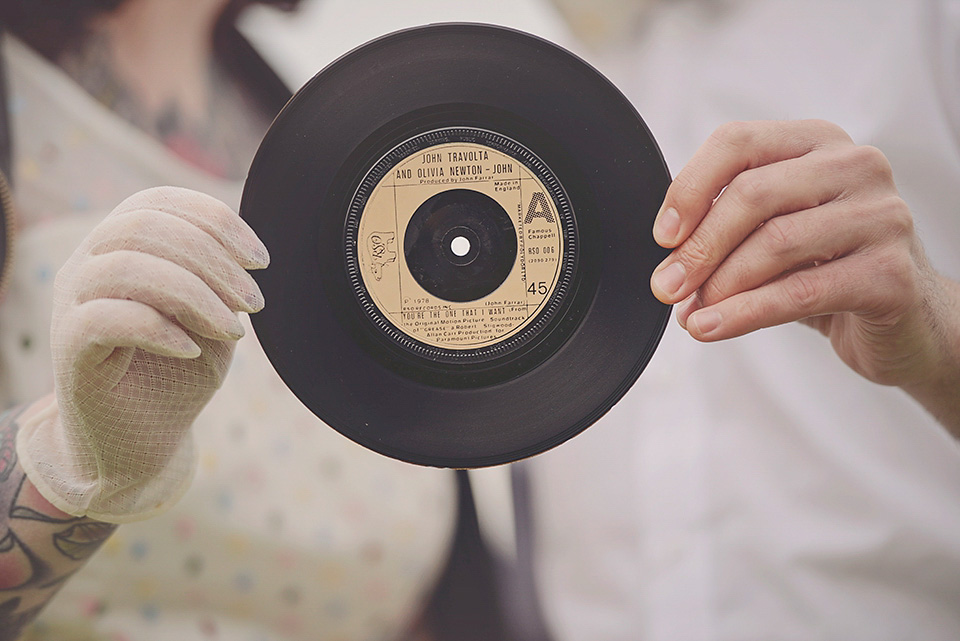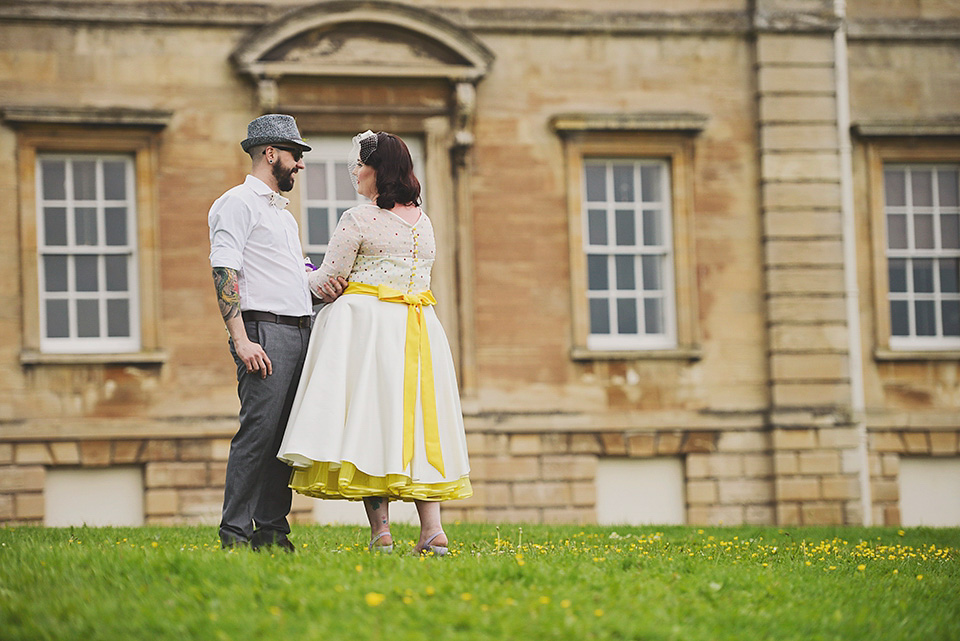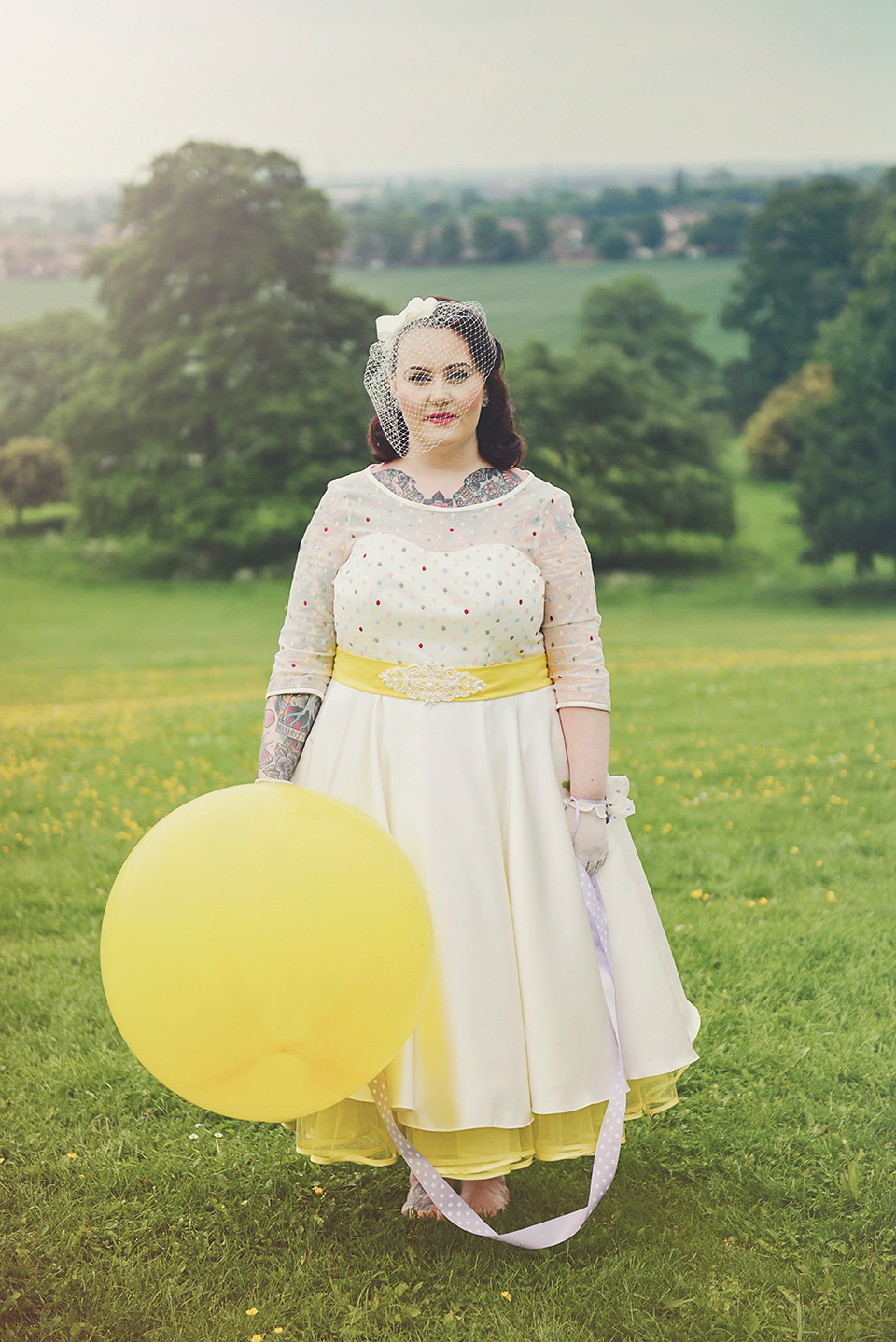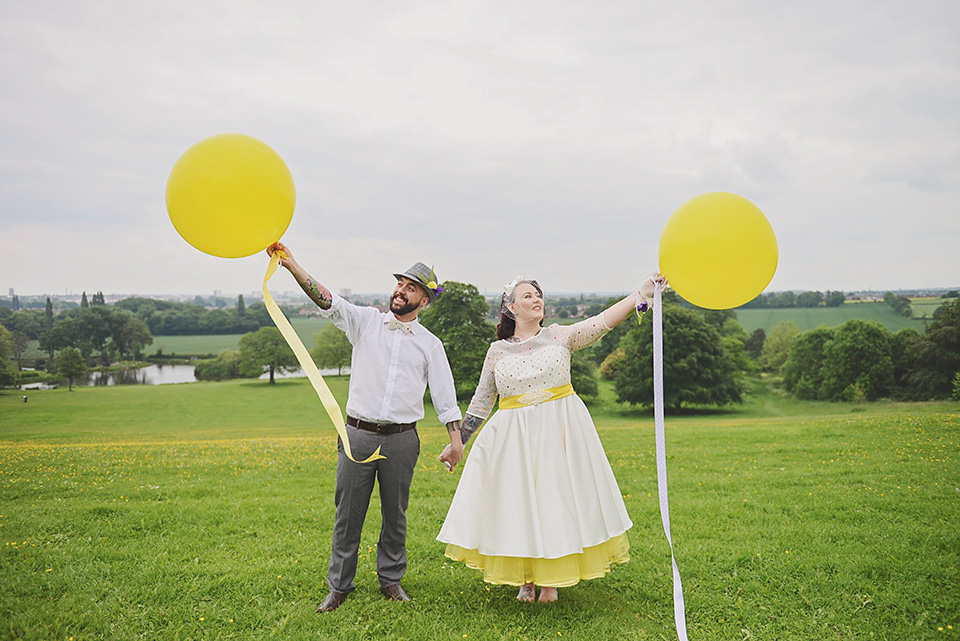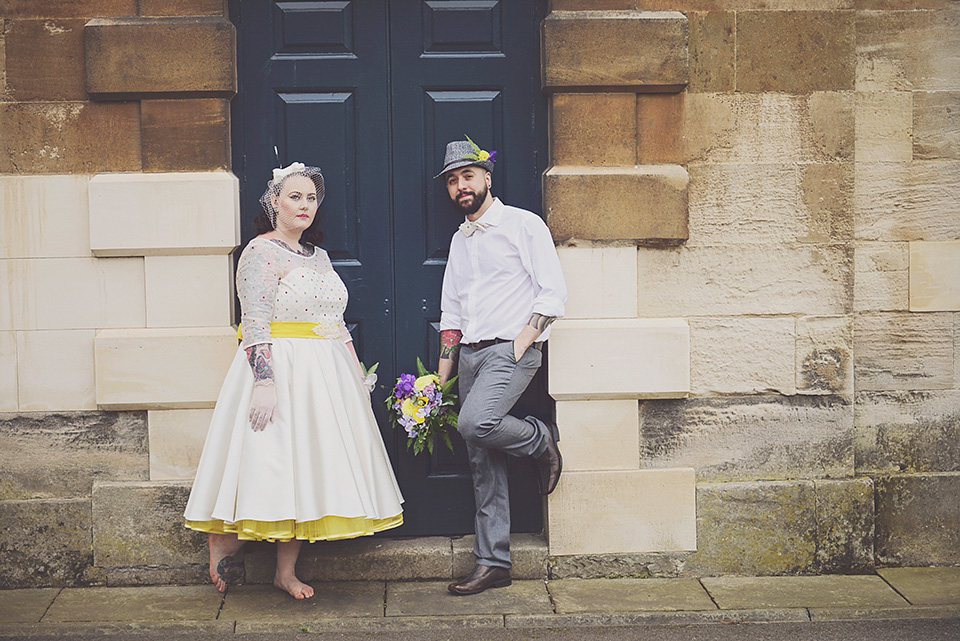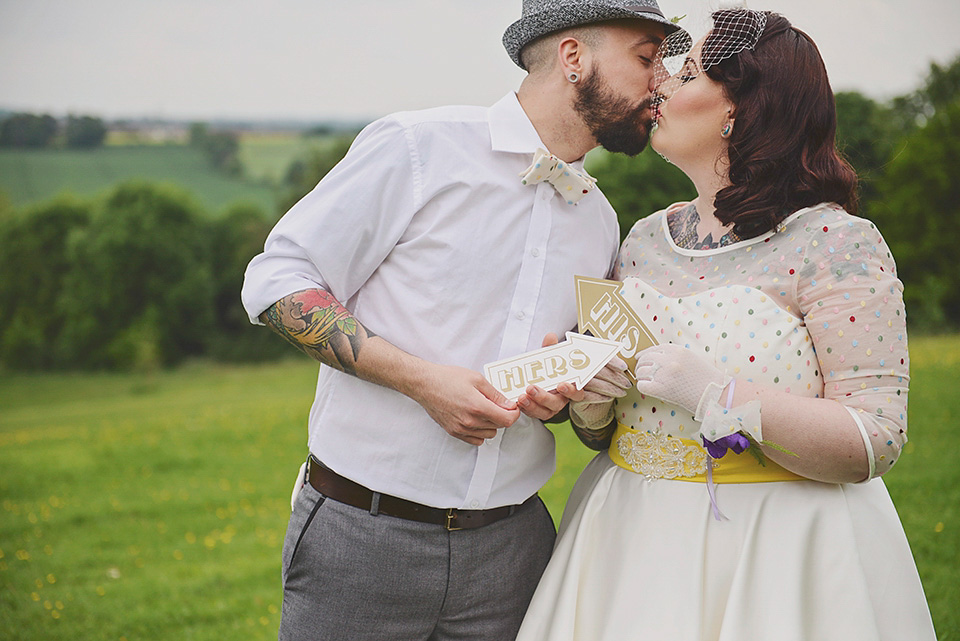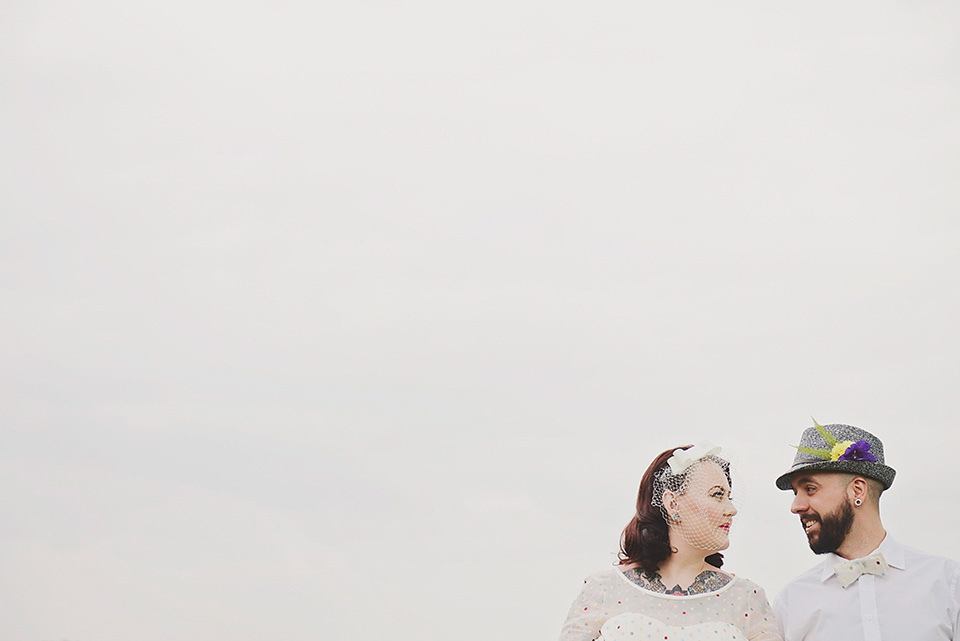 I knew you'd like these images – something a little different for your weekend. Huge thanks to Folega Photography and the creative team listed below – brides, please take a moment to visit these supplier websites if you still have those all important details and little things to prepare for your wedding to help you bring your look together beautifully.
Love Annabel xx
Photography – Folega Photography
Dress and Accessories – KMR Bridal
Make up – Sarah Gray
Hair  – Gypsy Rose Hairdressing
Styling and Props – Smply Something Blue
Wedding Stationery – Bonny and Clyde
Flowers – Paeony Floral Design
Location – Cusworth Hall
Cake – The English Rose Cake Company