Well hello there, and how was your weekend?  I really hope that it was a good one, whatever you were up to and that you've found your way by these beautiful blog pages this morning feeling positive and ready to embrace another week – and if not, then I hope that this feature will lift and inspire you.  I always try to keep a wedding with a little extra something special about it to open up each new week on Love My Dress®,  and these photographs speak for themselves; glitter balls and chandeliers hanging from the trees, an international DJ spinning the decks in the evening, and guests swinging (literally) from the tress!
The wedding of  Jade and Richard, who both work in marketing and events, took place on 14 June this year at Wasing Woodland in Berkshire and was styled by our friends Vicki and Michelle of Pocketful of Dreams.  I just love how the couple threw abandon to tradition and fully embraced their vision of a deliciously decadent day.  This is how to do a woodland wedding!
"The colours of my engagement ring influenced our colour scheme – but in general, the concept was inspired by our love of festivals and music, combined with my passion for dressing up. There was never a question that our wedding would ever (or could ever) be anything different – we wanted to put on the best party we'd ever been to!"
Photography Copyright (c) 2014, Matt Parry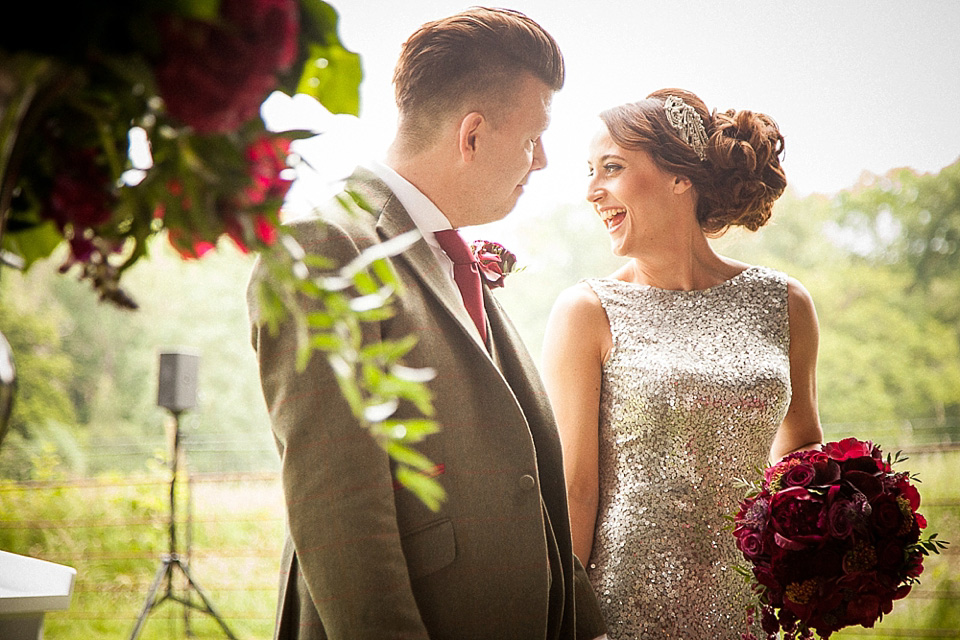 The couple really went to town in terms of decorating their venue, using outdoor chandeliers, silver pineapples, red velvet drapes, Tom Dixon lanterns, plush velvet chaise lounges, lots of old cinema chairs, mirror balls, fun fairground lighting, silver picture frames, rich lace, red and green up-lighters and rope lighting! It was, as Jade says herself, a 'truly decadent disco!
"The team at Pocketful of Dreams were actually brought in to help after our initial wedding planner became pregnant and couldn't continue to work with us."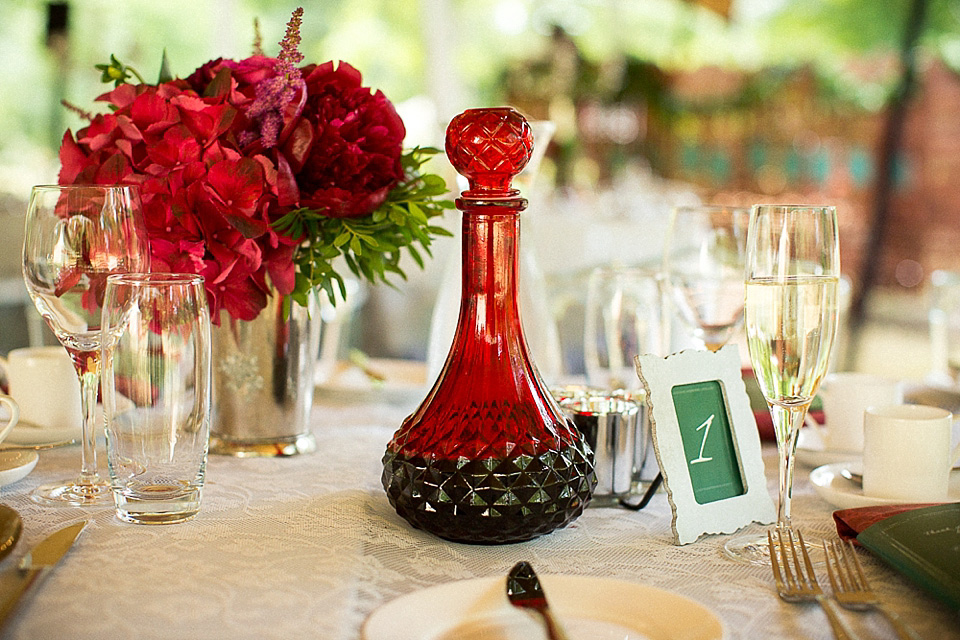 "They were an amazing help throughout the process – I honestly don't know how we could have done this without them. Not only did they offer great practical support when we had issues with the site due to weather, they were brilliantly creative coming up with lots of wonderful ideas and also really 'got' what we were trying to achieve.
One of the main comments throughout the day, was that the wedding was very 'us' – which made me very proud. Michelle and Vicky of Pocketful of Dreams  fully understood the brief and worked above and beyond to deliver."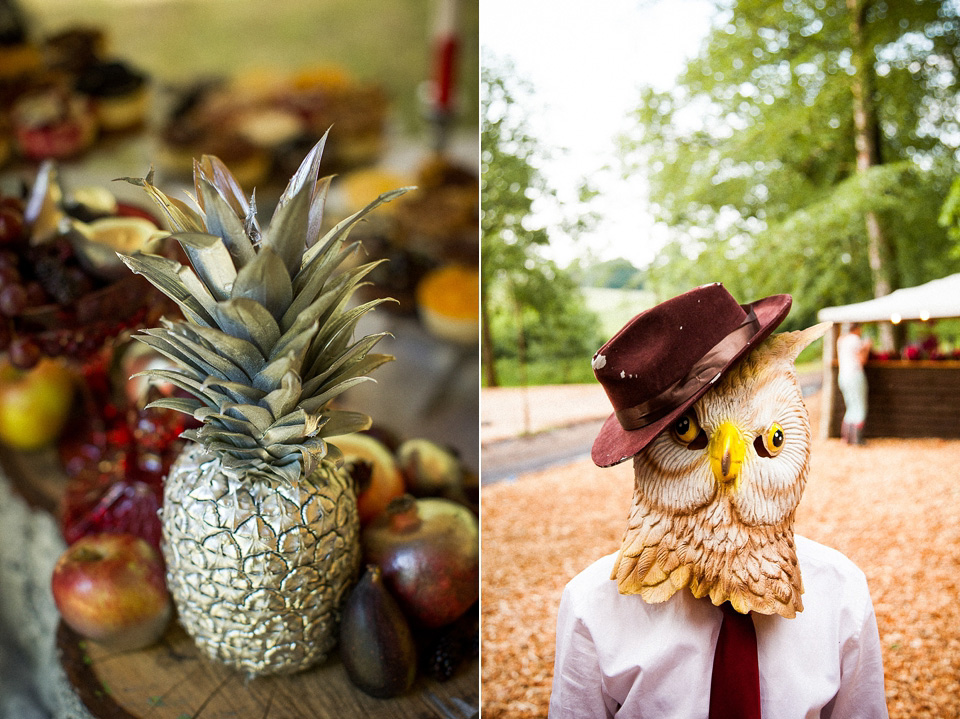 "We chose the venue, Wasing Woodland in Berkshire,  because we could get married legally on site, whilst at the same time, the space gave us lots of room to bring our dream wedding to life.  A lot of the other outdoor/festival style venues we looked at also didn't have the back up of a professional management team, which meant arrangements were rather ad-hoc.
With an outdoor venue where a simple change in weather can throw all your plans up into the air, you need to make sure the venue is capable of dealing with all eventualities."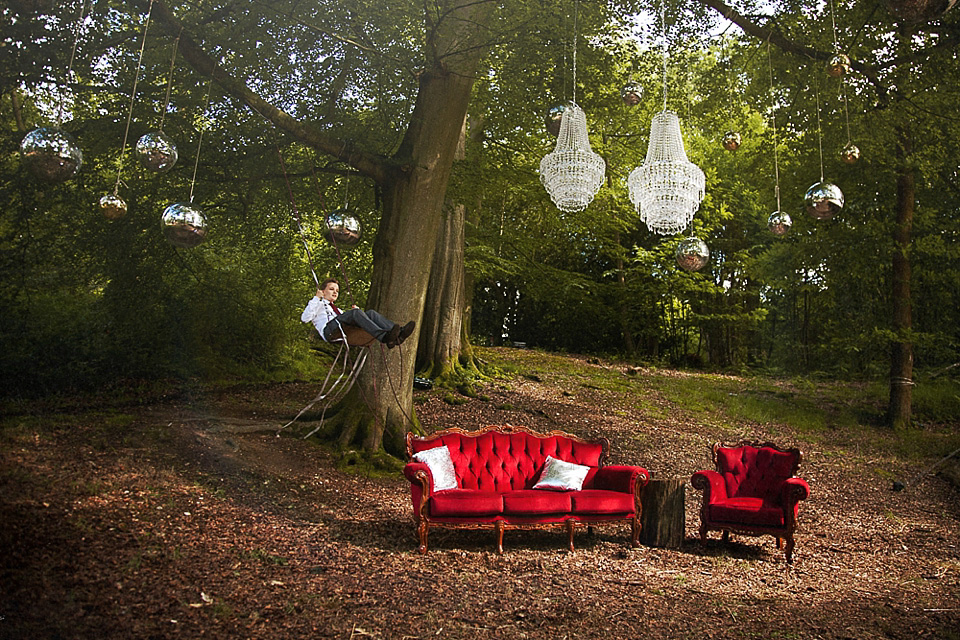 Jade's bridesmaids wore wrap sresses from BHS in merlot.
"Buying these was more stressful than buying my own dress and these were actually the second lot of dresses I bought!  My chief brides 'maid' wore a handmade grey suit with accessories to match the groom and his ushers (I was 'best man' at his wedding!).
All the bridesmaid accessorised themselves – I was conscious that they should bring their own style to the day."
Jade's fabulously sparkly gown was a Jenny Packham design, purchased directly from the Jenny Packham flagship boutique.
"I'd had such an amazing day with my mum and friends trying dresses on – it'd got to the end of the day and this was the last dress I tried on. As soon as I put it on, half my friends said I couldn't wear that as a bride and the other half said 'wow!'.  That made it the perfect choice."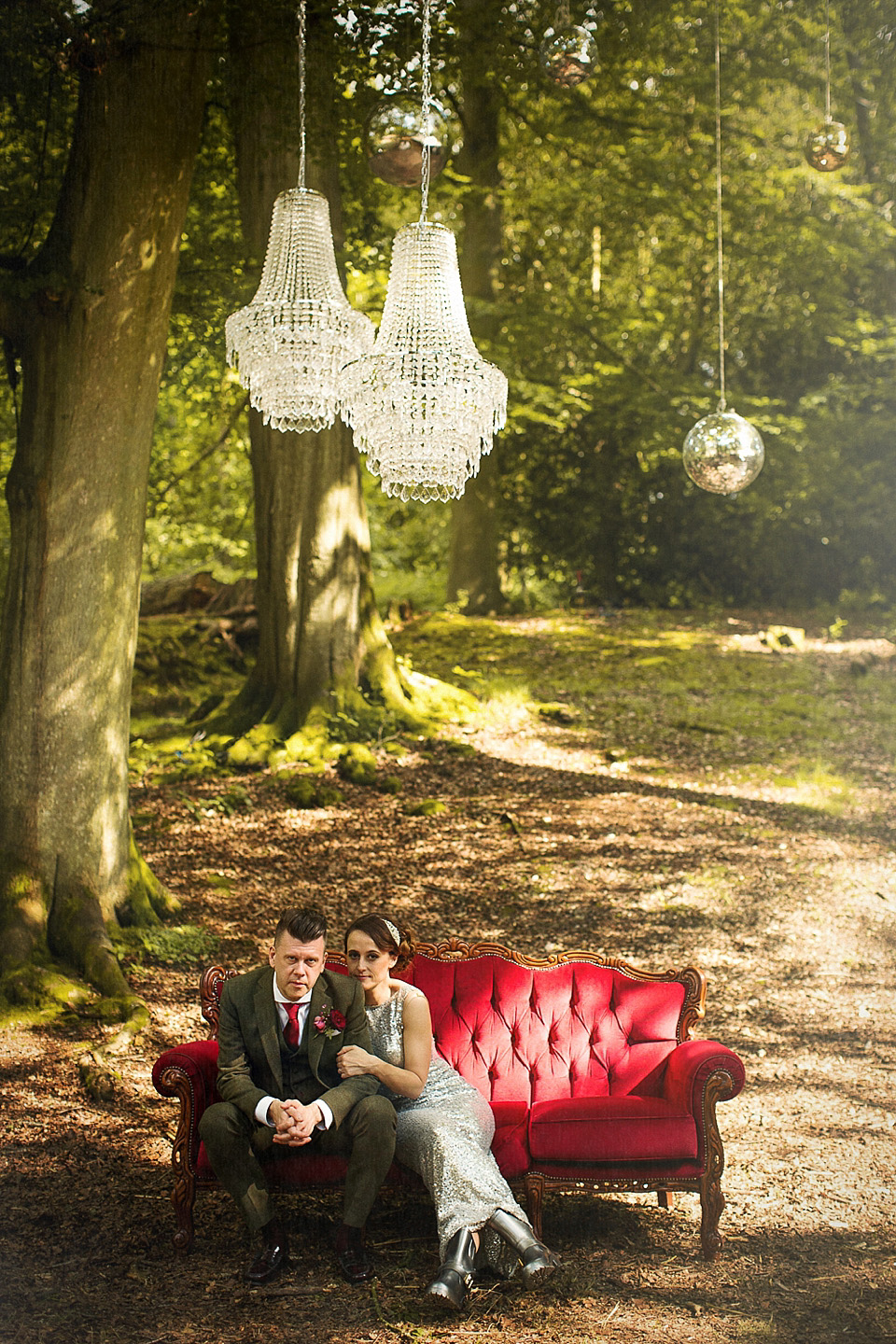 Jade and Richard met at a friend's pub but then went onto work with each other.
"Richard asked me to marry him on holiday in Antigua – both his brother and my mum knew. I had absolutely no idea. It really meant a lot that Richard asked my mum's permission (my dad died when I was young)."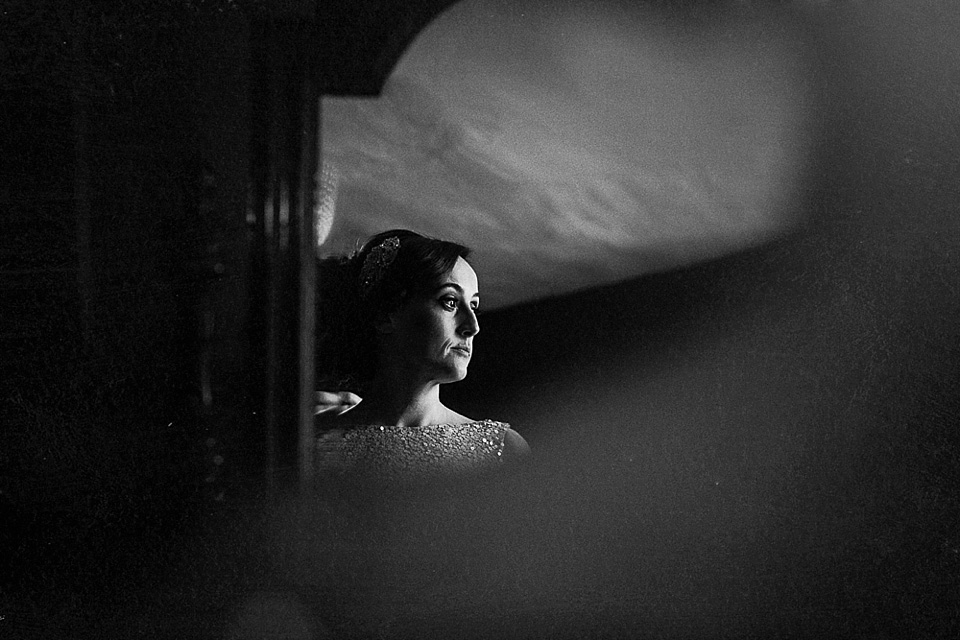 "I had Jo Adams – part make up artist, part psychologist, to style my hair and makeup.  Jo is a great person to have by your side and makes sure everyone is calm and laughing. Her huge bag of false eyelashes is definitely something to see!"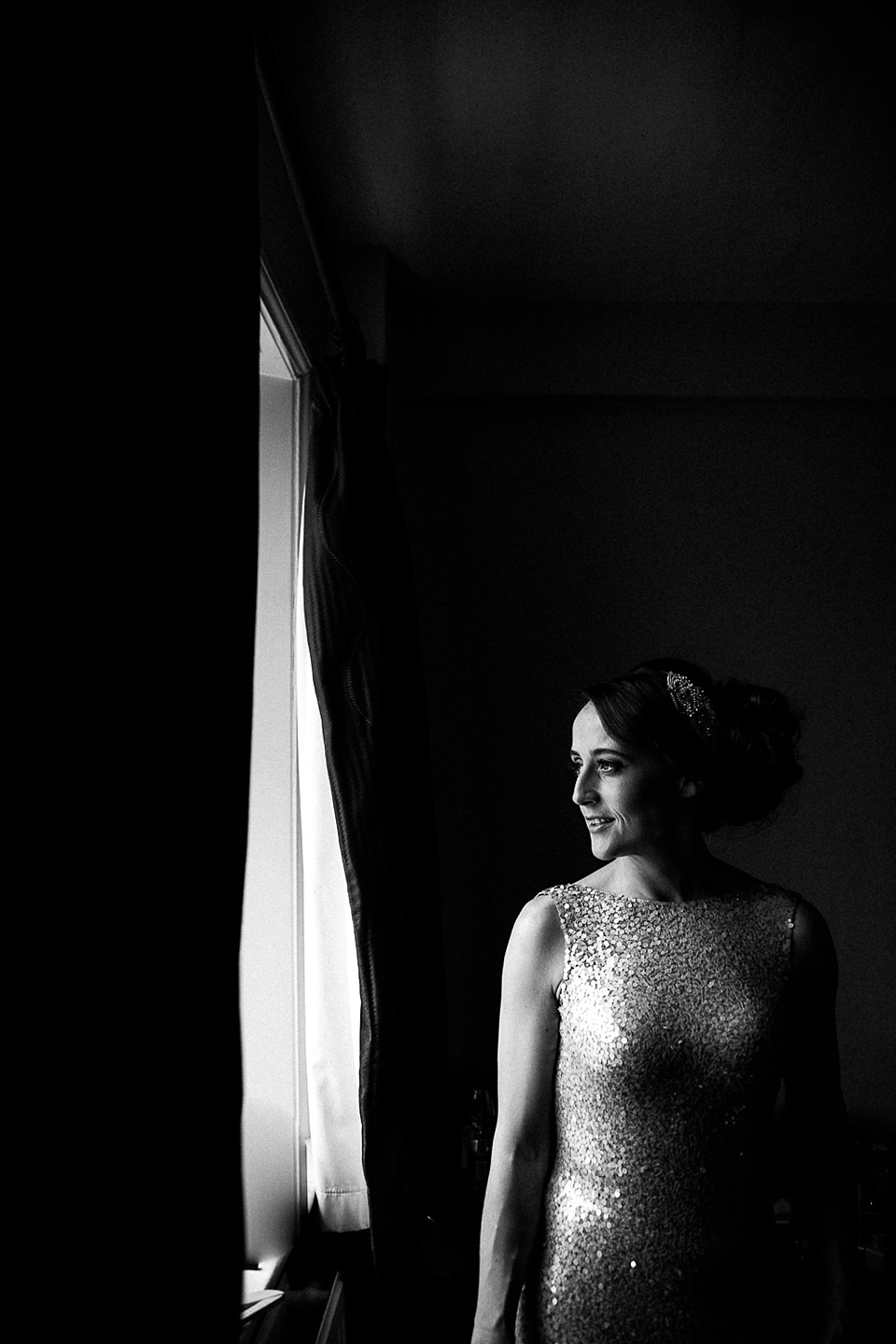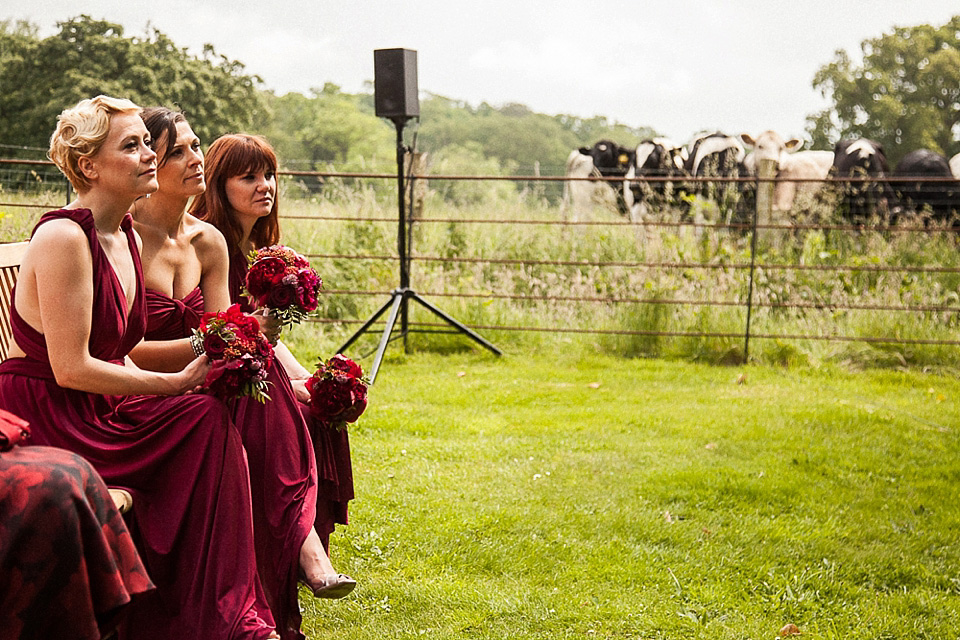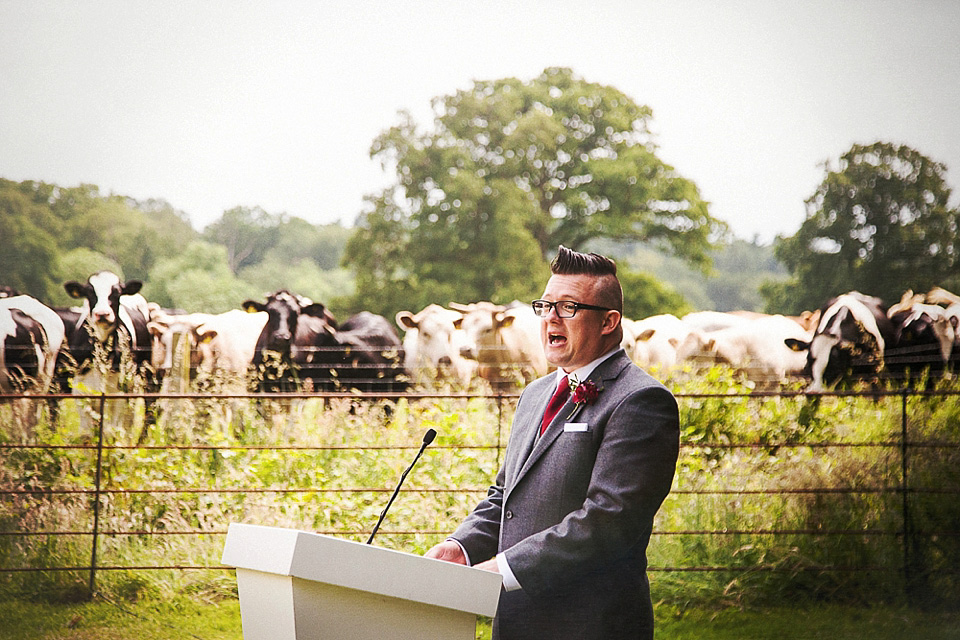 "Apart from actually getting married of course, some of our highlights of the day included the cows that wandered over from the nearby field to listen to Jamie do his reading mid ceremony. It caused everyone to giggle and will be something I'll always remember (cue selfies with cows)."
Jade's Mum and brother walked her down the woodland aisle to the sound of Sabres of Paradise', 'Smokebelch II'.
"We didn't write our own vows – we didn't want that extra pressure on the day. (I'd had a large launch a few days before and didn't relish the thought of talking again!).  
My chief bridesmaid and one of my best friends Julia, read the following:
Lines Depicting Happiness, by Peter Gizzi
The shine on her buckle took precedence in sun
Her shine, I should say, could take me anywhere
It feels right to be up this close in tight wind
It feels right to notice all the shiny things about you
About you there is nothing I wouldn't want to know
With you nothing is simple yet nothing is simpler
About you many good things come into relation
I think of proofs and grammar, vowel sounds, like
A is for knee socks, E for underwear
I is for buttondown, O the blouse you wear
U is for hair clip, and Y your tight skirt
The music picks up again, I am the man I hope to be
The bright air hangs freely near your newly cut hair
It is so easy now to see gravity at work in your face
Easy to understand time, that dark process
To accept it as a beautiful process, your face.'"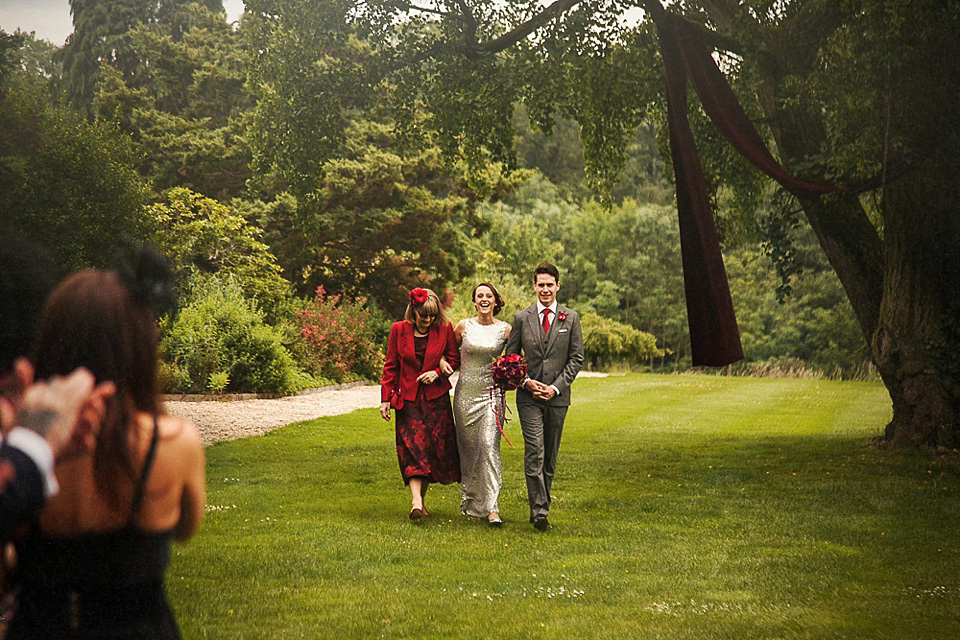 "We got our wedding rings at the same place my engagement ring came from – Berganza.  Their service is great and once you buy rings from there, they service them every year (no missing diamonds!)"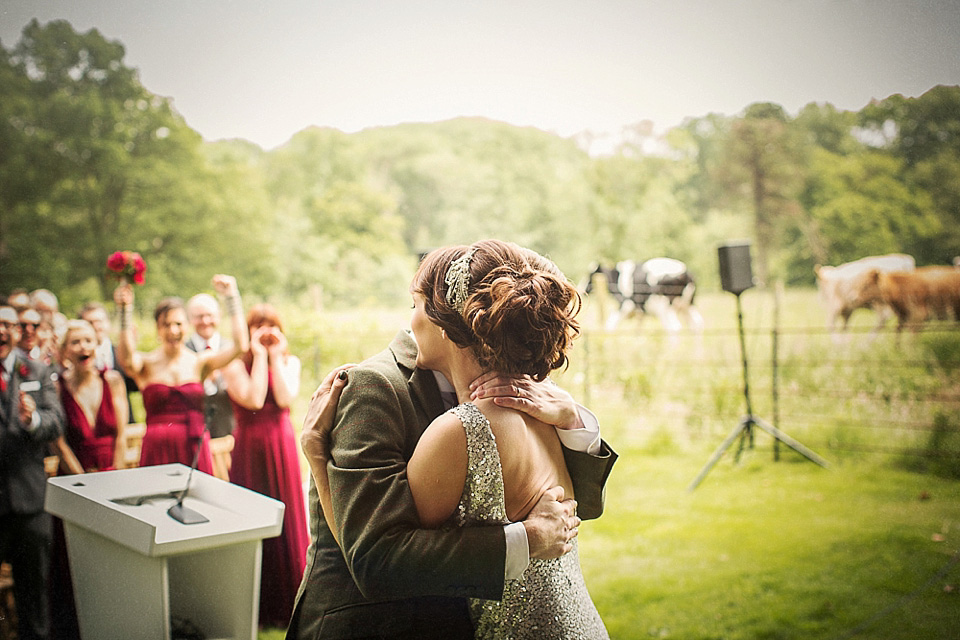 "Jamie read something he'd written too:-
'Marriage is filled with magic and beauty. It needs to be cared for and cherished every single day.
Nurture it and it will last a lifetime.
Say 'I love you', mean 'I love you'.
Share dreams, forget arguments
Cherish the little things, don't worry about the big
Cuddle in the morning, hold hands last thing at night
Be best friends, never let anything get in the way
Trust without fear, accept without change
Look at each other, see everything you need
Grow old together, remember why you fell in love
Love and marriage are inseparable partners, they both grow through the other, protecting you from hurt, delivering joy.
Marriage is a journey that today two of my best friends are starting, take the right paths, make the right turns, protect it and it will make you happy for the rest of your lives.'"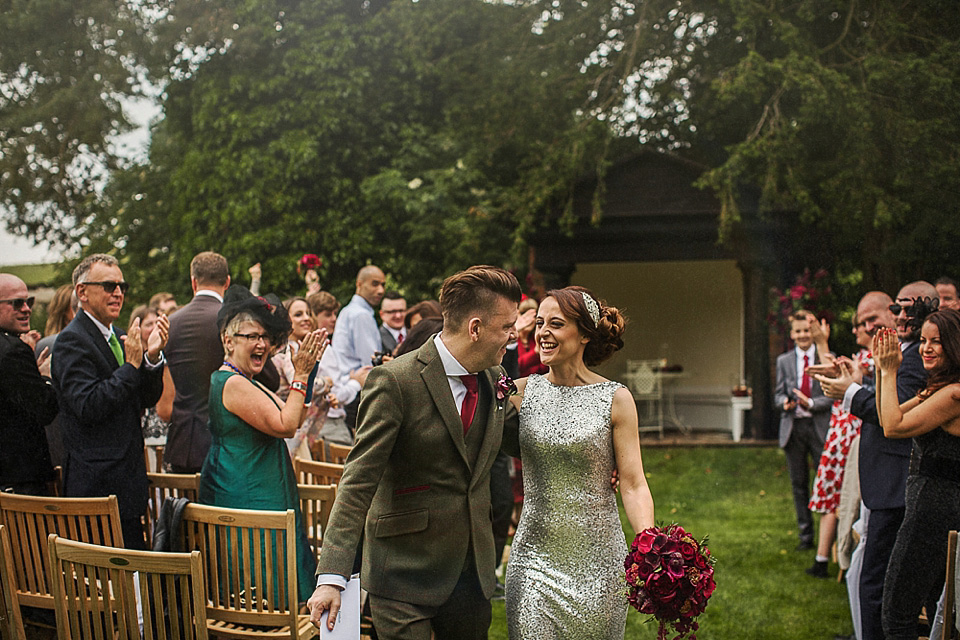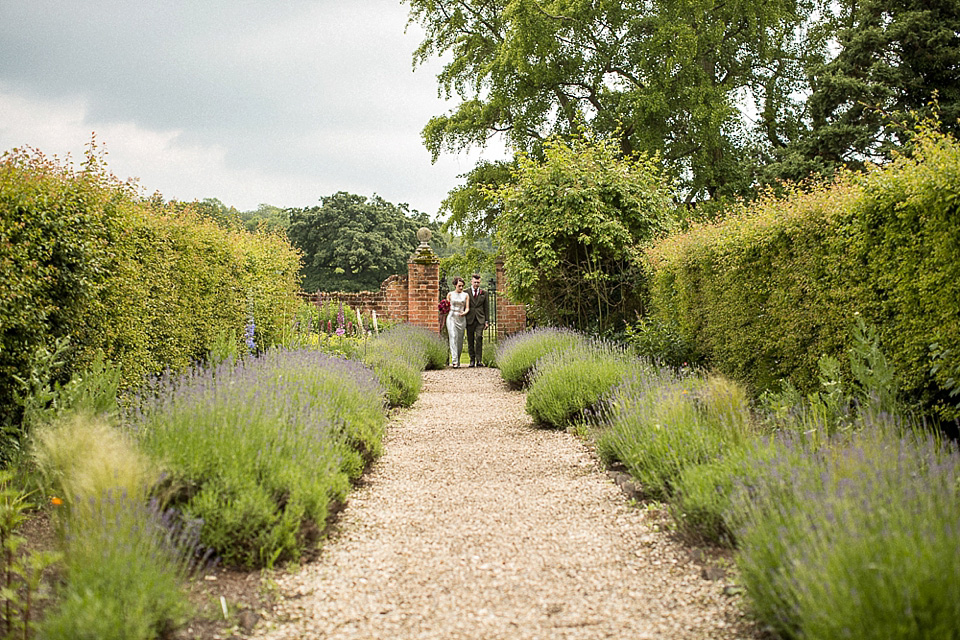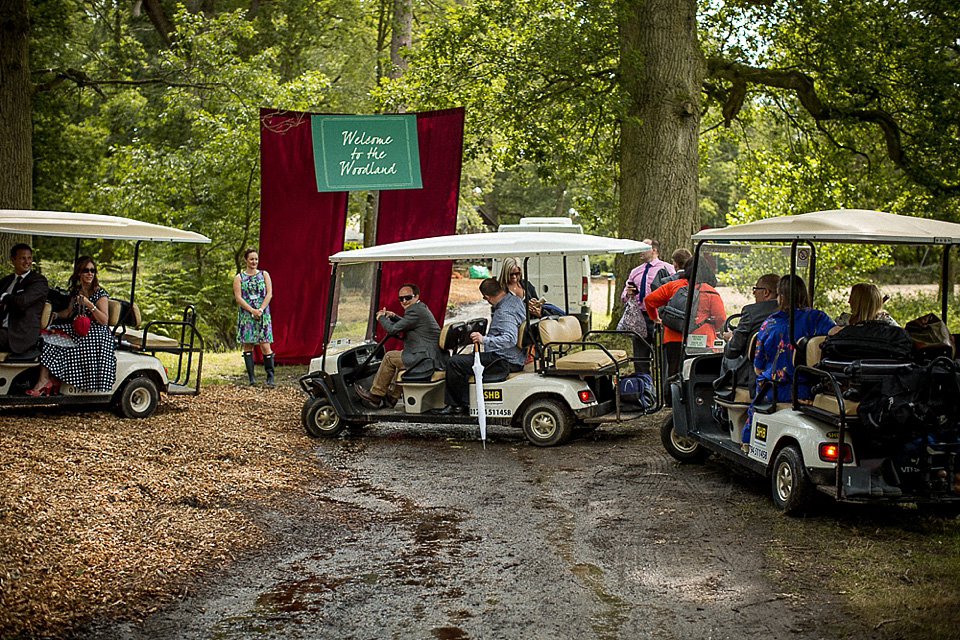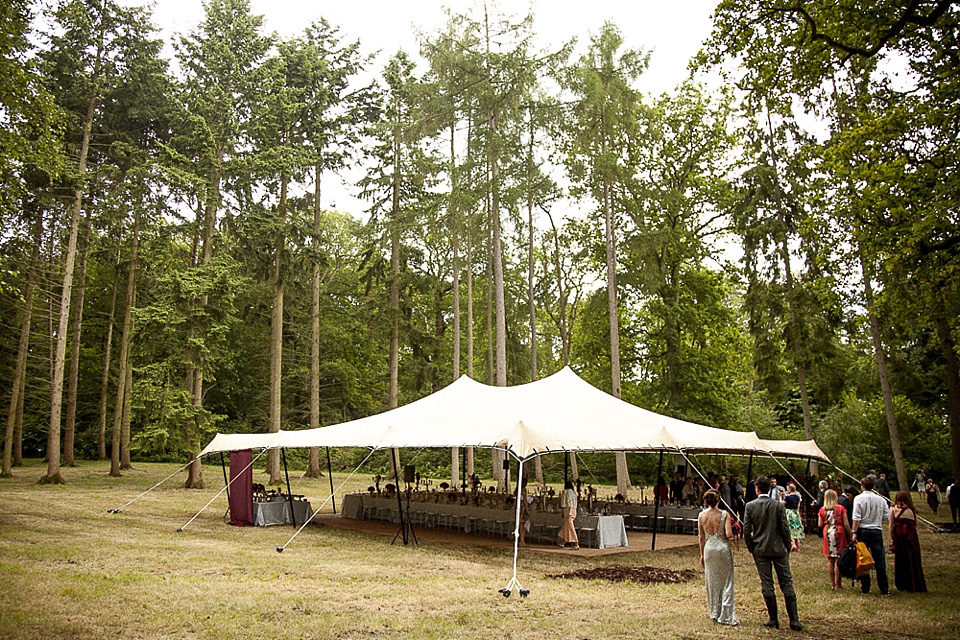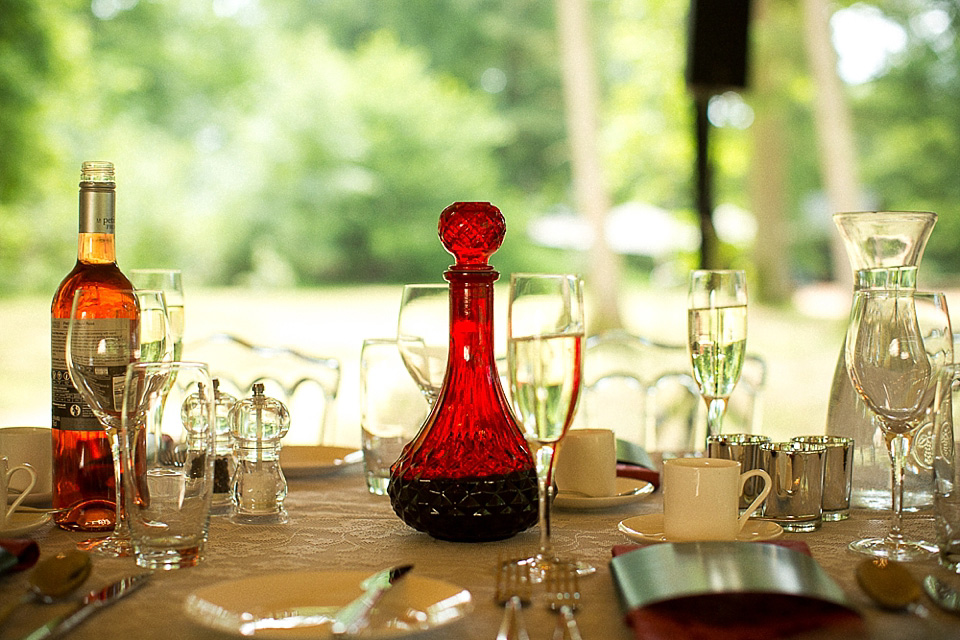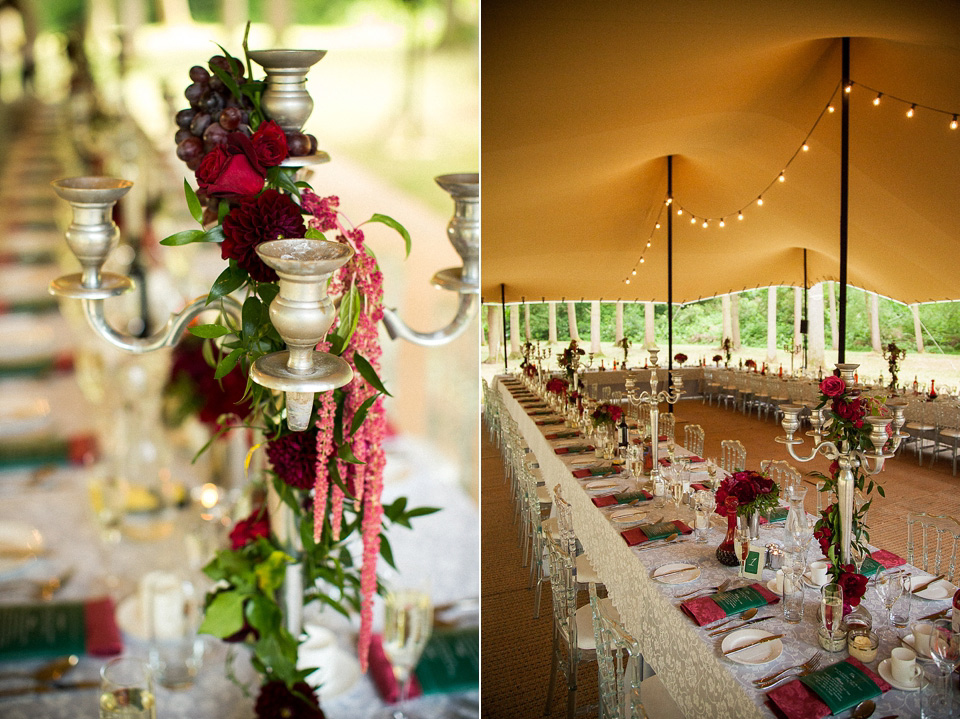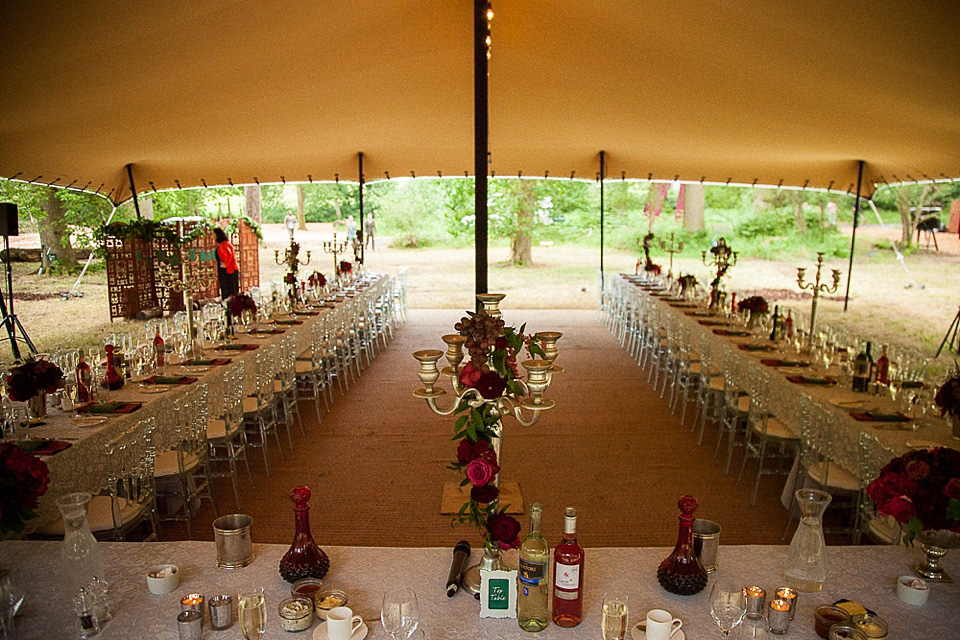 "Stationery was designed and printed by a close friend (one of the groomsmen on the day), with design input and ideas provided by Pocketful of Dreams."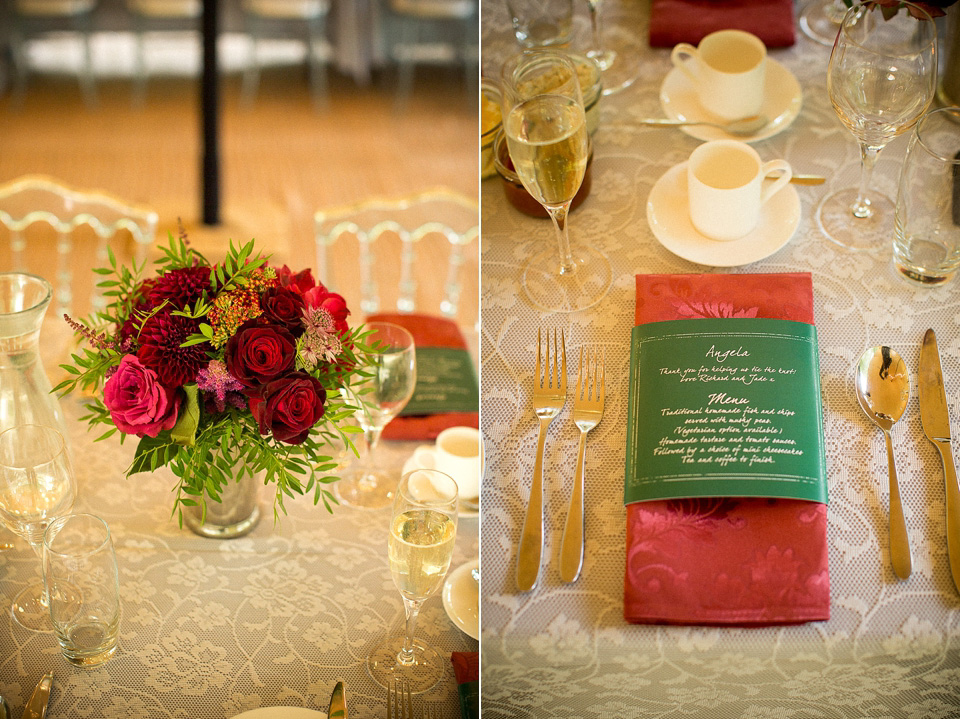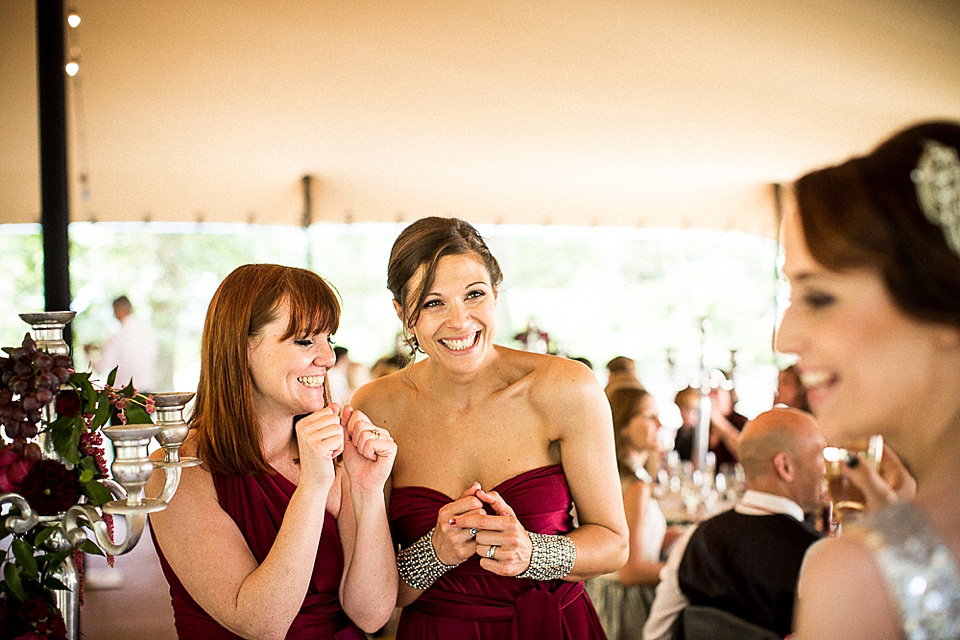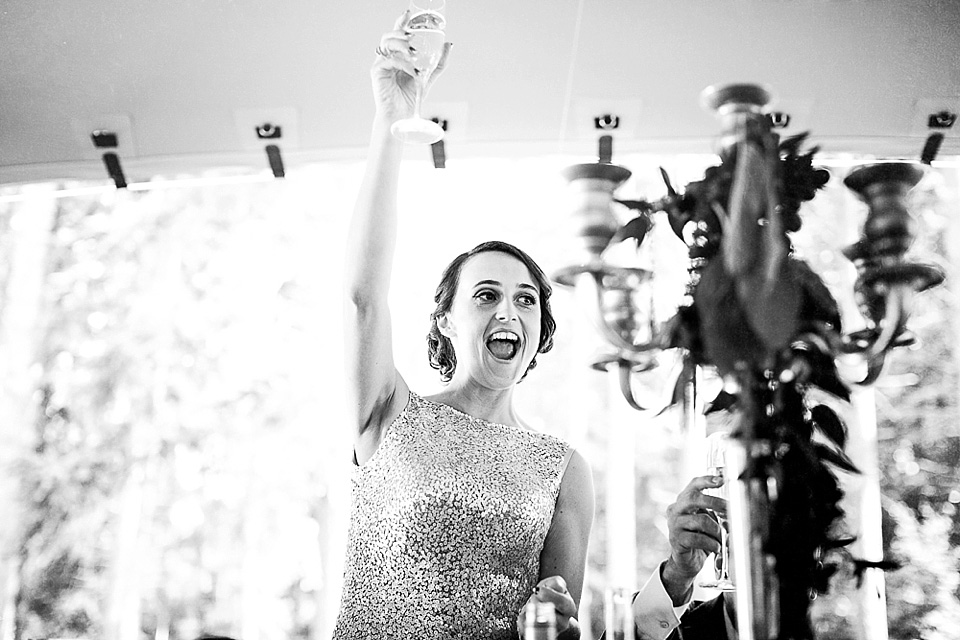 "The flowers by Ruby & Grace were chosen to really set the tone with rich red and pink tones and structural blooms providing a sense of opulent glamour."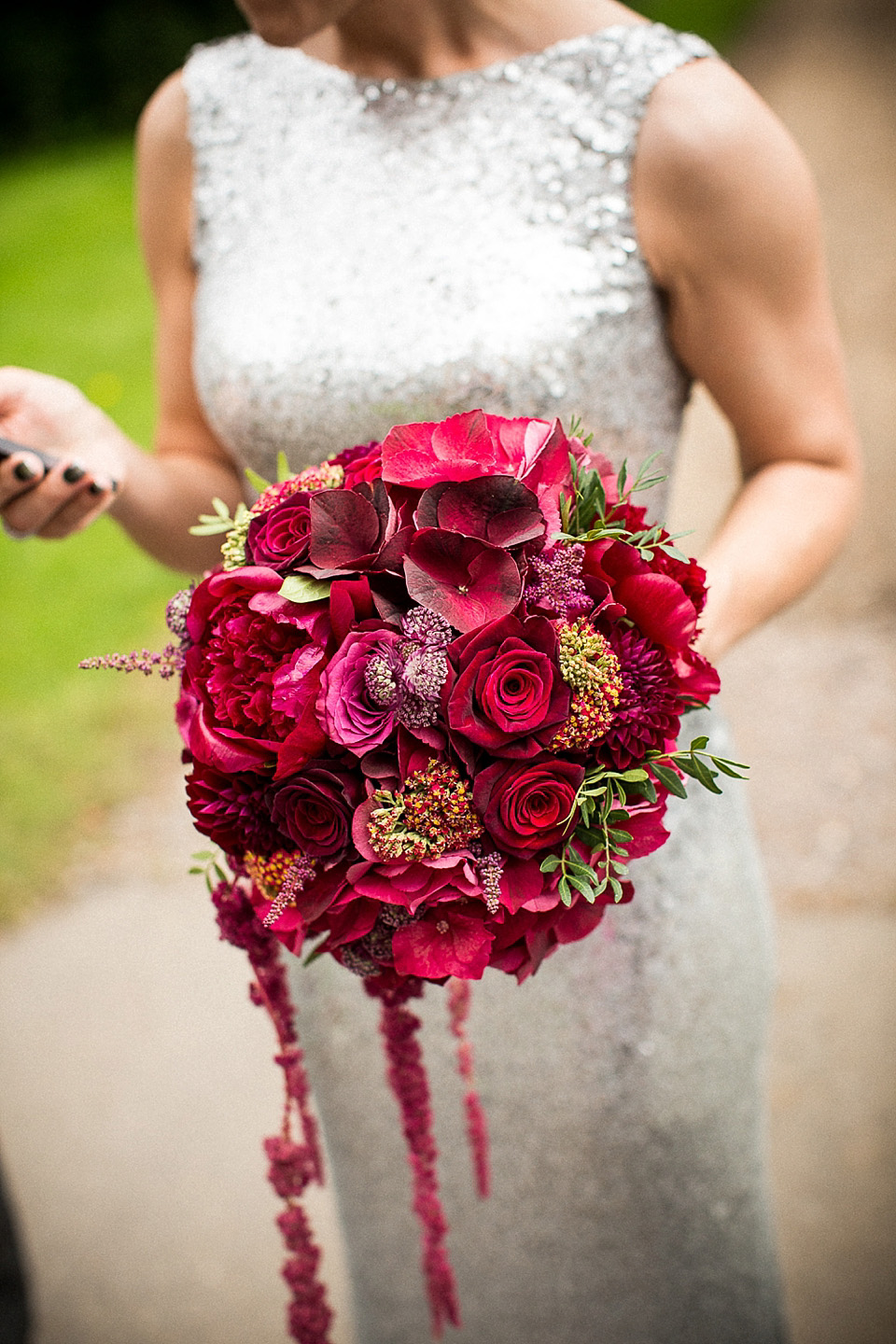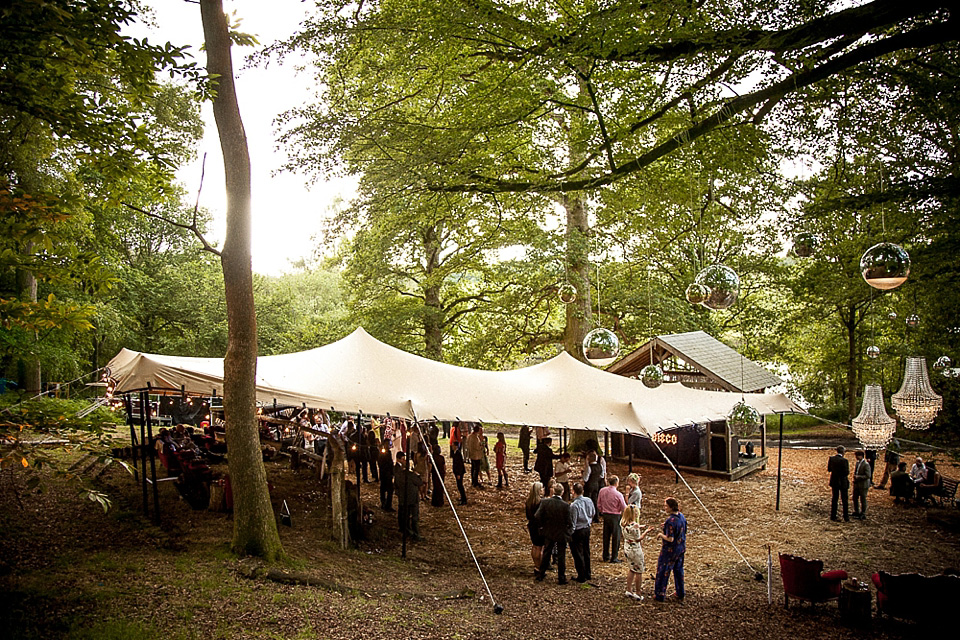 "Oakwood Events customised the gorgeous chandeliers to make them appropriate for outdoor use and installed them in the woodland – they got rain and even lightening tested and looked fabulous throughout the day!"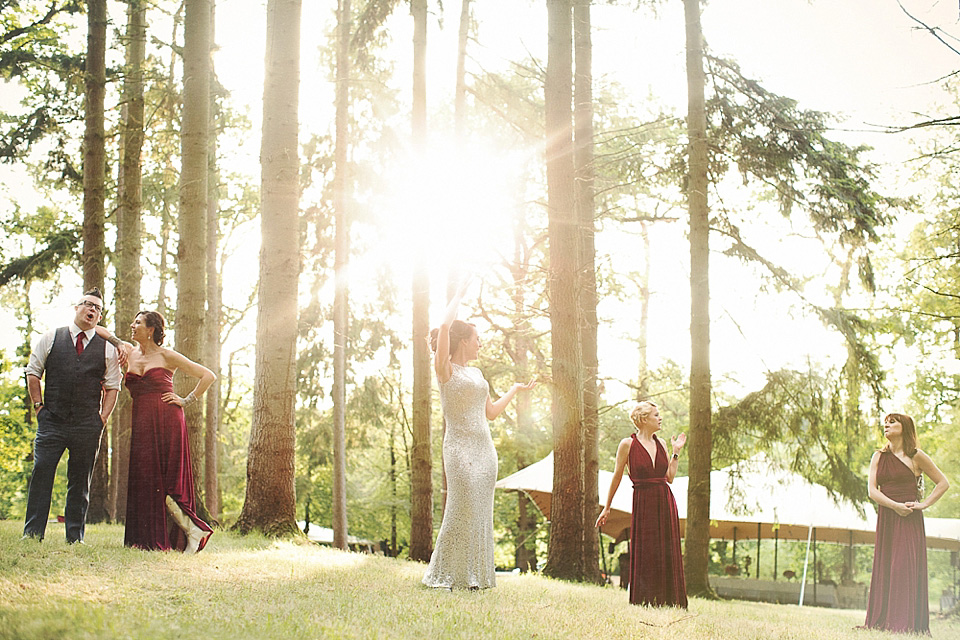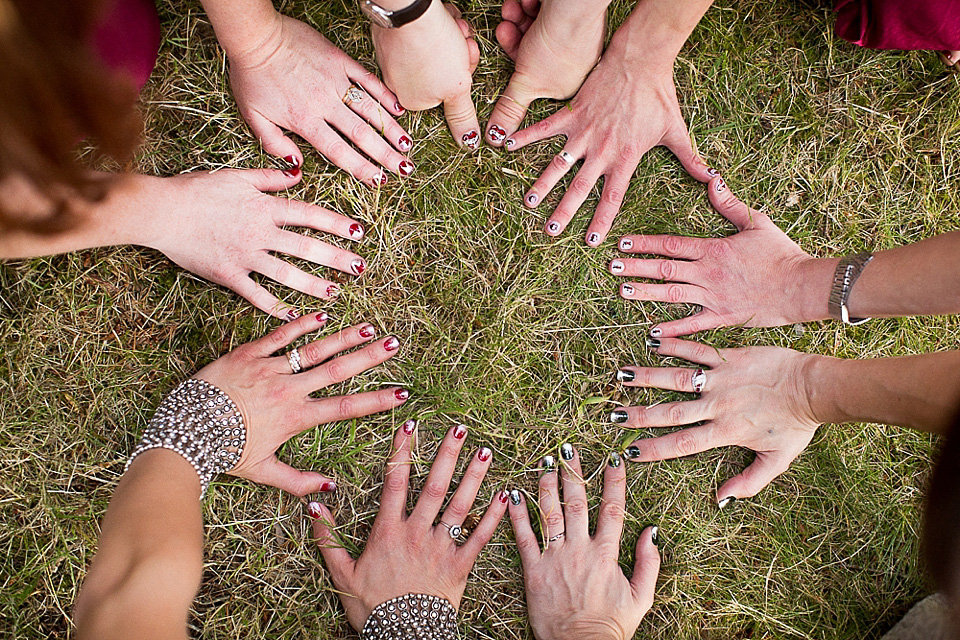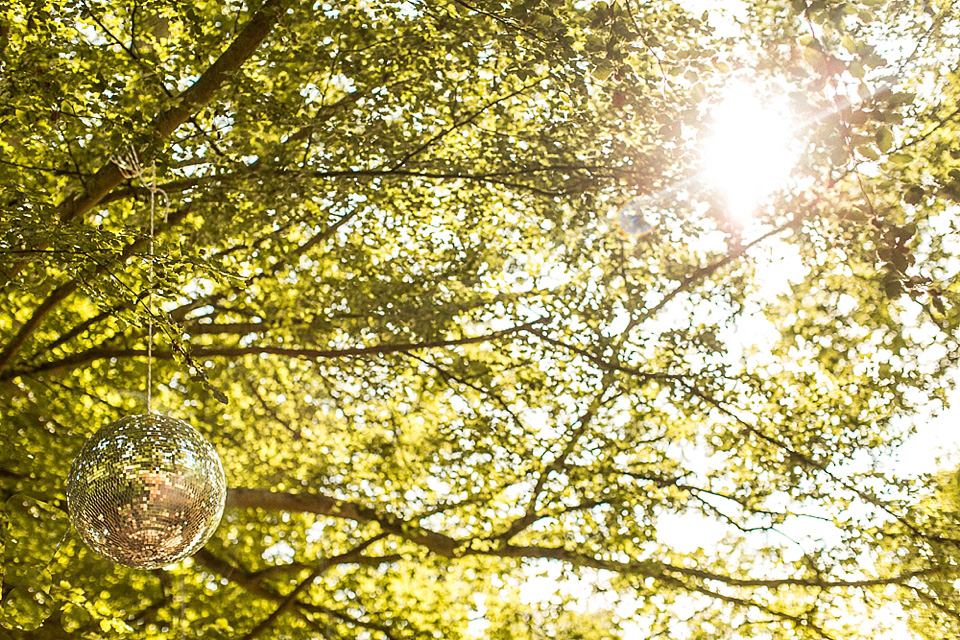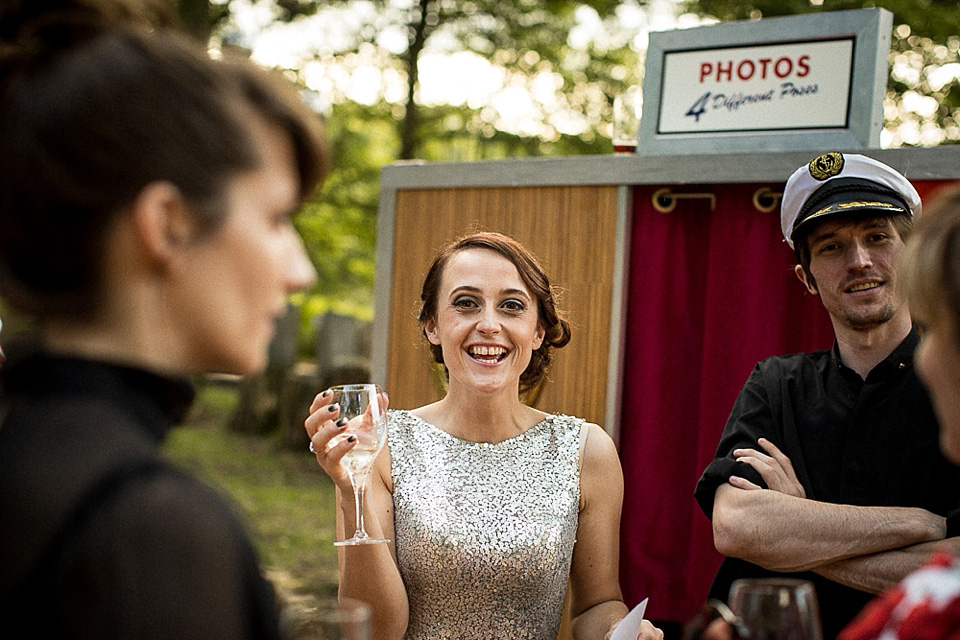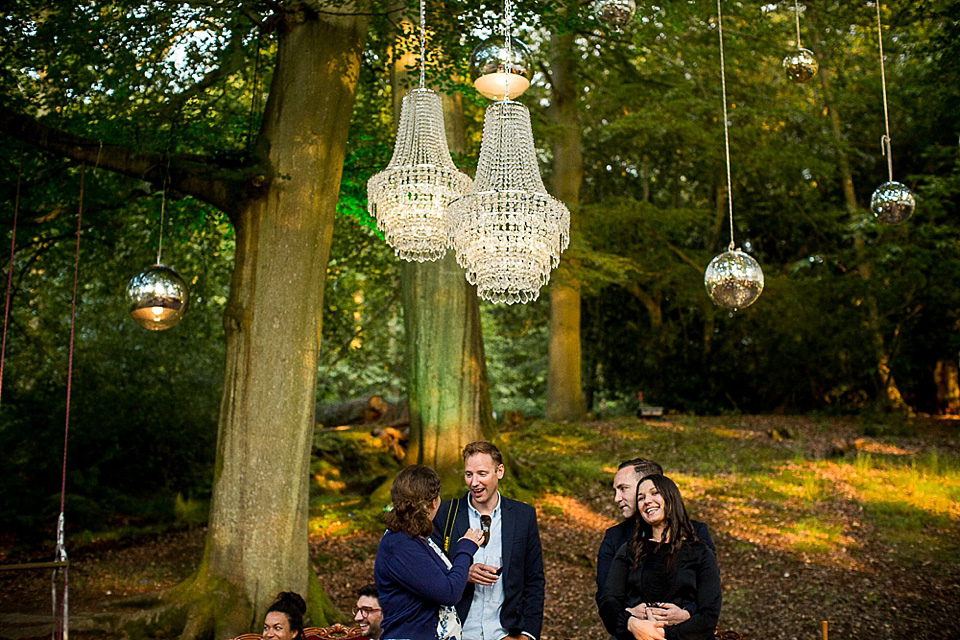 Individual mini cheesecakes in a variety of flavours were provided by the English Cheesecake Co
"These were displayed on a dessert station throughout the meal and then served to the tables on silver cake stands as dessert.  We love cheesecake!"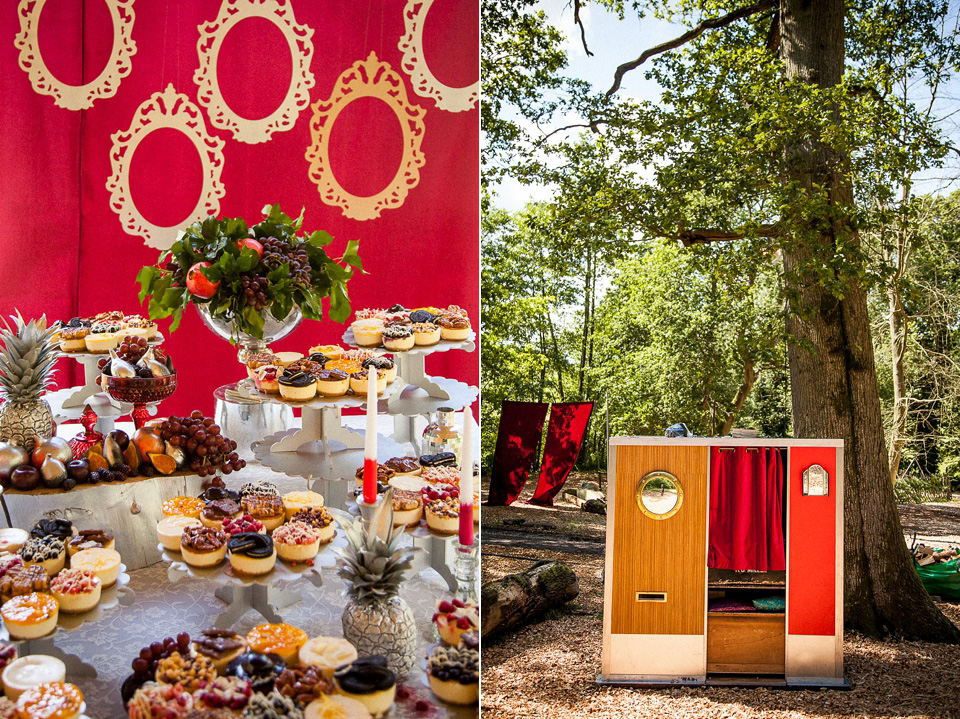 "The photo booth was provided by The Mighty Booth – We had the Sherlock booth and had double prints for guests to print copies into our guest book."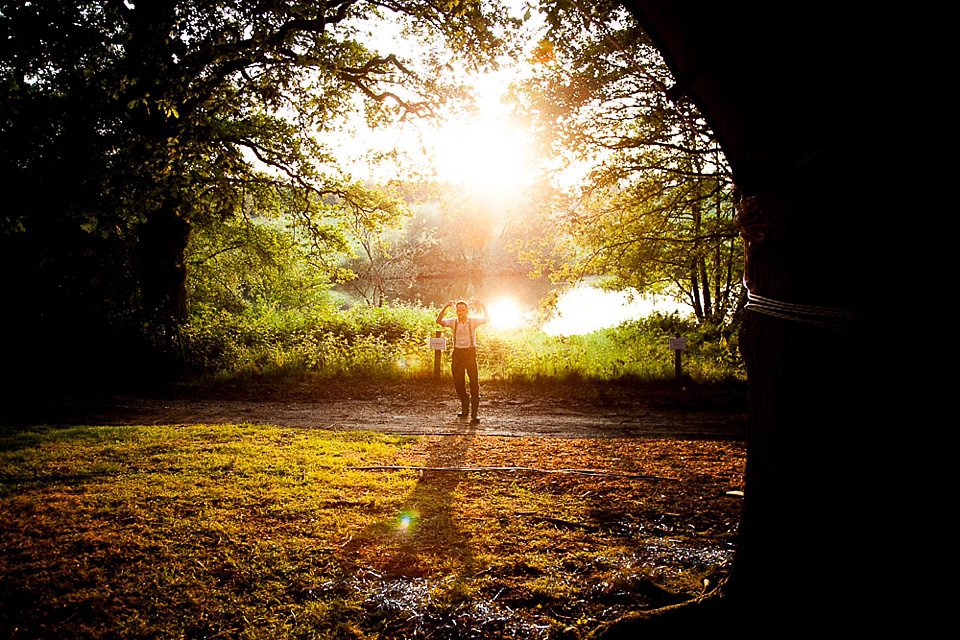 "Our production team Doug Hunt Sound & Light worked with Pocketful of Dreams to realise the design and provide the sound system needed for our full-on party."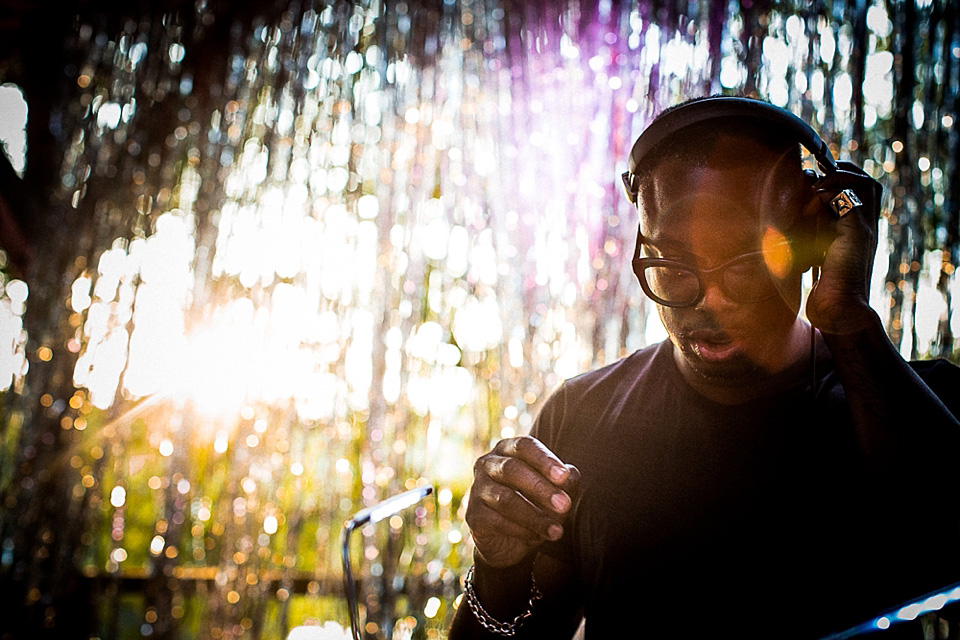 "We had a first dance of a kind to the Human League's 'Electric Dreams' – but we insisted that everyone join us on the dance floor (absolutely everyone). It was a great way to start off the evening and the atmosphere was amazing. One of the most memorable parts of the evening!
One of the highlights for me was my mum dancing with all my friends like her life depended on it. The energy she put into the day, and into enjoying every minute was infectious. She jumped right in and now all my friends love her – she was amazing."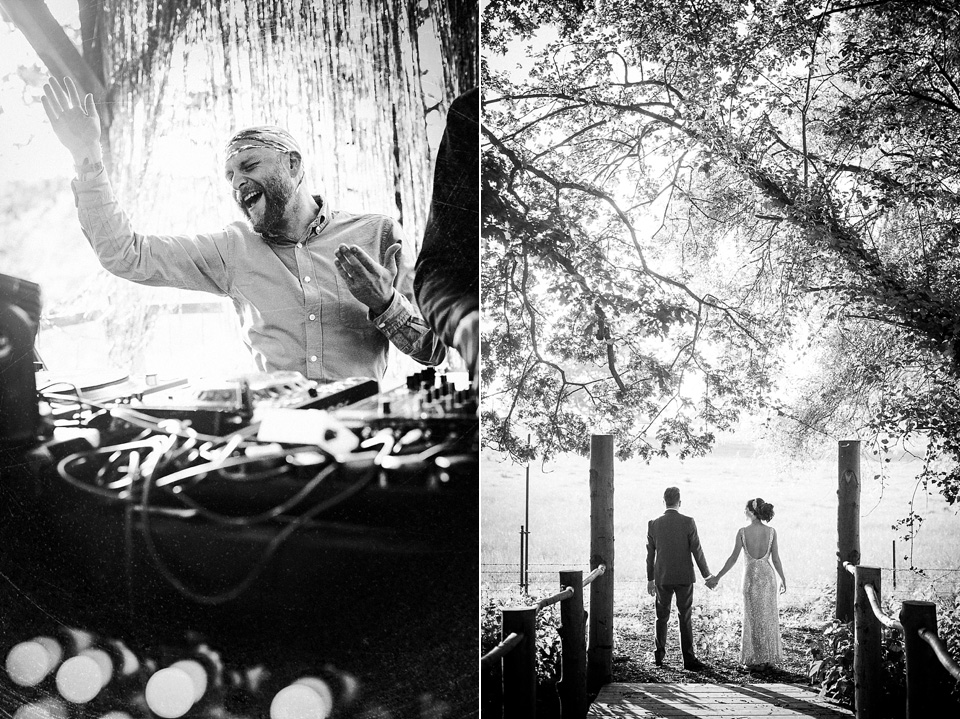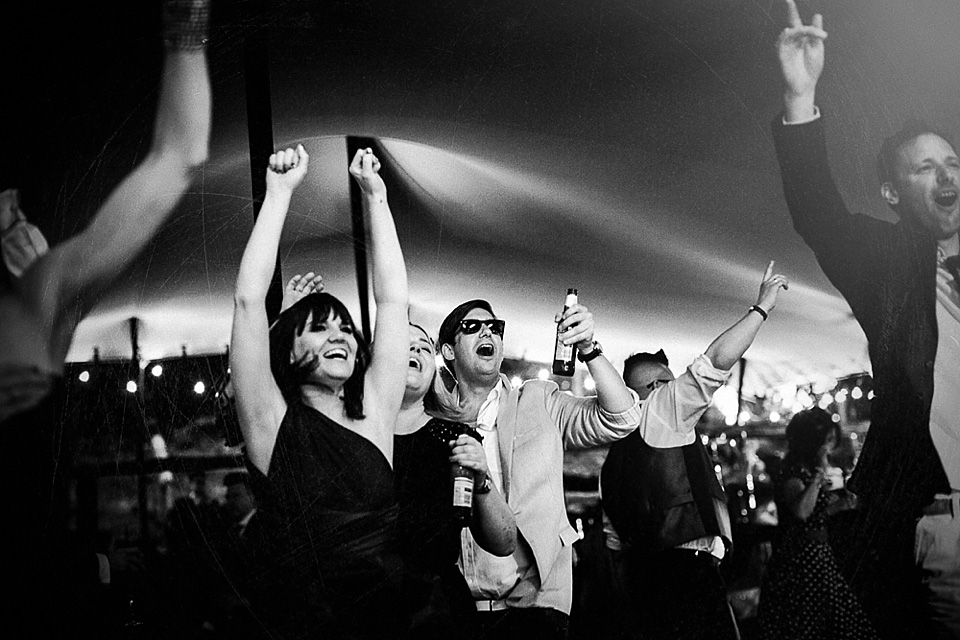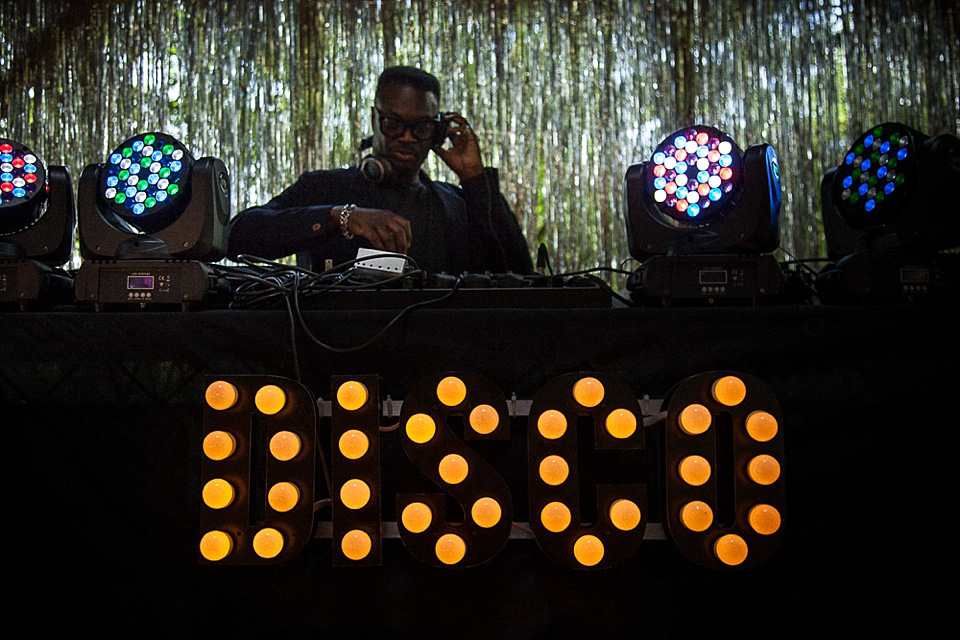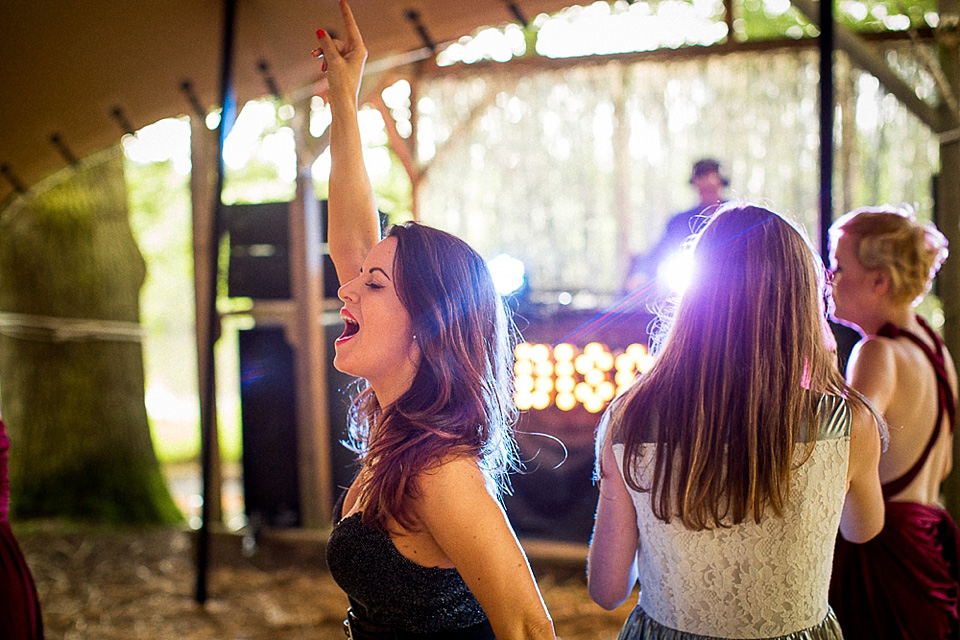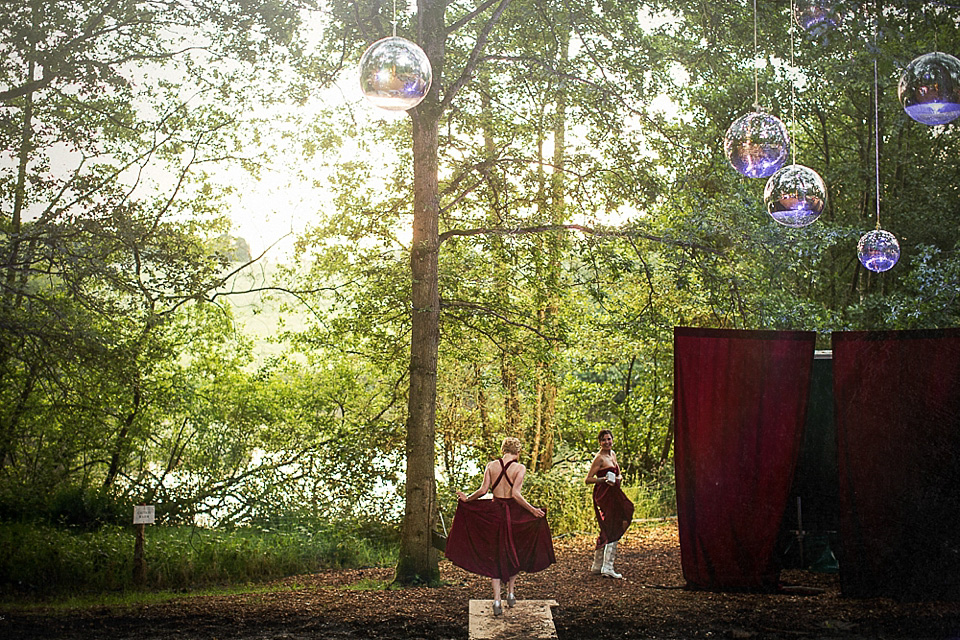 Words of Wedded Wisdom…
"Have fun and make the day your own. It's your day and you're not doing it for anyone else. If you don't want to do a first dance; don't do it. If you don't want to wear white; wear a colour that makes you happy. If you don't want to cut a cake; eat cheese. Those touches are what will make your wedding unique.
Be comfortable – I wore shoes that I knew I could run around in which was essential in a muddy field. (They were new version of shoes I'd bought before)
Get great underwear – if it doesn't fit find a good dressmaker and get them to alter your underwear at the same time as the dress.
Ask your bridesmaid to bring an 'emergency kit….plasters, hair spray etc. Sass, Jen and Danielle bought half of Boots to cover every eventually and everything I asked for they sorted out.
If you're doing a festival type wedding – make sure you can get in and out of portable toilets and get sorted on your own!
And finally, I would have definitely ordered more disco balls! 🙂 "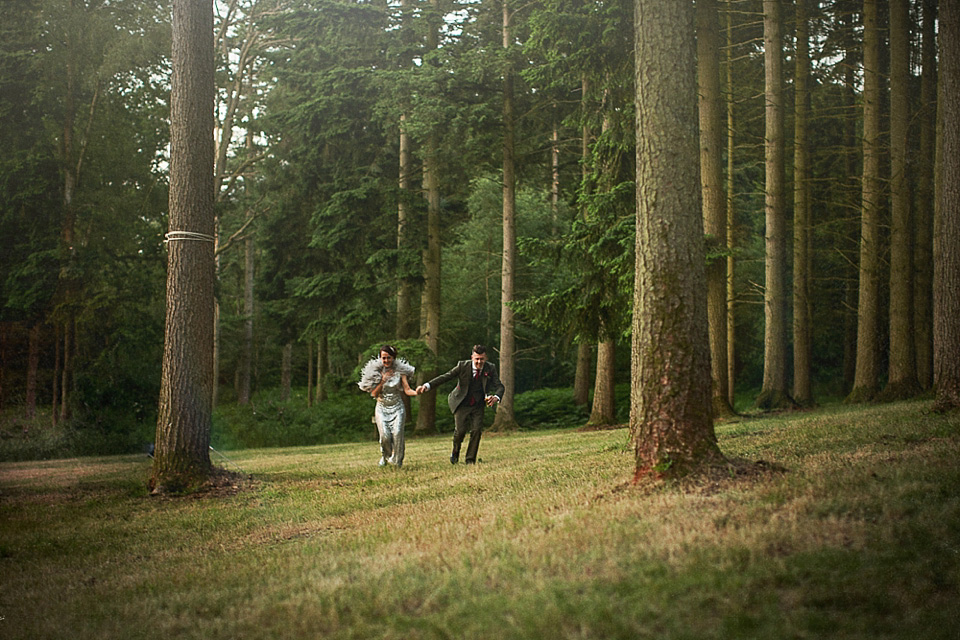 What a joy to see a wedding take place entirely in the woods – amazing! And what an incredible team effort to pull off the styling and all the details that gave this wedding the wow factor – stellar work by the Pocketful of Dreams team.
Huge congrats to you both Jade and Richard and thank you so much for allowing us to share your fantastic wedding, I know it will inspire a very great many of our readers, for sure.   Readers, you can see more woodland style and inspired weddings here.
What do you love most about this day and are you hoping to plan anything similar?
Have a great Monday and good start to the week everyone,
Love Annabel xx
Photographer – Matt Parry
Planner/Stylist – Pocketful of Dreams
Venue – Wasing Woodland in Berkshire
Wedding Dress + hair accessory – Jenny Packham
Ostrich Feather Shrug – Alexander McQueen
Shoes – Vivienne Westwood Mary Janes in silver + Marc Jacobs silver wellies from Far Fetch
Perfume – Viktor and Rolf Flower Bomb (Jade's regular perfume)
Grooms Suit – October House  +  shoes by Bass Weejuns
Bridesmaid's Dresses – BHS
Florist – Ruby & Grace
Cake – English Cheesecake Co.
Bridal transport – Charismatic Cars
Guest transport – Weavaway Travel
Entertainment – MJ Cole + Horse Meat Disco + best friends Phil + Mick
Rings – Berganza
Stationery – DIY with input from Pocketful of Dreams
Hair and make-up Artist – Jo Adams
Sound & Light Engineers – Doug Hunt Sound & Light