This really isn't meant to sound boastful of showy-offy in any way at all – that's really not my style – but, we've received a real flurry of emails of late from readers – newlyweds and 'about-to-be-weds', thanking us for Love My Dress® and telling us what a great job we do of inspiring readers.  It's so wonderful when that happens, so rewarding and a great reminder that what we do is more than just sharing beautiful imagery.  We're influencing, inspiring, uplifting, pleasing and educating too (have you read our recent discussion posts?).  The reason I'm telling you this this morning is really only because as I was preparing this feature, I was reminded how darn lucky we are; who would have imagined just a few years back that we'd have been as privileged as we are today, being able to share an insight in to the precious, personal wedding photographs of so many couples?  It's something I never take for granted, and feel appreciative of every single day – so when those lovely 'thank you' emails roll in from our readers, it's wonderful for us because it reminds us that you really value what we do and the content we share too.
The wedding I'm sharing this morning is a classic Love My Dress® celebration – Alice, a Doctor, married Martin, an Acoustic consultant, on 28th June this year, with a delightful DIY ceremony held at Farm Adventure in the North Yorkshire Dales.   I hope that you love browsing through these lovely, natural photography – and do drop us a 'hello!' on one of our social media channels if so – we really love to hear from our readers.
Photography Copyright (c) 2014, The Twins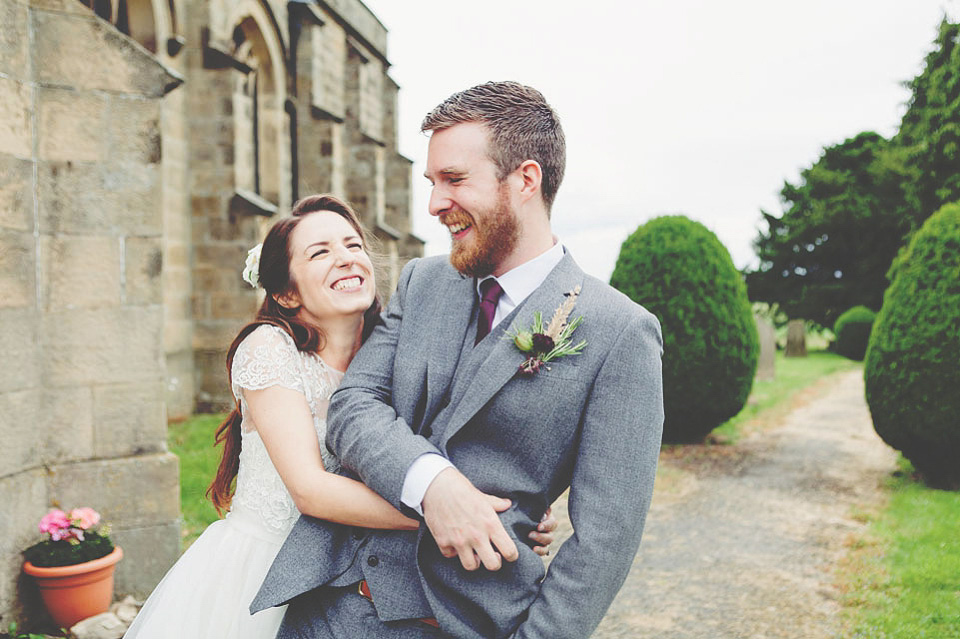 Alice and Martin sound as though they were always destined to be…
"Martin and I met two years ago and fell head over heels during a romantic weekend away to Whitby and Scarborough. It was love over the two-pence slot machines and we both realised we'd found 'the one' pretty quickly after that!
We decided to get married after being together one year. Martin still managed to make the proposal a surprise during a trip to Istanbul by unexpectedly giving me an engagement ring we'd looked at just a few days before. Neither of us much like grand gestures so a heartfelt proposal sat on the end of the bed was just right for the both of us.  We got married just over a year later."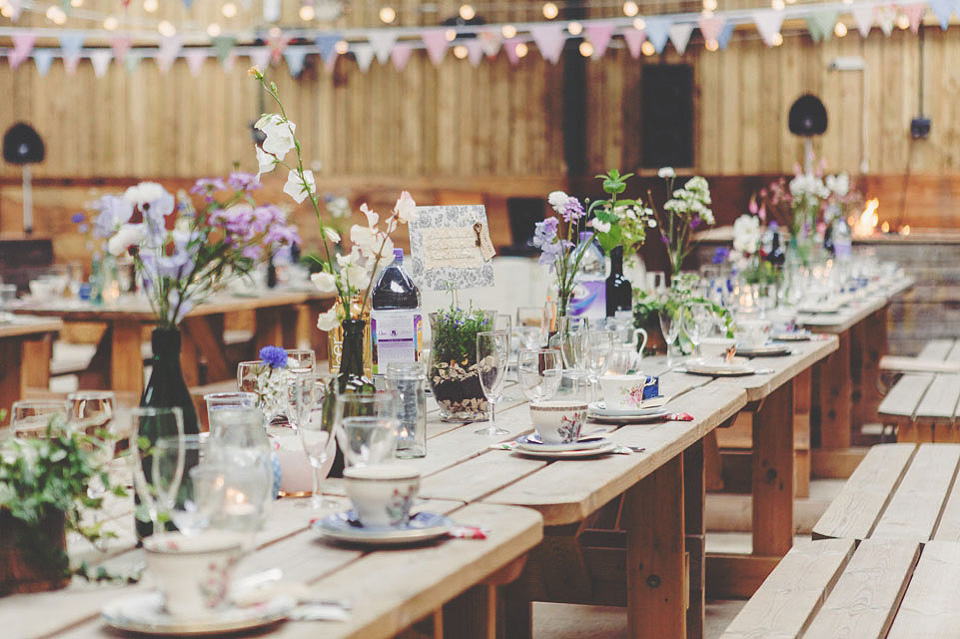 "We didn't really have a theme, but wanted something to tie in with the rustic venue we'd chosen as well as incorporating all the things we like. In the end it turned out to be a bit of an 'English Country' style affair, complete with our favourites: afternoon tea, gin and tonic, and a little visit from HRH the Queen herself (via cardboard cutout)!"
Alice wore the most beautiful gown by Australian designer Grace Loves Lace, which she teamed with a lace cap-sleeved top that was handmade by Carousel Fashion on Etsy.
"I wanted a dress that was romantic, graceful and, most importantly, easy to wear. I always had a very clear idea of what I didn't want, and something satin and boned was never going to be for me. I tried a few wedding dress shops but was disappointed that I either couldn't find a dress I loved, or that the prices were unfeasibly high. I set out searching Etsy and found the Australian wedding dress designer Grace Loves Lace, which sells their made-to-order dresses at wholesale prices.  I bit the bullet and bought a dress that I had never tried on, would take 6 months to arrive and was non-returnable.  I certainly wouldn't recommend it to the faint hearted!  The Grace Loves Lace team however were wonderful throughout, including changing my order several months into the process after I realised I had picked the wrong dress."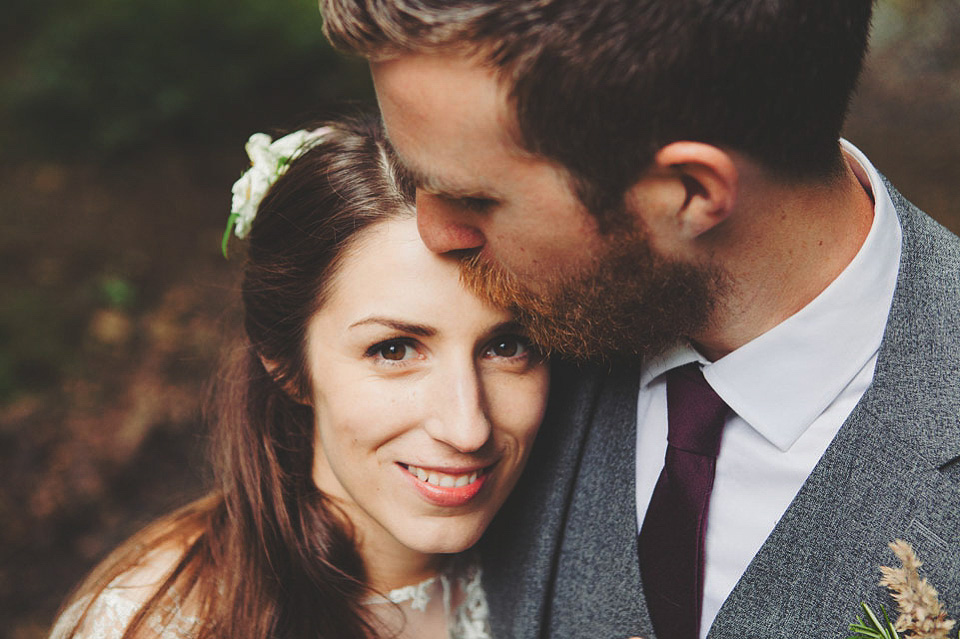 "In the end I got the gorgeous Loren dress which, despite coming from the other side of the world, only needed a few alterations to fit perfectly. For the daytime I added a delicate cap sleeved lace top to add a bit of a vintage feel to my dress. This was another made-to-order Etsy find from Carousel Fashion."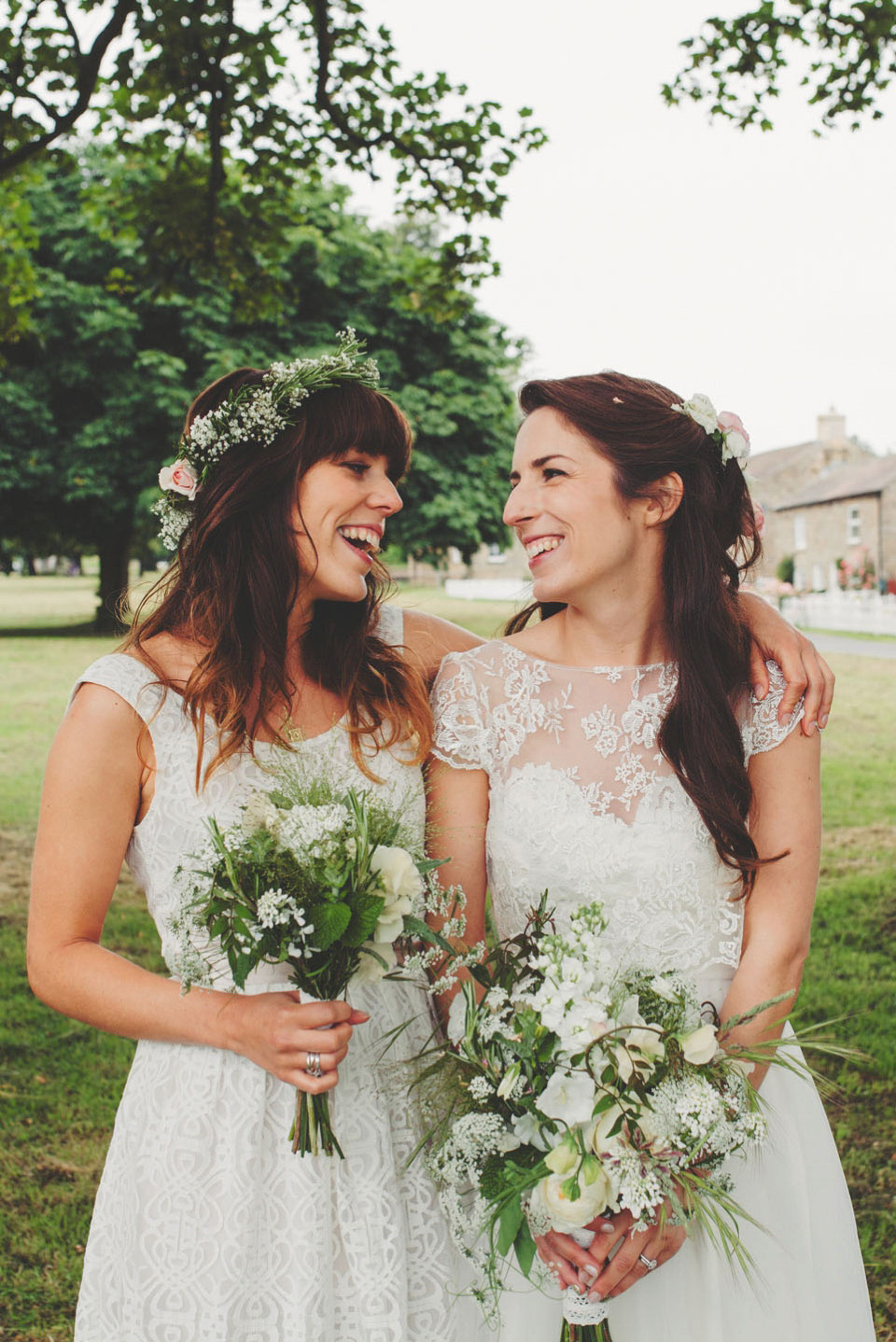 "Our bulldog Alfie wore a very dapper bow tie for the big day. He was also gifted with a bespoke collar corsage, matching the groomsmen's boutonnières , by Sue and Wendy from Holme Flowers (who had obviously taken a bit of a shine to him at our earlier meetings!)"
"We chose Caroline and Kelly from The Twins Weddings to do our photography and we're so glad we did! On our tight budget, we almost decided not to get a photographer, but in the end we decided to splash out and go for it. I have to say it was the most worthwhile thing we paid for out of our whole wedding. The dress, the food and the party are all over now – but what we do have are gorgeous pictures of our wedding day, all captured in the natural and artistic style of the Twins' photography.
It was an absolute pleasure to have The Twins there on the day and I couldn't recommend them enough."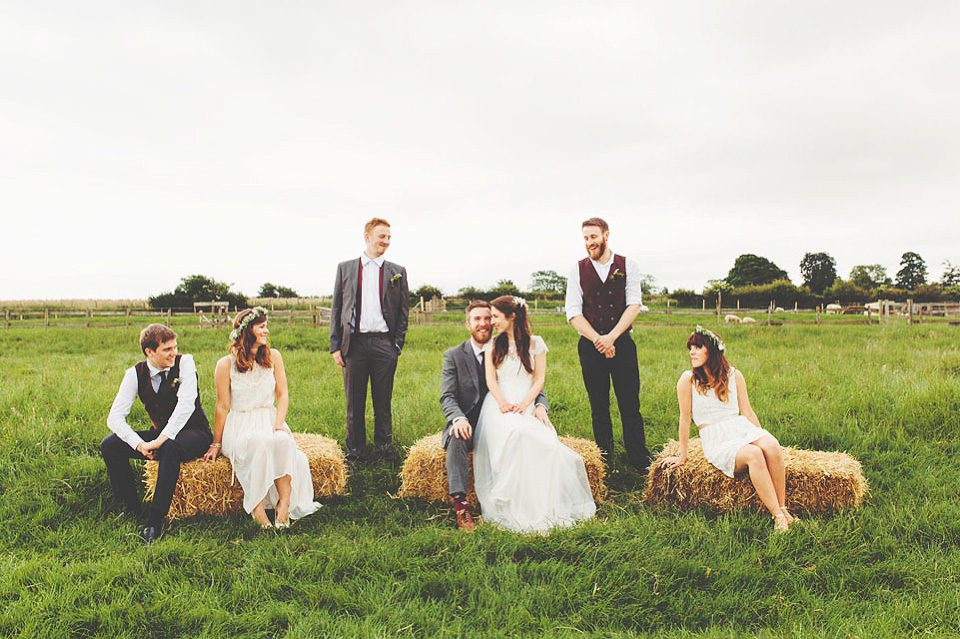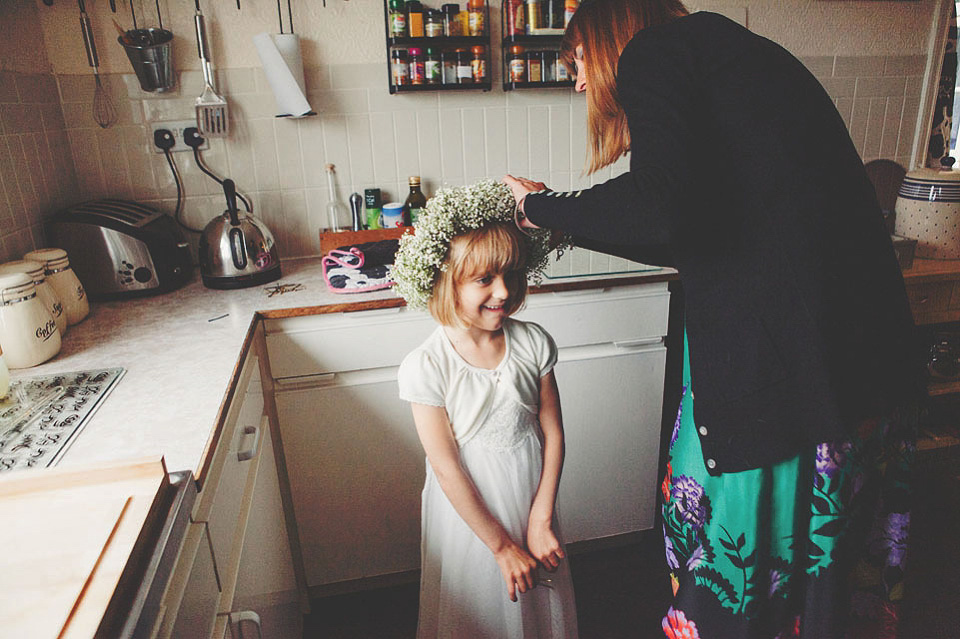 "My sister bought me a beautiful silver key bracelet from Paris – I'm very fussy about jewellery, but I loved the simplicity of it, and it even went with the little keys every guest had at their table setting. I wore it as my 'something new'.   My mum lent me a cameo brooch belonging to my great grandmother to put on my bouquet. I used it for my "something borrowed" and "something old". I wore a beaded garter for "something blue".
"I'm very little so I treated myself to some very high, very sparkly shoes from Lucy Choi at Harvey Nichols – I saw them and just thought, 'I have to have them!'"
"Rather than paying for a florist, we opted for a bit more of a DIY approach and sourced our flowers from a small local flower grower, Holme Flowers. We discussed the type of flowers we wanted to have, and they were grown especially for our big day. The day before the wedding we drove over to collect buckets full of beautiful, locally grown blooms which we arranged into jam jars and bottles. My mum even discovered hidden florist skills and made a beautiful sweetpea and herbal wreath for over the gateway of the church."
The two sisters who grow the flowers also arranged my beautiful bouquet, the gorgeous flower crowns worn by my bridesmaids and flower girls, and the boys' boutonnieres."
"I took inspiration from a DIY post on a wedding blog and made my own silk flower hair wreath. Martin thought it was a bit OTT (and to be honest, I agreed) so I kept my hair simple for the day and wore the wreath during the evening.  Afterwards he said he really liked it so I probably could have worn it all day!  Although I did enjoy the glamour of a mid-evening hair change!"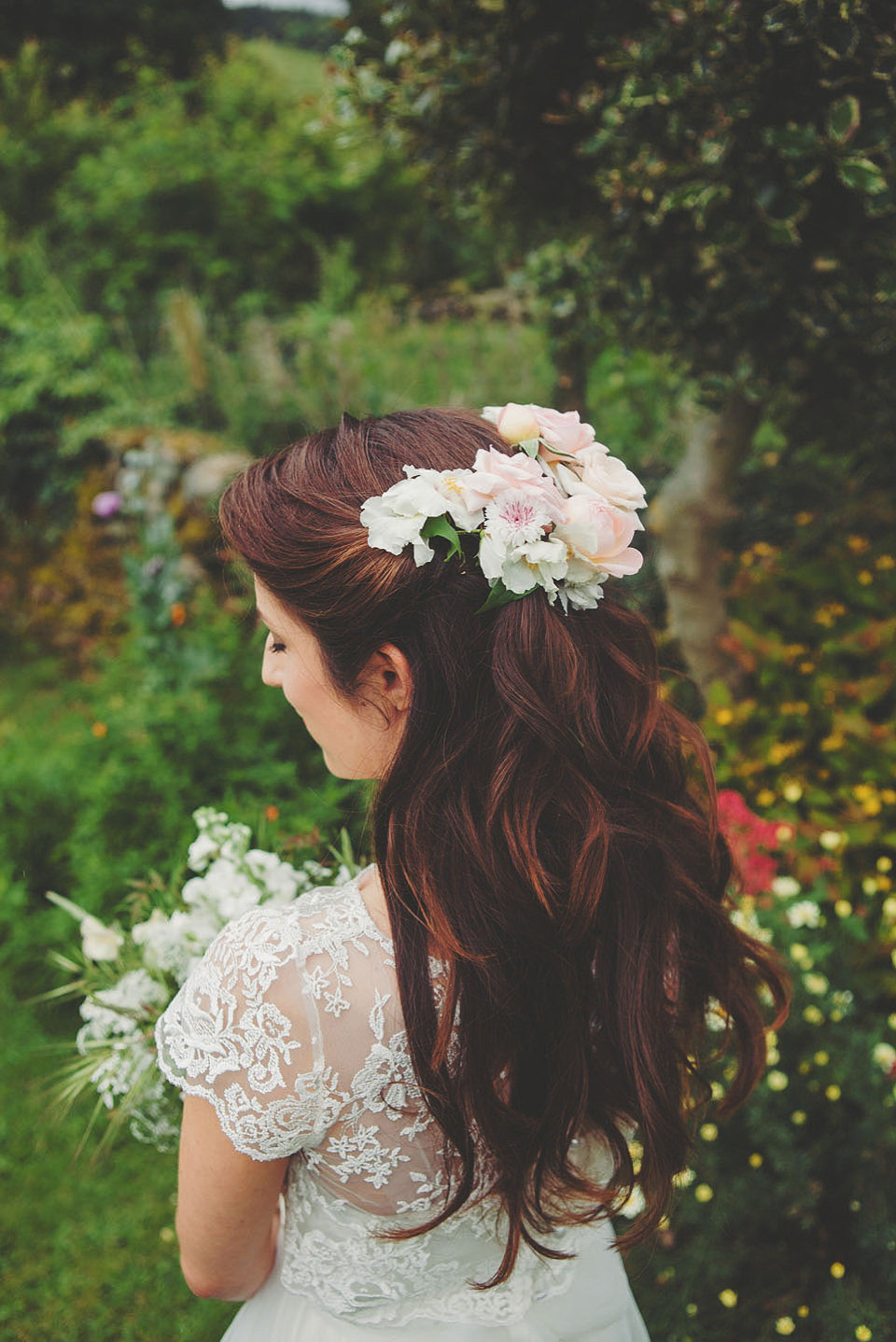 "I wanted my bridesmaids to feel comfortable with what they were wearing so bought a range of dresses from ASOS and let them pick their favourite. I used taupe ribbon as a belt to make the dresses look a bit more 'bridesmaidsy', and to tie the look together."
"Martin and I chose to get married at the village church in East Witton in the Yorkshire Dales. Martin has family in the area and we'd fallen in love with the little church there before we'd even started planning our wedding. We searched the area for a reception venue nearby and found Farm Adventure a few miles down the road.
A working farm set in the hills looking out over the beautiful Dales countryside, they provided a wedding barn complete with haybales and picnic benches, but otherwise a blank canvas to decorate how we liked. It was perfect for the relaxed and fun atmosphere we wanted to create for our day."
"All the stationery was DIY'd using brown card, lace and various online tutorials and free designs. It was actually a very frustrating and very time consuming process, and I wasn't 100% pleased with the results, but in the end I don't think anyone else noticed!"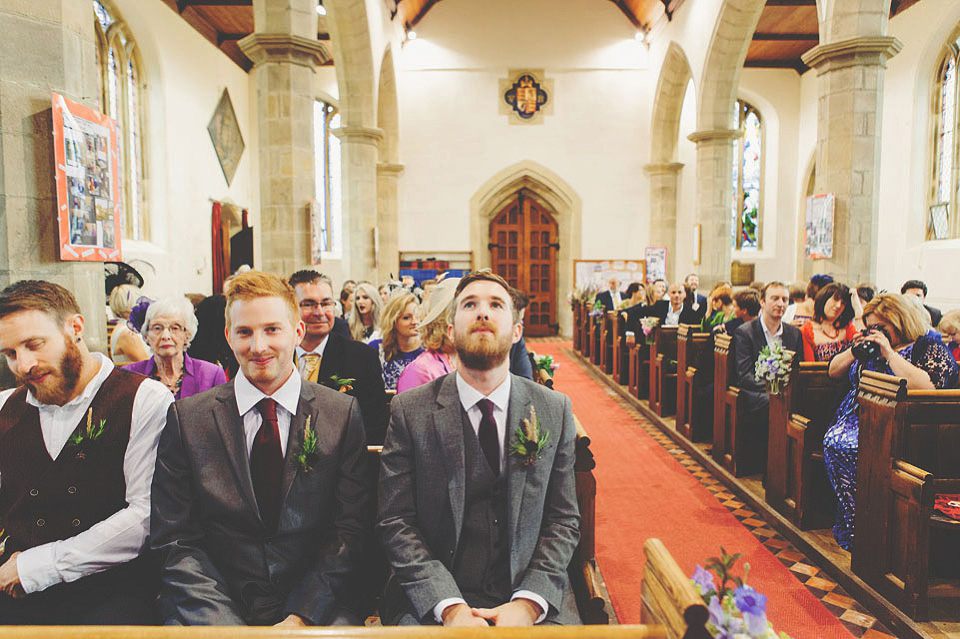 "My flower girls wore dresses from the Monsoon children's range. They were very excited in the weeks running up to the wedding about getting to wear their new dresses and had been practising throwing petals for their very important role… I was told they took their petal scattering duties incredibly seriously on the day and were launching handfuls of petals with faces of sheer concentration. And they just about managed to keep their white dresses clean until the photos were over as well!"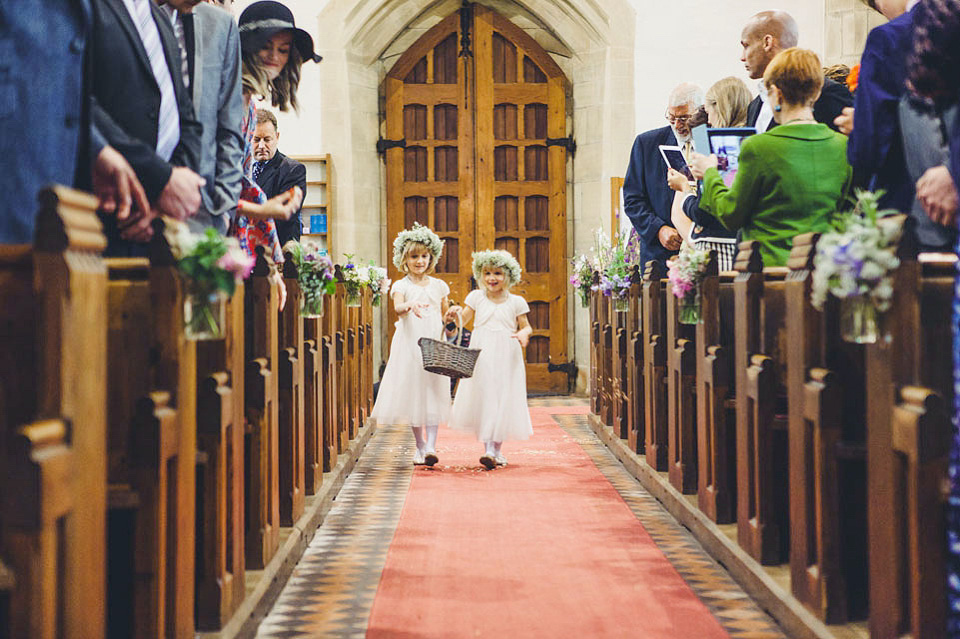 "We chose Cinematic Orchestra's 'To Build a Home' as my processional music.  I was worried that a church wedding might not be very personal but our vicar was wonderful in helping us to tailor our wedding ceremony to make it more meaningful to us. We chose to each pick a reading to read to the other.  Martin is secretly a bit of a romantic and picked an extract from Maud by Lord Tennyson to read. I chose an extract from Plato's Symposium, which even now, makes me a little bit teary reading;
'Each of us, when separated, is but the indenture of a person, and we are always looking for our other half. And when one of us meets our other half, we are lost in an amazement of love and friendship and intimacy and would not be out of the other's sight for even a moment. We pass our whole lives together, desiring that we should be melted into one, to spend our lives as one person instead of two, and so that after our death there will be one departed soul instead of two'."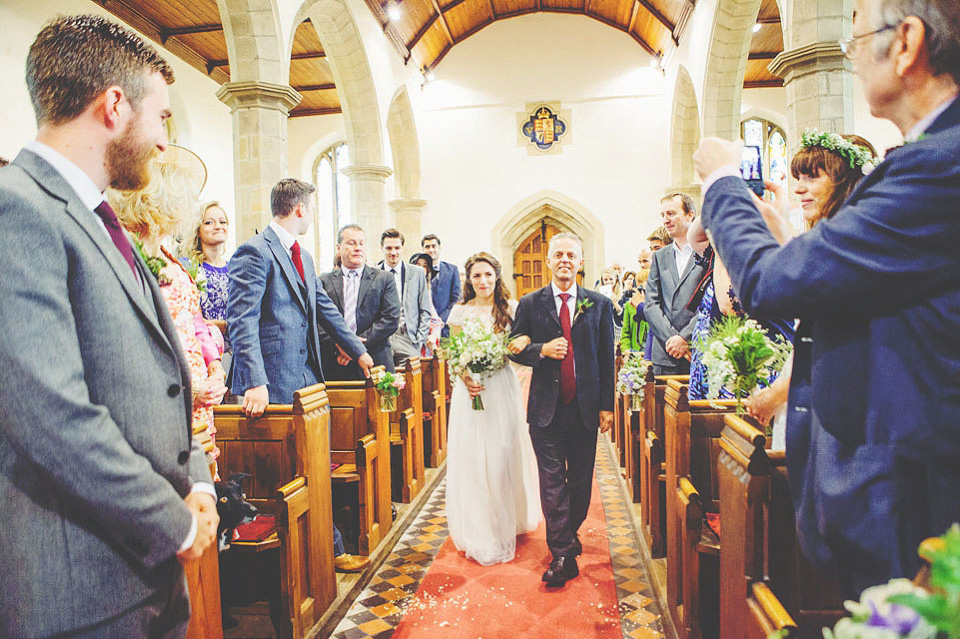 "Our vicar then gave the most beautiful and heartfelt address which was our favourite part of all."
"Martin got his granddad's gold wedding band polished and resized to use for his wedding ring."
"We both agreed our favourite part of the day was the wedding ceremony. Everyone had told me beforehand to keep taking little moments to pause and take in everything going on around me. I have little snapshots of standing in the church entrance pep-talking the flower girls, of catching Martin's eye as I walked down the aisle, of looking into his eyes as I read my vows of commitment to him, and of course taking our first steps together as a married couple back up the aisle.
It was an overwhelmingly joyful experience and absolutely completely the best time of my life."
"My sister sang along to an acoustic version of 'You've Got the Love' as we left the church. It was the most beautiful and moving moment of the day and my happiest memory."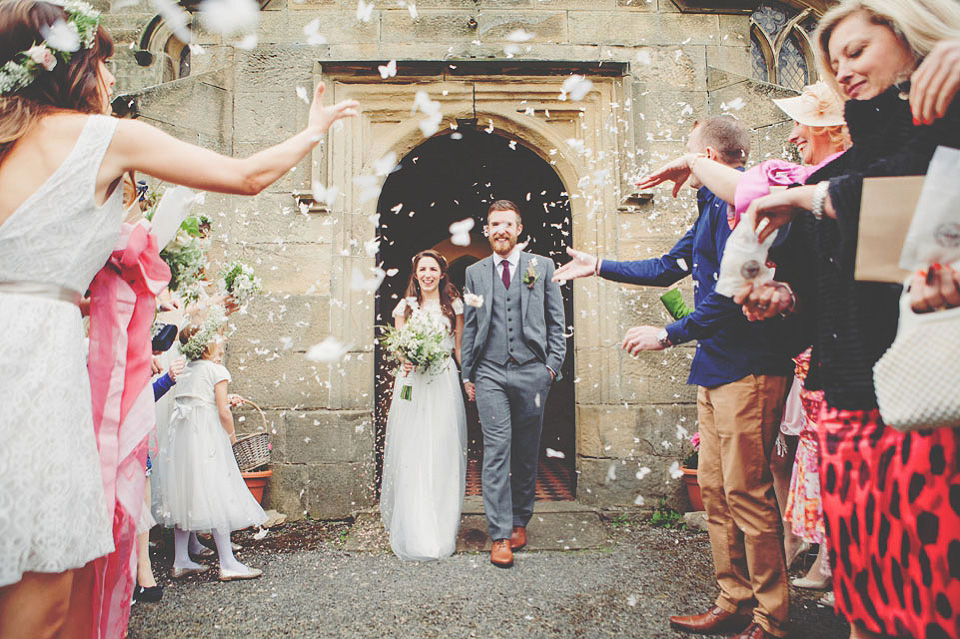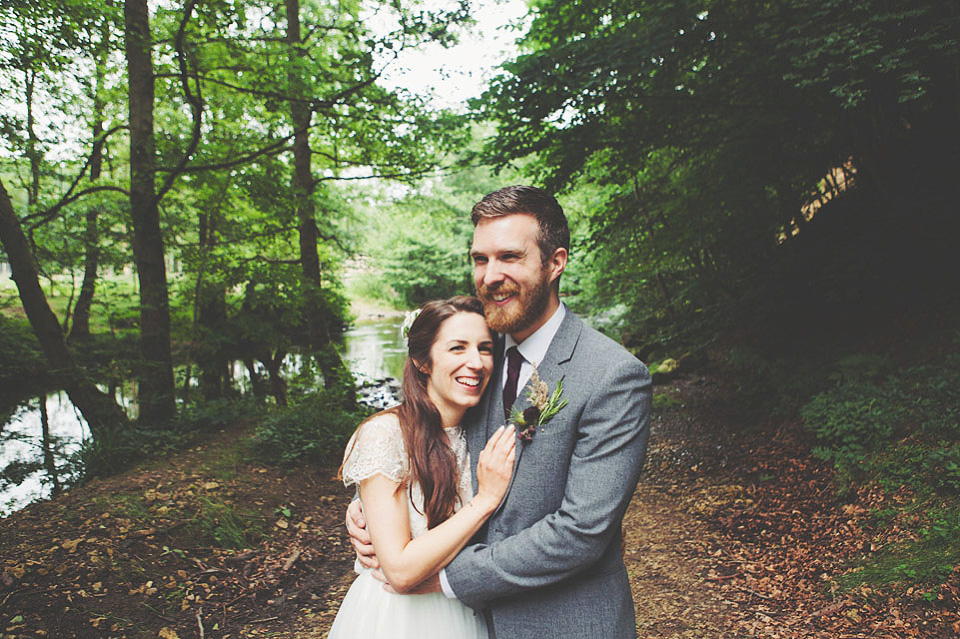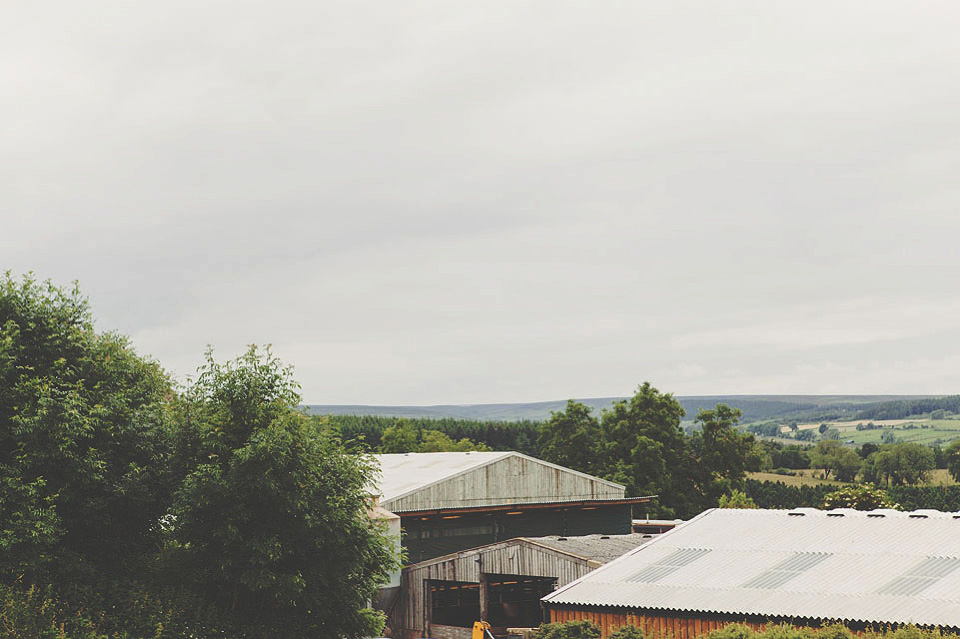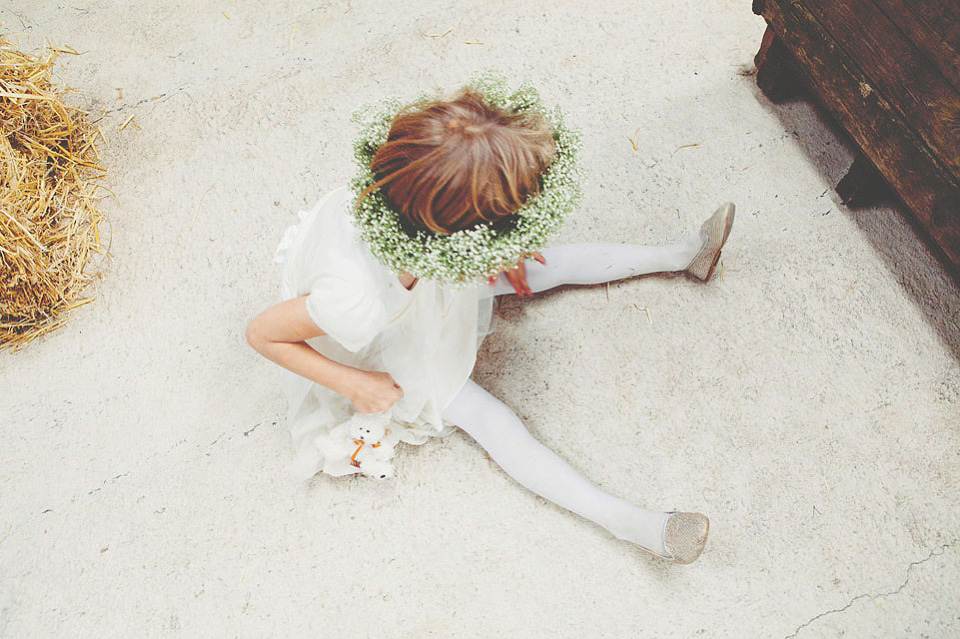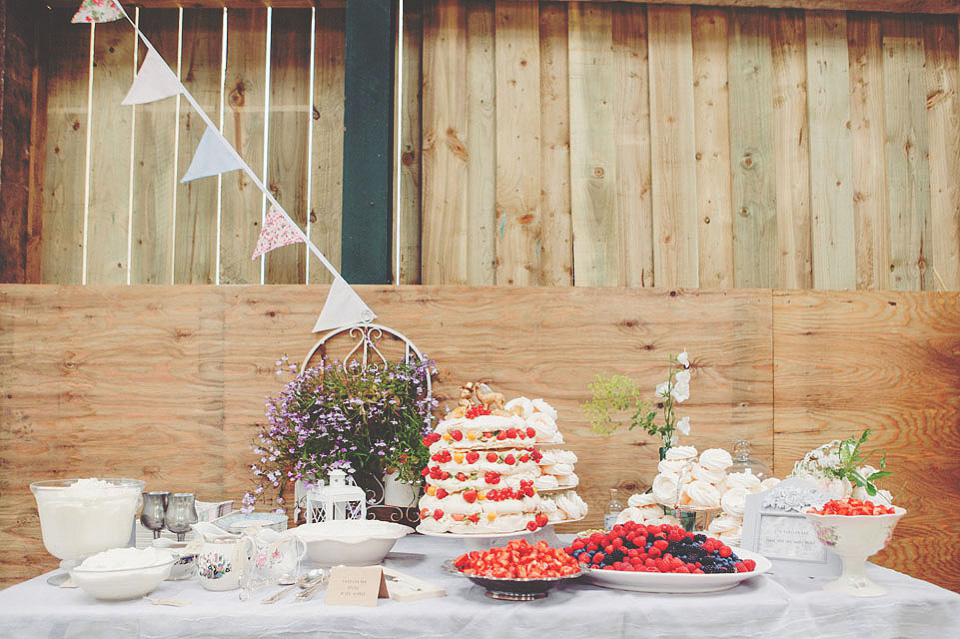 "Neither of us much like cake, but we love pavlova, so we decided to have that instead. My stepmum crafted a tiered pavlova centrepiece, topped with Chantilly cream and fresh berries. We also had pavlova bar where guests could create their own pavlova. It seemed like a great idea, but sadly was rather underused (I suspect everyone was fairly full by that point)."
"I was adamant on a Betty's style afternoon tea and our caterers certainly didn't disappoint. We had dainty sandwiches, tartlets, scones and cakes served up on china cake stands. I am a bit of an afternoon tea snob so it was real clotted cream, local chutneys and, of course, Yorkshire tea all the way.
Later in the evening we had a fish and chip van come to serve fish, chips and battered sausages to our hungry (and slightly worse for wear) guests."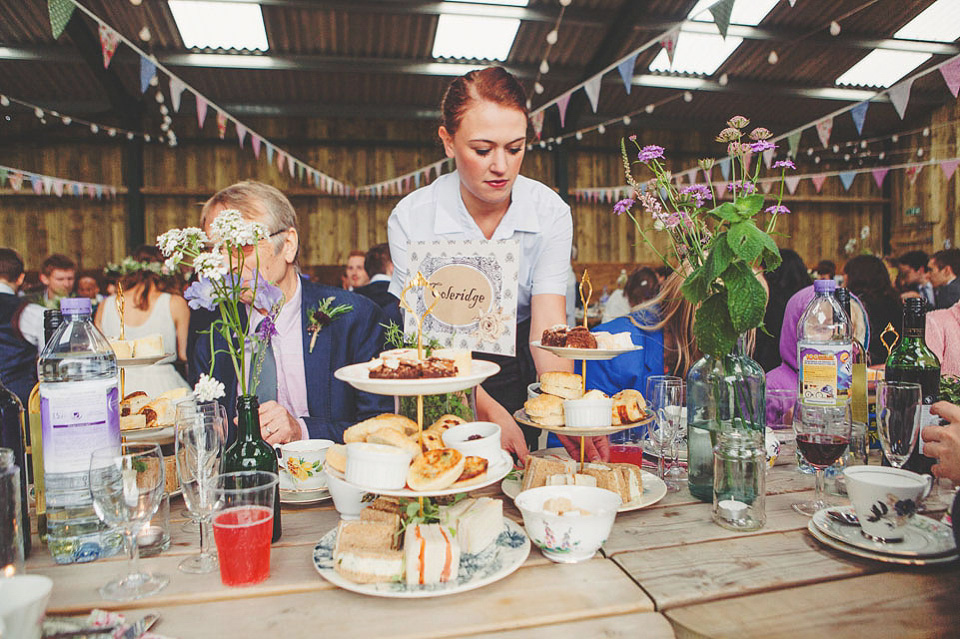 "We wanted our afternoon tea to be served on chintzy vintage china, so we set about collecting glass bottles and crockery from car boot sales. As the RSVPs came in we realised we'd never be able to get enough!  Luckily however, our friend Emma Bird from Mrs Bird Vintage has a collection of beautiful vintage china and wedding props she hires out, and very kindly offered us a selection of vintage crockery and other treasures to top up what we had collected ourselves.
Myself and my mum also made reams of pretty bunting to string up. Being a little OCD I couldn't cope with the idea of single sided bunting which might fray, so I did each one double sided which took ages!"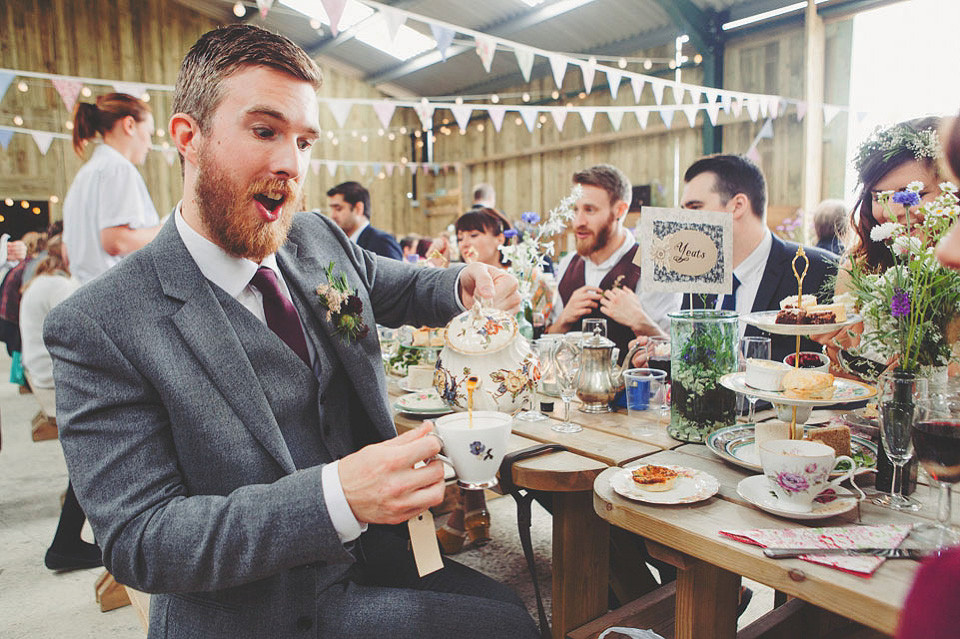 "During afternoon tea we had a gramophone DJ play 30s and 40s classics which I think really set off the vintage atmosphere."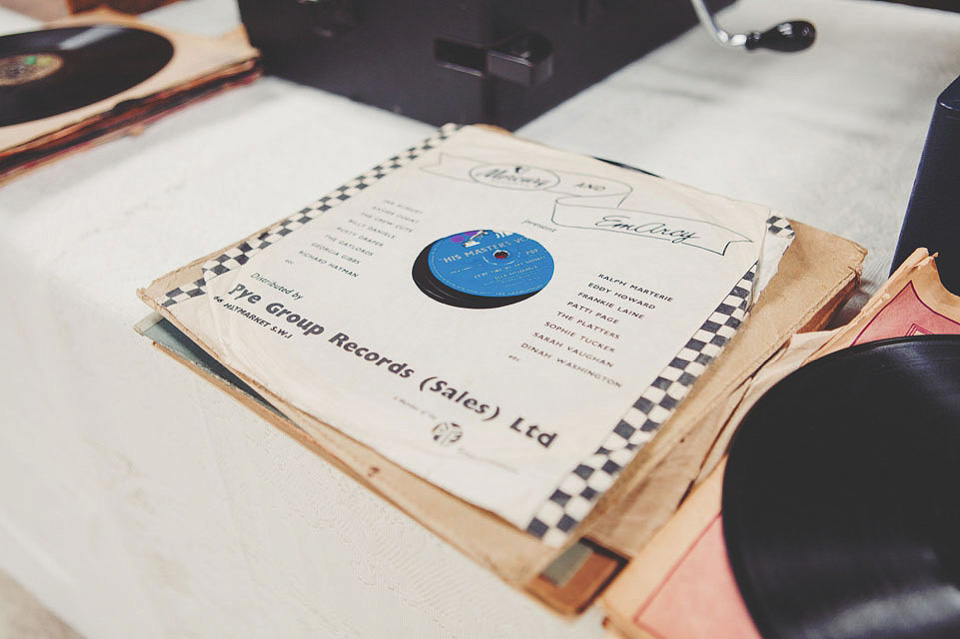 "We had our first dance to Thin Lizzy's 'Dancing in the Moonlight'. I was a bit apprehensive about our first dance as we hadn't practiced and neither of us can dance. By the time it came around all worries were gone and we both had an absolute blast dancing like idiots with our nearest and dearest cheering us on."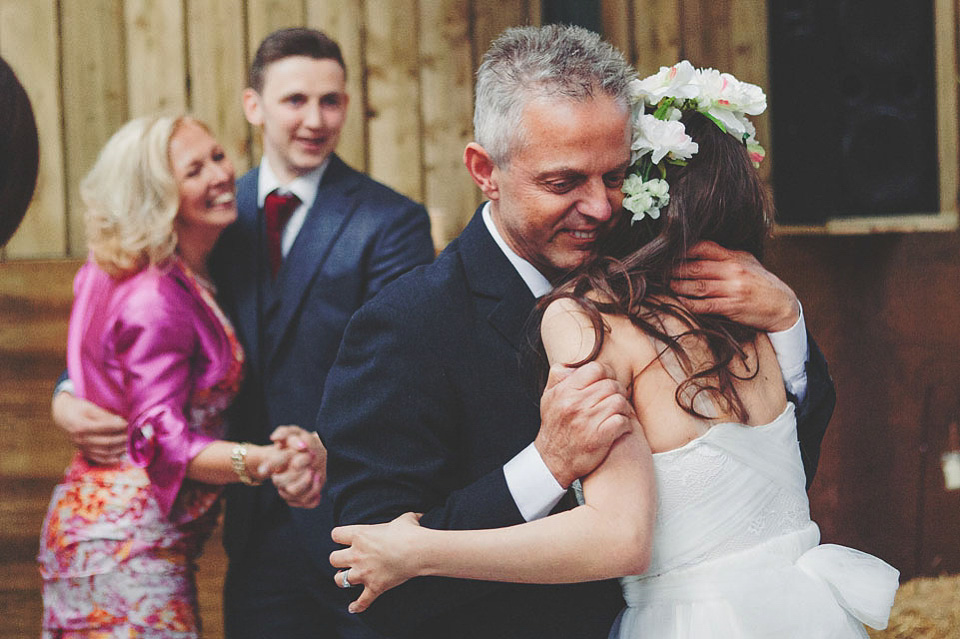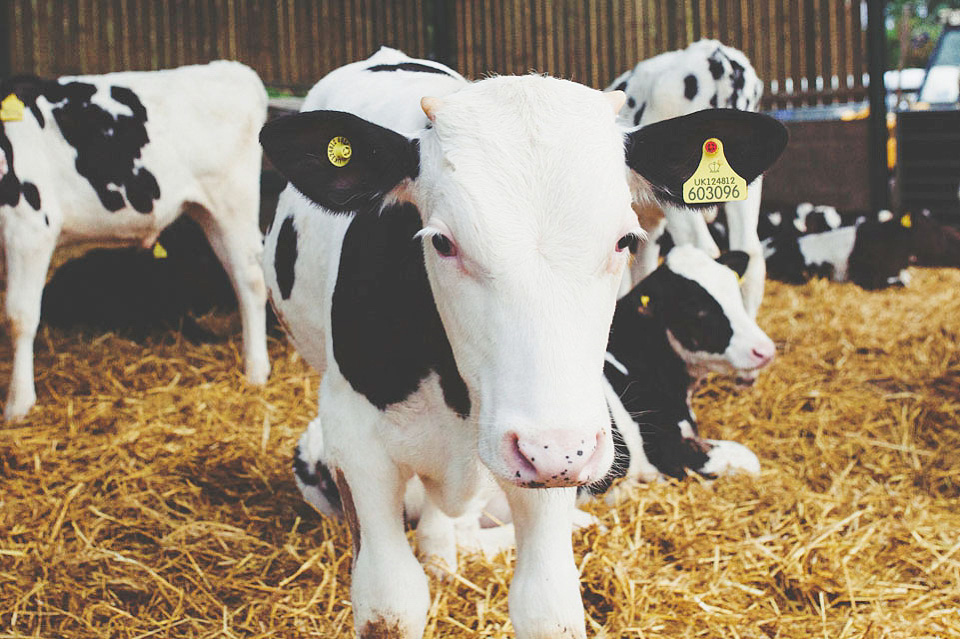 Words of Wedded Wisdom…
"There were two things we decided we would do differently.  Firstly, buy more tequila for the bar – we bought one bottle in case anyone was silly enough to want to shot tequila at a wedding and then sorely regretted not ordering more as it ran out so quickly.
Secondly, put a passcode on our homemade playlist for the evening. Once Martin's mates realised they could skip Beyonce and put on death metal the dance floor descended into a mosh-pit much to the horror of my friends!"
"Also, we decided to do a Marriage Preparation Course before getting married, which I would recommend to any bride or groom to be. It is run by the church, though you don't have to be Christian to go (I'm not) and helps you consider the commitment you are making as well as giving advice on how to maintain a wonderful relationship throughout marriage. As we had only been together a couple of years before getting married and are still very much in the honeymoon phase of our relationship we thought a bit of extra preparation wouldn't go amiss.
The course was brilliant, interesting and informative, and made us even more excited about the prospect of getting married than we already were! Our favourite piece of advice to keep your relationship sweet was to make sure you set aside quality time together on a daily and weekly basis. It may sound obvious, but we were certainly guilty of spending an evening sat next to each other on our laptops. We've found that now we make sure we have a meaningful little chat every day and try to do something fun or new together every week we feel even closer in our relationship, and it helps us to build new memories to keep our relationship fresh and exciting."
What a beautiful day and what amazing words of wedded wisdom – I wonder how many of us would be brave enough to consider attending our own marriage preparation course prior to tieing the knot.  If we're truly honest with ourselves, aren't most of us wrapped up in the notion of DIY and making it look wonderful, rather than focussing on the long term commitment we're making?  I know for some religions that marriage preparation counselling is strongly encouraged or even compulsory.  Personally,  I believe it is a fantastic idea – a great reason to remind ourselves of the reasons we are marrying in the first place.  A marriage is intended to be for life, after all, and not just for the honeymoon period. I'd love your thoughts.
I hope you've loved this wedding as much as I have – and would like to thank Alice and Martin for allowing us the privilege of enjoying and being inspired by their wedding photographs.  Immense thanks also to the darling Twins for sharing these images.
do we have any new Grace Loves Lace fans?
Love Annabel xx
Photographers – The Twins
Venue – Farm Adventure
Wedding Dress – Grace Loves Lace + handmade top by Carousel Fashion on Etsy
Floral Crown – DIY
Shoes – Lucy Choi
Accessories – Agatha bracelet
Grooms Suit – Suit, shirt, tie, belt – Reiss
Bridesmaids – ASOS
Flower girl Dresses – Monsoon
Bulldog – collar created by Holme Flowers
Flowers – DIY via Holme Flowers
Cake – DIY/Family
Entertainment – Gramophone DJ's
Caterers – Fairhurts + fish n chips via Chip'nDales
Stationery – DIY
Hair + make-up Artist – Michelle Oliver
Perfume Worn on the day – Chloe, Roses de Chloe
Vintage china hire – Mrs Bird Vintage
Follow Love My Dress® on Google+