One thing the wedding world isn't short of is super talented suppliers. The sheer depth of expertise available and the sublime skills on display continually blow me away. It's just so brilliant and it's absolutely wonderful that couples have such a great choice and can select whom they share their wedding days with. Given that there are so many people essentially offering the same services, you can choose the perfect supplier based on their style and their personalities and how they work with you.
So today, I'm thrilled to introduce you to Red On Blonde, wedding photographers extraordinaire who have both style and personality by the truckload.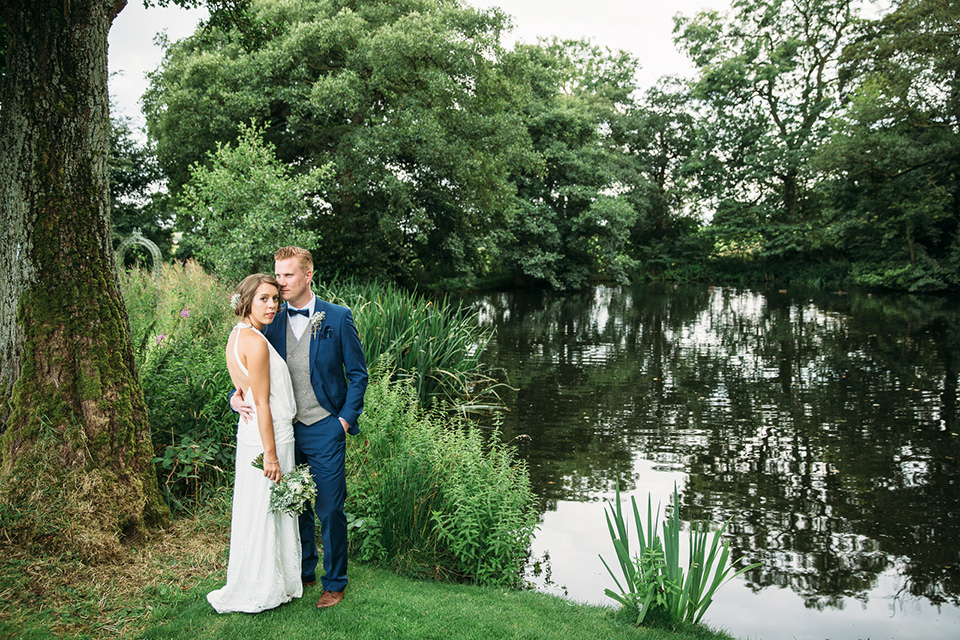 Red on Blonde, AKA Toby and Hannah, live in Derbyshire with their lovely scruffy dog Buddy and photograph weddings all over the UK and beyond. They are also storytellers & capture your whole day, from preparations through to celebrations, capturing all the emotions in a creative, relaxed & unobtrusive way.
'Photography is a huge part of our lives and it's obviously massively important to us,' says Hannah. 'We turned our passion into our livelihood because we wanted to create wedding photography that couples would want to hang on their walls.'
In the days before Red on Blonde came into being, Toby owned his own photography company and Hannah had worked at ELLE magazine in London and Paris and their creative experiences complemented each other perfectly. They're also both huge Bob Dylan fans and their love of his 'Blonde on Blonde' album came rise to their company name – Toby's the redhead and Hannah is blonde (ish!).
They list their loves as afternoon tea, collecting vinyl, travelling far and wide, dunk-able biscuits, split-screen campers, big breakfasts and long walks with the dog. And cameras. Cameras and the beauty that they can produce.
'We love taking beautiful portraits of the bride and groom. We also love candid, reportage-shots that capture couples having fun, chatting to their friends and busting some moves on the dance floor!' laughs Toby. 'We're also heavily into cinema so our photos have a filmic look. We want them to be timeless. We want our couples to look back in fifty years and think how fabulous their looked – not have one of those 'what were we thinking?' moments!'
We love the tantalising prospect of having two such talented and easy-going photographers on hand during a wedding day. How brilliant to have two photographers, in two places at once, capturing two sides of an exceptional and unique story. Your story, on your wedding day.
Red on Blonde admit that they're 'huge fans' of Love My Dress® (how we love hearing that!) and take lots of inspiration from the creativity and originality of all of the weddings featured.
As a special thank you to Love My Dress readers, they'd like to offer anyone booking before the 30th September 2014 a £50 Fine Art Album voucher.  Just quote 'Love My Dress Reader Offer' when you get in touch with Hannah and Toby to discuss your wedding.
Wedding photography packages from Red on Blonde start at £1,450 (with discounted rates available for mid-week and off-peak weddings) and all include an initial & pre-wedding consultation, all day coverage, 400-600 beautifully post-produced photos on USB that are high-res, ready to print files so you can share, print and upload as you like. You'll also receive an online gallery that allows friends and family to order prints and albums easily and, of course, you get two fabulous photographers all to yourself on your wedding day.
To find out more about Red on Blonde and view their galleries and packages, just visit their website. Toby and Hannah would love to hear from you so do get in touch on 07515 275399 or via [email protected]. You can also find them on Twitter and Facebook.
Love Tamryn xx
Follow Love My Dress® on Google+
This is a sponsored post