Oh this wedding, it is the very essence of Love My Dress, I'm just so in love with every little detail.
That first shot below is iconic and shows bride Kirsty, a Secondary School English teacher looking fabulous in her vintage dress from Elizabeth Avey. Kirsty married her beau Tom, a Freelance Writer for films and comedy, on Sunday 27th July this year at Stoke Newington Town Hall, followed by a reception at The Peasant pub in Clerkenwell. The couple hired the absolutely wonderful London wedding photographers, Miki Studios, to document their day.
"Tom and I really wanted to have a day which reflected both of our personalities and interests. So often, I think weddings can be very representative of 'what the bride wants' – but we really wanted our wedding to represent us both as a couple, so that it truly would be 'our' day.  In terms of reflecting my own personality, I knew I wanted a really vintage feel as I am a true vintage junkie."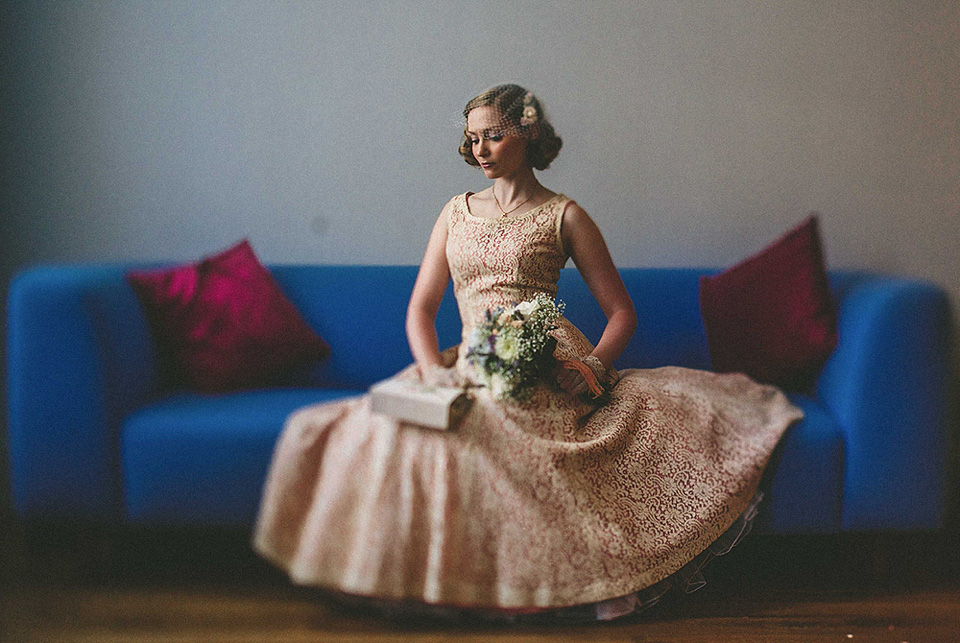 "I love the 1940s and 50s and everything about these eras, so wanted to have touches of this throughout the day, from my choice of outfit to the vintage brooches and handkerchiefs I gave all of my bridesmaids as gifts, the vintage Routemasters to the Swing music we had playing over dinner, and the vintage feel of the flowers, suitcases, bunting and decor in the pub."
"Tom is a huge lover of second hand books so we decided to give the wedding a bit of a literary feel too. We bought a job lot of old Penguin paperbacks on EBay and used these as favours for the guests. All the guests were given an old fashion style library card, typewritten on an old typewriter with their names on as placecards, and then the idea was that they would find a book they wanted in the vintage 'bookcases', write us a message on the card in place of a guest book and explain which book thy had taken and why.
The whole thing went down an absolute storm and it was so nice to see everyone crowding around, talking to one another about which books they had chosen."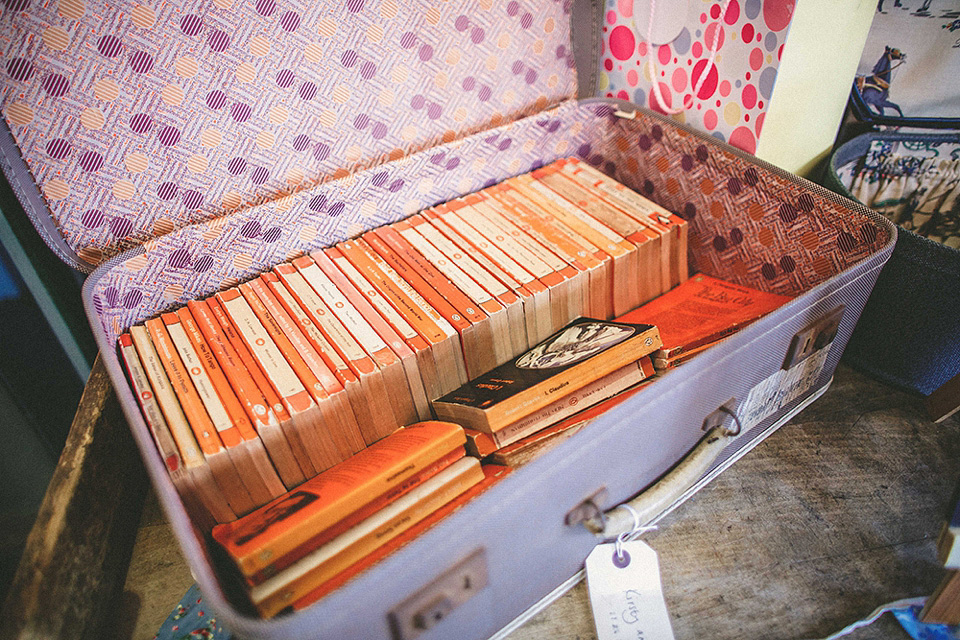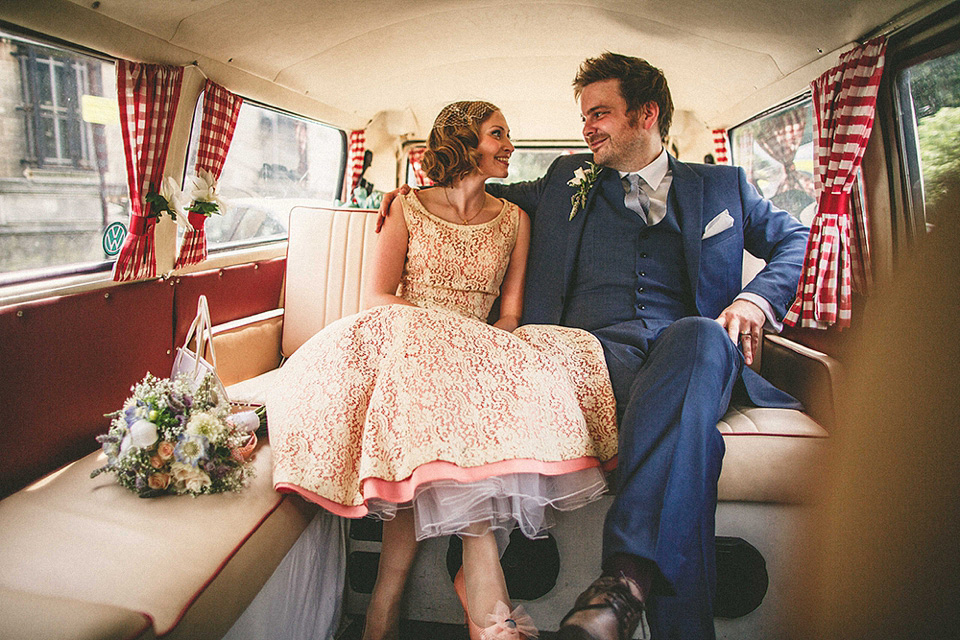 "My hair and make-up artist was Amanda Moorhouse of Lipstick and Curls.  She is lovely and did a sterling job of making me feel amazingly glamorous, along with my mum and five bridesmaids.
My velvet flower hairslide was hand-made for me by the lovely girls at The Shepherds Purse Boutique in Whitby and I wore a vintage gold necklace with a pink heart which Tom bought for me a couple of days before the wedding in Search and Rescue on Church Street in Stoke Newington."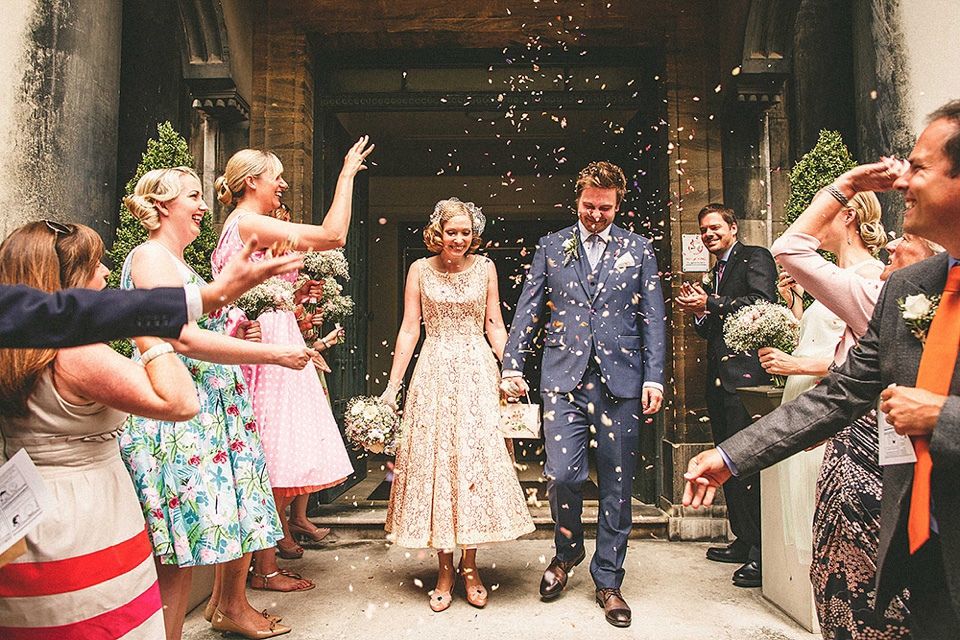 This is the second bride to have featured this week, who sourced her gown from the ever-so-wonderful Elizabeth Avey.
"It was my complete fantasy dress – I knew I wanted something 50s in shape as I wear a lot of dresses in this style anyway and wanted to feel comfortable and wear something flattering for my figure. Then I saw all that lace!! I just couldn't believe how beautiful the lace was and absolutely loved the rose pink underlay. I just felt it was so different to any other dress I had seen before.
Funnily enough the dress had only arrived into the Elizabeth Avey boutique the night before and I was the first person to try it on so I really did feel it was meant for me. As soon as I left the shop I started panicking someone else might buy it so I hovered outside the door for ages with my mum! Eventually mum managed to tear me away but I couldn't wait to get on the phone to the shop to ask them to hold it for me. I knew it then it was definitely my dress and nothing else would compare."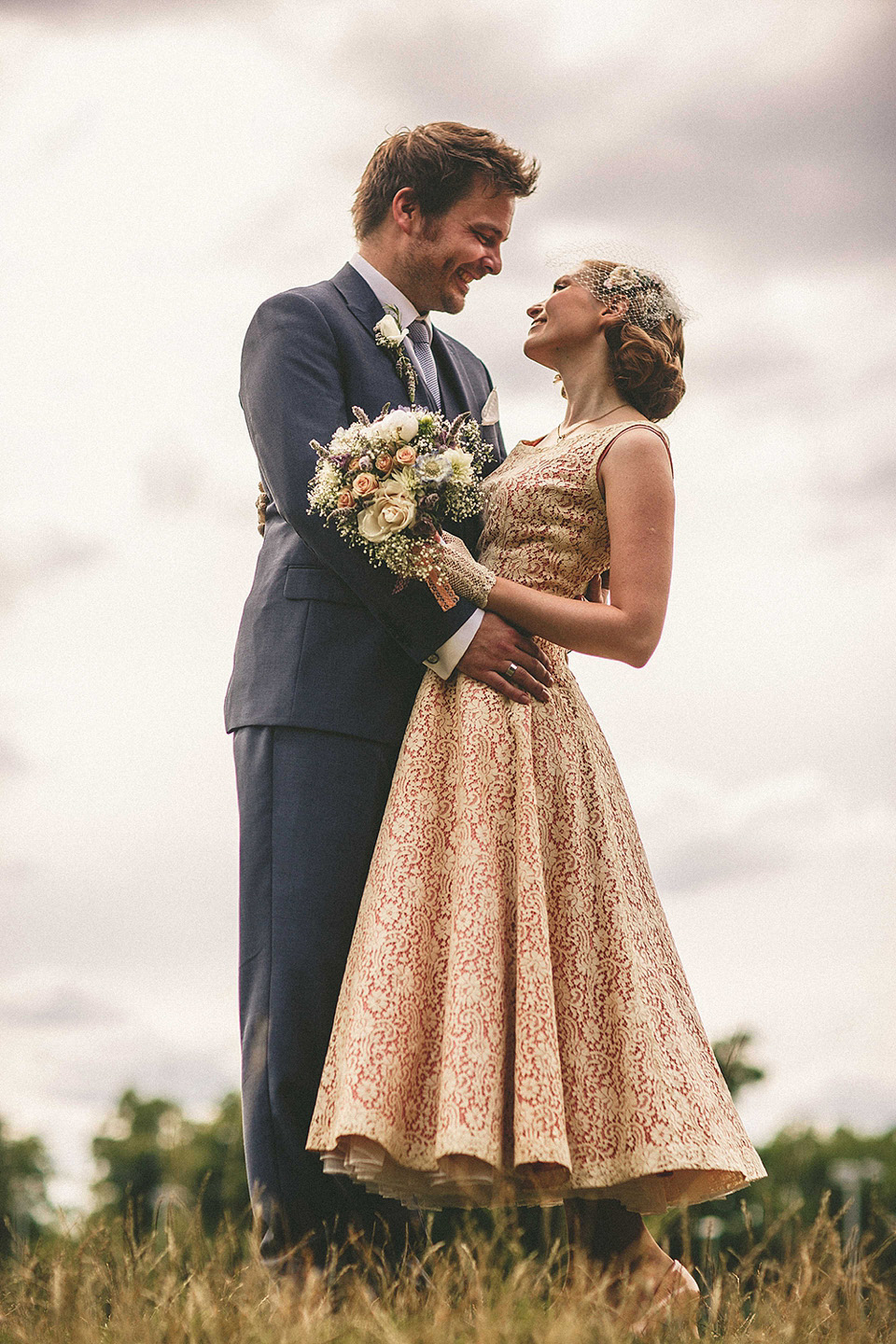 "I didn't want my bridesmaids to be matching but rather to just wear something they felt lovely in. I started a Pinterest board (to which I became slightly addicted, somehow managing to pin over 300 ideas and gather some followers along the way), and suggested that this could be used to choose a dress from or just to use afor inspiration. In the end, the girls all chose dresses in a similar range of colours but all looked different, each with a different character.
 I thought they looked amazing on the day and completely loved the surprise of not really knowing how they were going to look."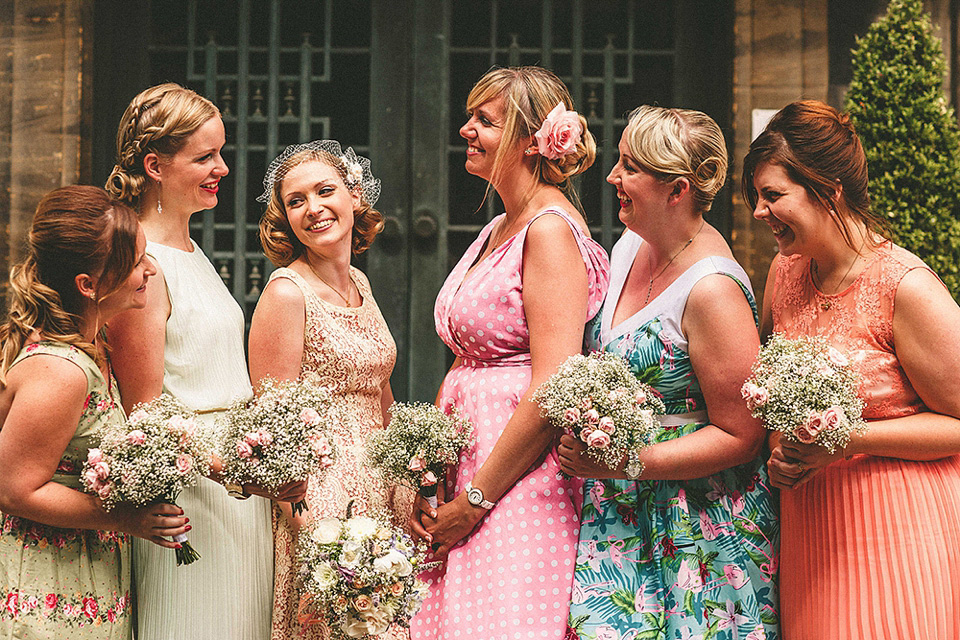 "Our photographer was Mick Shah of MiKi Studios.  He is amazing!  I completely fell in love with his photography when I found him online and knew immediately I wanted him to be our photographer. When we met him I was also really pleased to find out he is also just a really lovely person to be around. He made us feel so comfortable and worked so hard for us on the day. We had so many comments about how brilliant he was from all of our guests.
Miki is also super creative and I had total trust in him. When he said, "Let's go take some photos in the mens' loos" I was like, 'sure, ok!'. (The photo in the loos did actually turn out lovely in the end too!)"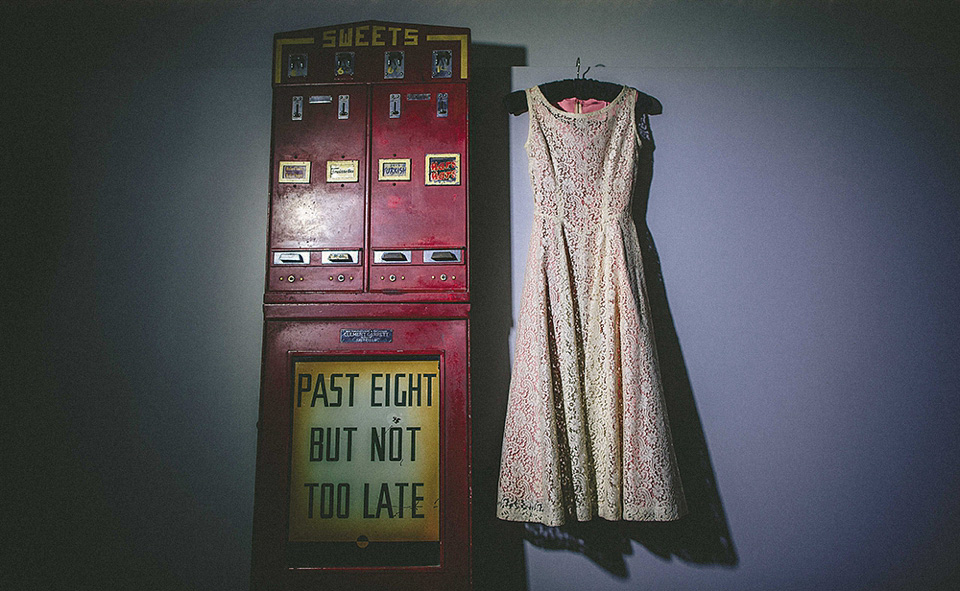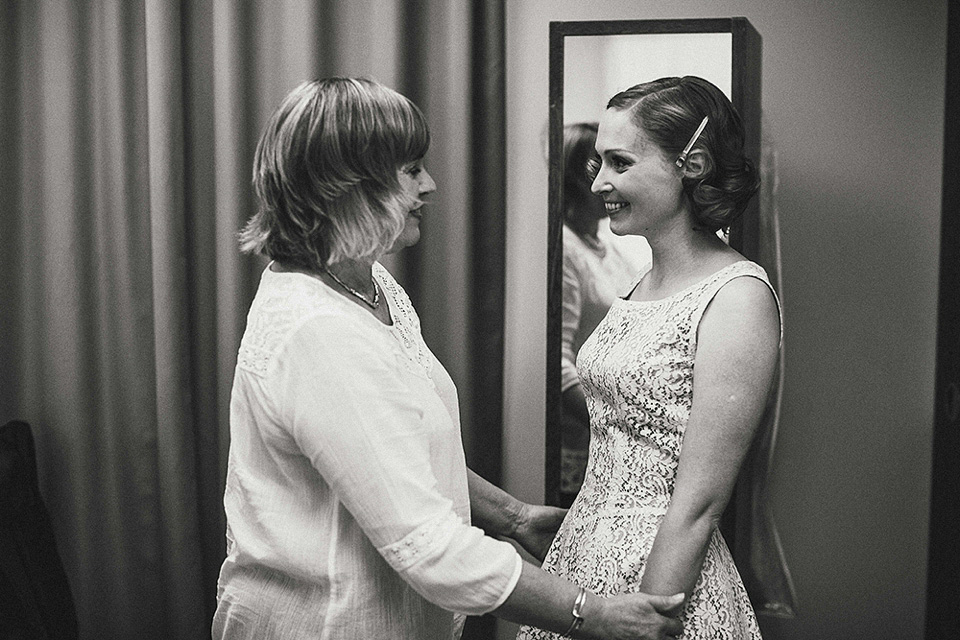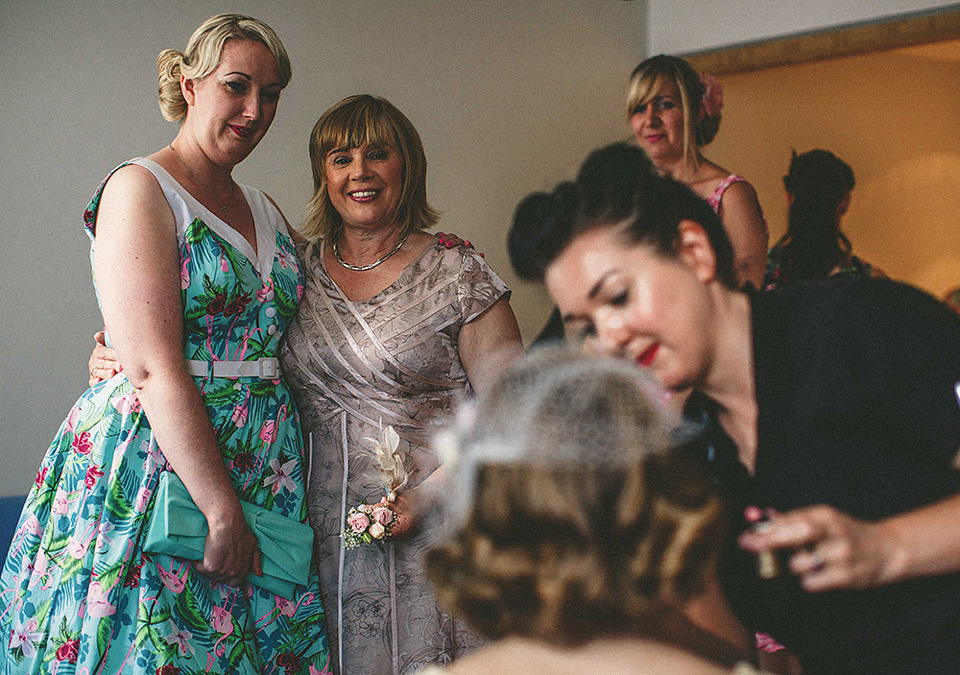 "I met Kirsty Grieve of Flowers by Kirsty at a vintage wedding fair at Chiswick Town Hall. I have to be honest and say that initially her stall caught my eye as she was another blonde haired Kirsty! When we started talking flowers however I just thought she was lovely and very easy-going. She seemed to get the kind of vintage and wild flower look I was hoping for really quickly.  I didn't really specify all that much in terms of specific flowers simply because I don't really know much about names of flowers. I just let her get on with things as I knew that she was the expert, not me, and as a result the flowers on the day were a really lovely surprise.
Kirsty chose flowers I would never have known to choose myself such as Scabiosa and Mint and even very kindly managed to sneak in a few peonies for me as she remembered I liked these. She made up bouquets of gypsophila and pink roses for my bridesmaids and also created a lovely table plan for us using an old vintage suitcase."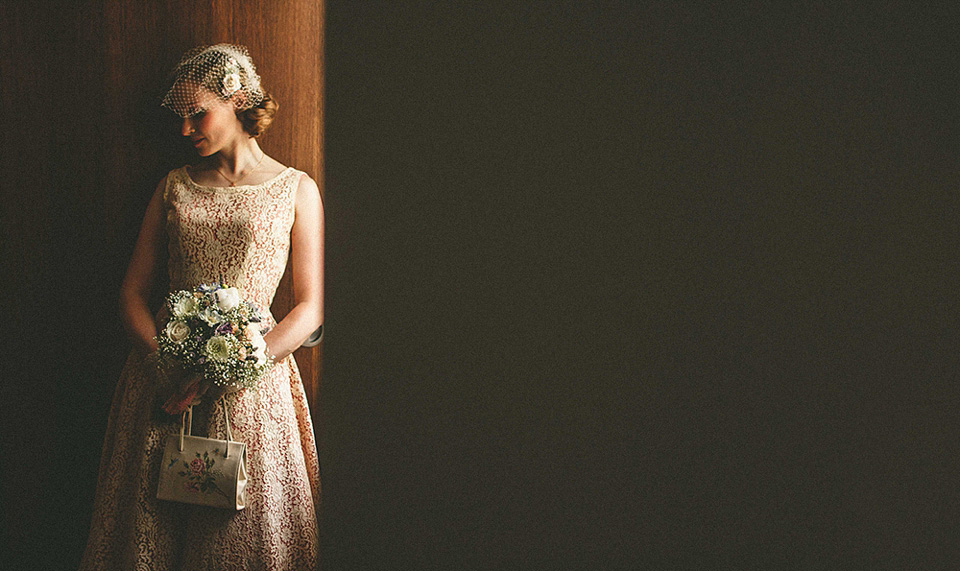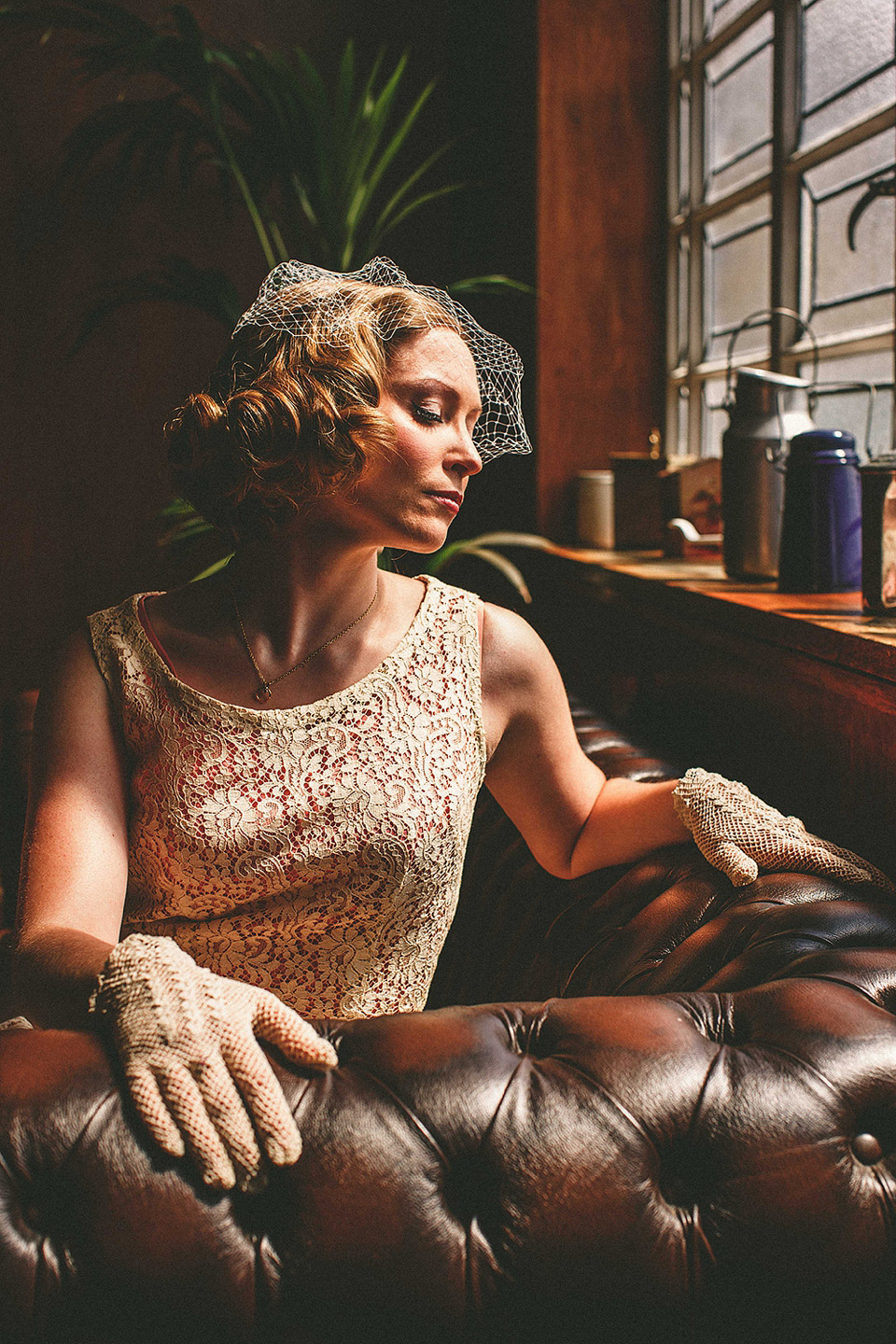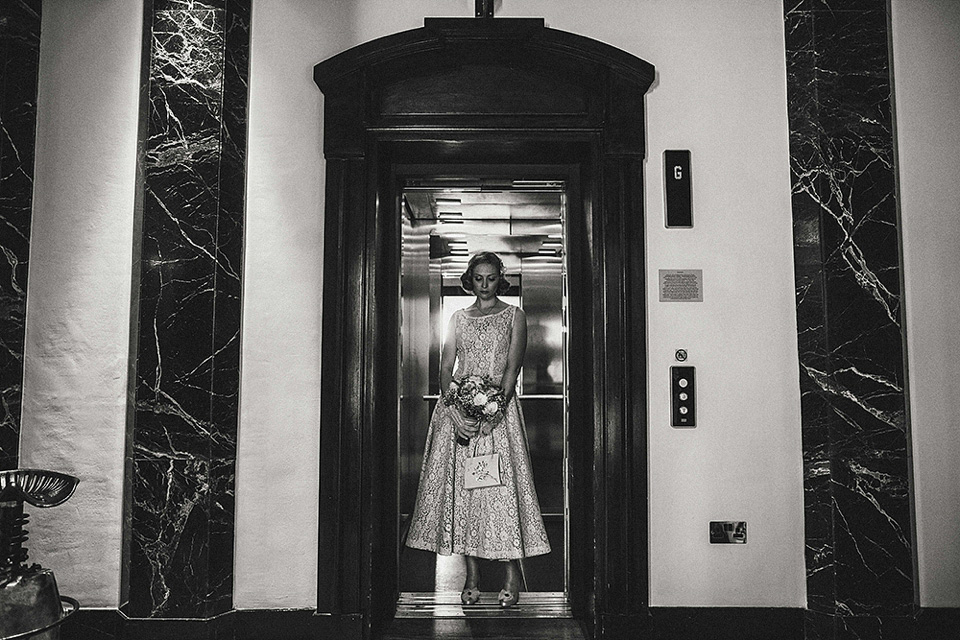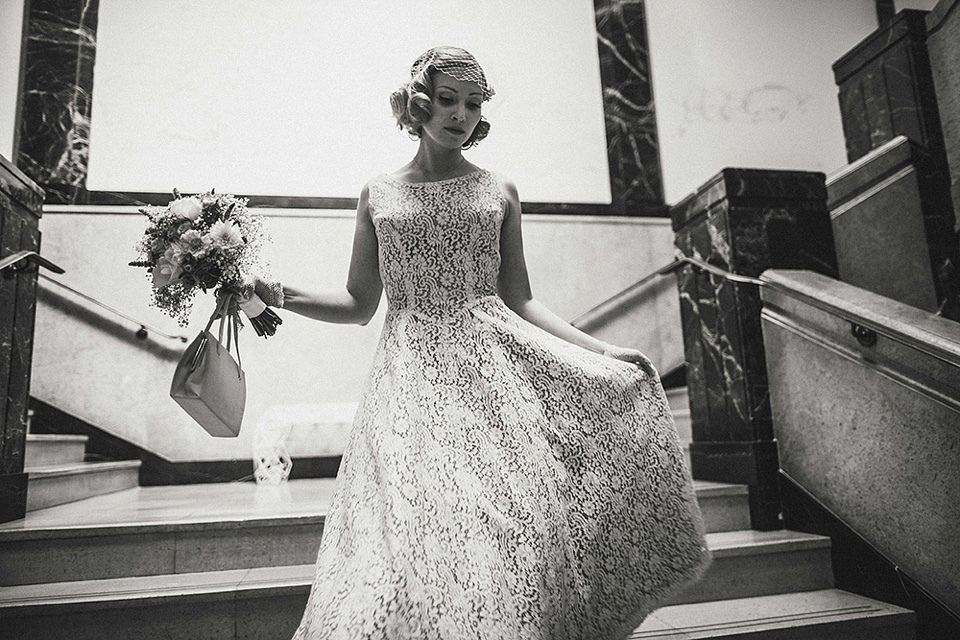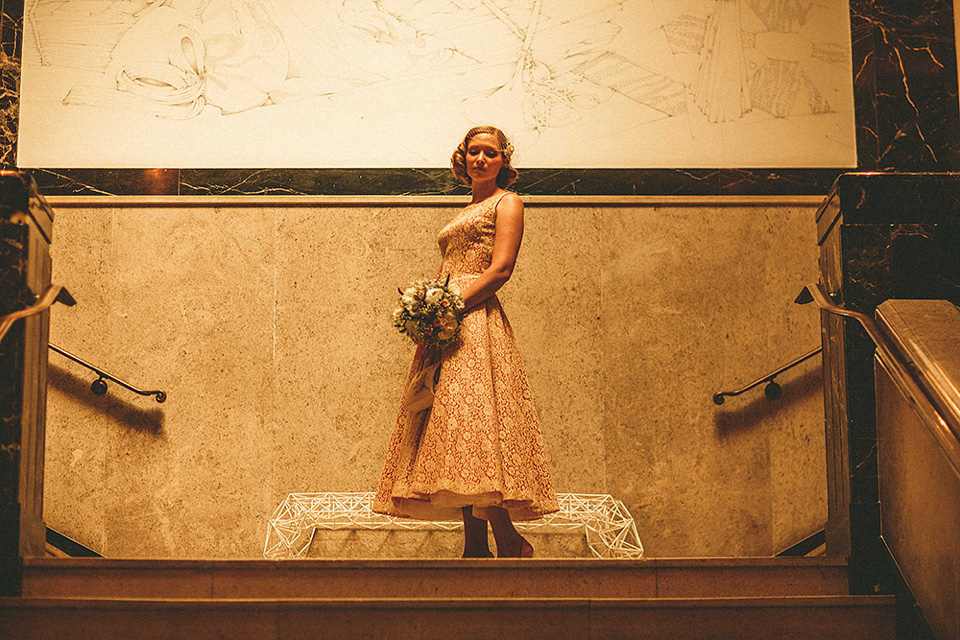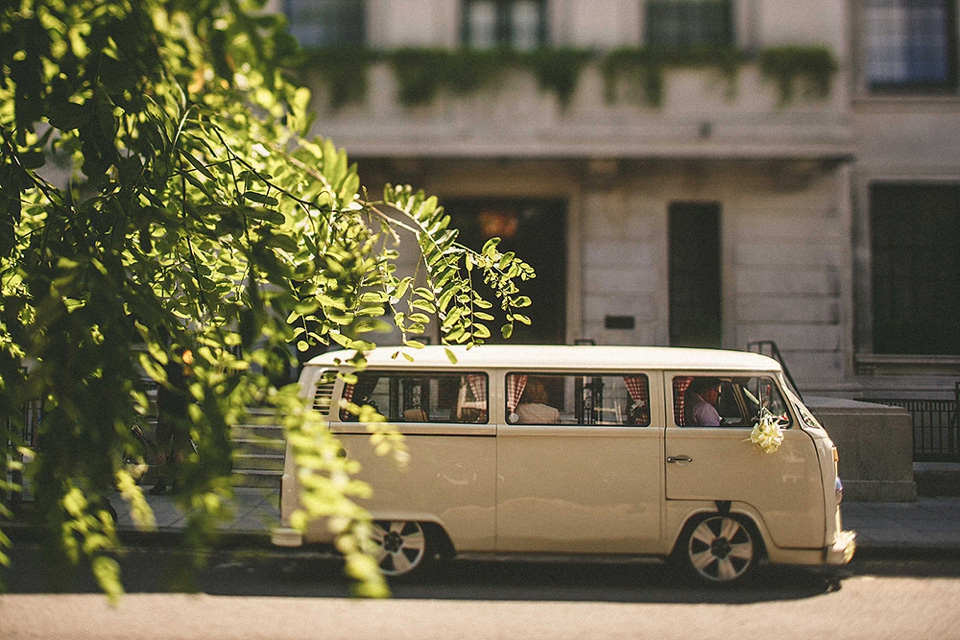 "We met back in 2010 when I started working at the same creative agency as Tom. Tom was working as a Creative Producer and I joined the company as a Marketing Executive. I had already spotted Tom's picture on the website when I was researching the company for my interview and thought, 'oooh, he's lovely! I want to meet him!' I was pretty happy then when on my first day I found out we were working within the same team, for the same manager. We can't entirely agree on what happened next – who started emailing who – but in short we started emailing one another silly emails.
Before we knew it we were sending long emails late at night and at the weekend and very nervously talking to one another at the pub on group nights out. This went on for a few months so by the time we finally got together, it felt like we knew so much about each other and had already been going out for a while!"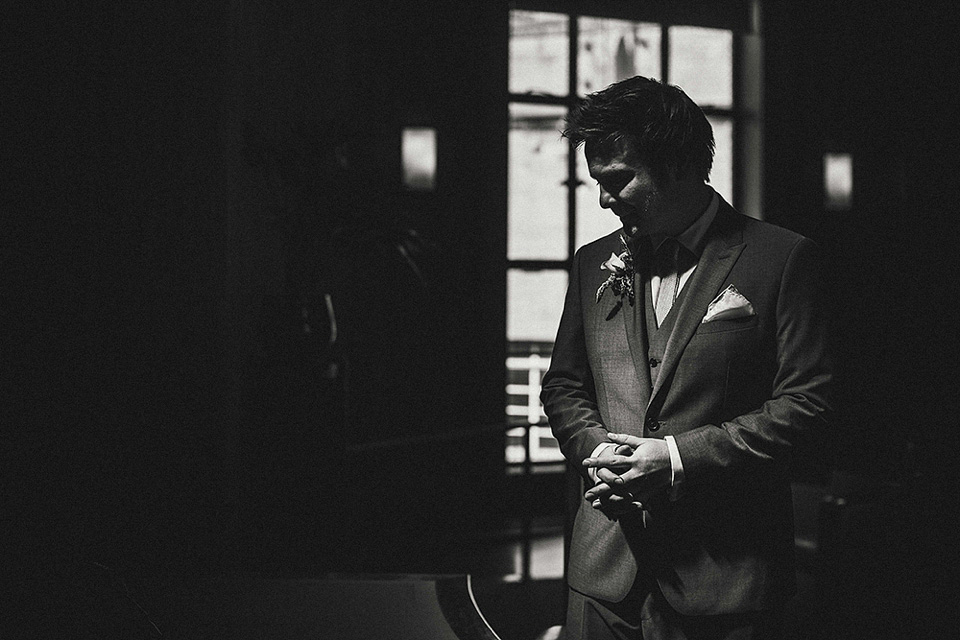 "About a year later I left the company as I made a bit of a radical decision to quit my job and retrain as a teacher – a decision very much inspired and encouraged by Tom. Despite this, and despite the next two years being pretty intense and full on with study/work, we stayed together and decided to live together. The two years of my teacher training were at times pretty fraught, but Tom has the patience of a saint and I would never have survived it without him.
Then, in October 2013, just after the third anniversary of us getting together, Tom proposed during a half term holiday to Whitby, on the top of the cliffs, right by Whitby Abbey.  In fact if you read the opening of Chapter 6 of Dracula it's pretty much a description of where we got engaged and it is indeed 'the nicest spot in Whitby'."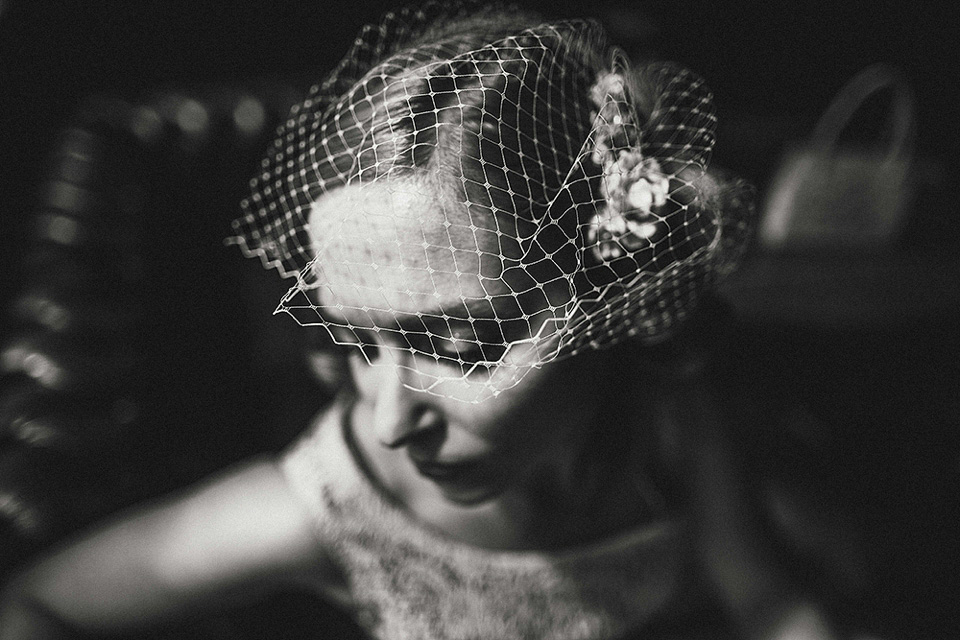 "We used the Penguin classic invites via Feel Good Invites.  We titled the invites 'On a Sunday in July' and added a little 'About the authors' note on the back of the cards. We created our own inserts using the typewriter.
The orders of service were designed by Tom using a Peanuts strip which he wrote the wording for himself and then had these printed up.  Place cards were made by us using old library cards, the typewriter and a date stamp."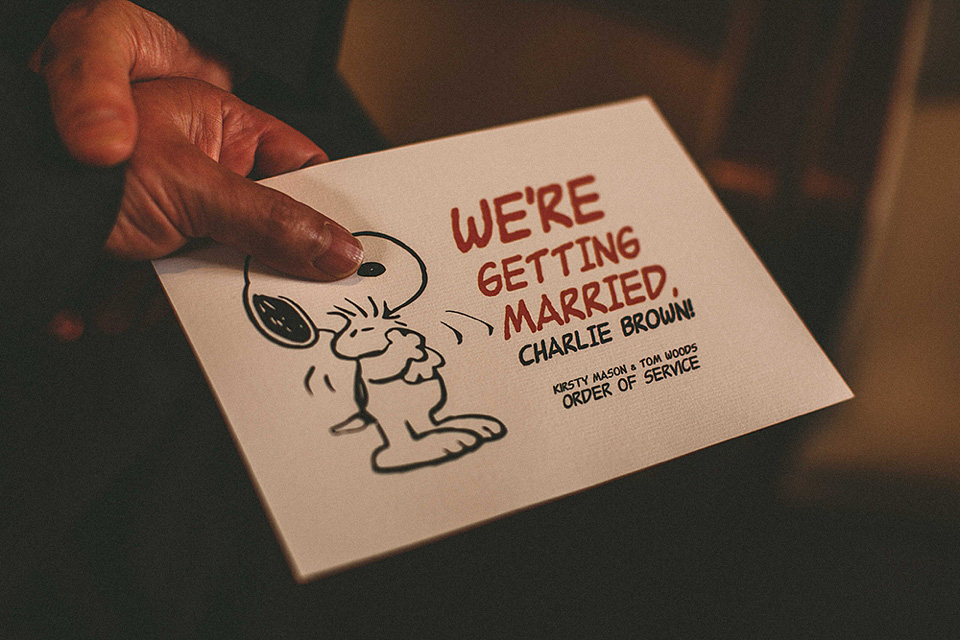 "He knew I would want an antique ring so decided we would search for this together and give me a temporary ring instead. It was a great big orange button on a ring – purposely comedic enough so that I wouldn't 'misunderstand' and think this was the actual ring. I was completely surprised and not expecting the proposal at all. I think my first response was something like, 'are you joking?' and 'did you bring that carrier bag so you wouldn't have to kneel in the mud?'. Yep, pretty romantic on my part ☺ Needless to say I bounced around a lot after that and said yes!  
The wedding planning started pretty immediately after that – first of all finding an antique engagement ring in a shop in Whitby – and we decided on a date about nine months later so it was only to be a short engagement. I didn't want to have to wait long to marry him!"
"We chose to have our wedding ceremony at Stoke Newington Town Hall, as it is really local to our home. We walk past most weekends and just loved the idea of being able to keep going back to our wedding venue to relive all the memories. It is also just so beautiful and I completely love the art deco architecture and really wanted to have it as a backdrop for photos.
My mum and dad both walked me down the aisle to 'I want you' by Tom Waits.  Seeing Tom's face looking back at me as I walked towards him down the aisle was just lovely. He looked so proud of me and I just felt the luckiest person in the world to have found someone as amazing as him who also loved me in return. Sharing our vows was a real choker of a moment and I am still amazed I managed to hold it together, as was the emotional moment when we came out of the town hall and realised 'Wow, everyone we love is here and they are all here for us!'."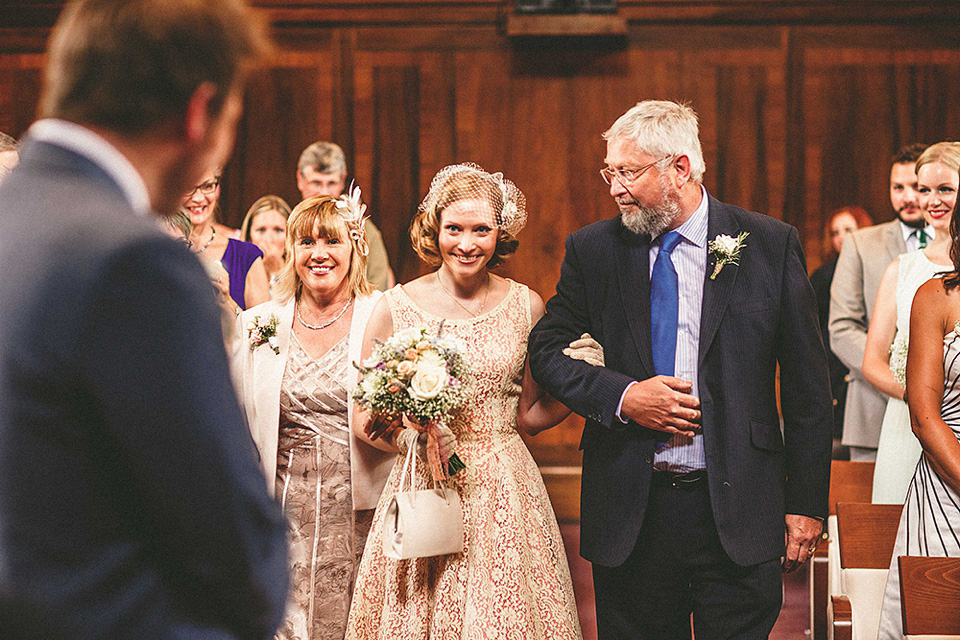 "I wrote my vows to Tom when I was alone one night when he was on his stag do. I think I cried a lot and then cried some more every time I re-read them. Tom also wrote his own vows to me, bouncing back some of the promises I had made to him."
Kirsty's vows:
'Today feels like the biggest day of our lives. But there will be a time, in years to come, when today feels small, like a faint dot on a distant horizon. There may be times when we feel far removed from the couple we are right now and even a wedding photo feels like a mirage on the landscape. Maybe – from time to time – we will forget to make each other laugh with silly voices, stupid pet names and unprovoked displays of dancing. There may be moments when we don't make time to share our day and console each other with cuddles and box set viewing. Or maybe life will send us challenges we have no idea how to overcome – because that's what life does. Maybe this will happen and who we are today will become another couple we never knew we'd be.
But despite all this there are some certainties and these I can promise:
I will never tire of your many impressions – particularly your James Mason.
I will always encourage the keeping of and anthropomorphising of pets, particularly small rodents and dogs.
It is almost certain that you will, over the course of our marriage, do proportionally more of the cooking than me, but I will take charge of desert and the washing up.
I will never ask you to forgo your book, graphic novel and DVD collection – and I have now said this in front of a large audience, so it must be true.
But most importantly, I will never stop loving you and will never forget how incredibly grateful I am to have you in my life.
Time and life may change us, but that never will.'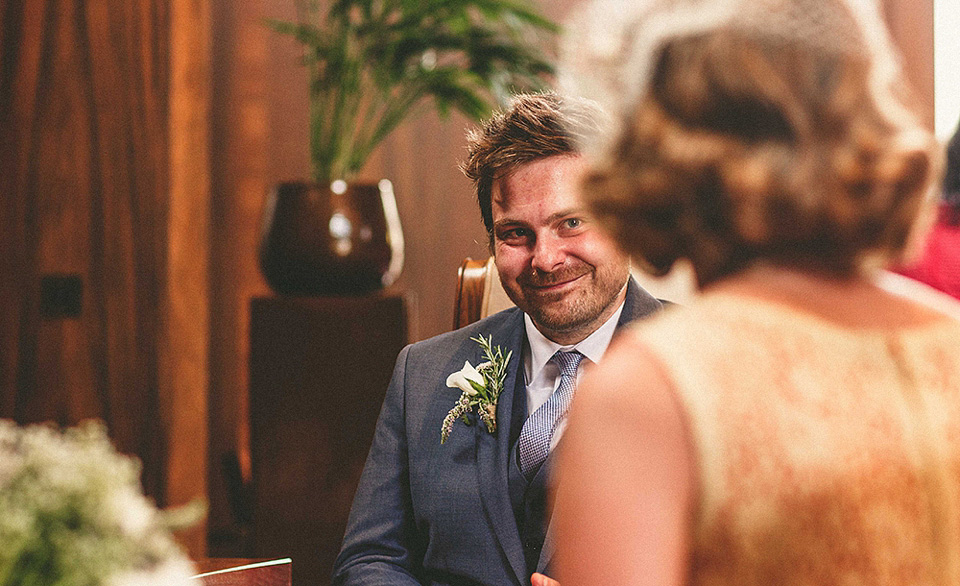 Tom's vows:
'For me, this day is a reiteration of what you and I already know; that we just work perfectly together. On my own, I don't get anything done. On your own, you think about everyone else except yourself. But like a pair of really awesome Transformers, when we're together, we make something pretty amazing. Something that can do anything, go anywhere, and be whatever we want to be.
These are my vows to you…
When you're sad, I'll make you happy. And when you're happy, I'll share in your happiness, and make it our happiness.
When challenges come along, I'll point out the smallness of the small stuff, and stand side-by-side with you against the genuinely big stuff.
I'll encourage you to do all the things you don't think you can do, but which we all know you can, and can actually do better than anyone else, ever, anywhere.
I'll listen.  I won't take you for granted, nor ever stop being grateful for having found you.
I won't stop impersonating James Mason.
And I won't ever, ever stop loving you.'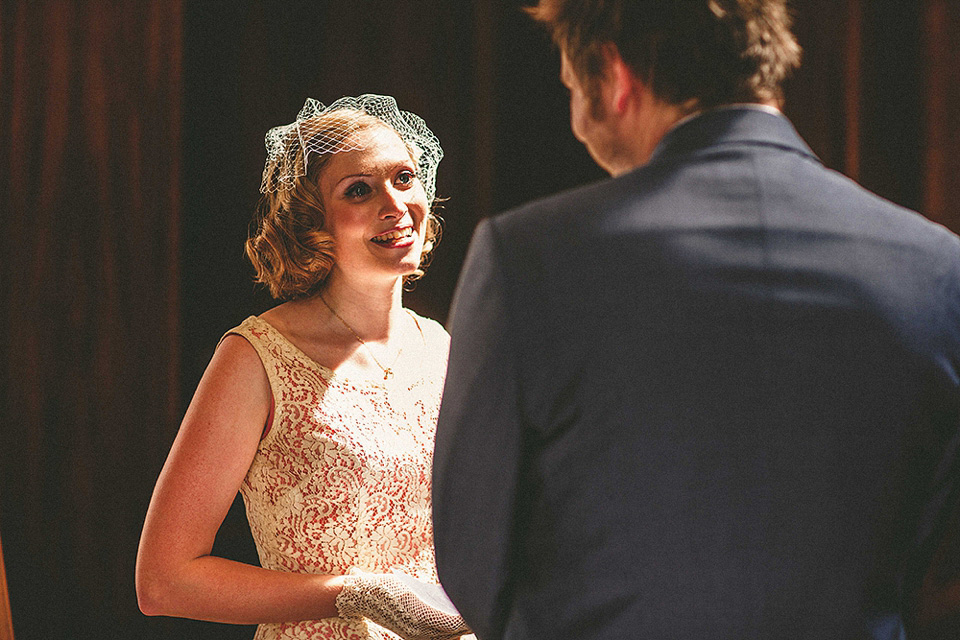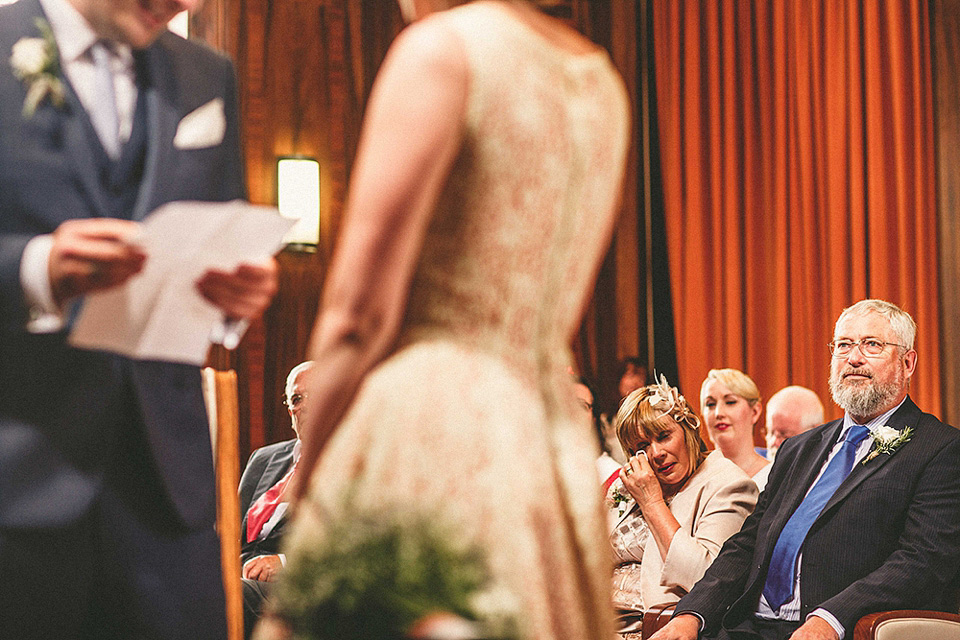 "My wedding ring was an antique rose gold ring from Grays Antique Market and my engagement ring a gold three diamond vintage ring from an antiques shop in Whitby. Tom has a sterling silver ring made by the very talented Patrick Laing, formed by using a mould taken from my thumb and a mix of our fingerprints. We met Patrick at The National Wedding Fair and then went to visit him in his studio a few months later."
"We had three readings; Scaffolding by Seamus Heaney, I like you by Sandol Stoddard Warburg and Us Two, by A.A Milne.  I love childrens' books, Winnie the Pooh in particular, and the way in which they can very innocently express such profound truths about what it means to be true friends. I can genuinely say that Tom is the best friend I have ever had and I just really wanted some readings which express how much I value this. The Seamus Heaney poem is, I think, a very realistic and truthful poem about what real love is like.
Time can sometimes change the external appearance of a relationship but a truly good one will have really solid foundations that only the two people inside of it will be able to feel and rely on."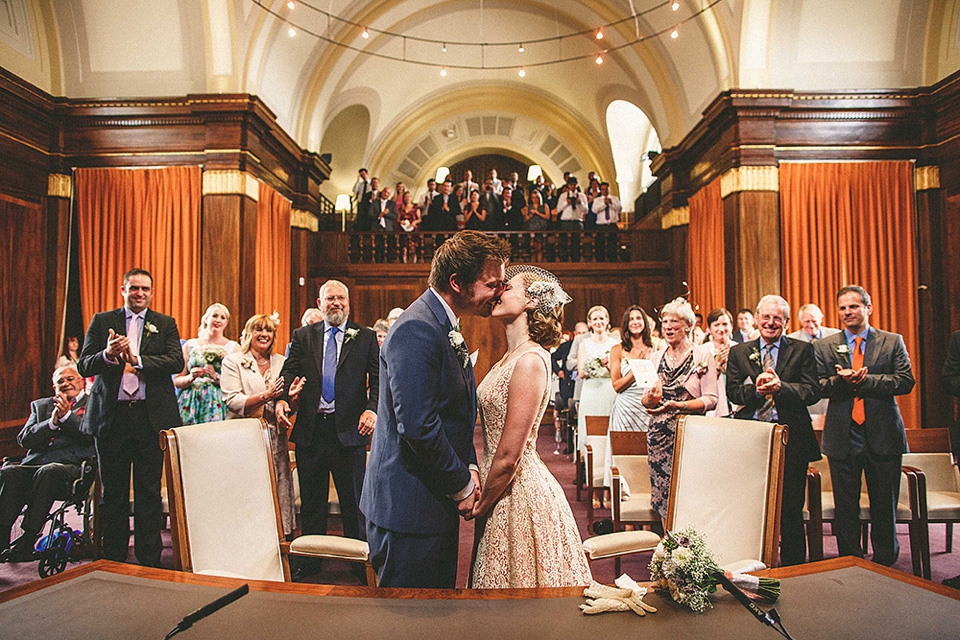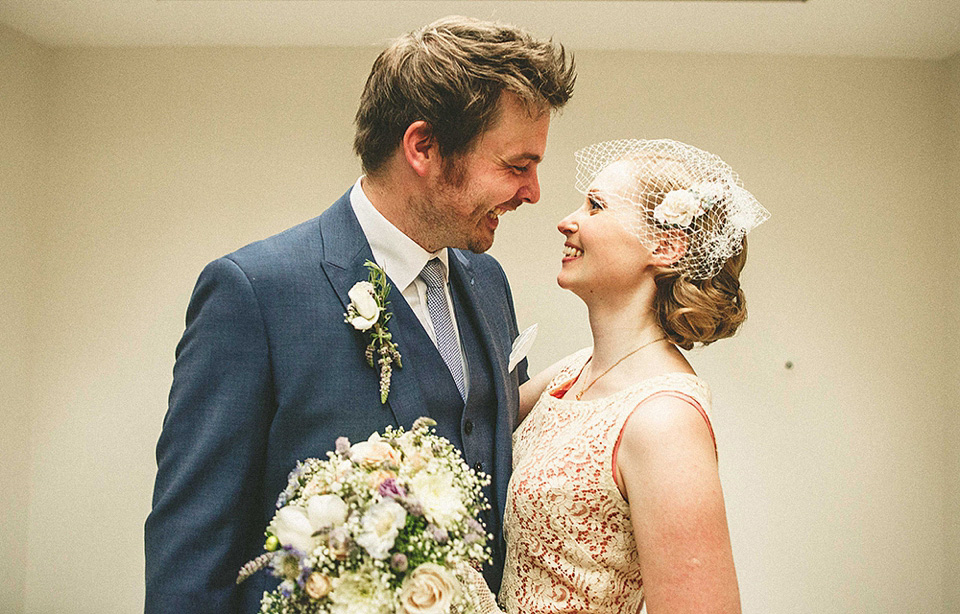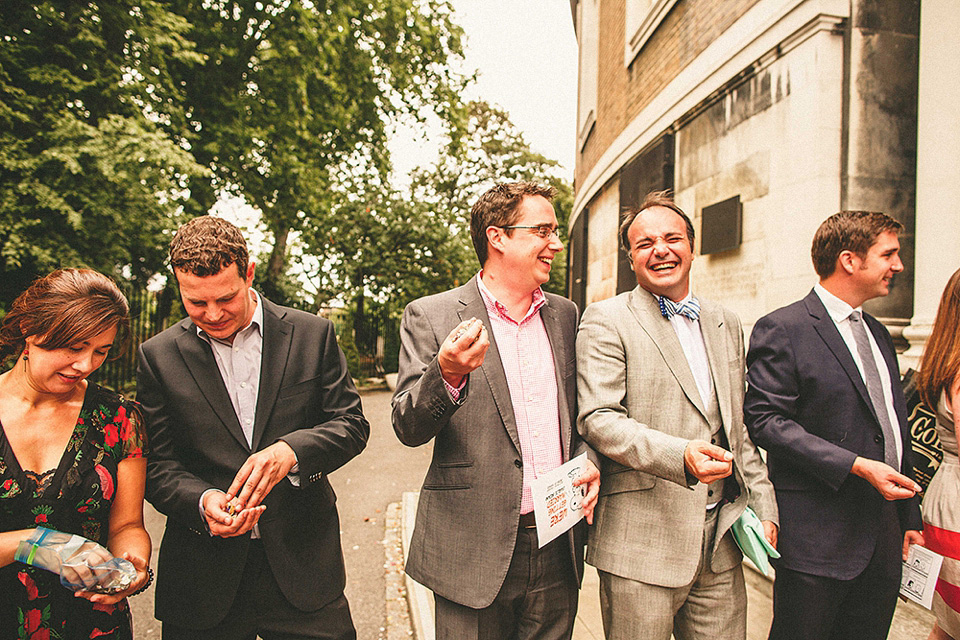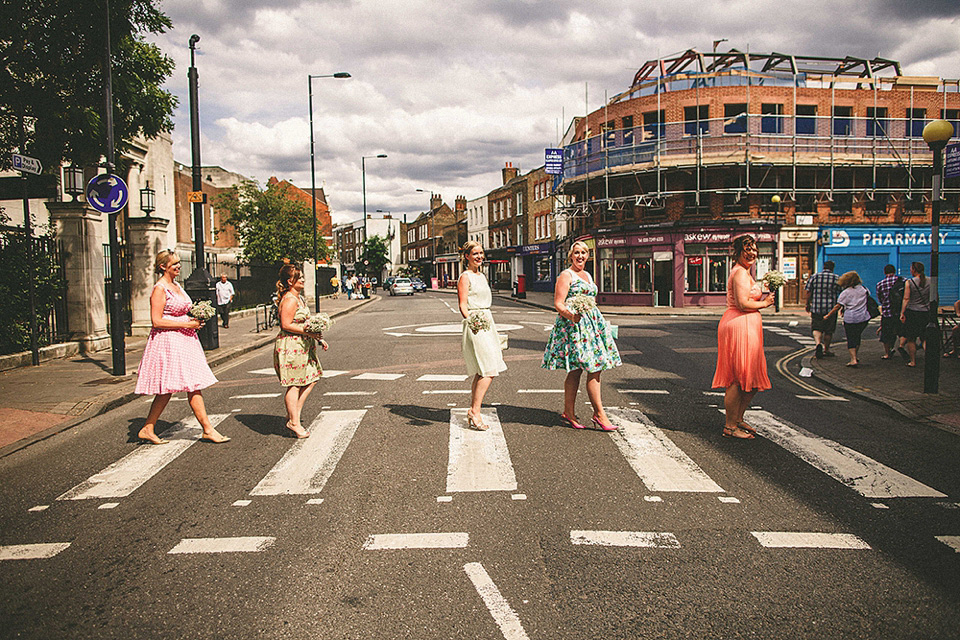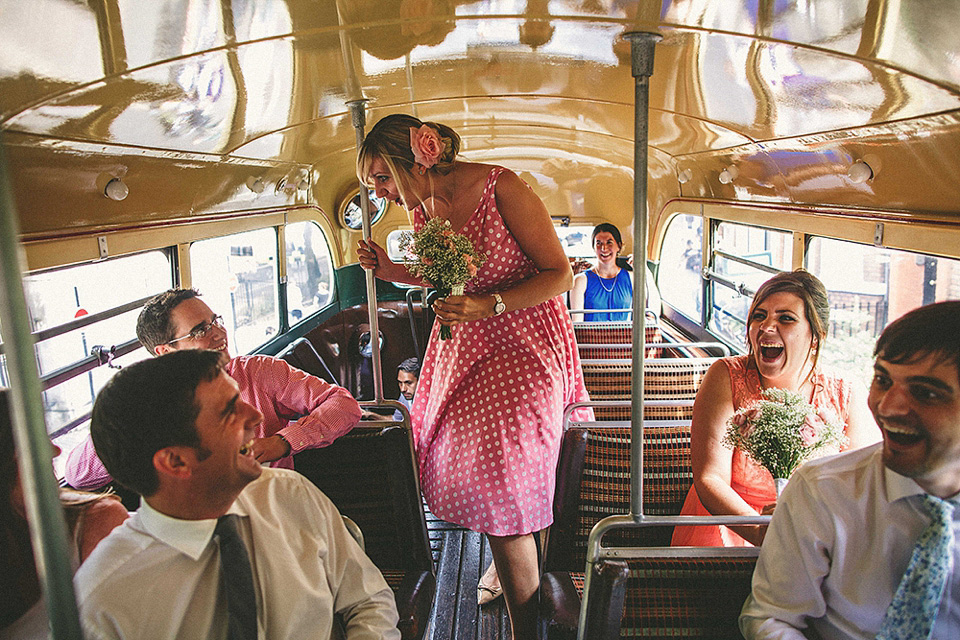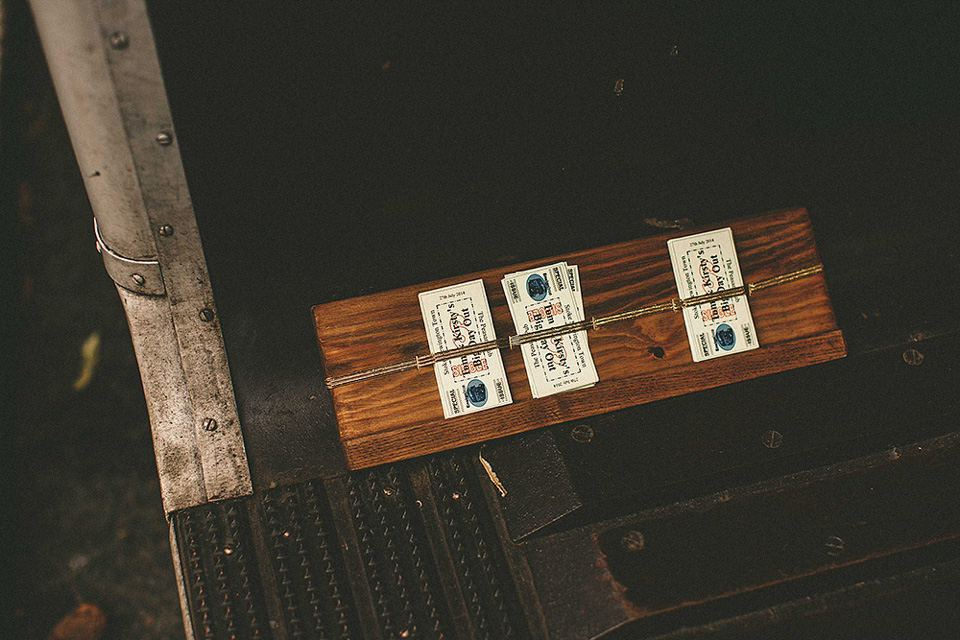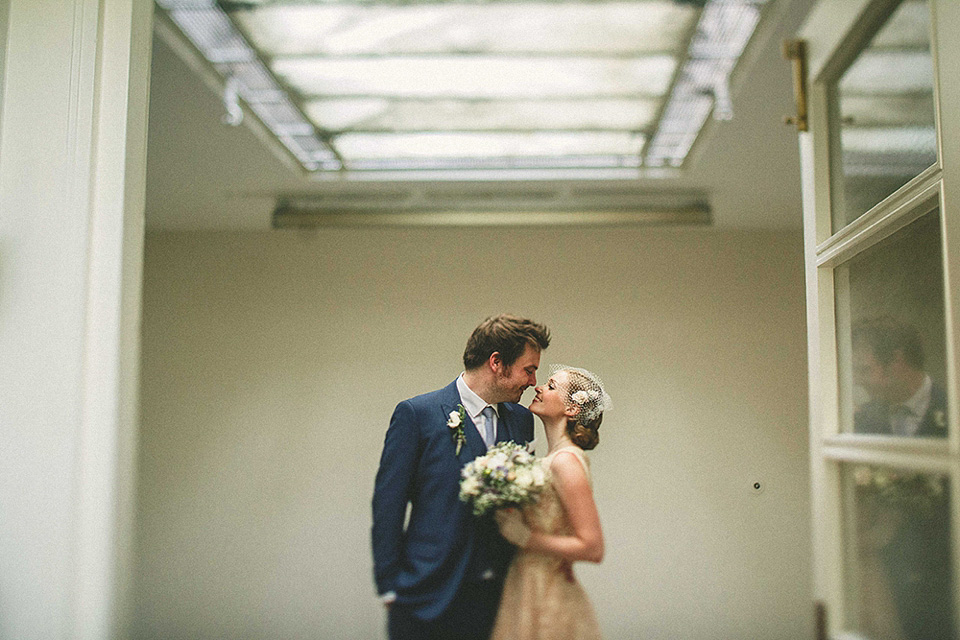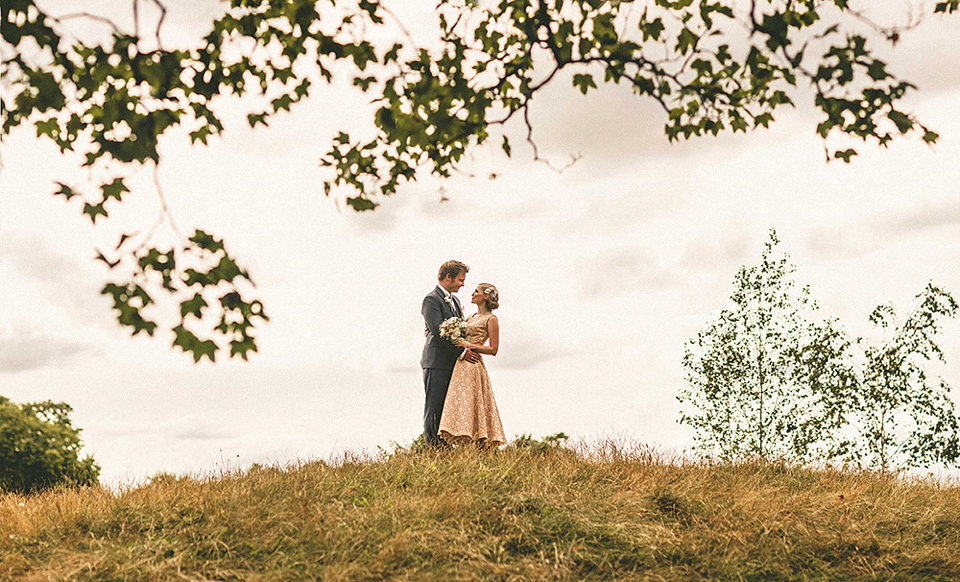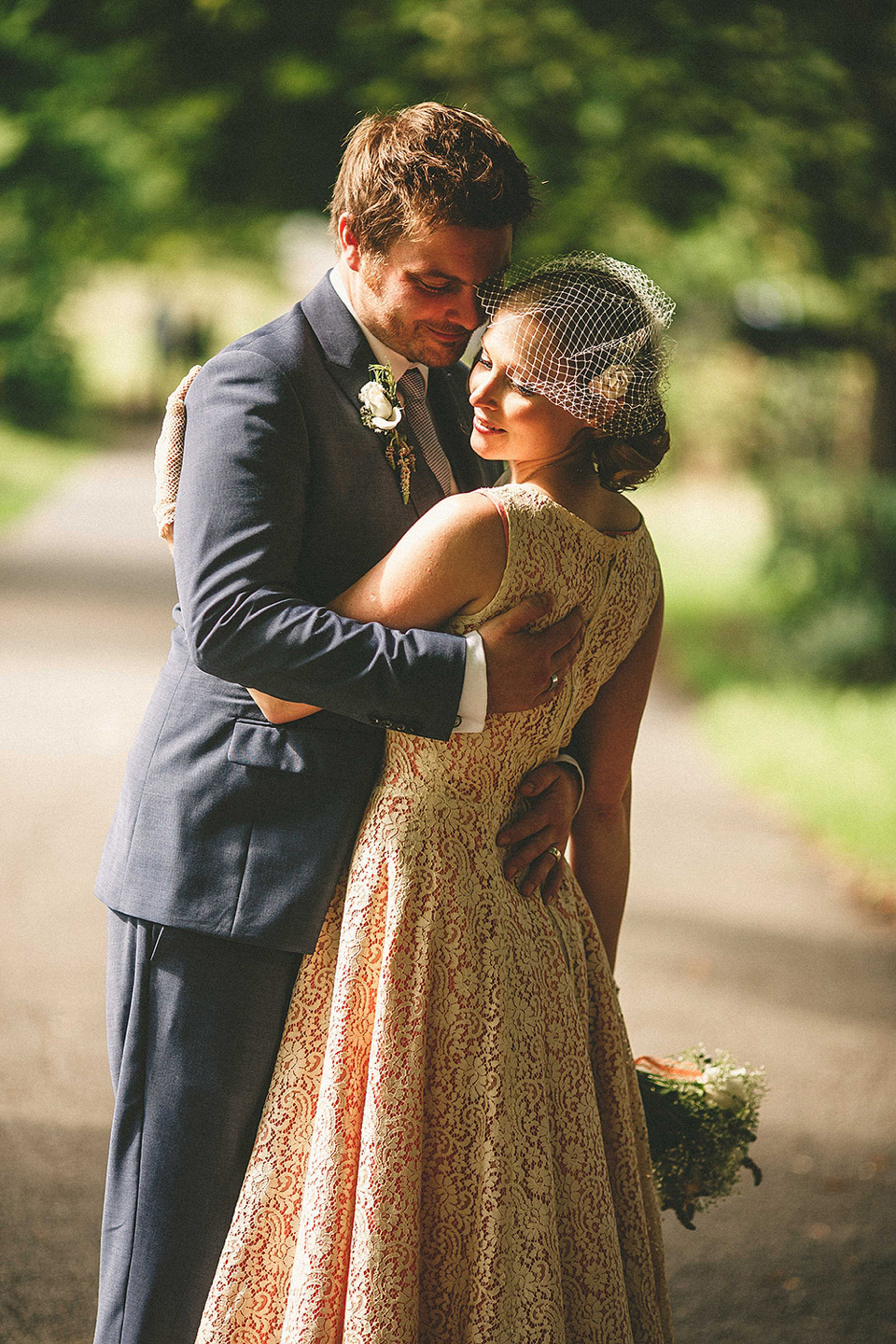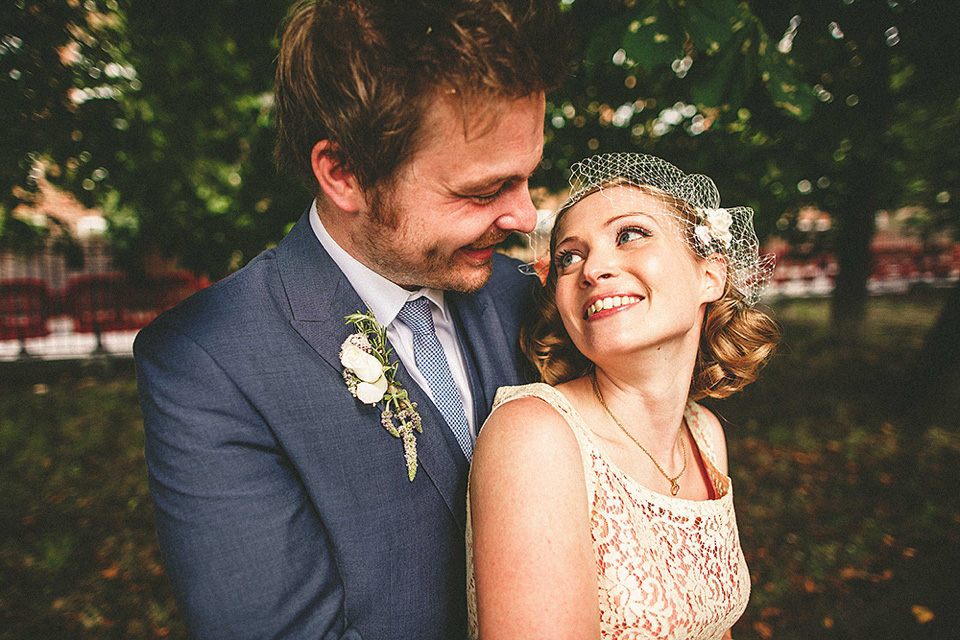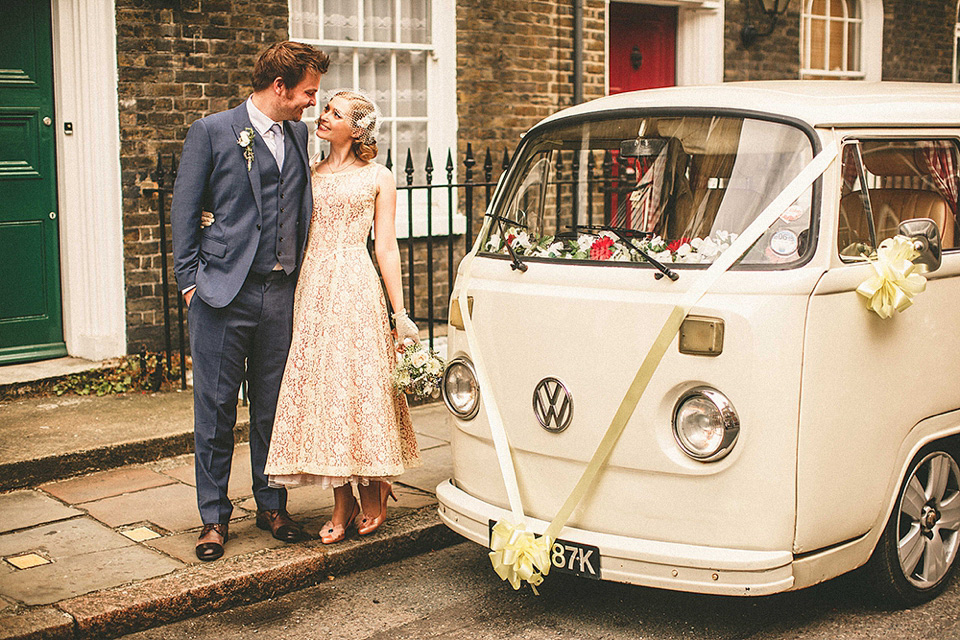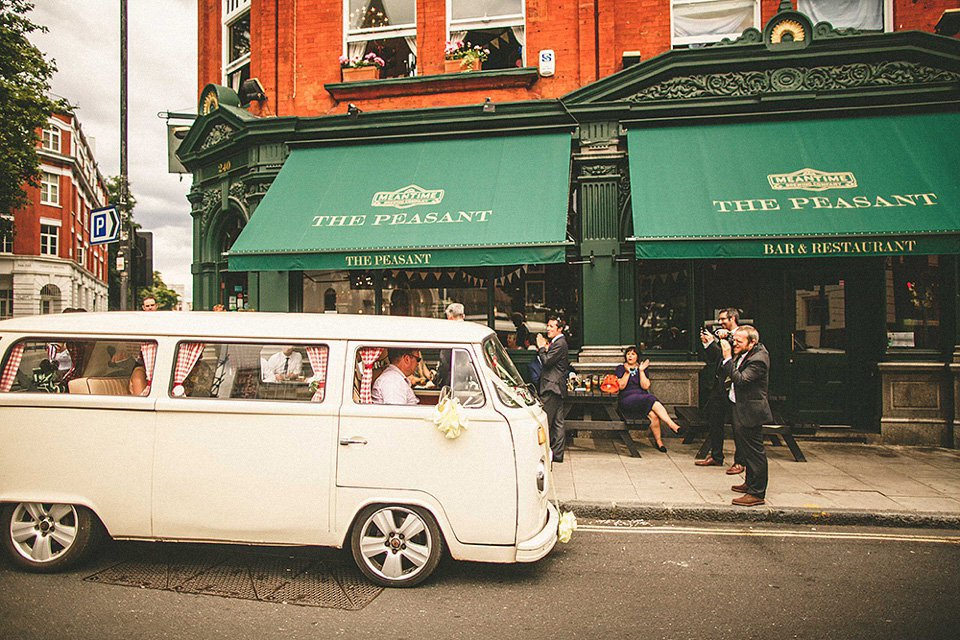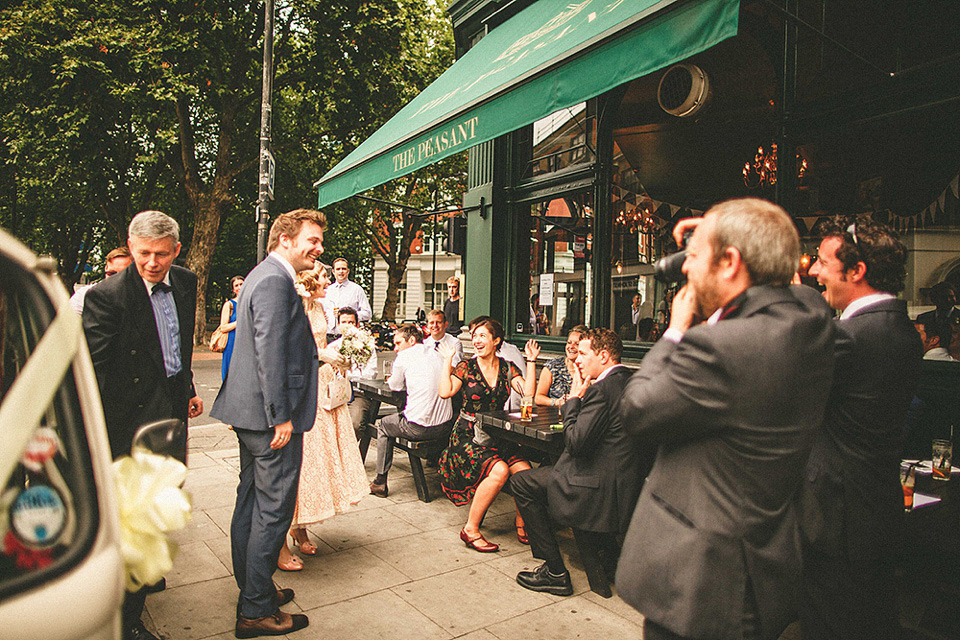 "Decor included handmade bunting borrowed from one of my bridesmaids who had made it for her own wedding and a vintage vanity case as a library card/guest book. We also painted jamjars to make pretty floral table centrepieces."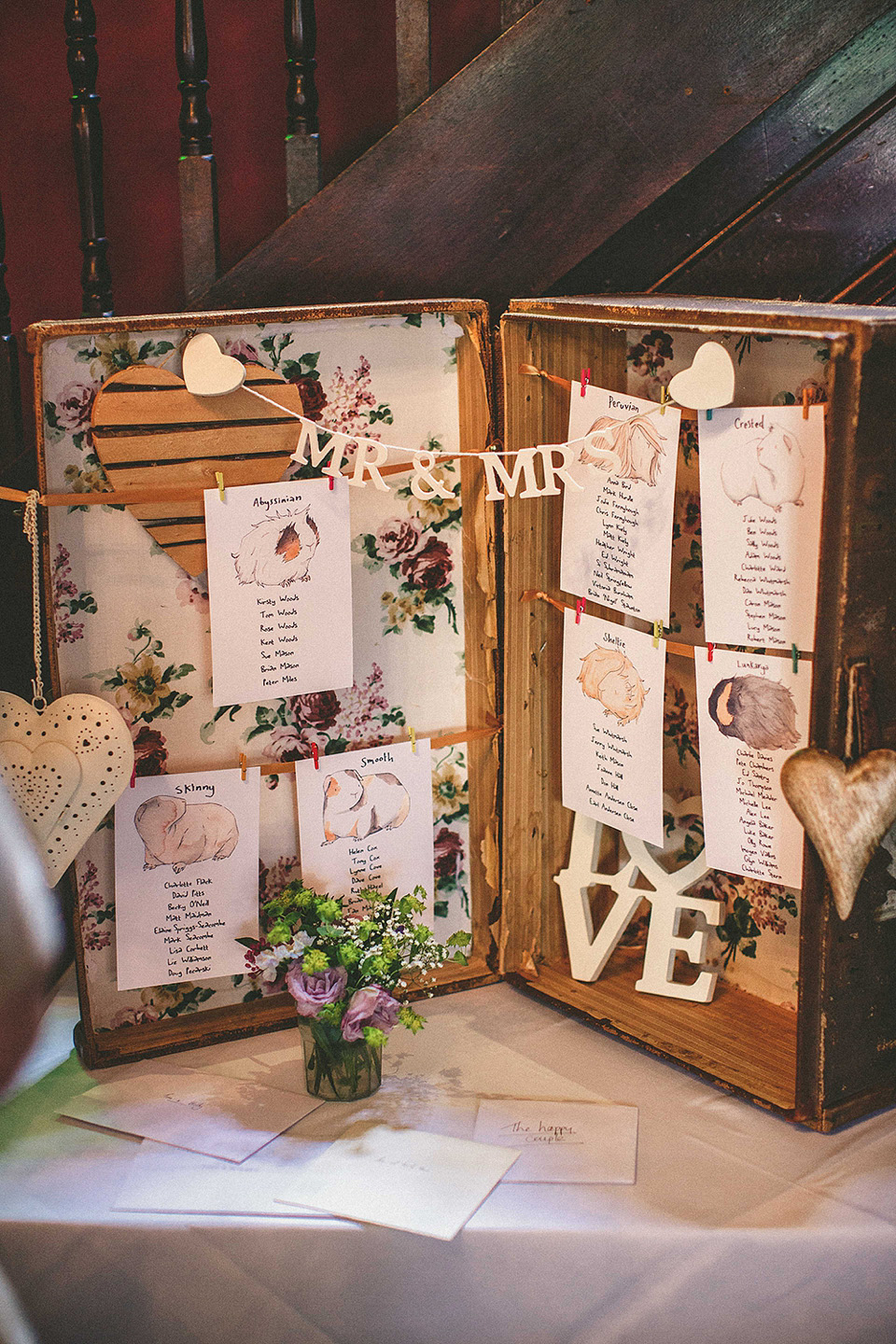 "We held our reception at The Peasant pub in Clerkenwell. We came across the pub online by chance but we sold really quickly by how friendly the manager – Nick – was, the lovely decor in the pub and all the film posters on the walls. (The latter was very appropriate for my film obsessed husband!)"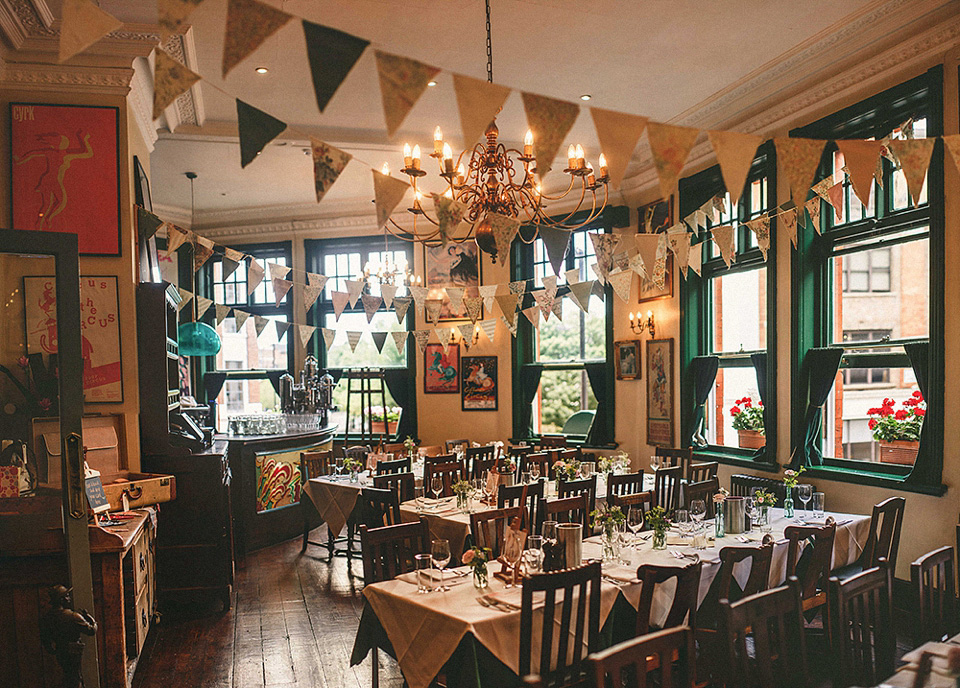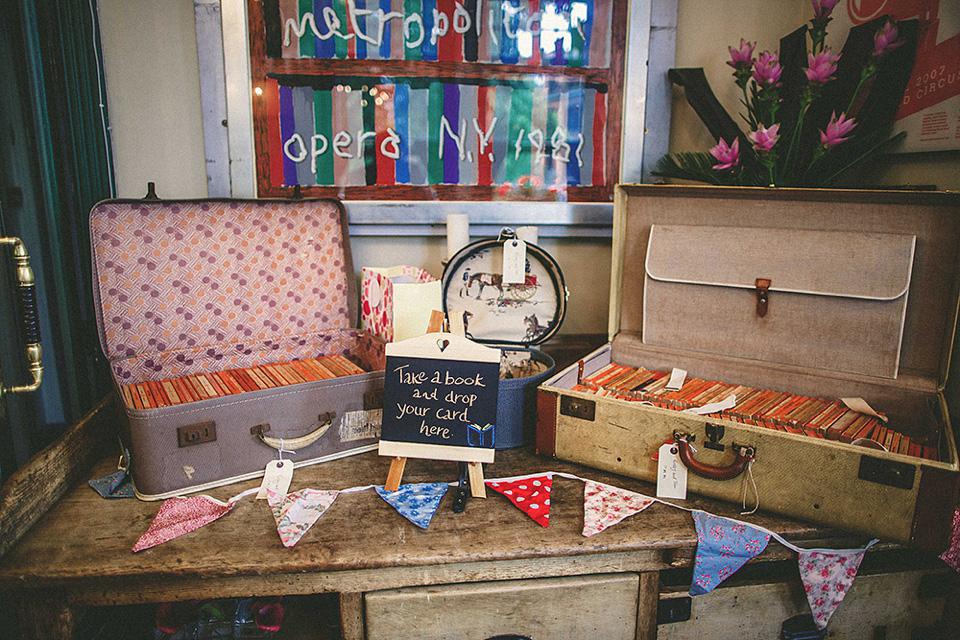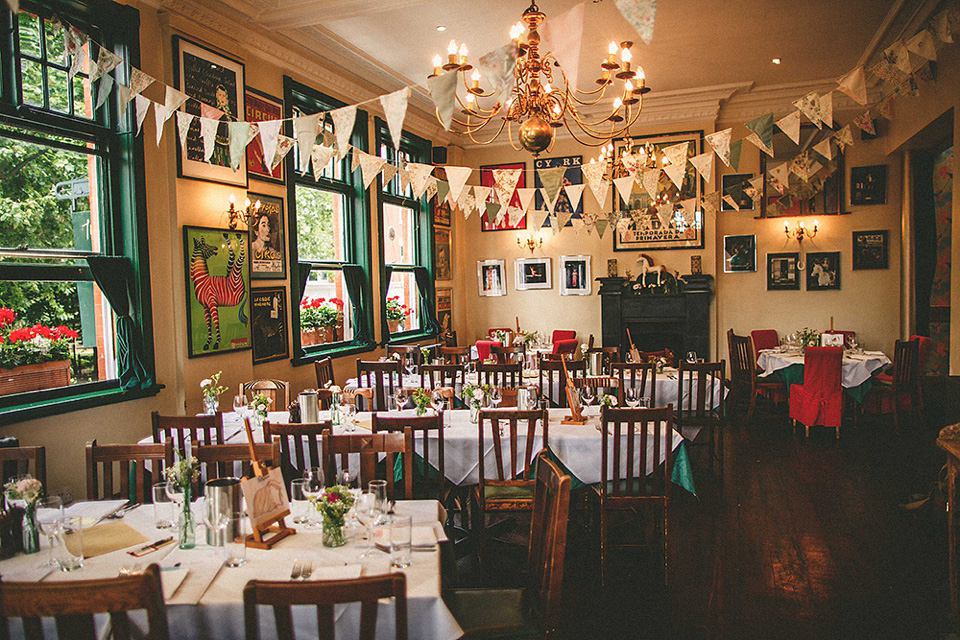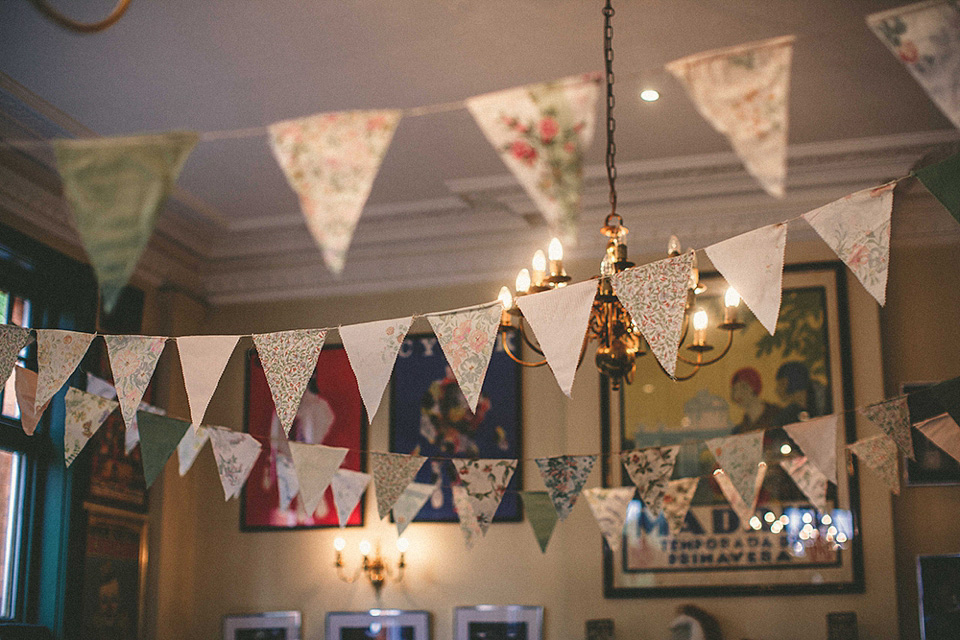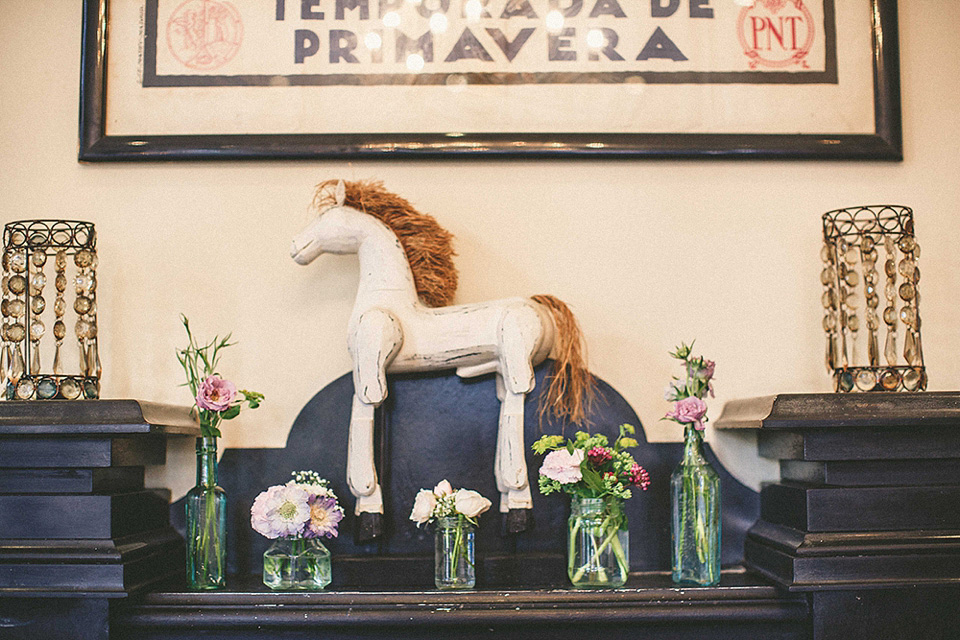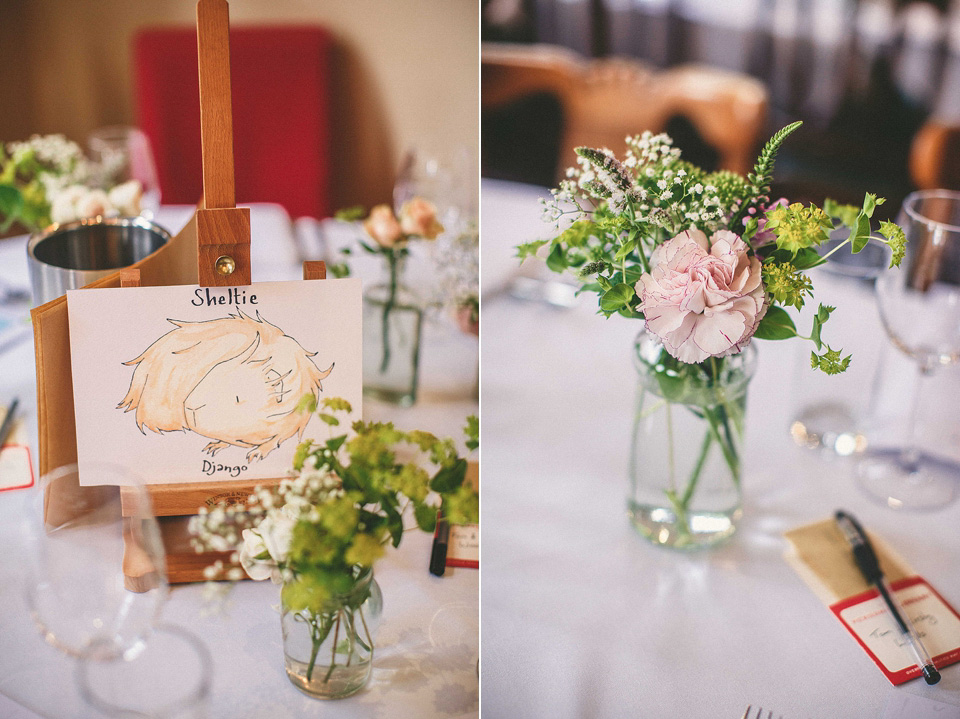 "We are both big lovers of guinea pigs. Everyone had been joking that they hoped our guinea pig would be coming to the wedding too so we knew we had to feature them somehow. We decided upon naming each of the tables a different breed of guinea pig. I then went on to find an amazing illustrator / artist online called Daisy Hillyard and commissioned her to create a range of illustrations for us. Everyone loved the drawings and it was great to see that at the end of the day people were taking home some of the illustrations to enjoy in their homes."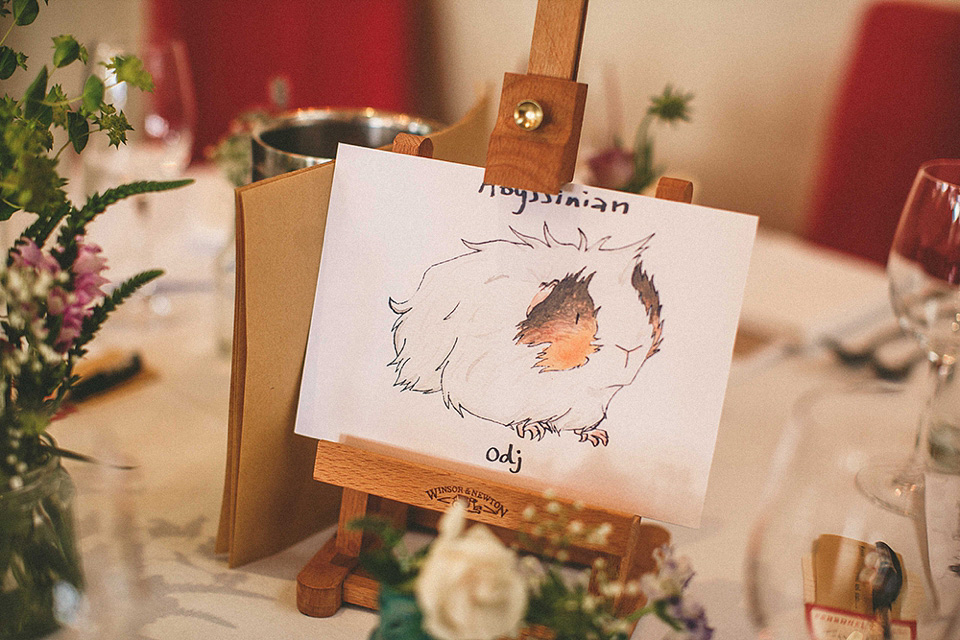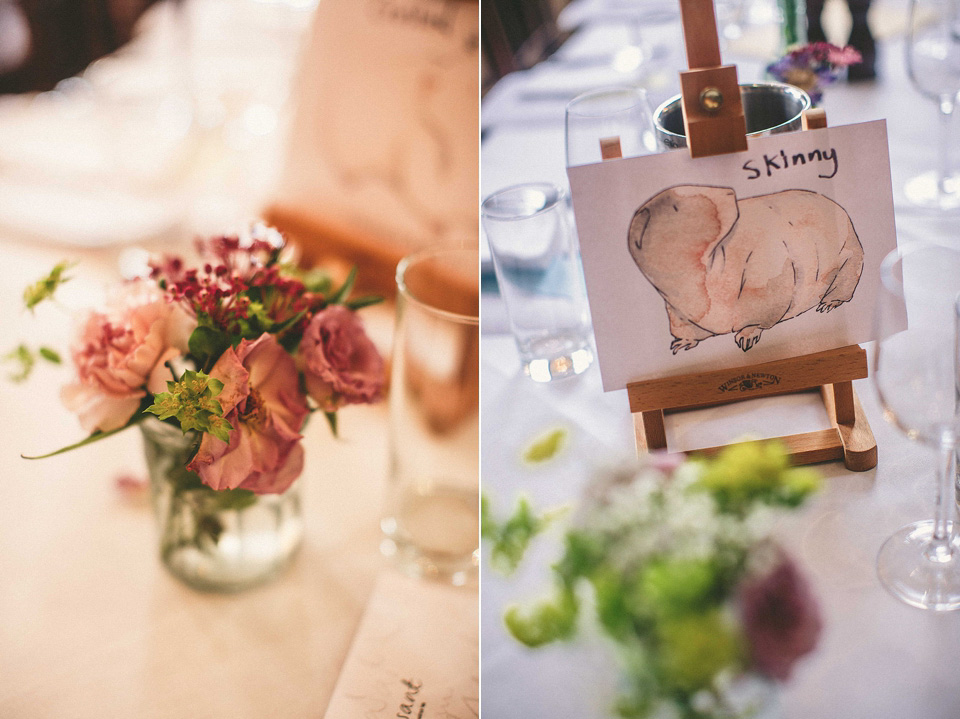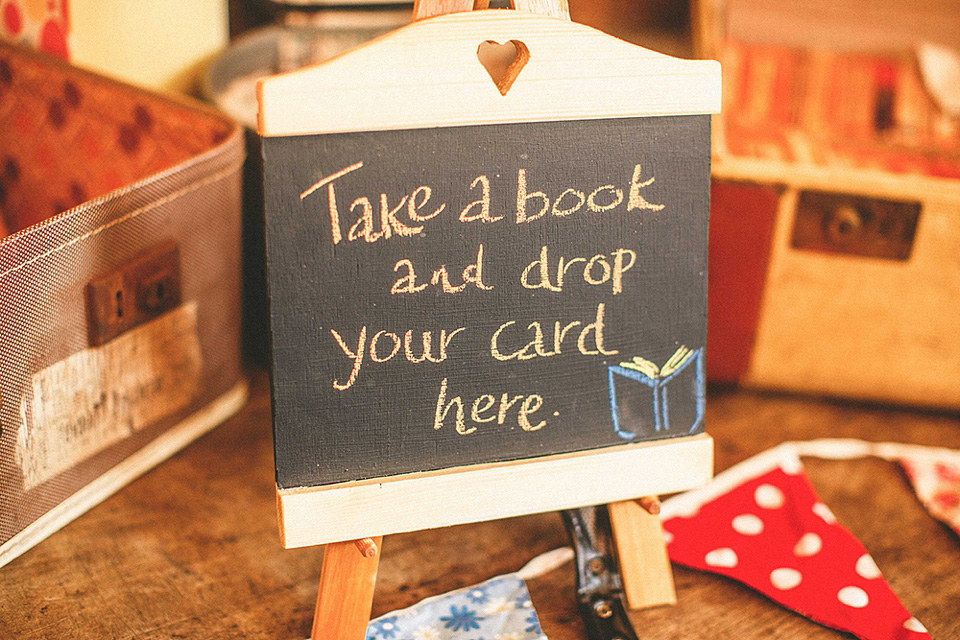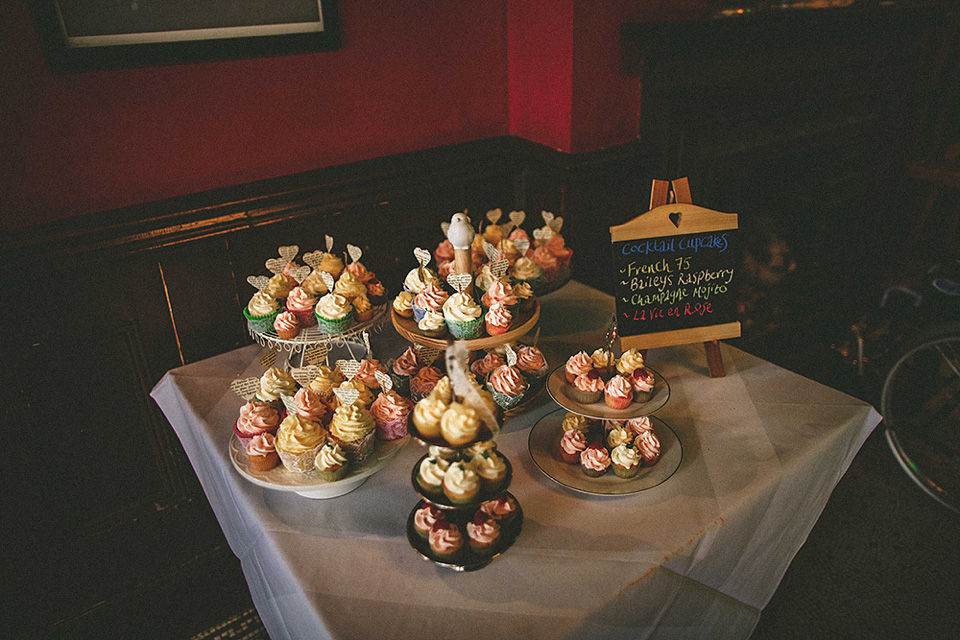 "Posey Furnish of Cake Tails by Posey. Posey makes THE most amazing alcoholic cocktail cupcakes. I used to work with her at a previous job and knew she was very talented at baking. Then, when I was attempting to 'woo' Tom and let him know how I felt about him I had her make some cupcakes for him and delivered to work. They did the trick ☺ There was no real decision to be made when it came to cake. It was always going to have to be Posey's Cake Tails."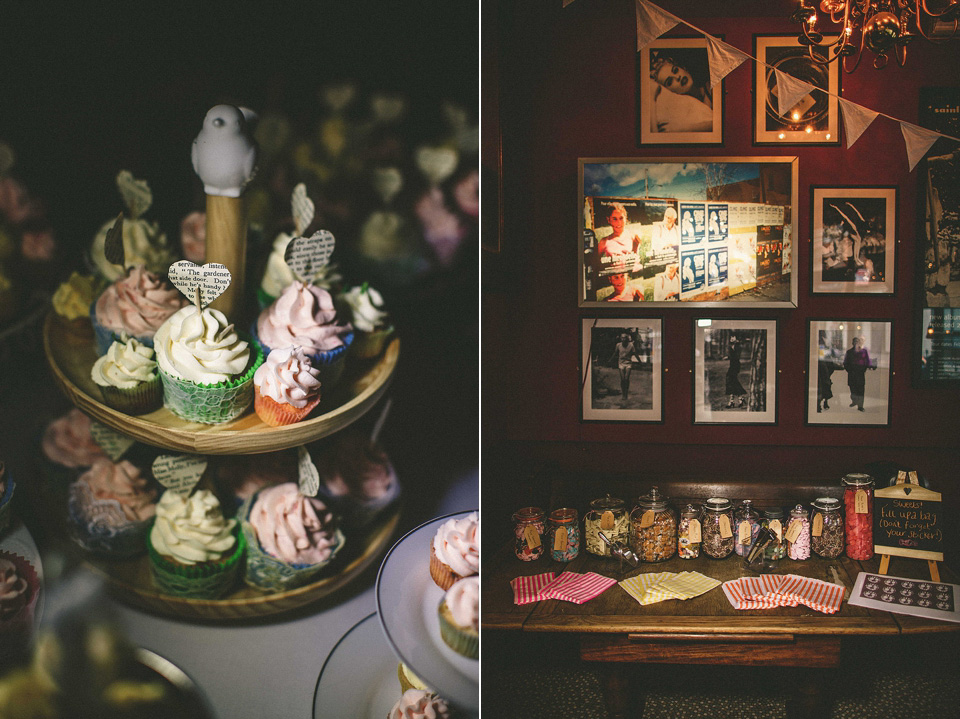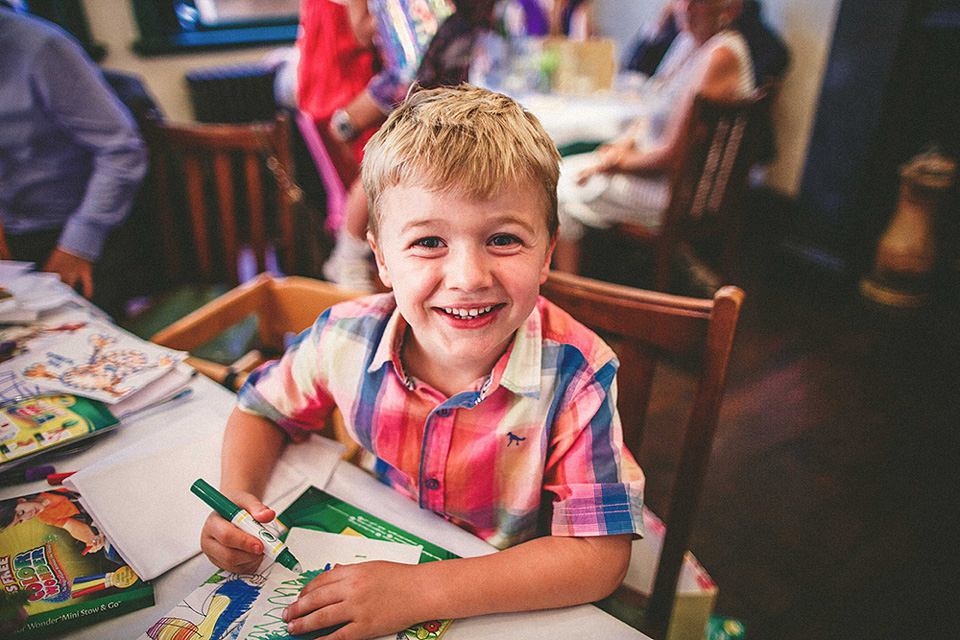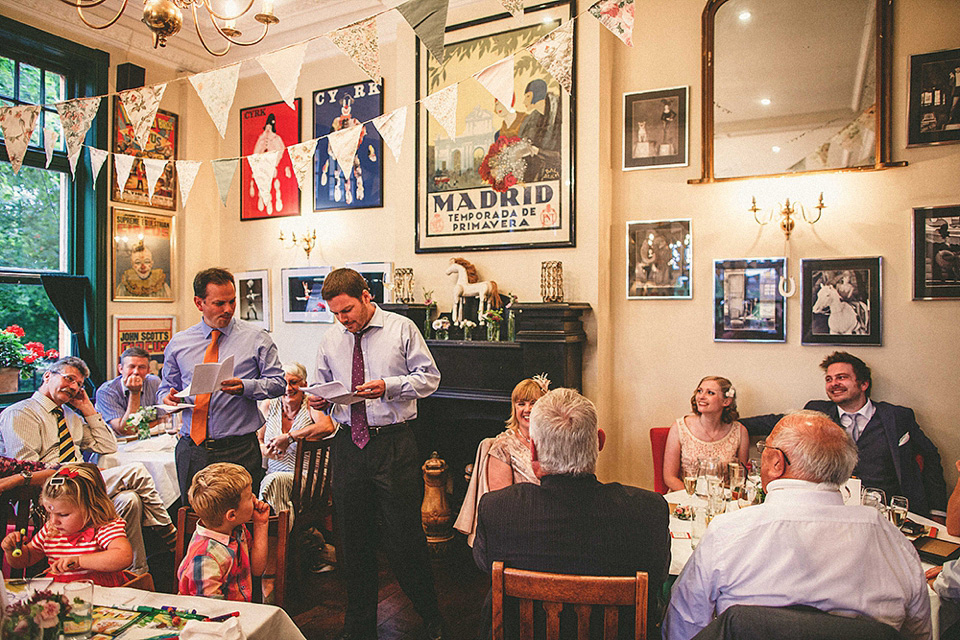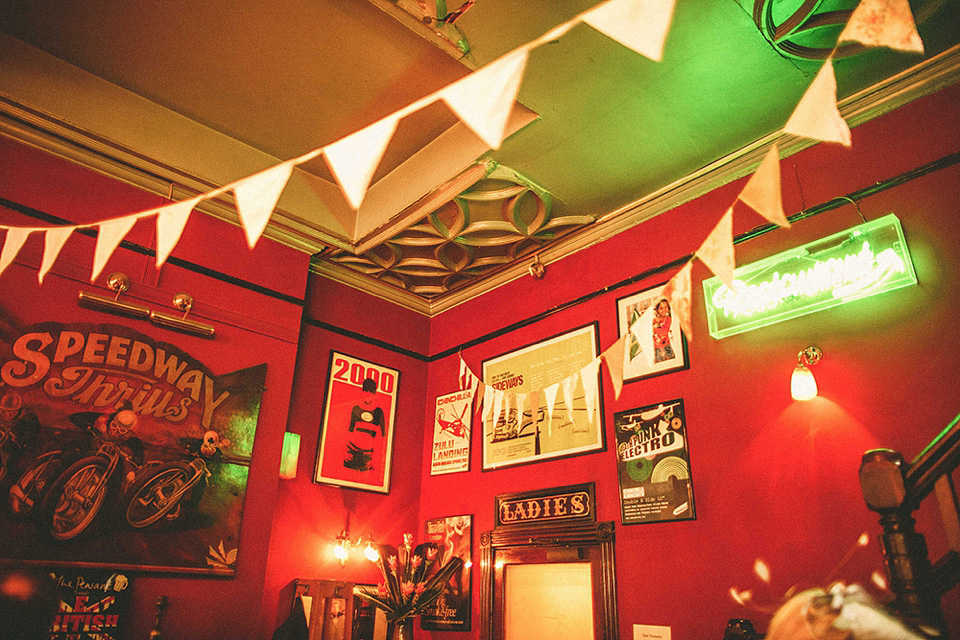 "We danced to 'It must be love' by Labi Siffre. I love dancing but Tom is a bit of a nervous dancer so we took some lessons from the tap dancer Derek Hartley and surprised our guests with a little routine."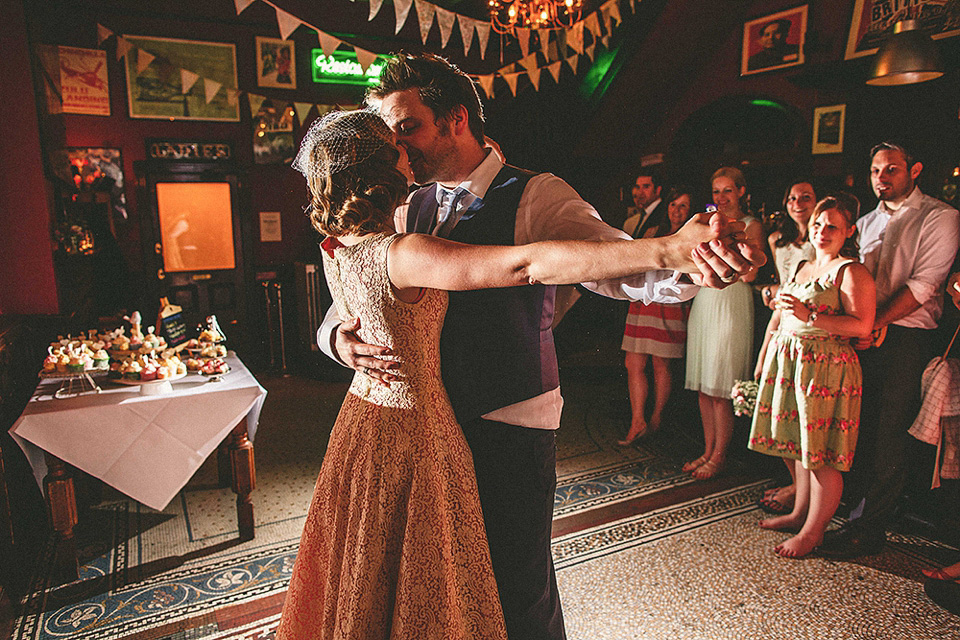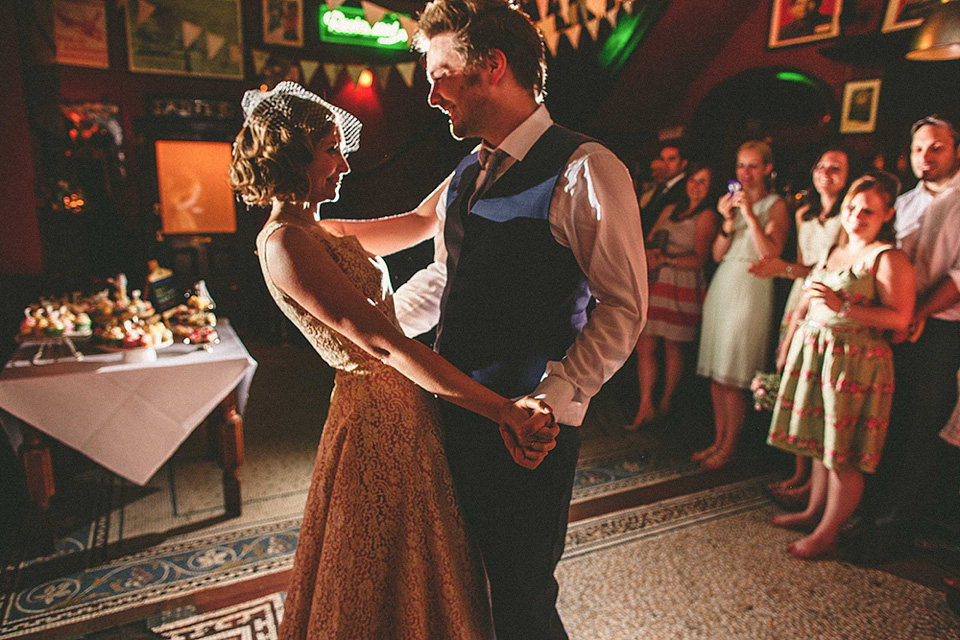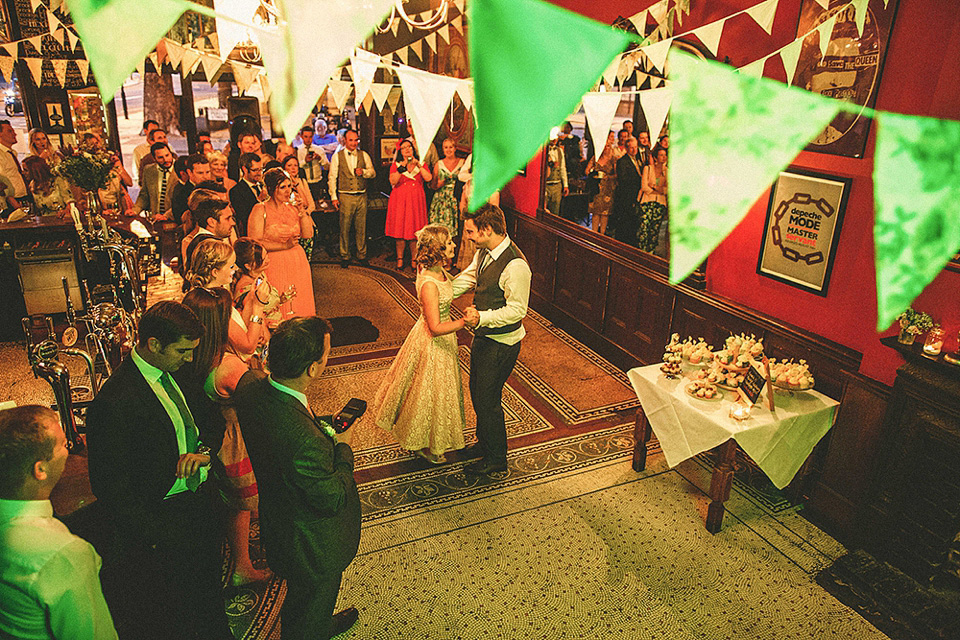 "We danced to 'It must be love' by Labi Siffre. I love dancing but Tom is a bit of a nervous dancer so we took some lessons from the tap dancer Derek Hartley and surprised our guests with a little routine."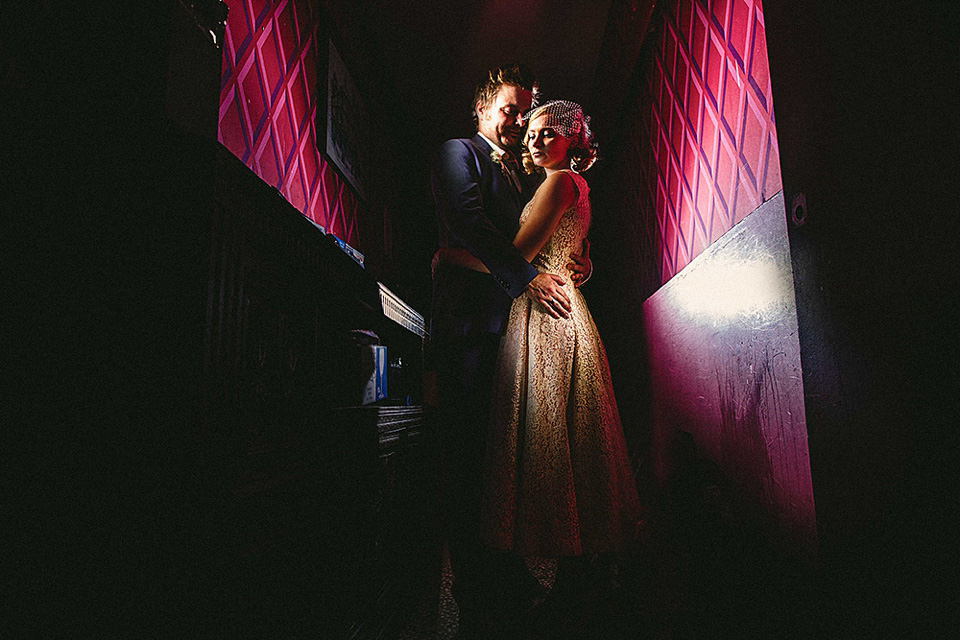 "There were so many moments throughout the day though where we both kept on looking around and seeing all of our friends and family smiling and chatting and we said to each other, "We did it! Everyone is having a nice time!" This was, ultimately, what we really wanted from the day and we were just so pleased (and relieved!) that it all came together in the end."
Words of Wedded Wisdom…
"I think the most important thing would be to make sure it really is your day – both of you. It was so lovely planning and making decisions together as a couple and it really felt like we were coming together as a team. It reinforced for me just how well we can work together.  I think as the bride, it can be tempting to get carried away or assume your groom/partner won't be interested but actually in Tom's case he was more creative than me!
The end result of working together was that our wedding really did represent us both and everyone seemed to really love all the small details that made it a very 'Kirsty & Tom wedding'.
It was quite a hot day and by the evening we realised that perhaps we might have over catered on the sweetie bar and evening buffet as I think people were too hot to eat! We also didn't arrange a DJ, deciding instead to just put together our own playlist and in the end no one danced but instead just chatted lots with friends. This wasn't a problem at all as everyone seemed to be having a nice time but perhaps a DJ may have encouraged a few people on to the dance floor. I was rather looking forward to us all kicking off our shoes for a dance!"
We planned ourselves and it was definitely a real team effort. Tom was amazing, making up table placecards, an amazing Peanuts inspired order of service and all kinds of other small details to dress the venue."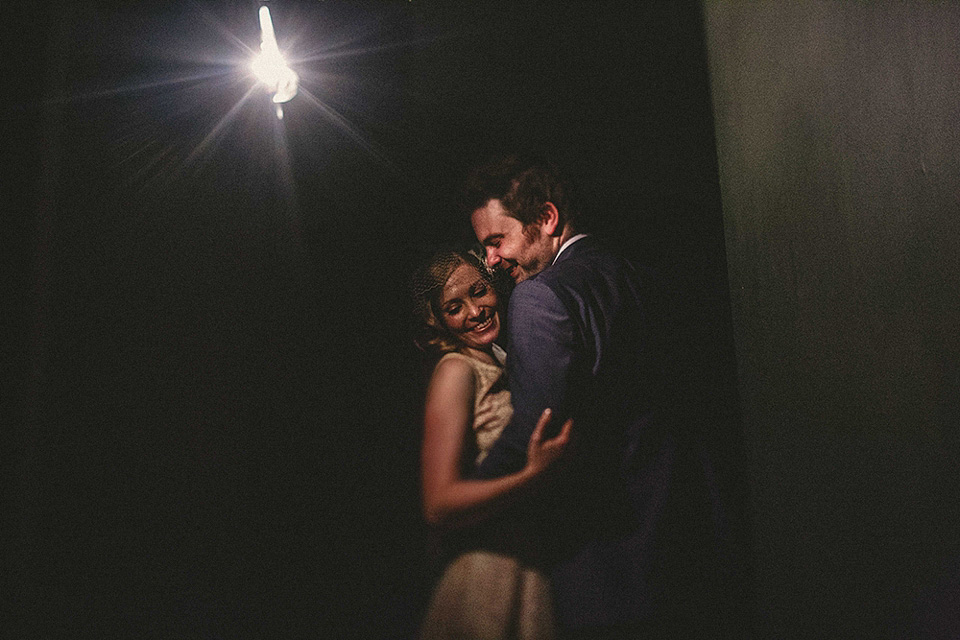 What an utterly gorgeous day – that dress, the styling, that beautiful smile of Kirsty's, and I was so delighted to hear that Kirsty got her headpiece from The Shepherds Purse Boutique in my beloved hometown of Whitby. The Shepherds Purse is possibly my favourite shop in the whole wide world, a real treasure trove of beautiful little trinkets and treasures and silk floral crowns that the staff are making as you visit. In fact, I recently featured an exquisite set of images on behalf of this wonderful little Whitby boutique.
That just leaves me to say, thank you so much Kirsty and Tom for sharing your most beautiful wedding. And many thanks too, to MiKi Studios (BIG NEW FAN HERE!) whose work I hope we will be seeing much more of on Love My Dress in coming months.
I'd love to hear what you love the most about this wedding?  I know, where to start!
Love Annabel xx