Oh Friday, you are always far too quick for my liking – slown down a little will you – it's nice to have you around! And hello readers, I hope today is being kind to you and that the weekend offers the prospect of a well-earned rest, even if you are working in between.  Victoria and Tom tied the knot on Thursday 15th May 2014 at Ellingham Hall in Northumberland and we're delighted to be sharing their relaxed and elegant wedding with lots of sweet little handmade rustic touches on Love My Dress® today.
"We wanted a hand made, rustic, relaxed theme with a natural colour scheme and as much as possible being done by myself or family members. Tom and I both made the decision to get baptised before the wedding so a religious, church of England wedding was something we really wanted and something that we took very seriously."
Photography Copyright (c) 2014, Rachel Rose
"Tom and I both work in a hotel in Northumberland (this is where we both met).  I am a conference sales executive and Tom is a golf Customer Services Manager.
We chose Ellingham Hall in Northumberland as our wedding venue as it offers full exclusivity.  With working in hotels, we both wanted something different and Ellingham ticked that box! It's a beautiful location and set in stunning grounds and the resident peacock was an added bonus. We also wanted to marry in a church and Ellingham Hall is in a quaint little country village. The local church is walkable from the venue which is exactly what I wanted to do – walking to the church with my dad is a lovely memory I will never forget."
"I fell in love with my Paloma Blanca dress after spotting it on an internet search engine. Sadly the dress was an old design and I was unable to find one anywhere, but then spotted one on the Preloved website, which specialise in selling second hand wedding dresses.  I bought it immediately.  It was a fraction of the cost, perfect and it made me feel good to save some money.  The dress had a round neckline with little capped sleeves and a dipped waist – I knew it was 'me' as soon as I saw it and it didn't disappoint. I had a new sash made for it from GJ Boyles on Etsy and had the train shortened to make it look a little different from the original.
I had one bridesmaid who was my eldest niece, Faye. Her dress was from Debenhams and looked incredible on her."
"My extremely generous brother in law Paul took charge of the cake. We wanted a cake of cheese, which Paul created perfectly. He purchased various cheeses from many different websites and assembled the cake (with help from Ushers and best men) the day of the wedding! It was beautiful and delicious! Exactly what Tom and I wanted.
The cheese was stacked and decorated with fresh figs, grapes and topped with little fabric mouse cake toppers that Sylvia, my mother in law made for us! The cake was served with artisan crackers and homemade chutney (my father in law made the chutney to an old family recipe)."
"My handsome page boy was my Nephew Seamus and his outfit was from Marks and Spencer.
Tom's mum, Sylvia Lynch is a very talented artist by profession and also has a bespoke stationary business called Speckled Robin. Between us we designed the stationary and then Sylvia brought it to life. Sylvia did all the stationery from the table plan, place cards, order of service, door hangers for bedroom doors and table names to name a few – she  also made the beautiful hangers for mine and the bridesmaids dresses."
"My flowers were by the fabulous Hannah at Wildflower Florist.  I was keen to have an unstructured bouquet with pale colours. I wanted it to look rustic and almost hand picked! Hannah brought my thoughts to life with a sweet smelling, simple, pretty and elegant bouquet."
"Our photographer was the uber talented Rachel Rose, who also just happens to be Tom's sister. I can't tell you how nervous I was about having photographs taken as I felt very self conscious! Rachel, as always, made me feel at ease and totally relaxed! She has a vision that enables her to capture the most magical photos and I can't thank her enough!
We have the most stunning photographs of friends and family simply enjoying the day! Candid shots that show just how much people enjoyed the day, show emotion in people's faces as speeches were being read and show just how much love there was on the day! Through Rachel's photographs I am privy to parts if the day I never got to see! I see expressions and emotions on people's faces that fill with me so much joy and emotion!
I absolutely could not recommend Rachel more highly and not just because she is my sister but because she is simply incredible at what she does."
"I bought a plain satin shoe from John Lewis and my Mother in Law and I covered them with lace and decorated with vintage buttons and other pretty accessories! I absolutely loved my shoes and the process of making them was something I will never forget! – endless natter, laughter and cups of tea with Sylvia was just fab!"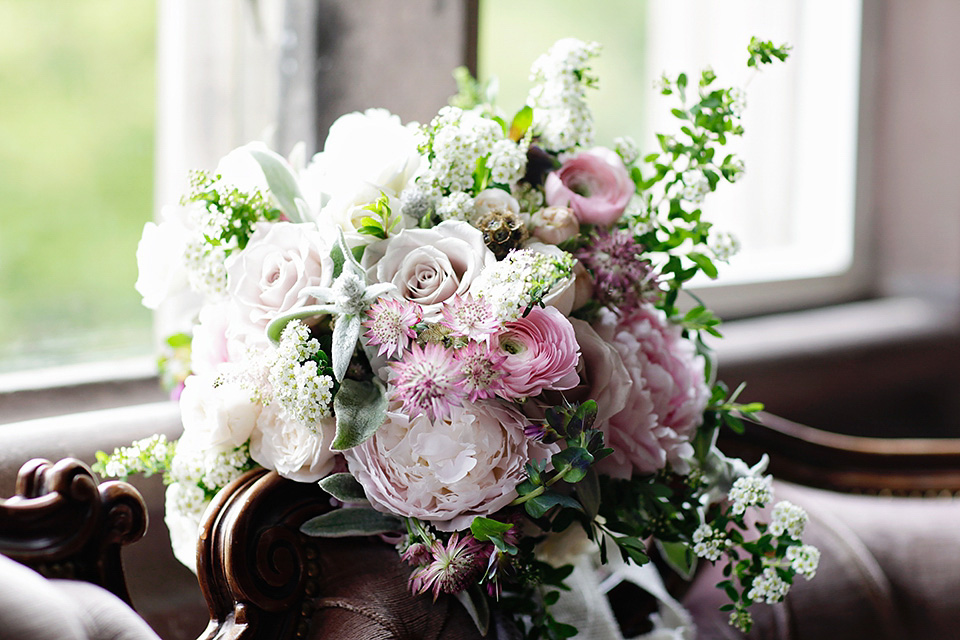 "My hair was styled by Lisa Cameron and make up was done by Kristina from KF Make-up – both North East based supplies who I can't recommend highly enough!"
"I made my veil myself using soft silk tulle and lace for the edges. I was extremely proud of the end result and loved wearing it on the day."
The couple, who both work in hospitality, met in the hotel they both work in 2008.
"I had been relocated from the North West to the North East and have never looked back!  
In 2012 Tom and I went on a three week holiday to California which is where he proposed to me. We were in Yosemite national park on the second leg of our trip. We had been walking up mountains taking in breath taking view after breath taking view and at the end of the second day we decided to take a walk up Sentinal Dome.
I  was reluctant to go, it had been a long day, I was hot and tired. I was explaining to Tom that I may not make the hike up when an elderly couple came down and said we must go up – the view was stunning! Tom told me it was fate, I agreed and up we went."
"Just before we got to the top there was a lone tree at the edge of the mountain with a stunning view of El Capitan (famous landmark). I suggested that I take a photo of Tom looking out over the mountain. I promptly took the snap and Tom said it was my turn. I looked out over the view, waited and waited until Tom eventually called my name. I turned around and Tom was down on one knee holding out a small box! He asked me to marry him and of course I said yes (after asking him on several occasions if he was joking!).
It was the most perfect engagement – relaxed, natural, just the 2 of us and a breath taking view.  We had been engaged for 20 months before we got married."
"My father, Raymond, walked me down the aisle to the sound of Pachelbel Canon In D.
Our ceremony vows were very traditional and we had two readings – a biblical reading which was Romans read by Tom's brother Paul. The other was a non biblical reading read by Adrian. Paul picked his reading himself which was a lovely touch!"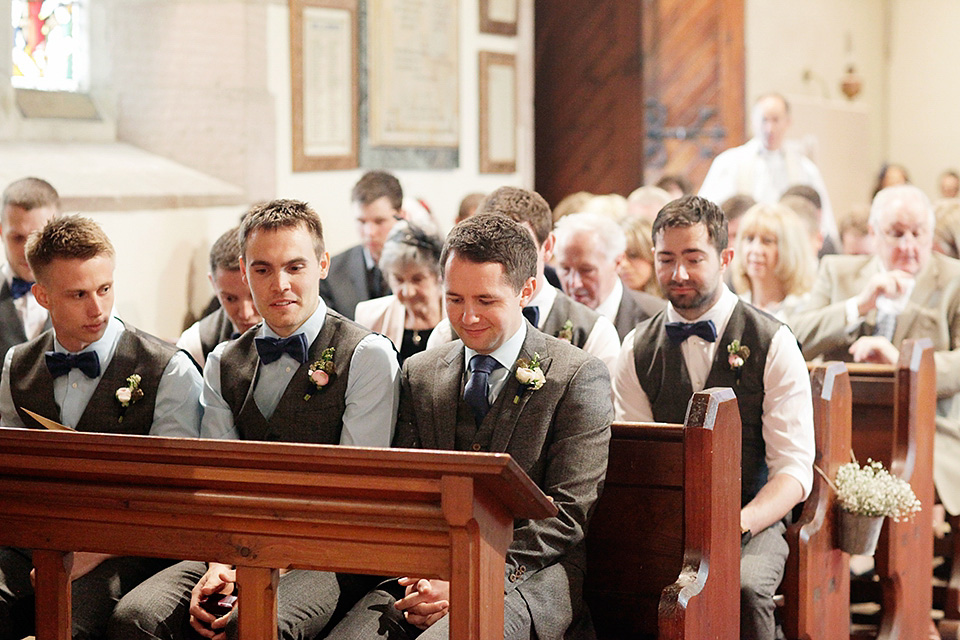 "Our rings were purchased from The Jewellers Guild. The shop had been recommended to us by recently married friends. They offered a great, personal service and hand-made the rings for us. Both our rings were also engraved on the inside with the wedding date."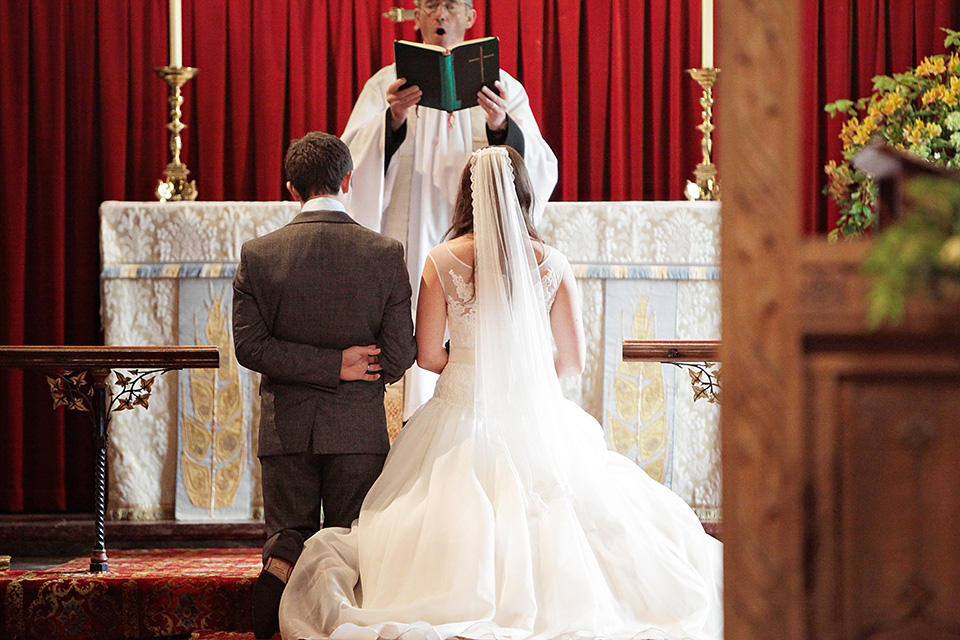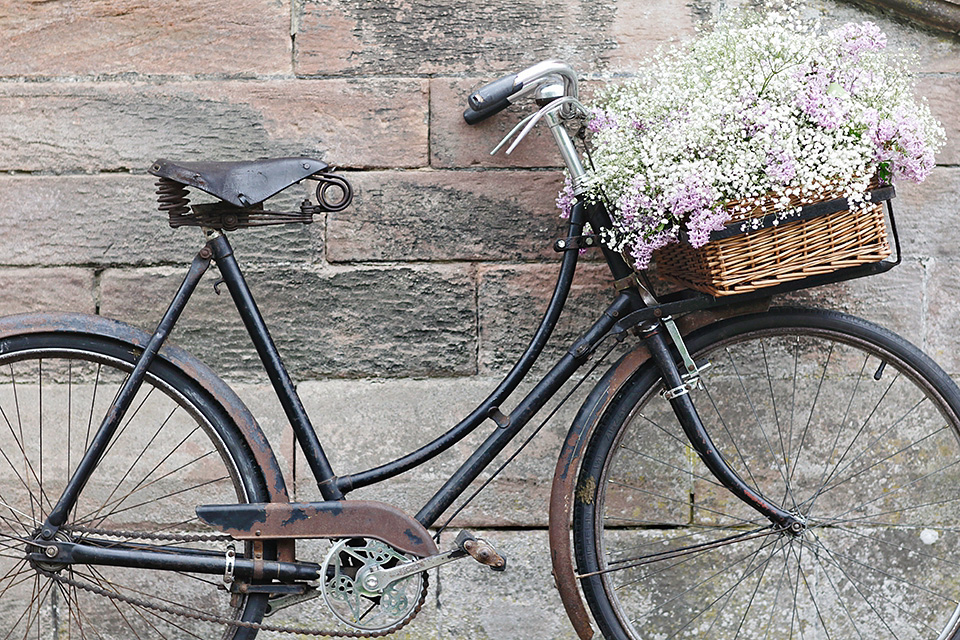 "We provided favours of favours of wild flower seeds for ladies and vegetables seeds for the gents. We bought the seeds from eat and packaged them in brown kraft envelopes with a rustic wooden stick saying what they were. The packet front was designed by Sylvia Lynch and had the phrase "Watch em' Grow). They proved very popular with friends already sending me photos of their progress!"
"The decor was rustic and hand made – as a child, I collected old bottles with my dad that I used on tables and on the large mantle place in the dining room.  We also used old books as table centre pieces that were stacked up and topped with Kilner jars of loose, neutral coloured flowers.  
I decorated jam jars and with lace and jute to create vintage style candle holders which were placed on tables and mantle."
"I made jute table runners for each of the tables to keep the theme going throughout the room.  We had lots of candles too to give the room a homely, warm feel.  I bought some stunning paper poms that hung from corners of the room and from the mezzanine level. They were soft shades of pinks, creams, blues and greens.
They looked stunning and really made the room look fab. The poms were from the North Pom Company."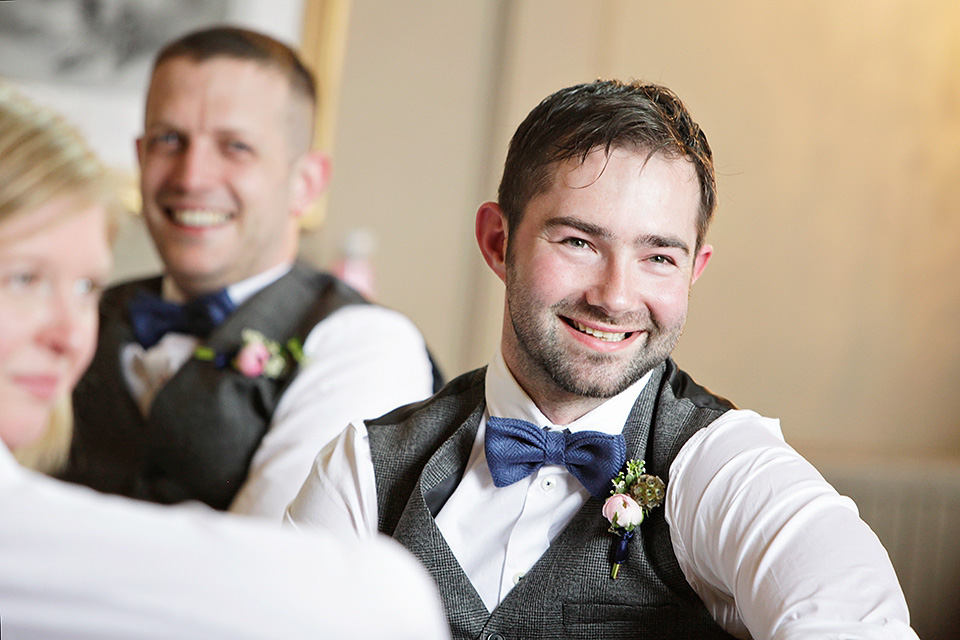 "For the evening reception we had a band called 'Hip Operation' who were fantastic! They were lively and had everybody up dancing. They don't use sheet music and so the music flowed very well.
Our first dance was to Roberta Flack's 'The First Time Ever I Saw Your Face'. The song is so very simple, pure and true and we both absolutely love it."
"When I think of some of my favourite moments of the day, they include saying 'I Do' – it sounds staged and obvious but it is true. I made a conscious effort to not get stressed and kept reminding myself what the day was really all about! My sister was very poorly and was unable to make the wedding due to being in hospital and I remember thinking that nothing really mattered as long as at the end of the day I was Mrs Lynch and she was okay. It's too easy to get caught up and worried about things that at the end of the day don't really matter.
Another lovely part of the day was taking sometime out for photos later in the day after dinner at a nearby bluebell wood. We took along our dog Percy for some of the shots, so it was nice to spend time with him too!"
Words of Wedded Wisdom…
"Don't get carried away with making too many structure plans as they will undoubtedly change and that's fine! In fact that's great – that's how memories are made. Remember why you are there and what's important. Take time to sit back and take it all in. it's the most magical day but it goes too fast – take 5 mins out to reflect on things and take a mental photograph.  It's as good a real one and will last an eternity.
I would not have done a thing differently – only perhaps walk down the aisle slower to take in people's faces and have more time with my Dad."
Huge thanks to photographer Rachel Rose for sharing these lovely images – I hope they've brightened your friday afternoon.
Brides, are any of you reading this today marrying in this beautiful part of the country that is Northumberland?
Love Annabel xx
Photographer – Rachel Rose
Venue + Catering – Ellingham Hall in Northumberland
Dress – Paloma Blanca, I bought my dress from Preloved
Veil + Shoes – DIY
Grooms Suit – Next + Loake shoes + tweet tie from 'Moaning Mini' on Not On The High Street
Bridesmaids – Debenhams
Page Boys – Marks and Spencer
Florist – Wildflower Florist
Cake – DIY/Family
Entertainment – an acoustic duo + Hip Operation
Rings – The Jewellers Guild
Stationery – Speckled Robin
Hair Stylist – Lisa Cameron
Makeup Artist – KF Make-up
Paper poms – North Pom Company