Morning lovely ones – have you entered this frankly *amazing* Rachel Simpson shoe giveaway yet, courtesy of our wonderful sponsor, Coco & Kate Atelier! Click here to find out more.  You're missing out big time if not – make a note to do it later if you don't have time now.  So, this mornings wedding features Lifestyle and Beauty Blogger Milly of 'Pearls & Poodles and her beau Rob, a chef, who tied the knot on 19th July 2014 in Chelmsford, Essex.
This is such a delightful wedding – beautifully photographed by Katherine Ashdown and full of gorgeous little details like those pretty handmade wooden signs and splashes of pastel everywhere.  I think Milly looks completely radiant, relaxed and utterly in love.
"From the very beginning Rob and I both had a very clear vision of how we imagined our wedding evolving. With our picturesque English country village as our desired backdrop we only ever wanted a very English country outdoor affair for our wedding – a day filled with home grown flowers in mismatched jugs, hay bales, open shirts, bunting swaying in the breeze and Pimms served in jam jars.  A rural festival meets the Great British Bake Off!"
Film Production Copyright (c) 2014, A Hint of Mint
"We wanted to make our wedding completely unique and reflect our personalities (and love for pizza) in every aspect – relaxed, fun and creative. We didn't want a colour scheme per se but wanted to create a fresh light feeling with soft pastel hues and floral prints. Lots of floral prints! Our main inspiration for the day was to create a pretty, homemade wedding with every little detail loving created, sourced or baked by ourselves or close families and friends. We wanted to take on as much as the creative graft as possible so we had complete ownership and could look back and say 'together, we did that'.
We are complete foodies (albeit vegetarians) so had our hearts set on serving up a rustic, vegetarian buffet for our guests which Rob and his mum, a caterer herself, made all themselves followed by a street food pizza van arriving in the evening to roll, spin and stone-bake our delicious pizzas long into the night."
Photography Copyright (c) 2014, Katherine Ashdown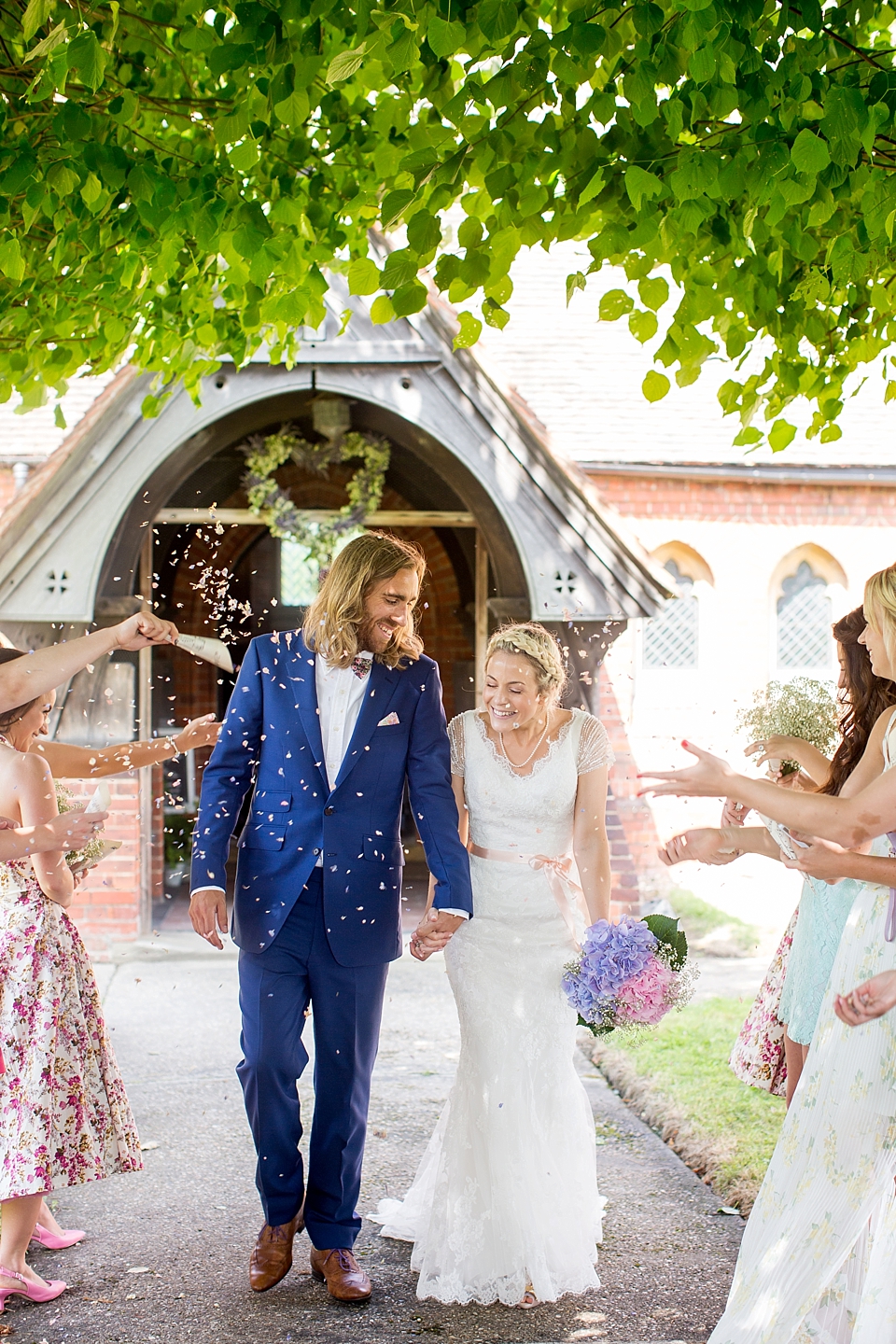 "Rob and I met whilst I was at the tender age of 16 and Rob was five years my senior. We met through our best friends who were dating at the time and we both ended up at the same gathering one night. Rob use to pick me up in his retro VW beetle and we would spend our first tentative dates dancing at Young Farmers parties and playing on the dodgems at the local fun fair.
He was truly my High School sweetheart. For my 18th birthday he whisked me off to New York and during that city trip away I knew I had found my soul mate and this was just the start of many adventures together."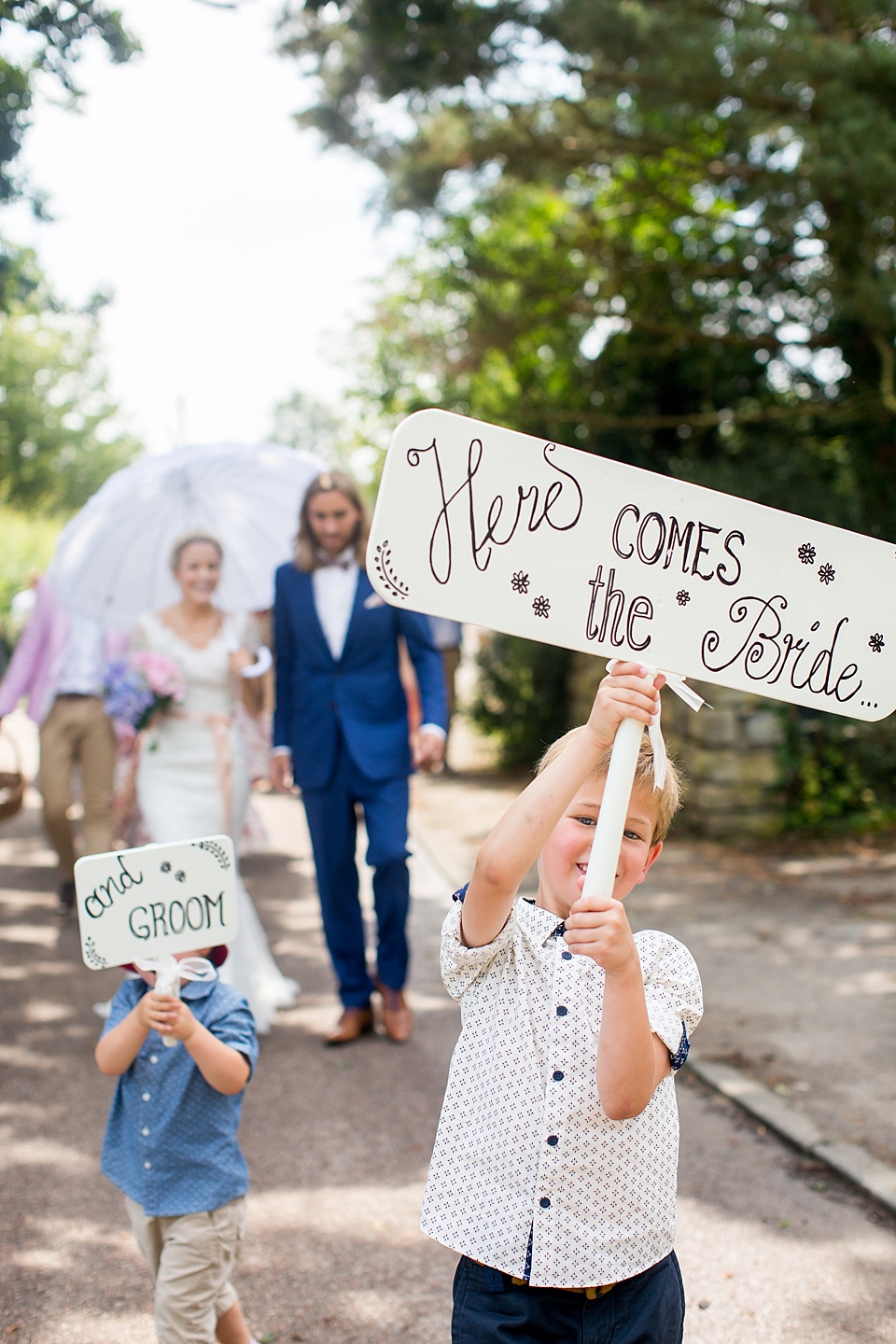 "Fast forward ten years and we found ourselves on our latest adventure, travelling around New Zealand and Australia together, never more in love! One night, on a deserted beach in New Zealand, barefoot and watching the sun set over the island, Rob got down on one knee and asked me to be his wife.
It was the most perfect moment. We were engaged for just over 15 months before the wedding."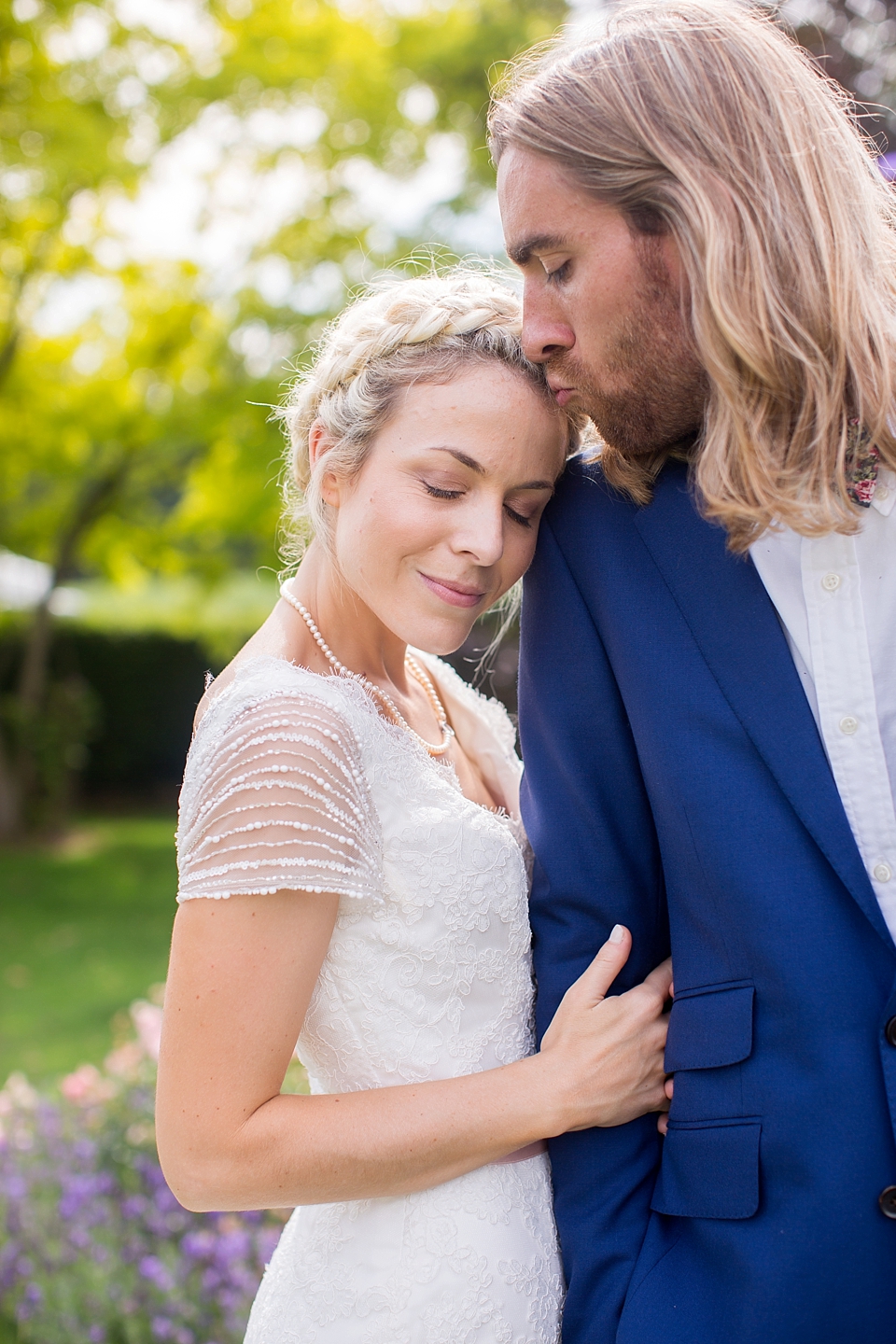 "All the flowers, floral arrangements, potted plants and apple crates of home grown flowers were lovingly gathered and arranged by my mum and I.  It was another nod to our desired homemade wedding and knew it would give us great joy (if a little stress!) to bring the floral theme to life.
We wanted to give that 'just-picked' feel to the table centre pieces and the church flowers so created large bunches of gypsophila, lysantheum, stocks and gladioli interspersed with wispy Nigella and wild daisies. Our farmer friend in the village grew and nurtured a field of sweet peas for us to use so we popped them in little jam jars and tied them to the aisle pews to line the aisle and give the church the most beautiful, sweet bouquet as the guests arrived.
Pastel-painted apple crates lined our marquee with more country flowers bedded and flittering in the breeze. Mum and I made the bouquets for the bridesmaids and myself – simple bunches of gypsophila tied with a lace ribbon for the girls whilst I held a trio of pink and purple hydrangea heads softened by a few springs of gypsophila."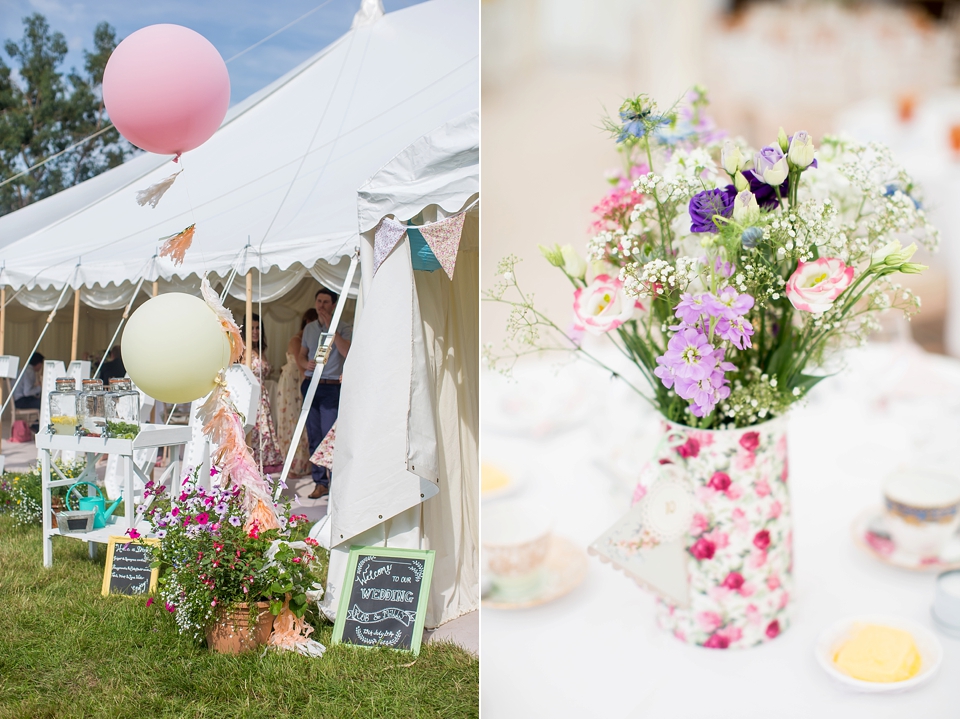 Milly wore the 'Felda' dress by Enzoani, which she purchased from Bellissima Weddings in Essex.
"I had quite a specific idea in my head regarding my dress and the type of style I envisaged myself wearing on our day. I love the classic elegance that lace can bring to any garment and having always dreamed of wearing something with a vintage flair, I was instantly drawn to the rails of heavily laced and embroidered dresses with their delicate scalloped edging.
I knew a fishtail cut would be the most flattering choice for my petite frame and I was desperate for the dress to have something a little bit individual and special about it, whether it was a deep exposed V back or some subtle embellishment. As it happened I managed to find a dress that fitted both those aspirations – a gorgeous low-cut back with the prettiest beaded sleeves. I wanted to accentuate my waist further to create a soft, feminine profile so sourced and added the silk pale pink ribbon myself."
"My bridesmaids wore 1950s inspired cream bouquet dresses and dusky pink petticoats from Vivien of Holloway and shoes from Dune."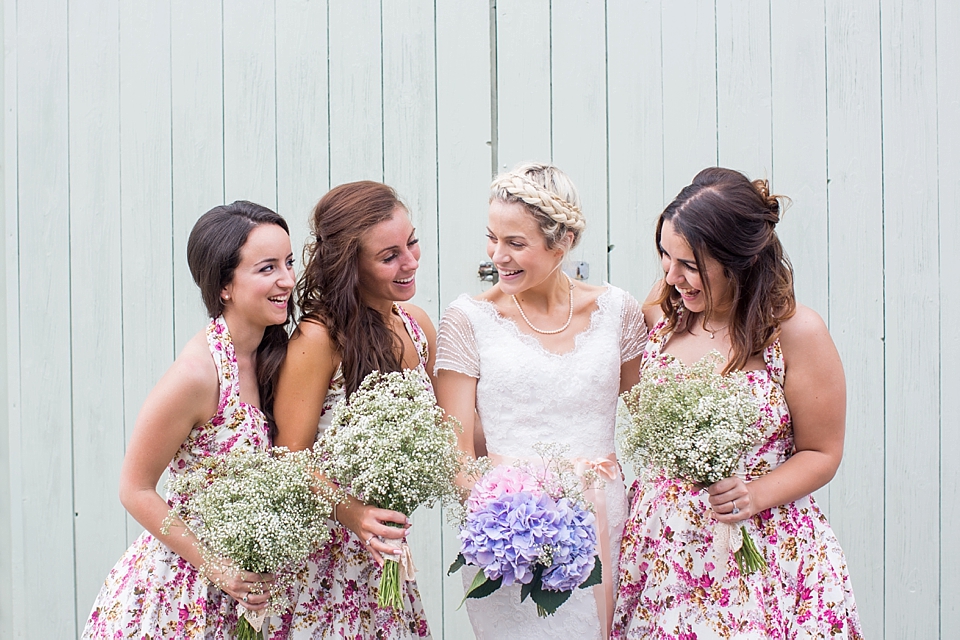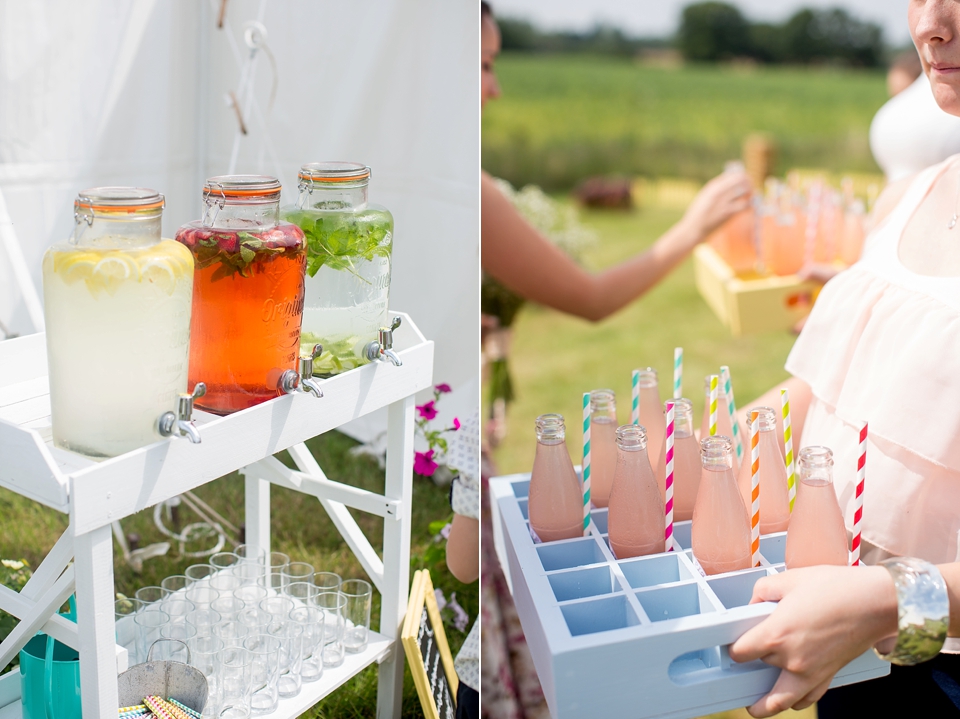 The handmade signs made by Milly herself are delightful!
"Over the few months leading up to the wedding, I laboured over our signs whilst Rob's dad constructed some amazing signposts for our field which made a really fun feature for our guests as they arrived."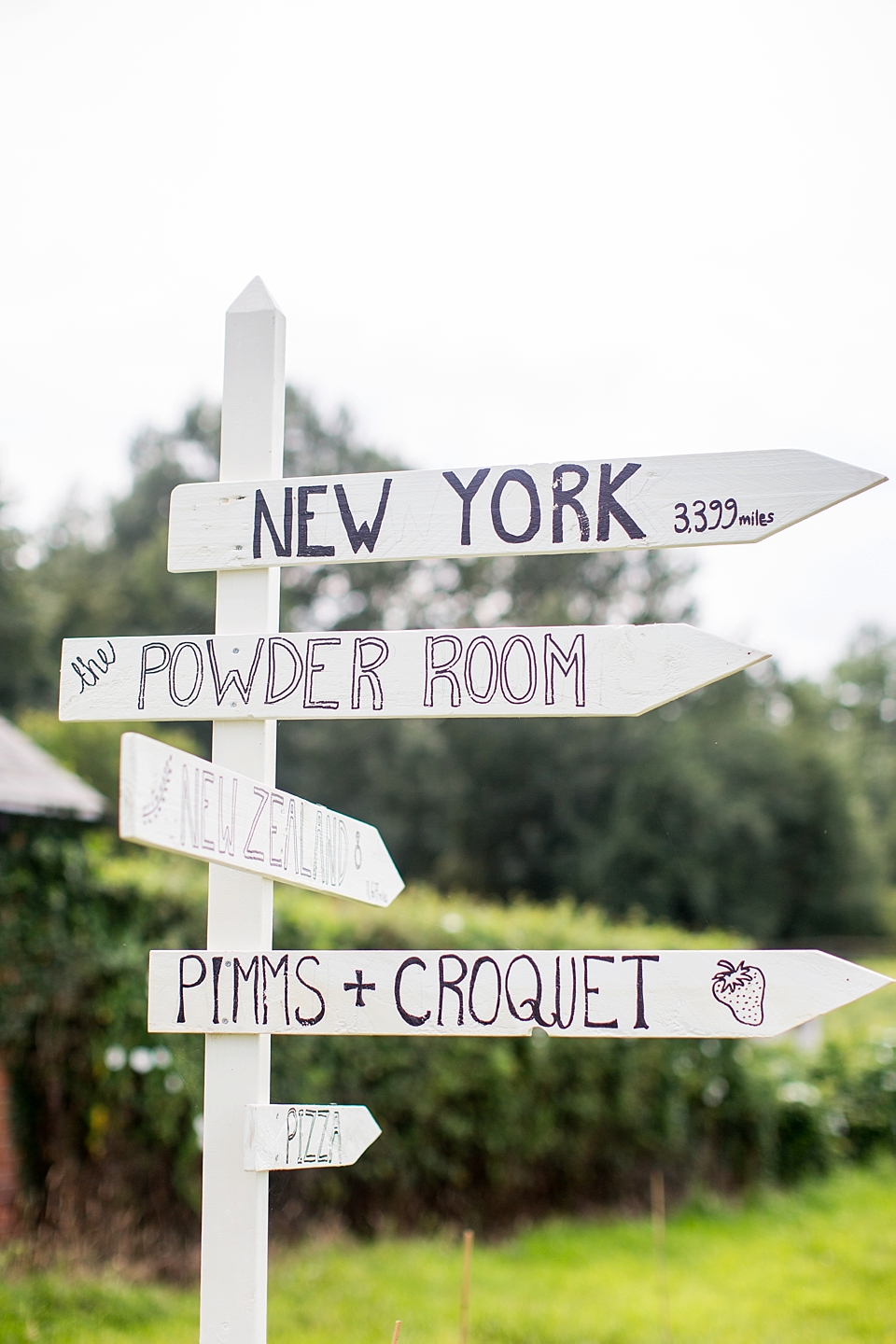 "Our photographer was Katherine Ashdown.  Running my own beauty blog, I have a real love and appreciation for great imagery to compliment any article or beauty feature so I knew how important it was to find that one person who could document our wedding in the most wonderful way possible. I knew from the very beginning that I would not settle for anything but perfection when it came to choosing our photographer and it was the first task in hand following our engagement.  
Following a friend's recommendation I discovered Katherine Ashdown and fell head over heels in love with her work – it was everything I wanted for our own wedding; pretty, light and natural, Katherine's photos are soft, whimsical and completely charming, 'capturing love and light' with every click."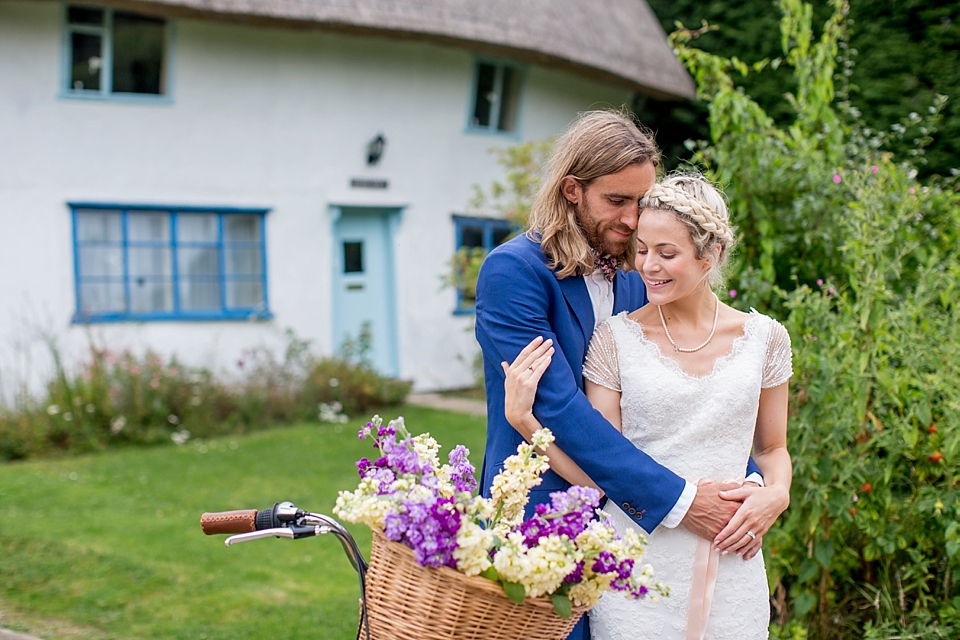 "From the first few emails to our initial meeting and onto our engagement shoot together we built up a brilliant rapport with Katherine and we admired her tremendously for her sheer hard work and unrivalled creative eye. It was a joy to have her there on our wedding day and felt completely confident that she would not only attentively capture but also appreciate all those little details we so lovingly laboured over during the run up to our day.
Our photographs are such a strong representation and happy reminder of our wedding – fun, filled with love, lots of laughter and completely dreamy."
"Being my beauty blog, Pearls & Poodles, as well as being a makeup lover/hoarder, I liked the idea of taking control over my own makeup for the day and I find the process of applying my own makeup very calming and soothing." 
"I wore a bespoke mix of Jo Malone's Peony and Blush Suede and Jo Malone Orange Blossom scent.  After having a bridal consultation with Jo Malone I was very aware of how important your chosen scent on your wedding day is. It will be the scent that provokes the happiest memories in years to come. I fell in love with these two perfumes and when mixed together created the most gorgeous bouquet of pink peonies and fresh, zingy orange blossom.
It was perfectly light, fun and pretty so encapsulated our day wonderfully. I gifted my bridesmaids and my mum an Orange Blossom cologne and candle as well so they too could always be reminded of our happy day through that particular scent."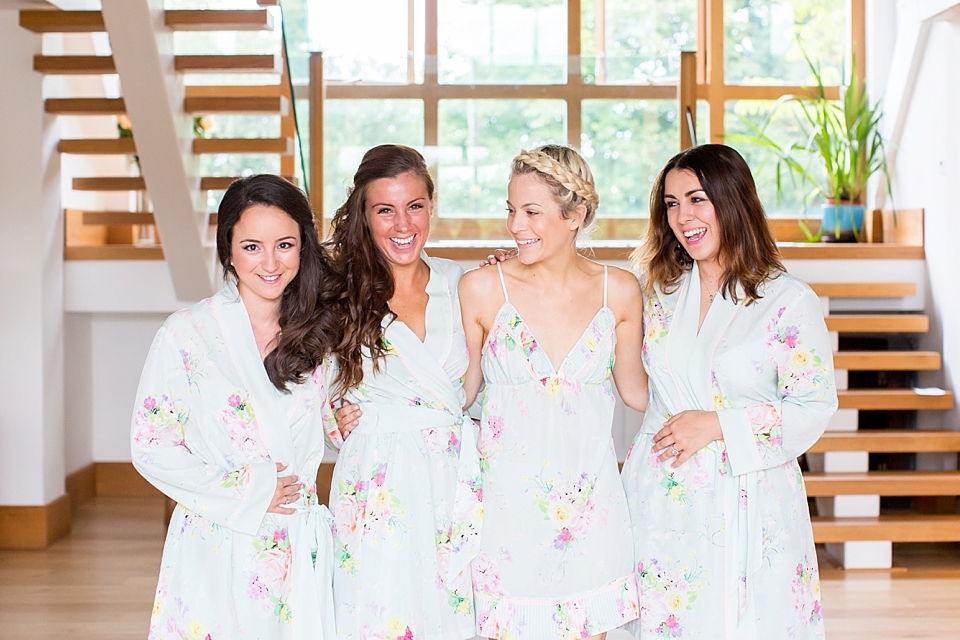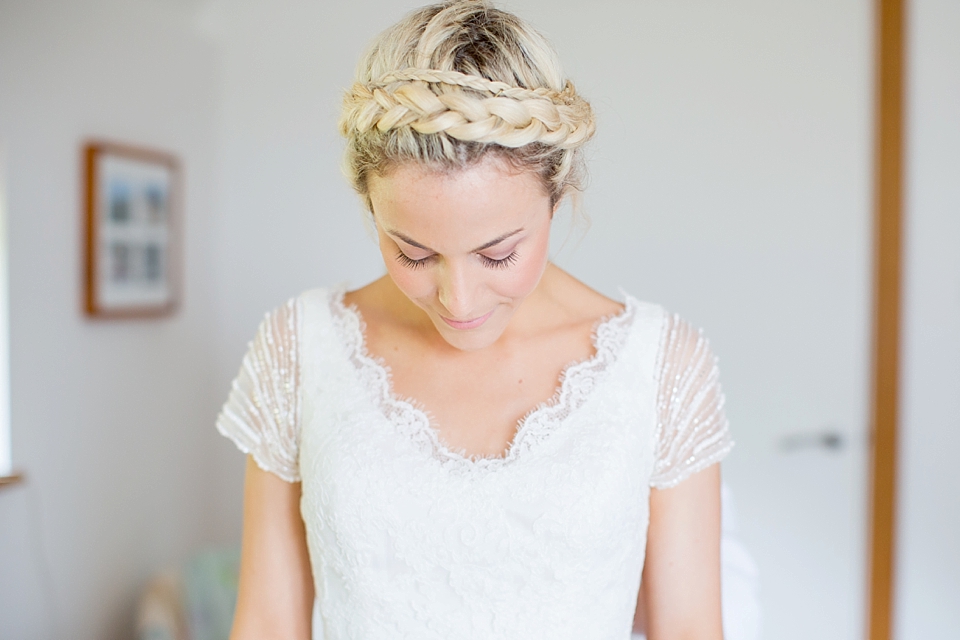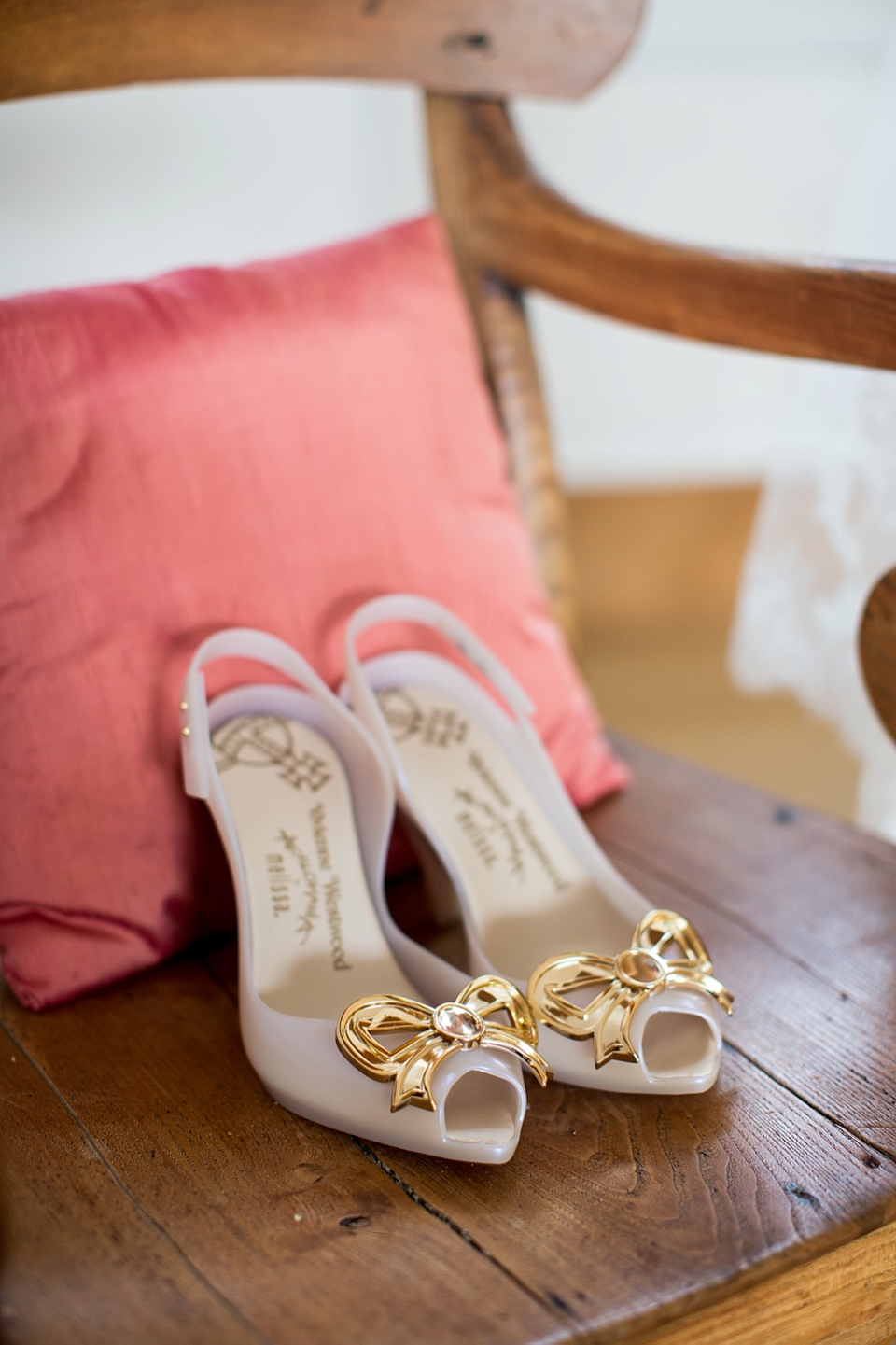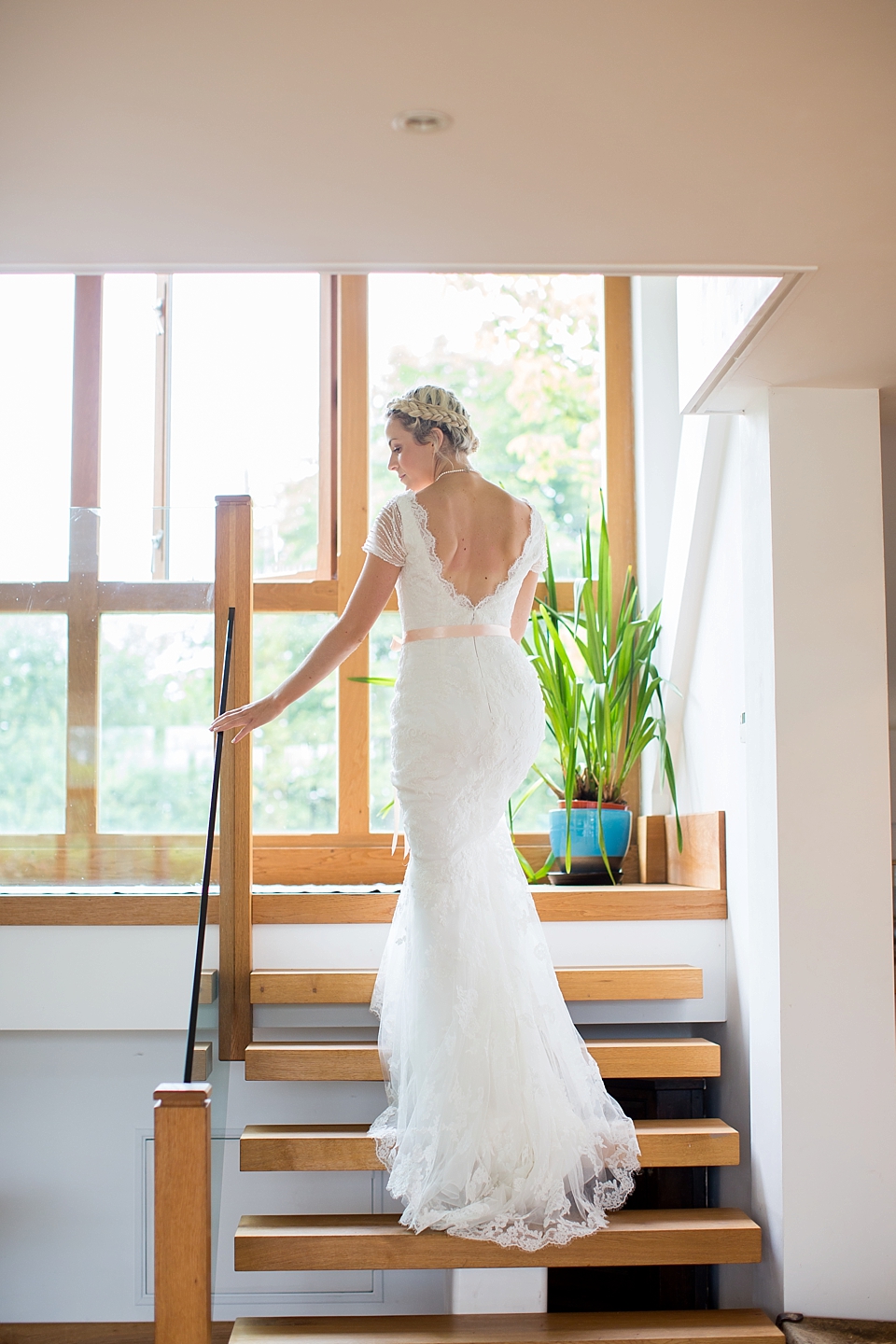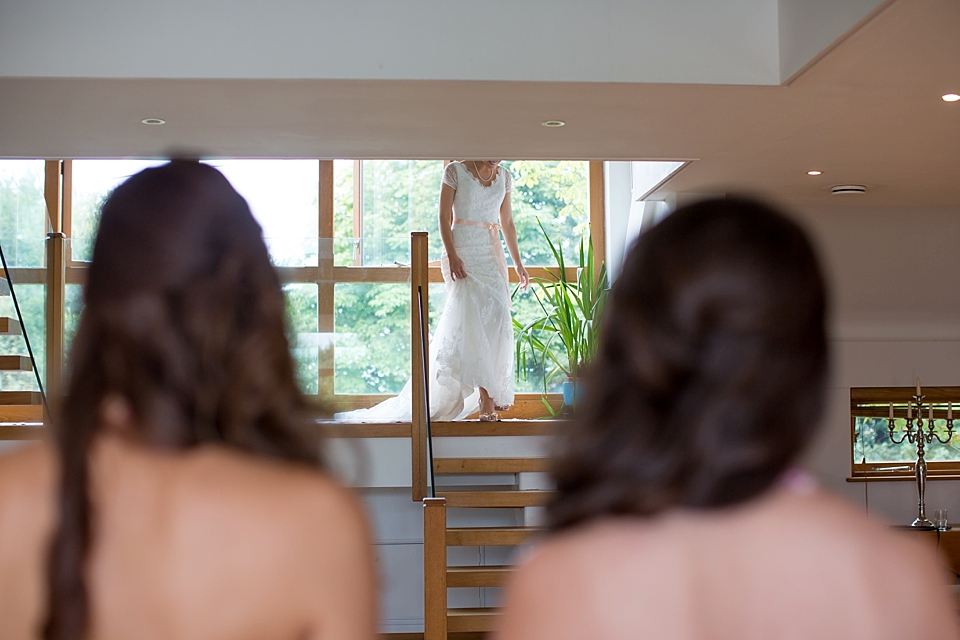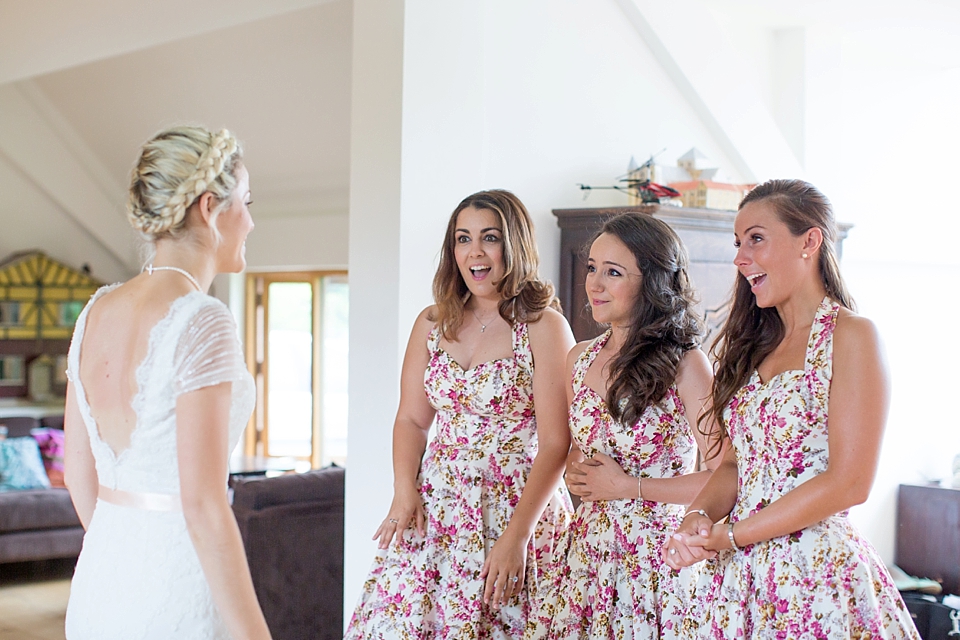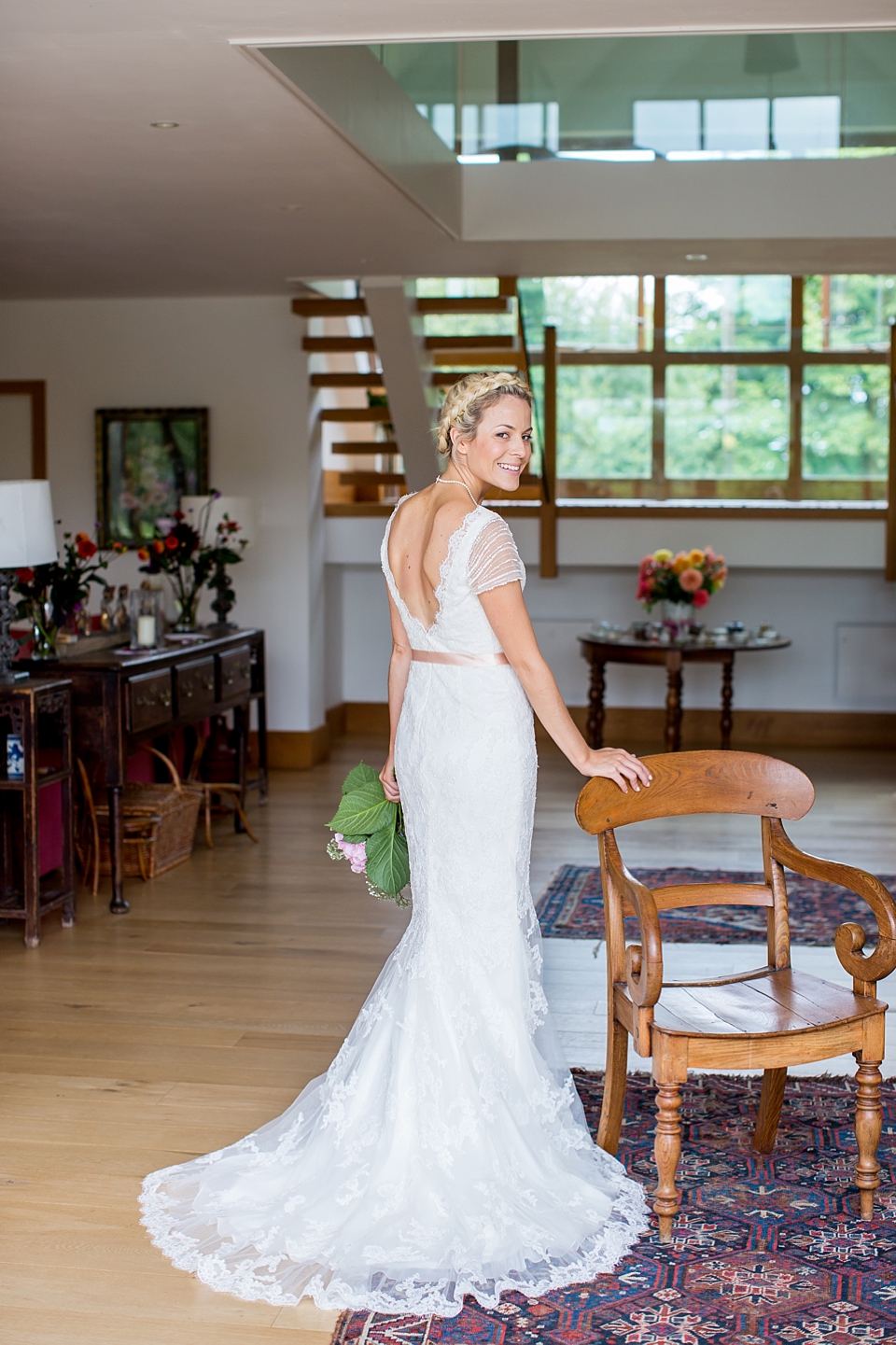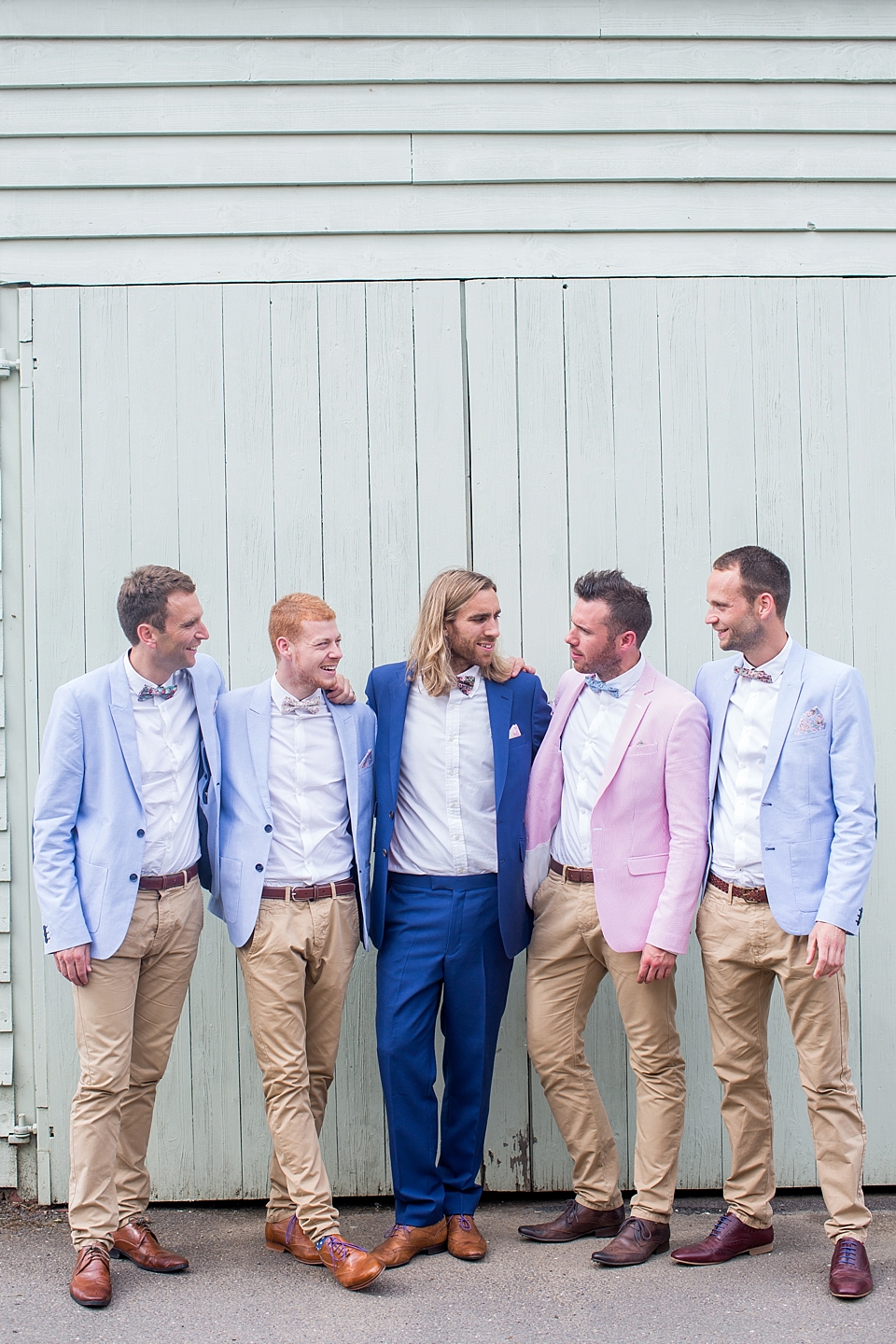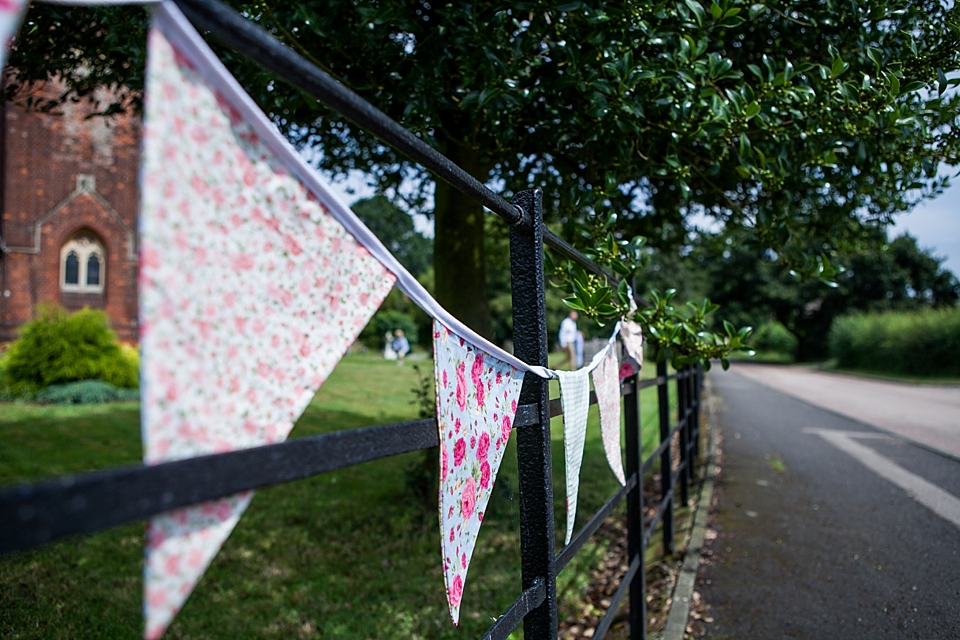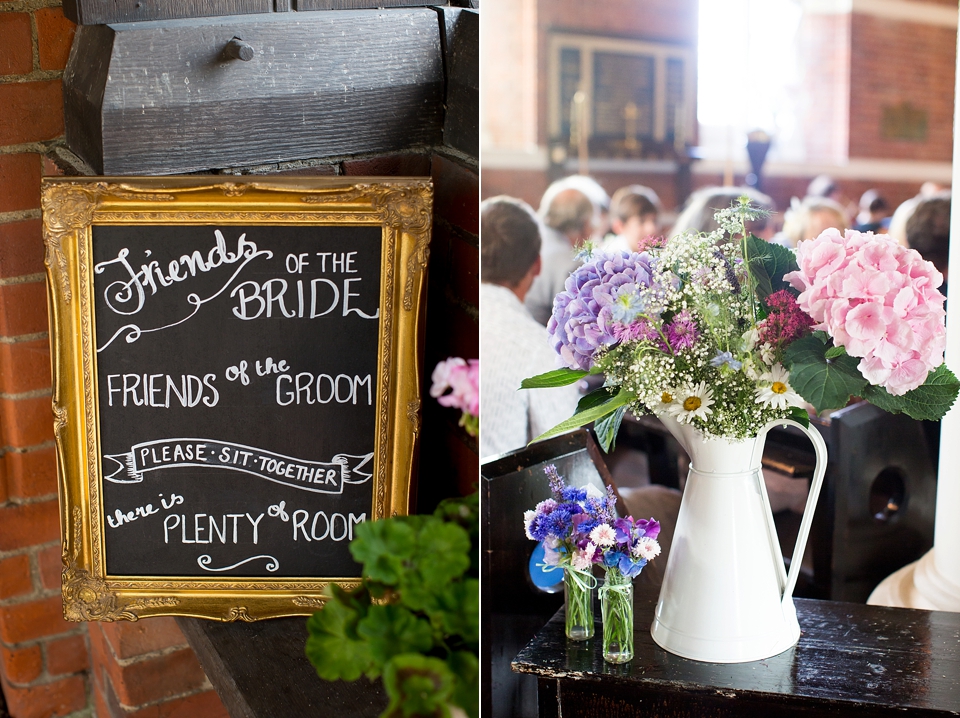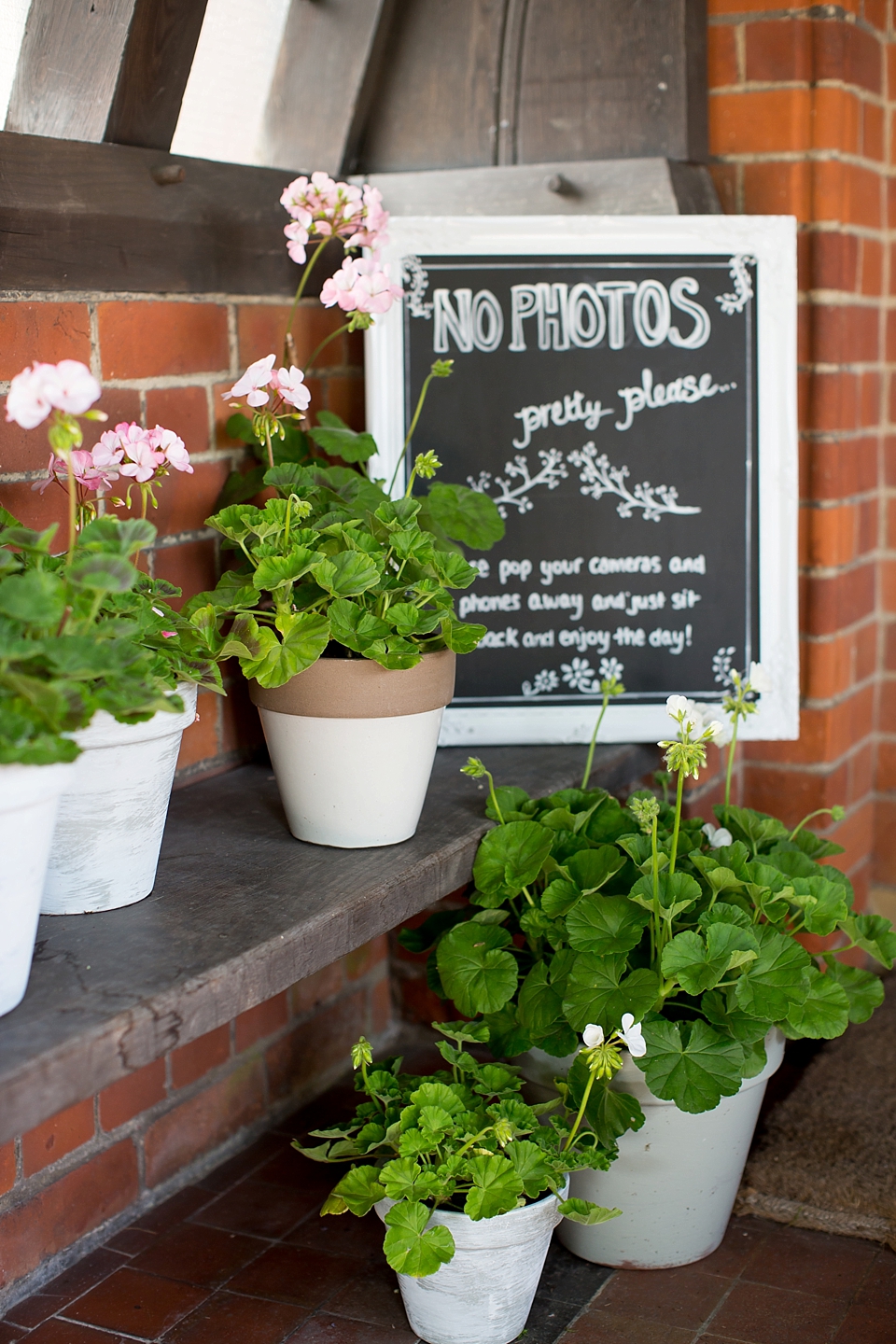 "Our two vintage cars were loaned to us for the day by Rob's uncle and a family friend in the village who were just so delighted to help out and be part of our day. It was the sweetest gift and so nice to see a friendly face behind the wheel as we made our jaunty way over to the church."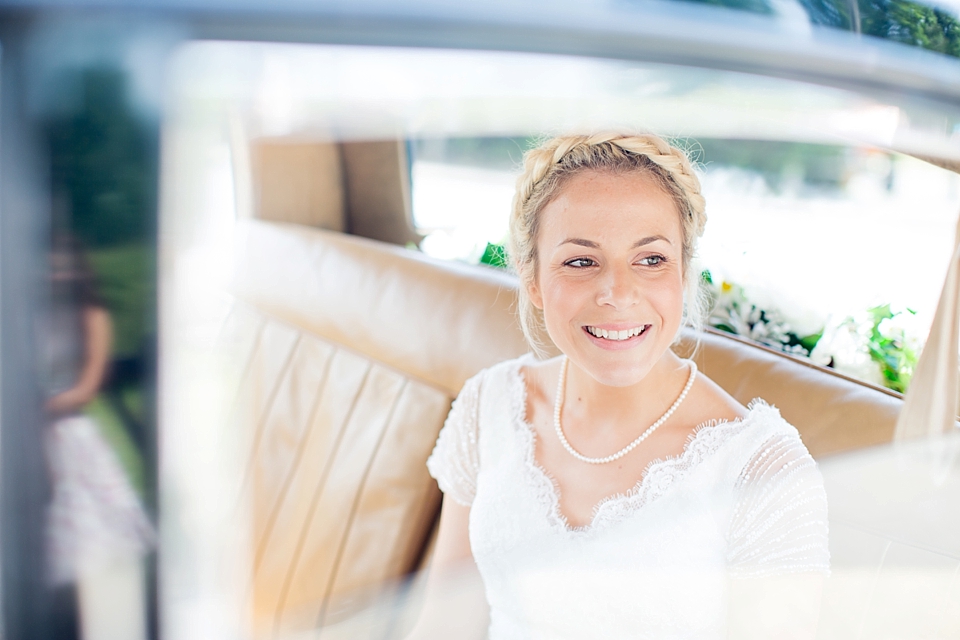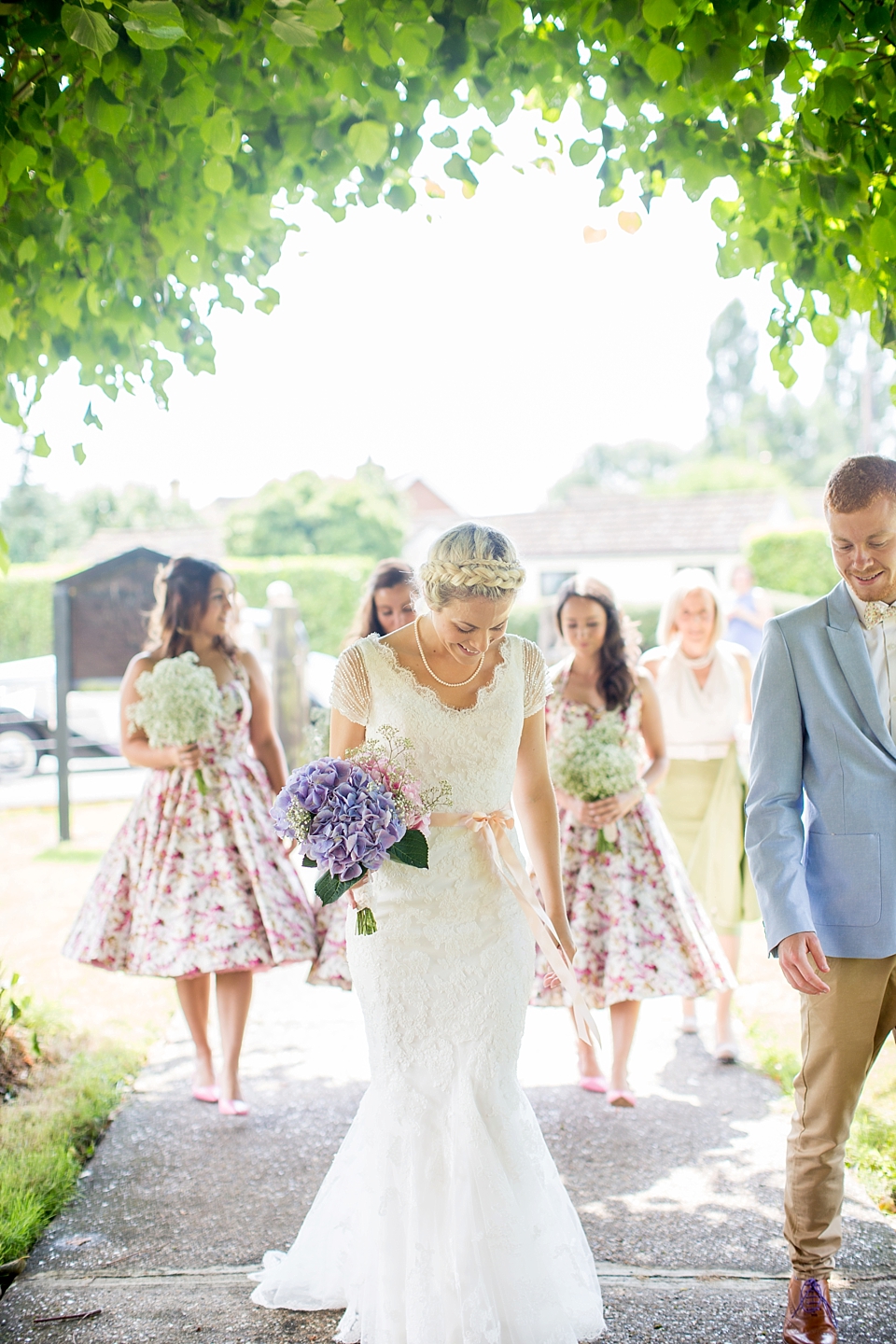 "For all the stationery that we did not work on ourselves we used Wedding in a Teacup who created our pretty invitations, order of service and wedding favour jam jar labels."
"I walked down the aisle alone just behind my three wonderful bridesmaids to the sound of our string quartet playing Pachelbel's Canon in D which will forever give me goosebumps every time I hear it."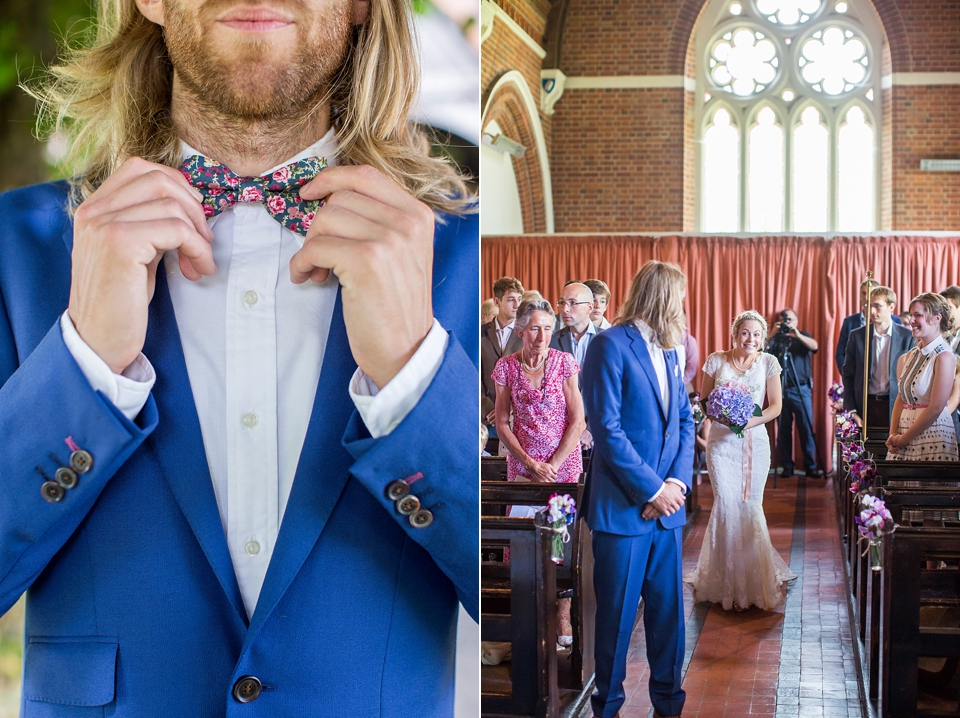 "Our wedding was held at St John the Evangelist Church in Ford End in Chelmsford and our reception was held in some farmer's fields just down the lane from the church.  This is the village that Rob grew up since being a little boy and his parents still reside there now.  It is the epitome of an English country village complete with the red telephone box opposite the church, verdant fields, white picket fences and a wholesome community spirit which we love.
 It meant a lot to us and Rob's family to wed in such happy, familiar surroundings and we loved the idea that we could form a procession and gently stroll down in the sunshine to our reception after the ceremony."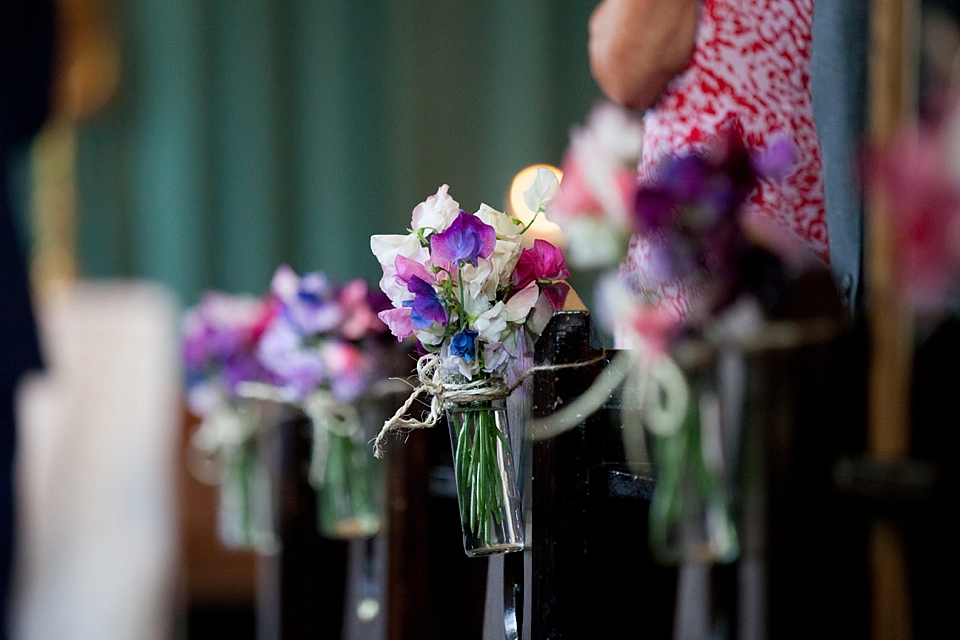 "We kept our vows traditional as we both love the sentiment and words from the original vows but asked the vicar to add in 'You may now kiss the bride' at the end (which isn't always included in the traditional services) as we love the moment when all the guests beam with smiles and launch into happy applause.
We had two readings – Rob's aunt read 1 Corinthians 13 which we chose ourselves and then we asked one of our best friends Holly to honour us with a surprise reading on the day. We chose 1 Corinthians 13 as the words and sentiments are so honest and true, we think it completely encapsulates what love stands for; ''Love is patient, love is kind. It does not envy, it does not boast, it is not proud. It does not dishonor others, it is not self-seeking, it is not easily angered, it keeps no record of wrongs. Love does not delight in evil but rejoices with the truth. It always protects, always trusts, always hopes, always perseveres'."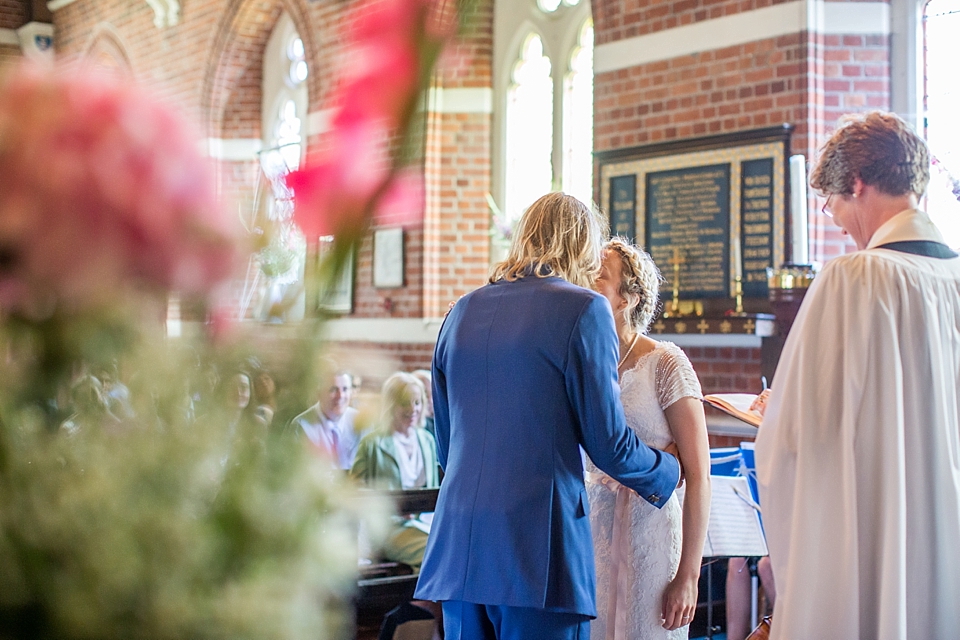 "Our wonderful friend Holly took inspiration from the Ellie Goulding song 'How Long Will I love you', and delivered us the most beautiful, heart-felt reading using the lyrics from the song. Holly delivered the reading in such a composed and loving way it was easy to forget that they ever derived from a song in the first place and I think everyone just became so enthralled by the sweetness of the words.
'How long will I love you?
As long as stars are above you
And longer, if I can.
How long will I need you?
As long as the seasons need to
Follow their plan.
How long will I be with you?
As long as the sea is bound to
Wash upon the sand.'"
"Rob's wedding band was a bespoke rose gold deign made by independent jewellers Lance James in Essex. He wanted something simple yet unique and much preferred the finish of brushed gold metal rather than shiny silver.
My wedding ring came from Frazer Hart and complimented my engagement ring perfectly. I of course wanted something to sparkle and dance in the light yet feel dainty and in keeping with my engagement ring. The full circle of channel set diamonds instantly made me smile with delight and seemed to be the perfect fit."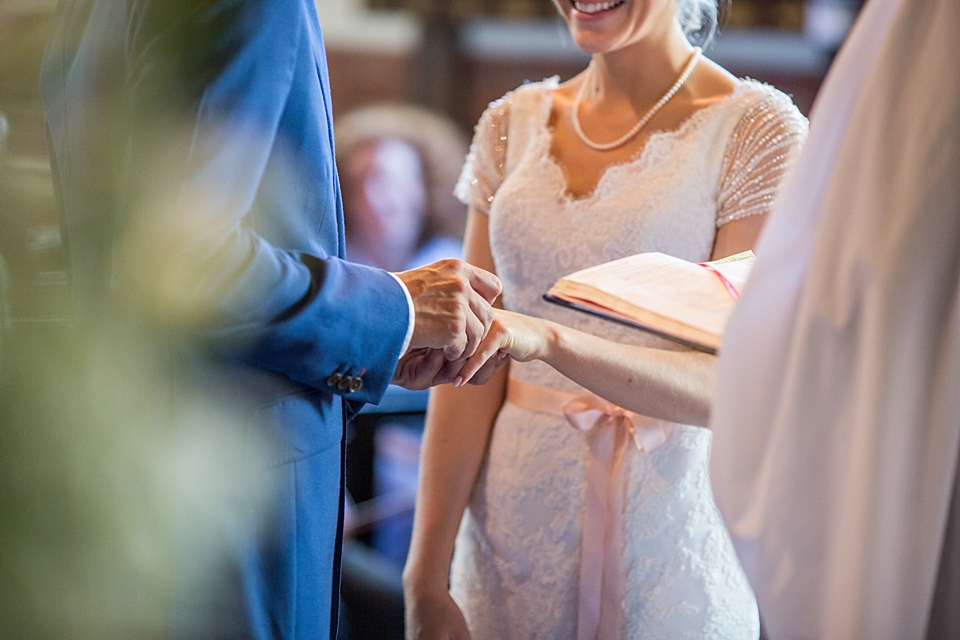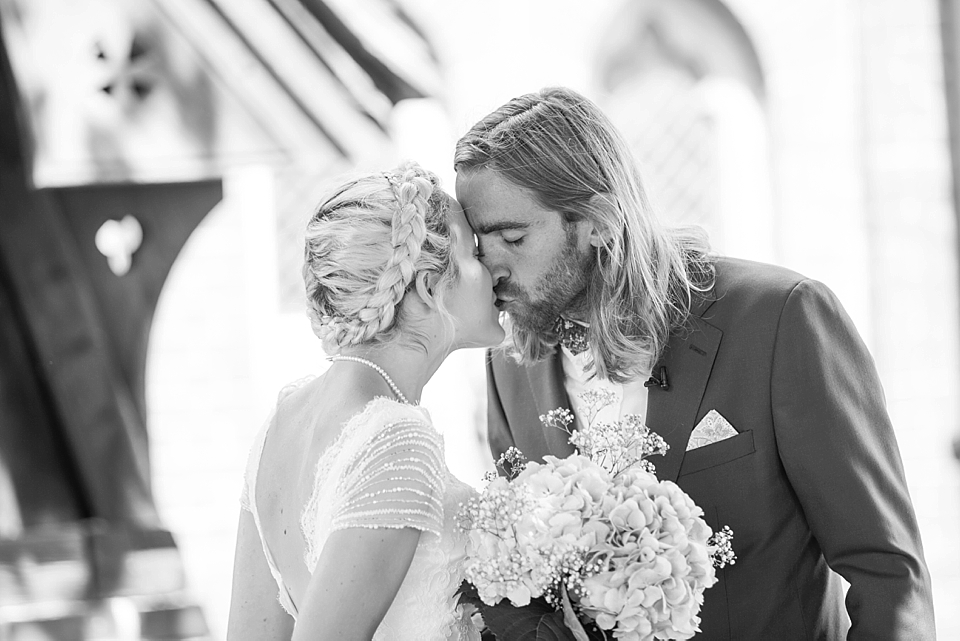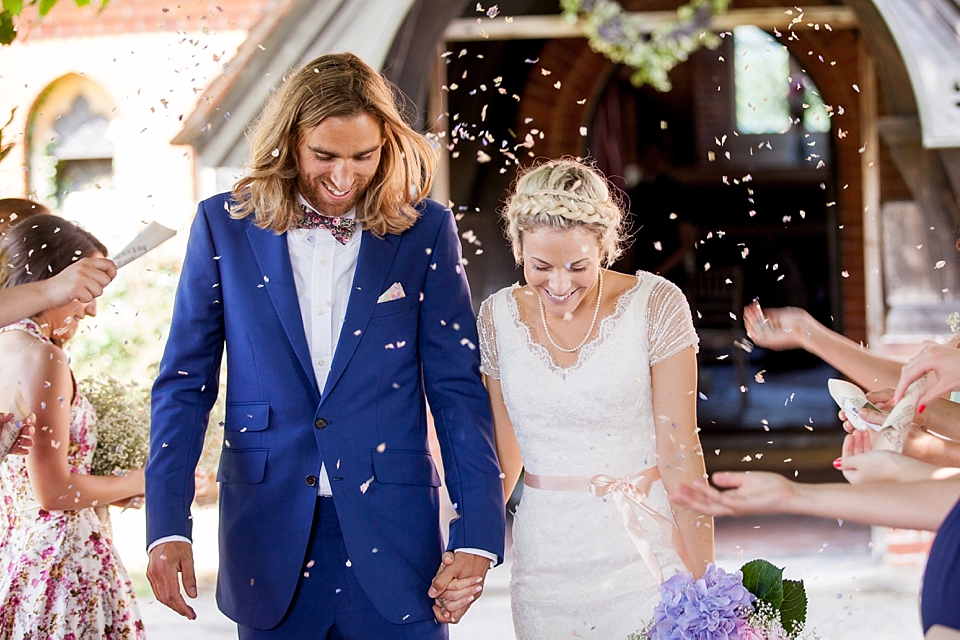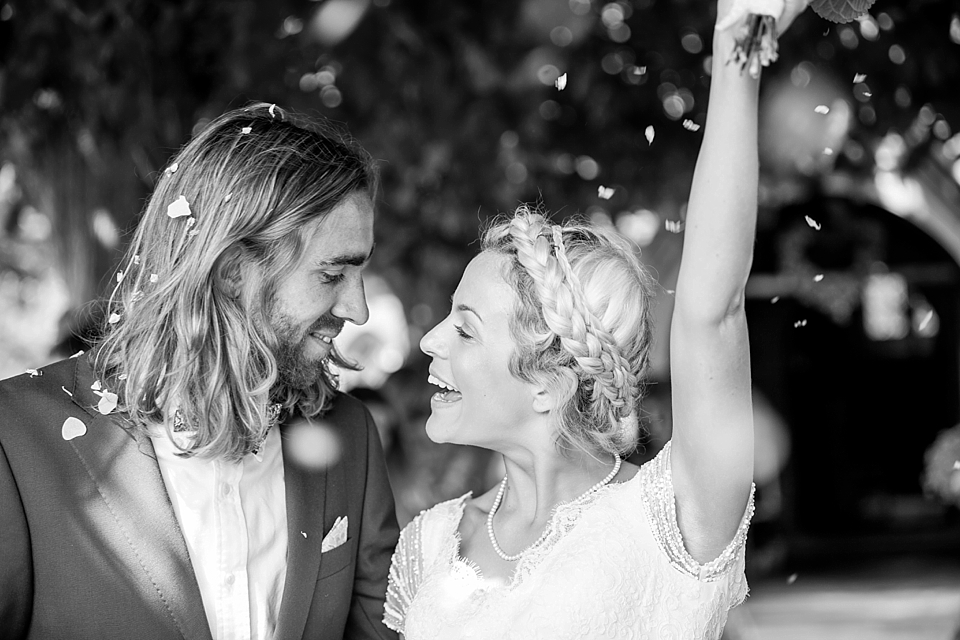 "Along with orchestrating all the canapés, buffet and homemade pink lemonade for the wedding, Rob's mum of Katy's Kitchen made us our dream wedding cake – the naked cake! Four tiers of light vanilla sponge, homemade strawberry jam and buttercream oozing out the middle, decorated with petals and fresh fruit. Neither of us really enjoy the look or taste of traditional wedding cakes yet simply love the rustic charm of a naked cake so opted for a classic Victorian sponge. Judging by the mere morsels that were left I think our guests rather enjoyed it too!
We also hired The Woodbox Pizza van for our delicious, stone-baked street pizzas in the evening."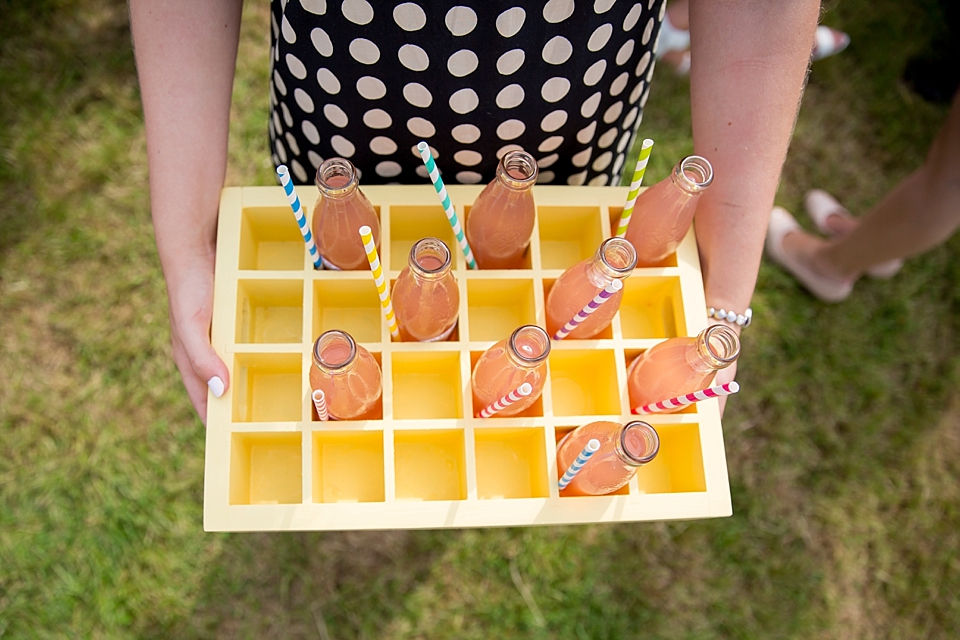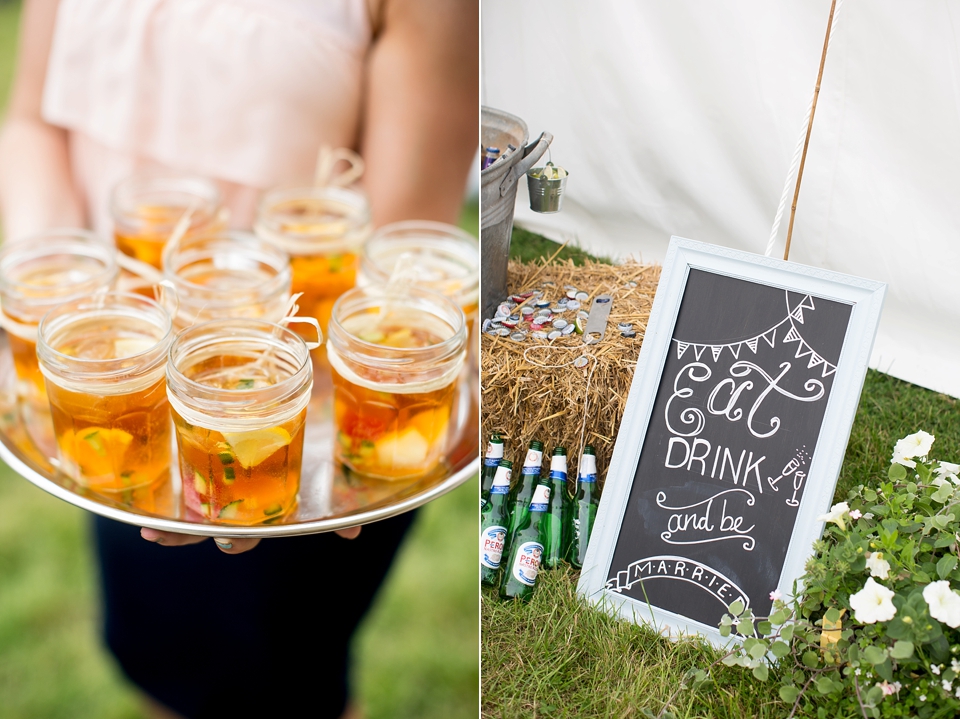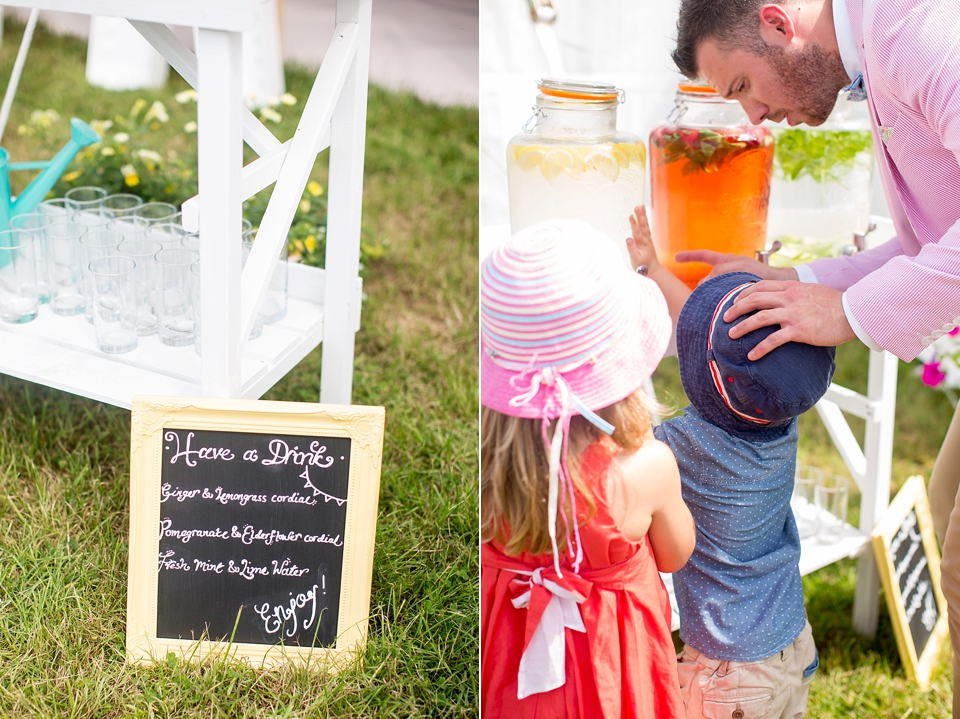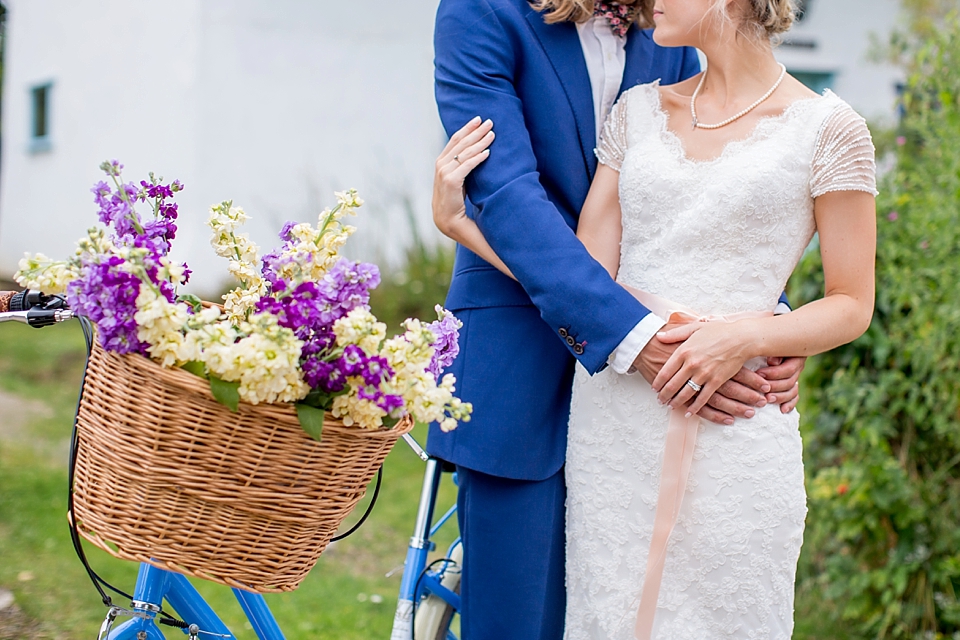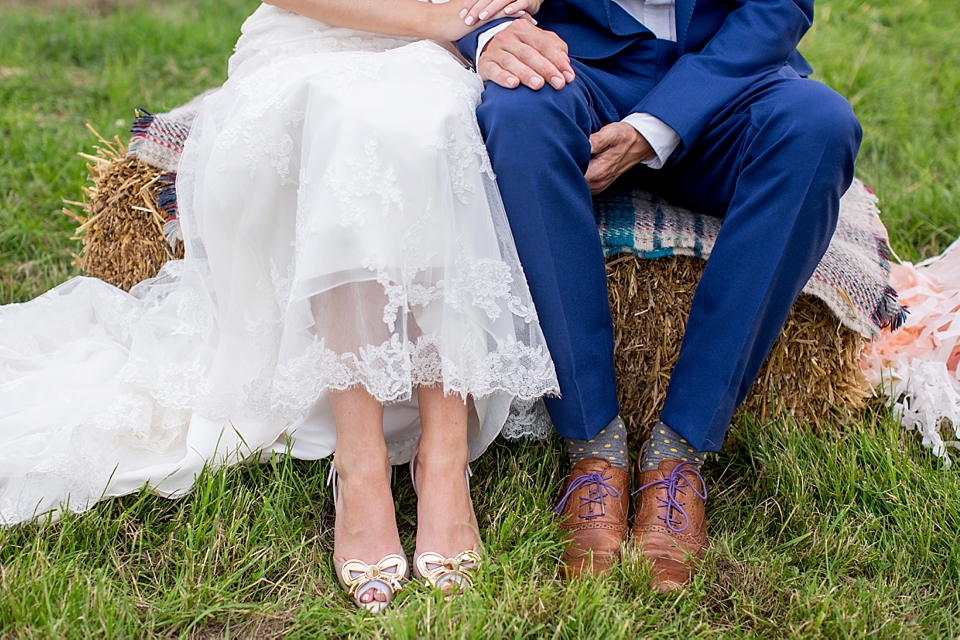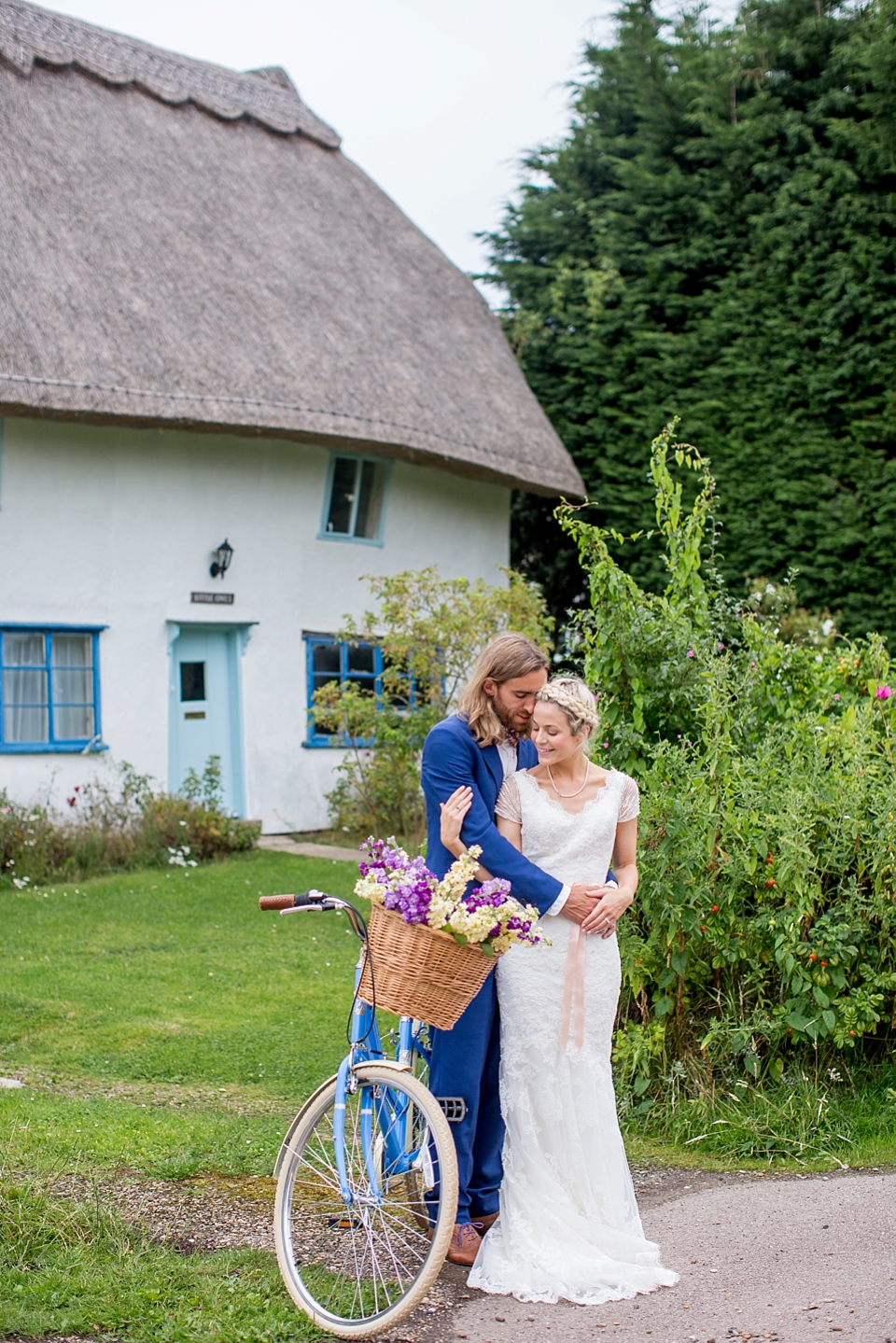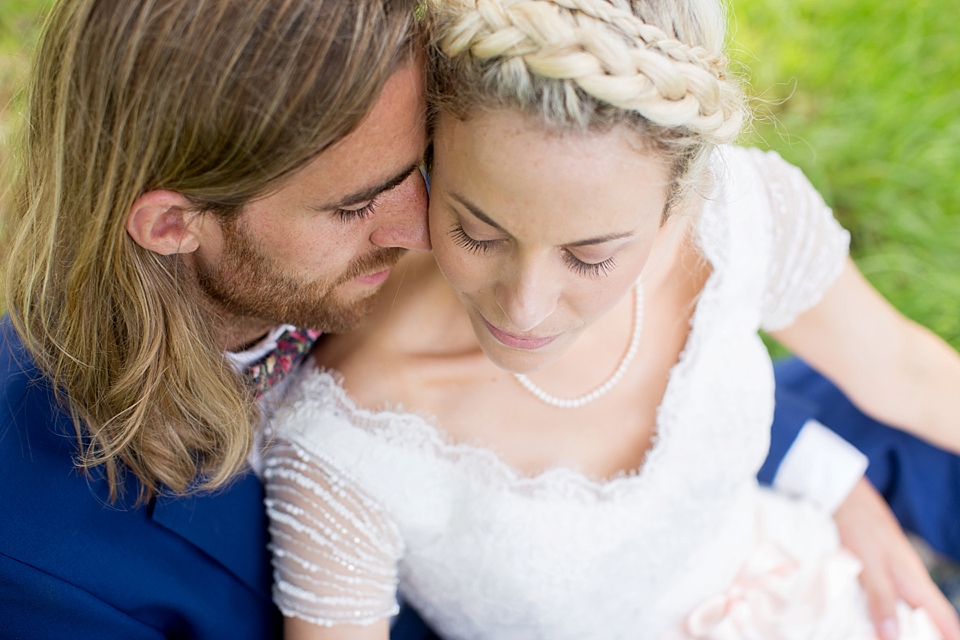 "We hired our traditional pole marquee from Cambridge Marquees and then decided to source and make all the decorations to fill the space ourselves. Our amazing mothers offered to make all our bunting for us (over 150 metres) and it was the most perfect gift we could ever have asked for.
We hung it in the marquee and along the railings outside the church and it looked absolutely beautiful and made me smile every time I caught sight of it during the day."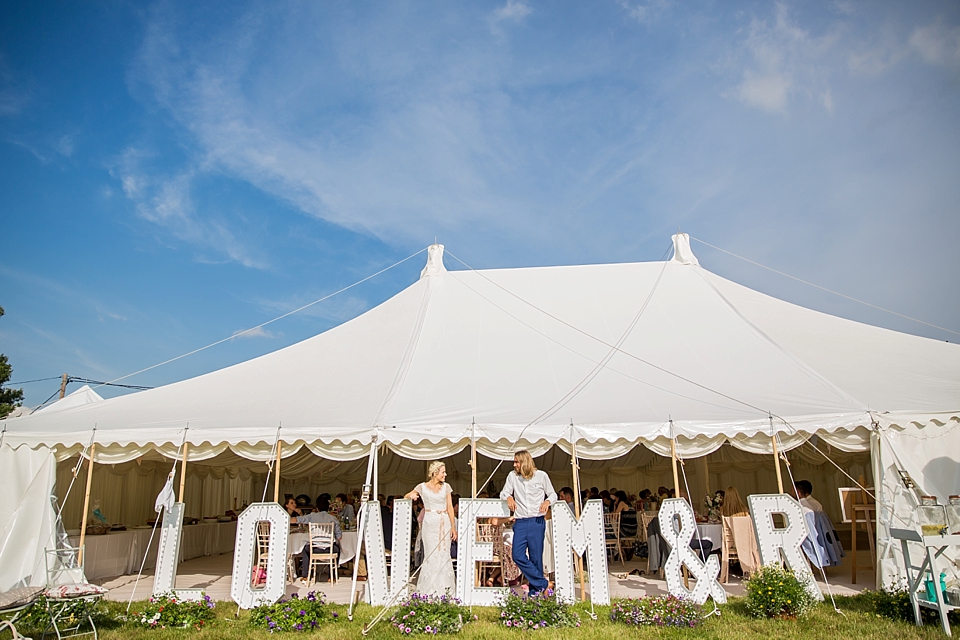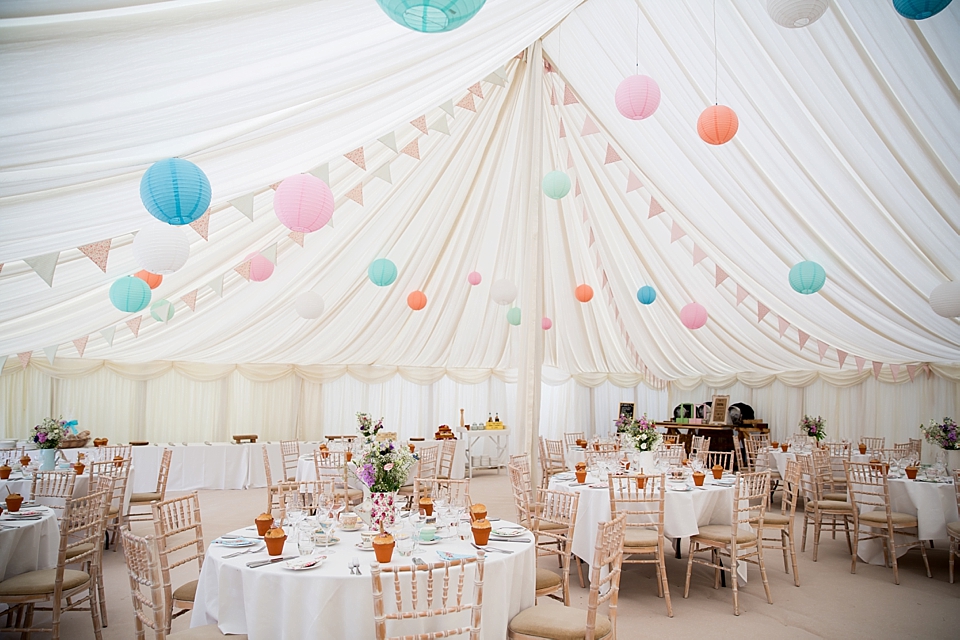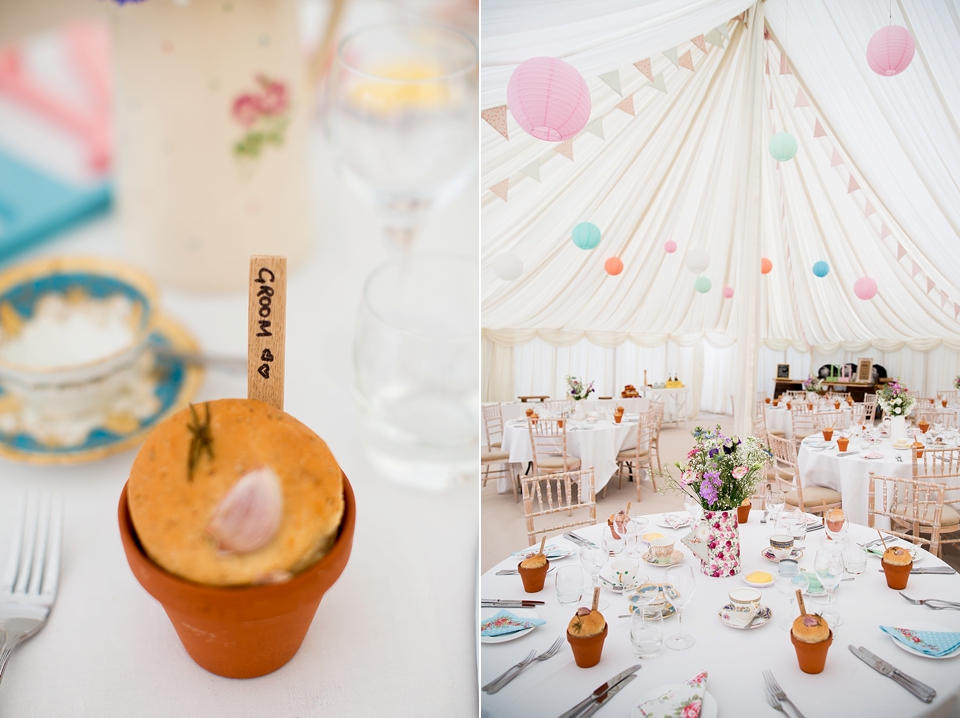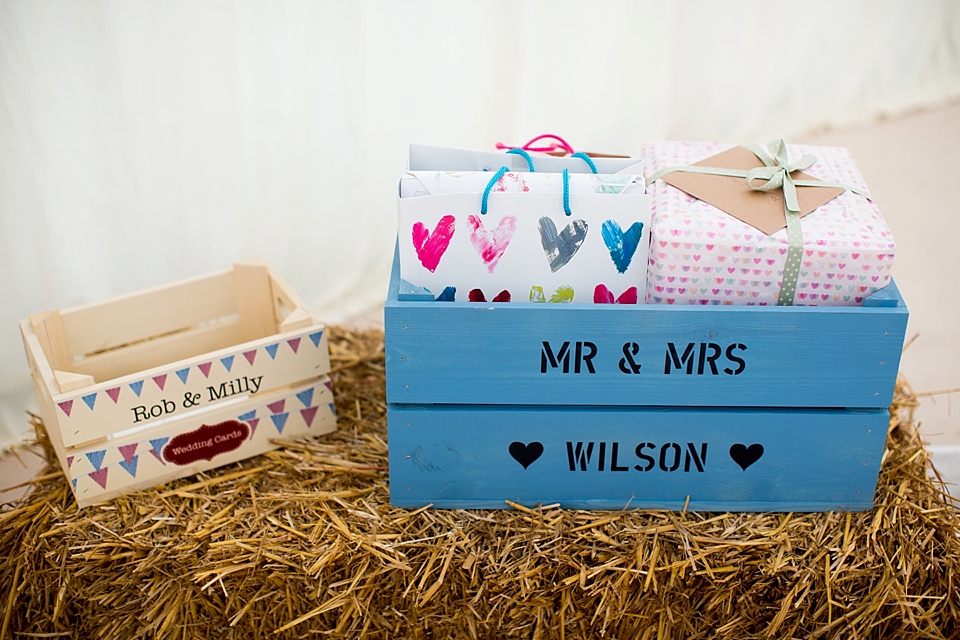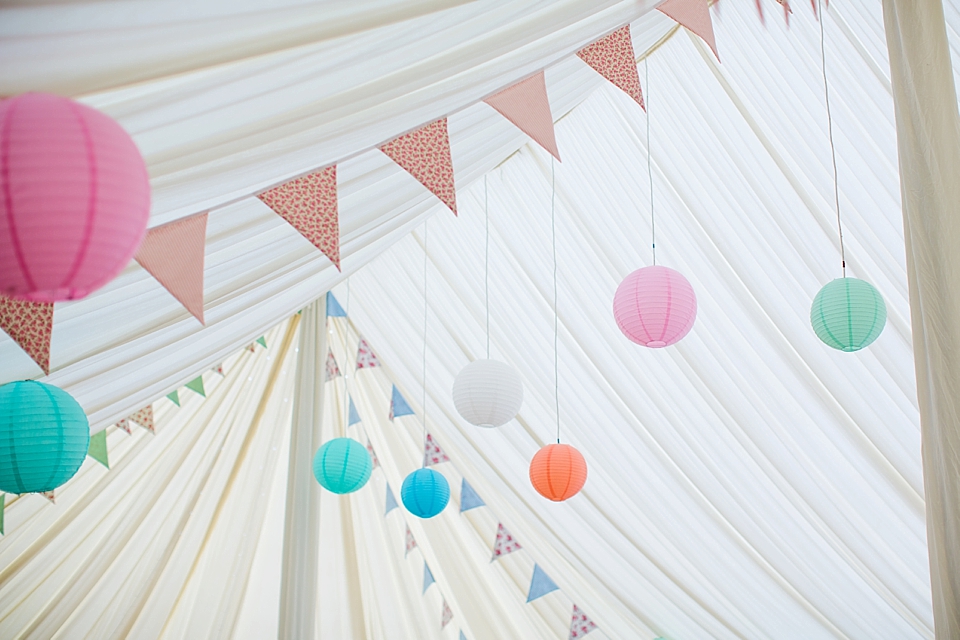 "We bought some pastel paper lanterns in various sizes to also hang in the marquee and then added twinkle lights around the outside edge to add a flicker of magic to the evening celebrations. We hired some vintage tea cups and cake stands for our afternoon tea to add an element of quintessential English dining to the day and my mum sourced, sanded and transformed an old Welsh Dresser to a gorgeous statement piece to place in the marquee and house our jam jar favours."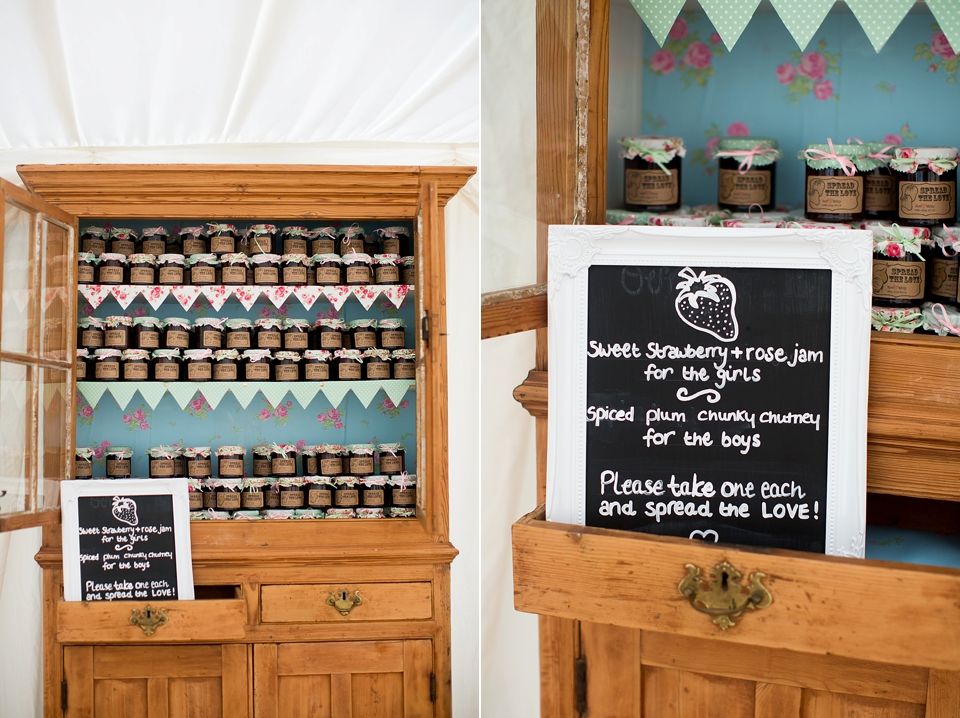 "For the wedding favours we made our own homemade preserves for the guests to take away with them and help "Spread the Love" during their lazy weekend breakfasts or summer picnics. We made Spicy plum chutney for the boys and a sweet strawberry and rose jam for the girls.
We filled up over 200 jam jars with the chutney and jam and added the sweet, bespoke labels from Wedding in a Teacup. We then made the floral tops from the off cuts from the metres of home-sewn bunting!"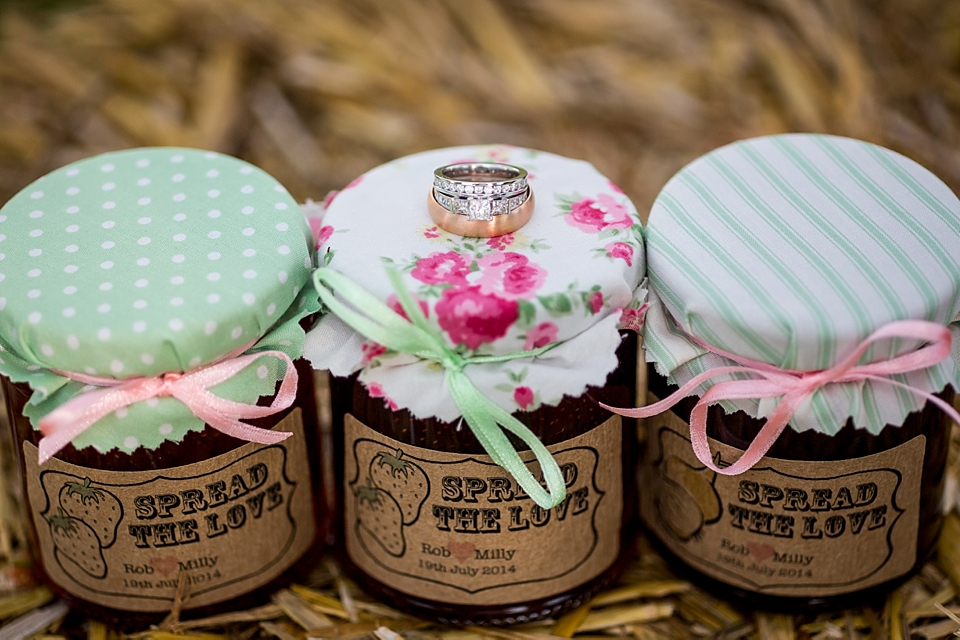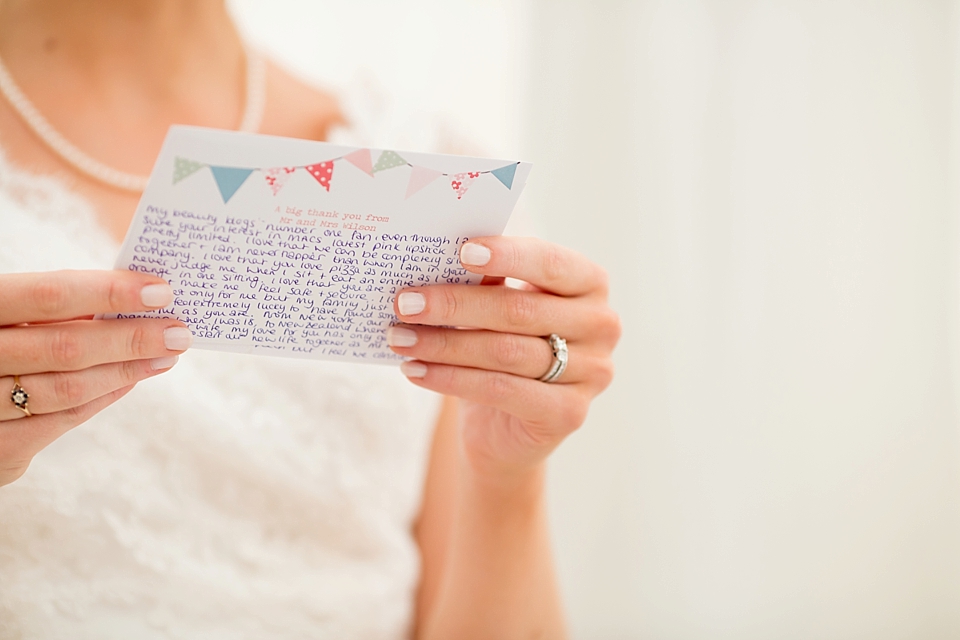 "I think one of our favourite moments from the whole day was when we were seated at our own table-for-two top table and we looked out across the airy space at all our friends and family tucking into their homemade scones and chinking their vintage teacups. Outside the sun was shining despite all weather forecasts and we could hear the giggle of children as they played garden games outside the marquee. We were surrounded by all our favourite people and everyone was happy.
We looked at each other and thought, 'we did it!'.  We had the rest of the day and night to look forward to and all the stress and worry from the previous few months had completely been forgotten. I could have stayed in that moment forever."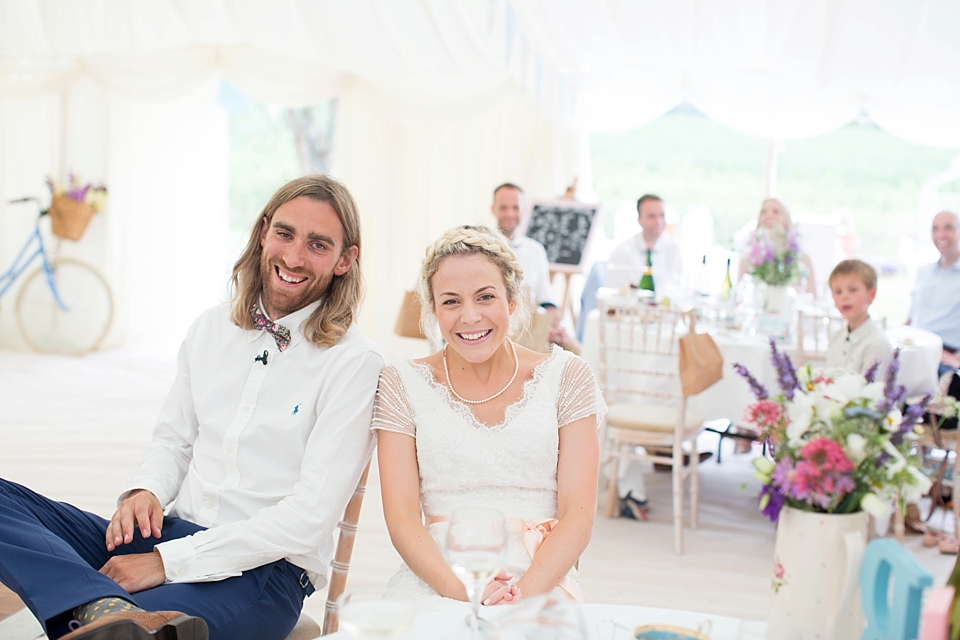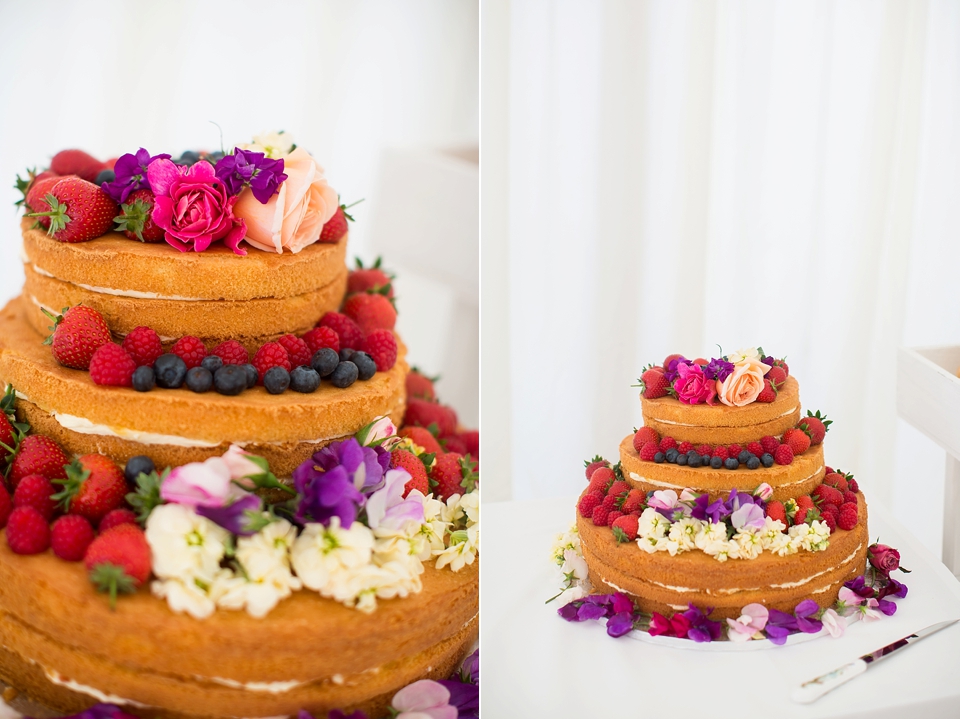 "Our first dance was to Bruno Mars – Marry you. As we were travelling around New Zealand and Australia following our beach engagement, we were faced with long long journeys along open roads and through rolling countryside. We had compiled a playlist together before we left and Bruno Mars featured heavily in the mix.
I always recall singing along to this song together after we got engagement during one of our seven hour road trips and it just seemed perfectly fitting for our first dance as Mr and Mrs Wilson."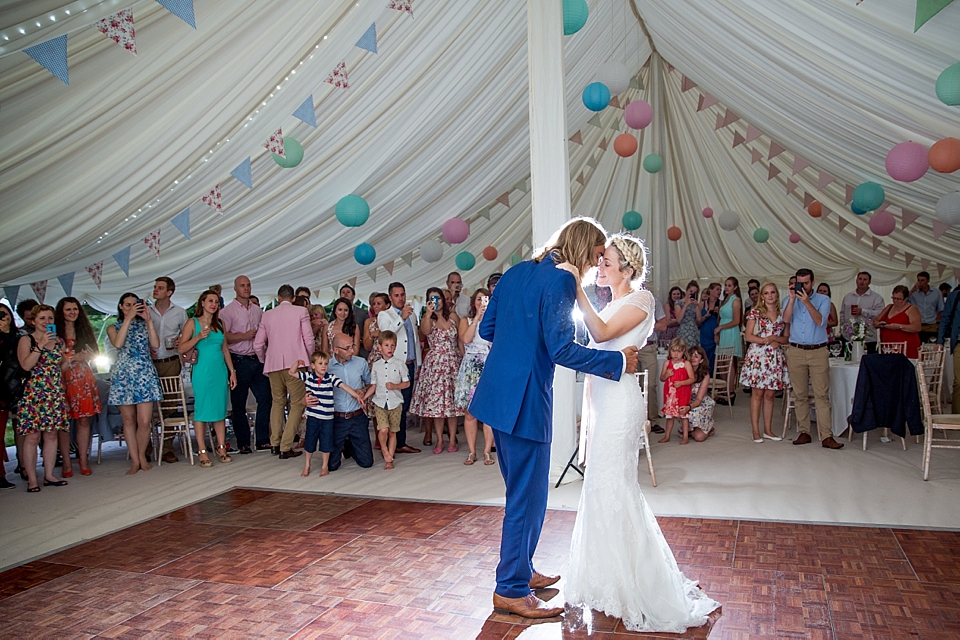 Words of Wedded Wisdom…
"Write lists. Lots of lists! Lists are you friend so whenever you think of a new idea or something that needs to be done, make a note of it. But along with lists becomes delegation and I would advise any bride-to-be who might be feeling the stresses and strains of the planning process to allow family and friends into your little wedding world and ask for help! Your loved ones are your support system and nothing would give them greater pleasure than to assist you in any way possible. Spending an afternoon with your mum writing and tying up invitations or joining your dad in his garage to construct and paint some wooden signs for your field will all be fond memories to look back on as you remember your wedding day.
I also visited Love My Dress® on almost a daily basis in the run up to the wedding and found it so helpful – literally an abundance of inspiration on every page and post. As a bride-to-be I most loved reading about real weddings, nosing at their photos and getting an idea of how they composed their day and what crucial advice they might impart. I just need to now know how long after you're married do you stop visiting wedding blogs as I am still hooked?!"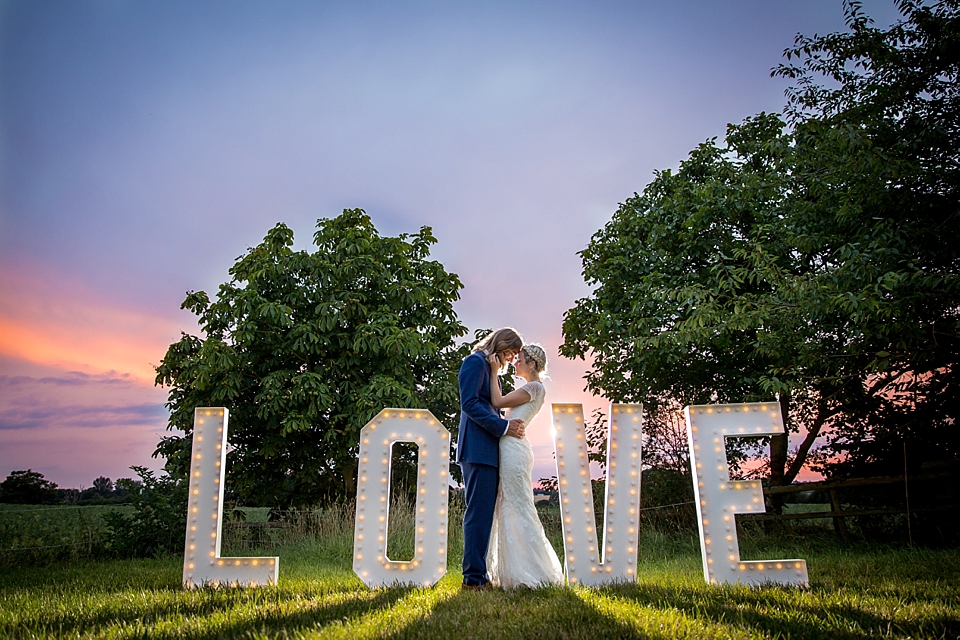 What a gorgeous, gorgeous day, so full of creativity and wonderful ideas to inspire.  Huge thanks to photographer Katherine Ashdown for sharing this charming wedding, and readers, take a moment to visit Milly's lifestyle and beauty blog, it is fabulous.  You can also find Milly on Twitter, Instagram and Facebook.
Love Annabel xx
Photographer – Katherine Ashdown
Film Maker – A Hint of Mint
The bride – beauty blogger Milly of Pearls & Poodles
Venue – A farmers field in Essex using Cambridge Marquees
Wedding Dress – 'Felda' dress by Enzoani via Bellissima Weddings
Shoes – Gold Bow Melissa heels by Vivienne Westwood
Accessories – pearl necklace ('something borrowed')
Bride's Scent/perfume – Jo Malone
Grooms Suit – Gresham Blake suit + Ralph Lauren shirt + Jasper Conran brogues + floral bow ties from Bow & Tie London
Bridesmaids – Vivien of Holloway + Dune shoes
Flower girl Dresses – Cath Kidston (style no longer available)
Florist – DIY
Transport – loaned
Entertainment – The Gifted + Aaron Strings
Rings – Lance James in Essex + Frazer Hart
Catering + Cake – Katy's Kitchen + The Woodbox Pizza
Stationery – DIY + Wedding in a Teacup
Hair Stylist – Emily Pickford
Makeup Artist – The bride