Hello lovely ones! Our second wedding today is the fun, playful and laughter-filled wedding of Victoria and Ryan, who married in February this year at Abbeywood Estate, Cheshire. And it's all beautifully captured on camera by the massively talented (and joyfully named) Mr Sleeve.
Vicky, a mental health nurse, and Ryan, a team manger working in international banking, wanted a fun-filled celebration that reflected their personalities, essentially "a party but with extra bits to make sure it still felt like our wedding day!". They also wanted to incorporate a special ceremony conducted by Vicky's father – such a lovely idea.
"We chose Abbeywood after looking at what felt like millions of different venues. Our original idea was an outside space with a barn and lots of champagne, but this fizzled out due to the lack of British sunshine coupled with the lack of barns! When we met Heather, the incredible wedding planner at the venue, we were sold. It's family run, relaxed but super organised, with amazing food and lots of outside space. Most importantly, we both felt happy as soon as we walked in."
Photography Copyright (c) 2014, Mr Sleeve
"Ryan and I met through a close friend. He had come up to university in Lancaster from London and lived with my friend Nicola in halls. I was away at university in Manchester but used to come home during the holidays. I met Ryan on a night out but, as he was only 18 and I was 22, I thought he was a tad young (although after copious amounts of wine we did snog!).
We'd decided to meet on one of the reading corners to exchange books, and when Ryan passed me his I opened it to reveal a 1930's vintage pearl! He got down on one knee (in front of a now gathering crowd) and asked me to marry him. I squealed yes and, still in shock, we ran to the nearest café bar for tequila! We married 17 months later."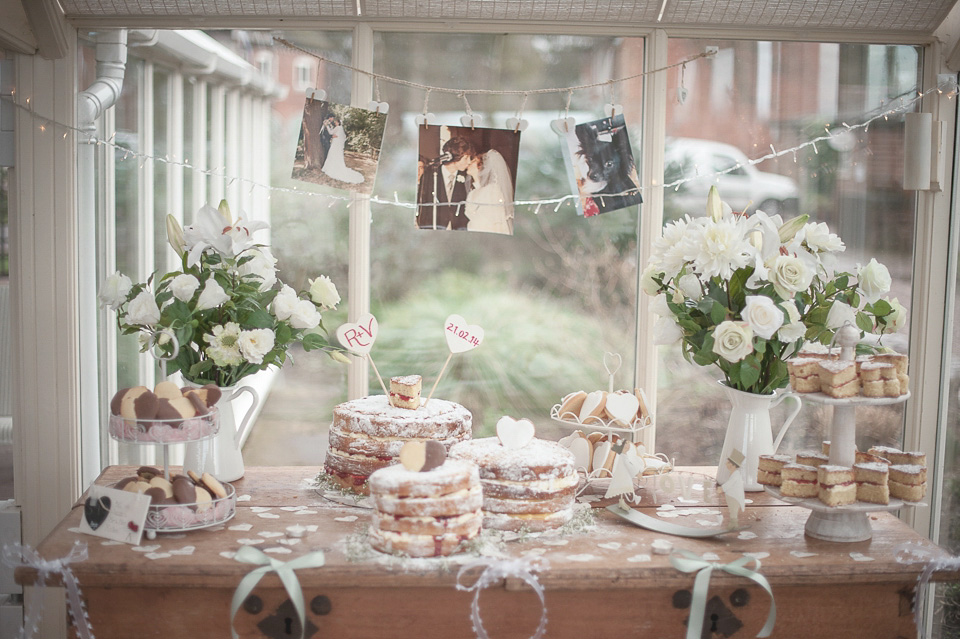 I love the 1950's silhouette of Vicky's dress – that amazing skirt really comes into its own on the dancefloor – and the way she accessorized it with little lace gloves and a bow in her hair.
"My dress was my dress was by Agnes Bridal, bought from Belles Bridal Boutique in Liverpool. I wanted a dress that didn't look like any other dress I had seen and that I wouldn't fidget with on the day. I loved my dress straight away and the tulle polka-dot overlay made it look very different."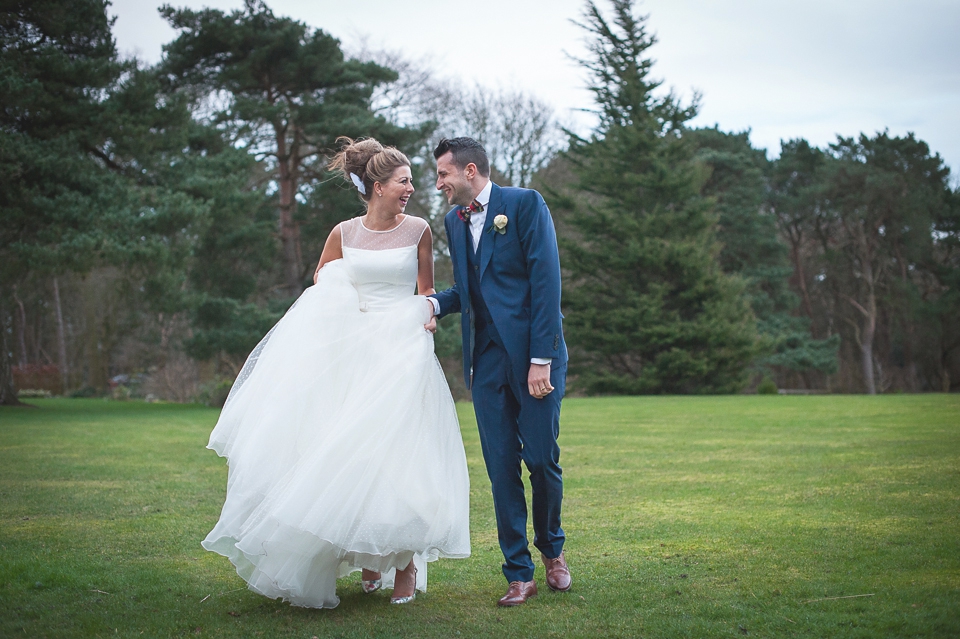 "I wore a pair of vintage diamond earrings from my mother-in-law and a vintage gold necklace fastened under my dress from my Nana.  My best friend and maid of honour made me a tulle bow which I wore underneath a bun on the back of my head. My shoes were silver slingbacks from Dune."
Those silver bridesmaid dresses are by Alfred Sung at Dessy, and the flowergirl's dress is from Next.
"Our photographer was Steve 'Mr Sleeve' Longbottom. Steve was recommended to us by Ryan's sister, Alex, who was also my bridesmaid. I'd told her I hated any form of 'styled bridal photography' and that I wanted it to be natural and to capture Ryan and I having an amazing time with our guests! Steve was fabulous from the first time we met. He was relaxed, knew his stuff, and wasn't pushy or cringey. We fell in love with him (as did the majority of our guests!). And as a bonus. our pictures are amazing!"
I concur Vicky – so much so that I got distracted for a good 20 minutes browsing the other photos on his site!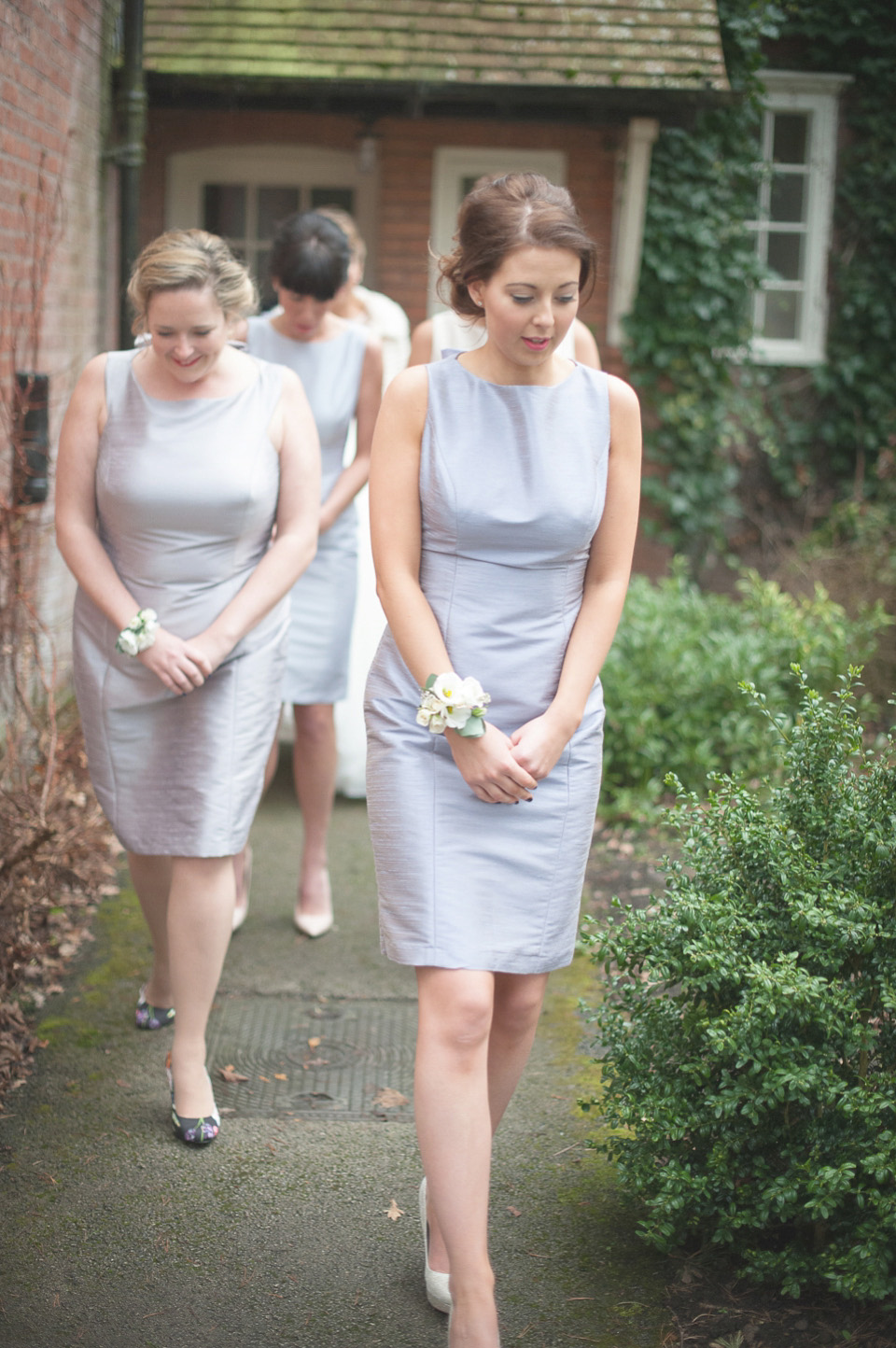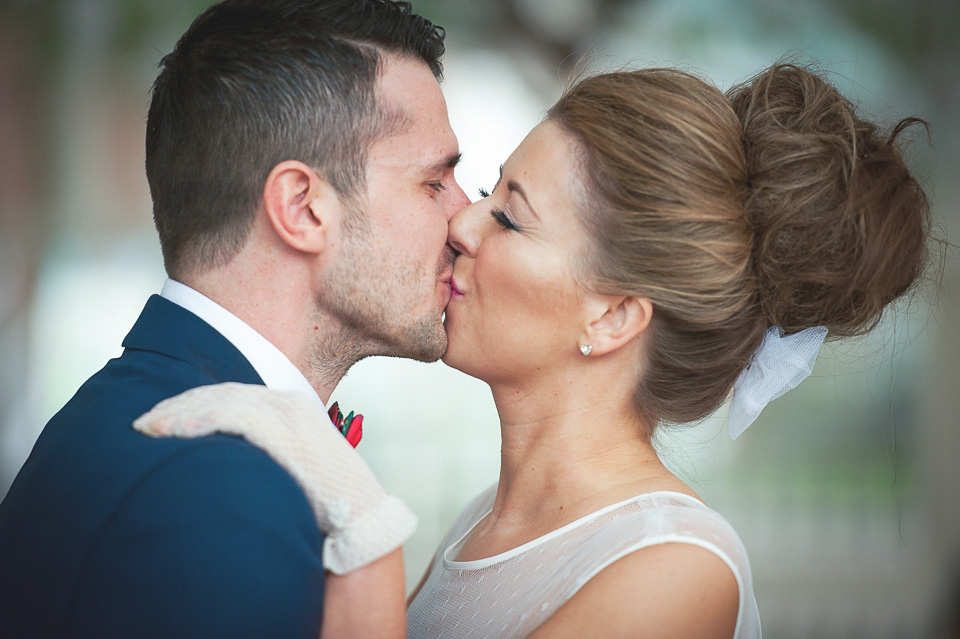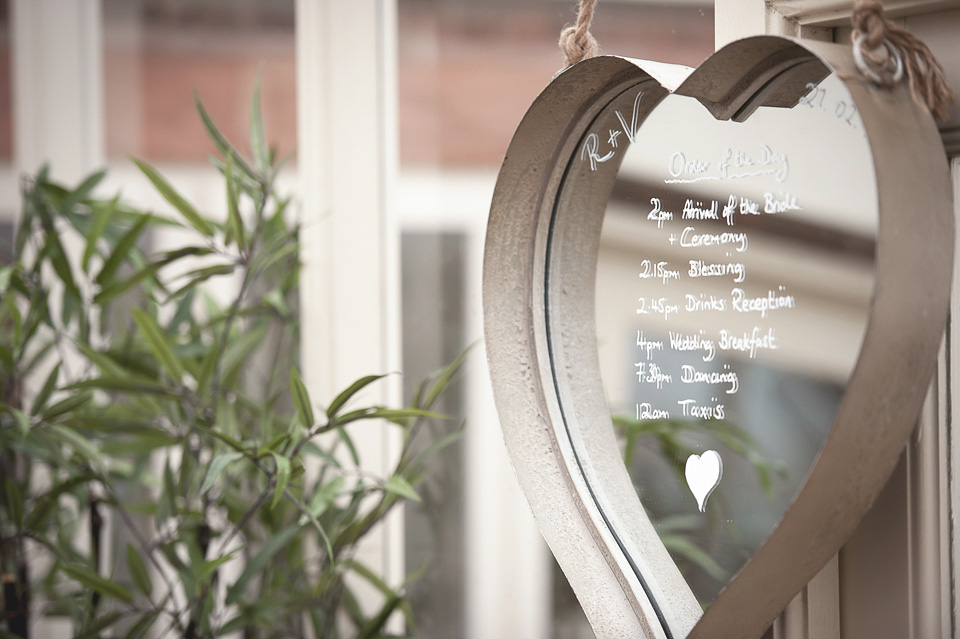 It's easy to see why they fell for their venue – the grounds are beautiful and I love the light-and- airy feel of the glasshouse where the ceremony was held. The décor they chose is simple and pretty – ivy, tealights, gypsophila and lots and lots of fairy lights. The table plan was a giant ornate mirror, hand written with a white pen by Vicky's dad, who also made direction signs outside the venue and 'Mr' and 'Mrs' signs for Ryan and Vicky's chairs.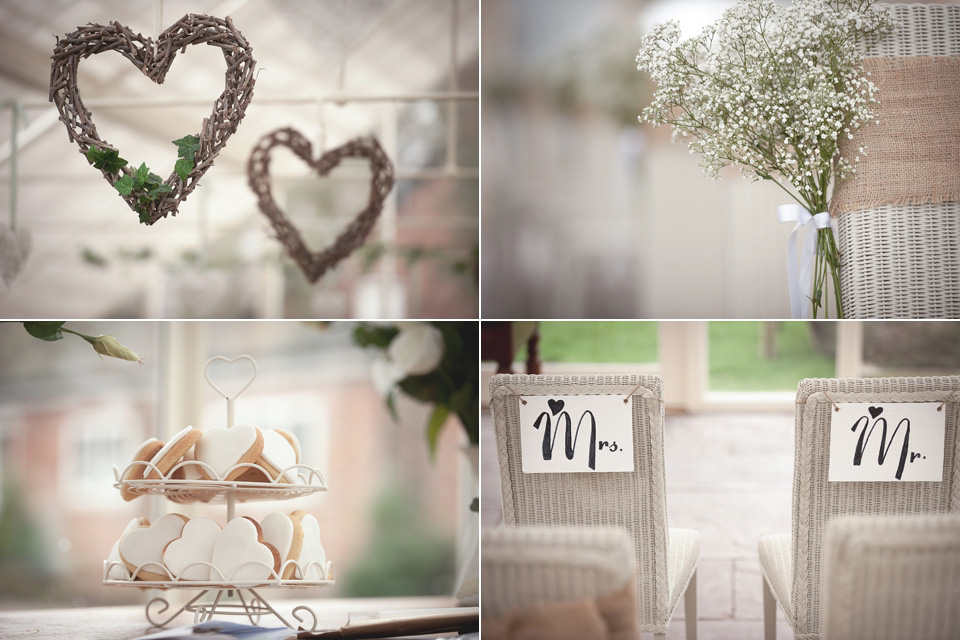 My Mum made us the most fabulous Victoria sponge cake and lots of mini cakes and biscuits to scatter on a cake table!
Ryan's best man's better half, Lucy, made all our favours which were delicious chocolate heart shaped lolly pops on old fashioned sticks, each individually hand made with each guests name piped on in icing. These were placed in brown paper bags and my maid of honour designed and made stickers to attach to the front with each guests name on, our names and our wedding date.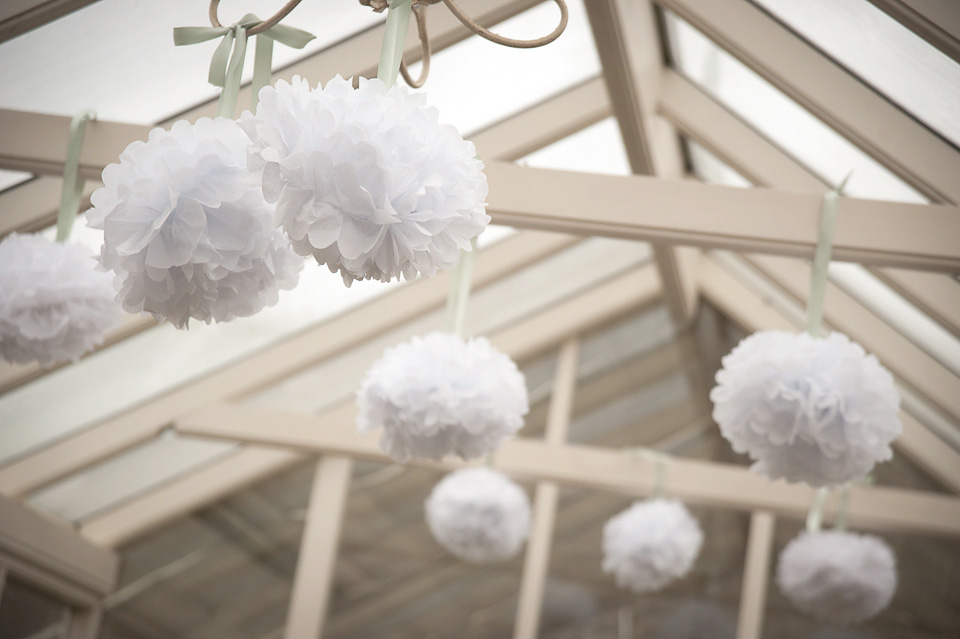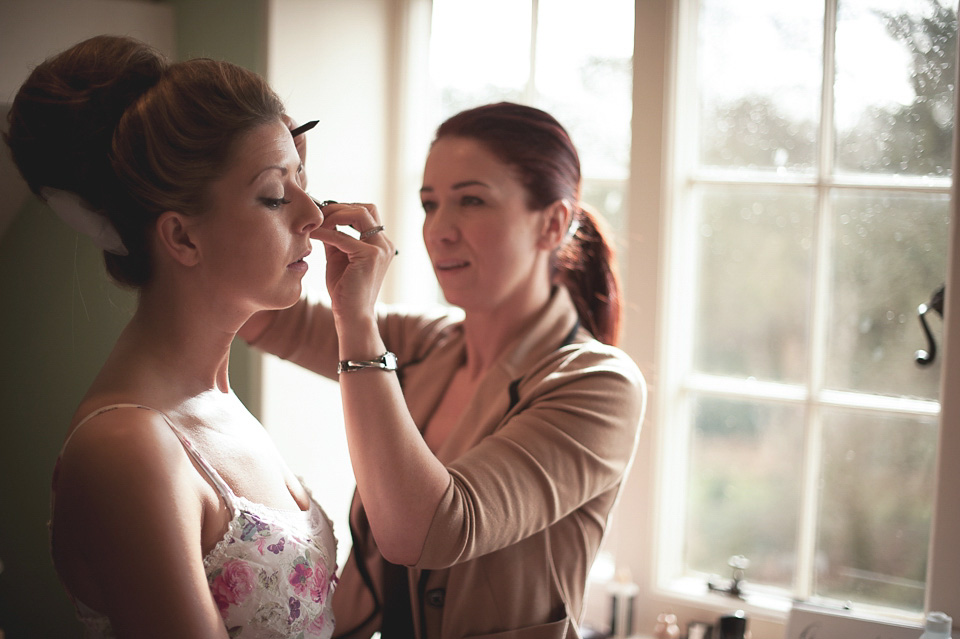 We chose Northern Flower, it's a small florist just down the road from us. I popped in in my gym kit looking harassed and explained to Lucy that I wanted my flowers to look like I had picked them myself and for there to be lots of them.   She understood what I meant immediately so I took Ryan with me and we liked the set up and how laid back they were and booked right away.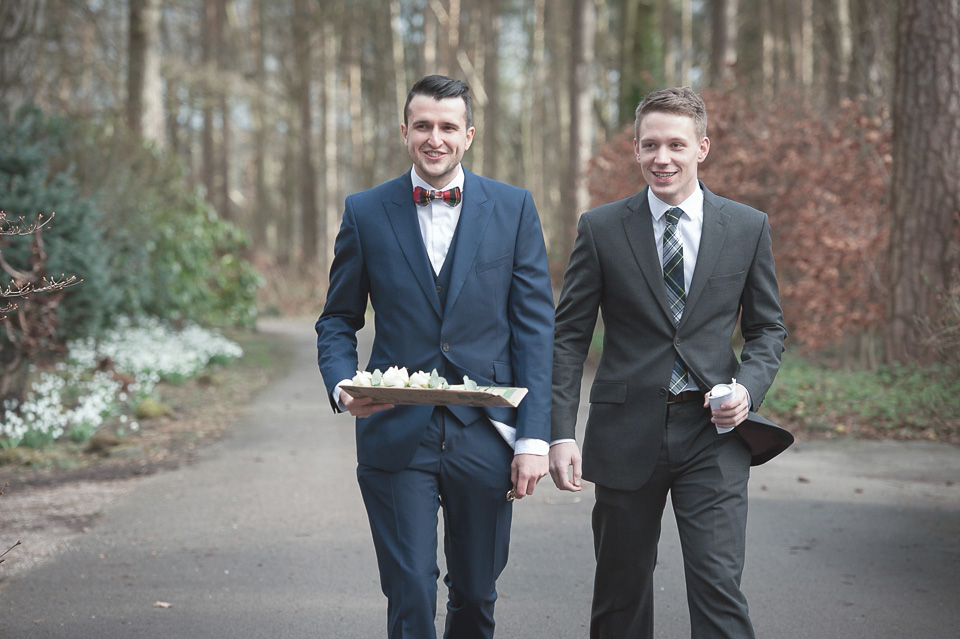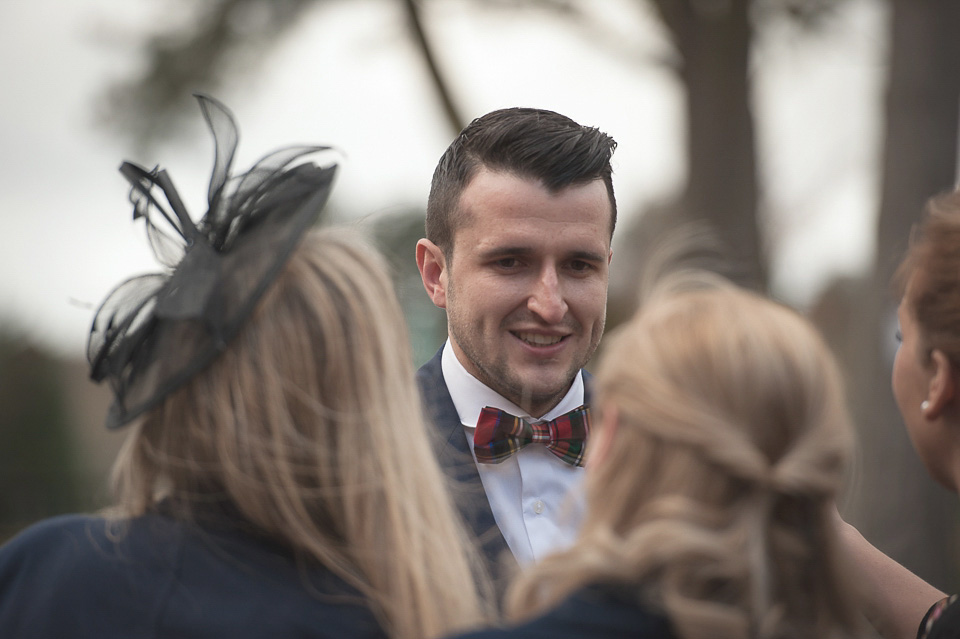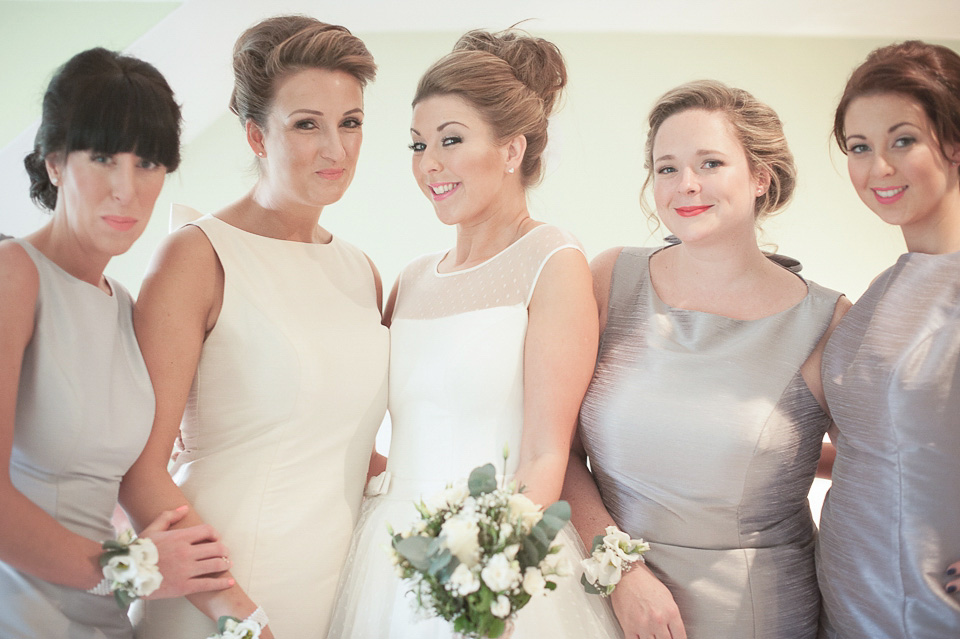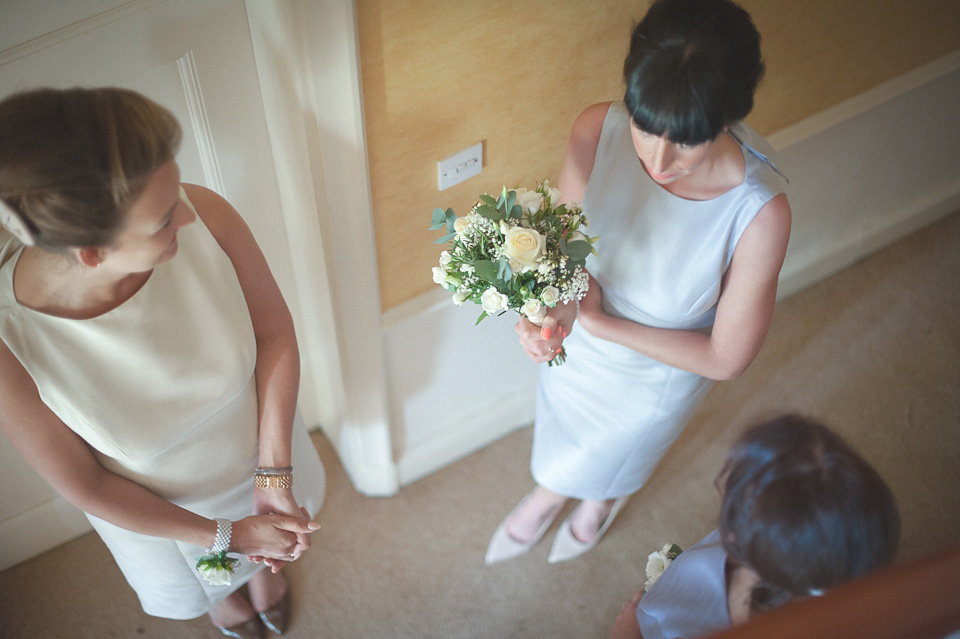 "This must have started something and two years later, Ryan took me on our first date – fish and chips in the park! In September 2012 Ryan whisked me away to Paris for a long weekend and it was here he asked me to marry him. We were in my favourite place in Paris, The Shakespeare & Company Bookshop, pretending to choose books for each other as a gift.
While I was busy up a ladder rummaging around for books, Ryan meanwhile had circled the block three times to calm his nerves."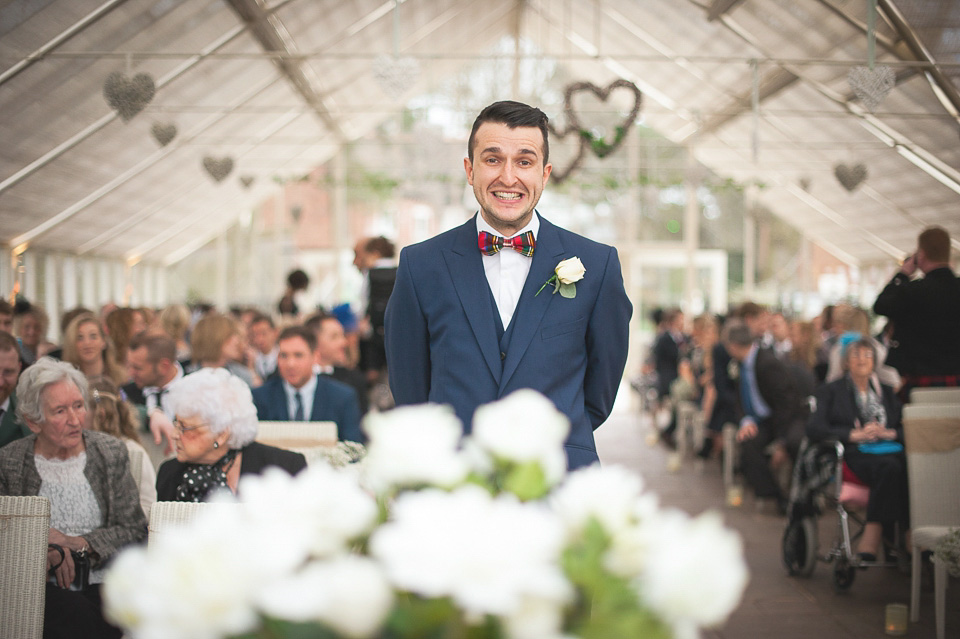 "My Dad (who kept standing on my dress all the way) walked me down the aisle –  I was laughing my head off!
We had two ceremonies, one with a registrar and one where my Dad did a blessing. It was really personal to Ryan and I and we laughed all the way through, I honestly couldn't keep my face straight I felt so happy. And I put the ring on Ryan's wrong hand and everyone saw and laughed. It was relaxed, personal and intimate, everything we wanted.
In fact, the ceremony and then the speeches were my favourite part of the day. I loved marrying Ryan in front of everyone that's important to us and seeing his face and knowing this was it and the feeling of excitement of what's coming next."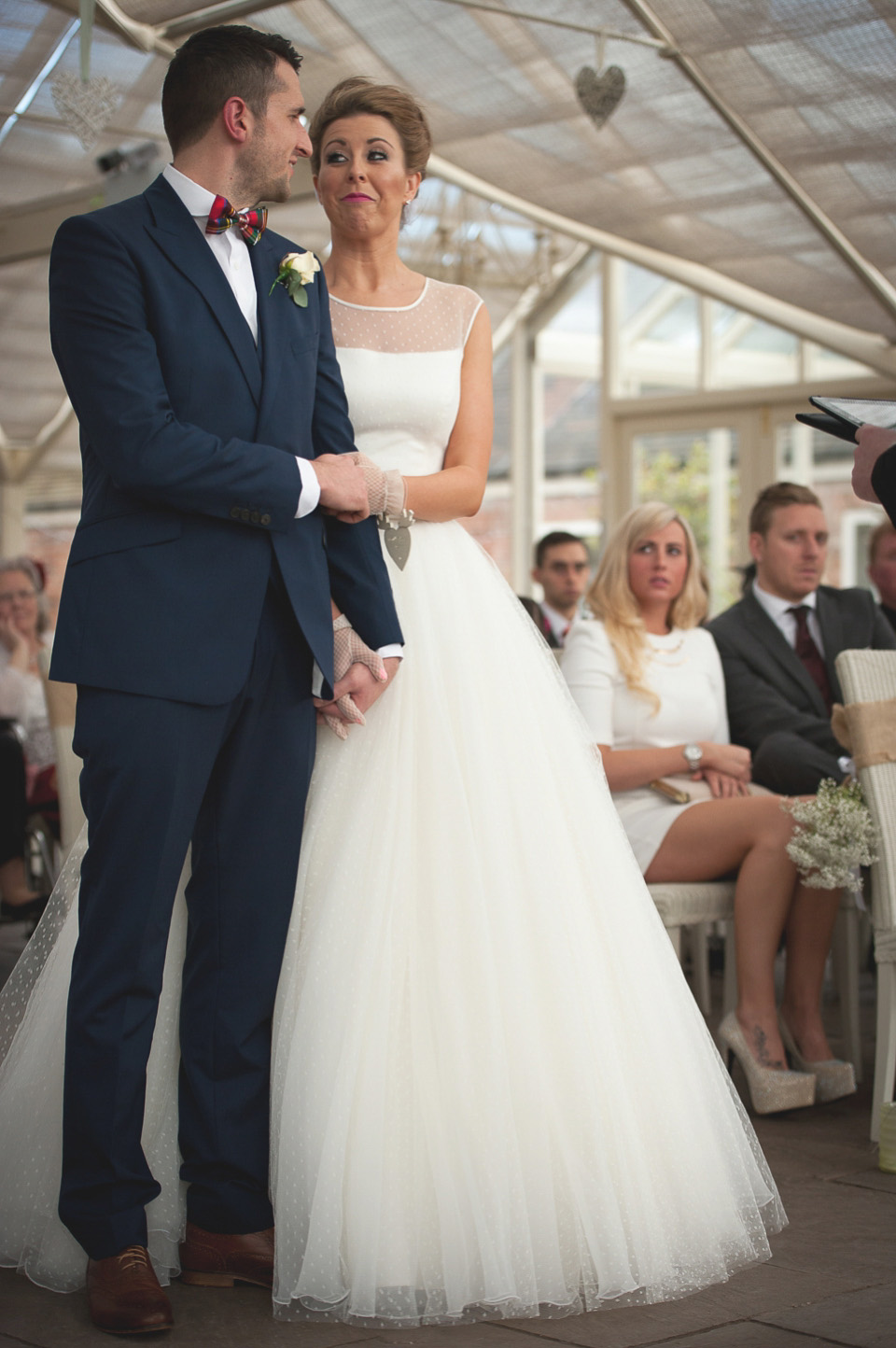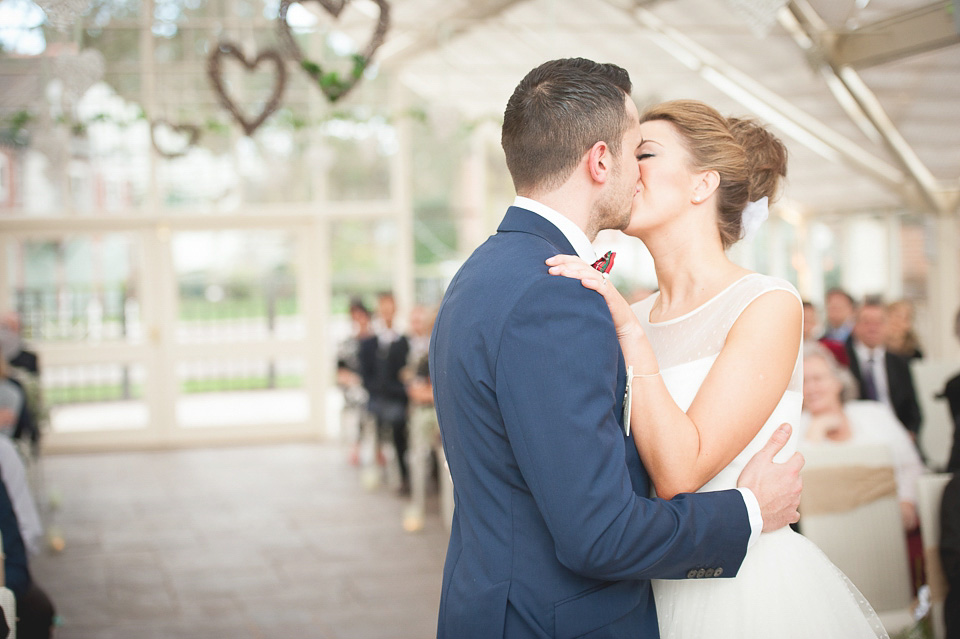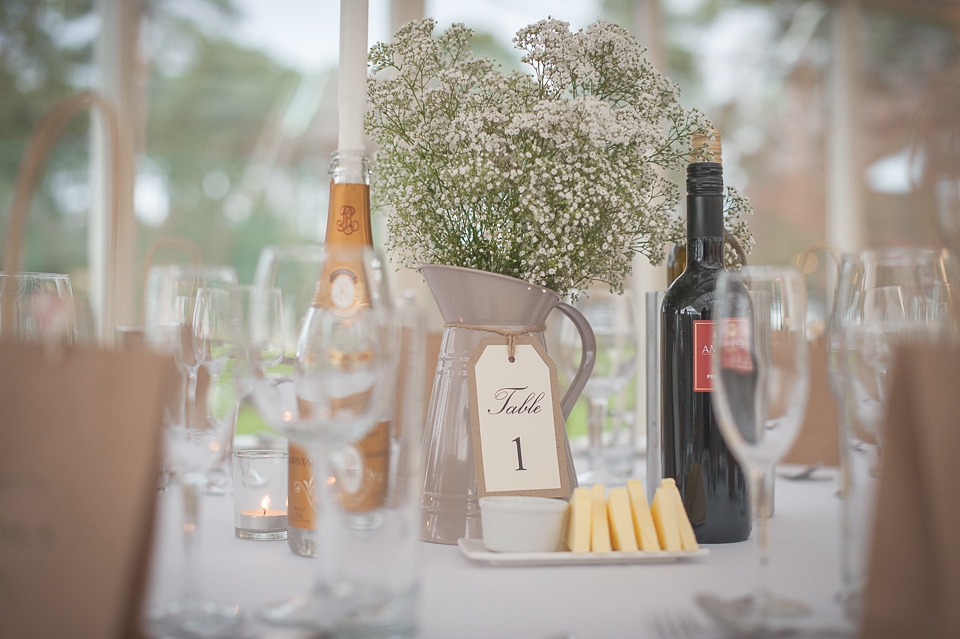 "We had our first dance to a Wonderwall cover by Boyce Avenue. Ryan and I went to see Oasis when we first got together and it's an important mile stone in our relationship. And we love the words, it describes us.
We also hired a ceilidh band followed by a DJ – my family are Scottish we wanted something to represent this!"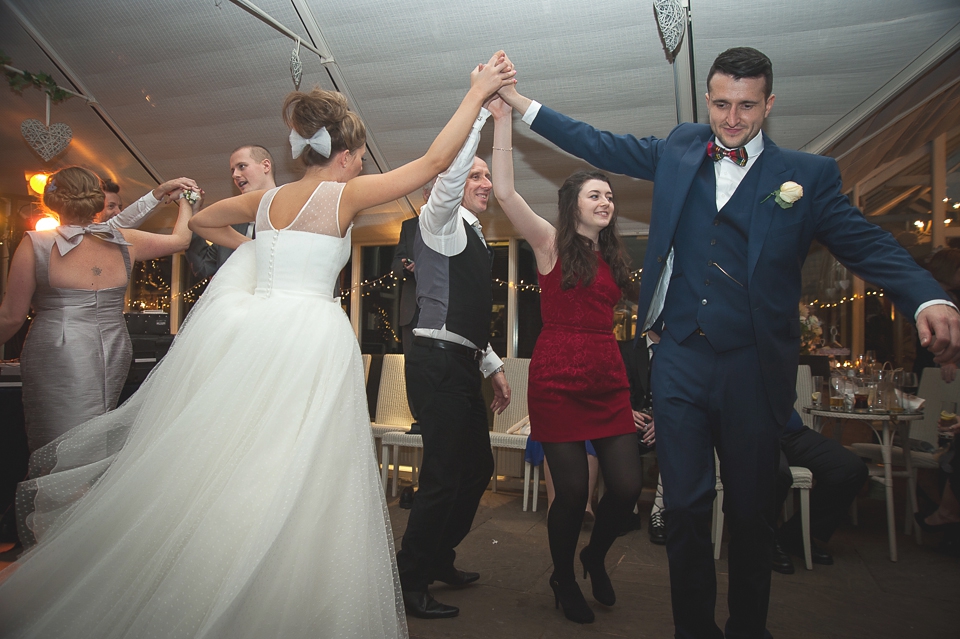 Words of wedded wisdom…
"I would say that not everyone loves the build-up and the planning, and it's ok to feel relieved that all the planning is over. Everyone kept telling me to enjoy the lead up, but really I just loved the day and was happy it happened and excited for my honeymoon and to get my life back!"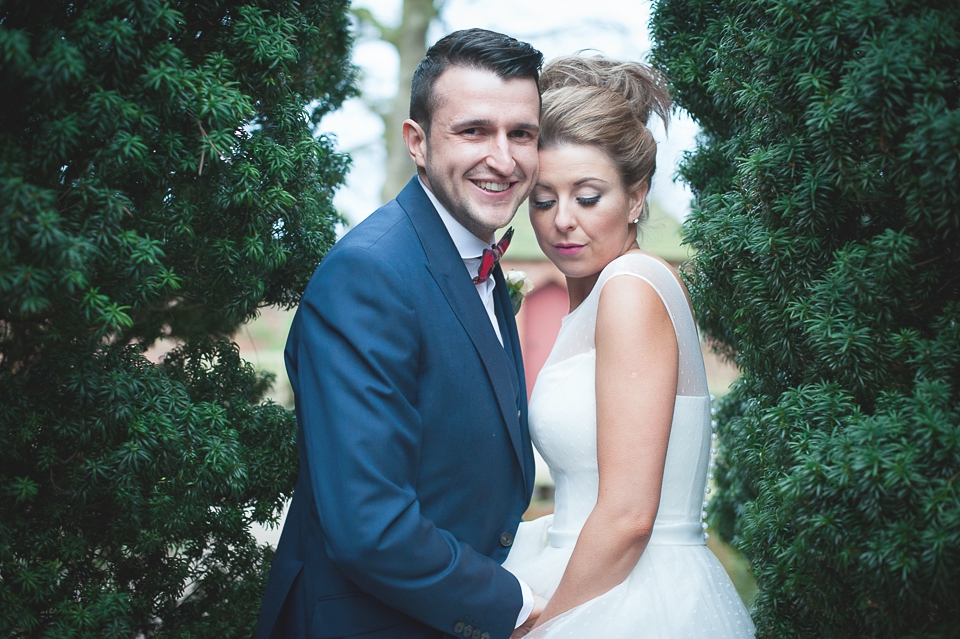 A lovely relaxed day with plenty of playful touches.
Many thanks to photographer Mr Sleeve for sharing and our love and congratulations to Vicky and Ryan too.
Love Kate xx
Photographer – Mr Sleeve
Venue and wedding planning – Abbeywood Estate
Dress – Agnes Bridal, bought from Belles Bridal Boutique, Liverpool
Shoes – Dune
Hair and make up – Harry Jon
Bridesmaids –Alfred Sung at Dessy
Flowergirls – Next
Groom – Reiss
Flowers – Northern Flower
Cakes – DIY
Catering – Stables Cuisine