I can't help getting swept away in the emotion of the weddings I write up for Love My Dres®s. Each image tells a tiny piece of the couple's love story and the journey through their special day is a privilege to share. When a special person is missing though, the more touching images of a wedding take on a stronger meaning and no more so than for Sarah who's mother sadly passed between her engagement and wedding to James on the 28th of June this year.
With Curradine Barns in Worcestershire already booked and their handmade wedding taking shape they took the opportunity with their photographer Darren Gair to get some precious photos of Sarah's mum in her wedding outfit at the venue and asked her to choose a favourite poem to be read at their wedding ceremony.
Sarah was adamant that most things would be handmade, making the gorgeous bridesmaid dresses herself using a vintage pattern, making a bowtie for the page boy and fabric flowers for her bouquet with the extra fabric! She embroidered cotton handkerchiefs, made each invitation and with the support of their crafty friends created a colourful and joyful wedding day to be truly proud of.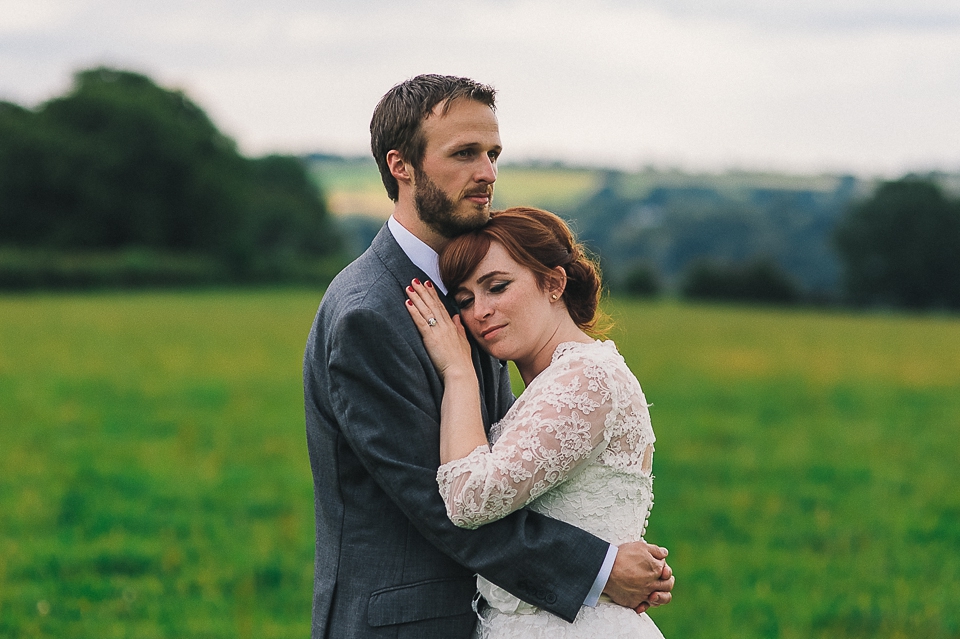 "We met on match.com! I was dubious about joining as I didn't want to meet anyone weird but James seduced me by sending a photo of himself holding an axe and wearing a man-bag – I kid you not! We met up on a Monday night, continuing our date until 4am. We met a week later, hit it off again and I didn't want to leave his side. James proposed 18 months later using a hula hoop (I had joked that I didn't want a ring, a hula hoop would do!)."
"Curradine Barns was so pretty and fairly central for our guests. Sadly my mum became very sick and we lost her at the end of 2013 and looking back, we were glad to have booked 18 months in advance so we had plenty of time for everything."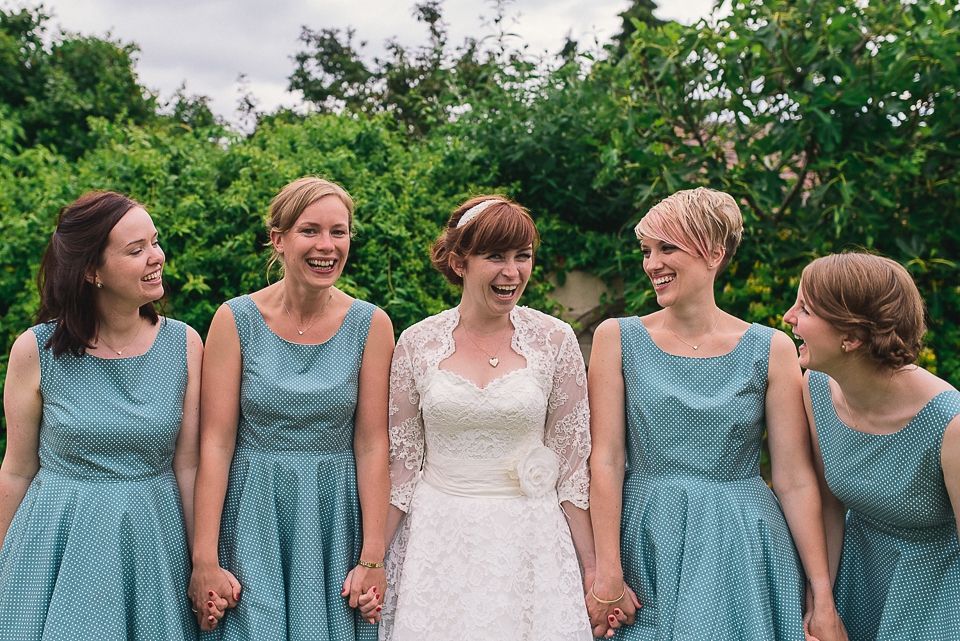 Sarah knew from the beginning that she wanted a 1950s style dress. This Justin Alexander beauty was only the second she tried and teamed with a bolero she created a pretty keyhole in the back. Accessorised with her mother's earrings and a locket containing her pictures, the beautiful 50s look Sarah coveted was complete with the last minute purchase of her bright (something) blue Rachel Simpson shoes and a spritz of Coco Mademoiselle.
"I loved the swish of the dress, every time I walked it made a noise and it just felt superb to wear. I knew that dancing would be wonderful, no tripping up, just a glorious full-circle skirt to fly around the dance floor. The ladies in Brides of Solihull were so nice and helped me massively, especially as I was caring for mum whilst going to fittings."
"We commissioned my friend Erin to knit the cake toppers and I was so pleased with them! James' mum made our 'main' fruit cake, James made a carrot cake and we also had some lovely cakes made by friends."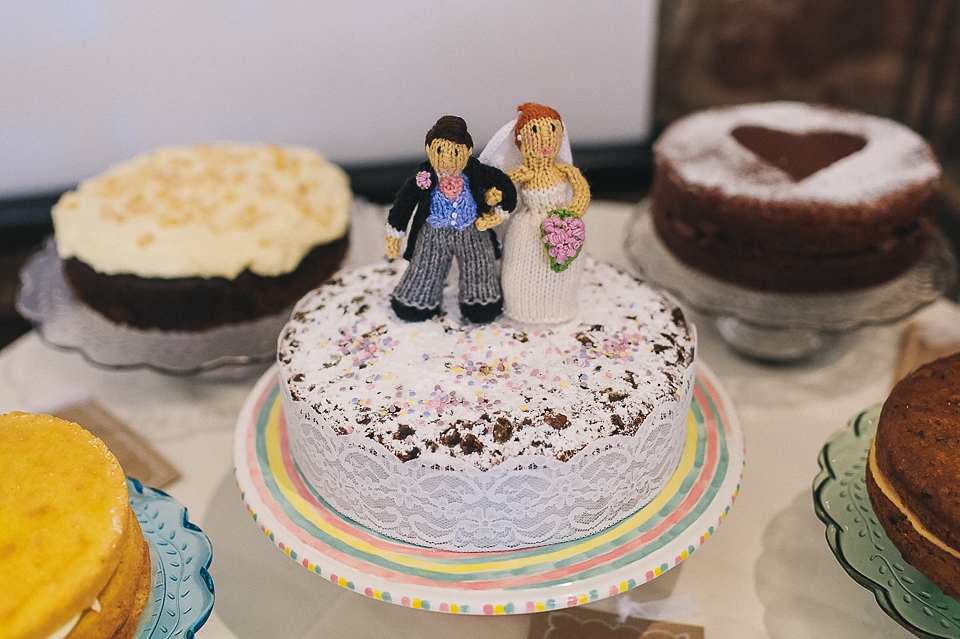 "My friends helped to make wool pompom garlands and we got paper pompoms to hang around the venue. I crocheted little jumpers for the glass bottles and appliquéd numbers to Kraft cards which were tied to the bottles for the tables."
"We searched A LOT of photographers as we're quite particular about photography. Narrowing down to 3, we met Darren Gair and decided not to meet the others (sorry!). Darren is not only a lovely person but absolutely SPOT ON with listening to what you like. Extremely enthusiastic and open to suggestions, he actually fell in a lake on the shoot but we won't mention that eh Darren?!
He went over and above the call of duty and even photographed us with my mum at our wedding venue just before she passed away. Having already bought her wedding outfit we thought it was only right that she got to wear it. It was a difficult and bittersweet time for us and he was absolutely wonderful. The photos, needless to say were awesome, just like the rest!"
"I made the bouquets with a selection of fabrics and a whisk which James now misses in the kitchen! James' mum made fresh buttonholes with flowers from her own garden." 
"I feel lucky to have found Beth from Bettie Lottie to do my makeup and hair, she did an amazing job and was flippin' lovely to boot!"
"James hired 'Ronnie' the Morris Minor to drive me to the wedding and then I walked down the aisle with my dad to Moon River, played by No Strings Attached. I absolutely loved seeing James waiting for me, sharing such a special moment saying our vows and declaring my love to him for the rest of my life."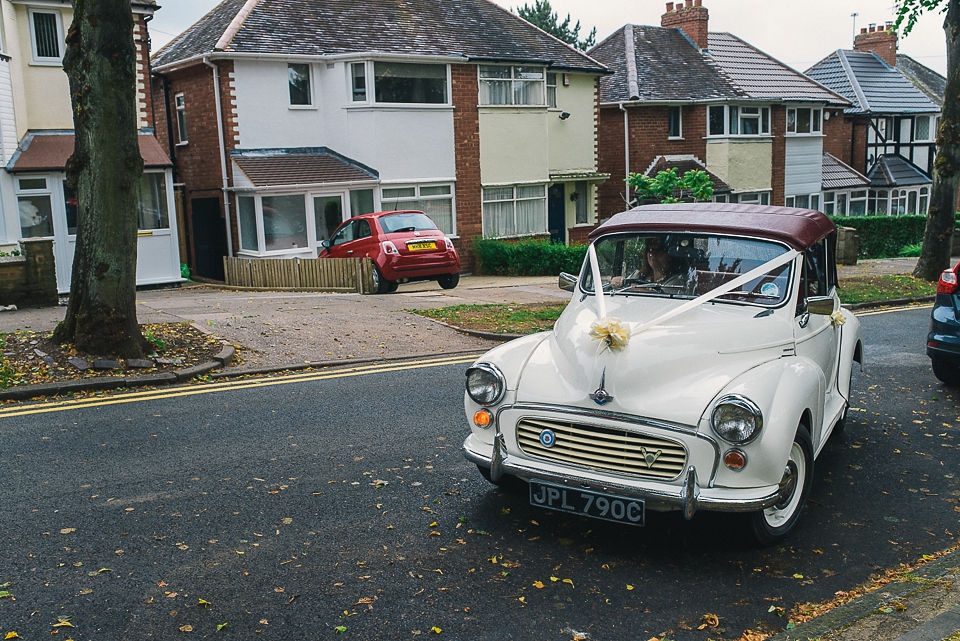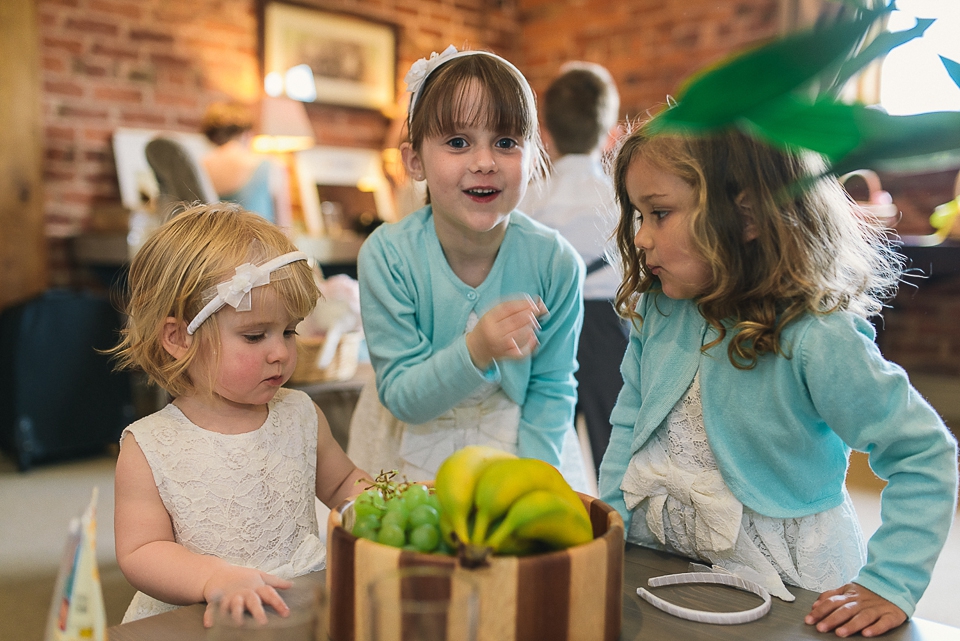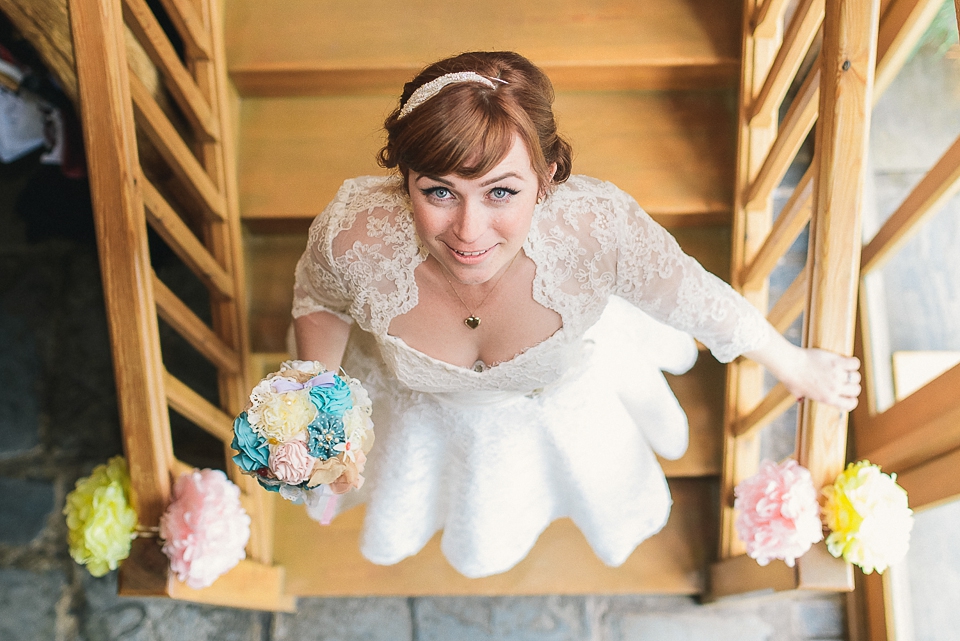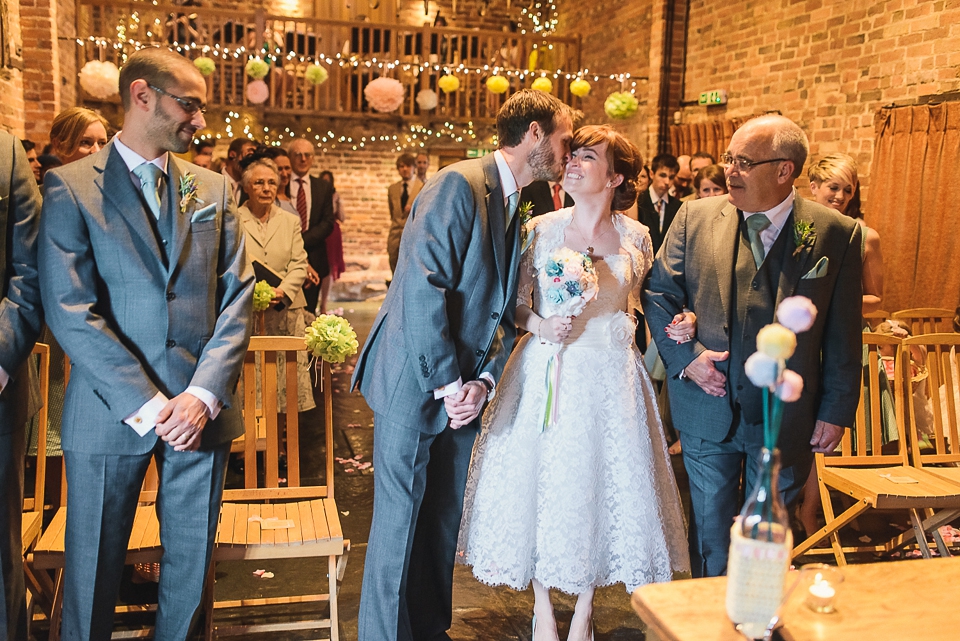 "I wanted mum to be remembered in the wedding as much as possible. We spent precious time together before we lost her and she picked out her favourite poetry. Her dear friend Jean read 'Sleep and Poetry' by John Keats. She knew my mum very well and was the only person we could have asked to read it. 'I Wanna Be Yours' by John Cooper Clarke was our more light hearted second reading."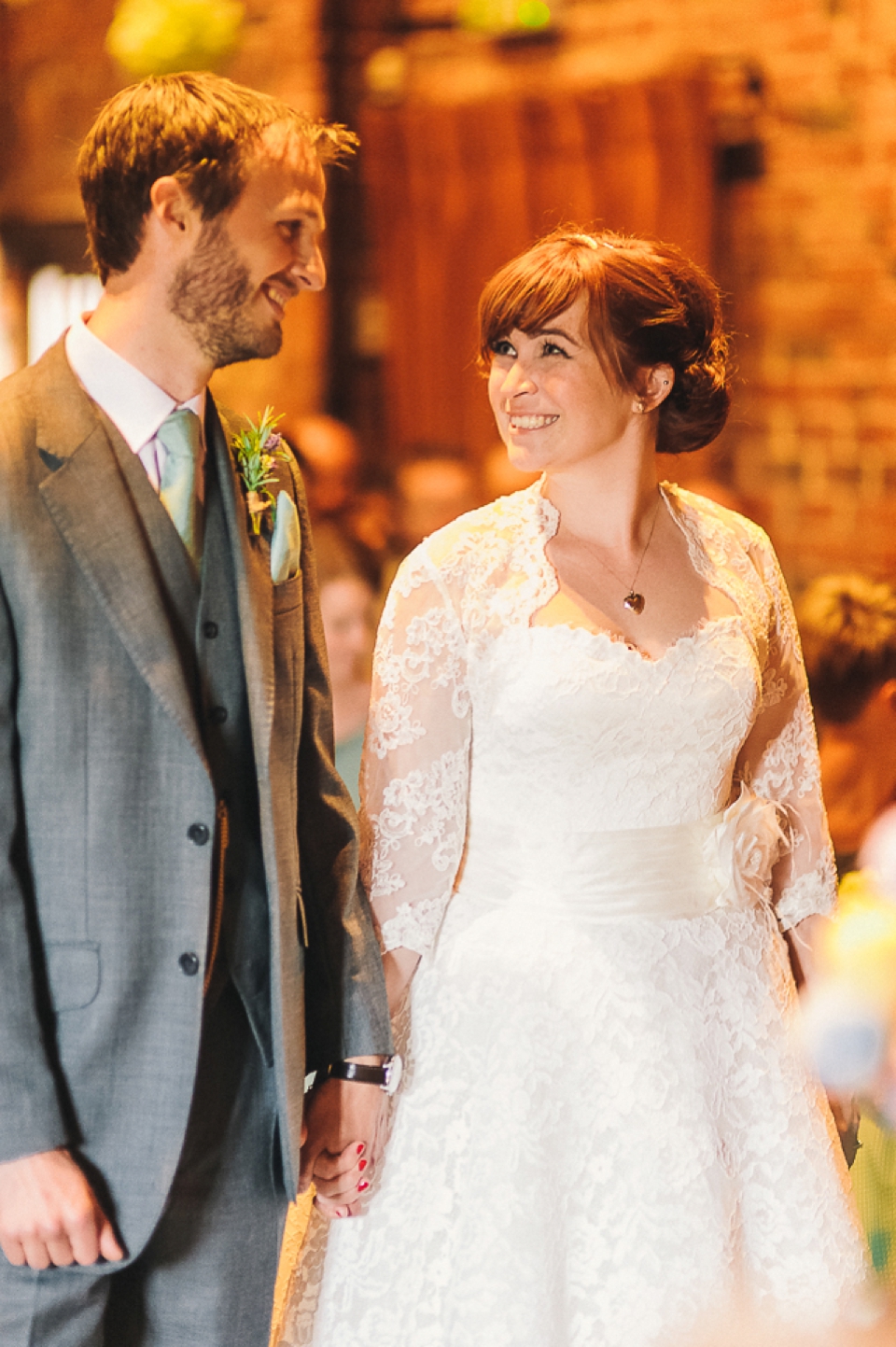 "The hire department at Slater's Menswear were brilliant. I surprised James with an engraved 1920s pocket watch and they even helped me secretly unpick a pocket on James' waistcoat for the watch.
All of the groomsmen wore pastel coloured socks, mostly to stop them from turning up in sports socks and we had cufflinks custom made for the wedding party, our photographer (because he's ace) and the head chef."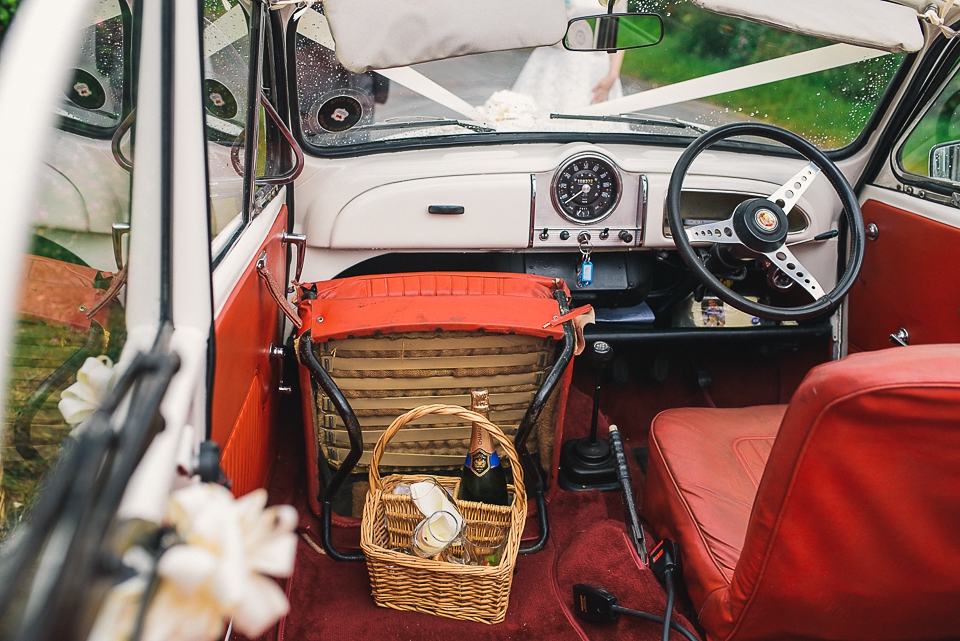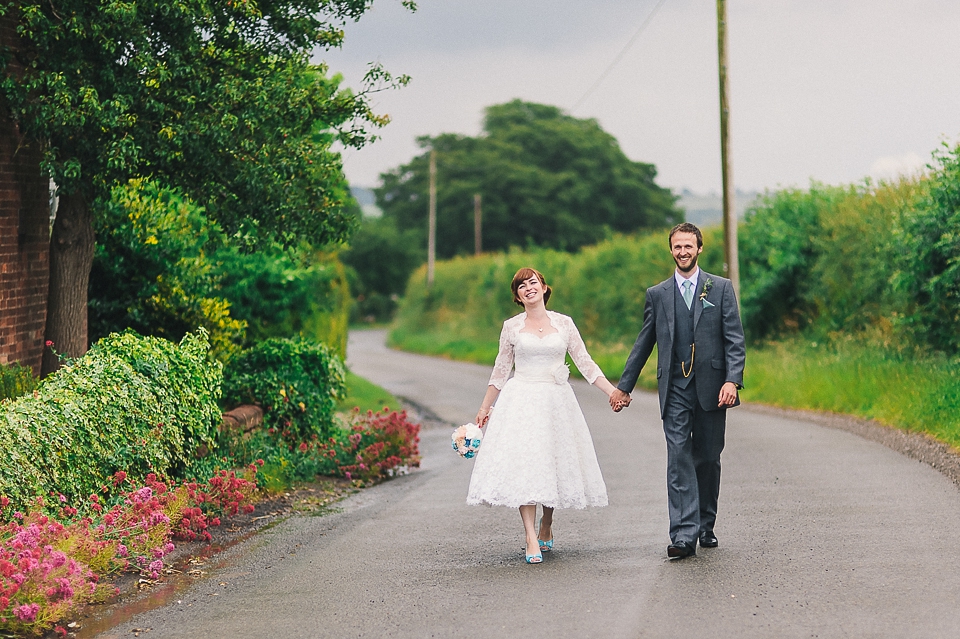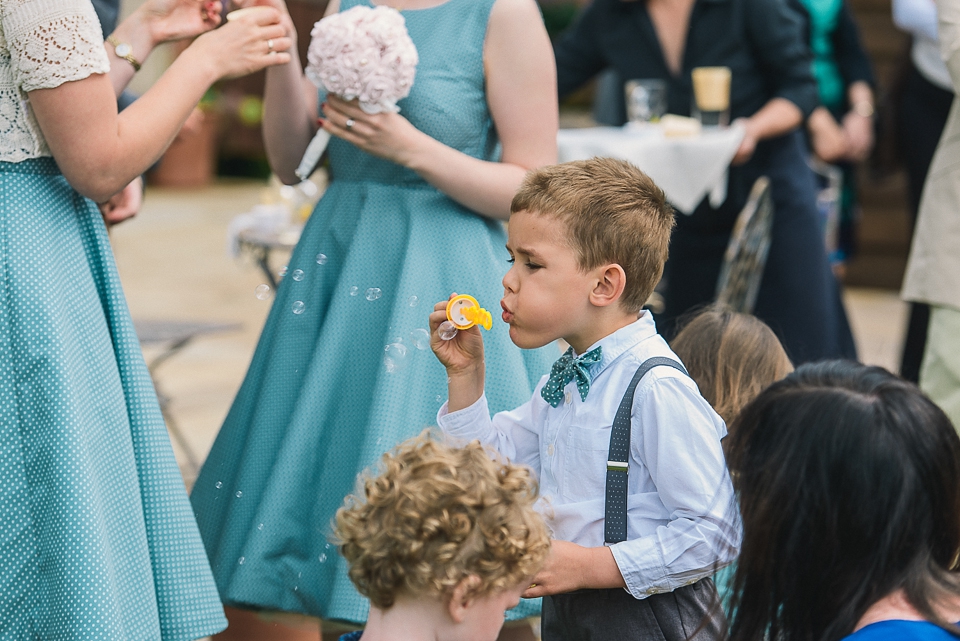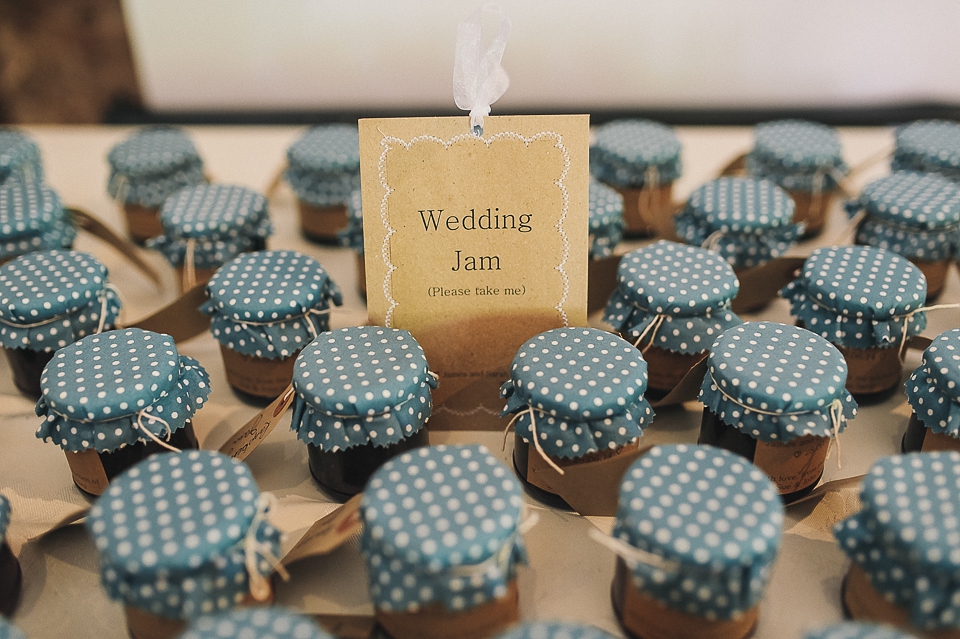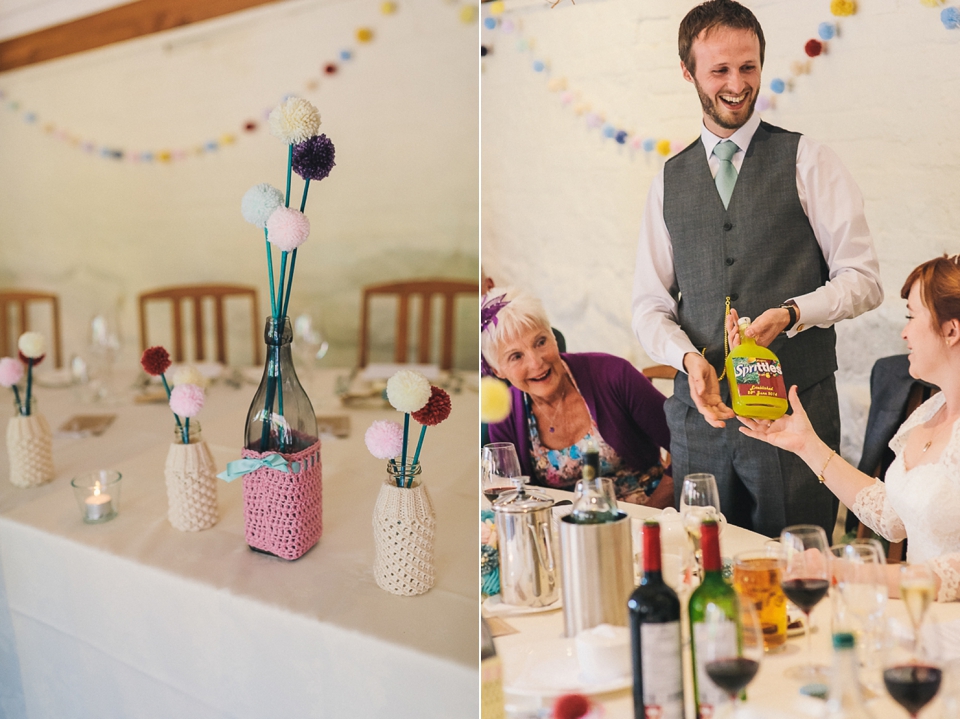 "We did all of the stationery ourselves with brown Kraft cards, Word and my sewing machine! They took a serious amount of hours but we were extremely pleased with the outcome, everything matched but had a handmade touch."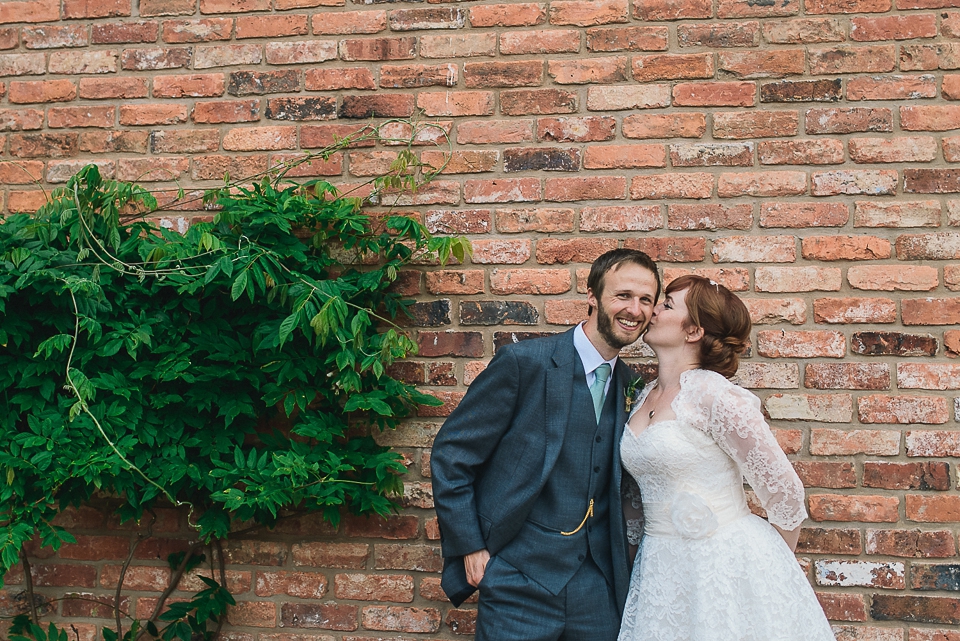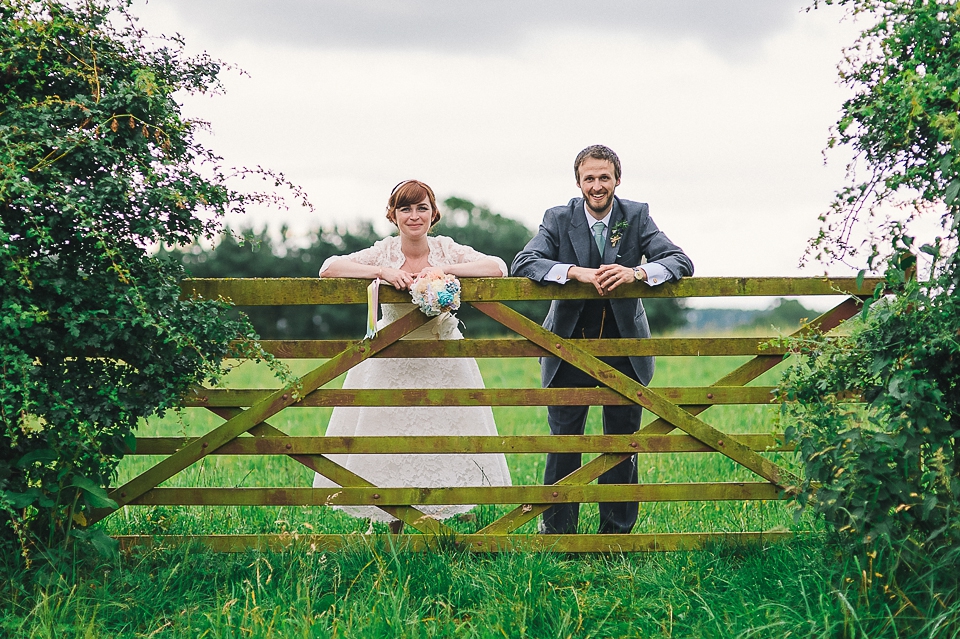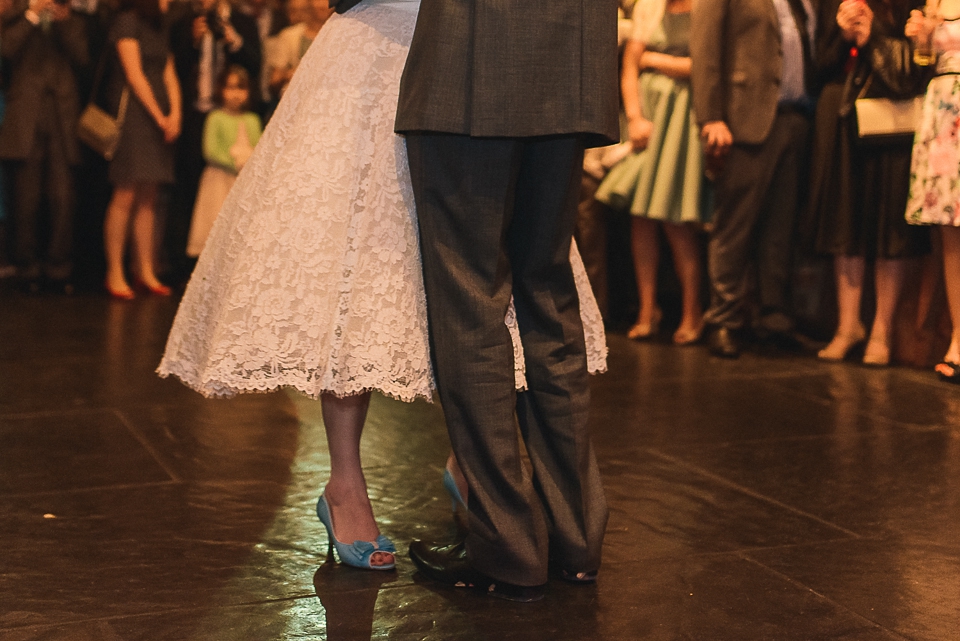 "A cèilidh kicked off the evening entertainment, it's great fun because everyone is forced to mix – in a fun way of course! Cut the Mustard were terrific, the caller was as mad as a hatter and the dance floor was absolutely packed! We got a Jukebox for after, we just had to switch it on and wait for people to choose songs (there's a secret skip button for bad choices!)"
Words of Wedded Wisdom
"Don't be afraid to ask for help. Your friends and family will be much more enthusiastic about helping than you think and it will make your life much easier, although people panicked after I'd said 'it's fine, you can do it however you want to', actually they'd like to get it right and they worry that it's not what you really want."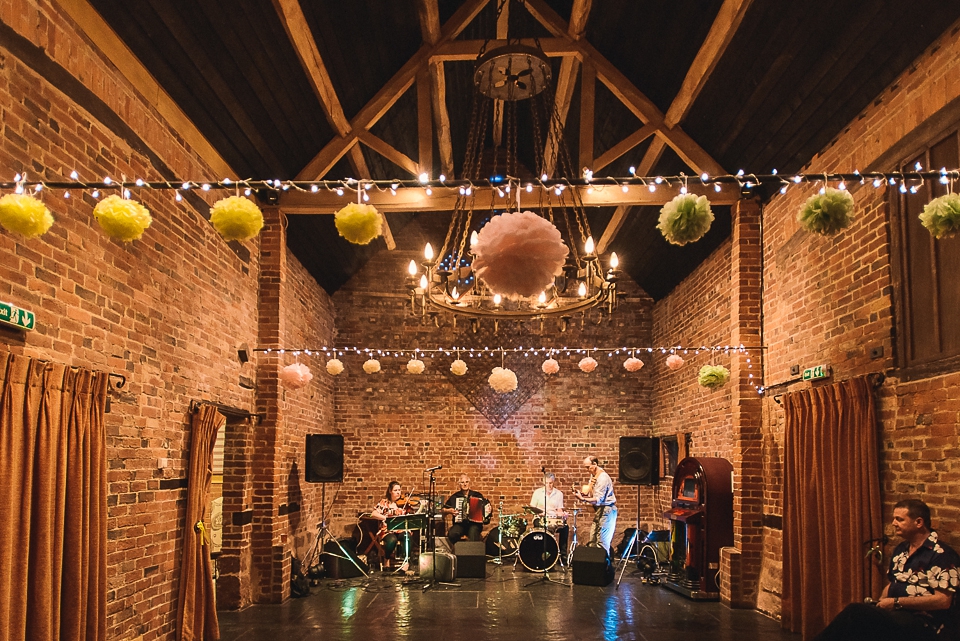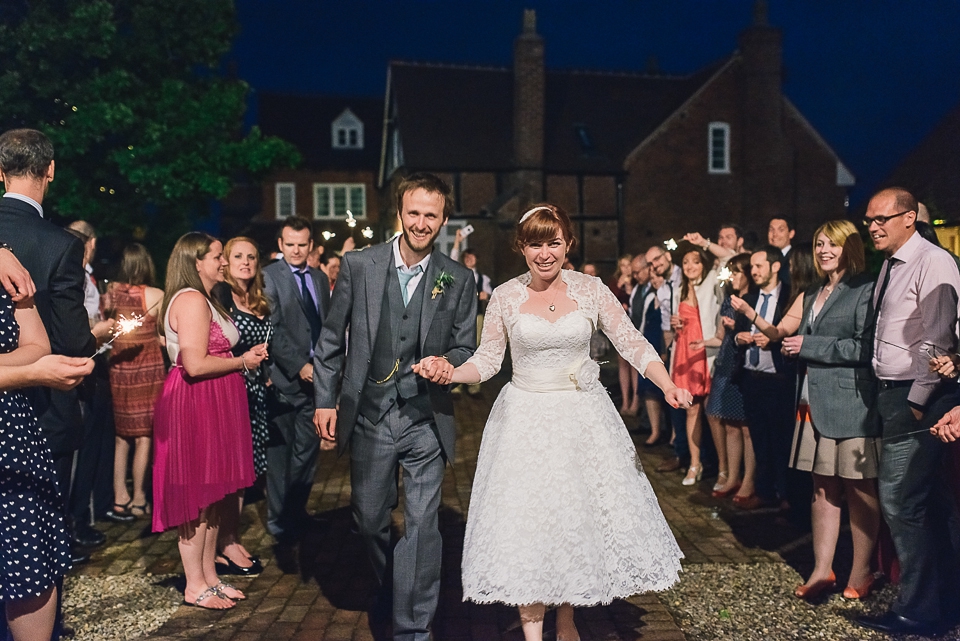 Thank you to Sarah and James for allowing us a glimpse into your beautiful day photographed by the tremendously talented Darren. I just love the handmade details and what a lovely surprise from James, Sarah's favourite ice-cream cart was!
Love Caoimhe xx
Photographer – Darren Gair Photography
Venue – Curradine Barns, Shrawley, Worcestershire
Dress – Justin Alexander 8632 from Brides of Solihull + Bolero Alex Bridal
Bride's Shoes – Rachel Simpson
Bride's Hairband + Necklace – Etsy
Bridesmaid's Dresses – Butterick B5748 Pattern + Net Skirts Etsy
Bridesmaid's Shoes – Kurt Geiger
Flowergirl Dresses – BHS
Hair and Makeup – Bettie Lottie
Groom and Groomsmen's Suits – Slater's Menswear + Cufflinks The Cross Eyed Fox
Cake Topper – Erin at Crafty Muthas Bear Wood
Rings – Neweys Jewellers
Ice Cream Cart – Barnaby's
Entertainment-  No Strings Attached + Cut the Mustard + Jukebox 45s
Transport – Classic Cars MC
Glass Bottles – Homebase
Pom Poms –  eBay