Afternoon folks! If you've not heard already, we're running a minimised schedule of blog posts between now and next Monday as we're in the process of a rather important server upgrade – required due to an increasing number of visitors to our blog.  The upgrade itself will happen at the weekend but there's a lot of preparation and backup that needs to take place first, so we're being sensible!  Full, normal service will resume by Monday, but in between then we'll still be sharing really cool images, like these photographs from a rather stylish 60's inspired fashion editorial shoot.
These images were sent in by stylist and author Kate Beavis, the organiser behind the 'National Vintage Wedding Fair'. Kate, who is a natural born vintage enthusiast, and who had her first vintage interiors book published last year, 'Style Your Modern Vintage Home', worked on this shoot with photographer Binky Nixon and a creative team who's brief it was to promote the authentic vintage dresses and accessories supplied by some of the exhibitors at the National Vintage Wedding Fair.
Photography Copyright (c) 2014, Binky Nixon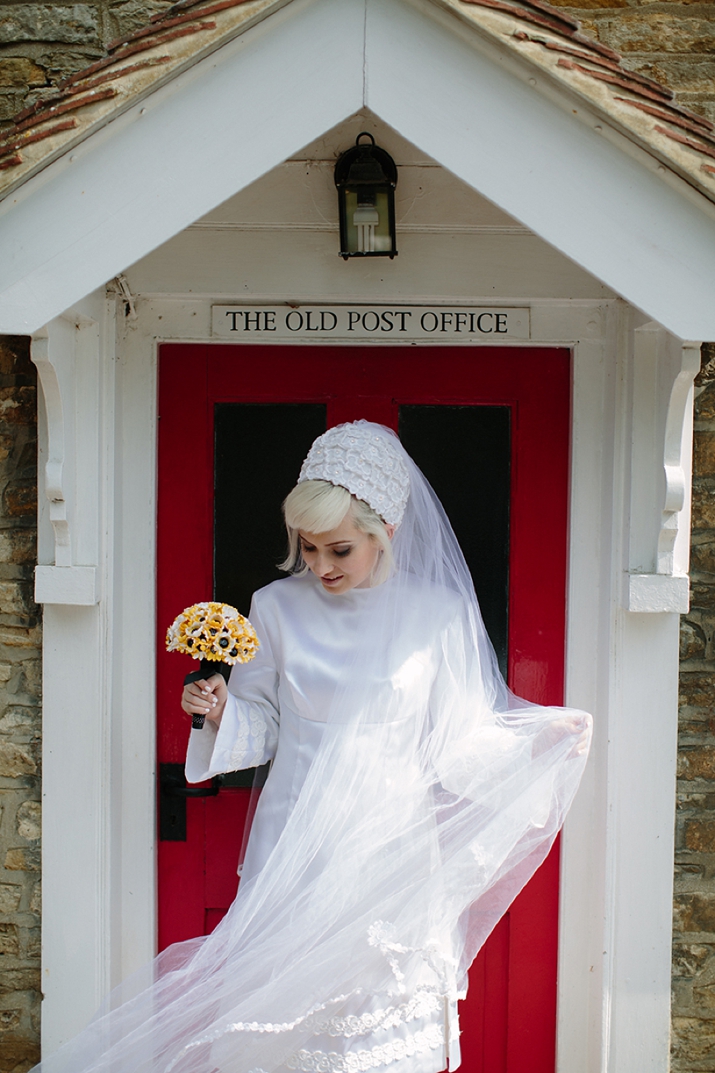 I really love the authenticity of this shoot.  Whilst we celebrate glamorous and elegant bridal style of all kinds, Love My Dress® was born on the concept of 'vintage weddings' – a term I shared my thoughts on in the introduction of yesterday's real wedding post so I love to share content that I know will appeal to readers who really appreciate original vintage style.  Perhaps to re-cap here, I really want to stop the negativity associated with 'vintage weddings' these days.
There's a real snobbishness that has arisen around use of the term.  Somewhere along the line – undoubtedly due to the fact it became a 'trend' that everyone and his wife wanted to cash in on – the notion of 'vintage weddings' became a little uncool.
People stopped using the term, bloggers started tweet-yawning about 'yet more bunting' and 'not another vintage wedding!'.  It's sad that the revival of authentic vintage fashion and styling inspired by nostalgia and the spirit of a by-gone age has suffered a hit to its street cred of late.  Personally, I don't give a damn – I've always loved vintage and it excites me to see brides dipping in to the past to borrow style for their modern day vintage inspired weddings.  And why shouldn't they? Why should they feel as though they're playing fancy dress or desperately trying to 'fit a theme' by having a vintage wedding?  It's such nonsense! If the fashion, vibe, style and spirit of a particular era is something a bride and groom really connect with, something that represents them – then aren't these personal tastes and preferences going to be evident on their wedding day?
However, this post certainly is not here to bemoan a misunderstanding, it's here to celebrate vintage, so let's refocus on and appreciate the images you see above and below these words right here.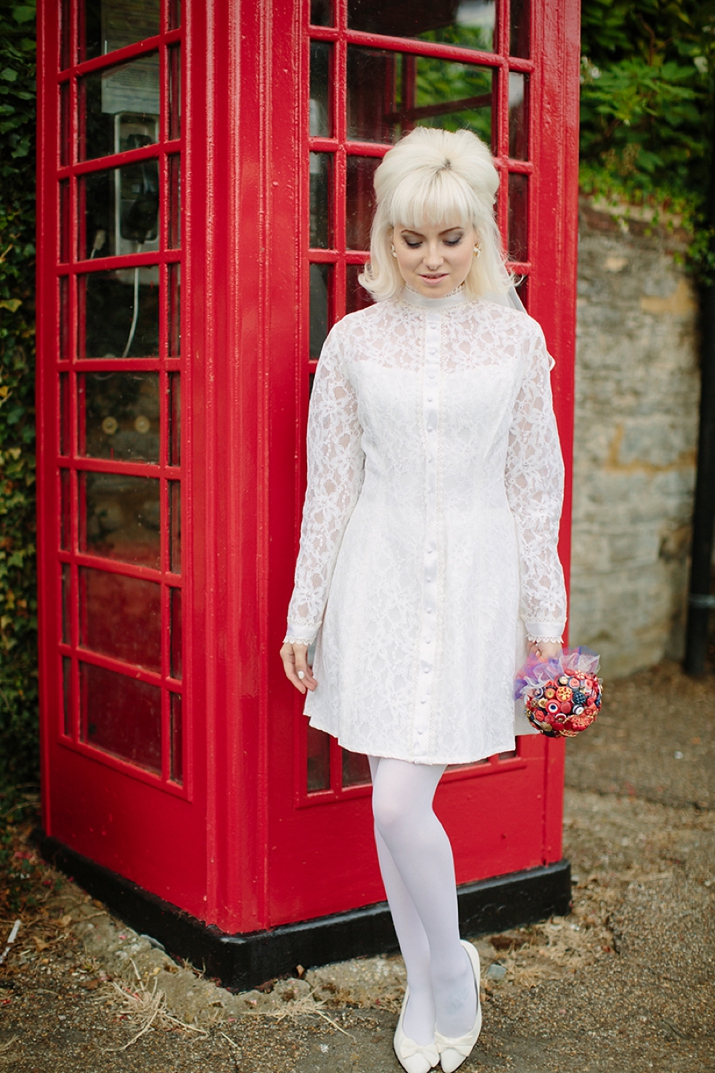 With much of the focus in the 'vintage scene' having been around the 30's 50's and 70's over the past two years, Kate was keen to explore and alternative era and looked to the 60's for inspiration.
"The 1960s was such an exciting time for fashion and for women also. For the first time they chose to wear clothes that were a million miles away from what their parents wore and they went out and had fun. I am often asked which era I would like to go back to and it is definitely the 1960s. Imagine the optimism for the future, the freedom that teenagers felt and the excitement of discovering flower power fashions and micro minis!
We wanted to incorporate some of this feeling using original short wedding dresses alongside bright colours such as the red phone box and the yellow button daisy bouquet – created by  I Heart Buttons."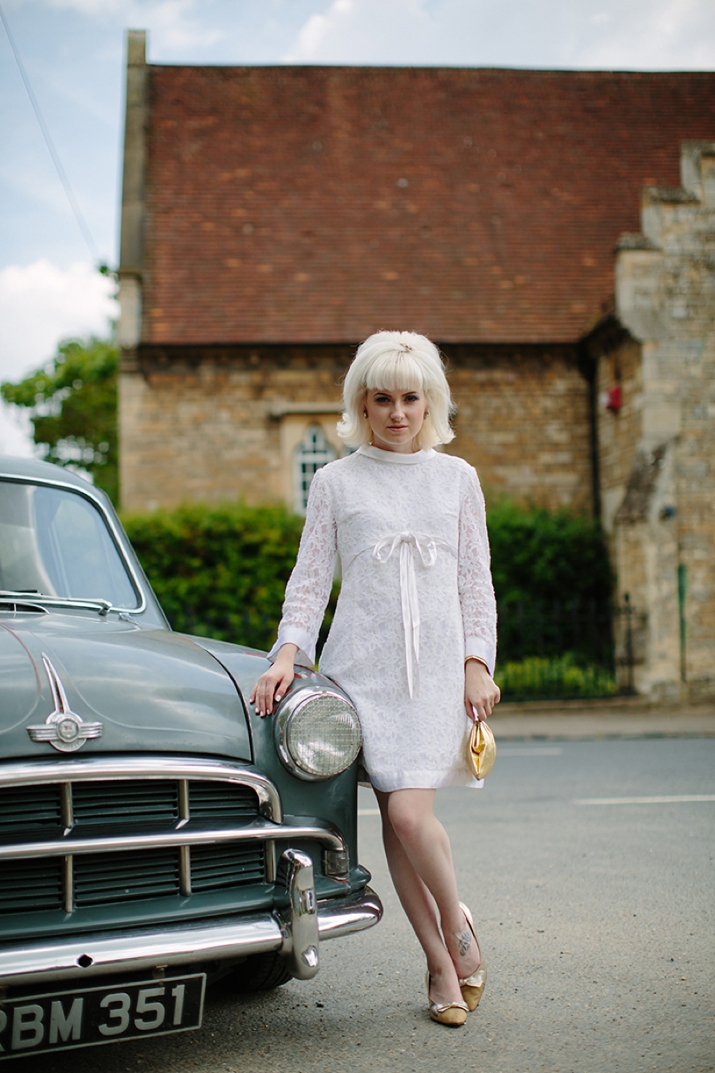 "Throughout the sixties, bridal wear designers recognised that a bride wanted a dress that was fitting for a church service, yet one that was also youthful and fashionable. Designers such as Mary Quant and Bellville Sassoon created Ready to Wear dresses in the early 60s which were a shorter knee length yet still with the fit and flare shape from the 1950s. However most brides still chose a full length gown with a fitted bodice and A-line column skirt, feeling the need to play it safe.
However in the second half of the decade bridal hemlines became shorter to match the fashionable daywear of the time. John Bates designed a mini dress and coat for his Jean Veron label which can be seen in the V&A museum this year as part of their wedding exhibition (read about this on Love My Dress here). Despite its short length it was still felt to be appropriate for the occasion. Veils were short and puffy, worn on the back of the head. Another popular choice was a pillbox hat, a decorated skull cap or even a large rimmed floppy hat."
"All our shoots are photographed by Binky Nixon who works locally to us in Bedfordshire. We work so well together and she always captures the spirit that I want to convey as well as taking fantastic shots."
"The shoot was in a small, sleepy yet picturesque village called Pavenham in Bedfordshire. It was the perfect backdrop for the shoot, with the traditional red telephone box and a matching red door as well as long winding road."
"The bride, model Dakota Hunt, is photographed on the way to her wedding, she has broken down, makes a phone call and is waiting for someone to pick her up.  We wanted to present the feel of a thoughtful, playful and stylish bride."
"During the shoot, the locals came out to watch, reminiscing about the 1960s and how they used to dress like this. One lady described her wedding day in the late 60s, how she wore her hair backcombed with a short veil and carried a horse shoe."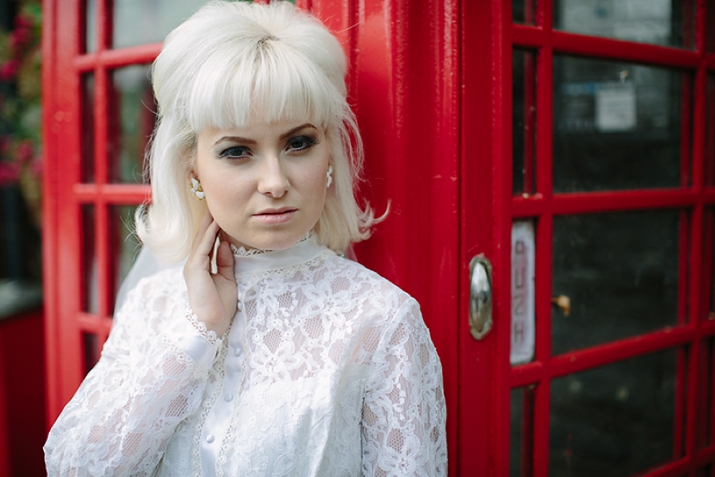 "She wanted to wear a short dress but her mother wouldn't let her, instead choosing the classic column dress – even though her guests wore short occasion dresses!
She was envious of the choice we have today and loved the fact we were embracing the wedding designs that have gone before."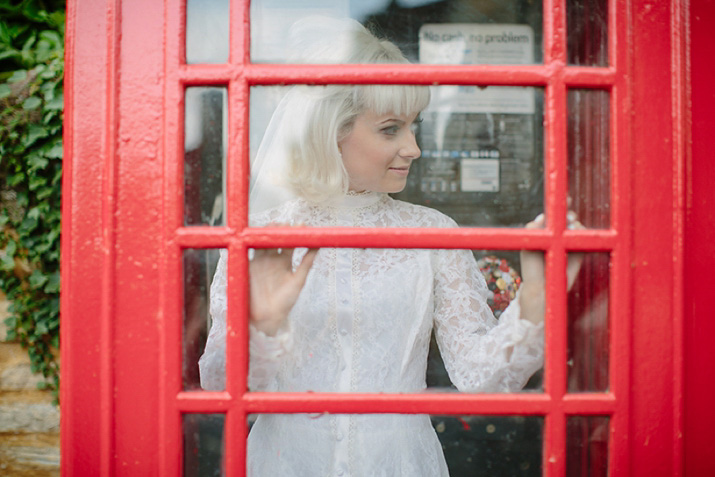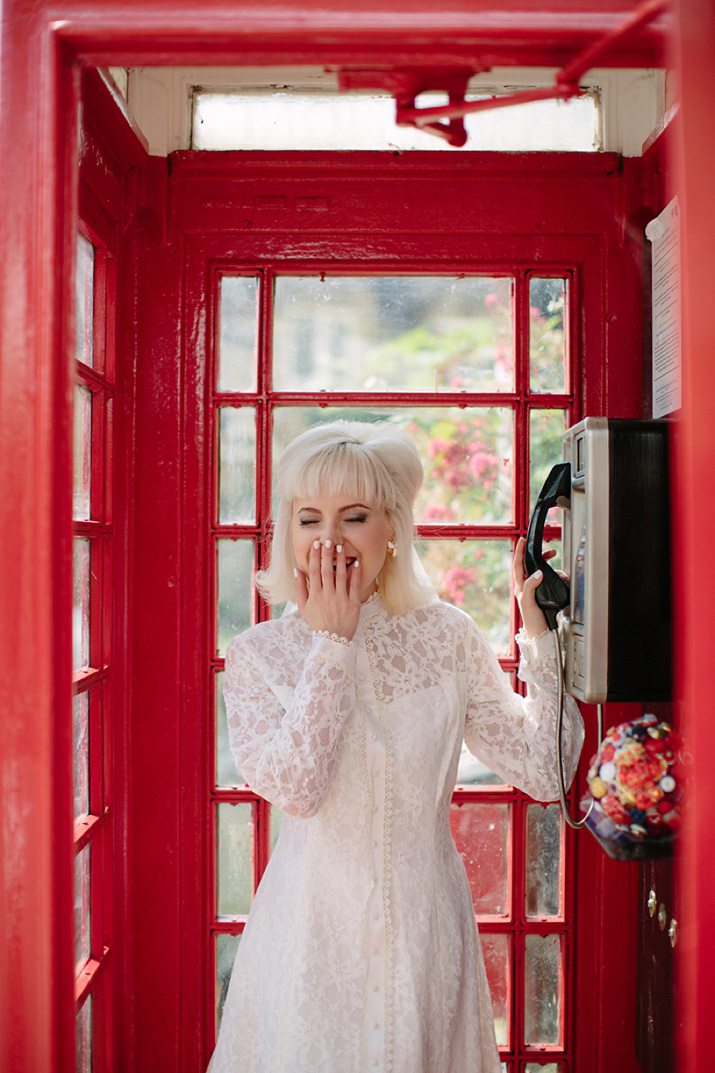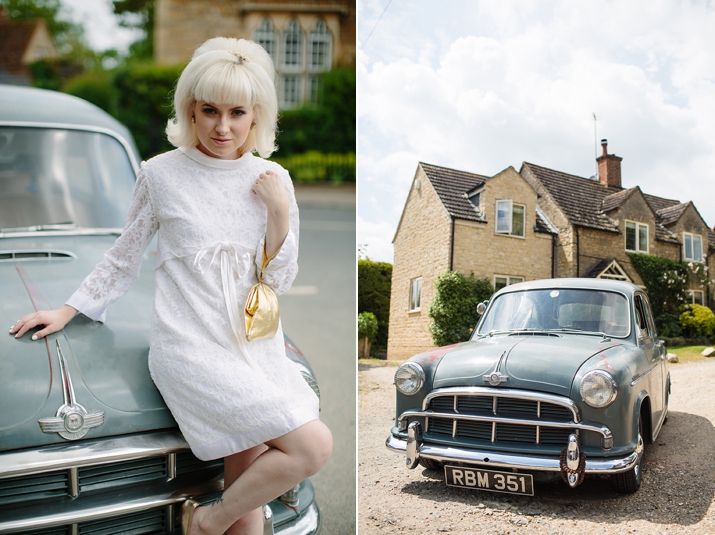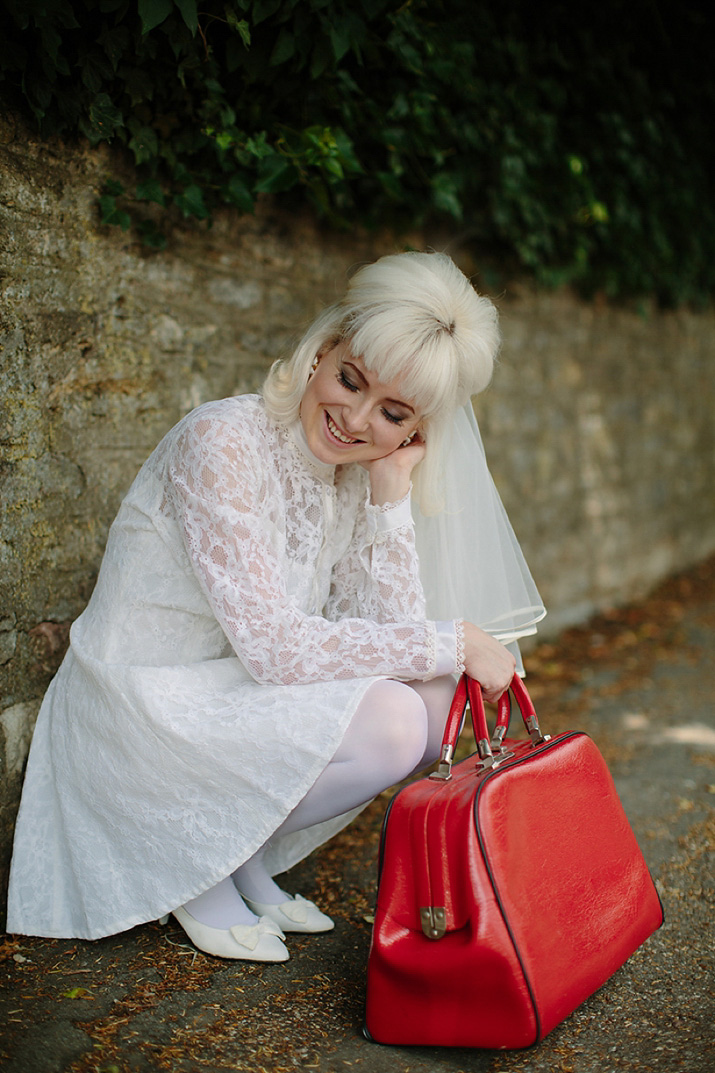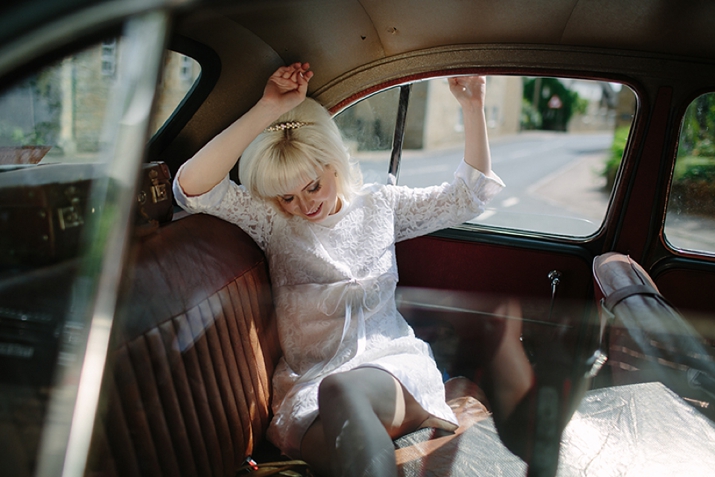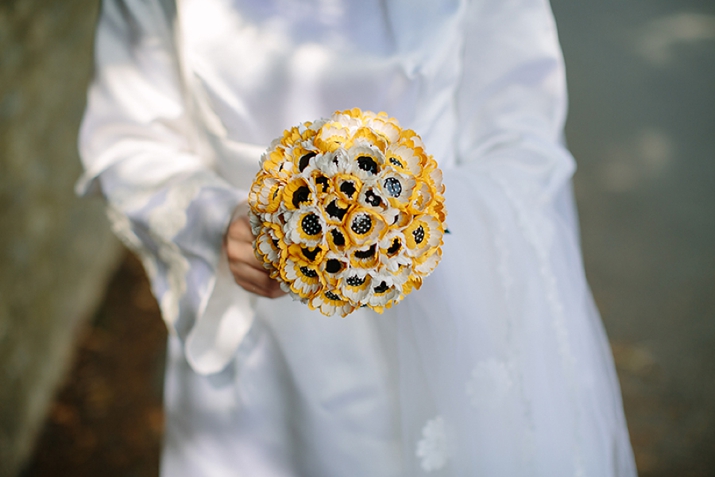 "Daisies were everywhere in the 60's – as seen within the lace of the dresses, the veils, on caps making them the perfect choice for bouquets too – we used a beautiful button bouquet by I Heart Buttons which we hope Love My Dress readers looking for an alternative to real flowers will love. Shoes were pointy, pale tights were often worn and hair was big."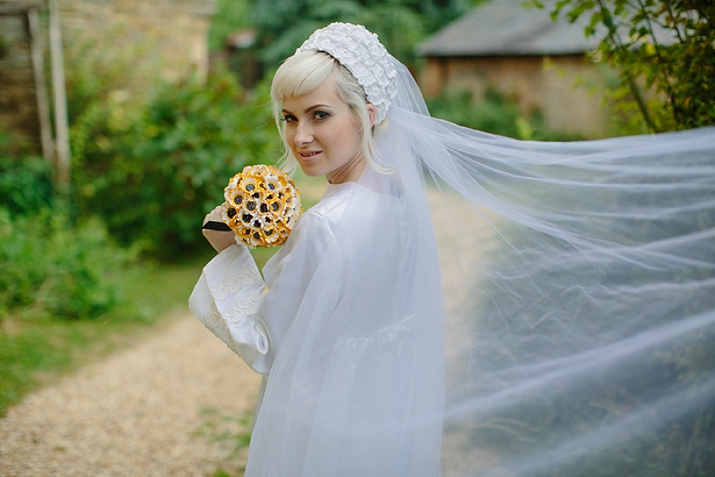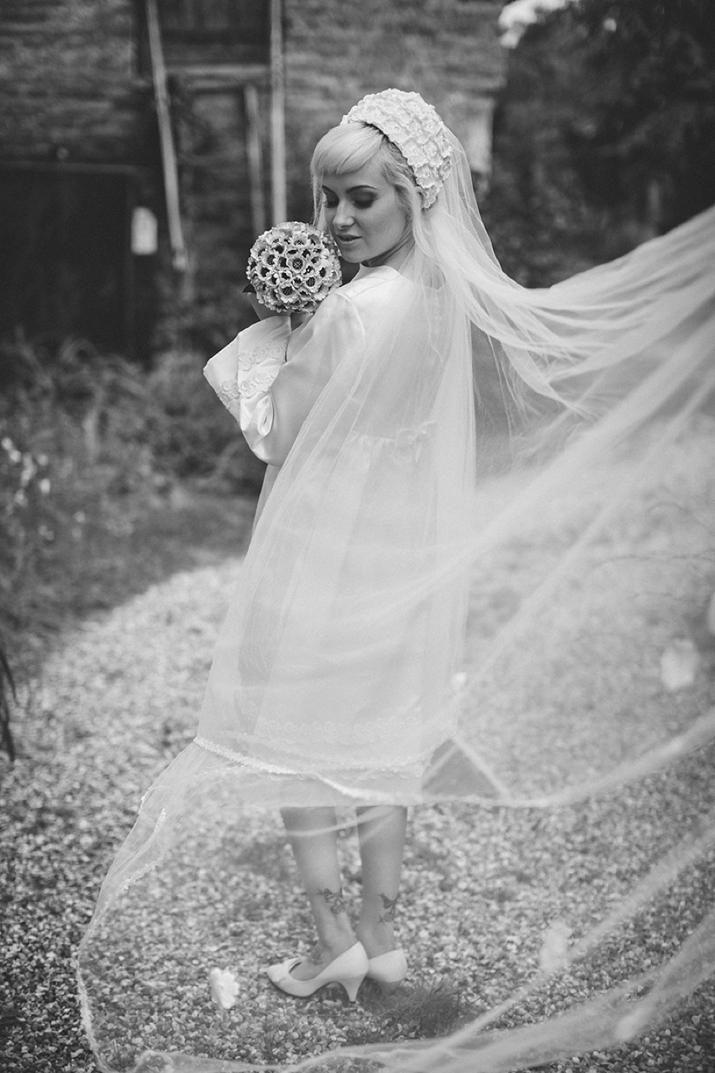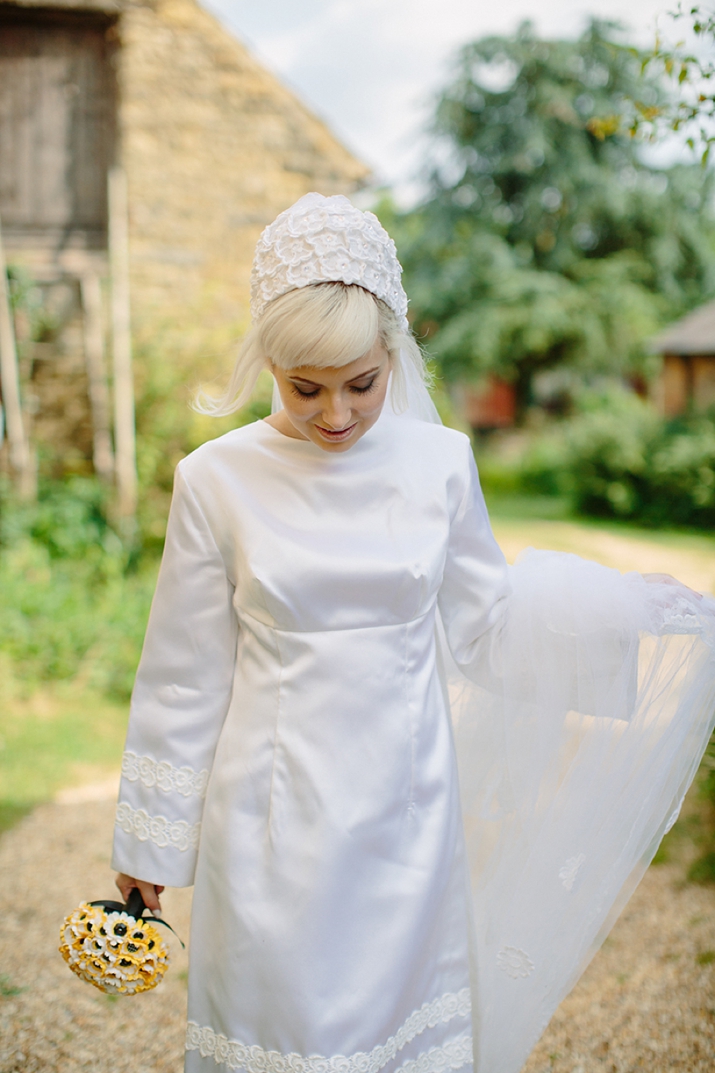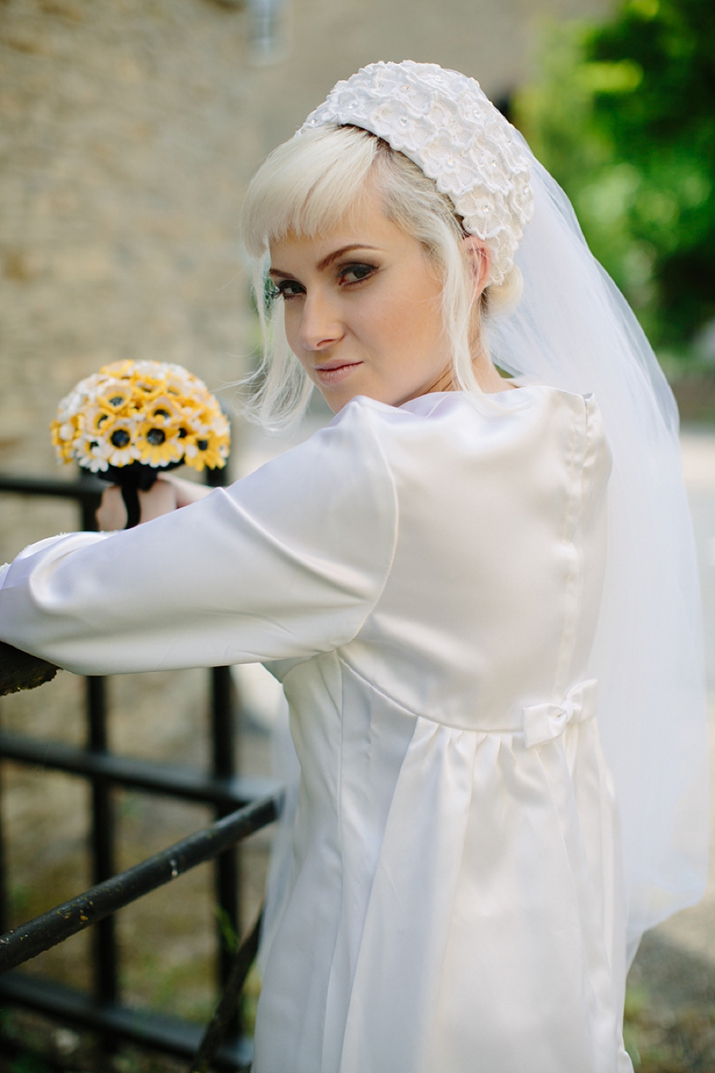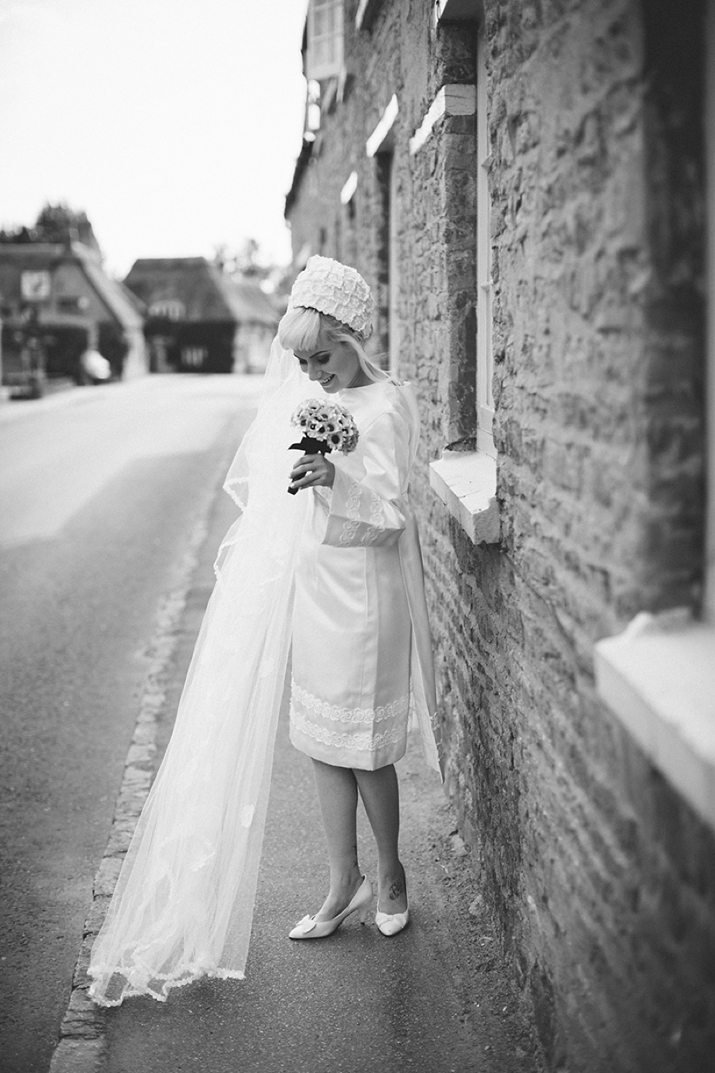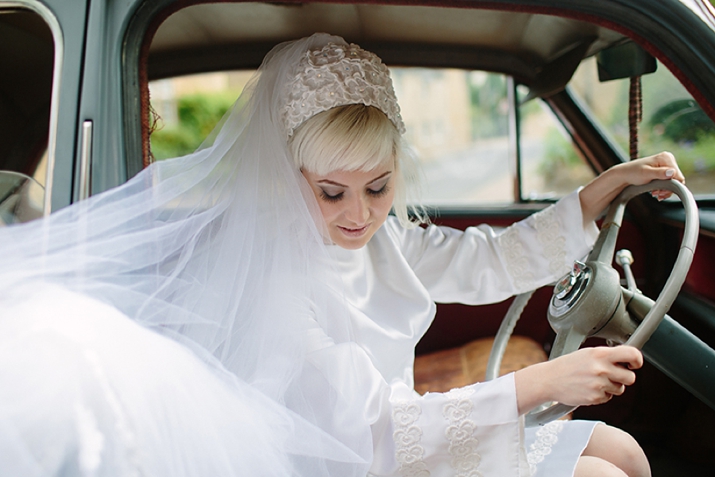 Similar vintage wedding dresses and accessories can be found at Kate and Adam's National Vintage Wedding Fair this Autumn as well as everything else you need for your big day. They will be at Stoke Newington on 12th October and Chiswick on 9th November.  Each event has a tea room, live musicians and DJs, workshops, inspiration stations and goody bags for the first the 100 brides who attend. Tickets can be purchased in advance and on the door on the day. For more information please visit vintageweddingfair.co.uk.
Anyone fancy attending?  Let me know if you do! I'd love to see some Instagram images from the event too.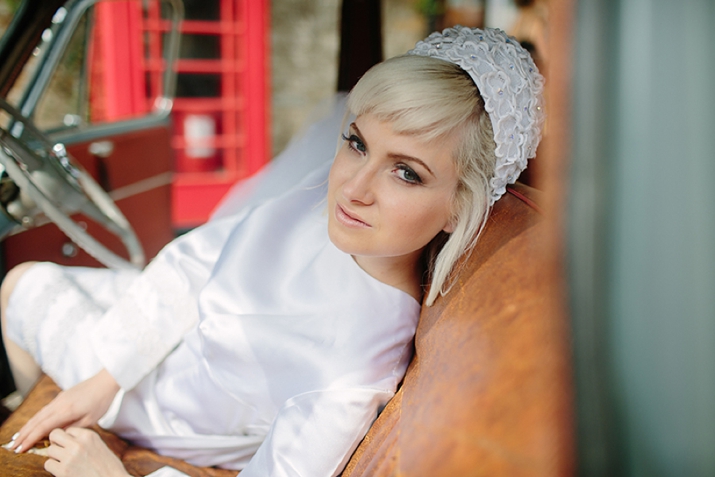 I really love how Kate and her team have captured the spirit and vibe of the 60's bride in these images and would like to thank the creative team for choosing to showcase their work on Love My Dress®.  If you'd like to explore more about the 60's you might want to buy a copy of my book, Style Me Vintage Weddings, available on Amazon and in all good book stores.
Love Annabel x
Photography – Binky Nixon
Stylist – Kate Beavis
Hair – The Chiswick Salon + CeeCee Hair Extensions
Make-up: Barbara Stepansky (no website)
Model: Dakota Hunt  (no website)
Dresses – Glory Days Vintage + Story of My Dress + The Vintage Gown
Veils – Petite Lumiere (short veil) + Truly Vintage (long cap & veil)
Jewellery and handbags – Your Vintage Life
Pearl head piece –  Cherished
Button Bouquets – I Heart Buttons