Hello again my lovelies – well this morning's wedding has created quite a reaction on our Instagram page – though it's no surprise why if I'm honest – well worth a look worth a look if you've not seen it already.  This afternoon's nuptials took place in what was my hometown up to two years ago.  Creative Industries Co-ordinator Jen tied the knot with Musician Jeremy on 2nd August 2014, with a ceremony at Tyneside Cinema, followed by a reception at Summerhill Pavilion – both in in Newcastle upon Tyne, Tyne and Wear.
This is one of those cool, city weddings that also manages to pull off a completely relaxed and laid back feel. And I love that there is a soft influence from the 1970s present throughout the day too.
"We wanted our wedding to be held in the the city we call home and a city which we very much love. We decided to have our wedding ceremony at the Tyneside Cinema, one of the most beautiful and unassuming venues in Newcastle. The last surviving Newsreel cinema in the UK and a building that holds a really special place in our hearts and has played a big part in our relationship. I have worked there for around eight years on and off and have made some really special friends there some of which led me to meeting Jeremy. We have watched more films than I can even recall and had some of our best dates there."
Photography Copyright (c) 2014, The Twins Photography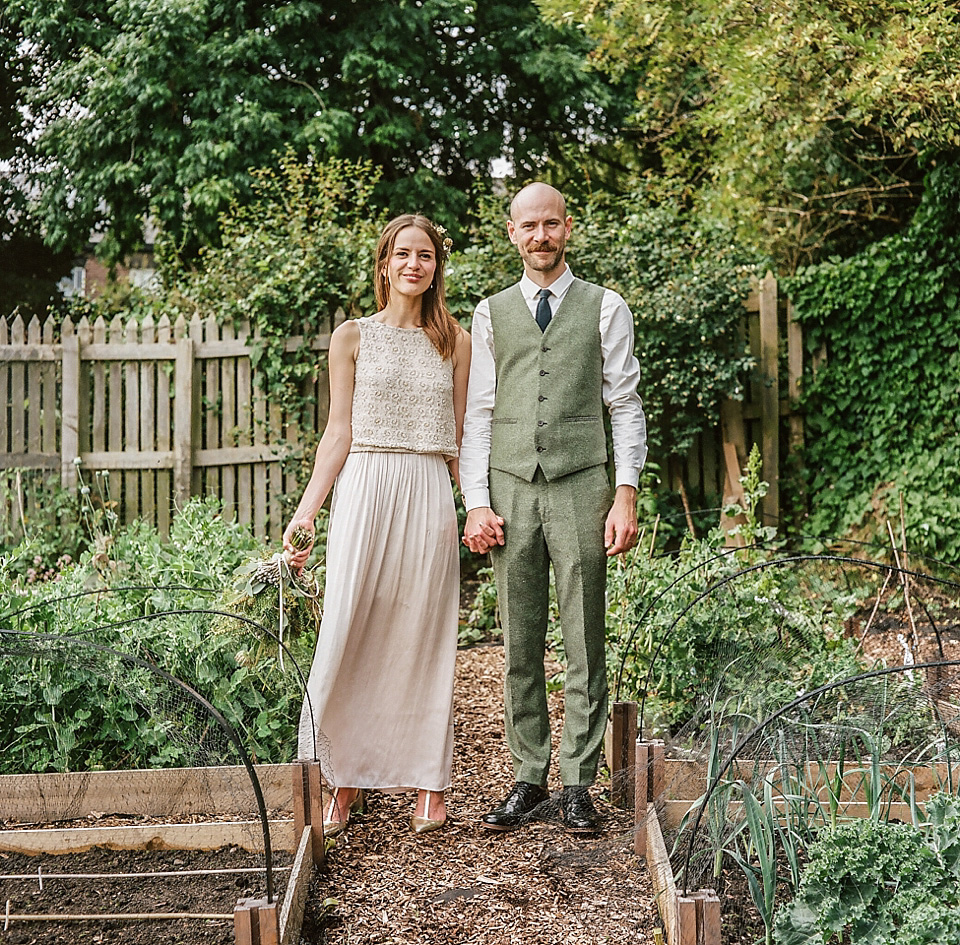 "We wanted the day to be as much about us as possible. We both have a love of collecting bric-a-brac and vintage artefacts for example, and especially from the 1970's, so we tried to incorporate this into the day – which basically meant taking the entire contents of our house to Summerhill.
The style was also guided by the two venues we chose and their amazing heritage along with a touch of our taste."
"We made a lot of things ourselves,  including a heart shaped light box for the stage, personalised popcorn bags featuring Mrs Doubtfire, one of the first films we watched together and ceremony programmes. We hired in some festoon lighting and brought along the contents of our house and some bits of furniture.
We bought some balloons and party hats from My Little Day. As for flowers, we planted up lots of small succulents the evening before the wedding in pretty much any vestibule we could find, just to give a nice touch of green."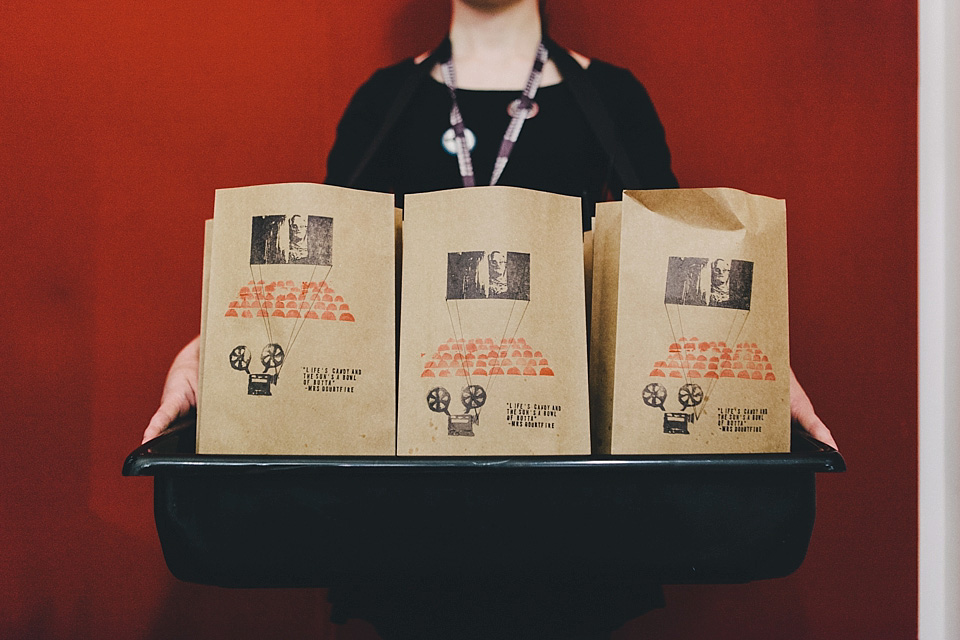 "Jeremy and I have been together for just over five years.  We met when he was playing a gig at a local independent cinema. We had mutual friends who introduced us and it went from there. We met at a few other times in pubs and at gigs and finally I asked Jeremy out and he said yes.
Jeremy proposed in February this year, it was really simple – at home over some amazing pasta he had made. I had no idea as he's surprisingly good at keeping secrets. We had spent the previous year buying and painstakingly renovating our own house, making a home for our new family so it seemed like the perfect place to do it. We figured the longer we planned the more epic and convoluted the wedding would get so thought we'd try and keep things simple and opted for 2nd August, giving ourselves six months to get everything sorted."
"Our friend Hannah of Wildflower Florist is one of the loveliest people we know as well as being a hugely creative and unique florist. So many of our close friends have got married in the last year and no one ever has a second thought when it comes to flowers – it's always Hannah. Every wedding, Hannah manages to tell the story of the couples personalities through an array of beautiful and quirky flowers – something I never knew was possible and our wedding was no exception.
When Hannah arrived with my bouquet and Jeremy's button hole the night before the wedding I nearly cried, it was like a work of art and undeniably us.  We really wanted Hannah to enjoy the day as a guest though, and with her having deliveries for other weddings the morning of ours, we ended up doing a bit of flower arranging ourselves. The bridesmaids made their own bouquets and I put together a slightly shady attempt at button holes for the ushers with some cuttings from my granddads garden!"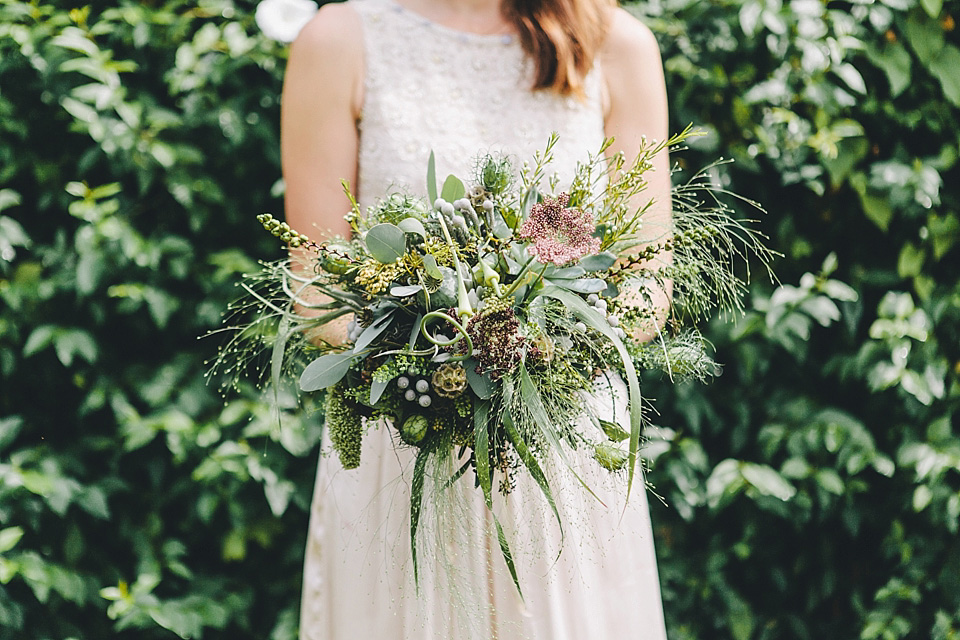 "I had a bit of a wedding dress nightmare if I'm honest.  I thought way too much about what other people's idea of a wedding dress was, and not enough about my own style. In the end, with a very tight budget and a few weeks to go, I chose to go 'high-street', and I couldn't have made a better decision.  I chose my top first and then found a skirt to match. I was so happy and comfortable on the day and felt completely like myself.
My bridesmaid Jilly wore a Whistles dress and Claire's was from Debenhams, they chose their own which meant they were happy and comfortable on the day and it made my life a lot easier."
Readers – we're waiting to here exactly which high street store Jen purchased from – hang on in there!
"We found our photographers, The Twins, through Love My Dress®, and loved their style. After checking out their beautiful portfolio of work, we knew they were the photographers for us. Caroline and Kelly were so great, they took the time to get to know us and we couldn't have asked for more, the photos speak for themselves and capture the day perfectly.  We believe if there is one part of the budget that is well worth the spend, it is the photos.
We had a great pre-wedding shoot with the Twins at an old bingo hall near our house that was due to close soon. We wanted to capture a Newcastle gem before it was gone but also wanted a bit of practise posing for pics. The photos were so great that we decided to use them as our wedding invites. Our friend Steven is the talented graphic designer behind 50ft Long Horse, and he used the photographs and designed us some great postcards. We then made a WordPress website with all the additional information on, as our ideas weren't completely formed when we initially sent out the invites – and so it seemed best to have something we could update as and when we needed to."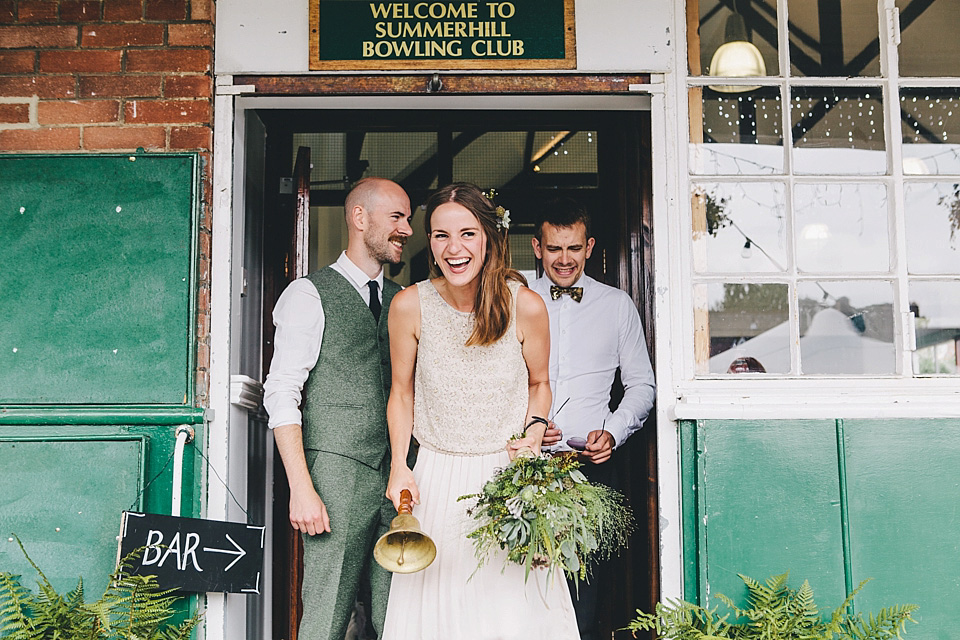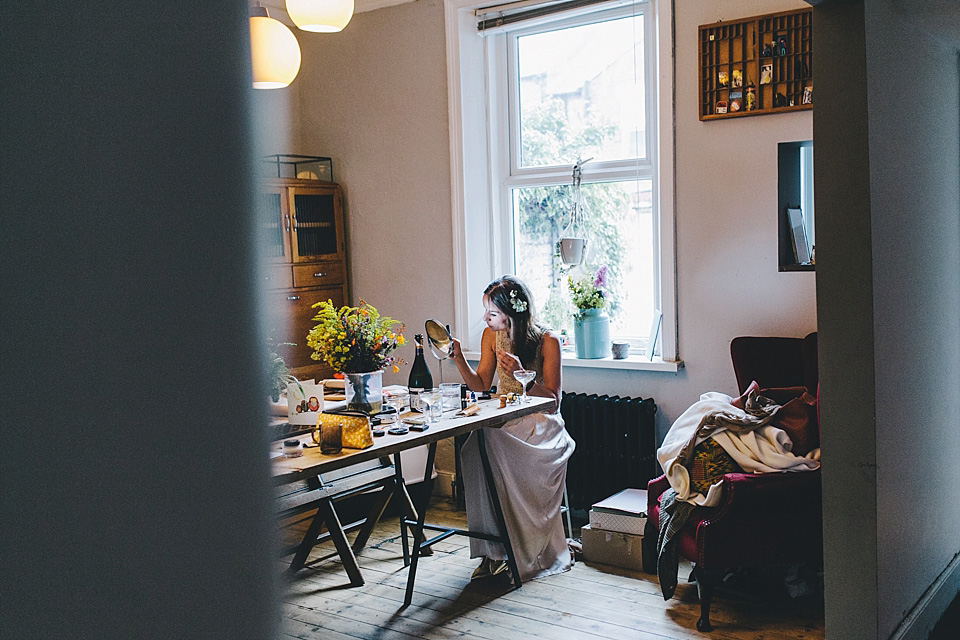 "I had a few make up trials and never felt comfortable with the outcome. In the end went to the Bobbi Brown counter and had a couple of make up tutorials and bought a few bits then did my own make up on the day. It made me feel a lot more relaxed and meant I get to keep the make up afterwards.
As for hair I popped along to a local hairdressers (Leaf) on the morning of the wedding, they're just around the corner from my house. I asked for something really simple and natural and they added in the flowers that Hannah (Wildflower) had given me. As she'd given me a real selection there was plenty left over for my bridesmaids."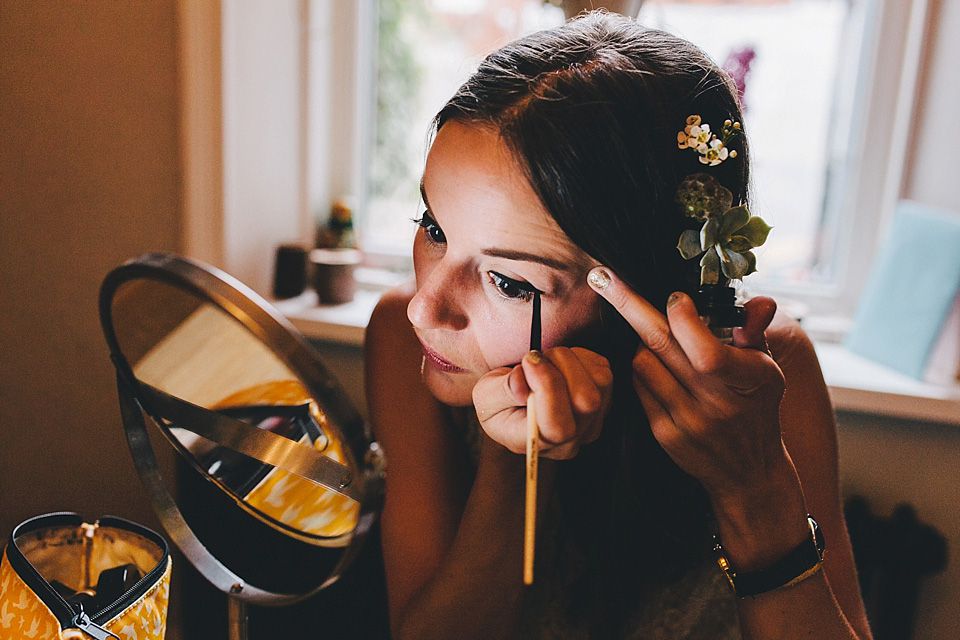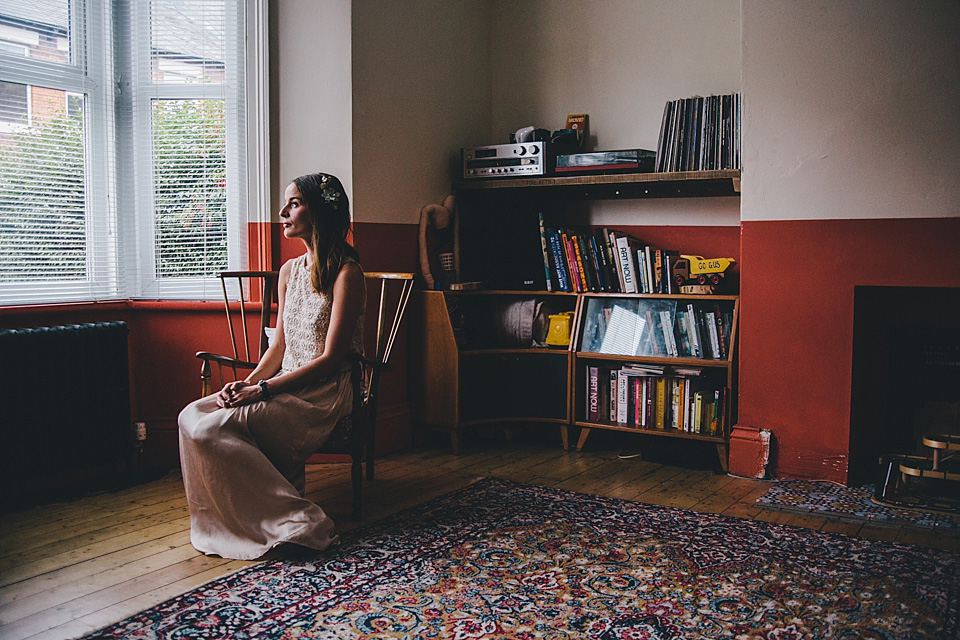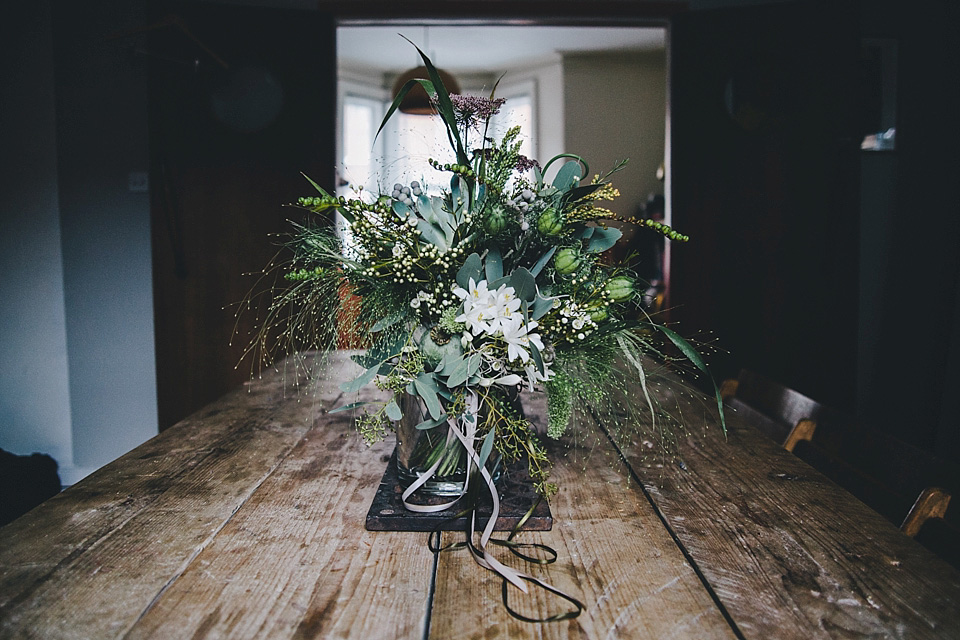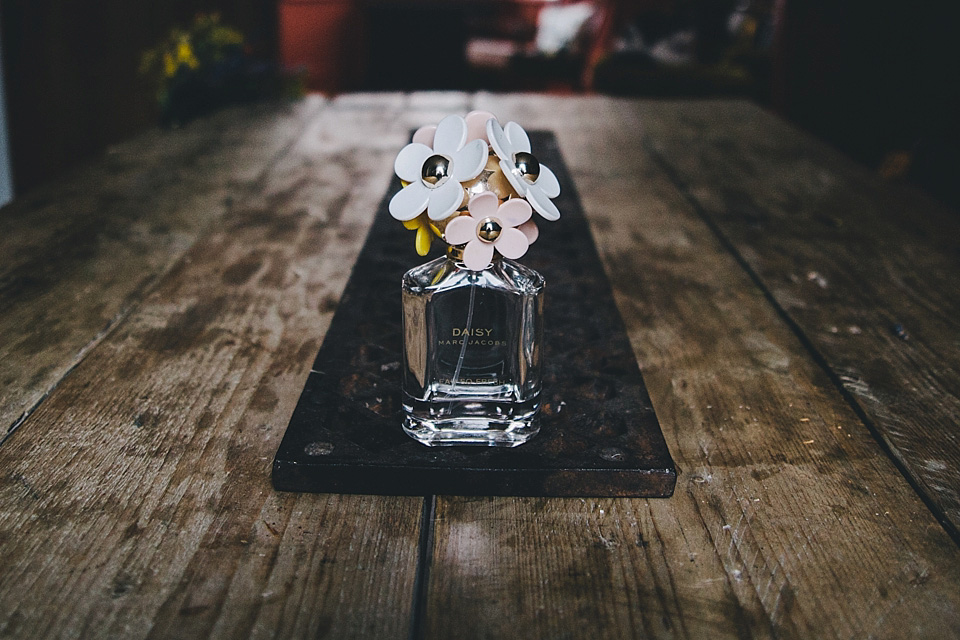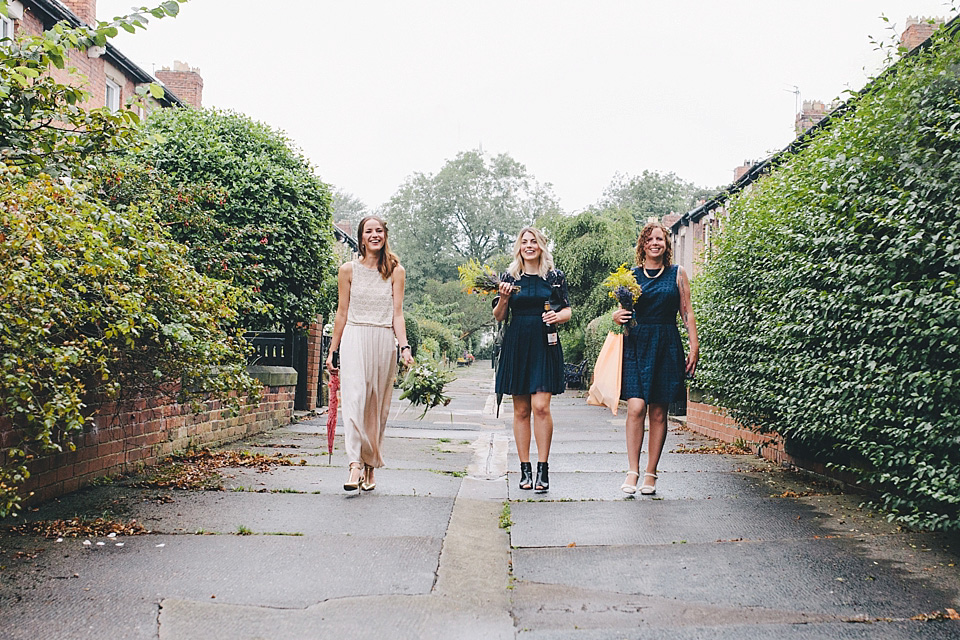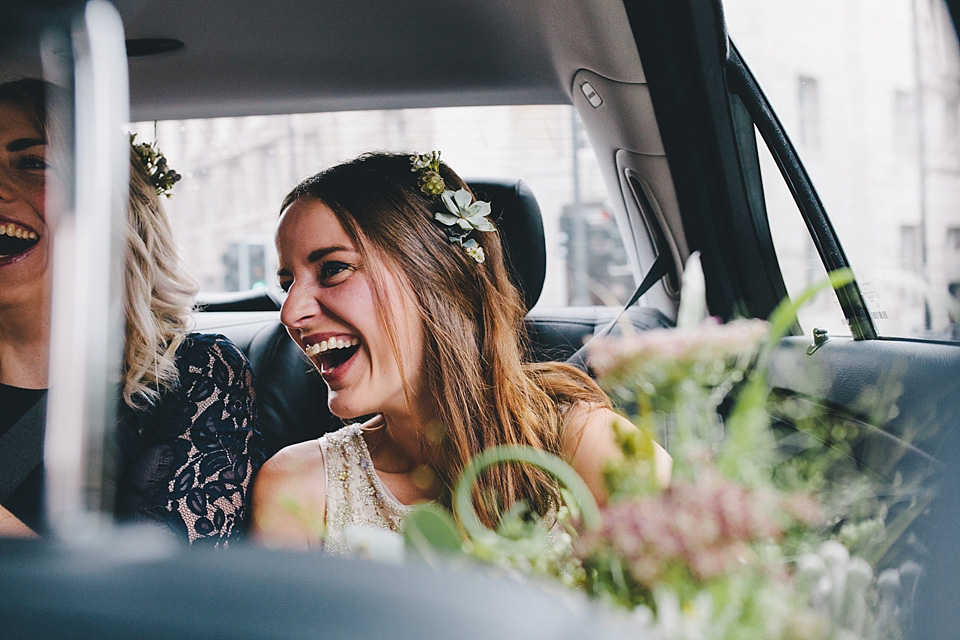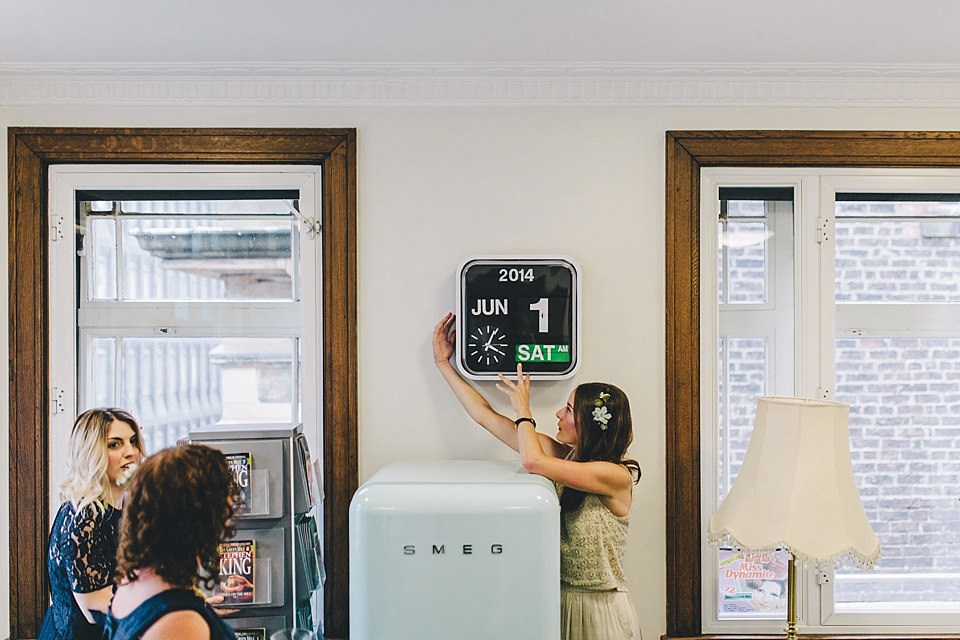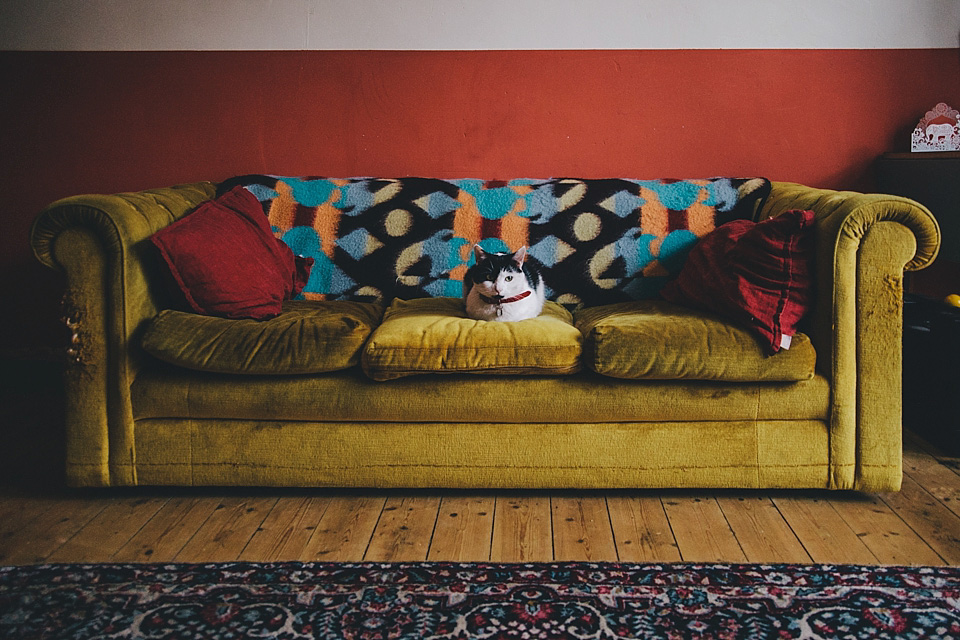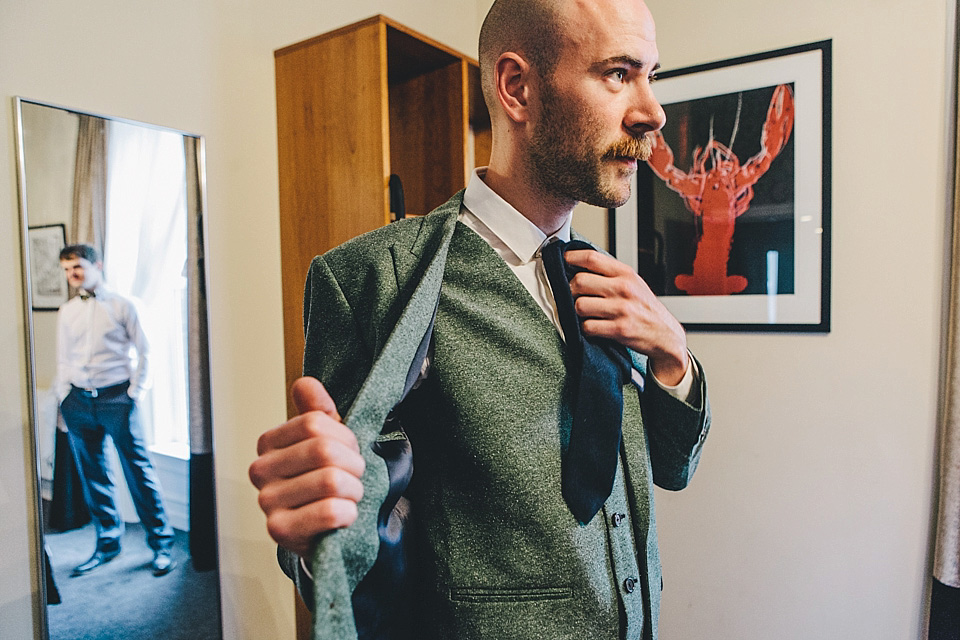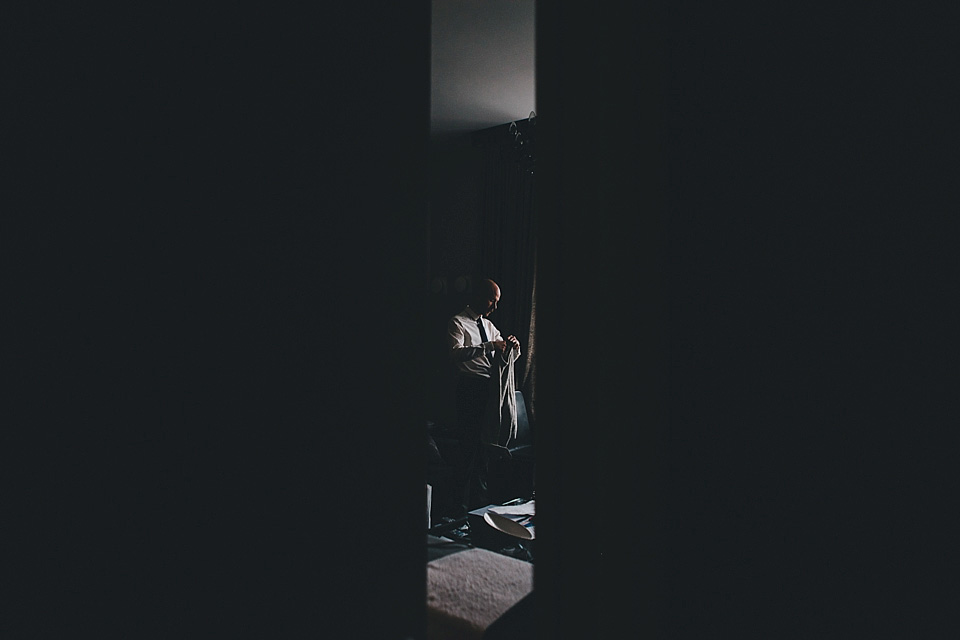 "The groomsmen wore their own suits and we gave them all a snazzy gold bow-tie which my mum had sewn."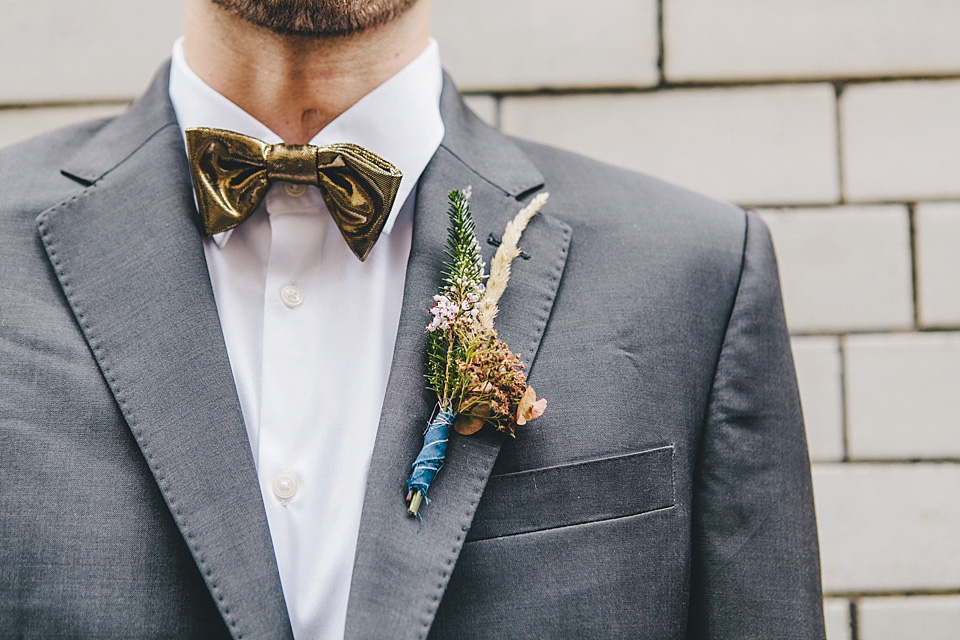 "Our son Gus wore navy blue flecked trousers by Marks and Spencer, braces by H&M, shirt Zara and a stuffed felt fox tail that I made to match his fox boots which were a gift from his grandparents."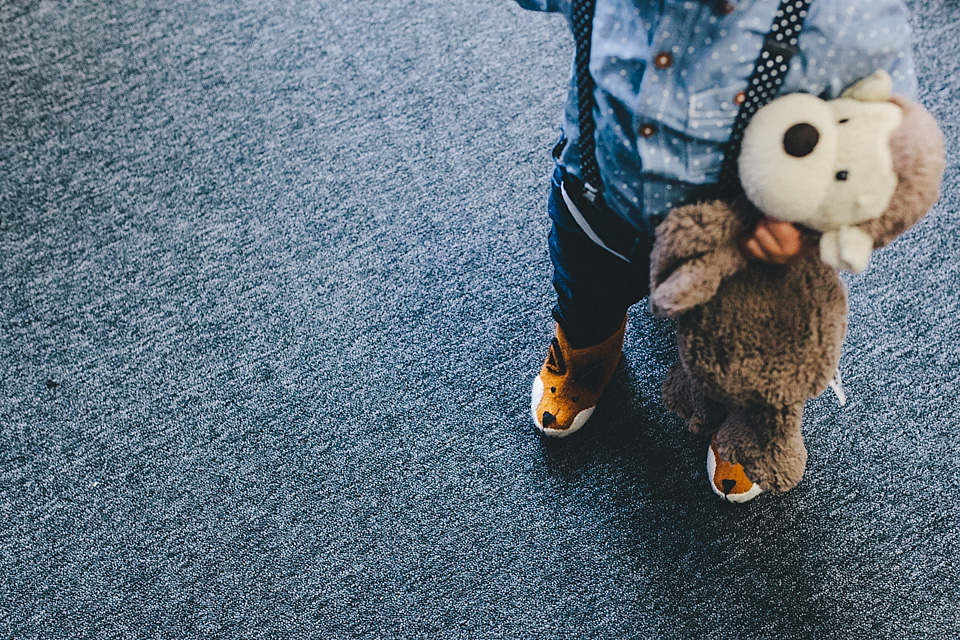 "Gus gave me away and did a great job of it. It seemed like the perfect way to celebrate the three of us officially forming our family.  We were accompanied by a Fleet Foxes track from an album we listened to while having our son, another very important moment in our relationship."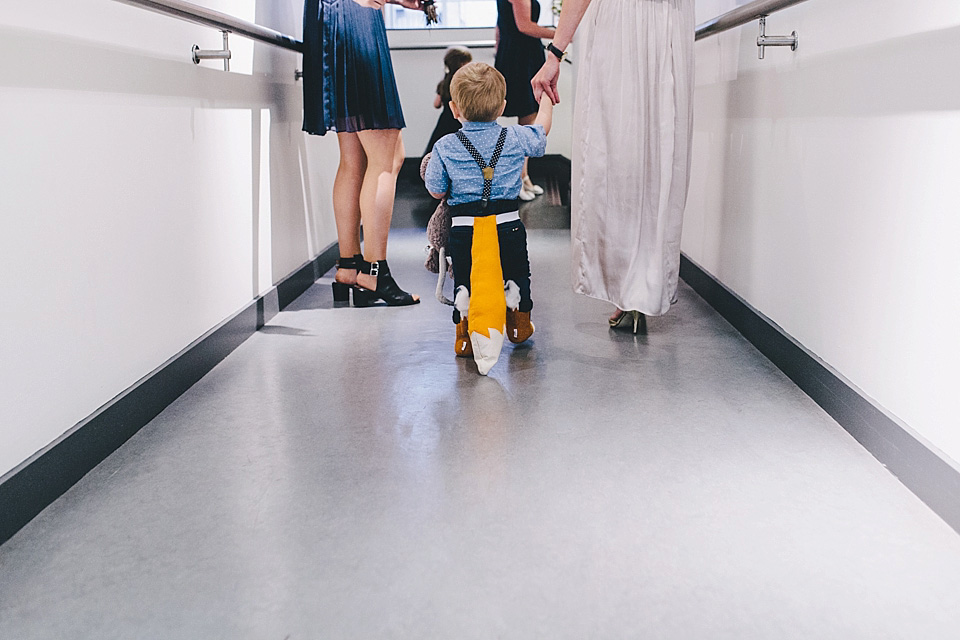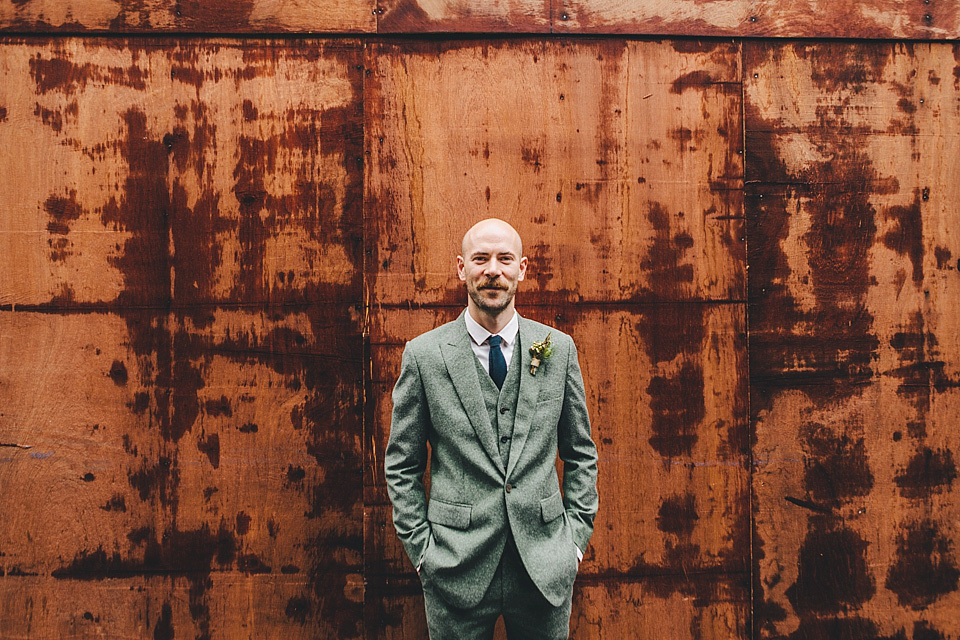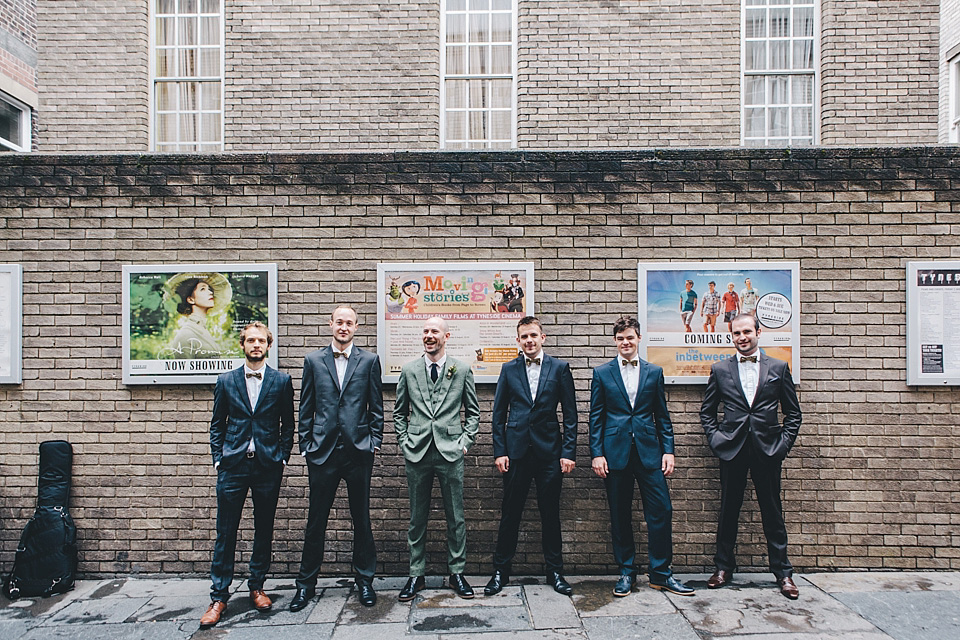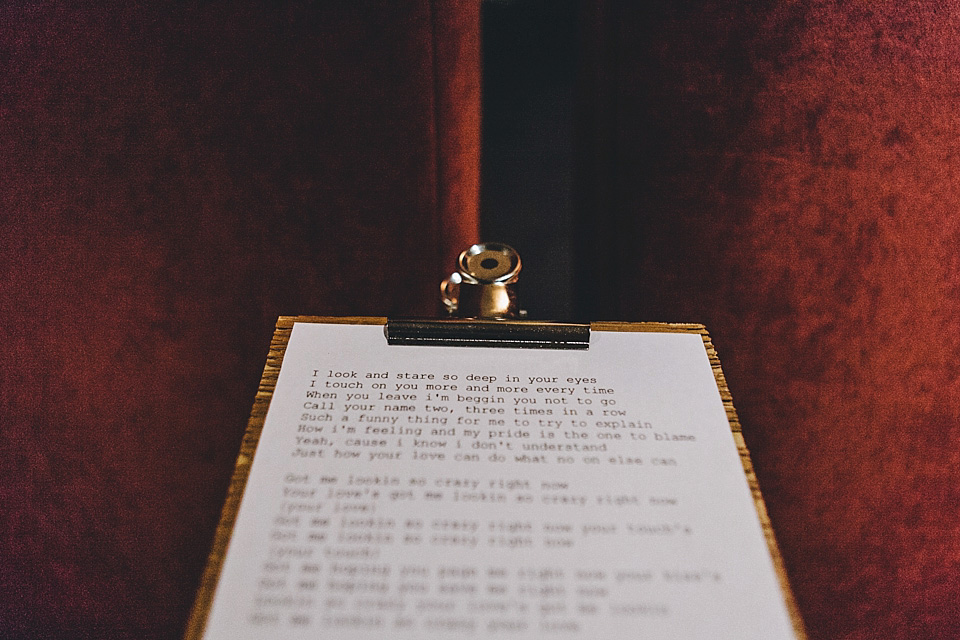 "My sister read an extract from the film Frances Ha which describes love in a really beautiful way. Jeremy's brother read a dead pan version of Beyonce's Crazy in Love and the ushers performed an a capella version of Seal's – Kiss From A Rose."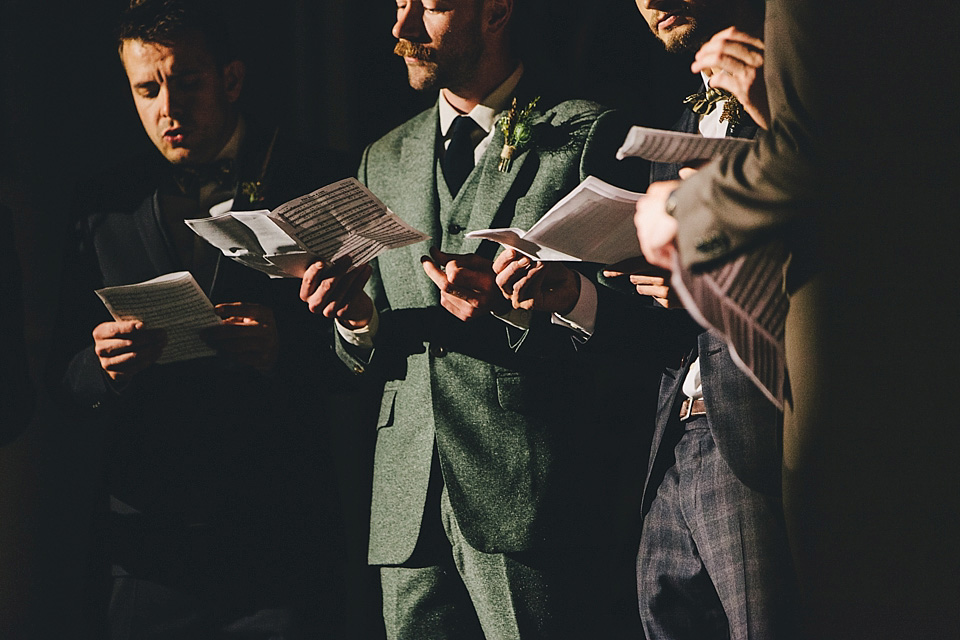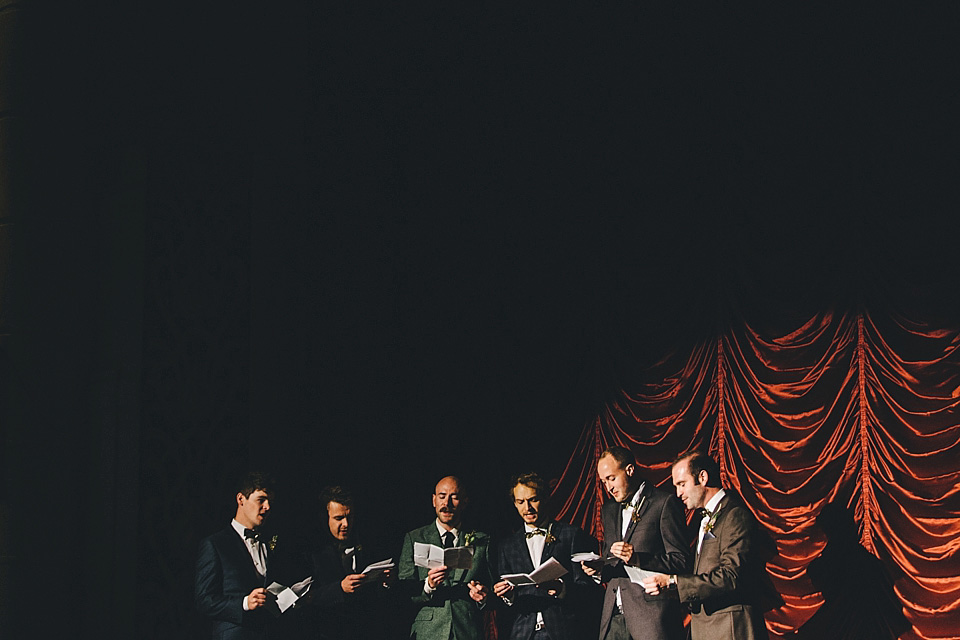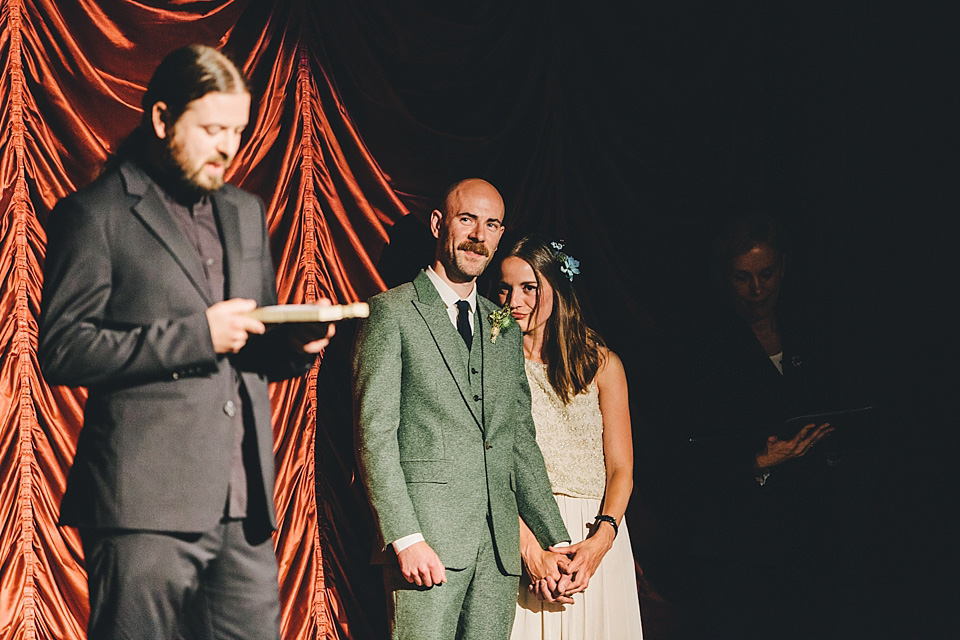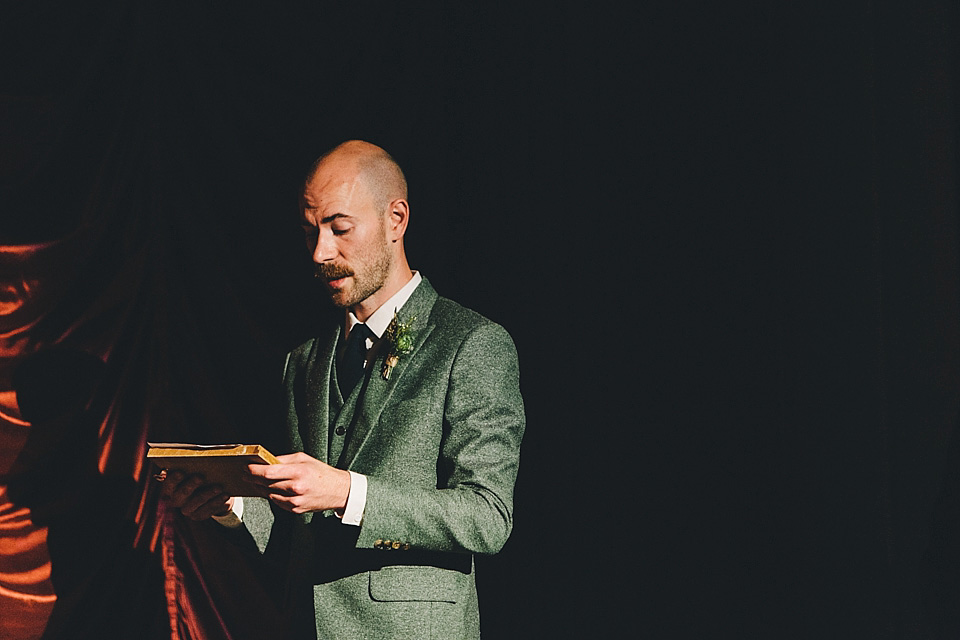 "The day was perfect from start to finish, but our favourite part was the ceremony. I felt really emotional throughout. The bit where you walk into a room and the whole thing becomes real and you see all of your friends and family there waiting to support you, it's a great feeling and a really special moment."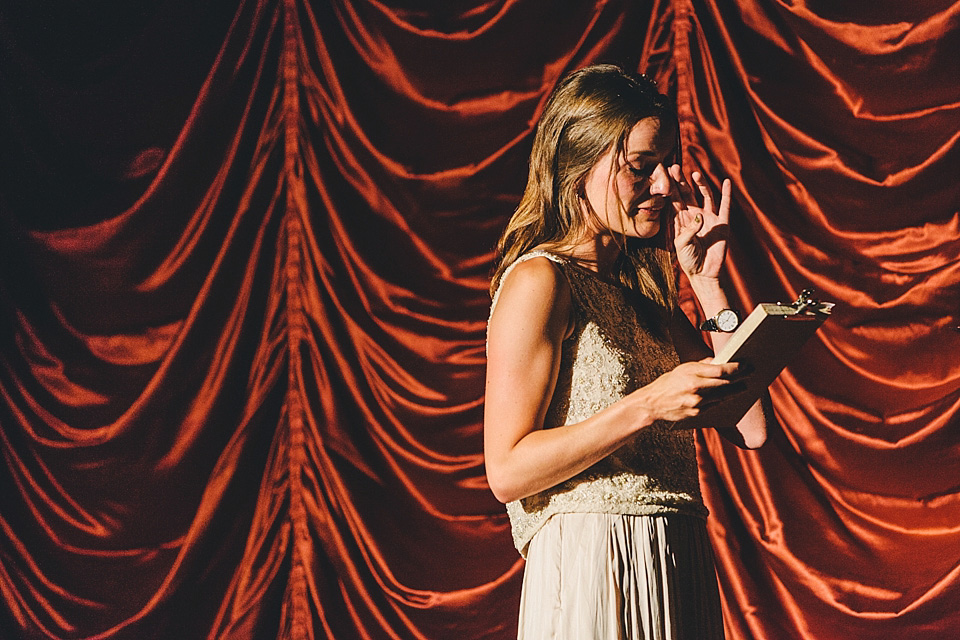 "I used my engagement ring which Jeremy found on Etsy as since Jeremy had chosen it, it seemed like a symbolic piece of jewellery that meant a lot (though saying that we've only been married just over three weeks and I've already lost it!). Jeremy found his in a local art gallery the Biscuit Factory, he's only just getting used to wearing it."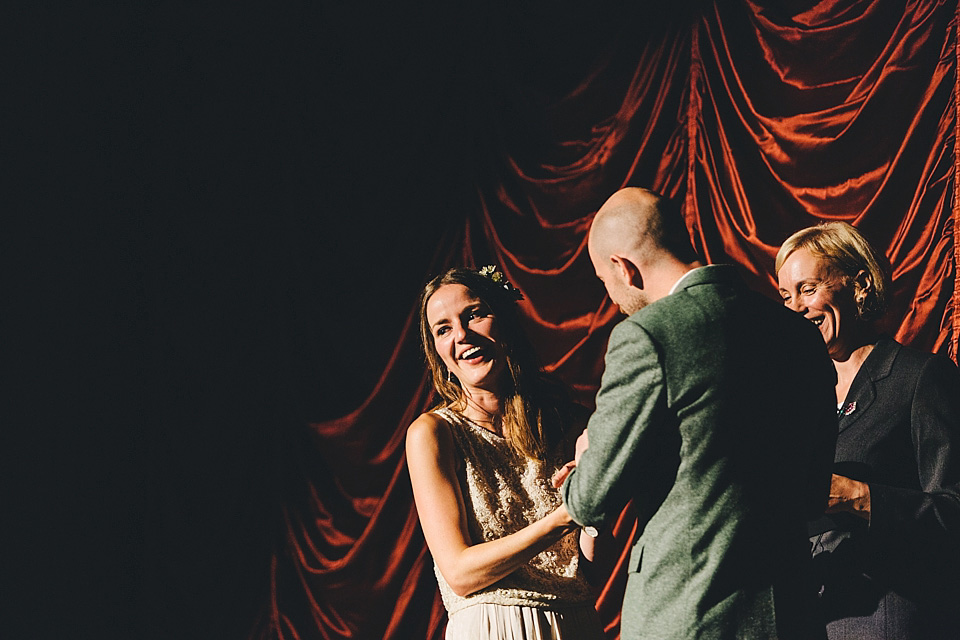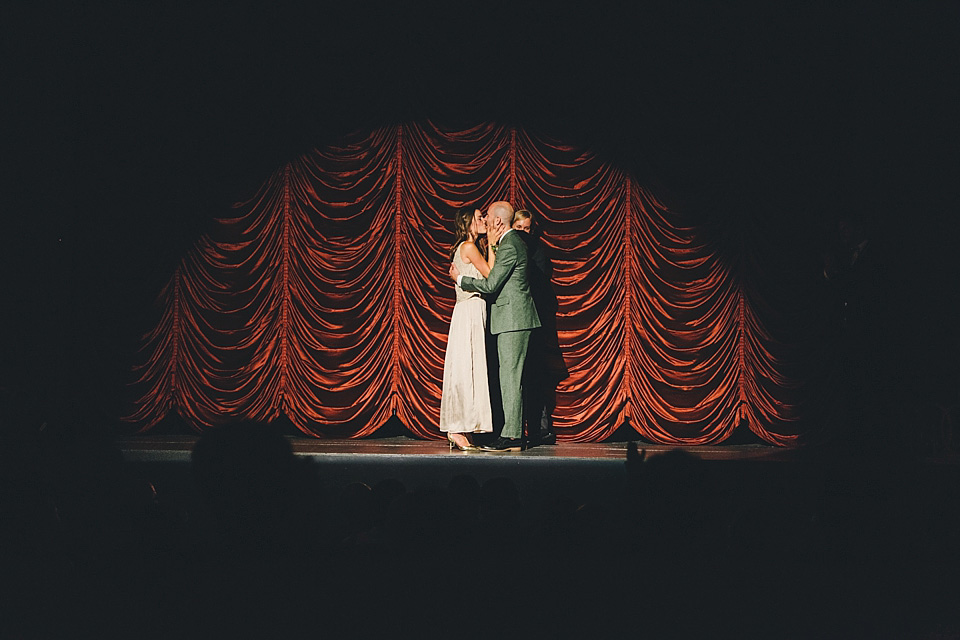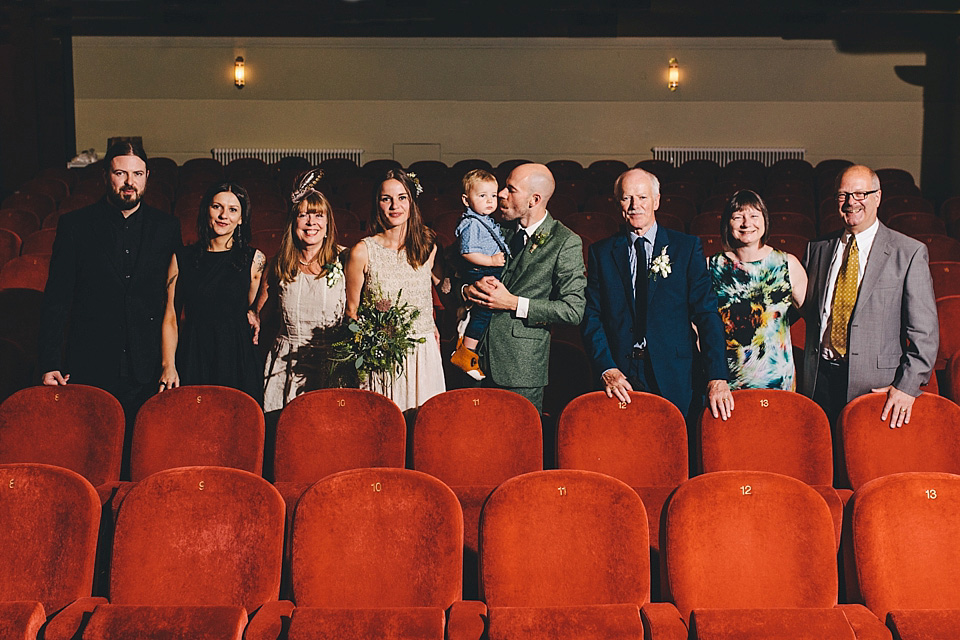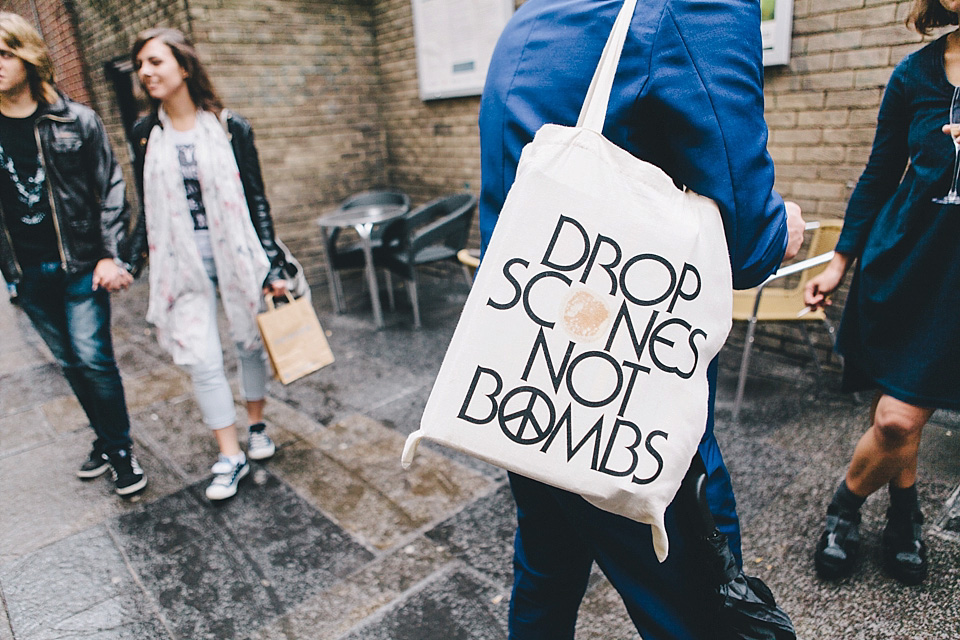 "After the ceremony we walked through town to Summerhill, past some of our favourite sites, Central Arcade, The Granger Market, China Town and onto what feels like Newcastle's best kept secret – a bowling pavilion and lawns hidden right in the middle of the city, surrounded by beautiful Georgian town houses!"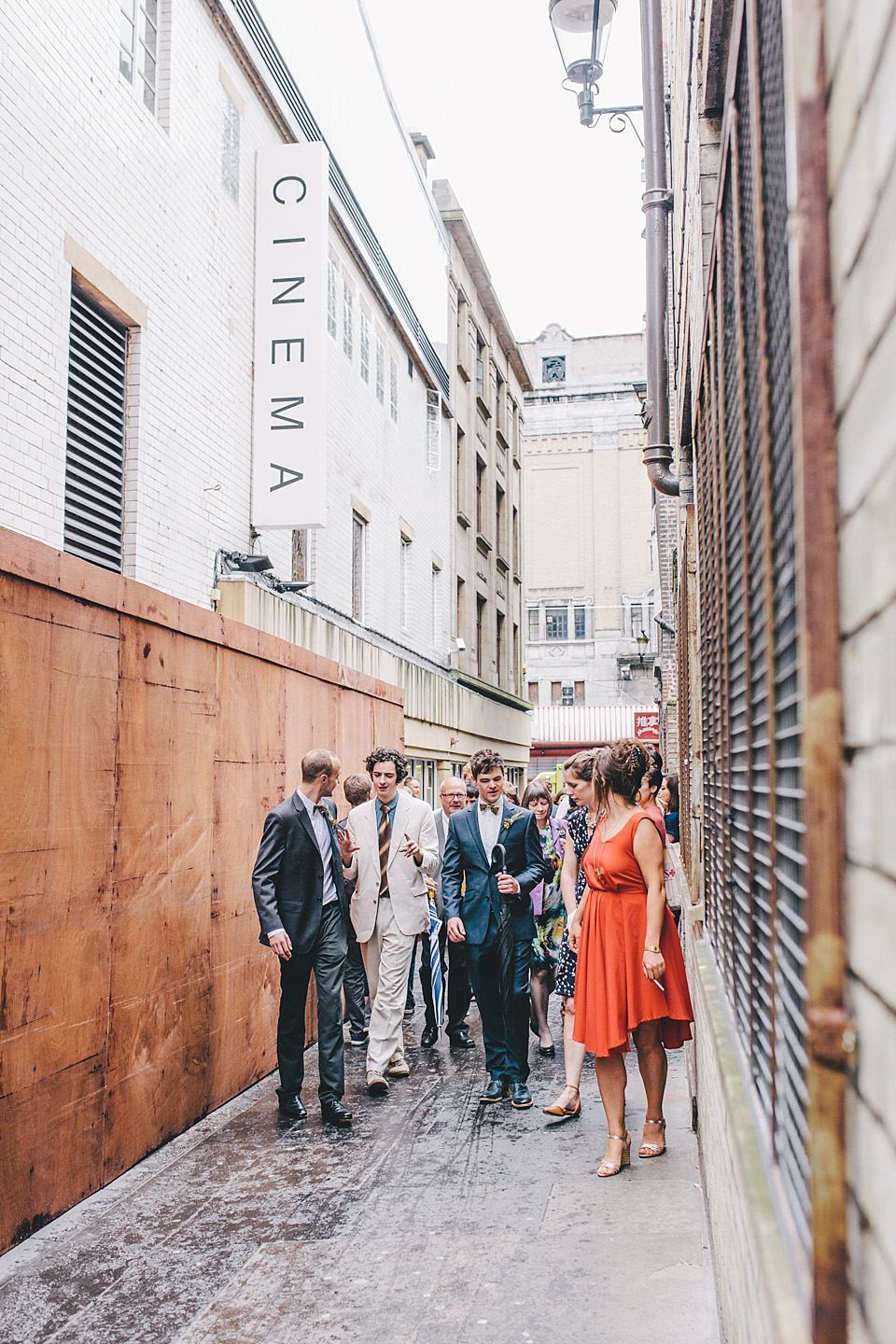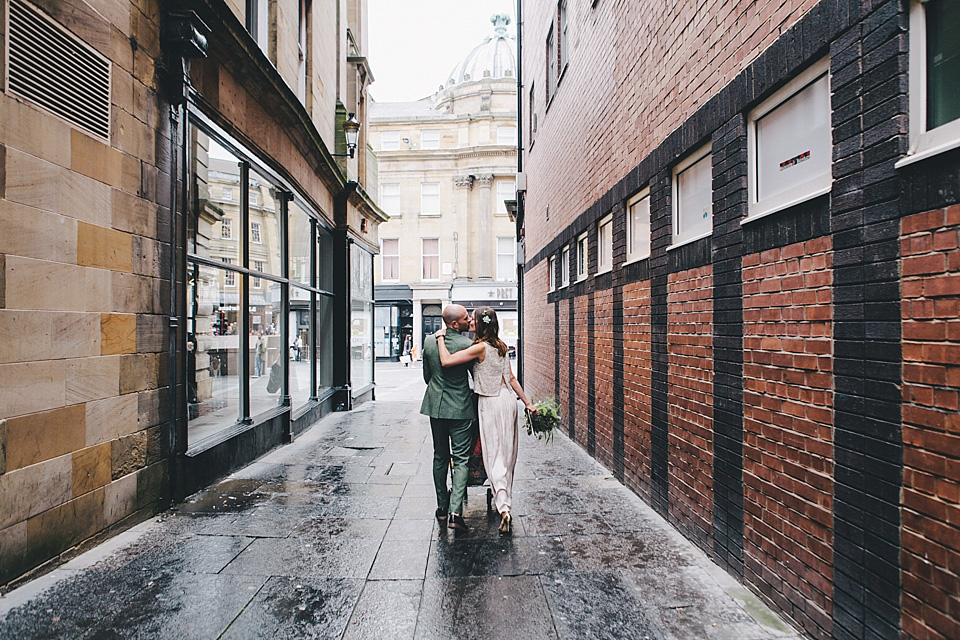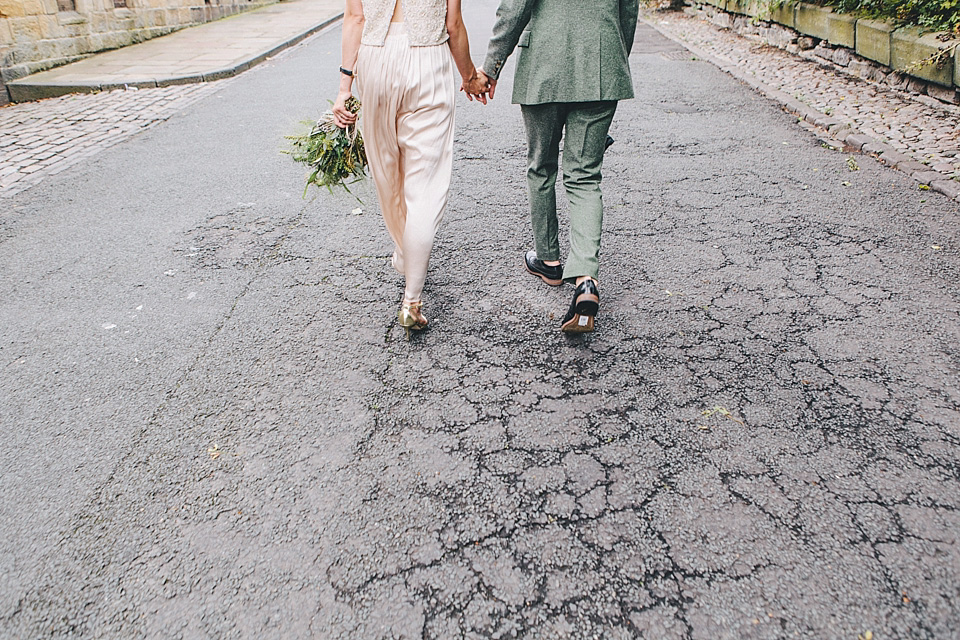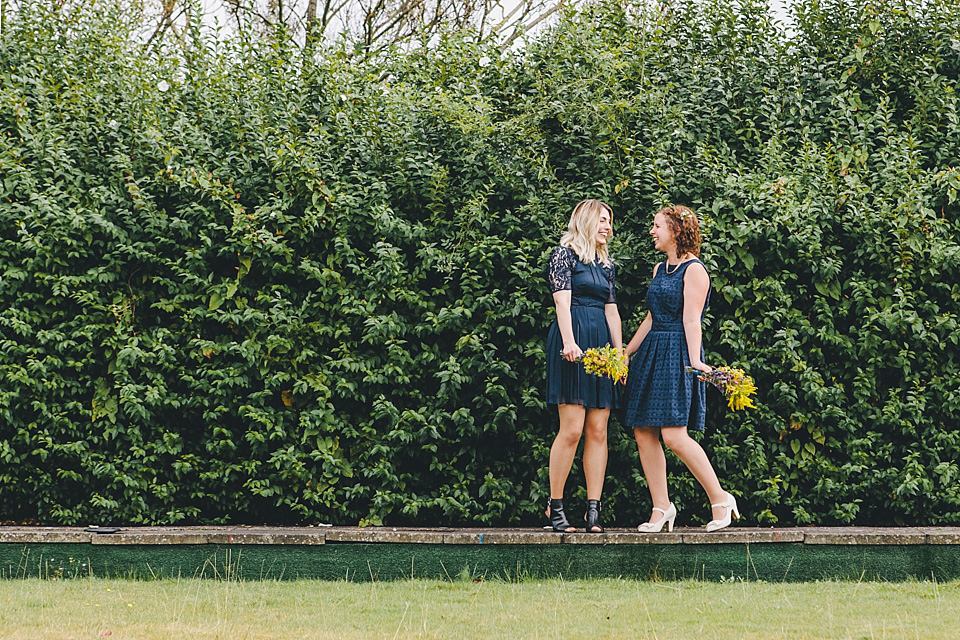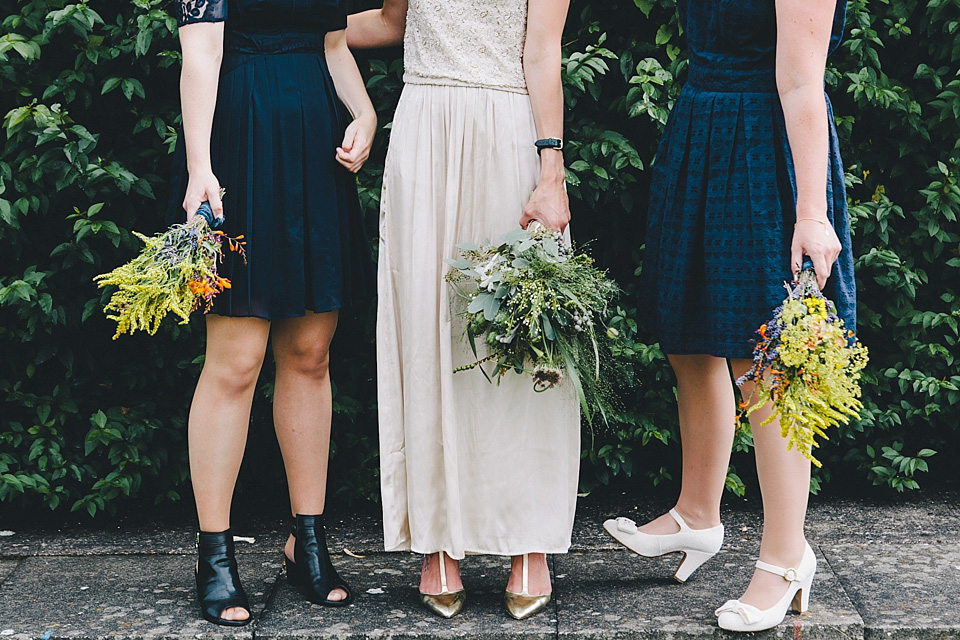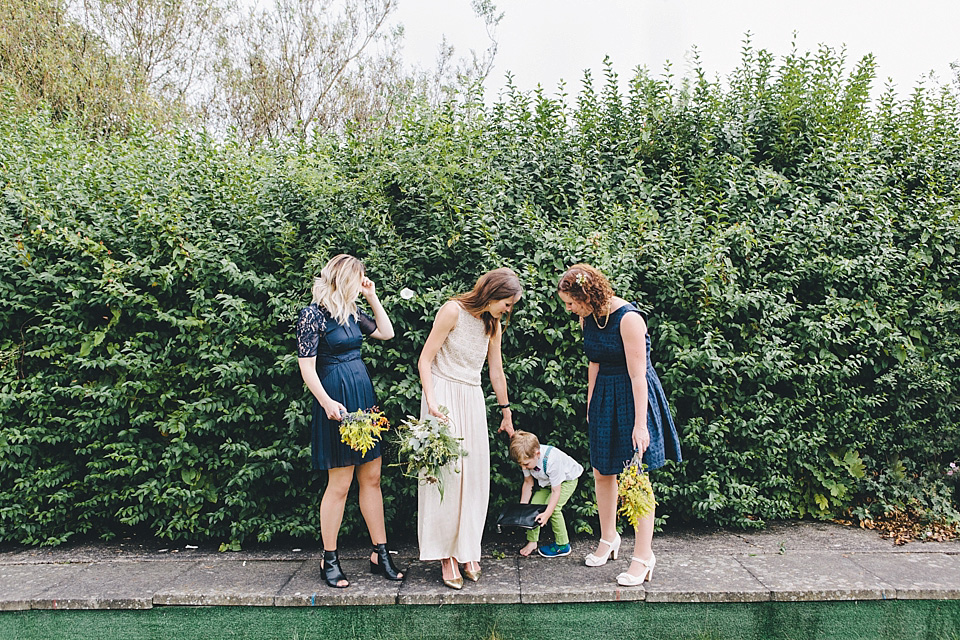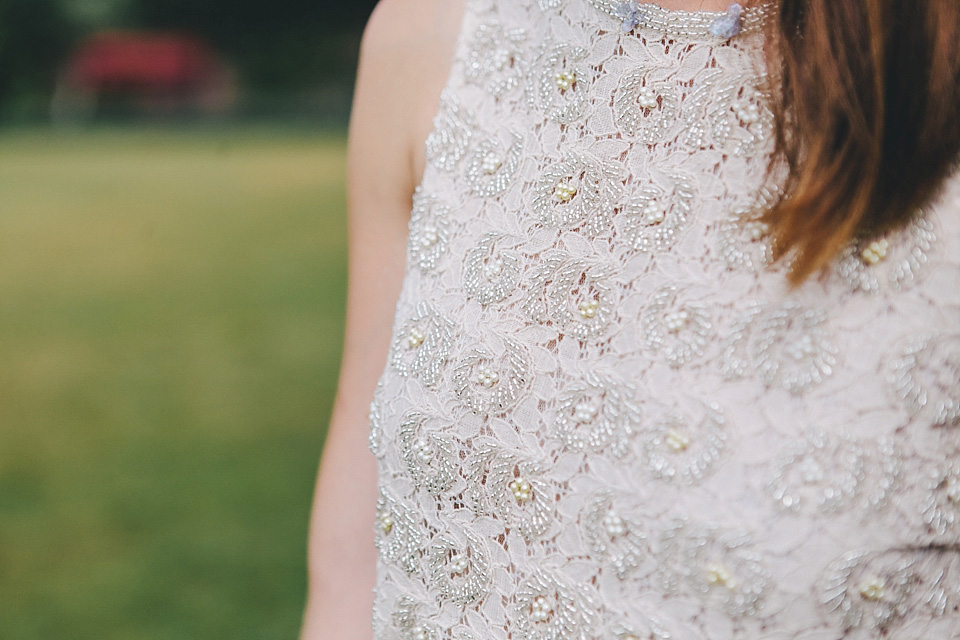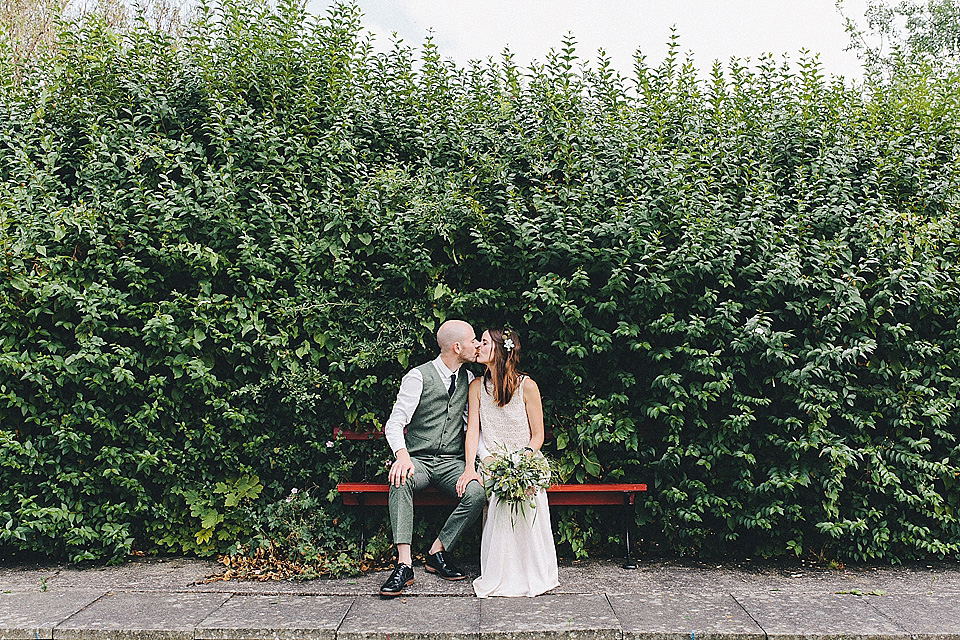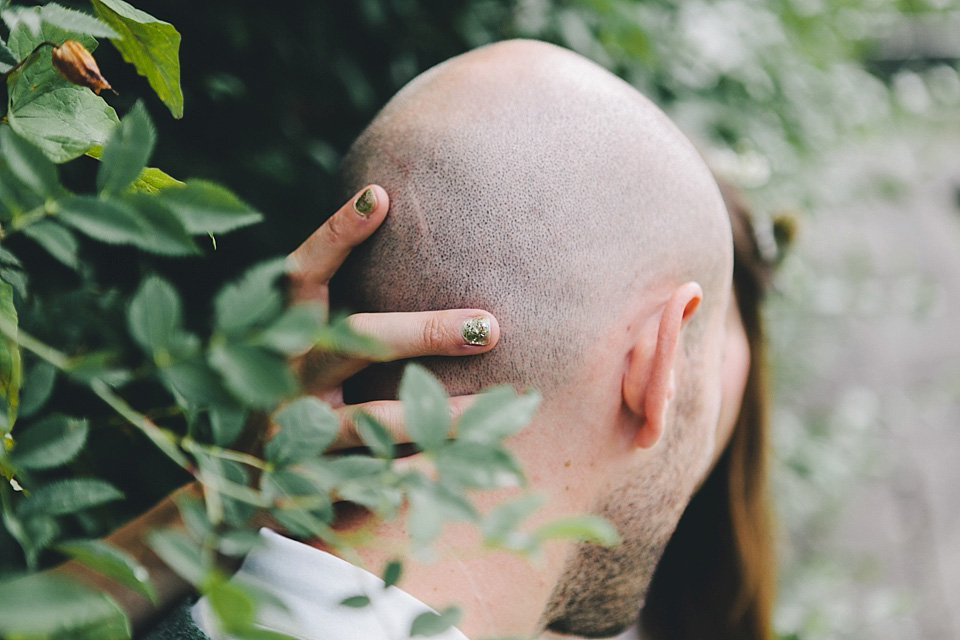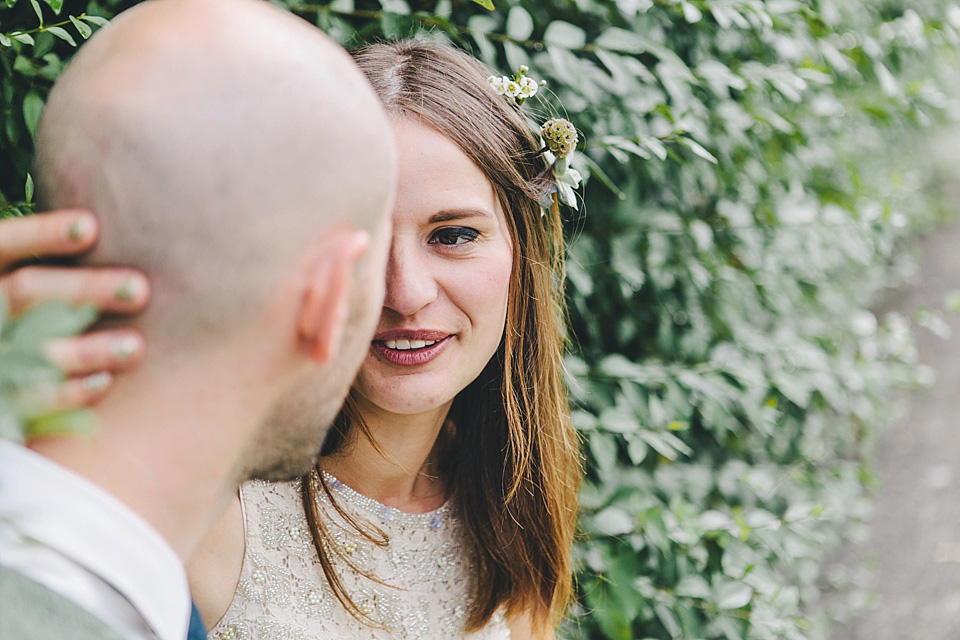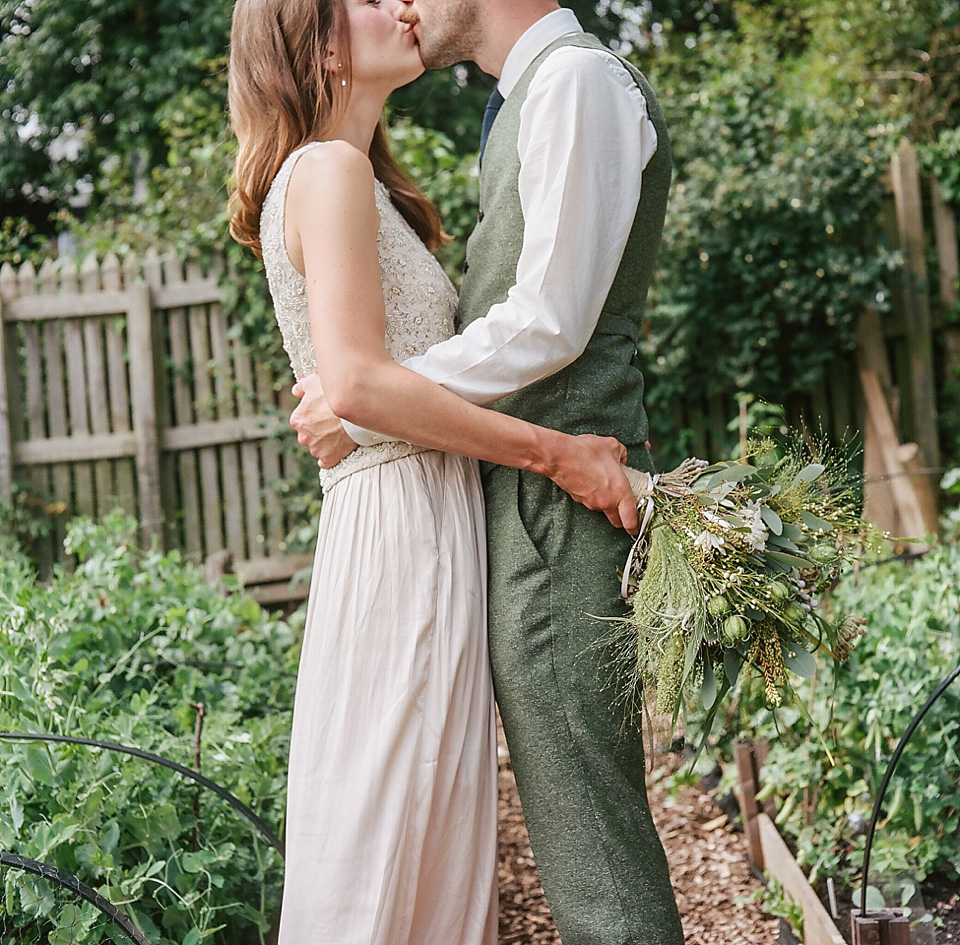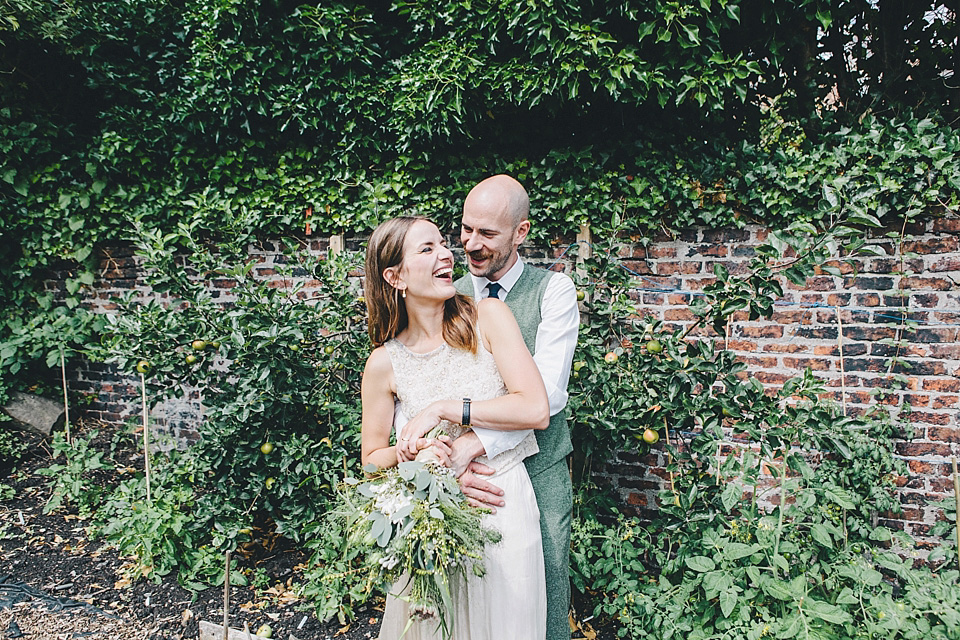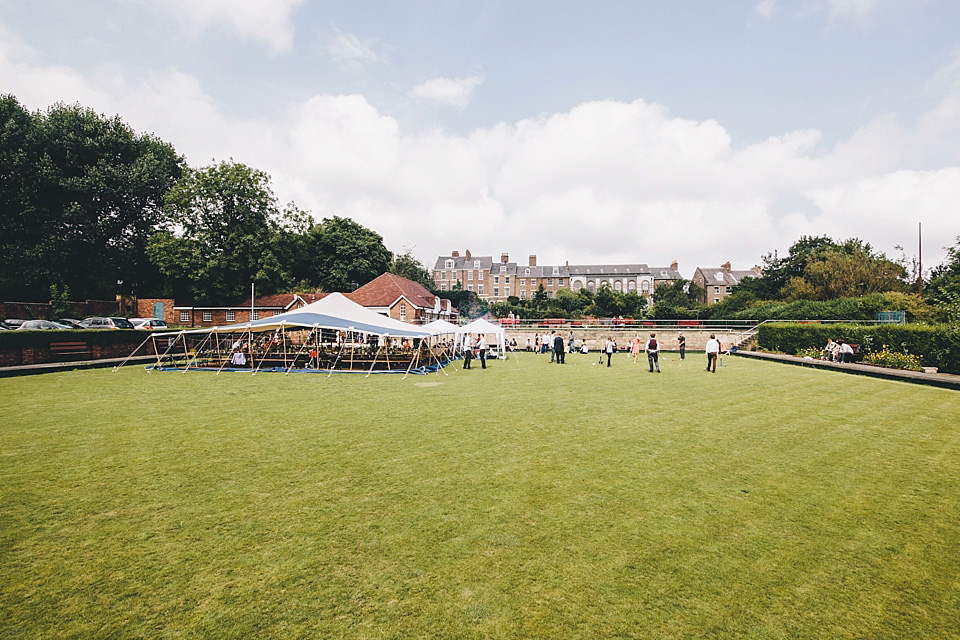 "We chose Summerhill Pavilion as we thought it would fit in with the relaxed feel we wanted for the wedding. It has bags of character but you're also able to add your own touch, which they actively encourage.
The lawns were part of the package which meant we could set up some badminton and they lent us some great vintage bowls and a table tennis table. As we had a few too many guests we hired in a Berber tent which we held our wedding breakfast under. This came from a great local company, Woodfired Workshop, who make their own tents up in Northumberland."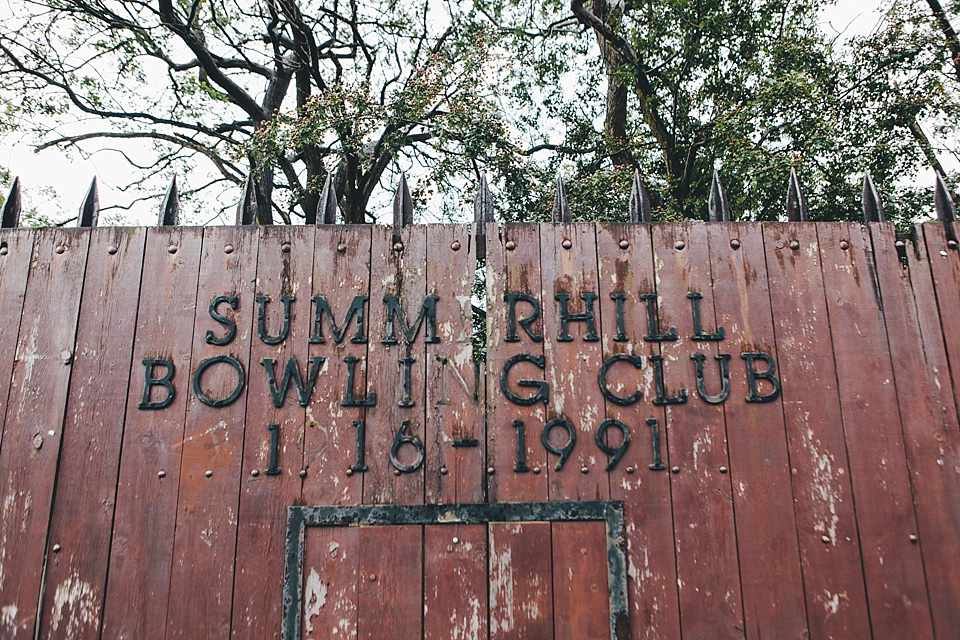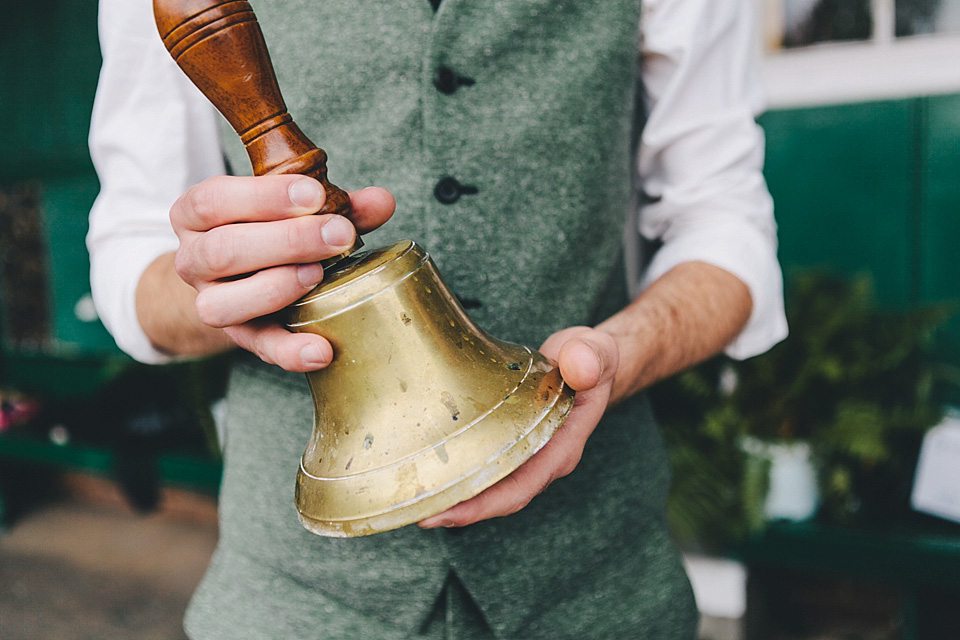 "Our catering was provided by Neil and his team at Sugar Down Bakery – a beautiful bakery in the centre of Newcastle, who also run a great, tasty and child friendly cafe, 'Settle Down', in which we go to with Gus pretty much whenever we're in town.
When we met with Neil he seemed to know exactly what we wanted he talked about amazing salads, a barbecue, a homemade wood fired pizza oven and we were sold. They did such a great job on the day, the food was relaxed and delicious and I've never seen a team of people work so hard, they we're absolutely flawless as was the food."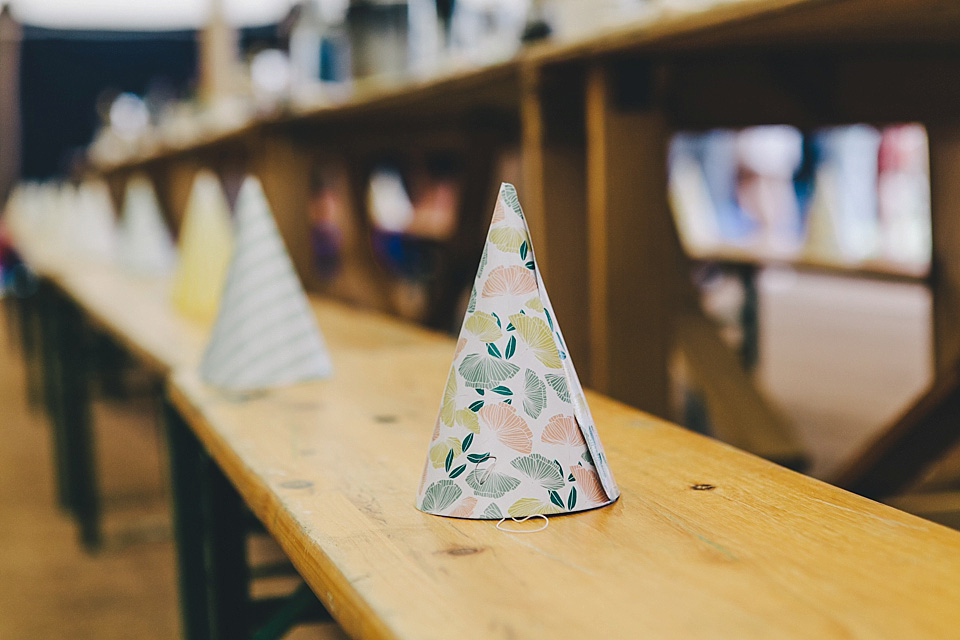 "We decided to plan the wedding ourselves as we felt that we wanted our day to represent us as a couple and felt we could do that best ourselves. Because of this, we used a lot of bric-a-brac that we already had and objects that we had collected during the course of our relationship, things that really meant a lot to us. We're really keen on design so we both had a really big input in what we chose and made, and although we had a few differences in opinion, we found that actually through discussion these led to really unique aspects of the day, like Jeremy's idea for the bonkers table plan or ridiculous popcorn bags.
One of our best friends Lou works managing the events so it felt really special having her coordinate our ceremony, we felt completely at ease knowing that she was in charge of everything and turning up on the morning of the wedding felt strangely like coming home. "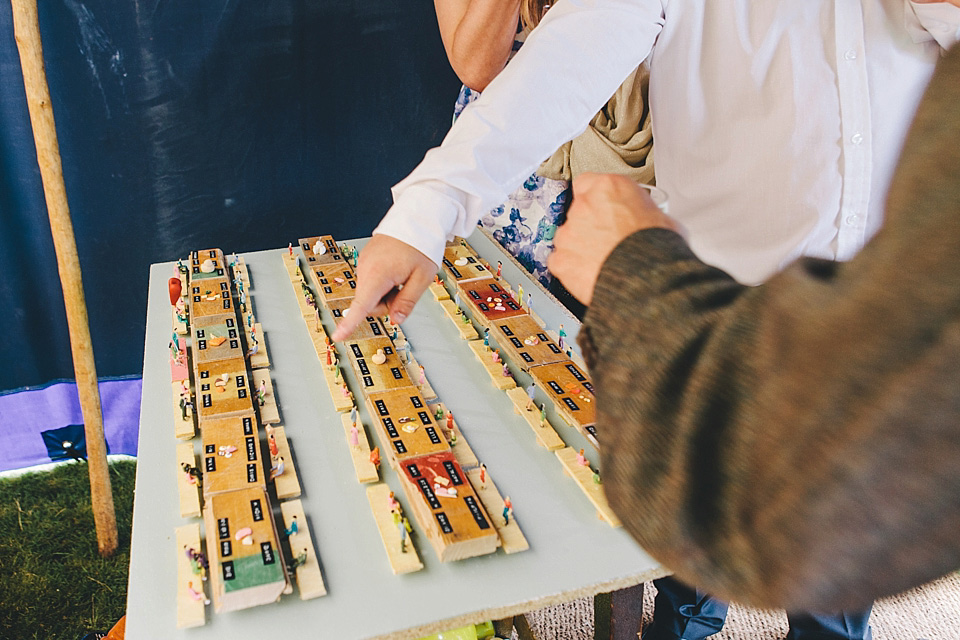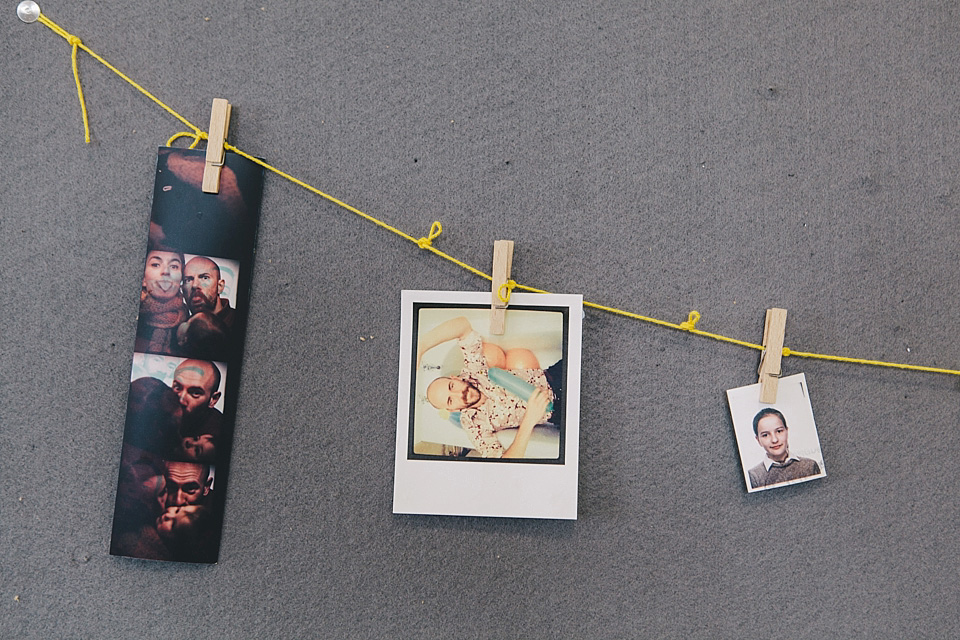 "Our favours were vintage Observer books, which we collected over the course of six months, though we already owned a few. Each had a different theme so we were able to give people something really personal. We stamped them all with a personalised library stamp so hopefully we'll always have a place on our friends and families bookshelves."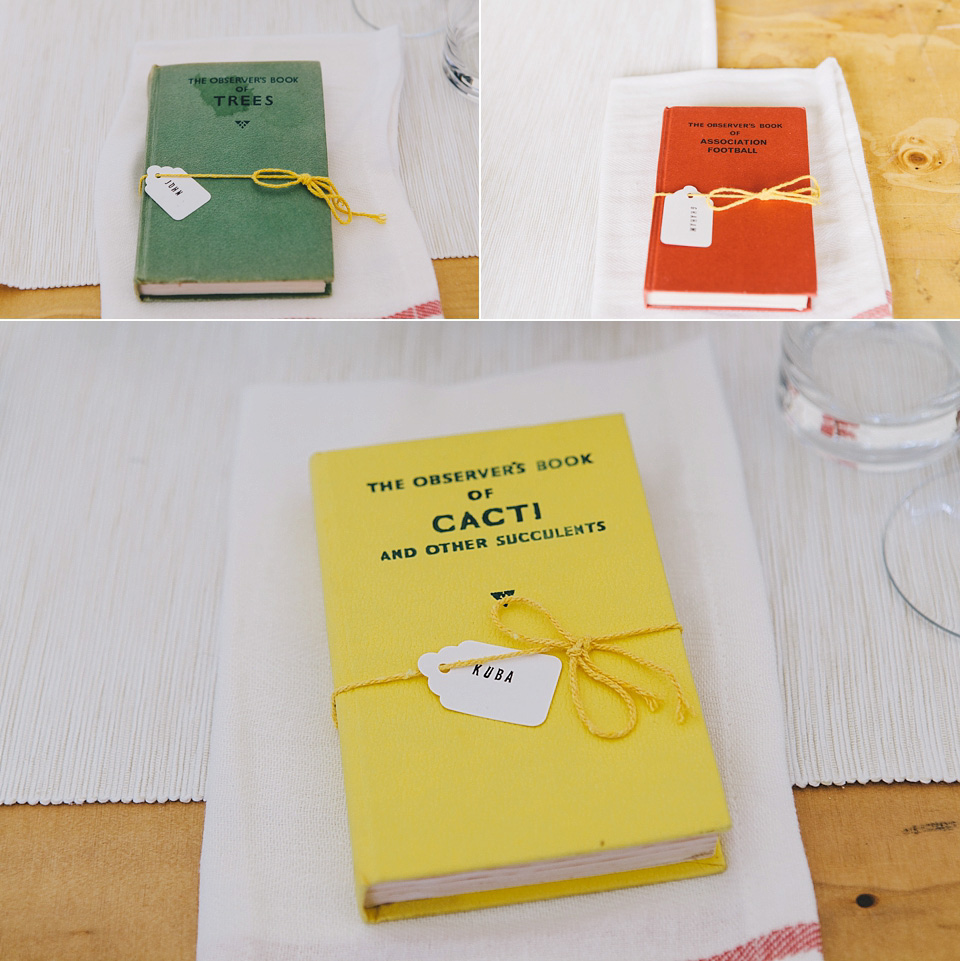 "We're pretty indecisive and as I'm gluten intolerant,  cakes aren't really my thing, plus we didn't really like the whole formal cake cutting tradition, so instead, we invited our guests to bring a cake along with them.  It was meant to be a cake competition. but I forgot to bring the prize, so the winner is still undisclosed!"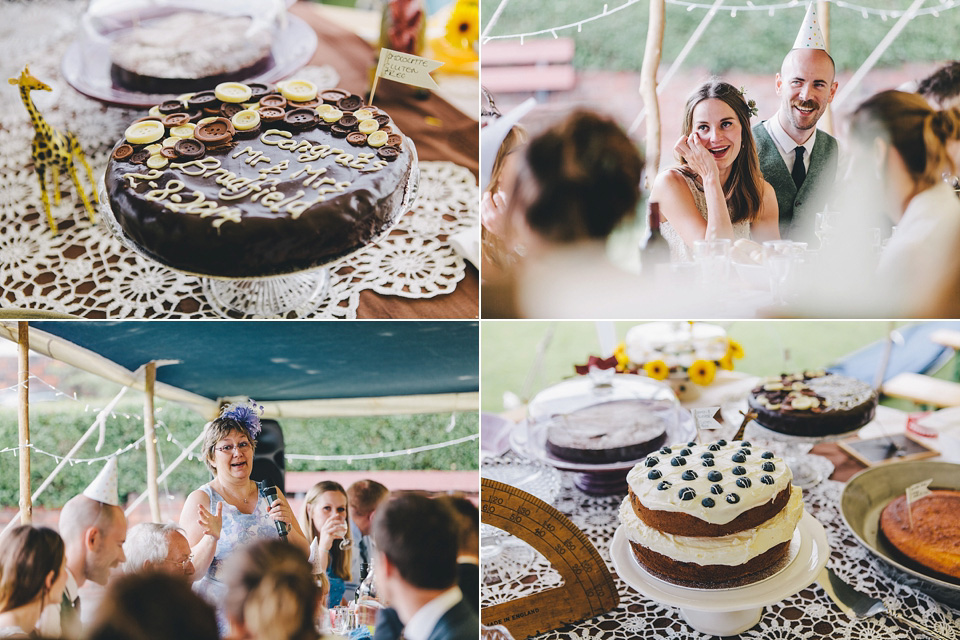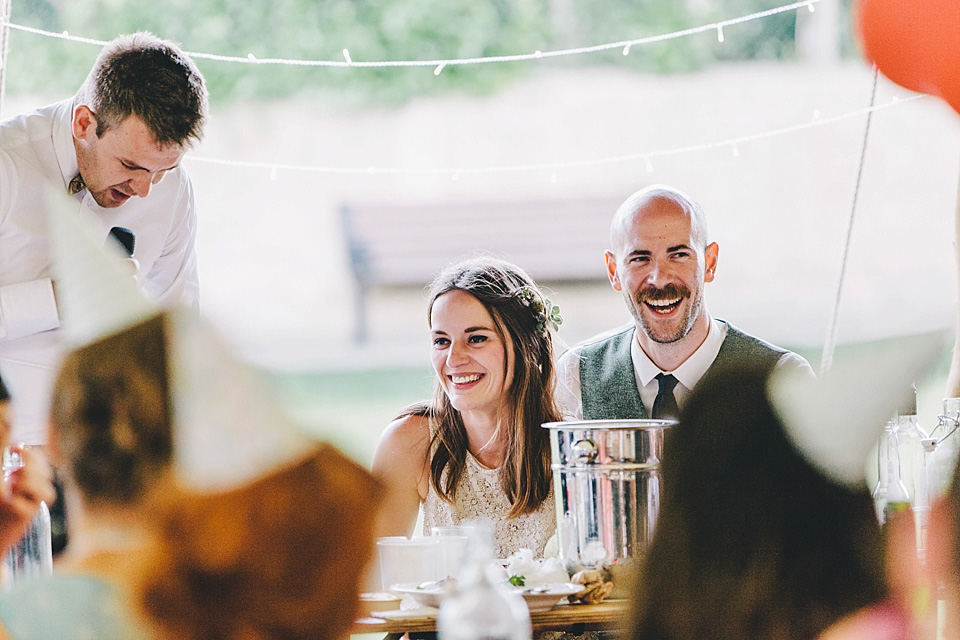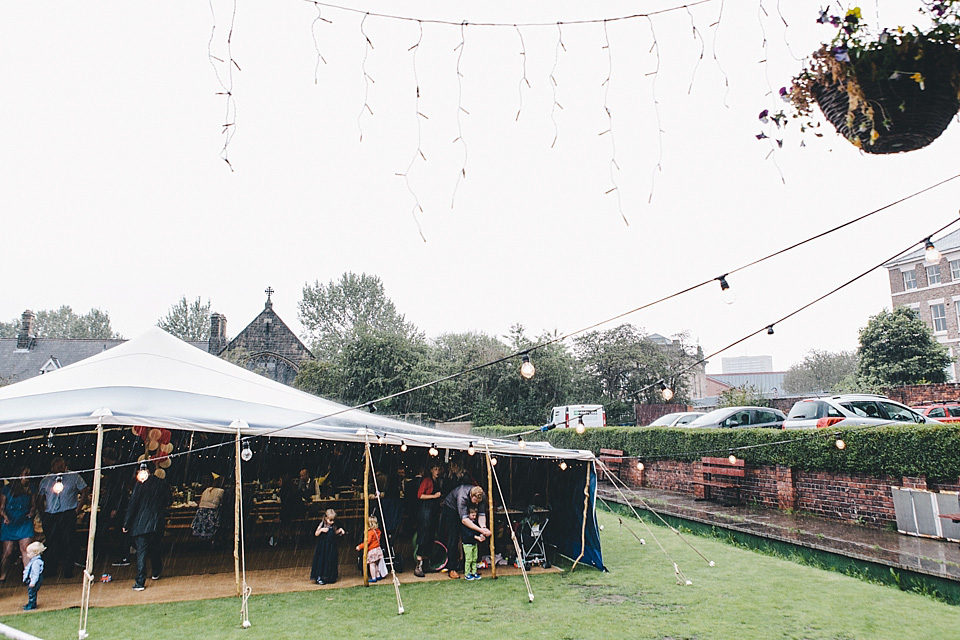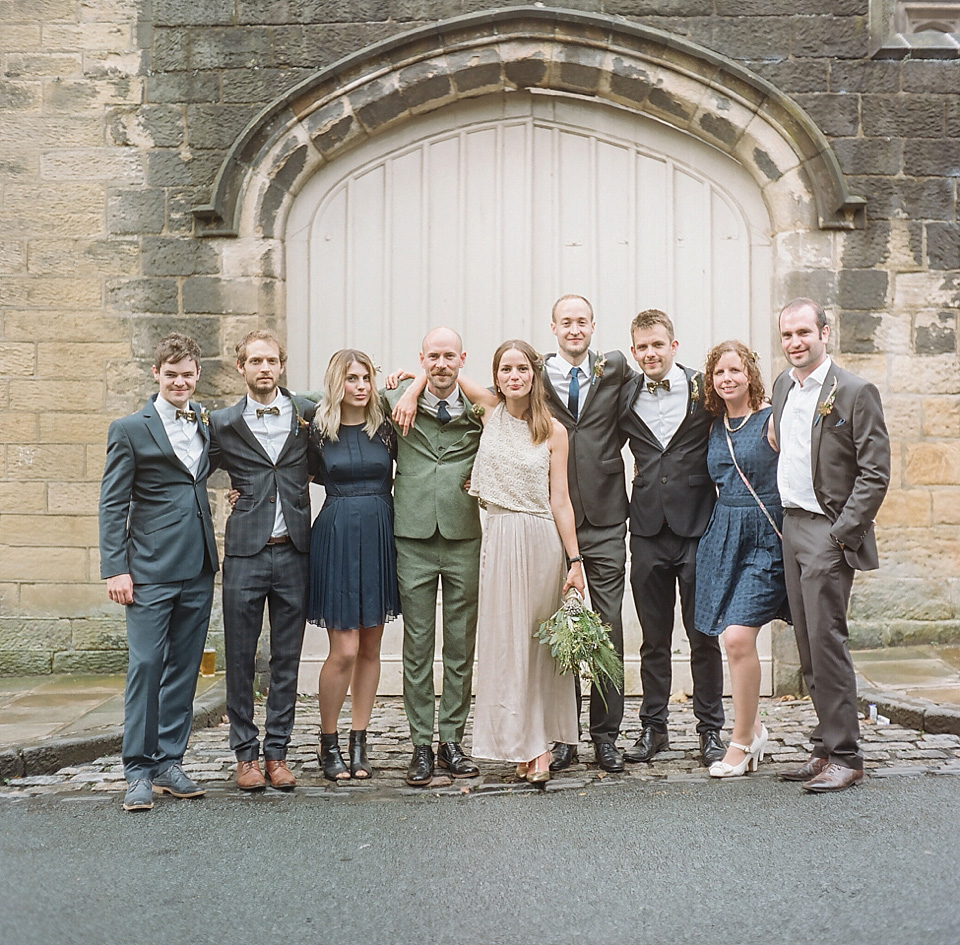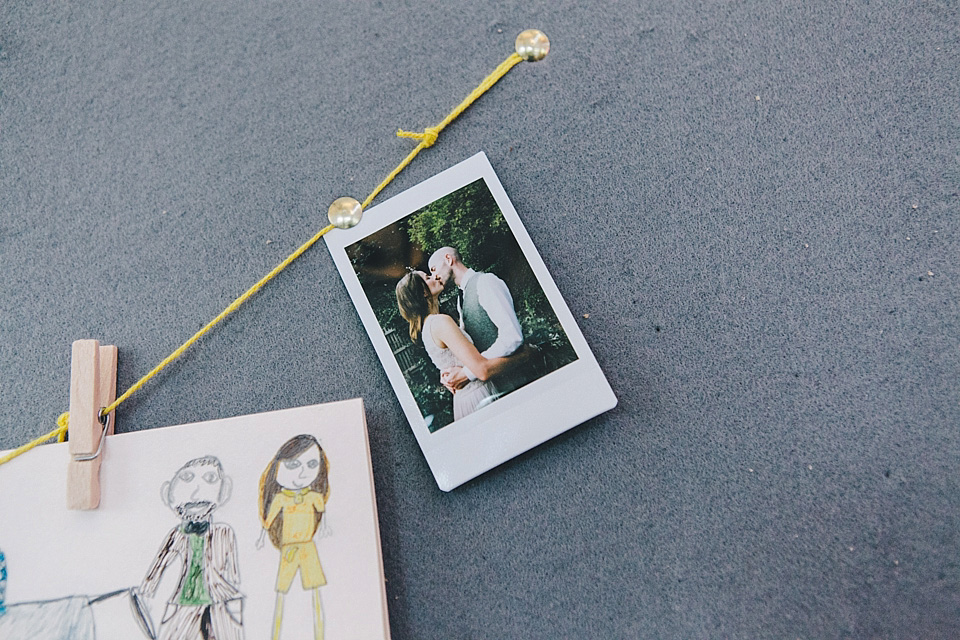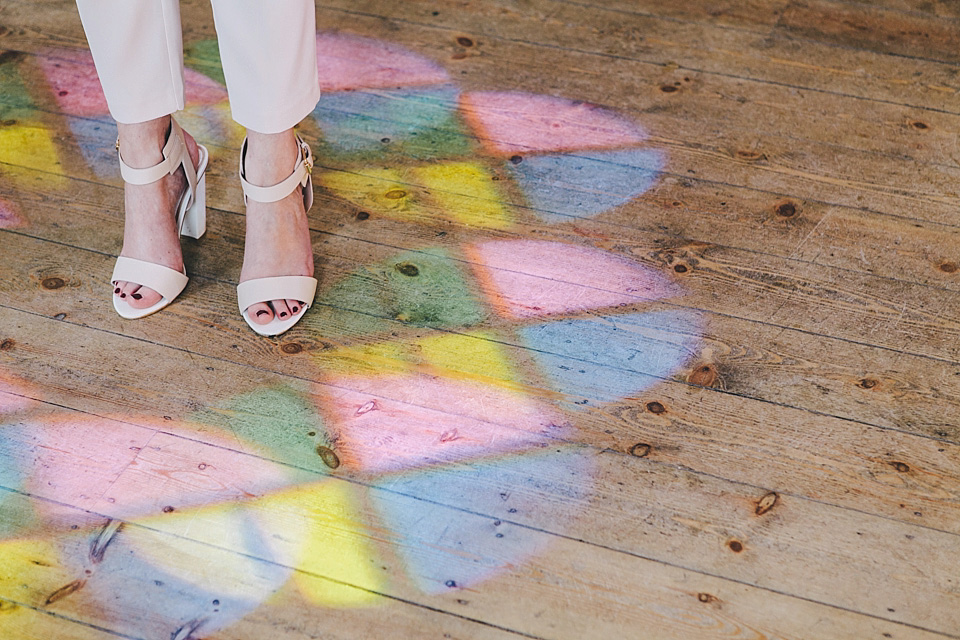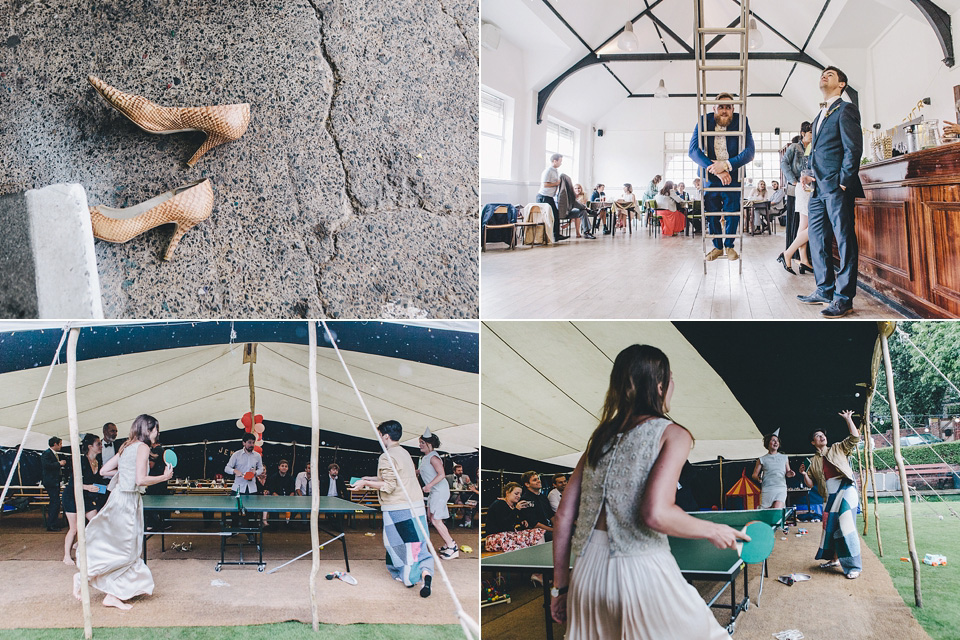 "We're really lucky to have a lot of brilliantly talented friends and with Jeremy being a musician felt having a wedding band would be a bit of a cop out so he decided to create his own. He coordinated the perfect end to a perfect day, different friends singing various songs followed by two of our friends DJing. It was really special seeing what effort people were willing to go to for us, we had Bruce Springsteen, Prince and the show stopper Shampoo. It was like being at our own personal gig."
"We had our first dance to Feist's Brandy Alexander, a song that we love to dance around the house to at home, though fearing the first dance and wanting to involve friends we shortened in and merged it into Bowie's Magic Dance and invited friends and family to join in.  They didn't need much convincing!"
Words of Wedded Wisdom…
"The planning phase was quite stressful and we could have spent money on so many other things, but as we had a tight budget, we had to be creative the money we had. We worked together and made decisions together and in the end this meant we had a day that was fully formed around the two of us and who we are and it couldn't have been more special.
It's also good to remember that your guests are there because they love you and this means they will have fun no matter what."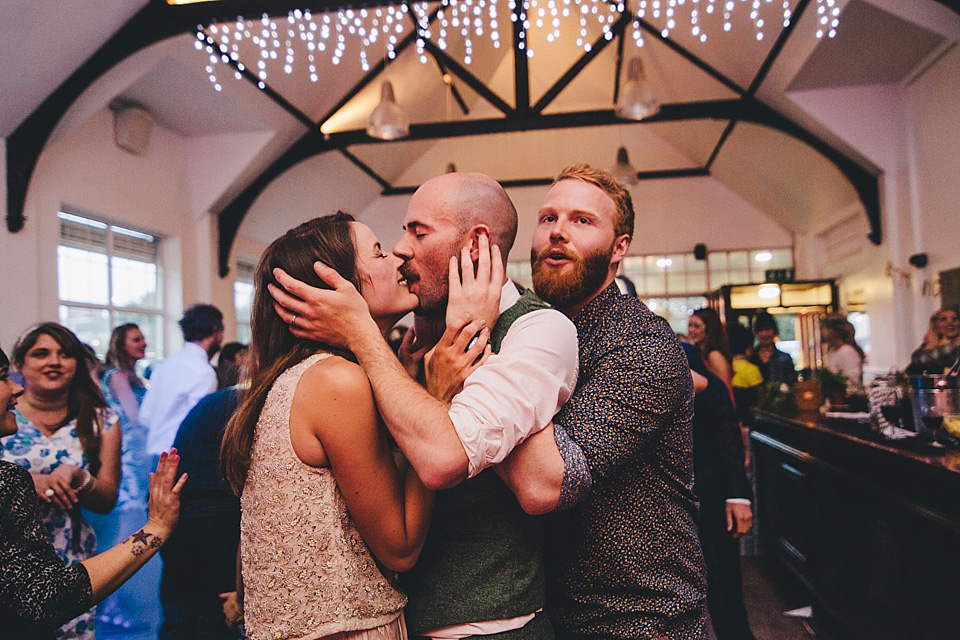 What a beautiful day – such a wonderful family, close-knit vibe about it all and I really love Jen's words of wedded wisdom at the end there, please take careful note of that last sentence in particular readers!
Love and congratulations to you Jen and Jeremy – thank you so much for allowing us to share your most beautiful day.  And love and thanks as always to the amazing Twins for once again allowing me the privilege of sharing beautiful photographs on Love My Dress.
Brides – are you opting for a high street wedding dress? Or might you be keen to incorporate some cinematic style in to your own wedding day?
Love Annabel
Photographer – The Twins Photography
Venue – Tyneside Cinema + Summerhill Pavilion, Newcastle upon Tyne
Tent hire – Woodfired Workshop
Wedding Dress – High street (details here soon!)
Bride's Hair Accessories – Flowers by Wildflower Florist
Bride's Shoes – Asos
Bride's accessories – earrings via John Lewis
Grooms Suit – Beggars Run + shoes + shirt via Topman + tie borrowed from his father
Bridesmaids – Whistles dress + Debenhams
Grooms Suit – Beggars Run + shoes + shirt via Topman
Page Boys – trousers by M&S, braces by H&M, shirt by Zara
Flowers – Wildflower Florist
Cake – DIY
Favours – vintage Observer books
Additional Styling – 70's memorabilia brought from the couple's home
Catering Company – Sugar Down Bakery in Newcastle