Hello Friday afternoon people!  Here's something to help the afternoon breeze along a little more lightly, especially for those of you chained to your desks for the rest of the afternoon.  This is the wedding of Hannah and Tom, who tied the knot on 5th April 2014 at Pimhill Barn in Shrewsbury, Shropshire.  Their wedding was one of laid back elegance and I love how Hannah wore those glorious loose locks of hers.  Her choice of dress is a particular favourite of mine too – it's the Azalea by Jenny Packham design – a gown I've been smitten by ever since this glorious feature (one of my absolute faves, ever).
"We both wanted to create a day which encompassed a casual feeling of style and elegance within a rustic, rural setting. I particularly like art deco/1920s style clothing and I also love the glamour of French furniture and cut glass, so we tried to incorporate both in to the styling of our day. It was important for us to get the right balance between our country venue, with an air of vintage sophistication."
Photography Copyright (c) 2014, Camilla Rosa Photography
"My dress was Azalea by Jenny Packham – it was love at first sight (and also my 'something new'!).  The attention to detail and quality of the whole design.  I also love the vintage off-white creamy colour and elegant 1920's style. I really wanted a v-neck gown – something with a statement back and slim-line fit.  It was so comfortable and felt amazing to wear on the day.  
A really cute detail sewn in on the under-side of the dress is a little blue bow, which I believe Jenny Packham puts into all her dresses (my something blue!)."
"I sourced the decorative items for the wedding mostly from local charity shops and Ebay. I found a variety of cut glass vases for the table centre pieces, jars for the sweet table and some cake stands."
"Our photographer was Camilla Rosa, who is so passionate what she does, I love the way she captures dreamy whimsical photos and uses soft lighting to give a natural, elegant, vintage feel to her work. She is accommodating of requests and an absolute pleasure to have around on the day."
"We used peach and pink avalanche roses, pink astilbe, white lisianthus, baby blue eucalyptus, cream wax flowers and greenery/ivy. I wanted pastel soft feminine colours and adore classic blousy roses!"
"My engagement ring belonged to my Great Aunt – I love the style and especially the beautiful opal in it. Tom had it re-sized and replaced some diamonds. The only other jewellery I wore was my auntie's vintage earrings (something borrowed!)."
"I had dreamed of wearing my all-time favourite perfume, 'Charme' by La Perla' and Tom had ordered some to arrive as a gift on the morning of the wedding – unfortunately it never arrived.  I actually got distracted with everything else going on in the house the morning of the wedding and forgot to put perfume on before I left for the church (apart from my dove deodorant that is!).  Luckily I had put a selection of sample perfumes for the ladies in the toilets at the reception and I went straight to get some when we arrived– I picked Dolce by Dolce and Gabbana.
I wore my hair as I usually do most days, long and wavey.  The only accessory was a hair comb to attach the veil, which was handmade by Eluned, a friend of my mum."
"I did my own hair and the bridesmaids went to a local hair dressers called Head Office in Oswestry where we live. Family and friends helped out with makeup!"
"My 1920's floor length veil from Ashman's Antiques in Welshpool, Powys was a perfect vintage addition to my dress which I will always treasure. It was my something old!"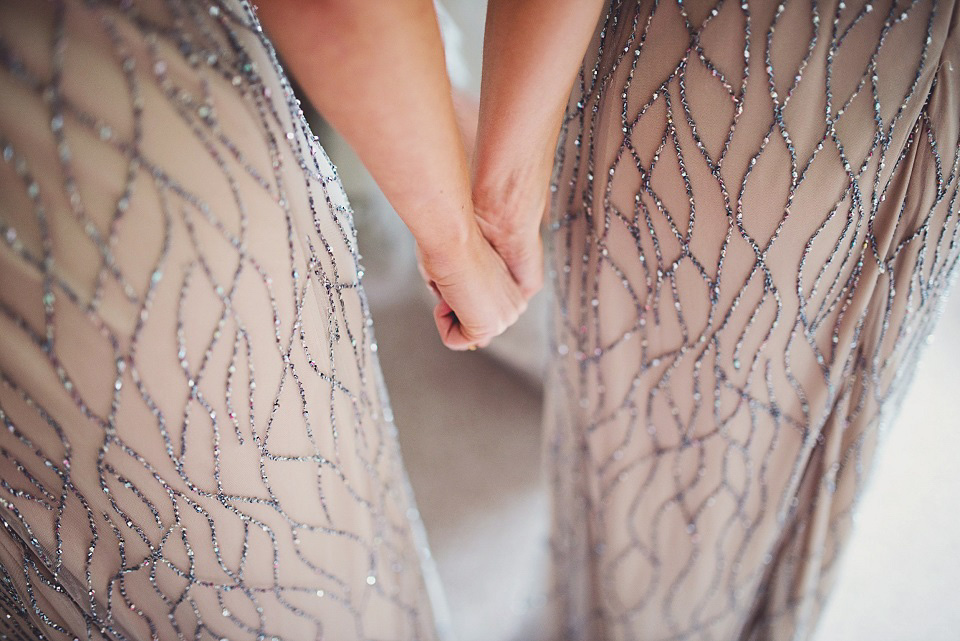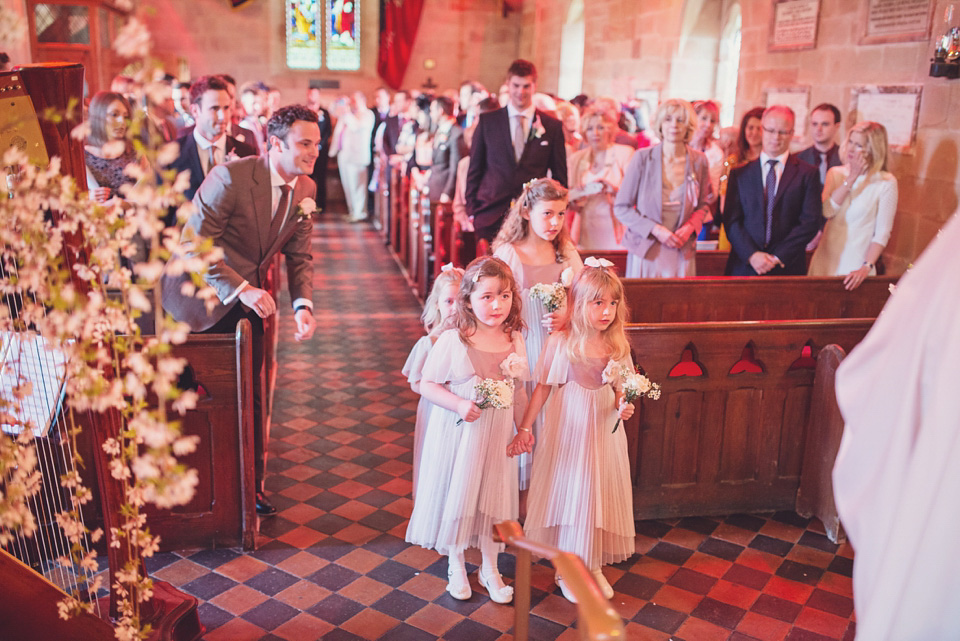 "My Dad walked me down the aisle and to bring an element of my Welsh culture to the day, I asked a talented student from my old high school to play 'Calon Lan' (A Pure Heart in English) on the harp for me to walk down the aisle to
We used the modern version of the wedding vows and a close friend of mine did a super job reading a verse from 1 Corinthians 13: 1- 7. We chose these words since they are meaningful and appropriate for a church wedding.
We had a traditional christian wedding service, which included a marriage preparation course with the vicar 5 weeks on the run up to the wedding. The vicar would come round and have a meal at ours and vice versa, whilst going through informative and practical sessions relating to how well we know each other. Most couples spend hours planning their wedding, but very little time, if any, planning for married life…so it was nice to take time out just for us on the run up to the big day!"
"I really wanted a classic car to fit in with the theme and knew my dad would approve, so we had a cream Royal Jaguar from Colin's Classic Cars."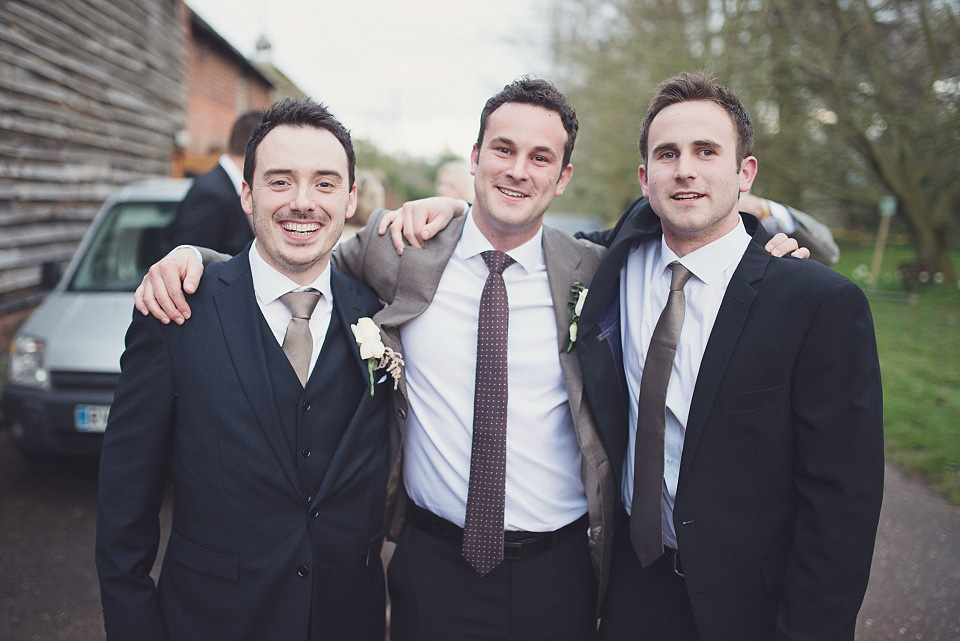 "For the favours, we decided to donate to a wonderful local children's charity, Hope House, which is where Tom's parents both work. We entered all guests' names into the local lottery draw and put a little note in an envelope like the invites to let everyone know! Unfortunately no one from the wedding party got drawn! I also ordered some sample perfumes from Ebay for the ladies and gents then put them in the toilets… they all vanished by the end of the night!"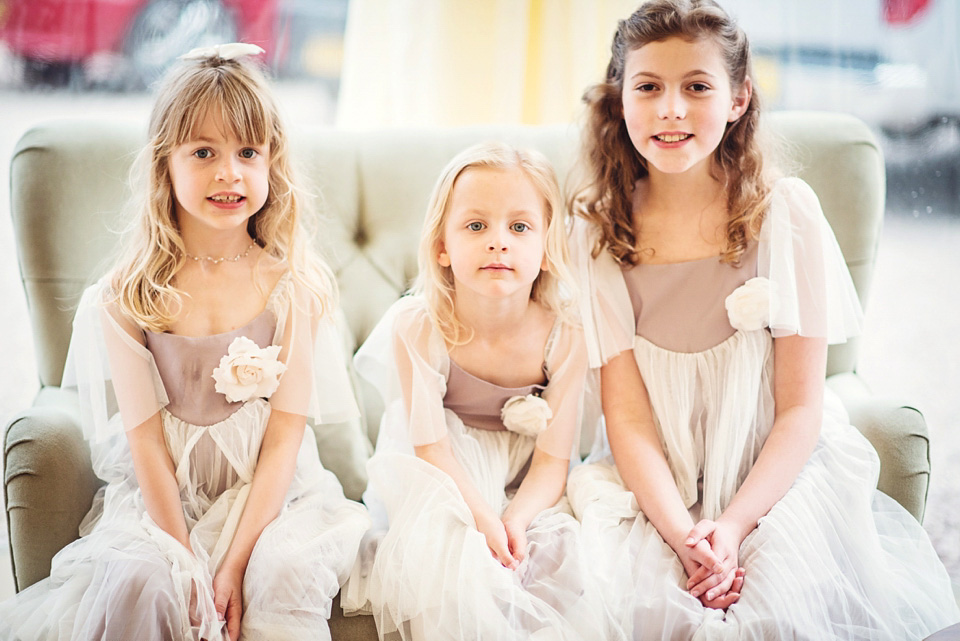 "Our venue was Pimhill Barn in Harmer Hill, Shrewsbury, Shropshire. We both grew up in the countryside and love all things rustic, reclaimed and vintage! When we found this restored grade II listed barn in the Shropshire hills, along with event facilities, it seemed like a perfect fit for us. The barn came as a blank canvas, providing a great opportunity to create a bespoke wedding to our style and taste.
To soften the barn and create an 'elegant' warm feel, I sourced some light material to drape over the doorways – this created a smooth transition from the barn to the marquee. Chiffon material was quite expensive per metre and I needed 30 metres! So I found a cost effective alternative fabric which is used for underwear.  The barn is in its original state already has the rustic 'wow factor', so to enhance it we decided to add elegant finishes to the marquee décor, I found a beautiful chandelier on Ebay and we used our up-cycled sideboard from home to put cards in and the guest book on top. I had been researching lighting, however everything was over our budget, so I turned to my dad with a photo of what I was after and he worked his magic to produce a star backdrop for the band."
"We decided to keep flowers to a minimum in the barn because it had enough unique character, so to enhance the vaulted ceiling, rustic beams and huge doors, greenery was added to some of the beams and delicate vintage cut glass vases on each table. To complete the look we added festoon lighting, another contrast to the glass chandelier. These created a warm and welcoming atmosphere in a huge space. We were fortunate to have the expertise of some friends to help us set them up.
We decided to create some extra space for the entrance and reception area and hired an adjoining, lined marquee via Storm Machine Marquee Hire – this housed the bar, and we put some extra chairs out (lime washed chiavari style!) for guests, including my favourite charity shop find, a little vintage Parker Knoll green velvet button back sofa."
"We used The Cakery Cardiff for our wedding cakes.  We both wanted different flavours and styles, encompassing vintage elegance and rustic country charm.  I collected cut glass cake stands from local charity shops to fit in with the cut glass theme."
"Caroline Morgan Catering were a dream to work with – Caroline created a bespoke menu for us and we gave guests two options to select with their invites prior to the day. The service and professionalism of the staff wsa first class."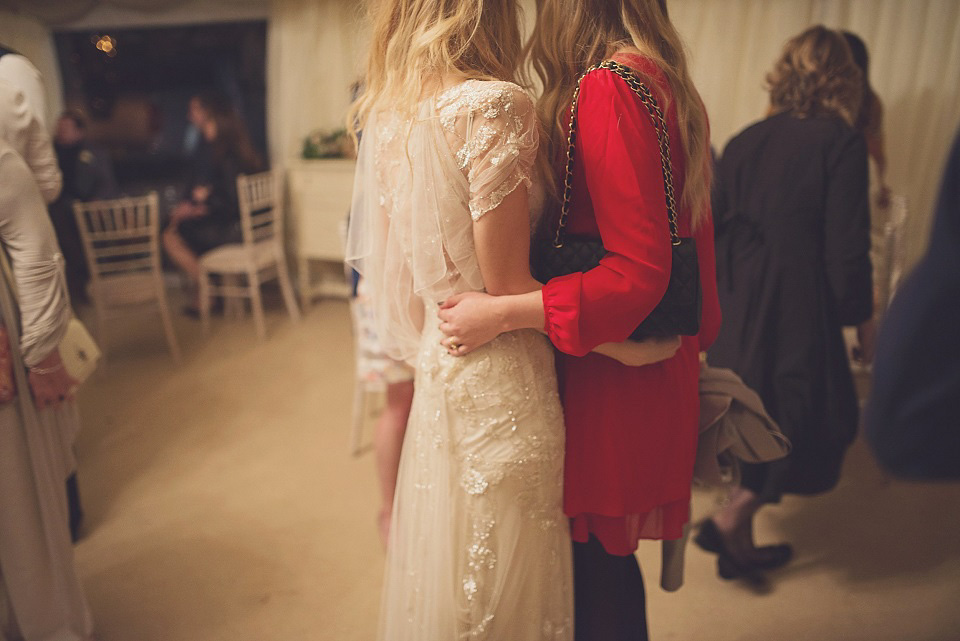 'Our first dance was to 'Here Comes the Sun' by the Beatles. It's cute, happy and sang by absolute legends.  We wanted something upbeat that everyone would recognise and the guys from Punch the Air really did it justice on the day."
"We hired a 3-piece live band called Punch the Air – they sounded great and really looked the part! At our request, they even sang an acoustic version of our first dance 'Here Comes the Sun' and sent us a copy prior to the wedding. They played a range of music to suit all ages and tastes, got everyone on the dance floor and by the end of the night Tom even paid them extra to continue the party!"
"The whole day was a whirlwind and we both enjoyed each part of the day for different reasons, it was wonderful just to have all our family and friends in the same place for the day!"
What a lovely way to end the working week on Love My Dress®. Huge thanks to you Camilla Rosa Photography for sharing these gorgeous images, and much love and congratulations to you Hannah and Tom – I hope you are enjoying your newly wedded life together.
Have a very lovely Friday afternoon all,
Love Annabel xXx
Photographer – Camilla Rosa Photography
Venue – Pimhill Barn in Shrewsbury, Shropshire
Dress – Azalea by Jenny Packham
Veil – 1920's floor length veil from Ashman's Antiques
Bride's Scent/perfume – Dolce by Dolce and Gabbana
Grooms Suit – Charles Tyrwhitt shirt and tie + mix-matched suit (pre-owned)
Bridesmaids – Drianna Papell from House of Fraser + Debenhams shoes
Flower girl Dresses – Monsoon
Cake – The Cakery Cardiff
Transport – Colin's Classic Cars
Entertainment – Punch the Air
Catering – Caroline Morgan Catering