Everything, just everything about this wedding is lovely! Beautiful surroundings sunlit on midsummer's day, the most delectable beaded gown, clean colours and an incredibly good looking bride and groom! Photographed by Rebecca Douglas, this occasion will have you all feverishly taking notes. It's oh so pretty.  Hanna, a lawyer and Jimmy, a financial analyst, were married on 21st June 2014 in a picturesque little church near where Hanna grew up in Buckinghamshire.
"We got married in the village where my parents still live, which was incredibly special as so many people there contributed to the wedding in some way, from mowing the grass outside the church to all coming out of their houses to wave when I walked through the village to the church with my bridesmaids and father."
Photography Copyright (c) 2014, Rebecca Douglas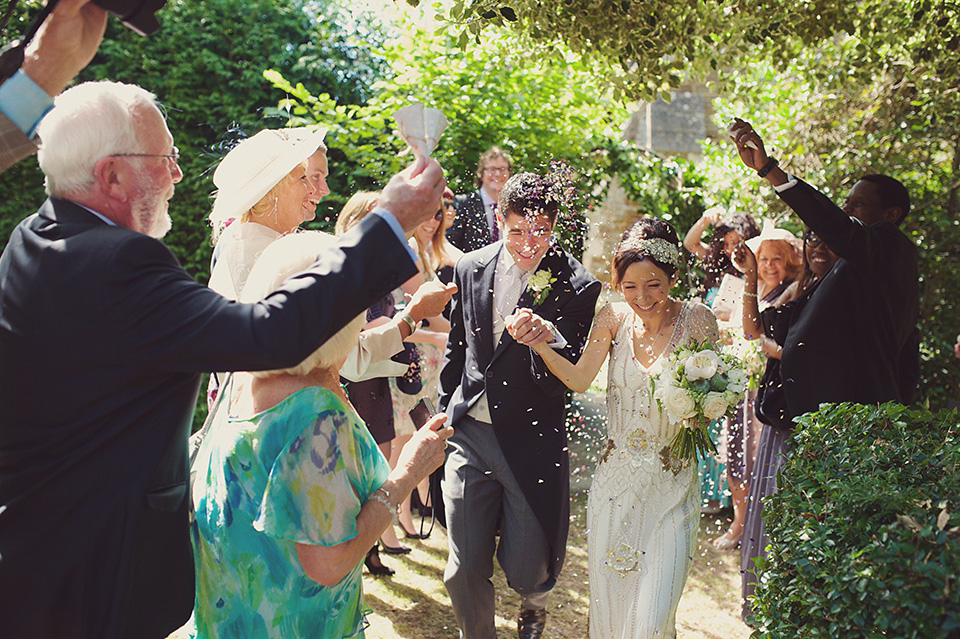 Hanna chose the simply stunning 'Eden' dress from Jenny Packham, which is arguably one of the most beautiful in her collection.
"I had seen it on a few brides, who all looked gorgeous in it in different ways, and it was just the most beautiful dress I had ever seen with the delicate beaded sleeves and intricate gold details. I also loved that it was a clean silhouette – as much as I love dramatic dresses with big skirts I'm a bit too short to carry them off! I originally ordered it as the slip and overdress in the platinum version, but ended up wearing the platinum overdress with the ivory slip, as I wanted it to look a little more 'wedding'."
Hanna also had a relaxed attitude towards how she'd like her maids to be dressed and the three of them looked simple and beautiful on the day, with just a little gypsophila in their hair.
"The girls' brief for their dresses was that as long as they were a pale colour and knee length they could wear whatever style they wanted so they could feel comfortable on the day. There was a bit of to-ing and fro-ing as in retrospect they were all being so nice and respectful of what each other liked that they couldn't decide! In the end my two best friends wore the same cream lace dress from La Redoute which looked wonderful on both of them, and my sister wore a white embellished skater style dress from ASOS.
Shoes were tricky, as one bridesmaid loves mega high heels, one prefers mid heels and the last, my sister, is a trainers girl through and through. We ended up going for nude patent heels in varying heel sizes from LK Bennett and Next."
"Our florist was Donata Cepauskaite of The Flower Boutique in Woburn Sands. She has the most beautiful little shop full of all sorts of treasures, which my mother is a regular visitor to. She created gorgeous bouquets and buttonholes of white flowers with fragrant green herbs, and also put together a showstopper floral decoration for the church.
Donata also completely understood what I wanted when I gave her the very vague brief for the table centrepieces of 'something with twigs and white flowers' and created little living tree style arrangements of foraged twigs with delicate little gypsophila bunches attached in big pewter jugs.  She's a lady with vision!"
"The marquee décor was all about lots of natural wood and textures and twinkling lights, so we had hessian runners on the tables with twiggy hearts hung up around the sides. Jimmy also came up with the idea of using up a pack of Penguin book postcards to make the table plan, using a hessian corkboard – which I saw on Love My Dress®. So easy to do and cheap as chips."
The couple were photographed by the wonderful Rebecca Douglas, whose images are just so golden and glowing. I love them.
"We are so glad we found her and that she was free that day! She is a consummate professional and we love every single one of her photos – she really has an eye for capturing moments and all the little details, as well as being a very calming presence on the day. She got some wonderful pictures of the bridesmaids hamming it up and working their best moody model poses on the morning, and also some great shots of the groomsmen."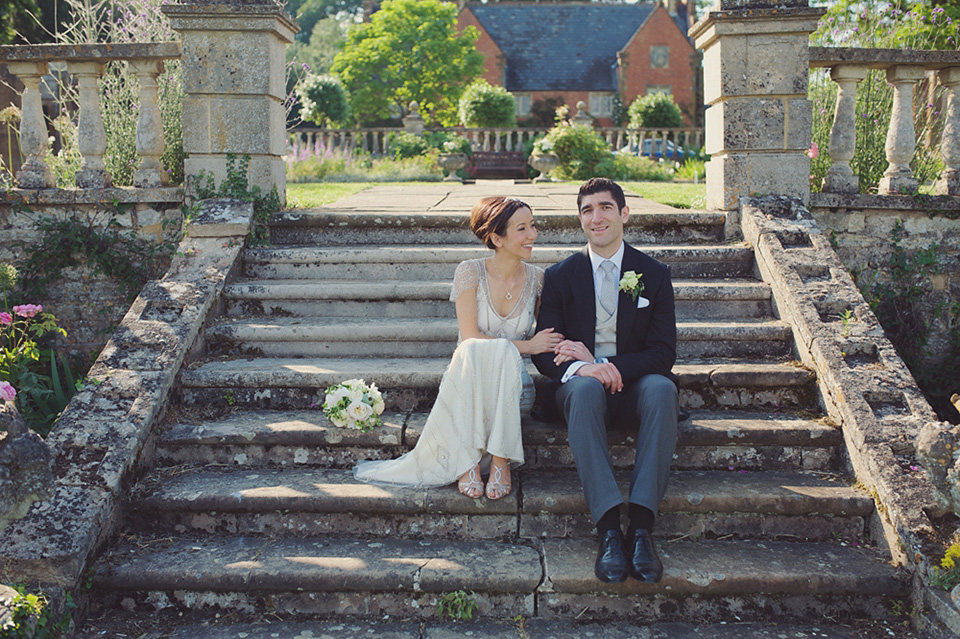 "Jimmy and I met at a charity speed dating event nearly six years ago that one of my bridesmaids made me go to – it was a cold rainy winter evening and I so nearly didn't go, the sofa and a very large bowl of pasta seemed a much more enticing prospect! Neither of us had been speed dating before and were highly sceptical of it all. He was my second to last speed date and his first question to me was 'So, what's your favourite fish?' – a bit of a change from everyone else asking questions such as what you do for a living!
He proposed on a snowy weekend in Vienna just before Valentine's Day 2013, so we had lots of time to plan and take a fairly relaxed approach."
The bride's shoes were a last minute purchase from Dune after she realised that her original heels kept catching in the hem of her dress. "Happily they were a bargain in the sale though and they were also incredibly comfortable."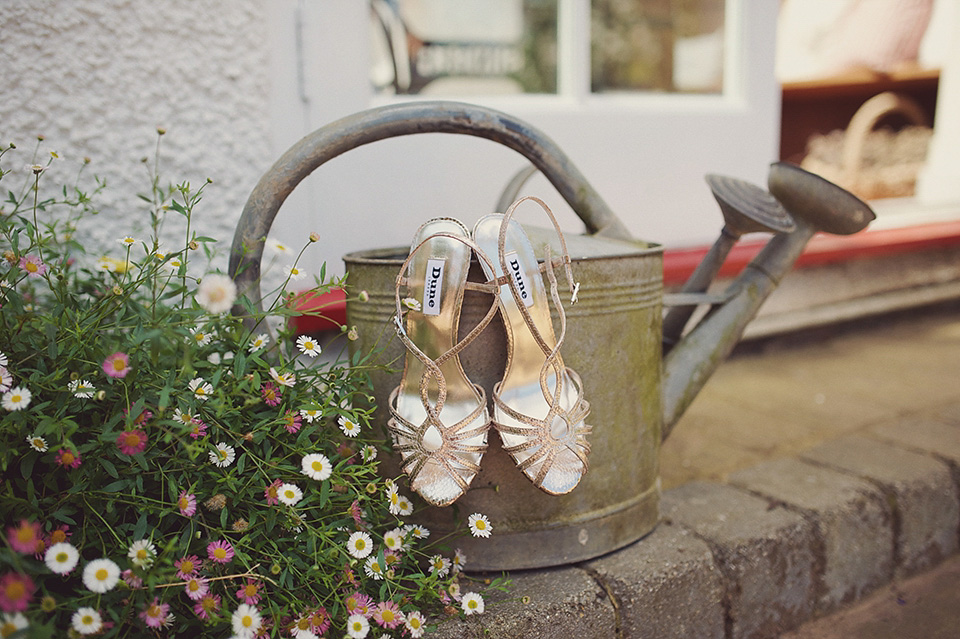 Hanna went with niche brand Juliette Has A Gun for her wedding scent, choosing 'Lady Vengeance Extreme'. I know this scent well and I can vouch for the fact that it is totally gorgeous! "I had a browse in Selfridges one evening after work and loved it – it's a dark sumptuous rose scent in a very cool bottle so I only needed a light spritz to last me all day." 
"I decided not to go for a veil as I thought it might be a little too much with the dress. Instead I had the most beautiful headpiece 'Cadeaux', also from Jenny Packham. It's too gorgeous to keep in the box so now I tend to wear it if I have to do something very boring like vacuuming and accidentally answered the door to a delivery man with it on the other day – he looked rather confused!"
"Carolanne Armstrong did an amazing job of making me and the bridesmaids look pretty, all whilst being heavily pregnant. She also didn't bat an eyelid when I decided to change hairstyles at the last minute and happily bigged up my rather unpredictable wispy hair into a perfect bouff."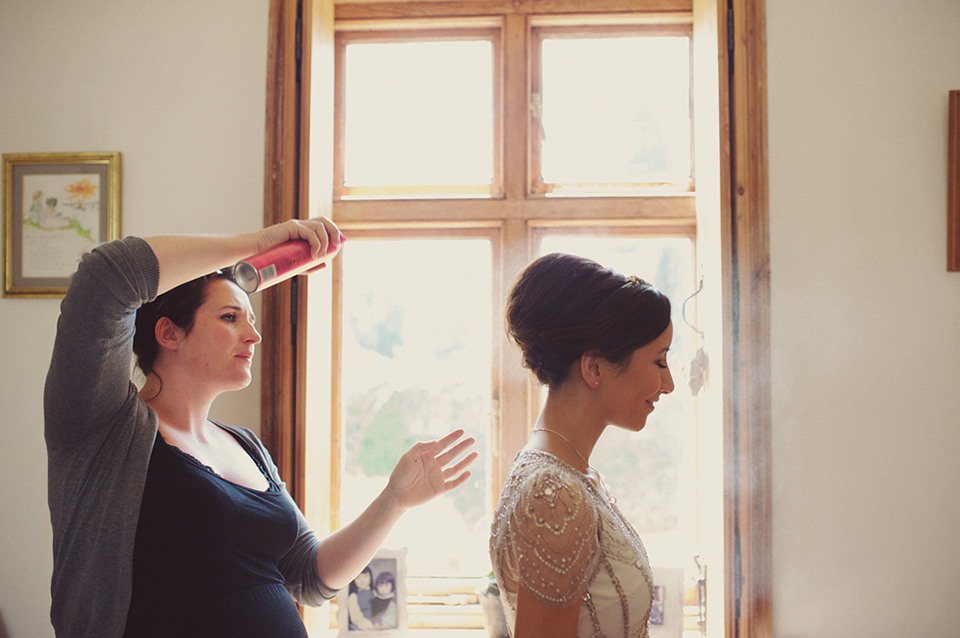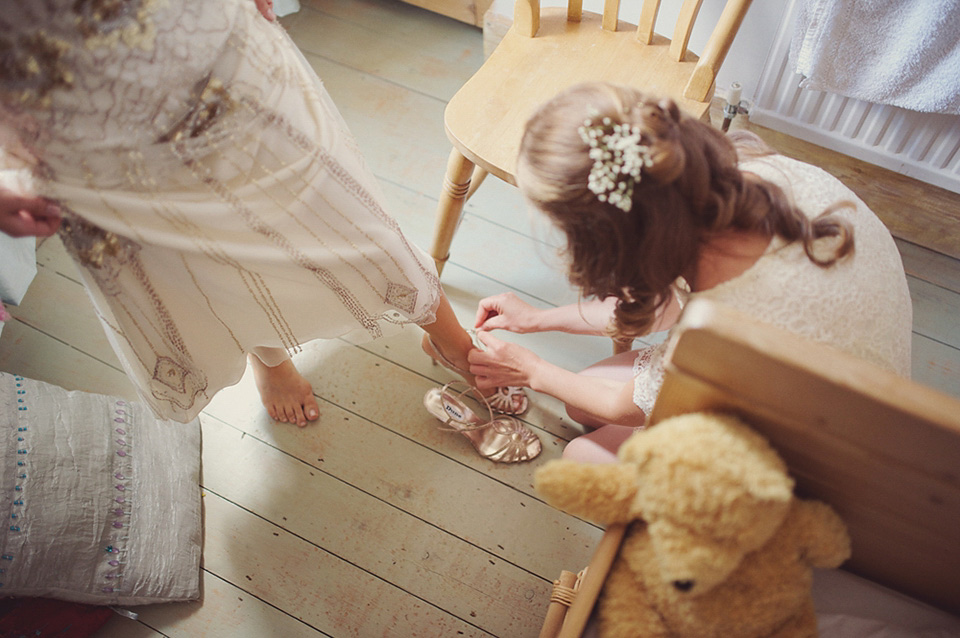 I love this sequence of photos up next, where the bride's mum get's to see her for the first time – that face!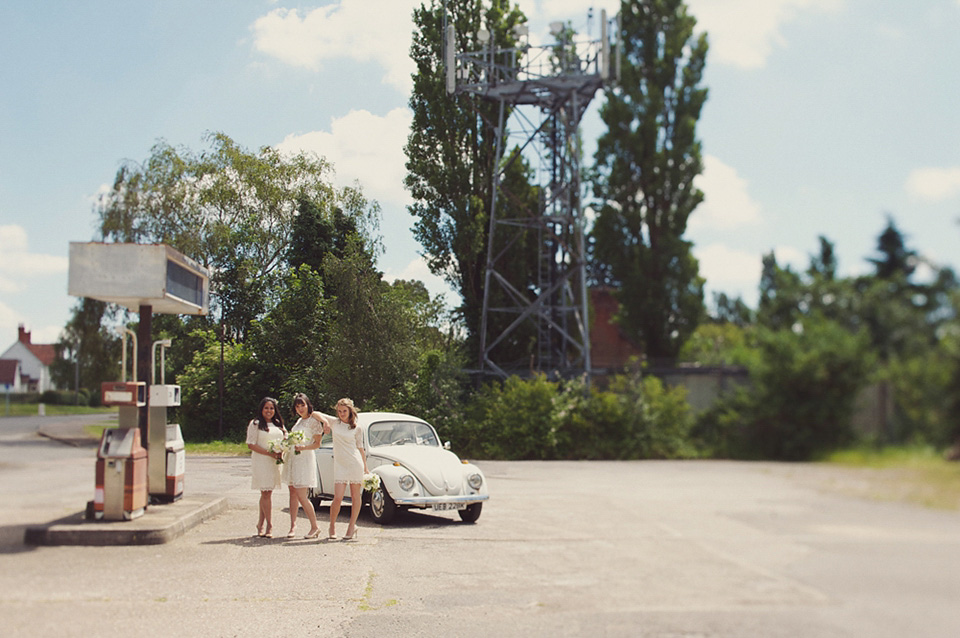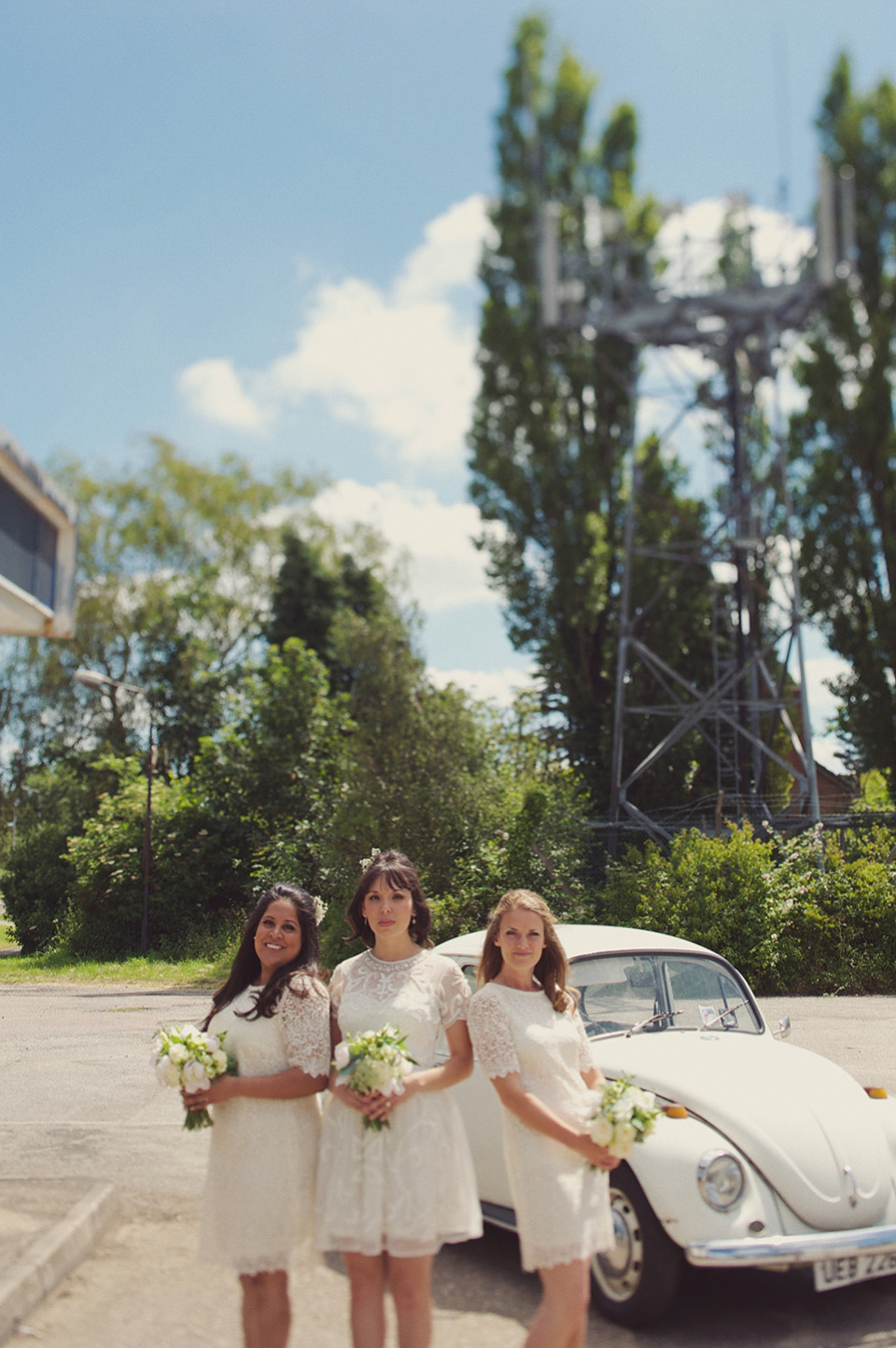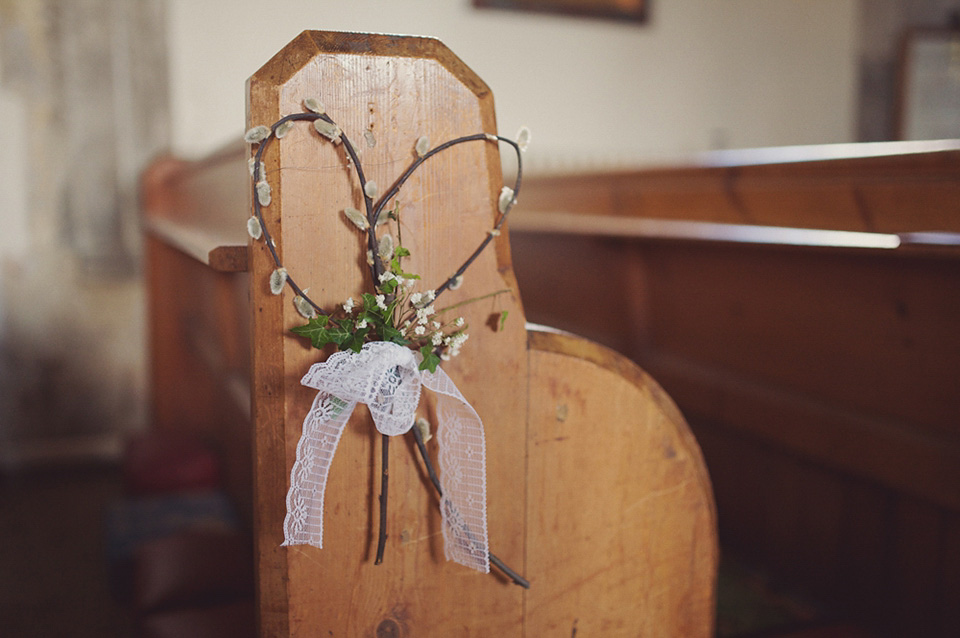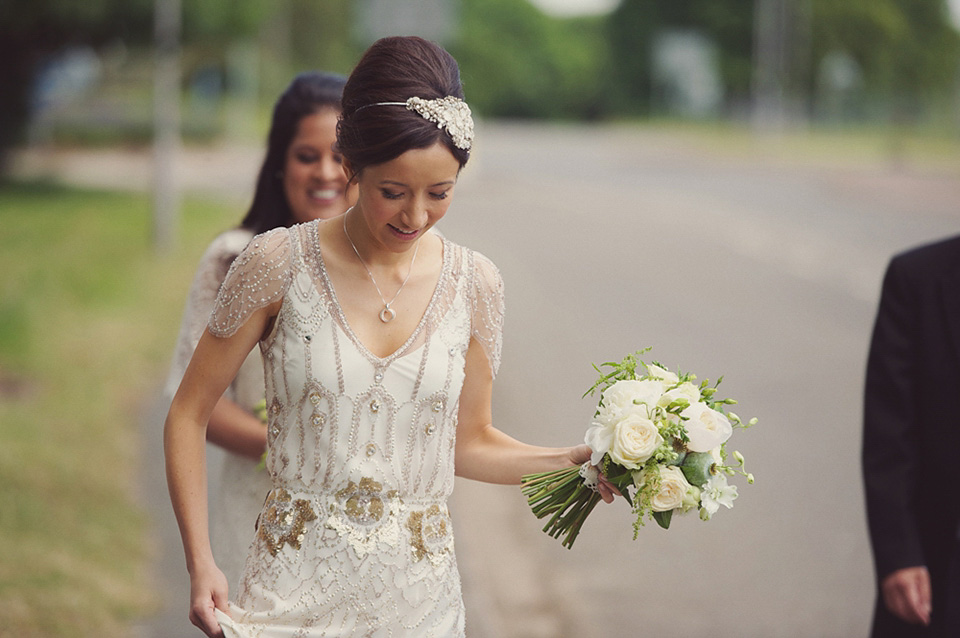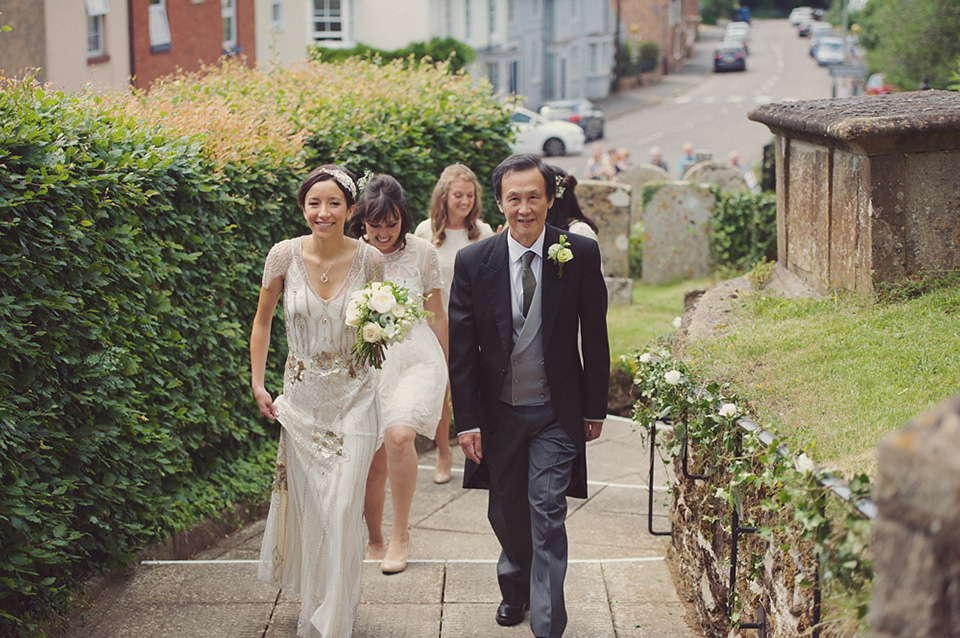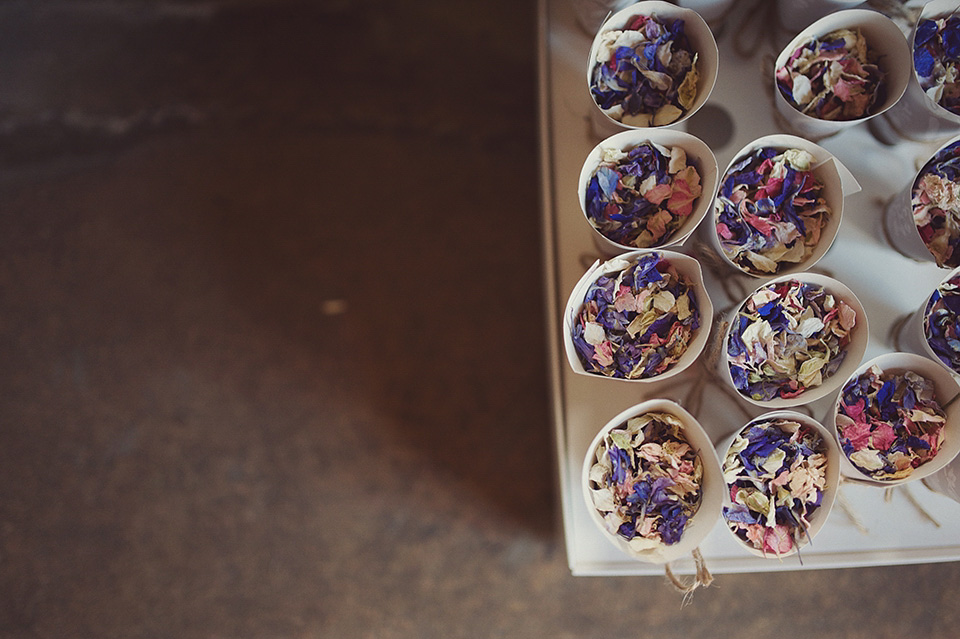 Hanna walked down the aisle of the village church with her father to the Trumpet Voluntary by Clarke, played on the ancient church organ by a family friend. The couple exchanged simple wedding bands from A&S Jewellers in Hatton Garden.
"For the bible reading we used Song of Solomon. This was an easy choice as the words immediately appealed to us – it's a very joyful passage and was read by two of our oldest family friends. We found it much harder to decide on a non-religious reading. There are lots of great readings out there but none that felt quite right until we stumbled across the poem "love" by Roy Croft, which my sister read beautifully."
"My favourite part, without a doubt, was seeing Jimmy at the end of the aisle smiling at me. It was just the best feeling in the world. Everything went very well. I think the only thing I would have done differently is relax a bit more before the wedding! I was trying to prepare for every eventuality and thinking about what might go wrong, and as work was also very busy at the time looking back I was getting stressed about nothing! You can't prepare for everything and if something goes a bit wrong on the day it really doesn't matter."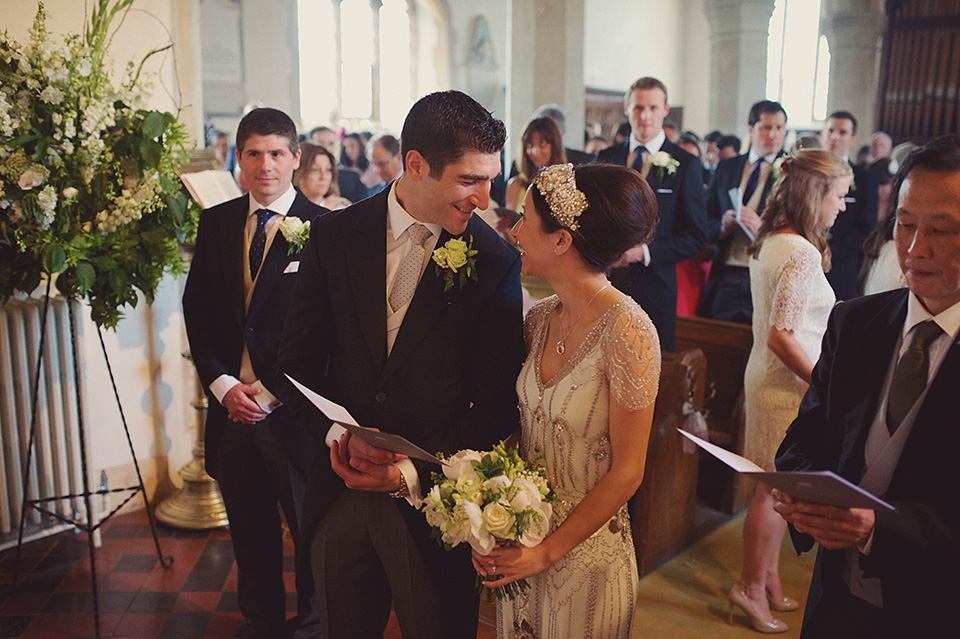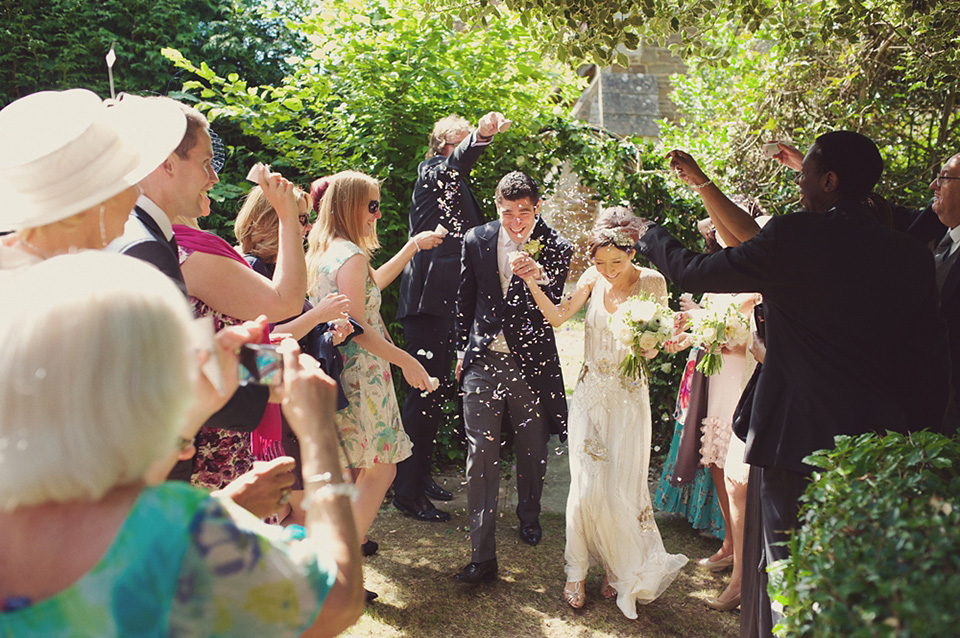 "Our lovely best man Allan very kindly lent us his vintage Karmann Ghia car for us to drive to the reception in which was so much fun and also did the triple duty of being old, borrowed and blue!"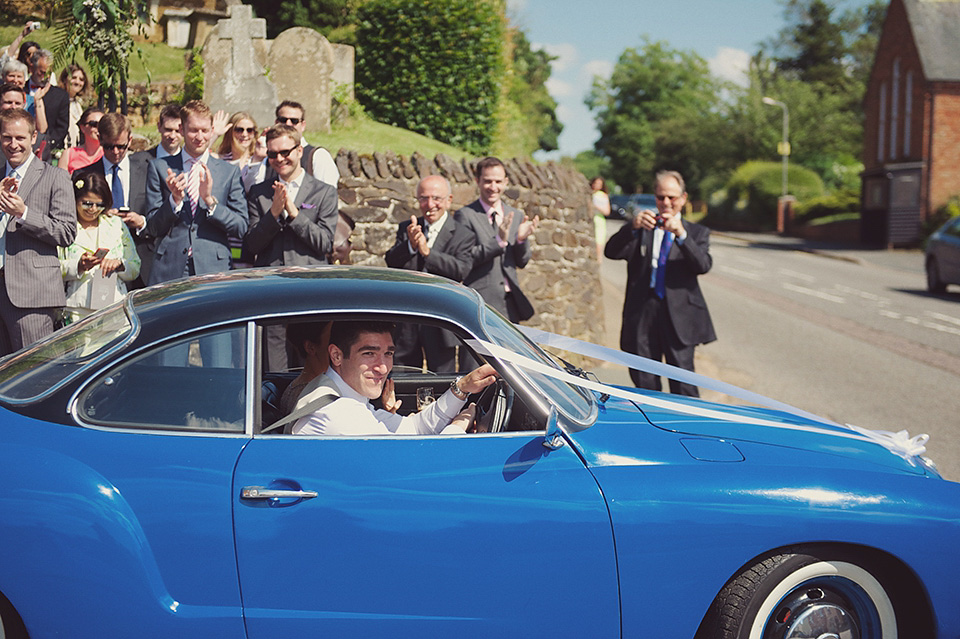 "After the ceremony, we popped all the guests on coaches (the same coaches that I used to get to school!) for a quick drive to get them to the reception venue of Stoke Park Pavilions in Stoke Bruerne, Northamptonshire. I had actually never heard of the venue before until my father came across it online, and it was perfect, like going back in time. It was a stately home many years ago, but the main house is long since gone, leaving the pavilions standing amidst secret gardens, an orchard and an ornamental duck pond full of friendly ducks with views of rolling green fields as far as the eye can see.
They only tend to have ten or so weddings a year as the owner just rents it out to cover the upkeep, so it didn't feel like we were on a wedding conveyor belt which I think it can feel like with other venues."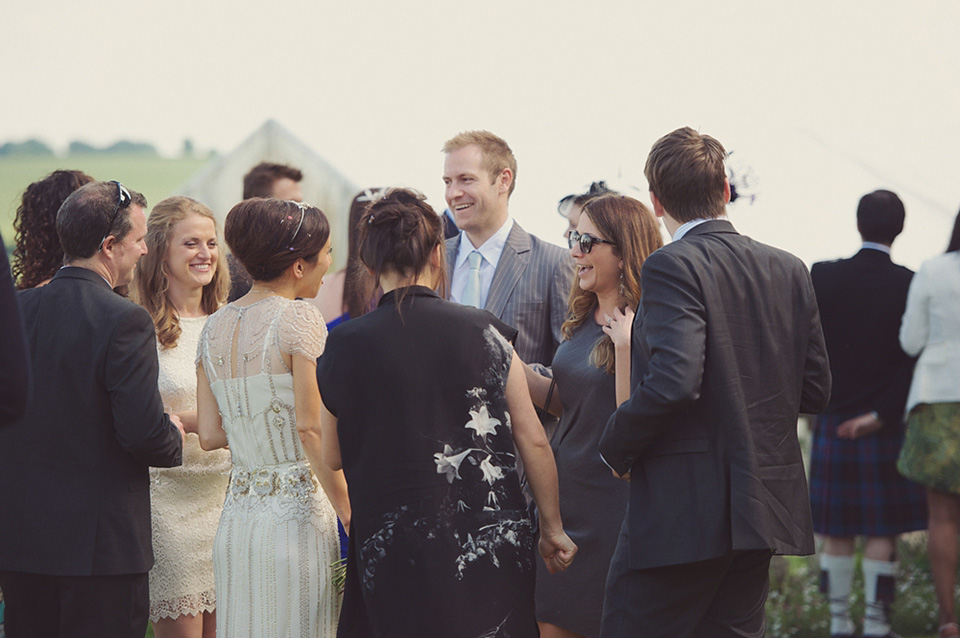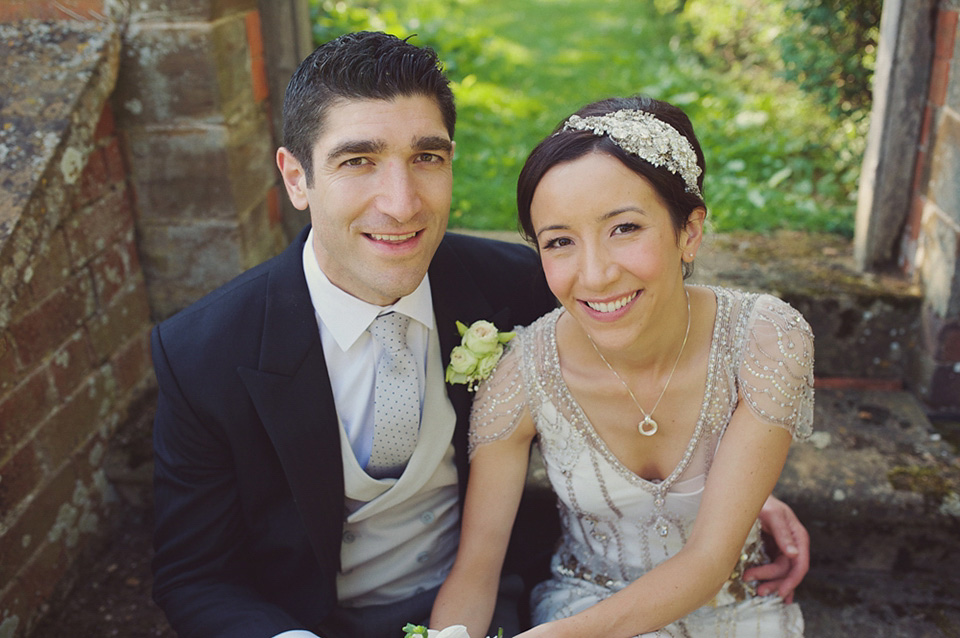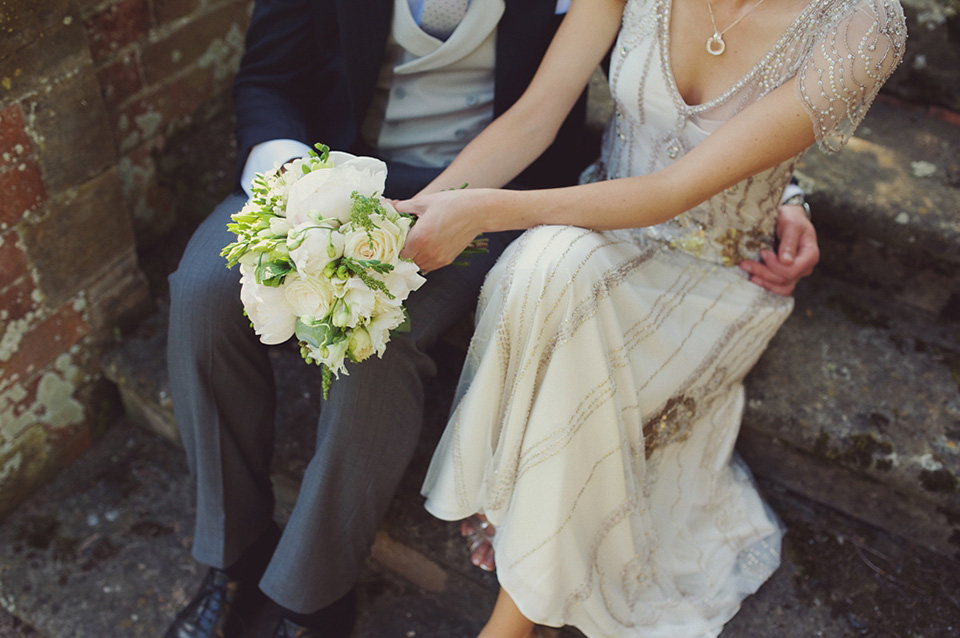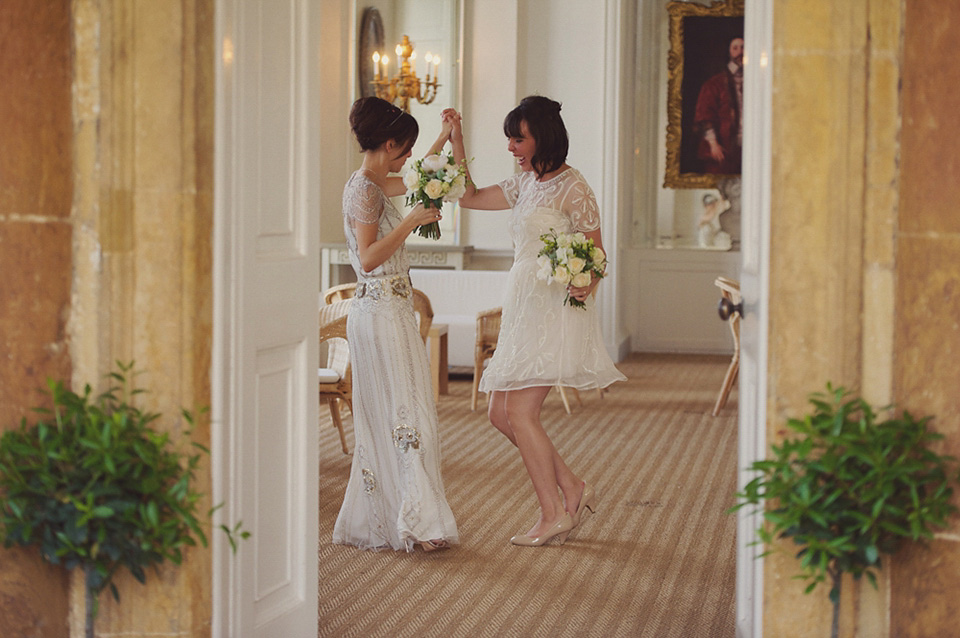 "The venue really set the tone for everything, and when we found that it was available on Midsummer's Day that also coloured the wedding styling. It was a mish-mash of woodland twigs, white flowers and green herbs. I wanted to keep everything fairly clean and simple so it didn't detract from how quietly lovely the venue is. I was also keen to make the lighting a feature, so we had fairy lights in the marquee with white paper lanterns and silvered lanterns hanging up, together with fairy lights decorating the exposed pillars outside."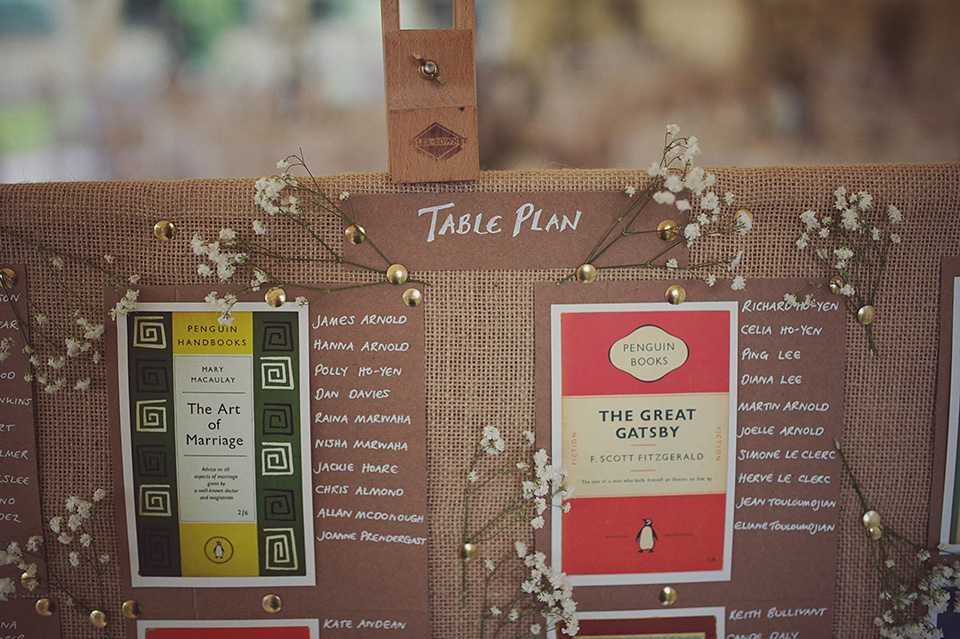 The simplicity of the the decor for this wedding is what makes it so stunning, in my opinion. It's so easy to go overboard, but Hanna and Jimmy stuck with a neutral colour palette that blended in perfect harmony with the natural surroundings.  The couple also had a little extra help from a wedding professional to ensure the reception ran as smoothly as possible. Considering how totally divine everything looked, I'd say it was well worth it.
"Stoke Park Pavilions comes with its own wedding planner, Sarah Sweet Rowley. She was worth her weight in gold – she is completely unflappable with a great sense of humour and made everything very easy as she has excellent contacts with all of the local suppliers."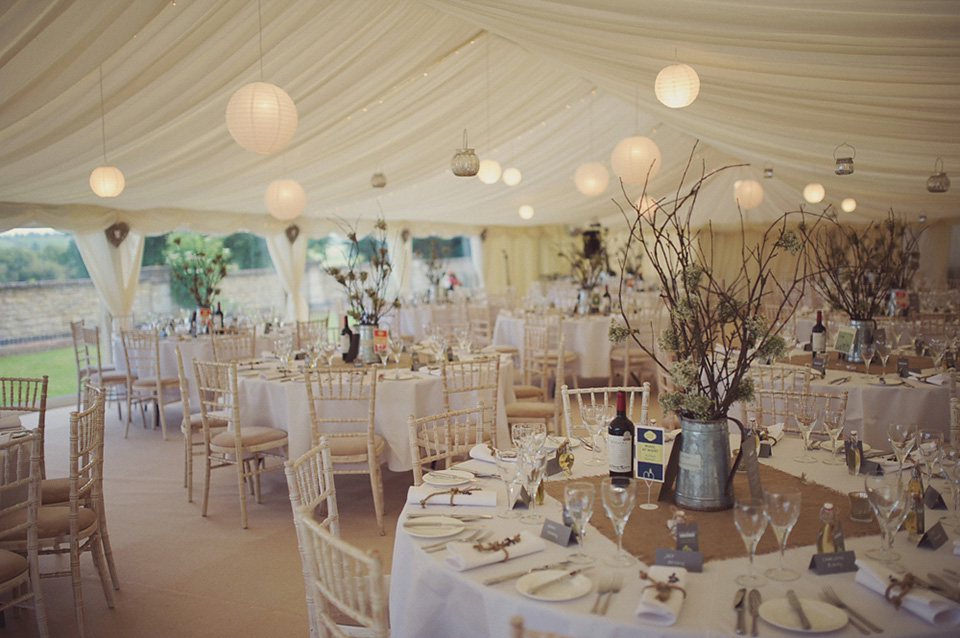 All the catering for the event was undertaken by Austin Fell Partnership, who created gourmet wedding pies and creamy mash for the wedding breakfast, as well as hundreds of canapés.
"We ended up having three cakes somehow. We had a tasting at the excellent Teddington Cheese shop and ordered a large cheese tower, complete with customised 'wedding mice' made by a lovely lady called Emma Carter. My father then offered to make a very boozy rum cake, which was beautifully decorated with sugar flowers by a local cake maker. Finally, my sister and brother in law made a 'Bananagram' style cake made of chocolate tiffin squares (Bananagram is a bit like fast Scrabble on caffeine and a favourite game in our family!)"
"We used Pirrip Press for all of our invitations, menus and orders of service. I just couldn't find anything I really liked, and Pirrip created a bespoke dandelion design for a very reasonable price in no time at all. They are so talented, and just the easiest people to work with, they seem to anticipate what I going to ask before I had even thought it. We also asked them to make labels for the wedding favours.
My father kindly undertook the mammoth task of making 120 bottles of quite potent homemade limoncello. Pirrip Press made some gorgeous grey labels to match our stationery with a lovely bright yellow lemon design and the date of our wedding to go with them, and we had a bit of a family sweatshop going on a few days beforehand to tie them all onto the bottles!"
Words Of Wedded Wisdom
"I'd really think hard about getting a videographer, or if that's going to break your budget, enlisting a sensible friend or family member to film the big moments of the day. Seeing those moments again live is wonderful as the day goes so quickly that it's difficult to take everything in."
I told you it was lovely didn't I?! Thank you to Hanna and Jimmy for sharing such a happy, gorgeous day on Love My Dress®, and also to Rebecca Douglas for capturing all those wonderful memories.
Have a very lovely morning everyone,
Love Susie x
Photographer – Rebecca Douglas
Venue – Stoke Park Pavilions
Dress + Headdress – Jenny Packham
Shoes – Dune
Groom – A Suit That Fits + TM Lewin
Bridesmaids – La Redoute and ASOS
Florist – Donata Cepauskaite, The Flower Boutique
Entertainment – The Showhawk Duo and Mark @MightyFineEntertainment
Rings – A&S Jewellers
Catering – Austin Fell Partnership
Stationery – Pirrip Press
Hair Stylist – Carolanne Armstrong
Photobooth-Vintage Photobooth