Good morning wonderful one's, Love My Dress is here to welcome you in to another week with some beautiful inspiration from the wedding world, starting with this beautiful celebratory day of Freelance TV Producer Cally and Broadcast Engineer Paul. The couple married on 7th September at Dewsall Court in Callow, Hereford and their wedding was a lovely early Autumn affair with lots of beautiful floral colour…
"Paul and I met at a New Years Eve party in 2004 and got together officially in May the following year. Paul asked me to marry him, using his Mum's engagement ring, in Koh Samui on the last day of a holiday we were taking with friends.  Paul's mum had passed away before we got together so to have her engagement ring is so special to me. We were together for eight years before the proposal which was on the 31st March 2012 and we got married a year and five months later.
We were inspired by our surroundings when it came to styling our day – I wanted the colour to originate from the flowers we chose."
Photography Copyright (c) 2014, Ann-Kathrin Koch
"My dress is the 'Deimos' style by Pronovias and was from The Wedding Club in Birmingham.   I went dress shopping with a group of my friends and the friend who got myself and Paul together pointed the dress out to me – I had originally overlooked it!  I loved the detail and the fact I was able to cover my arms and show off my cleavage at the same time with the V neck. I had never seen anyone in a dress like it so I also loved the sense of individuality about it.
The dress came with a white bow around the middle, which I didn't like so had removed.  Instead I wore the Jenny Packham 'Acacia' belt and headdress, which suited the dress perfectly.
My veil was a Joyce Jackson double tier veil on Italian tulle with white ribbon trim."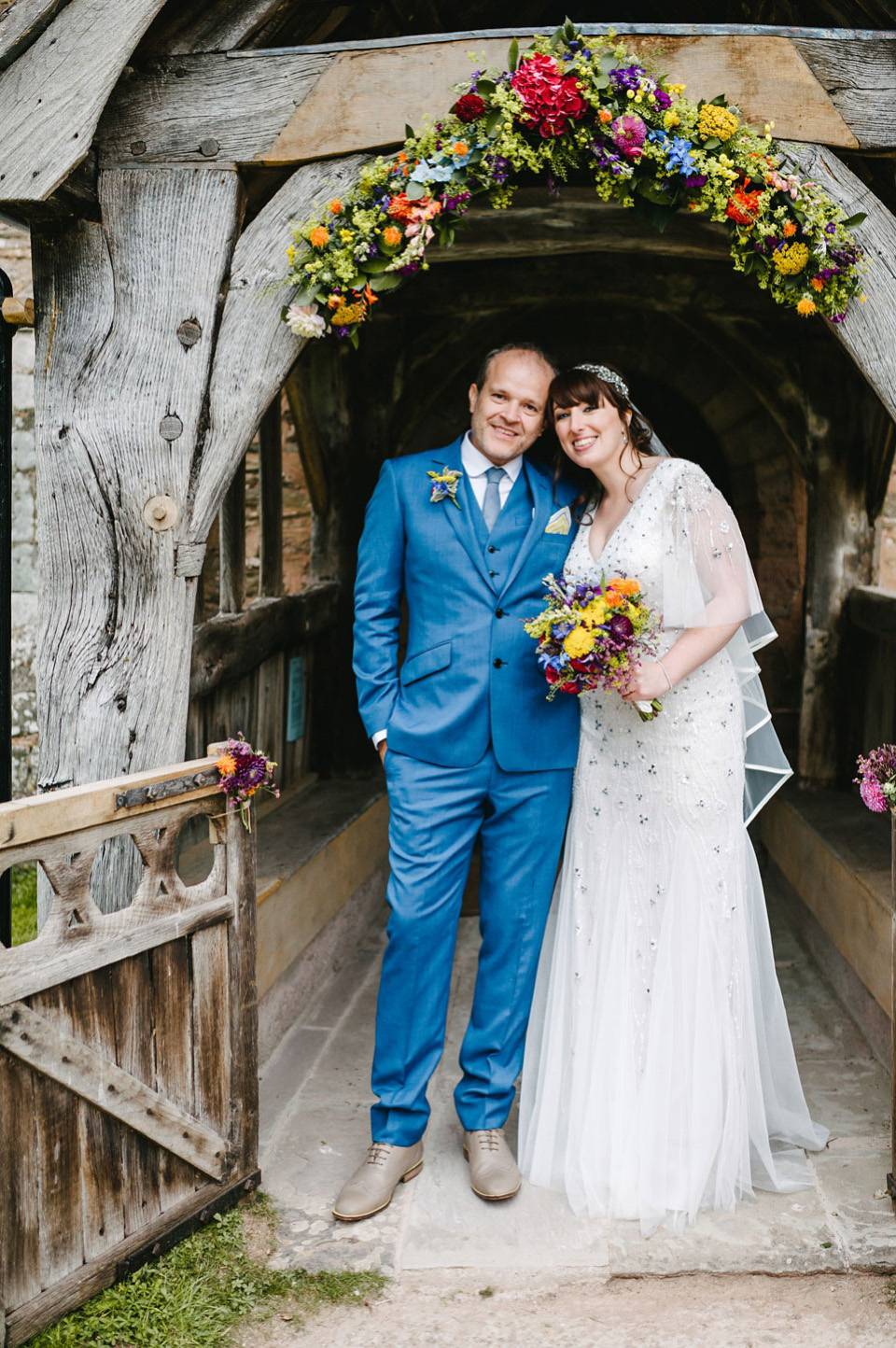 "The bridesmaid's dresses were from Coast and the girls wore them with feather and faux fur shrugs.
I found some bracelets in Accessorize that matched the dresses perfectly and my mum adapted them for the girls to wear in their hair."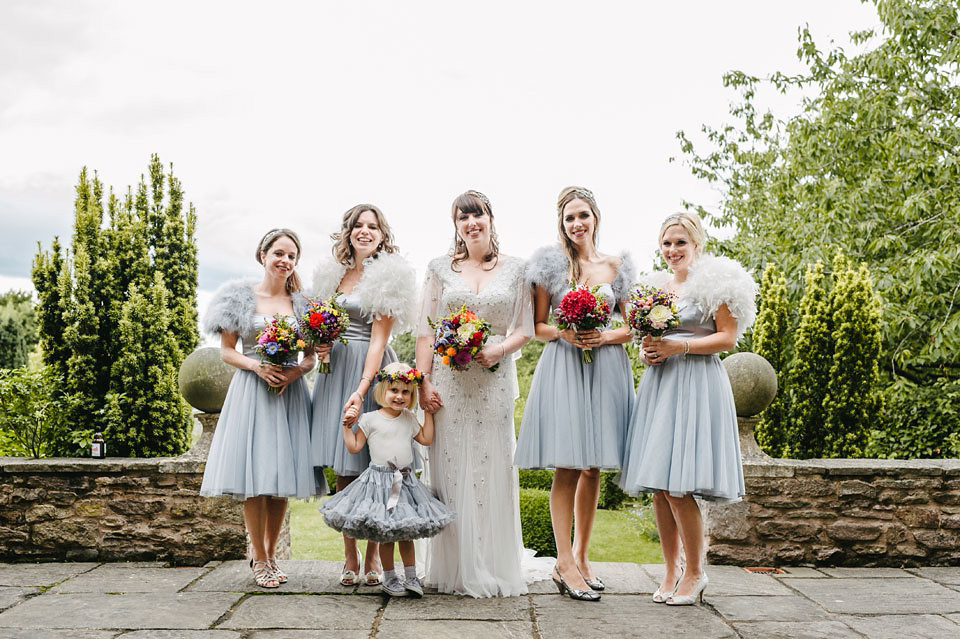 "The flower girl wore an Angel's Face silver cloud tutu and white t-shirt with diamante angel wings on the back, she also rocked some white diamante Converse."
"Our favours were our favourite beers from our favourite places around the world. Each table was a different beer from a different place, for example one table was Bank's beer from Barbados, and each person had that beer with a luggage tag with their name on."
"For the table plan we used a world map highlighting what county the beer was from and a luggage tag with names of people on that table." 
"Our photographer was Ann-Kathrin Koch, who photographed my little sister's wedding a few months earlier. My older sister Leah modelled wedding dresses and met Ann-Kathrin doing some photo shoots. It was lovely getting to know her over the two weddings, and she will always be very special to myself and my family for providing us with such lovely memories of the days."
"One of Paul's closest friends Jim used to be a graphic designer so we asked him if he would be kind enough to design our save the dates and invites. We had planned and drawn something we quite liked in the pub after a few drinks one night – Jim then came up with the idea of having our wedding invites fold out to a festival style poster.
He produced us a few individual icons for the wedding that could be used in different ways. I used these icons to create the menus and order of services etc. He also produced a brilliant 'C&P' icon and made it into stickers. We basically used these on everything from the envelopes of the invites; drink stirrers, to our luggage tag place settings. The stickers became very much the recognisable image of our wedding. We have hundreds left too so will be using them for years to come!"
"We were looking for somewhere we could hire exclusively for the weekend and Dewsall Court looked perfect from the moment I saw the website. It is a beautiful country house that sleeps 22, has a barn (Wainhouse) for the civil ceremony and reception as well as fields that were home to a bell tent village.  It also has a tiny church within the grounds.
When looking around the venue for the first time I cried after seeing the church and knew we couldn't get married anywhere else."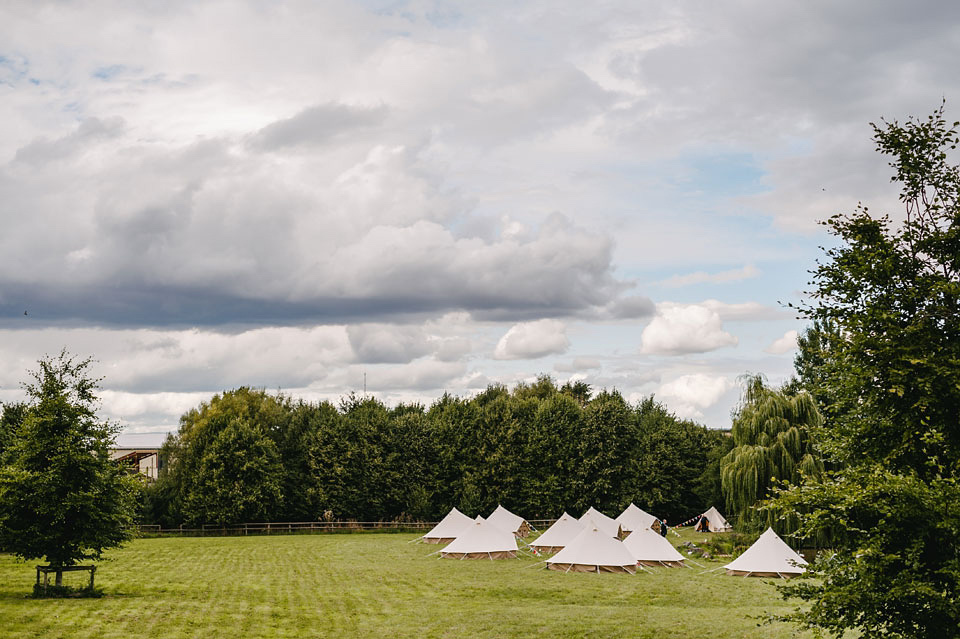 "My shoes were Rachel Simpson's Rachel Simpson's Flo in Ivory leather."
"I wore some sliver drop crystal earrings that were given to me as a bridesmaid present by one of my best friends who is a jeweller.
I was very keen to wear a watch as I didn't want the day to run away with me so I asked the same friend to make a me pearl bracelet watch with a small face so I could keep an eye on the time."
"We were recommended Love Lily our florist by our venue, and after seeing their website and the images of all the flowers they had done, I had no doubt about using them. Emma Lynch, the owner, was lovely and she delivered the most beautiful flowers I could have ever dreamed of.   So many of our guests have said they are the most beautiful flowers they have ever seen.
I have always loved flowers, since working in a flower shop when I was sixteen, and wanted a natural wild, colourful countryside feel to match the venue.  Love Lily created my bouquet and arrangements and they used Hydrangea, Stocks, Dahlias, Carthamus, Alchemilla Mollis, Fanecetum, Flowering Mint, Delphinium, Achiliea, Scabious, Thlaspi, Clematis, Solidago, Waxflower, Crocosmia, Ranunculus, Snap Dragons and Nigella."
"My sister brought me my wedding perfume, which was Marc Jacobs Daisy, she wanted me to have a scent so that each time I wore it after the wedding it would remind me of the day."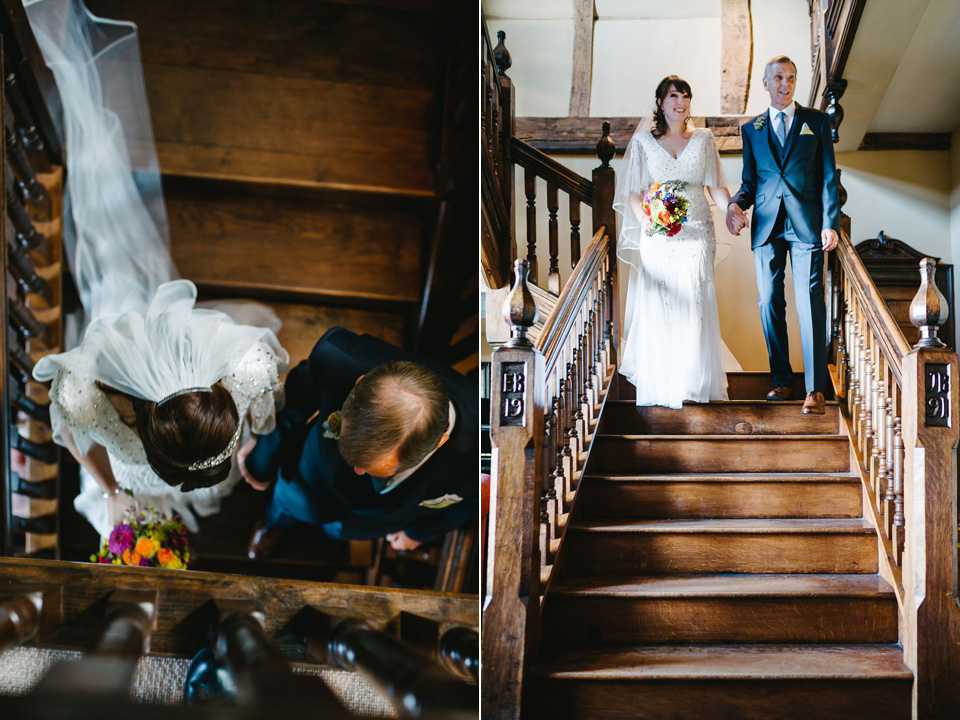 "I wore some sliver drop crystal earrings that were given to me as a bridesmaid present by one of my best friends who's a jeweller. I was very keen to wear a watch as I didn't want the day to run away with me so I asked the same friend to make a me pearl bracelet watch with a small face so I could keep an eye on the time."
"My mum and dad walked me down the aisle which was amazing.  I wanted them both to be by my side when we arrived at the ceremony, and I remember asking my mum 'is this really happening?' as we walked in. It is something I will remember for ever.
One thing I worried most about the wedding was the walk down the aisle song and first dance song as Paul and I have very different music tastes and couldn't agree on any tracks. The week before the wedding Paul watched the film Deerhunter and played me a track he had heard on the soundtrack, it was 'Cavatina' by Stanley Myers, it was beautiful and as soon as I heard it I could picture walking towards Paul to it."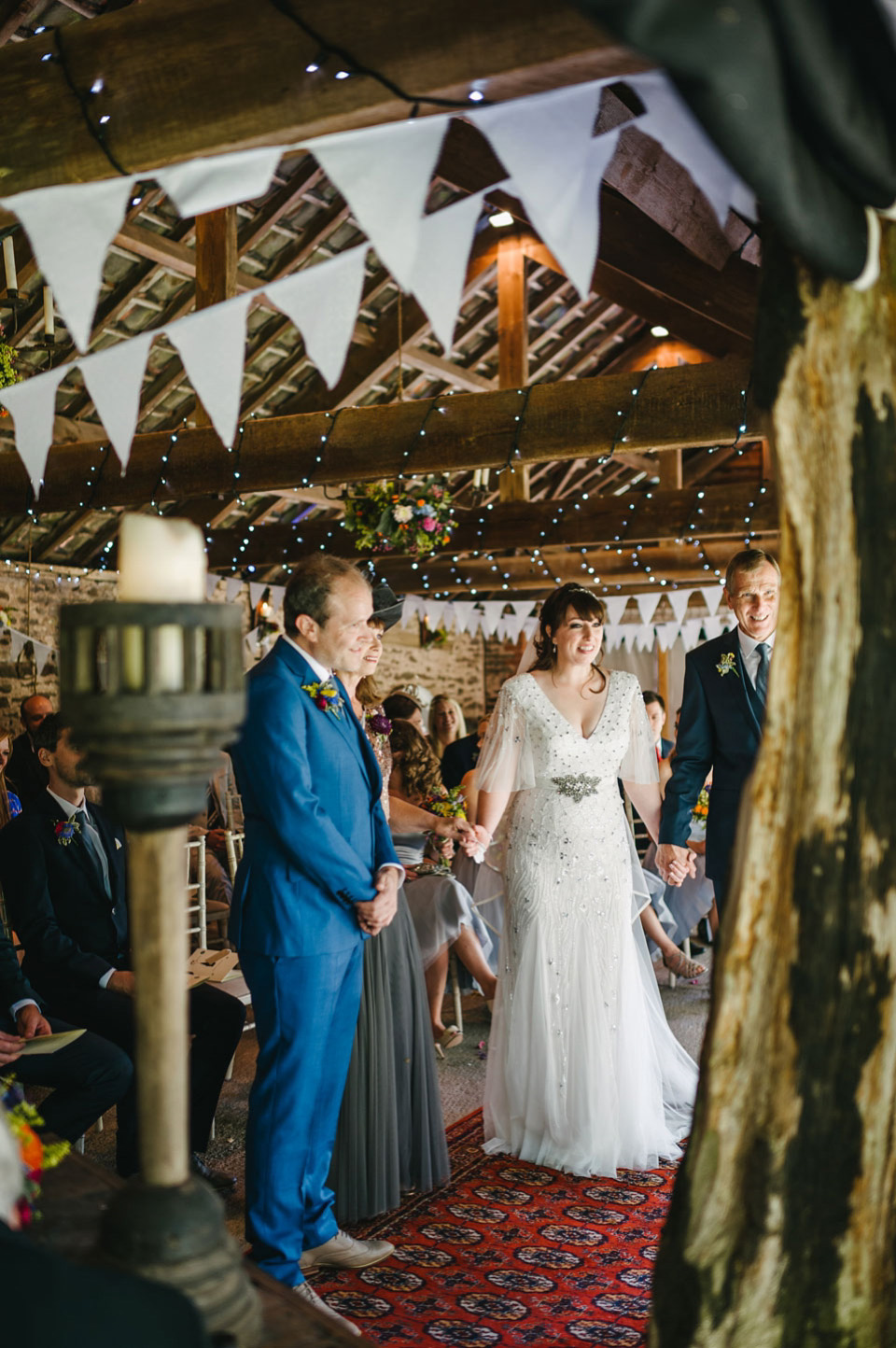 "We had three readings, one in the civil ceremony and two in the wedding blessing. My best friends Louisa and Nancy read 'Love' by Roy croft in the civil ceremony.
The second and third readings were from the bible – these included the 'Song of Solomon' and a passage from the first Letter of Saint Paul to the Corinthians, which was read by my mum and friend. My two sisters then read prayers after the vows and the exchange of the rings."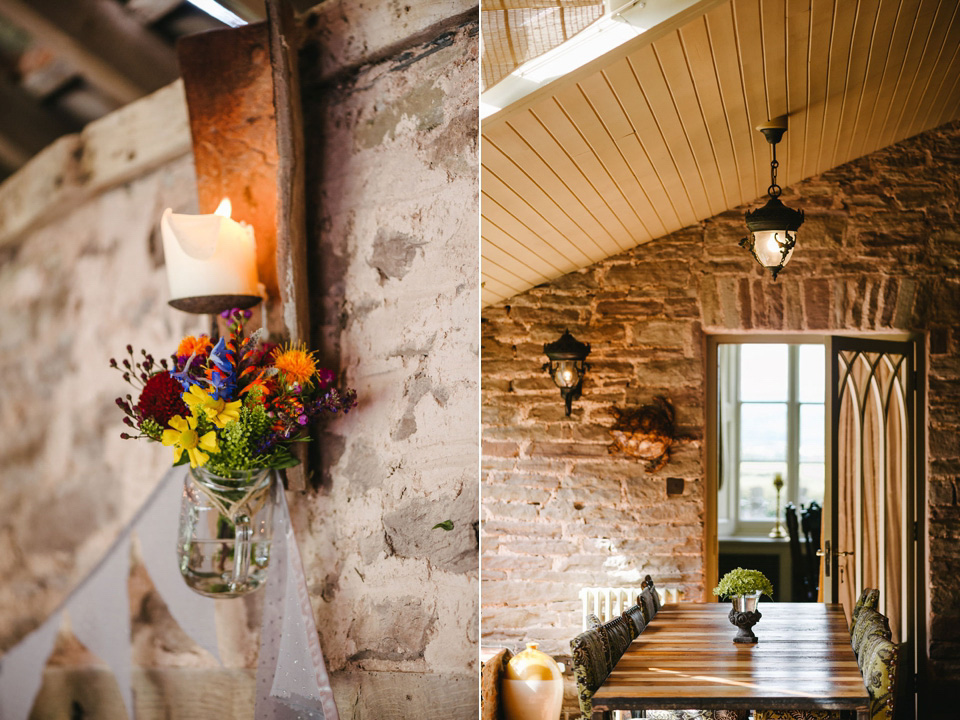 "I was brought up as a catholic and Paul is an atheist so we had to compromise, as the religious element of the wedding was really important to me. One of my oldest friends is a vicar so we decided to ask her if she would give us a wedding blessing in the Dewsall church straight after the civil ceremony."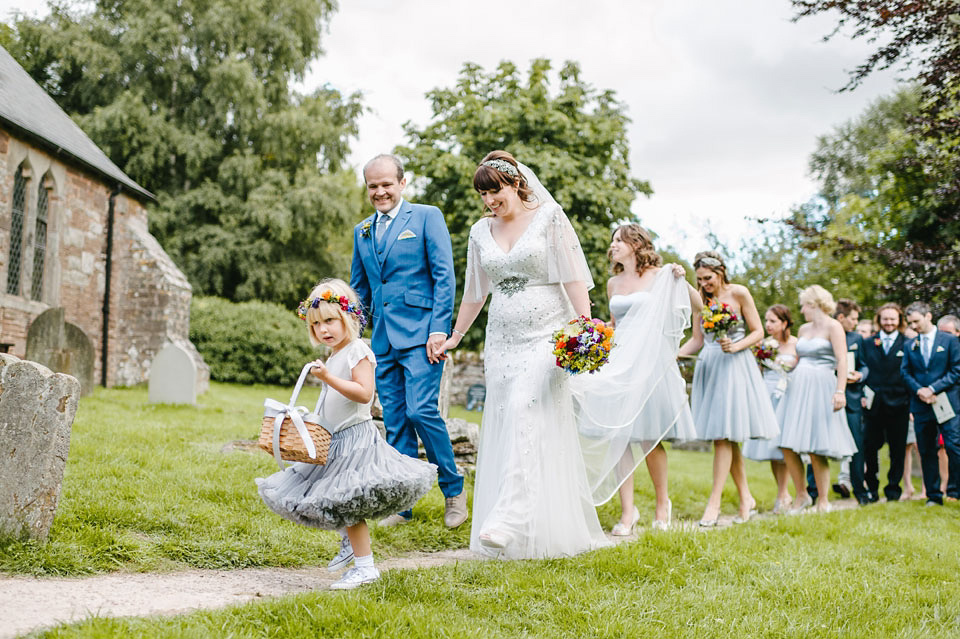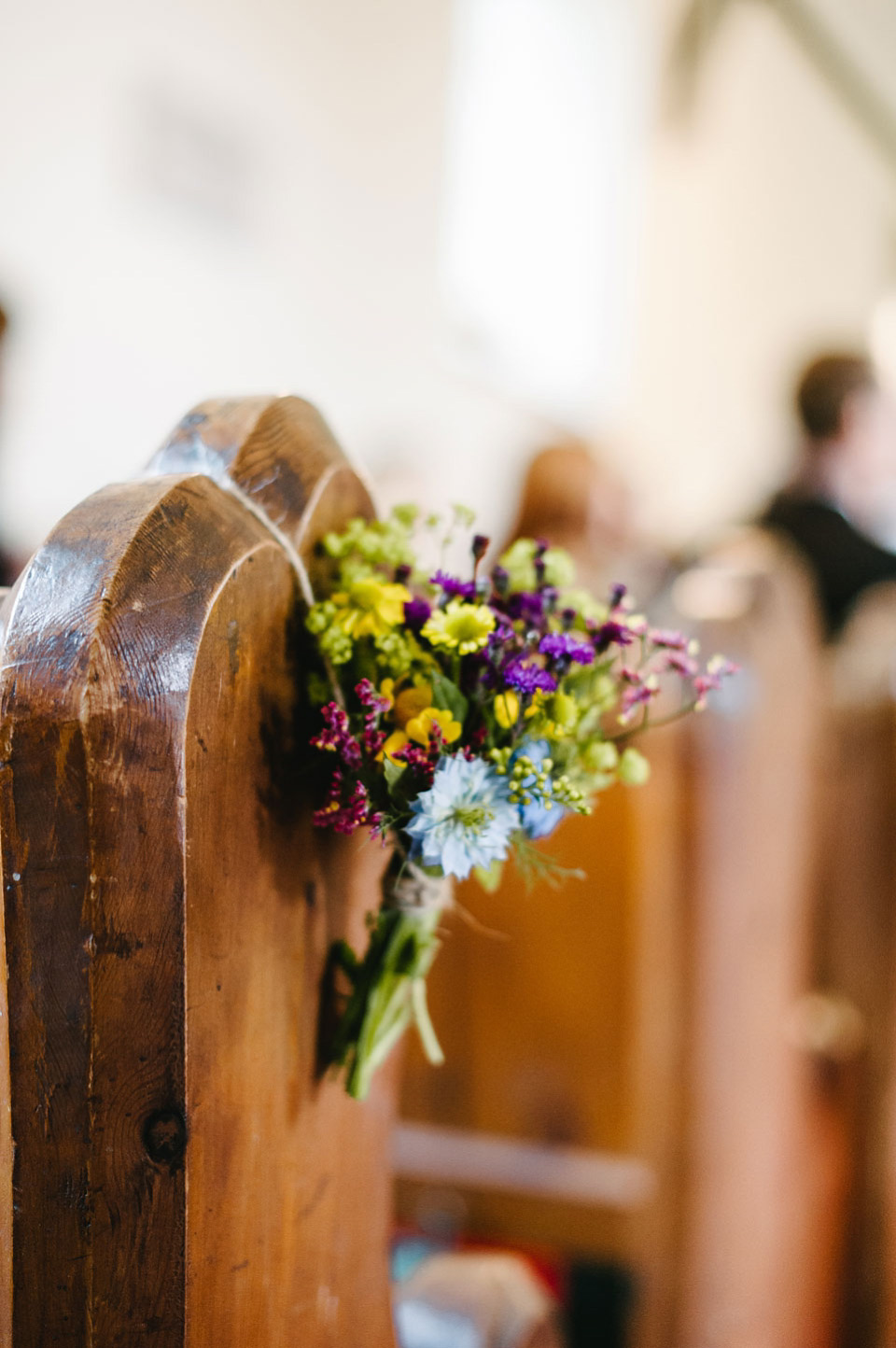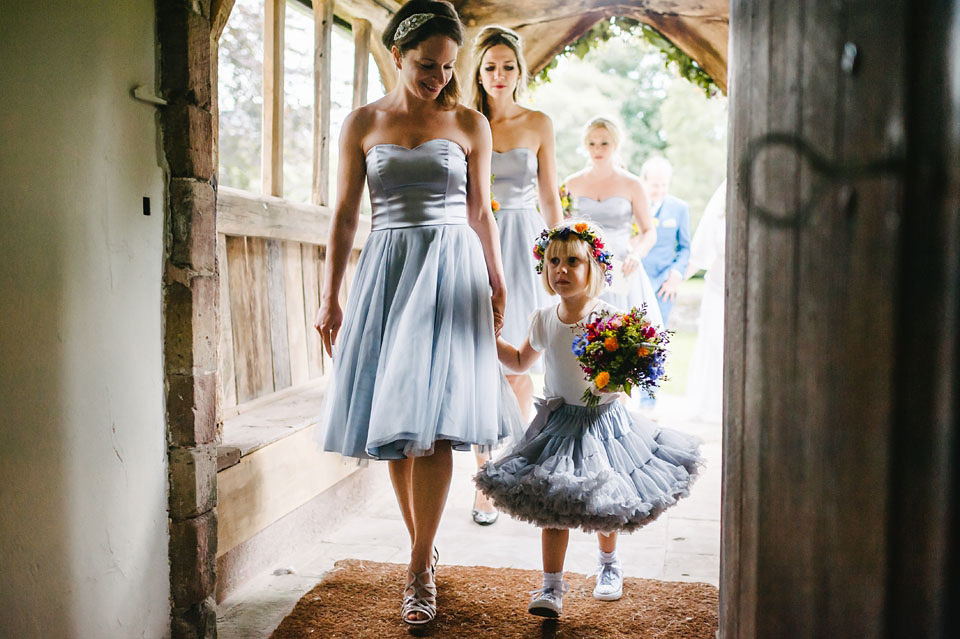 "My best friend who is a Jeweller sourced our rings for us, which are 18 Carat white gold D shaped rings. She also got them engraved on the inside with C&P a heart and the wedding date."
"My favourite part of the wedding day was walking down the aisle, leaving the church, as a married couple. It is probably the most joy I have ever felt, being surrounded by my best friends and family after just being married to my best friend. As we walked down the aisle, the congregation joined in signing along to 'All You Need is Love' by the Beatles that was being played by the organist. It is something that will stay with me forever and I go all funny every time I think about it."
"Dewsall Court's own catering company provided the food, which was gorgeous!"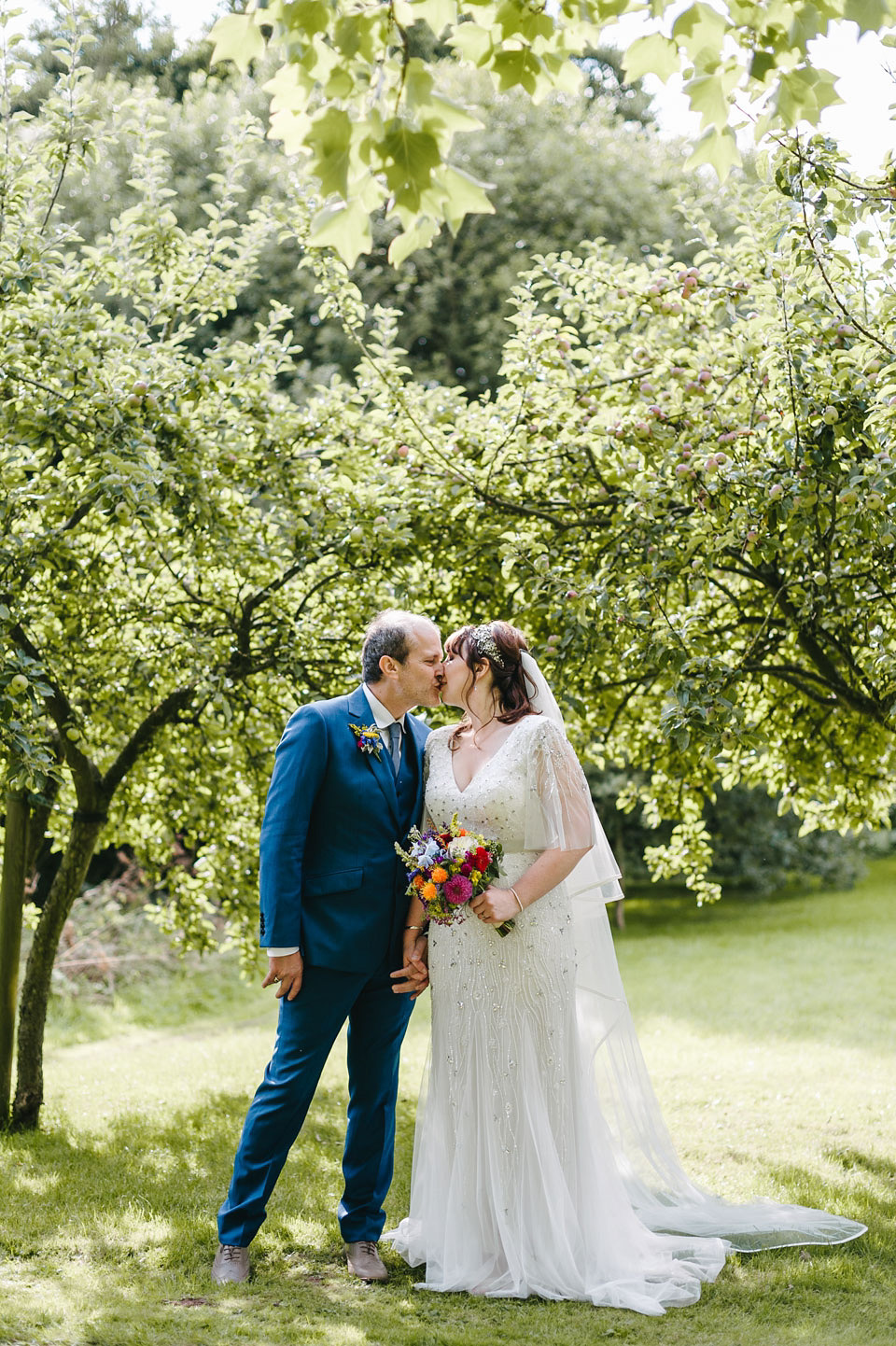 "We decorated The Wainhouse at Dewsall Court with lots of bunting lovingly made by my mum, as well as flowers and candles. We hung candles in glass baubles in the trees and lined the barn and path to the house with candle bags with hearts and got some candle bags to spell out our quite apt surname 'Marriage'. We also got some lovely mason jars imported from America to serve rum punch in."
"My little sister Lauren is a Mary-Berry-in-the-making, so made our cake for us. It was a three tier naked sponge cake with 2 layers of jam and cream and one of chocolate and cream. She decorated it with flowers courtesy of Love Lily and fresh summer berries. It was the most special thing to have her make it for us and it was delicious."
Words of Wedded Wisdom…
"We were lucky enough to have amazing and supportive families who were happy for us to do whatever we wanted so we never had any outside influence we had to tailor to. My advice would be to focus your wedding day to you as a couple and fill it with your personality and the things you love together. We did exactly that, we were surrounded by our best friends and family, had lovely food, drink and music and got married in the middle of it all.
Also enjoy the planning by doing it with your hubby-to-be over a few drinks. We had fun and some great ideas after a few drinks for inspiration."
Huge love and thanks to you both Cally and Paul for so kindly sharing your beautiful, stylish and inspiring day and my huge thanks to photographer Ann-Kathrin Koch whose work I've been looking forward to featuring for such a long time now.
Have a great morning all – come back at lunch time for the most gorgeous little wedding film and again this afternoon for another real wedding offering. It is Monday after all – we like to treat you 🙂
Love Annabel xx
Photographer – Ann-Kathrin Koch
Venue + Catering – Dewsall Court in Callow, Hereford
Dress – Deimos by Pronovious via The Wedding Club in Birmingham
Bride's Veil – Joyce Jackson
Headpiece – Acacia by Jenny Packham
Bride's Shoes – Flo by Rachel Simpson
Bride's Scent/perfume – Marc Jacobs Daisy
Grooms Suit – Reiss
Bridesmaids – Coast
Flower girl – Angel's face silver cloud tutu
Florist – Love Lily
Cake – DIY, family
Photobooth Hire  – Confetti Booth