If you have a touch of the Monday blues today I hope this wedding will help soothe your soul! I had butterflies when first looking through these photos by Kitchener Photography; sometimes arty, often emotional and always with a great eye for detail. I'm actually struggling to pick my highlights from this array of gorgeousness! I defy anyone to not want to steal some of this couple's seriously cool style.
Community Artist Laura and her business consultant beau, Neil married on 21 June 2014 in a humanist ceremony in Inchyra Byre just outside Perth, Scotland.
"After the engagement I spent a lot of time looking at wedding blogs and was really inspired by an outdoor, relaxed, bohemian, romantic theme as it suited our personalities, but I also wanted to mix this with lots of crafted décor and was really drawn to pastel shades and hand-drawn fonts."
Photography Copyright (c) 2014, Kitchener Photography
"We first met in a Borders bookshop when Neil kindly offered to let my community group hold their photography exhibition in the store after I'd been let down by another venue.  He only offered because he thought I was his neighbour and I remember being really puzzled because I had never seen him before in my life!  But as fate would have it we discovered he wasn't wrong, we had been neighbours once and circumstances saw me moving back into the block of flats where Neil lived and our love grew from there."
"I discovered that Neil had never really been to Broughty Ferry and as this is where I grew up, I wanted to create a special adventure for him to go on.  So I made a book filled with maps and stories about my life and favourite places and unknown to me, Neil always knew that the trip would be how he would propose.  So on New Year's Eve 2011 we set off on the book adventure, with my daughter Nyla, ending the journey at a particular spot on Broughty Ferry beach, my favourite place to go.  It was here, and to my complete shock, that Neil proposed."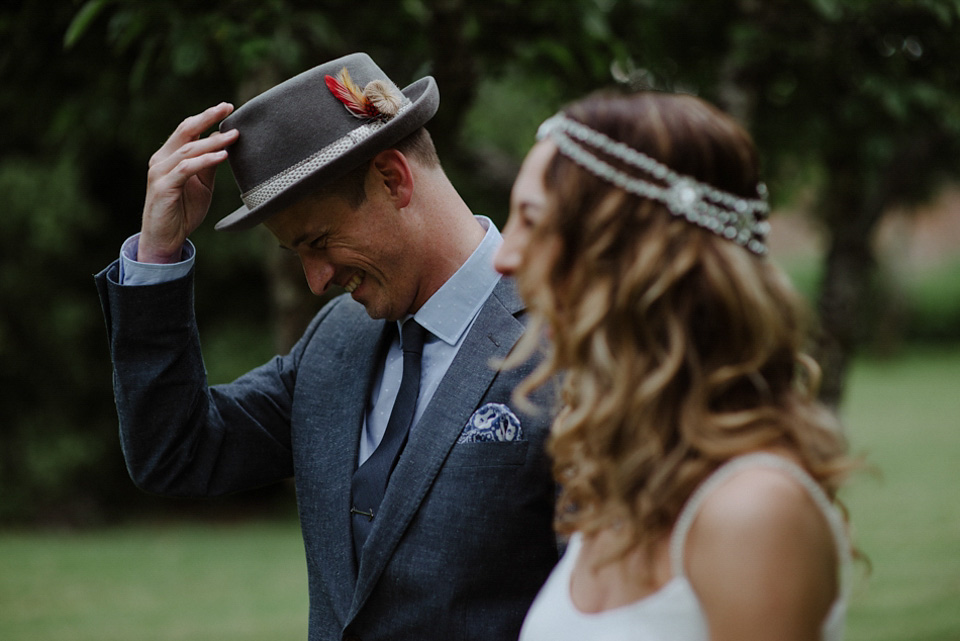 "When we first got engaged we had a vision of what the wedding would look like, and a barn seemed to suit our style. When we first viewed Inchyra Byre the cattle had not long been removed and it was about to undergo an impressive renovation which didn't disappoint, but from the start we fell in love with its charm and beautiful setting that we had to book it.  We loved that the Byre was completely flexible, which allowed us to put our own stamp on it as I had lots of ideas for decoration.
The venue suggested that we hire an event planner for the wedding day to help with the co-ordination and set-up and Eleanor from Red Pepper Events came highly recommended.  It was great being able to talk through ideas and running orders with someone who had experience and expertise, it definitely put us at ease."
"My dress was by Annasul.Y and was purchased from Ivory Whites in Perth. I chose this dress as it had all the perfect elements of other dresses I had tried on. I loved the fitted style as it felt right for my body shape and the layers of tulle around the bottom gave me the romantic feel I was looking for.
I choose my jewelled headpiece instead of a veil after falling in love with a picture of it on Instagram.  It took me four months to track down the designer who turned out to be an independent bridal boutique in Brisbane, Australia called Bo and Luca. After contacting them they happily sent me over the headpiece that I was delighted with.  To be honest it was more important to me than my dress!"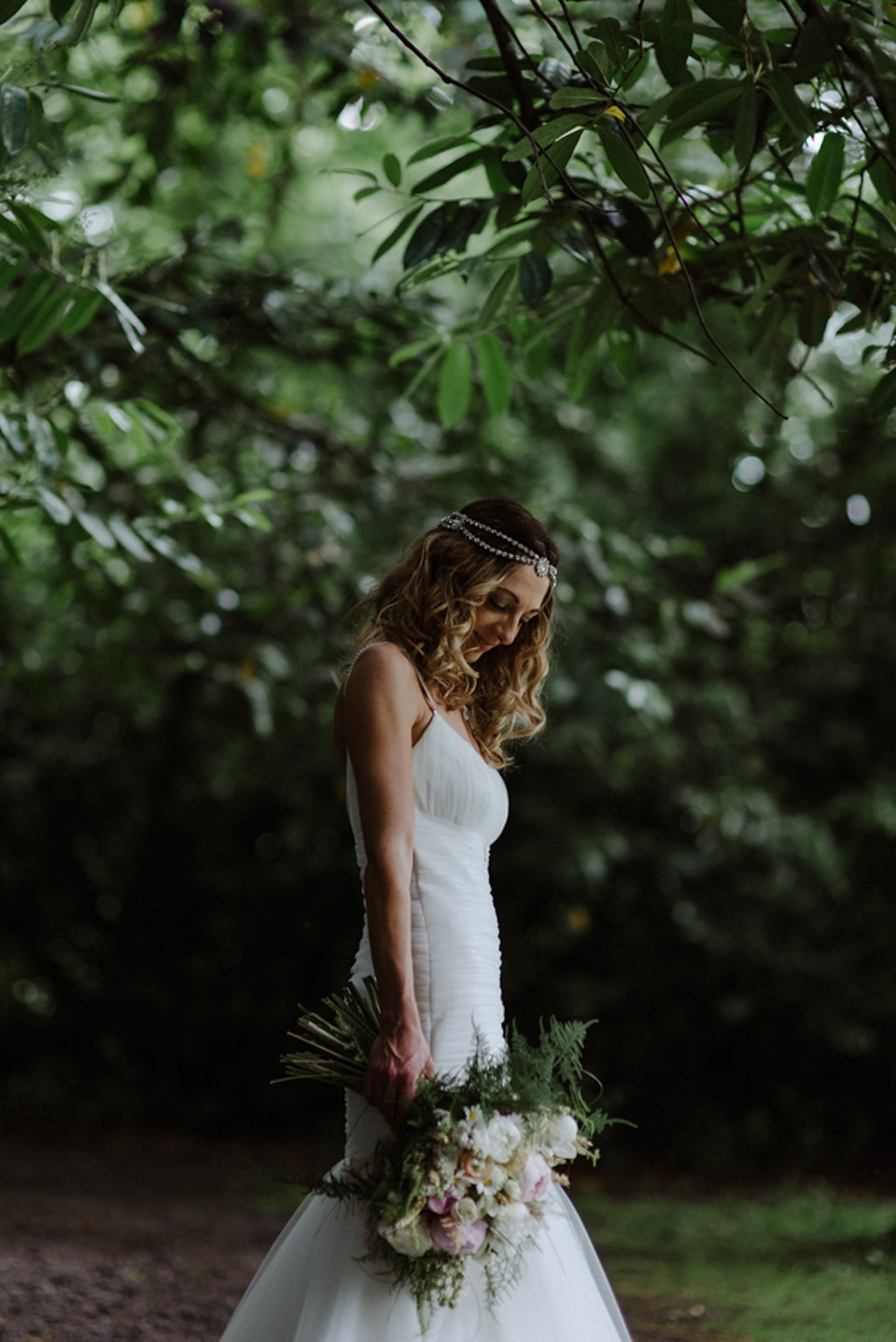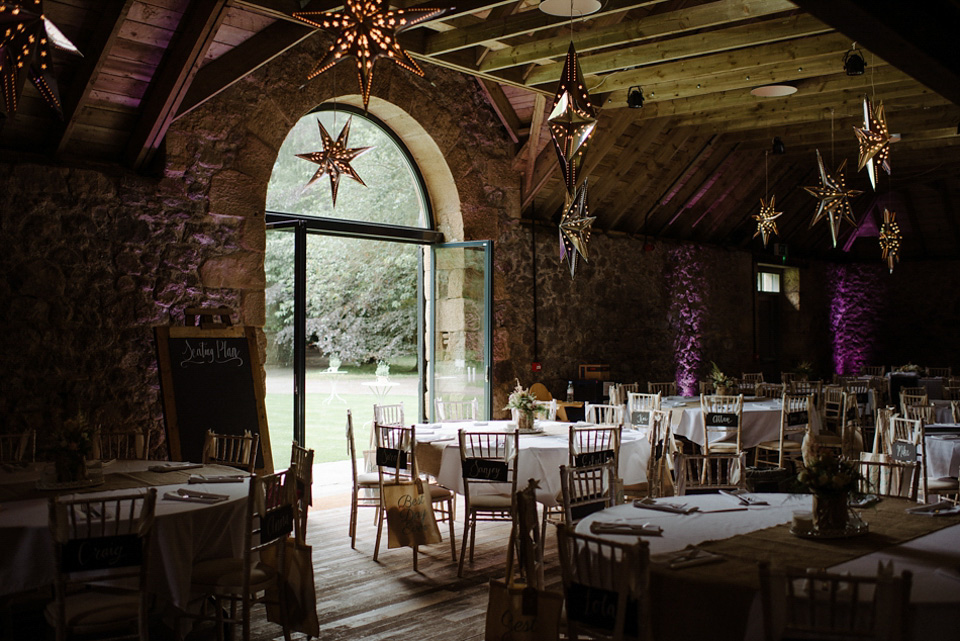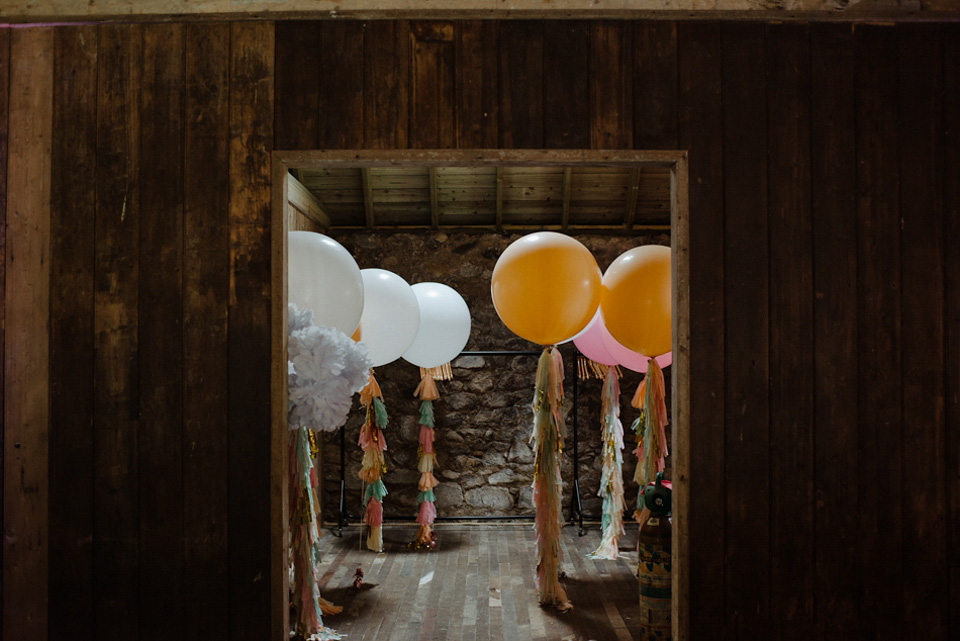 "Our photographer was Kitchener Photography whose work I just fell in love with.  I had spotted them just after we were engaged and I had butterflies looking at their photographs.  They are so experienced and down to earth, and the finished result brought tears to my eyes – I could not recommend them enough."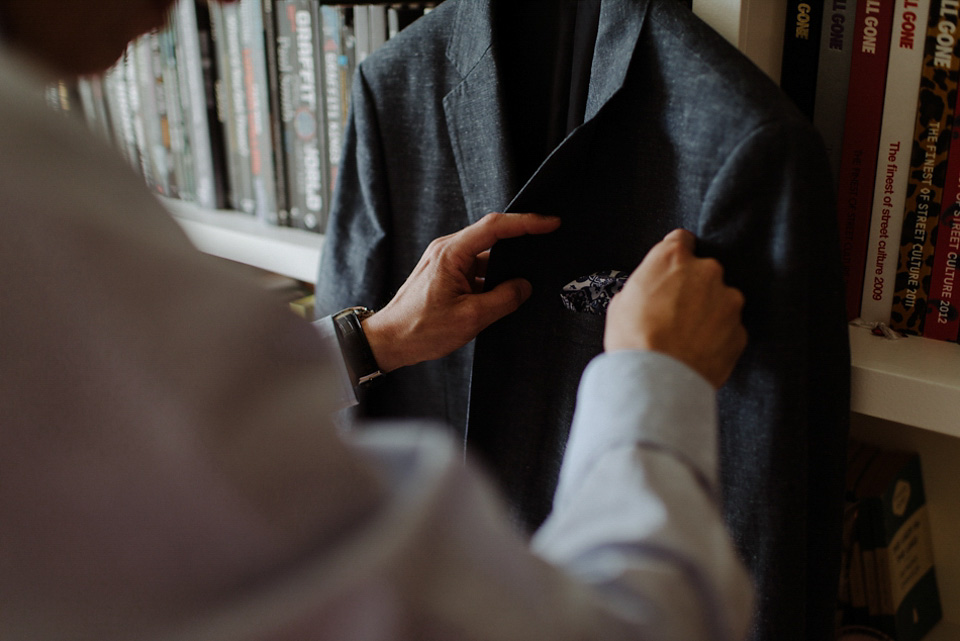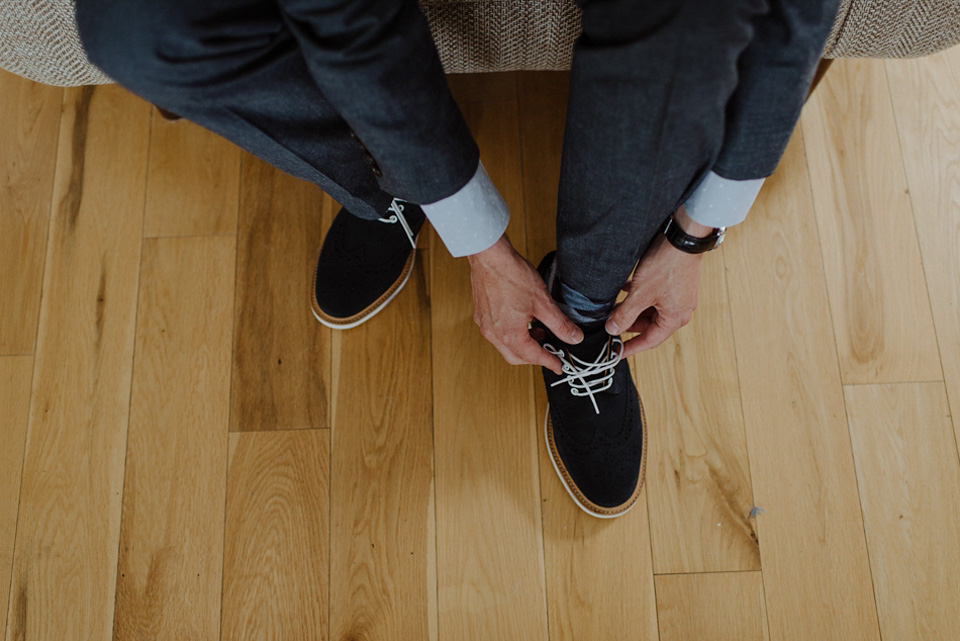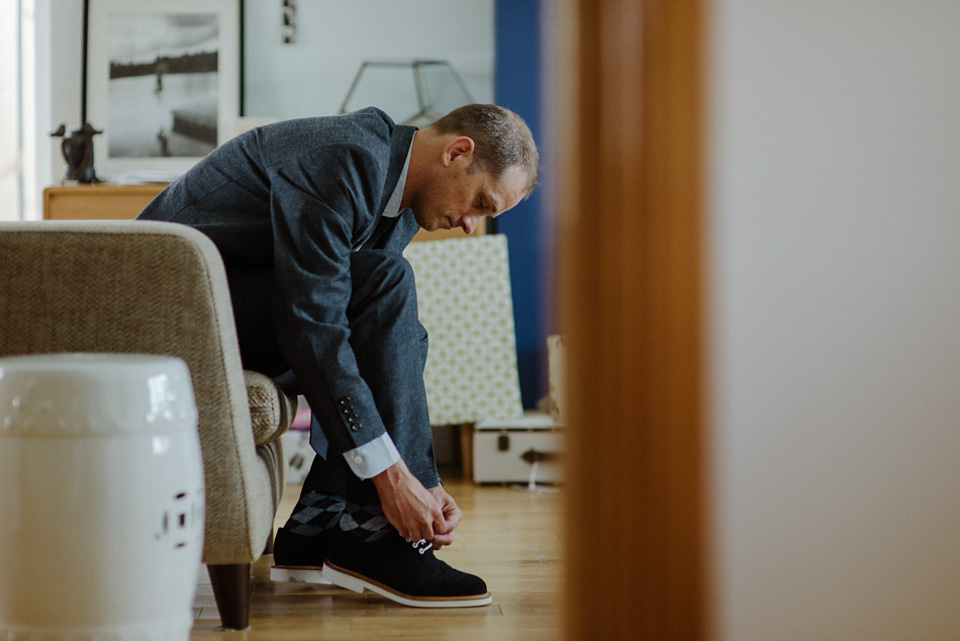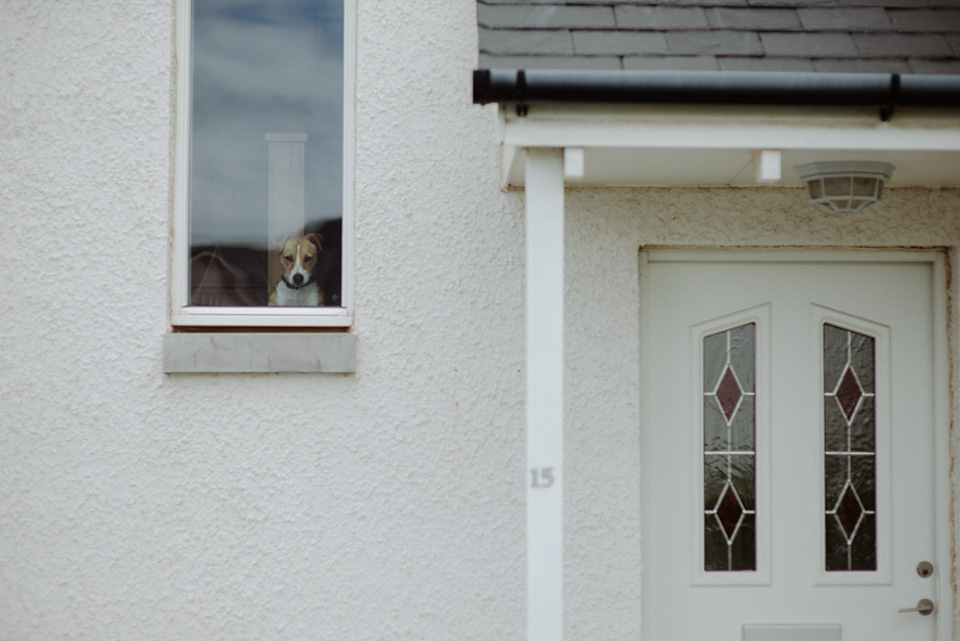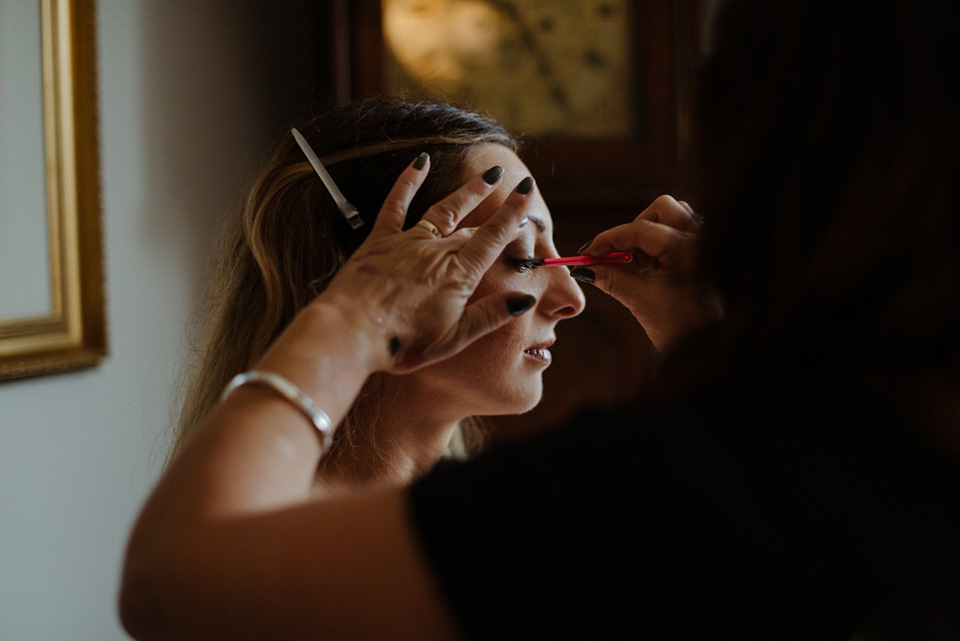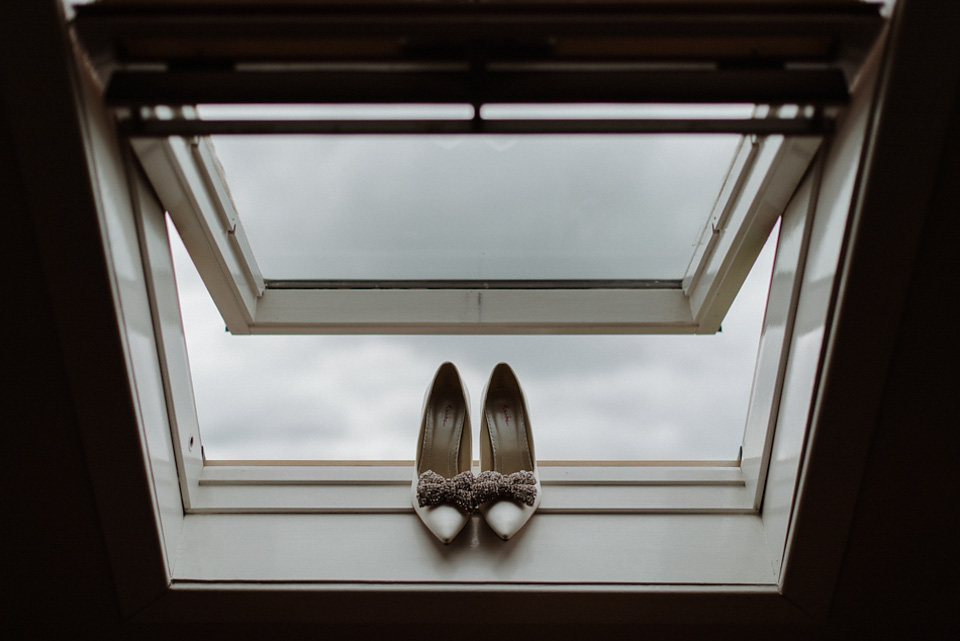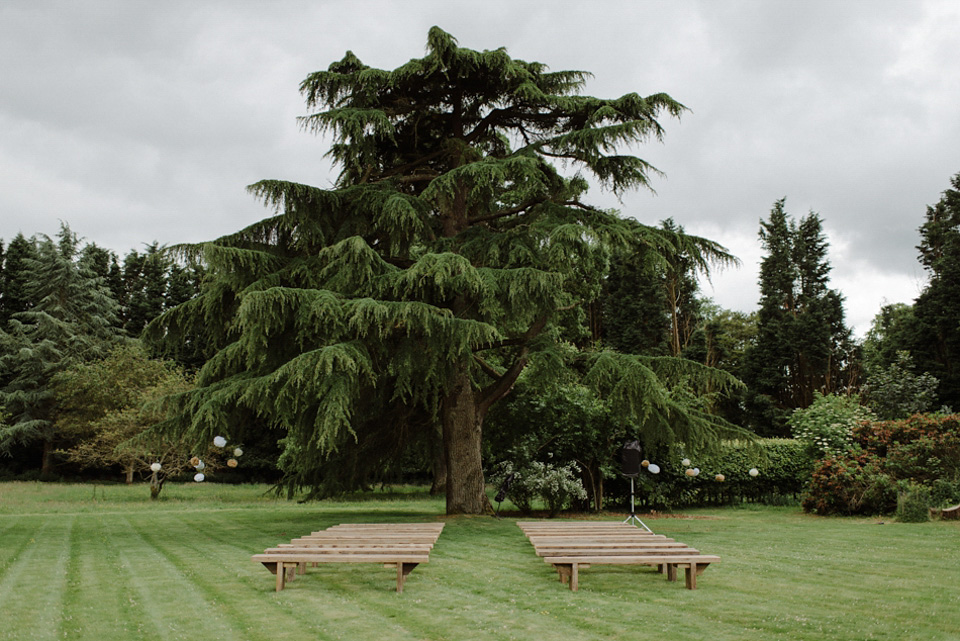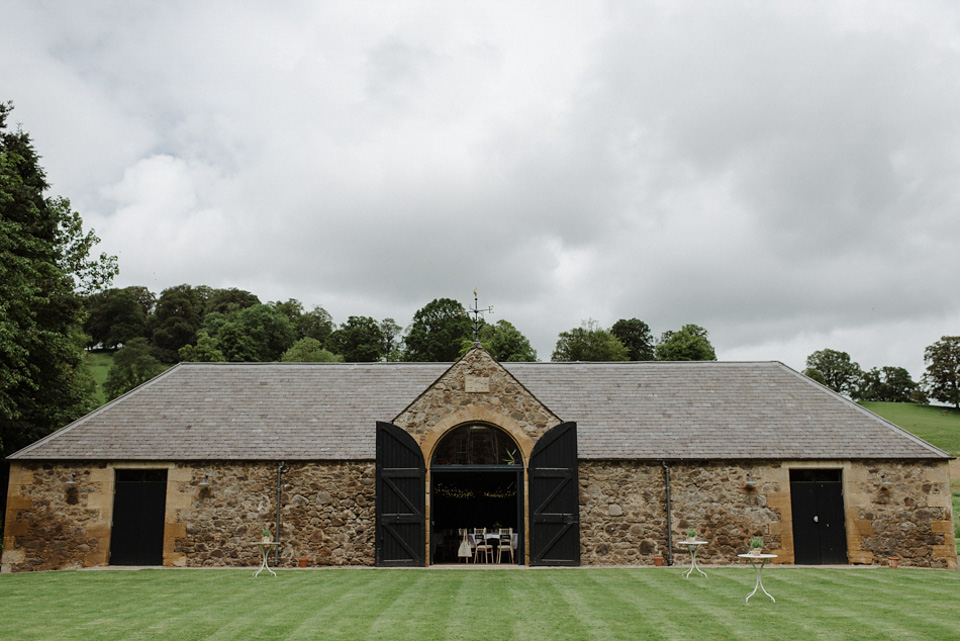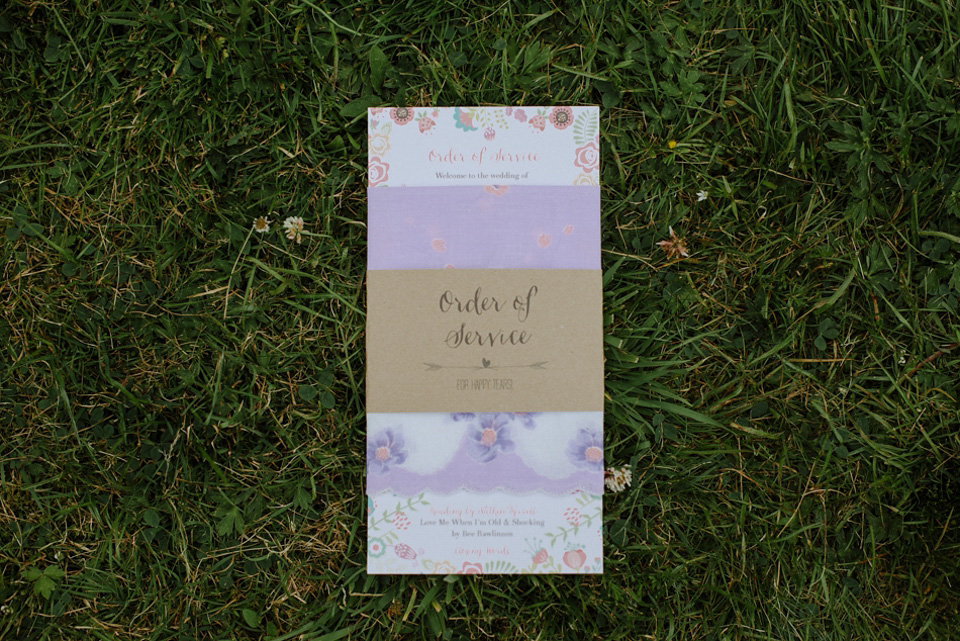 The bride arrived in a classic 1970s Ford Mustang that belongs to a friend of her father.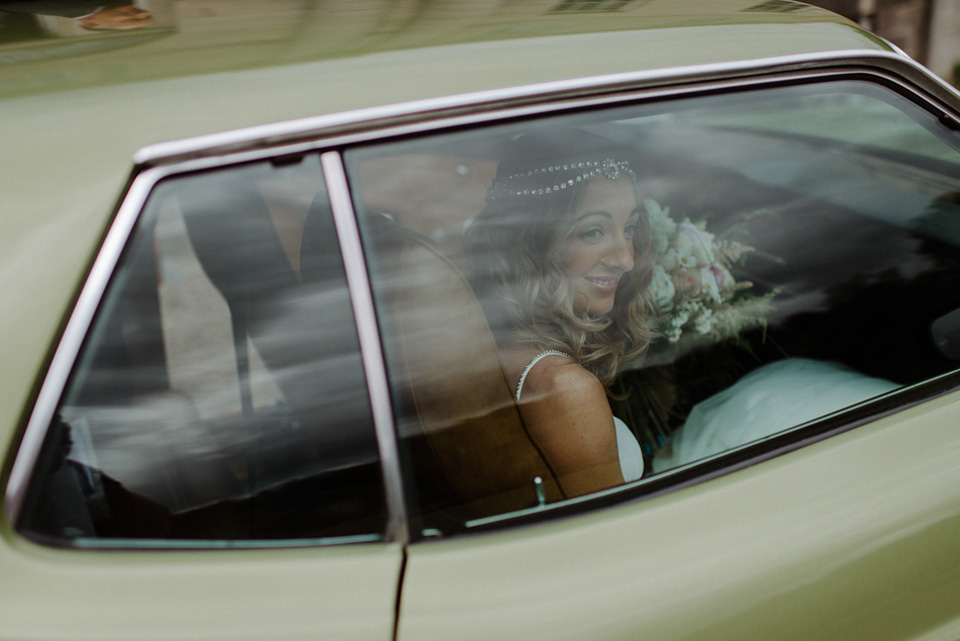 I am head over heels in love with Laura's gorgeous, peony-packed bouquet which was created by Turriffs of Broughty Ferry.
"We wanted to keep things local and we knew the florist. We were able to work with her to create the rustic wild flower theme we wanted."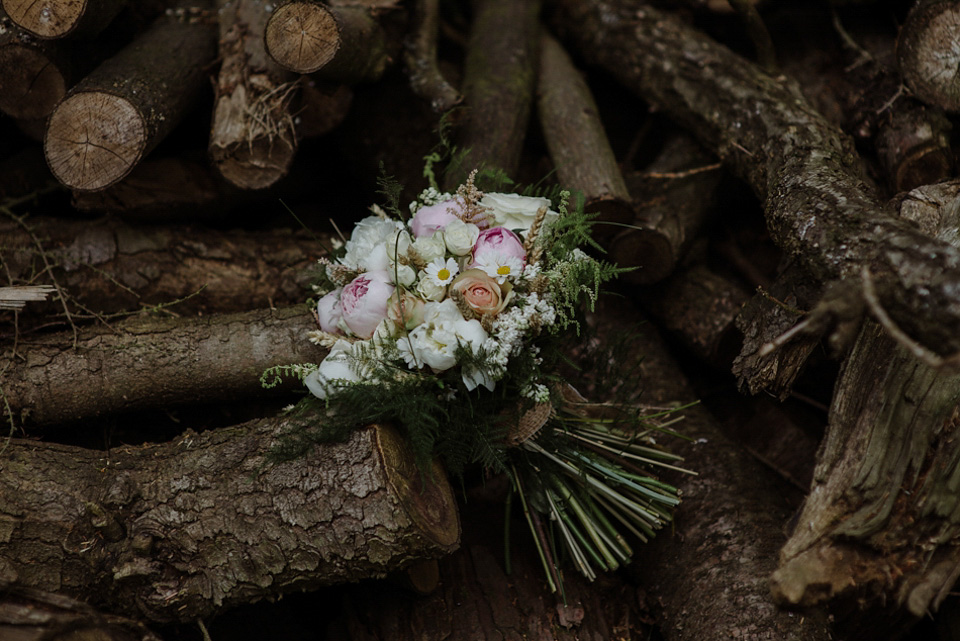 "My dad walked me down the aisle and it was such an emotional moment for me. I am lucky enough to have a friend, Nicola from a band called the Jagged Violets, who sang me down the aisle.  Having her sing a song that always reminds me of Neil, Sophia by Nerina Pallot, was incredibly special."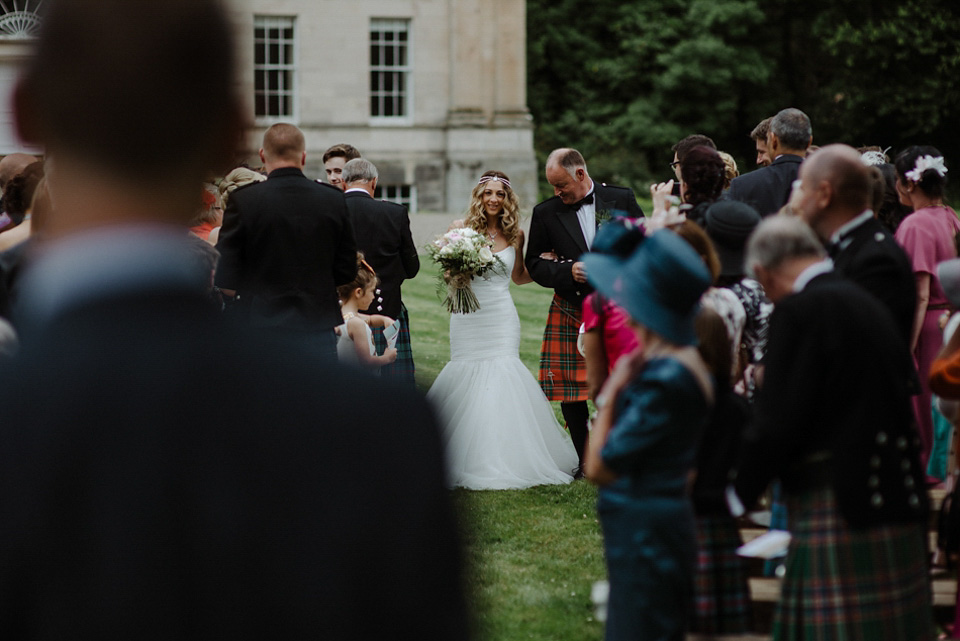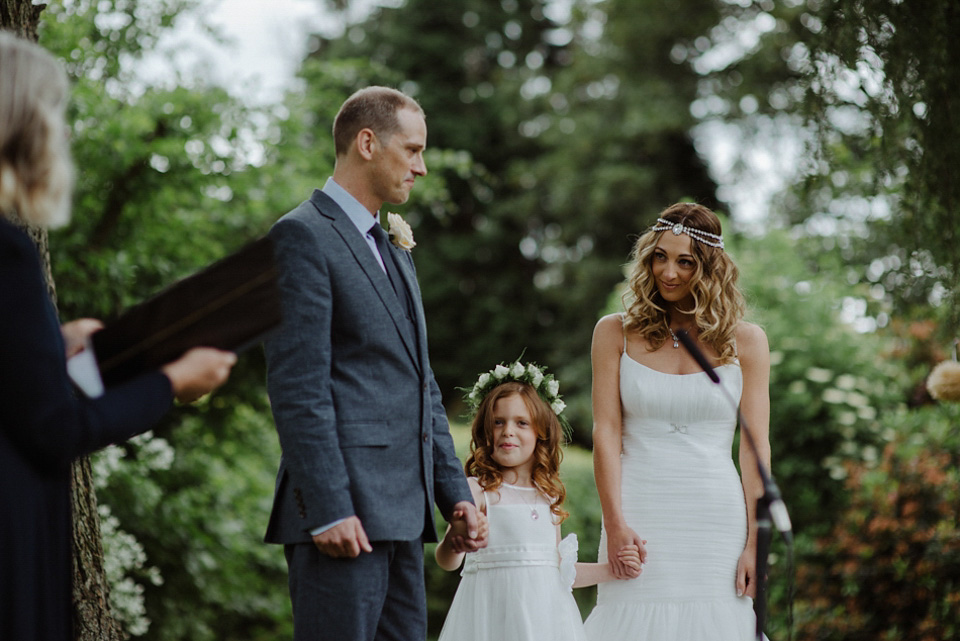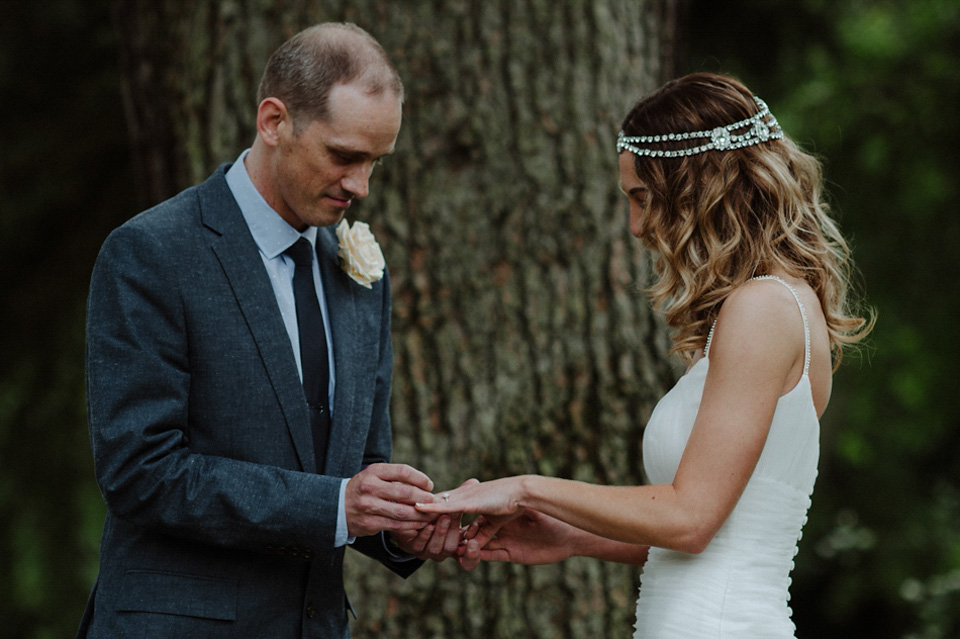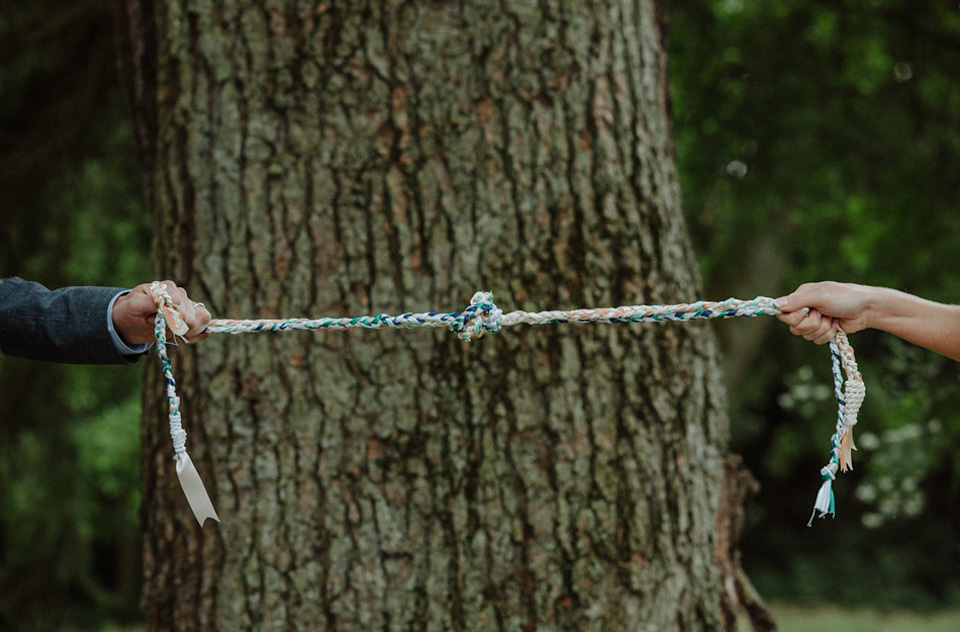 "Our favourite part of the day was the ceremony as it was so special and emotional for us. We chose to have a humanist ceremony as it suited our beliefs and we loved that we could write the whole thing to make it personal to us.  I have a daughter and Neil and I were really passionate about including her in the ceremony and vows. We chose to give her a ring as well so she understood that she was an important part of this union. Neil and I both wrote something personal about her that we read out.
I found it very difficult to say through all the tears and there was not a dry eye in the crowd but so many people have commented on how beautiful this part of the ceremony."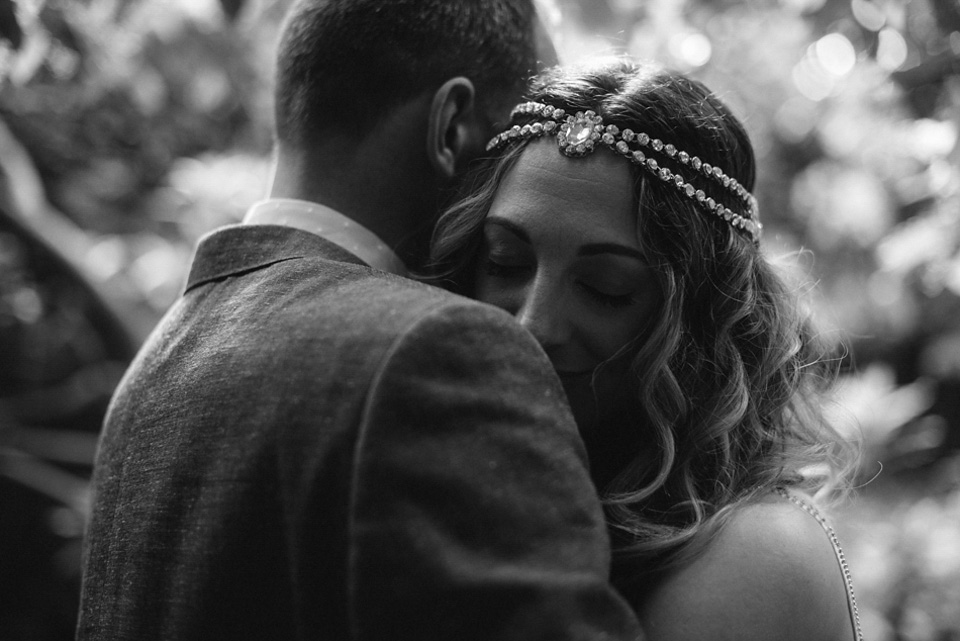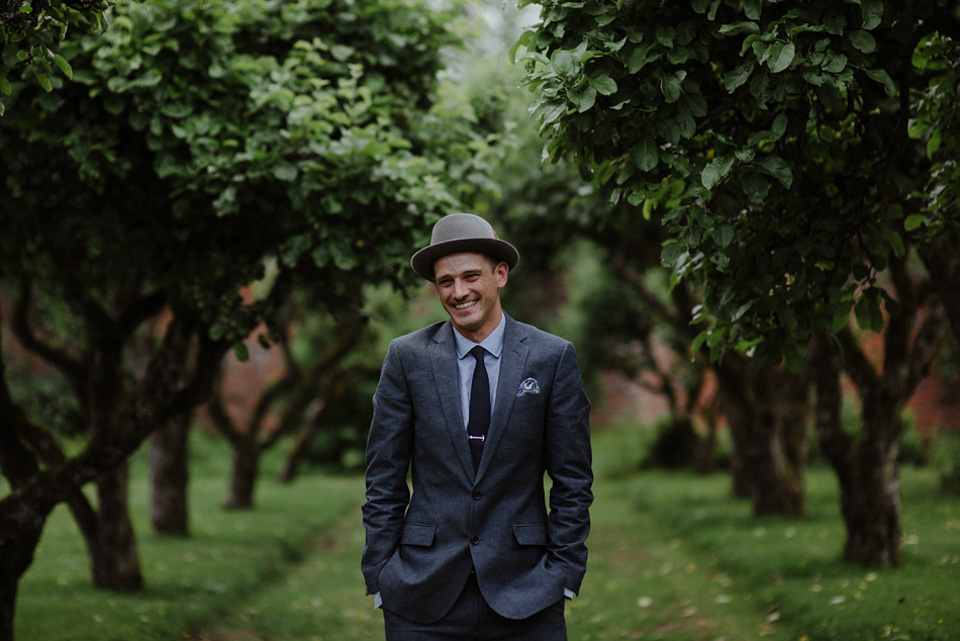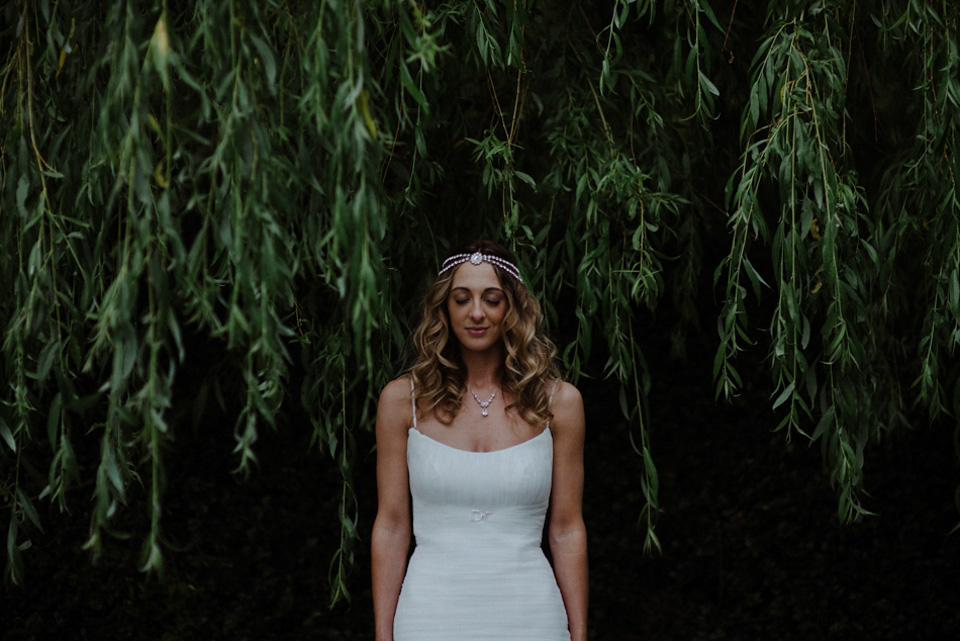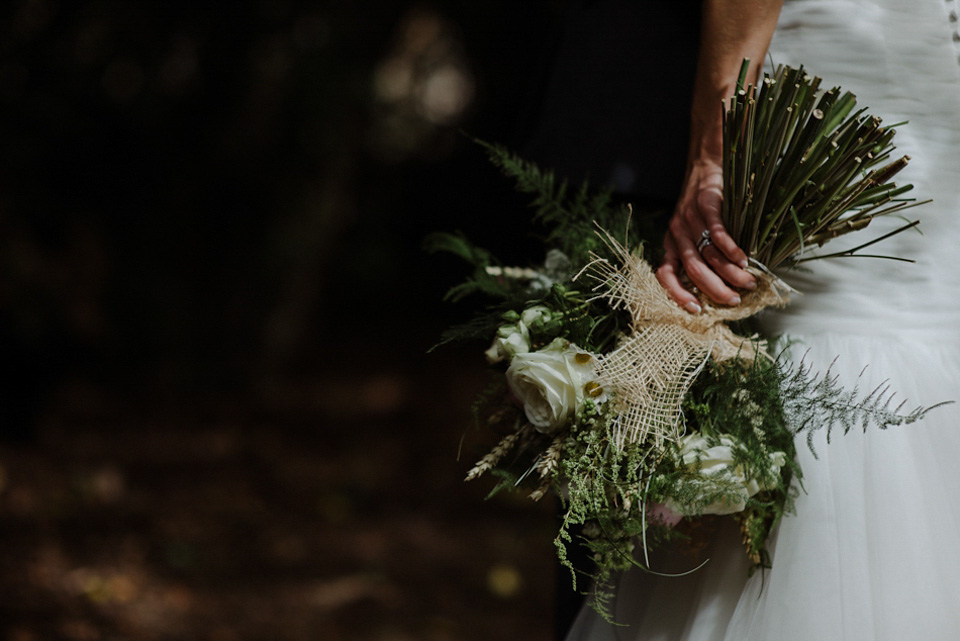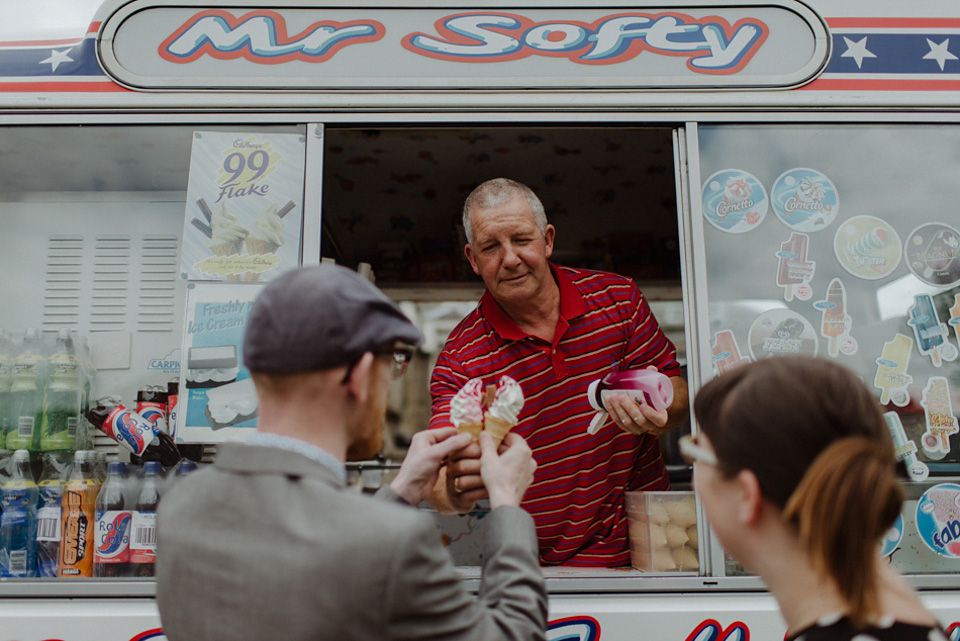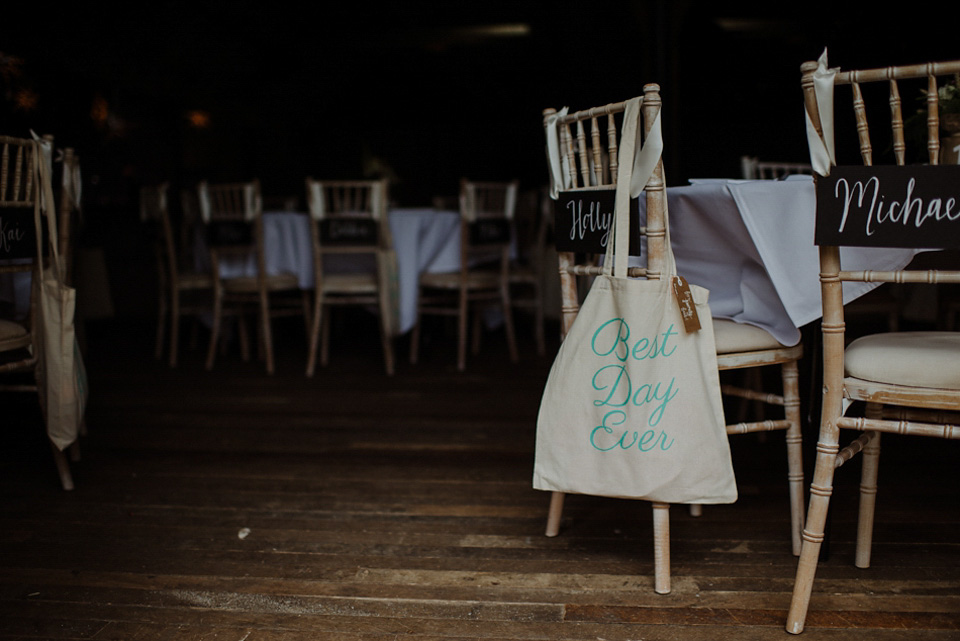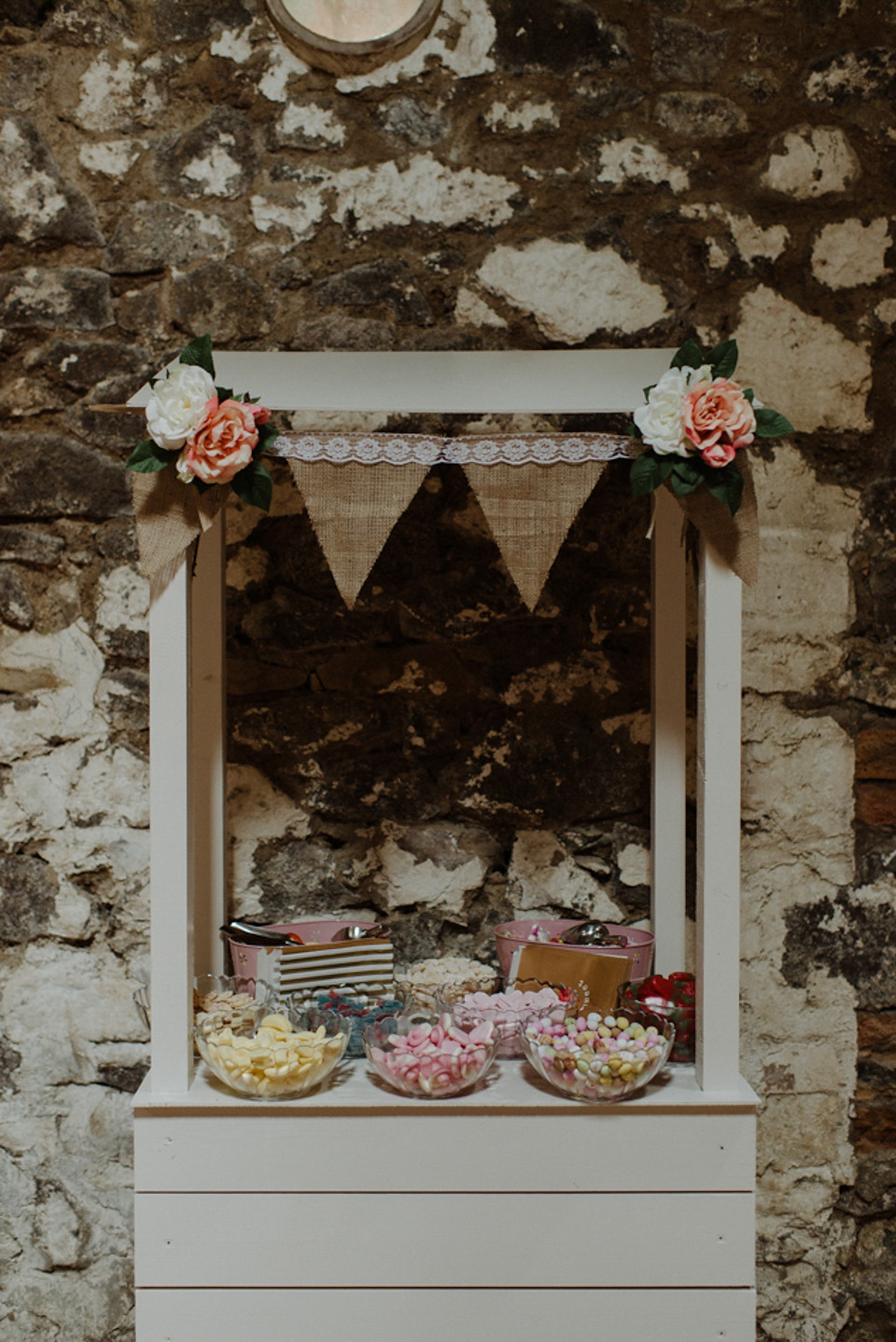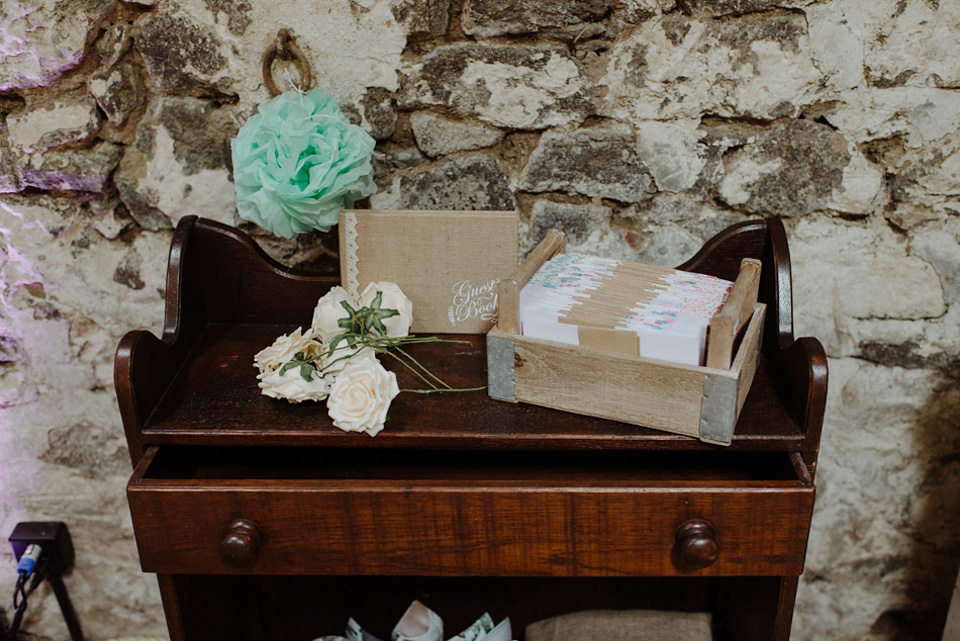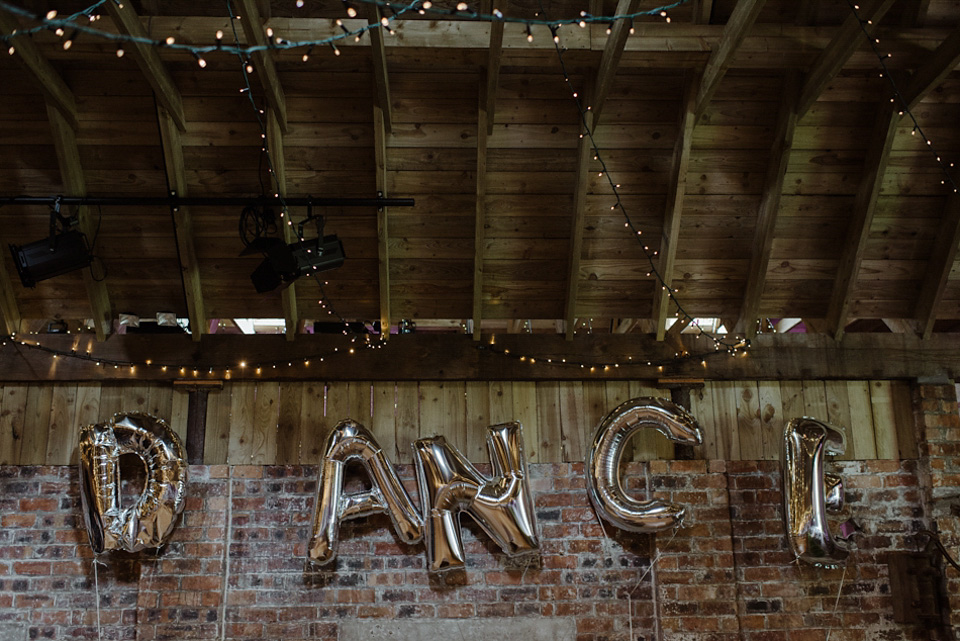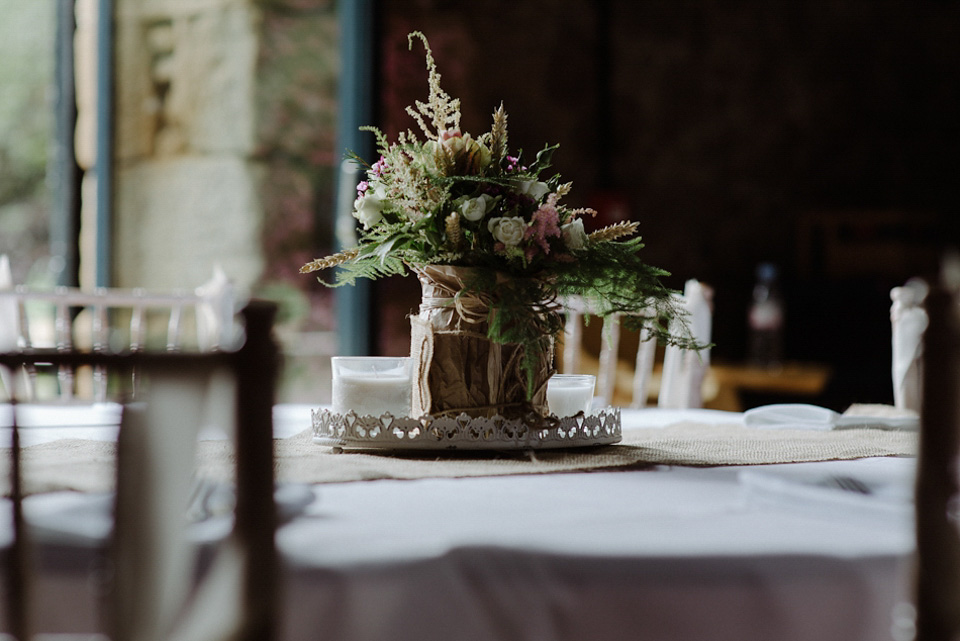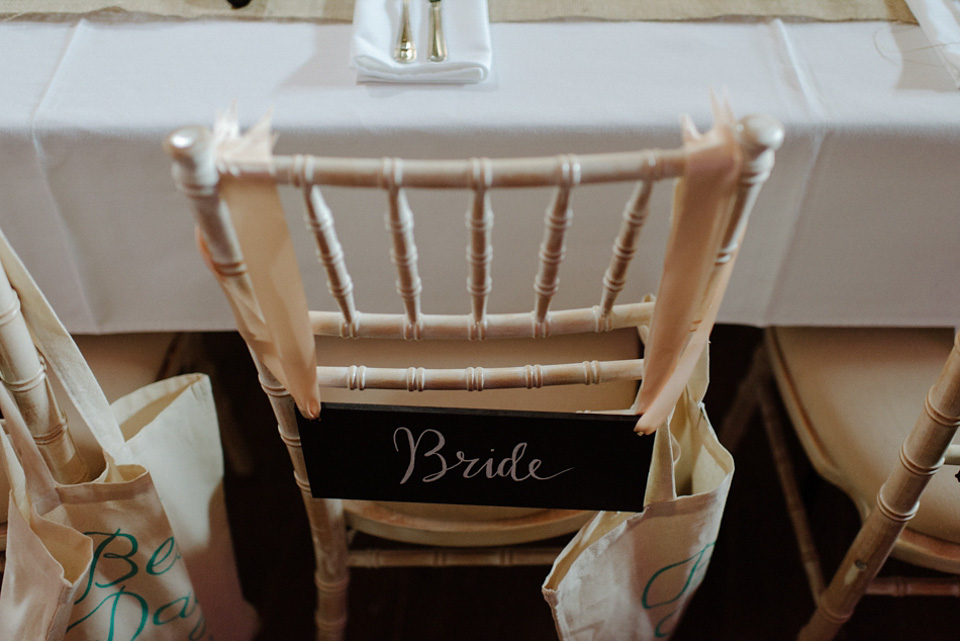 Laura designed and created all the stationery for the day and 90% of the décor too.
"For the table decorations I handmade jute table runners with lace ends and placed vintage style mirrored trays on top with a selection of fragranced candles and jars of wildflowers.  In the evening we brought out giant 3ft balloons in a mix of pastel shades with tassel garlands which we had made.  I had seen these balloons on blogs and had to have them as part of the day. 
We also lined the edge of the dance floor with giant letter balloons that spelled out 'DANCE'. We handmade the name plaques on the chairs from MDF, painted them in blackboard paint and wrote names in a modern calligraphy font. We also made paper pom poms to hang from the tree outside for the ceremony and cords for the handfasting part of the ceremony. My dad and I also built our own sweetie cart as we want to have something that my daughter could use to play with later on."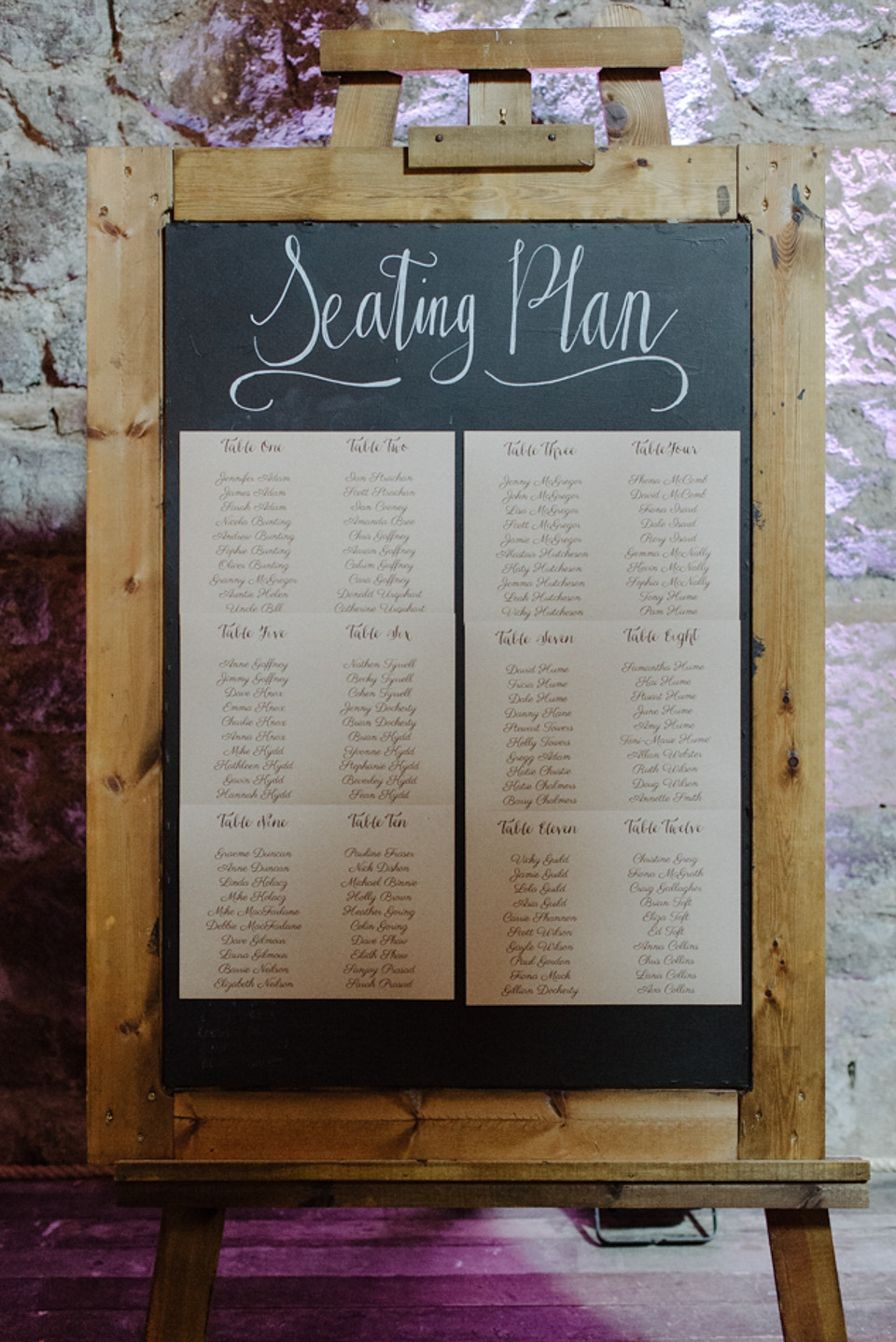 "Our cake was lovingly made by a family relative and the flowers decorating the cake were from The Cake Guru in Broughty Ferry."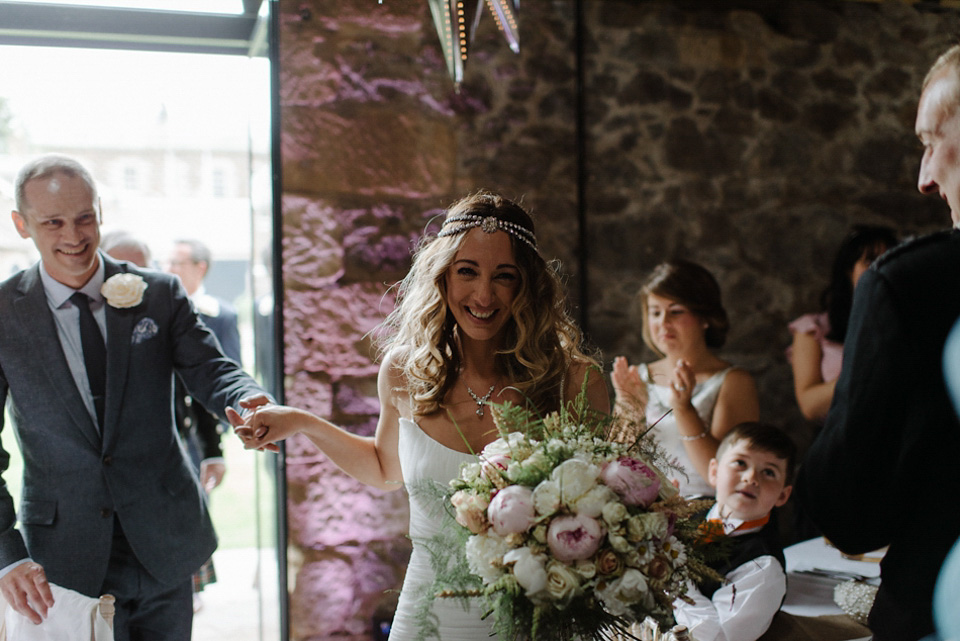 Words of wedded wisdom
"Give yourself plenty of time to make any decorations etc. and remember that the little details are great but if they are causing you stress and worry just let them go.  Only you will know they are missing and people will be too busy looking at you to notice.  I spent so much time before the wedding crafting that I didn't appreciate the excitement and build up to the day, so make sure you take that time to say "oh wow I'm getting married!" and enjoy how good that feels.
I don't think we would change anything about our day, it was exactly as we had planned, we just wish we had taken some time to sit and enjoy some wedding cake!"
Wow! Laura and Neil, it looks like you created the most beautiful, personal wedding full of love, style and fun, thanks to you both and Kitchener Photographer for sharing your day and allowing us to maybe pinch an idea or two.
I still haven't decided on my favourite bit, have you? Let me know!
Love Katie xx
Photographer – Kitchener Photography
Venue – Inchyra Byre
Event Planner – Red Pepper Events
Dress – Annasul.Y from – Ivory Whites, Perth
Headpiece – Bo and Luca
Shoes – Rainbow Club
Bridesmaids – Debenhams
Flower girl – John Lewis
Groom – Suit. Tie clip & shoes – J Crew
Florist – Turriffs
Hair & Make up – Sandra Cormack
Catering –  The D'Arcy Thompson
Cake – DIY
Entertainment – Paper Tiger